50 Princess Themed Bedroom Ideas for the Classy Girl
|
When you have a daughter, they are almost always automatically designated as the princess of the household. Sometimes this also comes with creating a bedroom that captures their princess status at home.
Princess themed bedroom ideas may seem like it has only one face. But it can look many things, since at the very core, these princess themed bedroom ideas still must reflect and cater to each child or person's personality and needs. Princess themed bedroom ideas aren't just pink palette and crown motifs. They may not even have those but still give off royalty vibes.
How do I make my room look like a princess room?
Princess themed bedroom ideas can come in various styles. But how do you transform a simple room into a princess room? Here are some things you can do!
1. Accent wall
An enchanted accent wall is a fun way to bring some eye-popping color or pattern. It is a great opportunity to truly emphasize the princess theme with, for example, a mural of a castle.
2. Princess-themed furniture
One of the easiest ways to create the perfect princess themed bedroom ideas is to have a piece of princess-themed furniture.
3. Canopy
Bring both elegance and whimsicality with a canopy over your princess' bed. It would definitely add a dramatic effect to your theme.
4. Chandelier
A chandelier is a great lighting fixture to fully capture that royalty theme.
5. Vanity
Adding a vanity that matches your princess furniture will fully embrace the princess theme. For your little princess, there are some kid-sized vanities out there.
6. Cozy rug
Find an area rug that matches or complements the color palette of the princess room. It will be a great addition to tie the room together.
What color works well with a Princess Themed Bedroom?
As princess themed bedroom ideas come in many styles, you can imagine it being in various colors too. But not every color can work so well for a princess themed bedroom. There are certain colors that fit more than others.
1. Pink
With pink being a color commonly associated with girls, you can expect many princess themed bedroom ideas covered in pink.
2. Purple
Second most popular color for any girls' bedroom is purple. But more than that, purple is considered a color of royalty. So, it's only fitting to find purple princess themed bedroom ideas.
3. Gold
Gold is another color often associated with royalty. It is also a great color to bring some sense of glam into the room and give it a classy look.
4. White
White is a great color to have in any theme, design, or style thanks to it being a neutral color. It would be even better if you pair white with these other colors that fit princess themed bedroom ideas.
5. Blue
Blue, specifically, royal blue would be a fantastic color to have in a princess themed bedroom. It's sophisticated and classy.
6. Pastel colors
Some pastel colors would also look pretty neat in princess themed bedrooms. They're light enough to showcase youthfulness, but not too bright to be overwhelming.
How to accessorize a Princess Bedroom?
In addition to the things you must do or have to make a princess themed bedroom, there are a couple of accessories that you can have to complete princess themed bedroom ideas.
1. Dolls
Especially for your little girls, adding dolls may just elevate the look of the princess themed bedrooms. It adds to a youthful look to it too.
2. Fairy lights
Adding some fairy lights to the room can add a magical feel to the space. It is only fitting for a princess room, don't you think?
3. Décor accents
Add some princess theme accessories like crowns, wands, and the like to perfect that princess theme.
Princess Themed Bedroom Ideas for Inspiration
Now, let's get into some princess themed bedroom ideas perfect for your classy girls!
Magical Tween Bedroom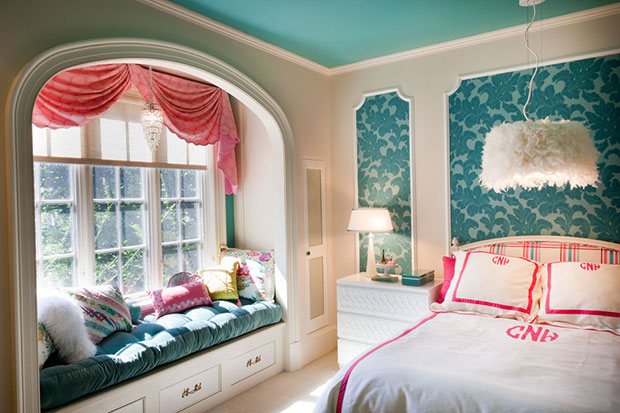 InDesign / Lori Ludwick
This shade of green goes perfectly well with some pink and white. But most importantly that window seat alone looks very royally sophisticated with its own little chandelier and curtain.
Hollywood Hills Road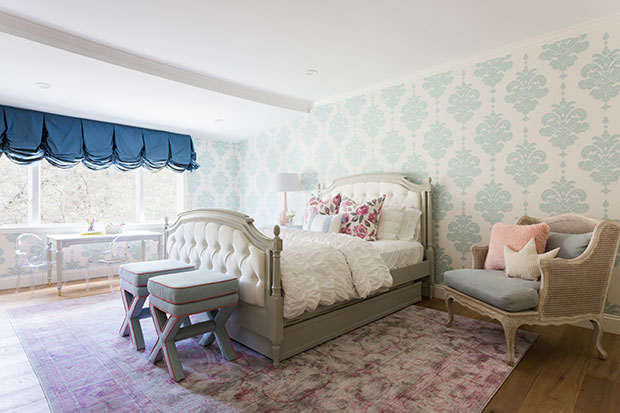 Designstiles
Well, start of with some subtle princess themed bedroom ideas. The floral wallpaper is a nice touch to the place. Plus, the beds styled with a frame like this would work so well for much older girl's princess themed bedroom.
Le Conte Avenue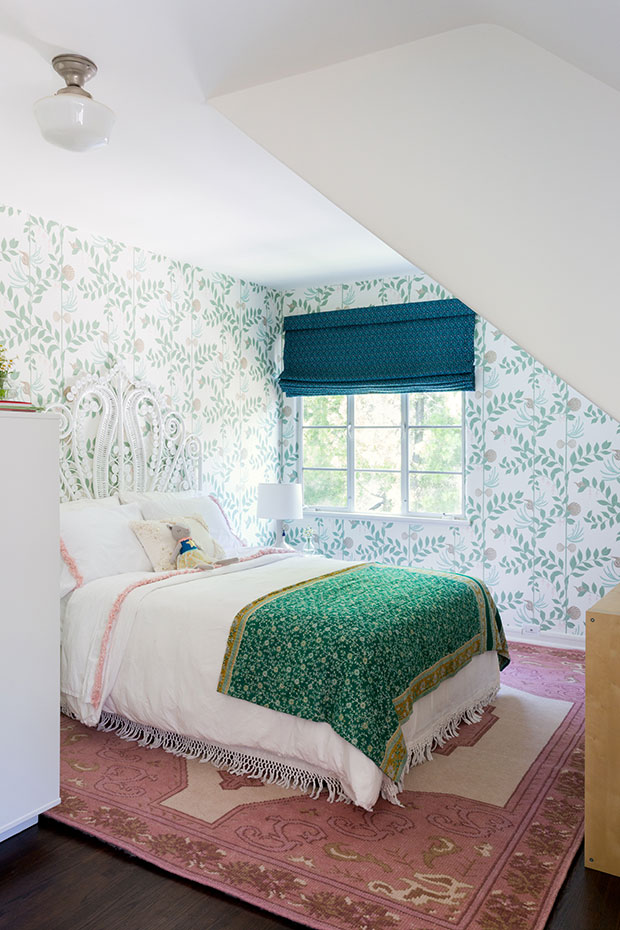 Designstiles
For older teenaged girls some of the princess themed bedroom ideas below may not be appealing to their taste, so go ahead and find a bed with a headboard frame with intricate and ornate design. Then, match it with an area rug like this.
Fairyland Bed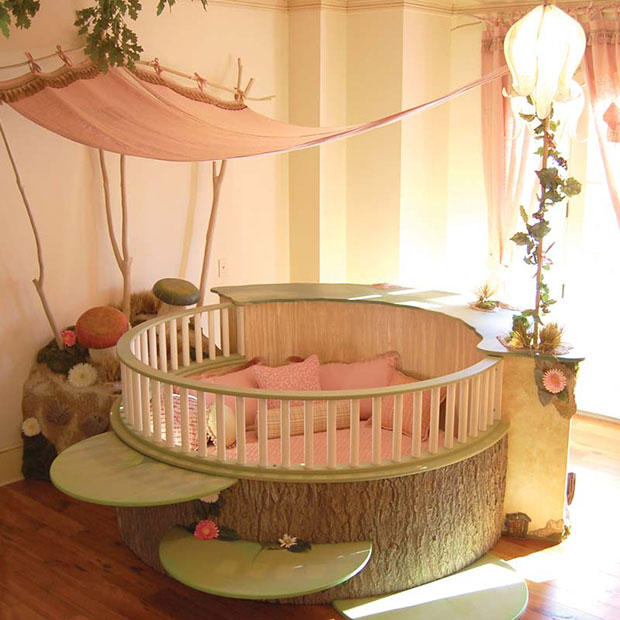 For your little princess, this magical tree stump bed is the perfect princess themed furniture. It is even fully committed to it with the mushroom details on the side.
Nursery Carriage Crib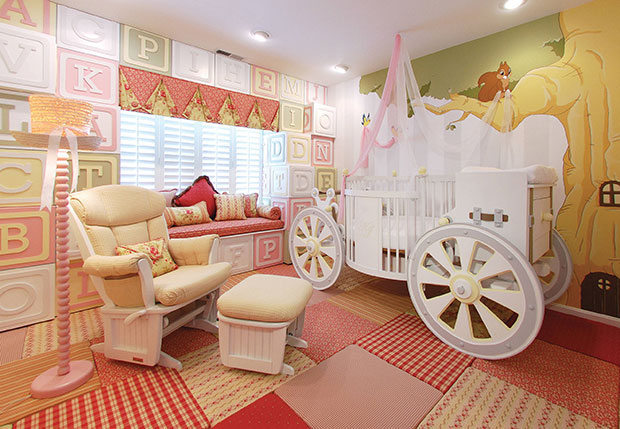 Adaptiv Design Concepts
You can't get anymore princess-y with a carriage crib like this. There's even a fairytale mural fitting with the theme.
Beech Residence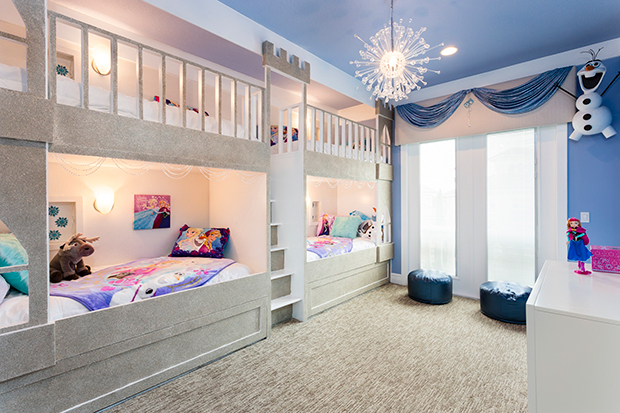 Princess themed bedroom ideas can be vague or broad. So, picking a specific inspiration could help you ease up with the planning and decorating. This room, in particular, is decorated around the popular animated movie, Frozen.
They even picked out a chandelier that resembles a snowflake!
Z Princess Room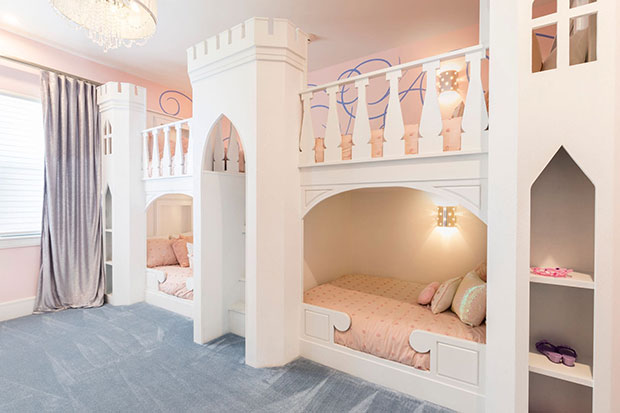 A custom castle bunk bed is such the perfect and easiest way to build a princess themed bedroom. You will find many princess themed bedroom ideas adhere to this.
Holt Residence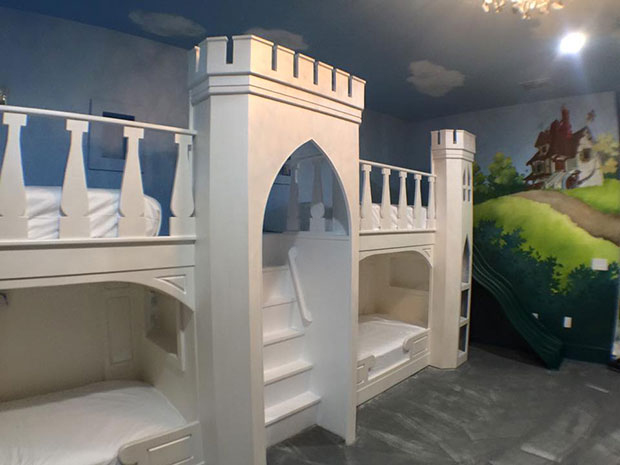 Suzanne Nichols Design Group, Inc.
Another princess themed bedroom with a castle bunk bed. Though, this one has a slide to go with it. But instead of a pastel pink palette, the room is mainly painted sky blue, and a mural with a fairytale-like land.
Storybook Room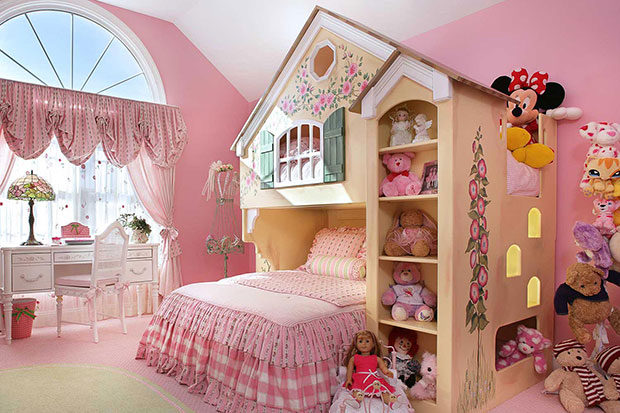 Sheila Rich Interiors LLC
A castle bunk bed may be too much, especially if there is not enough room space for one. So, this storybook room has a house bunk bed instead.
Extreme Home Makeover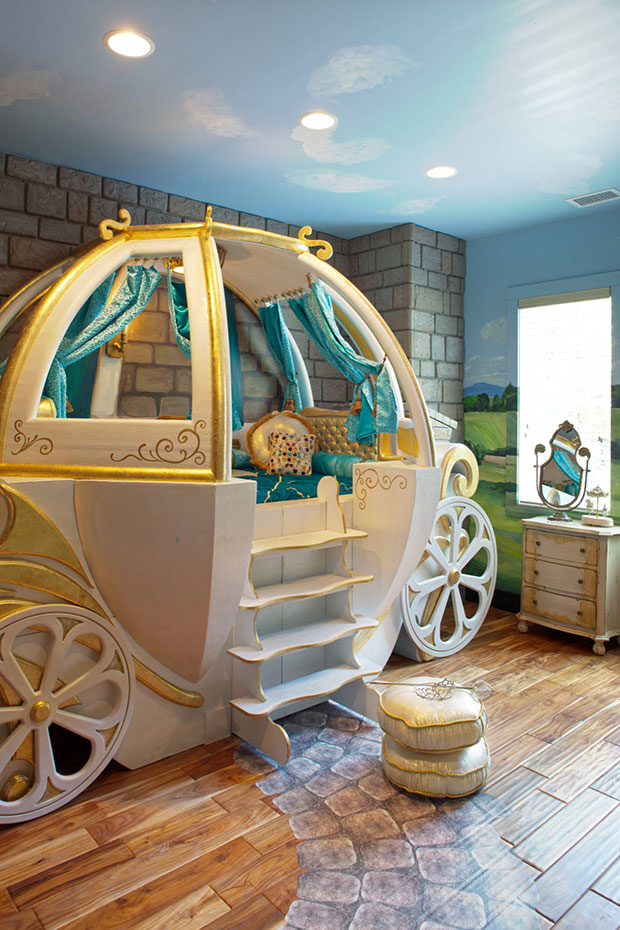 Hansen Architects, P.C.
This entire room is very much committed to the princess theme. Not just from the carriage bed and other furniture to the walls, even the floor is in theme.
Watson Court I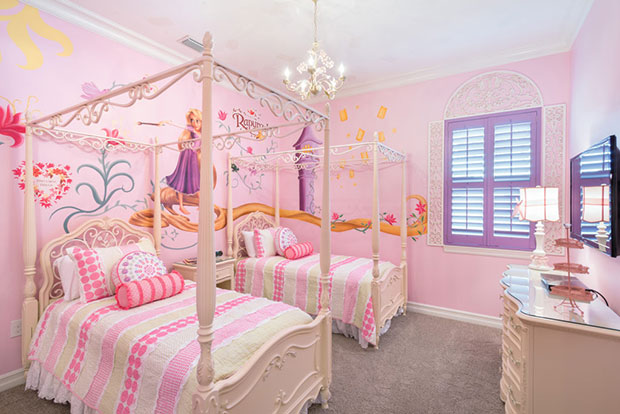 Legacy Custom Built
An ornate four-poster bed is a cheaper alternative than a custom castle or carriage bed. In this room, the furniture match well with each other. Plus, the mural painting all over the walls, particularly around the window, definitely does justice.
Pretty in Pink Little Girls Bedroom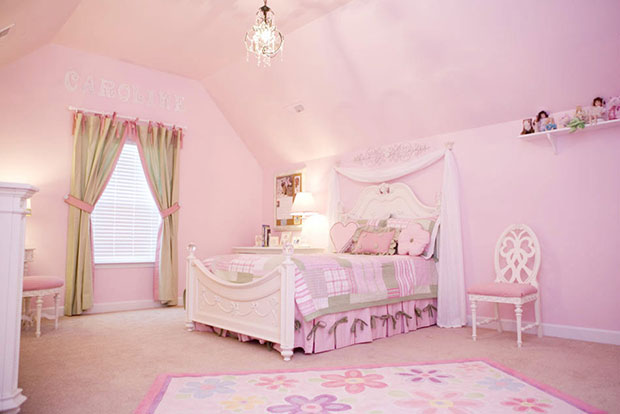 Cheryl Hucks Interior Designs
A curtain over the headboard, acting as a canopy, is a great touch of detail in this room. Even the choice of chairs is perfect for the theme.
Girl's Princess Bunk Bed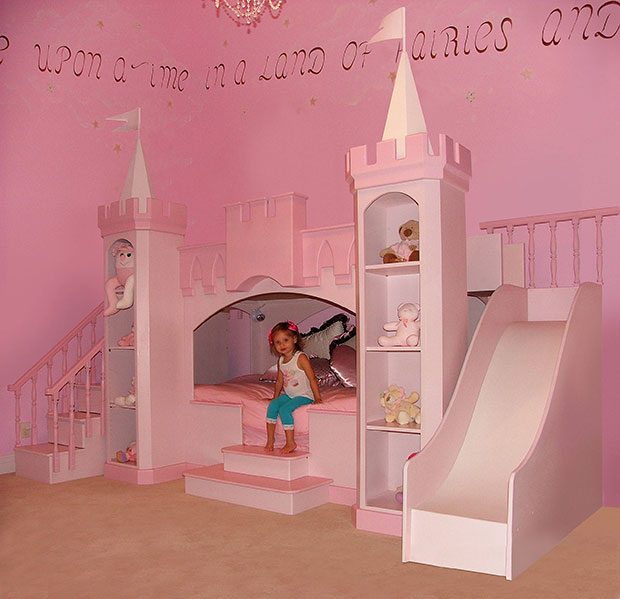 Sweet Dream Bed
Castle bunk beds like this have the advantage of being multifunctional, providing shelves for your little girl's dolls and toys.
Fantasy Bedroom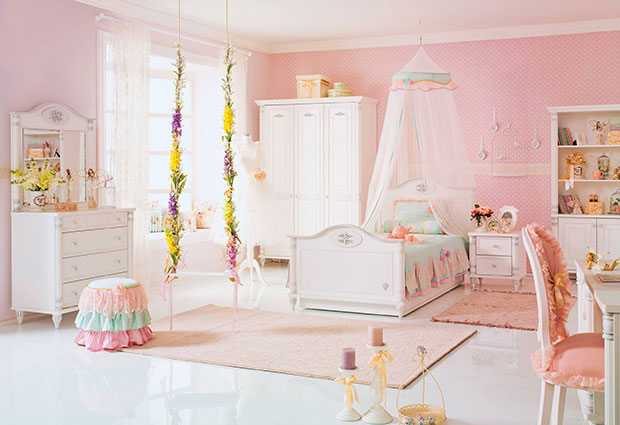 Turbo Beds
If you have the space and if you're renovating, it would be a great opportunity to add a swing to your little girl's room. Add some floral accessories to it and you have one of those regal and whimsical princess themed bedroom ideas.
Redwood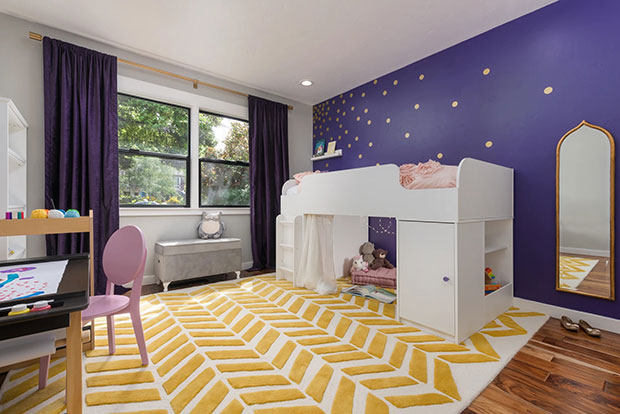 In The Deets
Purple is a great color for princess themed bedroom ideas. If you're going to opt for it, try incorporating a different shade of purple from your accent wall.
Girl Princess Bedroom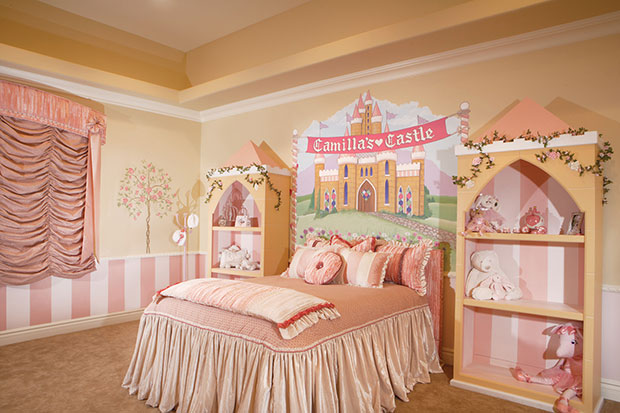 Eagle Luxury Properties
If a bunk bed is out of the cards, why not try to give your kid's room a look like this. The towers on either side can be her shelves and then draw a mural by the headboard to complete the castle-like appearance.
1929 Estate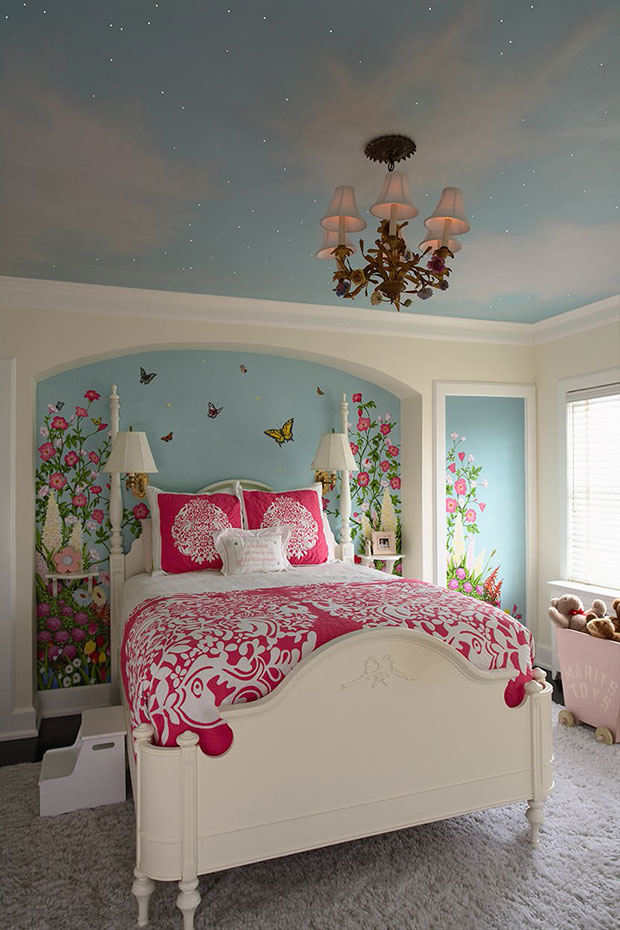 RLH Studio
A princess themed bedroom is magical on its own. But you can amp it up with a starry ceiling for when she goes to sleep.
Newpark House Plan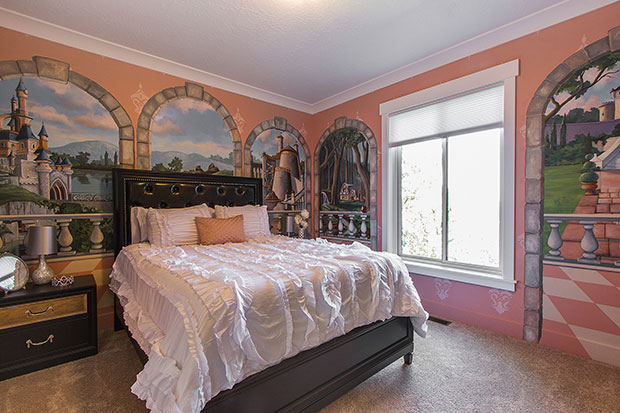 Walker Home Design
Some princess themed bedroom ideas would only have a wall used as a mural. But in this house, every wall has work done for to truly capture the theme. Also, notice the traditional-style furniture choices in this room that complements with the murals.
Magical Vacation Princess Bedroom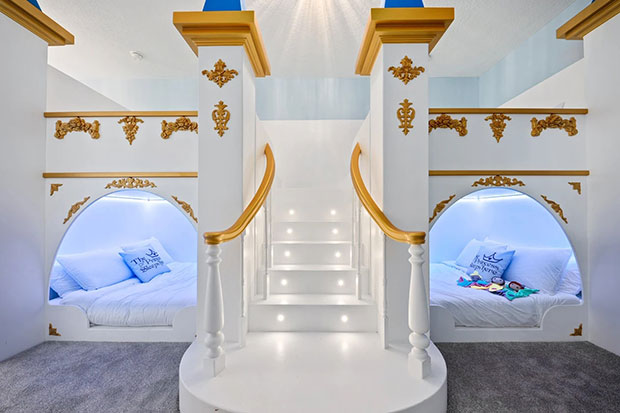 C&S Themed Interiors
Notice the combination of white, gold, and blue create the perfect royalty vibe. Even the steps going up the bed has inlet lights!
Princess Magical Vacation Castle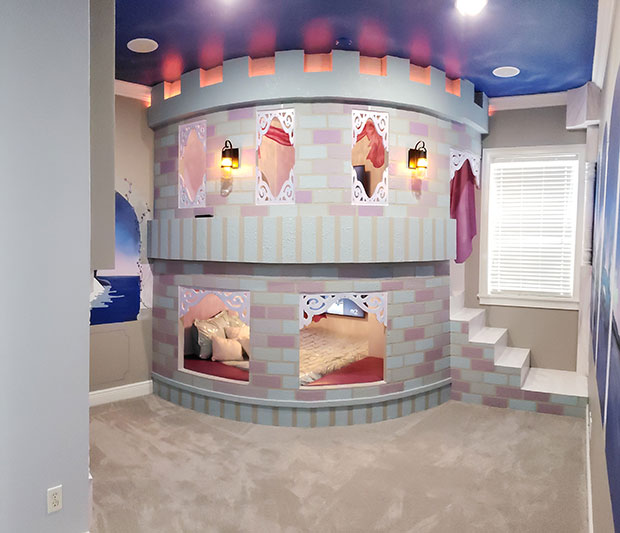 A round castle bunk bed is certainly refreshing from all the other similar princess themed bedroom ideas. They even put up a curtain by the entrance of the top bunk.
Princess Castle Bedroom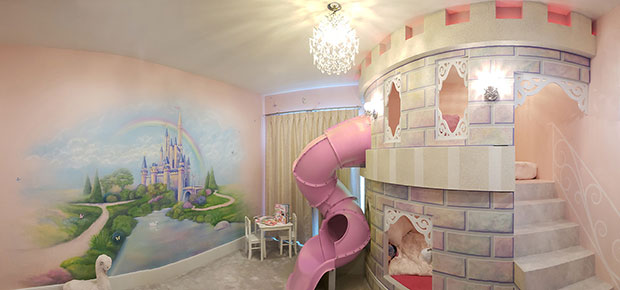 Another round castle bunk bed, but this time there's a fun swirly slide! There is even a little table set-up in the corner for a royal tea time.
Frozen Themed Bedroom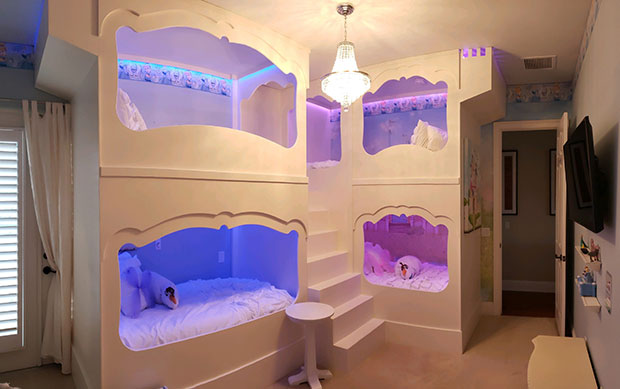 If you pay closer attention to the interior of the bunk beds, you can see the Frozen-themed painting all over the walls. Plus, look at those Olaf pillows!
Princess Castle Room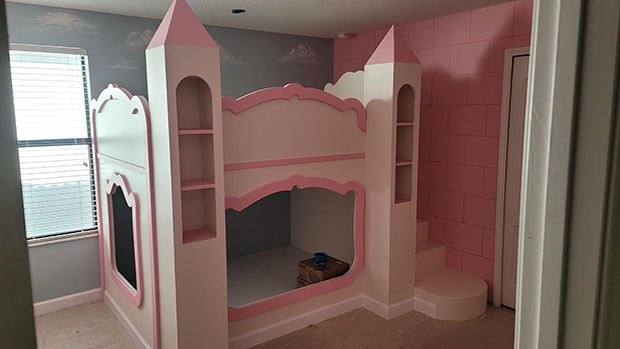 This room has an interesting combination of sky blue and pastel pink. It makes for both a warm and cool ambience.
Traditional Princess Castle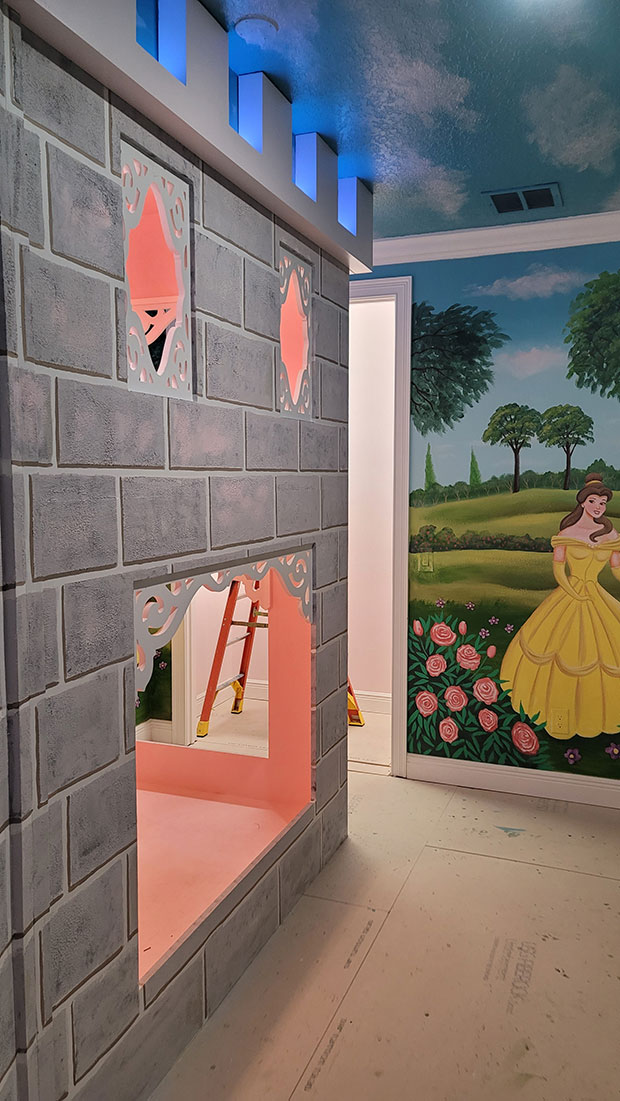 C&S Themed Interiors
For some princess themed bedroom ideas, a mural or murals of popular Disney princesses is a way to fill up the walls.
Castle Theme Bedroom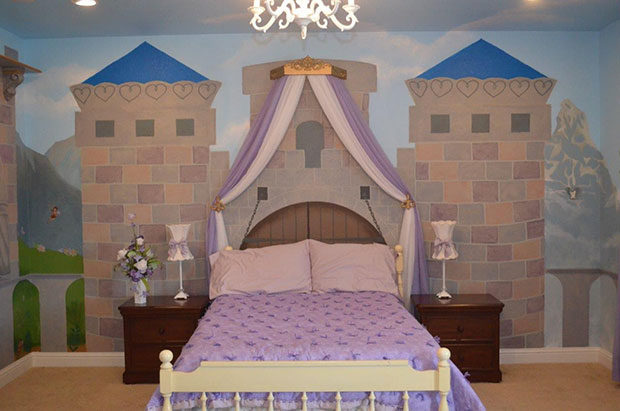 Wall Art by Allyson
The canopy curtains are nicely placed together on the wall with a fixture that looks a lot like a crown.
Mid-Century Home Décor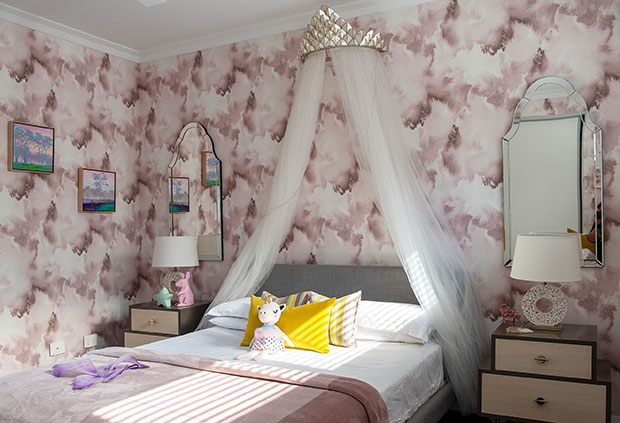 Design Intervention
Similarly, this one too has a crown-like canopy. The metallic silver color perfectly matches the mirrors on the wall.
Fairy Themed Room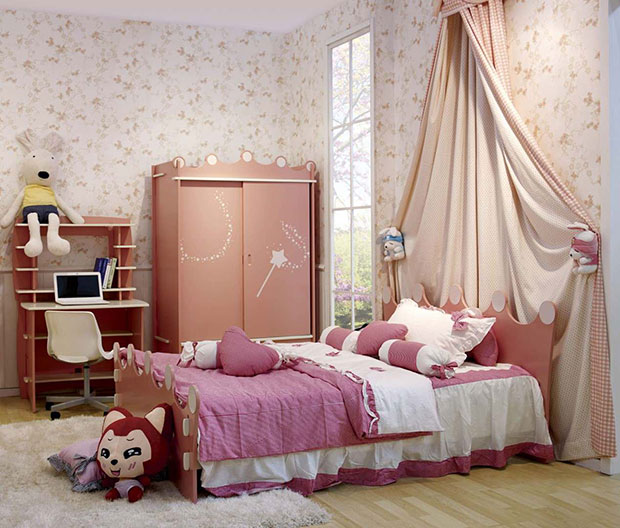 Cuckooland
The crown design of the bed frame and cabinet are a great choice if you want to add some whimsicality to the room.
Princess Themed Girl's Room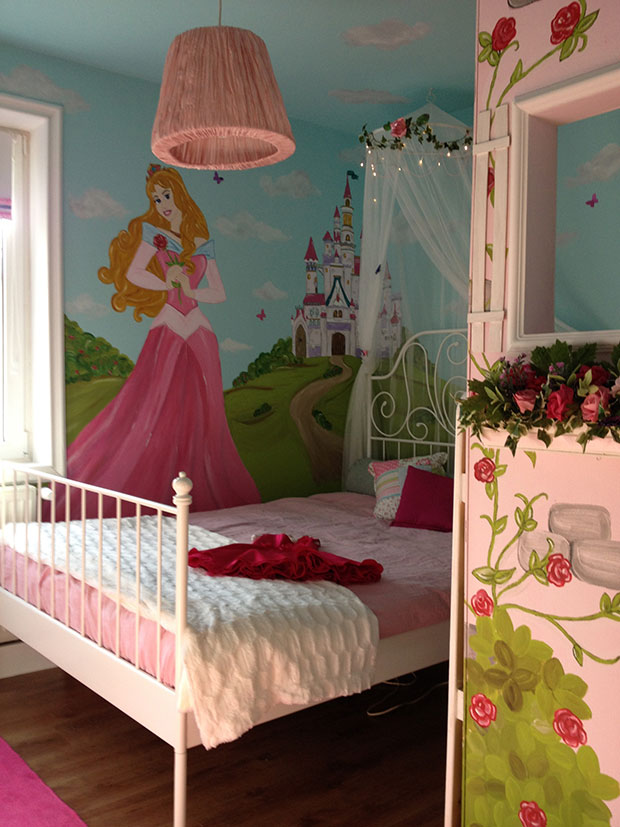 Ciutureanu Raluca
The fairy lights around the canopy are the perfect touch of magical.
Villa 05 Sainikpuri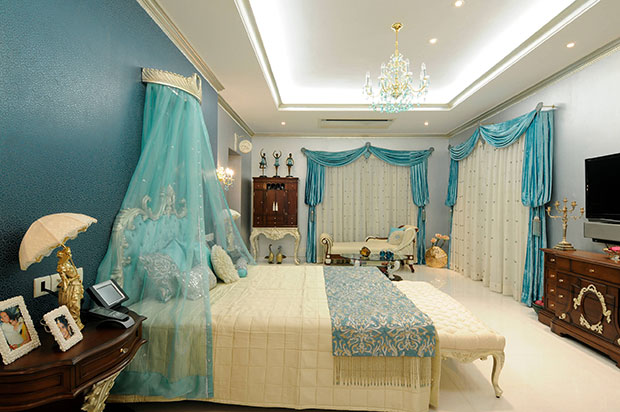 Metaphor Interiors Pvt Ltd
Instead of the usual colors you can find in many princess themed bedroom ideas, this room uses teal to bring life into it.
Quarto Princesa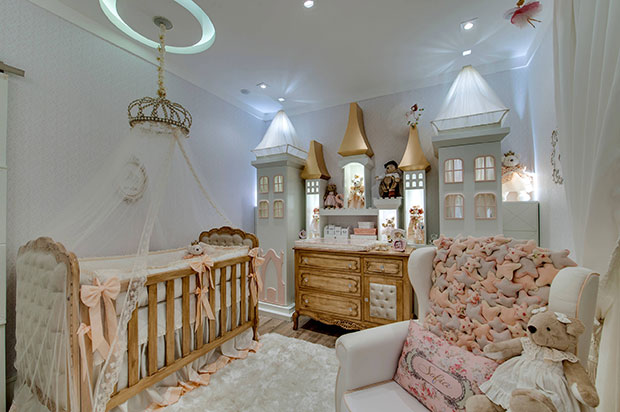 The crown canopy over the crib is to die for. Heck, even the castle fixture with light over the towers are such attractive features.
Bedroom Girl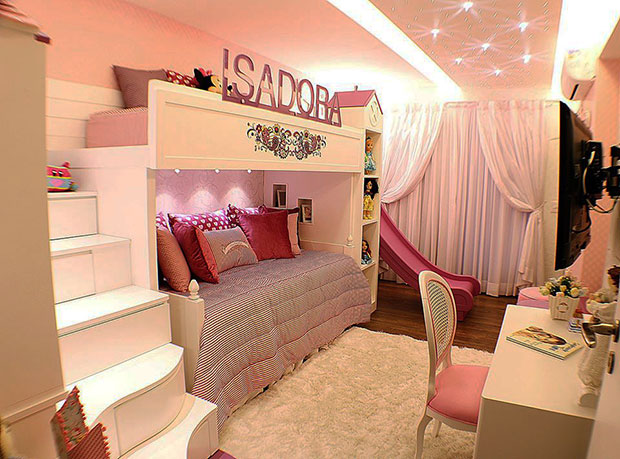 Andrea Bento
To make your little's girl feel personalized, you can have their name displayed and attached to her very own castle bunk bed.
Princess Bedroom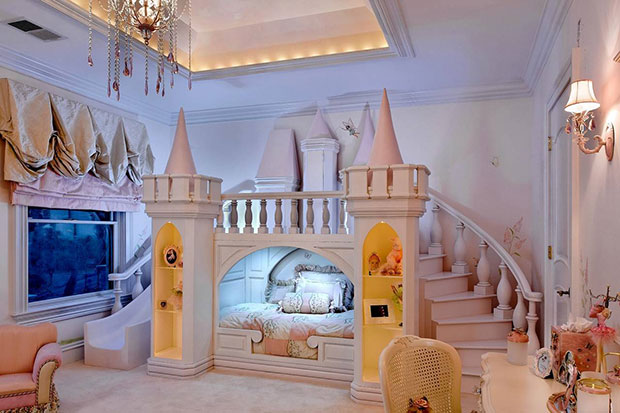 The entire room is designed from the ceiling to the floor, and every side and corner to fully embody a royal-like room. And the furniture and decorative pieces all complete the puzzle.
Princess Themed Bedroom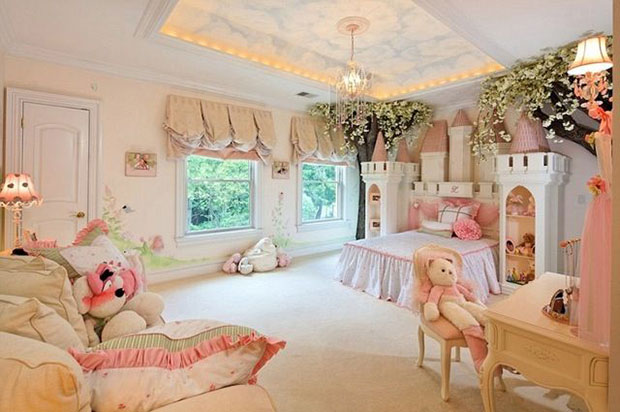 Dahlia Design
The sky painting on the recessed ceiling is a nice design detail that adds into the outdoors-y feeling with the tree designs.
Opulent Oceanview Penthouse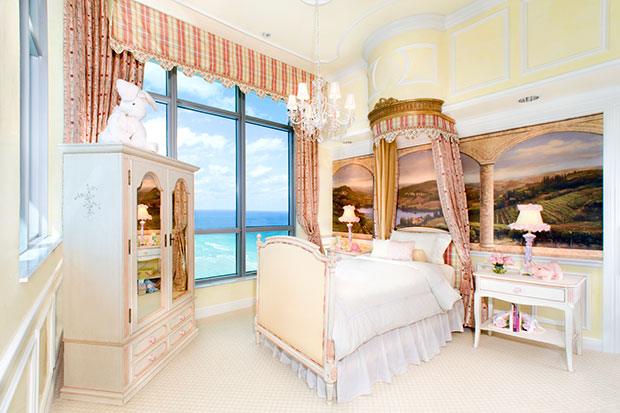 Built by Owner
Yellow isn't a go-to color for princess themed bedroom ideas. But this pastel shade is a nice choice perfect for a young girl.
Princess Bedroom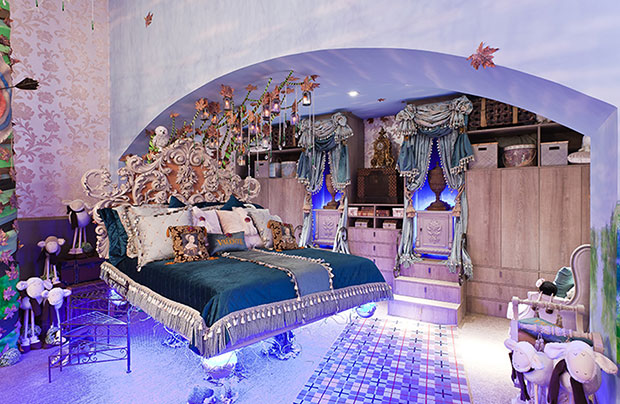 Nimvo
For the slightly older girls, this kind of princess bedroom idea may be more suitable for them. It even cleverly arranges the curtains to look like Victorian clothes.
Girls Bedroom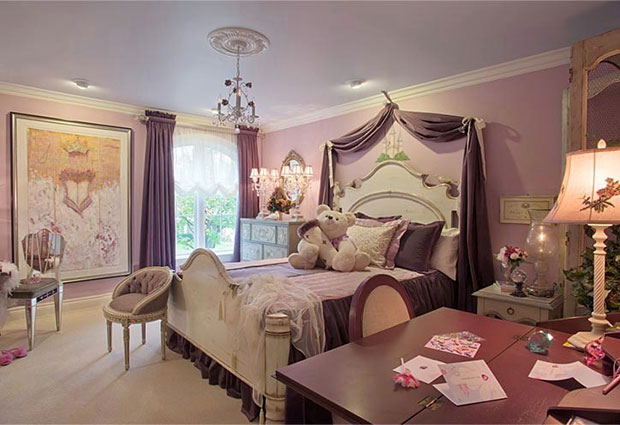 Mary Antenucci Interiors, LLC
Purple and pink would nicely go together for princess themed bedroom ideas too. Bring in some traditional, ornate lamps and chandelier while you're at it.
Traditional Kids Room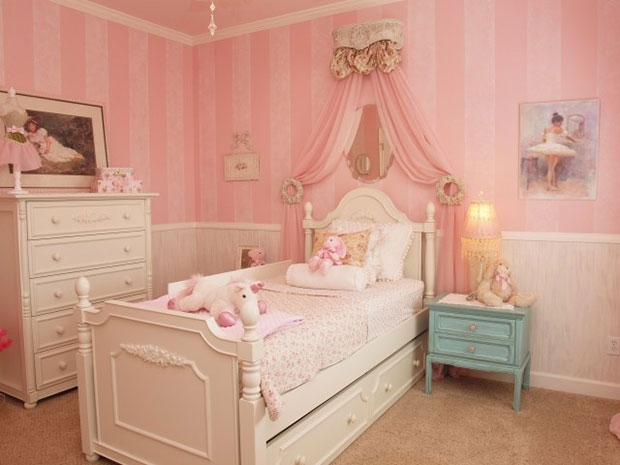 Heavenly Haus Interiors
The addition of the paintings seem a little out of place, considering this is a child's room. But with the furniture choices, it all seems fitting.
Fusion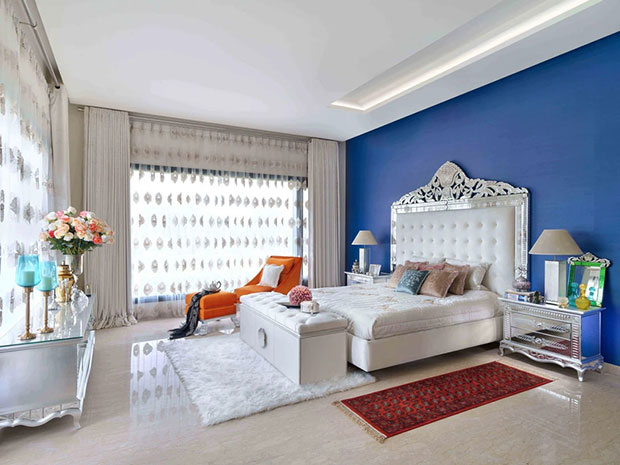 Altus Luxury Living
Another princess themed bedroom idea for the older girls. That royal blue accent wall definitely lights up the room.
Airole Way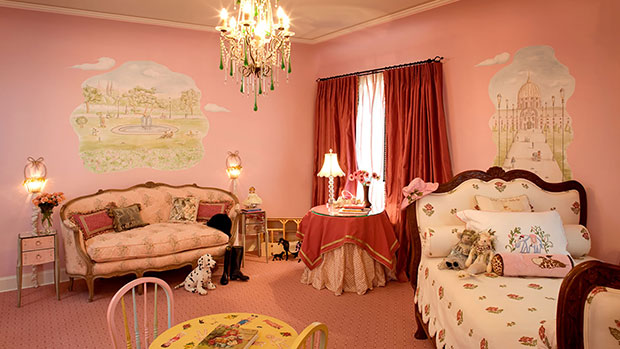 Susan Jay Design
The vintage sofa and daybed are great choices that certainly captures the royalty theme.
Tuscan Style Home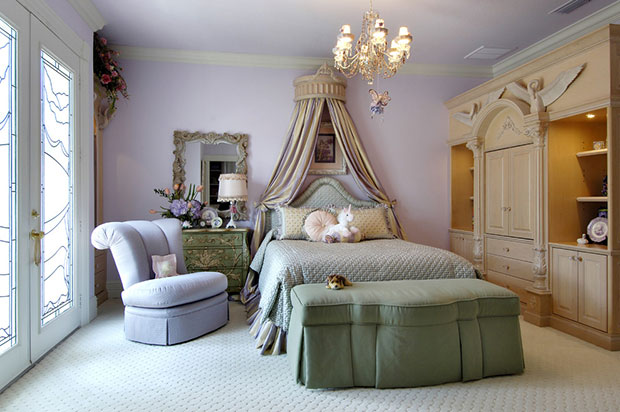 Décor Studio 1
Every piece of furniture in this room fits the royal theme and appears appropriate enough for older girls.
Blush Pink Bedroom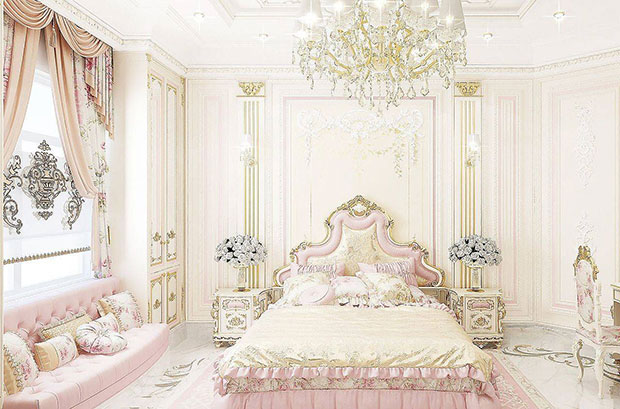 Lineth Gonzalez
All the ornate details from the room's finish and the furniture come together for a very expensive-looking princess themed bedroom.
Princess Room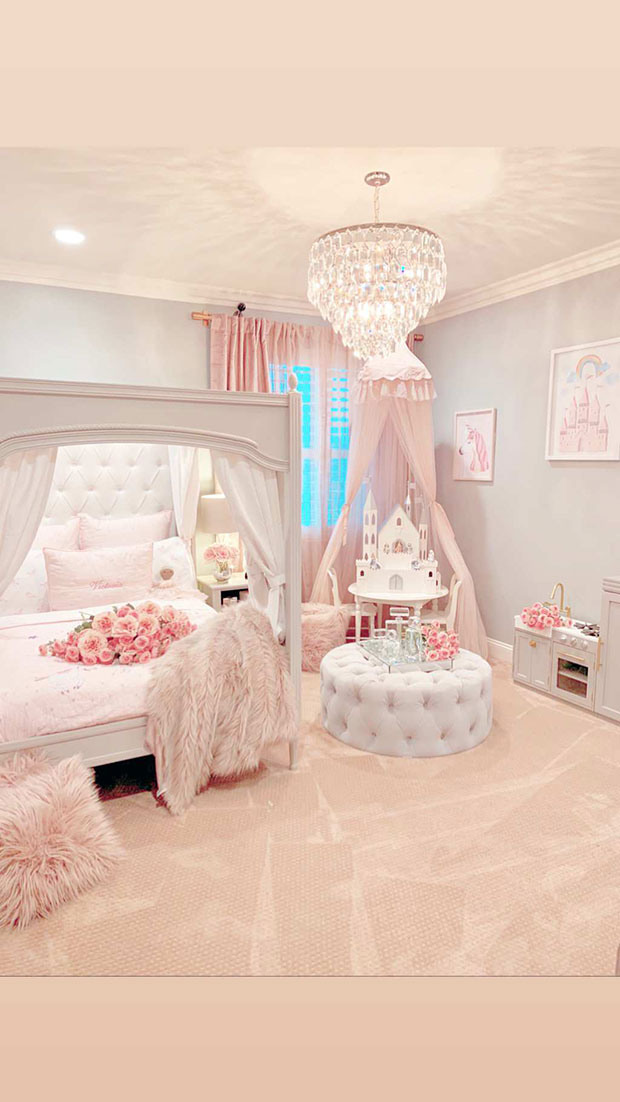 RH Interior Designs
Nothing could be more stunning in this room than this chandelier. It's perfectly complemented by the furniture and decorative pieces around.
Savy's Boho Princess Room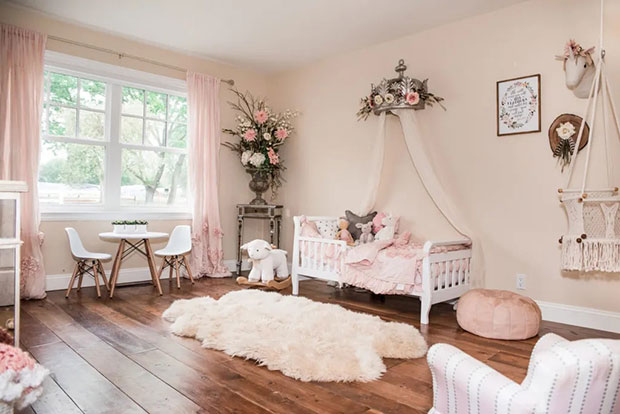 Lolo Webb
Keeping the wooden floor and adding some bohemian-style décor perfectly created this boho princess room.
Colorful Update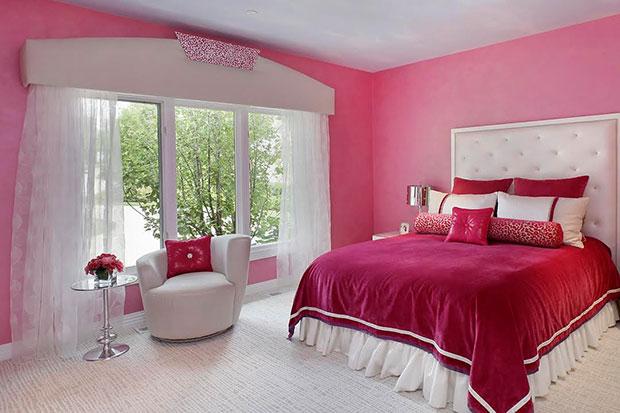 Interior Enhancement Group Inc.
The window's top frame is a very interesting design detail that resembles something of a castle's archway.
Princess Bedroom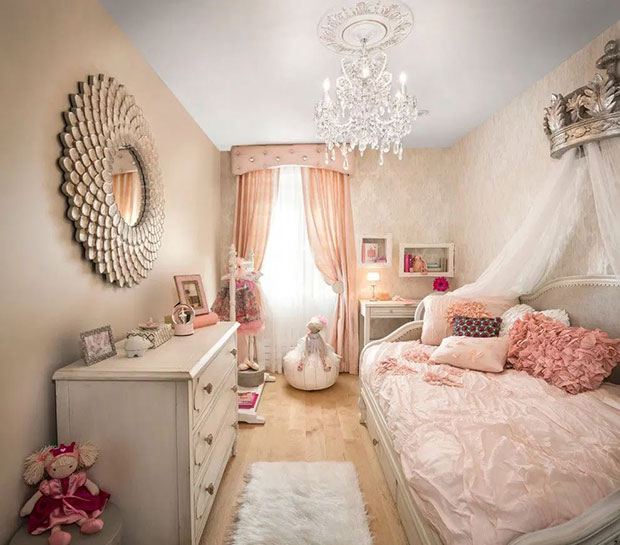 Nord Architecture
Even with small bedrooms, you can manage to create a sensible princess themed bedroom. Just look at this one!
Pink Princess Room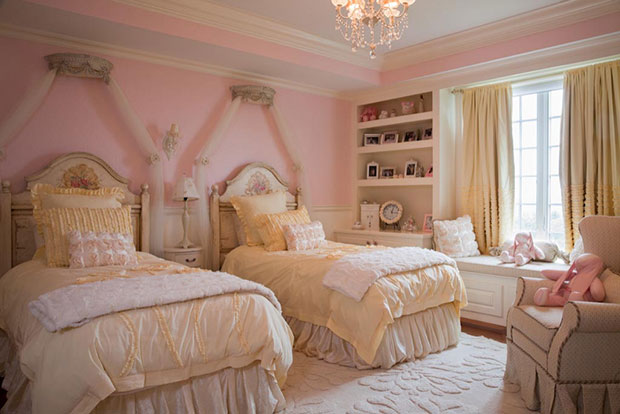 MDK Design Associates Inc.
The bed frame and the canopy create the perfect combination to showcase the princess theme.
Gigi's Princess Room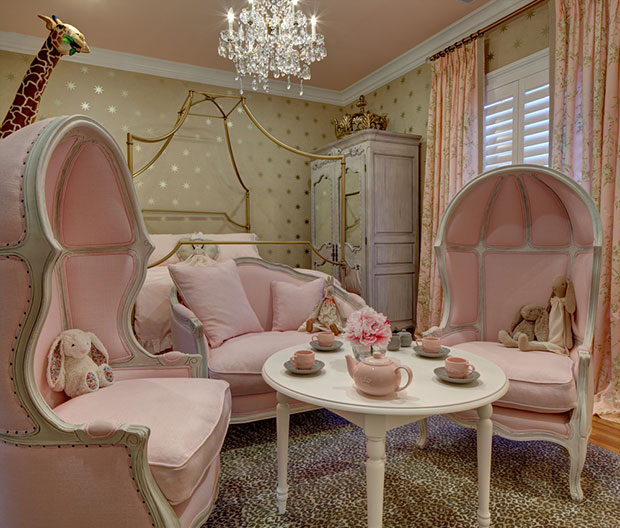 Even though it's a child's room, get bold by using vintage-style furniture in her room. Just make sure they are still sturdy and reliable, of course!
Le Petite Rose Nursery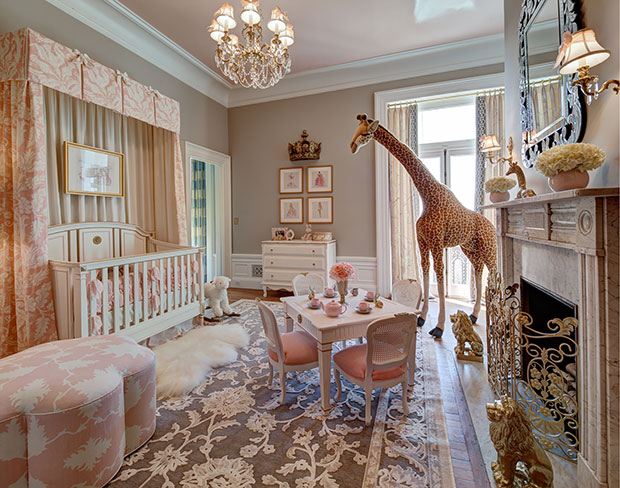 Kristin Ashley Interiors
The fireplace and the mirror above it could be the cherry on top of this room design.
Teenage Girl Bedroom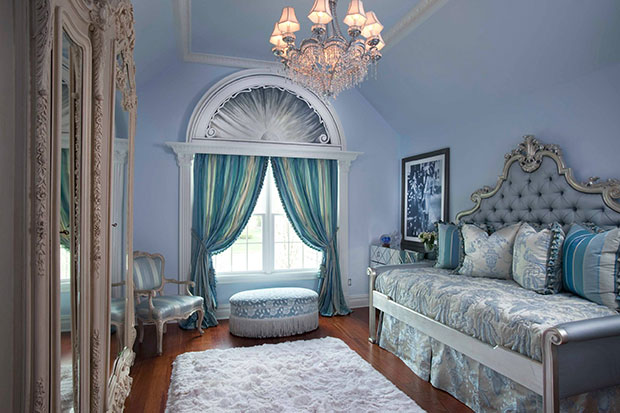 Evelyn M. Designs
The pastel blue walls are a nice backdrop to the neutral and metallic colors found around this room. The overall colors are just perfect for a teenager.
Cinderella Nursery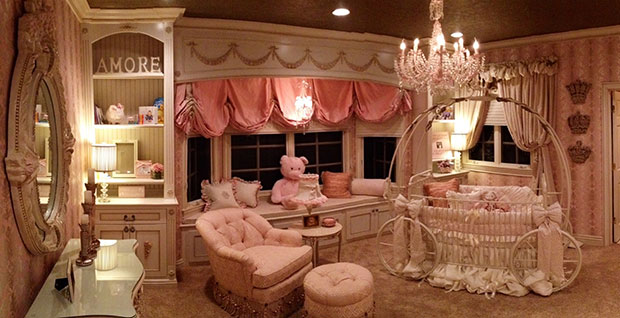 Cheryl Collins Signature Style
Another carriage crib but is now more reminiscent of the one in Cinderella!
That's all for the princess themed bedroom ideas! Did any of these inspire you for your own child's room?
Like This Post? Pin It!