45 Heart Bedroom Designs for the Romantics
|
The bedroom is the one room in your house that is most designed to align with one's preferences and personality. You will find bedrooms built around specific themes like sports or hobbies. One theme that you could, and should, consider is a heart bedroom.
There are many things you can do to create a heart bedroom. From the ceiling to the walls, from your ottoman to even the bed! A heart bedroom could look a million ways!
What colors will work with heart shapes?
A heart shape is a symbol of love and passion. Because of this, understandably, heart shapes are usually paired with red and pink colors. But a heart can also mean different things and represent many colors. You could put your own spin and meaning on the shape.
Let's take a look at many heart bedroom ideas that could inspire you!
Heart Bedroom for Adults
Heart bedroom ideas for adults tend to fall into a romantic ambiance, especially for couples.
Master Bedroom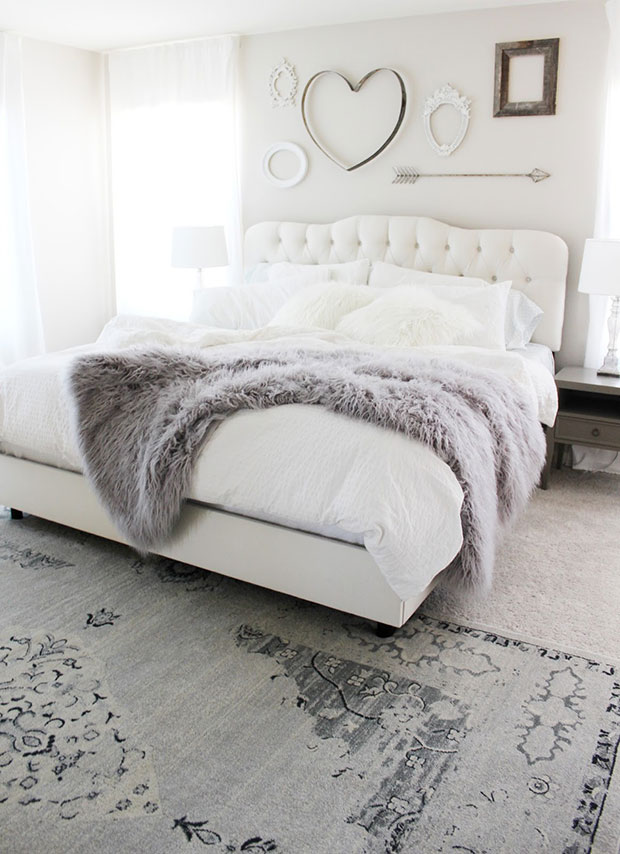 Aubrey Kinch
Find a heart décor and complementary accessory pieces, and don them above the headboard. It's minimalist but enough to bring a romantic ambiance to the room and even some stylish glam.
Lovely Pink Bedroom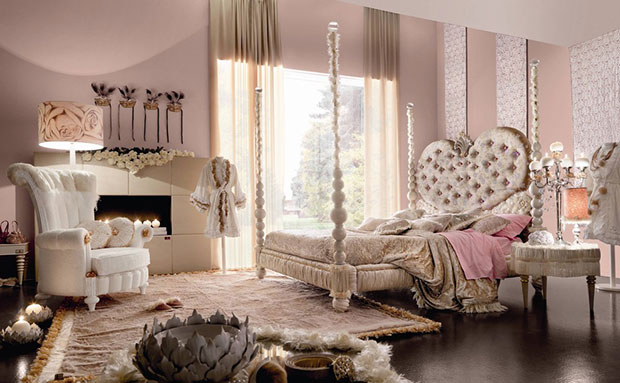 Imagine Living
Now, this is one stunning bed with its heart-shaped headboard. Being the focal point of the room, it is also accompanied by an equally stunning interior.
Coronado Dutch Farmhouse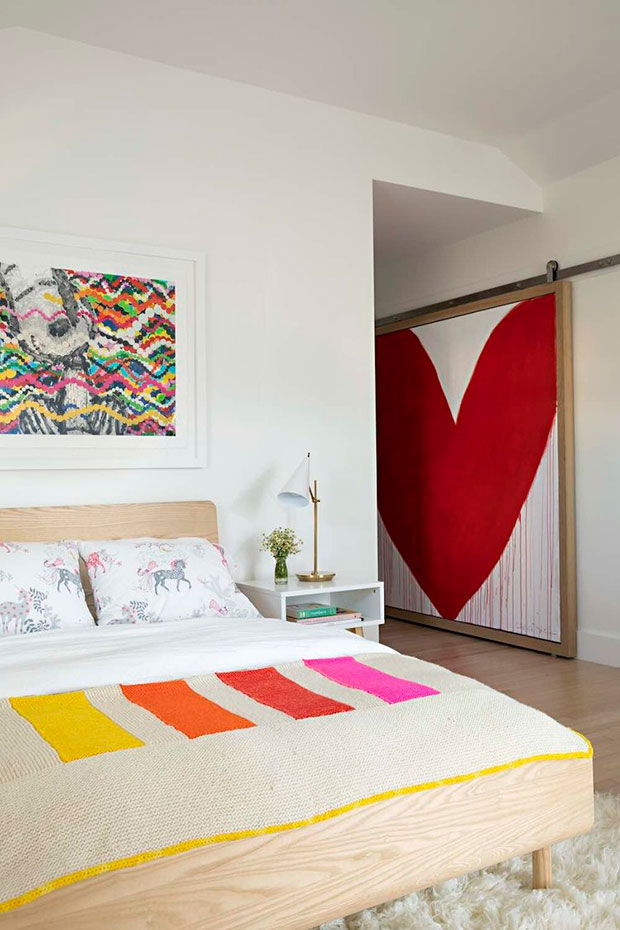 Raili CA Design
If you're hesitant about committing to a heart theme, place a heart shape somewhere in the bedroom that's catchy enough but not overwhelming to the ocular senses.
Just take a look at this giant heart plastered all over this bedroom's sliding door!
Firefly Home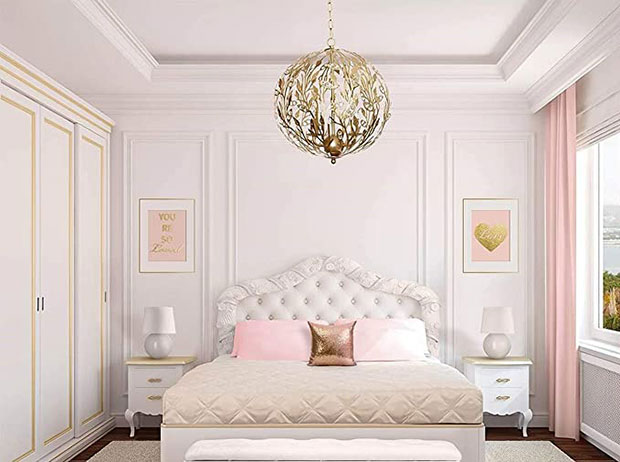 Amazon
You can have a heart-themed bedroom without an overwhelming number of heart shapes around the room. With pastel colors and golden accents, a single heart-shaped décor, you have the ambiance of a heart bedroom here.
Batticuore White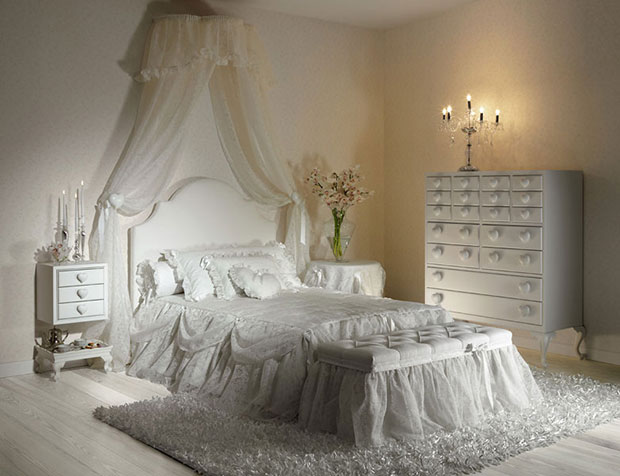 Halley
While most people associate hearts with reds and pinks, here we have an all-white heart bedroom. The color brings a soft, romantic glow to all hearts.
Midtown Toronto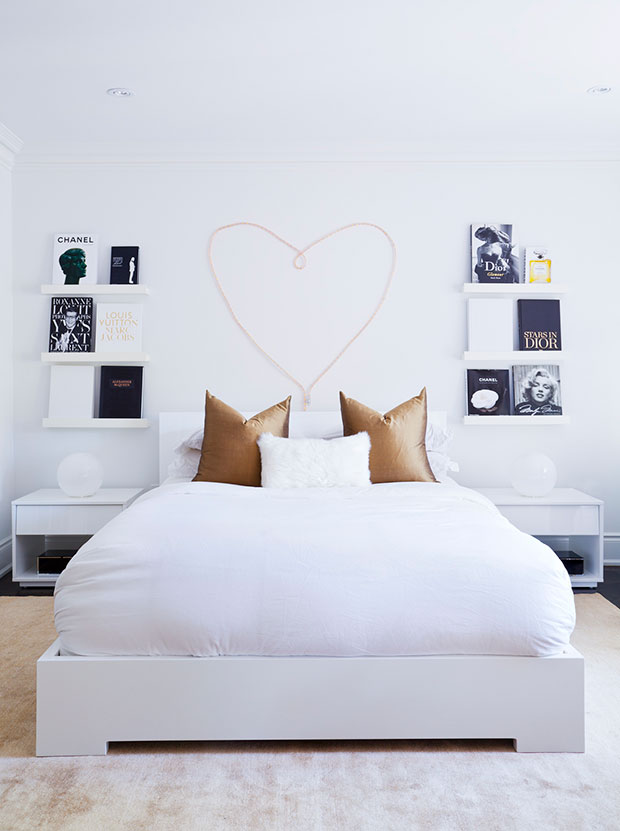 The Design Co.
If you're thinking of a more minimalist approach, a string of LED lights made into the shape of a heart adorning your wall could be your solution.
Pink Heart Shaped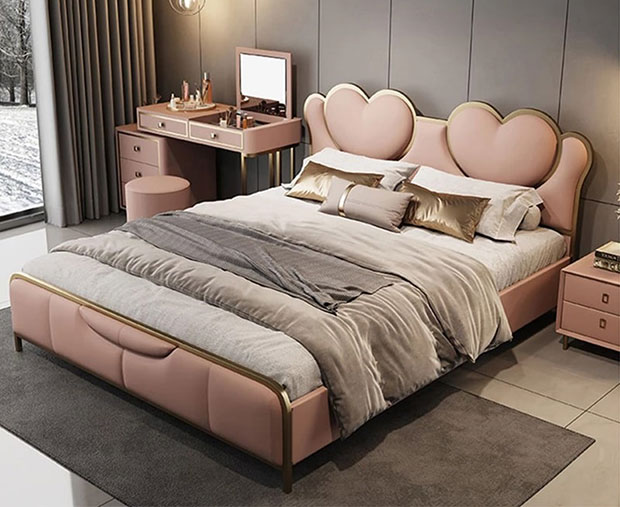 Freemoo
A heart-themed bed adds to the romantic vibe any adult bedroom would want to have. This is also the easiest thing to do to create a heart bedroom.
Heart Bed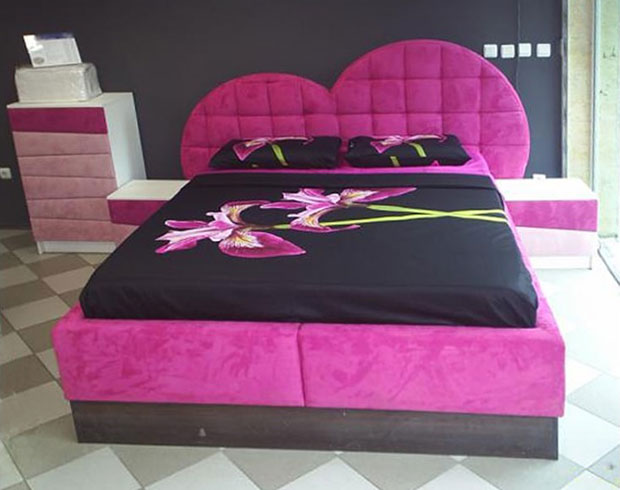 Dimela Design
Another heart bed but with its hot pink upholstery, this can certainly make a heart bedroom look more passionate.
Heart Bedroom for Teens
Heart bedrooms for teenagers tend to be more expressive which would show in the decoration and color choices.
Color Adventures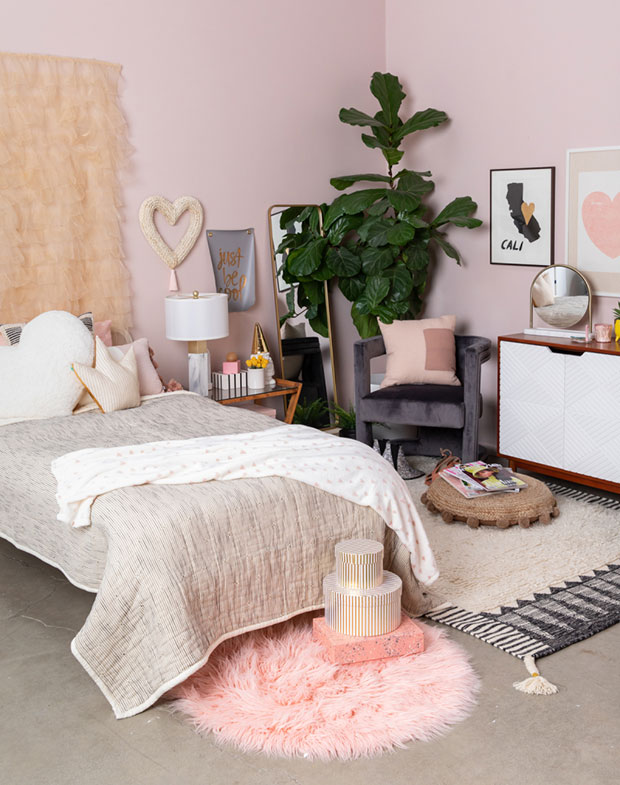 Oh Joy!
The pastel pink walls go along with the heart decors on the wall. But the room's entire color palette creates the perfect preppy heart bedroom.
Heart Girl Bedroom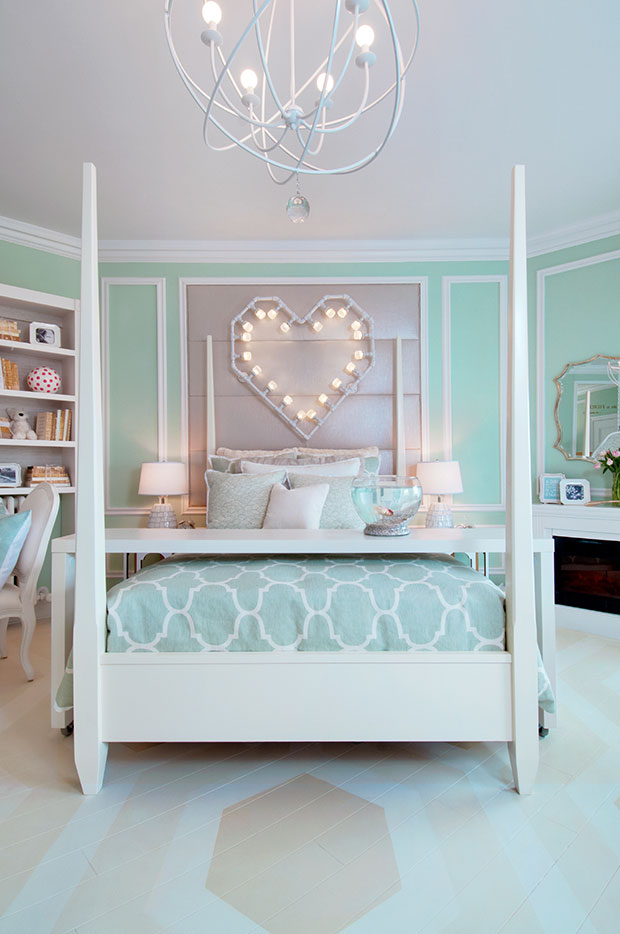 Crystal Waye Photo Design
Compare these heart-shaped light fixtures to the other one above, it shows that you have many options if you do opt for heart lights for your bedroom.
Girls Room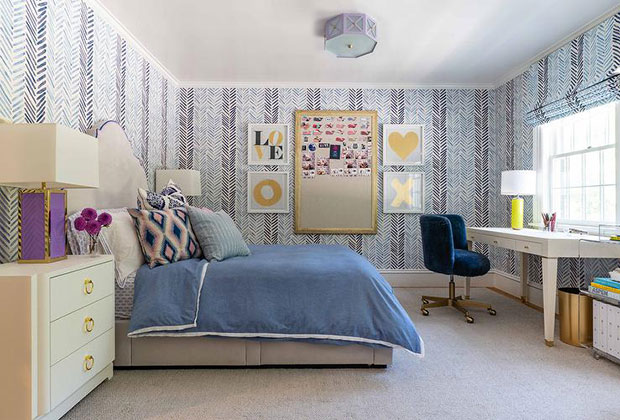 Liz Caan Interiors
This kind of room is perfect if you don't want to completely indulge in too many hearts in your space. As most teenagers have one too many interests, sticking to one theme may not be suitable.
House in Sofia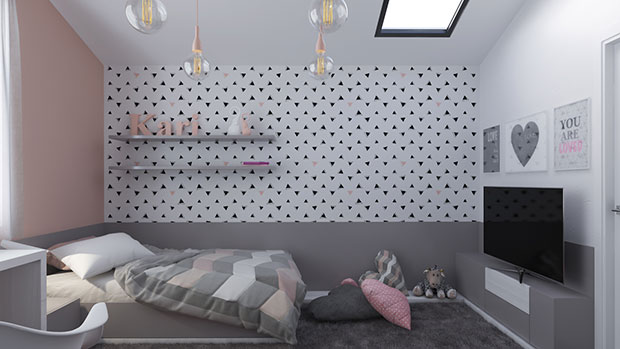 Fine Design
This color combination is quite charming and refreshing, and especially interesting for a heart bedroom. The palette alone is enough to fill in the gaps of a minimalist room.
Forever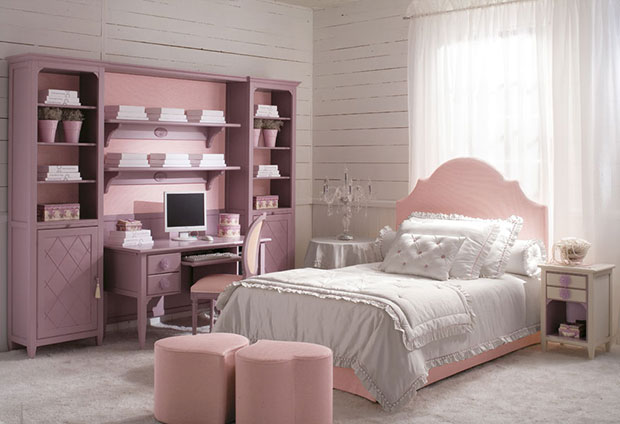 If a heart-shaped bed can be too much, there are heart-shaped ottomans that you could opt for instead. This room matches the bed and the room's color scheme.
J Collection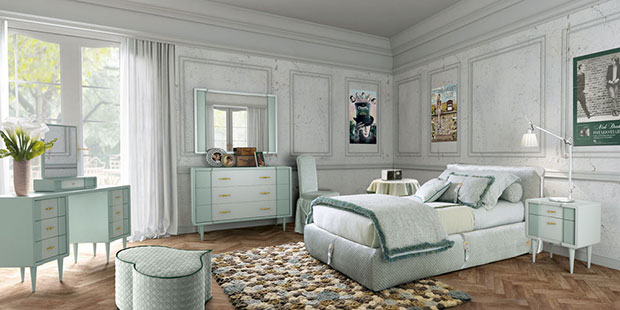 Halley
Another bedroom with a heart ottoman, but this time it is in an unexpected color. It's an exciting look for this particular shape and the overall look of the room!
Who would have thought that a pastel mint green heart would bring so much youthfulness?
Neon Pink Heart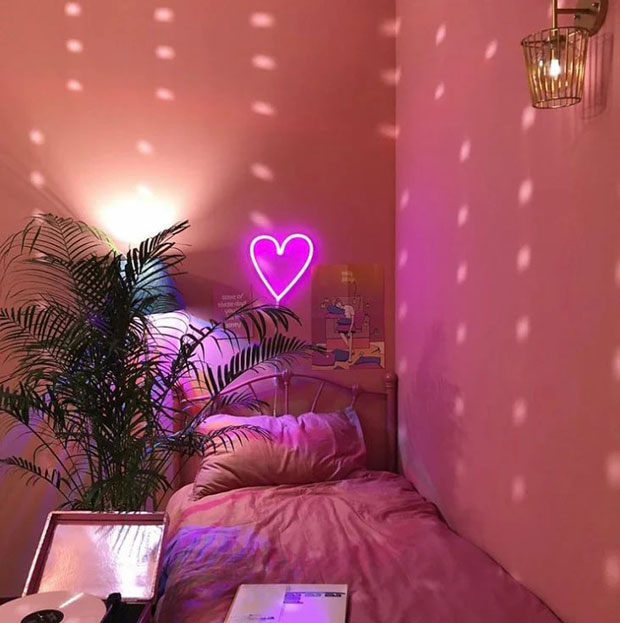 Tapestry Girls
Teenagers love to personalize their spaces with their moods. So, creating a heart bedroom through ambient lighting could be a great path. Having a heart light fixture and then complementing it with the right pieces could definitely set the right ambiance.
Gaia Bedroom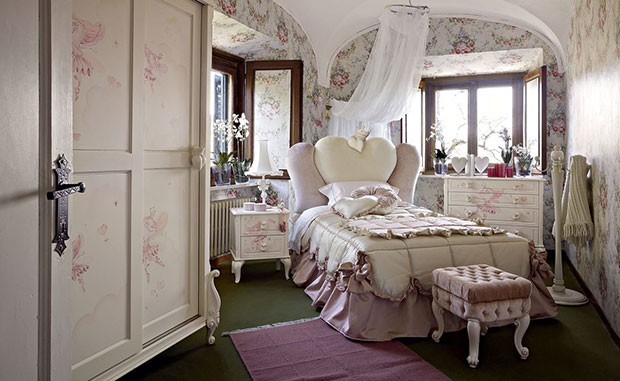 With classic and traditional furnishing, it's hard to imagine this to be a teenager's bedroom. But with the right décor, from the floral pattern wallpaper to the heart bed, this is turning out to be a magical bedroom.
Nuvola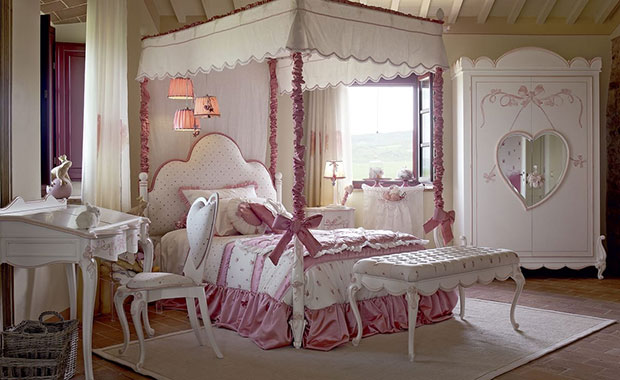 Volpi Sedie e Imbottiti Srl
The heart mirror on the wardrobe is novel and unique, certainly making a statement in this bedroom that's rather popping in visual aesthetics. Any teenage girl with an affinity for fairytales would certainly love a room like this. (This also shows how a heart shape fits perfectly with fairytale-like room visuals.)
Cameretta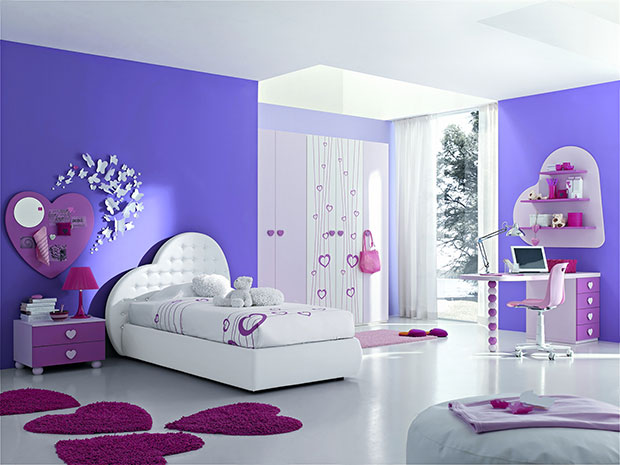 Mariani Arreda
While red and pink are the most popular colors associated with the heart shape, purple probably comes in third to them. Purple and pink, particularly, have also always been a good combination. For a teenager's bedroom, this is a great combination to create a preppy and spirited bedroom.
Heart Bedroom for Kids
Heart bedrooms for kids don't have a shortage of fun. Much like any other bedroom style or theme, you can expect bold color choices and lots of fun décor! And a heart theme only amplifies the joy and fun found in kids' bedrooms.
Yo Yo Pink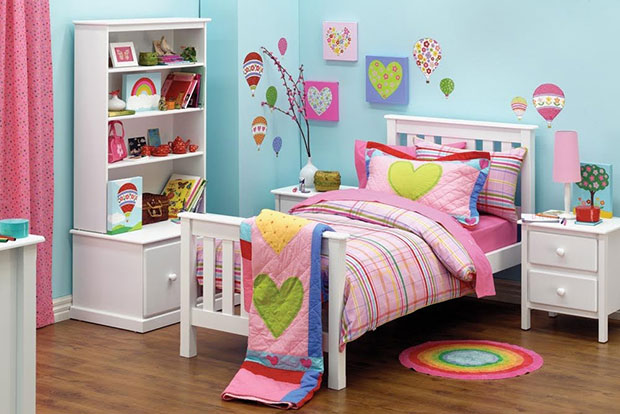 Right off the bat, a splash of colors will meet you that you may not even notice all the hearts in the room. But it's there and adds to the fun of it all!
Love Me Do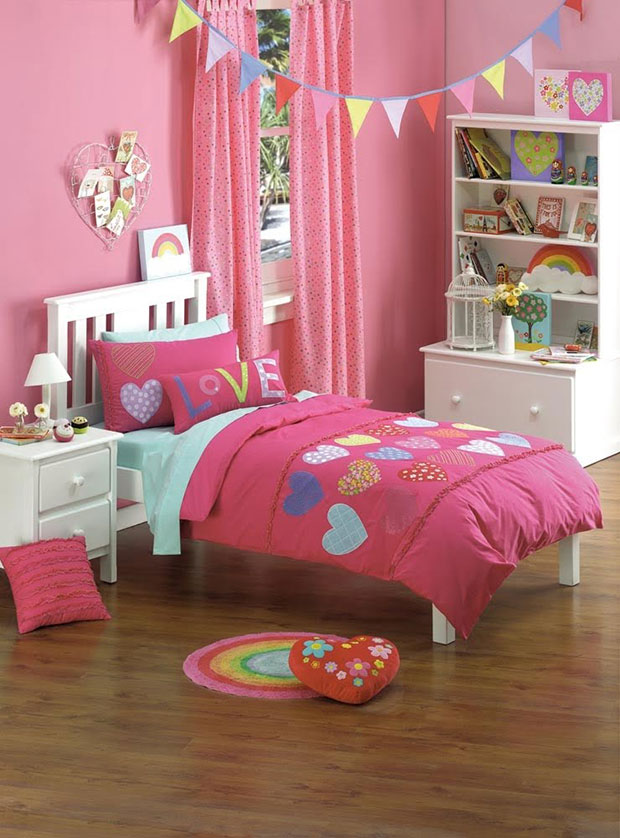 Linen House
There's no better way to express one's love for their kids with a whole bedroom centered around that. With all the heart shapes and patterns, and a lumbar pillow with the word "love" in it, surely your kid will know just how much loved they are!
Grand Beach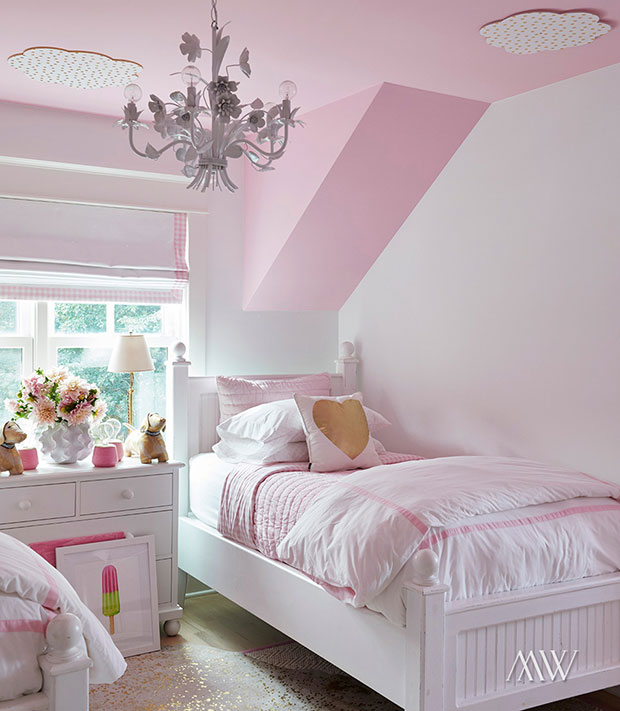 Megan Winters
Speaking of pillows, find yourself some assortment of pillows with a heart pattern on them to shake things up for a kid's bedroom. If the room is lacking patterns, like this one, a good heart-patterned pillow would make a whole lot of difference.
Indian Springs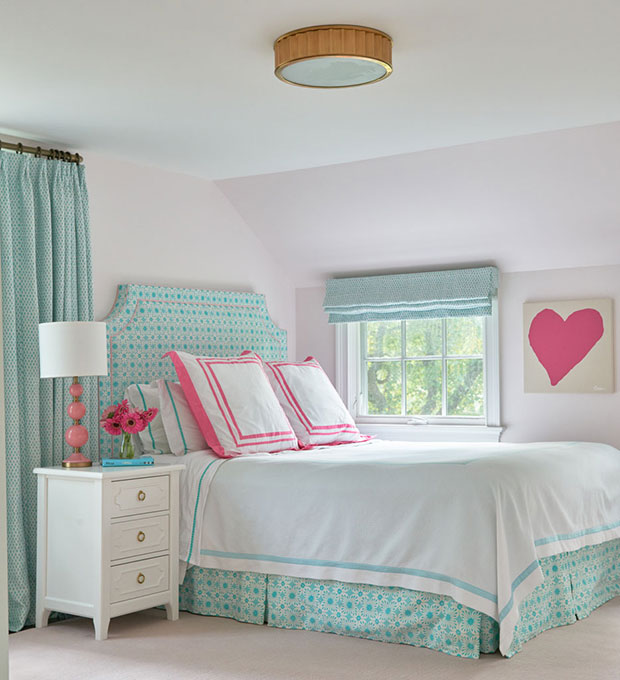 Elena Phillips Interiors
The soft pastel colors work really well with heart shapes. Such colors bring out a life of fun and joy into a mere shape and affect the overall look of an interior design.
Big Girl Room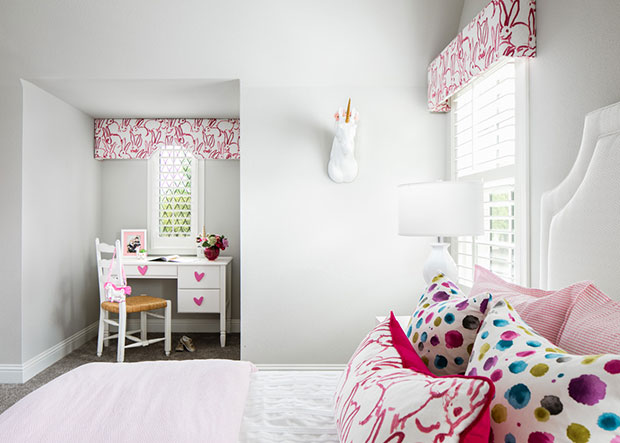 Studio Ten 25
Incorporate heart shapes into a room if having a complete heart-themed bedroom isn't to your kid's liking. Take note of this desk, for example, with heart knobs on the drawers.
Chalkboard Wall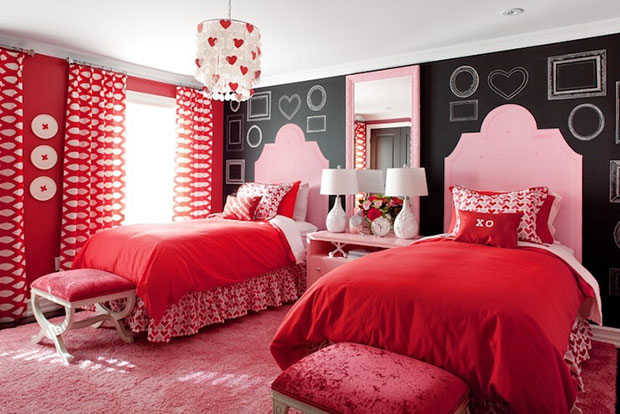 Jennifer Brouwer Design
This chalkboard wall design brings an edgy charm to the overall look of this bedroom. Though, the heart shapes kind of subdue that. Also, bring your attention to this chandelier with heart designs.
L's Big Girl Room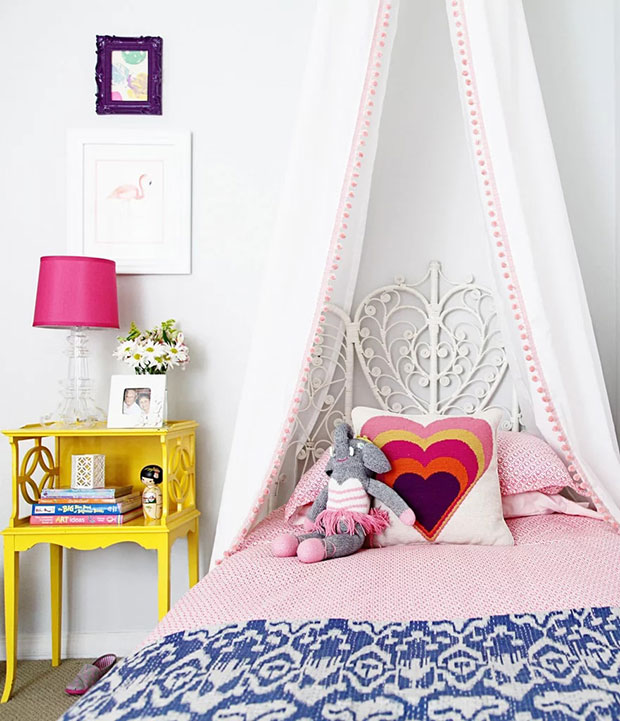 Erika Brechtel
If you're itching to keep it simple with your heart bedroom, you can find a traditional bed design with an intricate heart and scroll design like this. It's a simple addition but with the elaborate design, it could make a whole lot of difference to the overall look of the room.
Heart Wallpaper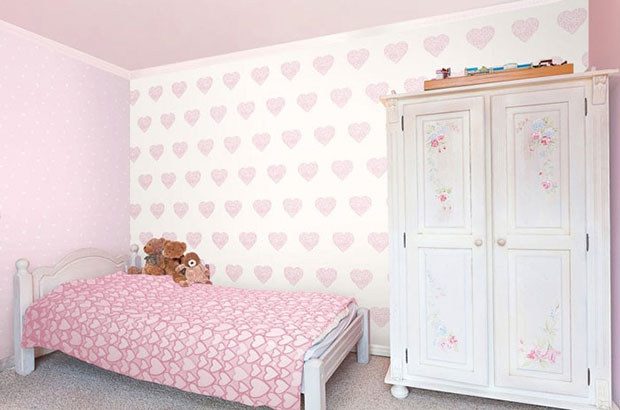 I Love Wallpaper
Having all of your walls filled with heart shapes can be too much. So, why not opt for just one wall to be covered with heart wallpaper? If you notice, this room matches it with small polka dot wallpapers, and the colors are even inverse of that of the heart wallpaper.
Sundgren Residence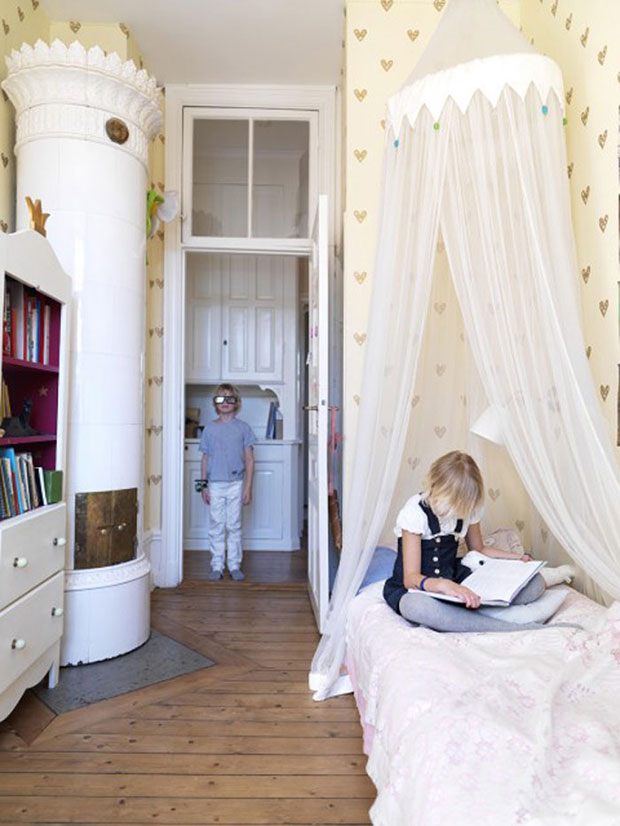 Stellan Herner
This heart bedroom is quite the opposite of the one above with every wall in this room being adorned by a heart wallpaper.
Love Love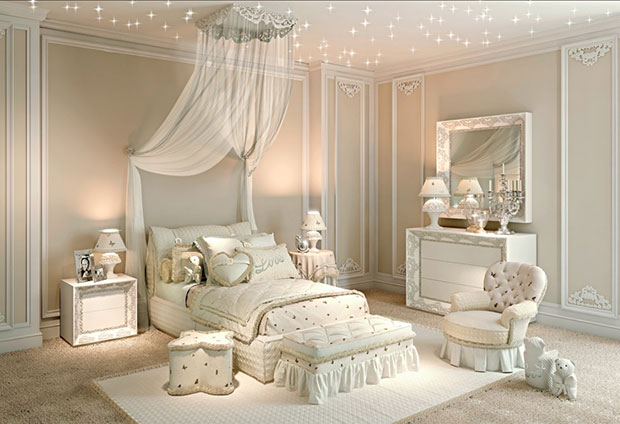 The heart theme here serves as more of a complementary piece to the ornate décor and design of a traditional bedroom.
Batticuore Polka Dot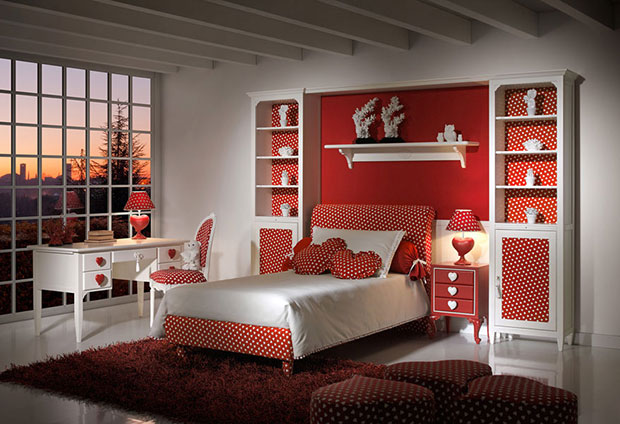 Halley
This room balances it out with the polka-dotted furnishing with pattern-less ones. This way, it creates more dynamics in the room.
Batticuore Colorful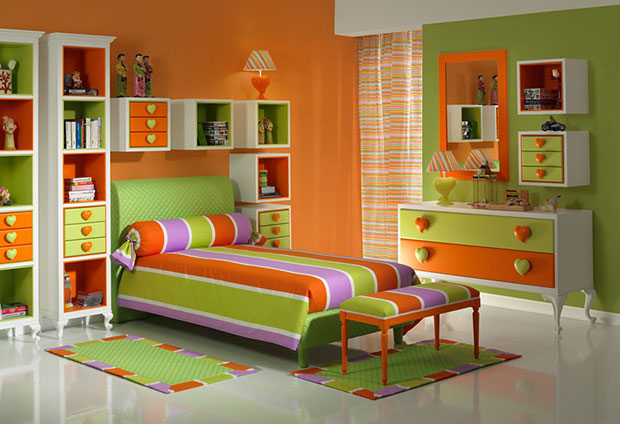 This orange and green combination (with a little bit of purple) is quite the eclectic combination that certainly uplifts the heart theme even further.
Batticuore Pink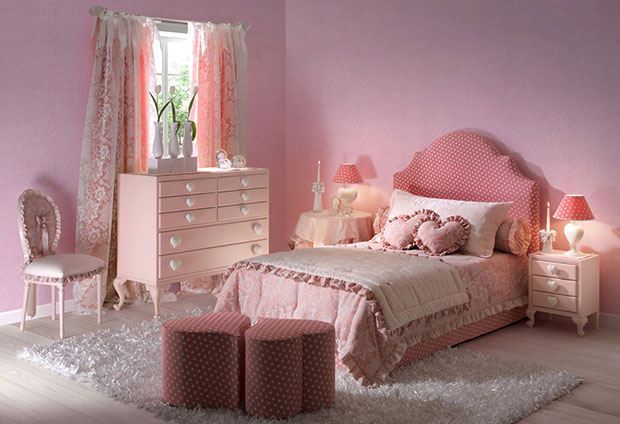 Halley
Or, if you want to stick to one color, it could work too. The pink is only subdued and neutralized by white. It makes the heart theme seem more romantic.
Scarlet's Redecorated Room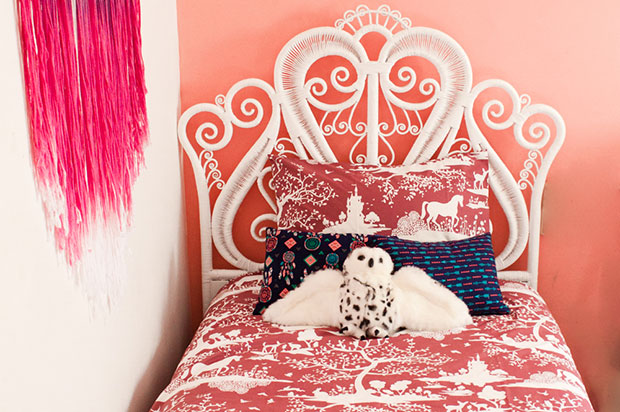 Pretty Prudent
Here we see another one of those bed designs that incorporate the heart shape into its scrollwork.
Heart-Shaped Twin Size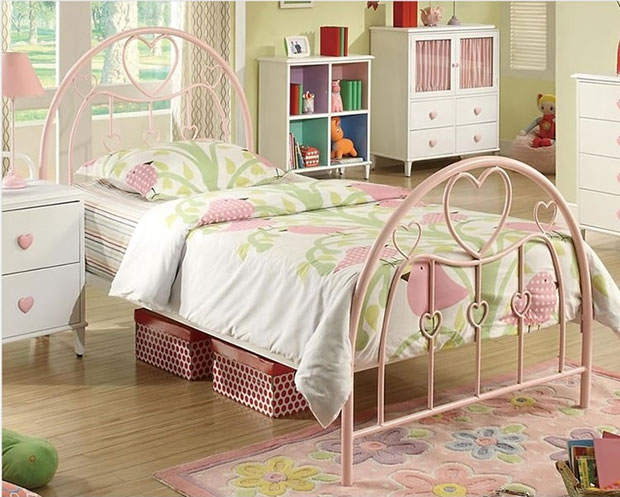 Lang Fang Liu Tai Furniture Co., Ltd.
Or if you want a simpler heart bed design, here's an option for you. This time, though, you'll see more of the shape in the frame design.
Artful Elevation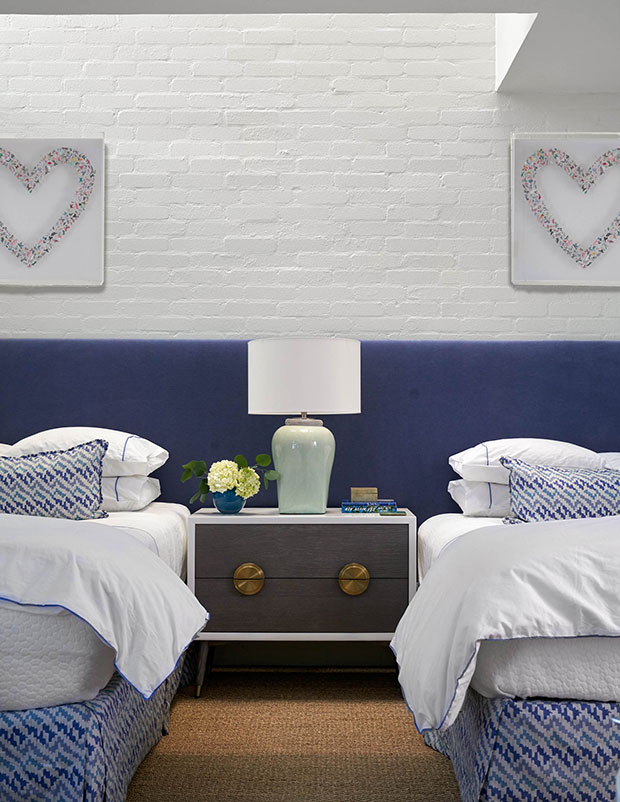 Collins Interiors
Who says you can only have a heart-themed bedroom for girls? Here's one that is gender neutral and could certainly work for a young boy's bedroom!
Hearth Modern Young Room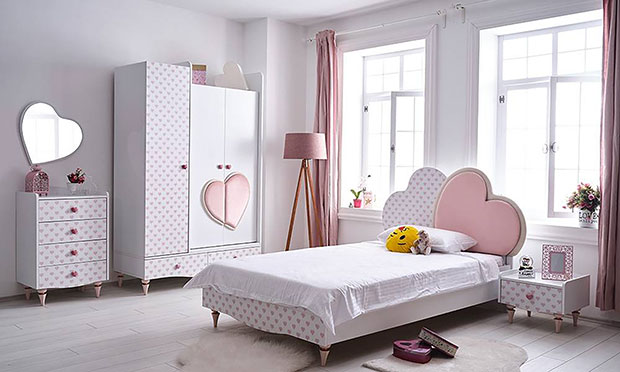 Evmoda
This bed's headboard not just gives you one but two hearts! It also has a more modern and contemporary design that you may find more suitable for this day and age.
Amelie's Room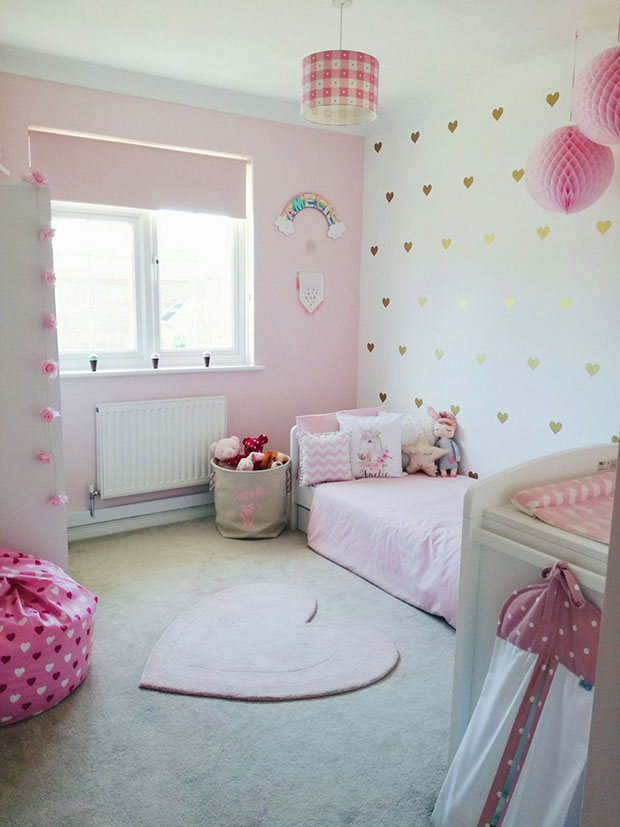 Life Simply Styled by Me
Another alternative for heart wallpapers are heart decals that you could stick to your wall. You can put them however you want them, or in this room's case, in an orderly fashion.
Mira Bedroom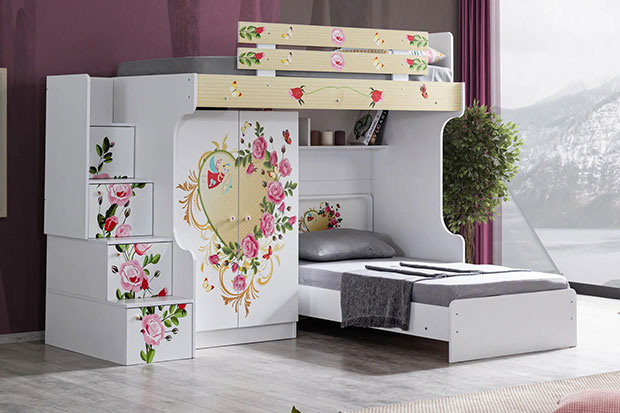 Vivense
This bunk bed goes to show that heart and floral designs go so well together. It brings a feeling of pure, innocent love fit for children.
Heart Ceiling Light

Shop911187202 Store
Who would have thought of having heart-themed ceiling lights as well? This combines heart and butterflies for a wonderful lamp design.
Heart Ceiling Lamp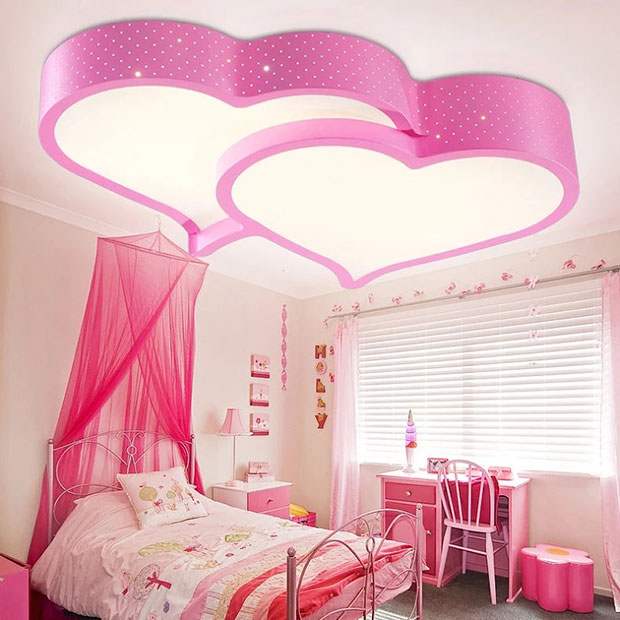 Fashion Musical
Here's a bolder one with double the hearts for a ceiling lamp!
Heart Pattern Wallpaper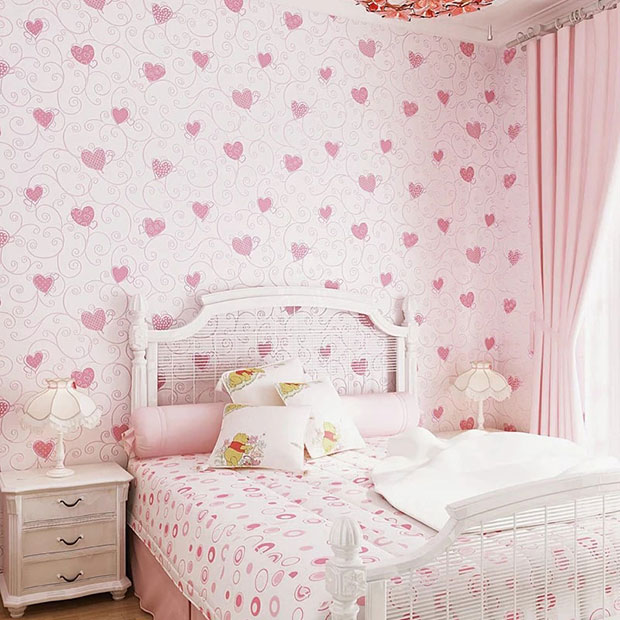 ZPLISHE Wallpaper Store
If you're done with wallpapers with simple heart designs on them, there are many other options like this one with more intricate designs.
Barbie Pink Room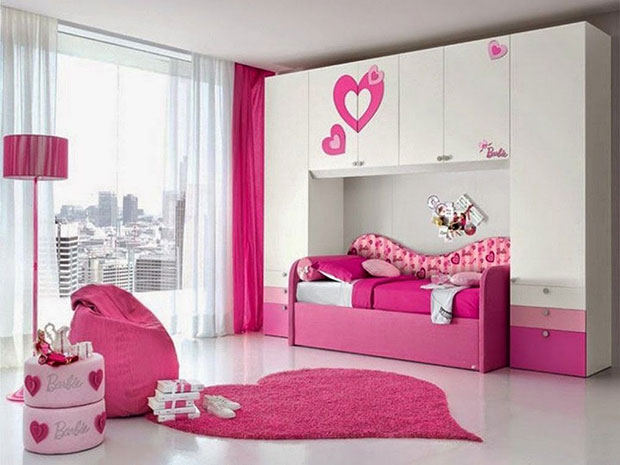 Doimo Cityline
A Barbie pink room is a perfect fit for a heart theme. So that it looks less cartoony, the heart shapes take over more than the barbie sign.
Pink Girl Room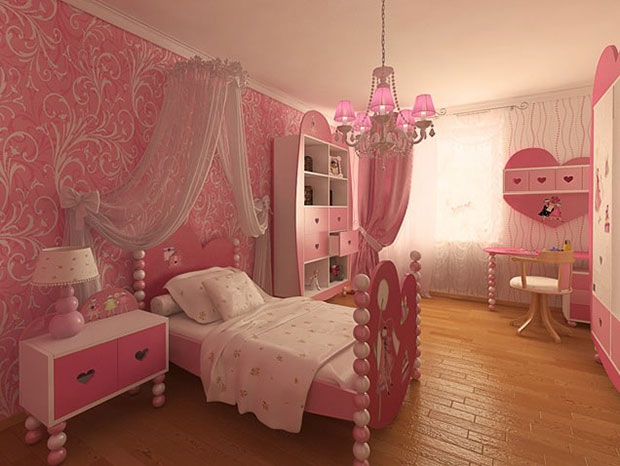 Tatiana Yemelianovich
This heart bedroom has very interesting furniture pieces that incorporate the shape to make for a very unique and eclectic bedroom.
Girls Room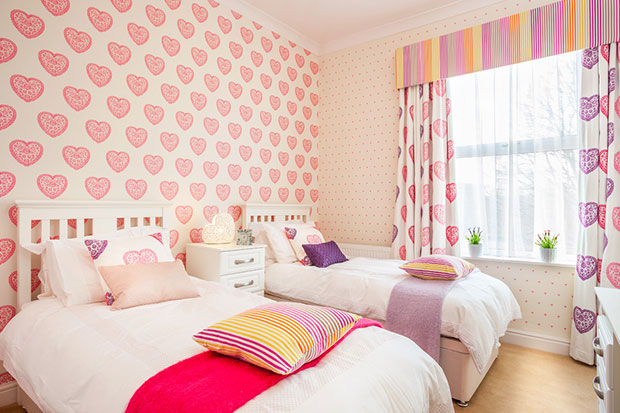 Evoque Designs
What's most interesting is that both walls use different heart wallpaper designs that create some dynamics. Even the curtains match the walls!
Heart-themed Wallpaper Room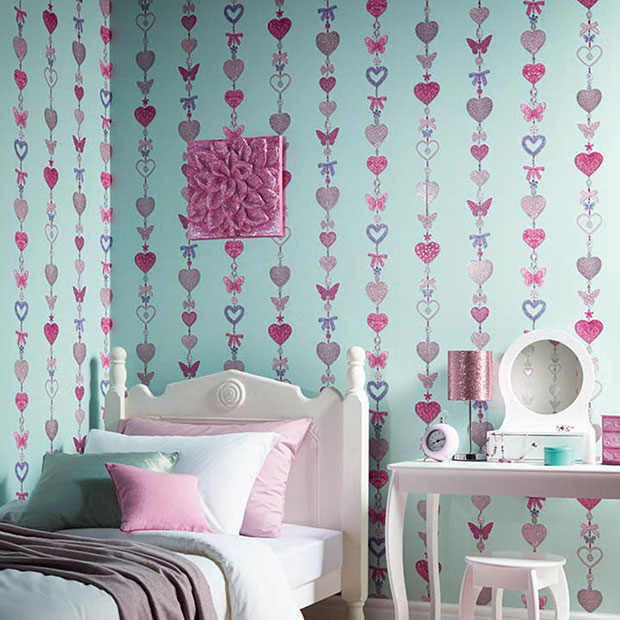 Global Megastore
Here's another one of the more interesting heart-themed wallpaper. The design resembles more of a line of heart trinkets and charms.
Cute Pink Bedroom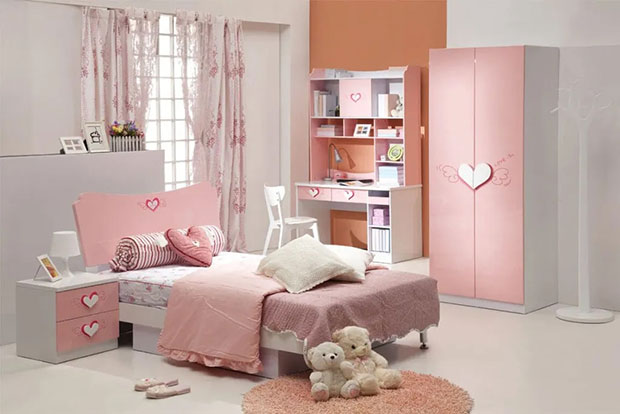 Foshan Shunde Tomyniki Ltd
If you can't center the bedroom design around the heart shape, turn it into an accessory much like how they do it in this particular bedroom.
And that's it for heart bedroom ideas! Which of these stunned you the most?
Like This Post? Pin It!