50 Ottoman Designs That Are Eye-Catching
|
In most modern homes, you will be able to find ottomans. Usually, it's just a small piece of furniture that is used as a stool or a footstool. With the various ottoman designs available, they are especially popular among young people in decorating their homes to look more chic and stylish. From small studio apartments to spacious living rooms, you can certainly fit an ottoman or two in there.
Now with the many forms of ottoman designs, in colors and patterns, styles, shapes, and sizes, they are not solely just for aesthetics purposes. They have often been used as space-saving storage and cocktail table substitute. No matter what kind of materials they are made – whether that's fabric, leather, or suede – you will be able to mix and match various ottoman designs with any room design.
How Do You Style an Ottoman?
It can be a challenge to style an ottoman especially with the various ottoman designs out there. You may want to make your ottoman more than just some "extra" furniture piece. Here are some styling tips to make any ottoman functional and aesthetically pleasing!
First off, find the perfect ottoman!
1. Make sure you pick up an ottoman with a shape that works for your room. Round ottomans are more informal, rectangular ones are preferred in longer rooms, and square ottomans work better in squarer rooms or as a center in a seating area.
2. Pick the right color. It is best to pick a color that complements the rest of the room's color scheme. Preferably, pick a neutral color that will last longer and through any decoration changes in the future.
3. Choose an ottoman with an interesting look, whether that's in the patterns or textures.
Now, if you've got the perfect fit, all that's left is styling the ottoman to fit into the room. As mentioned before, ottomans can be multipurpose.
Often times it's been used like a coffee table. In that case, adding a tray on top helps so you wouldn't have to add another piece of furniture, especially if your space is small. Trays would be easy to move if instead, you need extra seating. Not only would it be used in placing food or drinks, but a tray could also help display items or decorations and in storing necessary items for an easy find.
Here are some valuable tips in picking a tray:
1. Echo the shape of the ottoman with your tray so if you have a round ottoman, get a round tray.
2. Pick a large tray or a selection of smaller trays that can be added together to give a look of a bigger one. Having multiple small trays would be like having compartments: a tray for accessories and another for drinks.
3. Mix colors and textures to have some contrast. So if you have a soft ottoman, try a wood or metal tray.
You can also style your ottoman with books to give off a smart look. Stack up a few on top of the ottoman. Especially if you're an avid reader yourself, this would be a good choice since the books would be at easy reach. In some instances, people would even put up a potted house plant or any other interesting objects on top of a 2-book stack.
How To Choose An Ottoman Color?
When it comes to picking the right color for your ottoman, it depends on various factors such as objectively the styling theme, size, and style of the room or subjectively your own decorating taste and personality.
Still, it's best to go for a color that would complement along the rest of the room's color scheme. Of course, you can always do a mix and match. A warm-toned ottoman in the set of a room that's filled with lighter tones would highlight those light tones. That being said, if you have a monochromatic room, it's best to pick an ottoman with colors, patterns, or textures that contrast to that of the room. Not only does it add personality, but it will also fit in well with the rest of the room and still be distinctive.
Ottoman Designs for Inspiration
Now, if you're looking for some inspiration, here are some of our picks of ottoman designs that are eye-catching!
Grasser Leather Ottoman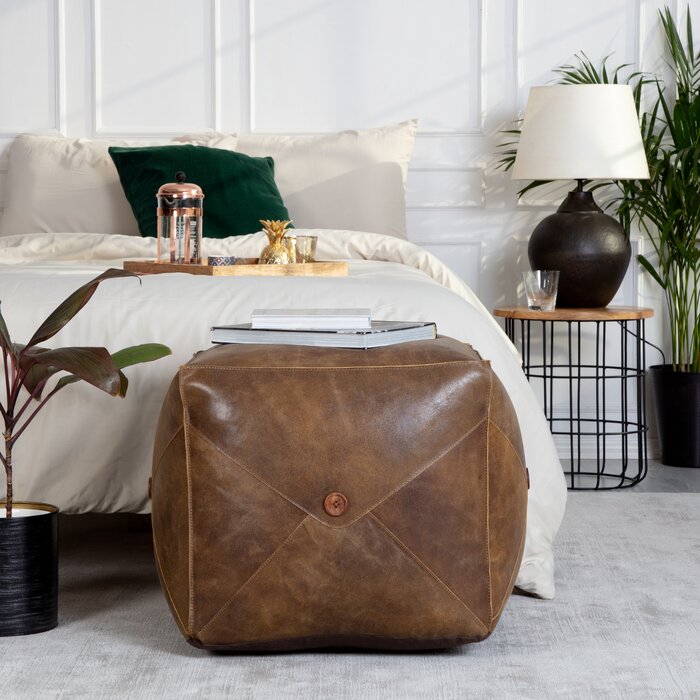 Coastal Farmhouse
One of the interesting hand-upholstered ottoman designs, this ottoman boasts an ageless aesthetic. The scrunched look resembles "denim". The warm tan color is a perfect contrast to lighter tones.
Clowers Floral Pouf Ottoman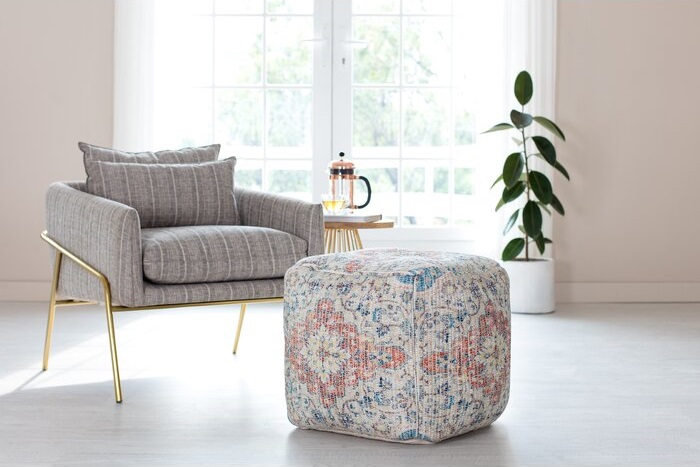 Bungalow Rose
Another square-shaped ottoman but with a pretty mix of colors that would add accent to any room. What's also interesting is that there's a purposeful distressing for that interesting worn-out look.
Aubrielle Pouf Ottoman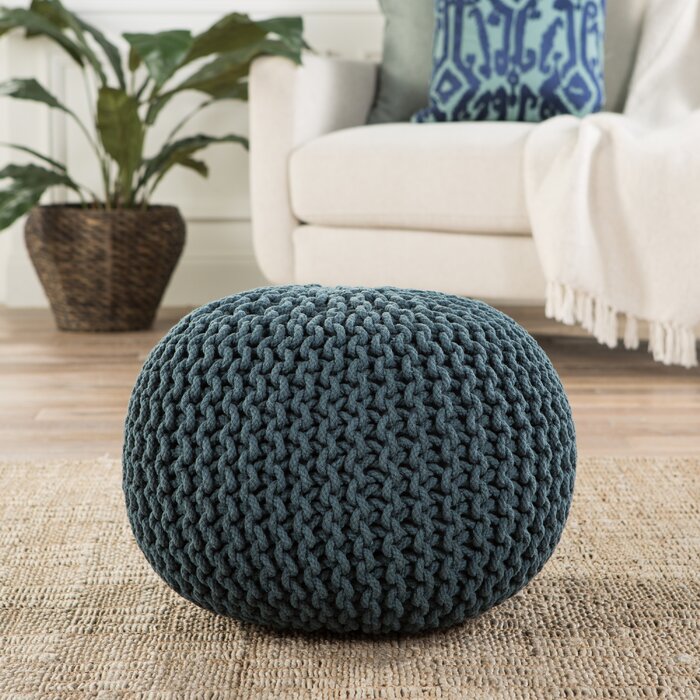 Coastal Farmhouse
The cover of his posh pouf was woven from cotton for that soft and cozy touch. It's perfect to rest up your tired legs and even for extra seating. More than its solid hue, the texture certainly grabs your attention.
Charest Folding Tufted Ottoman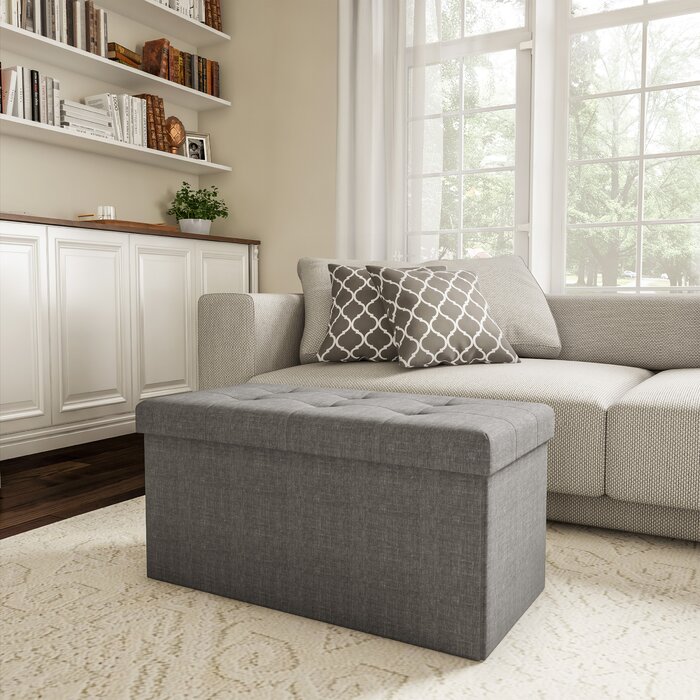 Chartlon Home
There are several ottoman designs that serve to be multipurpose. This particular ottoman has a storage trunk by lifting off the lid, keeping your stuff organized inside. The tufted lid has foam padding that is also perfect for comfortable seating.
Another interesting feature about this is its collapsible design, meaning you can fold it flat when not in use. This makes it perfect for small apartments or dorms. Not to mention it looks chic and stylish.
Guion Round Pouf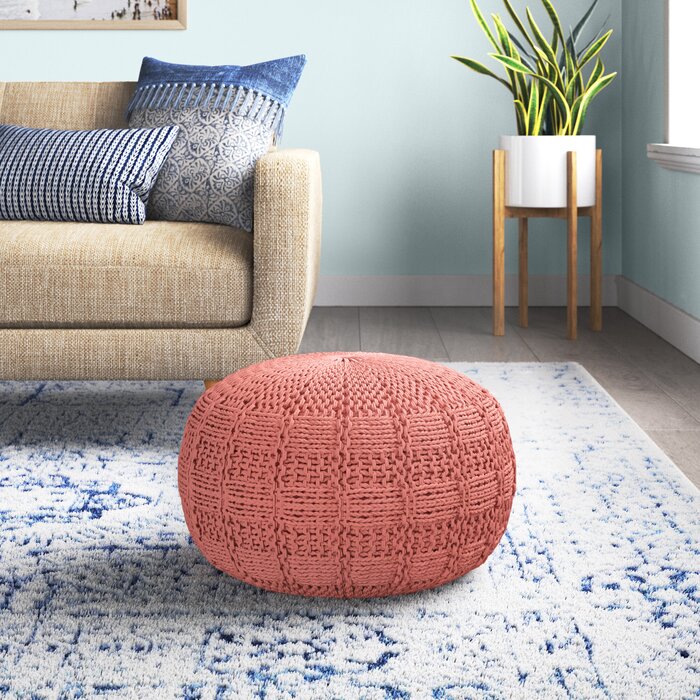 Mistana
One of the ottoman designs on this list with a hand-knit surface. The bright luscious layer of cotton does not only brightens up the room but also provides soft and plush seating.
Champlain Tufted Storage Ottoman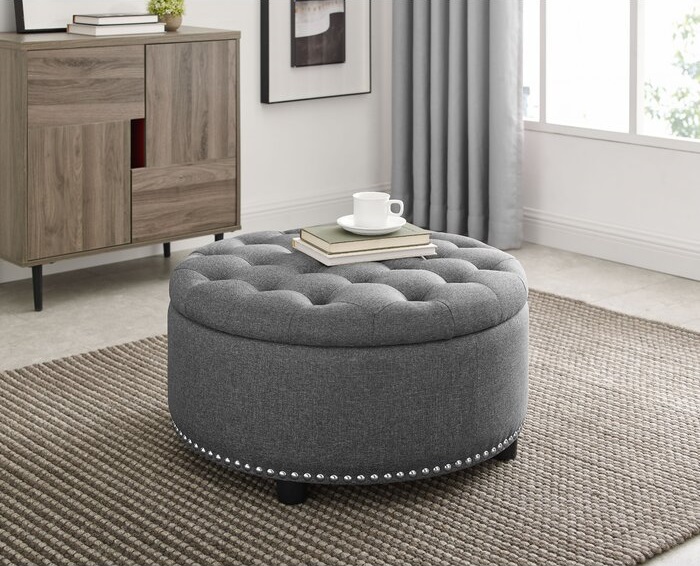 Canora Grey
An ideal ottoman is one that doesn't hog lots of space and provides multipurpose uses. With its ample size, it's enough to give room for movements in any living space, while at the same time provide extra seating and storage for an easy and quick clean-up.
Roxann Upholstered Flip Top Storage Bench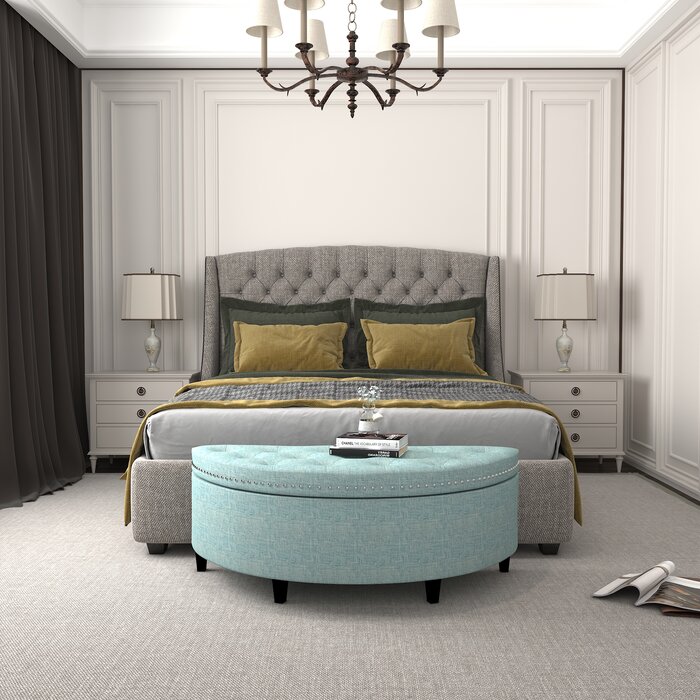 Alcott Hill
Unlike the shape of the other ottoman designs on this list, its crescent shape makes it perfect as a bedside ottoman. In addition, instead of the usual lid being lifted off, the top for this one is simply flipped.
Flintridge Geometric Pouf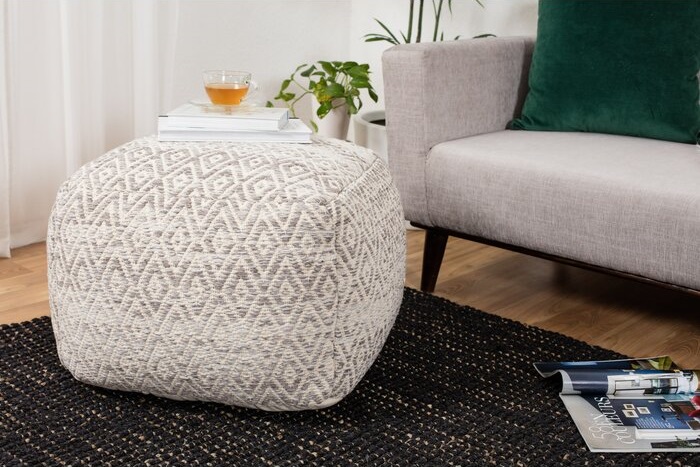 Union Rustic
This kind of ottoman with its neutral colors would seamlessly fit in with any room regardless of its color schemes, themes, or style. The woven blend of soft cotton and recycled polyester to create subtle diamond patterns is very interesting, to say the least.
Syrine Rectangle Ottoman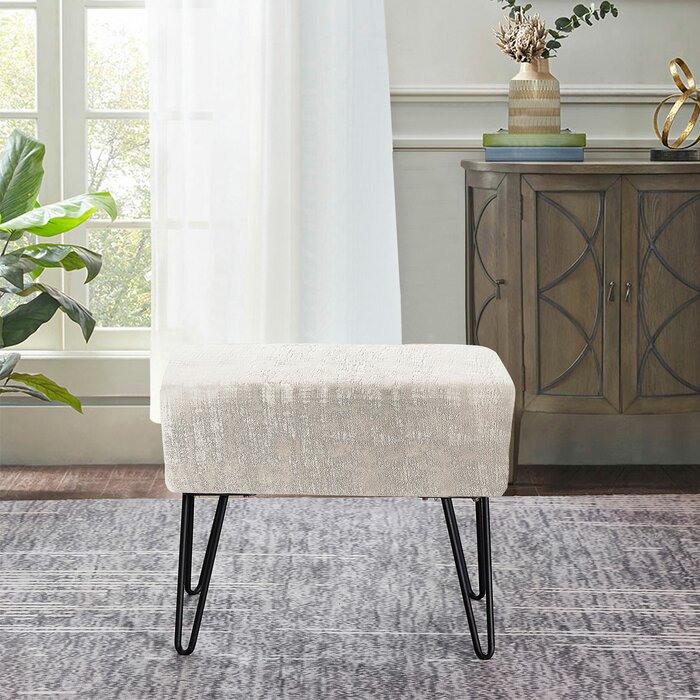 Wrought Studio
The velvet texture of this ottoman surely makes it look sleek and classy. The metal legs do not only provide maximum strength and durability but also suit the seat's aesthetics. It's perfect for modern, contemporary, and even traditional room designs.
Wolfeboro Velvet Ottoman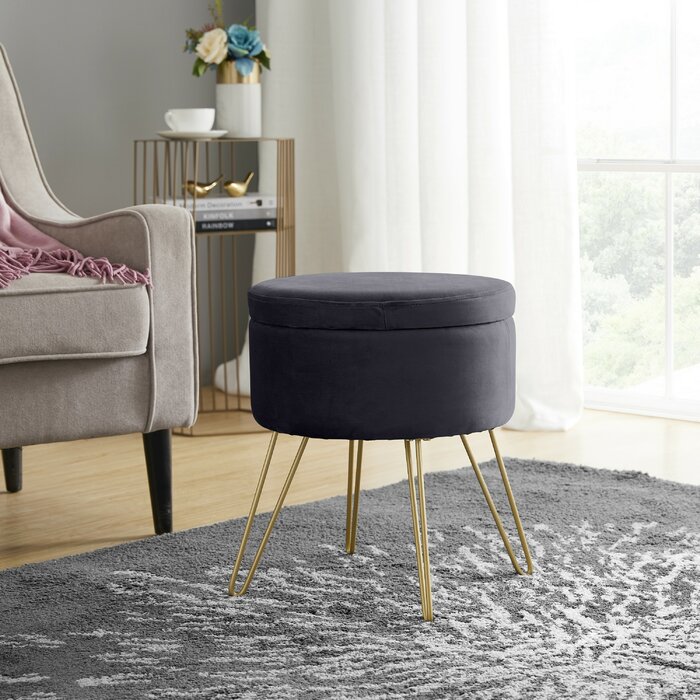 Mercer41
With its foam-filled velvet upholstery, this ottoman gives such a glamorous look. The golden finish on its metal legs even puts an emphasis on it. And beyond its elegant look, the top can even be lifted to reveal a hidden storage compartment.
Falan Tufted Ottoman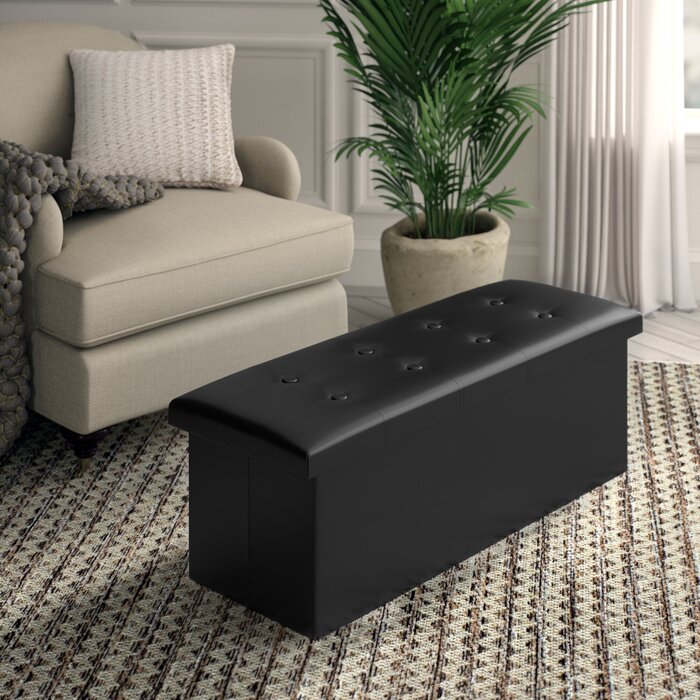 Winston Porter
Out of the ottoman designs seen on this list thus far, this one seems to provide the most storage space with its rectangular configuration. You'll be able to fit and organize books, clothes, toys, etc. But of course, the faux leather upholstery provides comfortable seating. Overall, it's chic and stylish.
Round Puff Ottoman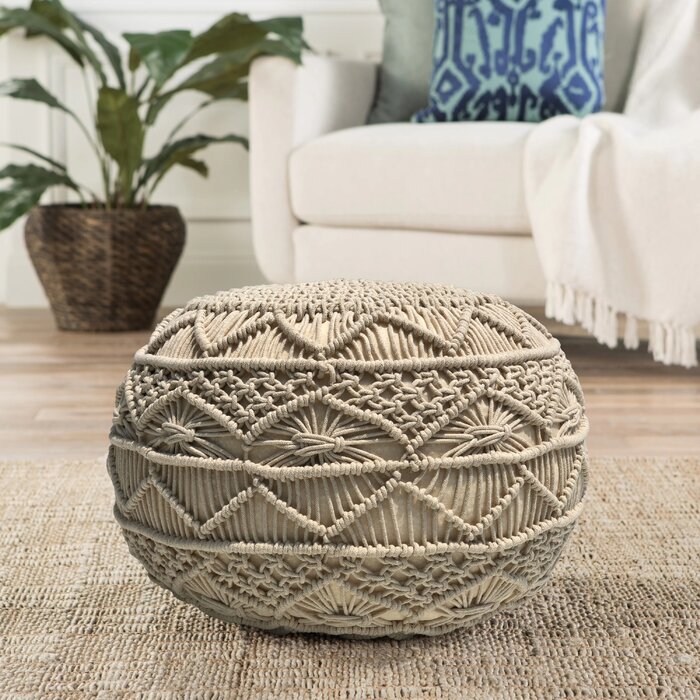 Affinity Linens
This ottoman was carefully and masterfully hand-knitted from cotton. The texture and patterns are all so trendy and artistic. It will certainly lighten up the room with its design.
Peete Pouf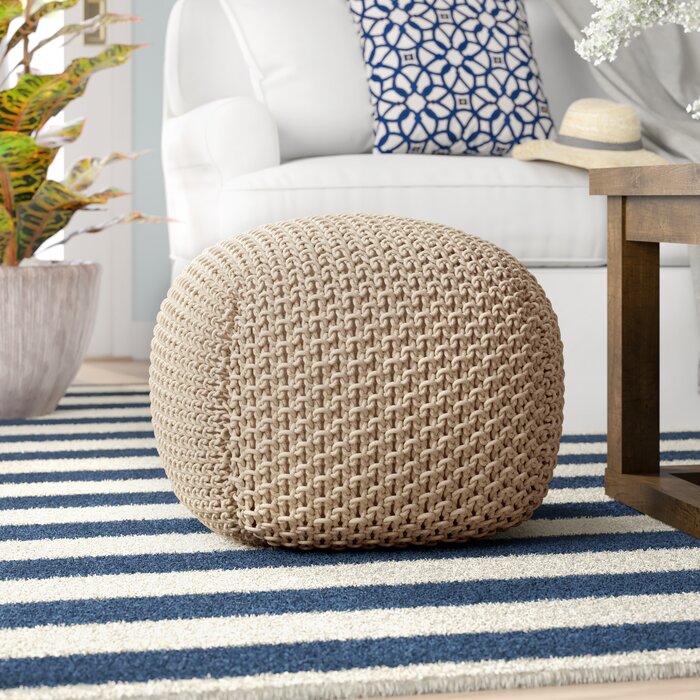 Breakwater Bay
The intricate woven details are a sight to see. With its texture and softness, it's a perfect ottoman to provide comfortable seating. In addition, the warm solid hue color is a natural fit to any room but ideal in smaller spaces due to its compact design.
Rotterdam Ottoman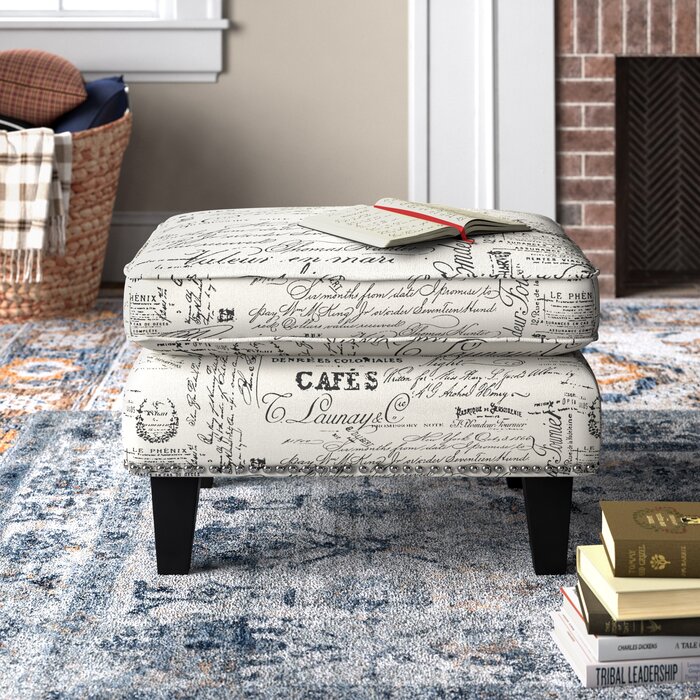 Three Posts
The fashionable French script definitely catches your attention first. But the design details are even more noteworthy. The combination of traditional design with a vintage flair is refreshing and stylish. Take note as well of the nailhead trim along the base. And of course, the beautiful contrast of black and white colors really adds to its stylish look.
Maisy Geometric Pouf Ottoman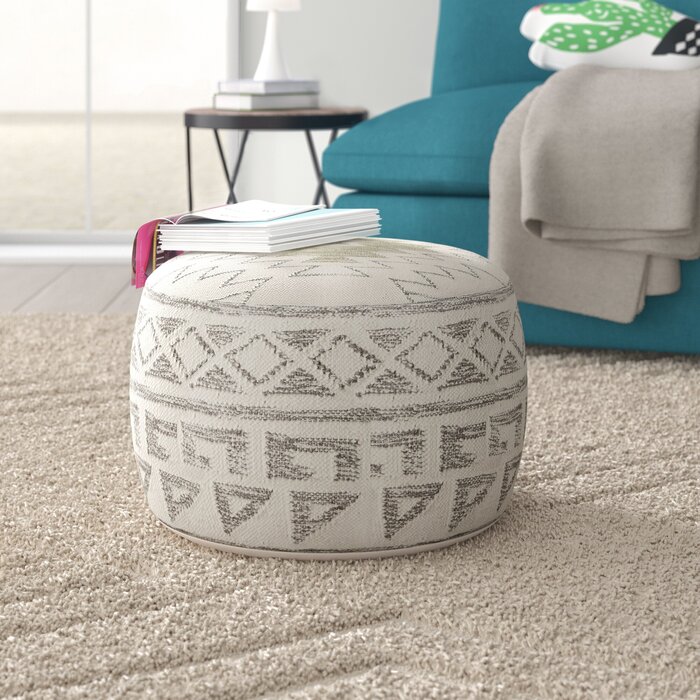 Mistana
The pretty, eye-catching ikat pattern will definitely grab your attention. The neutral hues will also perfectly blend with any color palette. With the cover being made from wool, this one is certainly soft and warm.
Toby Tufted Ottoman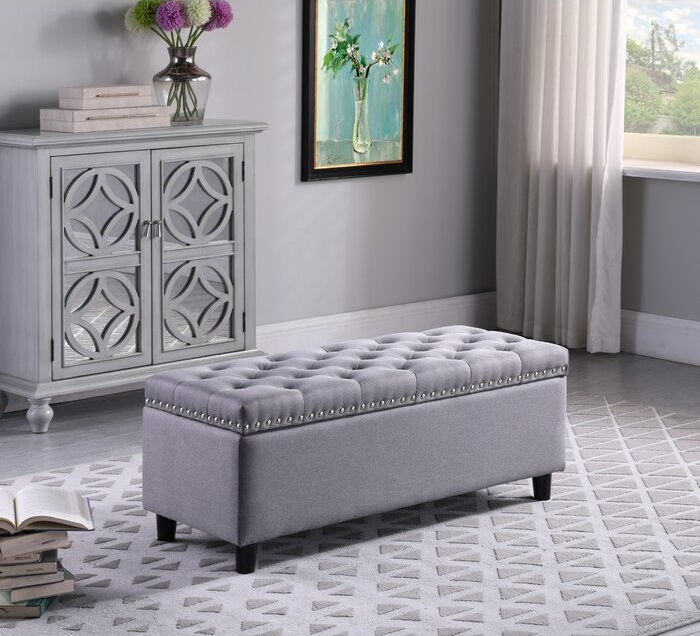 Lark Manor
With its rectangular shape, this ottoman provides an ample amount of storage space. Aesthetically, its a vintage look and the nail trim design on the top lid is chic and stylish. The neutral grey color could fit in well in any room design.
Landis Tufted Cocktail Ottoman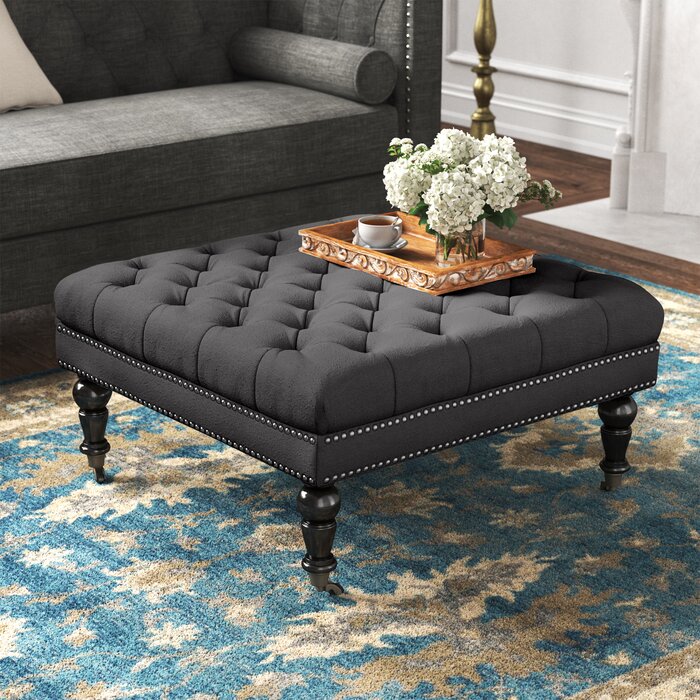 Kelly Clarkson Home
This has one of the more interesting details in terms of ottoman designs. From the button tufting to the nailhead trim, and turned feet, everything about it screams classy and traditional.
When it comes to cocktail ottomans, this surely is an ideal kind.
Audel Tufted Storage Ottoman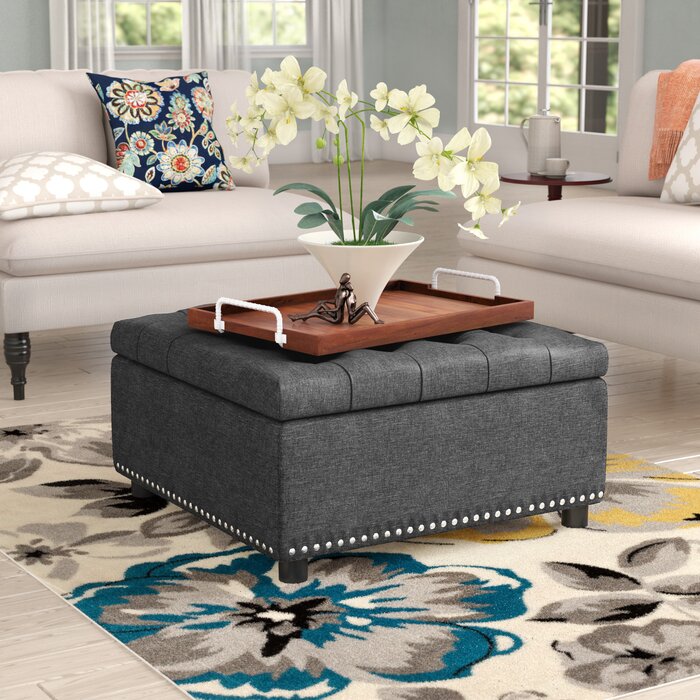 Canora Grey
Down to squarer ottoman designs, this storage ottoman has a more contemporary look to it. Notice how to contrast the fabric material, they placed a wooden tray on top.
McCullar Faux Leather Ottoman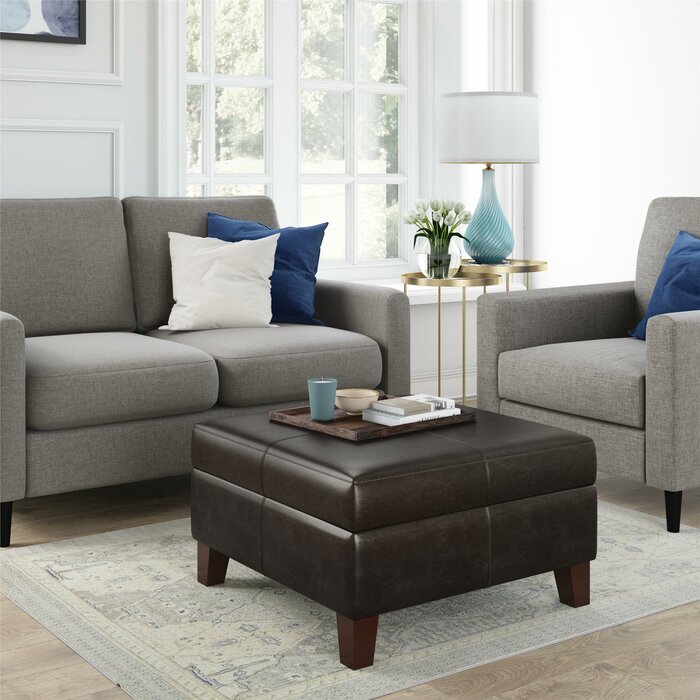 Three Posts
Compared to most ottoman designs on this list thus far, this one is quite simpler yet it looks classy and chic with the faux leather material. Another difference in its design is the hinged lid, whereas most ottomans' lids are lifted off to reveal the storage space.
Alexander Standard Ottoman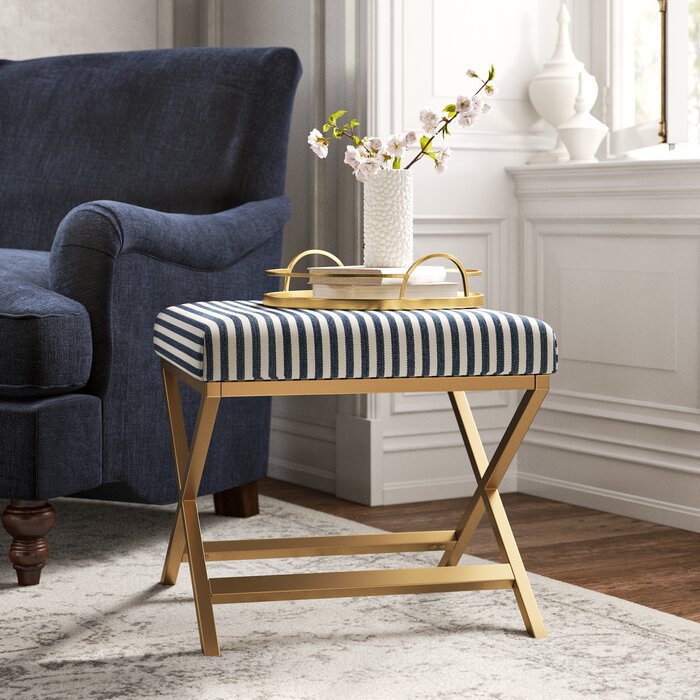 Kelly Clarkson Home
Standing out of all these ottoman designs, the X-shaped base that is made of stainless steel and finished with matte gold hue is the highlight of it. In addition, the foam-padded seat with its striped fabric upholstery is also an eye-catcher.
Manila Cocktail Tufted Ottoman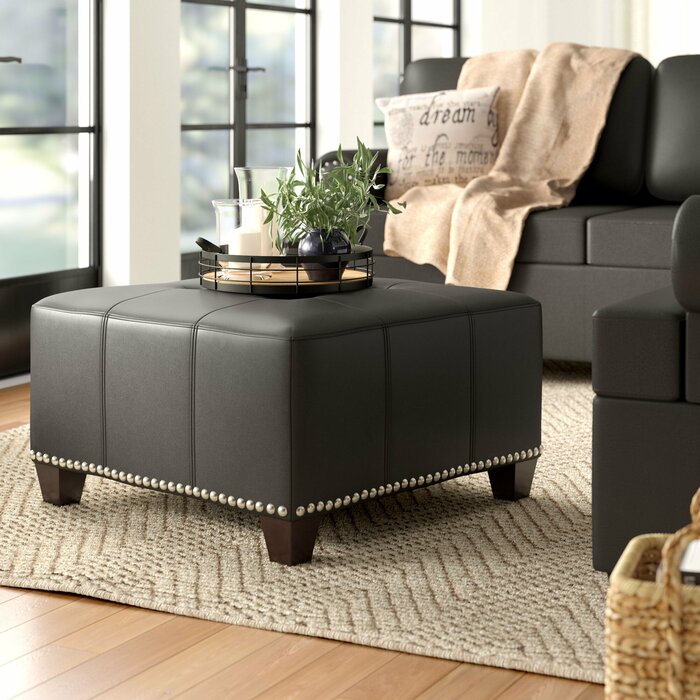 Three Posts
With a rather traditional design, this ottoman can still fit into modern and contemporary room designs. The double stitch accent and tufted cushioning are accented by silver nailhead trims around the base. And there's a nice touch of pairing the faux leather upholstery with solid wooden legs.
Zaylee Storage Ottoman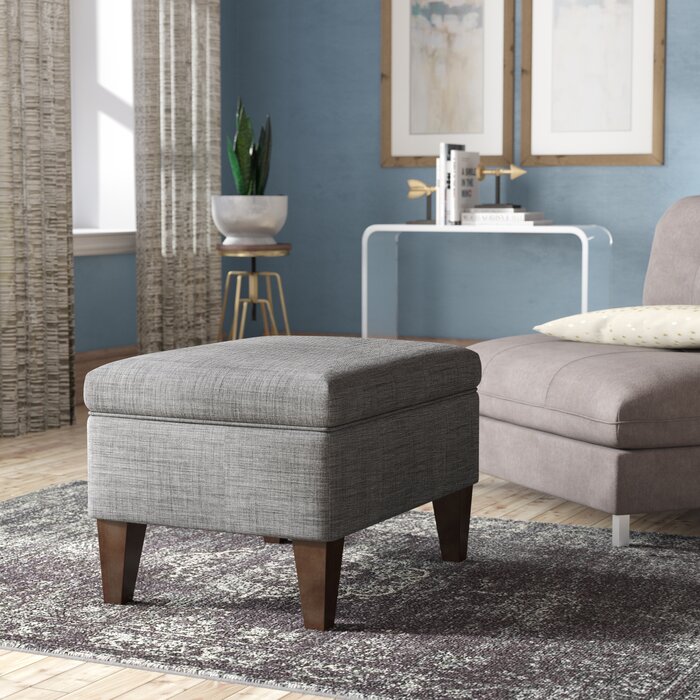 Winston Porter
Another one of the simpler ottoman designs, but its upholstery is made of interesting fabric. It might be simple-looking compared to others but it definitely catches your attention with its stylish and sleek look regardless.
Another important design detail is its hinged lid so the top and base look seamless together.
Fordbridge Faux Leather Ottoman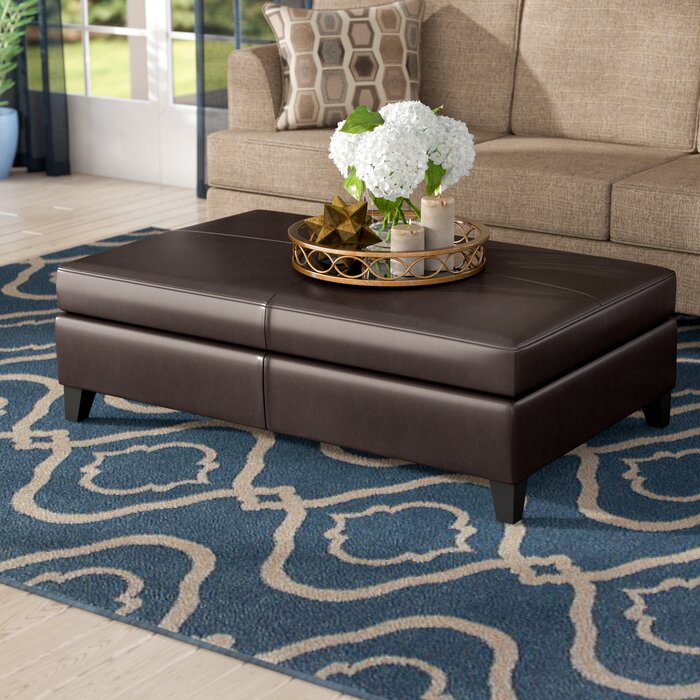 Three Posts
A sleek and stylish ottoman with its faux leather upholstery and stitched panel design. The solid color, even more, makes it capable of blending in with any color palette.
Berggren Mid-Century Tufted Ottoman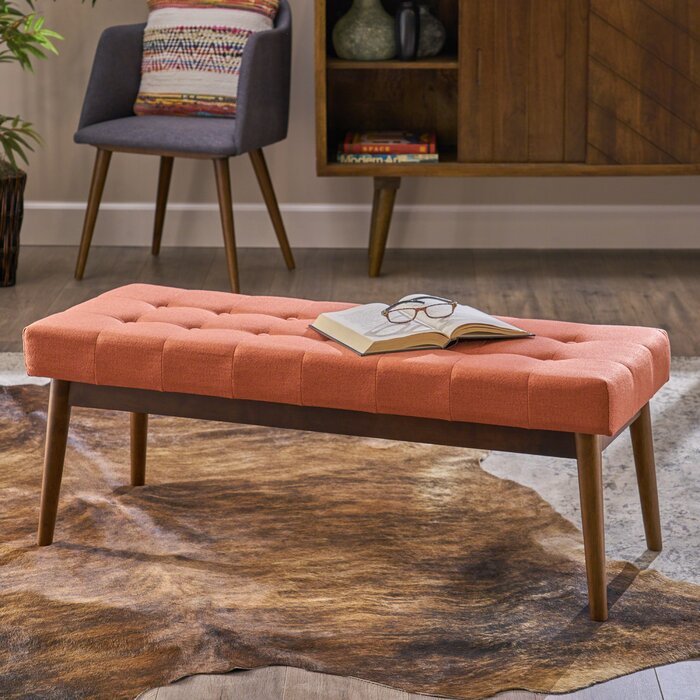 George Oliver
With its unique design, this buttoned mid-century tufted ottoman is both stylish and comfortable. The rubberwood frame by which its made, definitely makes it durable and fit for everyday use.
Winbush Wide Tufted Square Cocktail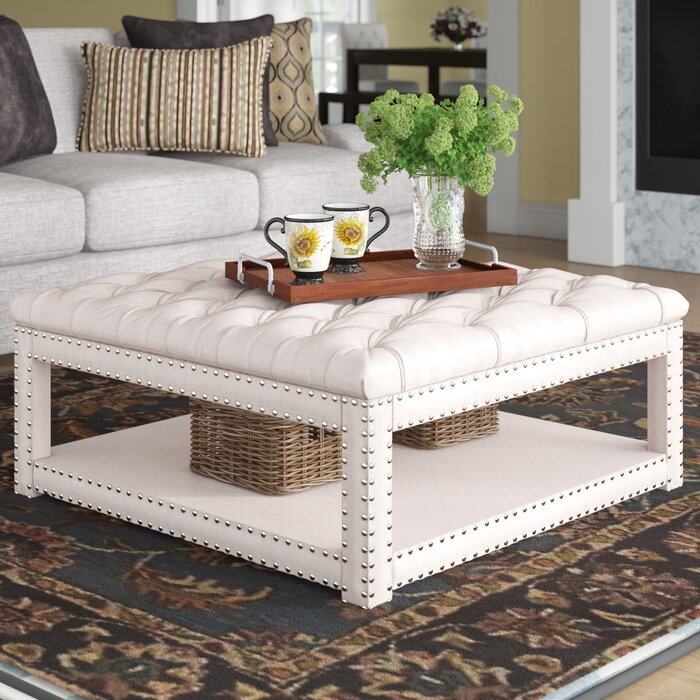 Darby Home Co.
Here comes a different ottoman from all the other ottoman designs on this list! Instead of hidden storage, this ottoman boasts off open storage on the lower shelf. Meanwhile, the top side, with its diamond-stitched button-tufted padding provides plush seating.
Delphine Velvet Tufted Ottoman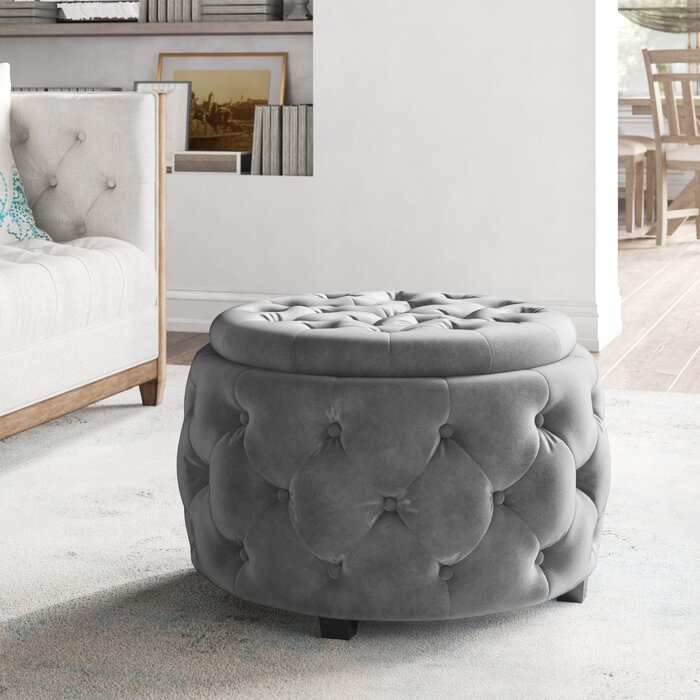 Kelly Clarkson Home
Up until now, we've seen some unique ottoman designs like this one. The unique round shape of this velvet, button-tufted ottoman immediately gets anybody's attention. Its lid can even come off to reveal hidden storage space.
Jonesville Tufted Cocktail Ottoman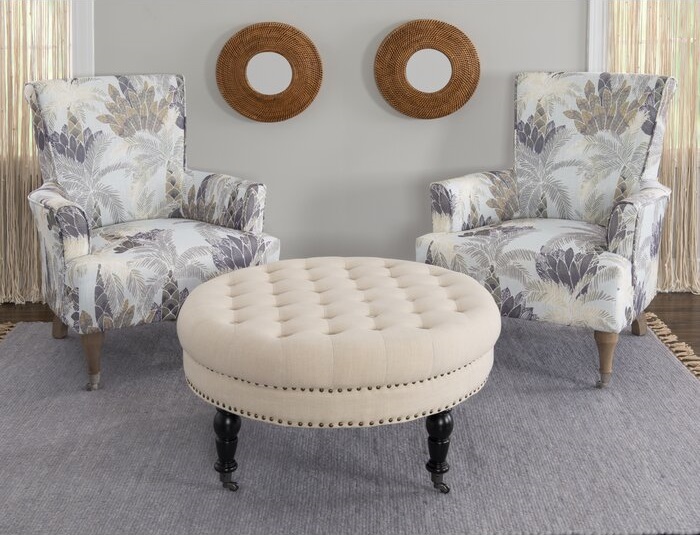 Three Posts
This cocktail ottoman is a perfect substitute for a coffee table. You can also make use of its button-tufted top to place a stack of magazines for leisure.
Its design of button tufting and two rows of nailhead trim gives a little of French country-inspired design.
Bonita Velvet Tufted Ottoman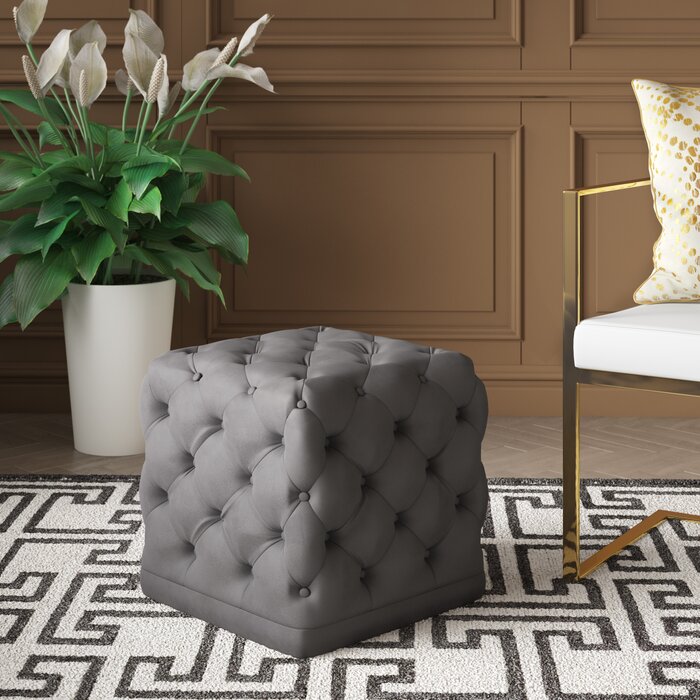 Mercer41
With its cube shape and button tufted design all over, this Bonita velvet ottoman is simply an eye-catcher. Plus, its small size makes it perfect for rooms with small spaces.
Kendleton Tufted Square Storage Ottoman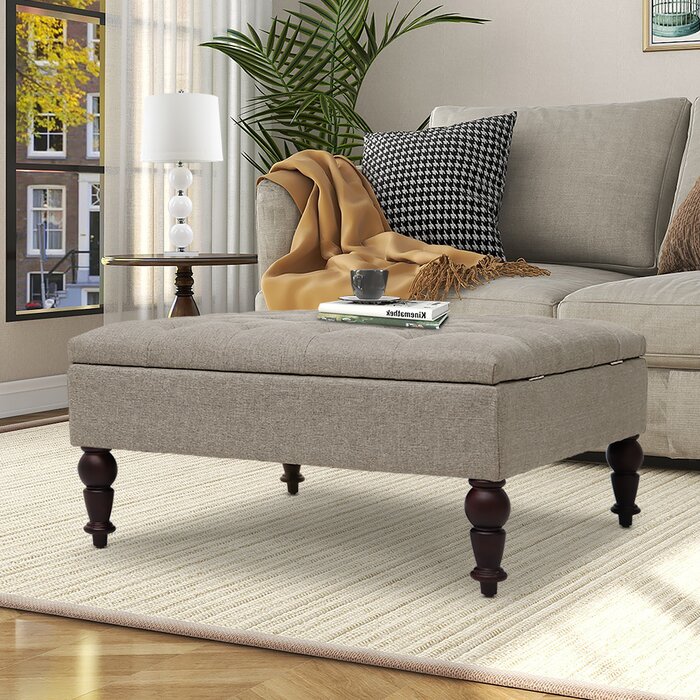 Alcott Hill
The simplicity of its design is what makes this ottoman stylishly fit into modern living spaces. Its beautifully crafted wooden legs too that grabs attention.
Connie Cube Ottoman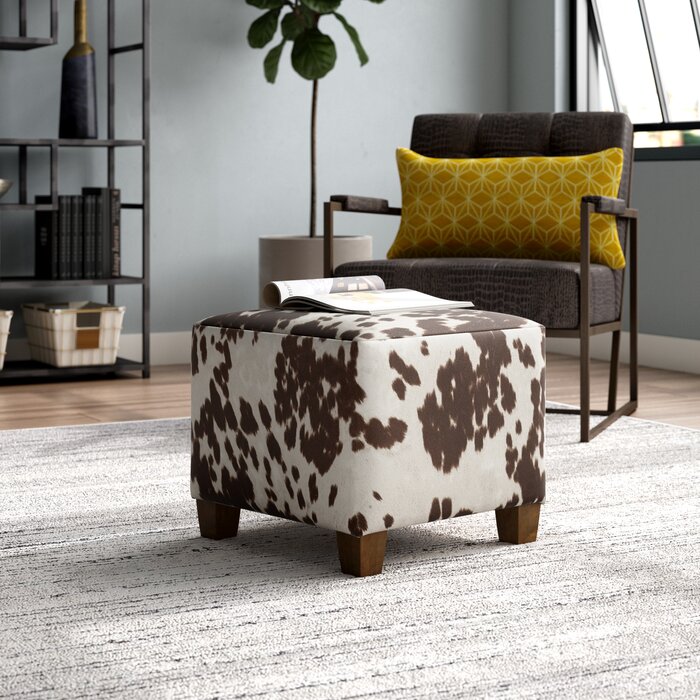 Laurel Foundry Modern Farmhouse
The most interesting thing about this ottoman is the white and brown spot prints. It almost resembles a cow print. In addition, its cubic configuration makes it easily moved around and fit in any place, especially smaller rooms.
Justine Pouf Ottoman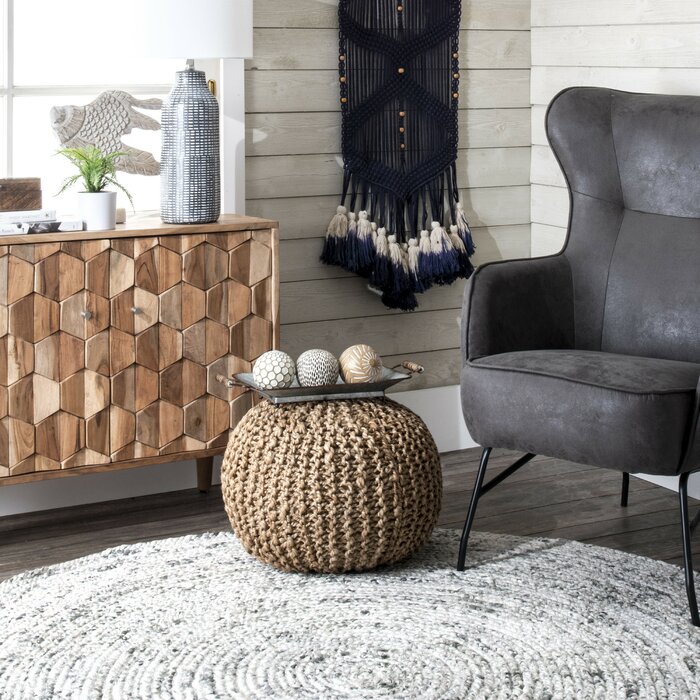 Mistana
Of the materials used in these ottoman designs, this pouf ottoman stands out. It's woven from rope fabric that gives it an interesting texture. With its overall look, it seems ideal in rustic or farmhouse home designs.
Verlie Velvet Tufted Pouf Ottoman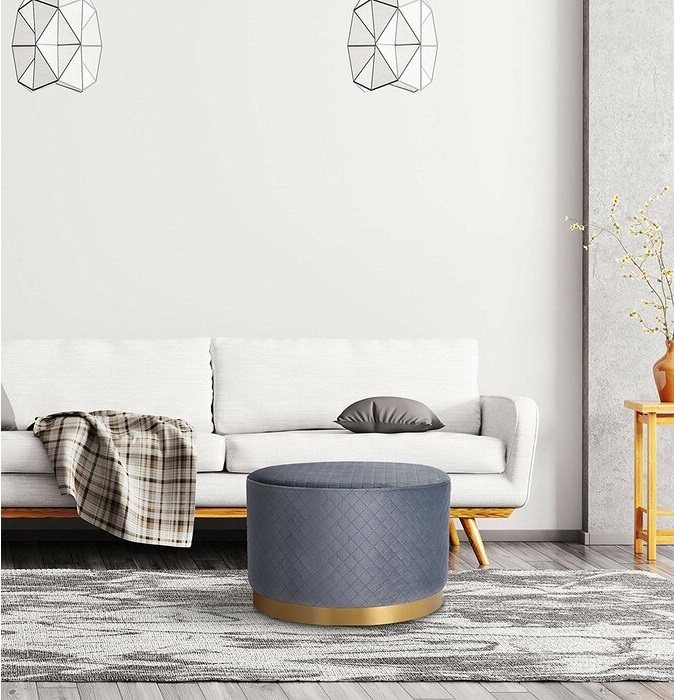 Mercer41
Here's one of the ottoman designs that stand out with its instant look of elegance. The lattice pattern on the soft velvet fabric, added with the gold finish of the base certainly gives that luxurious look.
Teagan Pouf Ottoman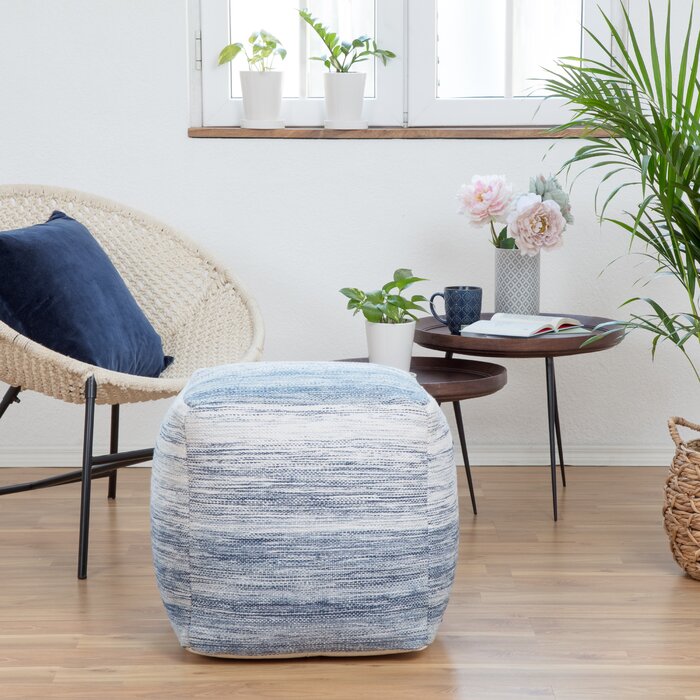 Mistana
The striation patterns of blue and white give it a cool look and atmosphere that reminds of the seaside. The blue color isn't too bold so it should be fine in blending in with any room design.
Adah Velvet Tufted Cocktail Ottoman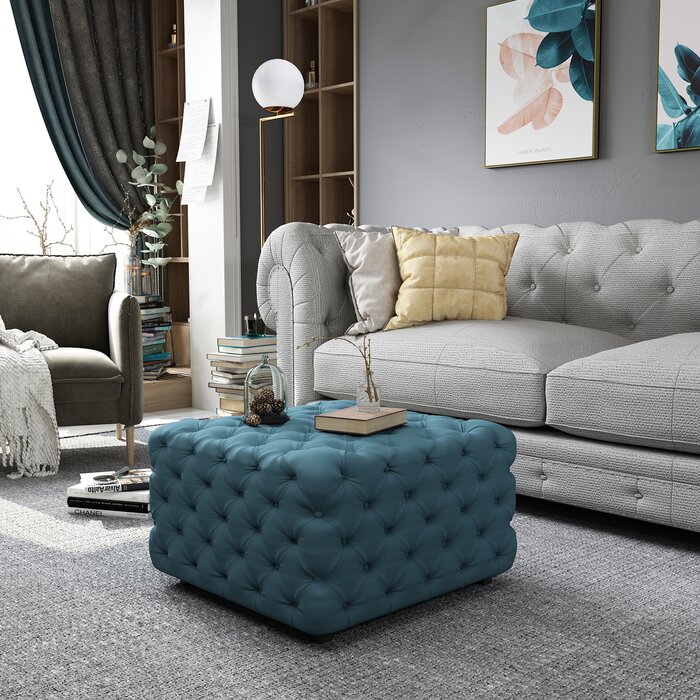 Mercer41
With its wider size, this cocktail ottoman not only offers additional functionality but also adds to the beauty of a room.
Vernia Velvet Tufted Round Pouf Ottoman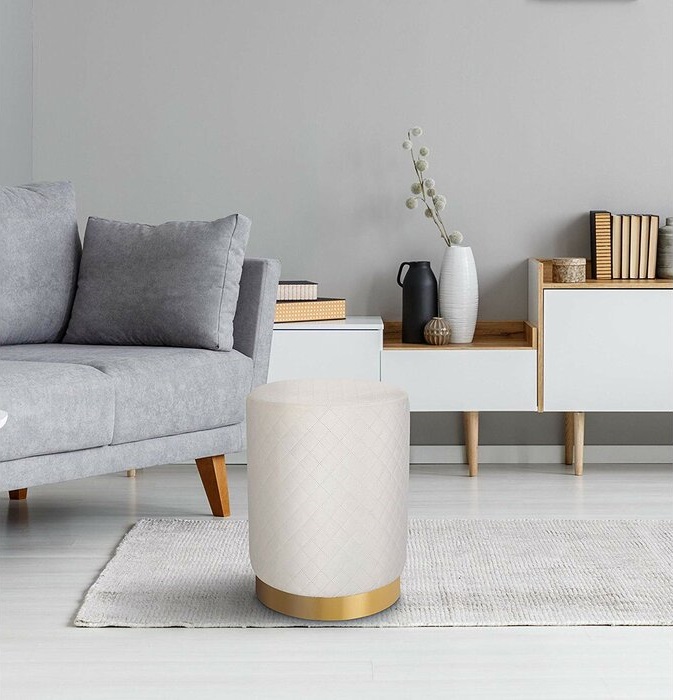 Mercer41
Smaller in width but longer in height, this elegant velvet ottoman is especially perfect for kids who like playing on the floor.
Manford Genuine Leather Storage Ottoman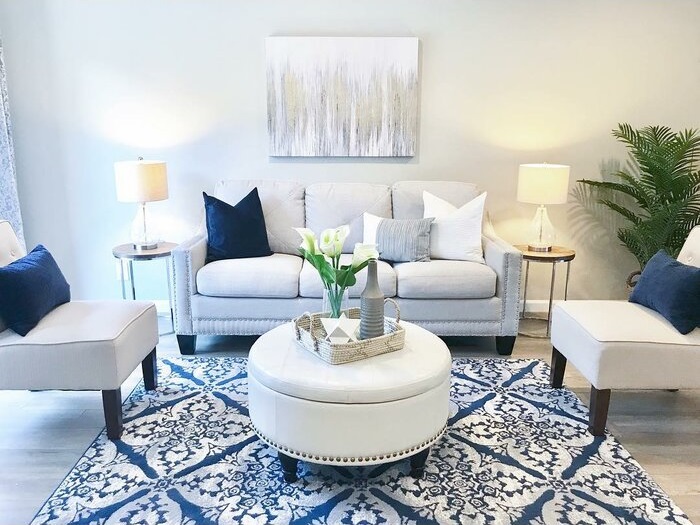 Three Posts
Compared to the faux leather in several ottoman designs, this one boasts of genuine leather. The polished wooden legs and the brass-finished nailhead trim add to that classic and elegant look.
Mariya Velvet Pouf Ottoman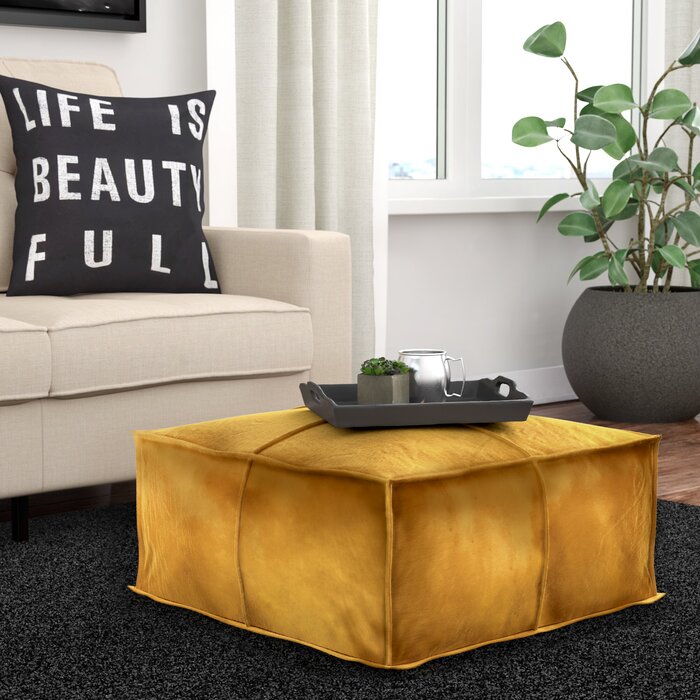 Mercer41
This velvet pouf ottoman is perfect in bohemian-inspired rooms.
Knitted Pouf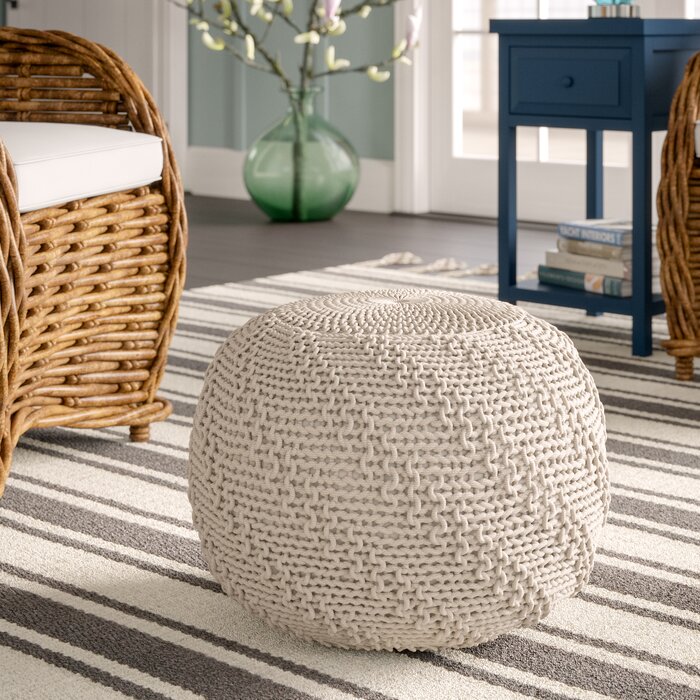 Breakwater Bay
Knitted pouf ottomans are always quite eye-catching pieces. But with the spiral knit pattern that this one has, it surely takes a top spot.
Yarmouth Storage Ottoman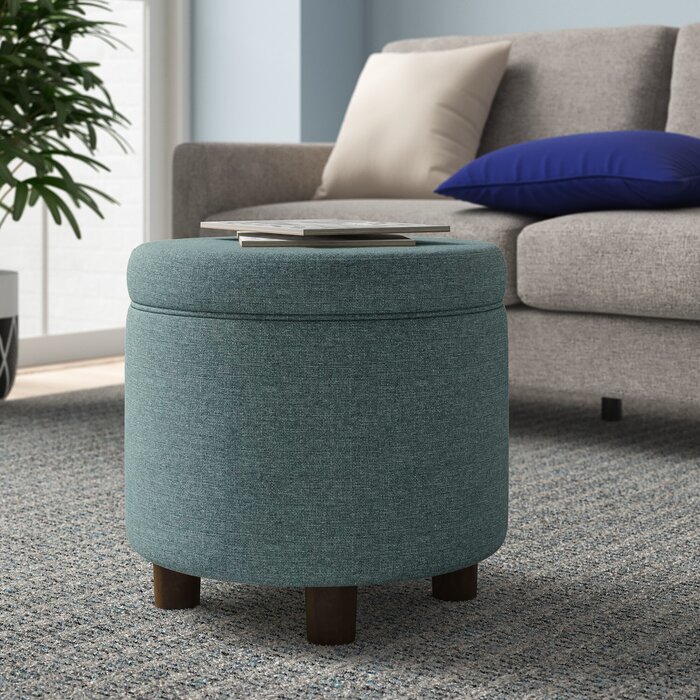 Zipcode Design
A piece of perfect accent furniture with its solid color and polyester blend fabric. It's functional with storage space and a comfortable extra seat.
Callidora Tufted Standard Ottoman Set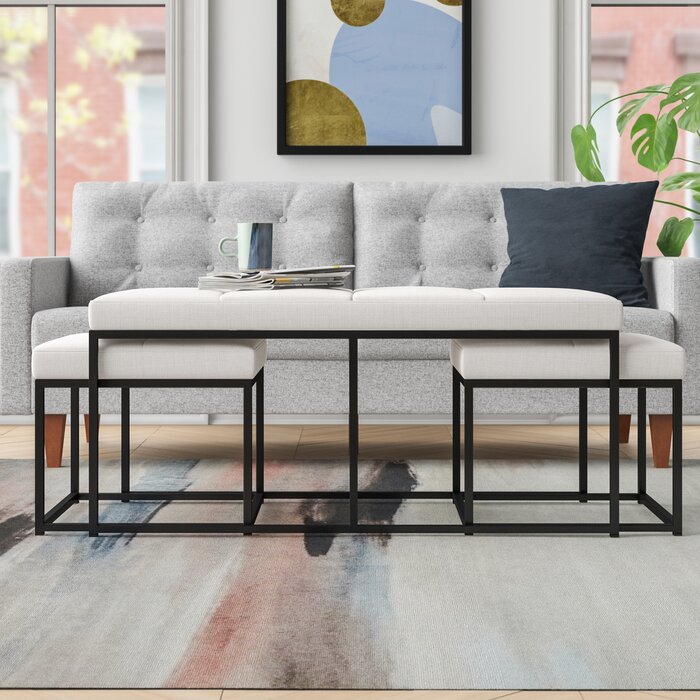 Mercury Row
Now most ottomans are supposed to give extra seating. But this callidora set gives another extra to the extra with a bench and two small footrests. The open base metal leg allows for the two small footrests to be hidden under the bench if not in use.
Bartow Striped Pouf Ottoman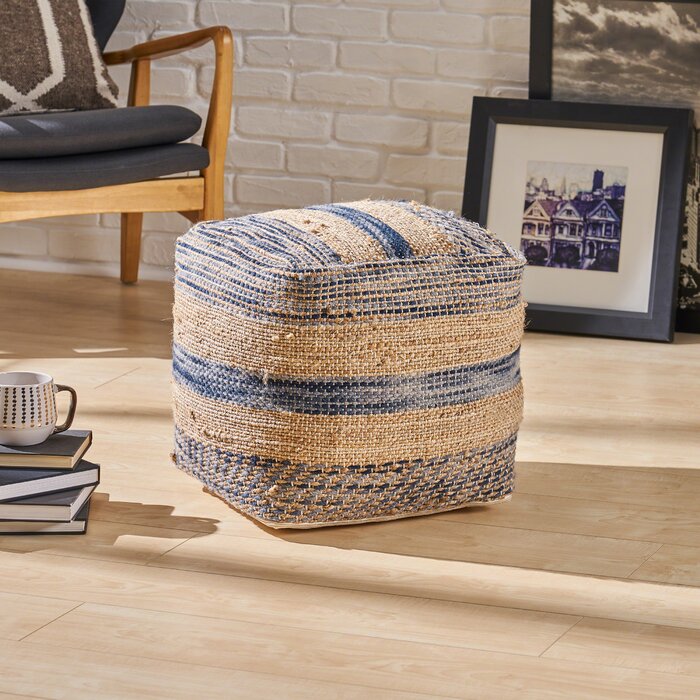 Dakota Fields
The beige and blue striped design would certainly bring life into a room. With the fabric being a blend of hemp, wool, and cotton, it certainly adds to the cozy atmosphere.
Hoffmann Pouf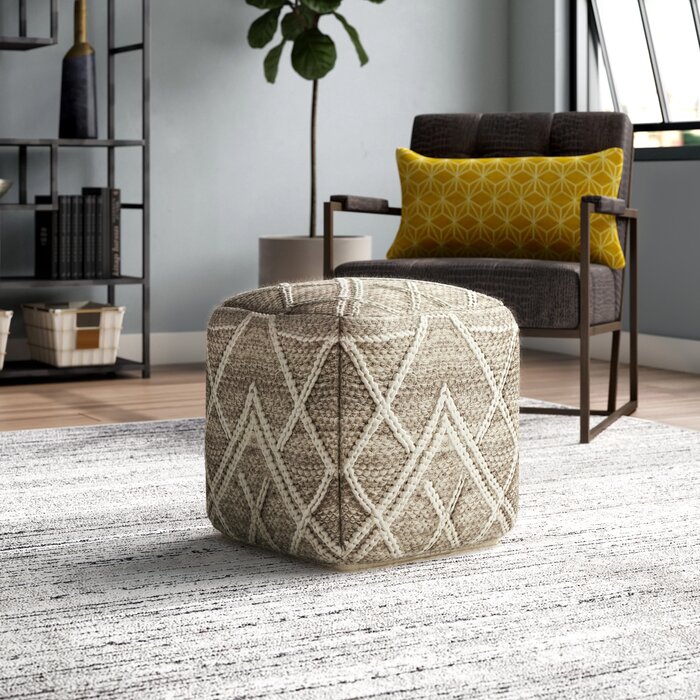 Gracie Oaks
This hand-woven pouf with its interesting diamond pattern is a total eye-catcher. The warm color tone would make it blend in just about any room design.
Aoki Tufted Cocktail Ottoman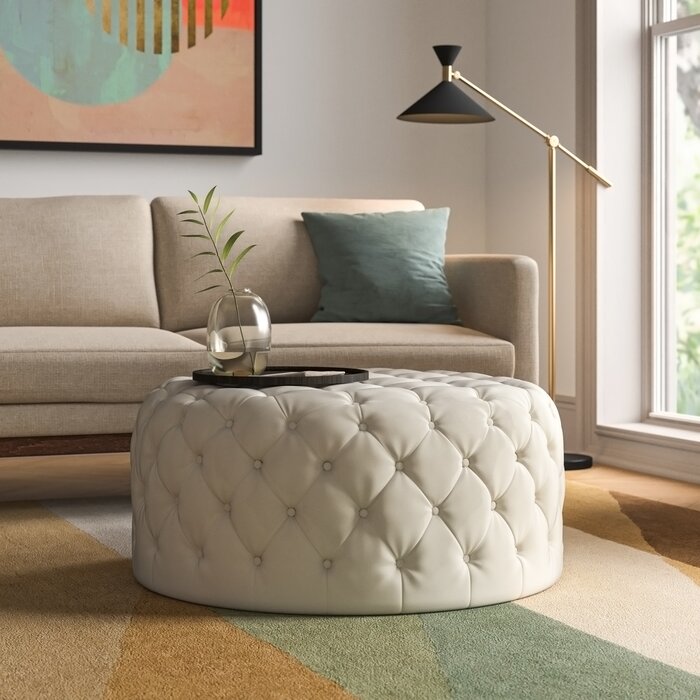 Mercury Row
A wide cocktail ottoman that's perfect as a coffee table and extra seating. The button-tufted velvet upholstery adds in a touch of posh glam.
Siegel Geometric Pouf Ottoman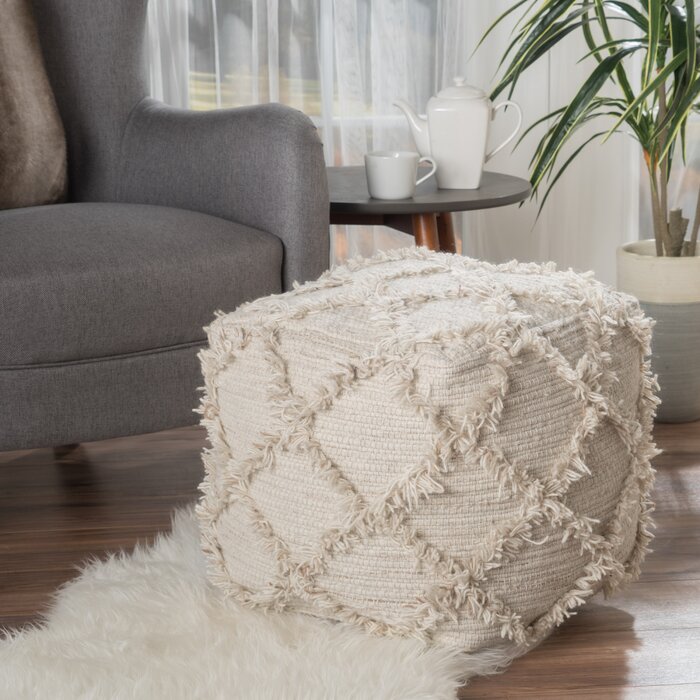 Dakota Fields
The diamond tufted pattern is emphasized by its fuzzy design. This kind of pouf ottoman blends trendy styles of Moroccan fusion with modern design.
Thelonius Faux Leather Cocktail Ottoman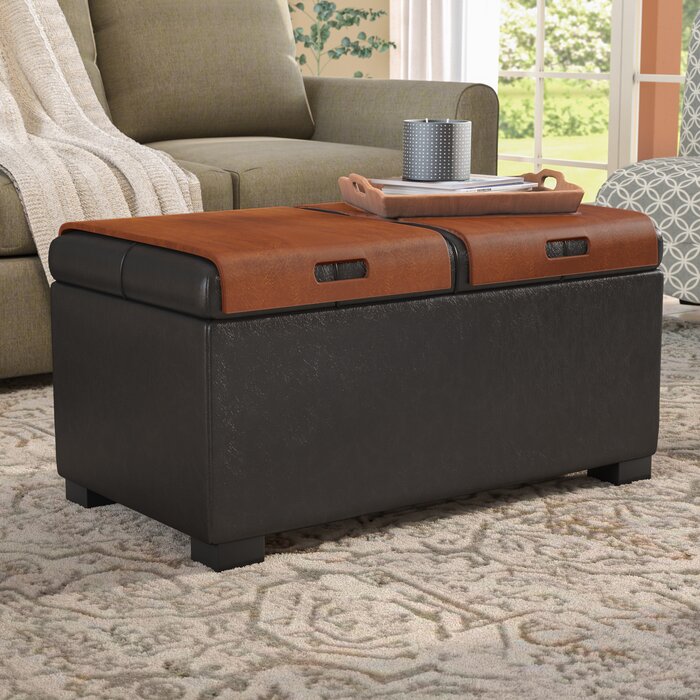 Andover Mills
The clean and compact frame of this ottoman surely gives way to both style and functionality. What's even more interesting is that it comes with a pair of reversible bentwood trays that you can use to serve drinks or just use as a stable spot.
Bessie Storage Ottoman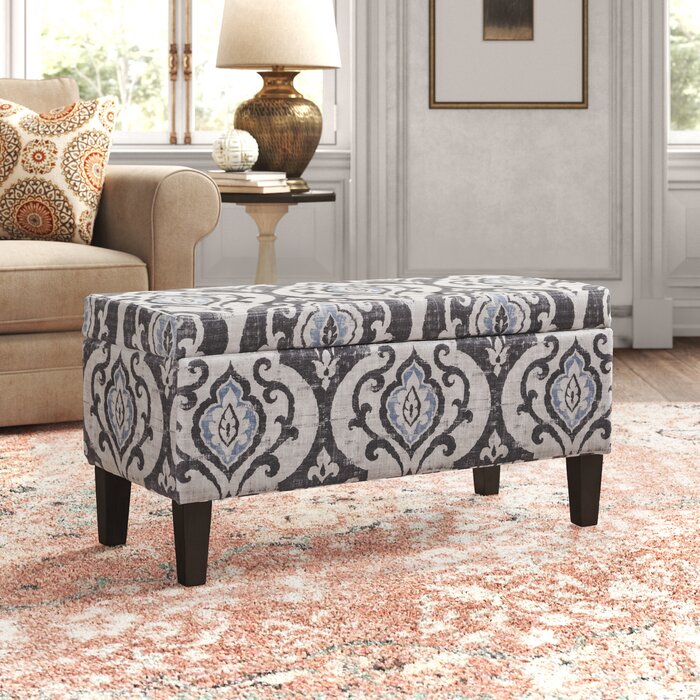 Kelly Clarkson Home
The French country-inspired design print definitely catches anyone's attention. It's stylish and functional with hidden storage.
Abston Tufted Cocktail Ottoman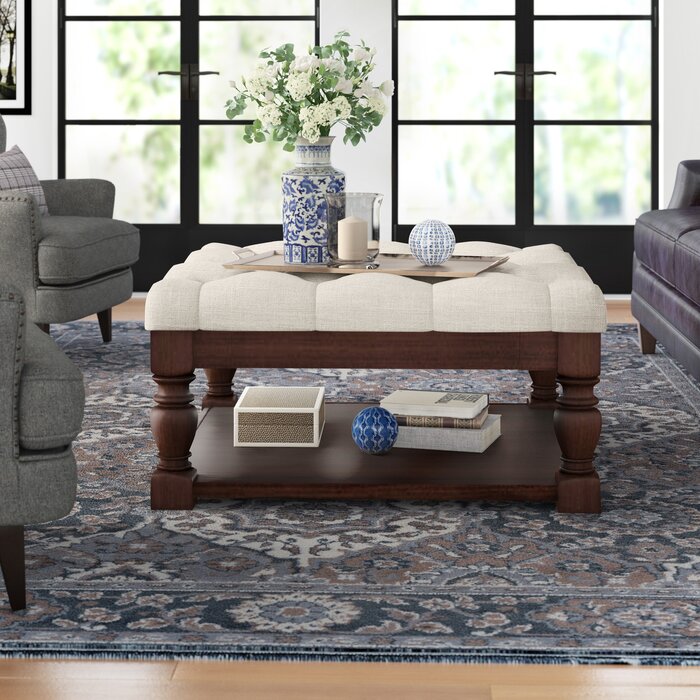 Three Posts
The rich wooden frame of the lower shelf is one that exudes a classic look. It's ideally perfect in a traditional room.
Belrose Ruched Pouf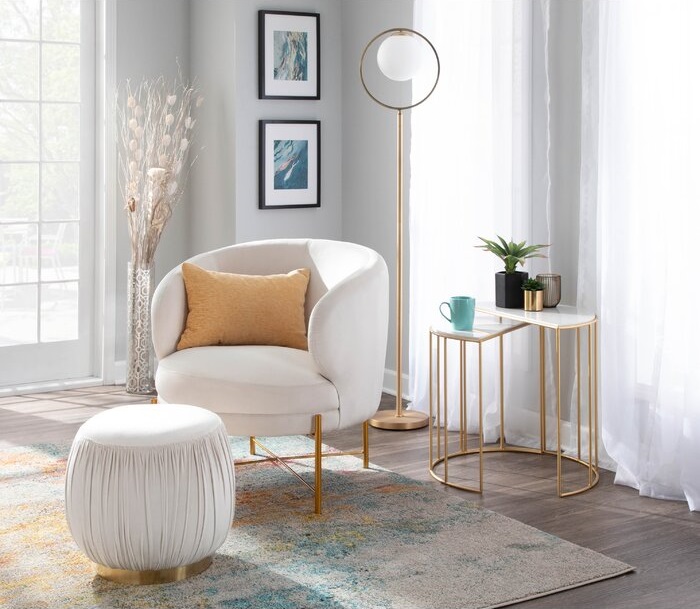 Gold Flamingo
The velvet upholstery is joined by the pleated detailing and gold-finished to completely give a luxurious look.
Alderson Ottoman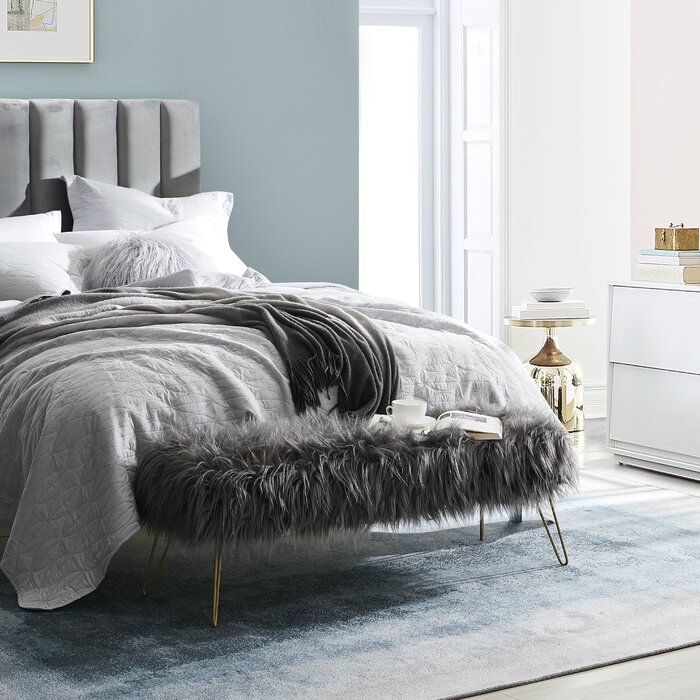 Everly Quinn
With the sleek faux fur upholstery and steady gold metal legs, this ottoman seems ideal and best in traditional and contemporary room designs.
Birney Fuzzy Pouf Ottoman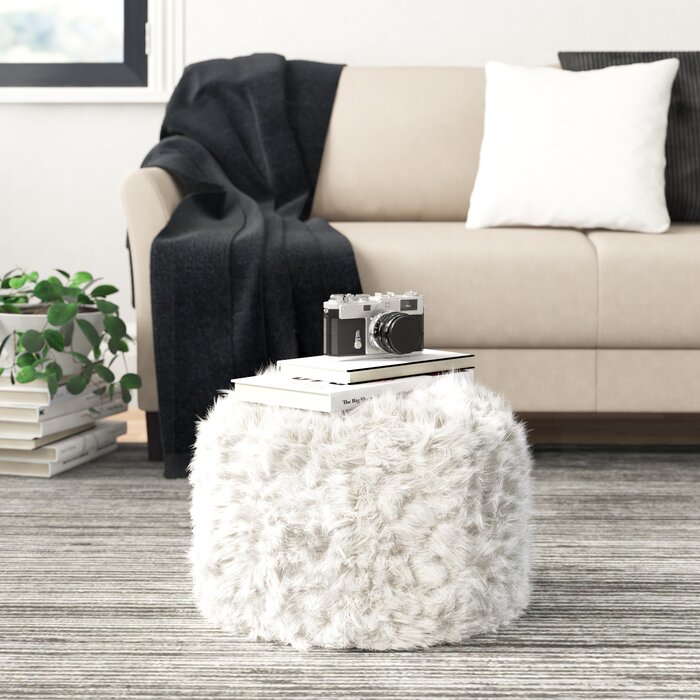 Mercer41
The fuzzy polyester blend upholstery instantly gives you a warm and cozy feeling to fill the room with. And with its solid hue color, it has a friendly look that fits in any room.
That's it for our picks of ottoman designs that will definitely brighten up your room.
Like This Post? Pin It!