40 Magical Moon Gate Designs You Can Have In Your Garden
|
Are you in need of updating your garden's look? Here's an idea that you may want to consider: moon gate!
A moon gate is a circular passageway originating from China and is a traditional architectural element in Chinese gardens. Later in the 19th century, English gardeners would adopt this feature and the rest of the world would follow, resulting in a variety of imaginative moon gate designs.
You will often find these moon gates in the gardens of nobles, both in China and otherwise. That being said, moon gates are an attractive feature to have in your garden whether you're a noble or not.
What does a moon gate symbolize?
Regardless of the moon gate design, moon gates are more than just an attractive architectural element to have in your garden. From its place of origin, moon gates are thought to bring fortune to those who pass through. In fact, in places like Bermuda, newlyweds step through moon gates for good luck in marriage. When the moon gate rises out of the garden's landscape, it becomes a symbol of birth and renewal. Some traditional moon gates are built to be slightly raised, meaning visitors would have to step over, thus reinforcing the privilege of setting foot into a private space.
How are Moon Gates made?
Due to the variety of moon gate designs, moon gates can be constructed out of various things and in various ways. Traditional moon gate designs are typically made of stone, brick, or stucco. Sometimes, moon gates are just a part of a stucco wall. Now, they can be constructed in metal and wood. In particular, metal moon gates are usually freestanding. Some wooden moon gates have inspired wooden arbors with round arches.
Why is it called a moon gate?
Firstly, moon gates are named such due to their shape. In traditional Chinese moon gate designs, the sloping of the roofs is supposed to represent half the moon of Chinese summers, with the roofs' tile tips having talismans at the end of them. Against the garden landscape, the moon gate appears to rise out of the earth the same way the moon rises in the sky.
Moon Gate Designs for Inspiration
Now, let's look at some magical moon gate designs!
Bainbridge Island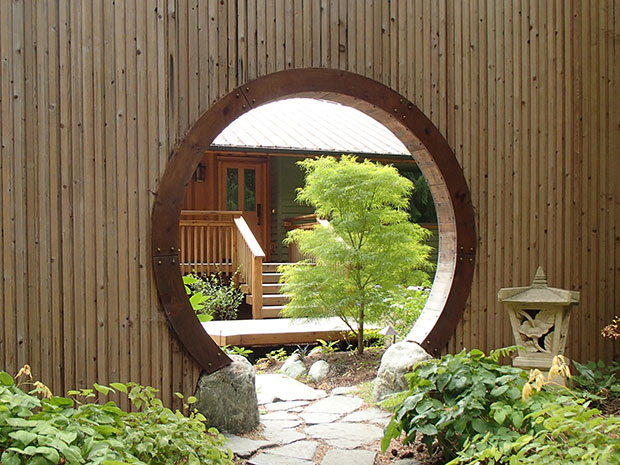 Aaron G. Edwards Landscape Architect
Moon gate designs that are part of a wall perimeter are quite common. With an Asian-inspired garden, the materials and moon gate design are fitting.
Darnestown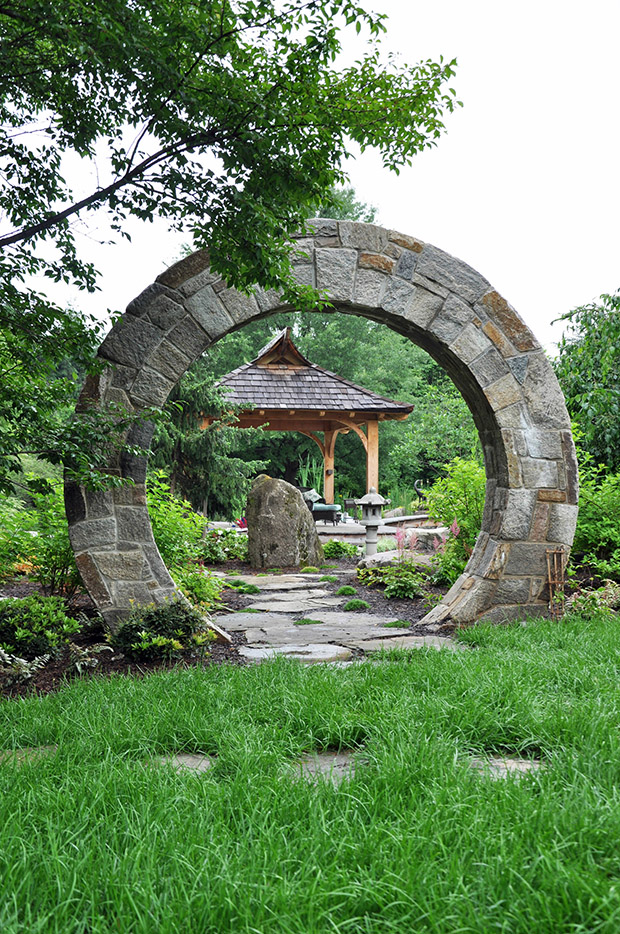 McHale Landscape Design, Inc.
This moon gate design is made of stone and stands alone. It perfectly frames the pathway going into this garden's gazebo.
Moon Gate Entry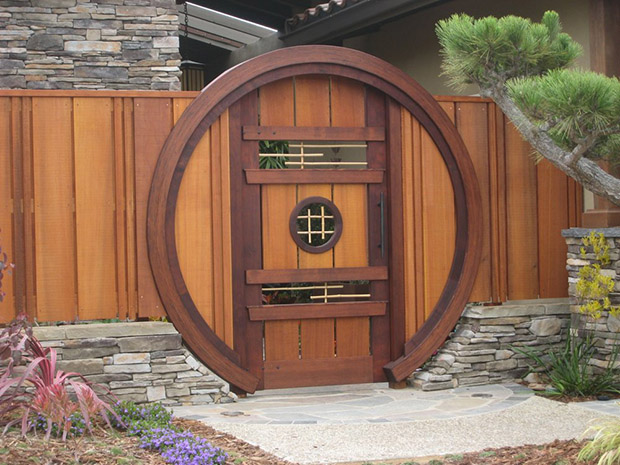 This home has a more modern take on a moon gate design. Within the circular passage is still a door that one needs to open to enter this home.
Moon Gate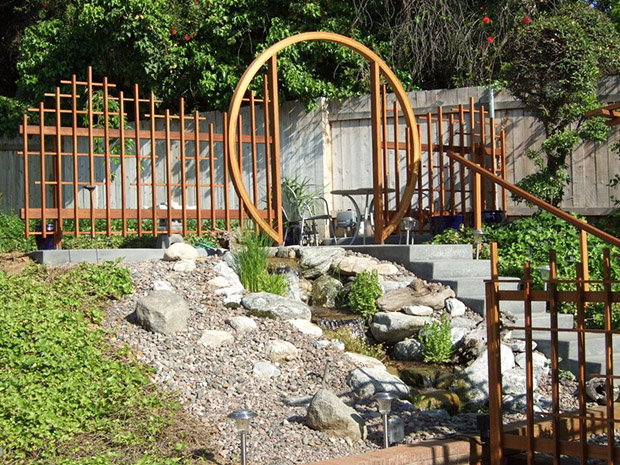 Wood's Shop
This garden has a pretty interesting moon gate design that is complemented by its unique fence design. If you take a good look at it, it looks like the moon (moon gate) rising from behind the mountains (fence).
Fifth Season Gardens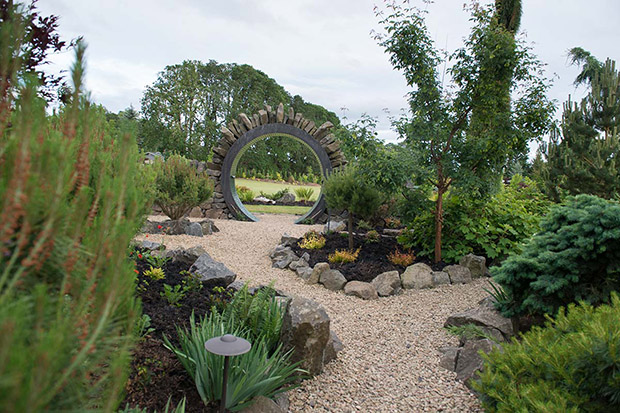 Fifth Season Landscape
On top of a smooth circular structure, there are rough and sharp-edged stones to give this moon gate an interesting and unique overall look.
Gamble Garden Spring Tour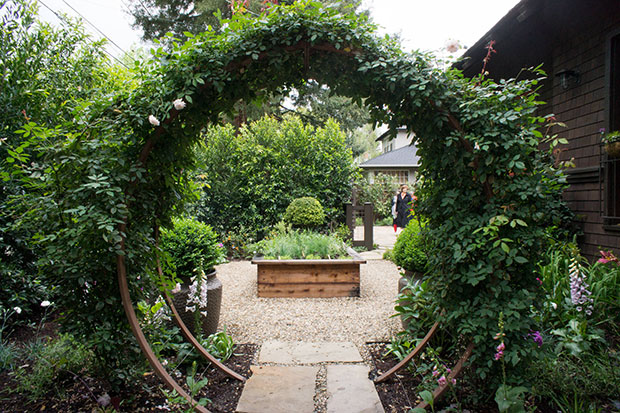 Hoi Ning Wong
Some metallic moon gate designs are also useful as a trellis. While the moon gate itself is a simple design, the plants growing around and along it boost the overall look of the structure.
Pondbank House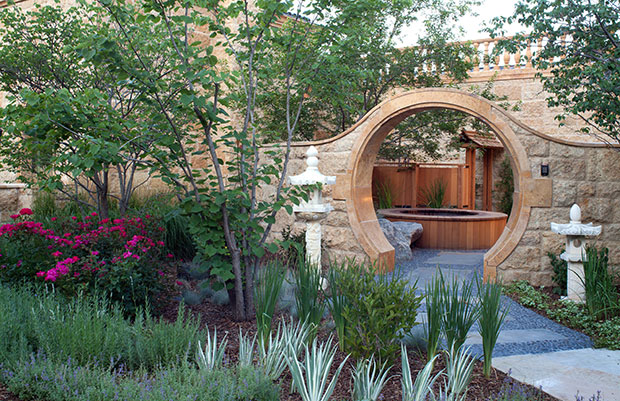 The Cultural Landscape Foundation
The smooth texture of the moon gate's silhouette is a great contrast to the roughness of the stucco wall where it is built.
Somerset Ridge Residence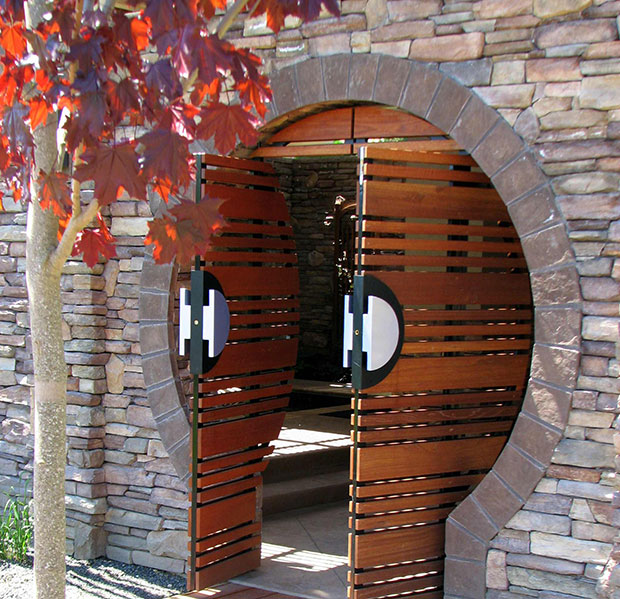 Chuck B Edwards Landscape Architecture & 3D
Rather than keeping it open through the circular passage, folding gates are installed inside it. Even the folding gate is inspired by the Asian style.
Cor Ten Zen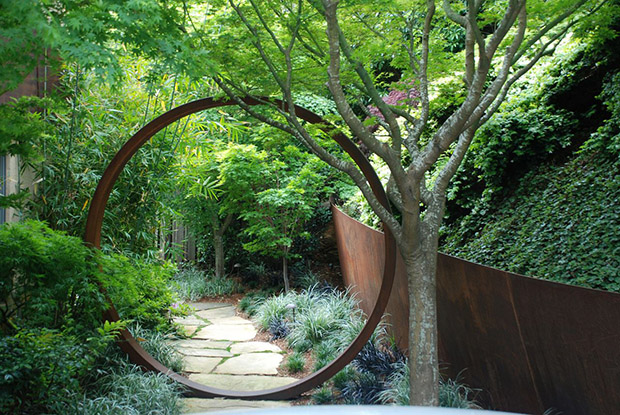 Living Green Design
While most of these moon gates are true to their being an entry to a certain space, this standalone moon gate doesn't seem to separate two distinct spaces. Still, it appears to be a beautifully peculiar feature in this garden.
Vashon Island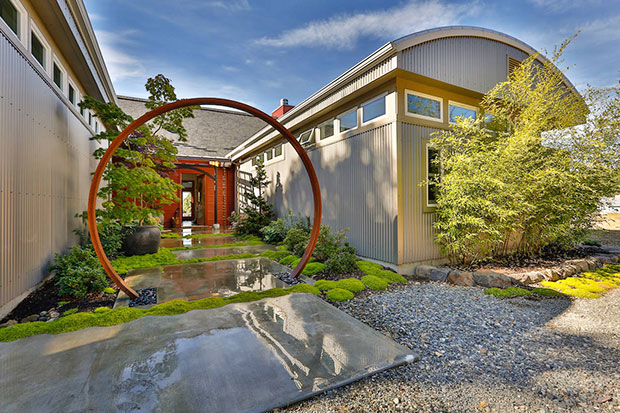 William J Chester Architecture LLC
This moon gate is built into the ground so that it looks like the moon hasn't completely risen yet. Another interesting point is how it's painted the same color as the wall behind it.
Zen Entry Garden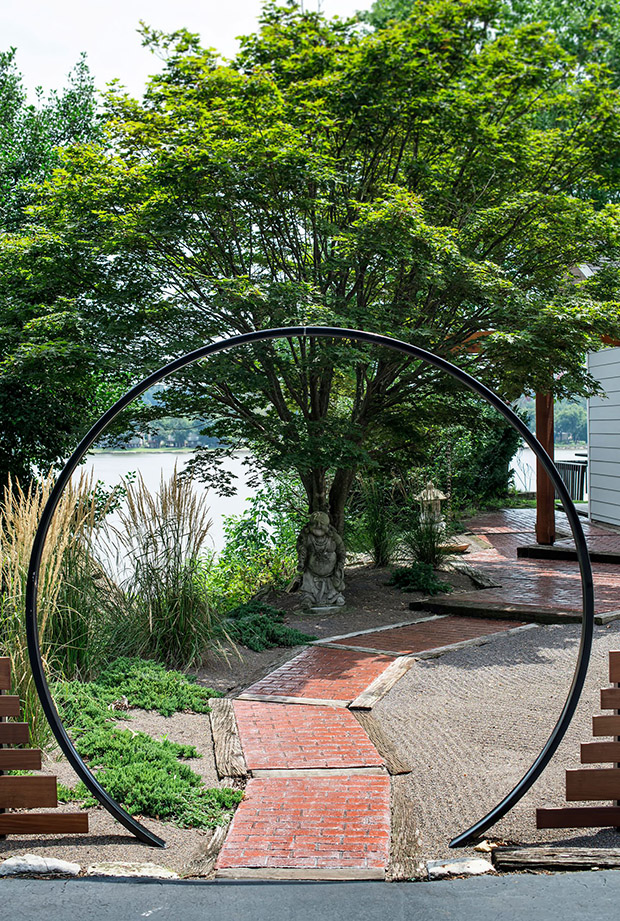 Rock Paper Hammer
Here's a simple moon gate design that is just as charismatic as the more elaborate ones. It is definitely helped though by the fence on either side of it.
Song Ranch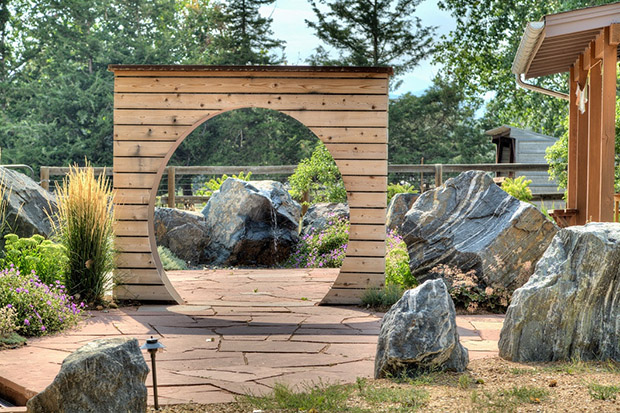 TLC Gardens
Now, here's a unique moon gate design. Interestingly, its opening passageway isn't as round as the other moon gate designs on this list.
2017 Kips Bay Showhouse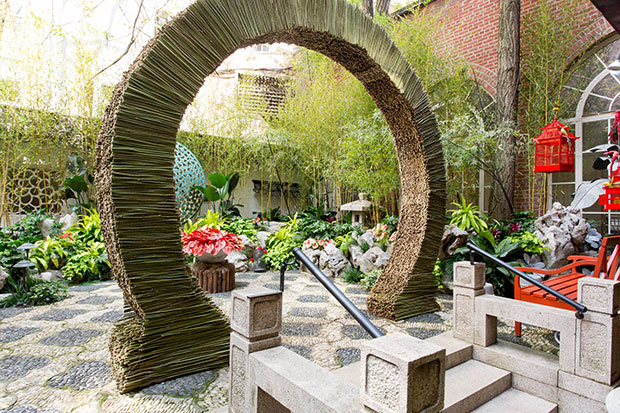 Rikki Snyder
A one-of-a-kind moon gate design that is surely going to make a statement in your garden. What's even better is that the entire garden lives up with Asian-inspired architecture and décor.
River Retreat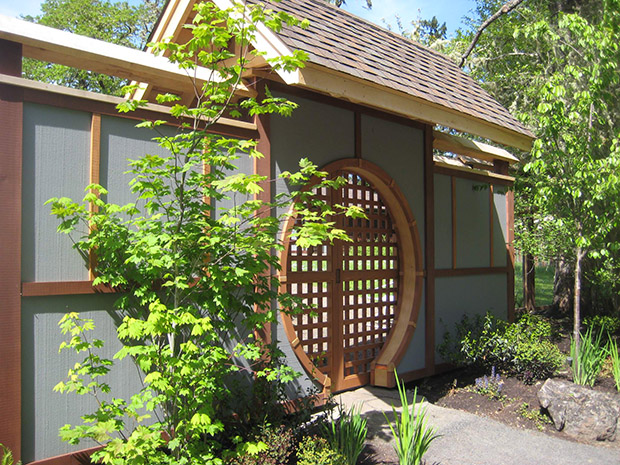 Stangeland and Associates
This moon gate is a nice mix of traditional and modern. It also brings a country vibe to its design.
Garden Gate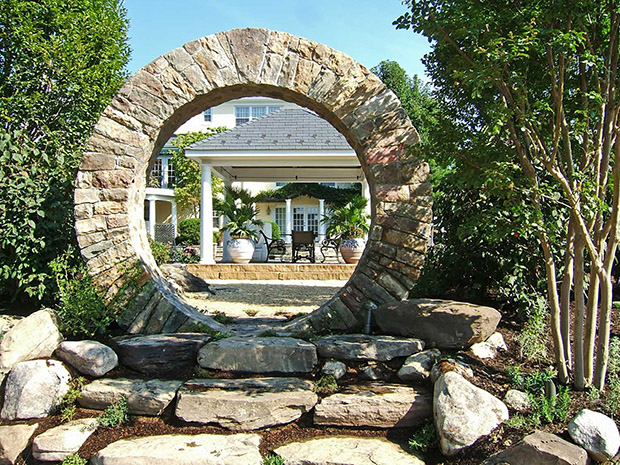 Garden Gate Landscaping
The moon gate provides the perfect addition to the entire garden landscape. Even the materials used to construct the moon gate is the same one used for the hardscape.
Dubois Residence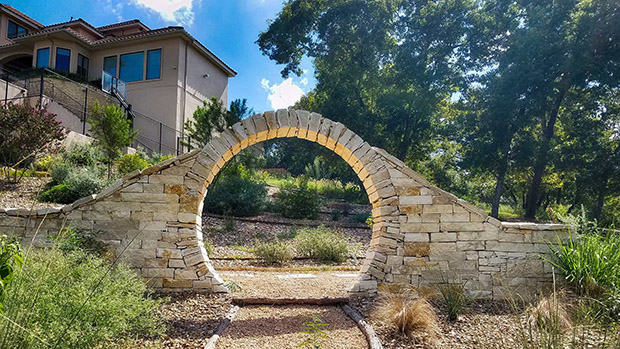 Austin Native Landscaping
Interestingly, this moon gate has a jagged look to it as opposed to other moon gates attached to a stucco wall.
Mission House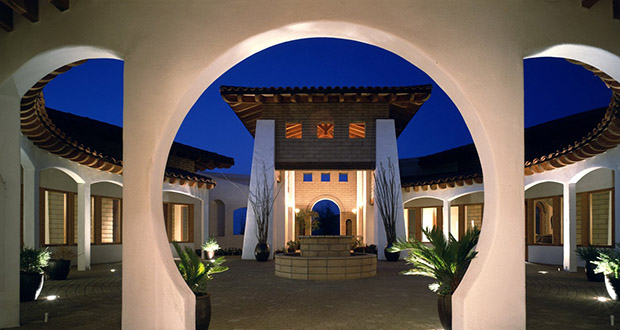 Mark A Silva Architect
Rather than an entrance to the garden, the moon gate design is incorporated into an archway going into the courtyard.
Asian Fusion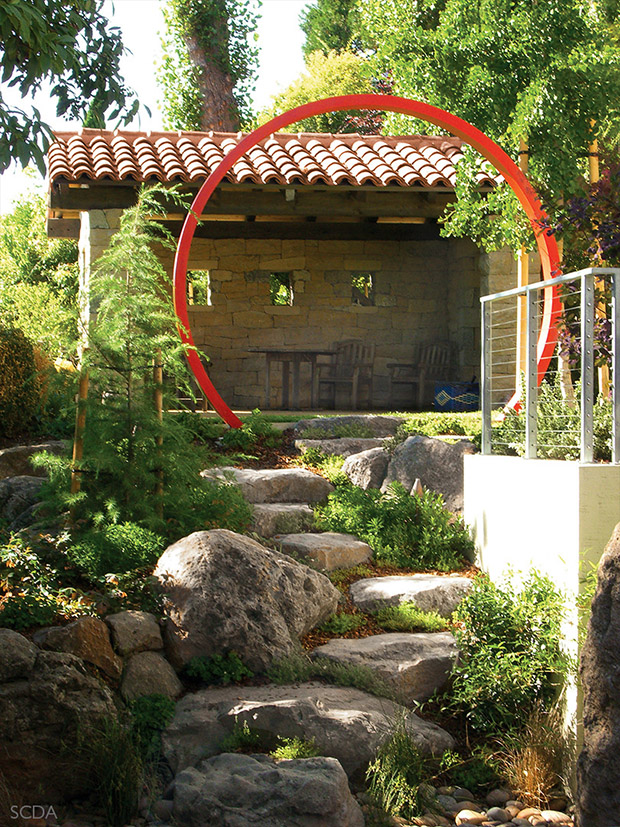 Strata Landscape Architecture
A simple red moon gate design stands out in this garden like an intimidating beacon of light. But it's certainly a welcomed feature in the garden.
Fred Hollingsworth Restore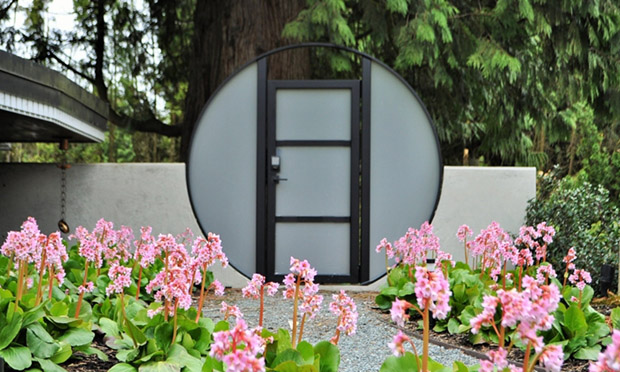 Easton Landscape Design & Installation
Give your moon gate a more modern twist with a design like this. Instead of traditional materials, this moon gate employs the use of metals. A fitting choice for an updated home design style.
Asian Inspired Courtyard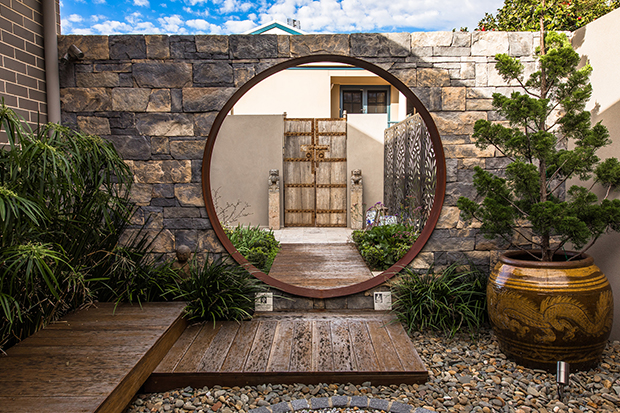 Captivate Landscape Design & Architecture
There is nothing more appropriate than building a moon gate in your heavily Chinese-inspired courtyard. The slightly elevated moon gate design brings some sense of privacy for either side of the gate. Entering the courtyard will certainly feel like entering a space not everyone can get into.
Bespoke Moon Gate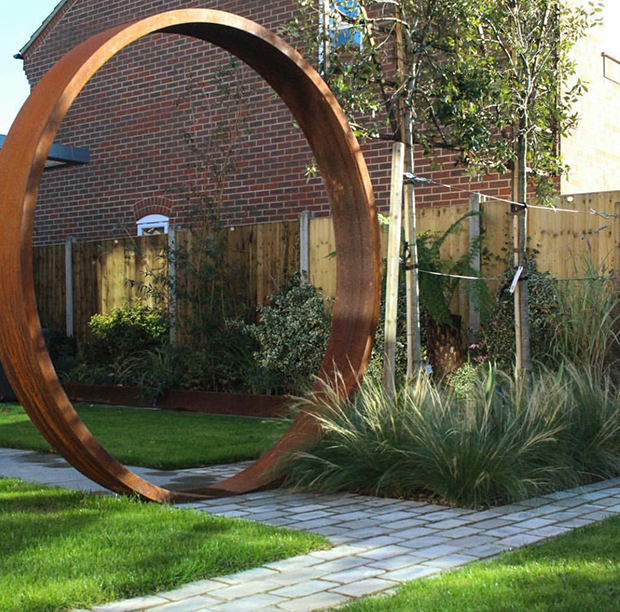 Stark and Greensmith
A perfect wooden moon gate design that will look like a stunning piece in any home garden. Where traditional moon gates are built on-site, you can now purchase pre-made moon gates like this and have them installed in your garden!
Manor Farm House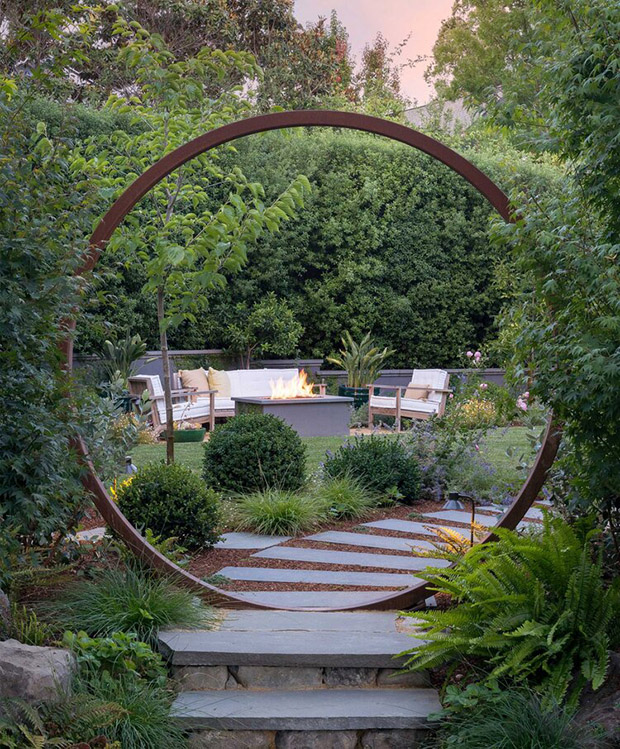 Christian Douglas Design
With standalone moon gates like this, it may look silly and awkward to have them and not have a fence of sorts on either side. But this home makes use of its growing bush plants to act like a perimeter fence beside the moon gate.
Lafayette Windtree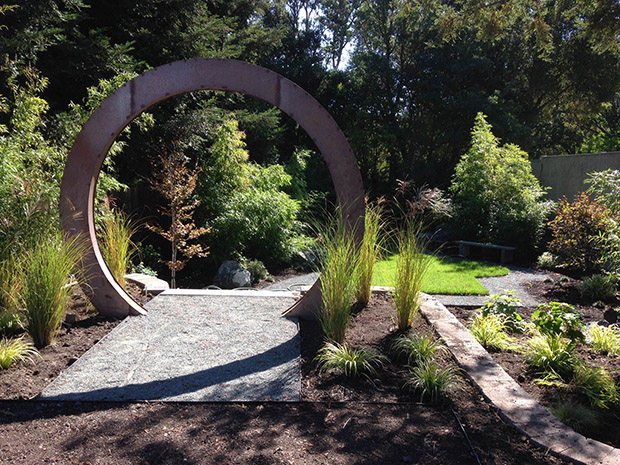 Alderland – SF Bay Area Pool & Landscape Co.
The modern iterations of moon gates have also managed to match other design styles. This moon gate, in particular, embraces the rusty metal look for rustic appeal.
Midcentury Modern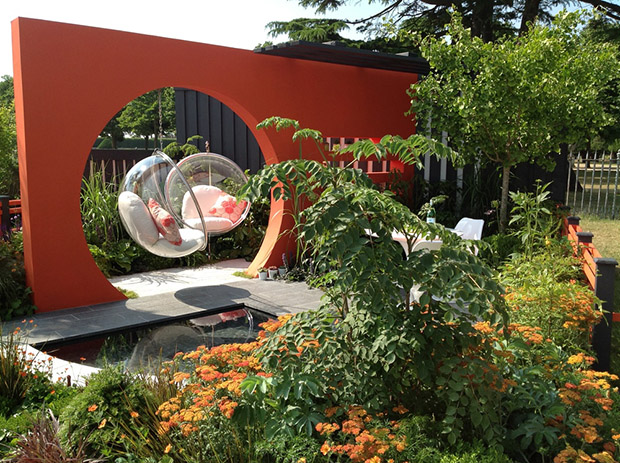 Outdoor Creations
Now, who would have thought to bring some whimsical charm to a moon gate design? This moon gate does just that! It could be the bright orange doing it. Or it's the interesting structure of it and its placement in this garden. Regardless, this is a moon gate design you will want for a modern or contemporary look.
Woodland Retreat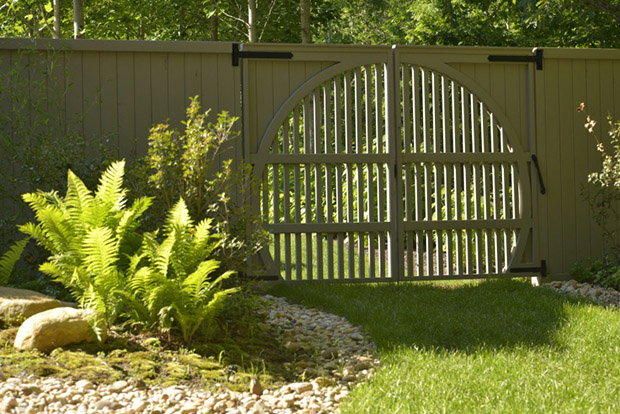 Davis Landscape Design
The small design details in this moon gate bring a farmhouse charm to the overall structure. It almost looks like it could be an entrance to a barn or a part of it.
Tsawwassen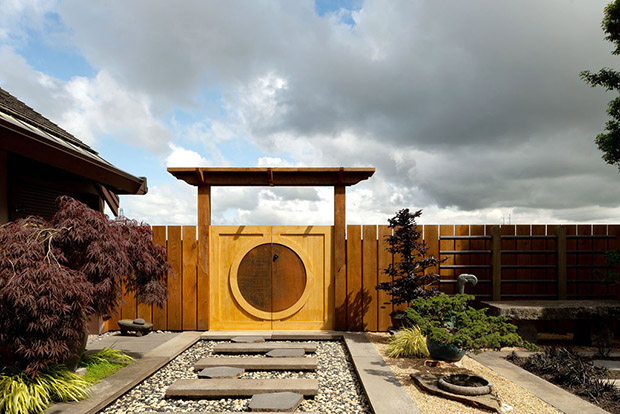 Craine Projects
Usually, with similar moon gate designs like this, the passage is a circular frame fitted with a gate inside. This moon gate uses a traditional gate configuration and brings the "moon" into the gate design.
Pacific Zen Retreat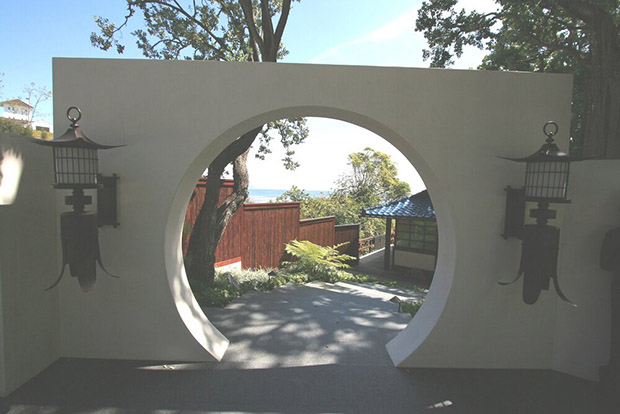 GH Garden Designs
This smooth block into which the moon gate is built could have gone a simpler route. But the two Chinese-inspired wall lamps bring some personality to the entire architectural piece.
Town of Manalapan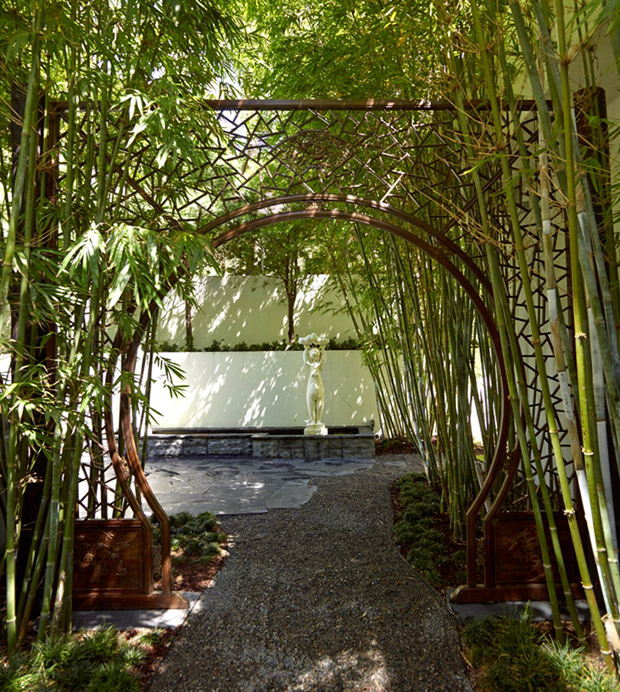 Studio K Architects
This must be one of the many creatively designed wooden moon gates. The intricate geometric shapes must have taken a great deal of time and effort. But they are the perfect design to match the mood and the landscape.
Suburban Country Landscape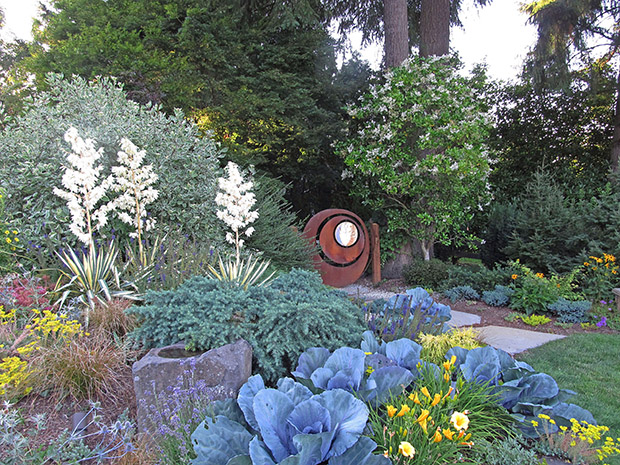 Land2C Landscape Architecture
While most moon gates are hollow in the middle being the passageway, this garden's moon gate is the opposite. The gate itself is in the shape of moon phases, making it an interesting modern iteration of the moon gate.
The Tropical Maze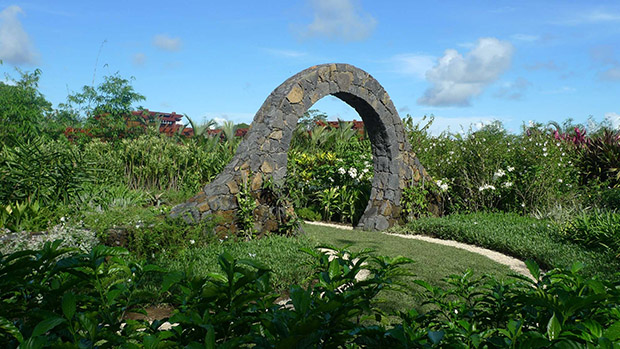 Andres Montero Landscape Architecture
This stone moon gate is the perfect complement to this lush tropical garden, perfectly leaning into the natural world.
Homestead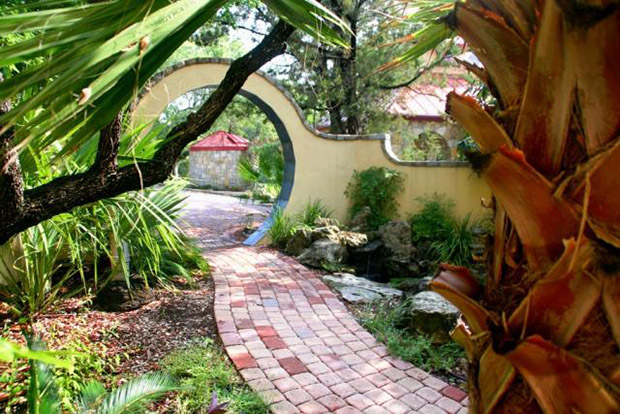 Oasis Gardens
Moon gates built along a perimeter fence or wall are the perfect opportunity to get more creative with the perimeter design too. The curves and angles in this home's perimeter wall simply stun.
West Green House Gardens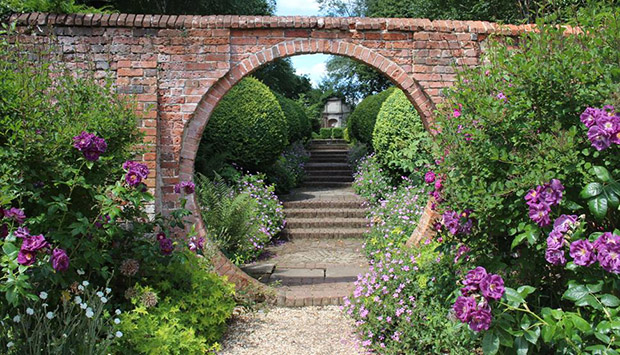 Visit Hampshire
When these moon gates were brought and adopted over Europe, moon gate designs like this were rather common, especially in the homes of nobles.
George's Moon Gate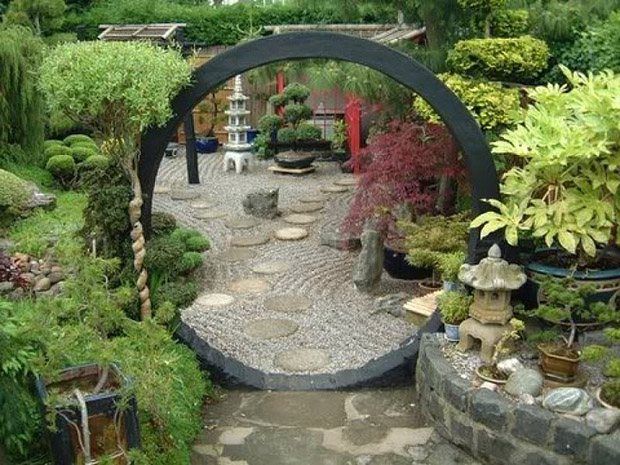 George's Japanese Garden
This moon gate looks like it is squeezed between two distinct areas of the garden. And interestingly, from this point of view, it looks like you're entering a new world through the moon gate.
Lake House Hampshire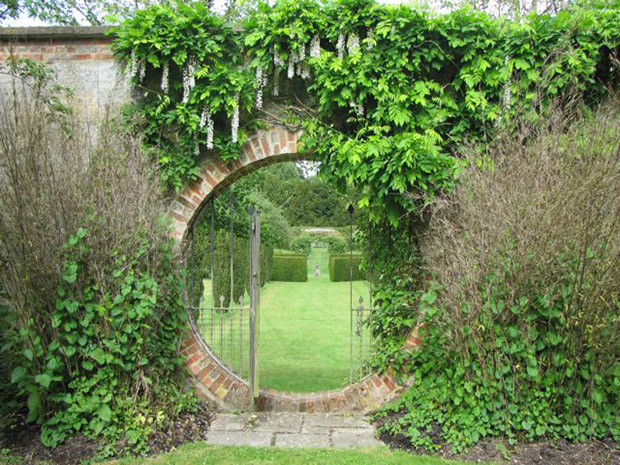 The Galloping Gardener
The addition of a metallic gate brings a sense that the garden this moon gate is protecting is more private than it is. In addition, the overgrowth of plants and vines makes it a more interesting look.
Rose Garden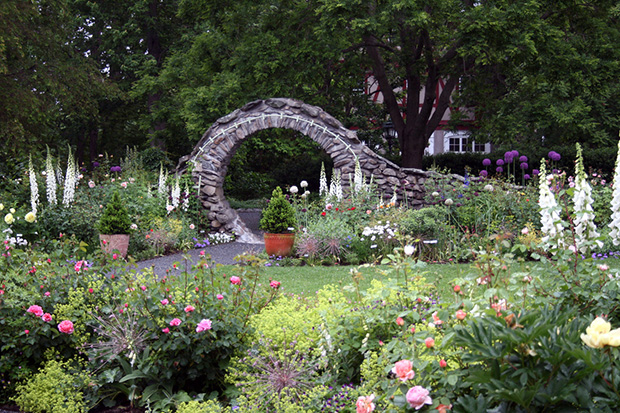 Blitheworld
Even from this distance, you can see the way the rocks were stacked to create this moon gate. It's a charming sort of detail.
Rustic Montauk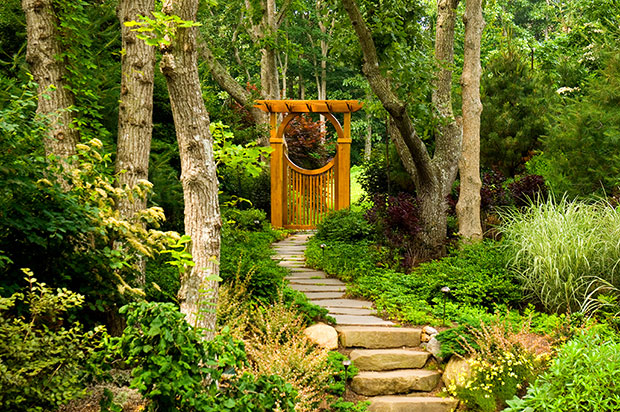 Barry Block Landscape Design & Contracting
This is another iteration of the moon gate design and is popular for the ones made of wood.
Full Moon Japanese Gate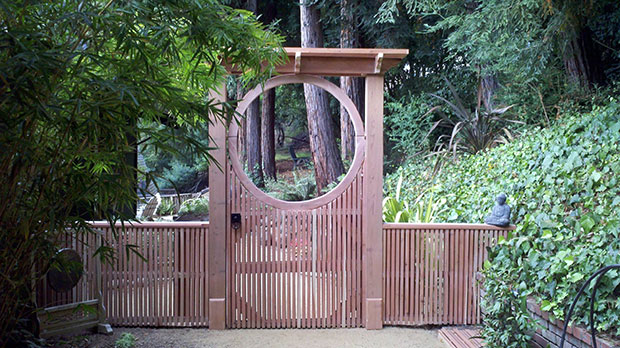 360 Yardware
Unlike the one above, this wooden moon gate has a perimeter fence to accompany it.
Mutiny Bay Residence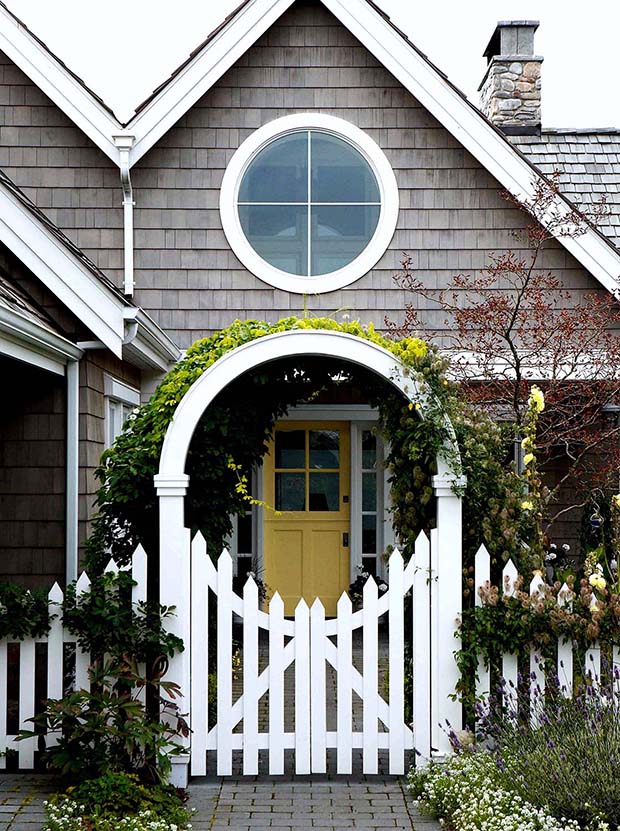 Designs Northwest Architects
Wooden moon gate designs like this also are perfect to take advantage of to incorporate arbors into it.
Newton Tudor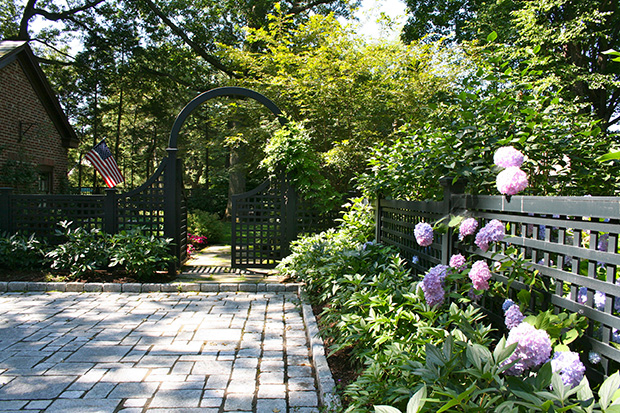 Kerry Lewis Landscape Architecture
The "moon" part serves more like an archway, with a matching gate that lets people in and out of the garden or courtyard.
Country House Garden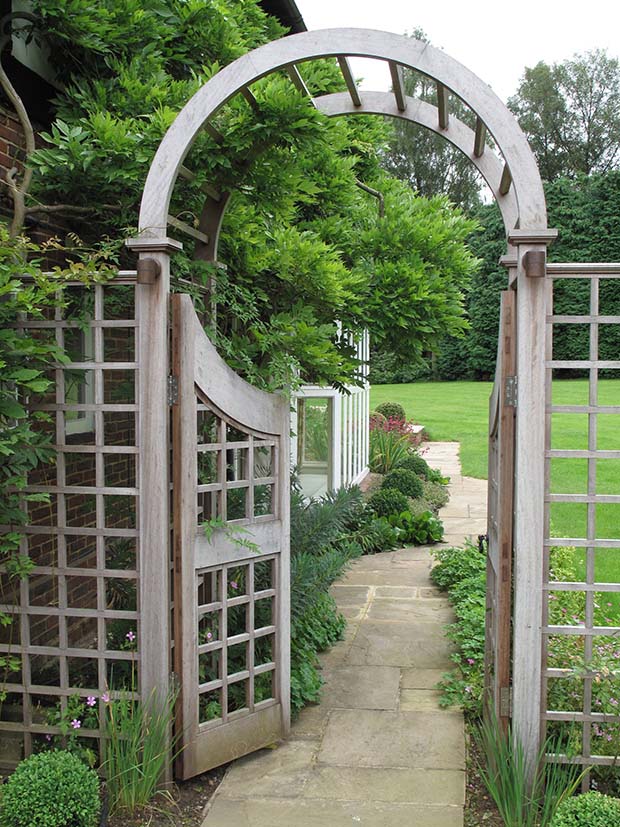 Cherry Mills Garden Design
Now, here's a close and perfect example of a wooden moon gate also being made into an arbor.
And those are the moon gate designs that will make your garden or courtyard look out of this world! Which one was your favorite?
Like This Post? Pin It!