60 Industrial Living Room Designs Worth Investing In
|
For many urban homes, there is a trendy interior design style that is a popular choice. Understandably industrial-style interior design is effortlessly cool and easy to maintain. With open-floor plan homes, an industrial living room design is definitely something to consider.
There's a certain level of quirk to the industrial living room designs, what with elements that are unique to the style, and its versatility in incorporating elements of other design styles.
What is an industrial style living room?
Taking inspiration from repurposed factories during the Industrial Revolution, industrial living room design embraces architectural elements as its focal point. Where other home design styles hide piping and ductwork, the industrial style doesn't. Industrial living room design has a raw and almost unfinished look to it because of this. Such style creates a casual atmosphere in the space.
Industrial style is often perfect for open spaces and encourages minimalism and practicality. This gives the room a laid-back and uncluttered look.
How can I make my room look more industrial?
Following some of the general characteristics of industrial style can certainly help you create an industrial living room design that fits your vision. You don't need to check all the boxes, but at least, get most of them in your living space.
Here are some ways to make your room look industrial!
1. Exposed brick
One of the core characteristics of industrial-style interior design is the exposed architectural elements, including the brick wall. If you're lucky to have your living room walls built with bricks, embrace the bareness of it all.
2. Warehouse-inspired feature walls
On the other hand, if you don't have exposed bricks in your home, you can try warehouse-inspired feature walls. These are industrial-inspired wallpapers and brick veneers that can serve as alternatives.
3. Minimalist and practical style
Industrial living room design is all about keeping it minimalistic. This means you need to clear your living room from clutter, opting for only practical features to be included within the space. Maintain clean lines and simple forms in your living room too, and avoid too many accessories.
4. Repurpose materials
In living rooms without any exposed architectural elements, including repurposed materials into your space. Find a repurposed coffee table with wheels or a bookshelf made of reclaimed wood. Don't limit yourself to just repurposed furniture. You can even go as far as find repurposed materials for accessories such as wall hangings and art.
5. A mix of materials and textures
The beauty of industrial style is the mixture of materials and textures in the living space. You can experiment with a mix of materials like reclaimed wood, metal features, leather, tiles, and concrete all over your furnishing and accessories. Just make sure not to overdo it, at least you risk going into the maximalist territory.
6. Industrial-inspired fixtures
When looking through fixtures like lighting for your industrial-style living room, you should consider industrial-inspired fixtures. Industrial pendant lights are particularly popular in industrial living room designs. Some popular light fixtures are brass lights or ones with aluminum bulb cages and steel shades.
7. Vintage fixtures
Apart from industrial-inspired fixtures, some vintage lighting fixtures also go so well with industrial elements like exposed metal beams. Or, you could create an eclectic mix of vintage and industrial fixtures to create a unique vibe for your living room.
8. Natural light
One of the main features of industrial design is large windows that allow a lot of natural light. Even if you don't have windows that go up to the ceiling, still try to embrace natural light in your living room as much as possible.
9. Plants
Adding plants to your industrial living room will definitely freshen up your space.
10. Neutral color palette
When it comes to industrial interior design, the main color palette is neutral colors. It uses whites, greys, blacks, and sometimes even some neutral tones of brown. But while these are the base colors for industrial style, you may use accent colors that are brighter and livelier.
What colors go well with industrial?
The neutral color palette prevalent in industrial style may be a little too boring or bland for your taste. But there is always an option to add some splashes of brighter and livelier colors amidst the whites, greys, and blacks. So, apart from the neutral color palette, what are these colors that will go well with an industrial living room design?
1. Blue
Take advantage of that dark and moody ambiance by incorporating some rich tones of blue into your industrial living room design. You will find that blue goes particularly well with white. Dark royal blue would look particularly great with grey, giving the room a regal and luxurious feel.
2. Olive green
With all the neutral colors, it will be great to liven up the place with some earthy or nature-inspired colors apart from some tones of brown, like olive green. And if you add some plants to your interior, this color will only be alleviated.
3. Orange zest
A splash of bright orange would greatly contrast with the neutral colors. Surely, this orange zest would brighten up the room and add more personality to it.
4. Pastels
While industrial living rooms tend to be raw and unfinished, adding some pastel colors would soften an industrial look that is too often associated with dark and masculinity. Just because you have an industrial-style room, it doesn't have to be dark and moody.
Industrial Living Room Designs For Inspiration
Now, let's check out some industrial living room designs that may be worth your investment.
Houston Loft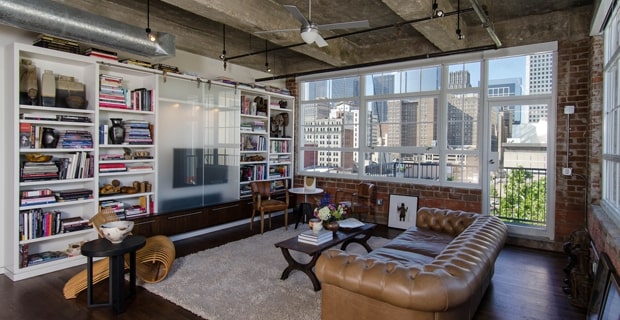 CONTENT Architecture
A vintage leather chair is a perfect focal point of this industrial living room design. Plus, the area rug and rattan side chair add more textural dynamic to the space.
Brooklyn Loft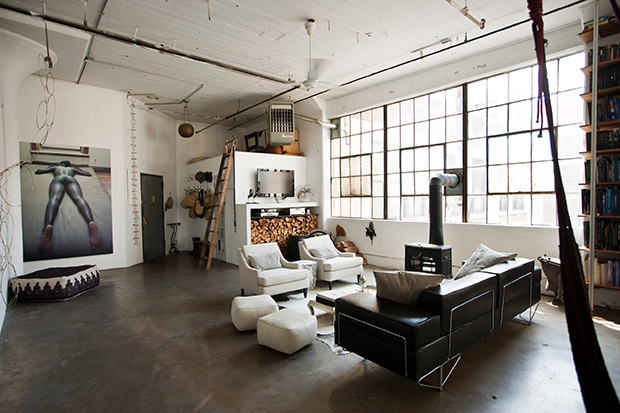 Chris Dorsey Architects, Inc.
When you're looking for furniture for your industrial living room, find a mix of contemporary and/or modern to give it a trendier look.
LA Loft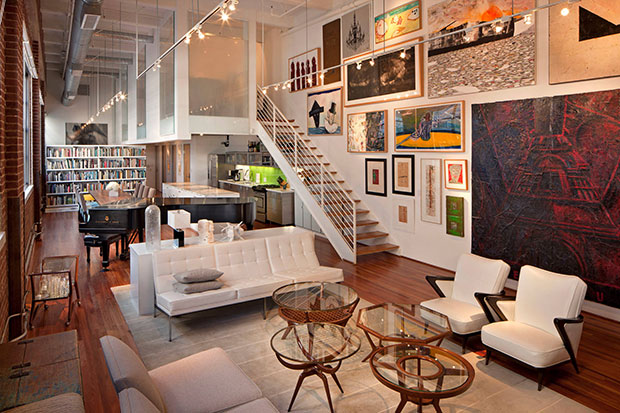 Minardos Group
At first glance, it may be hard to believe that this is an industrial living room design. But that's only because this room incorporated splashes of bright and vivid colors opposite of the exposed brick wall.
Parc Loft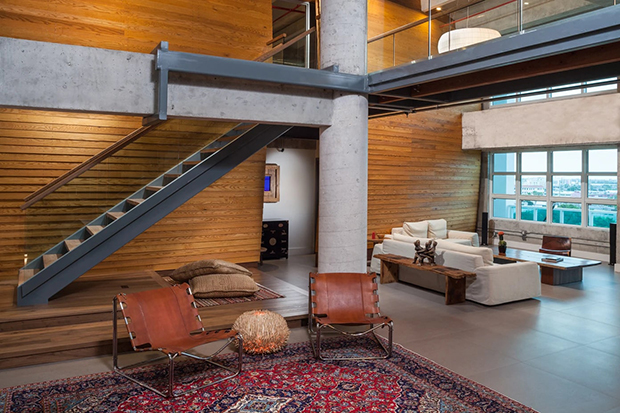 2C Design LLC
Bring wooden coffee and side tables over to your industrial living room. Bonus, if your wooden table is slightly worn and aged. And if you want to stay faithful to the walls' bareness, add an eclectic-patterned area rug into the mix.
Tribeca Loft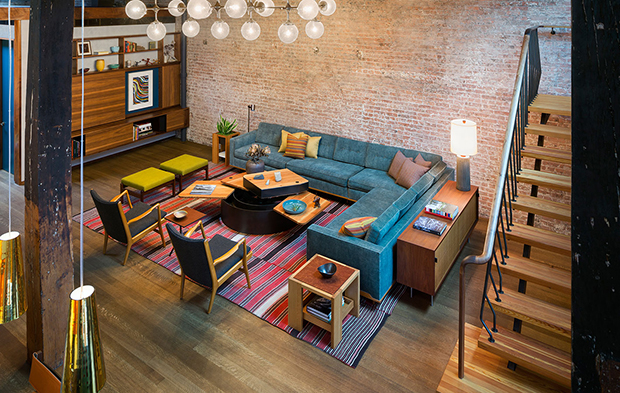 Andrew Franz Architect PLLC
Your furniture's fabric is a good way to bring some pops of brighter colors into an industrial living room design. The colors here and the striped pattern of the area rug bring some youthful energy to the space.
Downtown Loft Remodel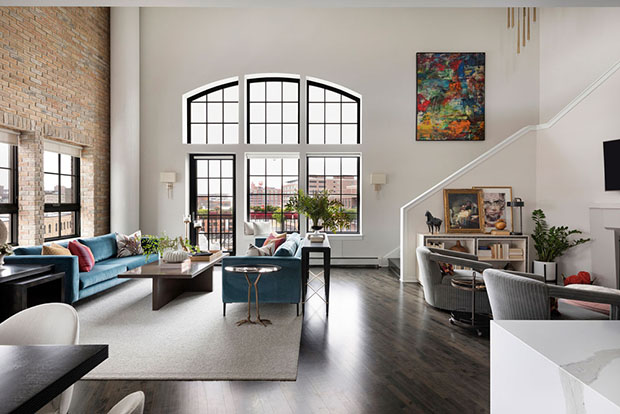 Don't stick to one material for your tables, center, or side. Have a blend of wooden ones and then a metallic one. It will bring some cool dynamics to the overall look of your living room.
Washington Avenue North Residence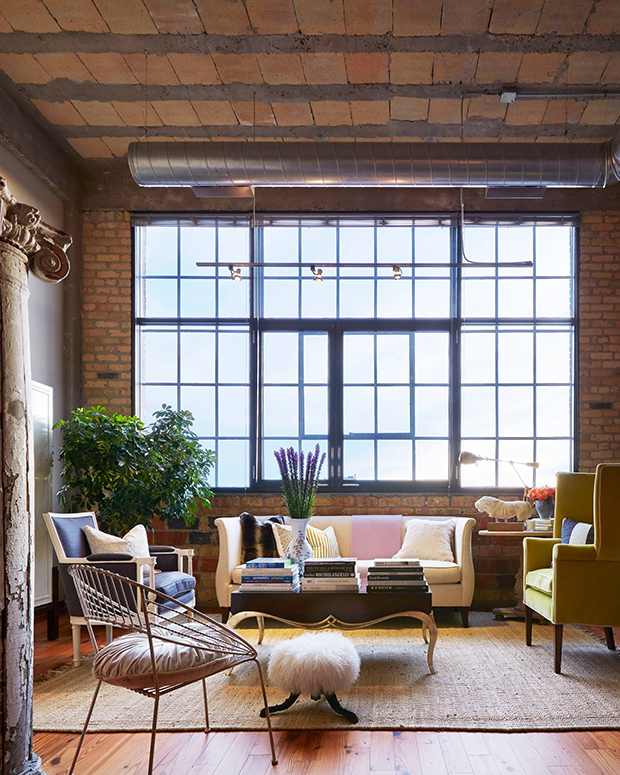 Martha O'Hara Interiors
Here's a perfect example of an industrial living room design that makes good use of pastel colors. You can bring these colors through accent pillows or accessories.
WG Loft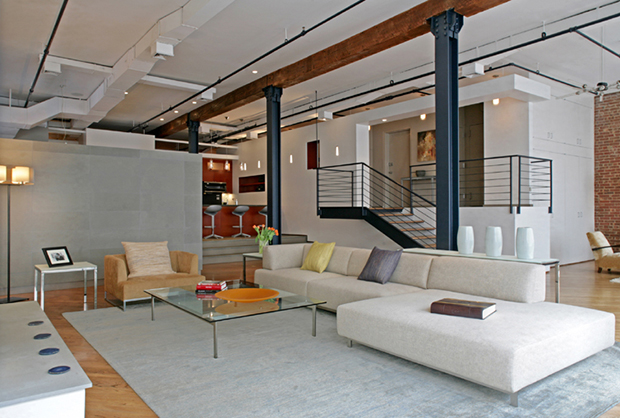 Rodriguez Studio Architecture PC
An industrial-style loft can also be quite versatile. This home, particularly, incorporates contemporary elements to create an eclectic contemporary industrial living room design.
Open Brooklyn Loft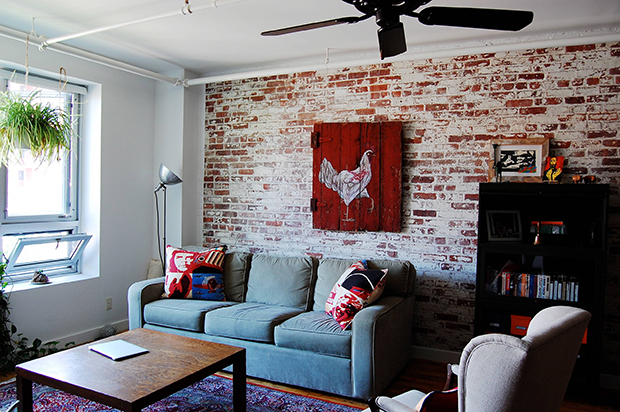 Corynne Pless
Some retro-inspired furniture and accessories can be great additions to an industrial-style living room. Plus, the plants in this, somehow, create a boho-like aesthetic.
Washburn Loft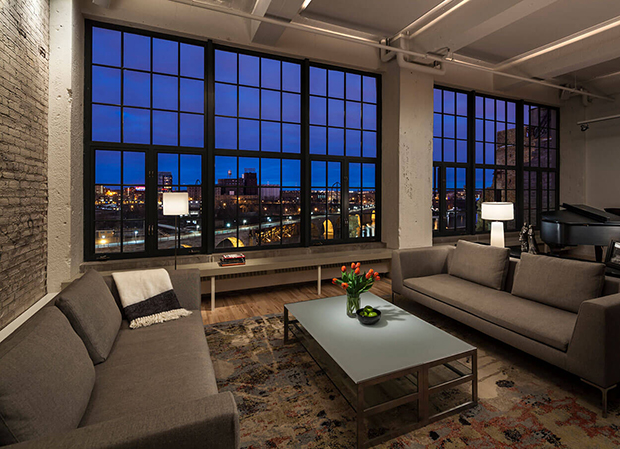 Sticking to a monochromatic theme isn't so bad either. In this case, all the colors in this living room are more or less around the same hue or tone. So, it looks consistent and pleasing. It contributes greatly to the clean and clutter-free look.
Humboldt Loft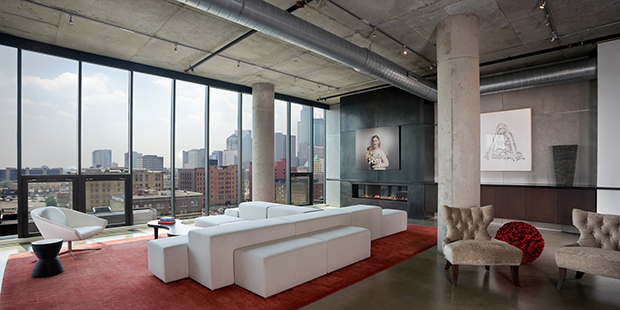 A big bright red area rug takes center stage in this industrial living room design. It definitely is a character that brings so much personality to this space.
Carlyle Condo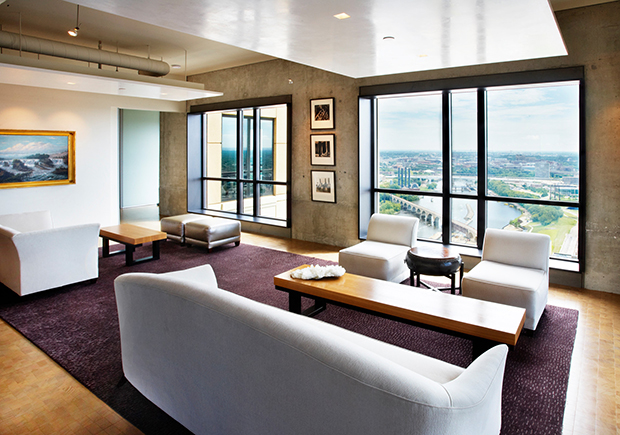 MSR Design
Interestingly, the dominance of white and light brown tones makes this dark purple area rug the perfect choice.
700 Palm Residence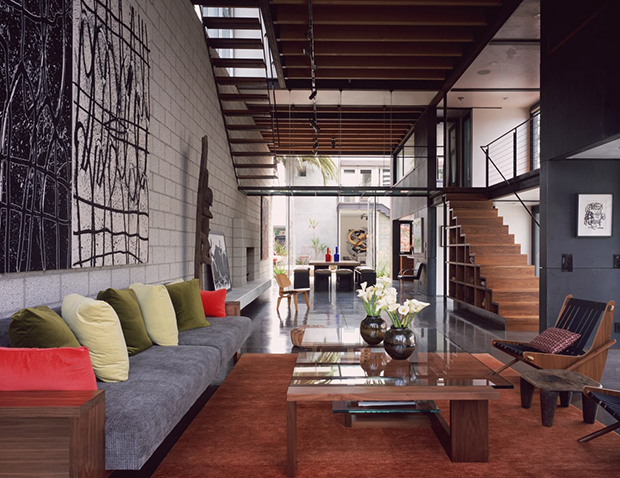 Ehrlich Yanai Rhee Chaney Architects
This industrial living room design has a nice combination of wood, glass, and metal. It's made even more interesting by the addition of eccentric art pieces.
Division Street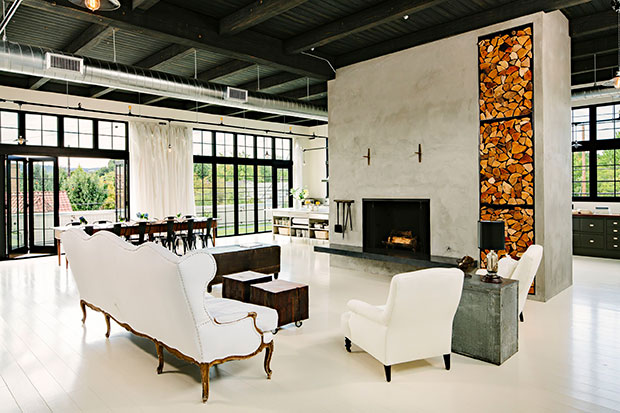 Emerick Architects
The vintage sofa isn't just the highlight of this open industrial living room. You can also see the metallic side table that was clearly made of repurposed material.
Midtown Loft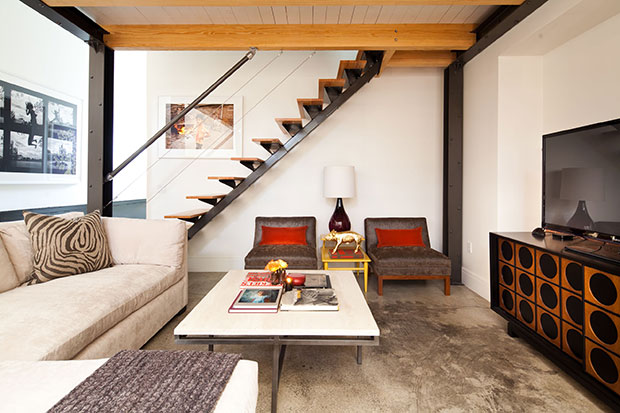 Laura U Design Collective
Usually, industrial living room designs meant high ceilings but this loft doesn't have one. Though the exposed architectural elements of it make up enough for it.
Wabi-sabi Loft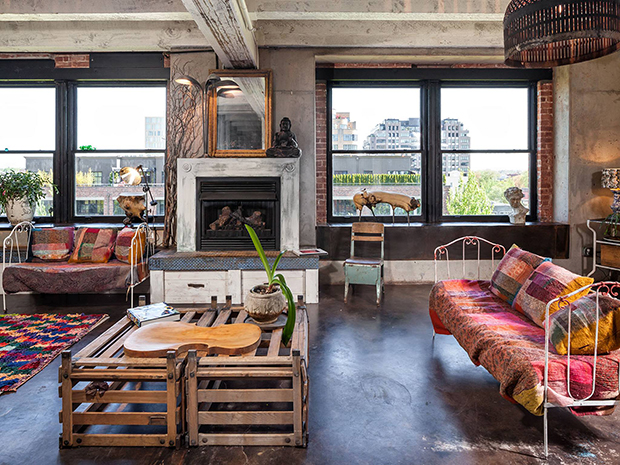 Kuda Photography
As eccentric as this loft's name, the eclectic mix of patterns, colors, materials, and textures definitely brings so much life to this repurposed space.
N. Moore Loft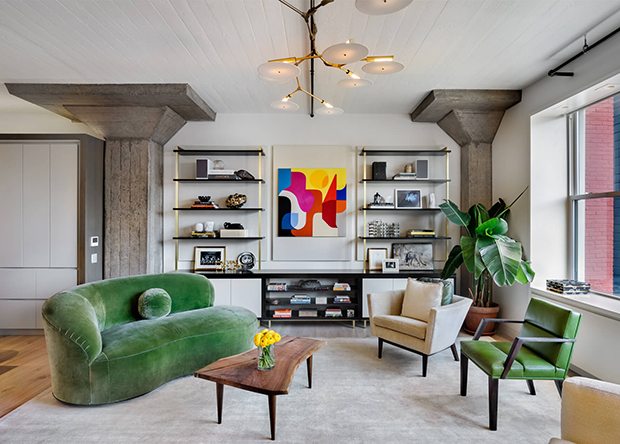 In any other design style, those two large pillars may look like an eyesore. But in an industrial living room design, it is a quirky and unique but fitting detail.
Broome Street Loft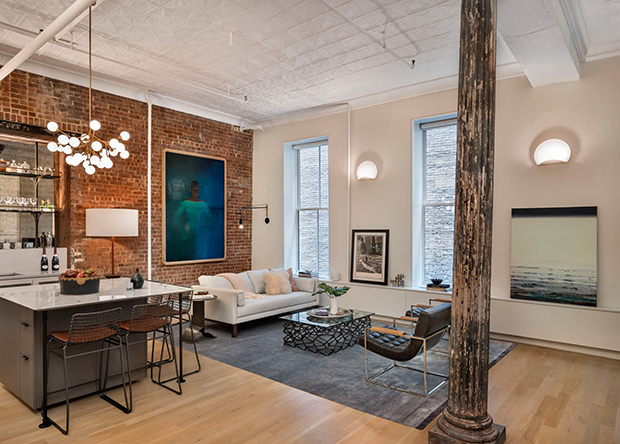 For industrial-style living rooms, take advantage of its theme to bring in some unique furniture and fixtures such as this coffee table and side table.
Bleecker Street Loft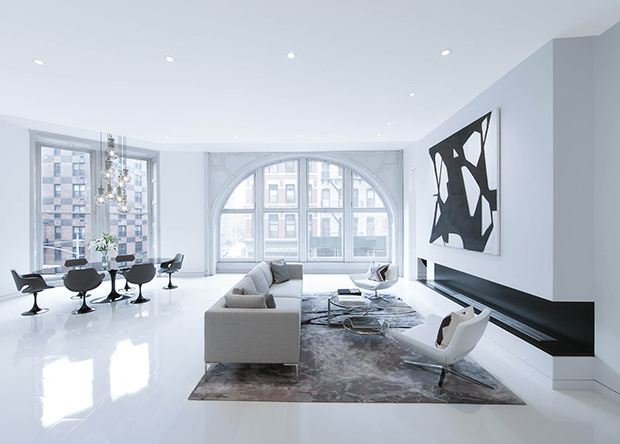 This loft sticking with a black and white theme creates a pretty interesting look. It is almost futuristic and cinematic!
Laight Street Loft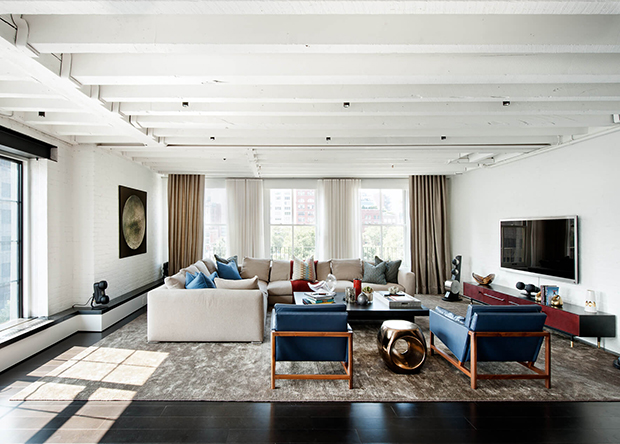 It may be unintentional, but the blue accent pillows matching with side chairs' upholstery is a pretty interesting detail.
Union Square Loft II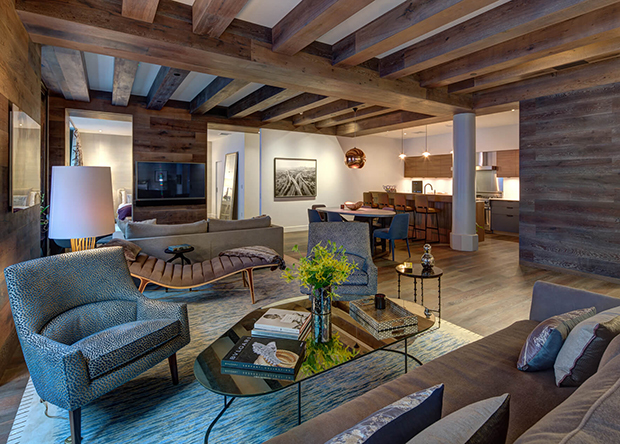 Be experimental with the textures and patterns of your industrial living room. You can usually do this with the fabric or upholstery of furniture or in accent pillows and rugs.
Mercer Street Loft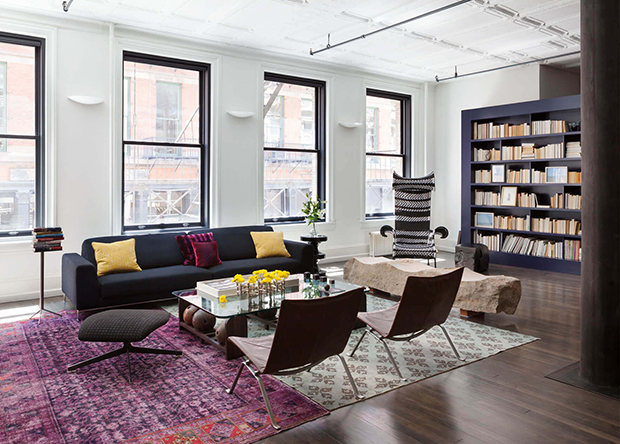 The two different styled area rugs are interesting choices to have. The patterns and colors heavily contrast but complement the rest of the room.
Soho Loft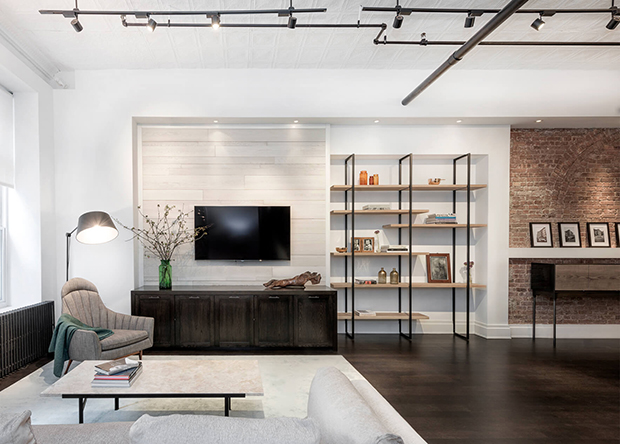 A shelving unit similarly designed like this is typical for many industrial living room designs.
Lower Fifth Avenue Loft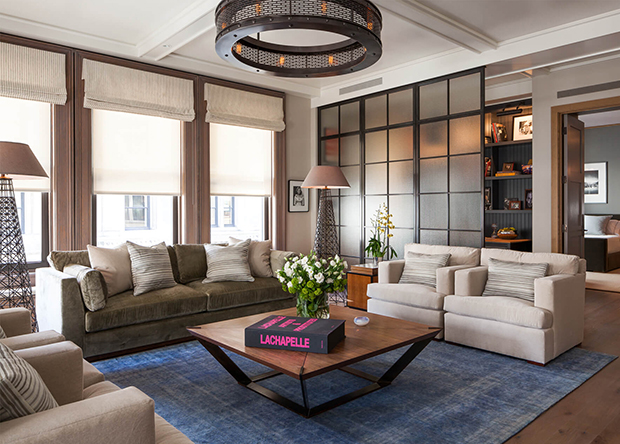 The geometric base of this coffee table is a perfect fit for industrial-style living rooms. But we also need to pay attention to the lighting fixtures here.
Tribeca Loft II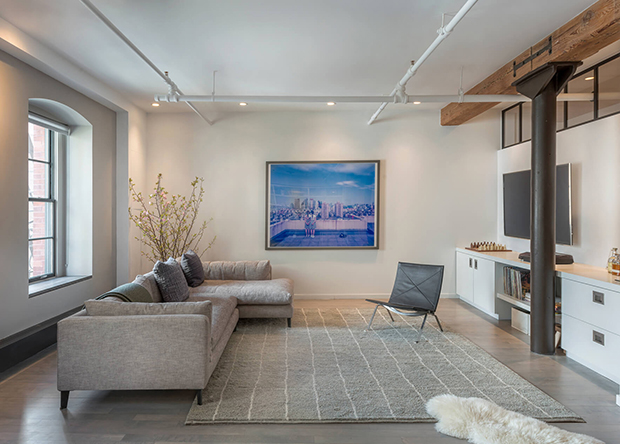 Painting all the walls white certainly gives this loft's living room a cleaner and more modern look. But it left the exposed architectural elements alone to keep up with the industrial look.
Union Square Loft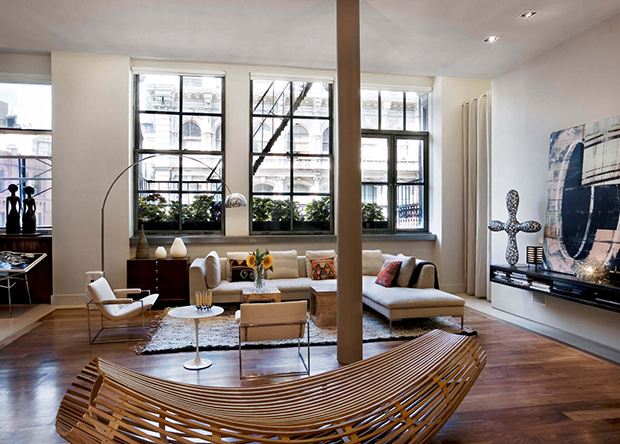 DHD Architecture & Interior Design
With the light neutral browns and cream color palette, this living room is one of the warmer and brighter industrial living room designs.
Soho Loft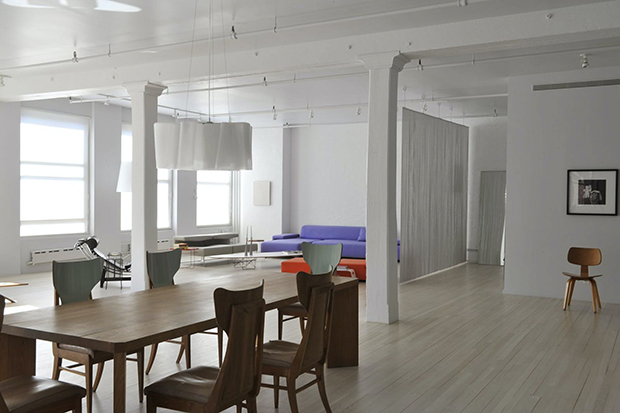 In a loft painted white from wall to ceiling, the brightly colored seats are a definite standout.
Manhattan Loft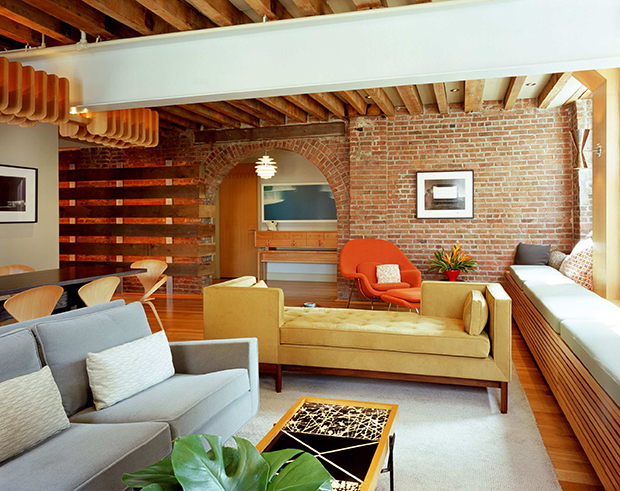 Barlis Wedlick Architects
The yellow daybed perfectly compliments the main color palette of this living room.
Urban Loft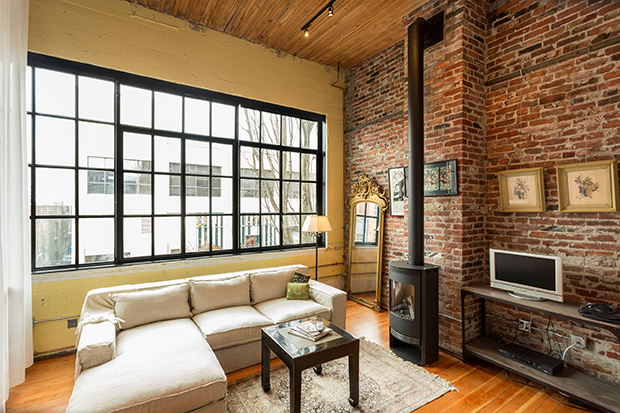 Crescent Builds
This industrial living room design is one of the simplest and most basic designs. But it perfectly embodies the industrial style to its simplest definition.
Private Loft Residence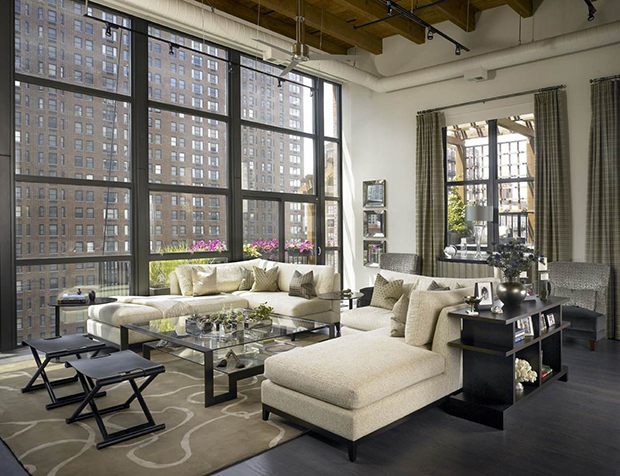 Glass + metal coffee tables are perfect furniture choices for any industrial living room.
River North Loft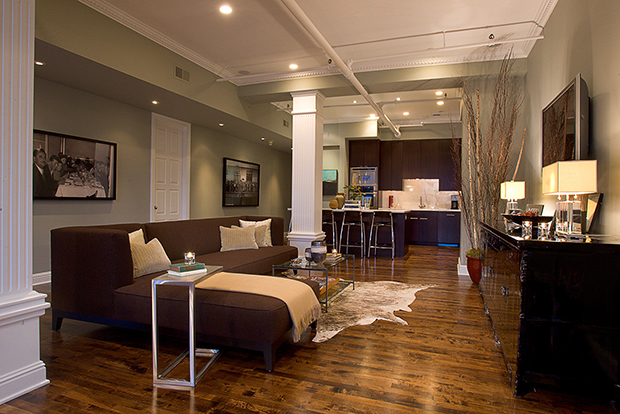 James Thomas Interiors
The dried branches décor is definitely not exactly the greenery that many interior designers encourage to have in industrial living room designs, but they are welcomed additions anyway.
Anderson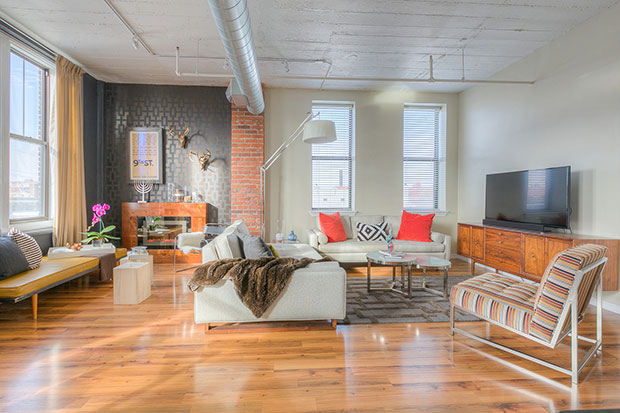 The wooden floorboard helps to brighten up this room along with the natural light coming into the space. There's also a nice combination of bright colors and patterns.
Lake Lotawana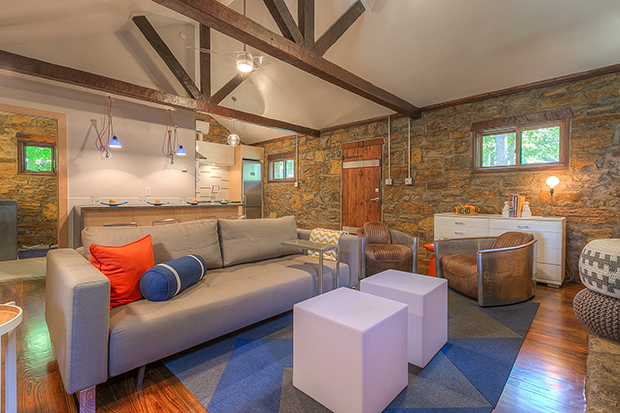 Plus Modern Design
Choosing an area rug and accent pillows with vivid colors is the easiest way to add color to an industrial living room.
The Glass Farmhouse Loft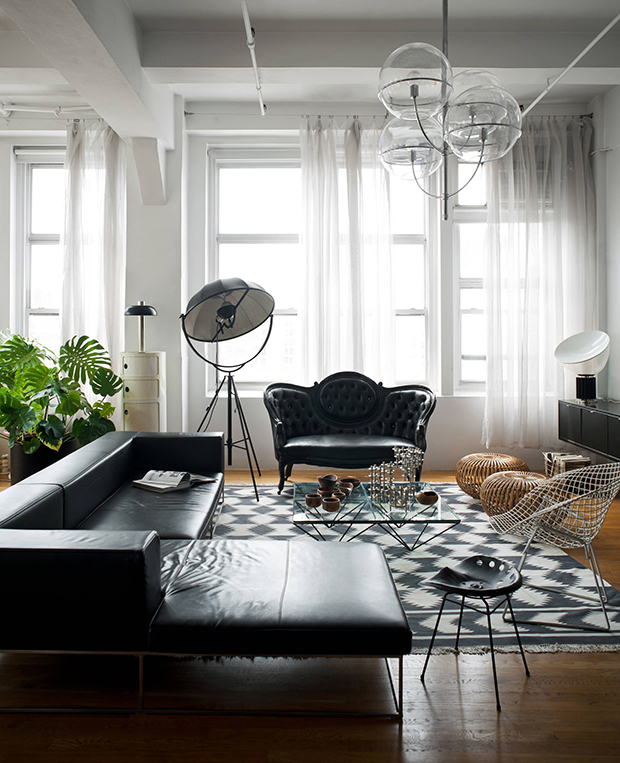 Kit Republic
On the other hand, keeping up with a color motif can create a sophisticated-looking industrial living room like this.
SoMa Surfer Loft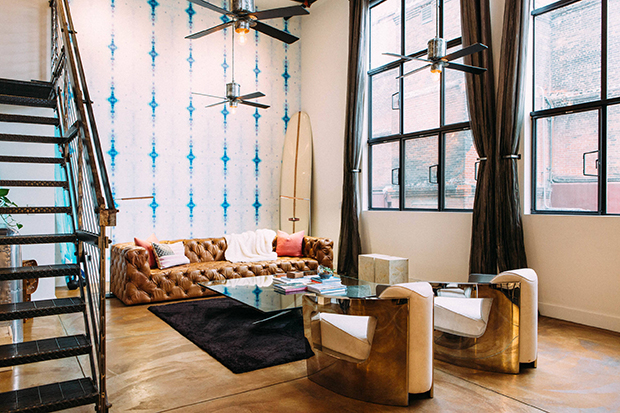 Studio Nauleau
If you're planning to paint over your walls anyway, why not use one to create a feature wall that shows off your personality?
Fulton Cotton Mill Loft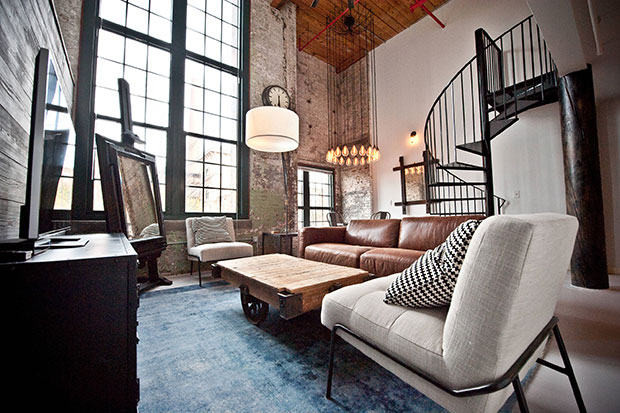 Heirloom Design Build
The industrial-inspired fixtures, vintage accessories, and repurposed furniture come together to create a chic industrial living room design.
Western Avenue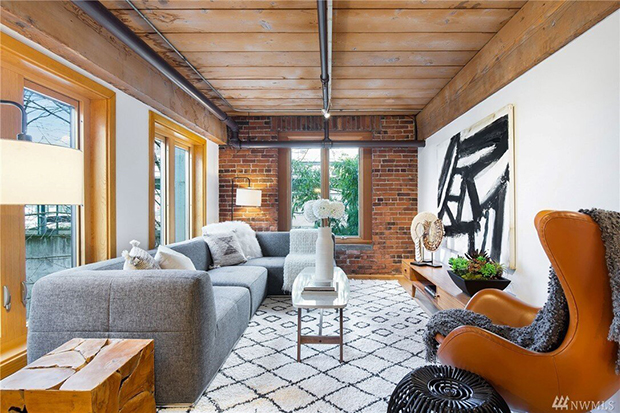 There is a clear theme and motif with the furniture choices in this loft which makes it look so wonderful.
Capitol Hill Loft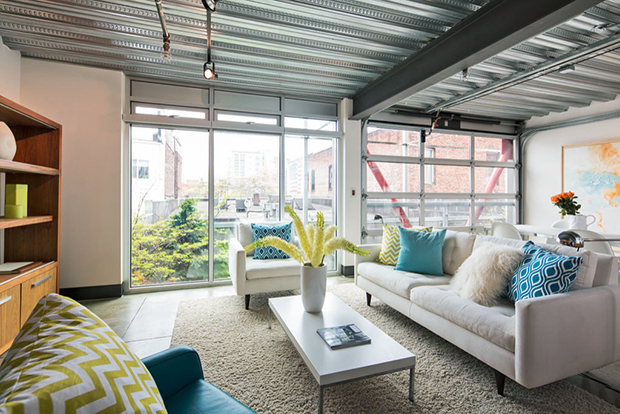 David Robertson Design
The bare metallic ceiling is perfectly contrasted in texture by the furniture and pillows.
Garden Street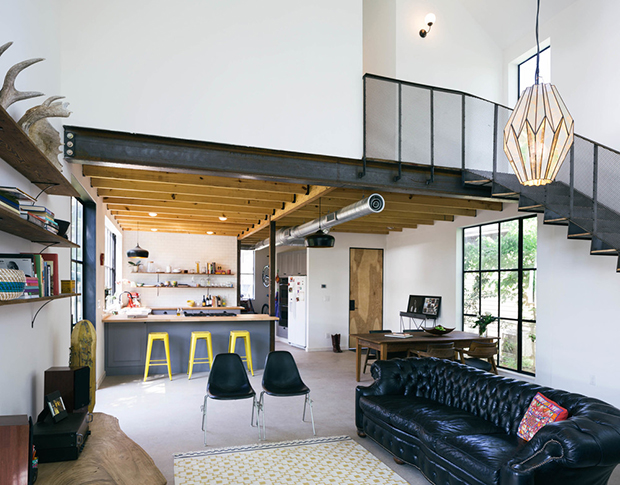 Selecting the right lighting fixtures for your industrial living room could definitely elevate or demote the overall look of your space. This home perfectly picks one that is right to the theme and the rest of the interior.
Garden Villa Residence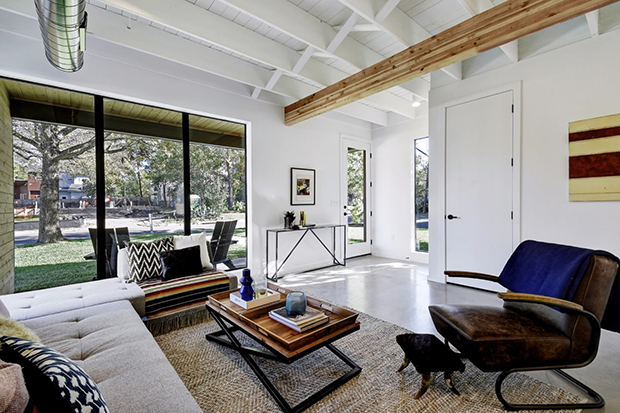 This folding coffee table is such a charming addition that also perfectly suits the theme.
Willow Duplex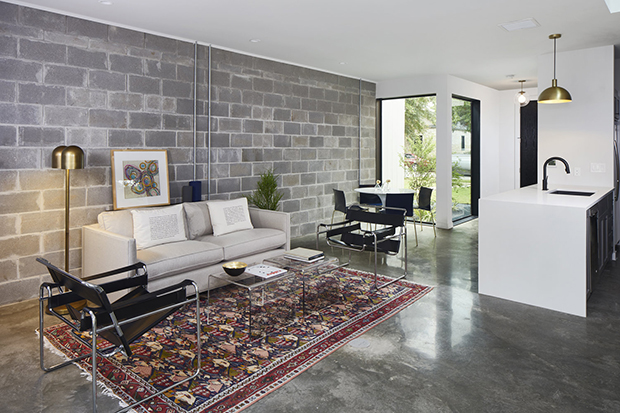 Pavonetti Architecture
Leaving the wall and floor to their natural appearance, this patterned area rug is definitely the right choice.
Auto Garage Turned Luxury Loft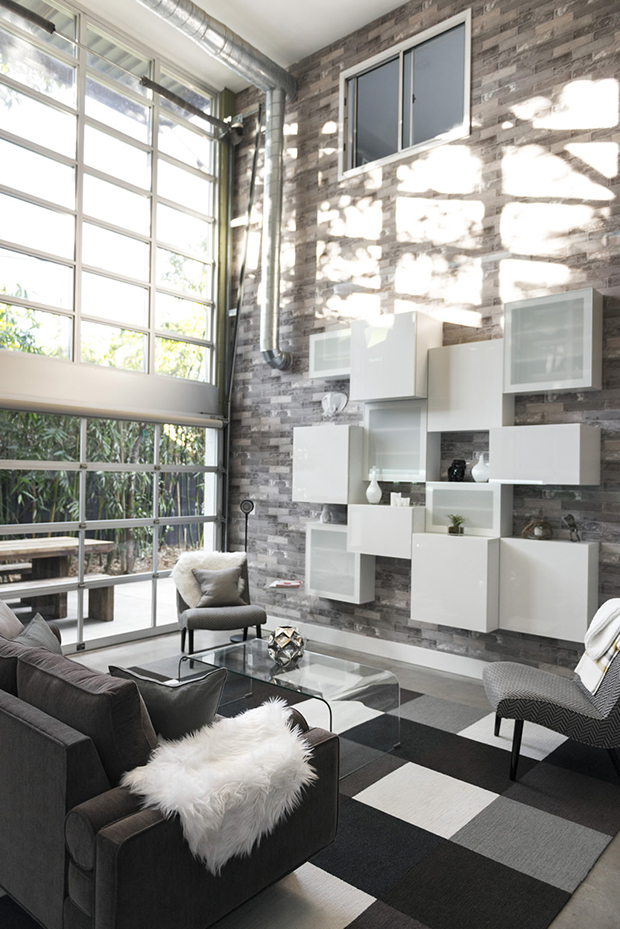 One of the charming points of industrial style is that it encourages you to be creative with your shelving unit.
Luxury Industrial Loft Makeover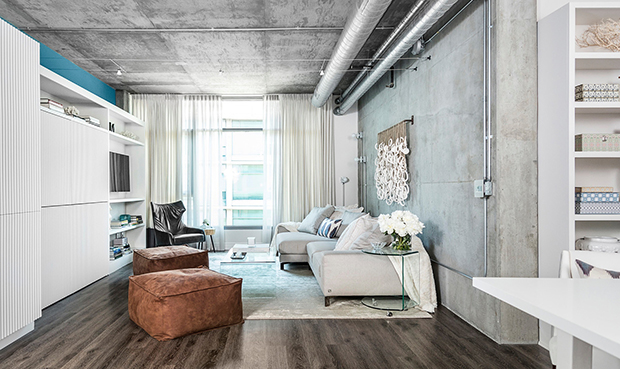 Four Point Design Build Inc.
Using fabric around as an accessory is a clever idea to bring some sort of softness into the space.
Luxury Penthouse Loft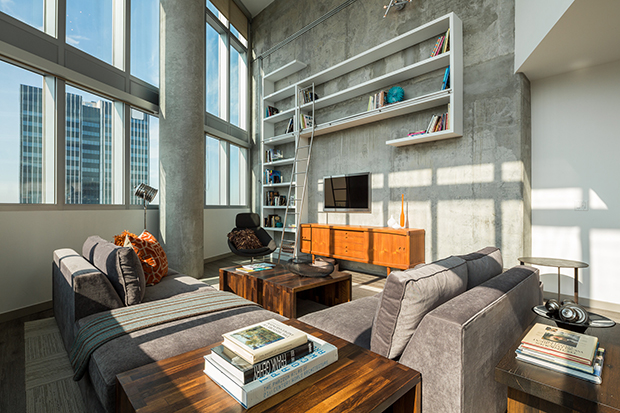 Four Point Design Build Inc.
The sofas matching in color with the bare wall is a nice little detail that delivers uniformity.
Pioneer Square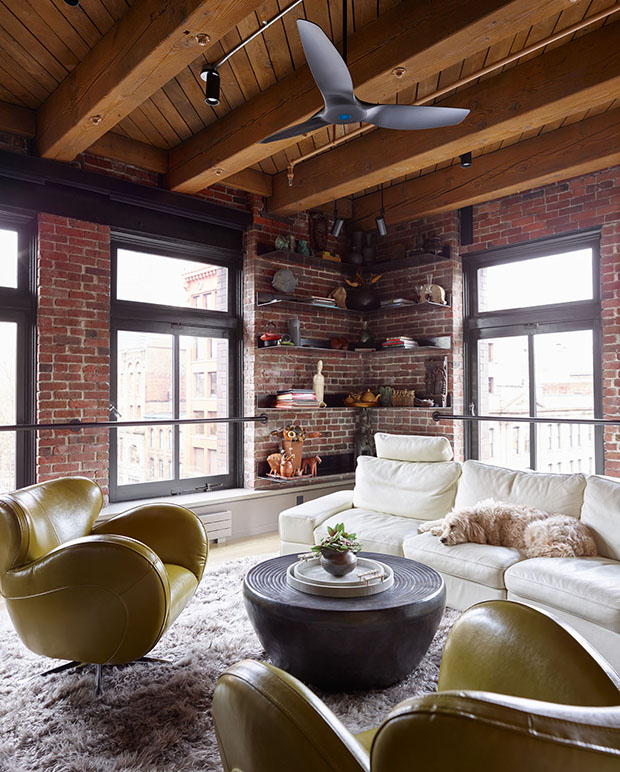 Those repurposed shelves are outstanding fixtures in this industrial living room.
Portage Bay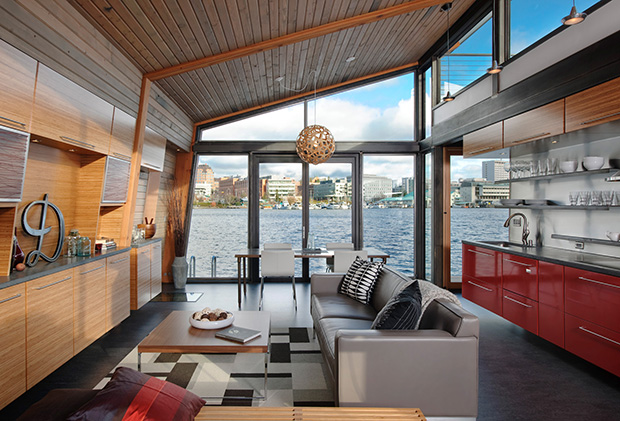 Dyna Builders
This home effectively gives a modern twist to an industrial-style living room.
Contemporary Loft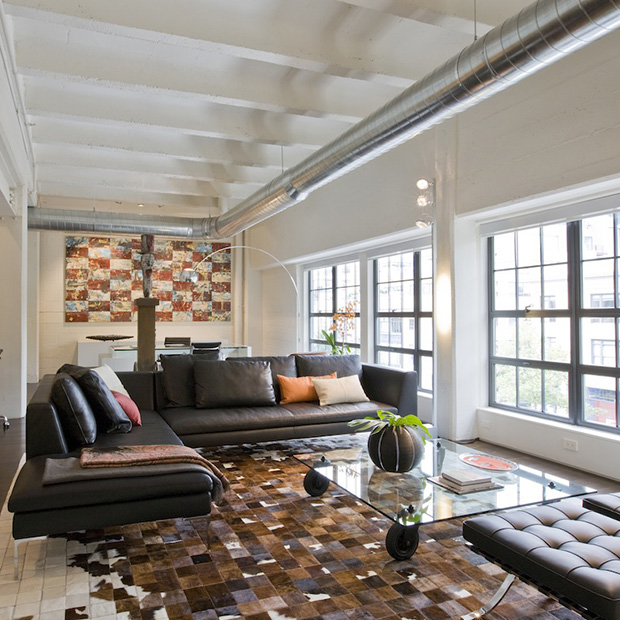 Ernesto Santalla
The faux animal print area rug is such a charming addition. And that glass table with wheels? Perfect!
City Living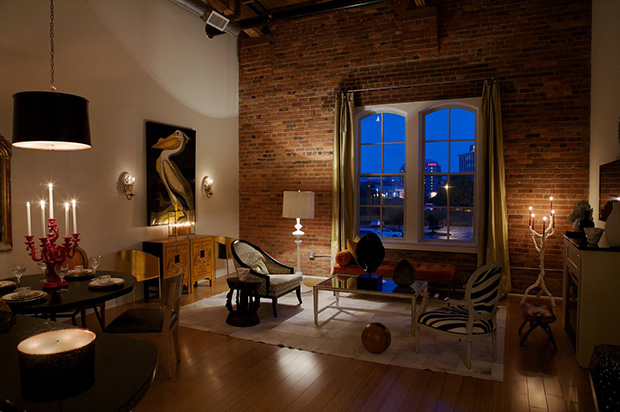 Heather Garrett Design
Even industrial-style interiors can bring a romantic ambiance if you choose the right lighting fixtures.
Loft Renovation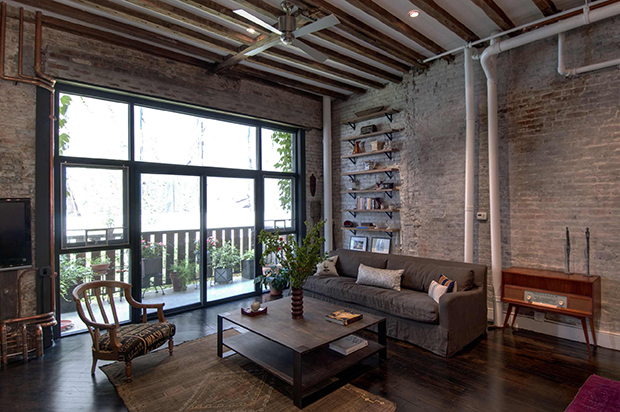 Reiko Feng Shui Design
That vintage side chair is such an eye-catching addition to this living room even though it perfectly blends with the rest of the interior with its color.
Chelsea Loft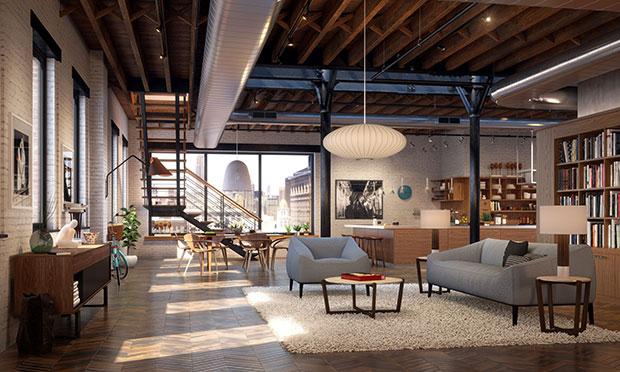 This living room design encapsulates the perfect blend of contemporary and industrial.
Flat Iron Loft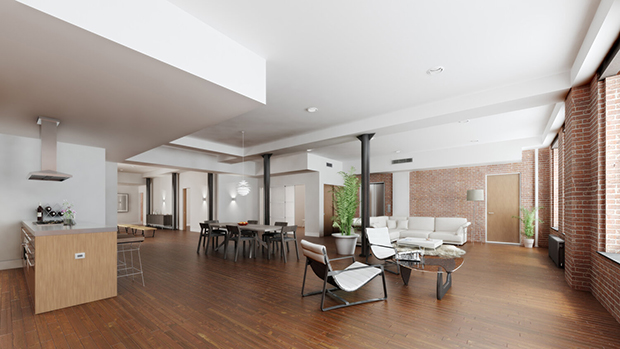 Studio D+FORM LLC
When it comes to industrial living room designs, an open floor space always works best for it. Here, you can see why.
Clarissa Project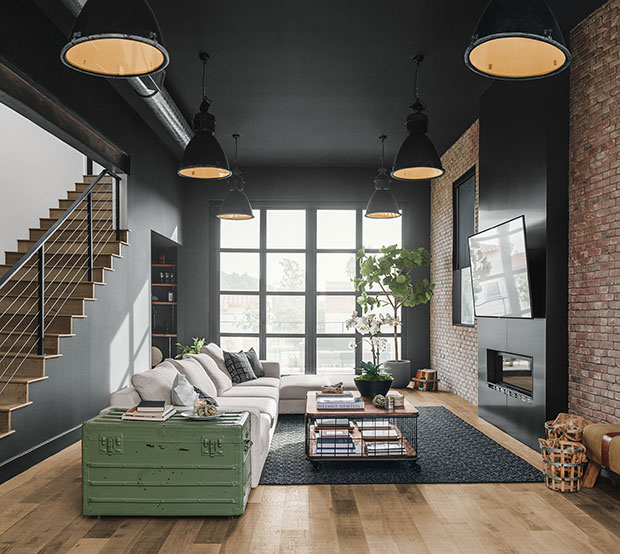 Andrew Heiser
It's pretty charming how they leave out one side to its naturally exposed brick wall. Together with the jet-black paint, it creates a sophisticated and chic look.
Dwell Met Lofts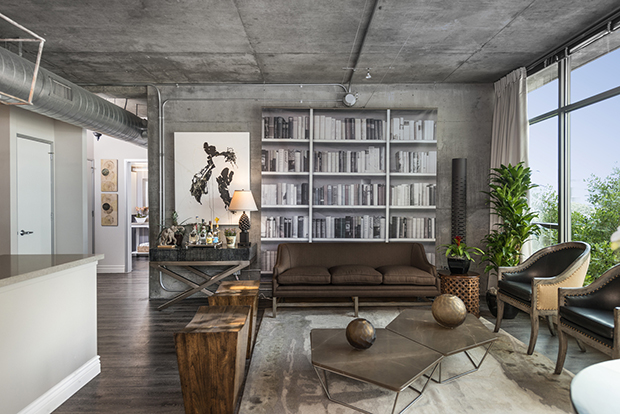 The copper accents in this living room go so perfectly well with the industrial style theme. It brings a luxurious charm to the room.
Dwell Met Lofts II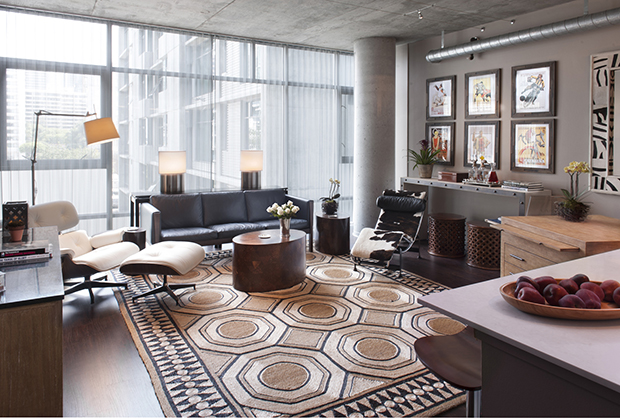 Slesinski Design Group
The area rug is a standout feature that brings so much life into this living room.
Denver Flour Mill Loft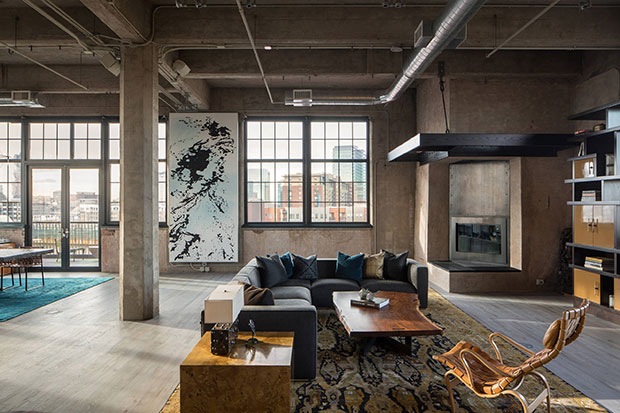 Studio Gild
Hanging some interesting art pieces on these bare walls livens up the entire place.
Filling Station Lofts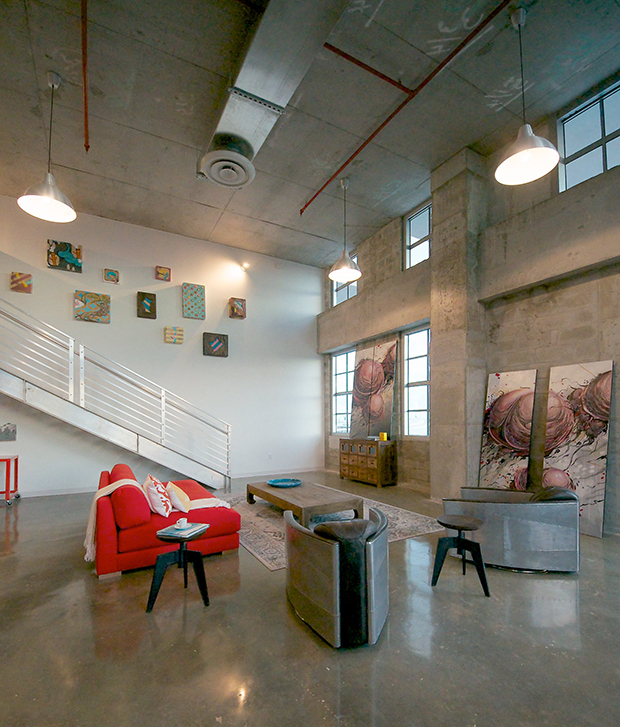 Danna B Interiors, LLC
Here's another living room that is livened up by artwork. There are even some that are just casually leaning into the wall, staying true to the casual vibe that industrial style promotes.
Chelsea Loft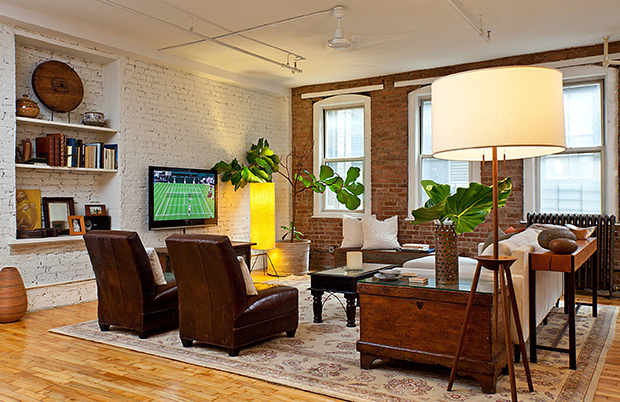 Helaina Bernstein Design
The plants and the earthy colors bring a cozy warmth to this living room.
High Rise Apartment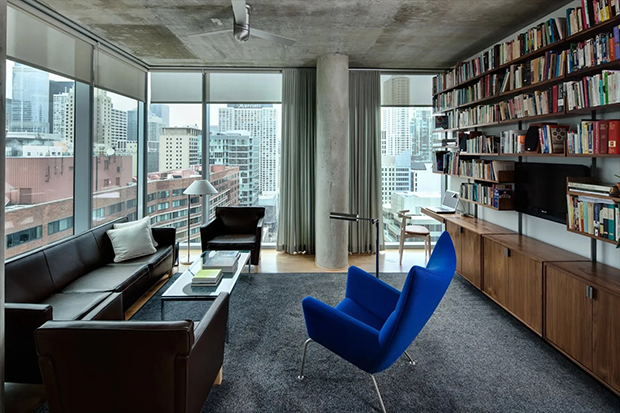 Vinci | Hamp Architects
The royal blue chair is surprising to see, standing out amidst the browns and greys. But it is charming in a quirky way.
Franklin Street Loft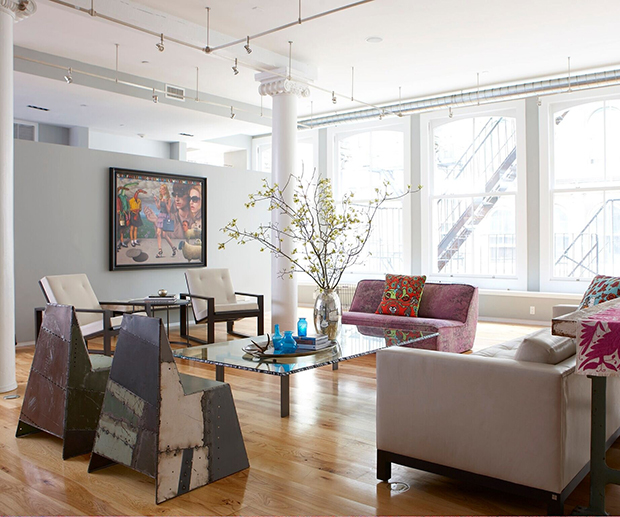 Threshold Interiors
The most charming point of this industrial living room is the eclectic mix of chairs, especially the repurposed metallic chairs sitting opposite the floral-upholstered sofa.
Loft 2.0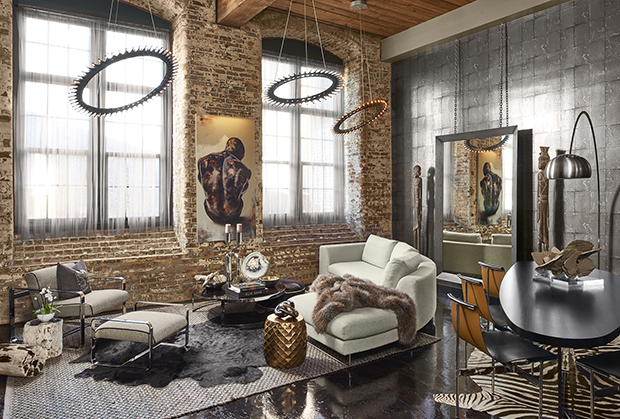 MaRae Simone Interiors
From the ceiling lights to the art pieces, this living room comes to life through each of its interesting features.
That's it for our picks of cool industrial living room designs. Have any of these examples convinced you to transform yours into one?
Like This Post? Pin It!