55 Creative Small Living Room Ideas For Big Dreamers
|
Small and cramp spaces may not be the most enticing places to be in. If it's a space meant for gathering and relaxing like living rooms, you may think that small spaces are not suitable or ideal for such functions. However, it just takes some creative small living room ideas to prove yourself wrong.
The idea that living rooms need to be in bigger spaces comes with the fact that most living rooms come with many furniture. Creative small living room ideas are all about smart styling and room layout, some clever storage solutions, and smart design buys.
It may be a bit challenging, but small living rooms can be just as stylish and pretty as more spacious ones.
How to decorate a small living room?
Just like any room, decorating a small living room isn't any different. More or less, it follows the same principles. Though, due to the limited space, there may be special considerations. Creative small living room ideas may even see out-of-the-box ideas and tips.
1. Personal style
First thing's first, your living room should be decorated that is suited to your personal style and taste. This way you could also decide on the theme of your living room and pick out the rest of the things you need to decorate it.
2. Smart color choices
Neutral colors and natural hues are always safe choices. But if you like bold colors, you can choose to do so. The most important thing is that you focus on a color scheme for your living room. The living room would look best if the color palette carries through from the walls to furniture pieces.
But your living room could also be a burst of various colors. But you must stick to a tonal palette.
3. Right fit rugs
A large rug is recommended to make the space look much bigger than it really is. Otherwise, a size too small will cramp the space.
4. Mirror, mirror
Having mirrors in your small living room can help make the room feel larger. Not only do they give more light to the room, but they can also work as some kind of optical illusion. Having a panel of mirrors across an entire wall could certainly do the trick.
5. Oversized art
If you're going to decorate your small living room with any artwork, get a giant piece of oversized art to fill an entire wall. This way, you may not need to worry about accessorizing your wall. This will also help your room avoid looking busy.
6. Patterns
Do not be afraid to experiment with prints and patterns. Instead of painting or painting every wall, why not have wallpapers? Wallpapers with stunning prints could easily become a beautiful statement for your living room.
7. Importance of lighting
Allow for more natural light in your small living room as this helps the room look bigger. You can optimize natural lighting more if you have mirrors, use sheer curtains or shutters, and remove clutter from the window sill. Choosing colors with high reflectance, like white, could also help.
Aside from natural light, consider having at least three working lights that are located at different heights.
Be creative with your lighting choices for your living room. Floor lamps may take some floor space, so you should consider wall sconces. They also make up for a good wall statement.
8. Alternative storage
When it comes to storage solutions for small living rooms, the immediate thought would be to use that vertical space. Shelves, wall cabinets, built-in storage are smart choices. But also consider alternatives like hanging baskets. It solves your storage problem and adds some personality.
9. Focal point
Some would argue to avoid using bold or statement pieces and furniture. You would want your living room to be uniform as much as possible. Having these bold pieces create a focal point that would make the room appear even smaller. If you want a bold statement in your living room, you can utilize your wall for that. You can even use an interesting hanging light source as your focal point.
On the other hand, you can have one or two statement pieces like a piece of unique furniture with a pretty fabric. These statements will take away the focus from the size of the room and on to these statement pieces.
10. Accessories
Have fewer accessory pieces in your living room. If you do, these small pieces can make the room feel cluttered.
How to design a small living room?
Designing a small living room needs careful attention to detail to help you efficiently use your space and make functional changes to the layout of the room. For creative small living room ideas, redesigning your space may be needed.
1. Planning layout
The top priority for designing small living rooms, before anything else, is prior planning. With limited space, you must make sure that the layout is functional for your needs. To do this, you must decide on what your living room is going to be used for most, then keep this in mind when designing the layout.
An open floor layout would be very advantageous for small living rooms so that it doesn't feel too cramped or dark.
2. Considering furniture
Part of making a small living room work is taking careful consideration of your furniture. Aesthetics is going to take second here. Instead, you need to consider things like should you have ottomans instead of armchairs? Or is a side table more size-friendly than a coffee table?
Due to limited space, it would be smart to buy and incorporate multifunctional furniture. Perhaps, buy a coffee table that offers some storage space. You should also consider built-in seats like window seats. Built-in seats could also help free up some floor space.
3. Incorporating built-ins
Buying and placing a media console in your living room would appear bulky and take up limited floor space. You should then consider built-in storage for the needed console and mounting your television. Use the vertical space as much as you can!
4. Outdoor transition
If you are lucky enough to have an adjoining outdoor area, it would really help if your small living room is adjacent to it. Consider having a seamless transition to an outdoor space so that it could have a feeling of extra space. If you have this, consider coordinating furniture and furnishing between the areas to help elevate that "seamlessness".
Creative Small Living Room Ideas for Inspiration
Now, let's take a look at some creative small living room ideas!
Lisa's Homes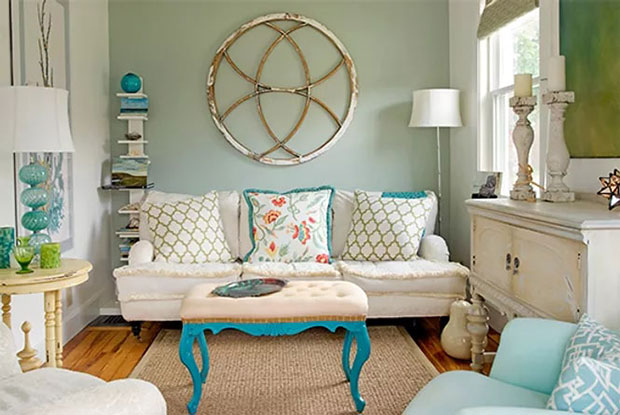 Lisa Teague Upcoast Design
The colorful shabby-chic design fits creative small living room ideas. A uniform look brings out so much personality.
Big Tesuque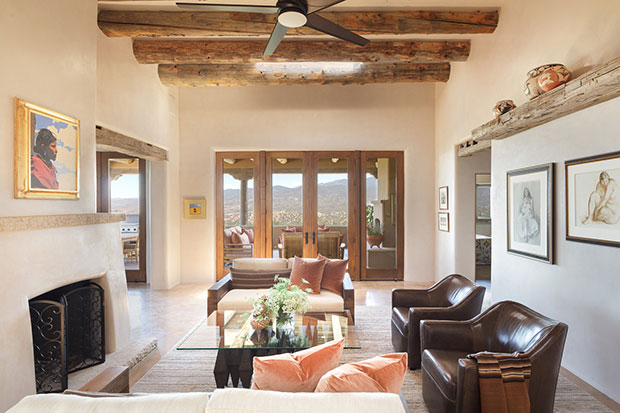 Chandler Prewitt Design
A large rug has fully covered the entirety of this living room, fitting all the furniture pieces with it too.
Upper East Side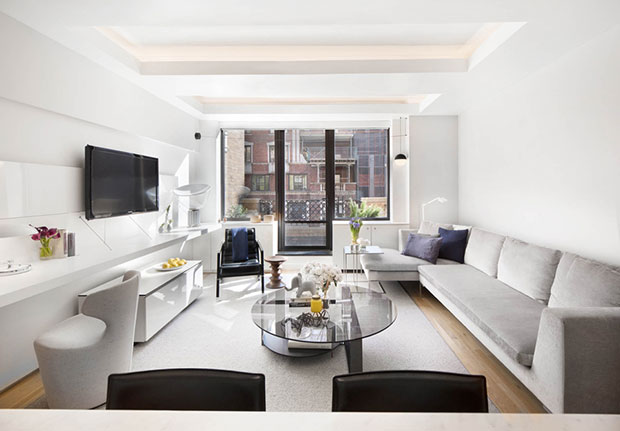 An L-shaped design or corner sofa is a recommended furniture choice for small living rooms. The entire length of it is just enough to fit an entire wall and is also just slender enough to allow for a beautiful coffee table.
West End Avenue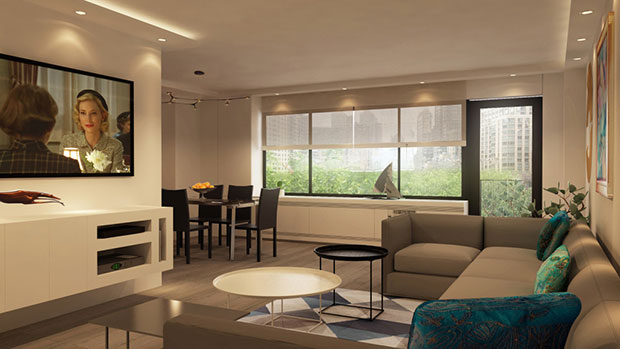 With limited space, instead of having a large coffee table, smaller round coffee tables like these are more appealing.
Bowery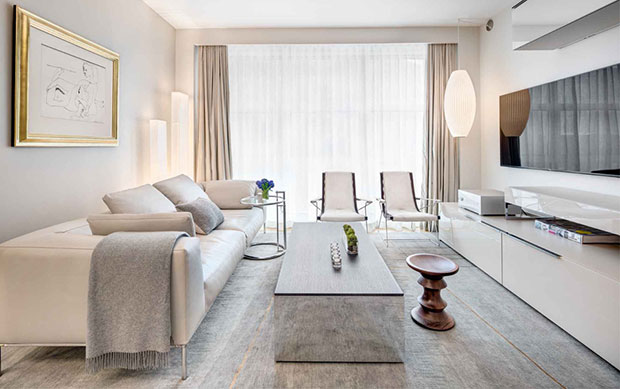 L-One Design
Long coffee tables are the way to go, saving some floor space while providing much-needed storage and surface to place your drink.
Hampton's in the Country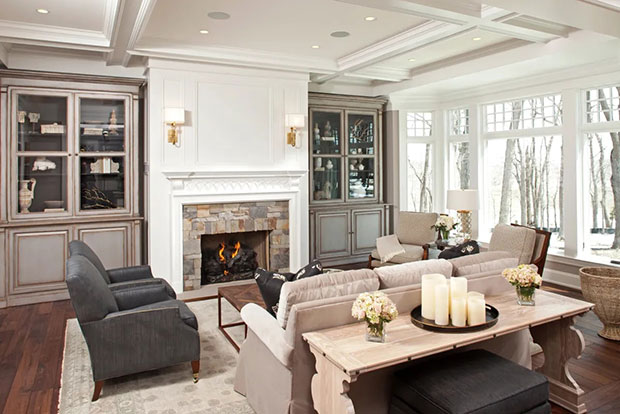 Eskuche Design Group
A common design choice in creative small living room ideas is pairing a long sofa with armchairs. The challenge here is picking the right variety and design to fit your style.
Back Alley Renovation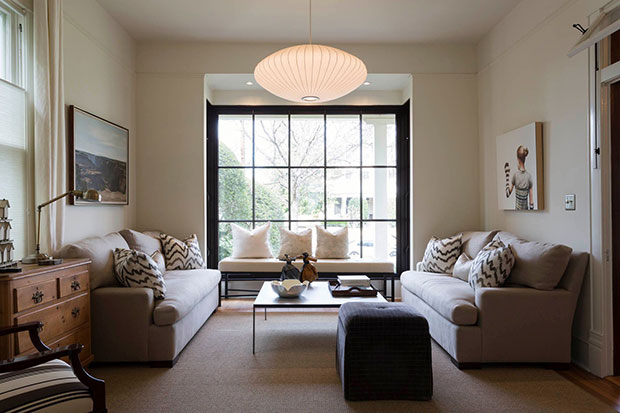 Cuppett Kilpatrick
This small living room does a good job of efficiently using the walls, getting a sofa of the right fit size. Another thing of note is how uniform the entire room is with using solid neutral colors, then, adding throw pillows with print.
Cow Hollow Townhouse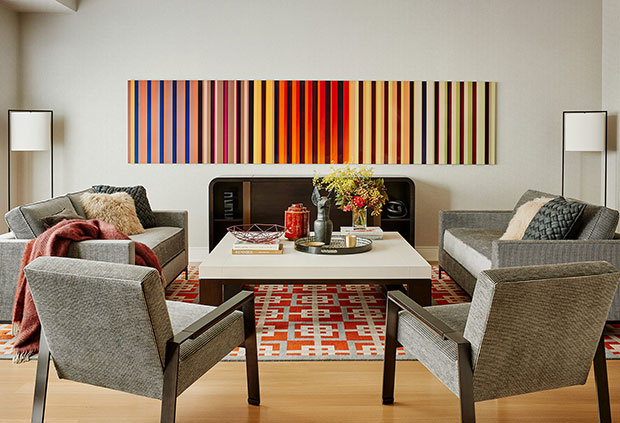 Butler Armsden Architects
Though the brightly colored rug could have been a center of attention, the artwork on the wall matches it – the two coming together as the standout pieces.
Sky Vault Penthouse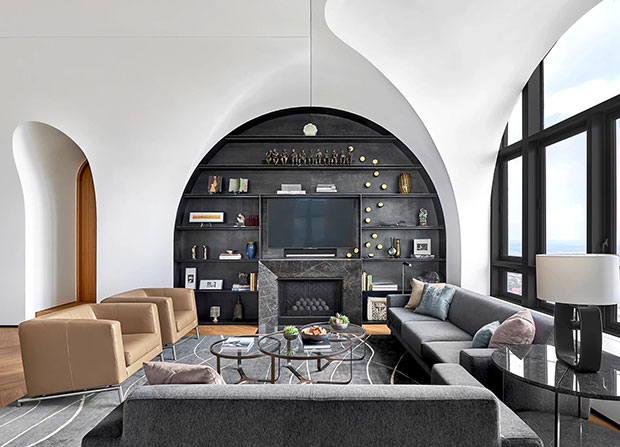 dSpace Studio
Creative small living room ideas challenge homeowners to creatively find ways to incorporate built-in storage shelves like this.
Manhattan Beach Residence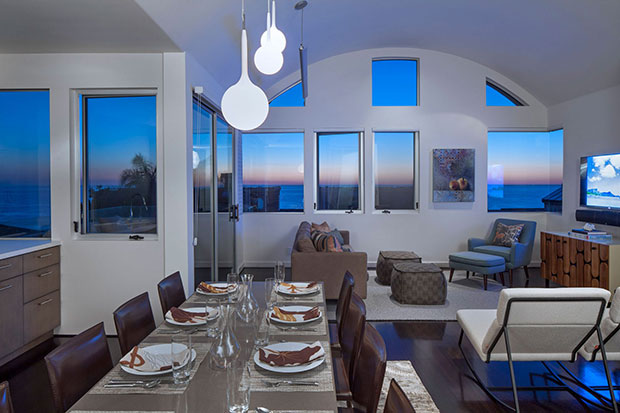 Paul Davis Architects
An open floor plan is advantageous for small living rooms. In addition, the many windows would make the room feel less cramped.
Hawn Residence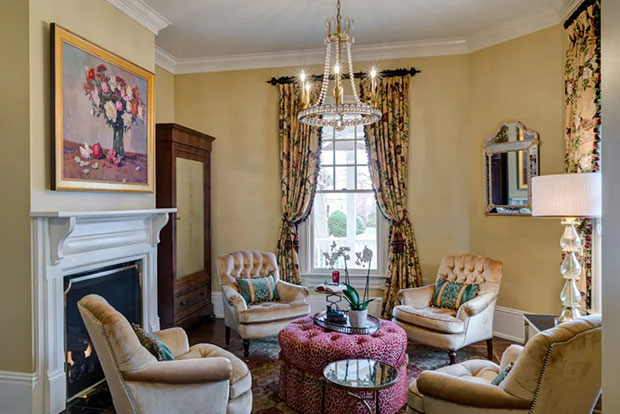 Dianne Davant & Associates
Some ingenuity is needed for creative small living room ideas, and you see it here in this living room. Instead of having a sofa, they have armchairs around an ottoman that doubles as a center table. This design seems more intimate.
Madison Park Traditional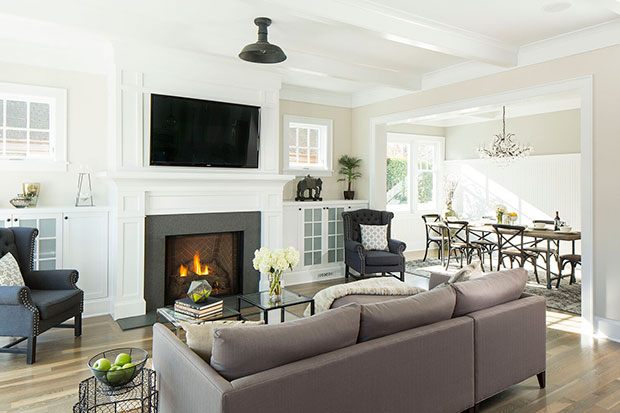 Paul Moon Design
With a mid-sized sofa, two small square coffee tables seem to be the right solution for a limited space.
Soho Loft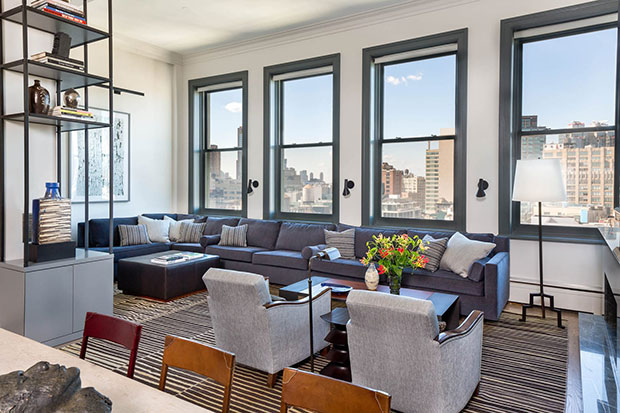 This long small living room is perfectly matched with a long corner sofa, providing plenty of seating space. Due to this, they still even have space to add two armchairs and coffee tables.
Westside Modern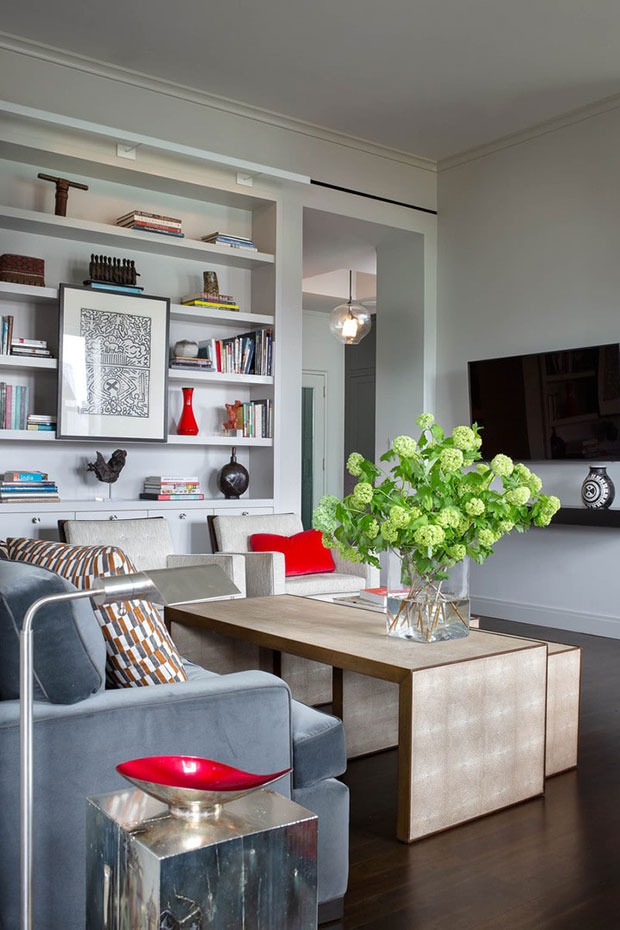 Glenn Gissler Design
Though this living room is not bursting with many vivid colors, the sparse pops of them give this living room some personality.
Brooklyn Apartment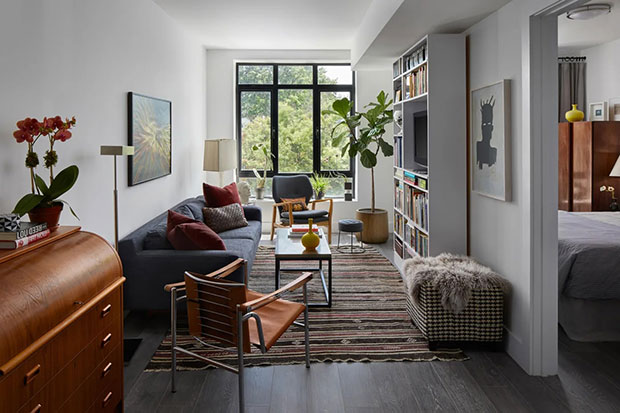 Wyatt Mangum
Creative small living room ideas like this require some chic mid-sized furniture to bring together this style.
Kelowna Condo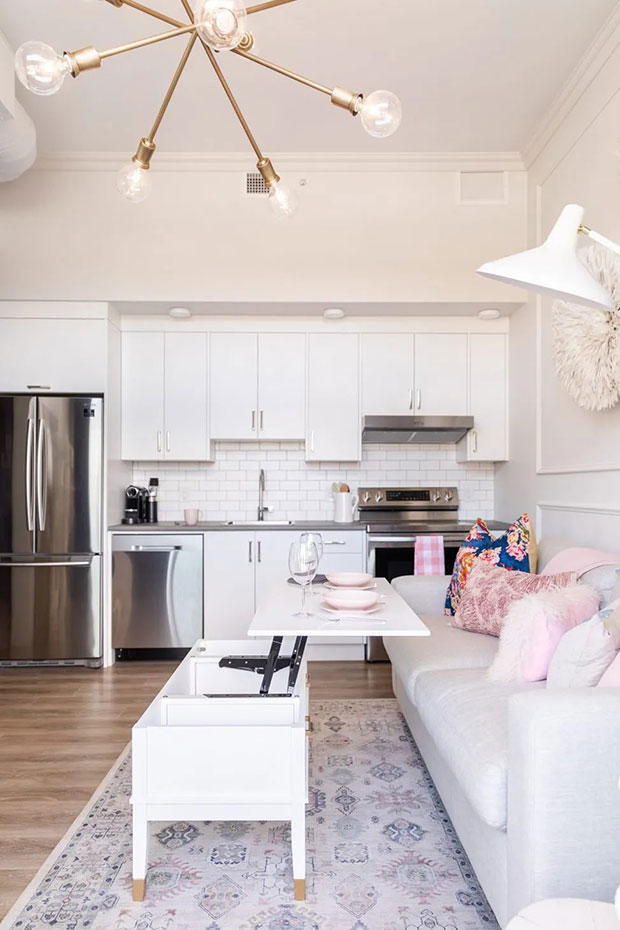 Condos are typical of limited space and so this is the right place to bring out those creative small living room ideas. A coffee table with a top lift surface would be a great furniture choice.
Kim & Teri Home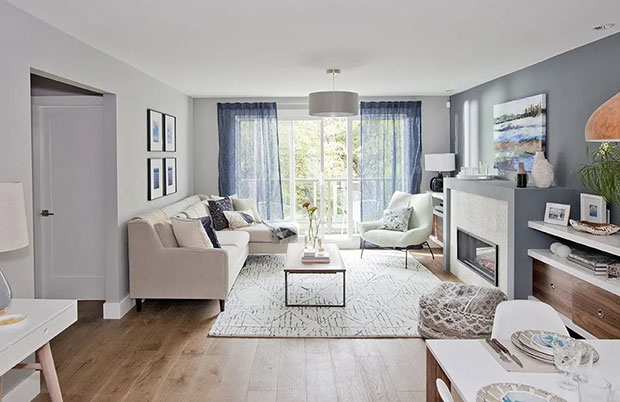 Jillian Harris
One of the cleanest creative small living room ideas. This is due in part to the decluttered look, right and few furniture, and cool tone color choices.
Louise Bradley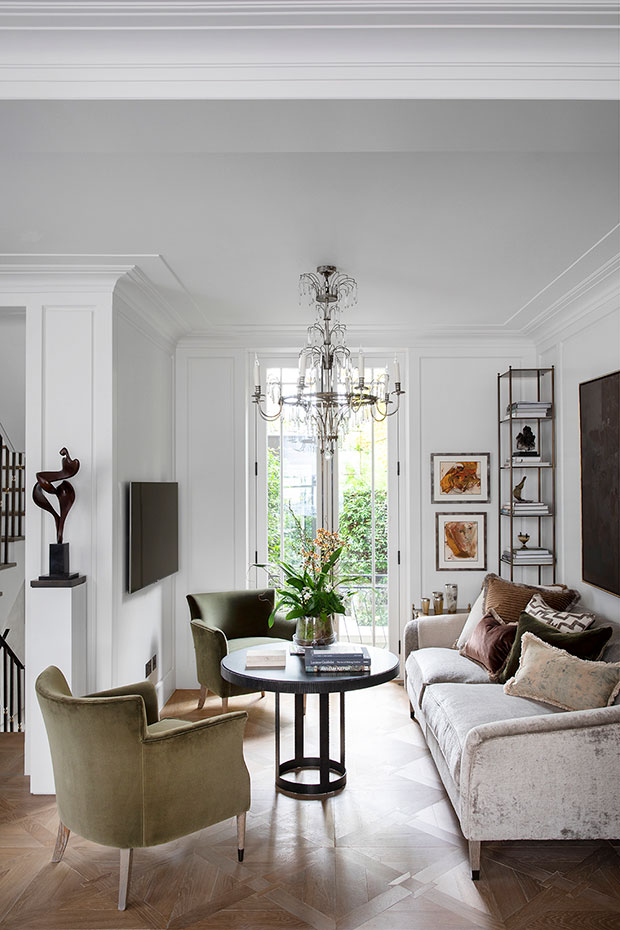 Paul Raeside
A tall, slender shelf is a great solution for the lack of space and storage necessity.
Shabby-Chic NYC Studio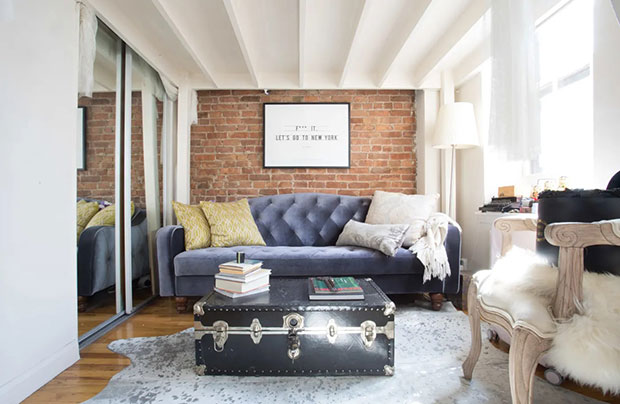 Chinasa Cooper
Creative small living room ideas require alternatives for typical living rooms. For example, an aged chest is used here as a coffee table and storage.
Millbrook House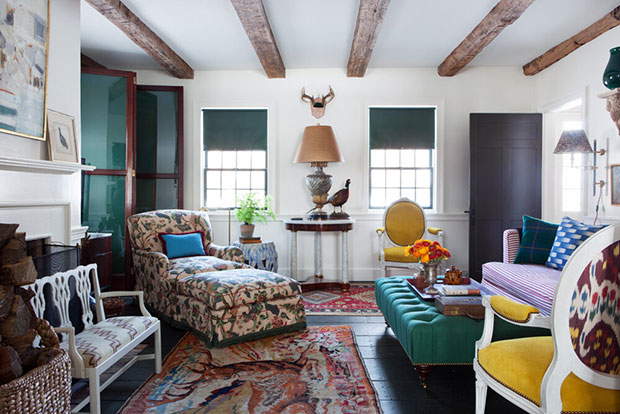 This is one heck of an eclectic living room. The many pops of vivid colors, prints and patterns, and décor effectively take your attention away from the size of this room.
875 Fifth Avenue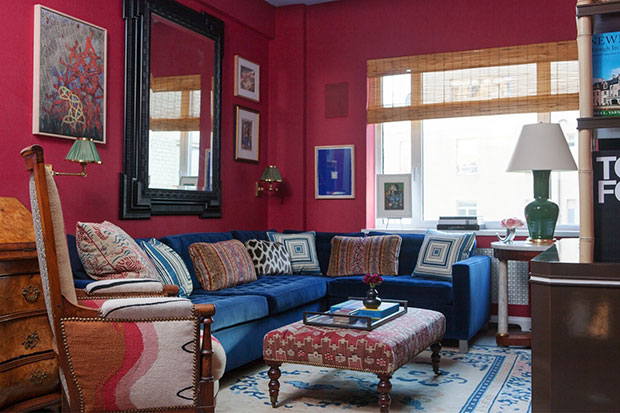 Nick Olsen Inc.
Even with the lack of space, this room is bursting with life with all the colors and prints. It looks like quite a fun living space.
Santa Anita Cabin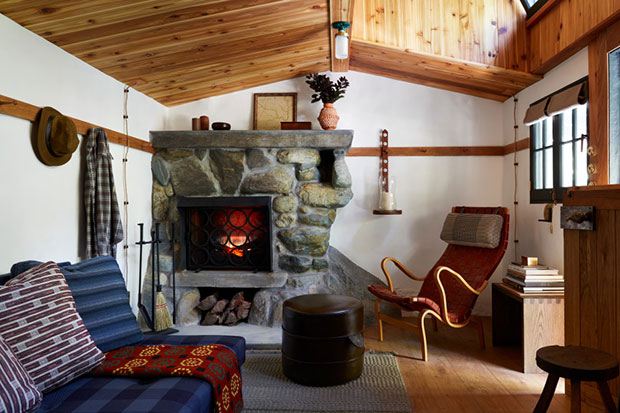 In this small cabin home, they opt for seating that is few but comfortable with this small couch and lounge chair.
Paradise Cove Trailer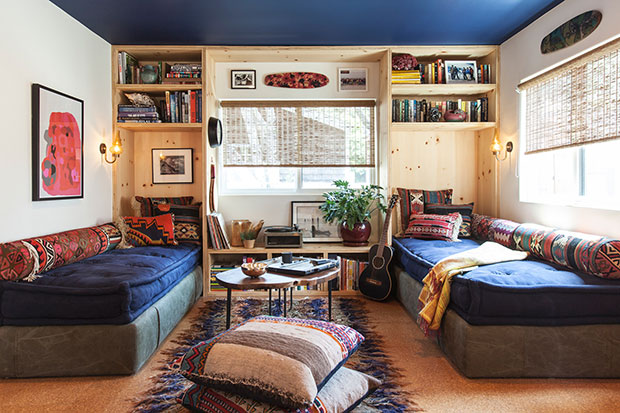 At first glance, this doesn't even look like a living room. But it definitely is for this trailer home!
Handcrafted Modern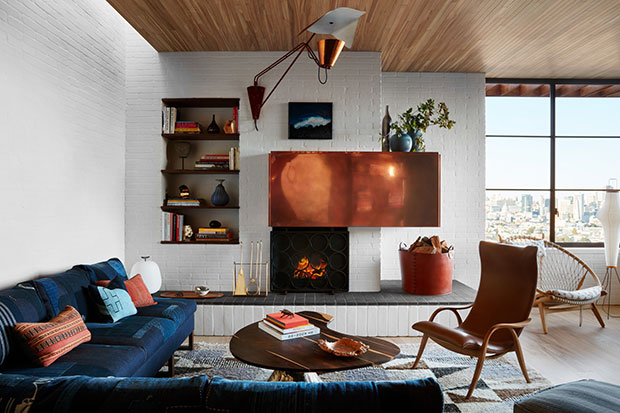 Commune Design
L-shaped design couches or corner sofas and lounge chair pairing is a great combination for small living rooms. It provides enough seating even with limited space.
Oasis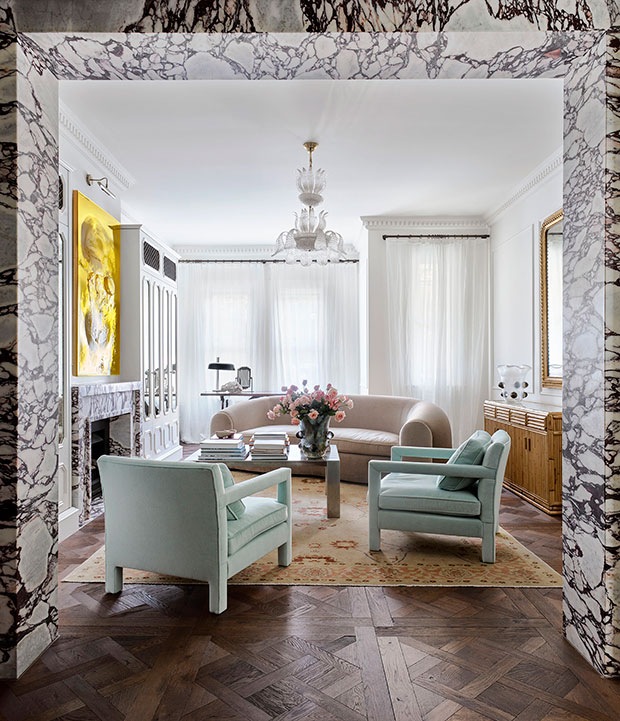 A lot of the creative small living room ideas seen thus far exhibit an extent of quirkiness and eclectic style. But this one proves you can make a small living room look stylishly elegant.
Sanctuary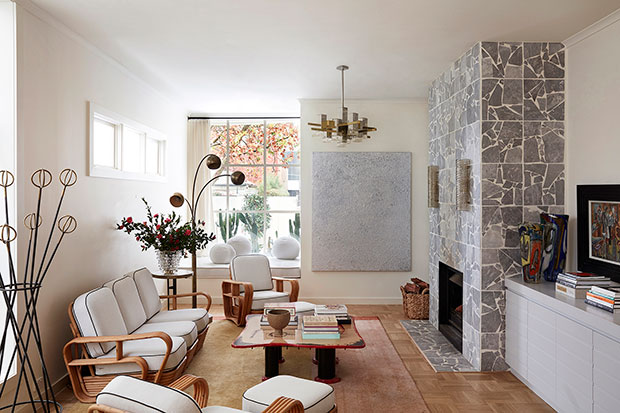 Like the name of this place, the colors, furniture, and furnishing all come together for a relaxing ambiance.
Town House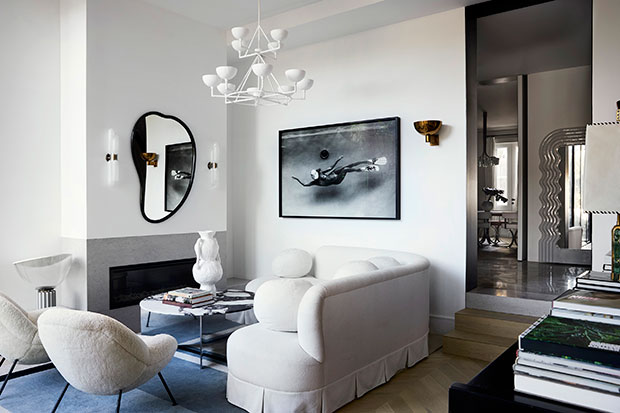 The black and white color scheme makes this quite the sophisticated-looking small living room. The light blue velvet carpet is a nice complementary piece to it.
Green House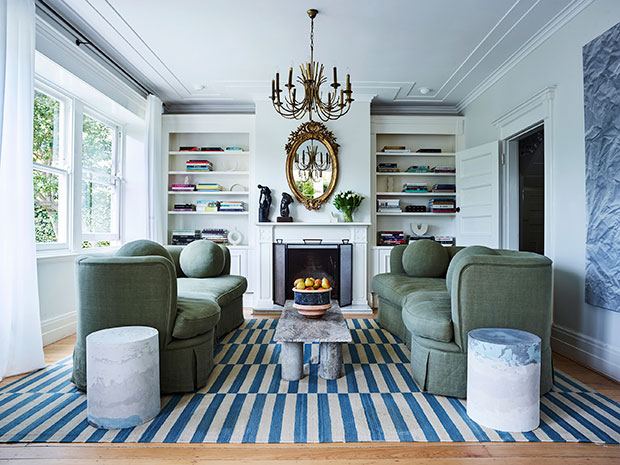 Compared to many creative small living room ideas, this home dared to have two sofas where there is usually only one.
Villa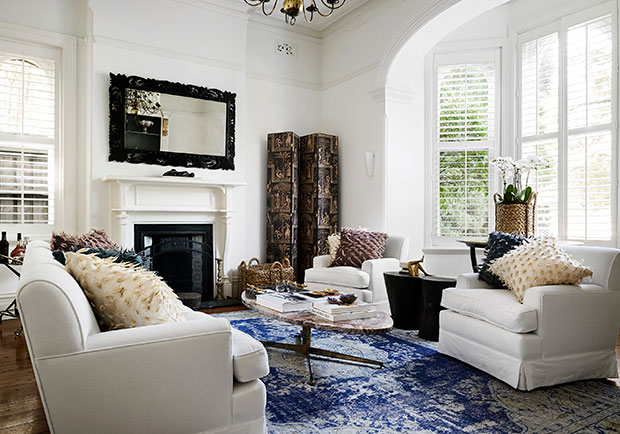 Tamsin Johnson Interiors
Texture-wise, this living room boasts off layers to it with the rattan baskets and the fluffy throw pillows.
McKinley Bungalow Etna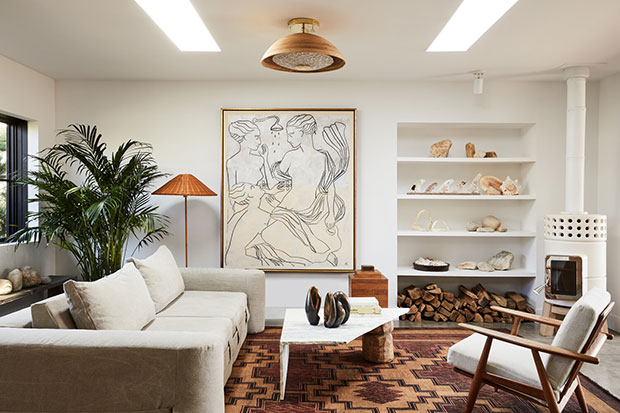 Creative small living room ideas call for novel ideas to avoid putting lots of furniture or typical décor just to design and decorate the room. This room uses natural accessories in the form of seashells and plants.
Montauk House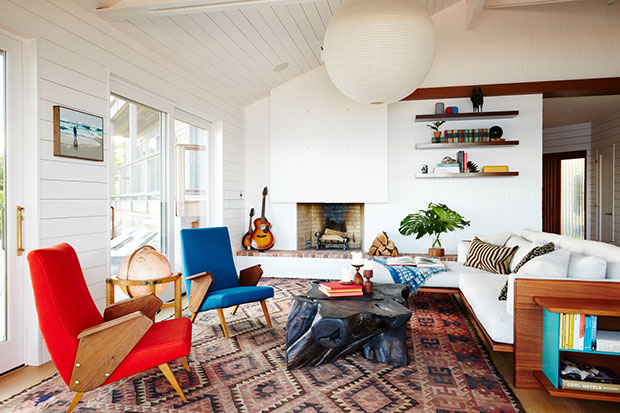 Interestingly, the corner sofa's frame is built-in with its own storage, saving some space.
Hamptons Cottage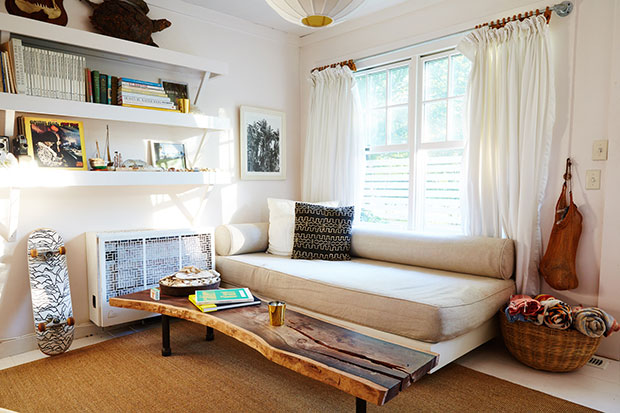 This reclaimed wooden table is a nice touch of personality.
Chelsea Apartment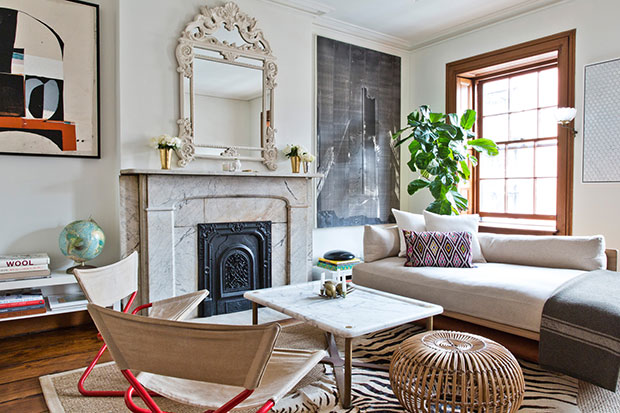 This apartment cleverly incorporates folding chairs into the living room.
McKinley Bungalow Edison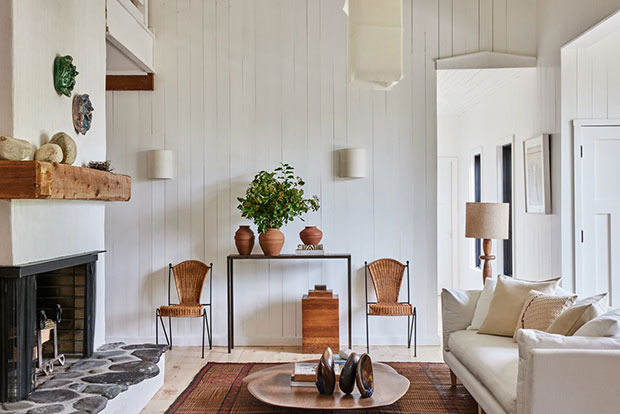 Studio Robert McKinley
The coffee table design is so intricate and interesting, contrasting that of the simplicity of the sofa.
The Loft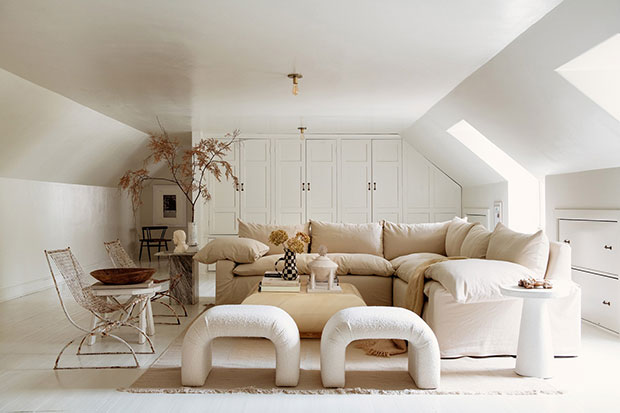 This living room has interesting furniture choices that all seem to come together for a very relaxing and comfortable space.
Camp California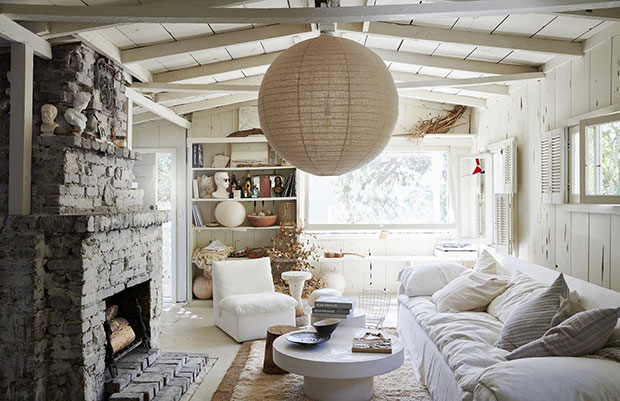 For an aged home like this, shabby-chic style for a living room is a perfect choice. It looks all so cozy, especially with all that natural light.
The Cottage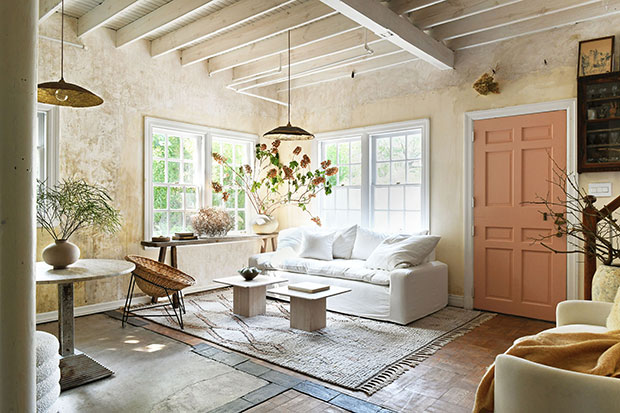 The two small coffee tables and woven-seat stool add so much life and personality.
Paris
The furniture in this living room seems to be mismatched, and yet they create an overall sophisticated look.
Kerr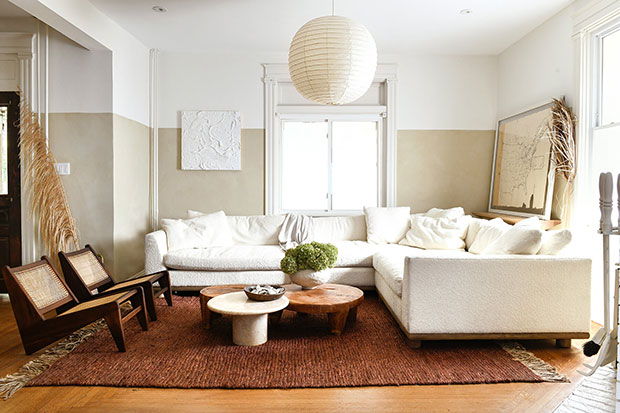 Corner sofas don't always have to be pressed to the wall the way this living room makes it work. Creative small living room ideas prove you really have to be thinking outside of the box.
Wilson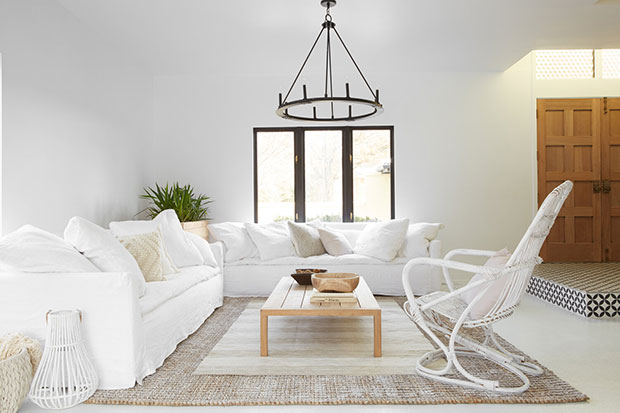 Though lacking in much décor, this is a simple and cozy living room that should be considered.
Hartzberg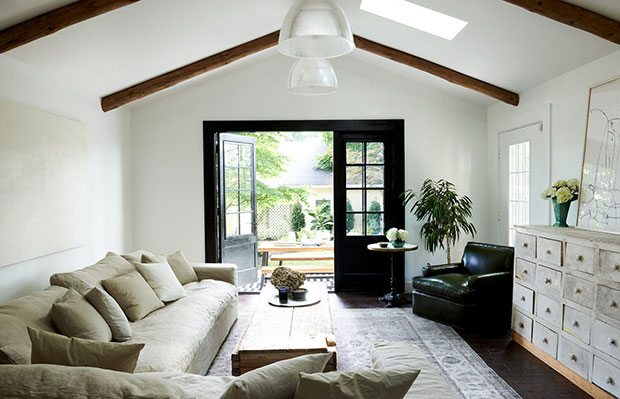 Here's an example of how a living room leading up to an outdoor living can be really helpful in not making a small living room feel cramped.
Pochapin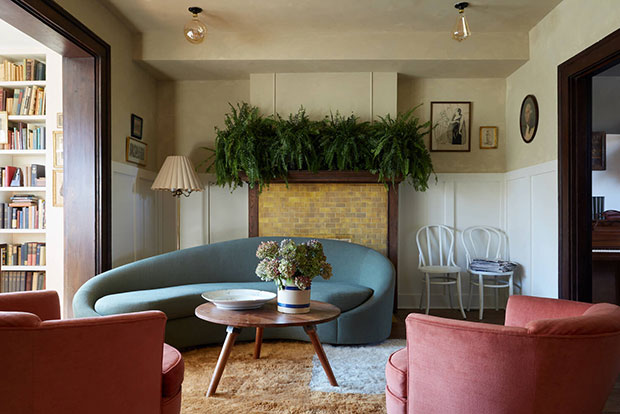 It's pretty interesting that apart from the pretty sofa and armchairs, they added two stool chairs on the side, giving it a little bit of quirk.
Collins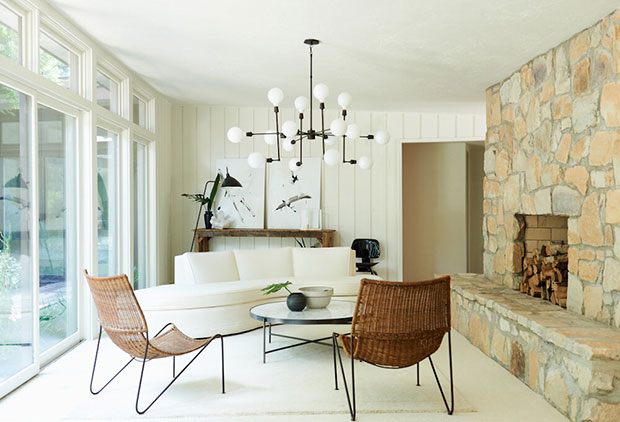 These modern lounge sofas are pretty good choices for any creative small living room idea. Its curved shape won't seem rigid and restrict movements around it.
Acre Stone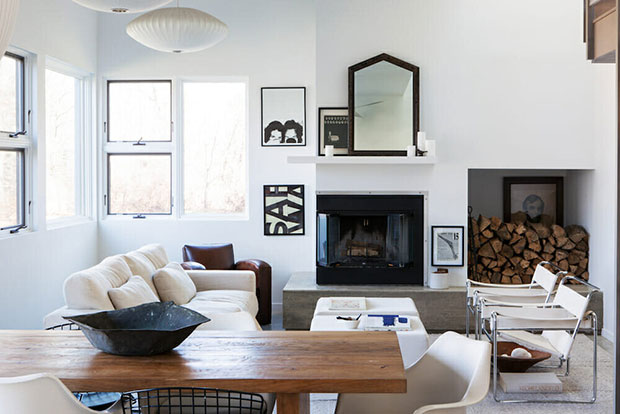 A lot of these creative small living room ideas seem to like to incorporate modern lounge chairs.
Farron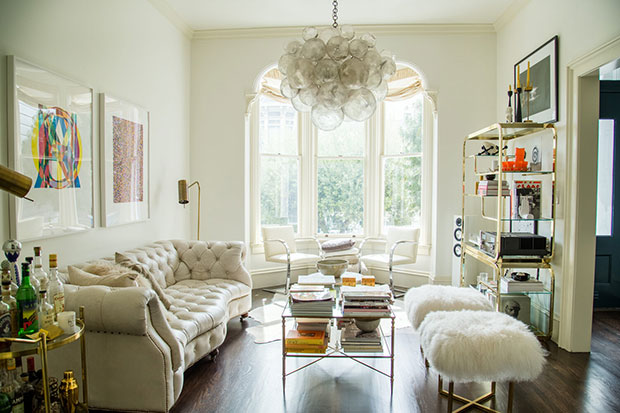 Leanne Ford
This home cleverly uses that awkward curved space. In small living rooms, it is especially important that you utilize every corner and space efficiently.
Inverness Guest Cottage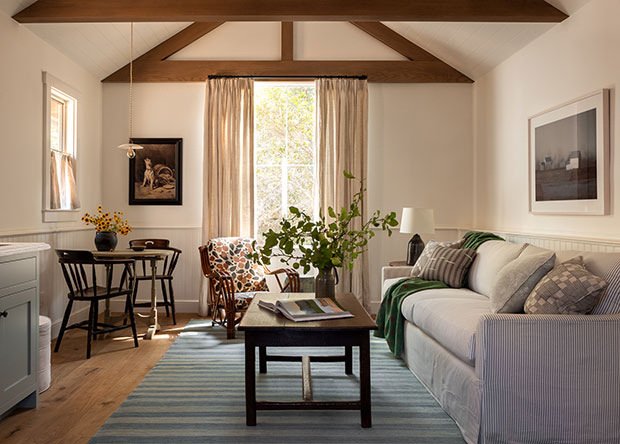 In this home, they're living room also doubles as a dining room. Notice that the little dining table in the corner doesn't intrude on the rest of the overall aesthetic of the living room.
Larkspur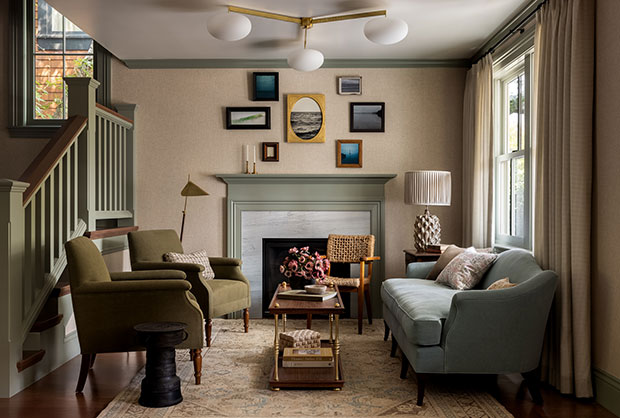 With the mid-sized seating furniture, they present an interesting contrast with the small and slender dining table.
Bedford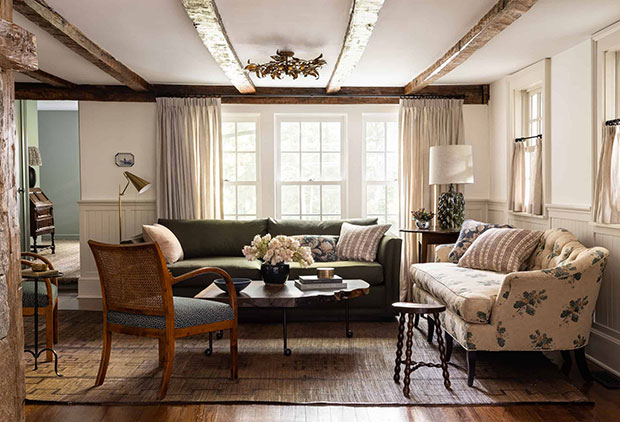 It is pretty interesting to note the floral fabric print on one of the sofas.
Fox Island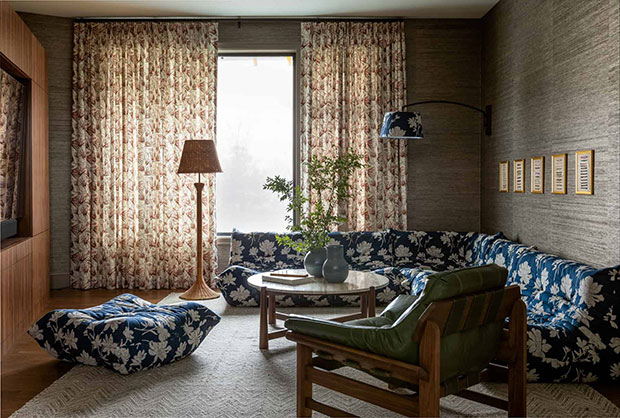 Heidi Caillier Design
The floral prints on this living room give it so much needed personality.
Midtown Pied-A-Terre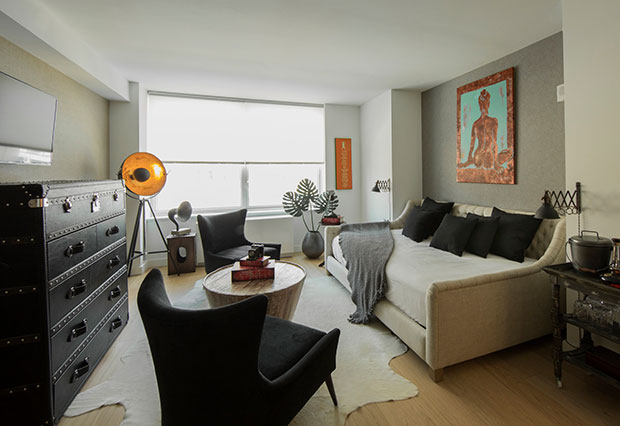 With its interesting furniture choices, this is one of the more urban-looking creative small living room ideas.
Jersey Modern Industrial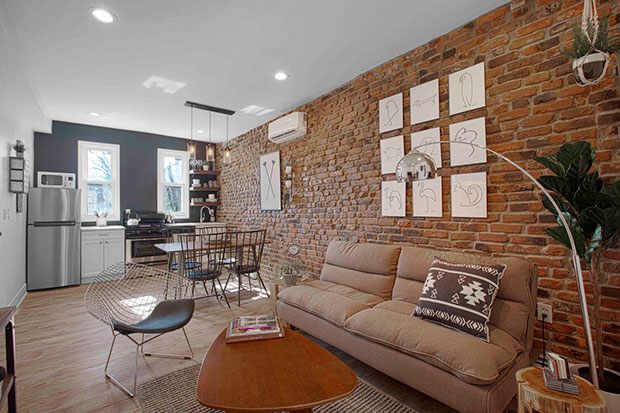 This guitar-pick-looking coffee table is just the perfect choice for this extra small living room.
The Attic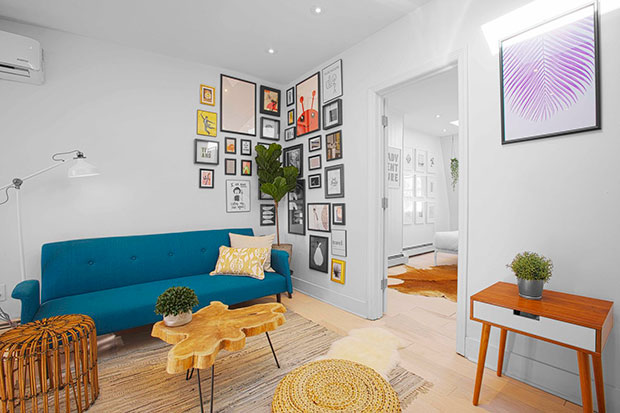 Dadapt
The way all the framed art are placed in a corner is so cool and interesting. To an extent, it has a level of quirkiness.
Nantucket Home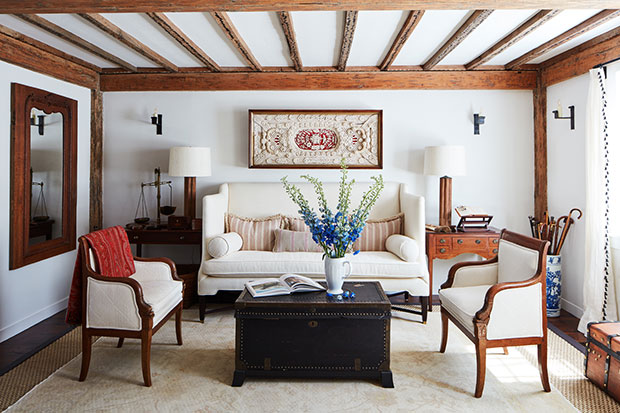 A classic layout for small living rooms: a sofa in the middle between two armchairs facing each other.
Milford Street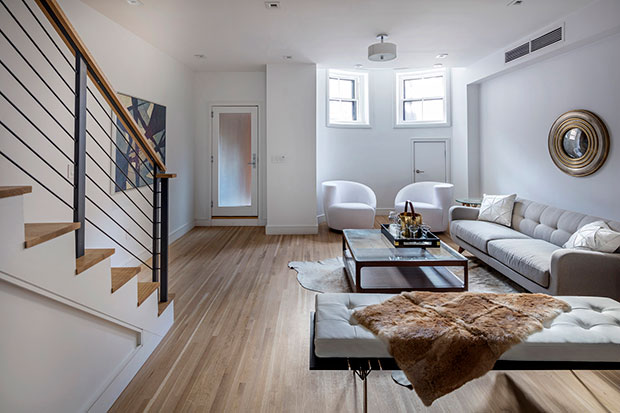 Georgantas
Another good use of an awkward curved space is to provide additional seating space.
West Village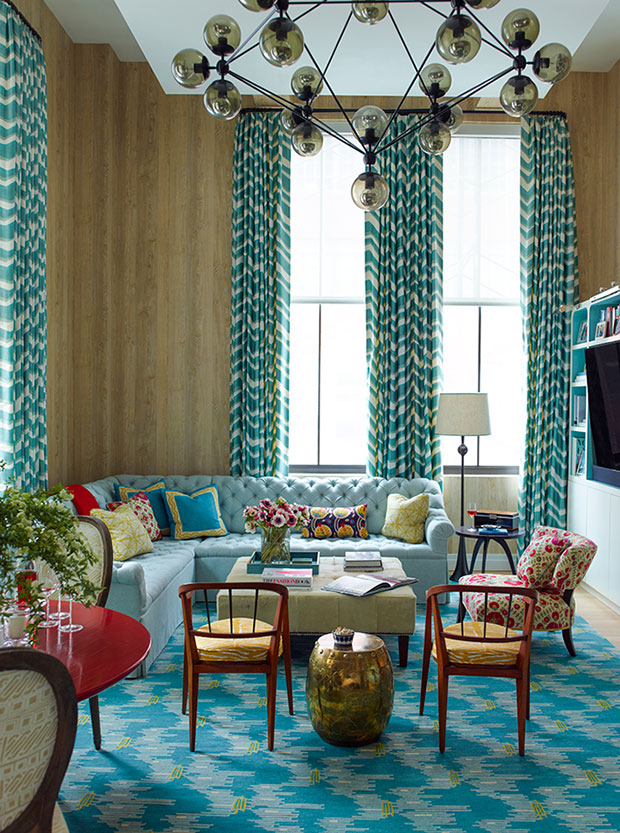 Katie Ridder
It is quite charming that the shelf cabinet console matches in color with the sofa. Then, we have the eclectic prints and colors to spice things up!
That's it for creative small living room ideas! Did these exceed your expectations of what small living rooms could be?
Like This Post? Pin It!