60+ Unique Wall Decals Design to Add Personality To Your Room
|
Would you be interested to look at wall decals design for your home?
When decorating our walls, most of the time we prefer either paint them with colorful shades or put lovely wallpapers. But with the surge of technology and upgrade of interior designing, wall decals have become another option for homeowners too.
Wall decals are vinyl stickers that are placed on the walls or other small surfaces. Aside from adding aesthetics, wall decals design can also be informational and inspirational.
Over the years, wall decals design has also evolved from single patterns and color to multiple colors and patterns, each unique from the rest of the set. This development has made them a fun and colorful option to brighten any room in the house.
They are also engineered now in a way that they can be removed and transferred from one surface to another. That is, without the remnants of sticky residue in the wall.
How to Make Your Wall Decals Stand Out?
If you want to have an interesting wall decals design at home, but don't know how to make them more interesting and eye-catching, below are some fun tips for you:
1. Decide where to place it and how big it should be.
Like most home decors – no matter how cute or quirky they are – do not look good or fit well in a particular area. Hence, you must know where is the best area to place your wall decals for optimum exposure.
You may also need to consider how big space is and whether or not you are going to occupy an entire wall or not. Make sure that your decals will not look too small in the space for it to be eye-catching.
2. Choose your wall decals design.
Once you have decided on the placement of your wall decals design, it is time to choose your decals.
If you need to look through different examples, that will be great! Check online and home design magazines to choose the best one for your home. You can also get a few samples for vendors to try out.
3. Choose colors and the mood you want to set.
Colors often help lighten, brighten, or darken the mood. And that's one of the things you need to pay attention to.
Remember that the mood you want to establish in your space needs to align with your color choices.
How To Apply Decals To Your Room?
Got your decals? Here are some useful tips to apply them to your wall:
1. Clean the surface. Before placing the wall decals, it is important to clean the surface where they will be attached first. Remove dirt with a wet sponge and remove oil using soap.
2. Adjust the placement. Check twice the area where you will place the decals on. Removing decals are possible, but some decals will not be reusable.
3. Use measurements. Measure the area first to ensure that the wall decals are placed correctly. Place markings on the area that will act as your guide later on.
4. Set the decal. It is now time to put the decals in place. Place them on the markings you have placed earlier, or as close as you can get. This time, you can remove the cover of the decal's adhesive part, then stick them to the selected area carefully.
5. Complete the application. Smoothen the surface by using a squeegee and then remove air bubbles. You can start from the center and move towards the outside.
6. Peel off the paper support. Remove the paper support slowly and carefully. If during the process, the decals also pull off, stop, and reapply the area carefully.
Note: Please note that the above instructions are standard. You may also want to read through the application instructions by your wall decal vendors. Some wall decals may have different components than others.
Wall Decals Design for Inspiration
Wall decals designs also vary depending on where you are going to place them inside the house. To give you a cool selection, we have categorized them depending on the room.
Wall Decals Design for Living Rooms
Living rooms can be a great place to put your lovely and unique wall decals. Here are some unique examples.
Mirror Tree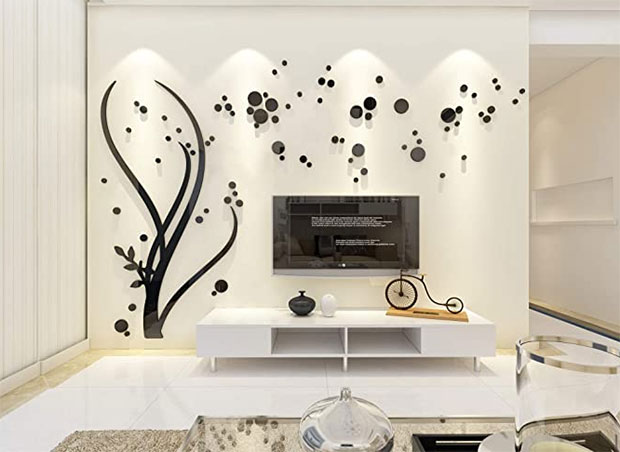 Wowelife
This tree wall decal is made of crystal acrylic. The color is perfect for a home with light neutral colors such as this one.
Staircase Tree Wall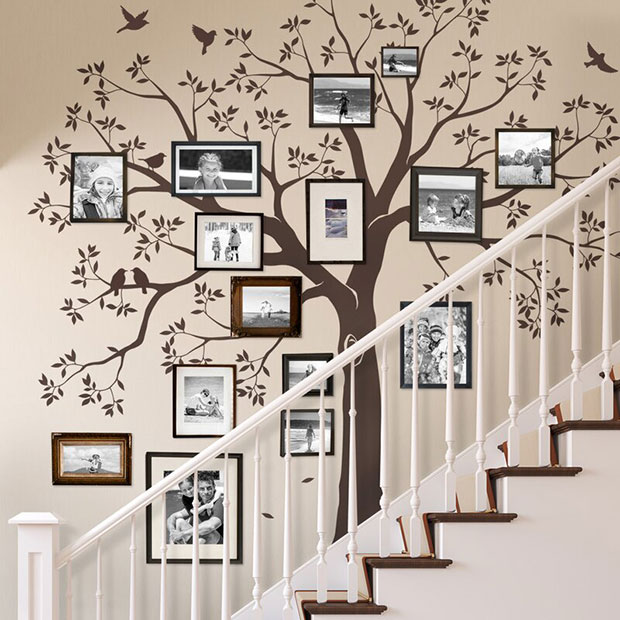 Simple Shapes
Not necessarily a part of the living room (for some home layout), but this family tree wall decals design is perfect. This adds a nice touch to stair walls that are often left blank or covered with photo frames.
Crystal Cherry Blossom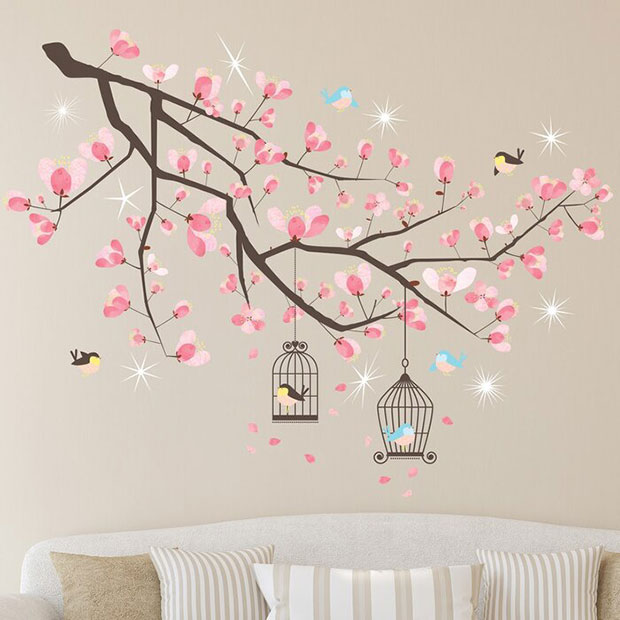 Winston Porter
If you love cherry blossoms, then this wall decals design is a perfect choice. The design offers tranquility and is the perfect fit for Asian-themed living rooms.
Quote Wall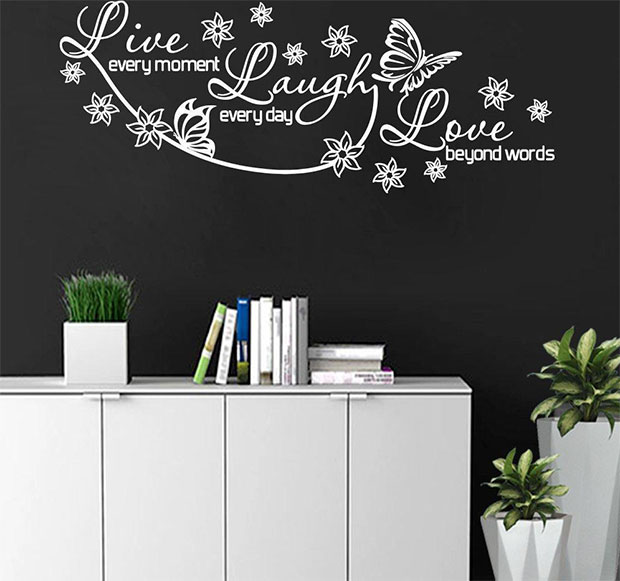 WallMantra
For those wanting more positivity, this quote wall decals design is a great hit. Place it in a place where you can see it every day to remind you and the rest of the family.
Wall Frame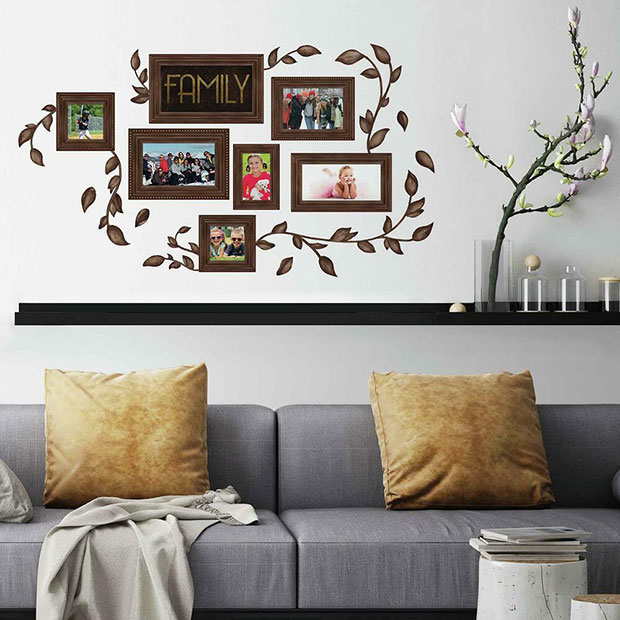 RoomMates
If the family tree on the staircase is too big for you, this wall frame is perfect for your family photos at home.
Mandala Wall Decals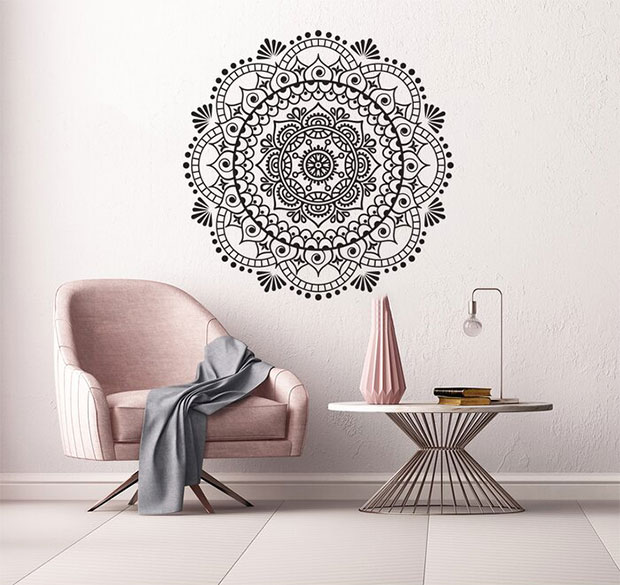 Bungalow Rose
Here's another relaxing wall decal design to add to your living room design. The design will work well with boho-inspired living rooms.
3D Vase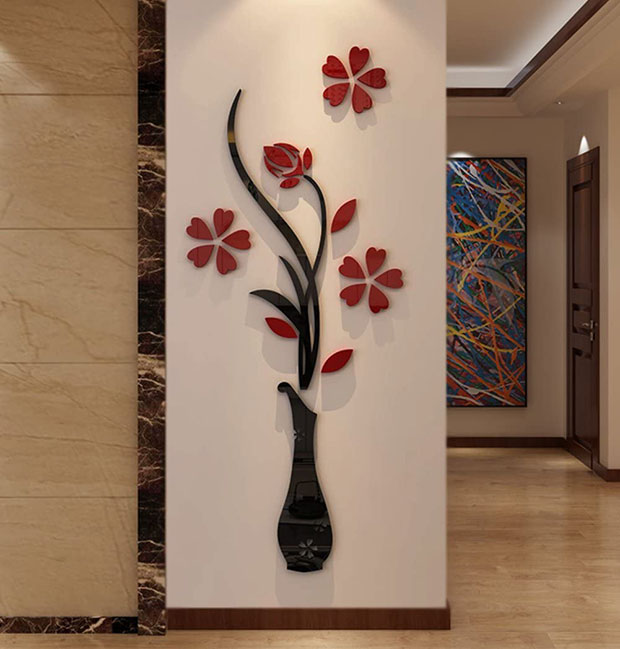 Hermione Baby
This 3D Vase is perfect for wall corners in your living rooms. The design is refreshing and very unique.
Acrylic Mirror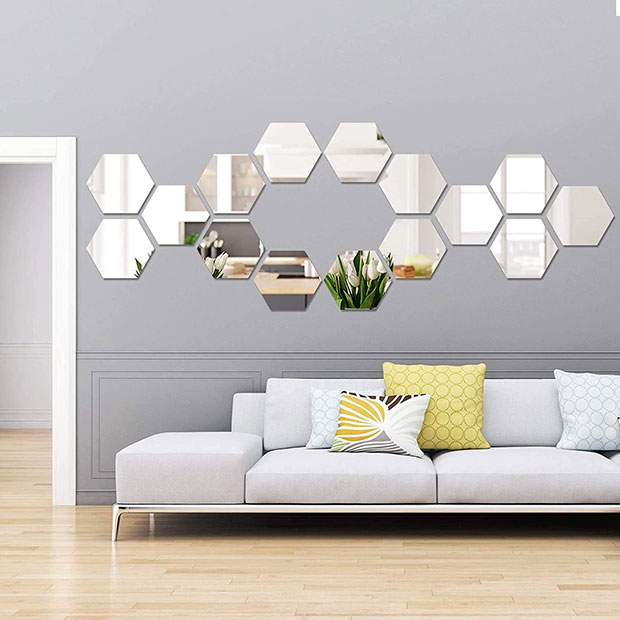 Suniyuild
Unlike other wall decals design, this one is a decorative mirror that rather adds a futuristic appeal to any living room.
Guitar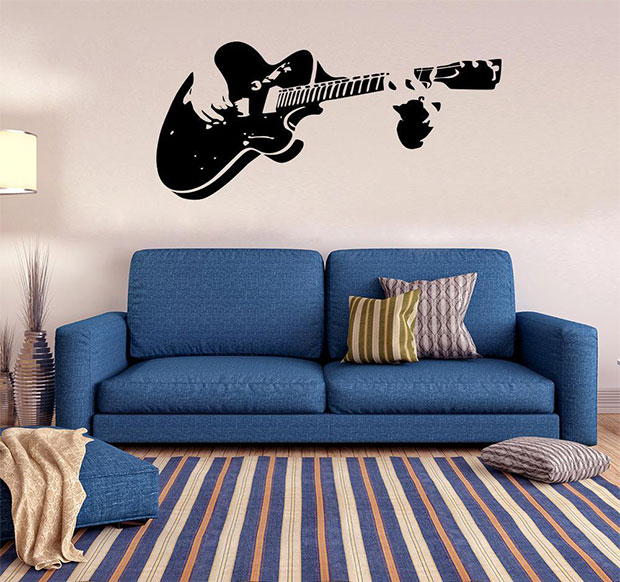 WallMantra
Music lovers will enjoy this guitar-themed wall decals design. this is perfect for bright and colorful rooms.
Home Decal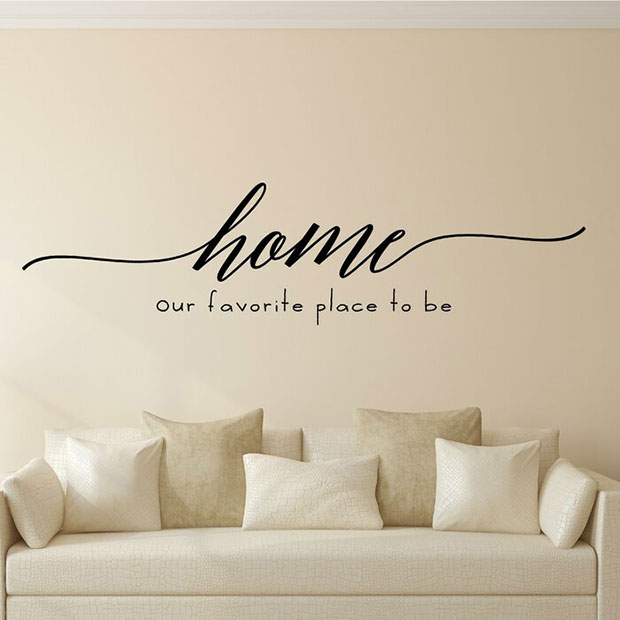 Gracie Oaks
This simple yet stunning wall decal's minimal design will work best for minimalists.
Dandelion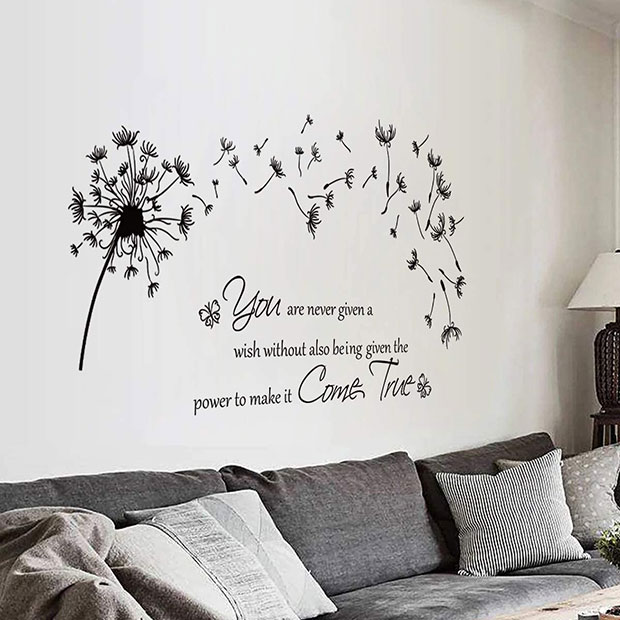 Decalmile Store
Inspire people with this cute quote and equally cute image of a dandelion that will give a room an inspiring feel.
Mountain Wall Decal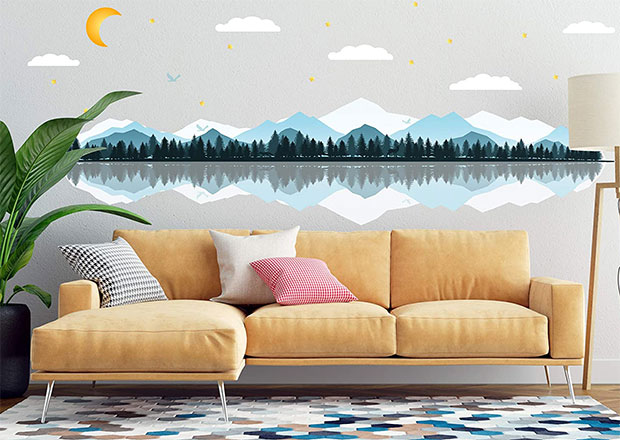 PapaKit
Enjoy the serene scene of this mountain wall decal in your living room.
Wall Decals Design for Dining Rooms
Dining rooms are often a place where people come together to eat. And a cool wall decals design will simply invite conversations.
Fondest Memories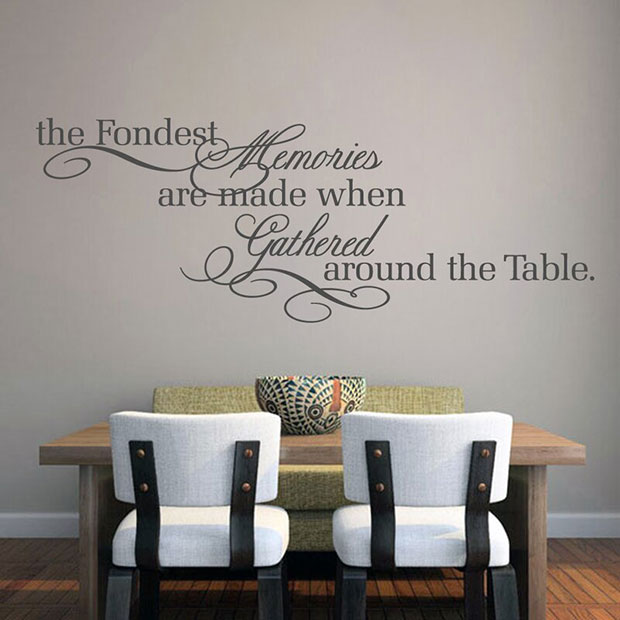 Charlton Home®
The simple yet touching message of this wall decals design is perfect for dining rooms where people gather.
Birds on Wire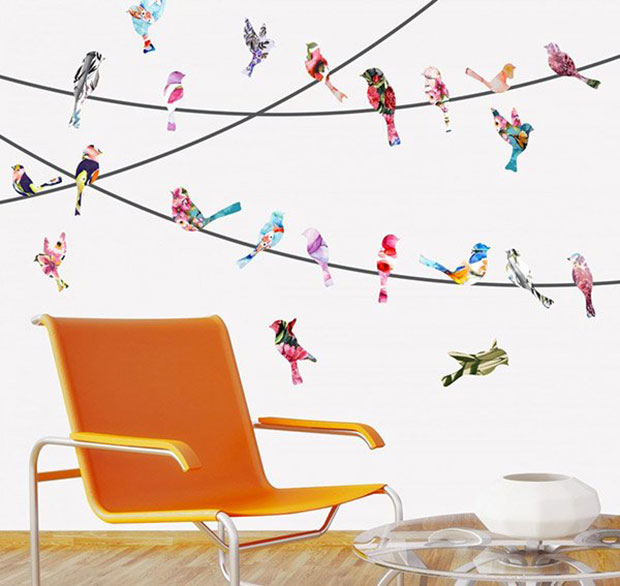 Walls Need Love
The colorful birds on this wall decals design will surely brighten any dining room.
Tree Branches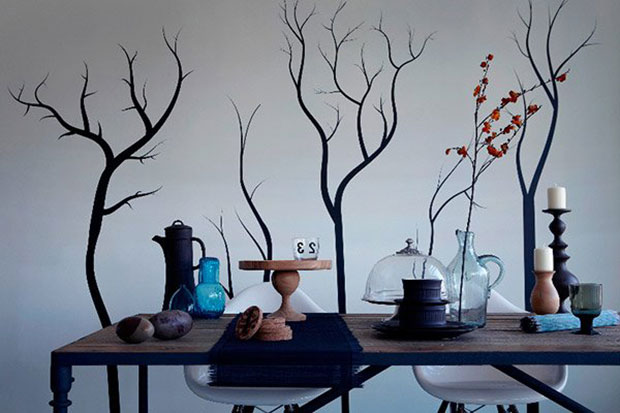 E-walls
The outdoorsy feel of the tree branches design of this wall decal will make you think of sunshine!
Cutlery Silhouette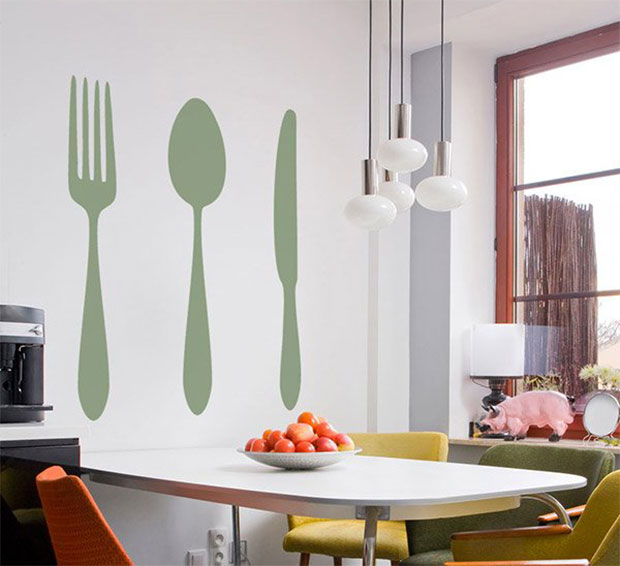 Wallums
The gigantic cutlery silhouette will make you hungry and eager to eat!
Flower Wall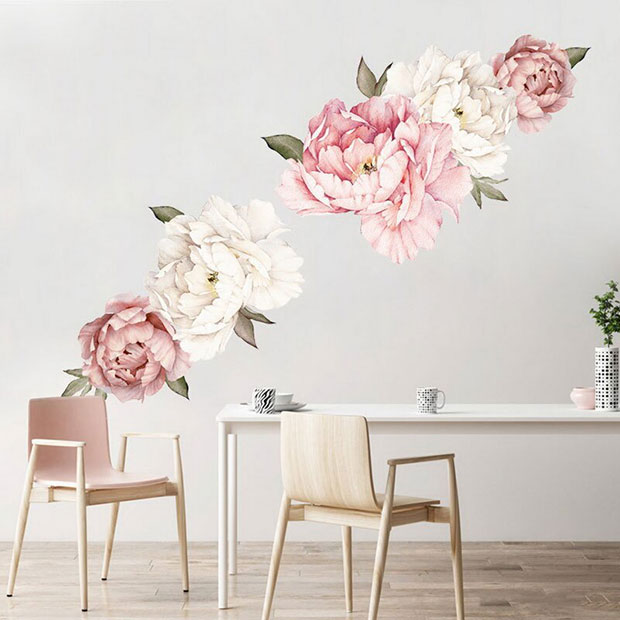 House of Hampton®
The gorgeous flowers will definitely add a feminine touch to any room.
London Montage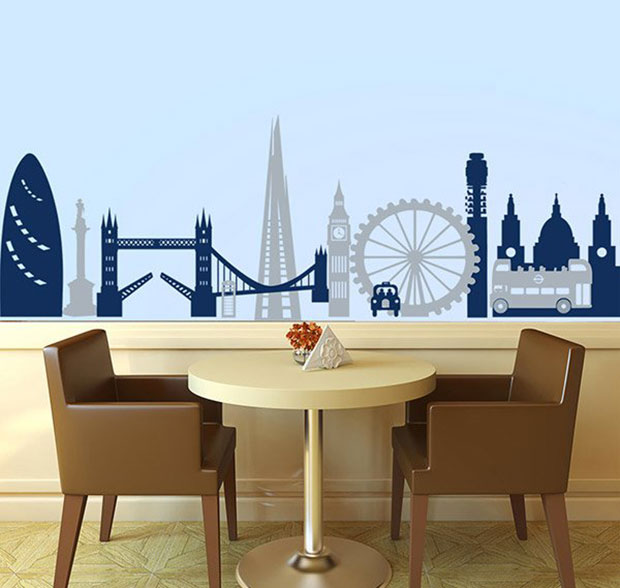 Wondrous Wall Art
Missing London? This wall decals design will surely help you plan your next trip!
Come Gather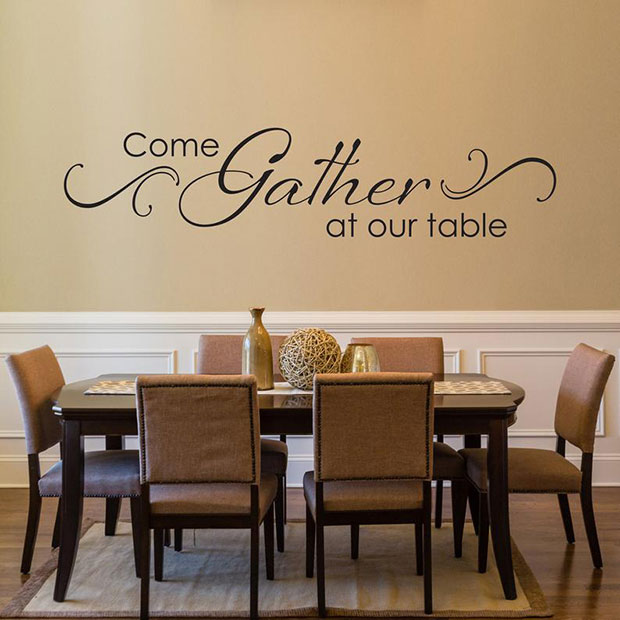 StephenEdwardGraphic
The simple combination of the fonts and some curve lines make this wall decal quite interesting.
Coffee Quote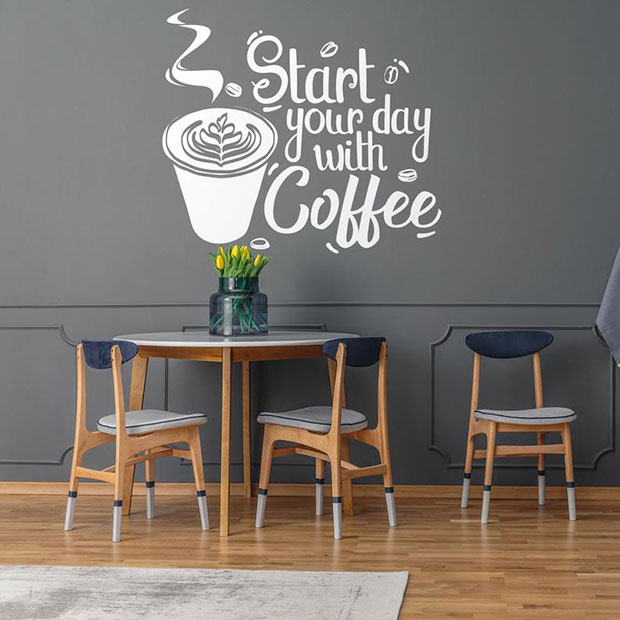 DecordsTM
Another bright wall decal design is with this fun coffee quote for your dining room wall.
Be Still Quote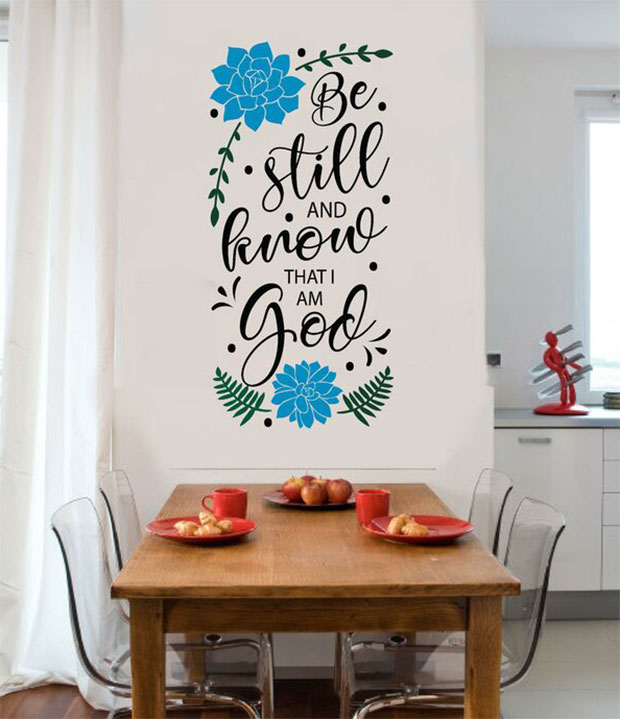 Winston Porter
Invite a spiritual moment when you dine with this inspirational quote wall decal.
Eat Drink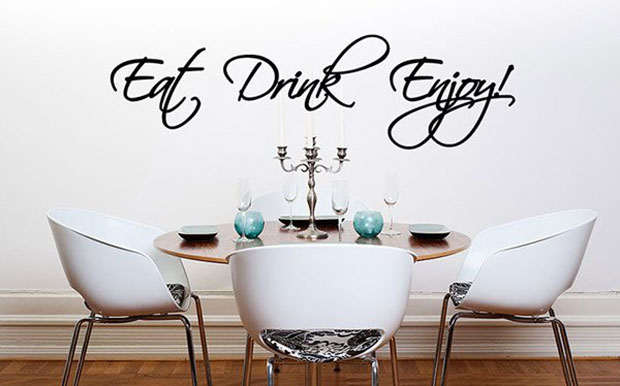 60 Second Makeover Ltd
This awesome wall decals design will certainly invite people to enjoy their meal!
Antoine Tree Branch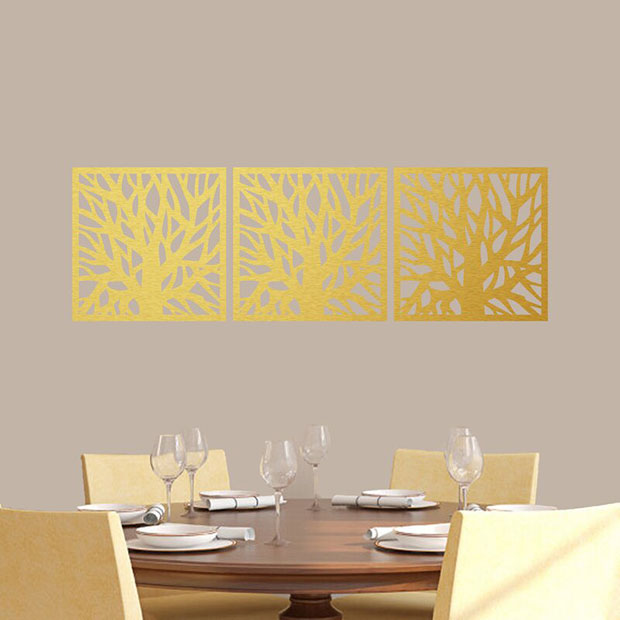 Winston Porter
The gold color of this wall decal adds an elegant look to the dining room.
Wall Decals Design for the Kitchen
Your kitchen need not be exempted from having fun decorations too. Check these out!
Coffee House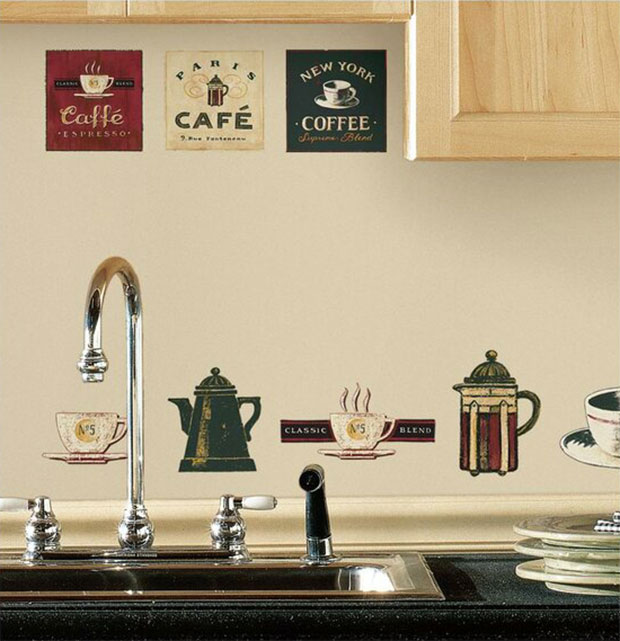 Winston Porter
Add a distinct style to your kitchen with these coffee house decals. It will also make any coffee-lover happy!
Menu Decal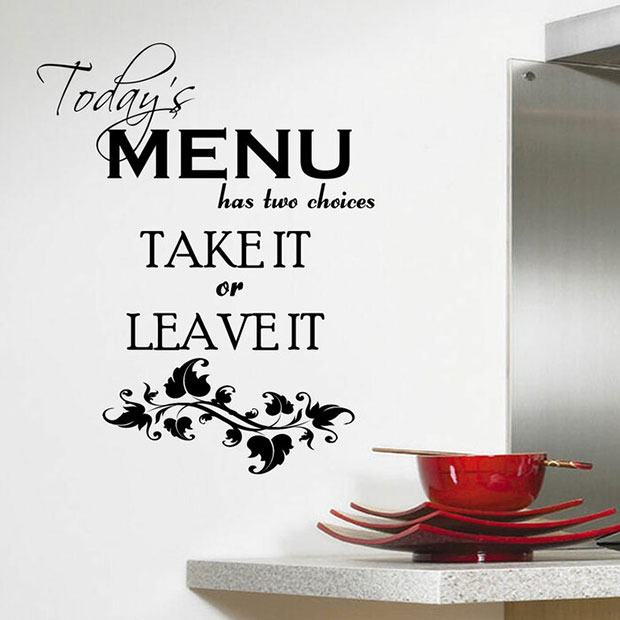 Decal the Walls
Add wit and a bit of a laugh to your daily food preparation with this cute decal.
Chef Wall Decal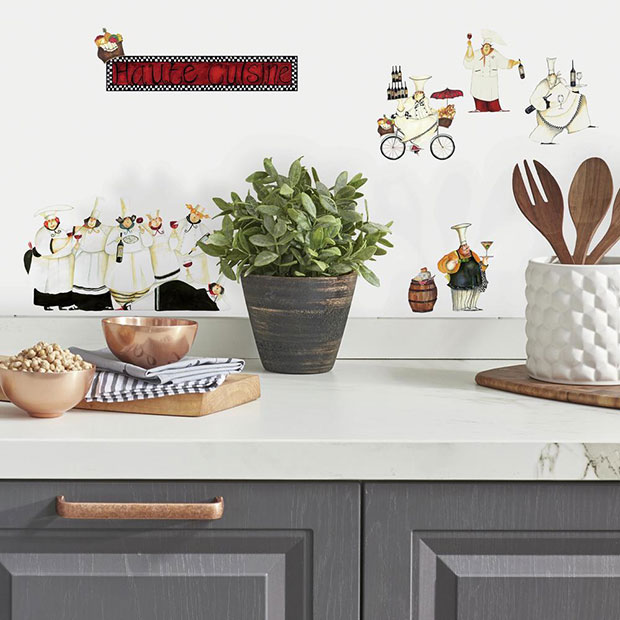 RoomMates
This fun wall decal featuring chefs will make the home cooks feel good and happy indeed!
Meal Wall Decal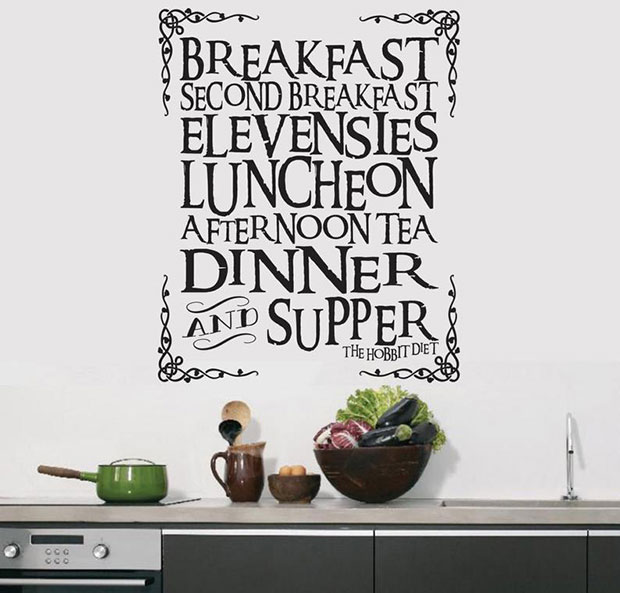 JobstCo
The Hobbit' or 'Lord of the Rings fans will get a laugh when looking at this relatable wall decal.
Measurement Decals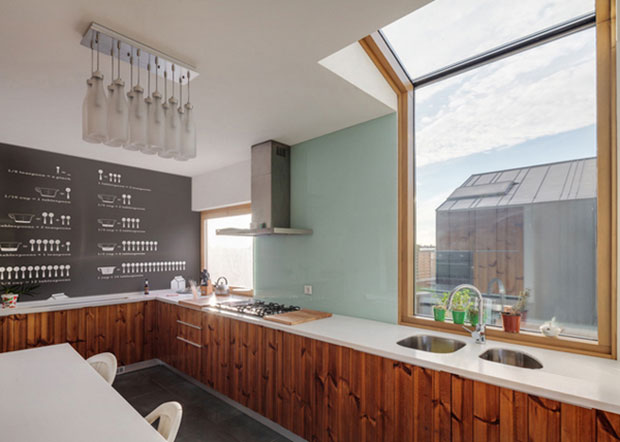 Yellow Office Architecture
The white measurement decals on this kitchen is an awesome tool for bakers in the house.
Bless The Food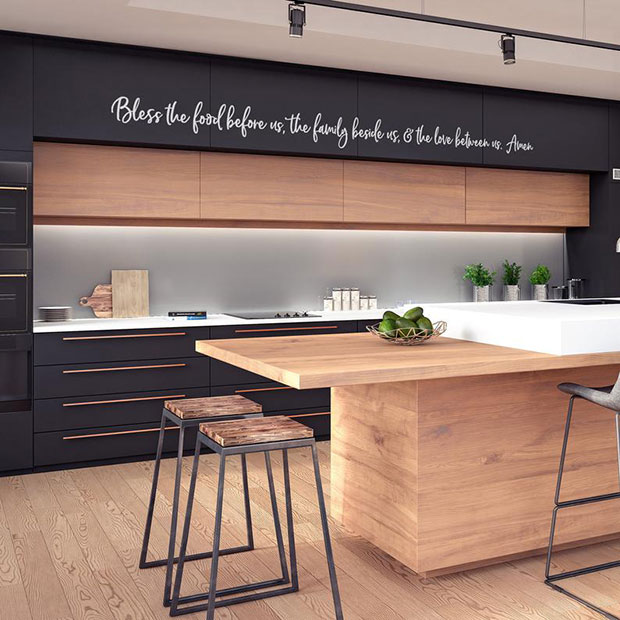 OldBarnRescueCompany
Another inspiring wall decals design for families.
Cup of Coffee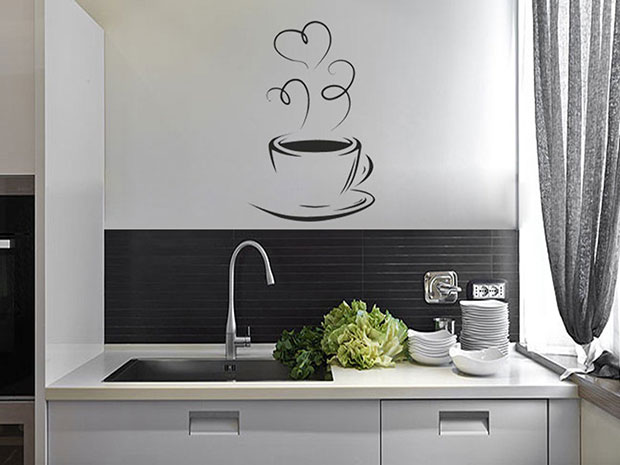 TheWorldOfWallArt
This cup of coffee wall decal is easily a welcoming image for coffee lovers in the morning.
Kitchen is Heart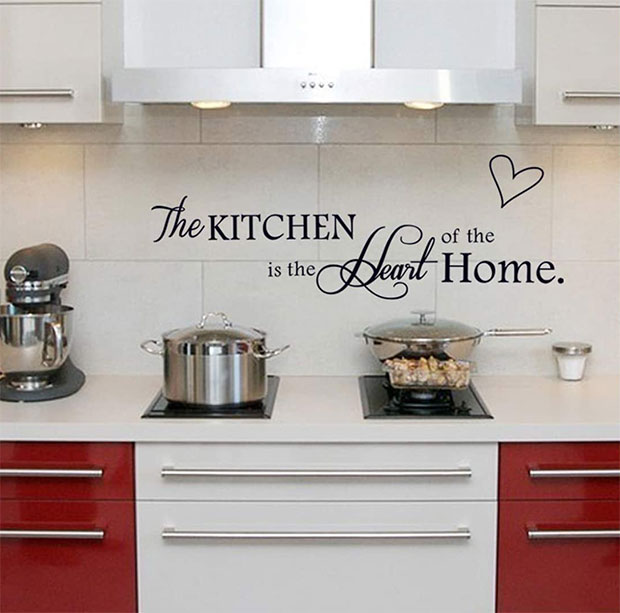 Bestjybt
Another heart-warming wall decals design for families to have in their home.
Personalize Name Kitchen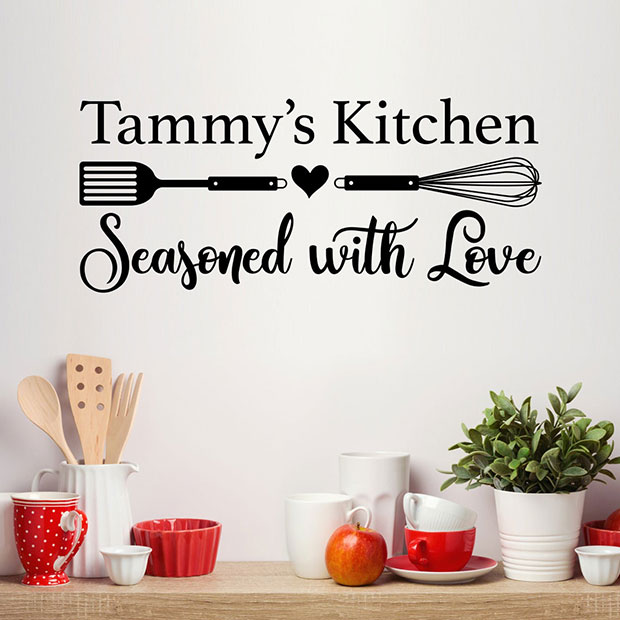 StephenEdwardGraphic
Personalize the kitchen with a name on it, just like this personalized kitchen wall decals design.
Temple Cloud Cooking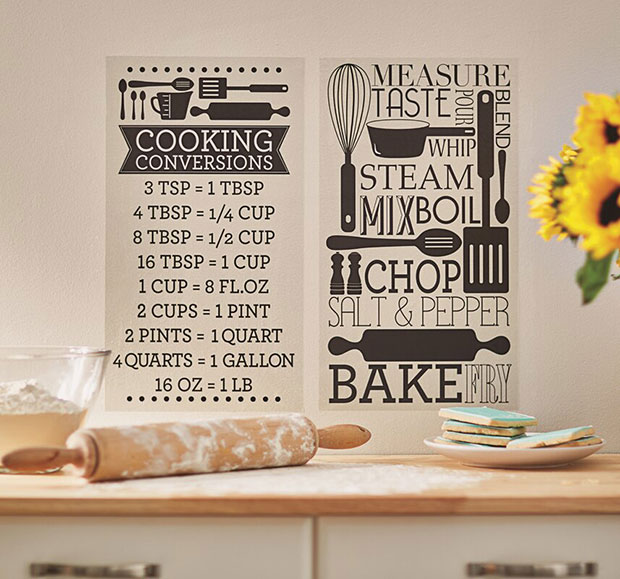 Wrought Studio™
This simple cooking conversion wall decals design is a great informative decor to add to the kitchen.
Strausbaugh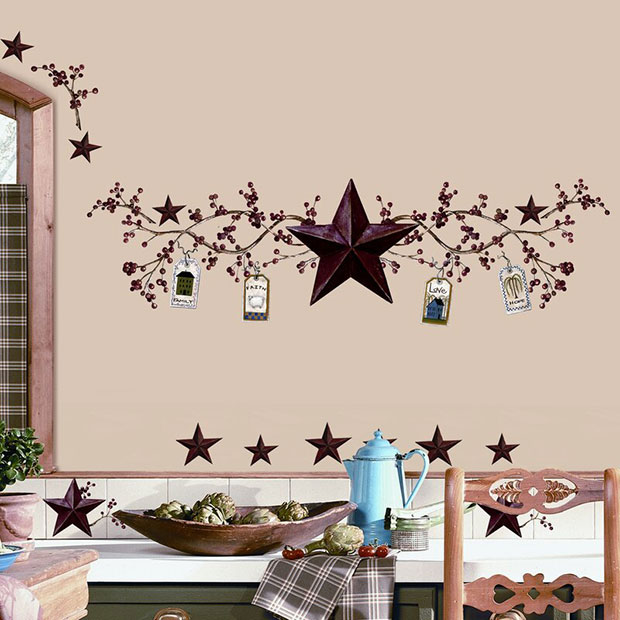 August Grove®
Put some fun look in your kitchen with these berries and star wall decals.
Wall Decals Design for Bathrooms
Aside from colorful tiles, you can also liven up your bathrooms with wall decals! Check these out!
Toilet Rules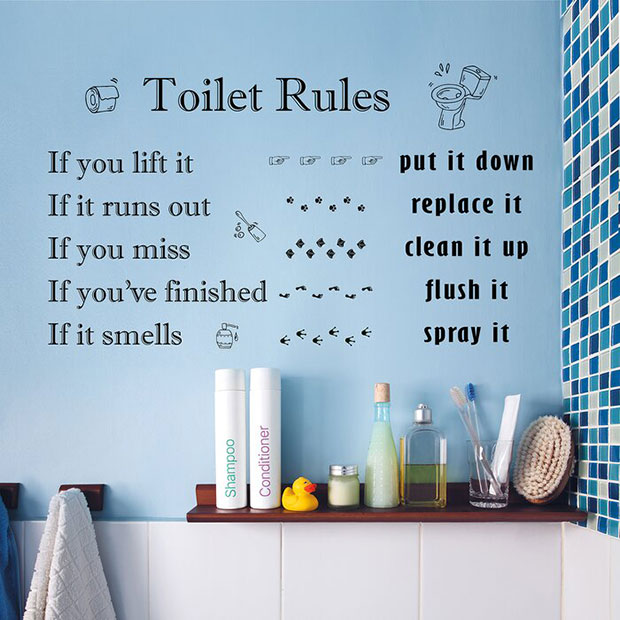 Winston Porter
This fun and informational toilet wall decals design is great for reminding family members of toilet rules.
Sea Whales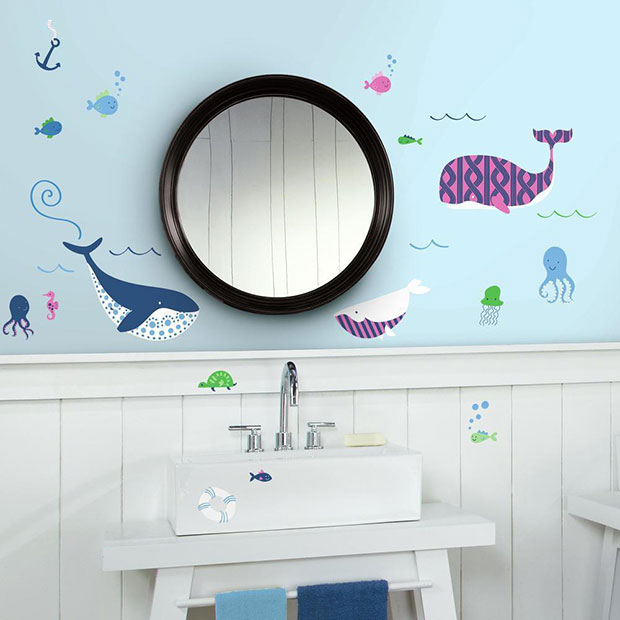 RoomMates
Add a fun touch to your kid's bathroom with this sea whales wall decals design. This is perfect for little kids who love the ocean!
Wash Hands Decal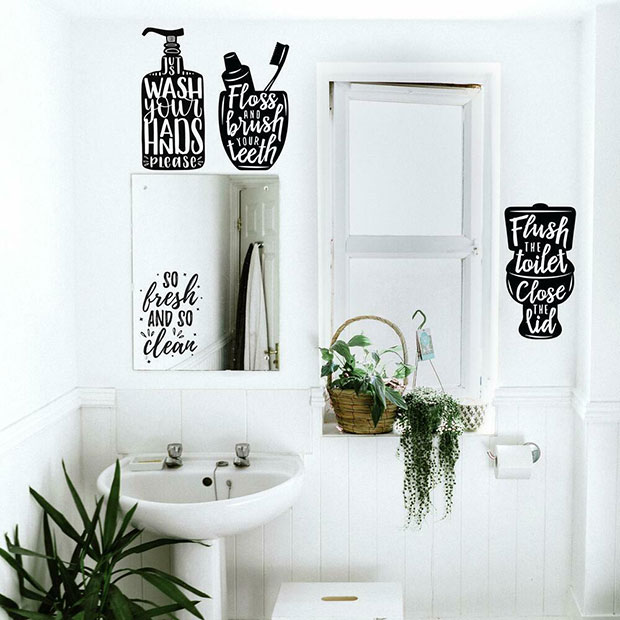 RoomMates
Put friendly reminders in your bathroom to make people mindful when they use the bathroom.
Palm Leaves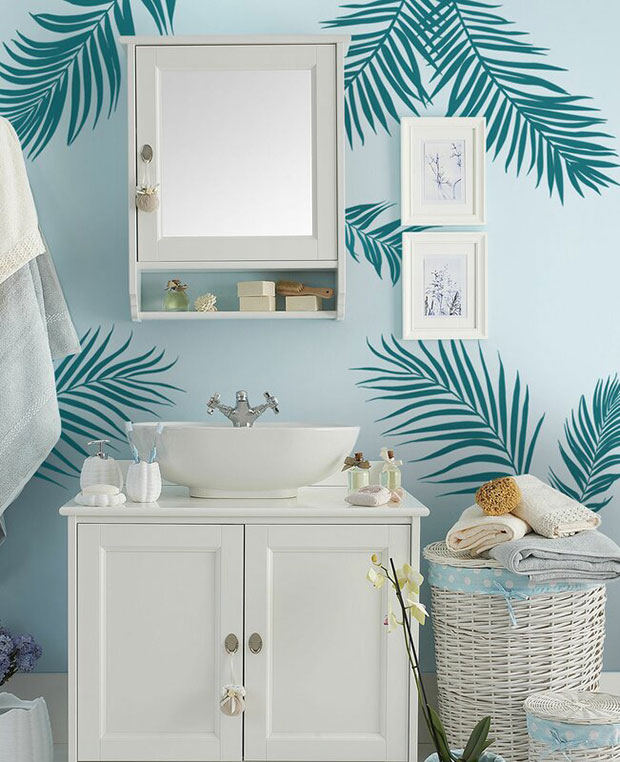 Bay Isle Home™
This relaxing palm leaves wall decal will make you feel relax! The orchid inside is rather nice touch to the room's ambiance.
Erie Birds Wall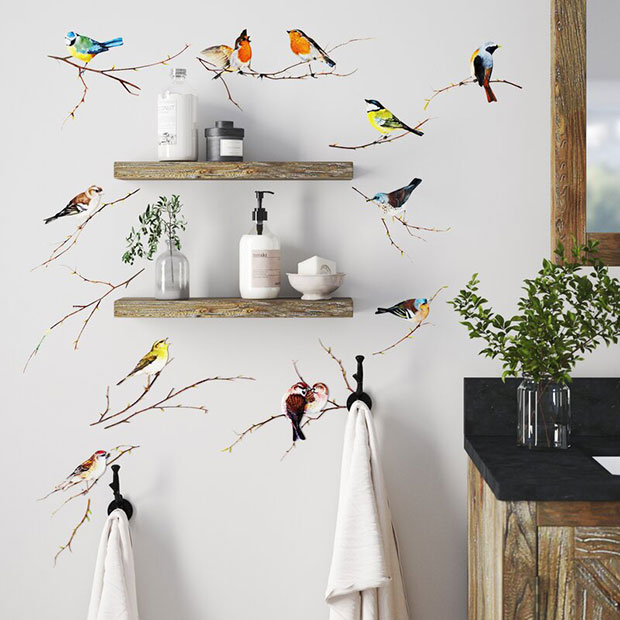 August Grove®
For bathrooms with wooden furnishings, this Erie living birds wall decal is the perfect fit to give it an outdoorsy feel.
Black and White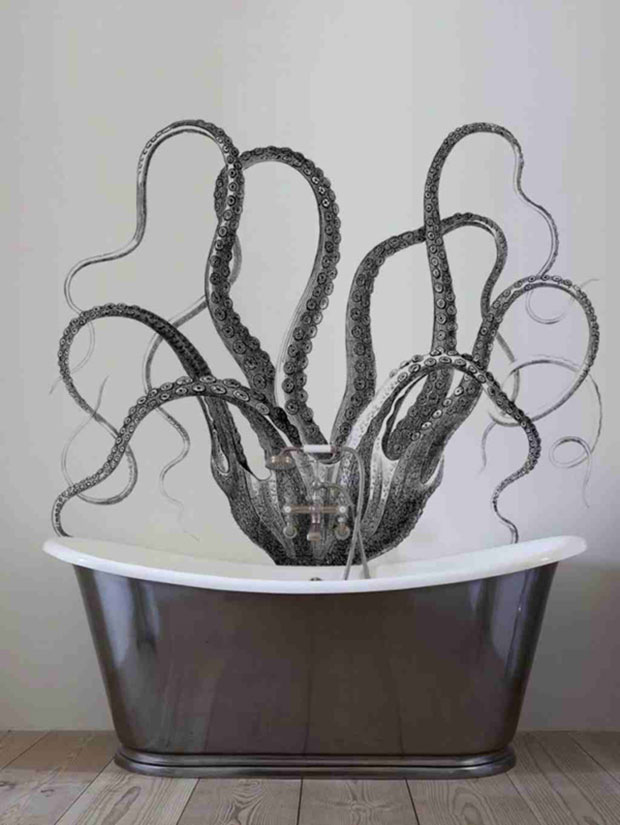 Blount Architectural
This tentacle-inspired wall decal is sure to have a cute and interesting response from your little kids or guests!
Suburban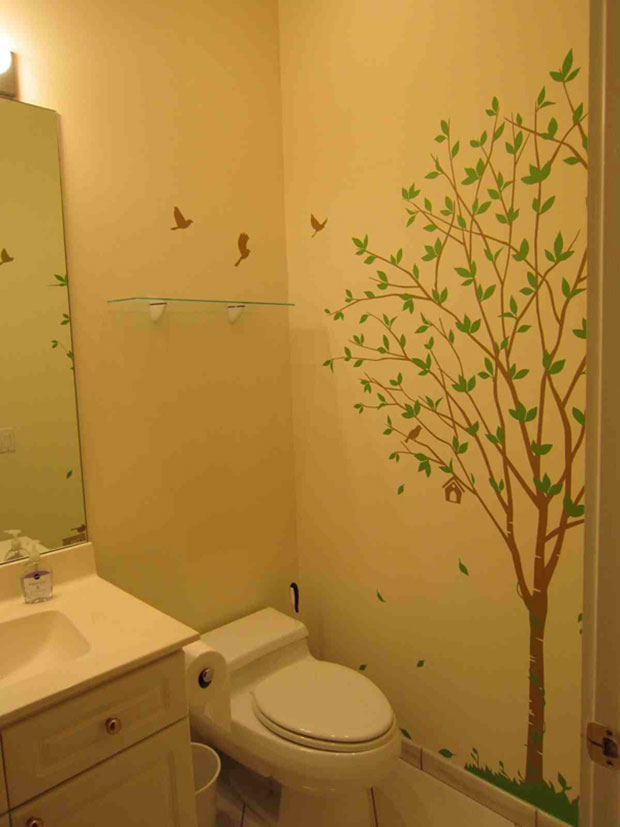 Out to See
Bring the outdoors to your bathroom with these cute tree and bird wall decals.
Habitat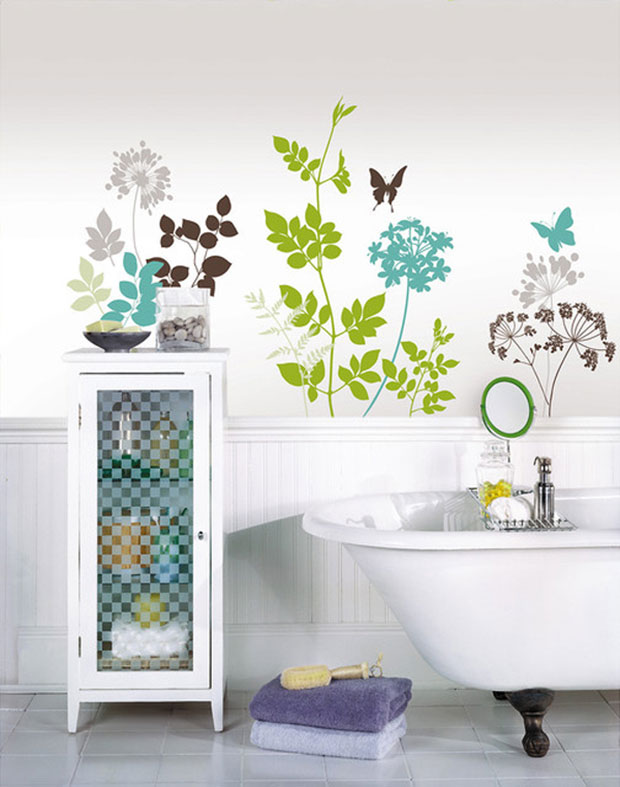 WallPops
If you can't have real plants inside your bathroom, how about some lovely plant or garden-themed wall decals design!
Landmarks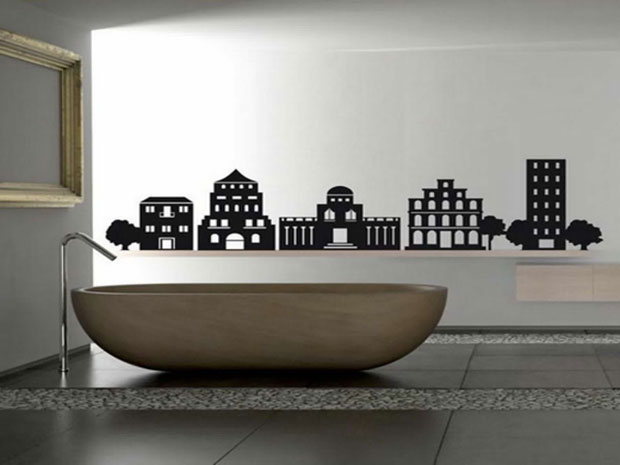 Gillan Abercombie
Add an interesting set of building silhouettes in your bathroom with these landmarks.
Flying Fishes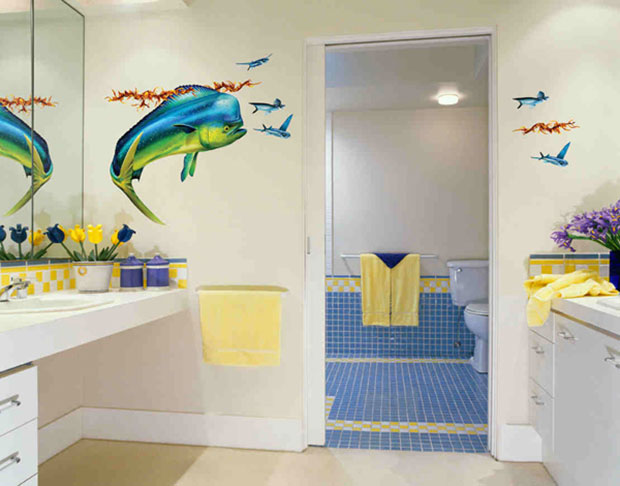 Virginia Kitchens
Add a fun look to your bathroom with flying fishes on the wall. The colors look great with the yellow and blue motif of the bathroom.
Under the Sea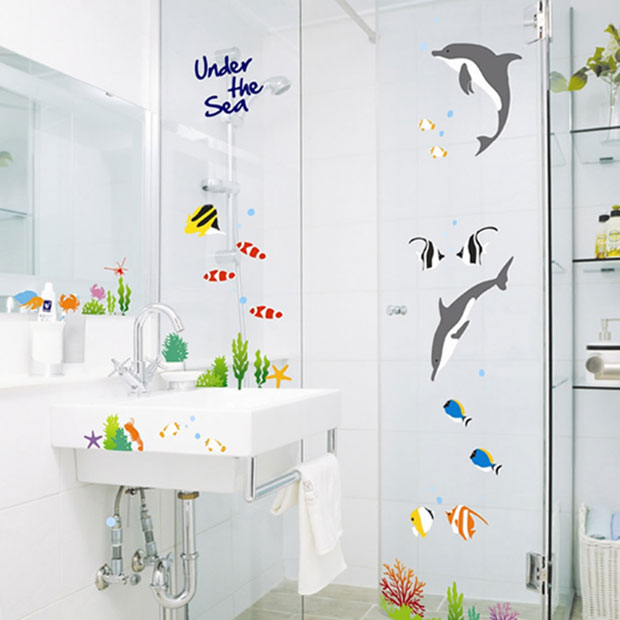 Jessica Helgerson Designer
Put some fun fishes and other sea creatures in the bathroom with this under the sea wall decals design.
Delicate Flowers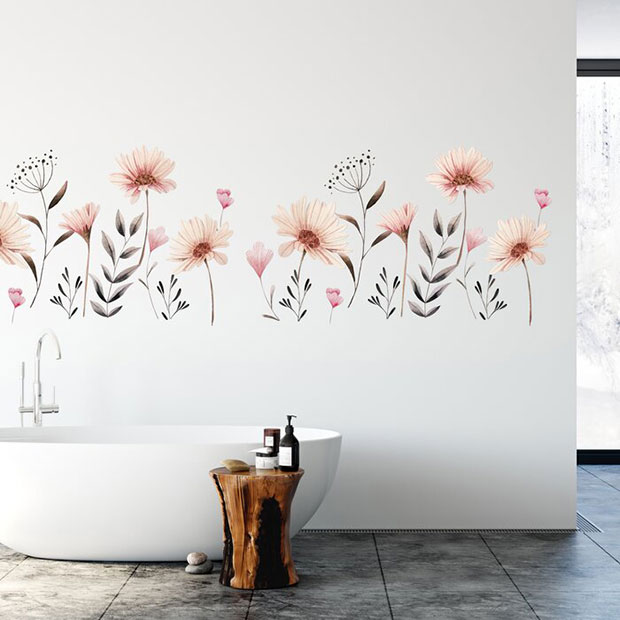 Isabelle & Max™
Add some freshness with these delicate flowers in your bathroom.
Wall Decals Design for Kids Bedroom
Most kids will love fun and lively themes to occupy their rooms. Wall decals are a great way to give that to them. Check out these lovely wall decals designs!
Space Travel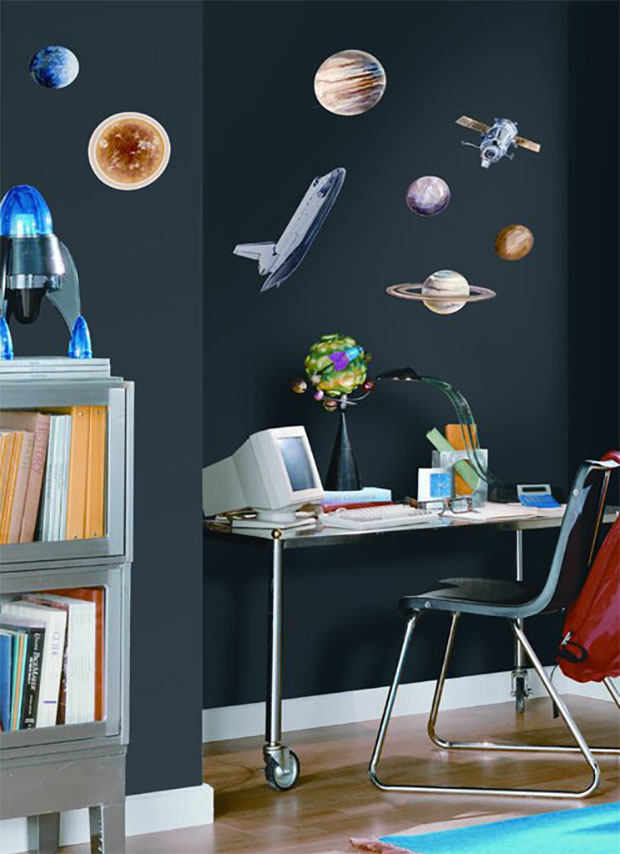 Zoomie Kids
Space lovers will love this space-themed wall decals design. This will easily inspire your little kid to explore, explore, and explore!
Galaxy Unicorn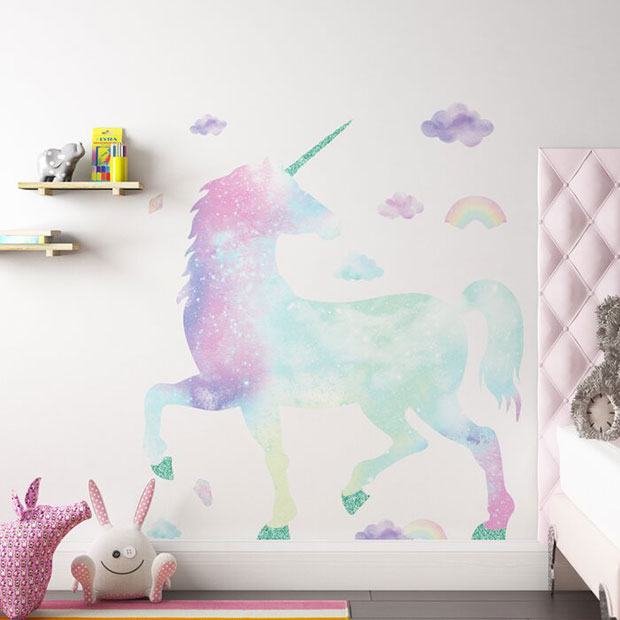 Isabelle & Max™
This galaxy unicorn wall decals design is sure to be a hit for unicorn lover's little girls.
Forest Animals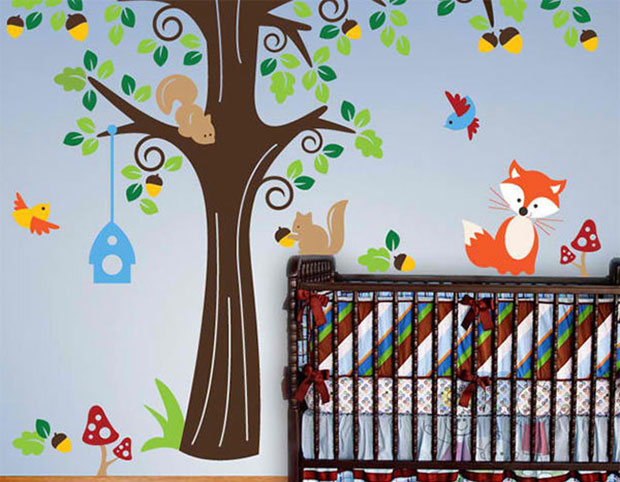 Evgie
Add an interesting look to your child's bedroom with these colorful and vibrant forest animal-themed wall decals.
Pooh Growth Chart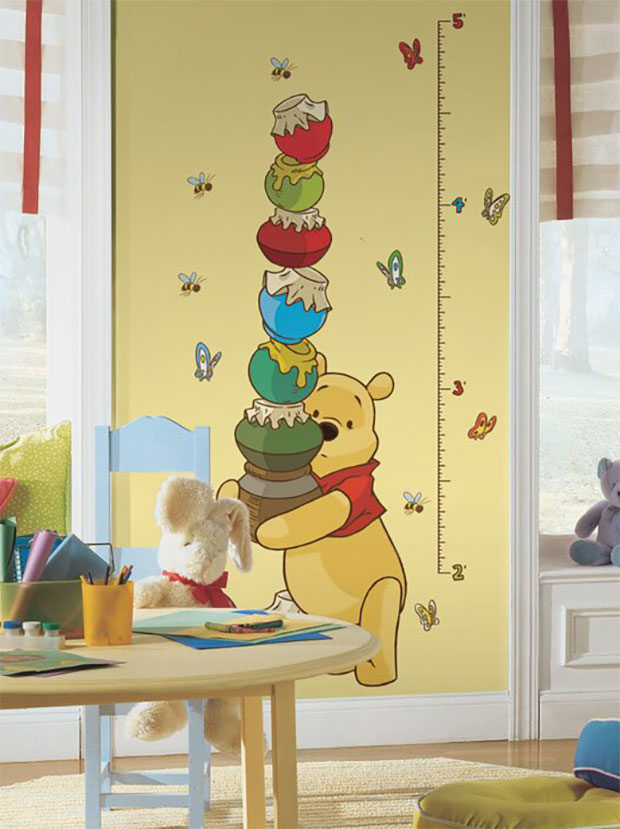 Room Mates
Track your child's growth and decorate their rooms as well with this fun pooh growth chart!
Tree Pattern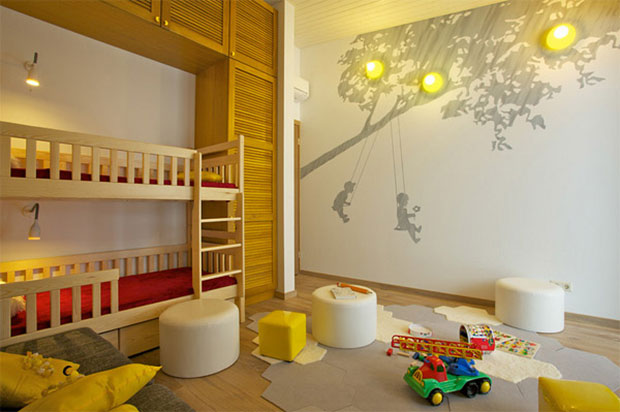 Dalius & Greta Design
The subtle and neutral colors of these wall decals complement the brown and yellow colors of the room.
Pandas Play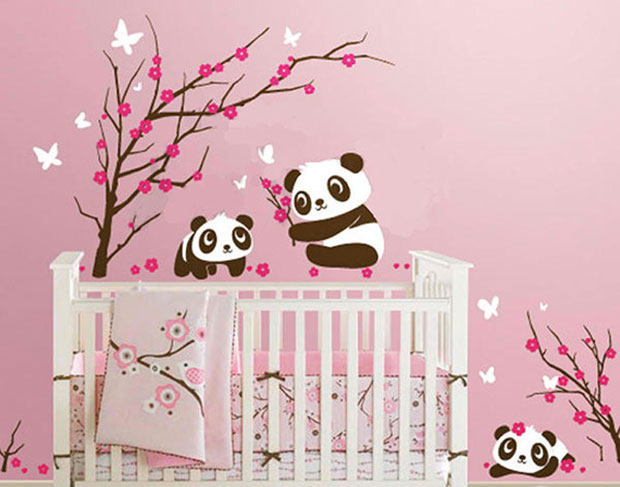 Leafy Dreams Nursery Decals
These cute pandas playing with cherry blossoms will liven up any nursery or kids bedroom.
Birch Tree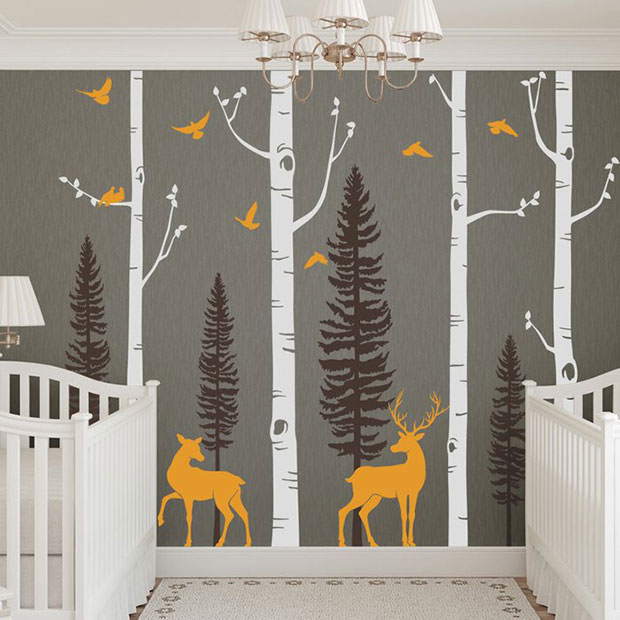 Simple Shapes
Occupy a large amount of your blank wall with this birch tree with birds and deer wall decals. This will look great with gray walls to emphasize the colors of the decals.
Giraffe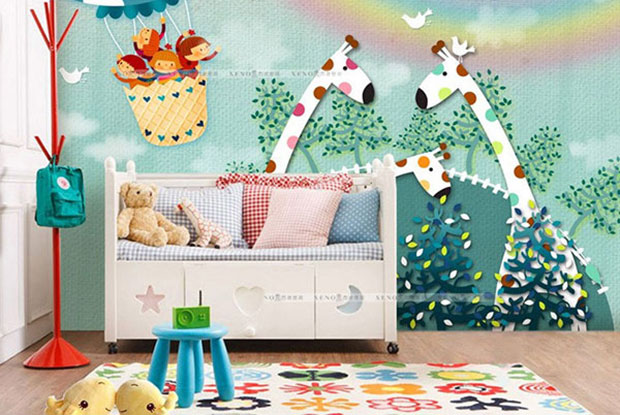 Yuan Decal
For large white blank walls, this giraffe wall decal will definitely look great with its vibrant colors.
Willow Tree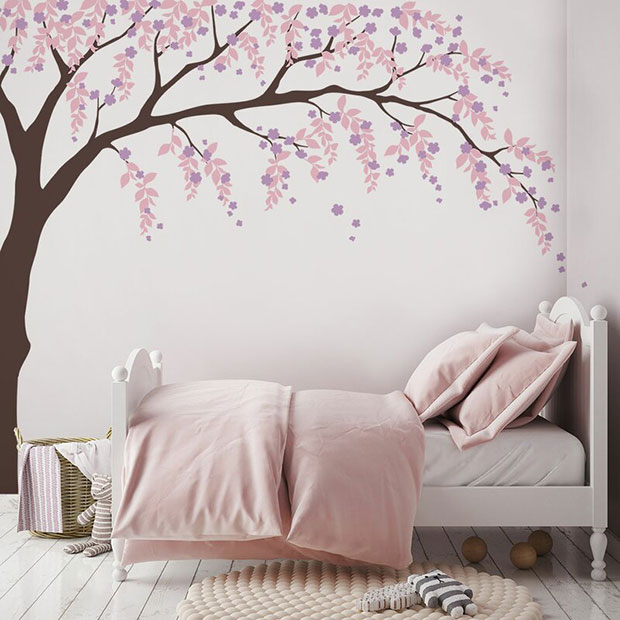 Harriet Bee
This charming willow tree decal adds a spring feel to any kid's bedroom.
Aerospace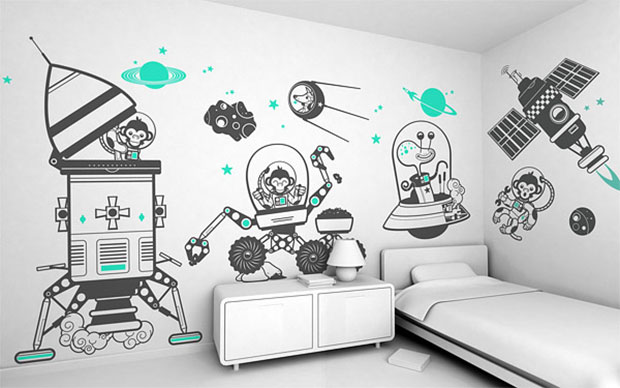 De Jesus Architecture & Design
Put space and creativity into one awesome wall with this wall decals design. Love the minimal colors and the fun concept of this design.
Tree and Birds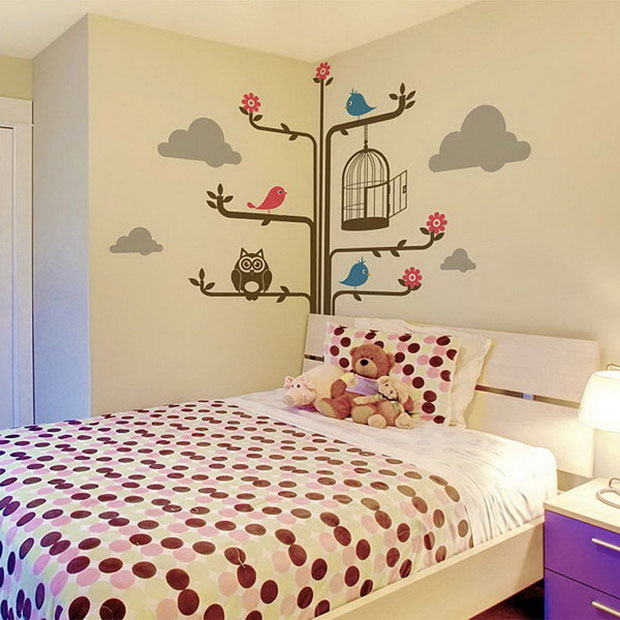 Moon Design + Build
This tree and birds wall decals is a great option for blank corner spaces in your wall.
Wall Decals Design for Adult Bedroom
Who says adults don't like fun wall decals design on their bedrooms, too? Check out this cool collection!
Wind Blowing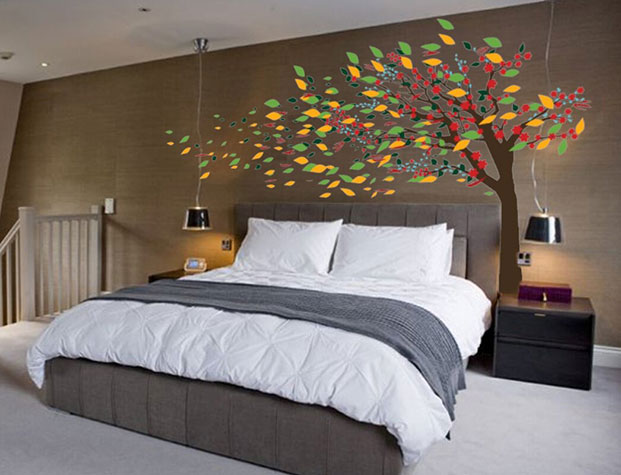 Isabelle & Max™
Outdoorsy people will love the vibrant colors of this wall decal. It greatly compliments the brown and earthy colors of the wall and the bed frame.
Banana Leaves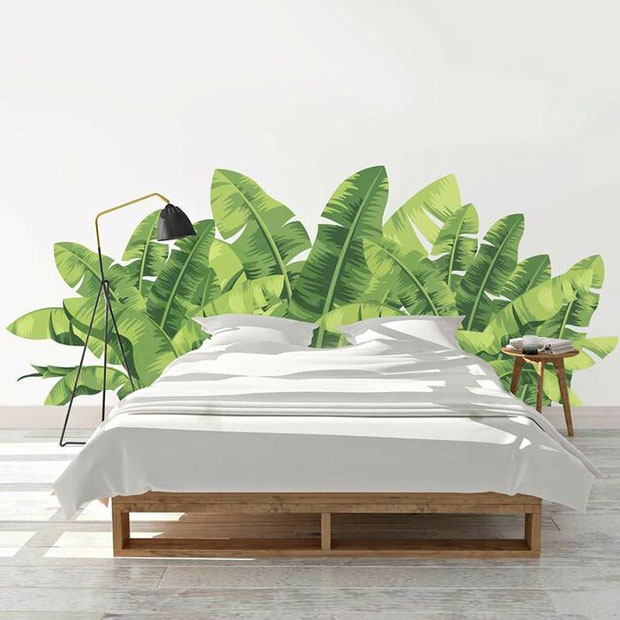 Urban Walls
If flowers aren't your thing, perhaps some banana leaves will make you happier?
Couple Wall Decal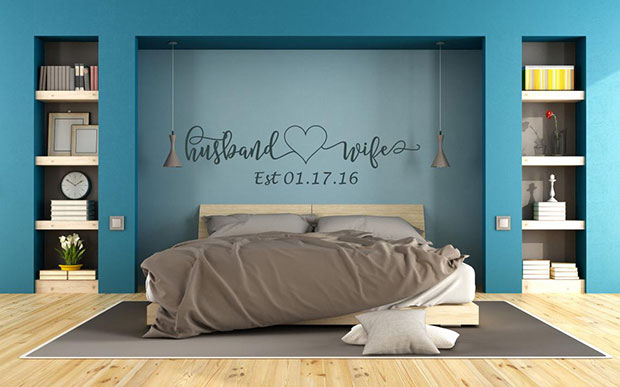 JadeDecals
Get sentimental and put your wedding anniversary date on your wall just like this couple wall decals design.
Spring Garden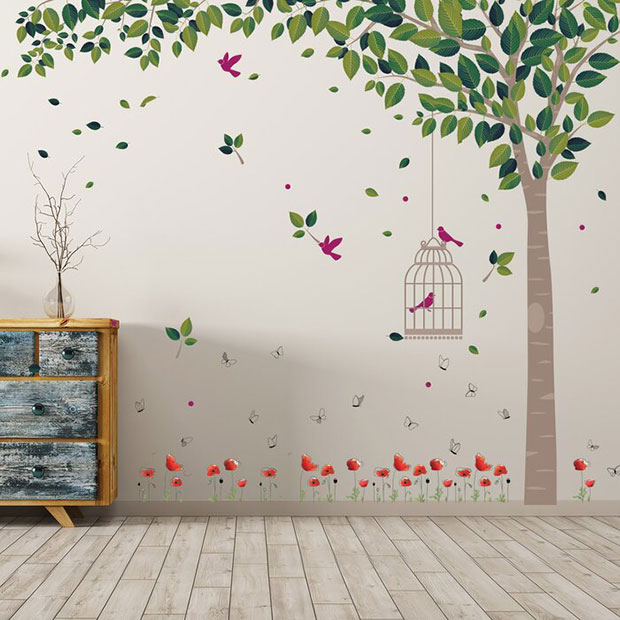 Ebern Designs
This elaborate spring garden-themed wall decals design is perfect for large blank spaces in your room.
Dolphins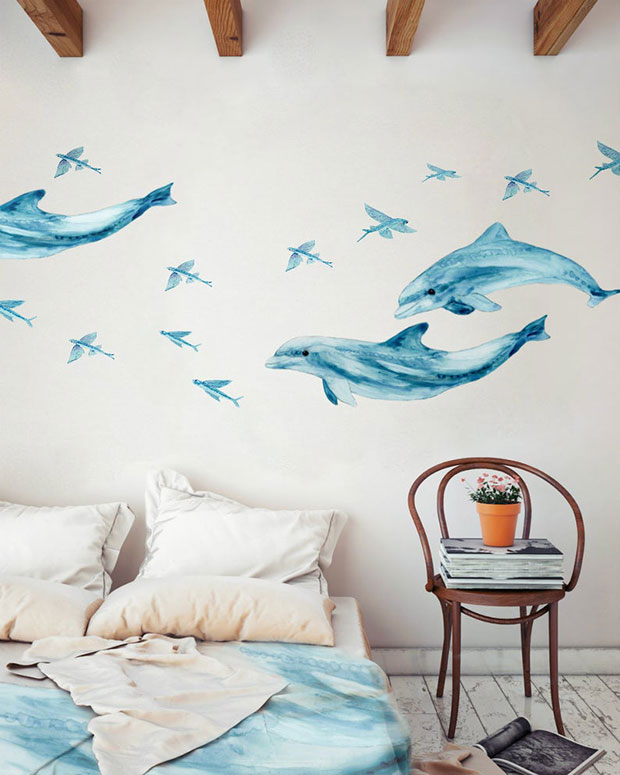 EasySweetHome
Create a magical and relaxing environment with these dolphins on your bedroom wall.
Blossom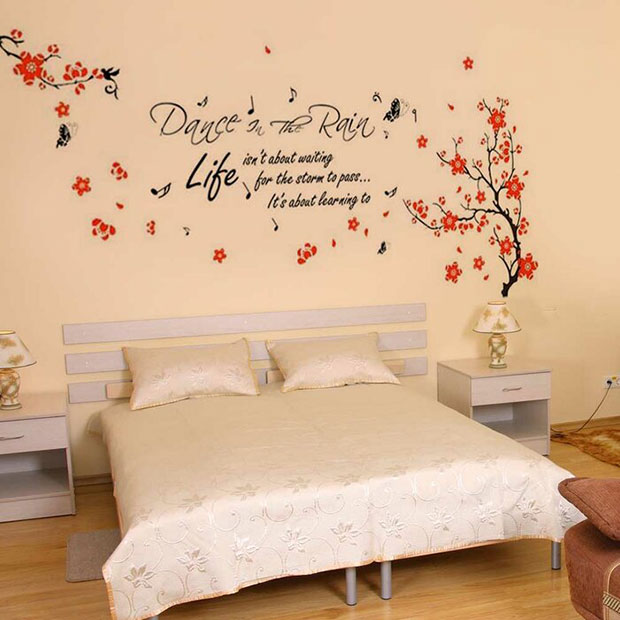 Walplus
Add inspiration to your room, with this lovely and inspiring wall decal. The quote is easily relatable and the image is fantastic.
Tropical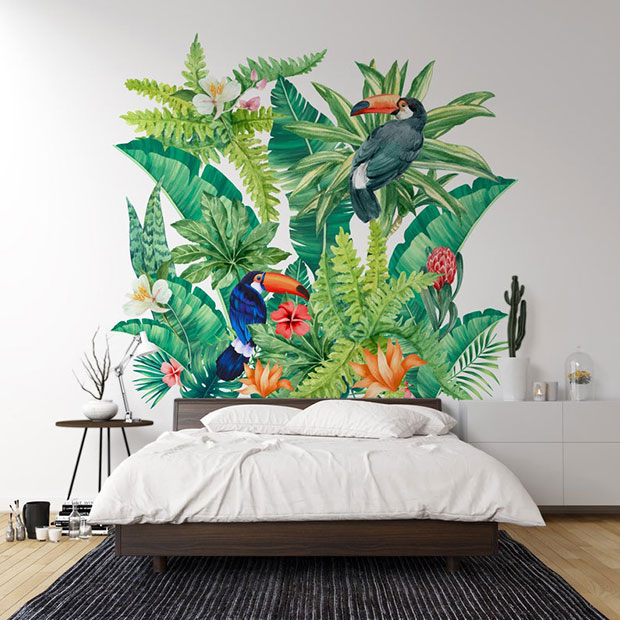 SupperbTattoos
For outdoor lovers or simply one who wants a piece of the outside beauty inside the bedroom, this tropical wall decal is a great idea.
Cherry Blossoms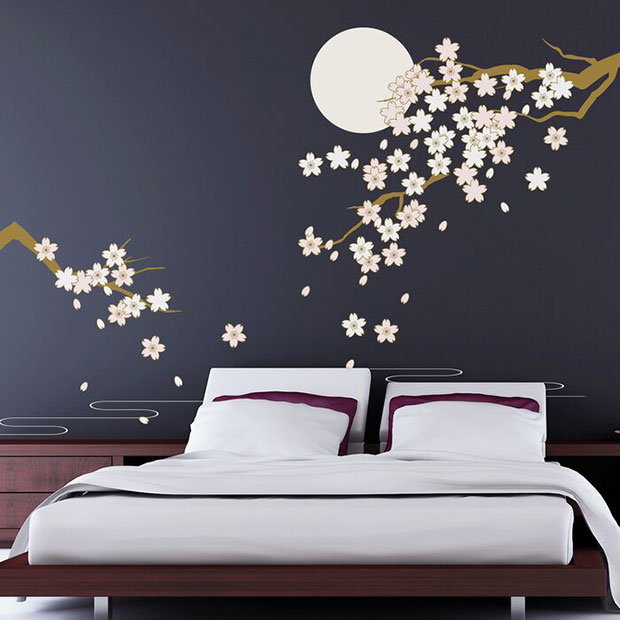 Ebern Designs
If cherry blossoms are your thing, this wall decals design is for you. The design is undeniably relaxing too.
Infinity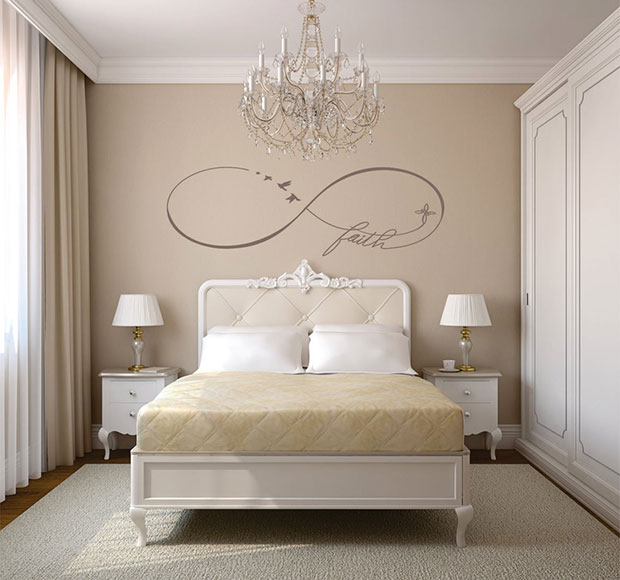 SignJunkies
This simple but elegant wall decal can give hope and aesthetic design to any room.
Flower Decal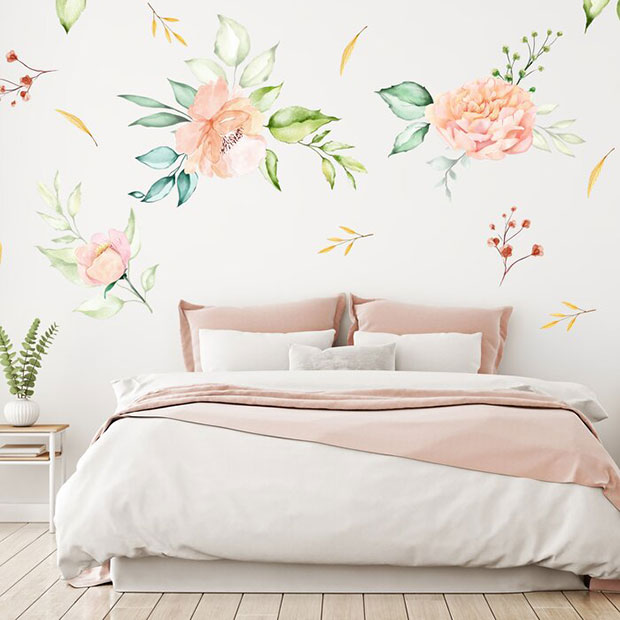 Isabelle & Max™
This flower decal certainly adds a fresh look to any room and can help people relax.
With this great selection, we hope we have inspired you to get one or two wall decals design for your home.
Which one is your favorite?
Like This Post? Pin It!