50 Cool and Quirky Home Decors to Liven Up Your Room
|
When we visit other people's home, there are one or two items that catch our eye. And it is not often that we see something really really interesting. I mean, who would take the time to decorate their space with quirky home decors, right?
But, if you do care and would love to have something interesting to brighten and liven up your home, then this post is definitely for you!
Home decors can come in different shapes and sizes. It can be anything to accessorize your home. And it doesn't necessarily have to be something that functions.
Of course, the fun thing with having a quirky home decor is arranging them and making them into one unique design.
How to Choose Your Home Decors
Choosing your home decor can be difficult and, at times, can be daunting. Often, we are torn between what we really want and what we think others will appreciate.
To help you, here are some useful tips to keep in mind.
1. Make your room an expression of yourself.
When we are making a home for ourselves, remember that our main priority should be what we want. Not what others think.
Hence, it is important to keep reflecting on yourself and see what you want to see. After all, it is you who will live there and see these pieces every day.
Some reflections that you can dwell on are: do you love art? books? fabrics? If yes to one of these, then find bits and pieces that have them and decorate your home with it.
2. Go bigger and bolder.
Sometimes, when we think outside the box, we discover things that we like. The same is true when decorating our homes.
Pushing yourself to look for bigger and bolder pieces often help you discover new things that you find attractive. It helps you see beyond what you normally would look and prefer.
To do this, you can look at magazines, styling books and even go window shopping at vintage shops and stores. Some of these places can give you brilliant ideas and help you find new stuff too.
3. Decorate your home with stuff you want to keep.
If you are redecorating or maybe moving from one home to another, then you can decorate around it.
You can make it as a base for your home design. It can be anything like a couch, a chair, a table, a family heirloom.
4. Focus on key pieces.
Look around and find a key piece in your home. Find a single piece or two that pops out or awaken some emotion when you look at it.
By using some key pieces on your unique home decor, you can create a one-of-a-kind and memorable home.
5. Don't be afraid to DIY.
If you find that your preferred home decor is not available both online and in the malls near you, then how about try to DIY it?
We find that most of the unique pieces we see are often made by homeowners themselves.
By doing so, you have enough control over how you want them to look and feel like, especially when the time to install arrives.
Quirky Home Decor Ideas for your Home
So… now you are ready to get inspired…
We are here to help and thought of sharing with you some of our great finds of quirky home decor for the different areas in your home.
Quirky Home Decor Ideas for the Living Room
For your living room, here are some unique ideas you might want to look into.
Poznan Apartment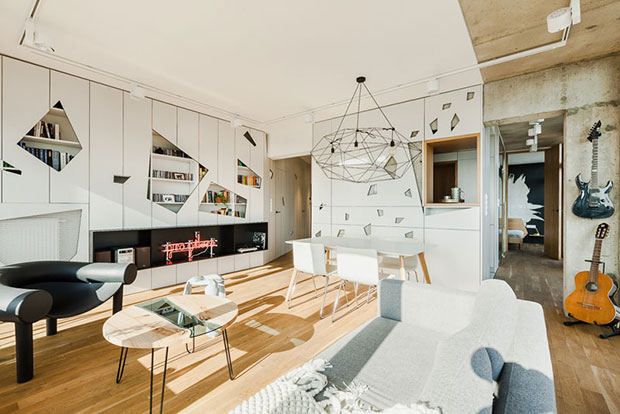 Mili Mlodzi Ludzie
The apartment boasts of amazing unique home designs including the geometric cut-outs in the wall. Its chandelier adds a unique touch to the room and further enhance the geometric design of the room.
2. Downtown Traditional High Rise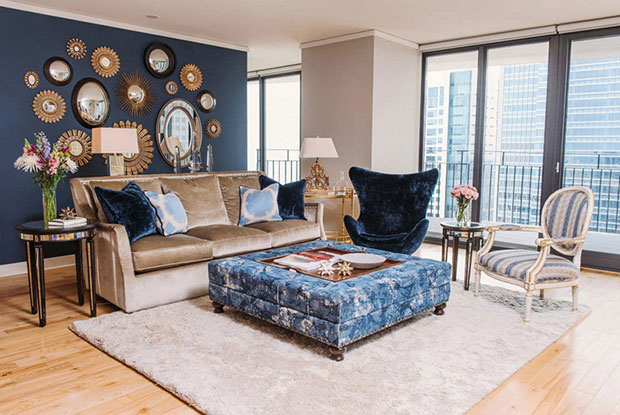 SuzAnn Kletzien Design
The room's sunburst mirror in the living room is undeniably the quirky home decor that we are looking for. It makes the room look bright and sunny.
Victorian House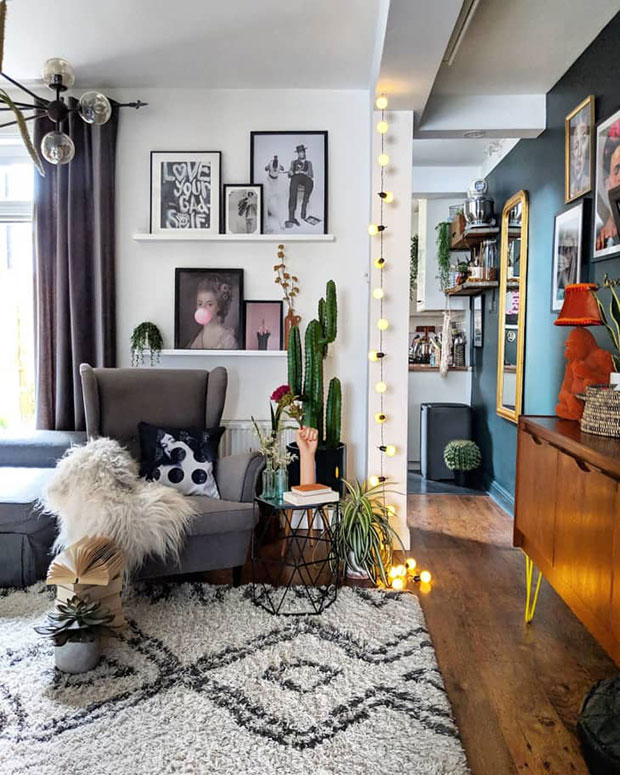 Agi Dmochowska
This home in the UK has lots of fun and quirky home decors that will excite you. Their living room, in particular, has is very eye-catching with accessories such as a cactus and bulbs hanging on one side.
Four-Bed Victorian Terrace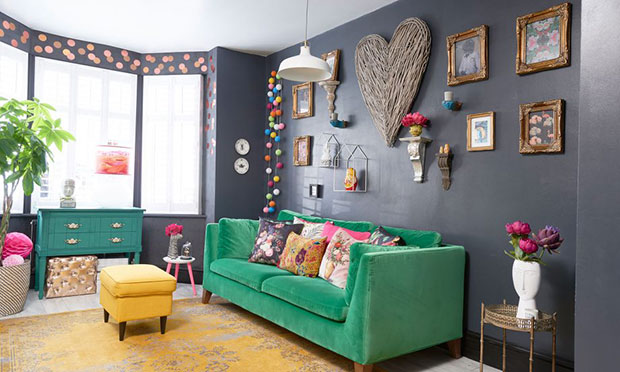 Olly Gordon
Here is another unique home in the UK with quirky home decor. The homeowners used dark-grey paint and used vibrant art and accessories.
Pop-Art Rental in Sheffield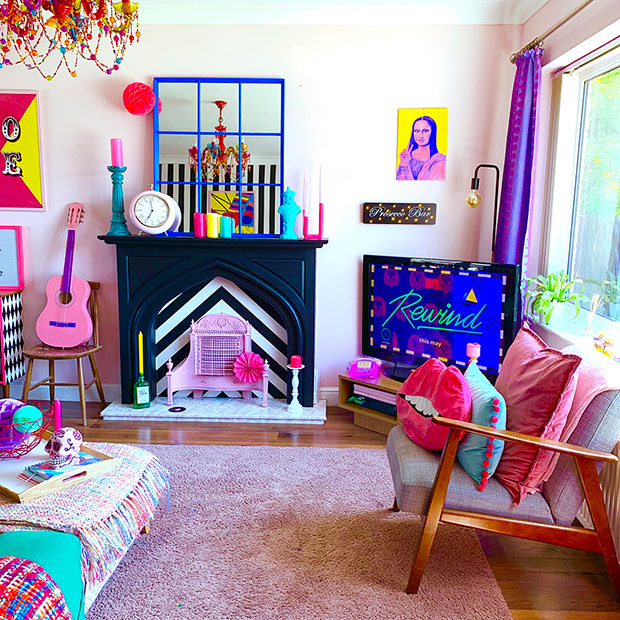 Rachael @rachaelhavenhanddesign
If you like colorful and vibrant rooms, this gorgeous home in Sheffield is an amazing example. The owner has decorated her home (especially the living room) in pink with other bright accents like yellow and purple.
Colorful Chicago Home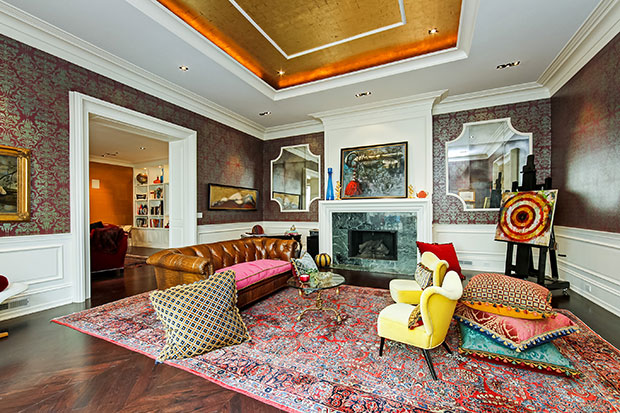 Marty Konopacki
This living room in a Chicago home boasts of comfortable and colorful pillows that somehow blends and emphasize the patterned walls and carpet.
Laurel Canyon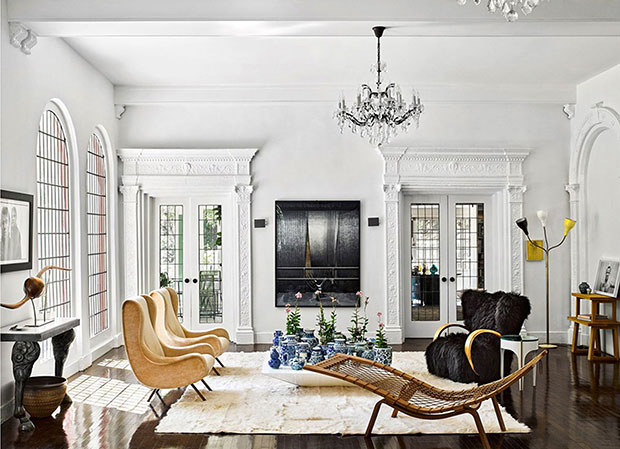 Romanek Design Studio
This elegant living room seems pretty normal at a glance. But if you look at each of the pieces, the designer has picked unique furniture to be its focal points, including the lazy chair, the side table and the standing lamp.
The Flat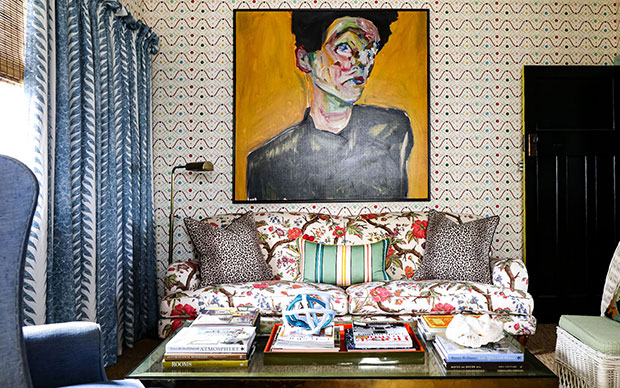 Anna Spiro Design
The Flat by Anna Sprio Design showcases a living room of patterns and colors. The room looks equally comfortable and cozy.
The Cabin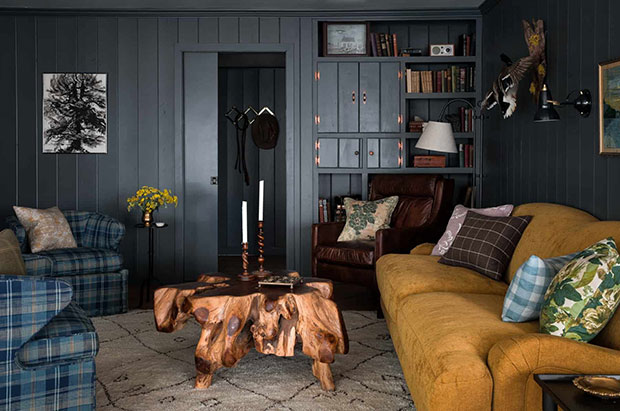 Heidi Caillier Design
This cabin's living room is as homey as it sounds. The room is painted in dark colors and decorated with unique home decors including a coffee table made of solid wood and eye-catching wall decors.
Under the Tree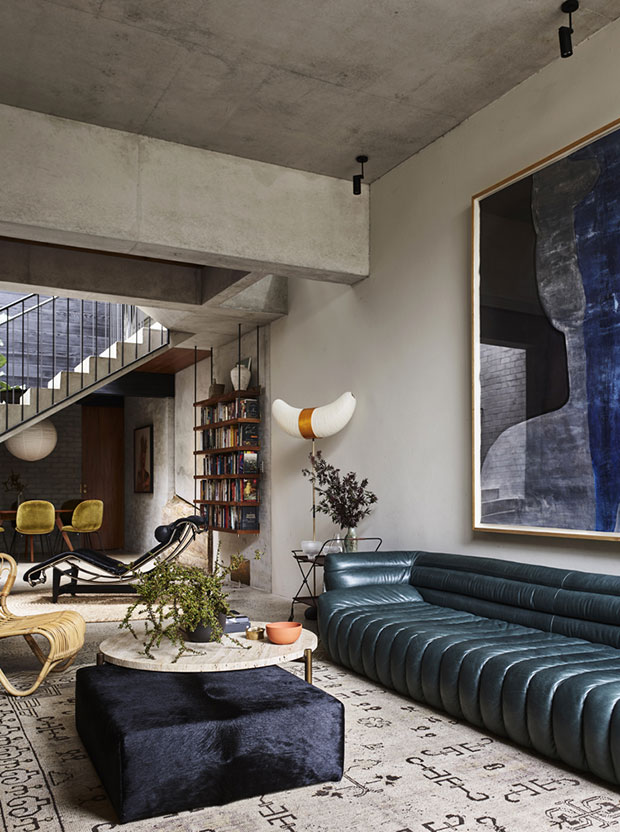 Arent&Pyke
This beautiful home in Annandale features a uniquely decorated living room that combines leather, fabric and wood in its design. The colors are muted with touches of gold.
Colorful Living Room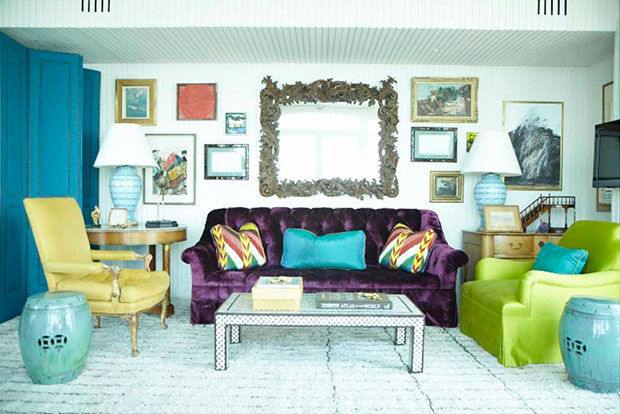 Redd Kaihoi
The living room in this house features bright-colored furniture with a nice plain white wall. The designer used multi-size and colored frames to splash the wall with more color.
Unique Decor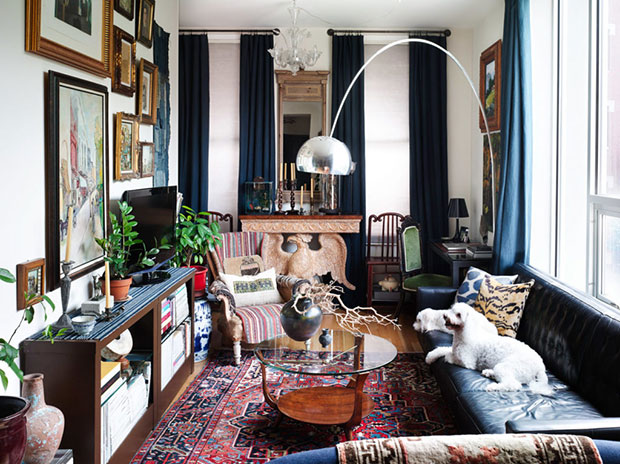 Annie Schlechter
This living room is enough to overwhelm the senses in a good way. The patters on the floor and the images on the wall will make you want to stay for a bit and enjoy it!
Balderbrae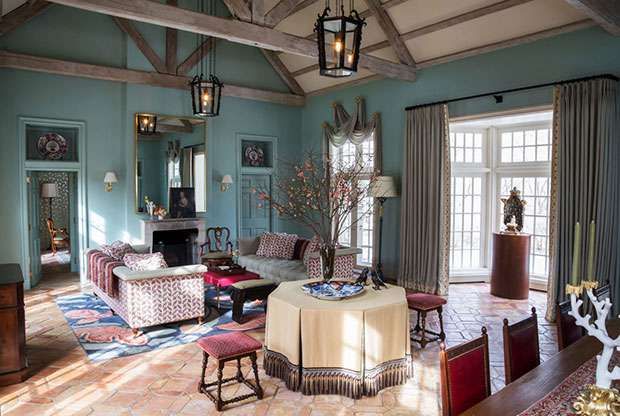 Jayne Design Studio New York
This country house in Upstate New York speaks of class and history. The designer has perfectly incorporated amazing features in the room.
Quirky Home Decor Ideas for the Kitchen and Dining Room
For your dining room and kitchen, check out these unique ideas.
Oversized Plant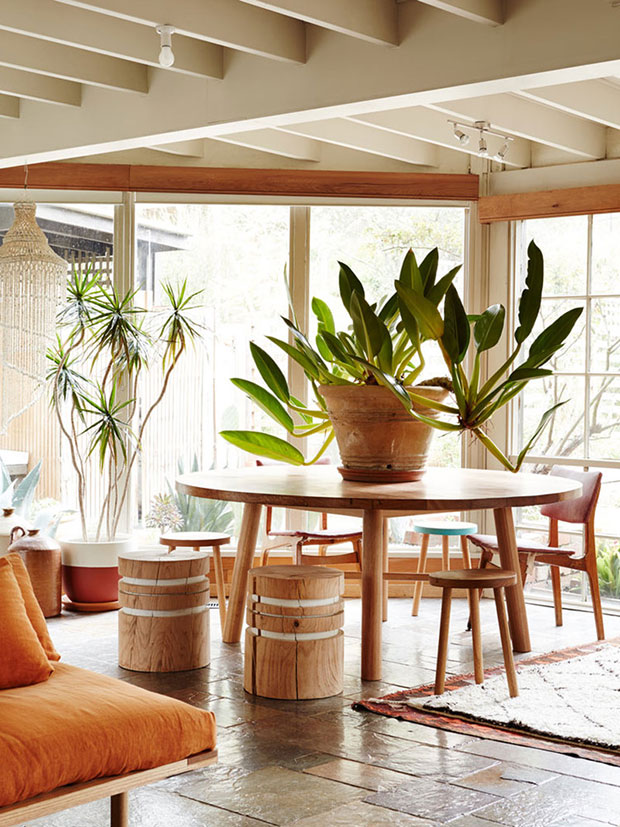 Pop and Scott
This quirky home decor of an oversized potted plant takes the spotlight from everything else in this dining room. The designer used the subtle and homey color of brown to further emphasize this.
Farmhouse Dining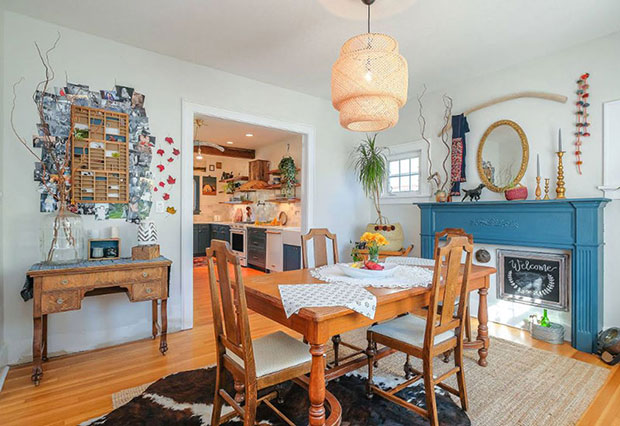 Emilia Decor
This gorgeous and unique farmhouse dining room combines wood elements as well as unique and quirky home decor to the next level.
Jungalow Dining Room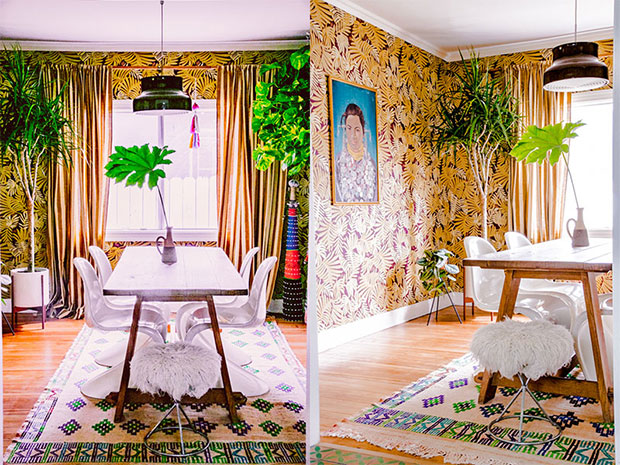 The Jungalow
If you love bright rooms, this quirky dining room will make you fall in love! The designer has used a bright and yellow wallpaper and then made a tropical vibe with the furniture and decors.
Old River Farm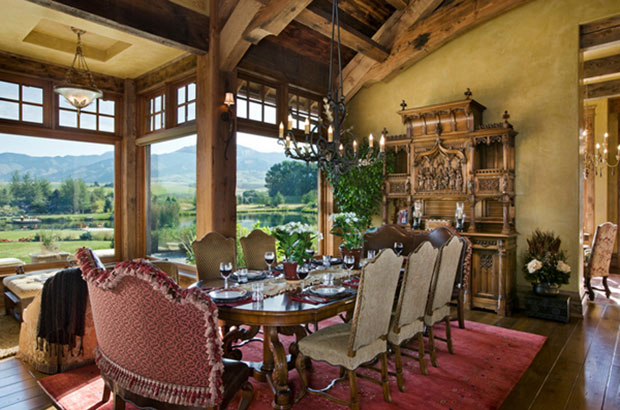 CREDIT
This gorgeous and unique dining room combines the wooden elements and classy design.
Chicago Loft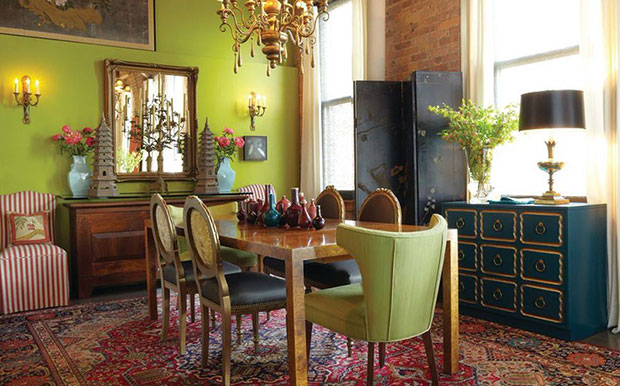 CREDIT
This loft in Chicago uses bright colors to liven up the room. The design is a combination of traditional and bohemian style.
Gold Coast Condo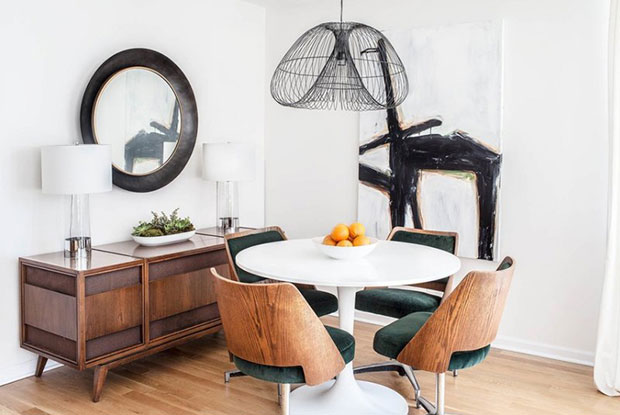 Marcel Page Photography
The quirky home decors of this dining room are so well combined that the overall effect is quite modern and minimalist.
Unique Dining Room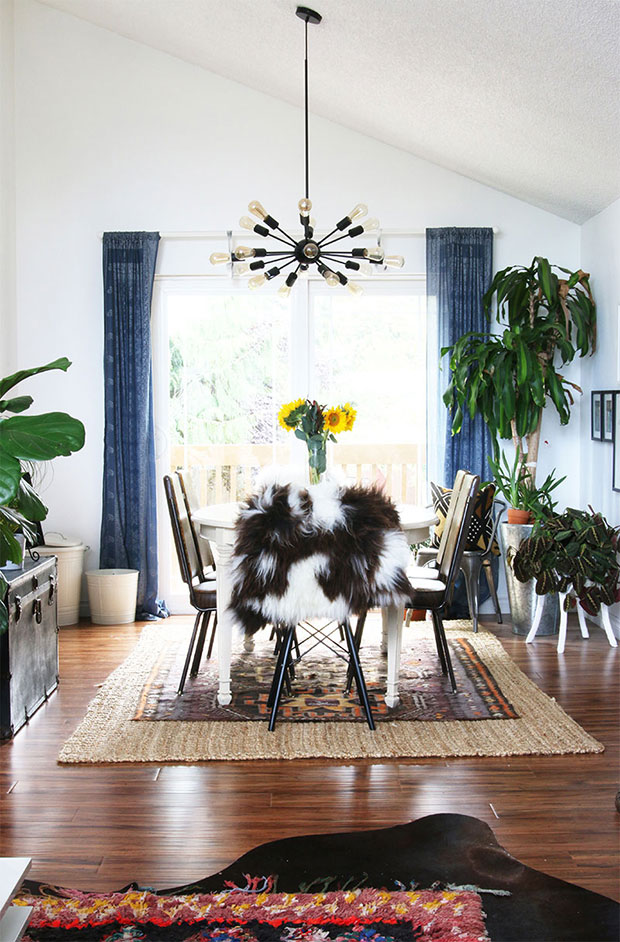 D + K
This beautiful dining room has used patterns and a healthy dose of potted plants around the room. That comfy fur cloth looks extremely great too!
Homely Kitchen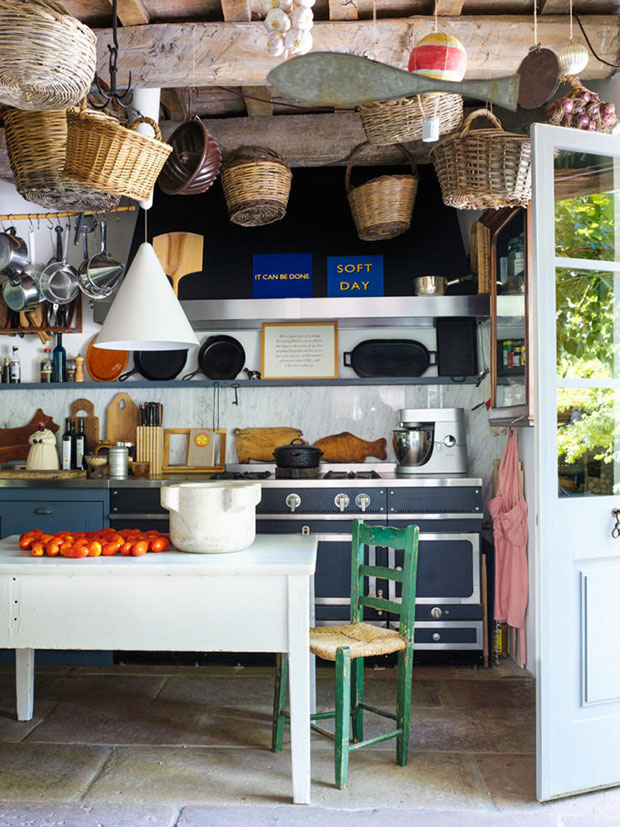 Annie Schlechter
This kitchen design takes us back to the old days of a bustling and homey kitchen of our grandparents and elderly. The design reflects a homey country kitchen with woven baskets on the ceiling.
Nichol's Home


Corynne Pless Designs
This kitchen has a traditional design that is emphasized bu the wooden cabinets and the wooden stool. What is truly eye-catching is the ceiling decor of pots and pans.
Madrid Apartment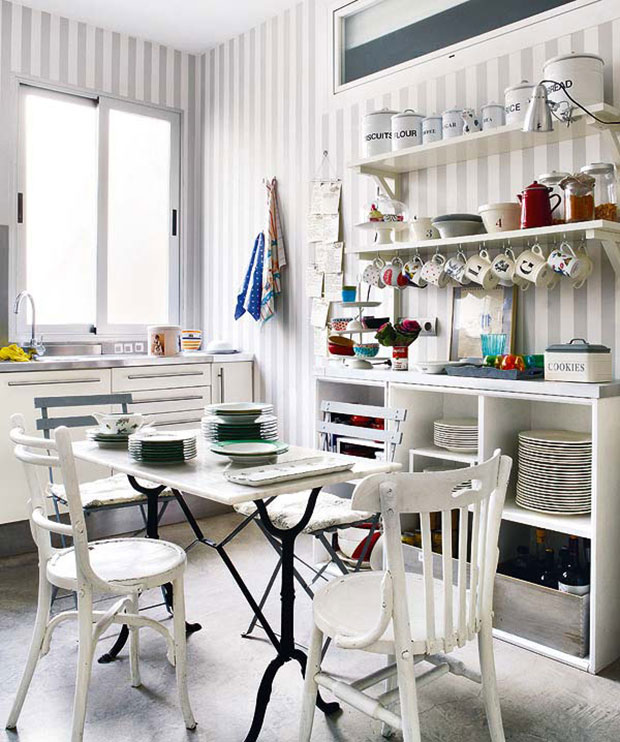 The Decorista
The unique combination of the strip walls and the unique array of wood and steel furniture of this kitchen makes it really comfortable.
White and Green Kitchen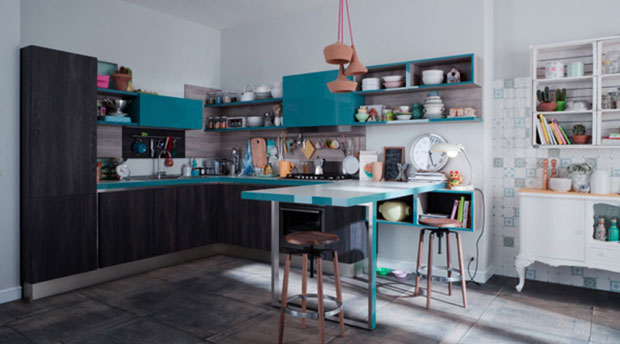 Veneta Cucine
The kitchen's blue island adds a unique touch to the ambience of the room. The designer has combined brown, white and blue-green colors to make it a comfortable place to cook and eat.
Cool Sink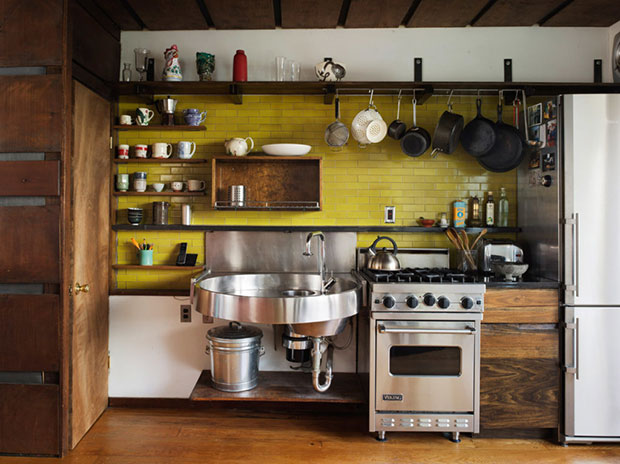 Annie Schlechter
This kitchen sink is so unique that it literally takes the spotlight from everything else. The designer has opted to brighten up the wall with yellow bricks and industrial theme design.
Quirky Home Decor Ideas for the Bathroom
For your bathroom, you might want to check these quirky home decors.
Mosaic Tile Bath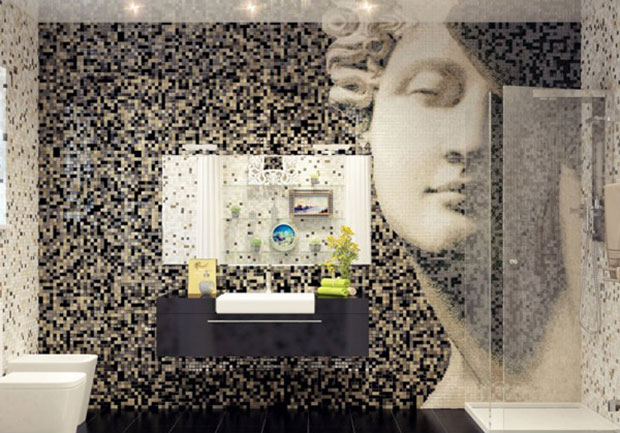 creativehomeidea.com
This bathroom is not the usual plain wall-tile or painted bathroom we usually see. The designer used mosaic tiles to add unique home decor to this part of the home.
Alexander Julian Estate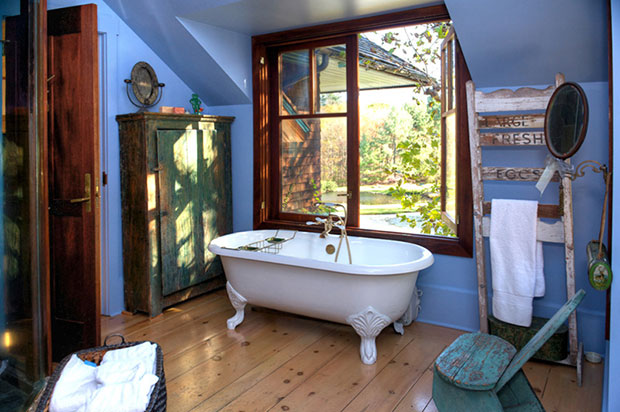 Alexander Julian Estate
This blue-walled bathroom is made even more unique with its mismatch of furniture and fixtures. Its rusty look makes it even more endearing!
Garden Bathroom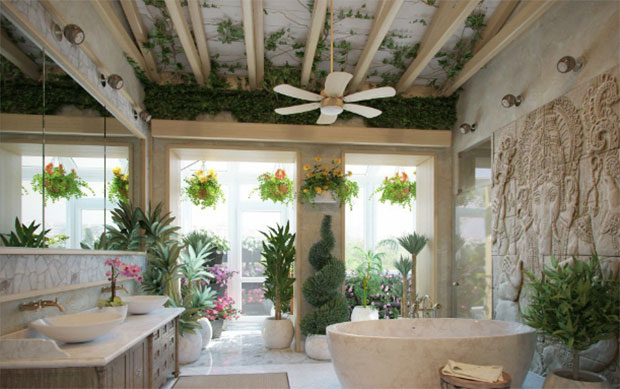 Vladimir Svetlov
Plant-lovers will love this garden-inspired bathroom. The designer even had used a sculpted tile on the wall.
Handpainted Wall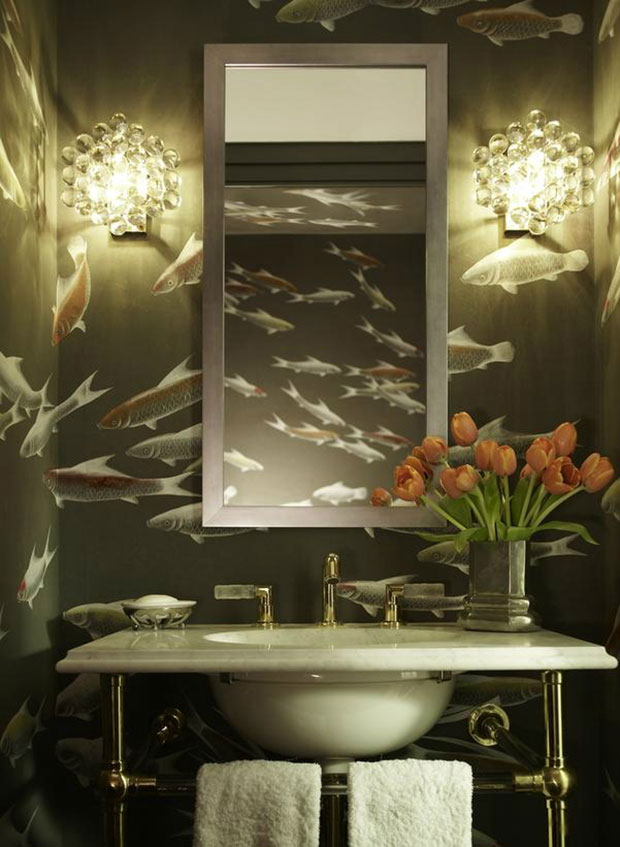 Katie Ridder
Fish lovers will be impressed by this bathroom with a handpainted wall.
Siam Facade Bathroom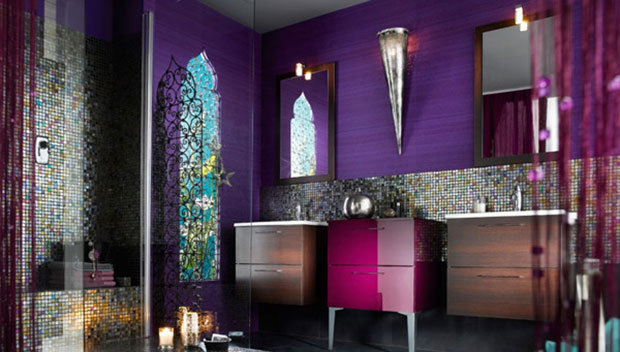 Delpha
This bathroom is a combination of uniqueness and elegance. The dark wall color of this room is further highlighted by the silver accessories added by the designer.
Wyoming Residence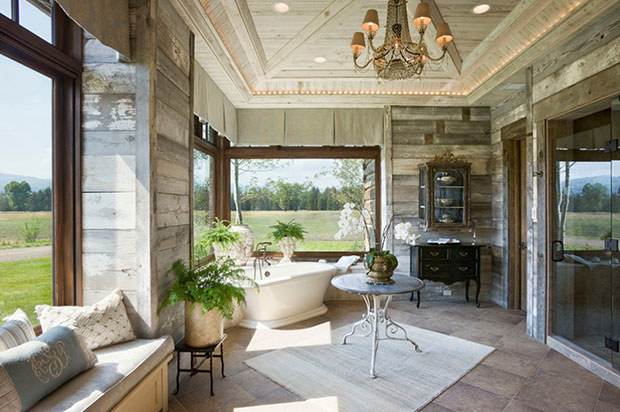 Locati Architects
The quirky home decors of this bathroom add a country yet elegant design to the room. It is a wood and steel combination is equally relaxing and will make you have a bath for hours!
Pink and Copper Bath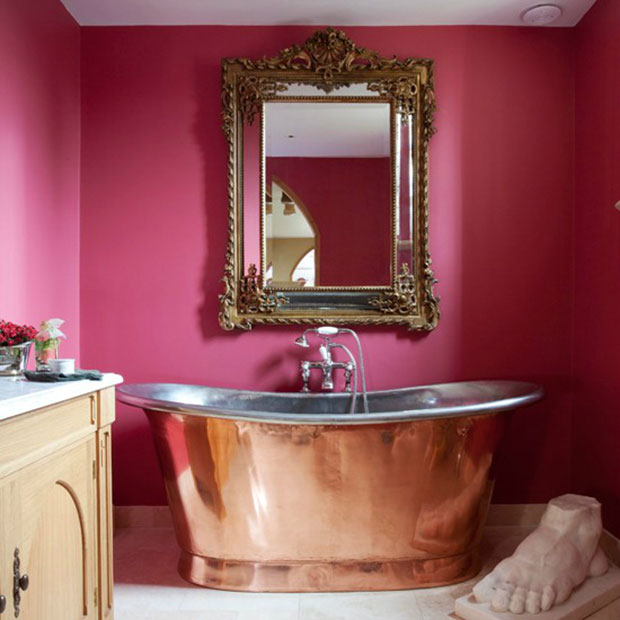 Robert Sanderson
This pink and copper bathroom will definitely turn heads. The designer used a charming free-standing bath and even added a feet sculpture on the floor.
Dome Bathroom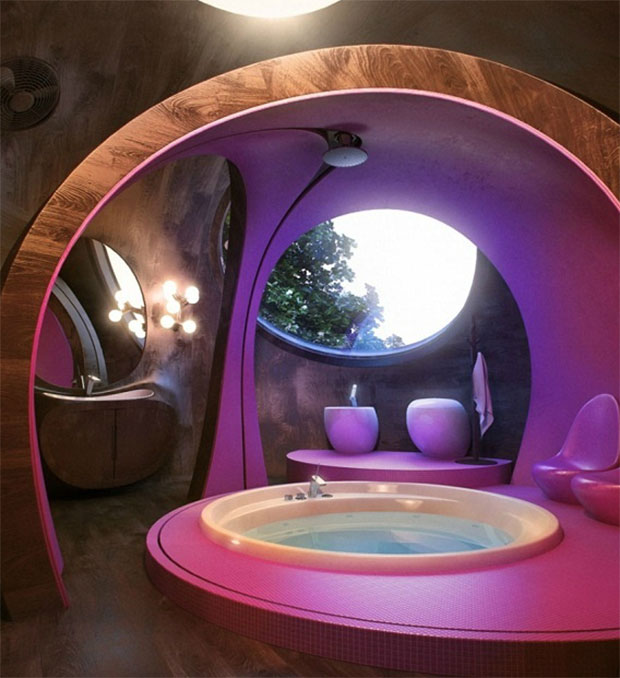 Sergey Makhno
This dome bathroom takes uniqueness into a whole new level. The designer has fully emphasized the rounded corners of the room.
Kent Quirky Home Decors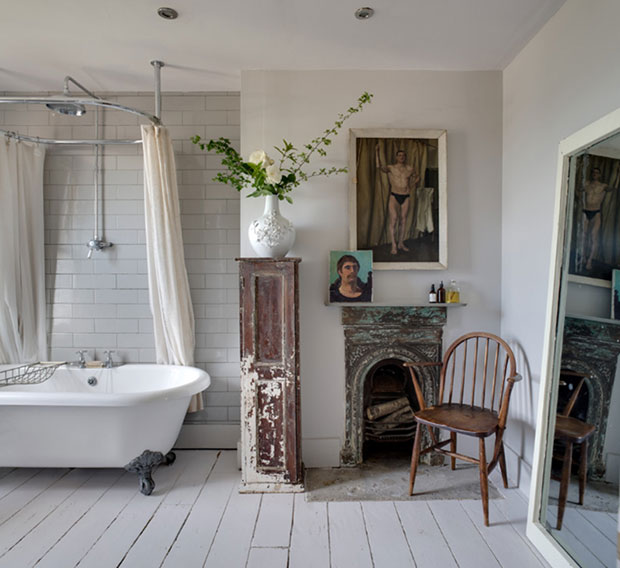 BH Photo
This shabby chic bathroom has unique and eclectic pieces of furniture that will definitely turn heads.
Strand Beach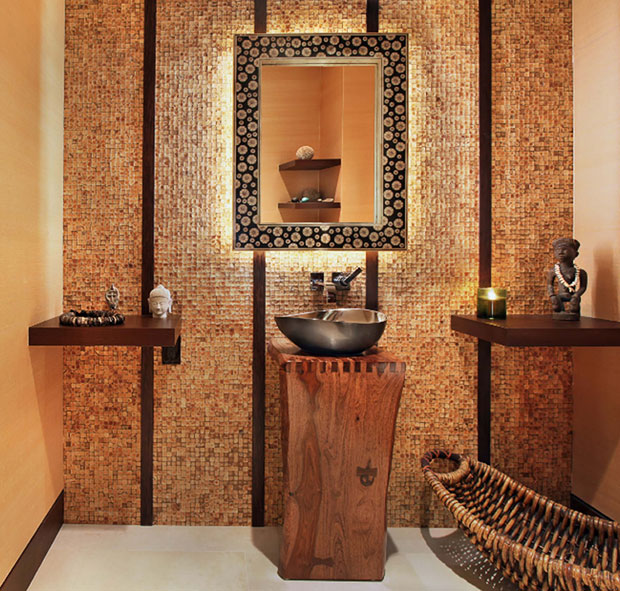 Jeri Koegel Photography
This unique bathroom is using various shades of brown in its decoration. The designer has used wooden shelves and mosaic-tiled walls to add a more striking effect to the design.
Impressive Washroom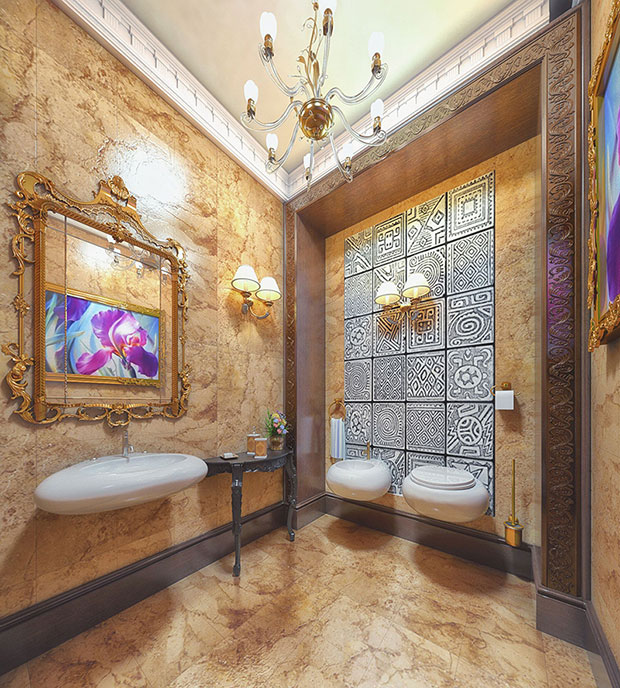 Inato Sema
This unique bathroom is definitely one of a kind and will make you want to stay in for hours! The designer has used black and white printed tiles.
Horned-Mirror Bath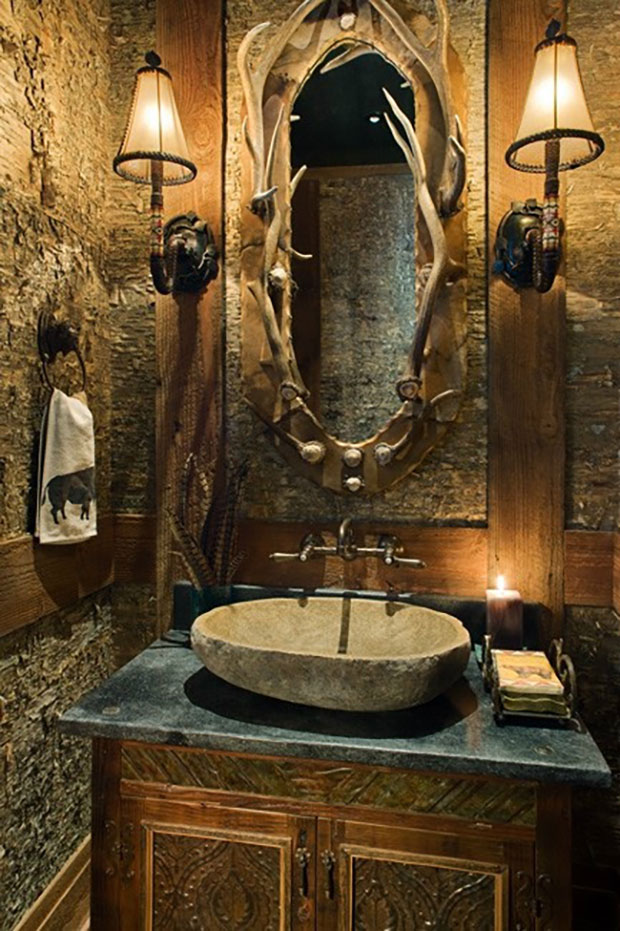 Decoholic
One look at this bathroom and your imagination will turn wild. Literally! The designer has further emphasized the earthy ambience of the room with horns and printed animal towel.
Quirky Home Decor Ideas for the Bedroom
For your bedroom, here are some inspiring home decors to look into.
Orange Wall Bedroom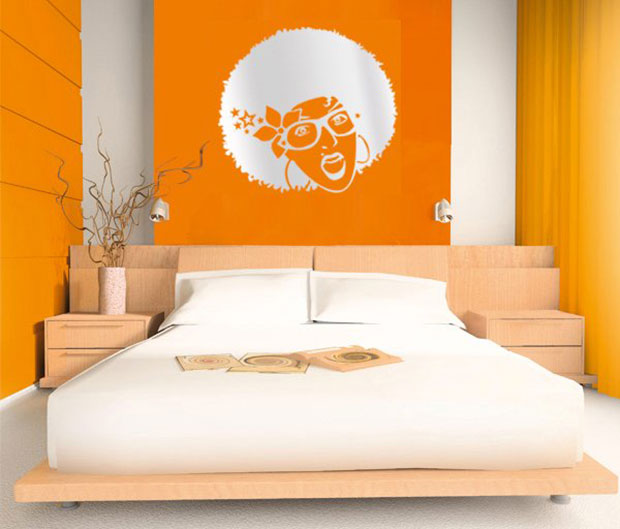 Dulux
This bright and lovely orange decal adds a funky touch to the room. The designer also added a unique looking decor at the side table for the added accessory.
Bag Wall Bedroom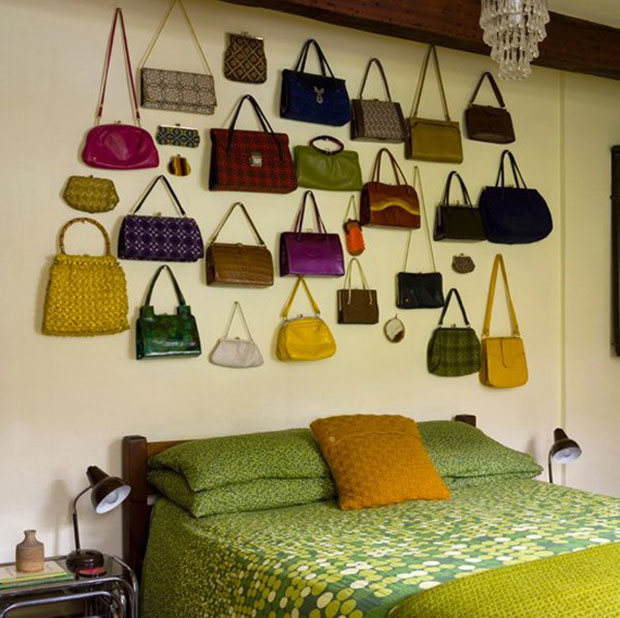 Ikea
No more space for your bag collection? This room has used its wall as storage and decorative feature for the bags.
Mountain Masterpiece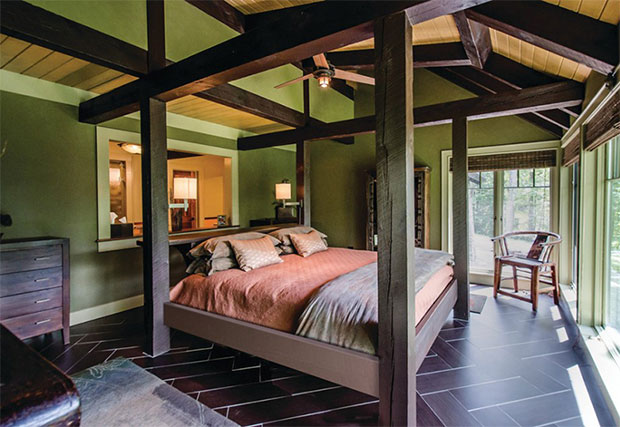 Masterwork Home
This bedroom is made unique by the eclectic design of the bed. The designer has made the bed an extension of the ceiling via beams.
Spencer and Alex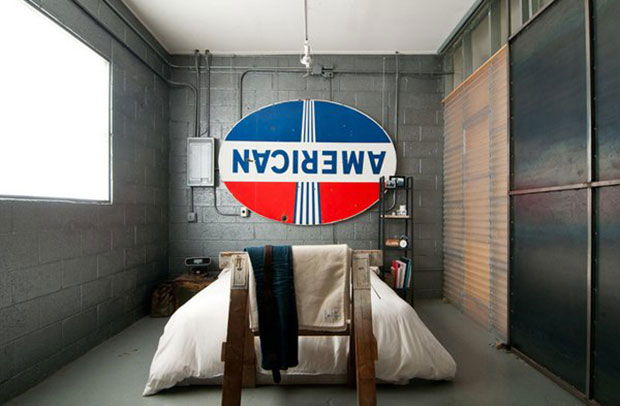 Lucy Call
Industrial design lovers will love this quirky home decor. The designer has made the electrical wirings visible and colored the walls with dark shades of grey and black.
Dornbracht Bedroom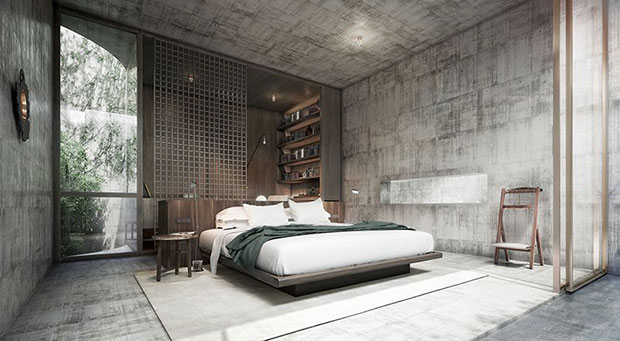 Federico Salmaso
This bedroom has a unique ambience that makes you think of medieval times. The design has a unique combination of grey and brown.
Contrate Room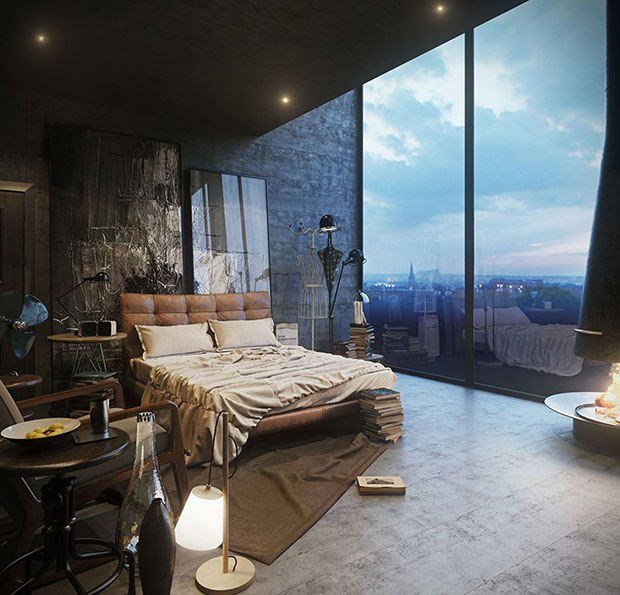 Harun Kaymaz
This room inspires creativity and dramatic scenes in a movie. The design has a unique rough look to it that will make you look twice.
Pink Room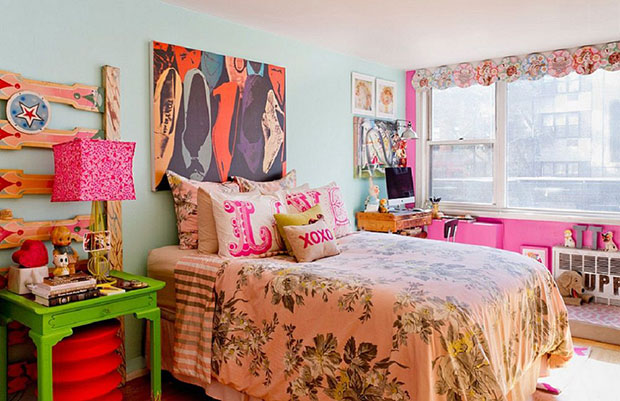 Decoist
This room uses lots of patterns and colors that make it a pretty bright room.
Crown Bed Frame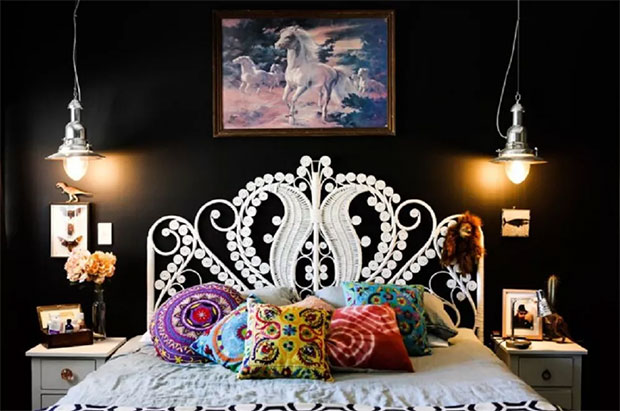 Houzz
The bedframe of this bed is equally as unique as the small and quirky home decors that the designer has added to this bedroom.
Beaver Lake Cottage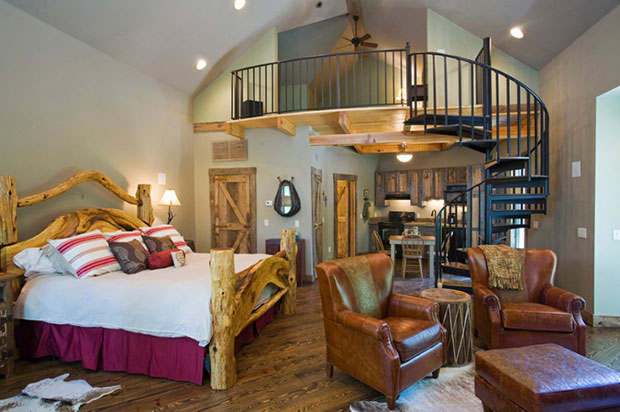 Parker & Associates Architects
The bedroom of this house looks very unique with the wood bed frame. The design is further emphasized with the earthy color of the furniture and fixtures.
Rustic Attic Bedroom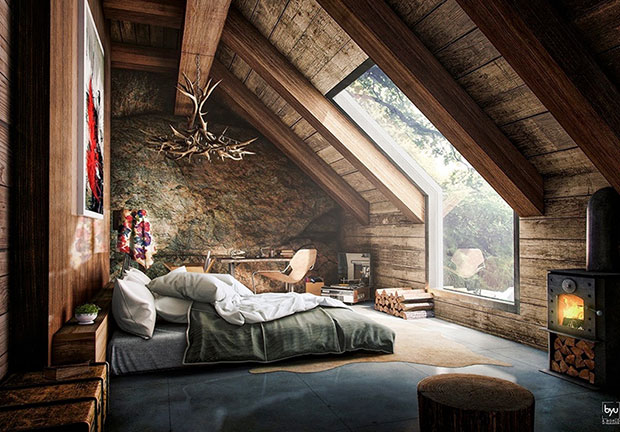 CREDIT
One look at this bedroom will take you to scenes from medieval movies and tv shows. What is particularly unique is its chandelier quirky home decor of that of antlers.
Good Shepherd Room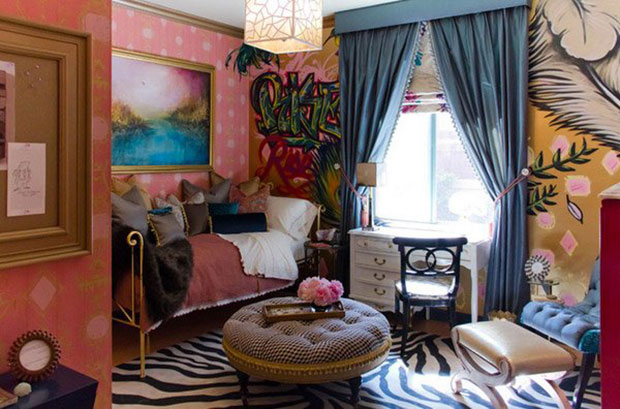 Erika Bierman
This bedroom's patterns and bright colors will surely overwhelm you at first. But with the
Orange County Bedroom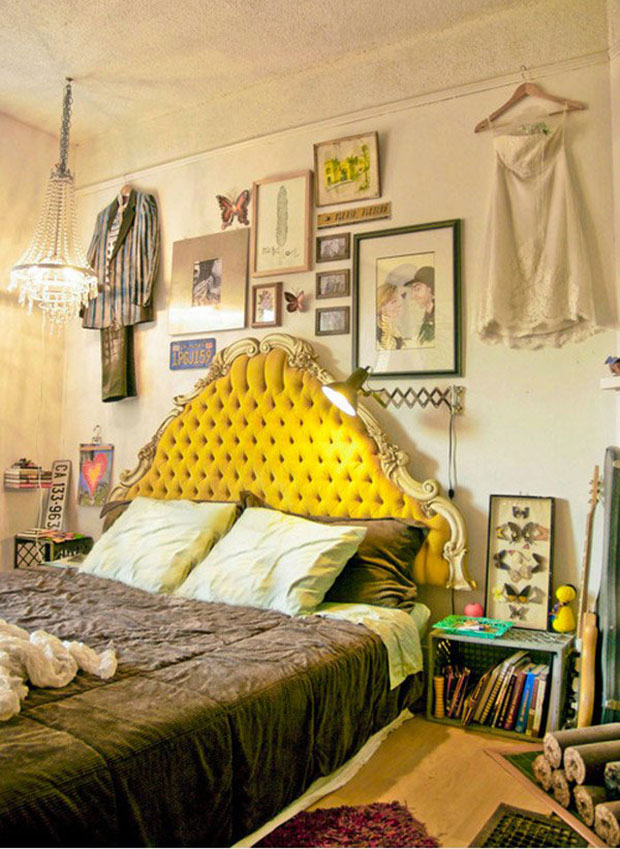 James Glover
The wide array of decoration this room has will make you look twice. It unique and quirky home decors is a blend of vintage and bohemian style.
Oklahoma City Room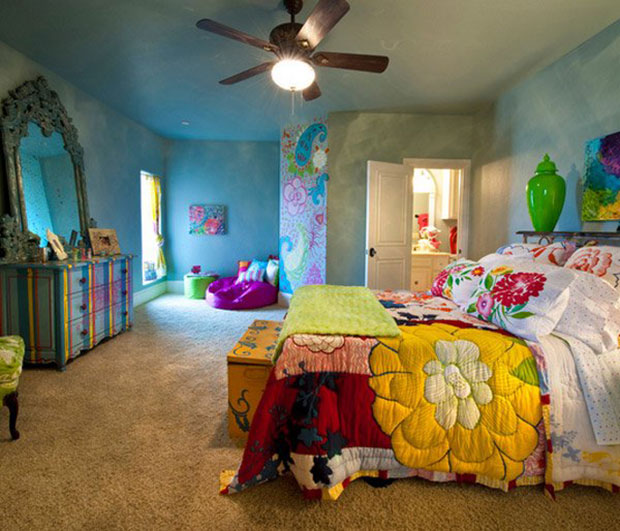 Hoge Architectural Development
This whimsical bedroom has a unique variety of quirky home decors that is reminiscent of a Moroccan vibe and the beach. The room has flower patterns that make the room colorful and vibrant.
With the many quirky home decor ideas out there, we are sure you have picked one or two that you want.
When decorating your home, remember that it is about you and what you want matters. Make your home as comfortable as you can possibly imagine so that living there is pleasurable.
Like This Post? Pin It!