50 Modern Farmhouse Decors You Can Embrace
|
Every home design style, no matter the theme, isn't complete without the right decor. Obviously, your décor needs to match the home's design. If anything, your home decor brings life into your home, putting the "living" in the living space.
Your decor choices can be practical with specific purposes to make living comfortable or to ease things around at home. But it can also be just for aesthetic purposes. Modern farmhouse decor offers both practicality and aesthetic.
What is modern farmhouse decorating style?
Modern farmhouse decor is the perfect blend of rustic and modern or contemporary elements. Rustic farmhouse décor brings warmth and coziness that juxtaposes with the sleek and stylish lines of modern and contemporary style. You have the practicality and functionality of modern style with the country aesthetic of farmhouse style. Essentially, the modern farmhouse style puts a modern/contemporary spin on the classic country look.
Is modern farmhouse still in style 2023?
Modern farmhouse style is still fairly popular in 2023. The farmhouse style in itself has been popular for a few years now due to its versatility. The warmth of natural wood tones is classic and timeless. Farmhouse decor is simple and inviting and can fit in various creative ways, regardless of the main style.
And while that's true enough, modern farmhouse decor is evolving with a more refined look. It is no longer simply just the classic modern style themes with farmhouse aesthetics. The modern farmhouse decor that you will see in the years to come borrow elements and aspects of other styles such as coastal and Scandinavian style. This guarantees that modern farmhouses will remain in style.
How do you decorate a modern farmhouse look?
There are many ways that you could create a modern farmhouse look in your home, starting with the right modern farmhouse decor. But there are certain basic things you can do and remember as a guide in decorating a modern farmhouse.
1. Neutral color palette
First of all, a modern farmhouse is known for its neutral color palette. It's bright, light, and airy with plenty of earthy or nature-inspired colors, tones, and textures. Every now and then you will want to include a pop of bold color. You can incorporate that pop of color as an accent feature like an accent wall in your bedroom or throw pillows in your living room sofa.
2. Organic materials
Now, here is where you can really see the blend concept of a modern farmhouse. You mix organic materials such as wood with metal finishes, polished stones, or exposed bricks with woven fabrics. This can be easily done in the kitchen. Say, you have wooden oak cabinetry matched with brass fixtures or polished marble stone countertops.
3. Minimalism
Where a classic farmhouse style can be enabling so many decorative pieces, modern farmhouse decor is about keeping it minimal. Get rid of clutter, unnecessary pieces, and features that serve no practical function need to go!
4. Vintage features
The farmhouse appeal is all about the vintage decor. Search through flea markets and vintage shops for decor or furniture pieces that you can refurbish and still use in your homes. Don't get too carried away with it though! You don't want your space to look rustic. At times, reclaimed wood can be used as shelves in your kitchen or as a coffee table in your living room.
5. Craftsmanship
Remember though that modern farmhouse decor needs to be practical and functional as well as beautiful and elegant. So, put attention on the quality of those vintage finds too so that you won't be wasting money, time, and resources.
6. Comfort
An important tenet of the modern farmhouse style is comfort. All your modern farmhouse decor choices should come together to bring warmth and a relaxing atmosphere. Remember that while your interior must look beautiful, clean, and refined, it also must feel homey.
Now, let's get into modern farmhouse decor that you can embrace at your own home!
Living Room
Your living room's modern farmhouse decor should primarily bring comfort. Clutter is highly discouraged in this particular space.
St. Helena I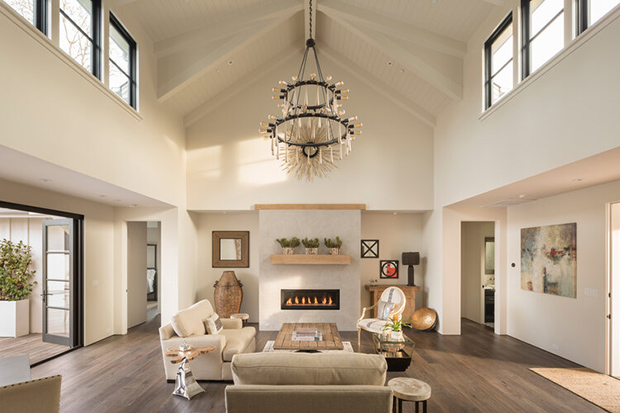 Joseph Farrell Architecture
With a neutral color palette being a pillar characteristic of the modern farmhouse style, your walls are in danger of looking plain and boring. So, put up some wall décor that will bring some life and personality into those walls. This home employs this piece of artwork to brighten up the biggest wall. On the fireplace side, they put up decorative mirrors.
Magnolia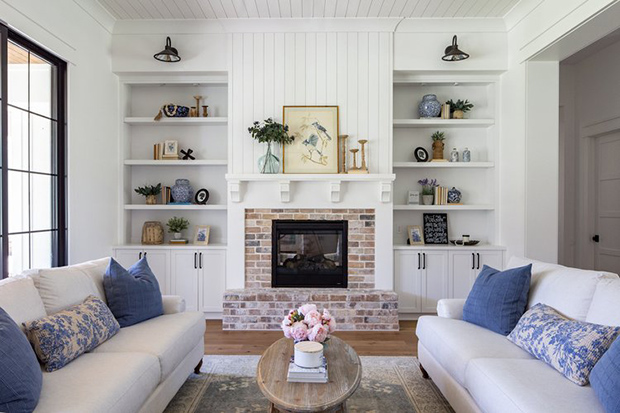 Leave those exposed bricks in your home and complement them with open shelves, and you get that modern farmhouse look down in your living room!
Holly Green Modern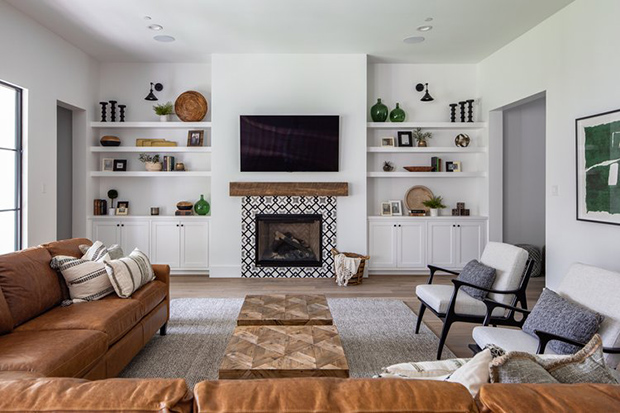 Moore House Interiors
The raw natural wood tone of the coffee tables is a nice contrast to the contemporary chairs. You can do a mix and match of such in your living room. Maybe a rustic chair with a modern coffee table?
Modern Farmhouse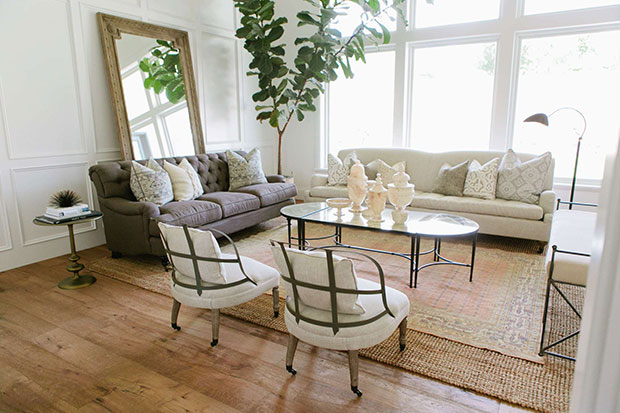 Natural wood tones are great and all to bring nature into your living room. But don't hesitate to bring some actual living parts of nature into your living room. Plants can also serve as great modern farmhouse decor. Plus, that vintage area rug looks great here.
Morgan Farmhouse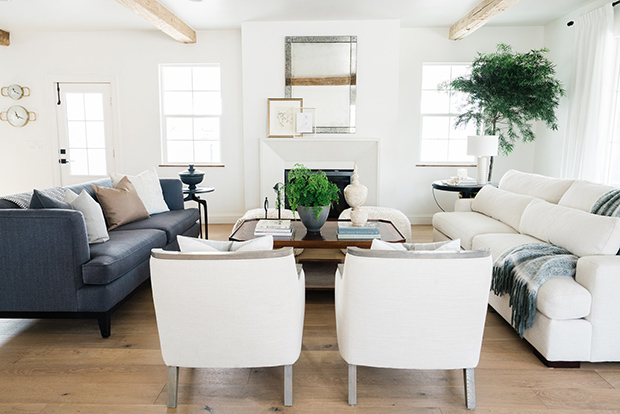 House of Jade Interiors
With this contemporary furniture, the exposed beams are a perfect contradiction of style. Not to mention that the decorative mirror above the fireplace add some life to the plain white walls.
Parade of Homes: Modern Farmhouse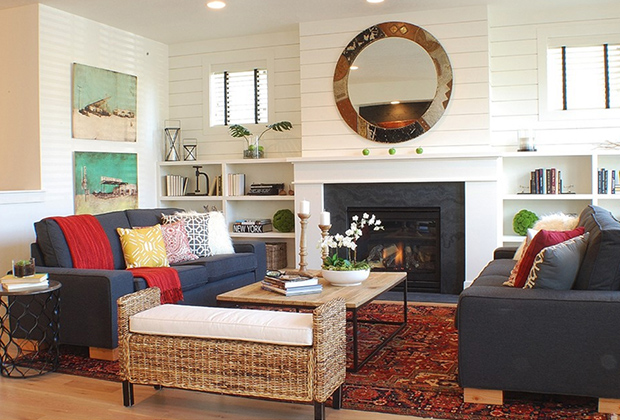 Judith Balis Interiors
For your modern farmhouse decor, get experimental with various textures. In this living room, there is some fluff with the accent pillows contrasting the roughness of the rattan ottoman.
Farmhouse Residence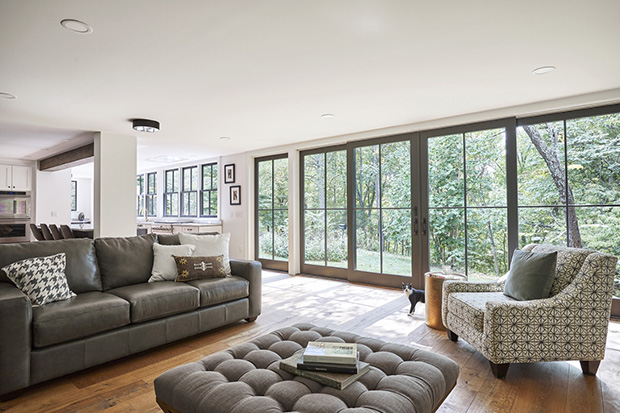 Square Inch Design & Architecture
The blanched wooden flooring juxtaposes the contemporary furniture in a way that this living room looks refined and elegant.
Modern Farmhouse in Oregon's Wine Country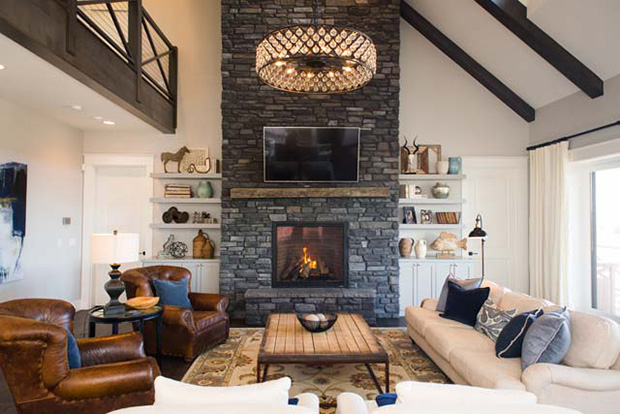 Winsome Construction
The reclaimed wooden coffee table is a great and easy way to incorporate a modern farmhouse into your living room.
Dormity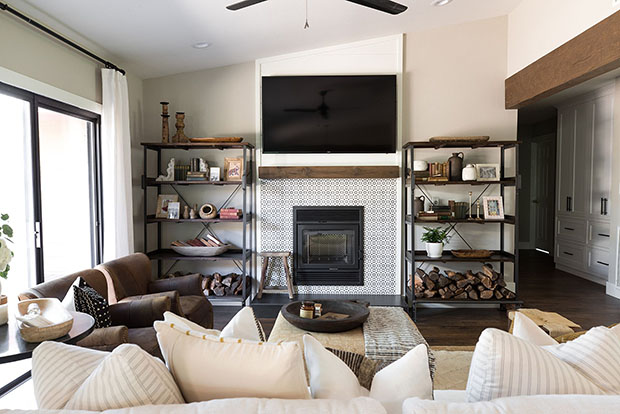 Design Shop Interiors
And if it isn't your coffee table, it could be your shelving unit. This home flaunts its incredible reclaimed shelving units. It is further emphasized by the antiquated decor on display.
Dry Creek Parade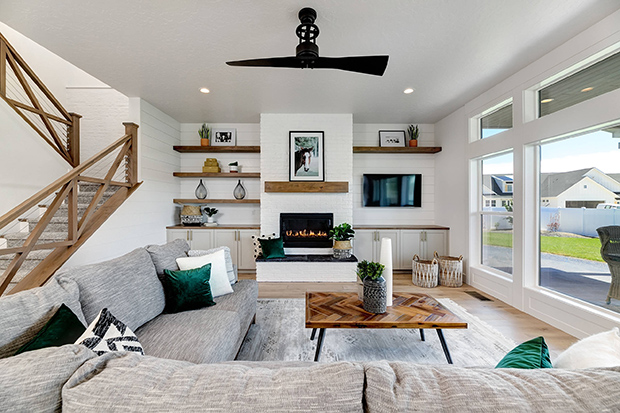 Solitude Homes
Perhaps you're already looking through the curtains that could fit your modern farmhouse living room. Well, stop right there! Modern farmhouse style encourages letting the light in by going curtainless, especially when you have an expansive window as in this home.
Kitchen
With the right modern farmhouse decor, you can create a charming modern farmhouse kitchen that will certainly inspire and get you in a good mood when cooking.
Modern Farmhouse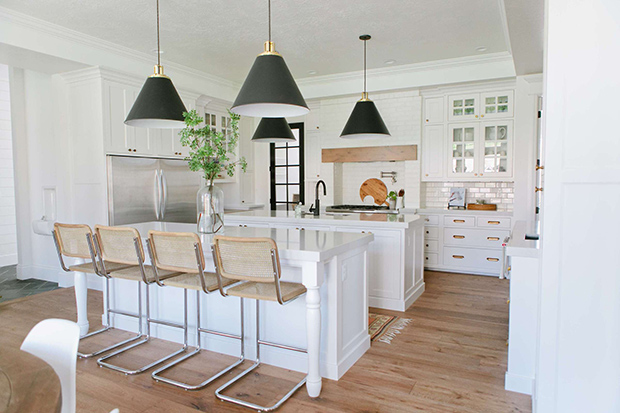 These contemporary pendant lightings are the perfect choice for this modern farmhouse kitchen. Despite the very farmhouse design, the lights don't look out of place.
Morgan Farmhouse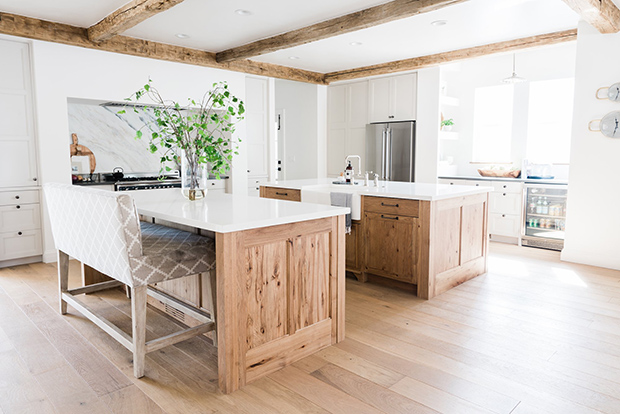 House of Jade Interiors
The marble countertops with the natural wood graining of these kitchen islands are an interesting pair together. But it definitely captures the essence of a modern farmhouse.
Alegria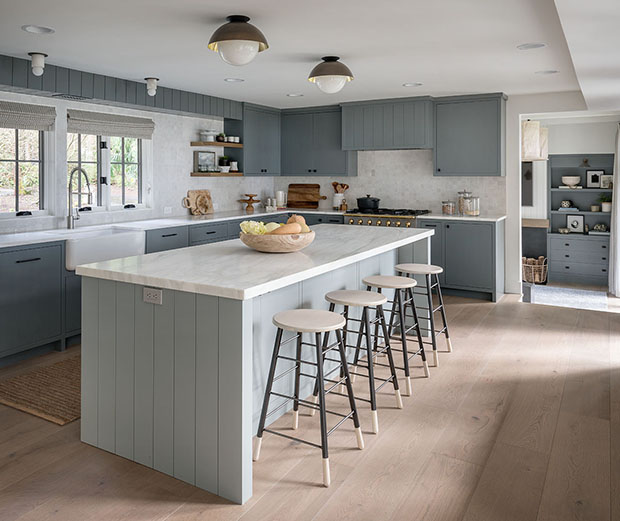 Dana Webber Design Group
Though neutral and earthy colors are encouraged in the modern farmhouse style, you can choose colors that deviate further from that in the color wheel. Though, in this home's kitchen they used a muted shade that nearly captures a coastal look.
Loan Oak Farmhouse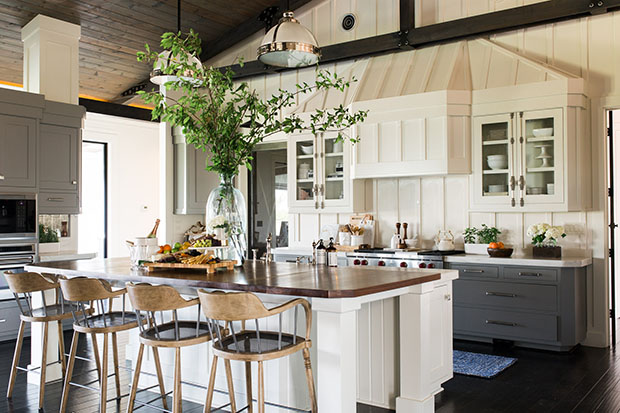 You can also bring some plants as decor in your kitchen. That will certainly further emphasize the homey feeling around your space. In addition, pick up some vintage crockery as they are the perfect modern farmhouse decor for kitchens.
Clipper Court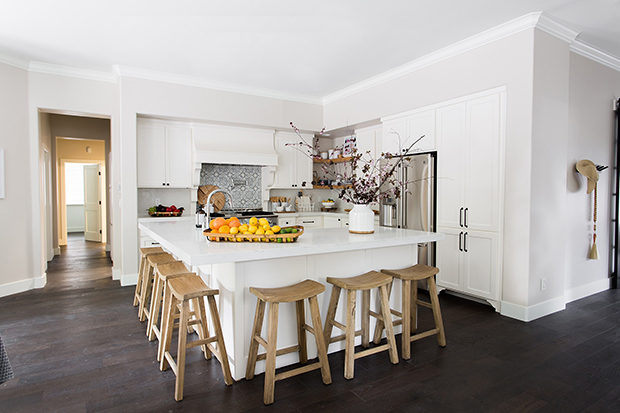 Design Shop Interiors
White cabinetry is a staple in modern farmhouse kitchens but you can spice things up with colorful backsplash tiles. Plus, the weathered look of those chairs is just enough rustic fit for modern farmhouse style.
Historic Farmhouse Reconstruction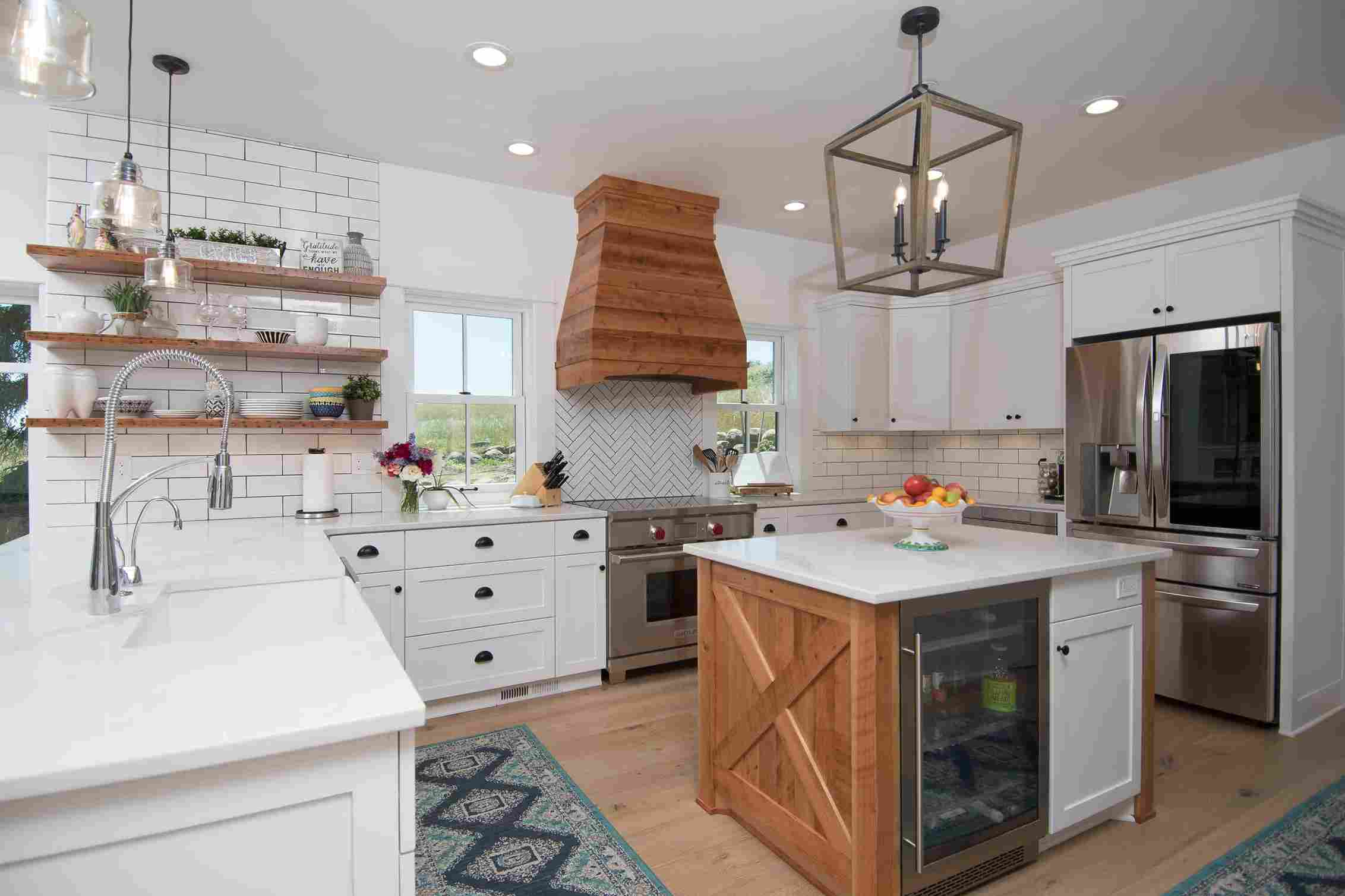 Kraft Custom Construction
And with all that neutral and earthy colors, those colorful rugs are great additions to bring some pops of color.
Houseboat Living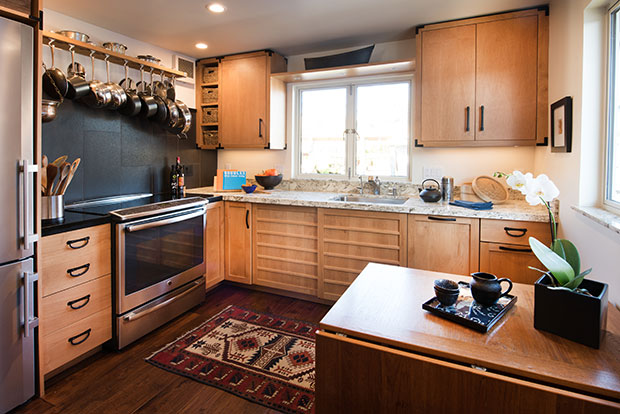 Sandra Bird Designs, Inc.
One of the features that modern farmhouse decor recommends is a ceiling rack for your pots and pans. And with that black backsplash, this particular area is looking like it was specifically made to have its own contemporary space.
Mashup Kitchen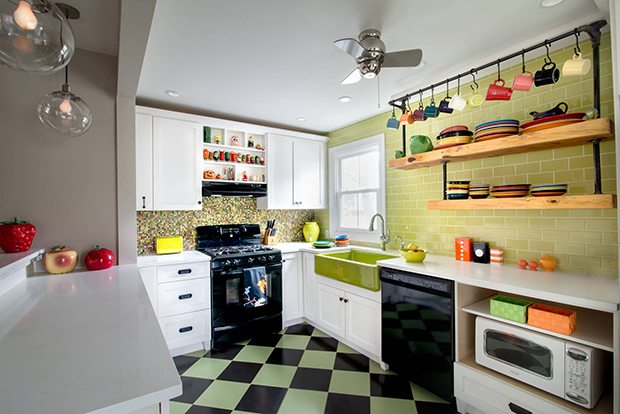 Hannah Dee Interiors
Modern farmhouse kitchens urge the use of retro appliances and this home's kitchen perfectly does that. Plus, the classic modern farmhouse white cabinetry is matched with colorful backsplash tiles.
Ultimate Farmhouse Kitchen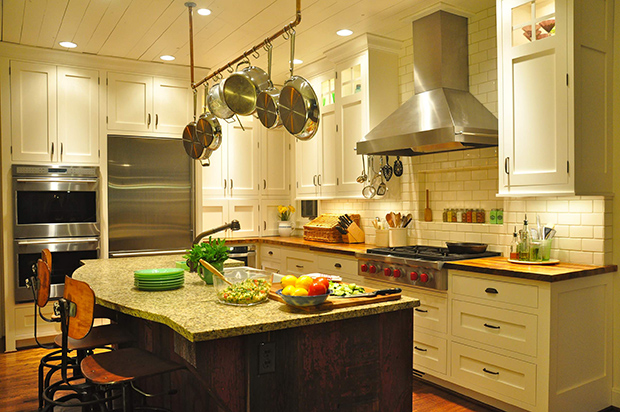 Artistic Kitchens
Shaker cabinets are a classic farmhouse kitchen feature. In this home, it is complemented by contemporary appliances.
Urban Farmhouse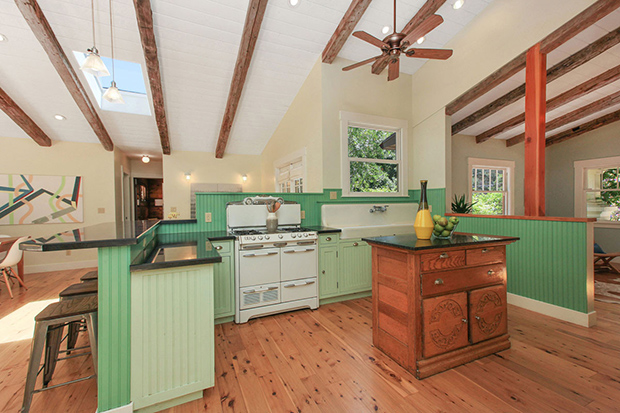 Visual Jill Inc.
Unlike the Alegria kitchen above, this kitchen doesn't play it safe by choosing muted colors. It lets this shade of green shine through, though not quite as bold as the retro-modern farmhouse Mashup Kitchen.
Dining Room
When you think about it, dining rooms don't really need much decor, unlike other rooms or spaces in the house. But that's what makes modern farmhouse decor perfect in dining rooms — they don't work to overwhelm visually.
Modern Farmhouse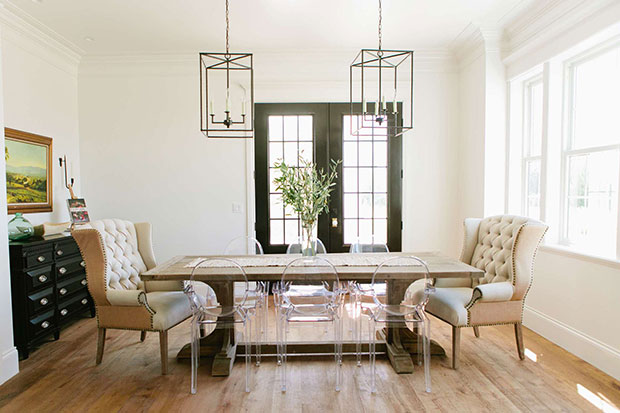 The first and easiest thing you can do to create a modern farmhouse dining room is to opt for a worn-looking dining table. Pairing it with transparent acrylic dining chairs is bold but certainly puts a modern retro charm to it.
Midway New Build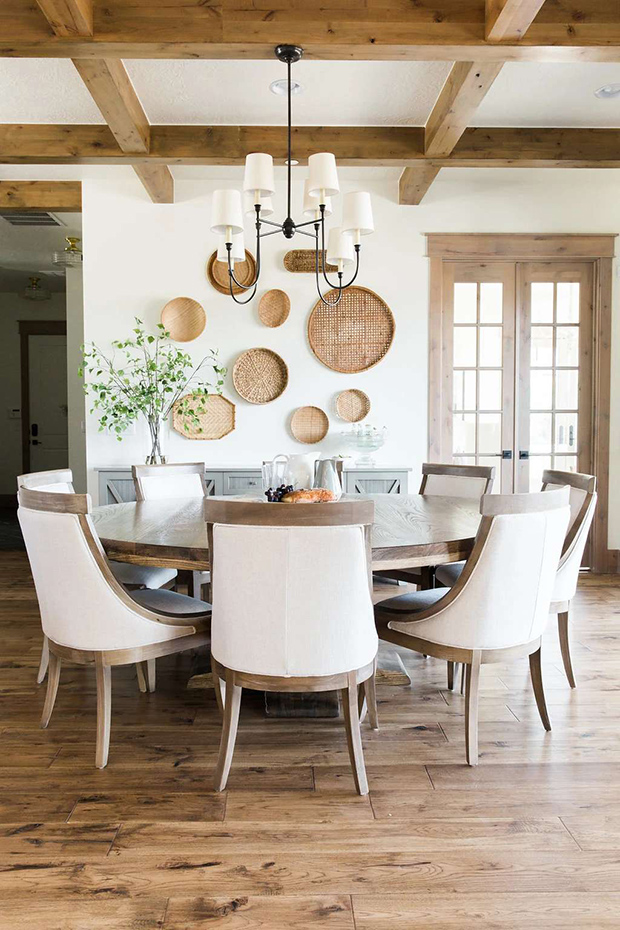 House of Jade Interiors
If there's a wall directly behind your dining table, try decorating it. This home opts for wicker items to bring personality to the wall.
Farmhouse Residence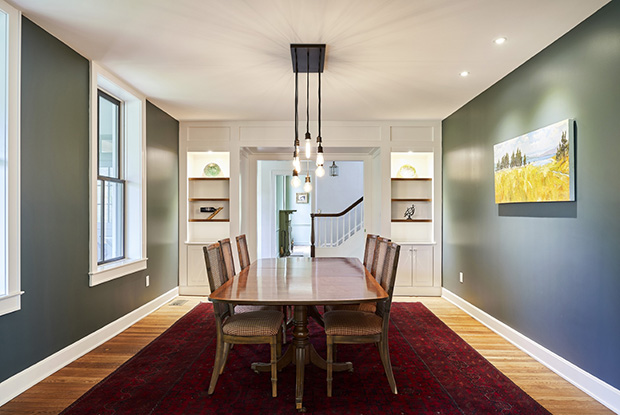 Square Inch Design & Architecture
The aged rustic chairs and this modern dining table perfectly blend with each other, perfectly embodying what a modern farmhouse is. It also needs to be pointed out the vivid red area rug and dark-green-toned walls.
Greenwich Modern Farmhouse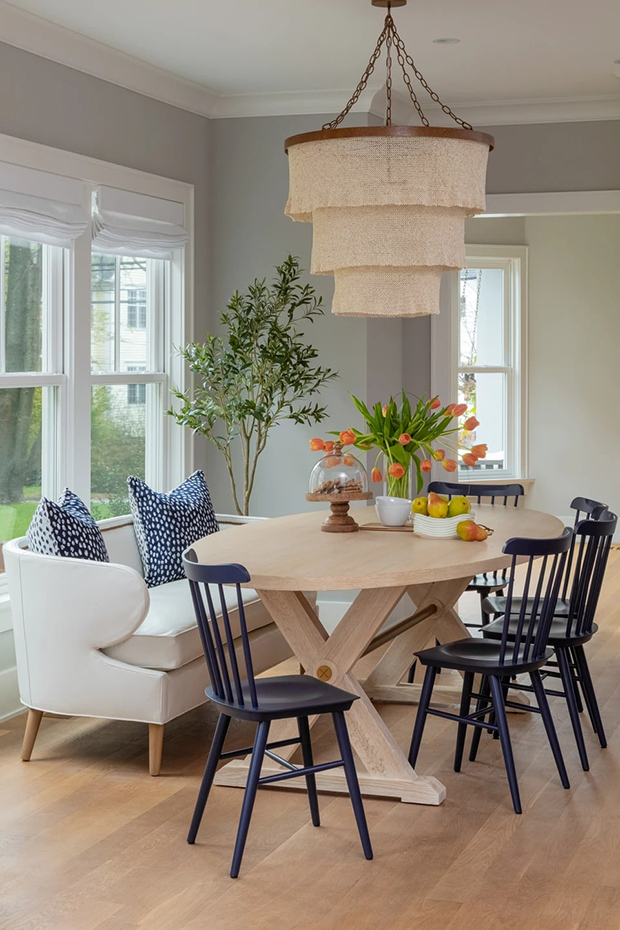 Curated Nest Interiors
You can do a mixing and matching of modern dining chairs like this for your modern farmhouse dining room, and then match them up with a classic farmhouse dining table design.
Lindenwood Residence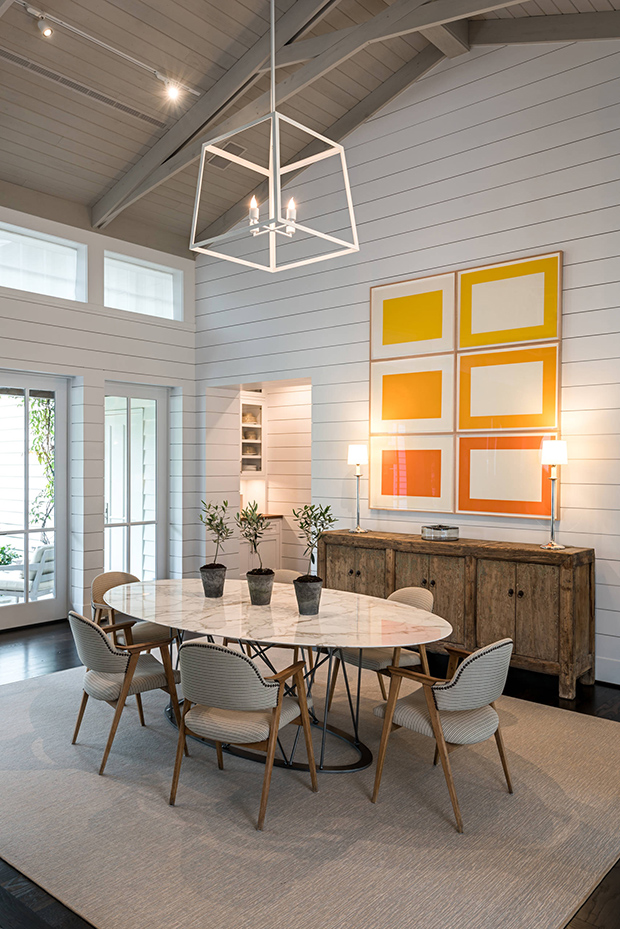 Dillon Kyle Architects
The contemporary marble top dining table strongly contrasts the rustic cabinet on the side. On top of it all, you get this brightly colored wall art décor.
Contemporary Interpretation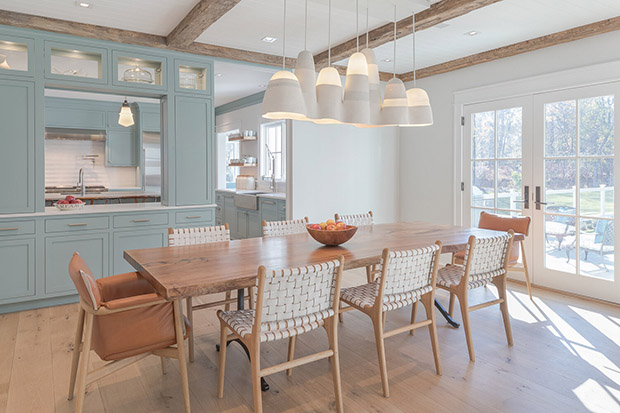 Daniel Conlon Architects
What better way to showcase modern farmhouse style than with contemporary lighting over a farmhouse-style dining table.
Chic Farmhouse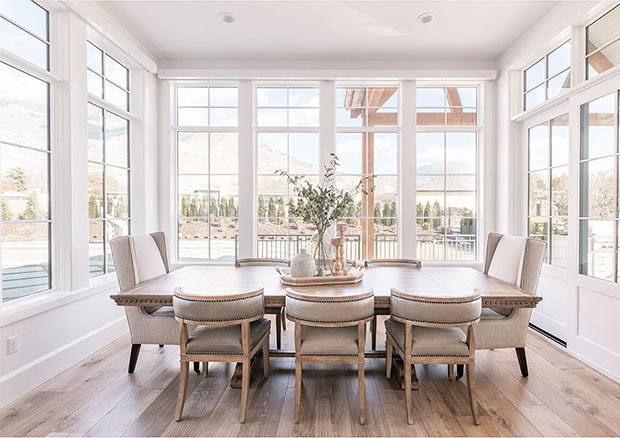 Modern farmhouse decor is supposed to be as minimal as this. You can get yourself a tray to display a small jar of plants and candelabras and call it a day. No one will bat an eye at its simplicity and tidiness.
Contemporary Farmhouse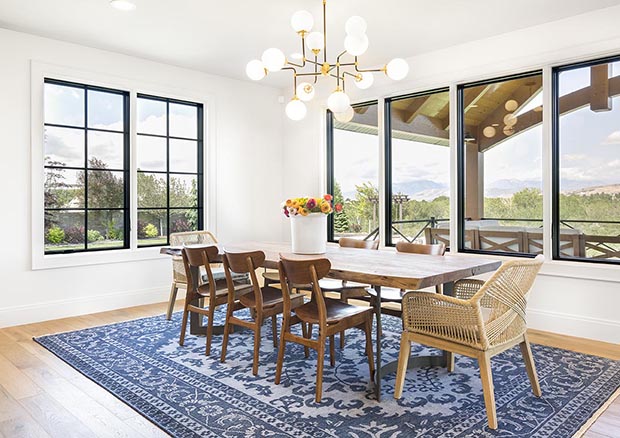 Magleby Construction
The geometric chandelier is a stunning addition to this dining room. Plus, the blue area rug, with its exquisite print, lights up this dining room, literally and figuratively.
Stunning Farmhouse Remodel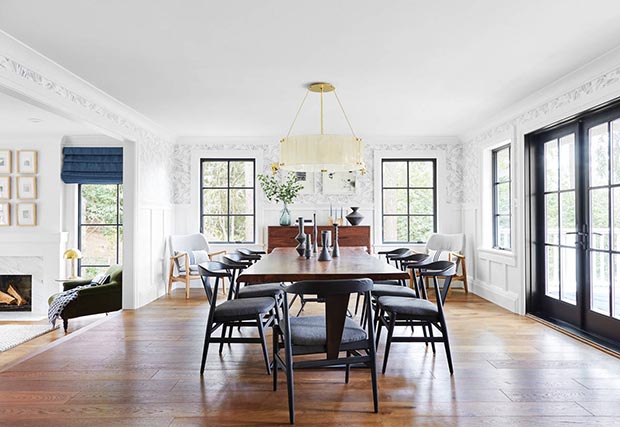 Milgard Windows & Doors
This dining room sticks with the neutral color palette despite opting for wallpaper on the walls. If anything, the wallpaper print can serve as an alternative for wall decors that could have been hanging.
Park Lane West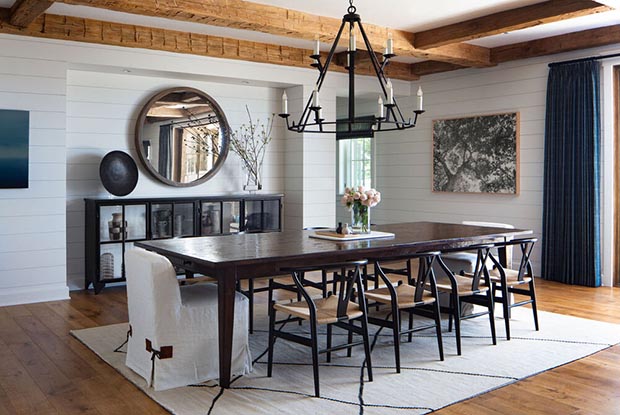 DD Ford Construction
Adding a cabinet display to your dining room can serve as a modern farmhouse decor. You can use it too to display your antiquated decorative pieces.
Bedroom
Your bedroom is the perfect place to get personalized with the right modern farmhouse decor. Remember that while you're aiming for comfort and coziness, your room can also be classy and elegant.
Modern Farmhouse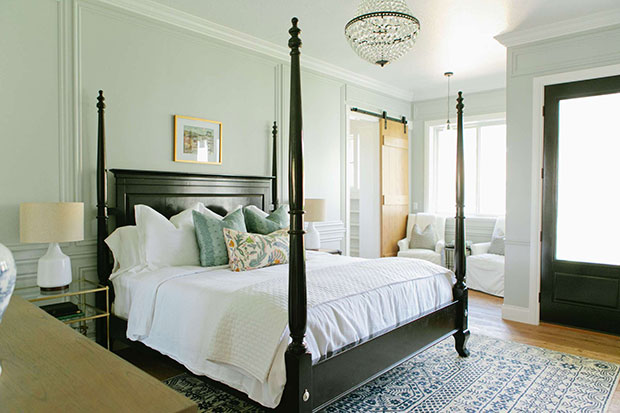 With a modern farmhouse bedroom, you can start by opting for a traditional bedframe design coupled with a modern mattress.
Morgan Farmhouse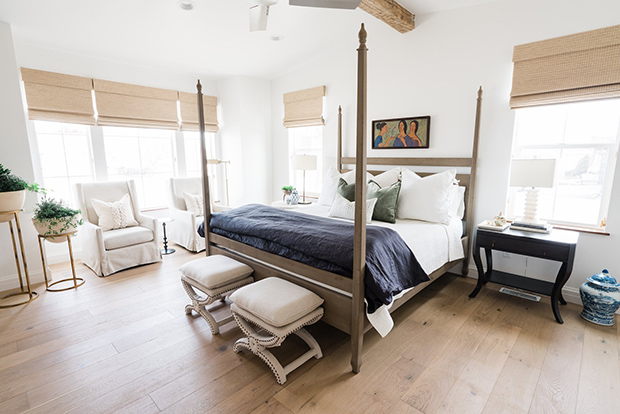 House of Jade Interiors
If you're going to incorporate plants, at least, put some thought into how you're going to place them in your bedroom. This room has special pedestals that hold these round planters.
Modern Farmhouse in Oregon's Wine Country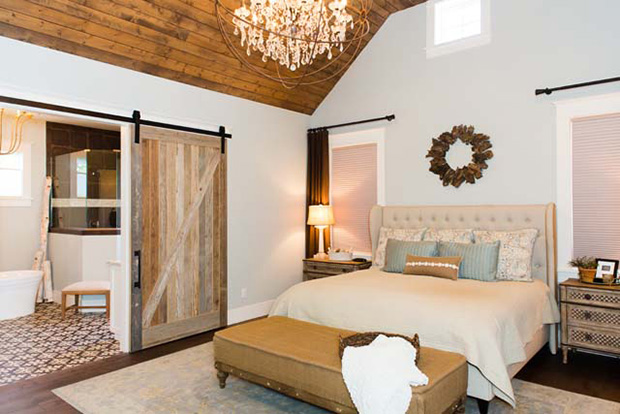 Winsome Construction
Even with all the modern furniture, try to keep some classic farmhouse features. For this room, it's the barn sliding door heading toward the bathroom.
Hillside Ranch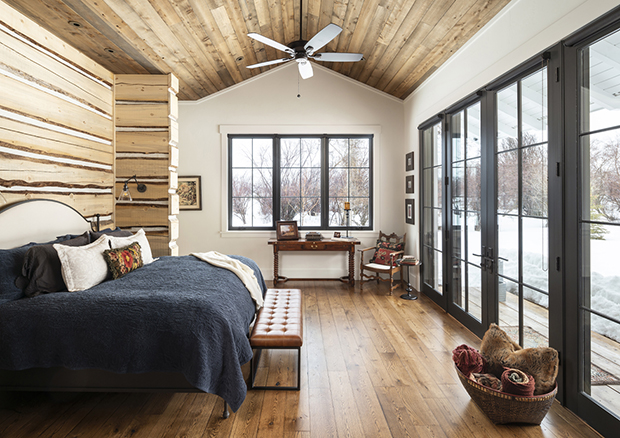 This bedroom brings the right balance of contemporary and antique furniture.
Transitional Farmhouse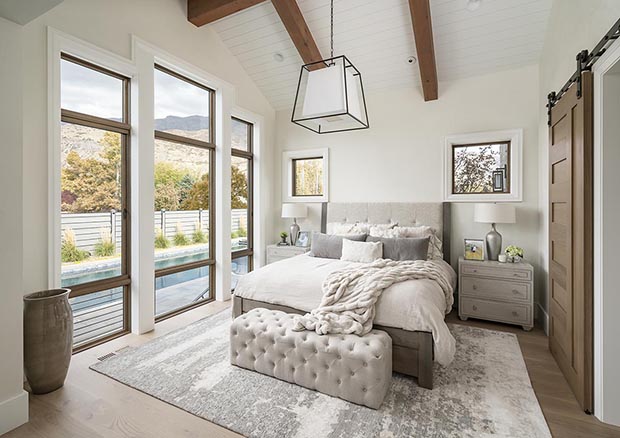 Magleby Construction
Let those exposed wooden beams adorn your ceiling and then pair them up with some modern lighting fixtures!
Wilderness Lane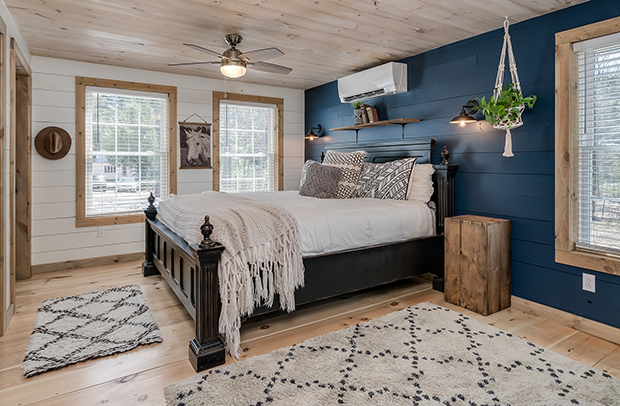 Brook Road Photography
When creating a modern farmhouse look, add some rustic elements to your place. This bedroom has it around its window frame and the bedside table. The hanging plant is also a nice touch and underrated modern farmhouse decor.
Modern Farmhouse Showcase Home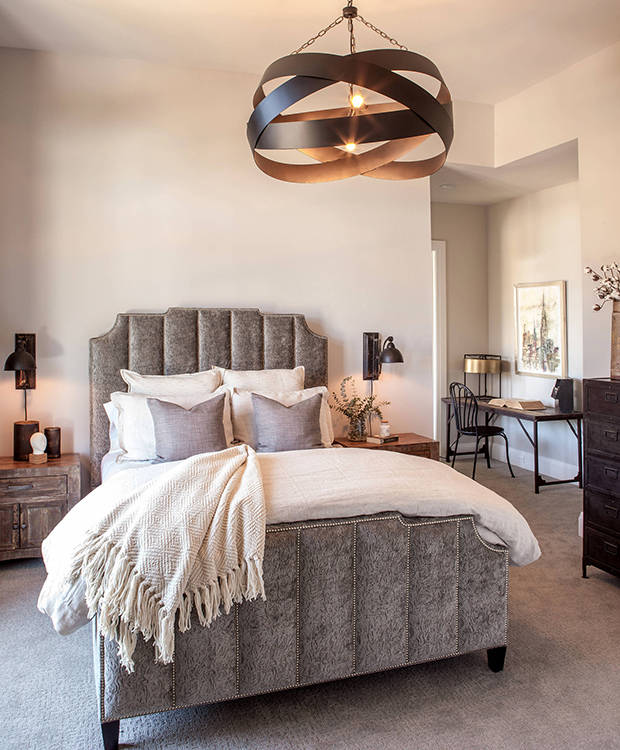 Wendy O'Brien Interior Planning & Design
This stunning geometric chandelier is a stark contrast to the rustic bedside table and cabinet. They perfectly encapsulate the modern farmhouse theme.
2018 NWA Parade of Homes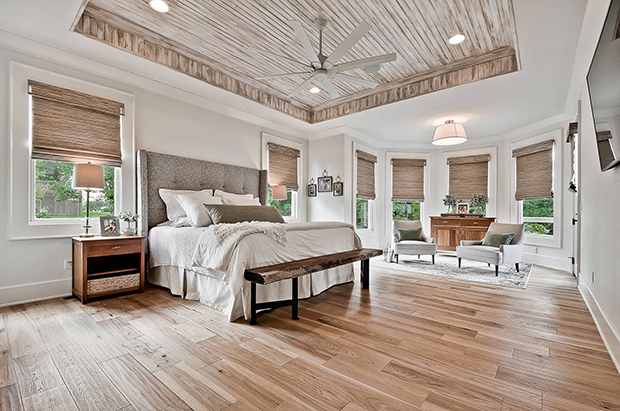 Northwest Arkansas Home Builders Association
Ceiling niches like this could act like the decor. The ceiling is often overlooked, often only using light fixtures as accessory pieces. But ceiling designs like this could be a solution to that.
Mission Hills Farmhouse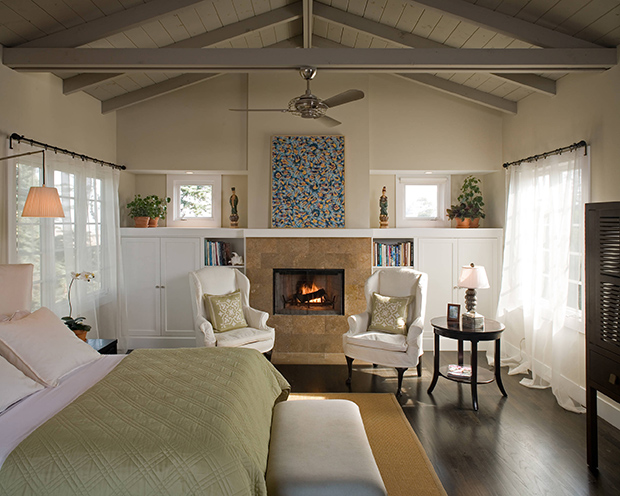 Bill Bocken Architecture & Interior Design
With all the neutral and earthy colors, that colorful abstract artwork is a breath of fresh air in this bedroom. It is an excellent way to bring pops of color into a modern farmhouse bedroom.
Savannah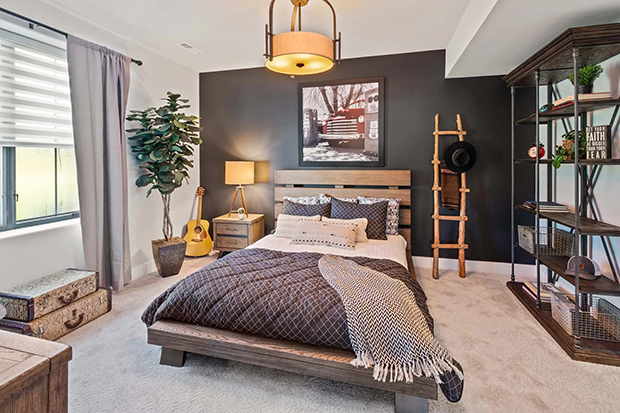 Justin Doyle Homes
One of the rules of the modern farmhouse style is to not overdo it with the inclusion of rustic elements. While you can see a plethora of that in this bedroom, it doesn't seem overwhelming due to the contemporary finish.
Bathroom
The bathroom is where you definitely want it to be comfortable and cozy and modern farmhouse decor can definitely bring that.
Modern Farmhouse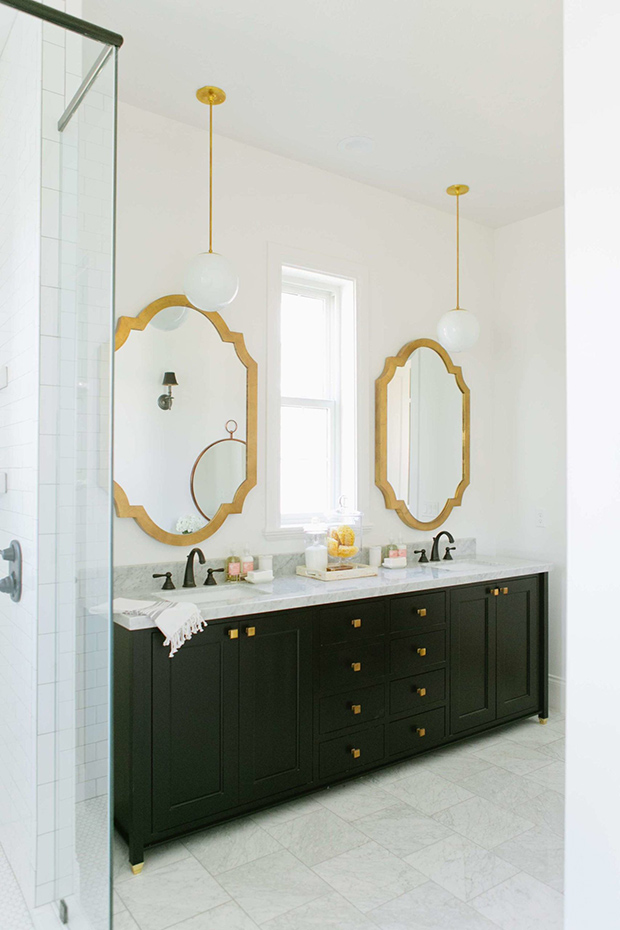 One of the easiest ways to decorate a modern farmhouse bathroom is by adding a decorative mirror or two to go along with your vanity.
Morgan Farmhouse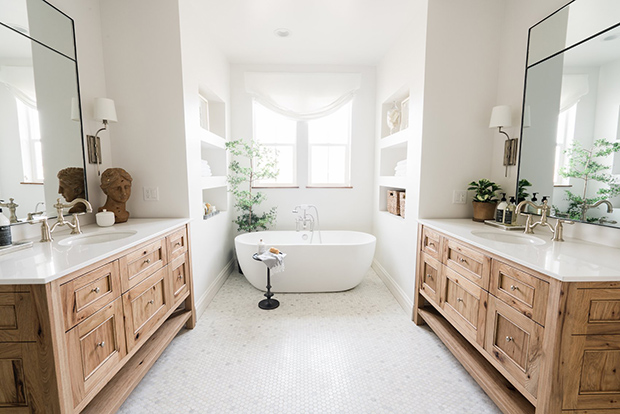 House of Jade Interiors
The rustic cabinetry with a marble top that was previously seen in a modern farmhouse kitchen can also be emulated in a modern farmhouse bathroom.
Clipper Court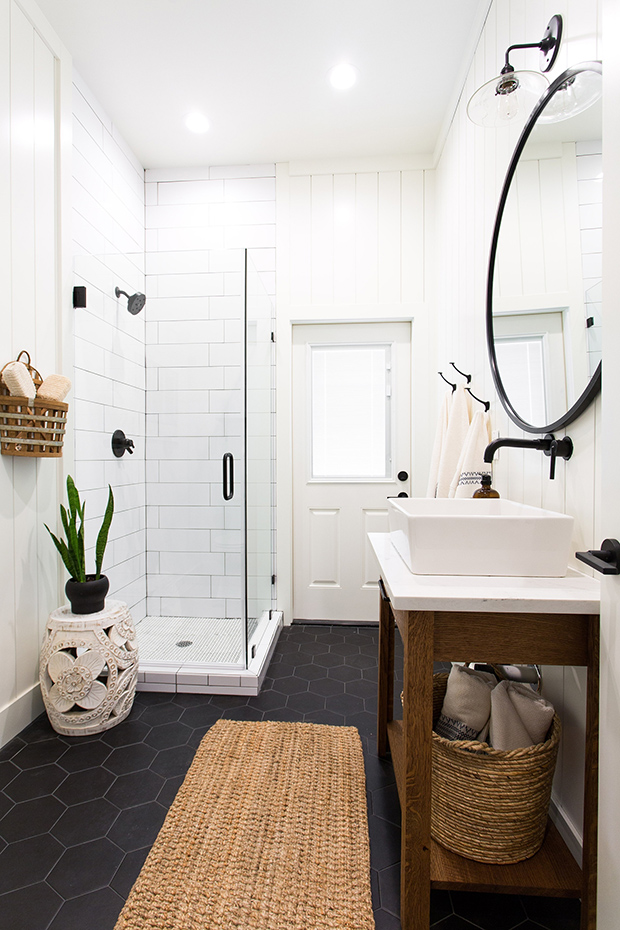 Design Shop Interiors
Modern farmhouse bathrooms are one of the perfect places to bring texture dynamic because of how often wicker baskets are used as alternative storage.
Hillside Ranch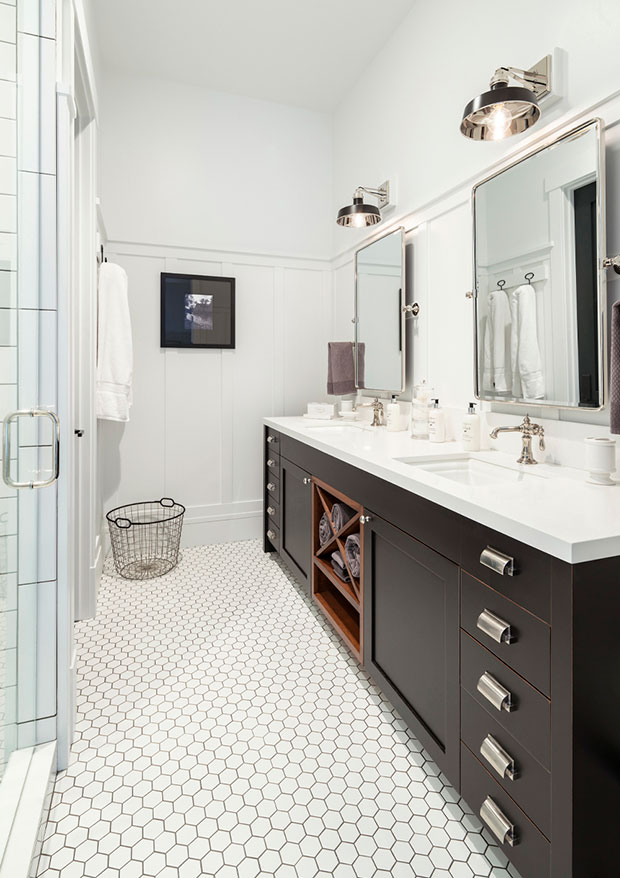 The combination of modern and farmhouse finish on this vanity cabinet is interesting and excellent. The perfect balance has created an elegant bathroom vanity.
Transitional Farmhouse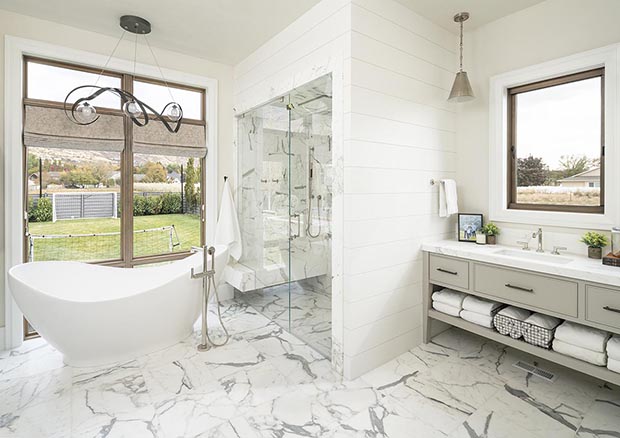 This striking chandelier design is definitely something you would see in a classic farmhouse bathroom. Light up your own bathroom with contemporary-designed lighting fixtures.
Contemporary Farmhouse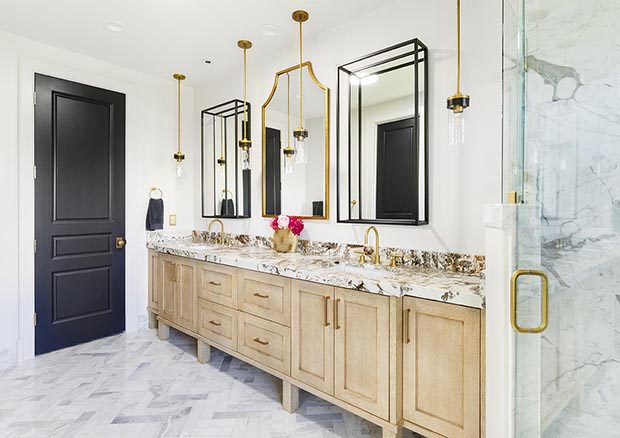 Magleby Construction
Modern farmhouse bathrooms work best if you have a statement vanity like this. Not only is the entire vanity cabinet a perfect modern + farmhouse combo, but they also made sure to add decorative mirrors and stunning pendant lights to complete the look.
Mission Hills Farmhouse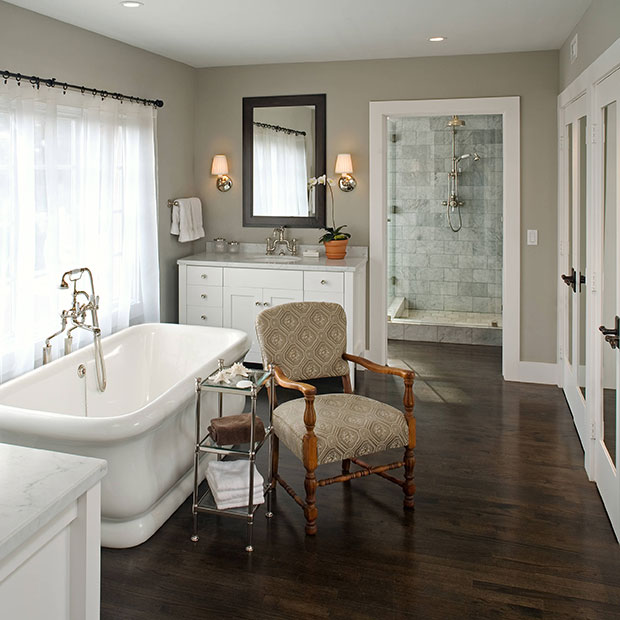 Bill Bocken Architecture & Interior Design
It's interesting to see the obvious modern/contemporary features against the classic farmhouse room design. But even with the modern vanity and shower, the standalone tub is true to its farmhouse style.
Fixer Upper-Inspired Modern Farmhouse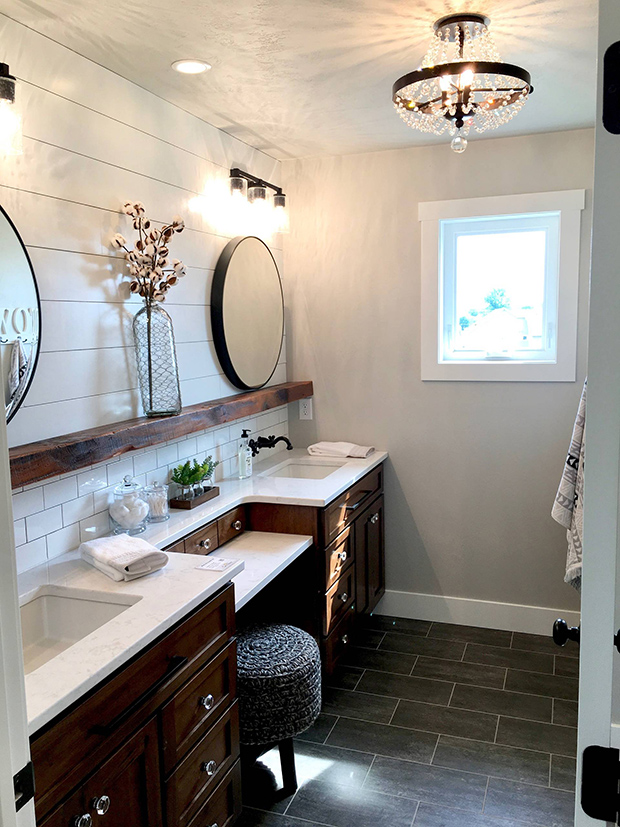 Cypress Homes Inc.
Like other parts of a modern farmhouse home, don't overdo the rustic modern farmhouse decor. Pick them out wisely and where you want to place them. This home's bathroom, it's by using reclaimed wood as a shelf.
Modern Farmhouse Bathroom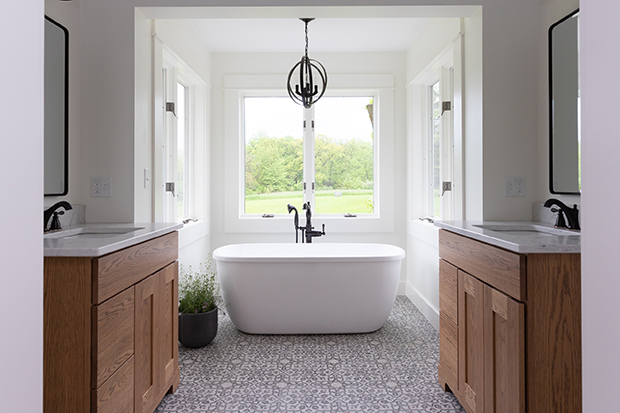 JC Huffman Cabinetry
One of the things that the modern farmhouse style encourages is to have stunning floor tiles that could make a statement for the entire bathroom.
Nature Nod Modern Farmhouse Bathroom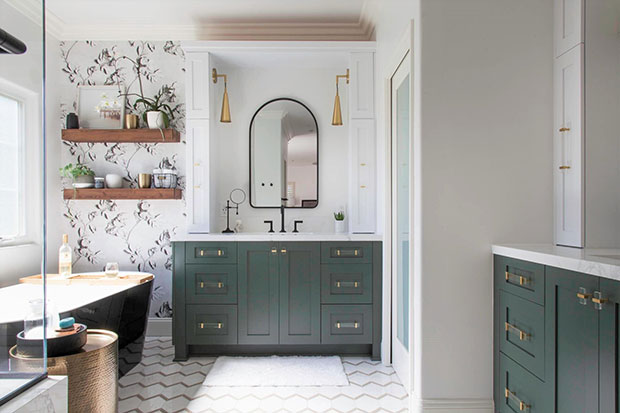 Signature Designs Kitchen & Bath
The natural green vanity cabinets are commendable, adding some pop of color to this bathroom. It also helps to emphasize a nature-inspired feeling in addition to the plant decor and the floral wallpaper.
Those are examples of modern farmhouse decor that you could try out for your home!
Like This Post? Pin It!