35 Closet Storage Ideas To Add More Space For Your Stuff
|
Are you the type who loves to collect shirts, jeans, pants, shoes, bags? If yes, then you probably have some amazing closet storage ideas to keep them in order! If not, then, you are in luck be because we are going to give you ideas to keep them organized.
Organizing your stuff at home is often hard to do every day. It is because it's difficult to do it consistently if you are busy with your day-to-day work. Oftentimes, we can get it done once or even twice a week when things just settle down and you've had the time to keep things in order. But it's not really a walk in the park and can be an unwanted task. However, with proper execution of some closet storage ideas, this chore can be less tiring and even easier to do.
What is the easiest way to organize your closet?
Organizing your closet can be no easy feat. To successfully do this, below are some friendly tips to remember:
1. Declutter regularly.
When organizing your closet, the best and most practical way to do it is by purging through your stuff and decluttering. Oftentimes we absentmindedly hold on to stuff that no longer fits us, or those that are no longer functioning but we are just keeping because of 'sentimental value'. While keeping stuff with sentimental values is great, keeping them in bulk can be a problem and may warrant additional storage space in our homes.
2. Arrange according to preference.
Once you have decluttered and sorted your items, the next step will be to arrange them. Your arrangement may vary based on your preference. You can choose to arrange your stuff based on season, based on style, based on product, and even based on color. Set a system that makes it easier for you to get your stuff – arrange them from the biggest to the smallest or vice versa.
3. Install more shelves and drawers.
Another closet organizer idea you can implement is installing more shelves and drawers. It helps you separate your stuff, making them more accessible without the need for you to shift through all your stuff just to find it. You can even add labels to make it easier to arrange and find items when you need them.
4. Use wall space.
If shelves and drawers are already utilized, you can also make use of the wall space to hang items. Simply add wall racks and hooks to hang items. You can even use these hooks to hang repurposed boxes and containers to hold your stuff.
5. Look for alternative storage options.
If your closet is small, then keeping it minimal is the way to go. But if minimalism is not an option, better look for additional storage options around the house. This can be an extra room or an extra space under your stairs. Although it is best to keep in mind that when you look for storage space elsewhere, that is an additional space you need to maintain too, so make sure that your stuff is well-sealed and arranged orderly too.
Closet storage ideas for inspiration
Here are some closet storage ideas that you can also use to declutter your home:
Over Door Racks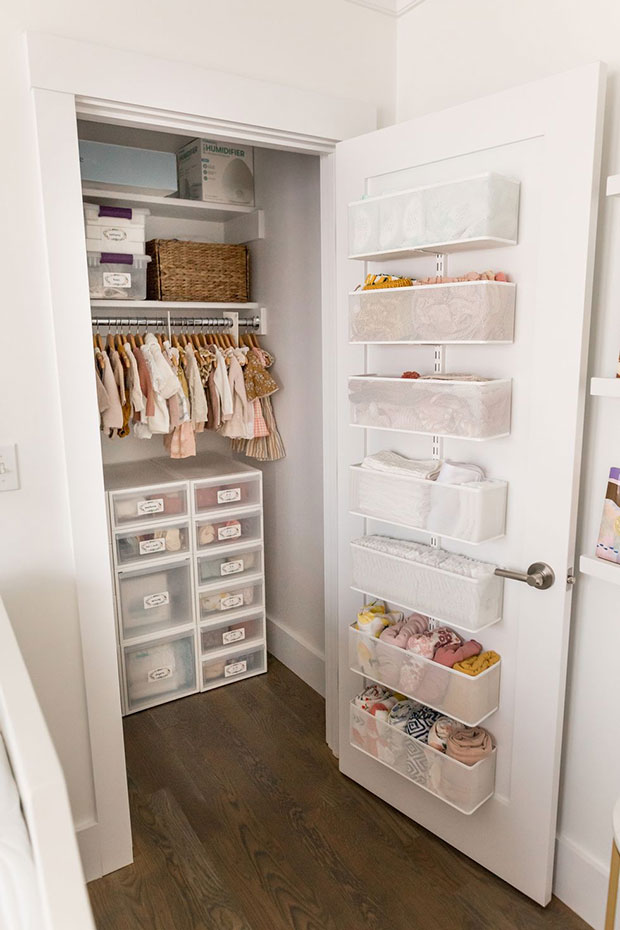 Kate L. Photography
This closet storage idea is quite cool with racks installed at the door for additional storage space. The uniformity of colors between the small details up to the room makes the entire ensemble clean and organized to look at.
Hidden Hamper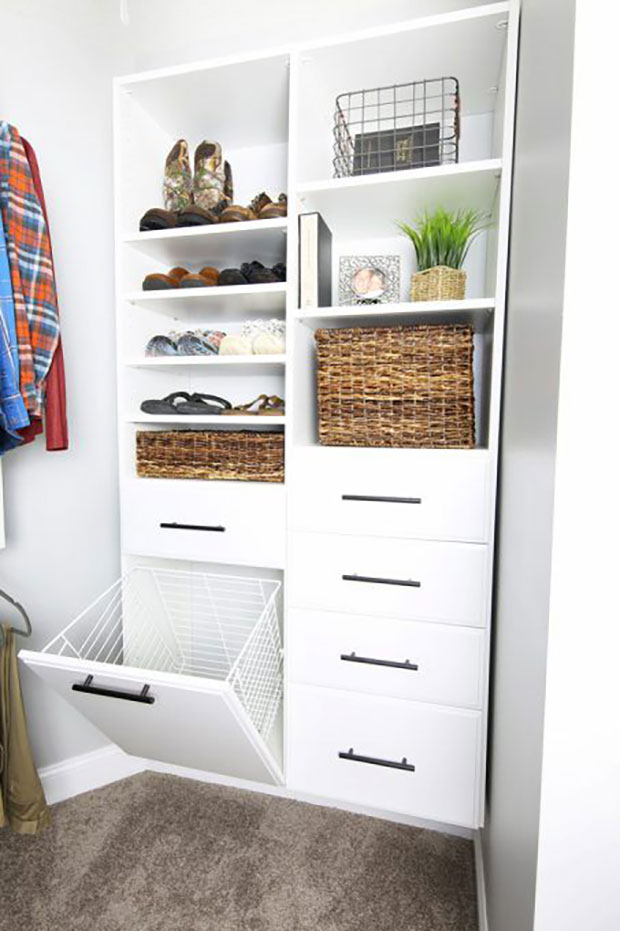 Just a Girl and Her Blog
This hidden hamper is actually pretty good to keep extra clothes, towels, and extra linens. You can also use this to store clothes that need laundry.
Hanging Accessories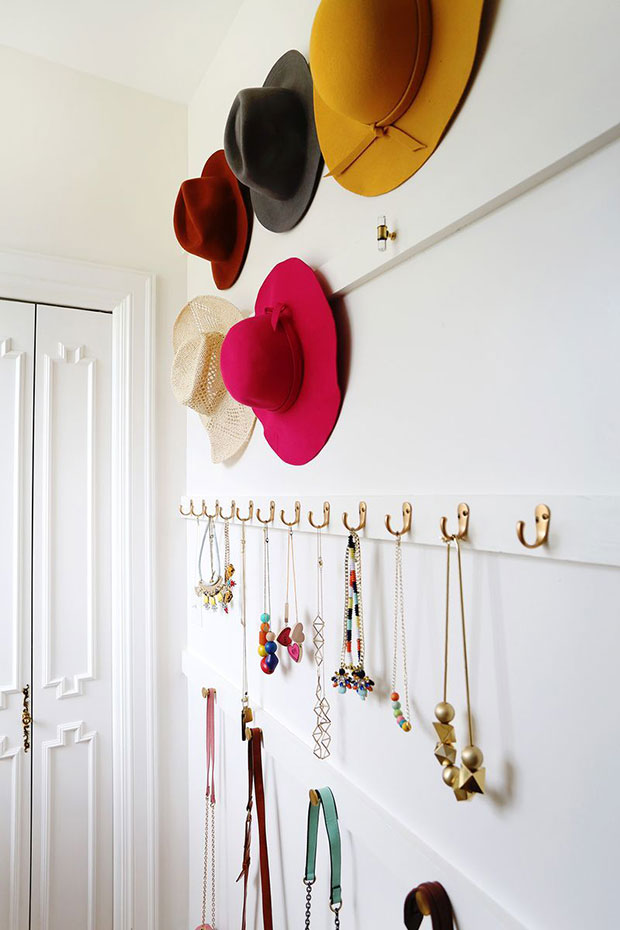 Elsie Larson
Instead of the usual boxes and shelves, hooks such as these can be used in your closet to arrange your favorite accessories. You can put in your favorite hats, jewelry, and even bags.
Fabric Bins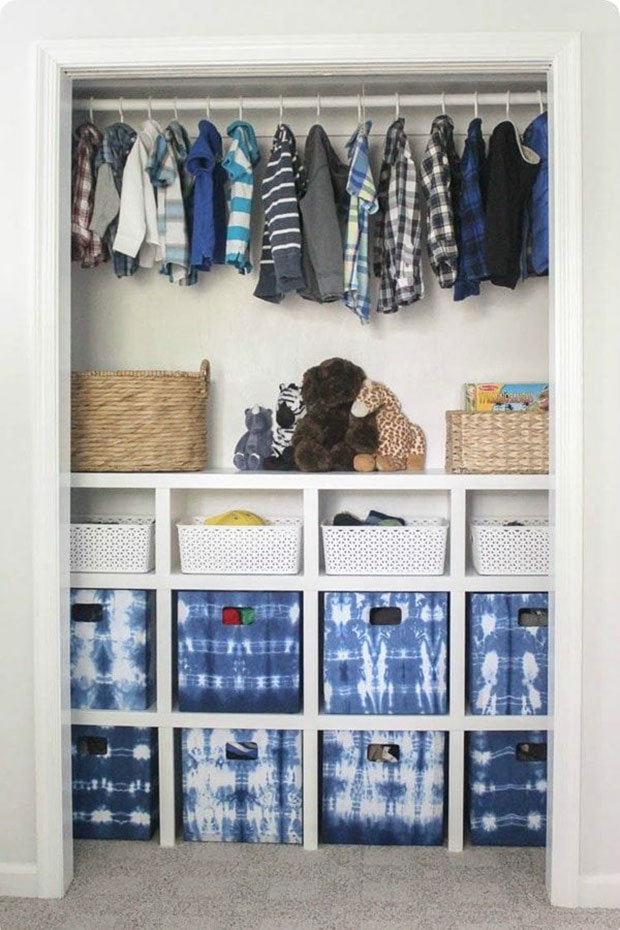 Lovely Etc.
Fabric bins can also be a cool storage idea that you can easily adopt. This here has used blue fabric and made them into the small bin to keep clothes and other stuff.
Bags on Door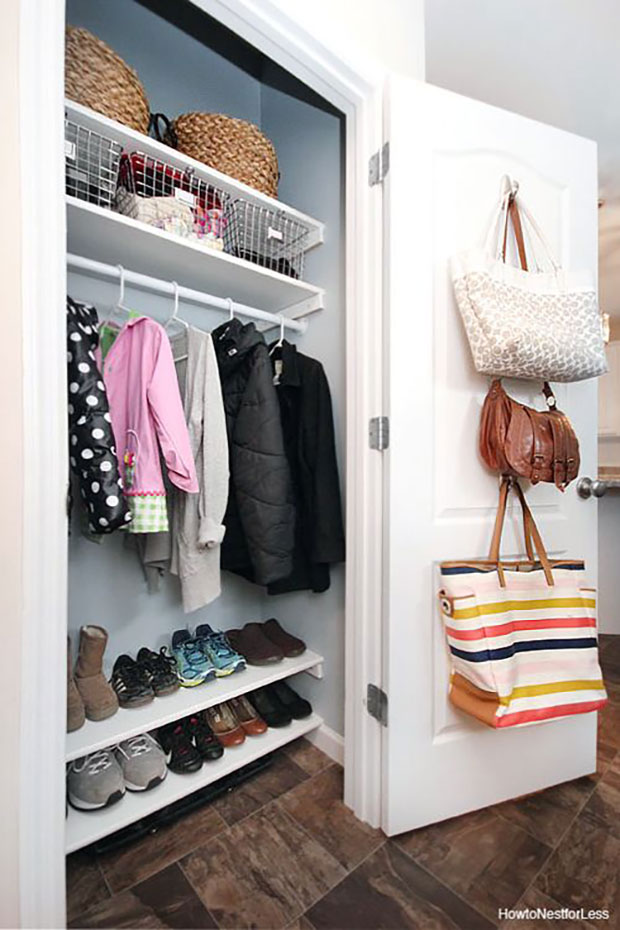 How to Net for Less
Bags often take up space when we store them. One cool closet storage idea for them is by hanging them on your closet door. It makes them visible and easily reached. Plus, they take up less shelf space.
Varied Hanging Space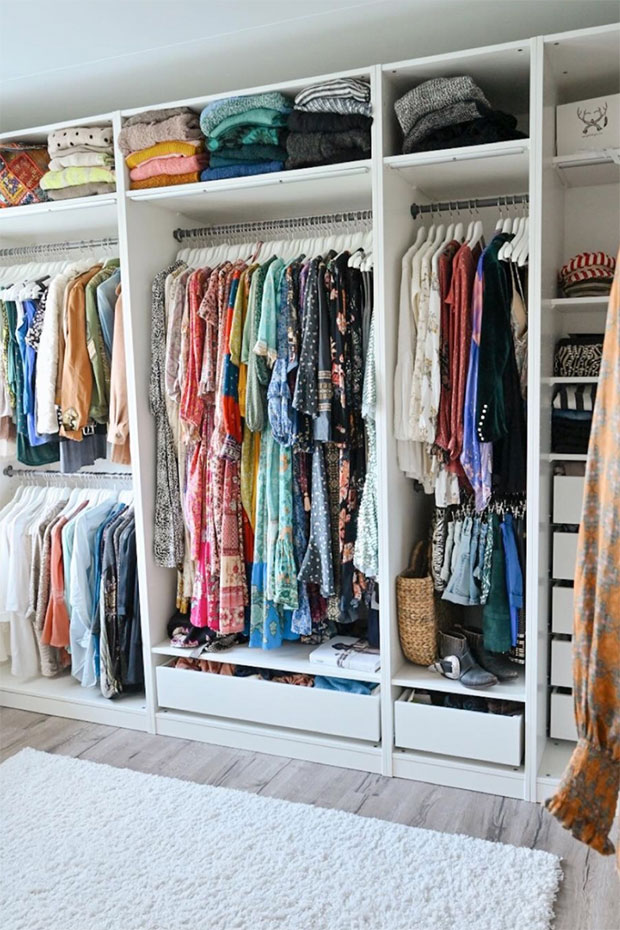 Stinajss
For dresses and jeans, use a variety of hanging spaces for the long and short clothes that you have. It makes it more organized, plus you avoid getting the longer ones unnecessarily creased or dirty.
Labels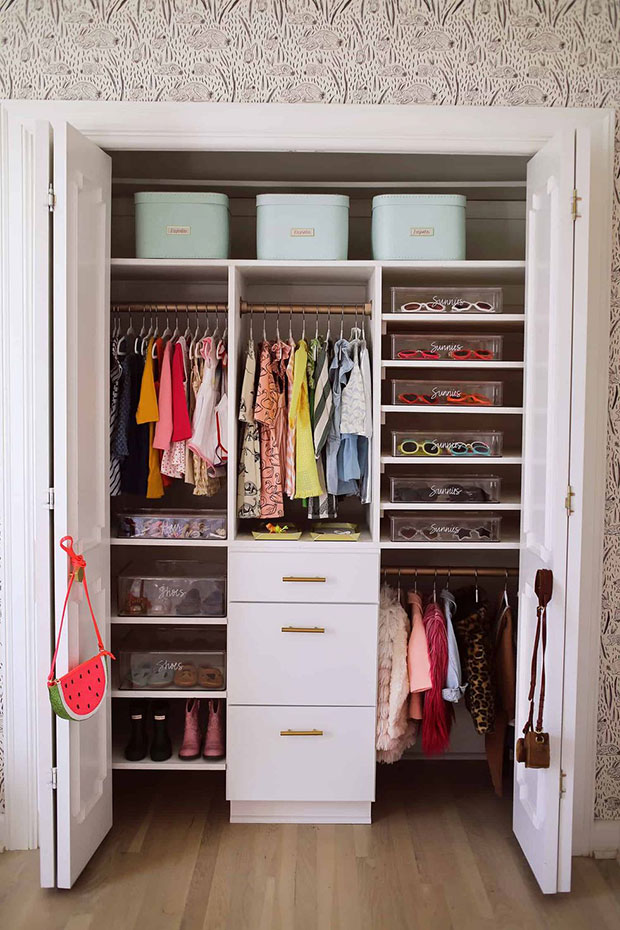 A Beautiful Mess
Like all the best organizers, labels shouldn't be forgotten. It's practical! By doing so, rummaging around boxes, bins and drawers will take less time.
Bins and Shelves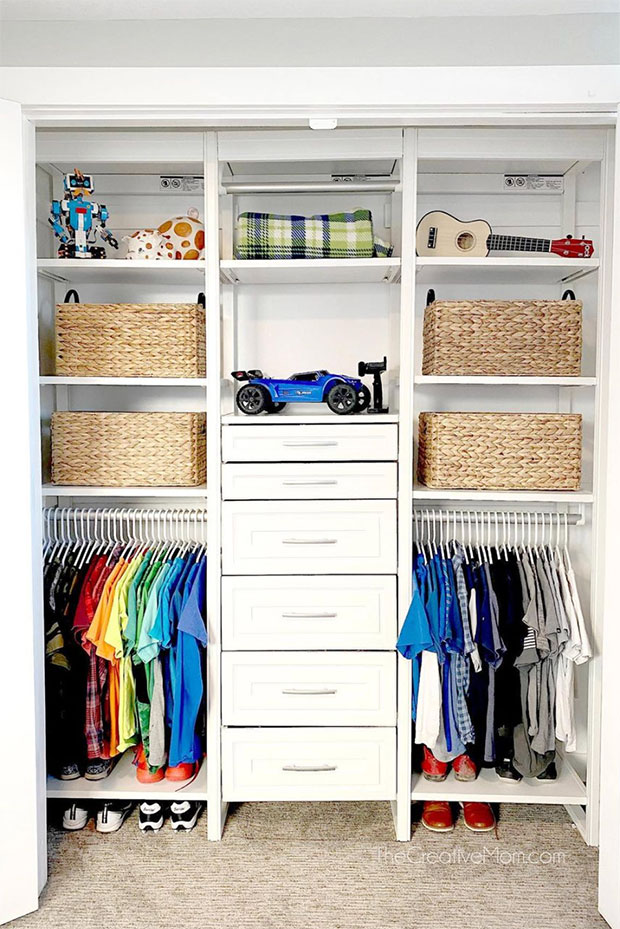 The Creative Mom
These here have prioritized shirts on hangers, instead of folding them up in drawers. It's practical, especially for boys who have more shirts than jeans or shorts. Also, those that are immediately needed: shirts and shoes, are within easy reach.
Color Coordination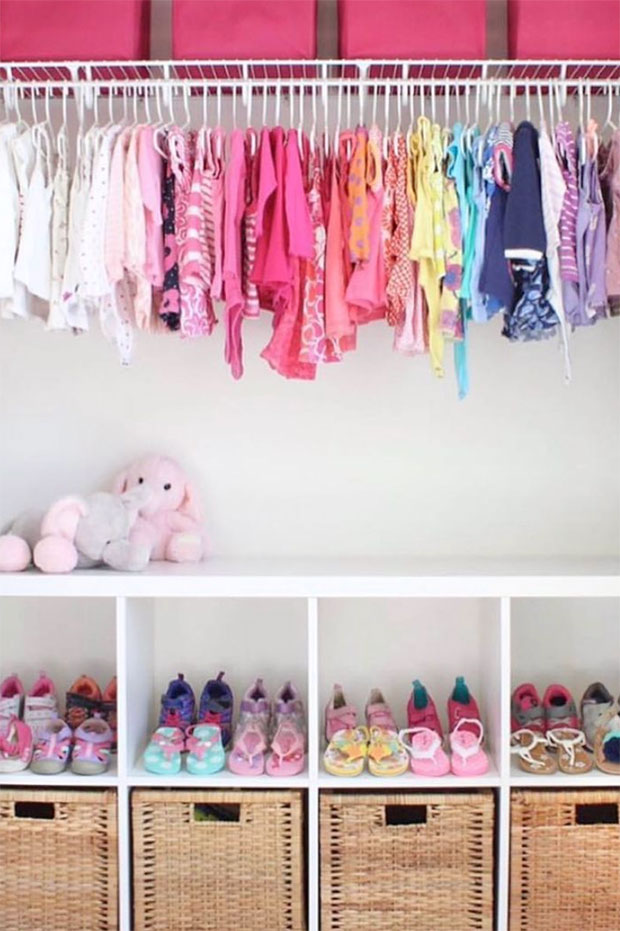 Live Composed
Color coordinating your clothes help you dress up for the day. You can switch it up from lighter to darker or those that are very colorful.
Hanging Jewelry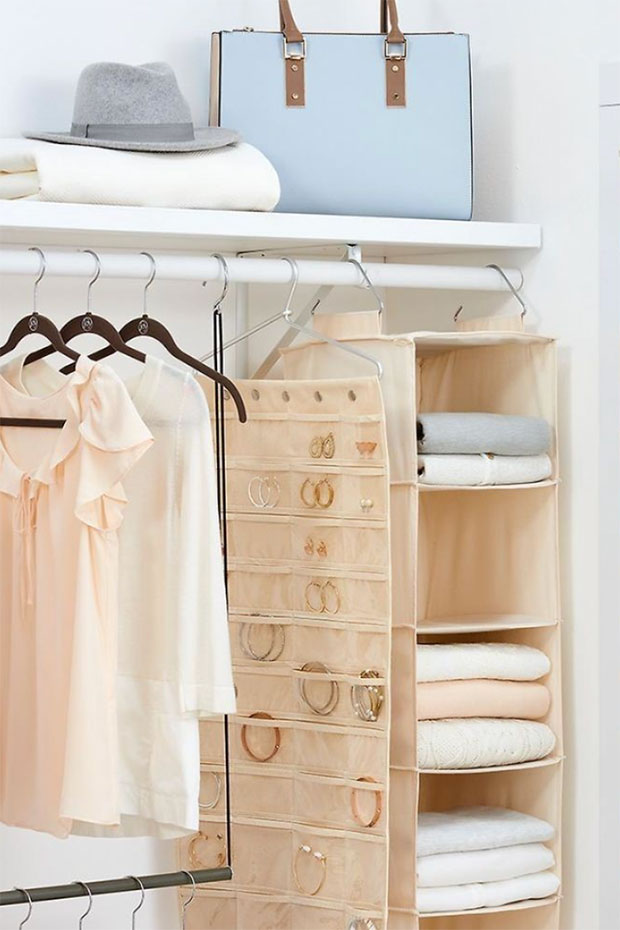 Decluttrme
This cute hanging storage will eliminate the need for jewelry boxes. It is also easier to spot your favorite jewelry using this.
Lazy Susan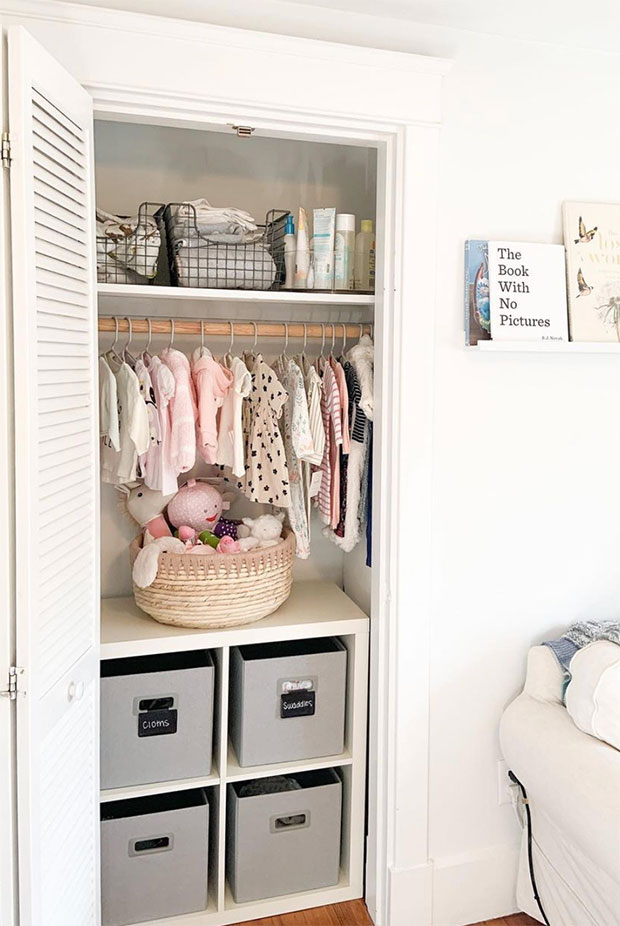 Lemonaid Solutions
Lazy susans are fun ways to keep your things organized and make them easier to find too. In this closet storage idea, the lazy susan is used to store extra toys which makes sense because they are bigger and will likely use more shelf space.
Closet Island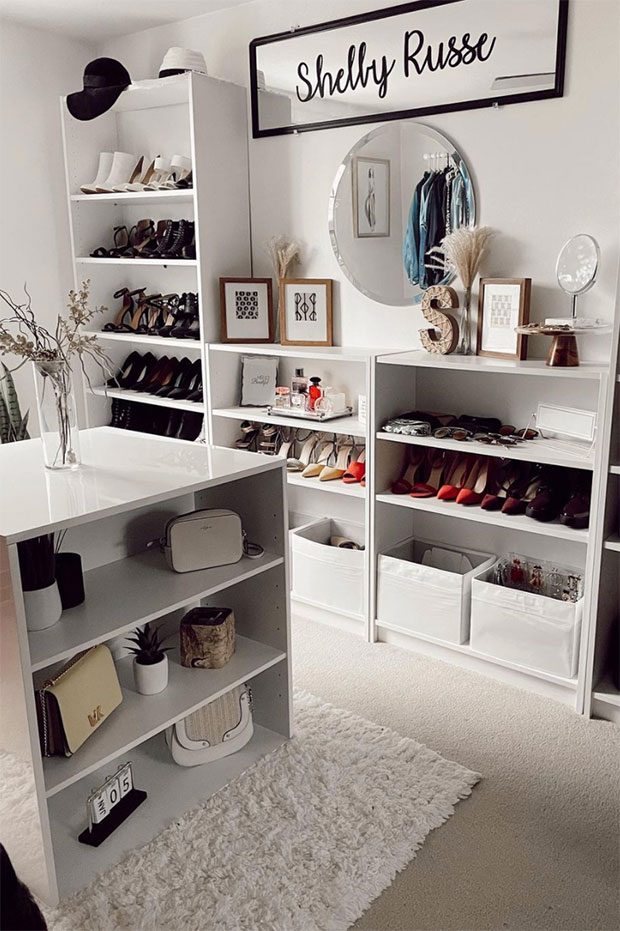 Shelby Russe
If you thought that only kitchens can have an island, closets can have one too! For larger walk-in closets, an island is great additional storage space. You can easily use the space for either shoes, bags, or other extra accessories you might have.
Top Space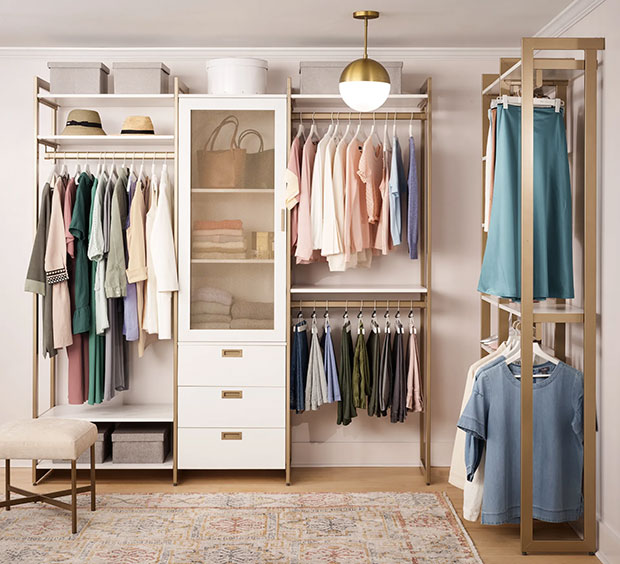 Douglas Friedman
For seasonal clothes and accessories, make use of the top shelves in your closet to store them until you need them. You can use bins and boxes to keep them all neat.
Different Zones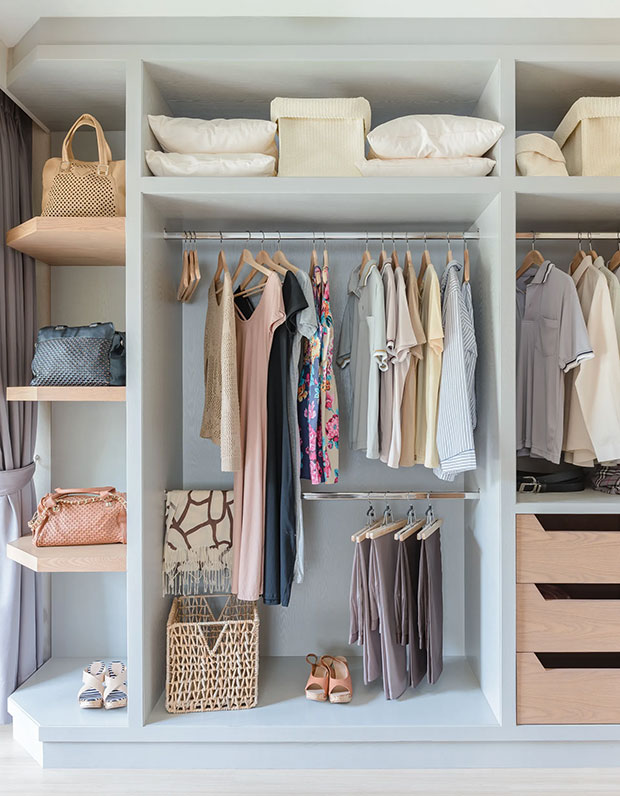 Khongkit Wiriyachan
Creating specific and different zones for each piece of clothing and accessory will help you get your stuff easily and put them back. These closet storage ideas can also help you separate stuff from your partner.
Shoe Shelves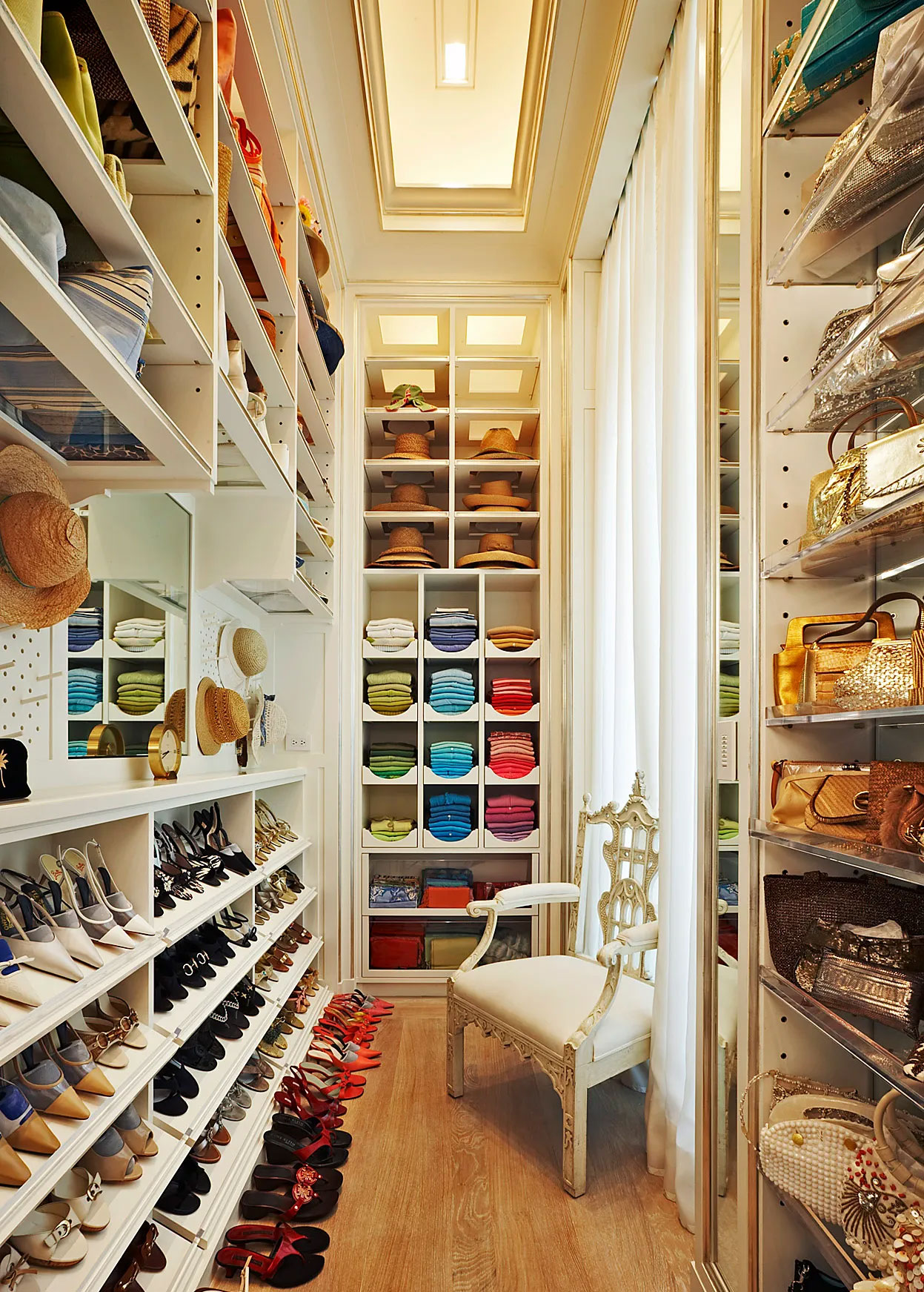 Brantley Photography
Shoes often take up more space than necessary. Aside from storage shoe cabinets, you can also install shoe shelves in your closet to organize them better.
Stylish Closet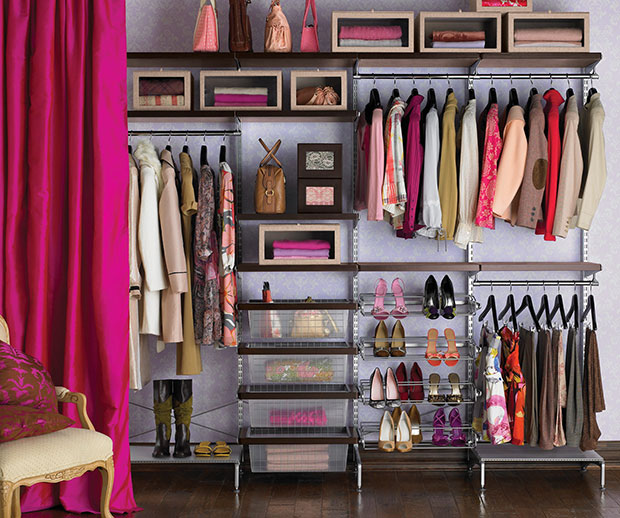 Kijashi
Instead of the usual neutral colors, this closet embraces colors. Plus, it uses a bright curtain instead of doors to hide the clothing.
Portable Storage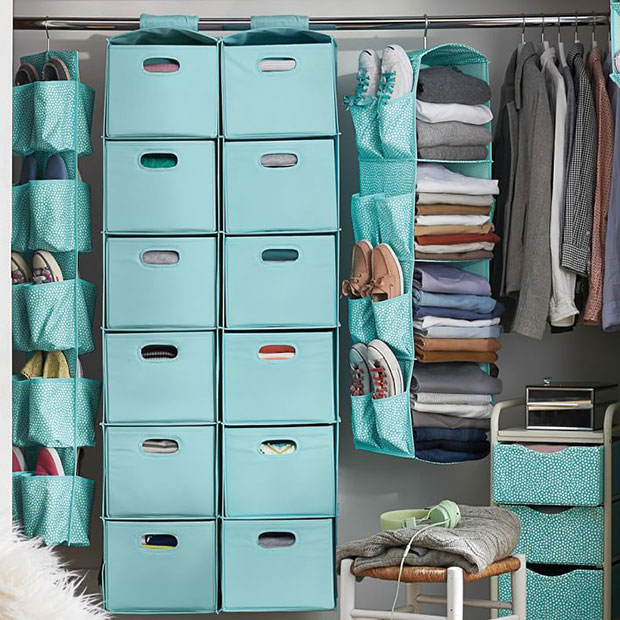 BDesignr
If built-in shelves are impossible to have, portable storage like these closet storage ideas is a great option. It's convenient at allows you multiple options, plus you can choose the color you want too.
Mirrors and Glass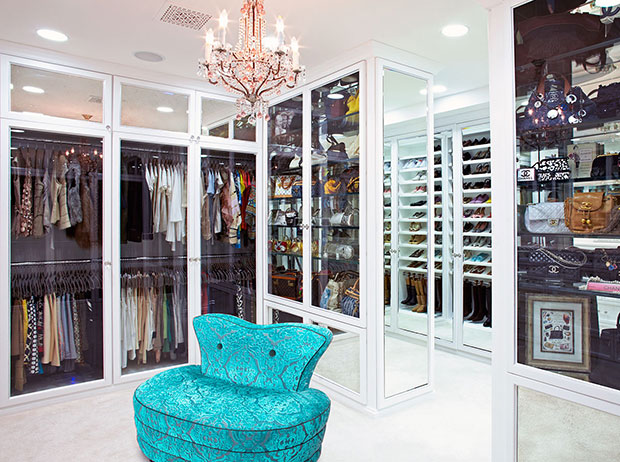 The Style Rebels
Closets can look bigger when mirrors and glass are used. Closet storage ideas like this make use of glass surfaces and even white paint to make the room look more spacious.
Built-In Shelves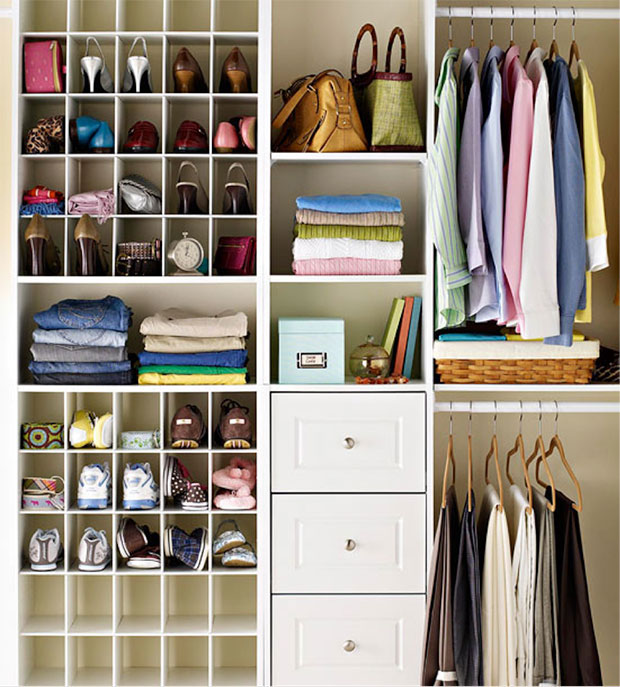 Zoom Cities
Limited spaces can also accommodate built-in shelves to organize your stuff better. This here stores bags, and even shoes.
Versatile Solutions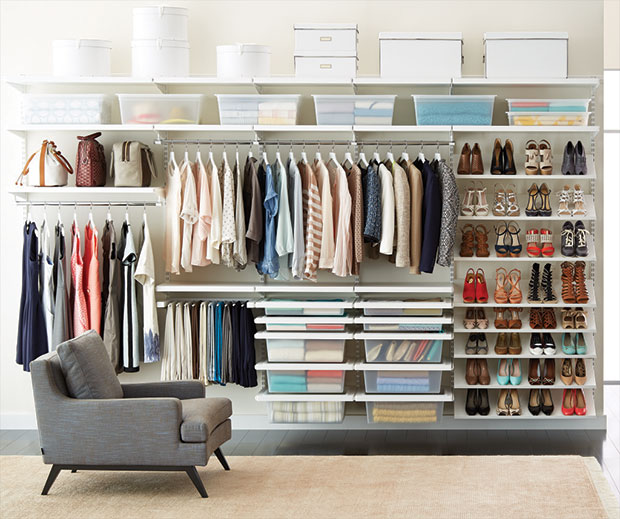 Transparent and white-topped boxes are also great storage solutions that you can adopt for your closet. They keep things in place, plus the transparent boxes allow you to see what's inside immediately.
Shoe Storage Options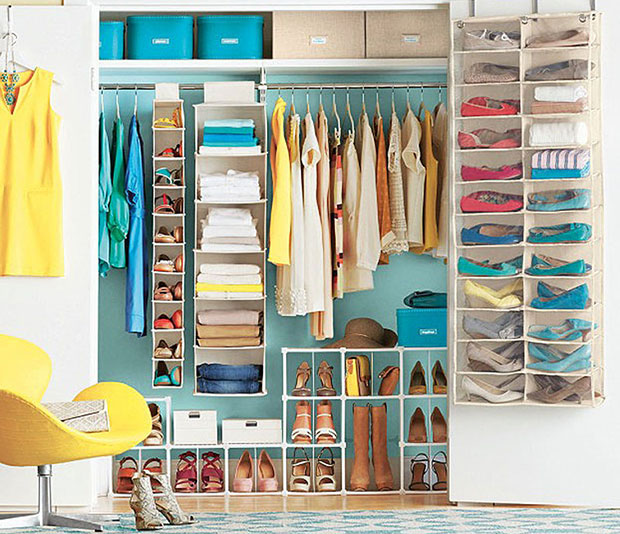 Best of Interiors
If you love shoes and have a lot of them, these shoe storage options will give you ideas. Aside from designated shelves, you can also make use of portable storage those above.
More Shelves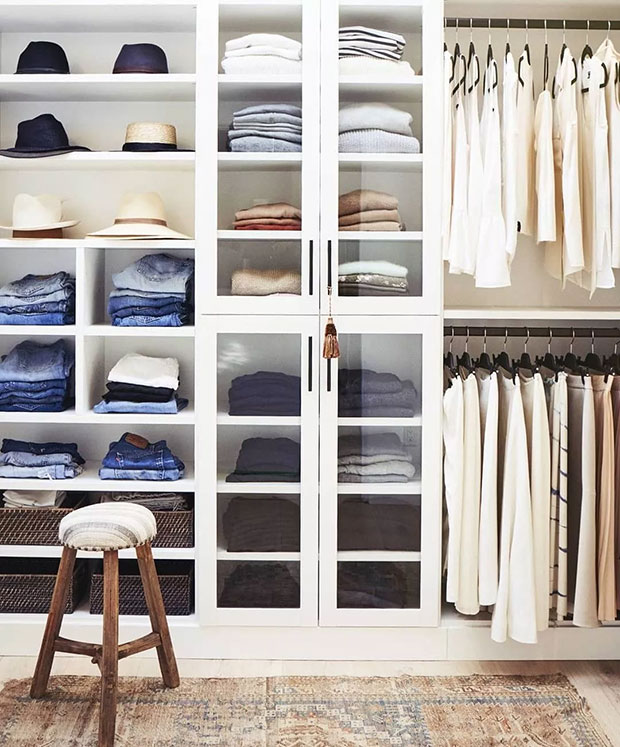 Jamie Naugle Interiors
This storage closet ideas make use of shelves to carefully organize sweaters and jeans. There is even a designated place for hats.
Bins and Baskets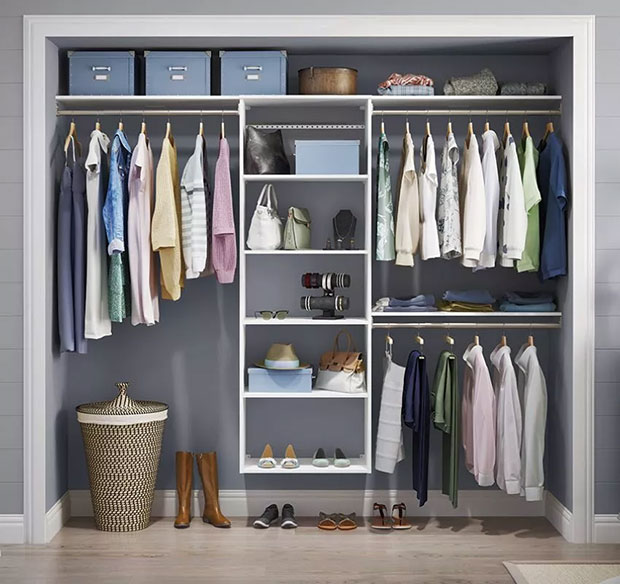 Closet Maid
The closet here has both floor and top space maximized for storage. The topmost space has boxes and several clothes on top while the floor space can accommodate bins for dirty laundry and footwear.
Multiple Levels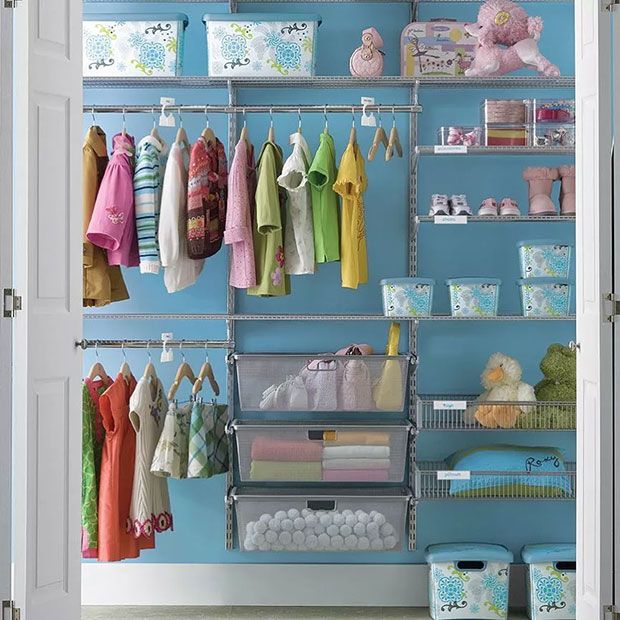 Elfa Shelving UK
Aside from the child-friendly advantage of multiple levels of storage, it makes organizing a lot easier. Plus, instead of the usual wood, the frame used is stainless steel for a minimal look.
Open Closet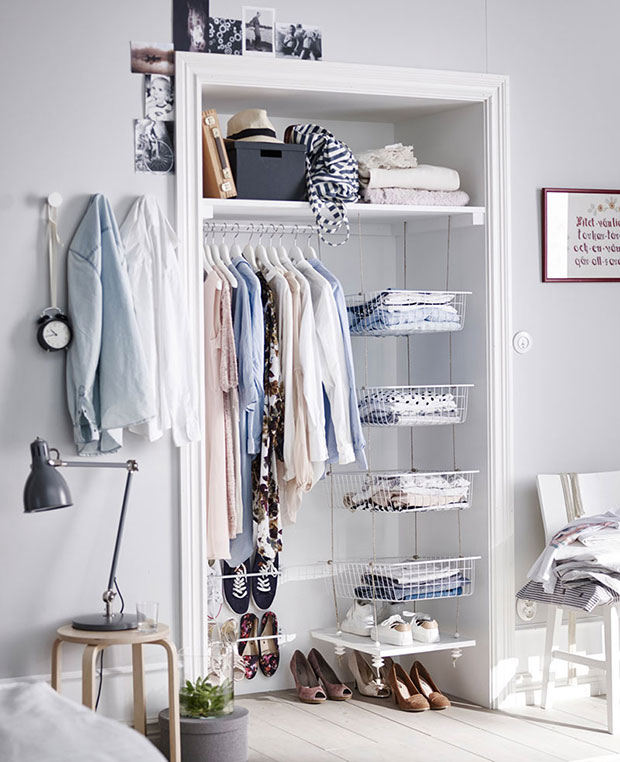 Ikea
Doors can sometimes take up unwanted space for small bedrooms. Take that off and make an open closet instead. It'll save space and add light to your closet. You can use hanging storage for additional clothes and some hanging shoe storage too.
Light on Shelves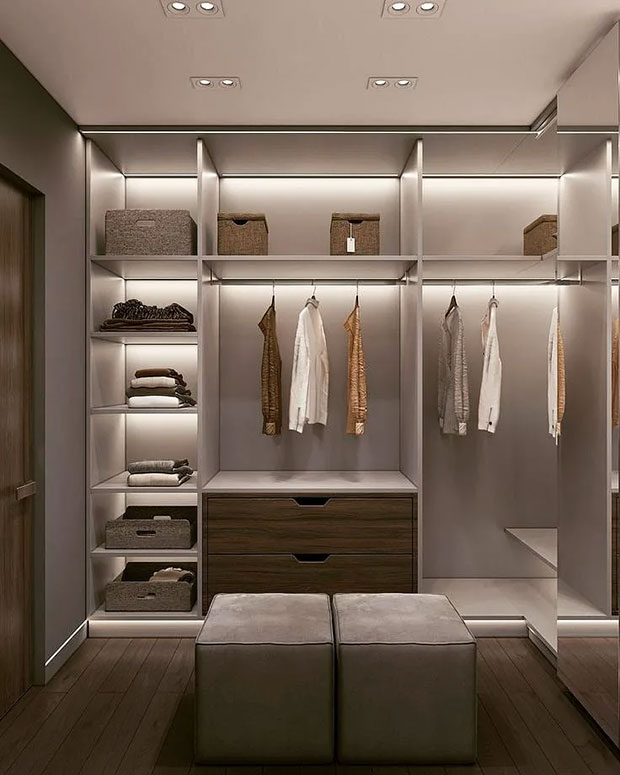 Tired of the dark closet? You can add light at the back to make it less gloomy. You can use LED strips to light it up.
Slide Out Shoe Storage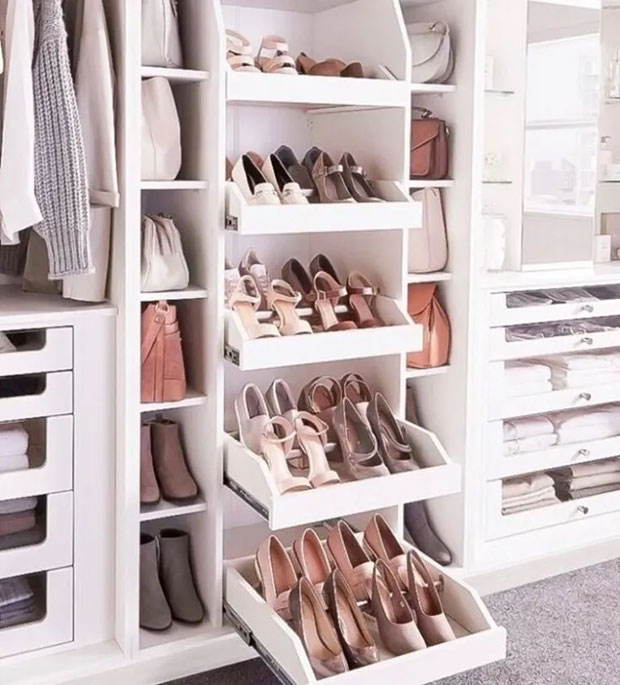 Crafty Hacks
These slide-out shoe storage allow you to keep more shoes in your closet and at the same time add depth and extra storage for your shoes. It will make the selection process a lot easier too when dressing up.
Baskets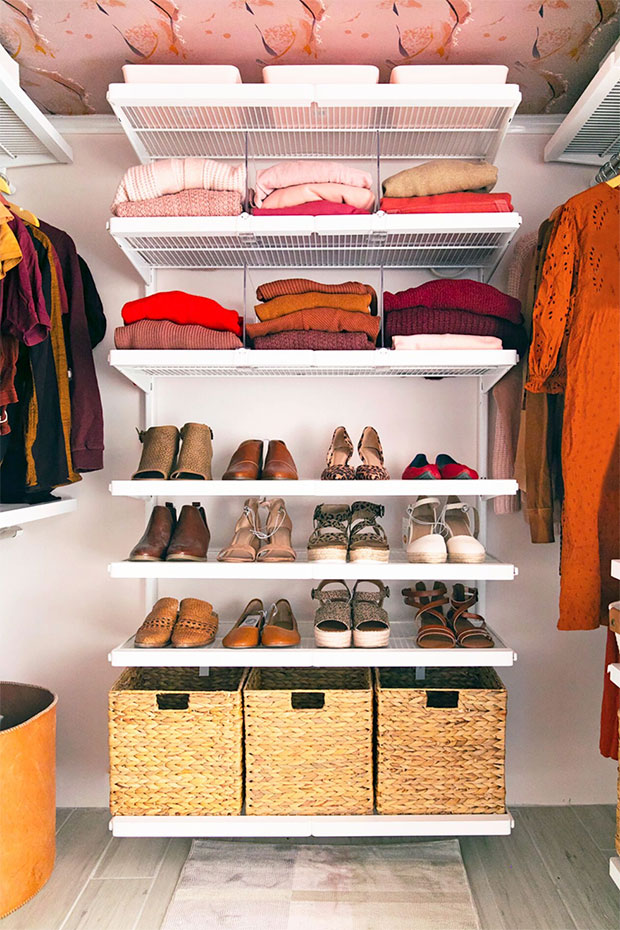 Caroline Lee
Bulky sweaters and shoes often take up more space in your closet. Put them on a separate shelf and add baskets to store them in.
Rolling Cart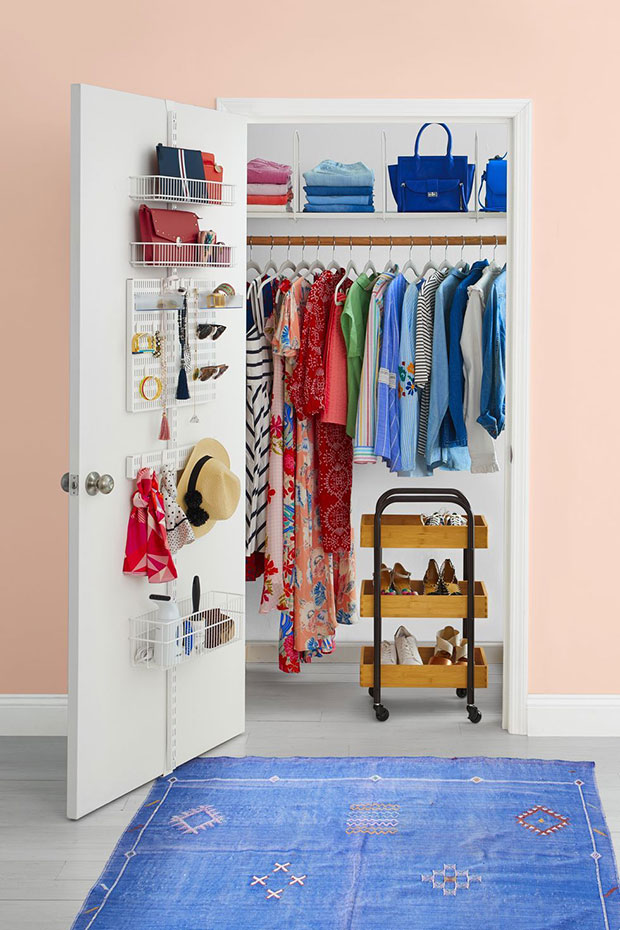 Mike Garten
Another alternative to built-in shelves is rolling carts. This here is used to store shoes, but you can also put them in your bags as well as other accessories.
Dividers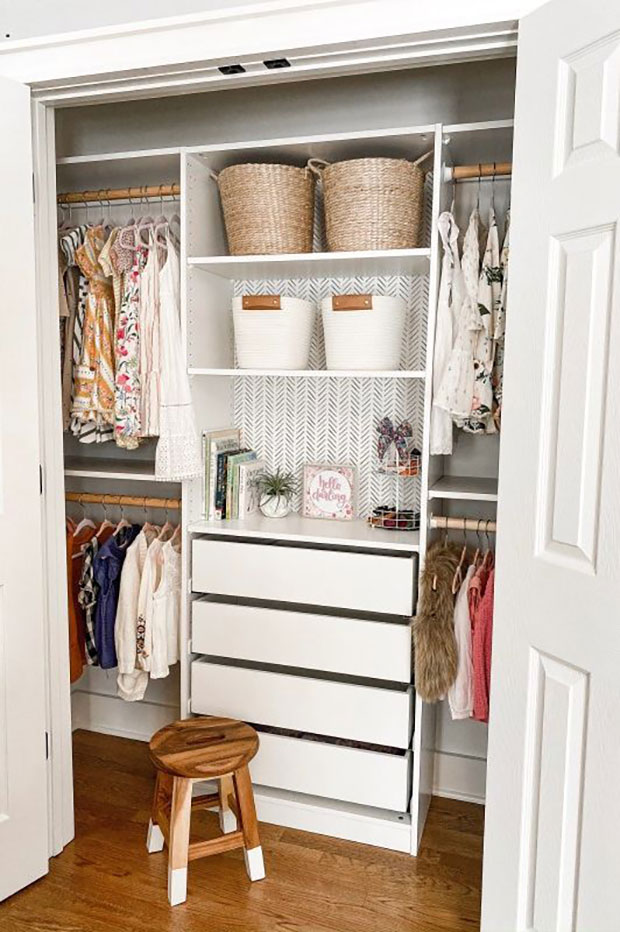 Jessen & Co.
This closet storage has multiple shelvings and hanging rods in place. There is even a small space for books and cute hair accessories.
Open Closet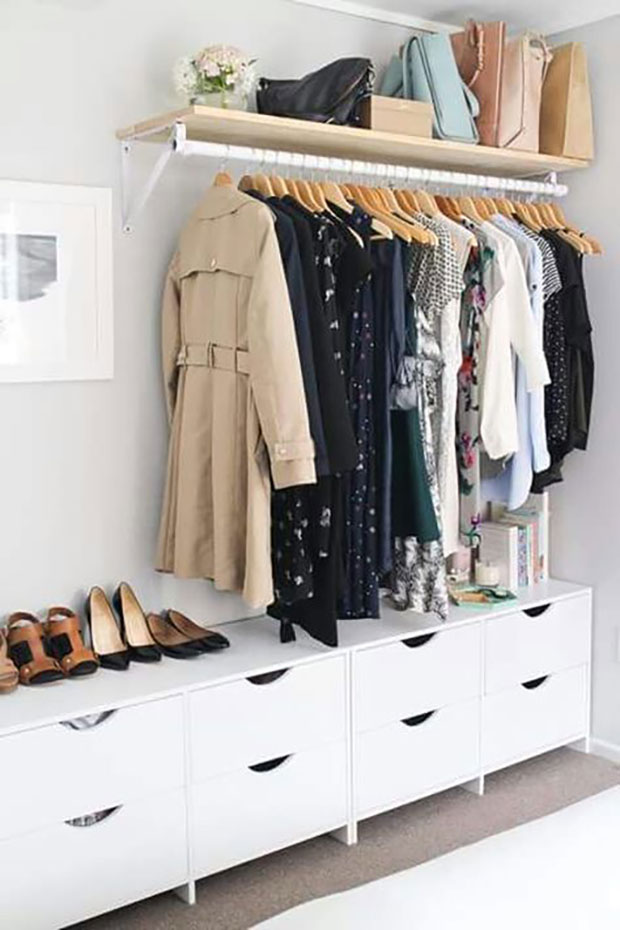 VETTA
For open spaces, simple yet organized closet storage ideas can be embraced like this example. The designer has used small drawers at the bottom and a shelf at the top with a bar for hanging dresses.
Optimized Space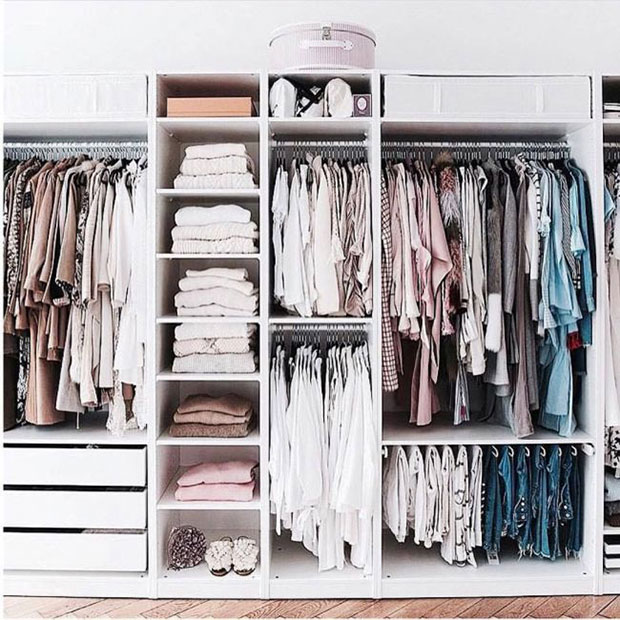 Sara Hall
This closet is fully optimized with extra hanging space for all kinds of dresses. These are also organized by type and have extra dividers for sweaters and even smaller accessories
Wire Shelves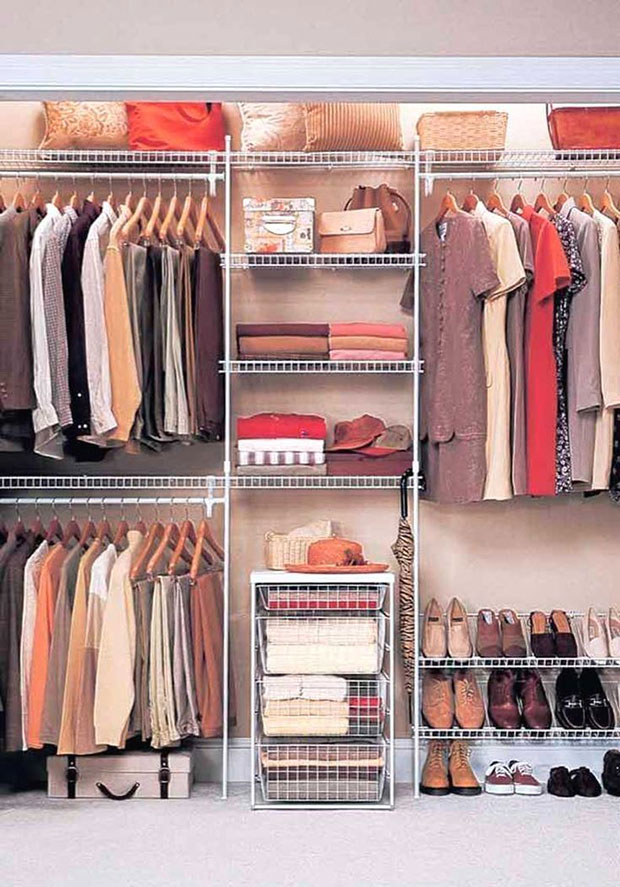 House Beautiful
For a more open space, you can also opt for wire shelves. It adds a cleaner look. The owner even added a backlight to make it even brighter.
Walk In Closet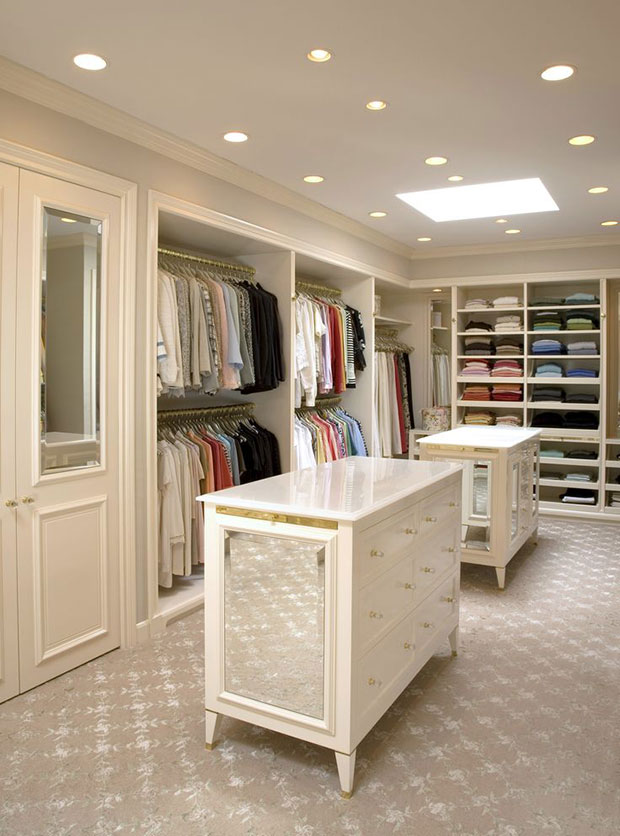 Architectural Digest
This walk-in closet looks awesome with the gold accents in the hanging bar and the island or tables at the center. The lighting also provides a gorgeous glow, which will make dressing up here a great experience.
Pull-Out Storage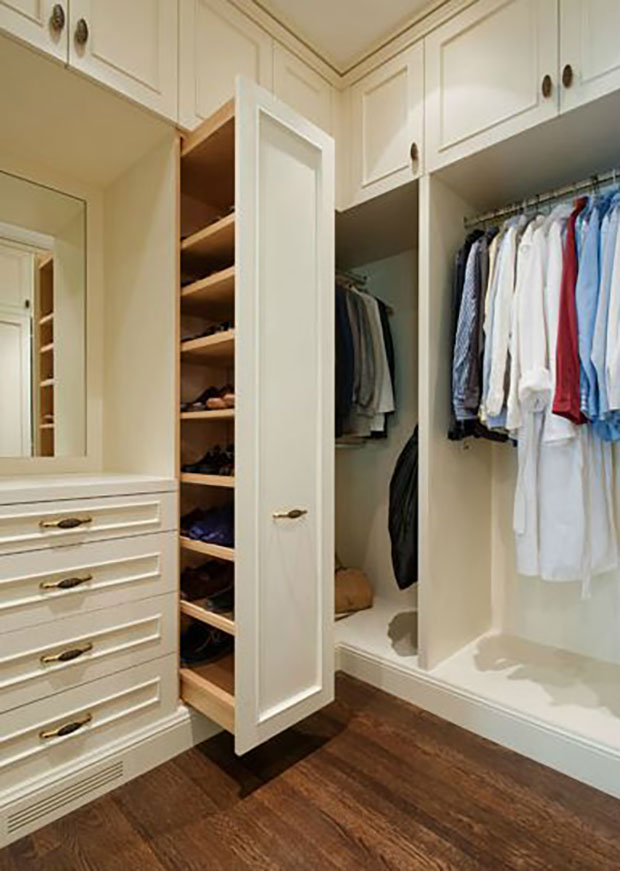 Don Pedro Brooklyn
Instead of horizontal shoe storage, this design makes use of vertical shoe storage. This is great if you have remaining narrow spaces in your closet.
Organizing can be a very challenging thing to do, especially when your closet is overflowing with stuff. Hope this list helps you arrange your stuff and make your closet more presentable.
Like This Post? Pin It!