65 Best Floor Lamps You Need To Have for Your Home
|
When setting up our home, we often look for the best floor lamps to have. And that means that quality is often overshadowed by design. But how about if you can have both?
Floor lamps are used to brighten up a dark room and highlight a corner of your room. They are tall standing lamps that are designed to stand on the floor, alone and without support.
Floor lamps have always been a part of everyone's home. Over the years, a wide variety of designs, styles, and technology have been introduced in the market.
While it is true that quality is the most important, there are many lamp manufacturers out there who build the best floor lamps that not only has great quality but design as well.
How To Choose A Floor Lamp?
Choosing the best floor lamps often depends on the base (if it's sturdy and stands steadily on the floor), a tall stem, and a light that might be direct or diffused.
To be able to choose the best floor lamps, below are some things that you need to know:
1. Know which floor lamp you need. There are so many floor lamps to choose from. There are ambient lamps that are meant to provide general light to space. Another is reading floor lamps which provide more direct and focused light.
Another lamp to consider is the uplight and torchiere floor lamps with their upward-pointing shades. The arc floor lamps are more versatile where the stem is adjustable.
2. Consider the cost. Cost for floor lamps can vary depending on the brand, the design, and the technology used. The more intricate or desirable the brand, the more expensive it will be.
Basically, when you choose the best floor lamps, consider one that will work for you and your budget.
3. Choose the right size for your home. Size with floor lamps can vary depending on the design. Generally, shaded or torchiere lamps are narrow and take less space. Arc floor lamps, on the other hand, may take up more space because of their horizontal extension.
To sum it up, look at the amount of space that is available for your home to be able to utilize it properly.
4. Consider the height. Remember that the higher the light force, the taller your vertical space must be. Also, consider the scale of your furniture and appliances inside the room. If you have platform-style furniture, make sure that your floor lamp doesn't tower them all.
It is also wise to choose a lamp where its light source is covered by the shade to avoid uncomfortable glare.
How To Light A Room?
Lighting a room is as important as your furniture and appliance. Good lighting can make or break a room.
In general, the formula for lighting a room is :
Room Lengths X Room Width X 1.5 = Amount of Wattage
With the required wattage, you can divide them into upper lamps then arrange them strategically around the house. So for example, the total is at 350 watts, you can get 2 lamps with 150 watts each and another with 50 watts.
Best Floor Lamps Design For Your Home
If you are looking for the best floor lamps that won't compromise quality and has the best and fun designs, check out this collection!
Lean Floor Lamp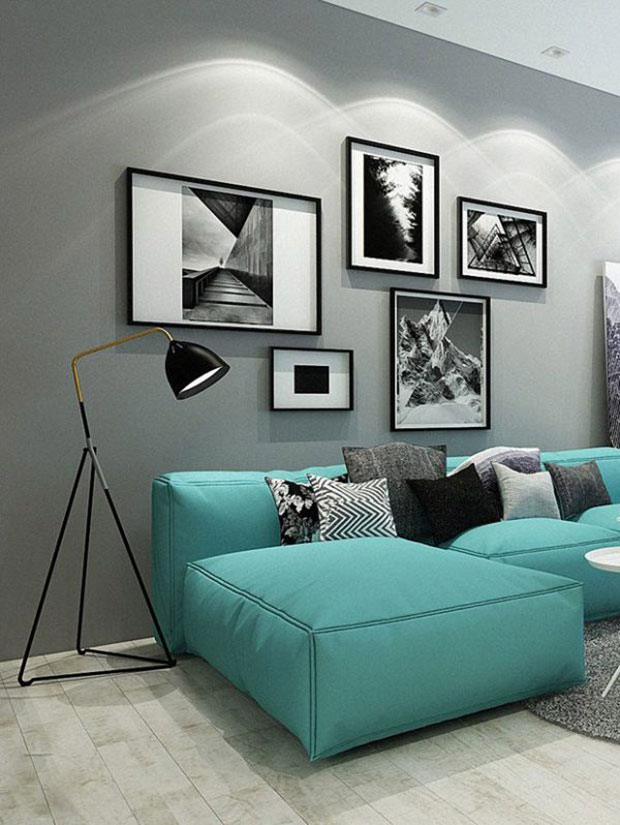 Jenny Bäck
This lean floor lamp has a contemporary form and vintage appeal. It is available in black and white colors with a touch of brass on the stem.
Ariana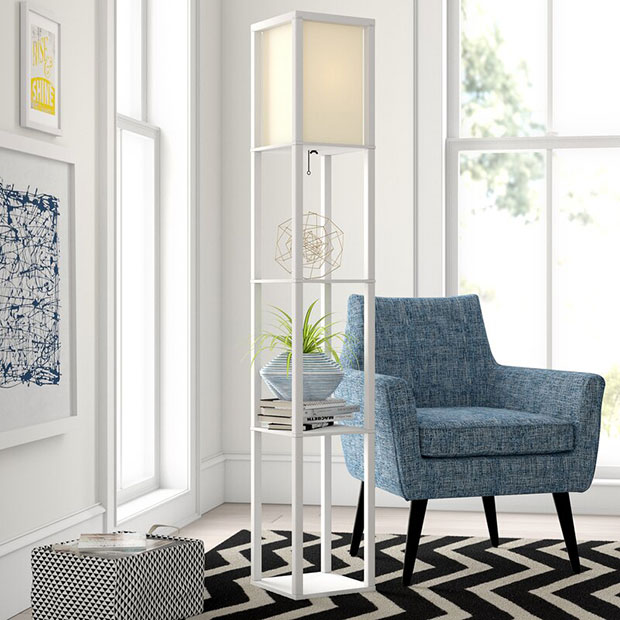 Zipcode Design™
This 63″ column floor lamp can make the most of your square footage. The lamp has an open frame where you can place stuff like books, toys, and even your quirky home decors that you have been wanting to display.
Buendia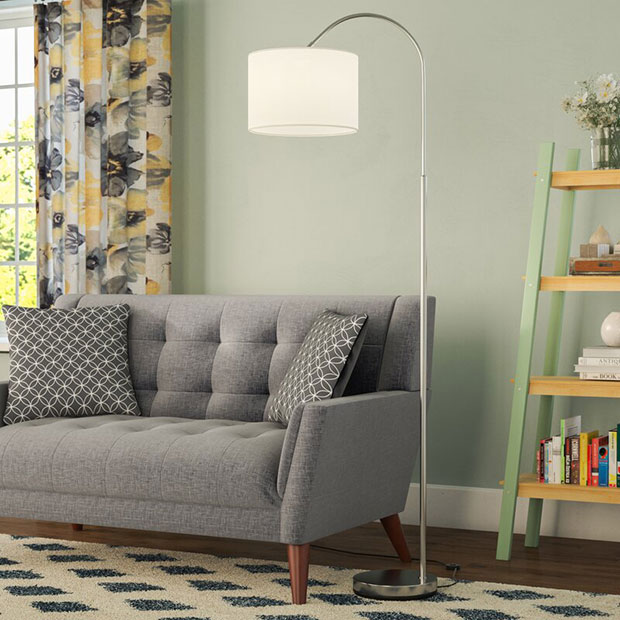 Mercury Row®
Buendia is crafted from metal in a brushed nickel finish. Its design is quite classical and elegant. It can help light up a nook or a couch.
Flos IC F2 Floor Lamp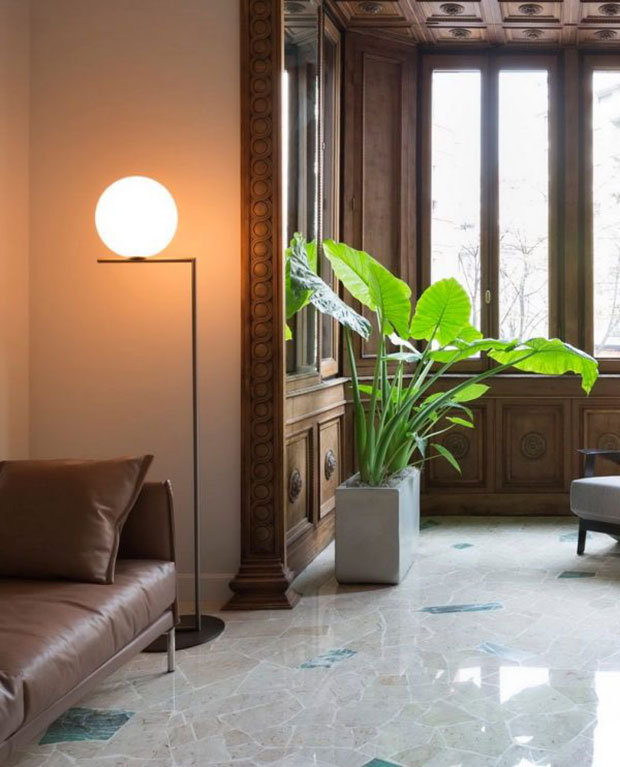 Michael Anastassiades
The unique design of this floor lamp is perfect for luxury interiors and contemporary designed homes. One look and the shape and color will remind you of sunsets.
Knobel LED Novelty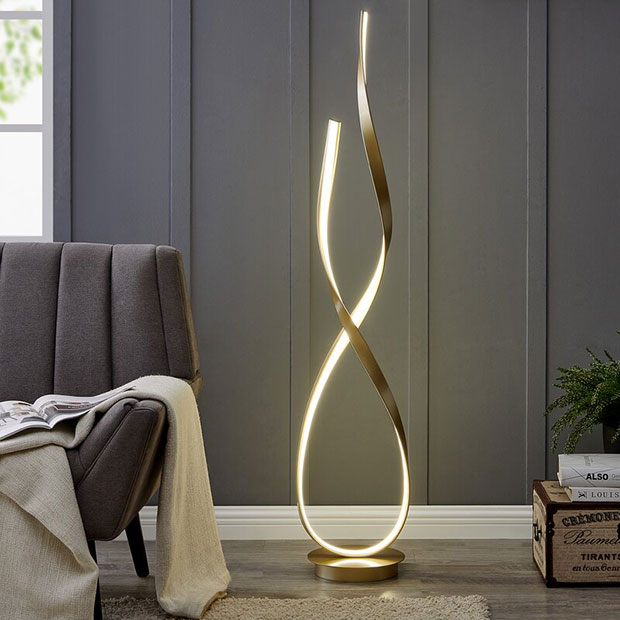 Orren Ellis
Wrapped in gold finishing, this floor lamp embraces a linear and fluid design. It is perfect for any type of home design.
Aldora Tree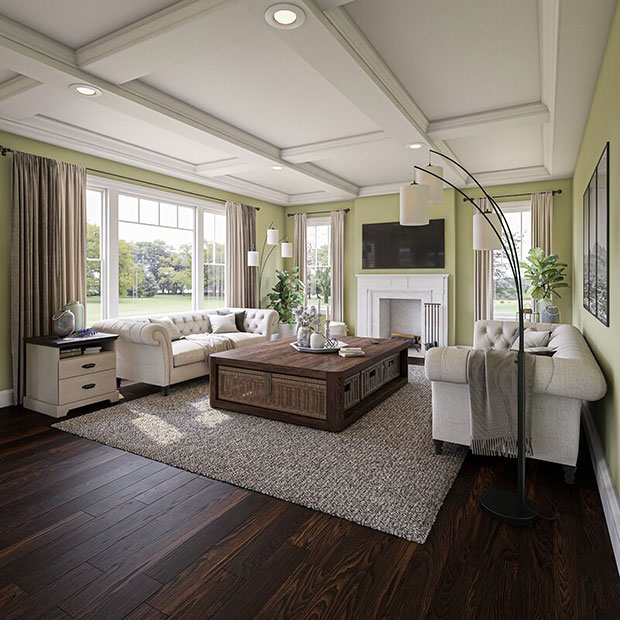 Zipcode Design™
Aldora has a sweeping arc and three white drum shades that make it a mid-century and modern masterpiece. It has a rich black finish that highlights the white shades.
Archer Floor Lamp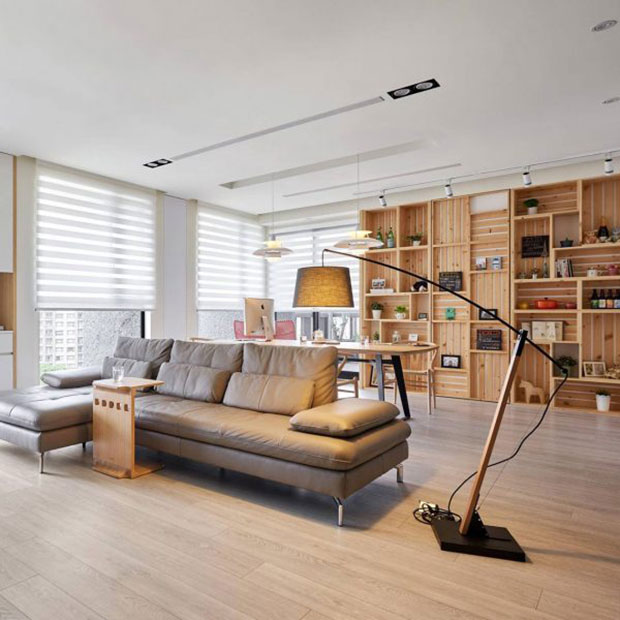 SEEDDESIGN Store
This awesome floor lamp has a solid beechwood body with black metal details. It is perfect for industrial-designed homes and contemporary ones.
Ginerva Column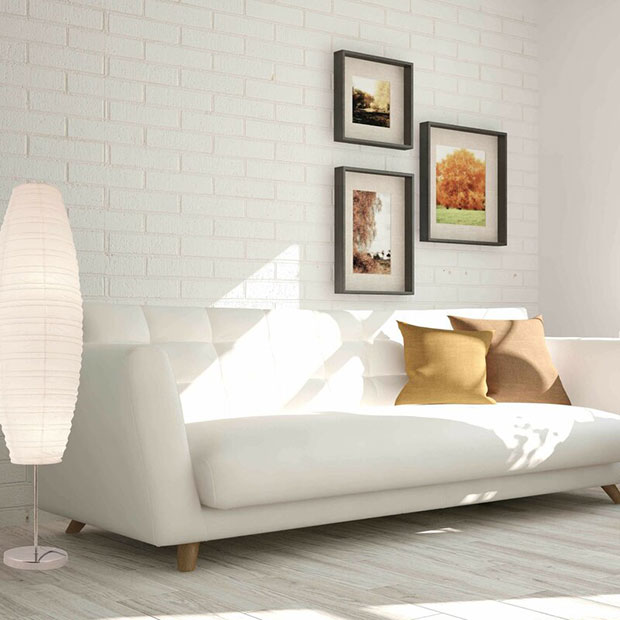 Orren Ellis
With its Asian-inspired theme, this cute column floor lamp exudes a stylish, casual, and sophisticated look.
Flynn Recycled Glass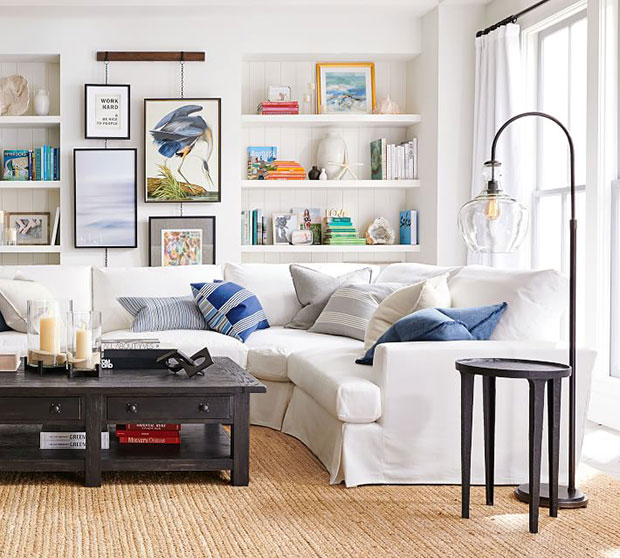 Pottery Barn
Bringing warmth to any space, this recycled-glass Flynn Floor Lamp is made from cast aluminum with a bronze finish. The design is classic but will git to any design space.
Three-Arm Standing Lamp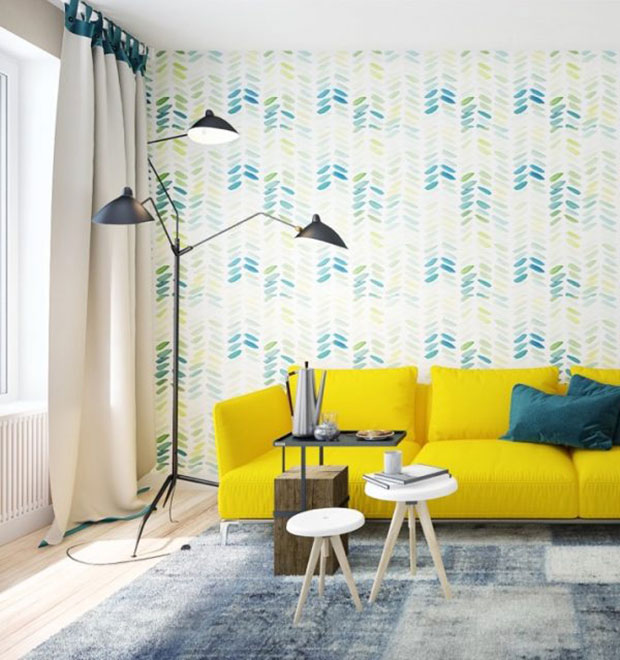 Serge Mouille
This cool design has a carbonized steel body with copper details. The three-arm design is really eye-catching and quite unique.
Levitt Column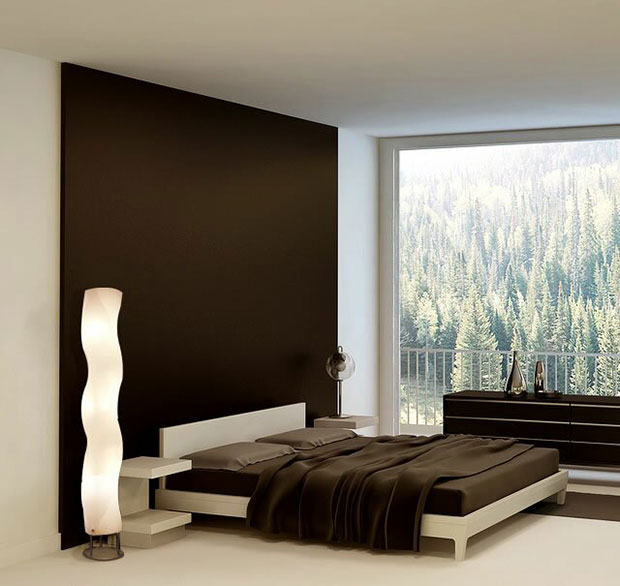 Orren Ellis
Another best floor lamp to consider is this Levit column floor lamp with its beautiful wavy style. It is made from both metal and plastic and will fit in any simple and modern home.
Contour Modern LED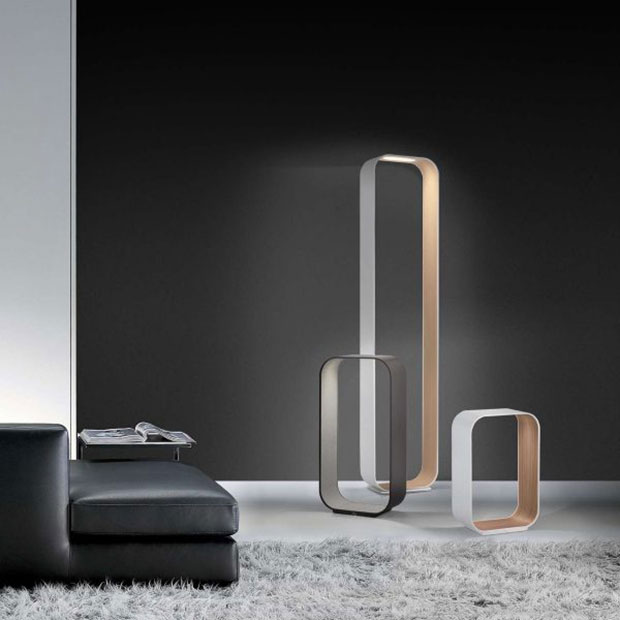 Pablo Studio from Pablo Designs
This mounted LED floor lamp looks stylish and modern with its smooth lines.
Chirag Tree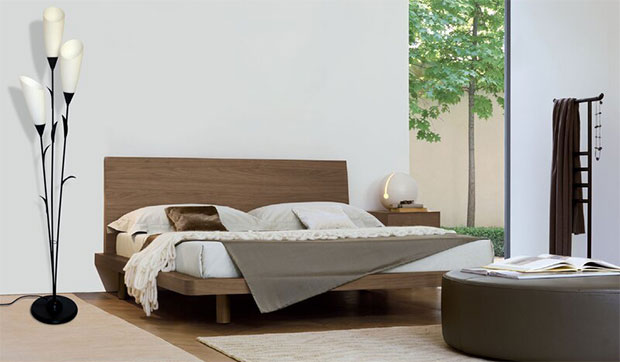 Winston Porter
Featuring an acrylic hard plastic and a tree branch base, this beautiful tree lamp adds a natural look to any room.
Shearwater Arched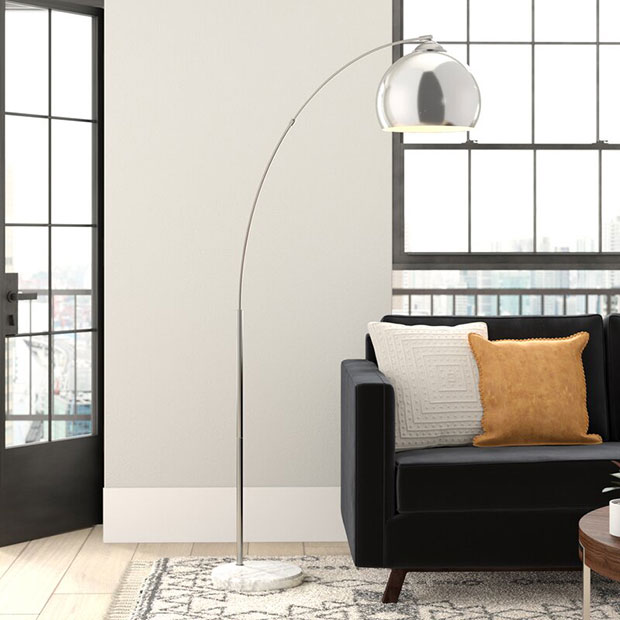 Wrought Studio™
The best floor lamps often have a lovely classic finish that complements any room. This lamp has a classic metal finish with a curved arm.
Amaranthine Tripod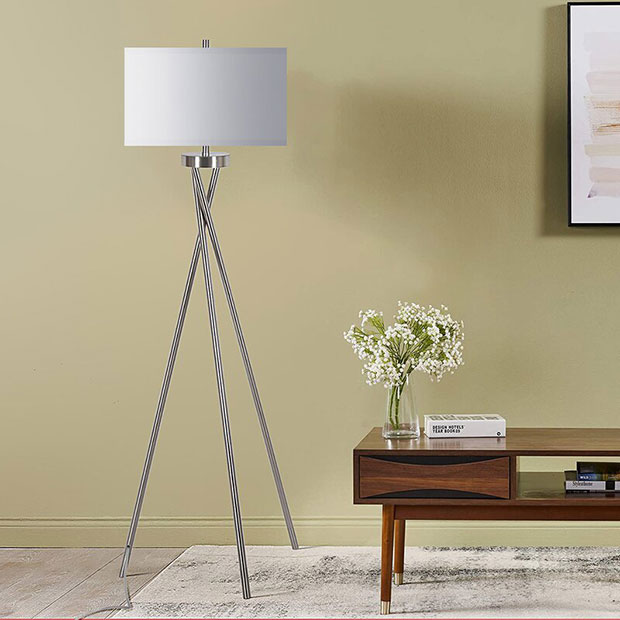 Corrigan Studio®
The tripod design of this floor lamp makes it more stable and is perfect for the living room, study room, and bedroom.
Minimalist LED Arc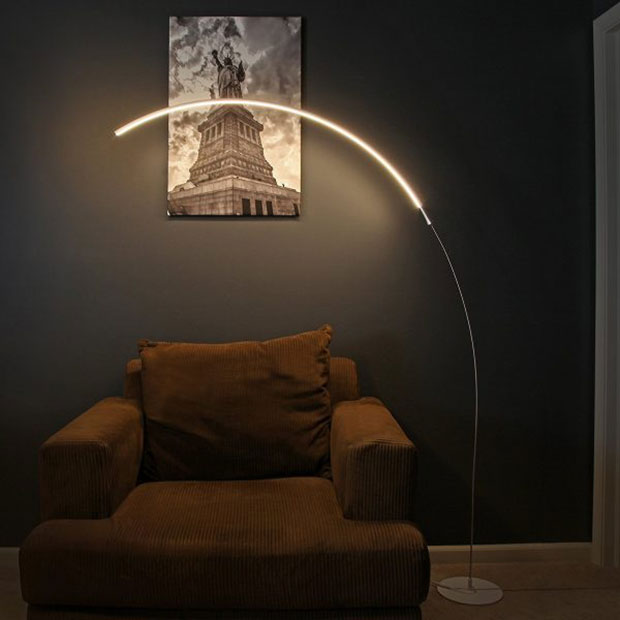 Home Designing
The minimalist design of this LED arc is quite unique and eye-catching. Its design can gently wrap around all sides of an armchair or reading nook.
Stick Figure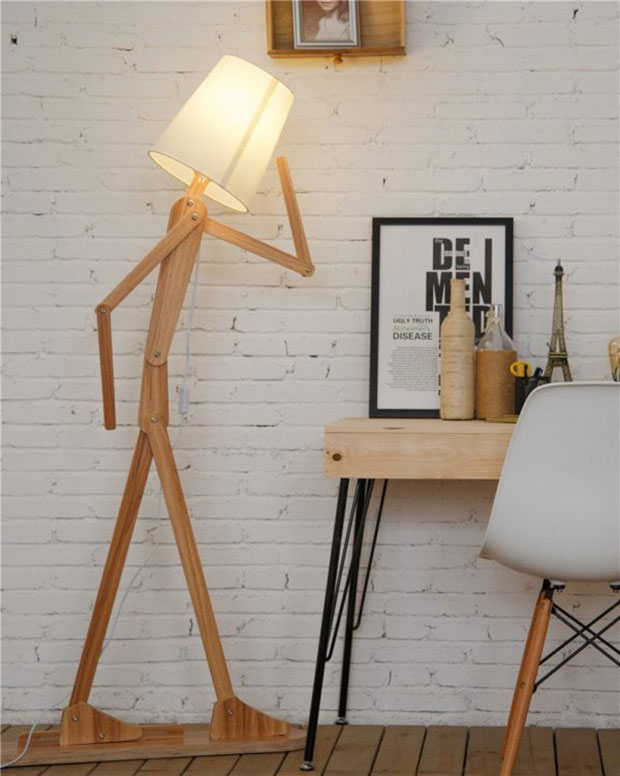 HROOME Store
Put life and a little bit of fun into your space with this funny stick figure floor lamp.
Hamner Tripod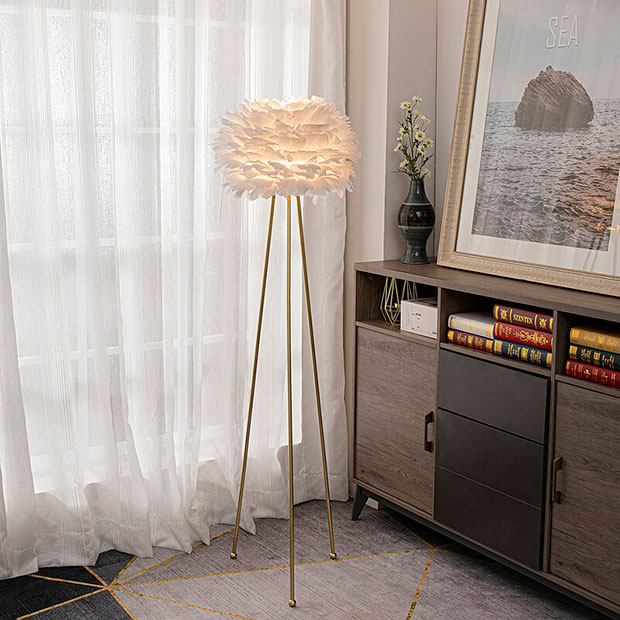 Everly Quinn
This floor lamp's charming and unique design is simply eye-catching. The floral design makes you think of the outdoors and nature.
Antique Industrial Style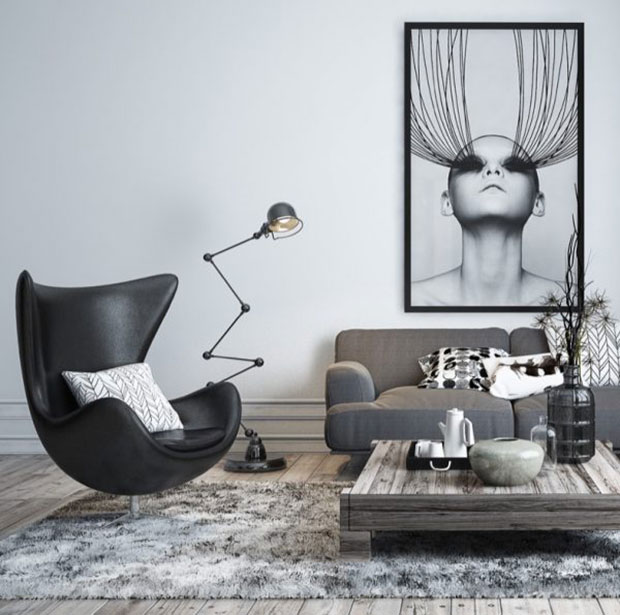 Jean-Louis Domecq
The lamp's rugged charm makes it the perfect add-on to any industrial decor theme.
Commodore Arched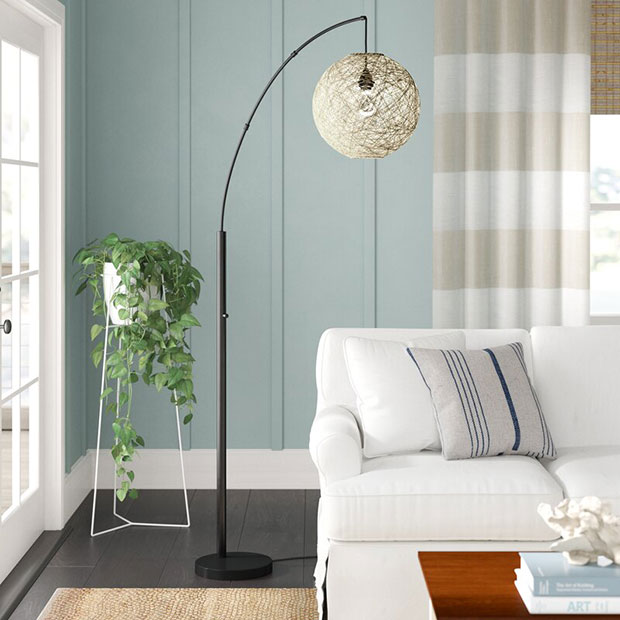 The perfect add-on for a cozy atmosphere, this arched floor lamp features a sphere made from cream-colored rattan strings.
Kenner Tripod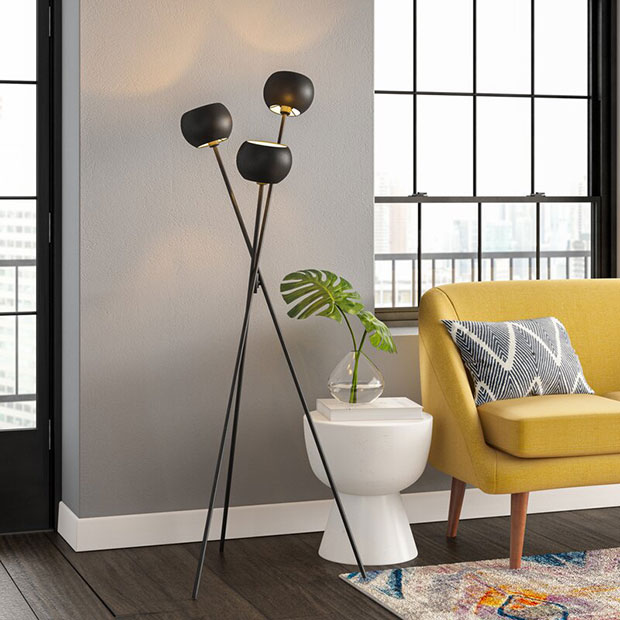 Ebern Designs
Another tripod is included in our list with this 63″ floor lamp. It has a cool and distinct design with its three light sources.
Lightsey Column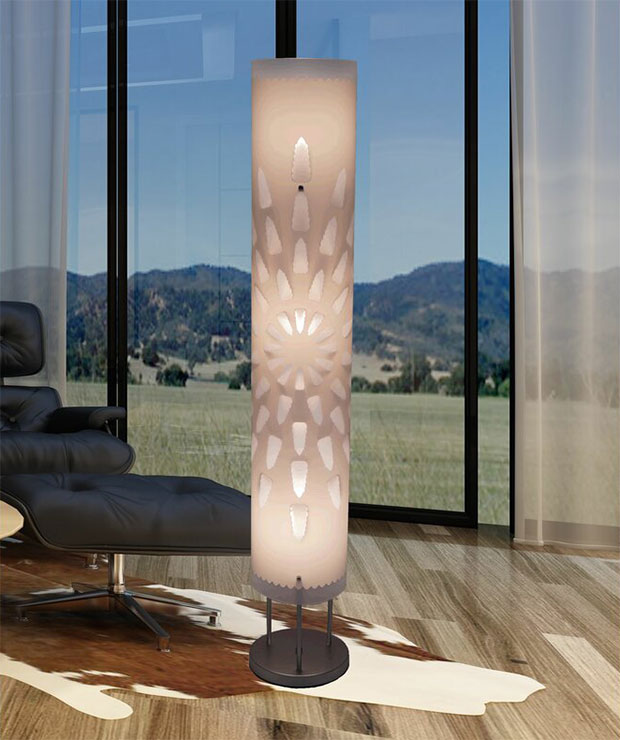 Orren Ellis
Add a dramatic touch to your home when these column floor lamps light up. The lamp has a modern contemporary design and a beautiful flower-like shape.
S7 LED Floor Lamp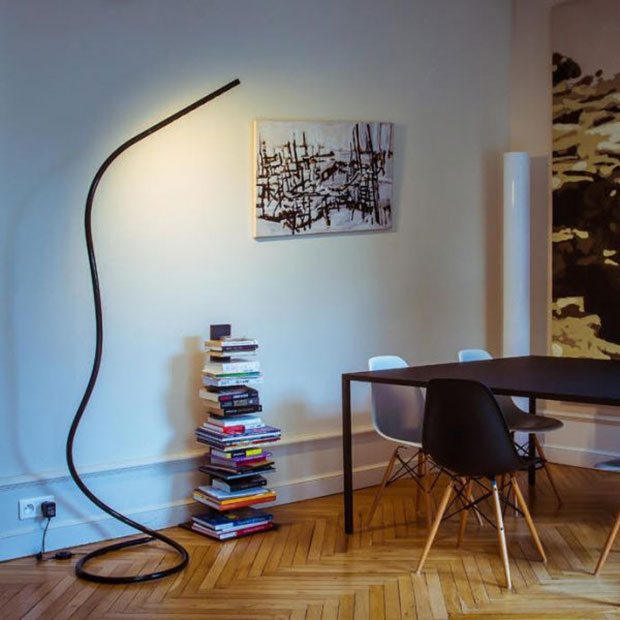 Nicolas Pichelin
The unique shape and design of the S7 floor lamp remind you of a snake ready to strike, but instead of the bite, it gives you light.
Rylan LED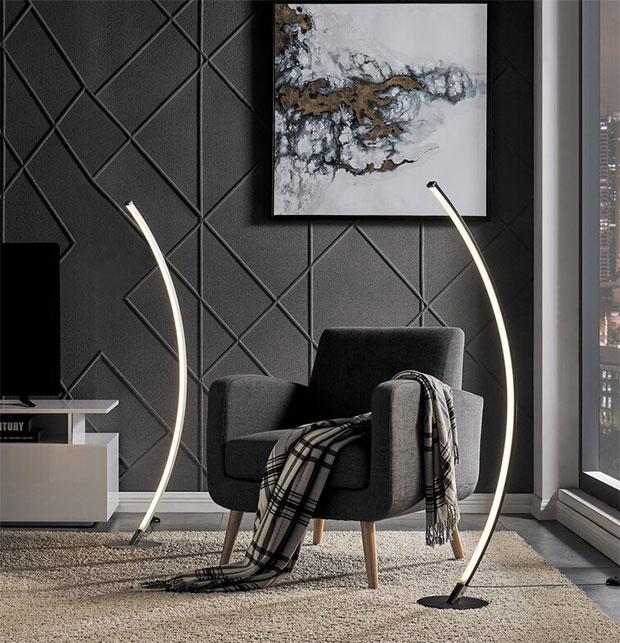 Wade Logan®
Another minimalist design is this arc floor lamp with a nice metallic finish. The floor lamp is perfect for modern homes.
Estabrook Broadway Tree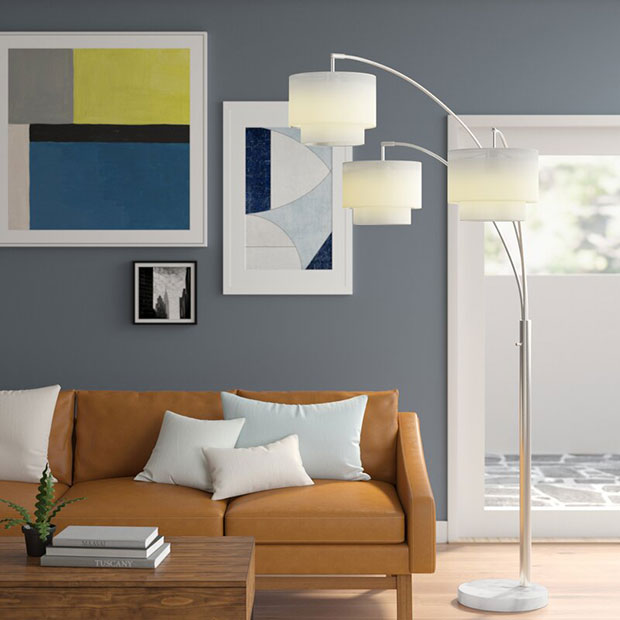 Wrought Studio™
With three different height swivel arches with double-layer lampshades, this floor lamp is quite a sight to see.
Dunkle Tree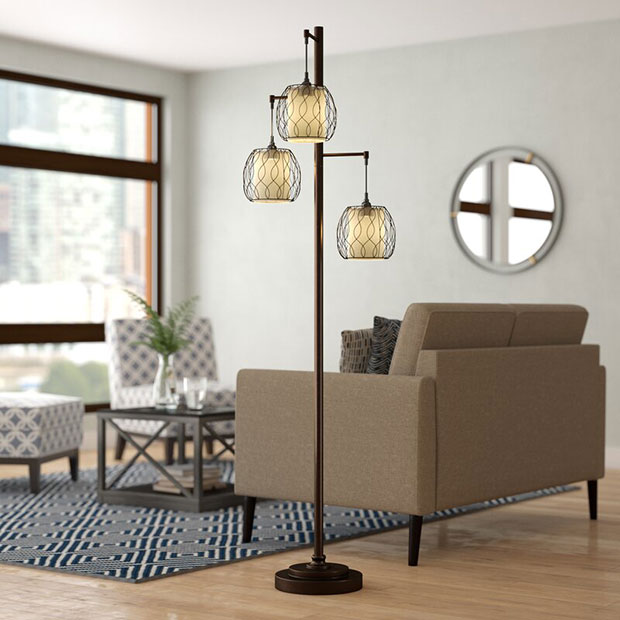 Brayden Studio®
Its classical look makes this tree floor lamp eye-catching. The lamp is crafted from wood and metal.
Pettine Floor Lamp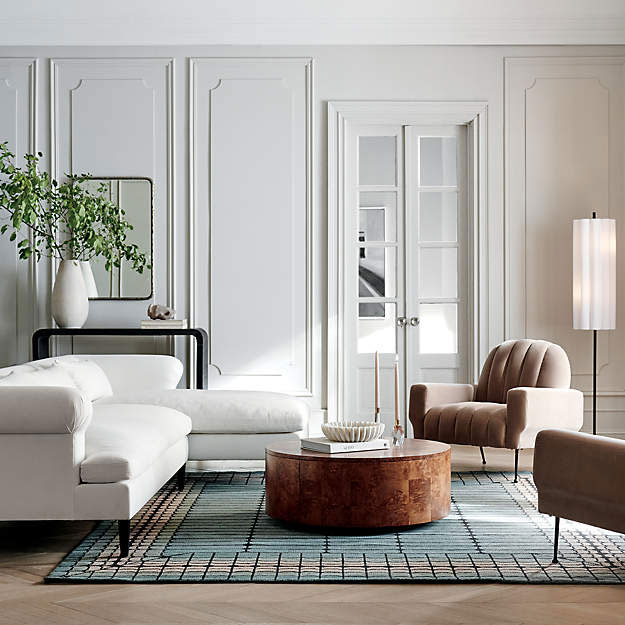 Mermelada
This floor lamp flaunts a tall white linen shade with voluminous fluted details.
Lithe Floor Lamp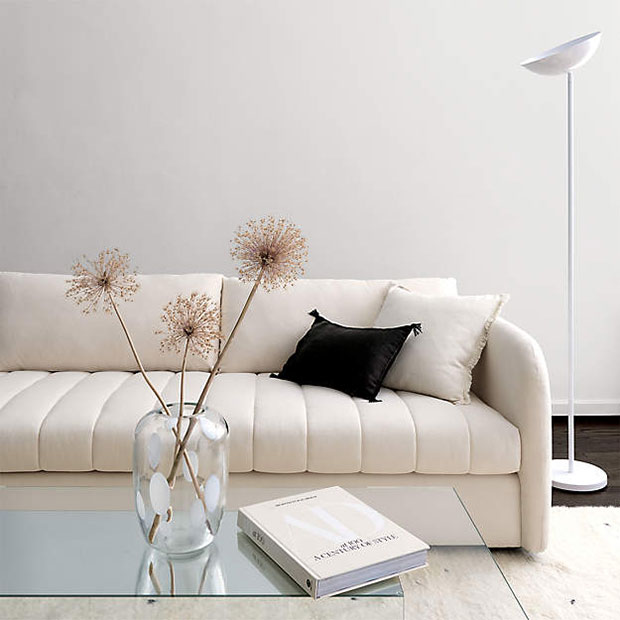 Kara Mann
A slight and simple floor lamp, the beauty lies in its sleek design.
Winthrope LED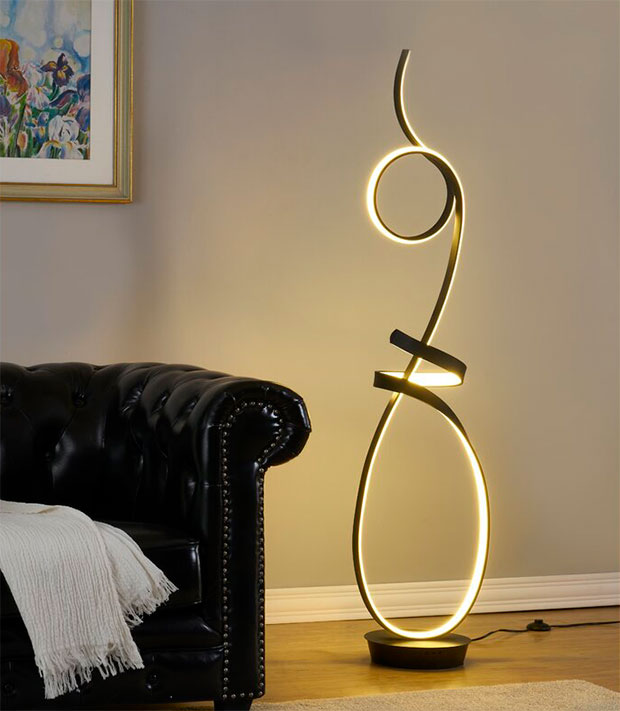 Orren Ellis
Another novelty design is this Winthrope from Orren Ellis. The design has sleek curves and draws attention.
Guyette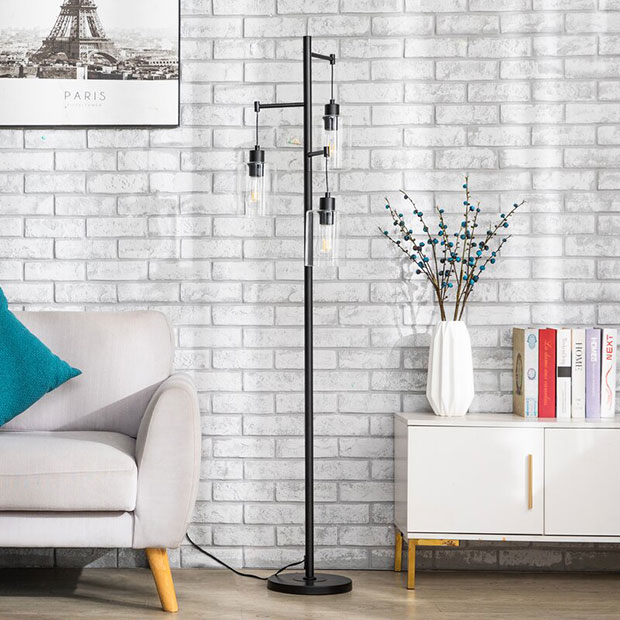 Longshore Tides
This classic and elegant floor lamp design looks amazing. It has a treelike standing lamp with hanging glass shades.
Palm Brass Floor Lamp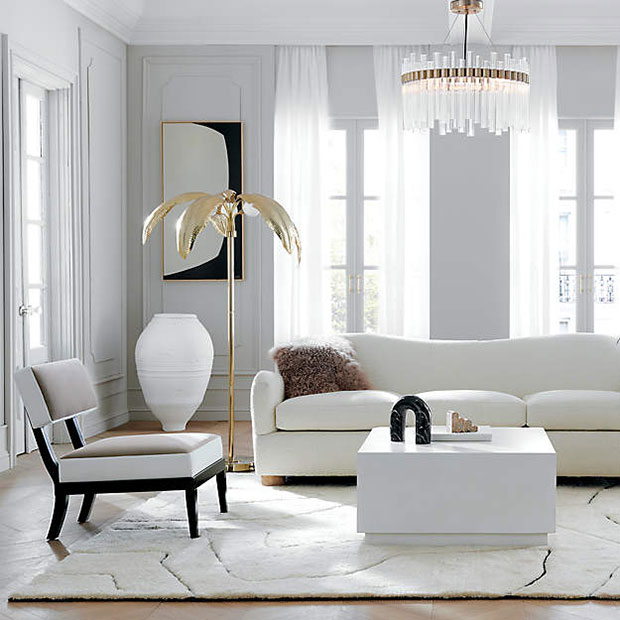 Studio Anansi
Bring in a tropical vibe but with elegance and style with this palm brass floor lamp.
Cecelia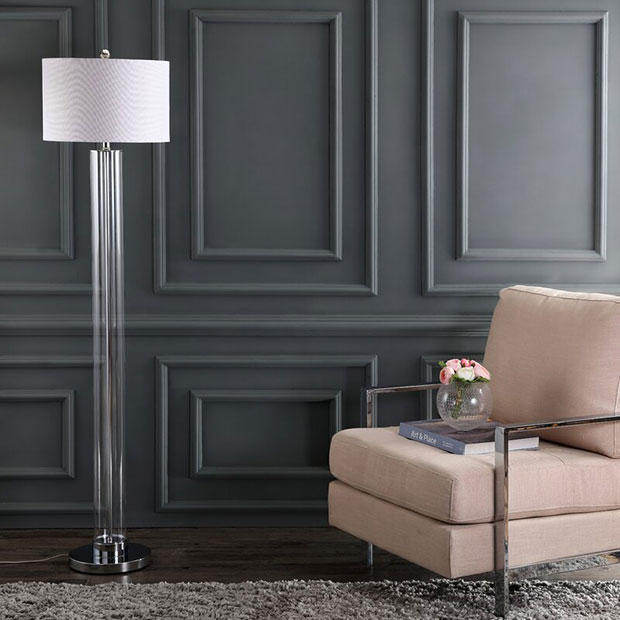 Joss & Main
This elegant floor lamp features a glass stem and a wide drum shade. The design is elegant and classic.
Capullo Glass Floor Lamp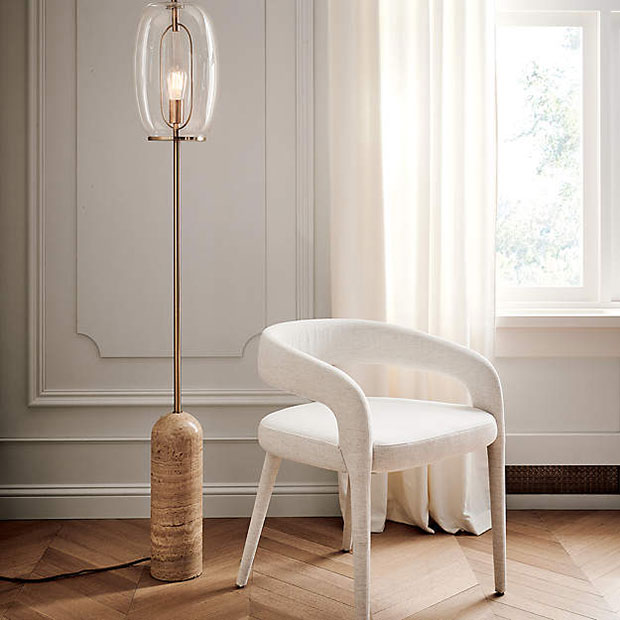 VUUE
The classic design of this floor lamp is sure to catch interest and attention. It has a brushed brass pole.
Hinsdale Staggered Rectangles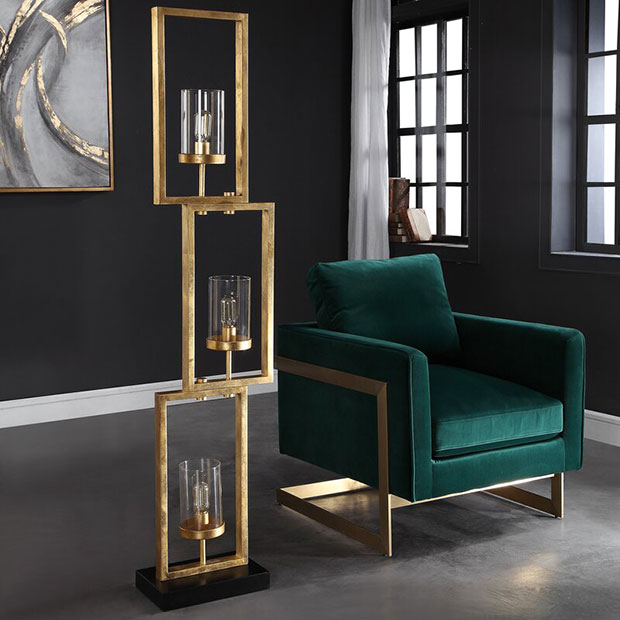 Everly Quinn
The clean and geometric lines of this floor lamp are interesting and unique. It has staggered steel rectangles and a clear glass globe.
Odilia Column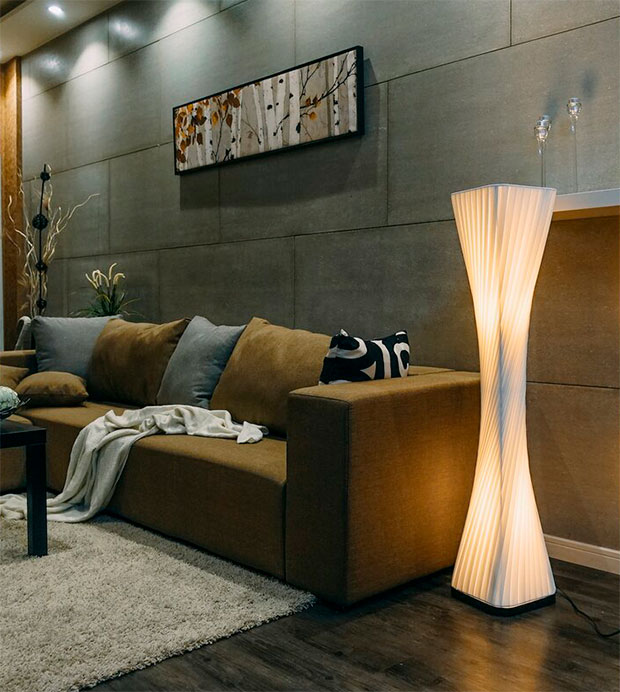 Orren Ellis
The sweeping whirl of lines makes this column floor lamp exciting and eye-catching. It has a modern slim twist design and rich texture.
Pavo Champagne Brass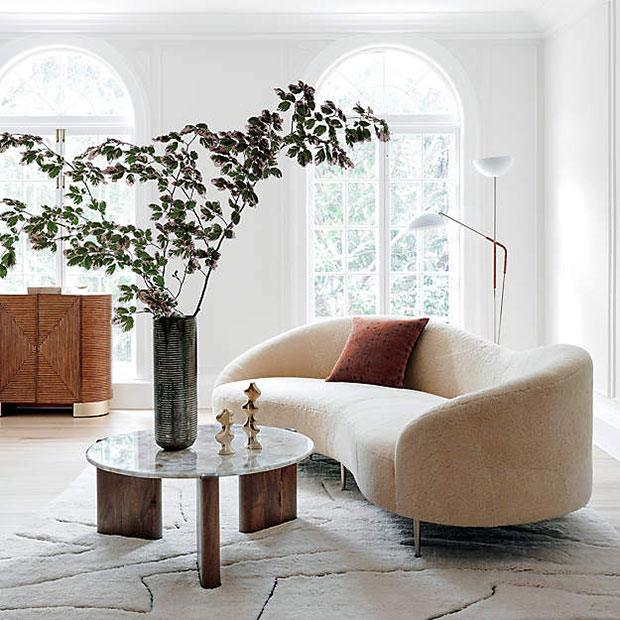 Brett Beldock
A doubly bright design is featured in this double floor lamp. The design has a sleek champagne brass finish with two matte white shades for max light.
Fenwick Novelty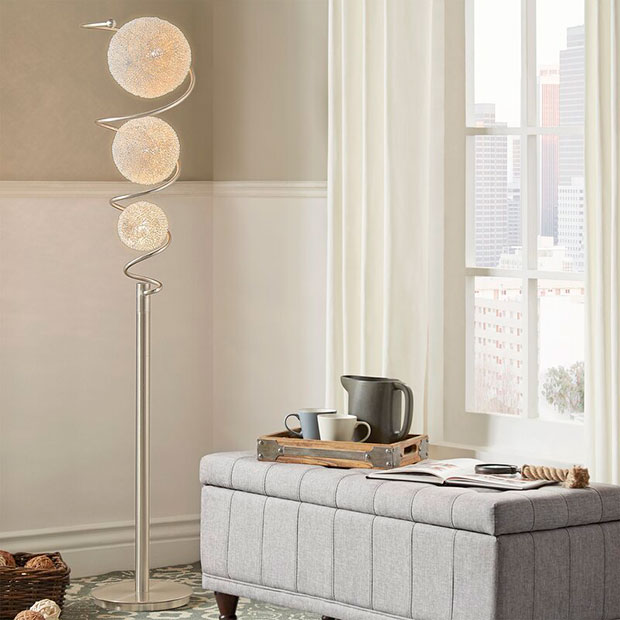 CREDIT
This metal floor lamp with three aluminum globe shades. The design is unique and will turn heads.
Leos Floor Novelty Lamp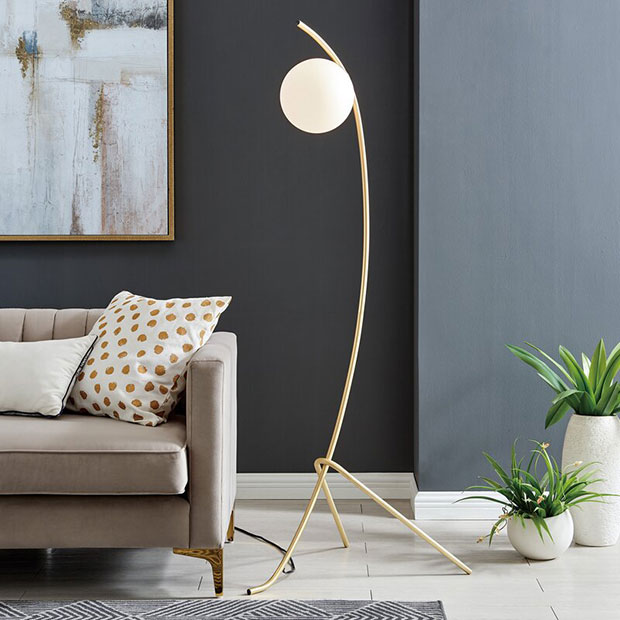 Corrigan Studio®
The curve design of this floor lamp is quite eye-catching. It has a base finish of gold and a frosted shade.
Hugo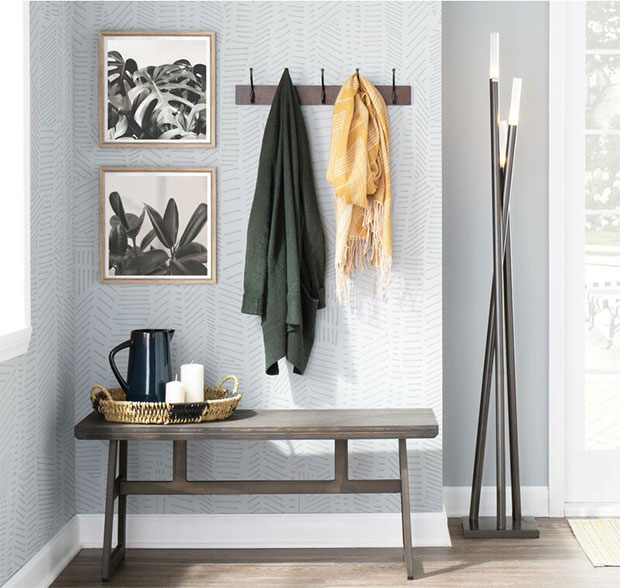 Wade Logan®
With a clean-lined base of three crisscrossed tubular arms, this floor lamp is stylish and unique.
Lupe LED Novelty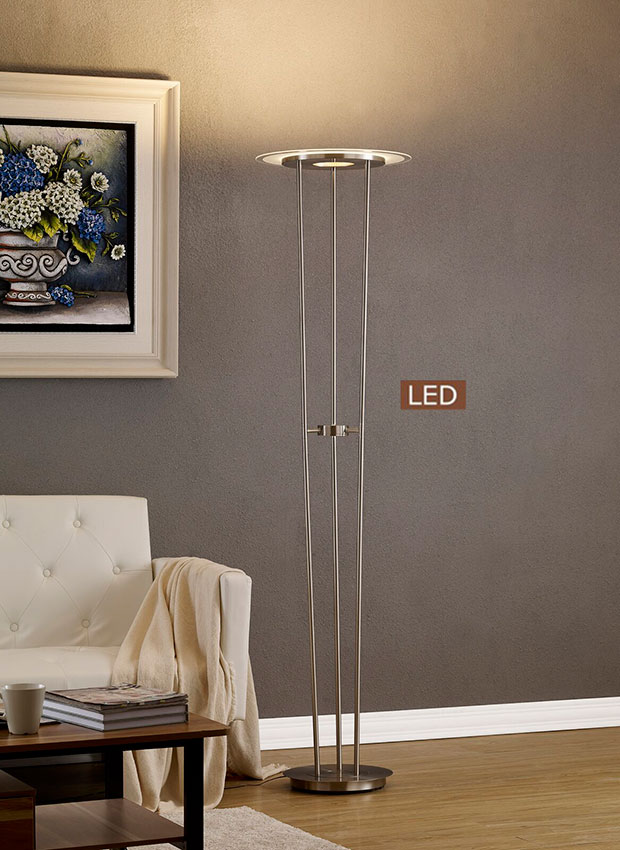 Orren Ellis
Another stylish design is featured in this novelty LED floor lamp. It is made of metal that includes an ad dimmer switch type.
Alayna Arched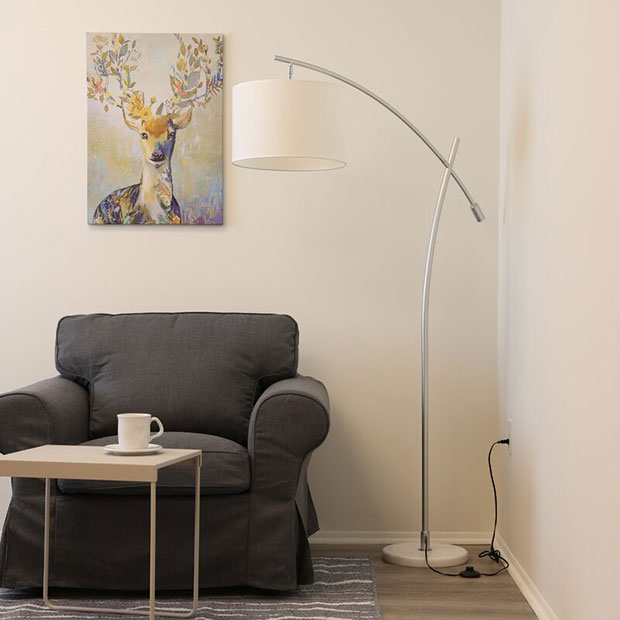 Mercury Row®
This sophisticated floor lamp has a heavy marble base and a stainless-steel arched body. The drum linen shade gives it a gorgeous classic look.
Craftsbury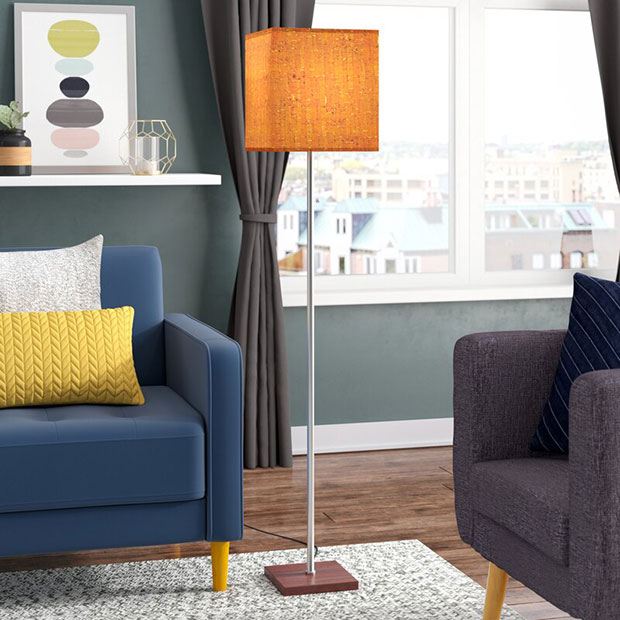 George Oliver
The rustic warmth of this floor lamp is simply irresistible. It has a square cork material for the shade and a flat square walnut base.
Delafuente Arched Lamp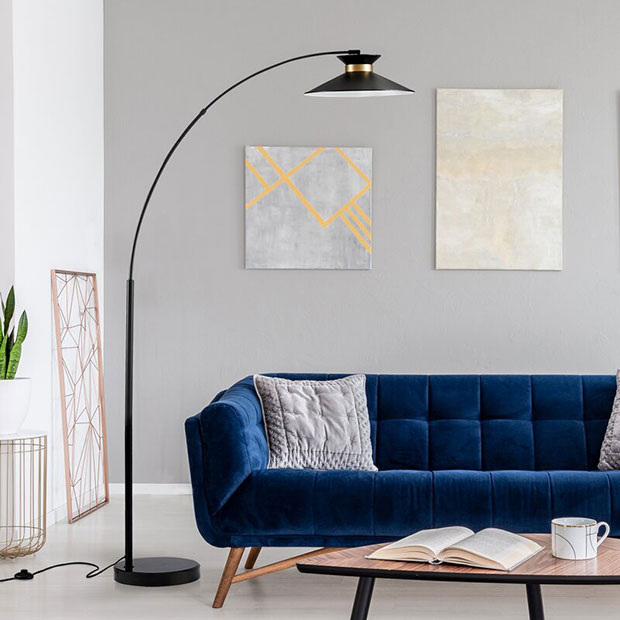 George Oliver
This arched lamp has a minimalist design with mid-century elegance. It is made from metal and a green and energy-saving LED bulb.
Hesser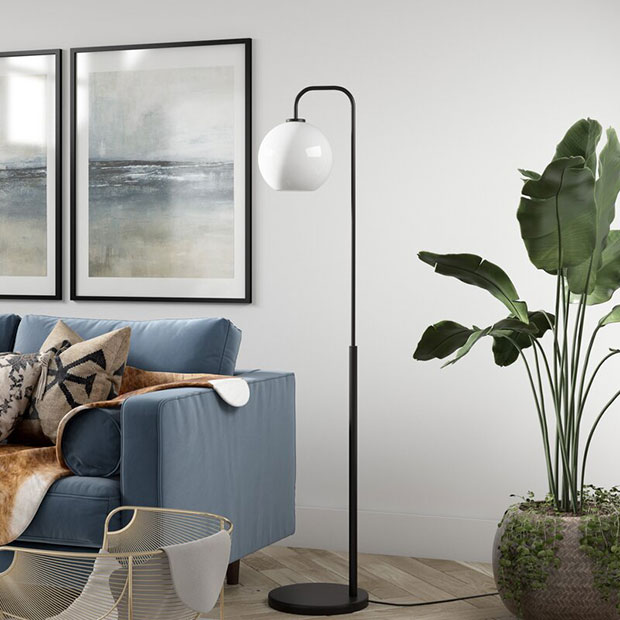 Brayden Studio®
The best floor lamps have the most effective embodiment of any design theme. This floor lamp has a mid-century modern design that looks fantastic.
Tyrol Novelty Lamp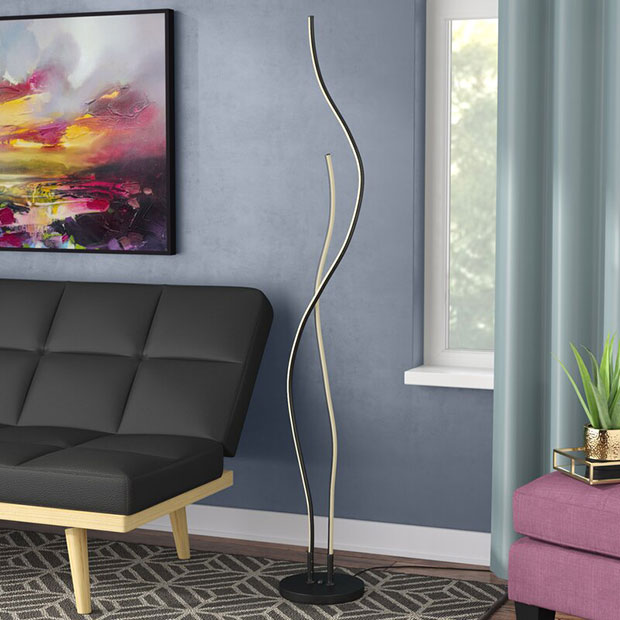 Orren Ellis
Designed like a ribbon with its curve design, this floor lamp is definitely a novelty and an amazing add-on to any home. It is made of metal and has a built-in LED light.
Fincastle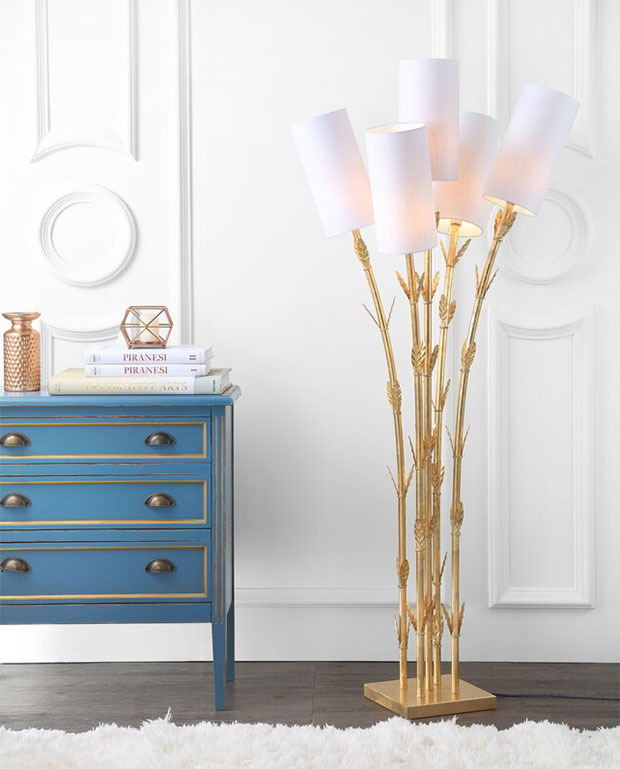 Everly Quinn
Another fun and elegant floor lamp is showcased here. The lamp is designed like a plant – stalks of bamboo to be exact – in gold. The effect is rather pleasant and eye-catching.
Silver Sphere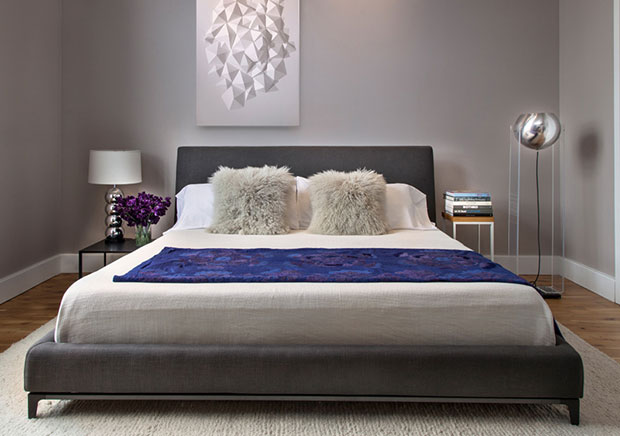 Lucy Harris Studio
This floor lamp has a silvery metallic finish that blends well with the room's design.
Mainland Street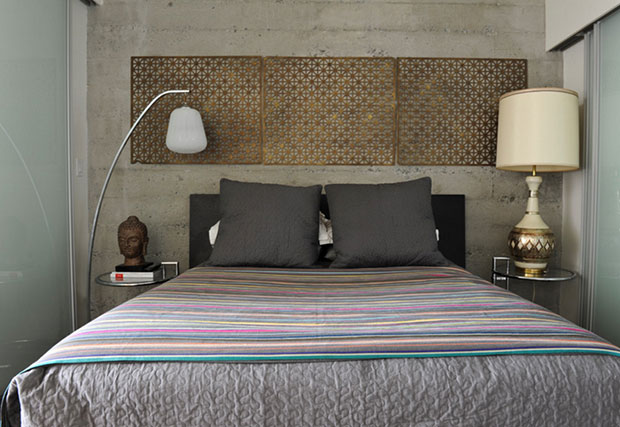 A Good Chick To Know
The lovely white lamp on the corner provides a refreshing look to the room's interior design. It is shaped like a tear-drop or a bulb and looks fantastic.
Santa Monica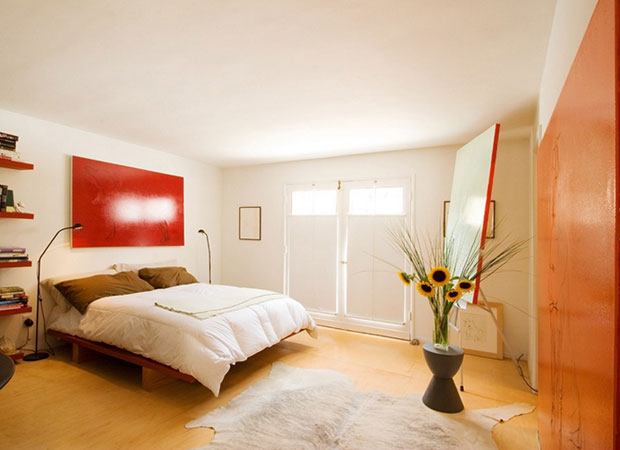 Jagoda Architecture
Instead of the bedside table, this room uses a floor lamp on both sides as a reading or bedside light. The color is a nice contrast to the bright color of the room.
Renovation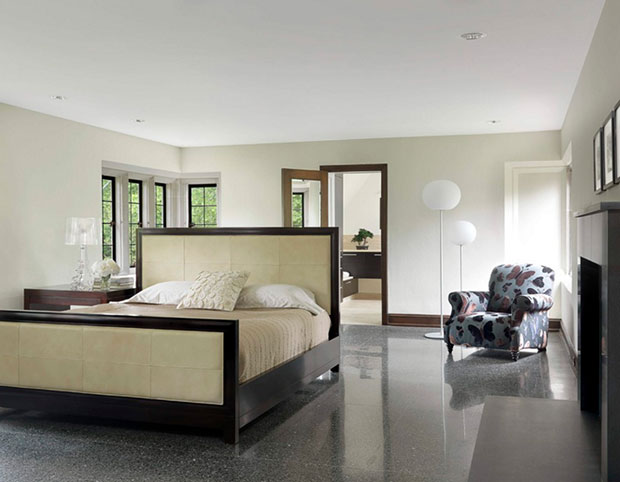 Studio Durham Architects
Notice the lovely round floor lamp on the corner with two different heights. The effect is quite lovely and adds symmetry to the room.
Jaraya Novelty Floor Lamp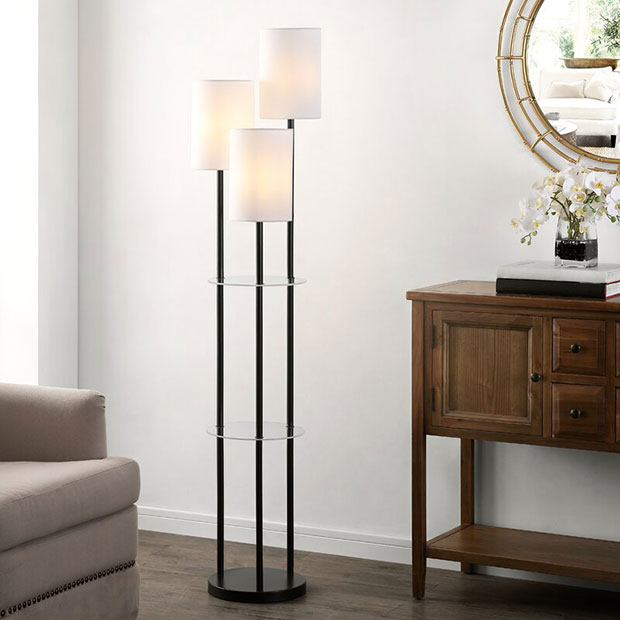 Latitude Run®
This lamp has three soft white lights on a sleek black iron. The lamp is perfect for small spaces.
Niagara Home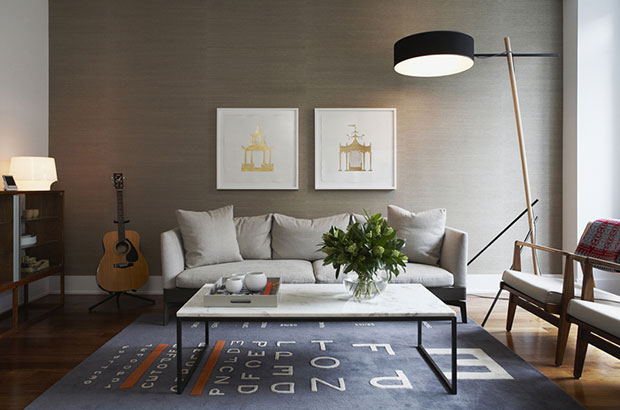 Croma Design Inc.
This black drum floor lamp gives off a pleasing aesthetic appeal. The design is certainly eye-catching and visually appealing.
Country Cottage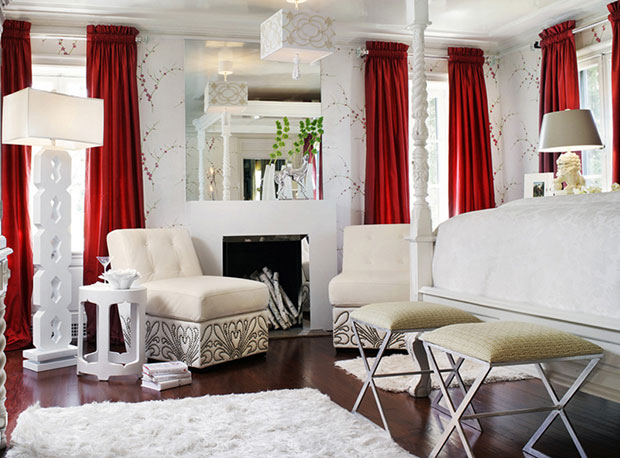 Lavka Design
This floor lamp has an intricately designed stem that blends well with the home decoration.
Deephaven Cottage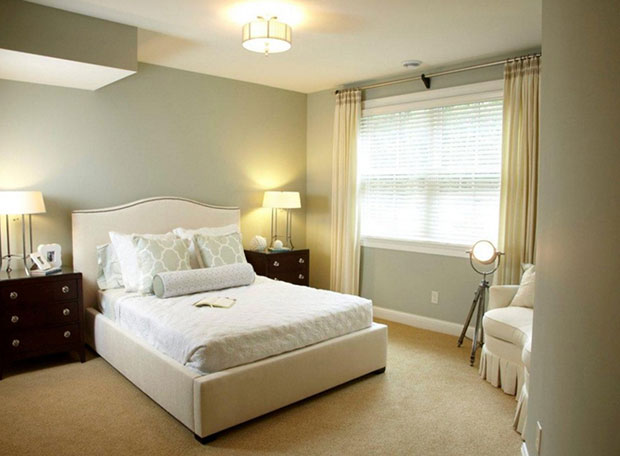 Stonewood, LLC
This room's floor lampshade is reminiscent of a spotlight. It adds a rather rustic appeal to the room.
Crenshaw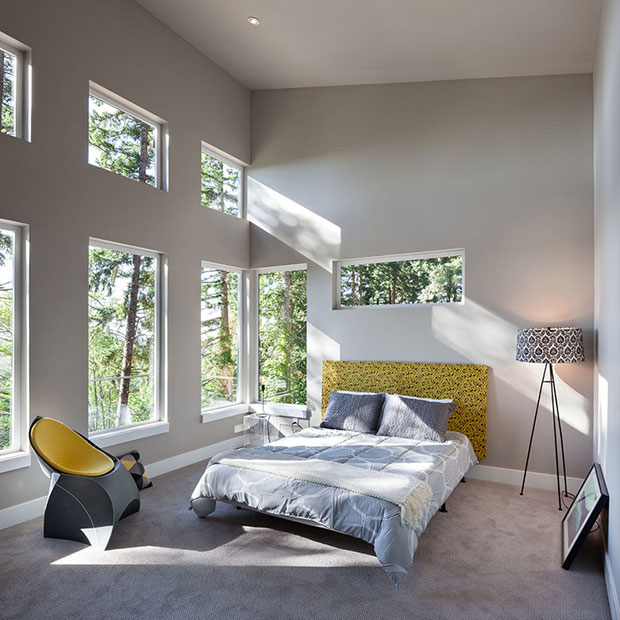 Jordan Iverson Signature Homes
The unique patterns in this floor lamp add a dark touch of color to this open and airy bedroom. The room is quite bare and the pattern of the drum shade and the headboard liven it.
Ski House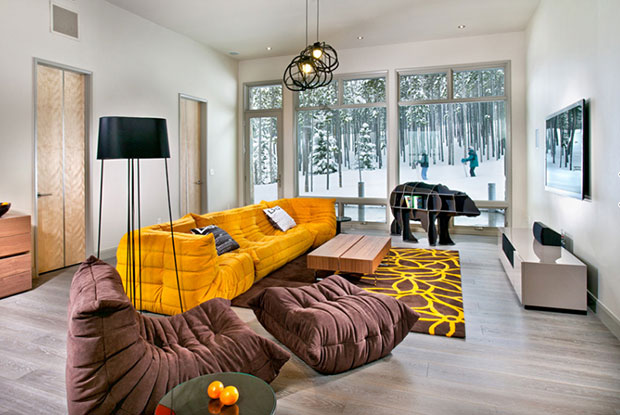 New Mood Design LLC
The floor lamp of this room is quite dominating with its black finish and black shade.
Gwendolen Novelty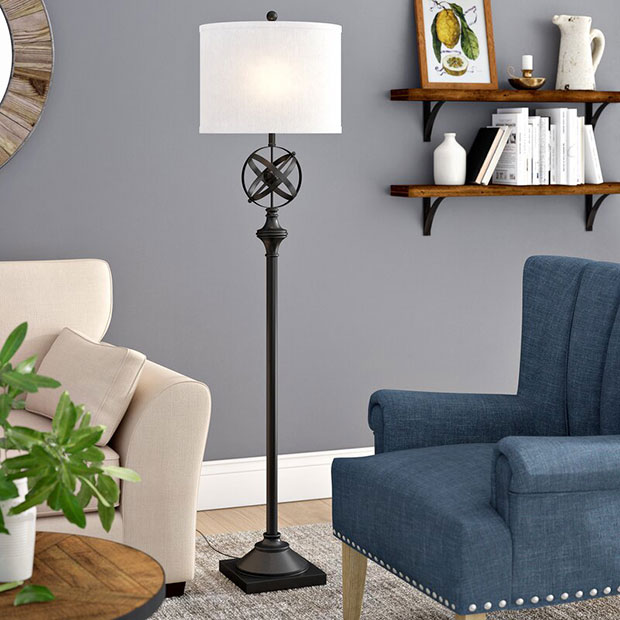 Charlton Home®
The orbiting astrolabe just below the shade is an eye-catching add-on to this elegant floor lamp.
Lobster Boat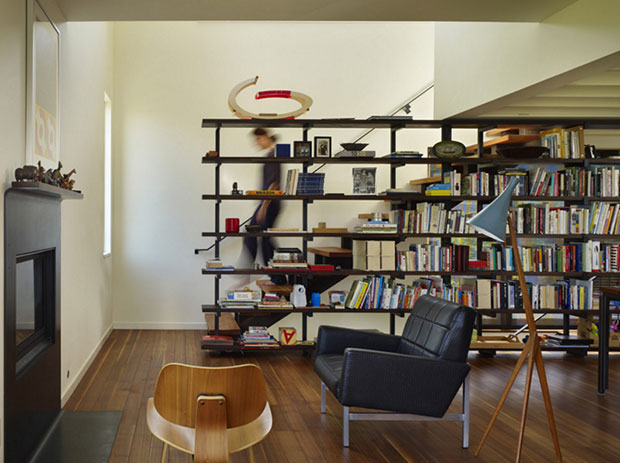 Chadbourne + Doss Architects
This cute tripod floor lamp features a triangular shade. It has a brown-colored stem that fits perfectly with the flooring of the house.
Bloomfield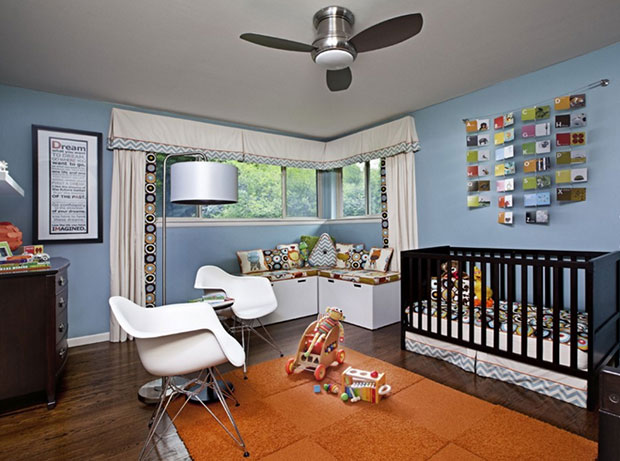 Staci A. Meyers Interiors
The blue-gray color of this arc floor lamp blends well with the bedroom walls. It also provides ample light to anyone sitting in the white armchairs.
Beverly Hills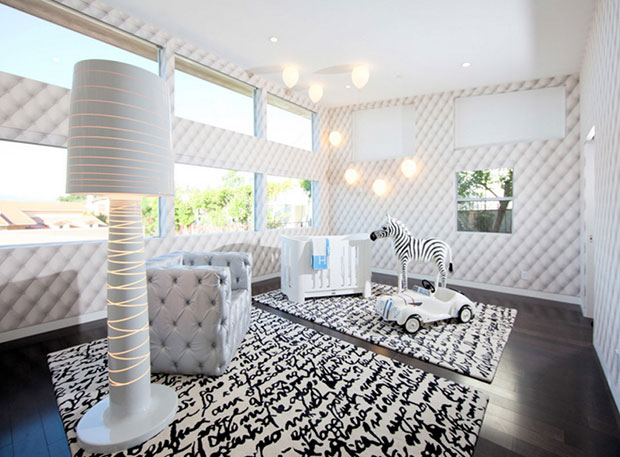 Studio1Plaster
This floor lamp has a lovely striped design that works well with the lines and patterns of this nursery.
Morrisonville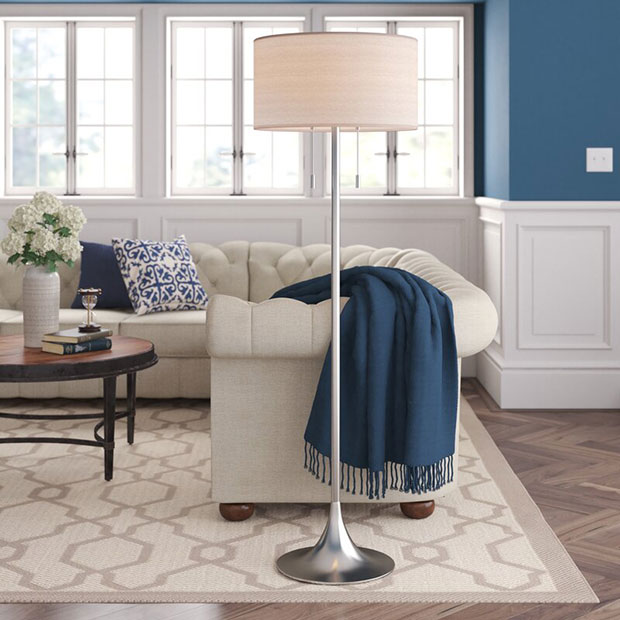 Three Posts™
Featuring a slender metal base with a metallic finish, this classic beauty is perfect for a contemporary designed home.
Etowah LED Novelty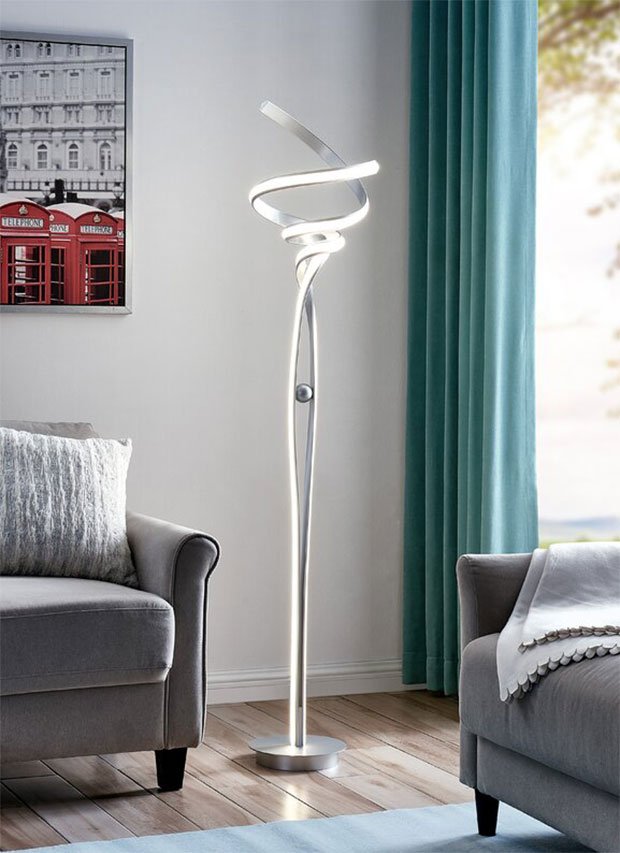 CREDIT
This novelty design is refreshing and very creative. It has a fluid and linear design that softens a room's hard lines.
Gantz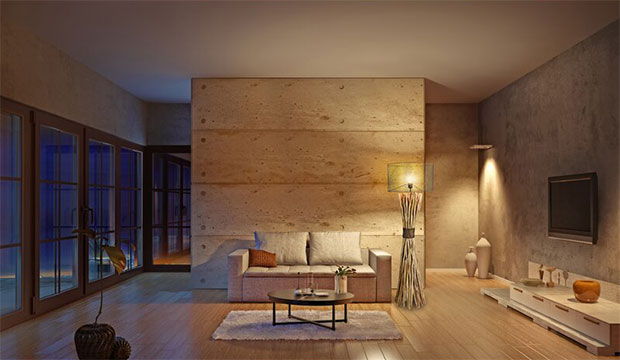 Loon Peak®
The handcrafted design of this floor lamp is unique and gives personality to any room. It is inspired by Thailand's tropical nature.
Nikias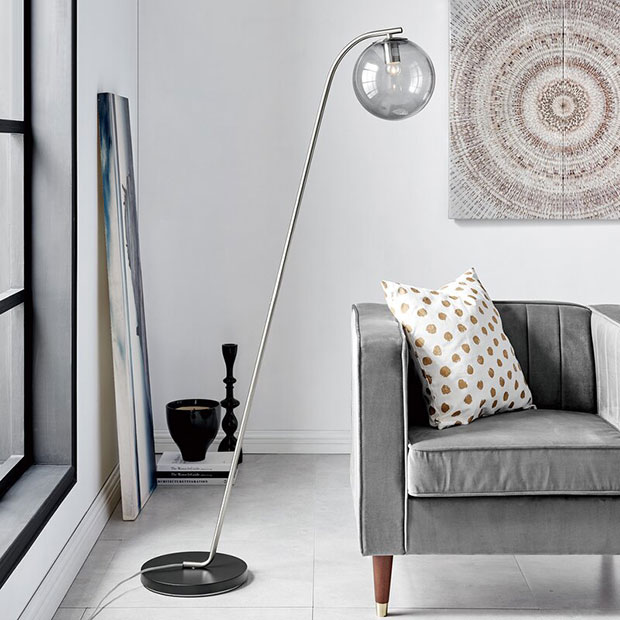 Mercer41
Going with a minimalist modern design, this floor lamp has a glass globe for its light.
Southern Flair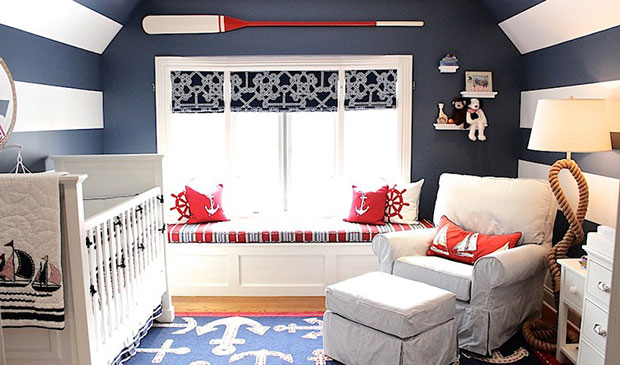 Steffanie Danby Interiors
This floor lamp has a unique stem designed into a rope. This is perfect for nautical-inspired rooms like this one.
So, what do you think about our collection? Have you found the perfect floor lamp for your home?
Which one is your favorite so far? Share it with us in the comment section below!
Like This Post? Pin It!