40 Eye-Catching Christmas Tree Designs This Holiday Season
|
'Tis the season to put up a Christmas tree!
If you celebrate this time of the year, one of the immediate favorites, if not the top favorite, decoration to bring out is the Christmas tree. If it's big, it usually is the point of attraction wherever or whichever room you put it in.
If you celebrate Christmas, then you may be using the same old Christmas decorations. Well, 'tis the season to switch it up a bit! We'll take you through some Christmas tree designs you may want to consider to spice up your Christmas decorations this year and after.
How do you decorate a Christmas tree?
Decorating a Christmas tree has a lot to do with pieces, objects, and ornaments that you could hang around it. Sometimes, it's the Christmas tree designs themselves that dictate the process of decorating. The bottom line is we all want our Christmas trees to look no less than perfect!
Let's break down simple steps in decorating any Christmas tree designs you could muster up!
1. Choose a theme
We've seen this in many "how-to"s in interior designing. This makes decorating or designing a lot easier if you stick to a theme. Pick an element that ties it all together, whether that's a color scheme, an ornament collection, or an interest of yours. You can even look for inspiration in certain blogs on the internet. Creating a mood board, too, would help significantly in narrowing your ideas and determining the decorations needed.
2. Choose classic ornaments
Pick out ornaments in classic color schemes like red and white, silver and gold. Mix and match these and you'll find numerous design variations.
3. Shaping the tree
To get a lush and lifelike look for your Christmas tree, you may need to fluff and shape the branches. When you do so, remember to wear gloves to protect your hands. Start from inner branches and work your way outwards when fluffing. When shaping, you do it by section, starting from the bottom.
Now, it's time to get to the decorating part. After checking that your Christmas lights still work, you can start hanging the lights onto the Christmas tree. Start from the bottom, circling your way up and in and out of the branches.
5. Decorate in three sections
Divide your Christmas tree into three sections: top, middle, and bottom. Style them one at a time, starting from the top going down. This will make sure no two similar items are close together.
6. Hang ornaments
There are no strict rules for hanging ornaments. But you can do so by starting with larger ones, tucking them deep within the foliage for depth.
7. Cluster decorations
Group ornaments with the same design together. You could also use different styles for added texture and depth. Another option is combining ornaments of different sizes.
8. Put ribbons
Another popular décor choice for Christmas trees is a ribbon. Wired ones are recommended so it is easier to shape and style around the tree. Layer two ribbons of different styles to get that extra flair.
9. Fill gaps with picks and sprays
In the sparse areas of your Christmas tree, fill them with picks and sprays. Berries, flowers, or pinecones are samples of picks that add a more natural feel. On another note, you can find fancier picks for a more sophisticated look.
10. Add unique details
You can add unique and interesting décor pieces like floral picks or heirloom ornaments. These pieces will certainly elevate the Christmas tree's look.
11. Add tree topper
To top it all off, add a tree topper to complete your tree. Usual tree toppers are stars, but you can get creative with this like tying picks together in an elegant bouquet or tying ornaments together.
12. Add a skirt or collar
A staple in some Christmas tree designs, you can add a skirt or collar that fits with your design theme. Skirts are usually used as a perfect backdrop for presents. But if you want to be different, you can opt for a collar. These ones easily wrap around the tree base and are available in various materials.
How to find the perfect size for your tree?
Various Christmas tree designs also mean they come in numerous sizes. So, how do you choose the perfectly sized Christmas tree for your home?
1. Choose location for your Christmas tree
Before picking up a tree, first, find the right place in your home where you want the tree to grace itself. Living rooms and foyers are some favorite places. But there are certain things you must keep in mind:
(a) visibility so that the tree is the focal point of any room;
(b) foot traffic, to avoid accidents and allow for more room for presents underneath three;
(c) furniture, that may need to be rearranged or removed, otherwise, the tree has to be slim;
(d) natural light to brighten and warm up the room;
(e) power source for easy lighting of the Christmas lights; and (6) safety, keeping it away from heat sources.
2. Measure the space
When you've finally decided on the area in which you'll display your Christmas tree, it's time to size up your area. First, you should measure the distance between the ceiling and the floor with a measuring tape. Take into account if you're going to have a tree topper or not, since you will have to subtract 12 inches from the ceiling height if you have them, 6 inches if no tree topper. Then, measure the available floor space after you've rearranged the furniture. Then, subtract 12 inches from what you get.
3. Finding the perfect size
Christmas tree designs are offered in various heights and shapes, so you should match them with the measurements you took. Here's a chart for reference: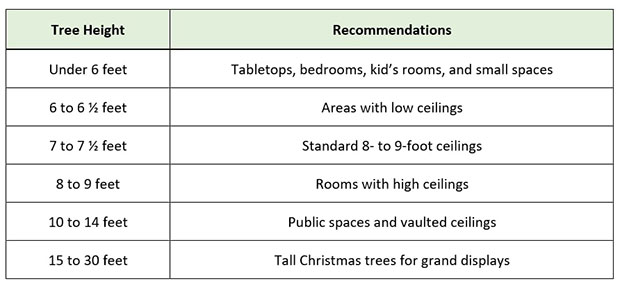 When it comes to the shape, Christmas trees can be categorically divided into full, slim, flatback, and spare.
4. Consider other factors
Finally, you must match your tree with the scale of the room. Small trees would not do in rooms with high ceilings, and a large tree would make a compact room even smaller. In addition, some additional decoration pieces could affect the size of the tree you would have to purchase as stated in #2.
Christmas Tree Designs
Now let's take a look at some eye-catching Christmas tree designs perfect for the holiday season!
Farmhouse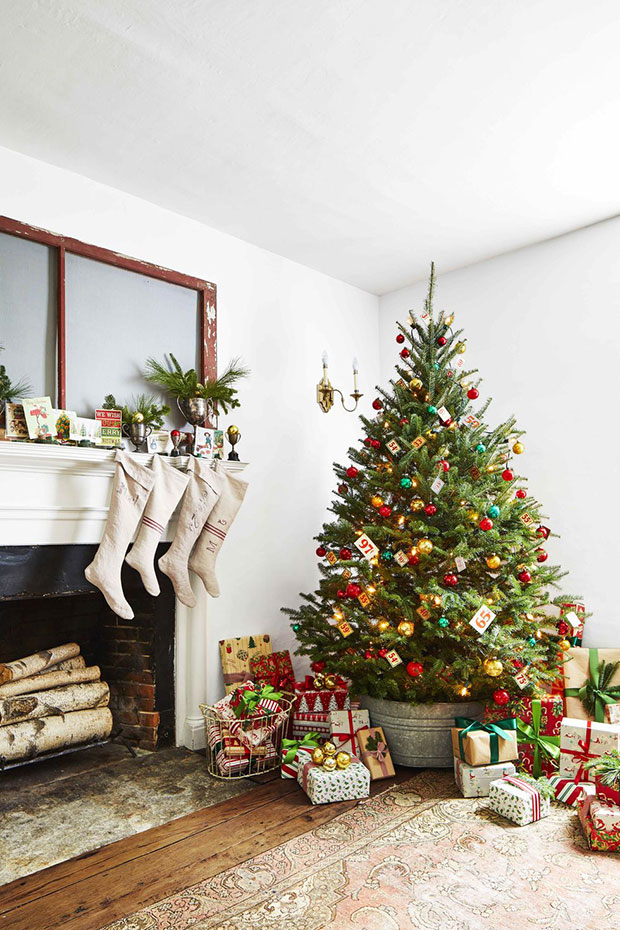 The Little White Farmhouse
The metallic collar is a perfect additional accessory for the overall rustic look of this room. The price tags as ornamental decoration are also pretty interesting.
Outdoor Christmas Tree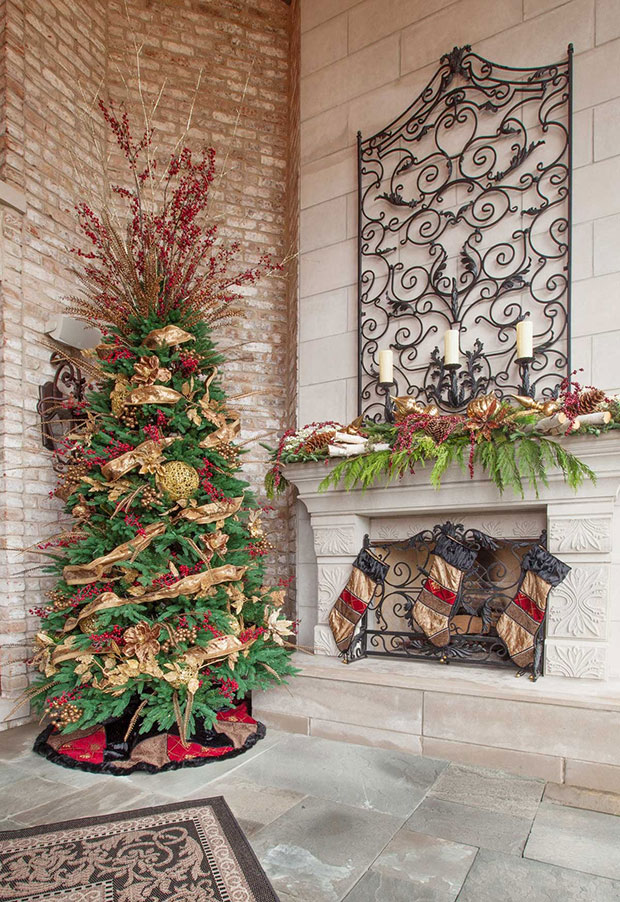 Some Christmas tree designs don't have the usual tree toppers you would expect. Instead, for this tree, in particular, they have a bouquet of floral stems to give this tree an interesting look.
Luxury Holiday Decorating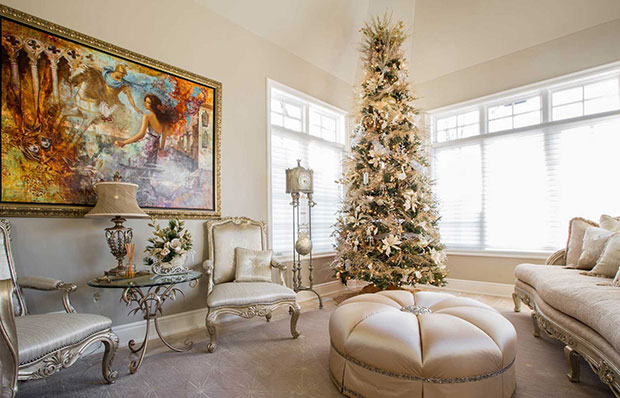 Linly Designs
Similarly, this Christmas tree also opted for floral stems as tree toppers. But this one is complemented by floral ornaments instead of the conventional ornaments hung.
Vintage Ribbons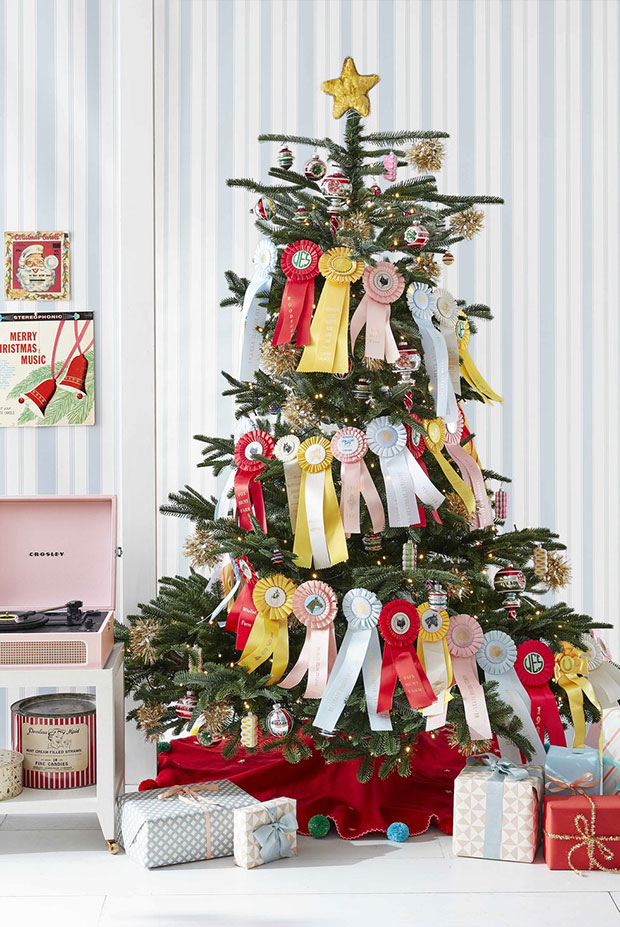 For some really unique Christmas tree designs, forget the usual decorative pieces and bring in some out-of-the-box ideas. Prize ribbons are strung together to create their very own version of a Christmas tree ribbon.
Flocked Christmas Tree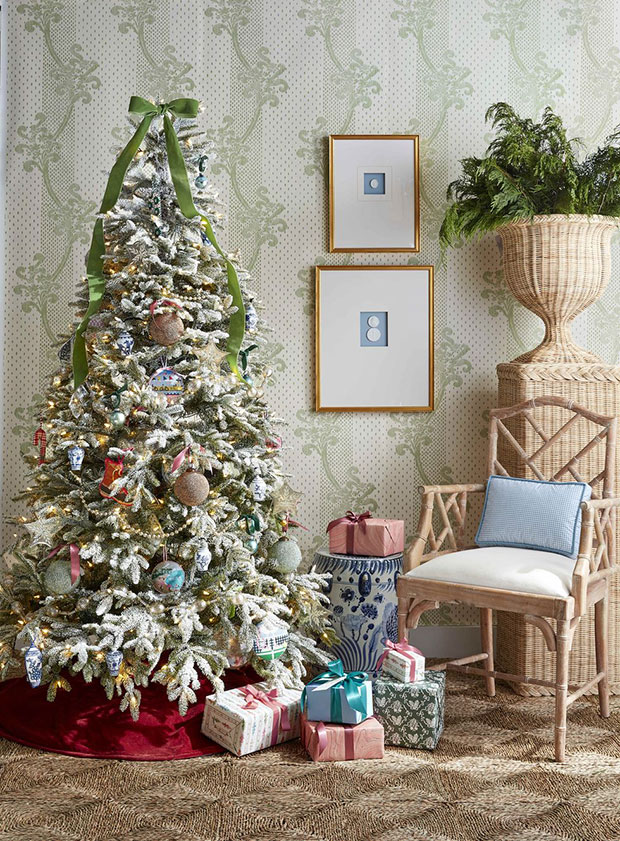 Brian Woodcock
The ribbon as a tree topper is a pretty touch. And the Christmas tree design itself with snowy white branches makes it look like the tree is doused in flecks of snow.
Holiday Tree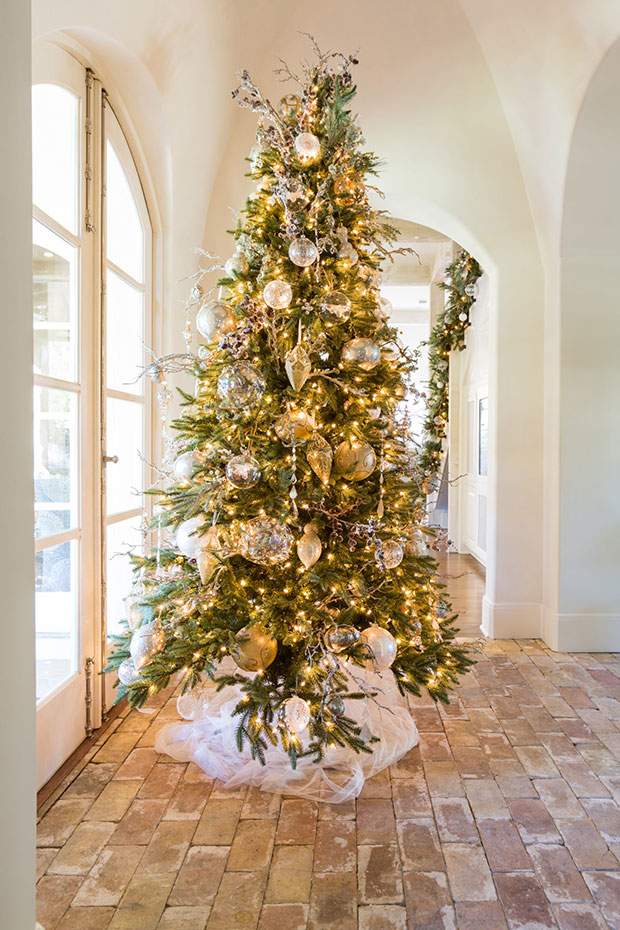 There is quite a unique charm to the messy fluffing of the branches of this Christmas tree. And the assorted sizes of the ornaments add to that charm.
Christmas Décor
The silver and bronze decorative pieces have a nice contrast to the white tree skirt. This color scheme then creates a very interesting and luxurious look.
Colorful Christmas Tree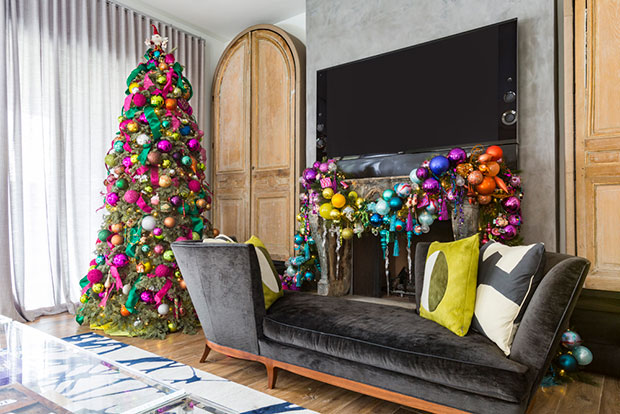 The little Santa Claus tree topper and the colorful ornaments and ribbons all make for eclectic Christmas tree designs. In this living room, the tree certainly stands out.
Houston Christmas Interior Design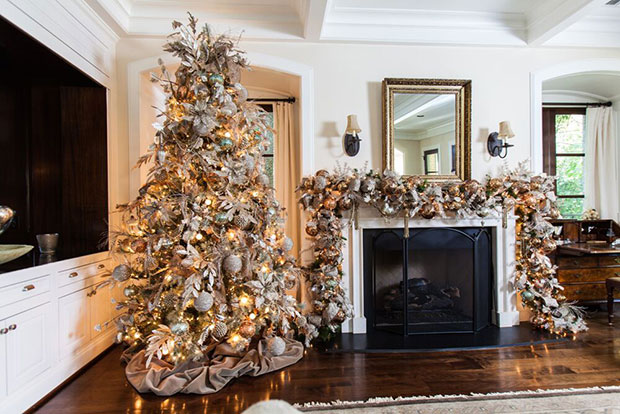 With usual Christmas tree designs being in red, green, or white color schemes, a bronze brown palette is really refreshing and gives off a very elegant and sophisticated look.
Holiday Room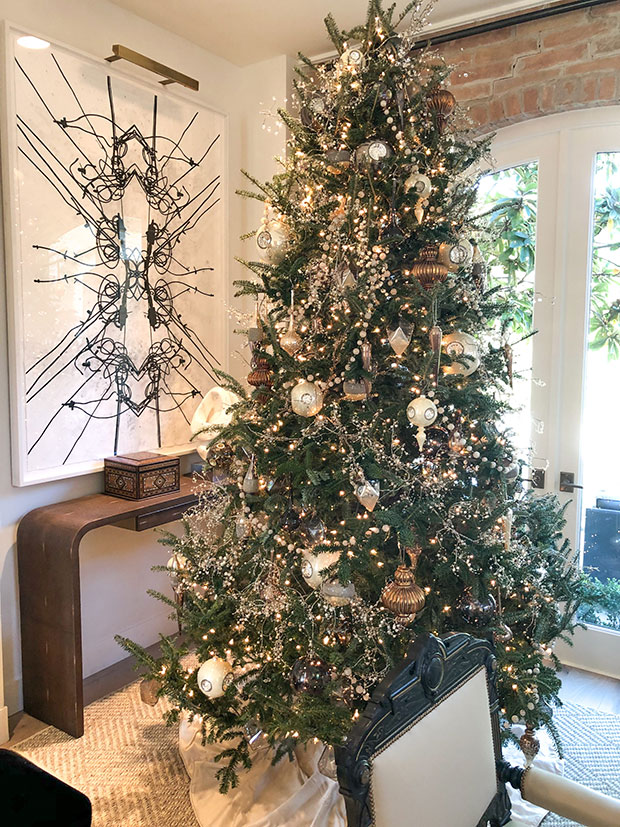 Instead of the usual Christmas tree ribbons, a more subtle option is this string of beads. It doesn't use up that space because of how little the beads are and so gives an impression of there being more space within the tree.
Christmas Tree Gifts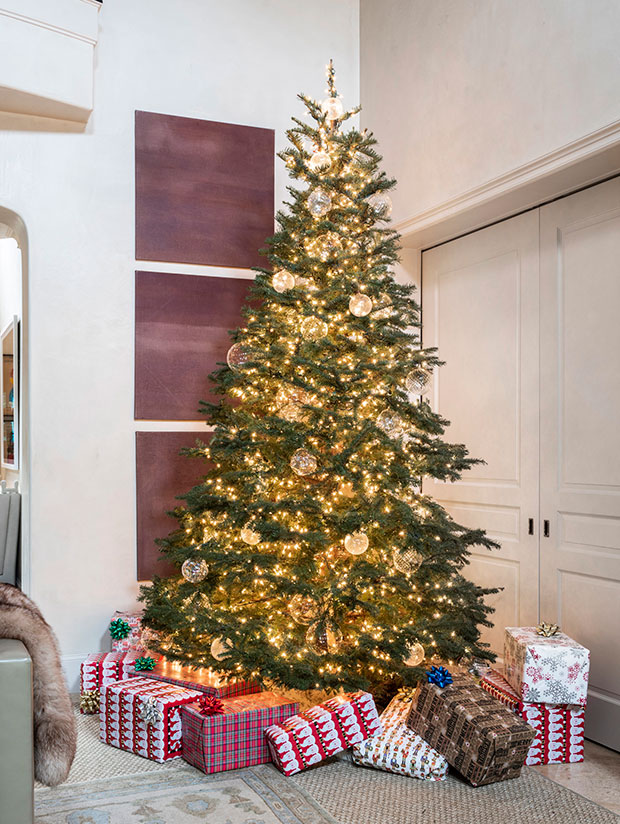 Some Christmas tree designs have sparse decorations like this one. But the many lights and the ornaments reflecting them, makes this tree look sparkling.
Christmas Reindeer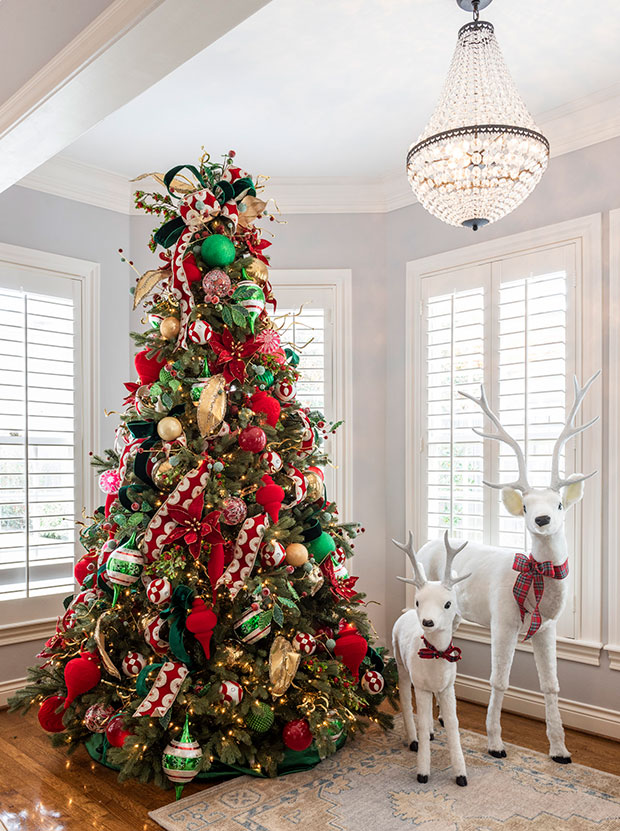 This Christmas tree has some pretty interesting and unique decorative pieces hung. But despite that, it looks all harmonious by sticking to a color scheme. Not to mention, they even put up these faux reindeers next to it.
Yellow Christmas Tree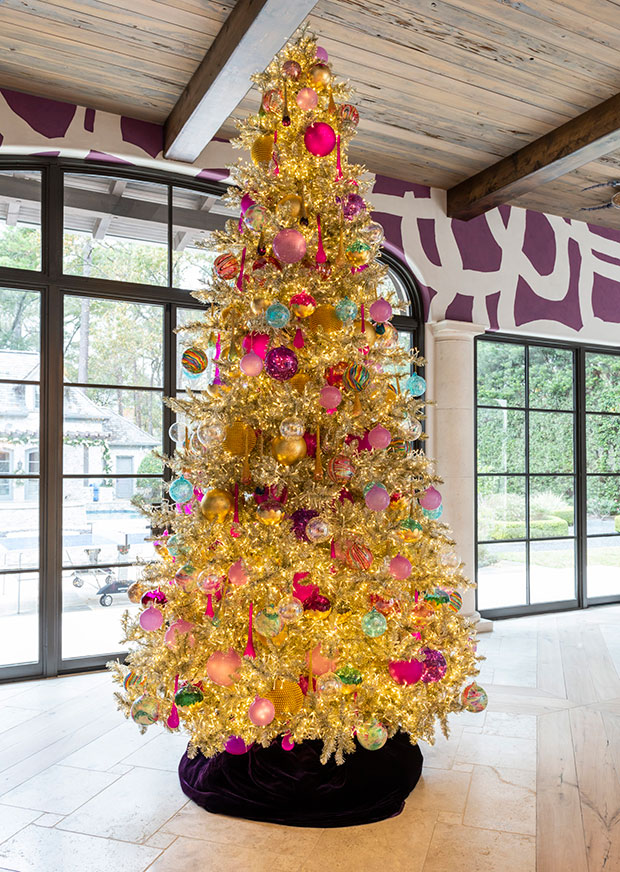 If you're tired of the usual green Christmas tree designs, you can get one of a different color like this yellow tree. It looks golden even more so because of the lights and the soft color choices of the ornaments.
Red Christmas Tree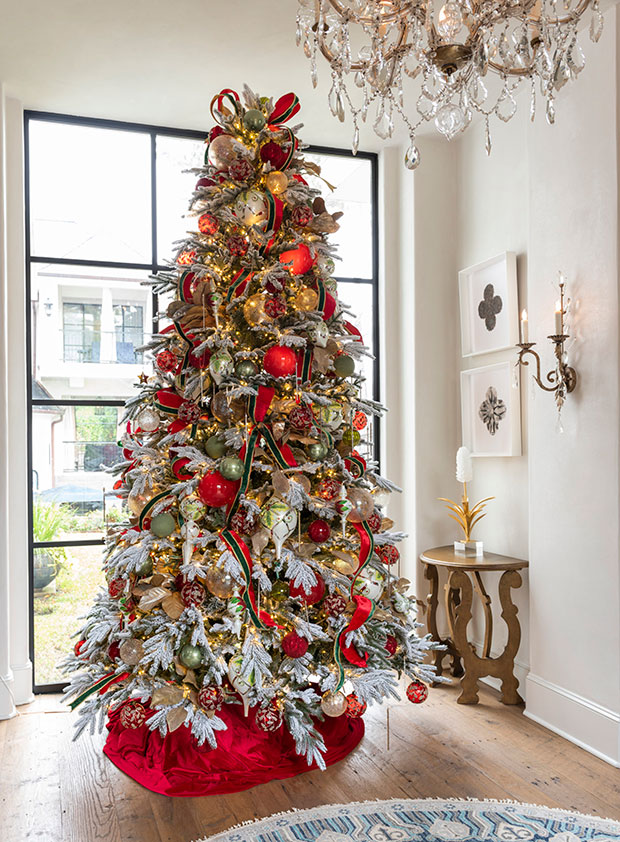 Gold and red combined create a stunning look in this Christmas tree. Sprinkle in some greens and whites, you totally get the Christmas colors right.
White Christmas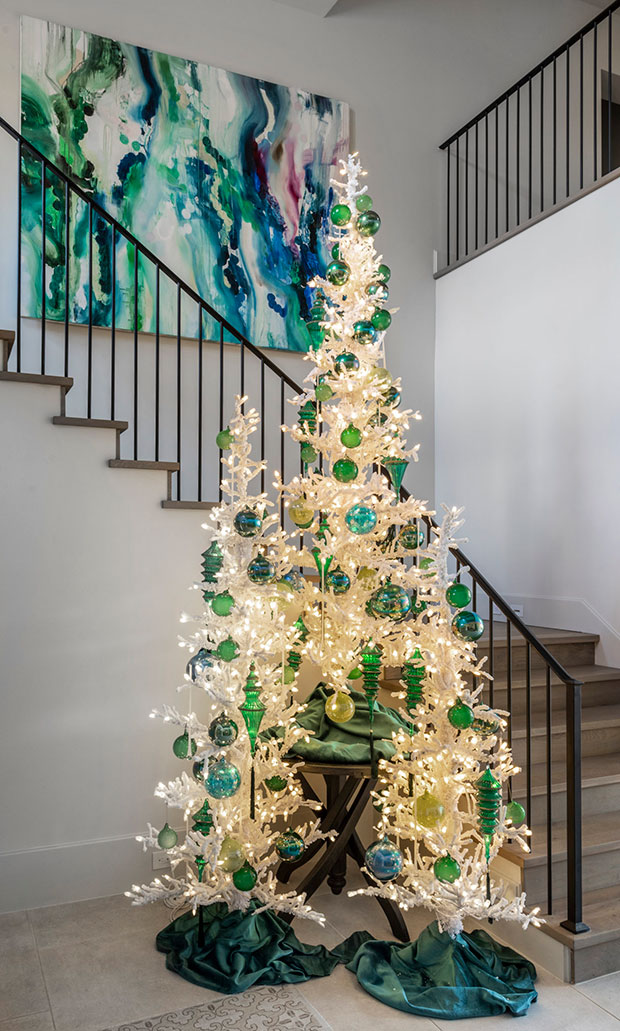 Here's a pretty interesting Christmas tree designs setup. These three small Christmas trees are set up in a way that gives an illusion of one giant tree at first glance. It's also pretty interesting that the white tree is paired with green ornaments and skirts.
Snowy Tree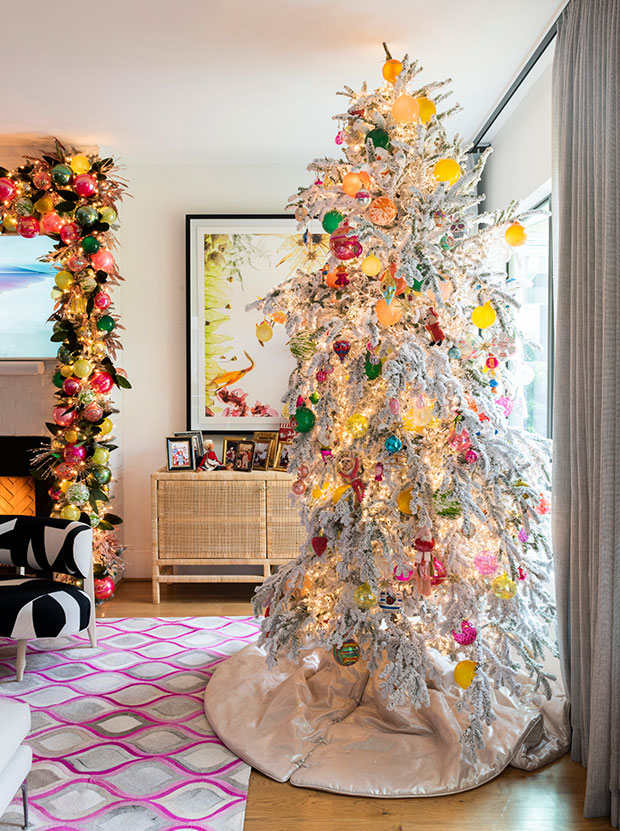 Some Christmas tree designs like this tend to look almost realistic, in the sense that the tree doesn't look artificial. With the pretty interesting fluffing and the snowy branches, it really captures that look.
Warm Lights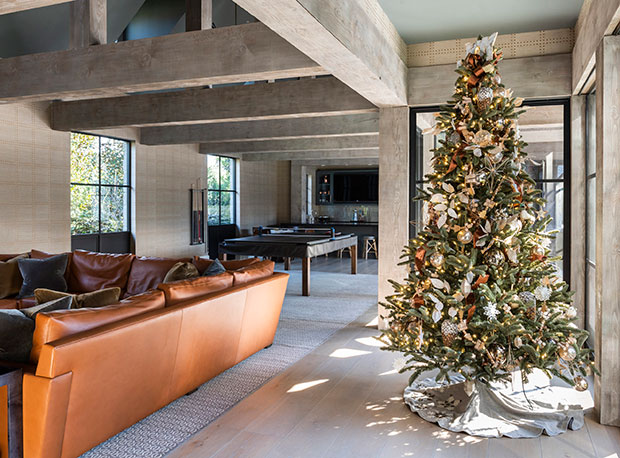 For an industrial design style of a home, this Christmas tree design, especially with its color scheme, fits right in.
Ribbon Christmas Tree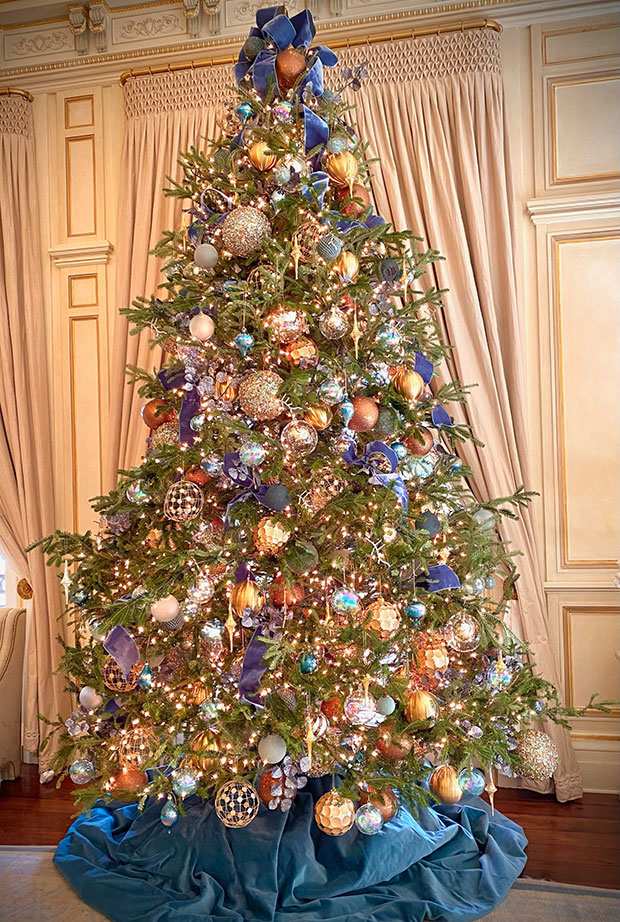 This Christmas tree has quite the beautiful ribbon tree topper. And the sparkling ornaments further elevate this pretty look.
Streamer Décor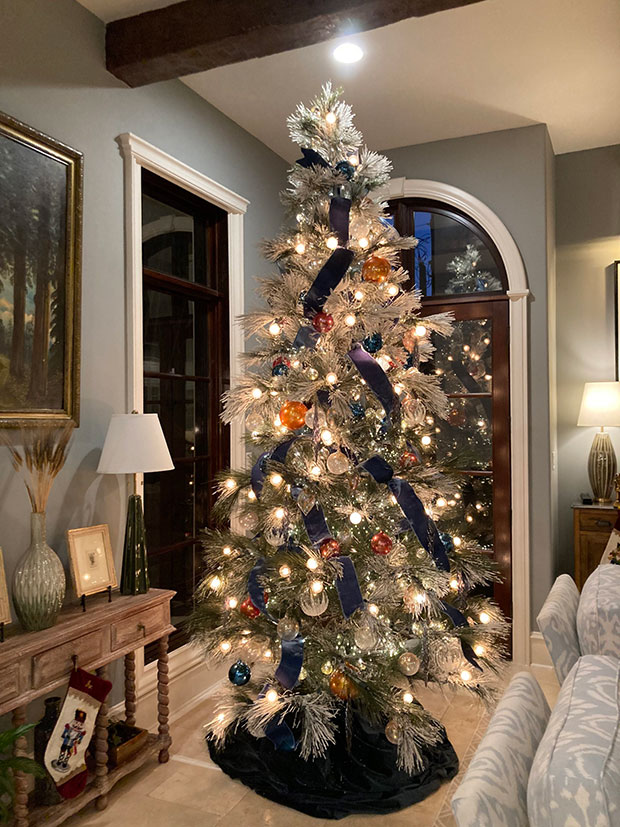 What really grabs one's attention is the wide blue streamer ribbon. The dark blue velvet skirt compliments this.
Fun Tree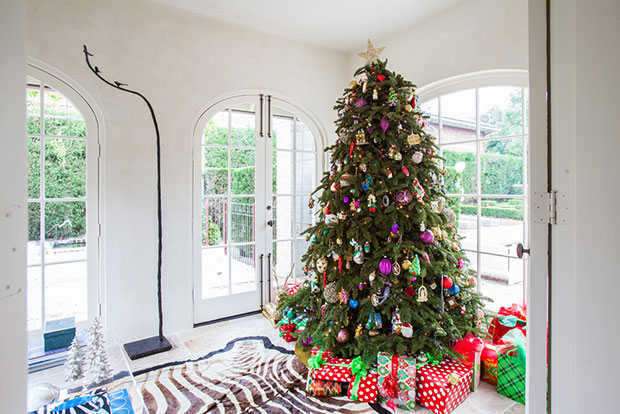 When you look closely, this tree has pretty interesting and fun ornaments. Christmas tree designs like this is certainly a hit with the kids.
Pink Christmas Tree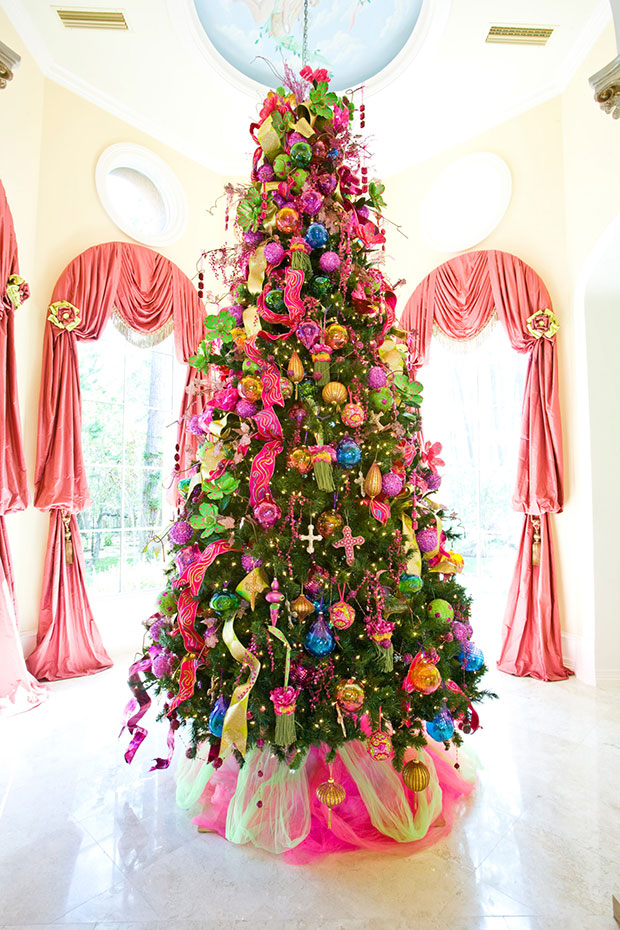 Picking one color to be the main palette and surrounding it with complementary colors is a good design choice. It also seems that the color scheme of the tree matches that of the room's curtains.
White Christmas Tree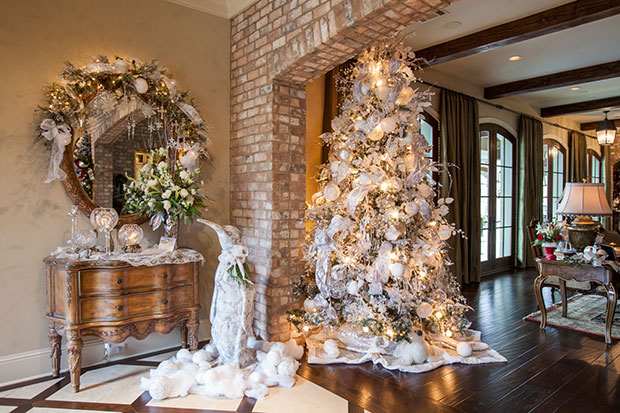 The little snowball decorations are an excellent touch. And the complementary penguin piece? Even perfect!
Red & White Christmas Tree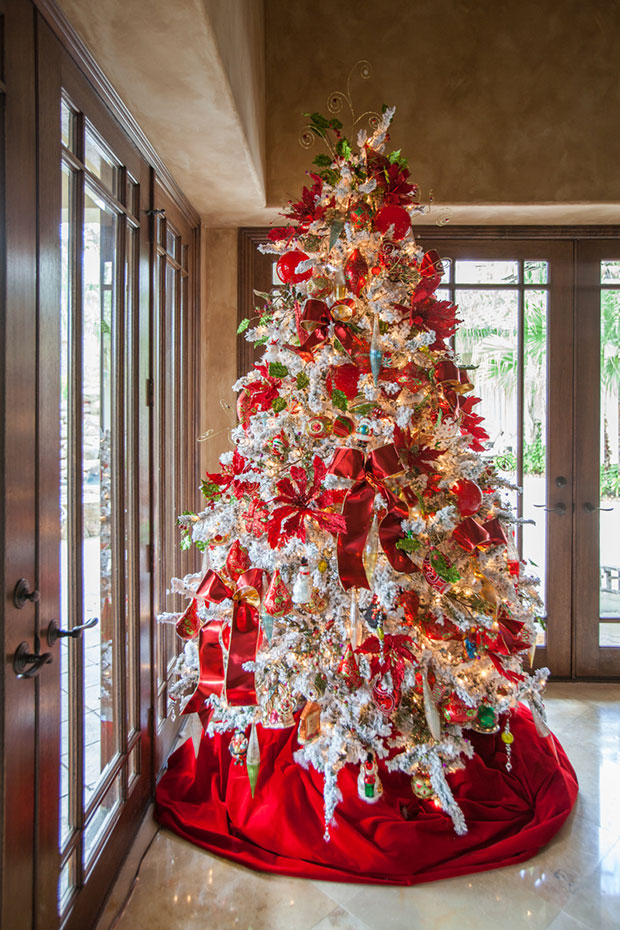 Regina Gust Designs
The snowy Christmas tree plays off well with all that red decoration. And some touch of green décor adds another layer of charm.
Farmhouse Christmas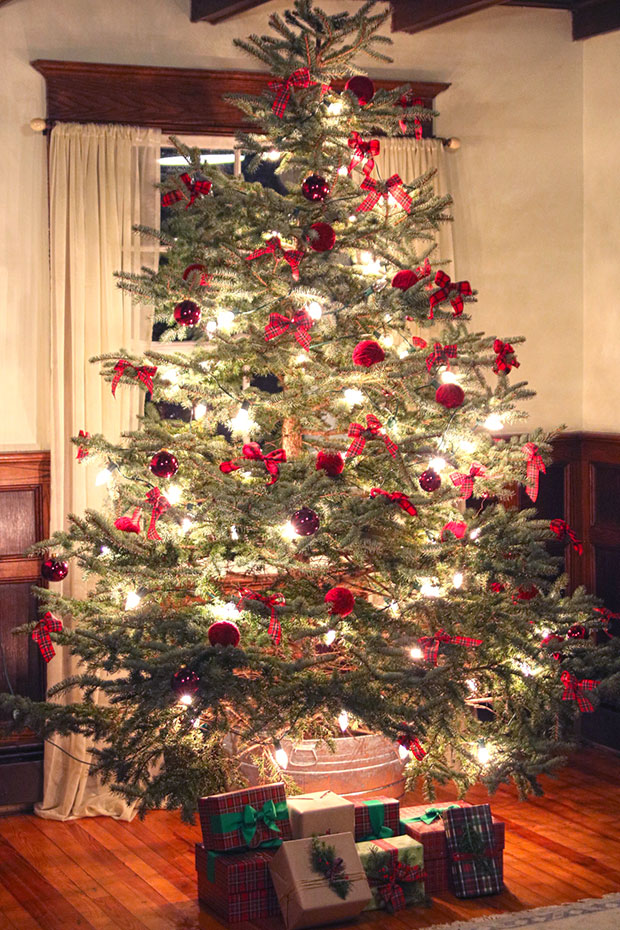 The Farmhouse Project
Sometimes, you may want some minimalistic Christmas tree designs. This tree has about 3 different types of decorative pieces that are sparse. Yet, this is quite the charming tree.
Pembroke Pines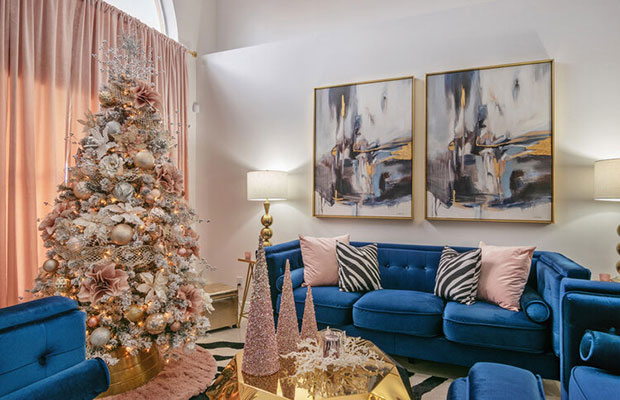 That golden tree collar definitely elevates the luxurious look of this particular tree.
White Christmas Plantation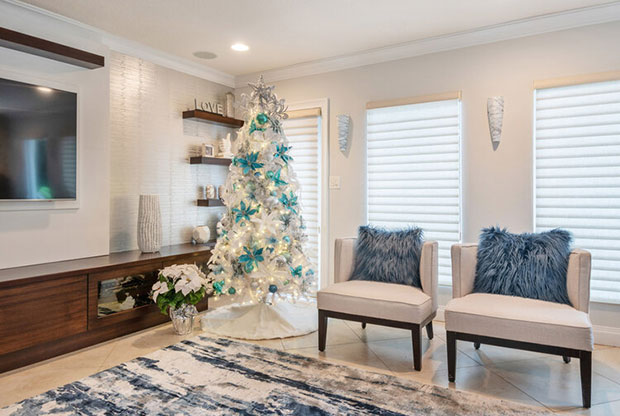 An all-white Christmas tree is brought to life with teal poinsettia décors.
Christmas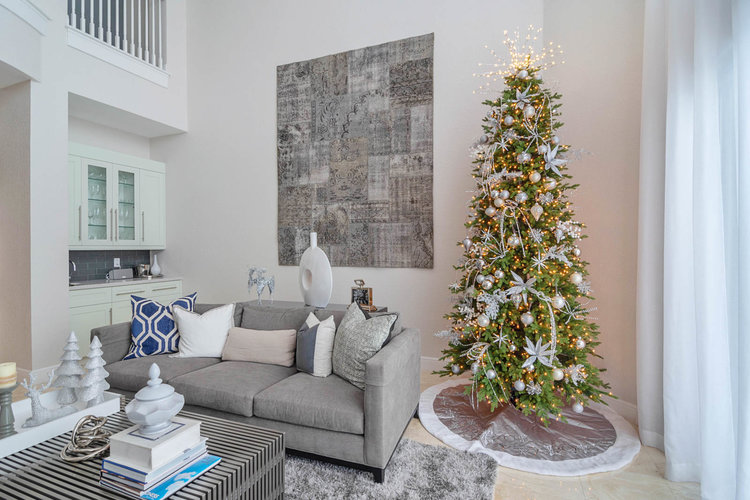 With a green Christmas tree, a uniform of silver ornaments gives it a very neat look. Also, take note of the silver and grey tree skirt that matches the décor.
Blue & Grey Christmas Tree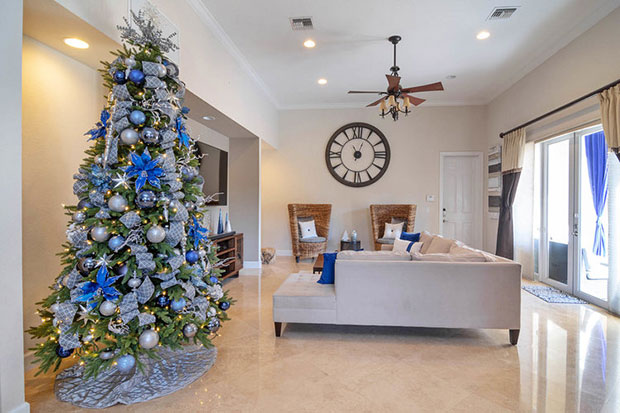 Captiva Design
Blue and grey are a perfect color combination for this Christmas tree. It even complements the color palette of the living room.
Luxurious Tree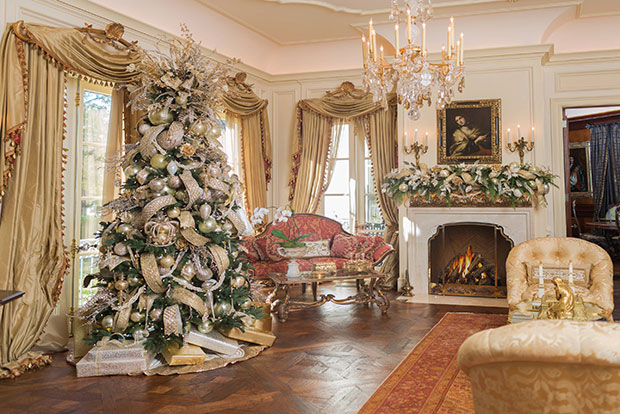 Holiday Warehouse
This luxurious Christmas tree design is just perfect, considering the design style of this living space. The golden yellows and silver greys are a good match.
Christmas 2017 Home Tour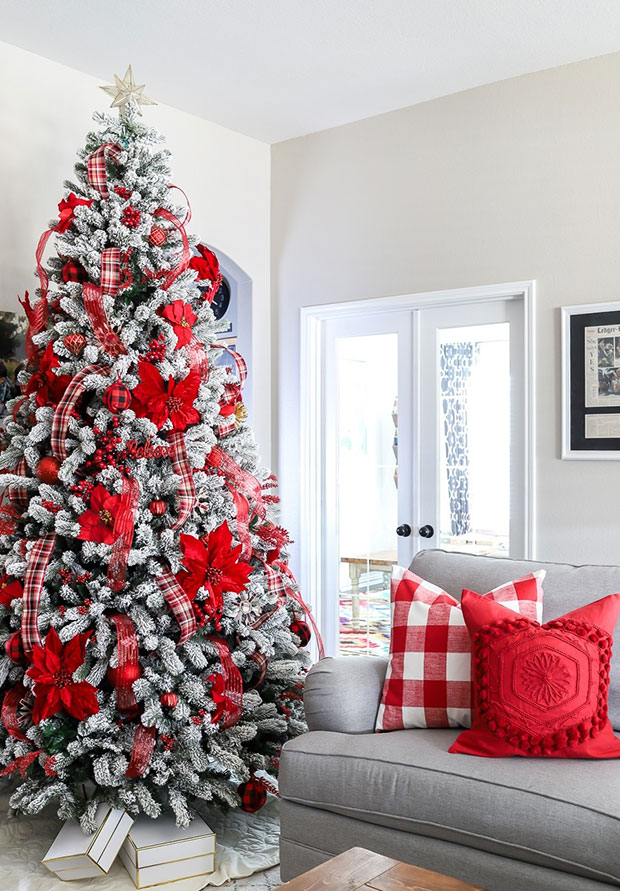 Another snowy Christmas tree design. Oddly, the décor choices match with the throw pillows' color.
Holiday Home Tour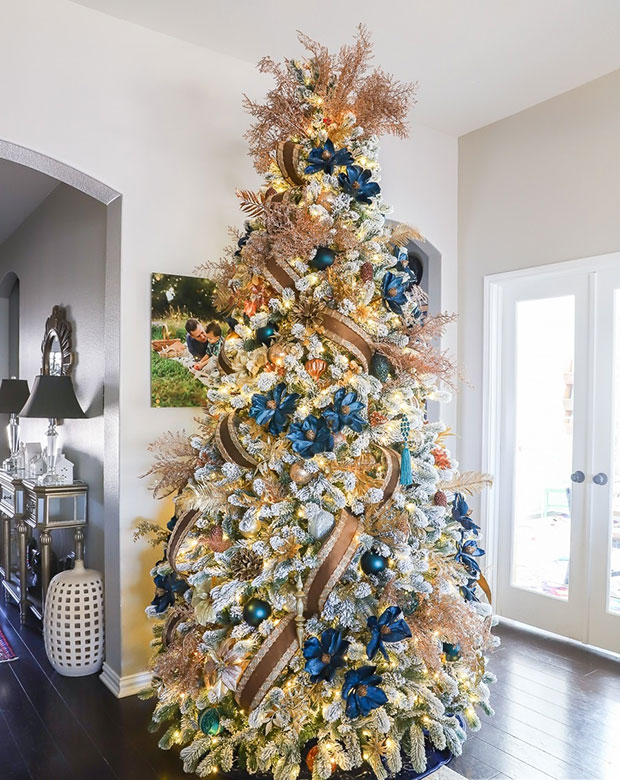 Jen Woodhouse
This Christmas tree is the opposite of the minimalist one previously seen. The many colors and decorative pieces, though, work so well together to create this stunning tree.
Mini Christmas Tree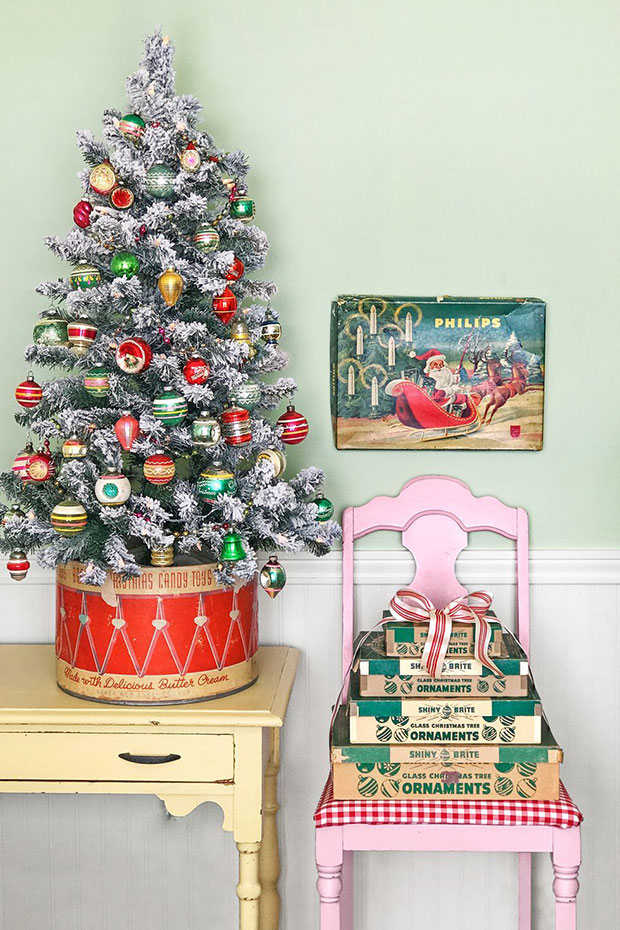 Melanie Butcher
If you can't afford to have a big tree (money-wise or due to lack of space), you can always opt for one of those various mini-Christmas tree designs. The most interesting point for this particular tree though is the tree collar designed like a drum.
Black & White Christmas Mantel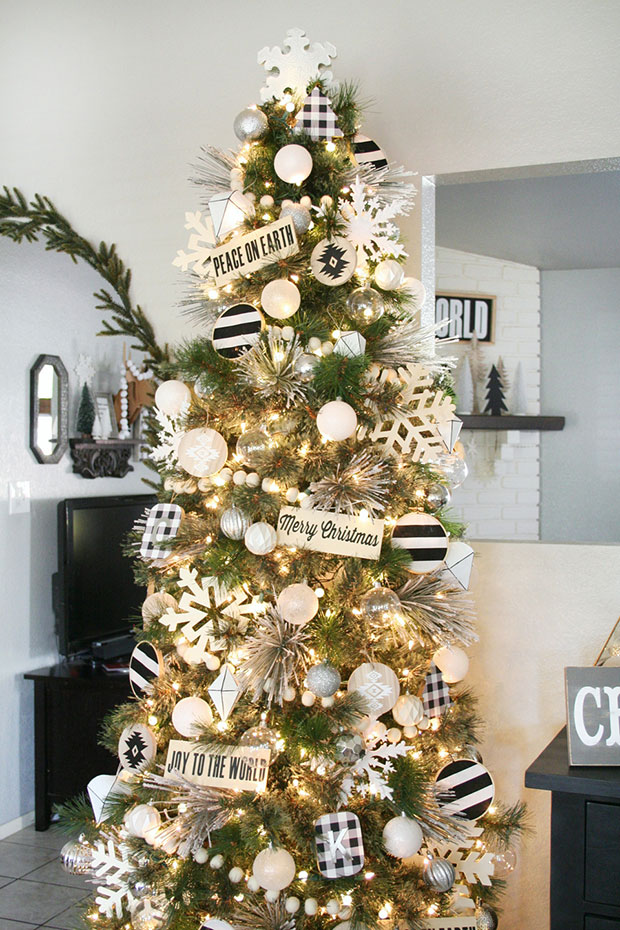 The Crafted Sparrow
Now, this is one unique Christmas tree with its fascinating decorative pieces.
Blue Velvet Christmas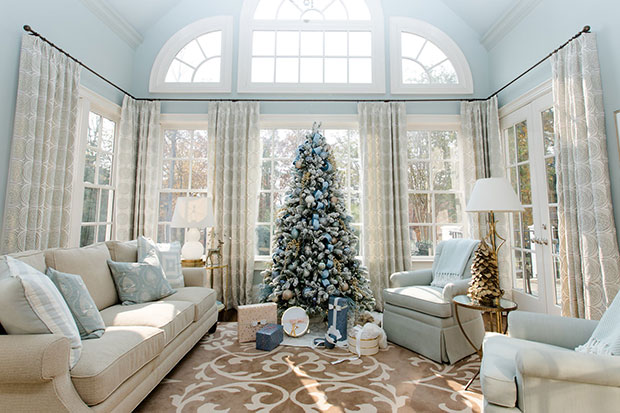 This Christmas tree has decorations that complement the color palette of this room. This would be a great way to create a visual harmony within your space.
Residential Holiday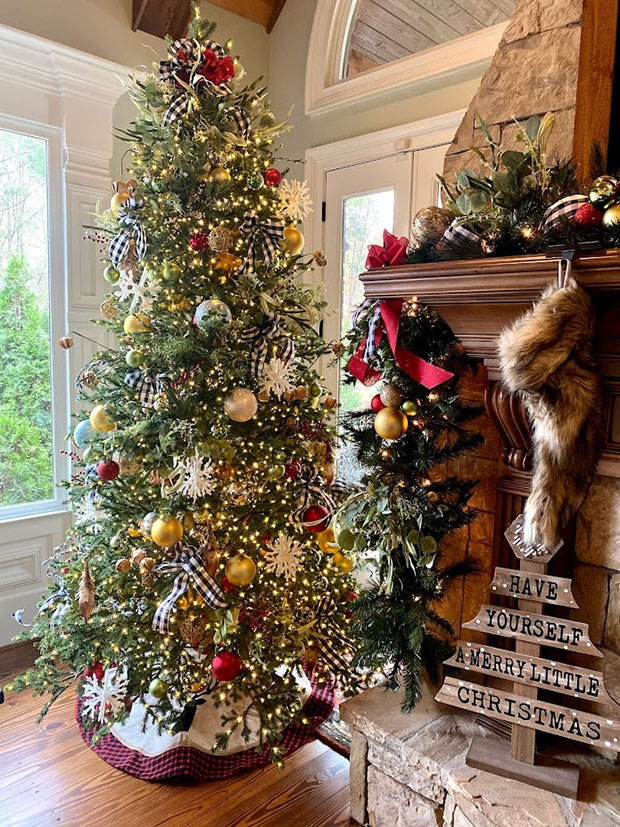 Rooms Revamped Interior Design and Event Décor
The checkered design of those ribbons oddly enough fit with the rest of the tree design.
Home Sweet Home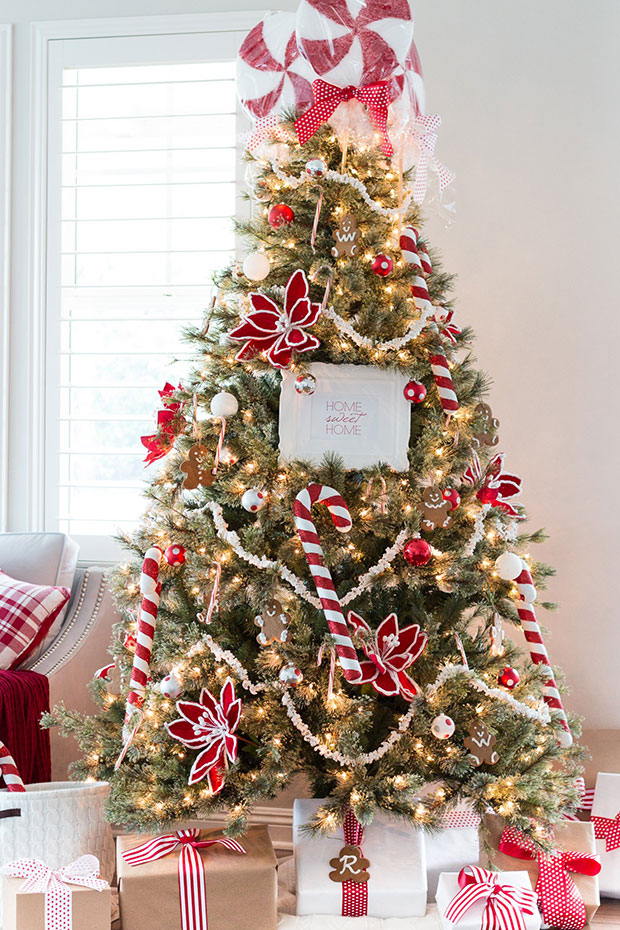 A Thoughtful Place
Bring some "sweetness" into your Christmas tree design like this particular Christmas tree. The candy canes and gingerbread men are unique and fun choices.
Floral Christmas Tree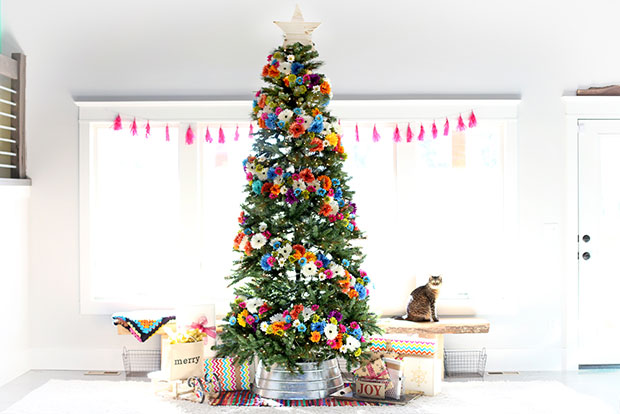 Sugar Bee Crafts
We've seen a tree with prize ribbons strung together for a ribbon, now we got some flowers to put together as an alternative for the usual Christmas ribbons.
Camp Christmas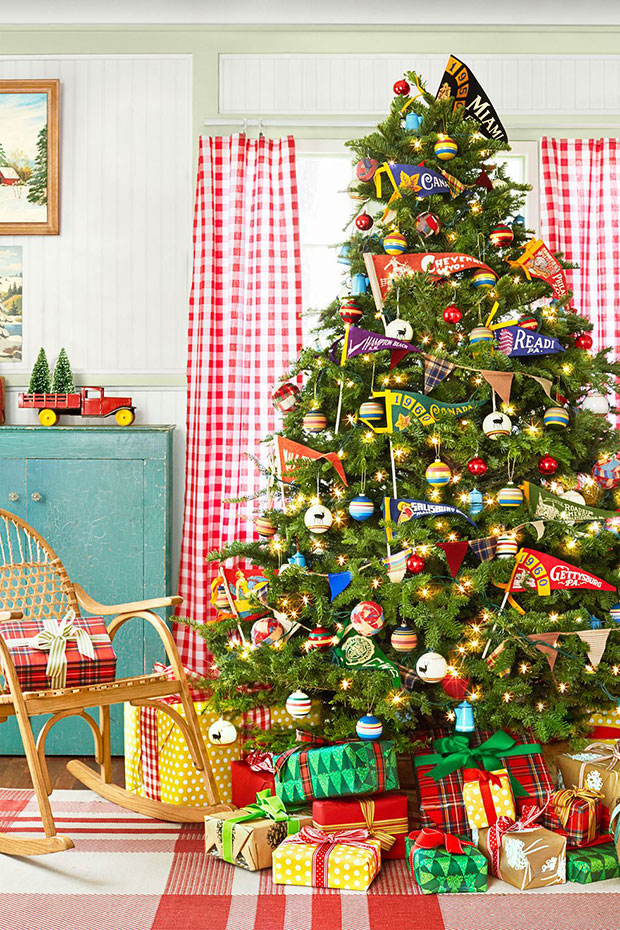 David Tsay
For more out-of-the-box decorative pieces ideas, here's another good example. These pennant banners bring quite the novel charm to this tree.
Pete's Mountain Holiday Decorating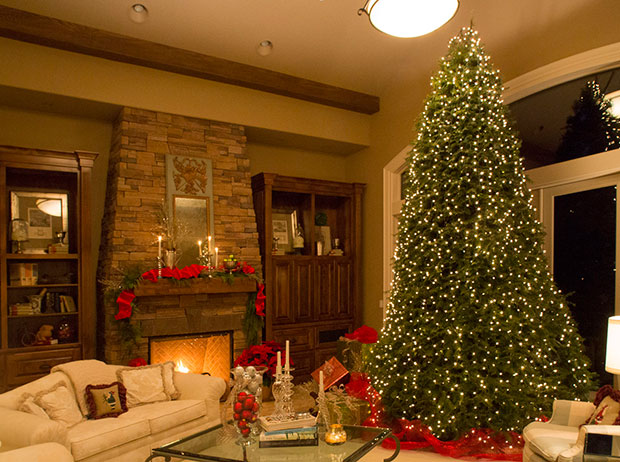 Lord Interior Design
Minimalistic yet still stunning. The tiny lights make this tree seem like a starry night sky.
Snowman Christmas Tree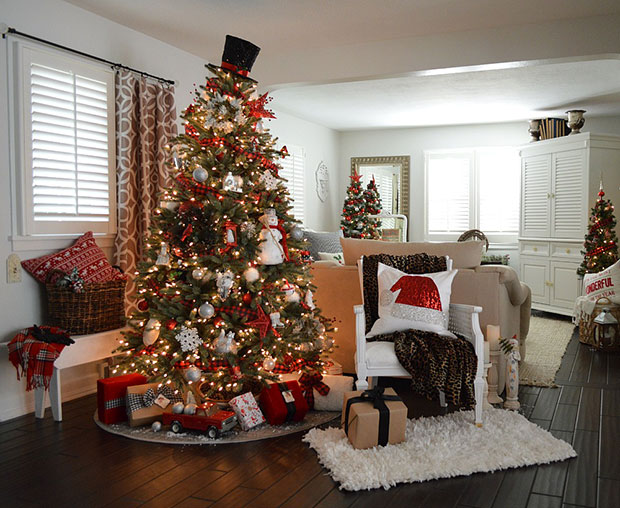 Fox Hollow Cottage
The top hat for a tree topper finishes this snowman Christmas tree design. Take notice as well the Frosty the snowman decoration.
There you have it for our picks of incredible Christmas tree designs! Which one of these was your favorite?
Like This Post? Pin It!