50 Cute Coffee Table Decors To Liven Up Your Living Room
|
Have you ever considered placing coffee table decors on your tables at home?
A coffee table is generally a low table that is specifically designed to be placed in sitting areas. They are particularly a favorite for putting beverages, remote controls, magazines, and even several books.
Probably because they are very useful in the living room or sitting areas, placing coffee table decors is often neglected. If you want to change that, you have come to the right place!
Unsurprisingly, there are several cute coffee table decors available in the market that you can choose from.
What Should You Display On A Coffee Table?
A few of the challenges when deciding on what to display on a coffee table are the size, shape, and styles of your current coffee table. But, with the right selection, you have a lot of options!
Your decorations often need to be placed well for maximum visual impact, and that includes those on your coffee table. Some of the items that you can display are:
1. Coffee table books. Books are always a great add-on to any room. If you have a huge collection in your home library, consider getting one or two of your favorites. If not, informative/ entertaining books are also a good option.
2. Flowers or plants. Home plants are always a YES as a coffee table decor. You cannot definitely go wrong with a flower on your table. You can even put it on a cute or eye-catching vase to put more emphasis.
3. Coasters. Coasters help condensation from drinks, so it will be handy to make them a coffee table decor too. Look for fun coaster designs and coaster holders to match.
4. Seasonal decors. Coffee tables are the perfect display area for small trinkets and decors for the holidays including Christmas or Halloween.
5. Cute Bowl for snacks. You don't have to have freshly-made snacks on your table – that will be disastrous for insects and pets. You can, however, place lovely bowls for quick-grab snacks that will fit your home's decor.
How To Decorate Your Coffee Table?
Your coffee table does not have to be this cluttered or practical space in your room that is simply part of the design. You can definitely make it a focal point for your room and even become a quirky space to catch attention.
Below are some useful tips on how to decorate your coffee table:
1. Maintain balance.
When decorating your coffee table, remember to keep your coffee table decors on a balance. Display your items in a way that will not look crowded. Either space them out evenly or stack them at the center.
2. Choose decors with varying heights and scale.
Remember that when things are placed together, some item could easily get lost in the crowd or simply blend in. Hence, you will need coffee table decors of varying heights and scales. This way, everything can be seen and be noticed.
3. Follow the age-old rule of threes.
The age-old rule of threes is a simple yet effective trick when arranging your coffee table decors. Simply divide your tabletop into 3 separate sections and then decide from there where things will look best.
4. Look for coffee table decors with contrasting colors.
Make your coffee table decors stand out by choosing colors that contrast your coffee table. An example is to choose bold colors if you have a white or neutral table.
5. Make it personal.
Another decorating tip is to choose your coffee table decors based on your personal taste. Show your personality through them.
Coffee Table Decors You Need To Have
For a cool coffee table decor inspiration, below are some examples you will love:
Sculptural Item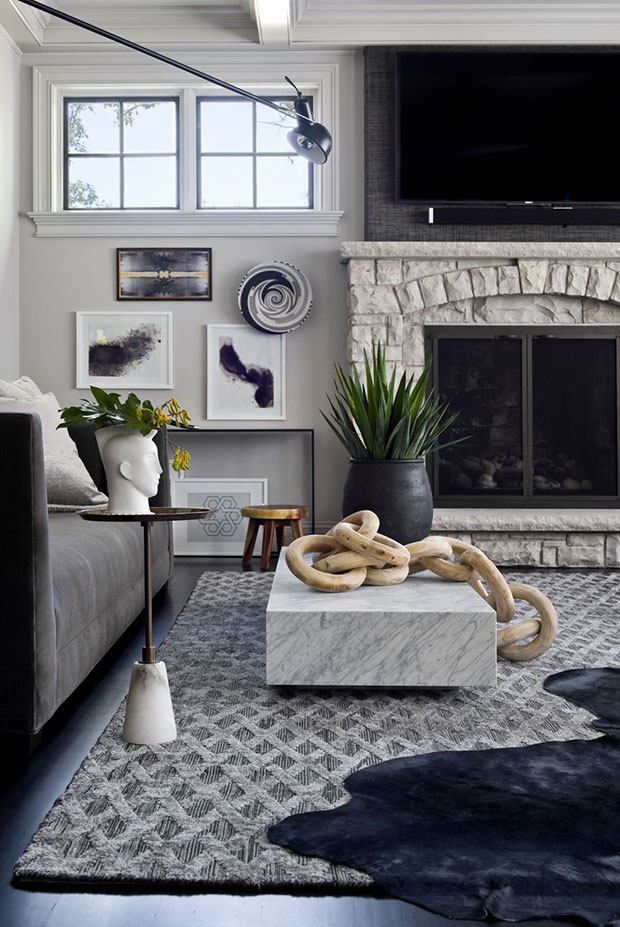 Cynthia Lynn
This unique sculpture is surely an eye-catching piece of item to have as your coffee table decor.
Lantern and Scale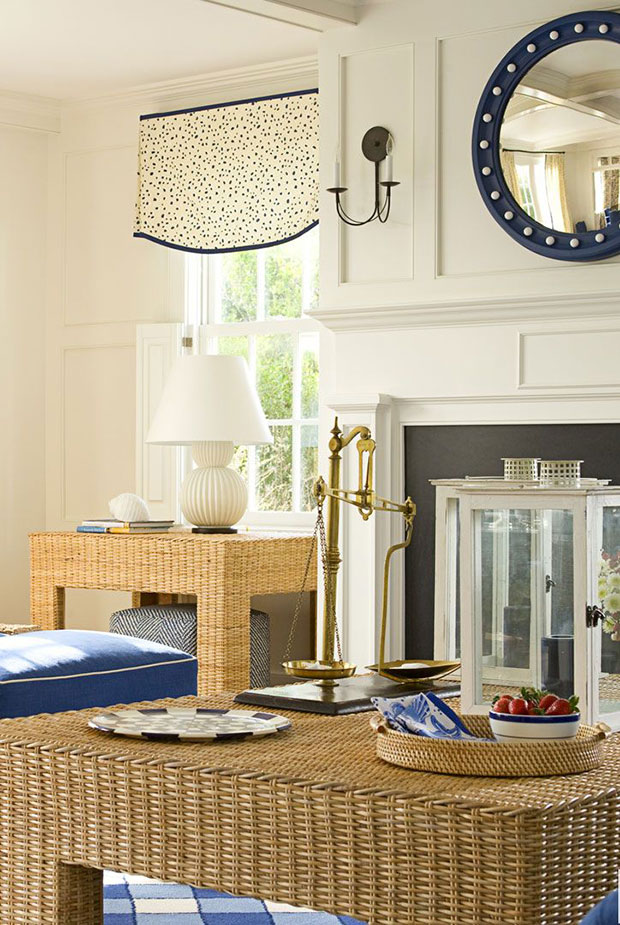 John Gould Bessler
For a fun and functional look, you can use an oversize lantern and a scale too as your coffee table decor. Aside from being aesthetically pleasing, it is also functional.
Candelabras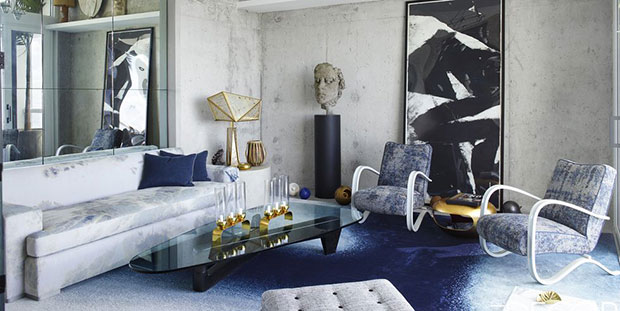 Simon Upton
Another cool option instead of a lantern is a candelabra just like this example here. The decor adds a unique look to the living room.
Jar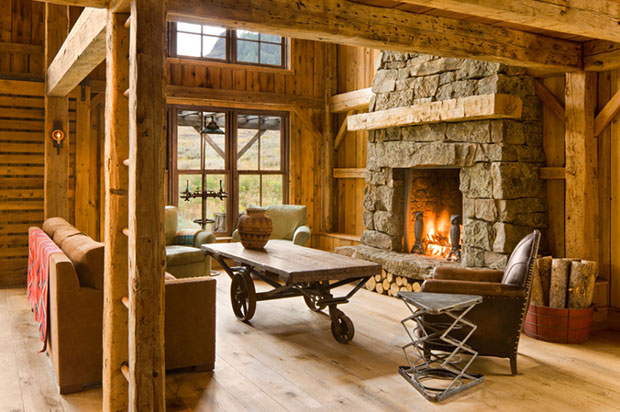 Miller Architects Ltd.
For a rustic and authentic feel, a jar is a great option. This table decor works well with homey living space.
Elemental Objects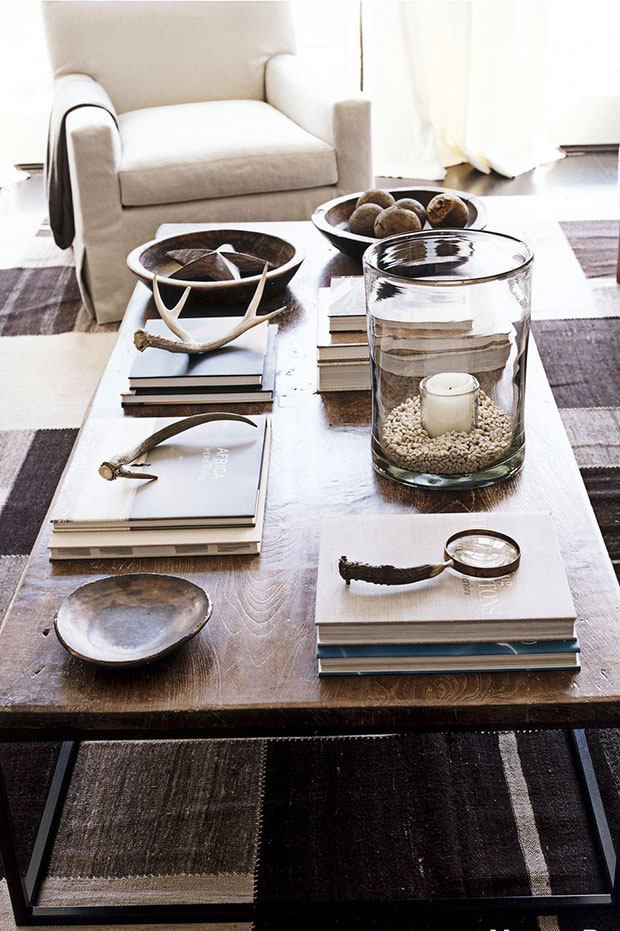 Julian Wass
You can also incorporate objects that remind you of nature such as these antique items and then place them on the table artistically.
Modern Decor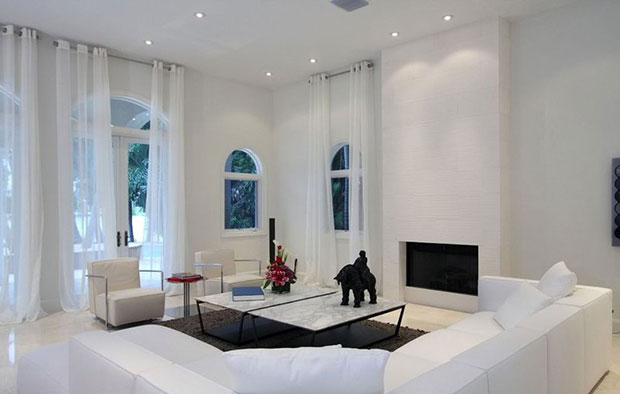 Claudia Lujan
This living room has 2 coffee tables and each has a different coffee table decor on top. The effect is rather modern and is a stark contrast to the white interior.
Minimalist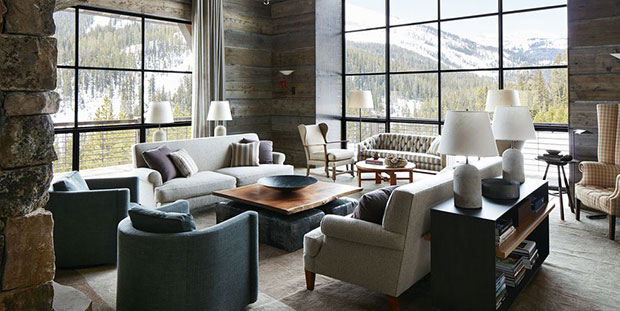 Stephen Kent Johnson
The designer has settled for a minimalist coffee table in this living room space. Instead of stuff on the table, a single large bowl-like decor at the center with the same shade as the coffee table legs.
Grid Display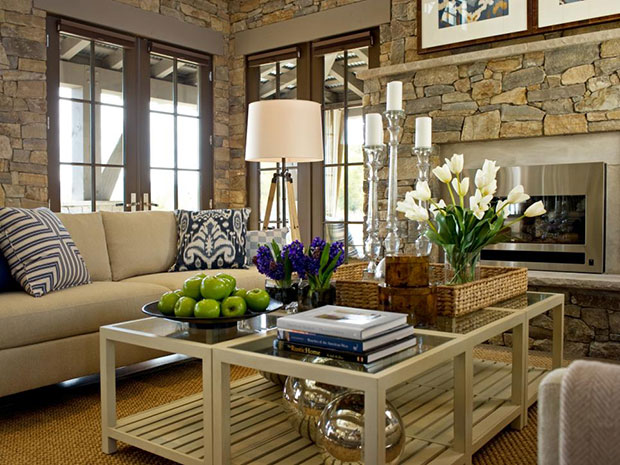 HGTV
Bigger coffee tables mean more displays are possible. The coffee table above features several items in varying heights and then a woven tray to hold the flowers and the candlesticks.
Tray and Vessel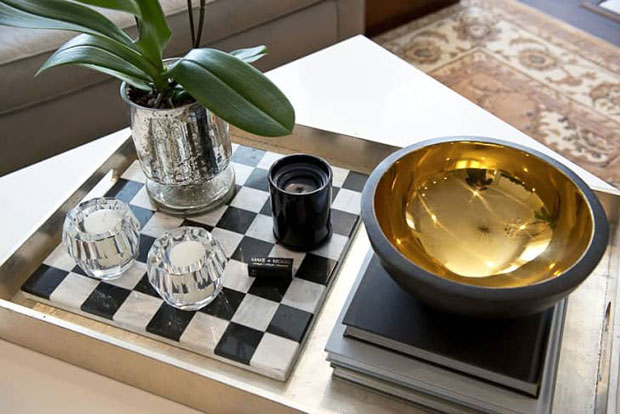 Monique Larroux
This combination of a checkered tray and a chrome-finished vessel adds a glamourous look to this coffee table.
Two-Tiered Table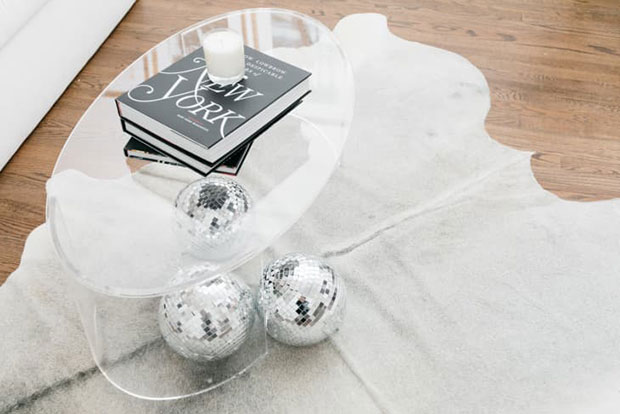 Roxy Rodriguez
Glass coffee tables can also cater to 2 layers of coffee table decors. This style here makes use of flashy balls at the bottom to add a stylish look.
Three Layers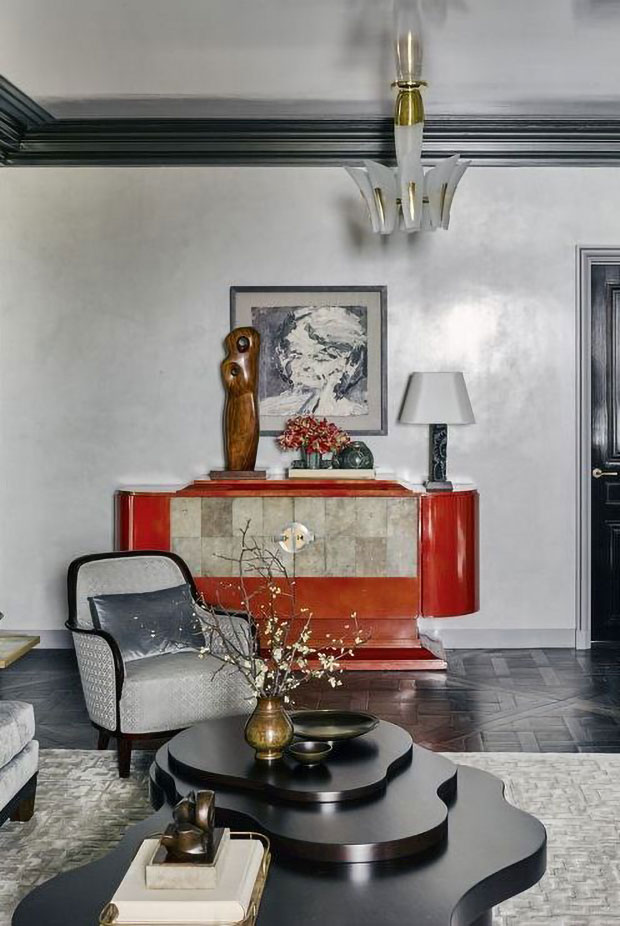 Douglas Friedman
The small pieces of decors on this 3-layered coffee table look perfect and in sync with the room's Asian theme.
Glass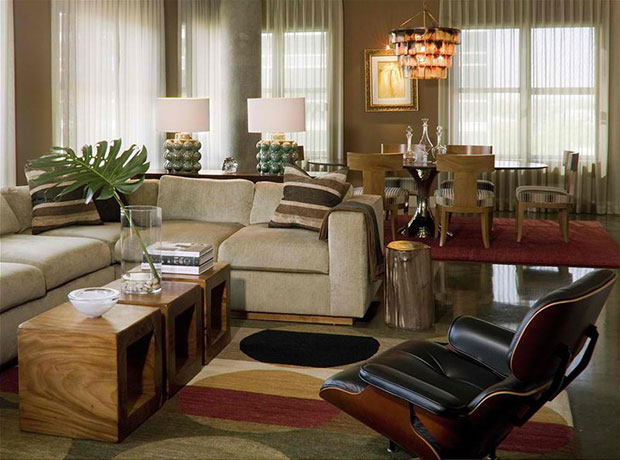 Walter Studio Interior Design
The simple approach of this large glass container with a fresh green branch is refreshing. It adds a natural look to the homey feel of the room.
Feathery Floral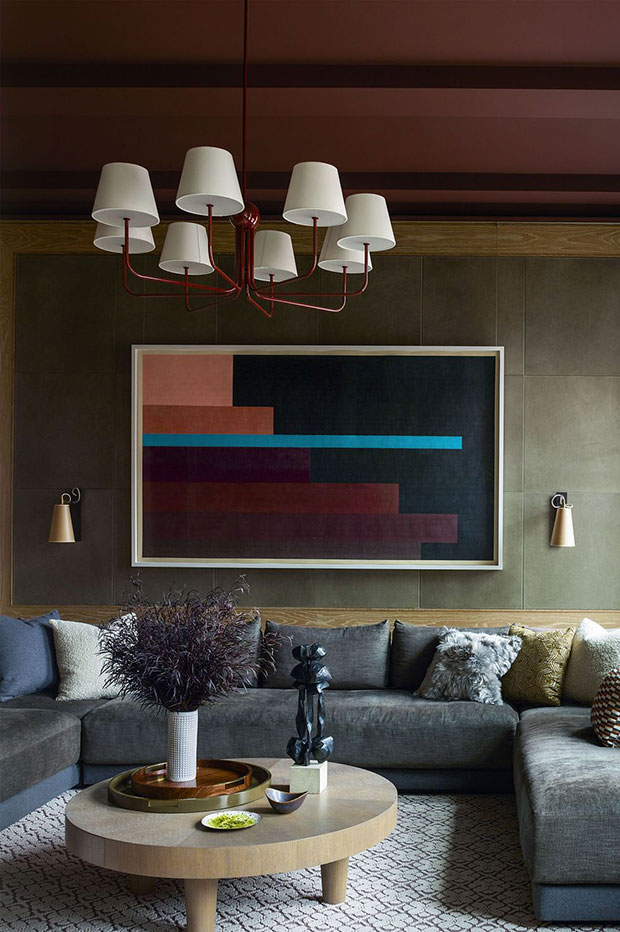 Eric Piasecki
Instead of the usual short decors, the designer opted to use a floral arrangement set on a tall vase. This adds height to the design and emphasizes the artwork on the wall.
Artifacts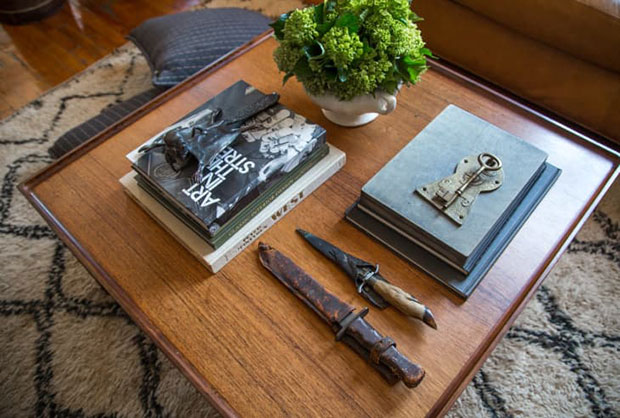 Bethany Nauert
If you have a cool collection of vintage stuff at home, and artifacts spread is a good option to consider for your coffee table decors.
Classic Look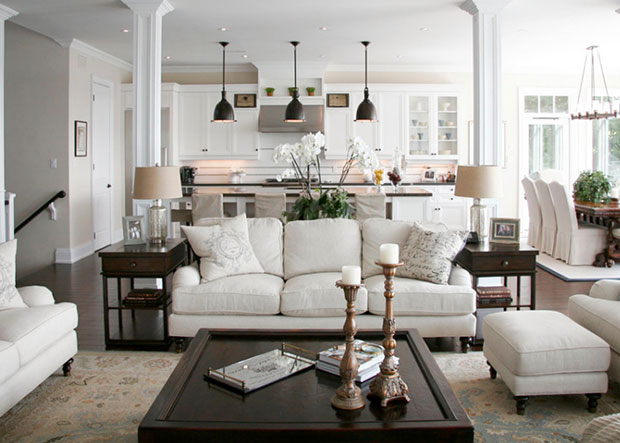 Catherine Staples Interiors
These 2 classic candelabras add an elegant look to this living room. Added with a copper tray and some books and the effect is classy!
Modern Loft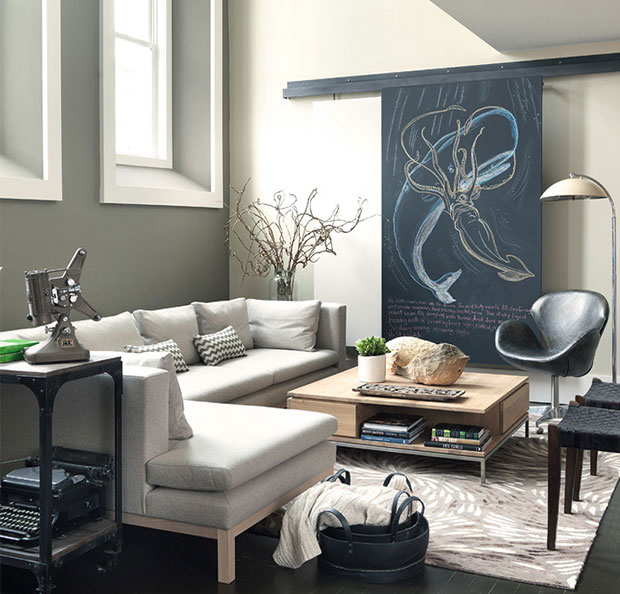 Koo de Kir
The unique and odd combination of the succulent and the sculpture in this coffee table is rather unusual but is simply pleasing to the eye. Add that interesting image at the back and you have one eclectic living room.
Driftwood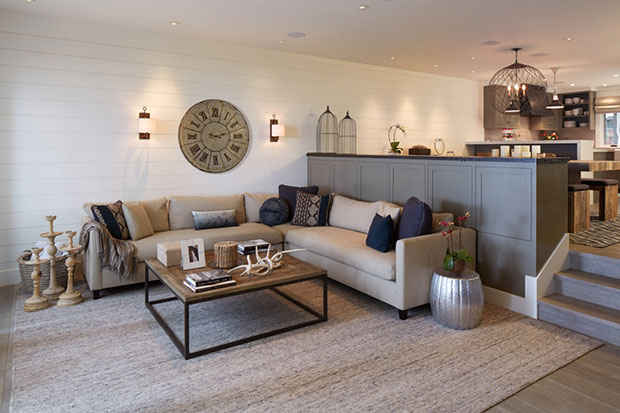 Artistic Designs for Living, Tineke Triggs
This coffee table decor is rather interesting to look at. The combination of the driftwood, the woven container, including the box make it an interesting collection.
Double Sculptures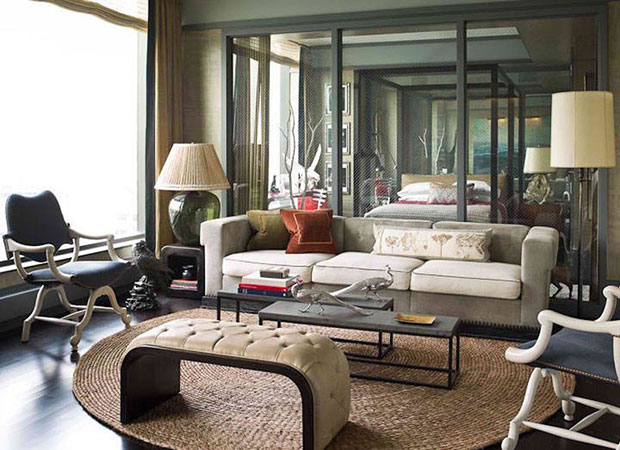 Thom Filicia Inc.
Double coffee tables often mean double the opportunity to display great items. With this design, however, the designer made use of the same peacock sculpture that meets at the edge of 2 rectangular coffee tables.
Glass Tray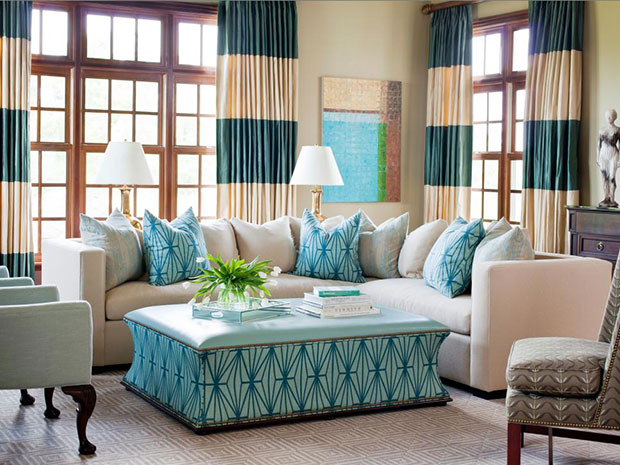 HGTV
Aside from the books, the glass tray here does not stand out but complements the design of the room.
Personal Art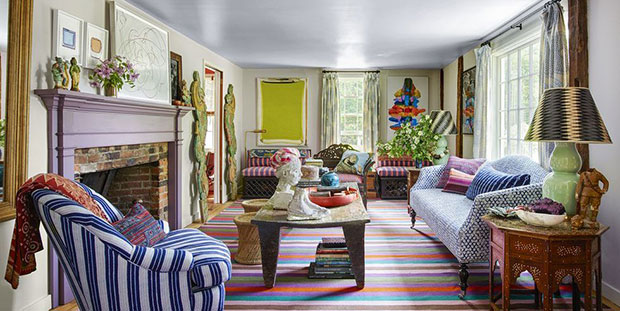 Richard Powers
Artists can use the coffee table as a display area too. Just make sure that it's not too big or too heavy. This is a great option to make your living room more personal.
Bouquet of Flowers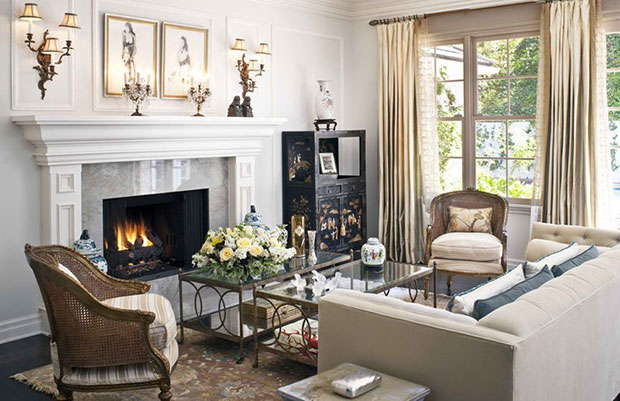 Dayna Katlin Interiors
This bouquet of flowers on one of the coffee tables looks stylish and elegant. A great add-on to the classic and elegant look of the room.
Flowers and Flowers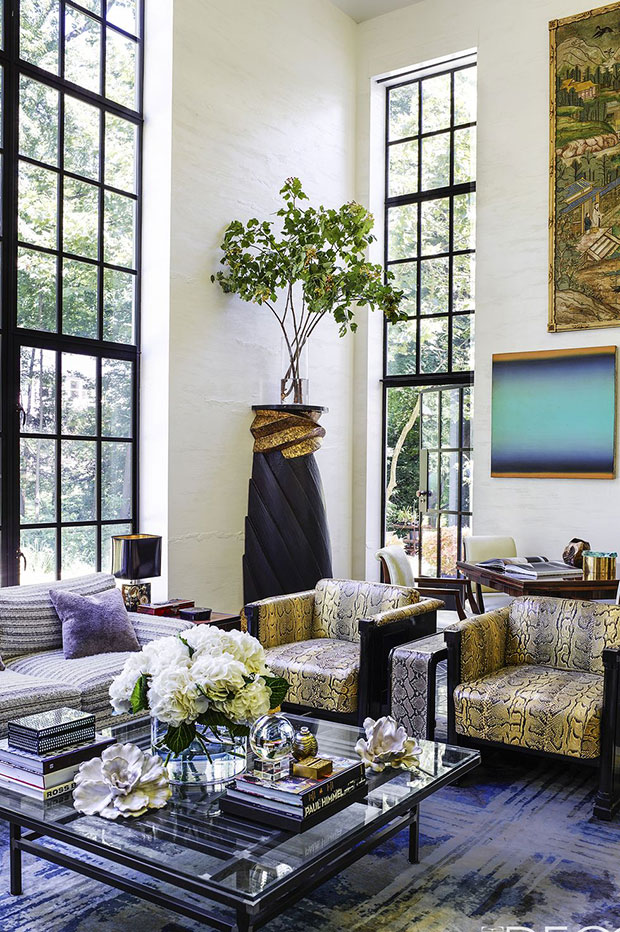 Richard Powers
This coffee table looks fresh every day with its share of fresh flowers on the glass. The touch of books and personal stuff makes it even more elegant.
Indoor Garden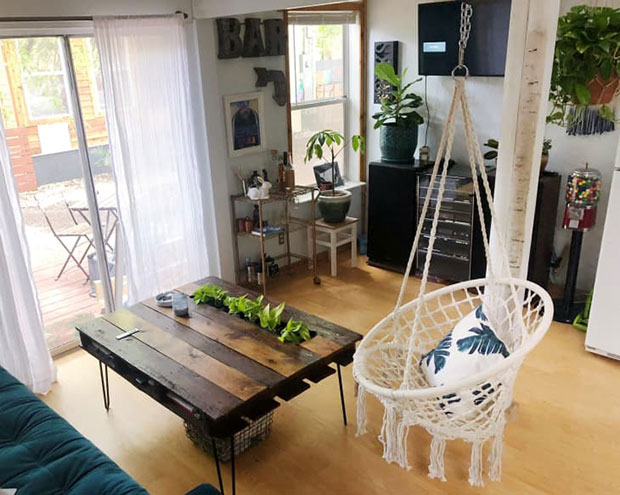 Chelsea Pursley
This indoor garden idea on your coffee table idea is a great one, especially if you love all things fresh!
Entertainment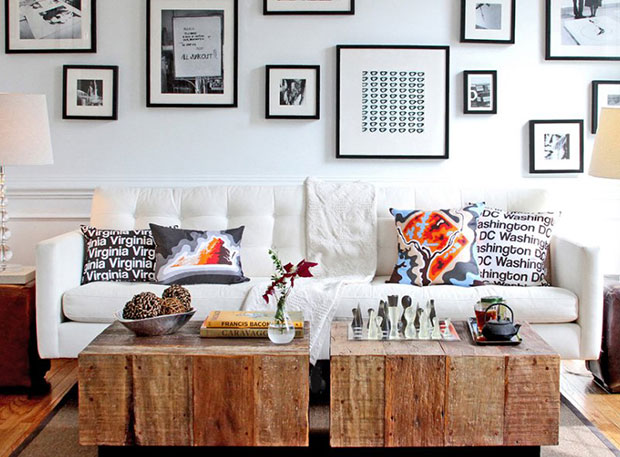 Cartoloji
Easily a fine example of a coffee table for everyone, this coffee table has fun and entertaining displays for guests and members of the household.
Hollywood Regency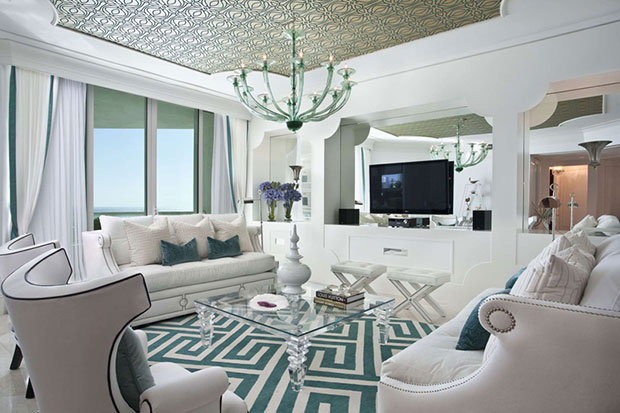 DKOR Interiors Inc.
The gorgeous vase on this glass coffee table adds an elegant and even Arabian feel to the room of white and green.
Asian Inspired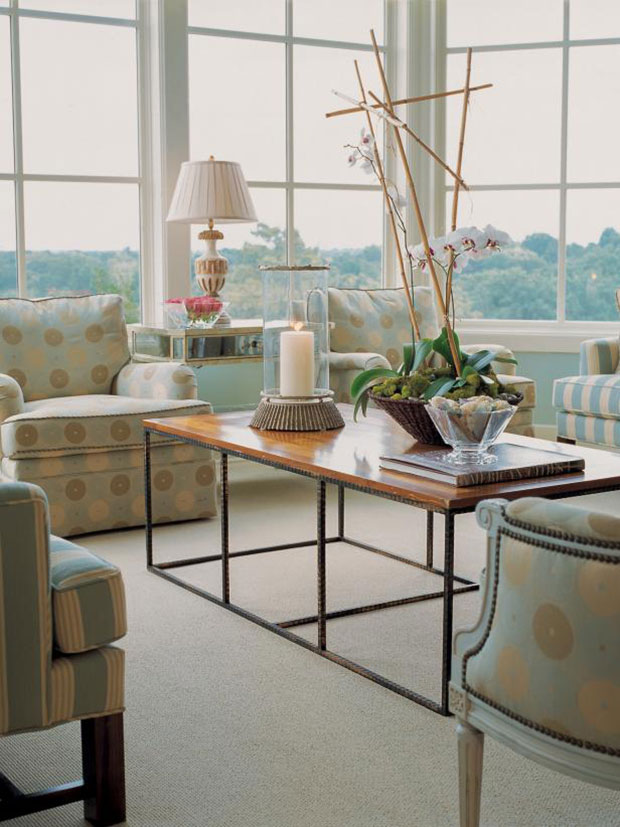 Jenifer Jordan
The Asian-inspired look of this coffee table decor is quite relaxing and is even complementing the wide-open windows of the room.
Basket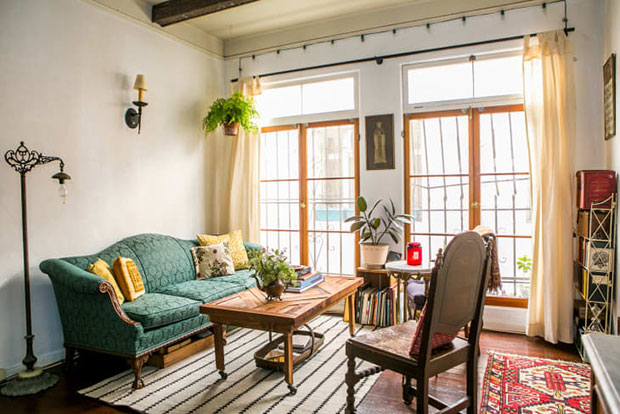 Marisa Vitale
If there is a limitation of space at the top, why not a basket at the bottom for more stuff? Just like this style.
Stones and Houseplants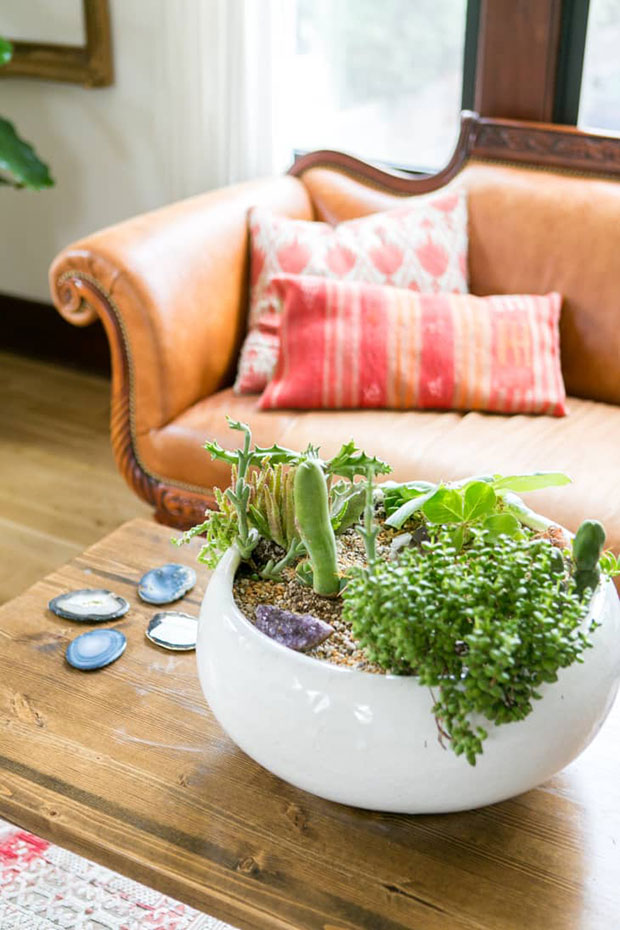 Marisa Vitale
This overlarge houseplant with stone crystals on the side adds a natural element/ accent to a living room space.
Glass and Cups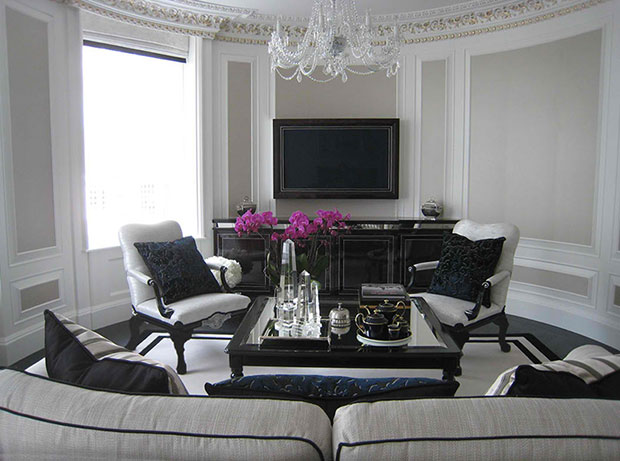 KAV London
The glassware displayed on this coffee table makes this sitting room quite inviting and comfortable.
Lone Mountain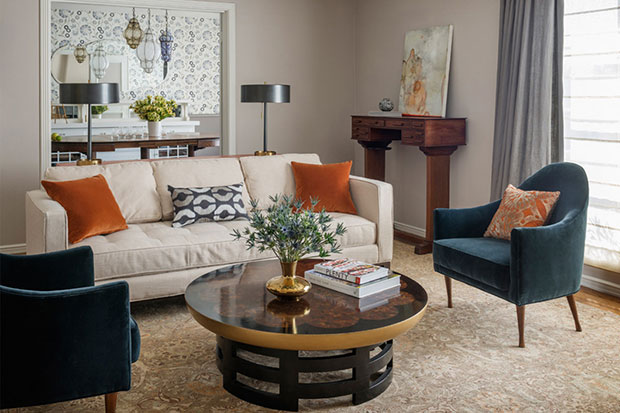 John K. Anderson Design
The cute flower vase and spiky plants at the near center of this coffee table look amazing. We love how its material blends well with the tabletop.
Modern Luxury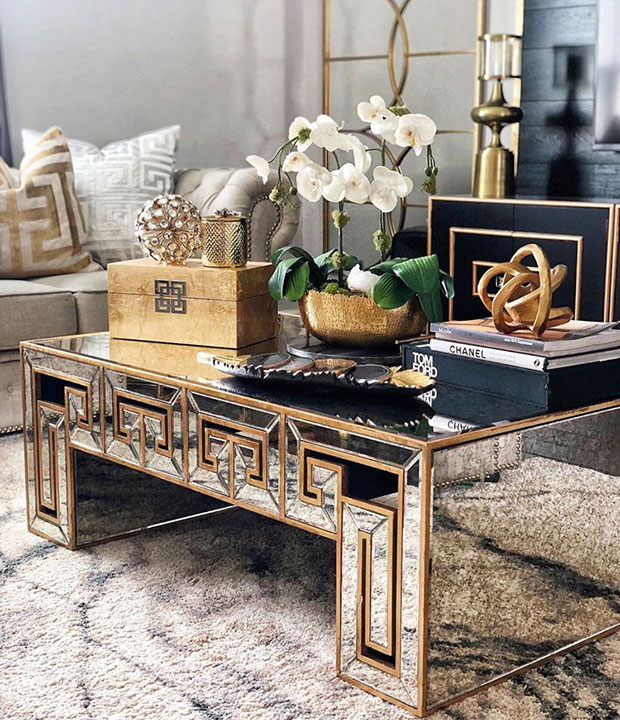 Design Ideas Guide
The collection of gold pieces of furniture in this coffee table looks luxurious and elegant.
Candles and Flowers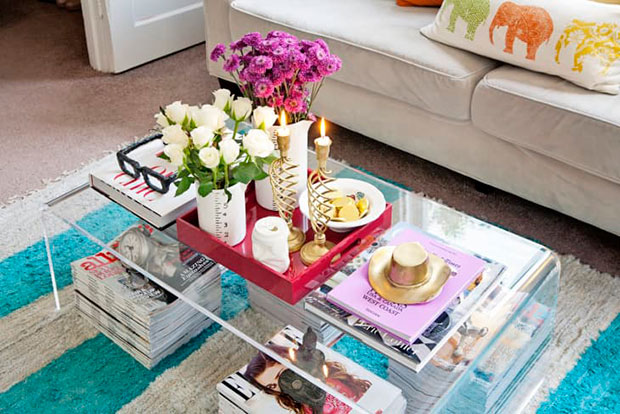 Kim Lucian
The pretty combination of flowers and candles here looks great. The designer has even made sure to arrange them in such a way that you can see everything by placing the taller ones at the center.
Geometric Vase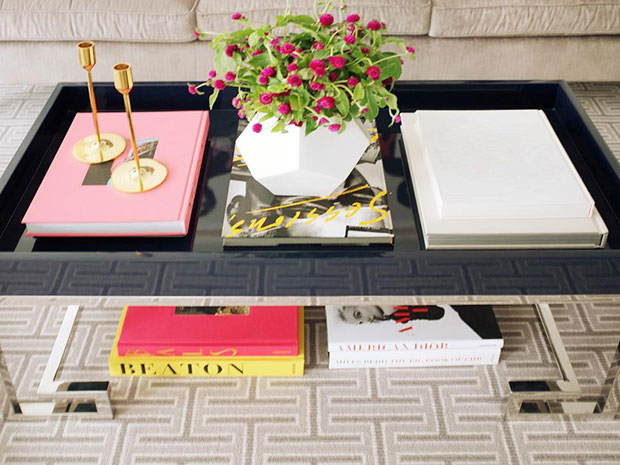 Kapito Muller Interiors
This geometric vase adds an edgy and stylish look to the coffee table.
Collection Display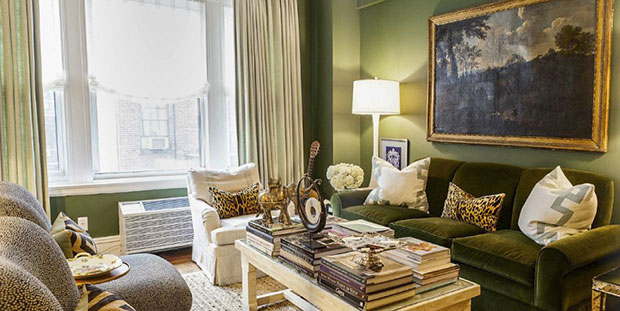 RimBrindamour
This display of eclectic stuff on the coffee table may seem overwhelming at first glance. When used to it, however, the style looks chic and eclectic.
Pao Alto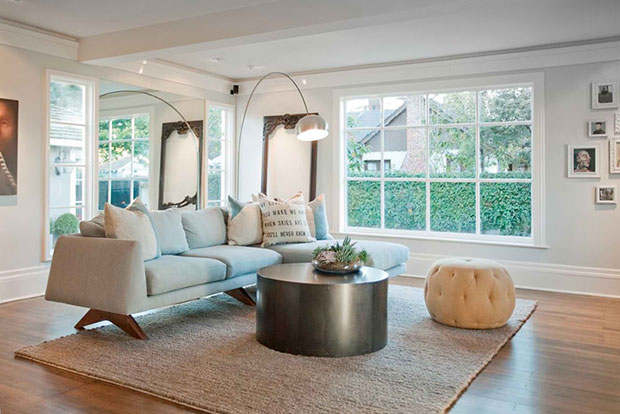 Geremia Design
The lovely centerpiece in this equally interesting coffee table sets off the living room into a stylish design.
Summerfield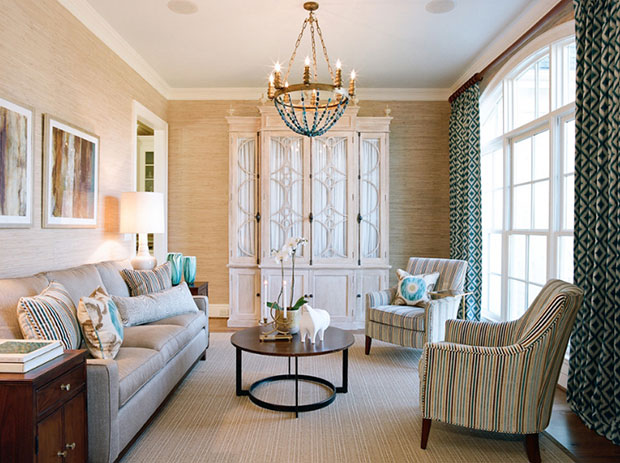 Jessica Dauray Interiors/Elements of Style
The combination of the tall plants, sculpture, and candles look chic and fashionable. It adds a neutral look to the room with patterns and color.
Water Street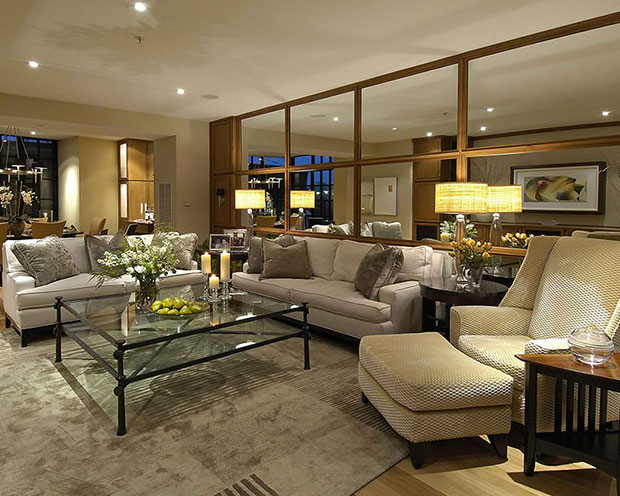 CREDIT
This set-up of flowers, candles, and fruits looks rather romantic and very cozy.
Gold Bowl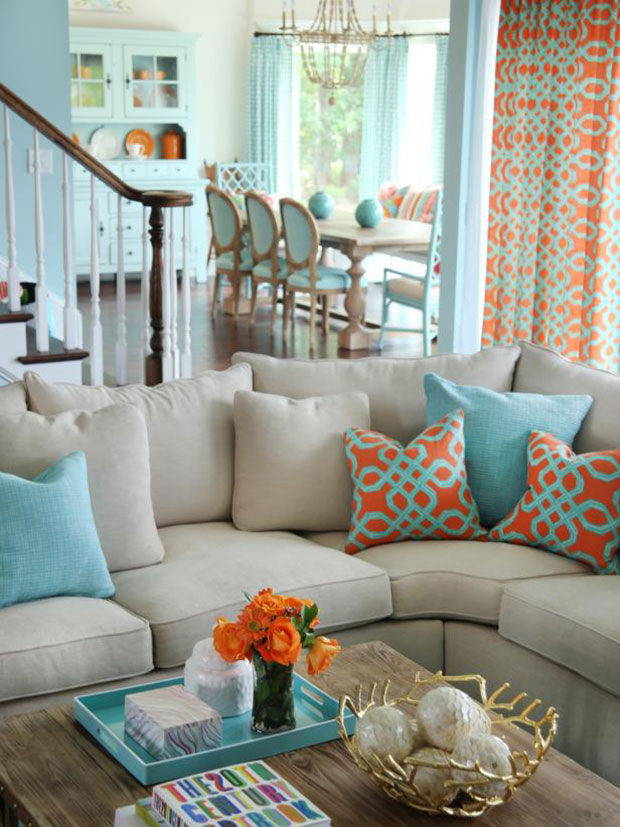 Jenna Buck Gross
The golden bowl in this coffee table adds an elegant look to the homey feel of this room.
Book Stand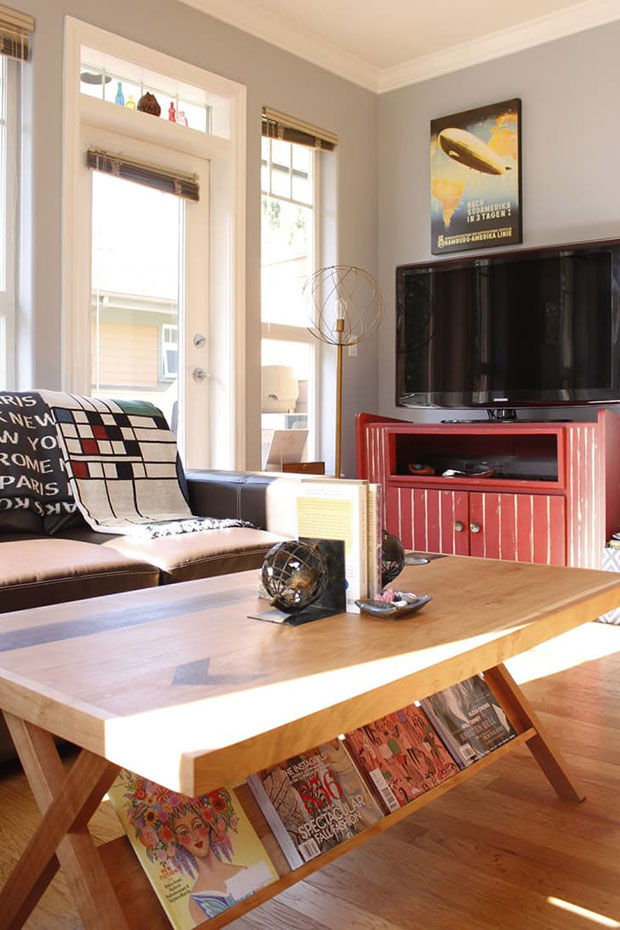 Kelly Brown and Melissa Milakovic
Instead of laying the books, a book stand is a great idea for those who love to read. Make it even chicer with these spheres on the side.
Tot Hill Farm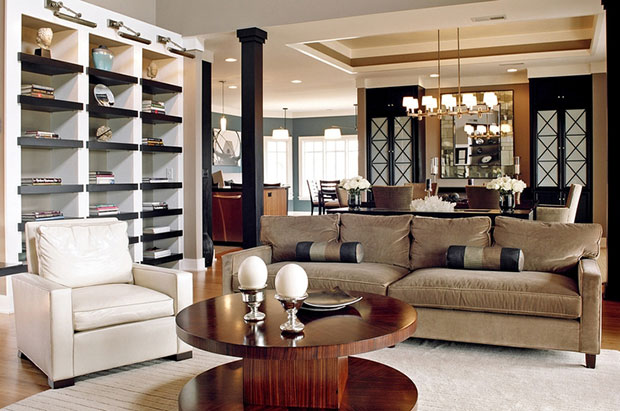 Jessica Dauray Interiors
The cute egg-like holder coffee table decor is a unique art piece to add more rounded corners to this room.
Brookline Residence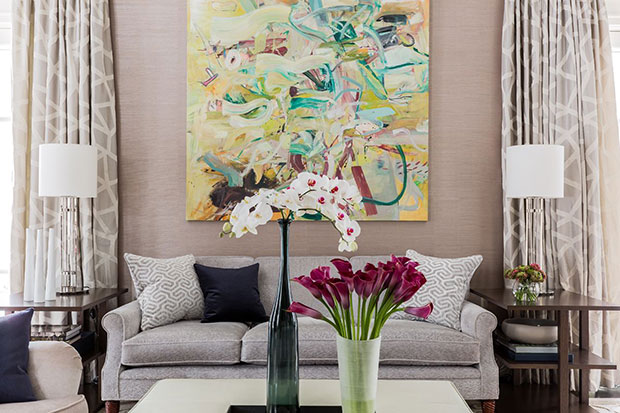 Elms Interior Design
Two tall vases of flowers side by side add a refreshing look to the room. It is also quite minimal and does not take away the attention of the colorful painting on the wall of the printed curtains.
Country Style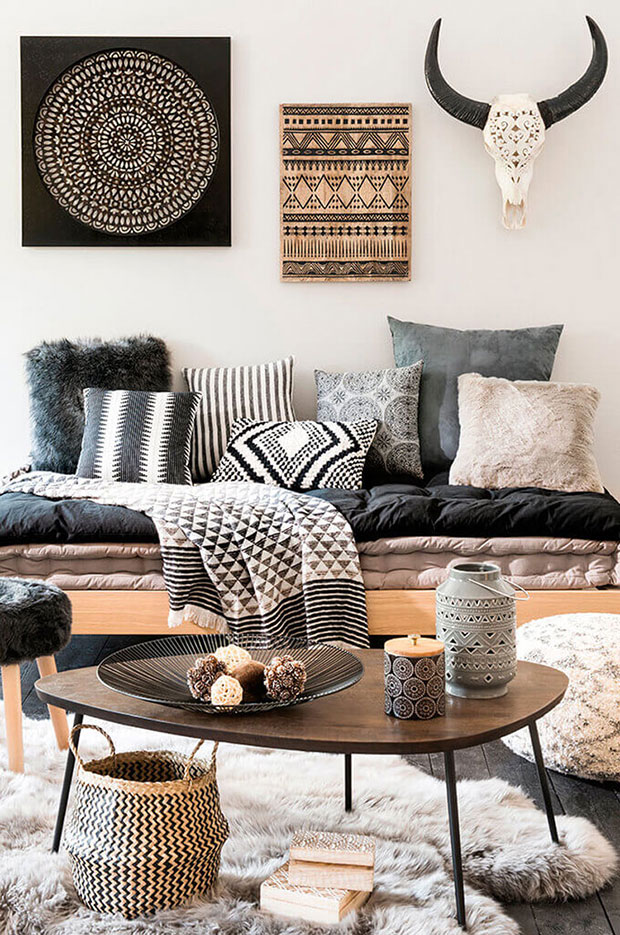 Design Ideas Guide
The cute patterns of the candles and lantern in this coffee table look great and complementary with the patterned throw pillow in the chair.
Bonsai Tree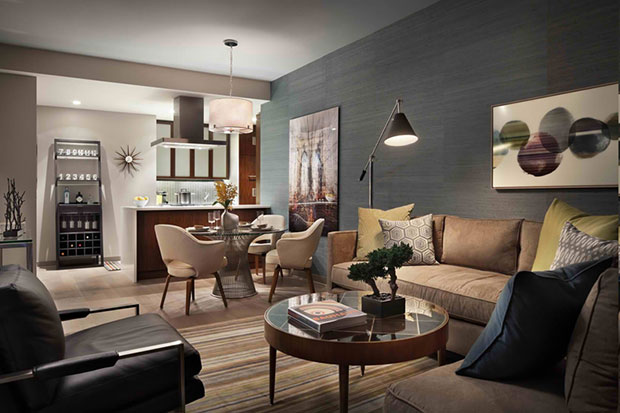 Terrat Elms Interior Design
The cute bonsai tree in this living room space adds a fresh and Asian-inspired touch to the room.
Paris Apartment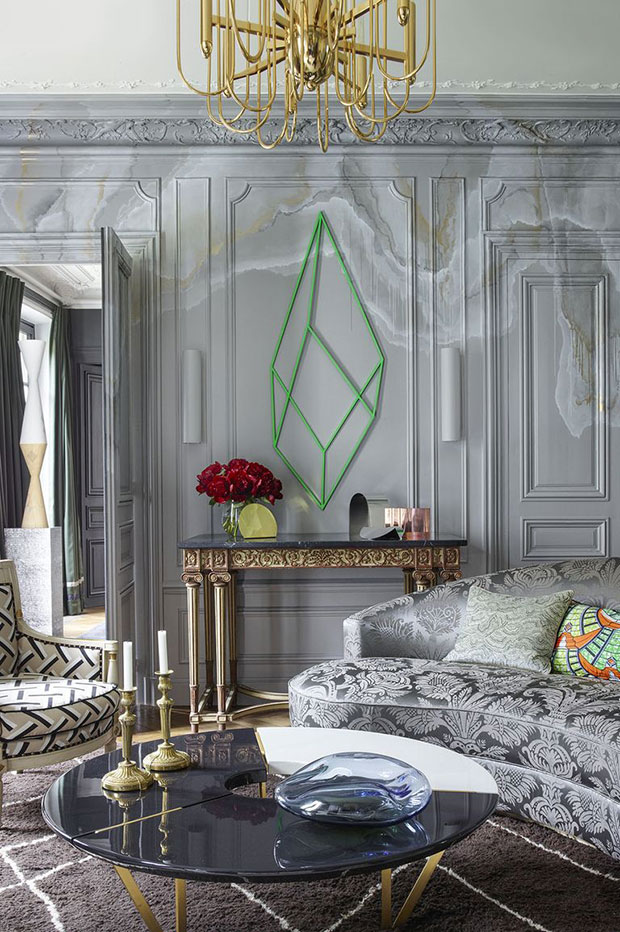 Simon Upton
The candlesticks and free-form sculpture look sleek and fashionable in this chic apartment. Another great thing about it is that it does not take away the attention from the pieces of art in the room nor the patterns.
Colorful Bottles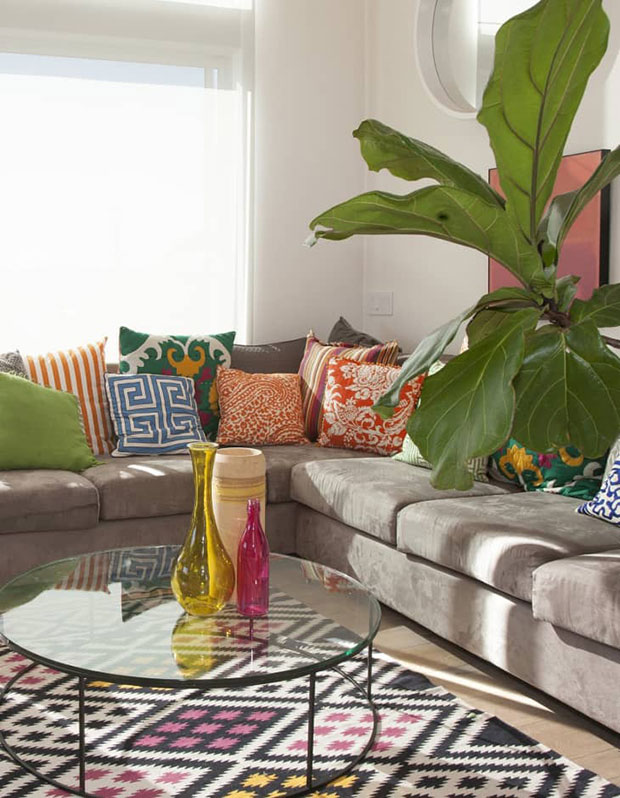 Claire Bock
The lovely colorful bottles on this coffee table are a nice contrast to the patterns and colors of this living room space.
Beach Theme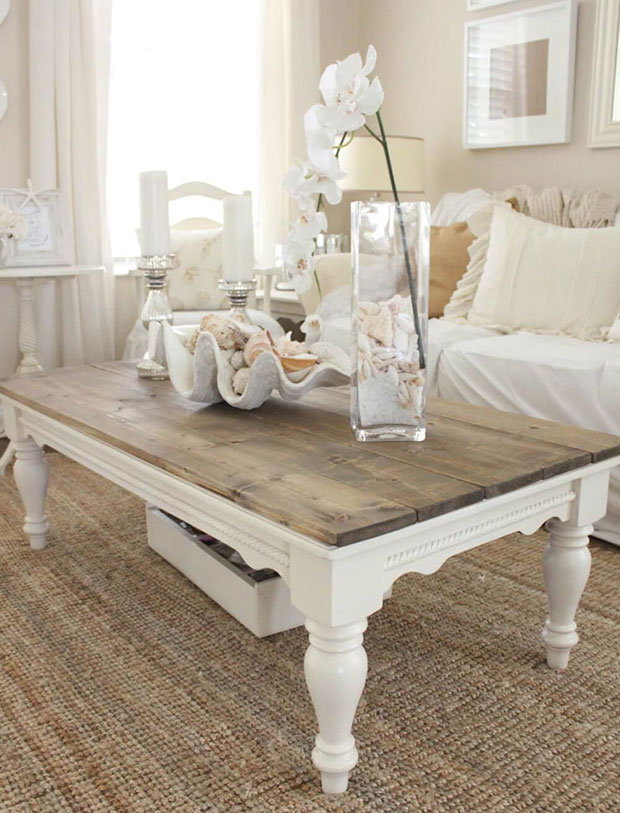 Design Ideas Guide
The beach is never too far with this beach-themed coffee table decor. The shell-filled glass also adds a nice touch to the orchid.
Natural Wood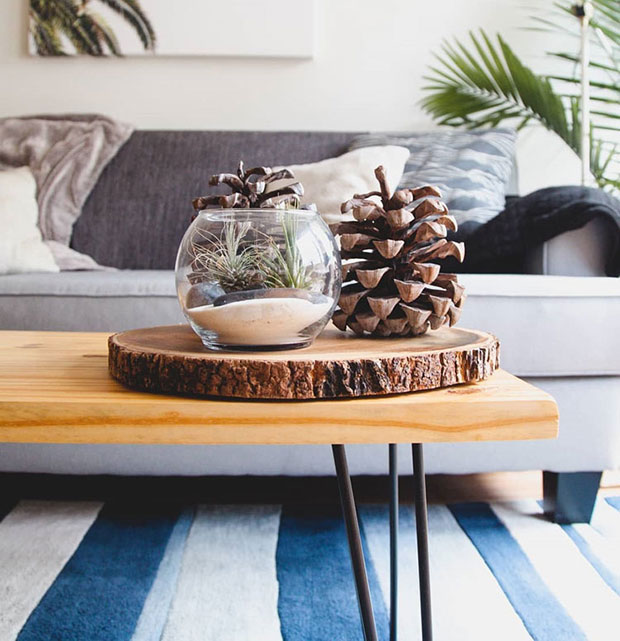 Design Ideas Guide
The large pine cones on this coffee table add a natural look to this coffee table. It is even more emphasized by placing it on top of a faux wood slice and a glass bowl of sand and grasses.
Spheres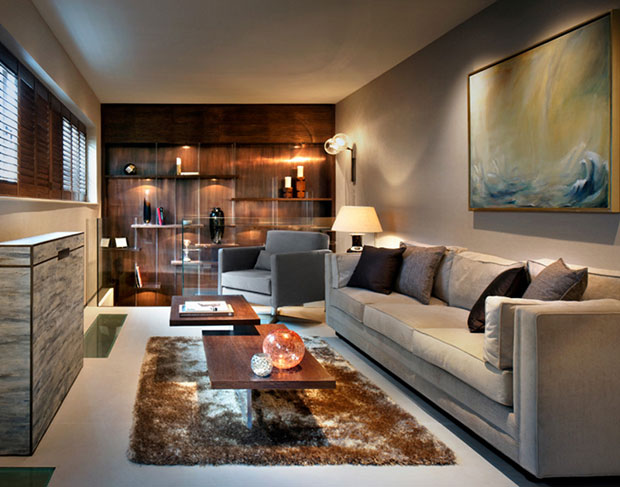 Zephyr Interiors
The classy spheres in this coffee table add a soft touch to the room with lots of edges and corners. They are also both non-intrusive and blend well with the table and the carpet.
Earth Themed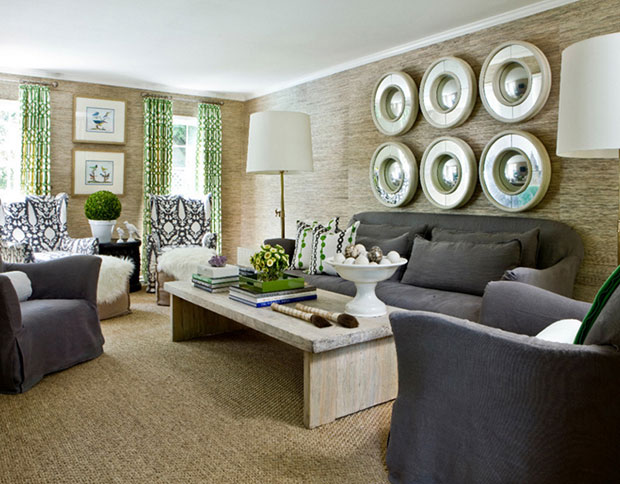 Erica George Dines Photography
The combination of the books, flower, large paintbrush and a bird-bath look-alike bowl/ vase at this coffee table looks amazing.
Sculptures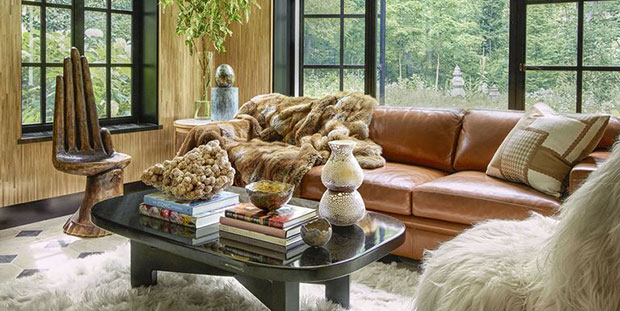 Richard Powers
You can't go wrong with several sculptures at once, just like this example. The table is filled with those, and books too!
Now, how about that? We are pretty sure you have gotten one or two ideas on how to design your coffee table and on how to choose your coffee table decor.
Which one is your favorite by far?
Like This Post? Pin It!