50 Edgy Geometric Coffee Tables To Add Texture To Your Home
|
Coffee tables are a classic staple in every living room. Hardly would you ever come across a living room that doesn't have one?
Besides its main function where you can prop food or drinks, coffee tables can also serve as additional storage or workspace. And even if you don't use them for such, they are always great stylish additions to the living room.
Even better when you pick ones with striking designs such as geometric coffee tables. The structure of geometric coffee tables, on its own, is guaranteed to make a statement as it brings a more modern and contemporary look to your living room.
How to choose a geometric coffee table?
We've covered before how to choose the perfect coffee table for your room. The basics of it remain practically the same when it comes to geometric coffee tables. Though a more focused consideration of size is needed since there are geometric coffee tables with unconventional shapes. You must ensure that your geometric coffee table's size is proportionate to the room's size, the settee, or the couch. And when you have limited space in your room, it is best to choose a coffee table that is made of glass or transparent materials to bring some sense of lightness into the room.
How to design around a geometric coffee table?
Any stunning geometric coffee table you choose is bound to become the focal point of your living room. So, it's only proper that it is supported and complemented by its surrounding. The question now is how should you design around geometric coffee tables.
Here is a breakdown of how you could design around them.
1. Rectangular coffee tables go well with most types of sofas and couches, especially longer ones. You can pair them with sectionals too.
2. Square coffee tables are perfect for small living rooms. Sometimes it's recommended to pair 2 or 3 square coffee tables for a modular arrangement. Though, this would make it look like one extra-long rectangular coffee table.
3. Round coffee tables also fit in small and compact living rooms. Typically, they don't fit well with long sofas or couches, as well as sectionals.
4. Oval coffee tables, unlike their round counterparts, actually look better with long sofas or sectionals.
5. More unconventionally shaped geometric coffee tables, like hexagonal coffee tables, tend to have sharp features, so try to balance your interior by pairing it with smooth lines and/or curves to soften the overall look of the room.
Let's check out some edgy geometric coffee tables!
Geometric Wooden Coffee Tables
Wooden coffee tables are the most common. It's a solid and safe choice, but also quite versatile, that goes with just about most interior design. And with the geometric shapes in factor, such wooden geometric coffee tables will give your room an updated look.
Ahart Frame Coffee Table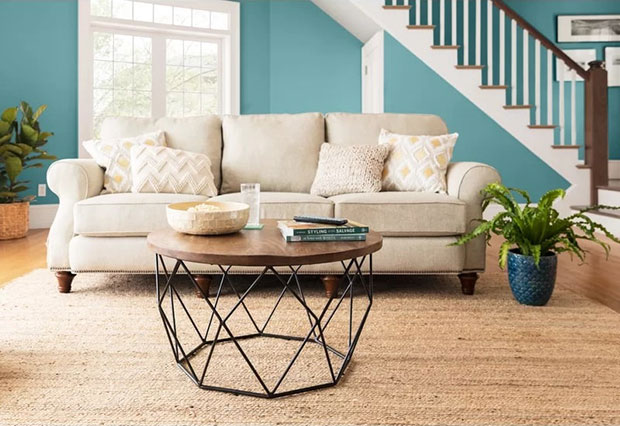 Mercury Row
The diamond-patterned base is capped off with a round wooden table top. This coffee table is a modern beauty that surely fits with any modern home.
Faceted Large Round Coffee Table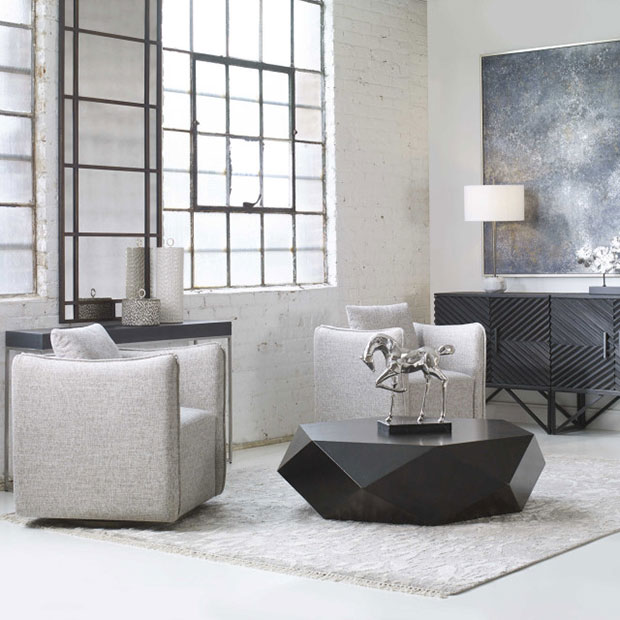 Uttermost
With its striking feature, this solid geometric coffee table is easily a focal point. If you're searching for solid geometric coffee tables, you may just find that this is a common look.
Keema Frame Bunching Set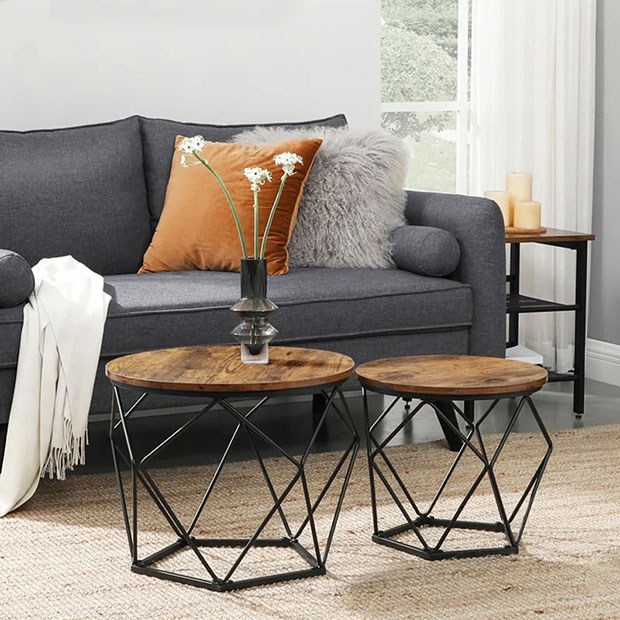 17 Stories
What's interesting about this bunch set is how their respective bases are not shaped the same way. It adds an interesting dynamic to the overall look of the room.
Haugen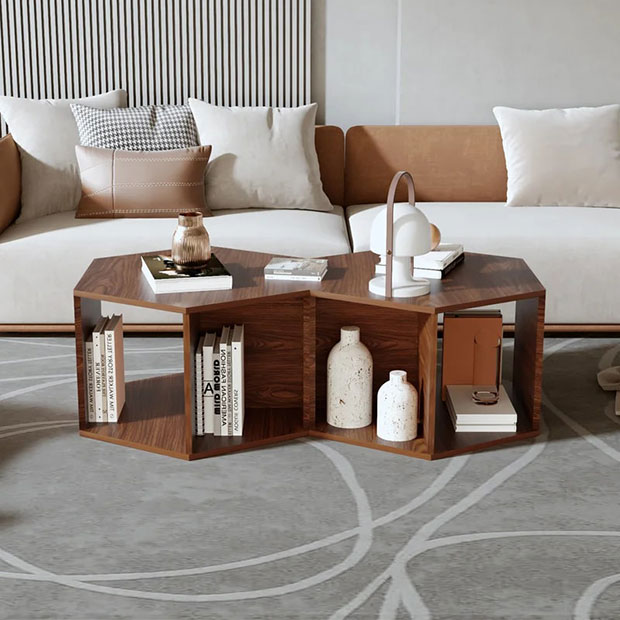 Zipcode Design
With a versatile design, you can position this coffee table horizontally or vertically, depending on how you want to use it.
Malonne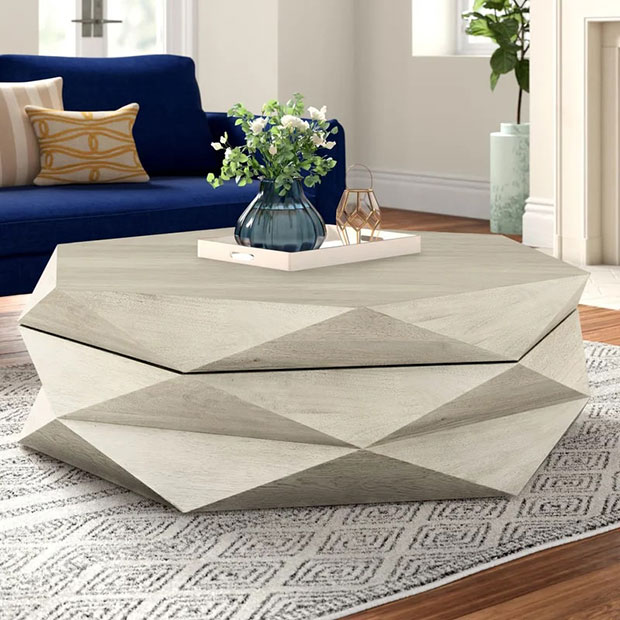 Joss & Main
Here's another one of those distinct solid geometric coffee tables! This time, though, you can lift the top block to reveal hidden storage space. That's some modern innovation right there!
Metric Coffee Table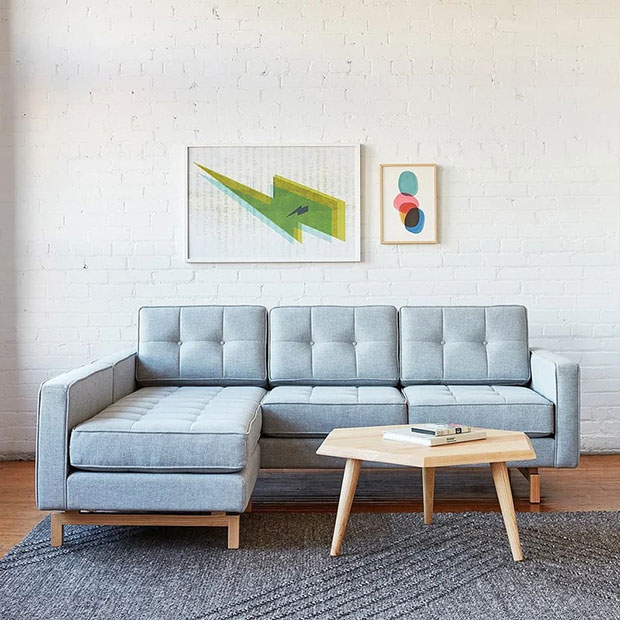 Gus Modern
Apart from its hexagonal top, this coffee table is on the minimalist side. Its beveled edge, though, wouldn't be suitable for homes where babies or toddlers are roaming freely.
Palmquist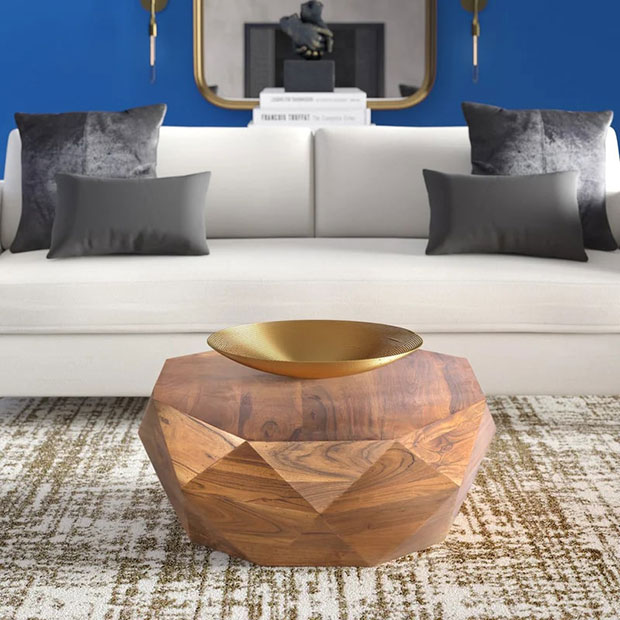 Foundry Select
Its diamond-like geometrical body is nicely paired with furniture with smooth lines, curves, and some softness in texture.
Tyrone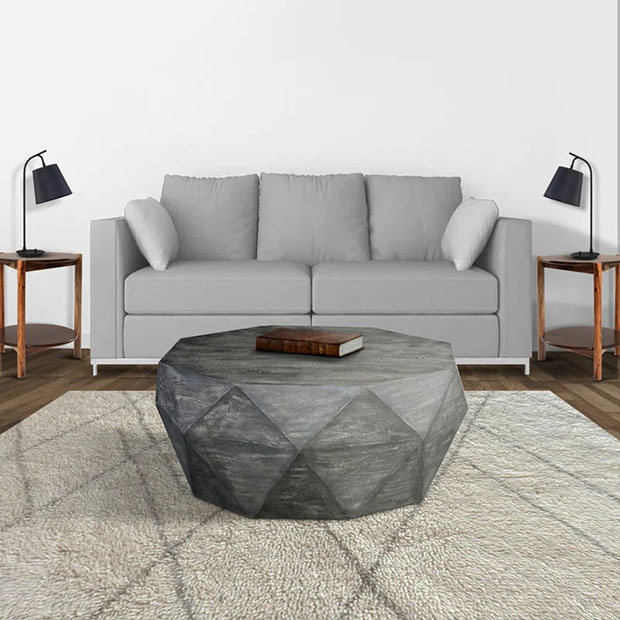 Foundstone
The gray tone finish makes this solid block of a geometric coffee table look like it's made of cement. But don't be mistaken! This is totally made of wood!
Sconset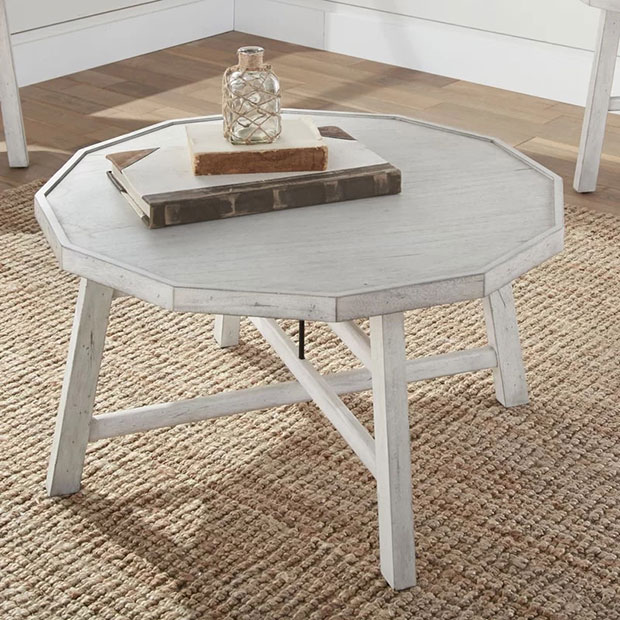 Gracie Oaks
The finish on this coffee table is perfect for shabby-chic living rooms. The tray tabletop design is a classic look but is also highly advantageous to prevent stuff from the living room.
Mollie Mid-Century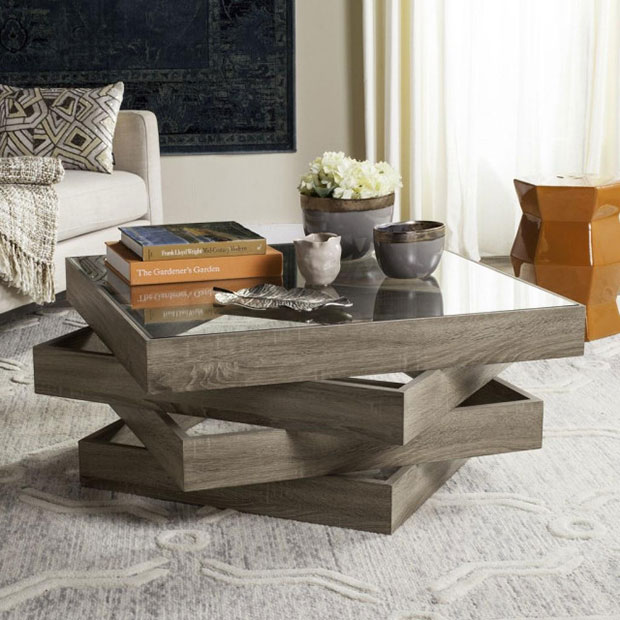 Peachtree Fine Furniture
If we're going to talk about geometric coffee tables that look like art, we should include this one in the conversation. A glass top is fitted on the topmost square bringing some dynamic in terms of texture to this coffee table.
Kalinowski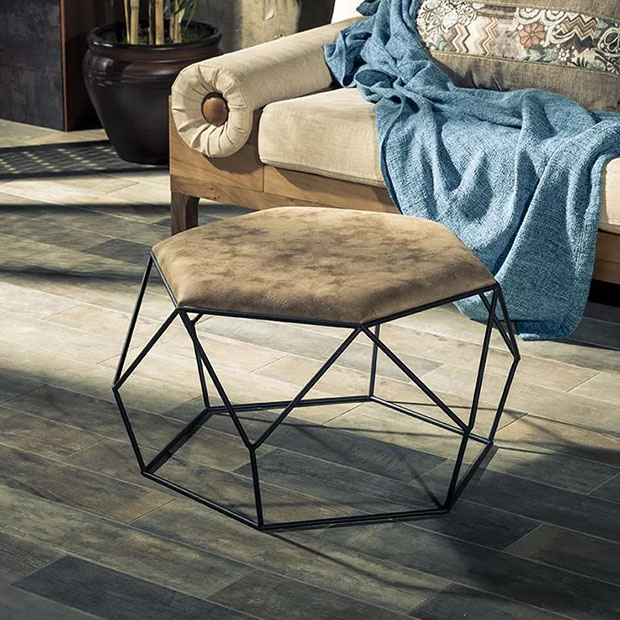 Brayden Studio
Not many geometric coffee tables, or any coffee table for that matter, have upholstered tops. It makes for a very interesting coffee table that brings dynamic texture.
Friley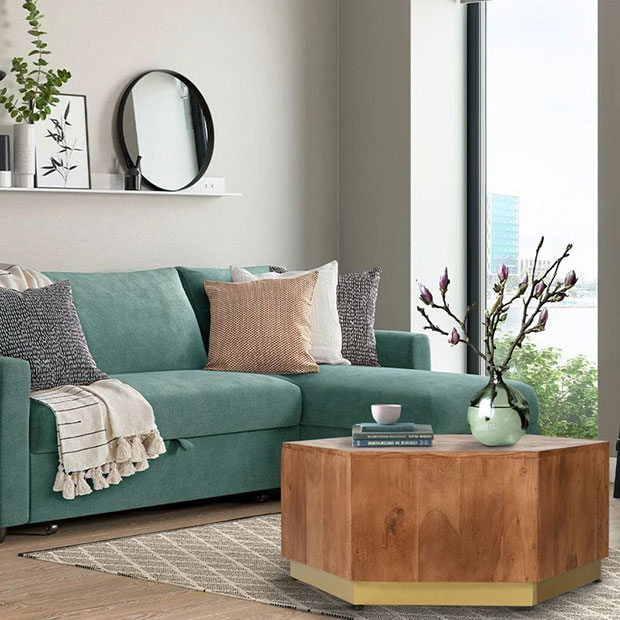 Loon Peak
Its hexagonal design makes this coffee table have a spacious top. Though the body, with the knots and raw grain detail, brings some rustic charm, the gold finish of the base adds some transitional elegance.
Basil Coffee Table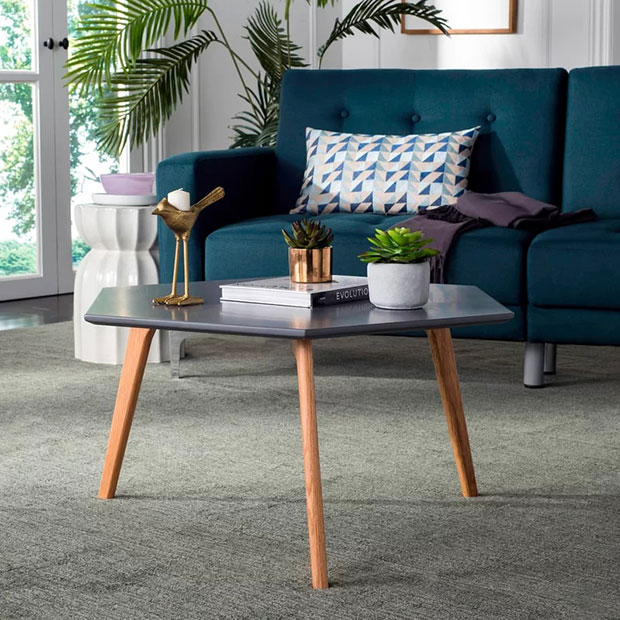 Corrigan Studio
Even geometric coffee tables can have a sleek modern design that is perfect for minimalist trendy homeowners.
Thedrick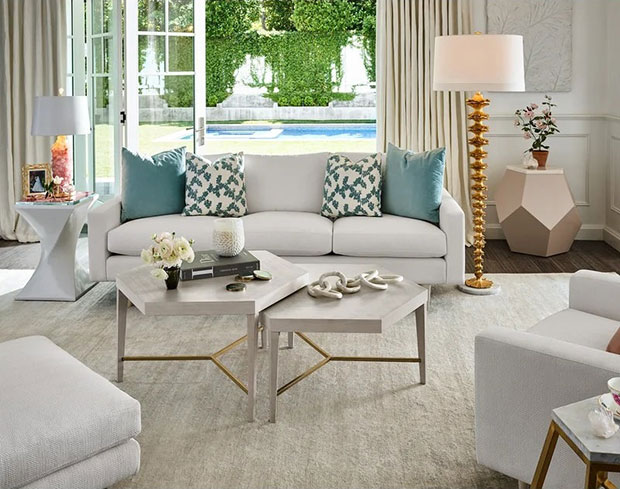 Everly Quinn
Bunching coffee tables are becoming increasingly trendy these days. So, if you want to get into the trend, there are also geometric coffee tables available as a bunch set.
Aikens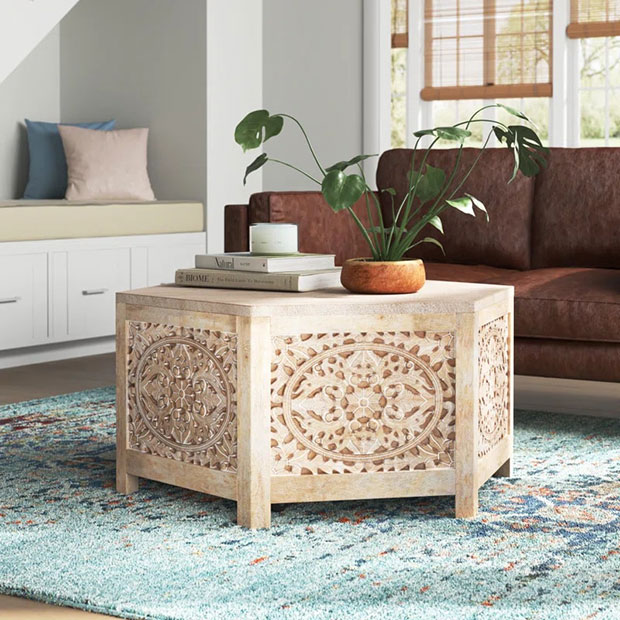 Langley Street
While most geometric coffee tables rely on the shape alone to make a statement, there are some with ornate designs to add to the appeal. This one has a hand-carved motif that elevates the hexagonal shape of this coffee table.
Georgian Drive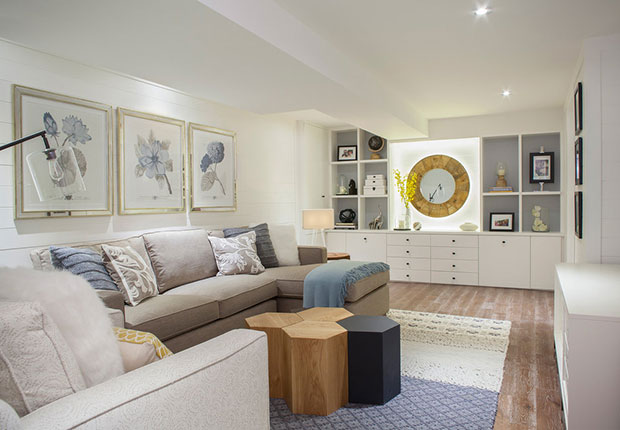 Narratif
This home has a pretty interesting coffee table set that fits together like a puzzle, creating a honeycomb-like structure. But even more interesting is how one is of a different color, creating a pretty cool dynamic.
Caracole Classic Drum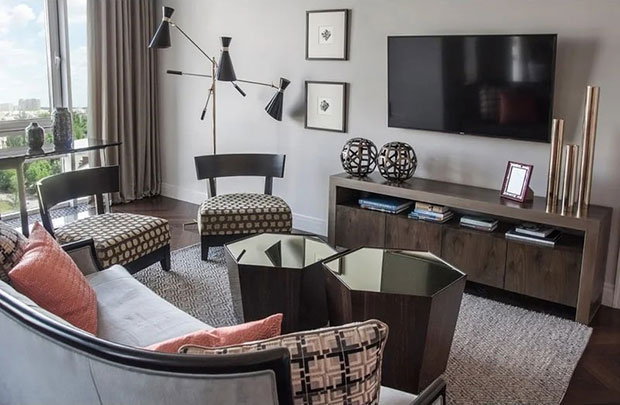 Caracole Classic
With a mirrored glass tabletop, this classic drum coffee table design is given a fresh spin to it.
Island Estate Key Largo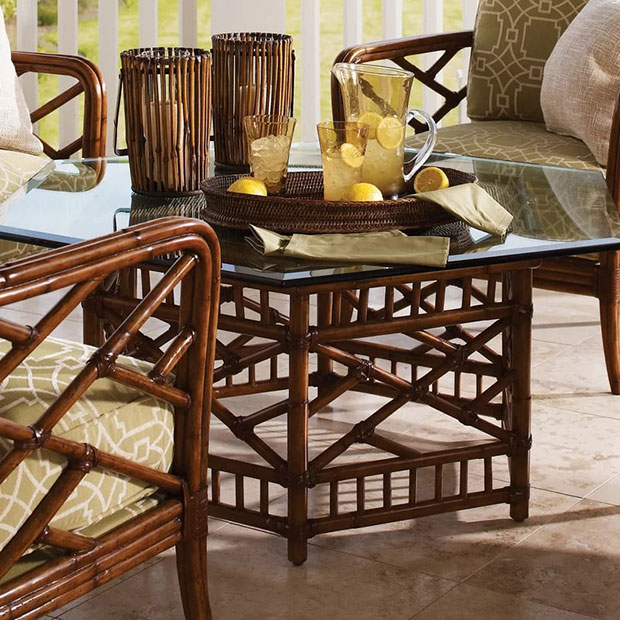 Tommy Bahama Home
For a more tropical style, the body and base of this coffee table are made from rattan. It's topped with beveled glass to give it a more updated look.
Geometric Glass Coffee Tables
Glass coffee tables are great for small spaces and easily blend with their surroundings better, making the room look bigger and airier. This is great for many modern and contemporary interiors, or anyone who wants to bring some luxurious feel to their homes.
Transitional Coffee Table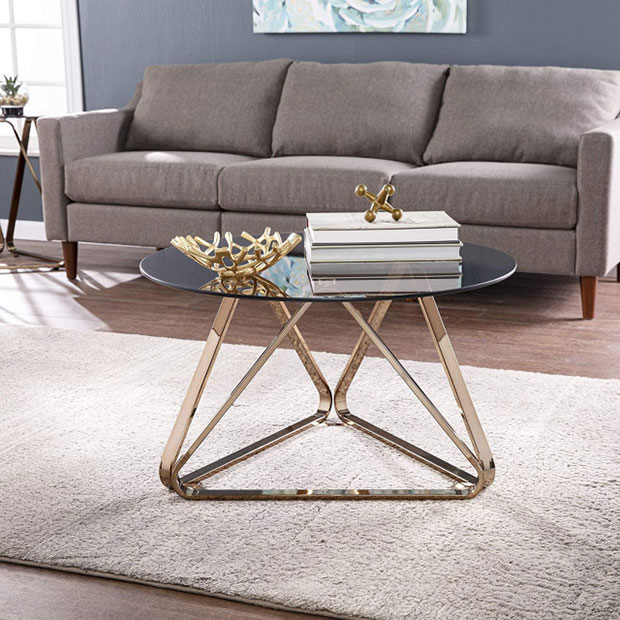 eFurnish
The plated iron metal base with tempered glass certainly gives this coffee table a stylish contemporary look.
Frame Coffee Table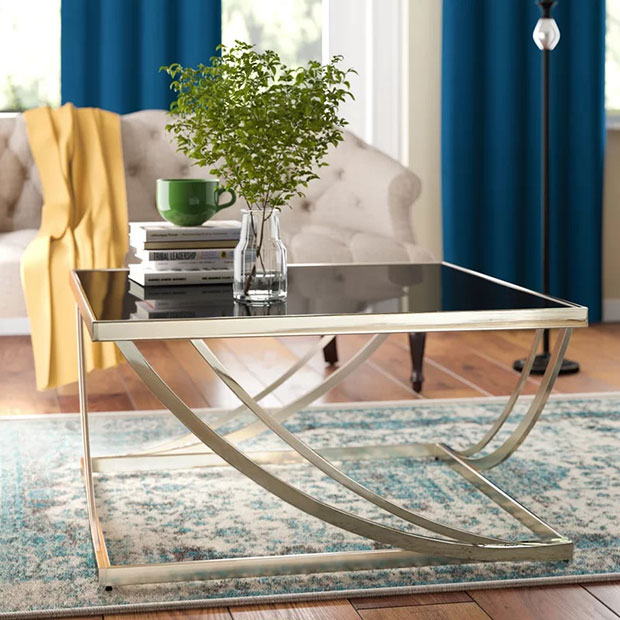 The arched base is a stylish design that goes nicely along with the tempered glass. It makes for one luxurious-looking coffee table.
Dancy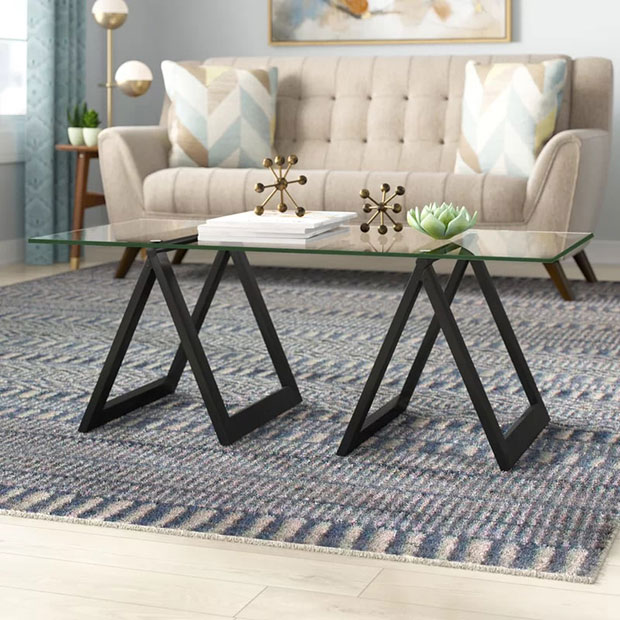 Wrought Studio
It's uncommon to find a coffee table with triangle legs like these. For that alone, this makes for one of the most interesting geometric coffee tables.
Malibu Modern Round Glass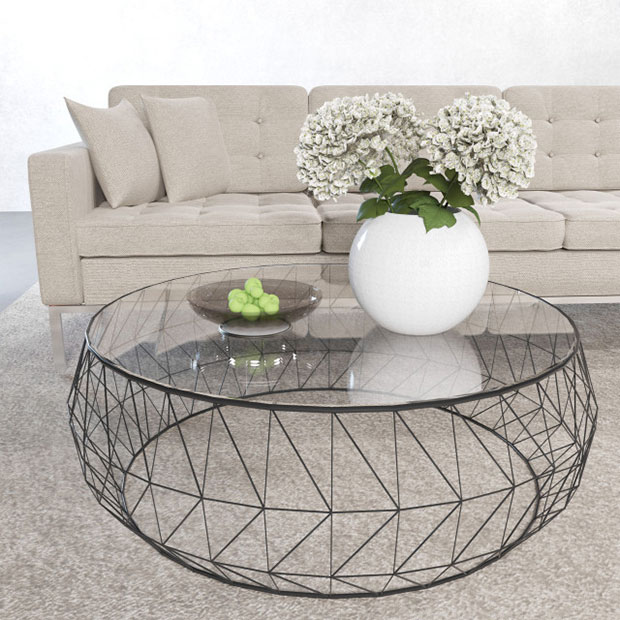 LeisureMod
With its slim and sleek geometric base and the glass top will definitely make the room look airier.
Mayson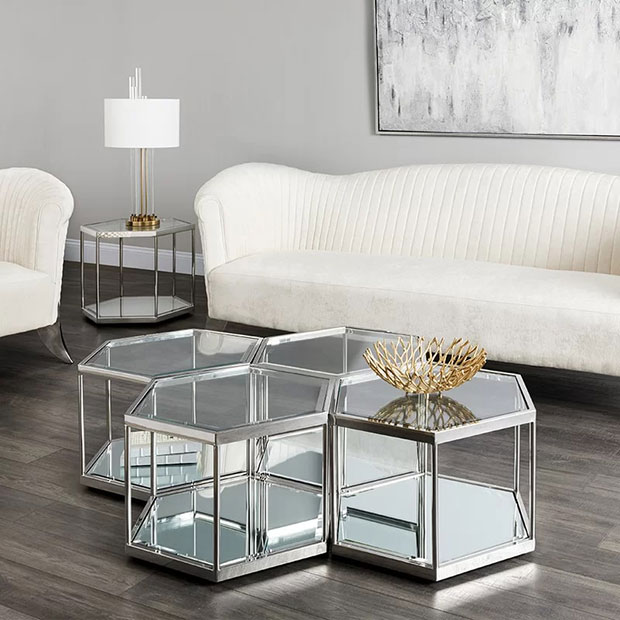 Mercer41
You can have a multi-unit or just a single coffee table in your living room, depending on your style or needs. But the mirrored base definitely adds a touch of style.
Albie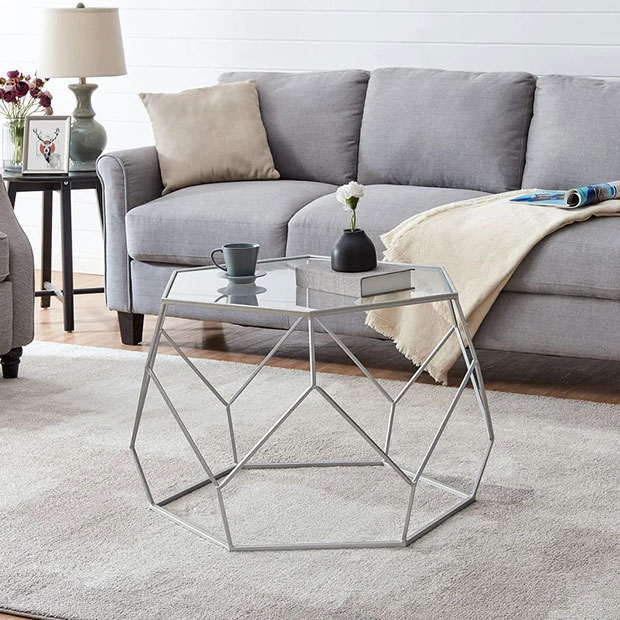 The open look of the geometric base definitely brings an airy feel to the living room. Still, it is stylish and refreshing.
Johel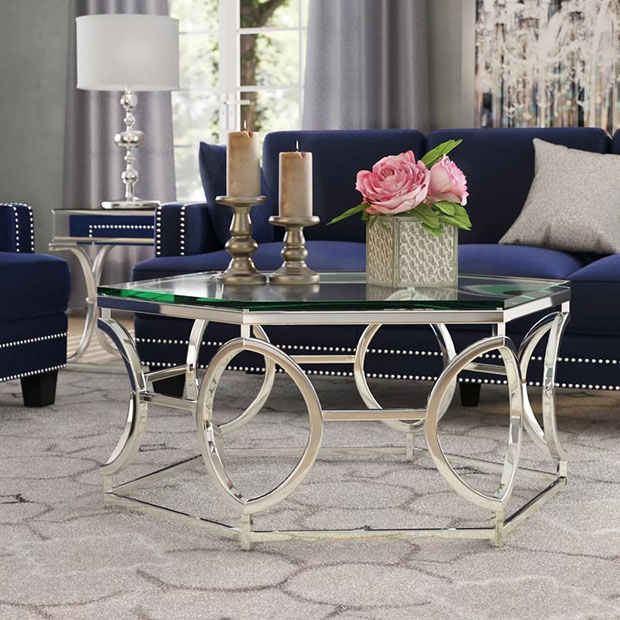 Everly Quinn
With a beautiful blend of freeform shapes and sharp angles, this coffee table brings the charms of traditional elegance into a modern setting.
Chattahoochee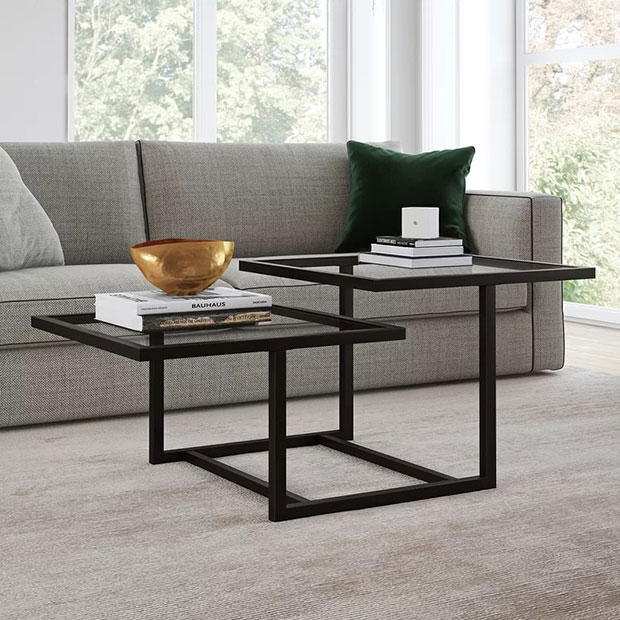 Everly Quinn
This coffee table boasts a geometric shape that is rather refreshing. The different height of each table top is also pretty advantageous if you want to have a place for your drink while working.
Afomia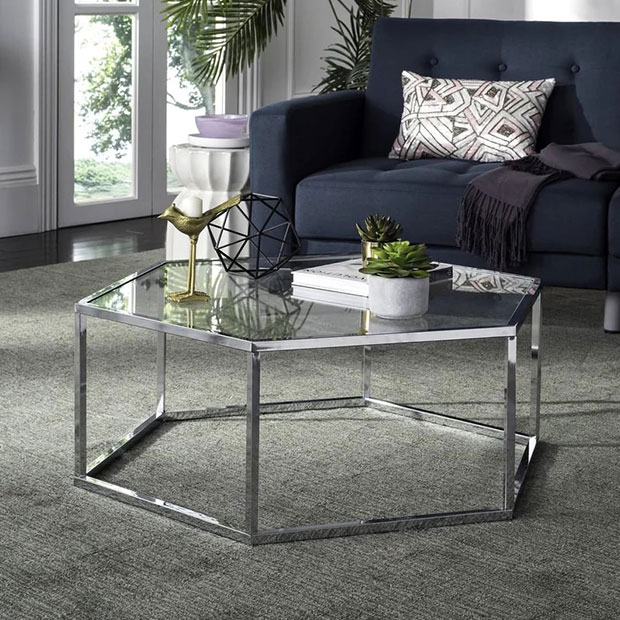 Brayden Studio
This coffee table is the perfect embodiment of minimalist and sleek design. This makes it perfect for soulful contemporary homes.
Aarush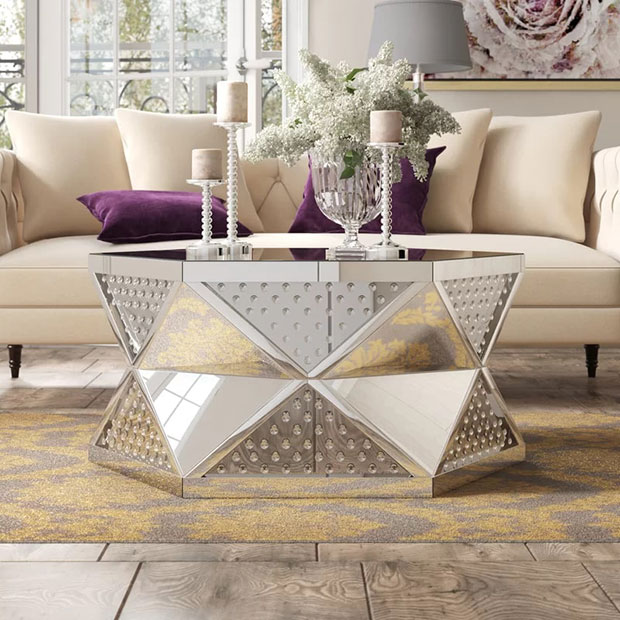 Rosdorf Park
Described as an ultra-modern hexagon coffee table, this one is surely going to bring some glam into your room.
McPhearson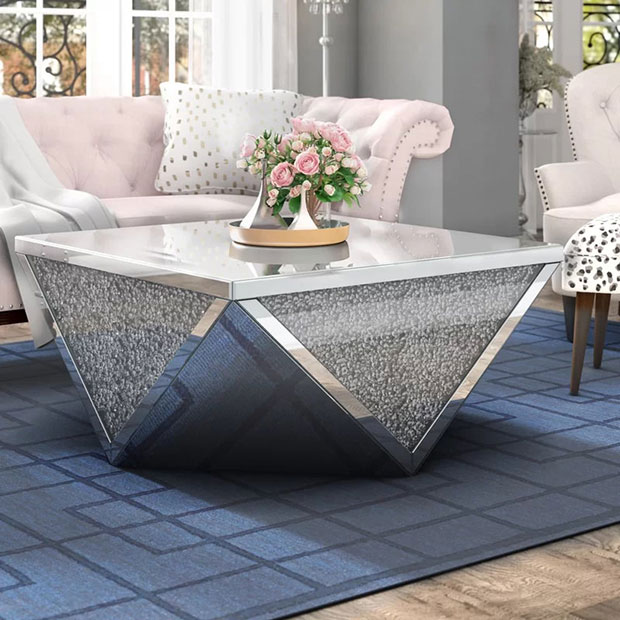 The glittering gray crystals that are embellished on the body bring modern elegance and contemporary style together.
Shumake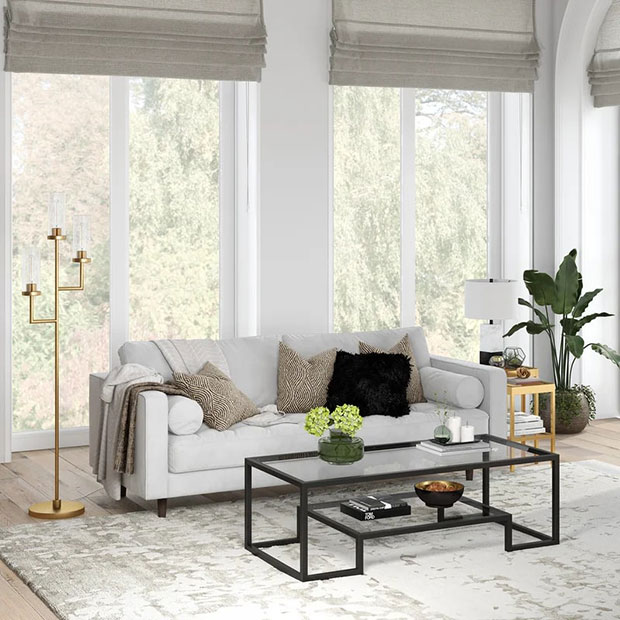 Willa Arlo Interiors
The lower shelf is raised for an added stylish appeal where lower shelves are usually leveled with the table's legs.
Athena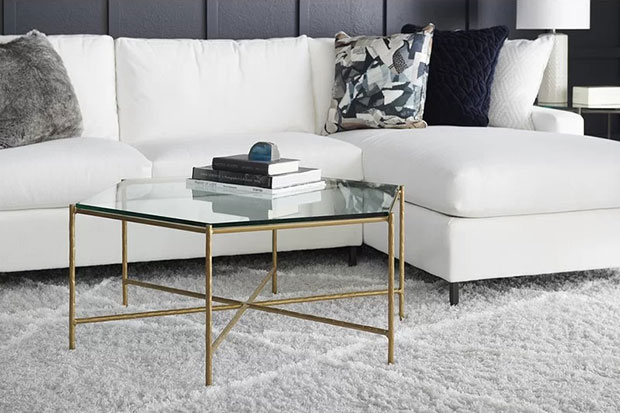 Joe Ruggiero Collection
When you just want to keep it simple in your home, try looking for a coffee table like this with a classic leg design but made all refreshing with its hexagonal glass top.
HGTV Urban Oasis Boston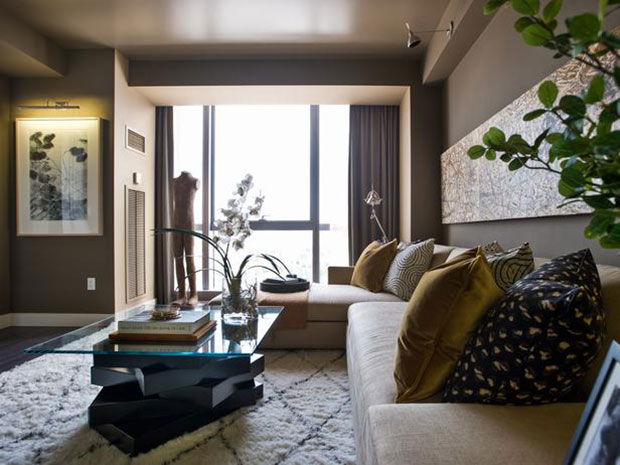 LPumpa Designs
Similar in design to the Mollie Mid-Century coffee table, though this time the glass top is not fitted into the square boards so it provides more space.
Axel Sled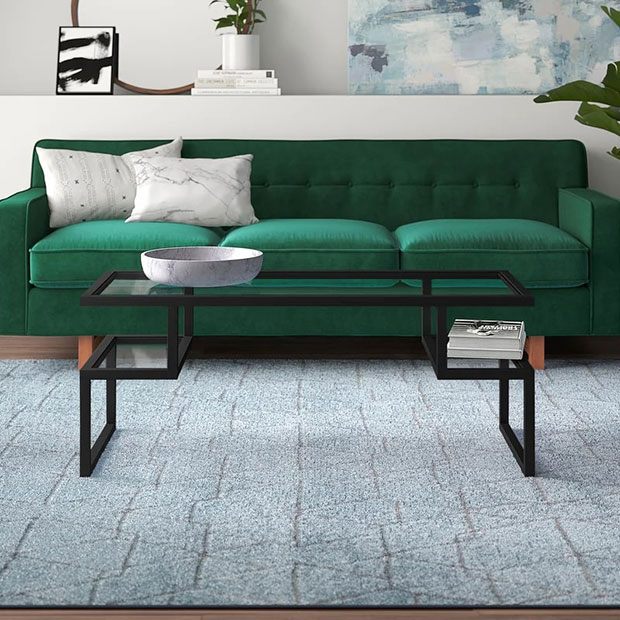 Mercury Row
This coffee table has a pretty interesting built-in shelf, unconventional in the way that the entire coffee table is built.
Hugh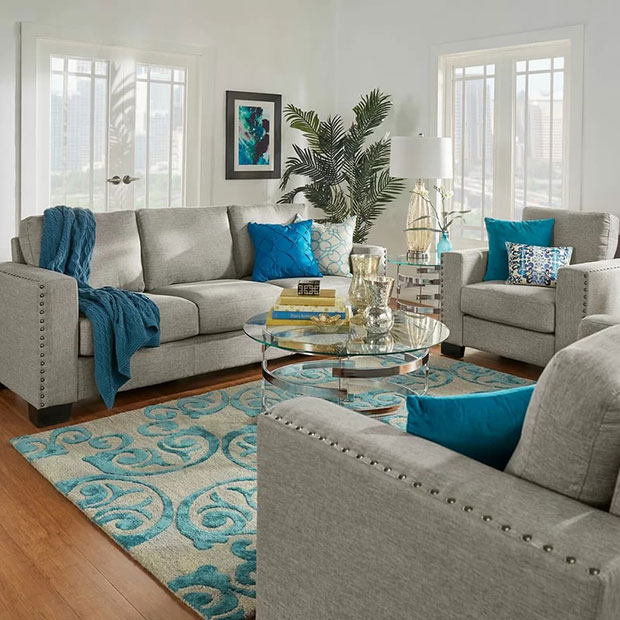 Etta Avenue
The semicircle accents come together for an eye-catching coffee table that could very well be an art piece.
Pied-a-Terre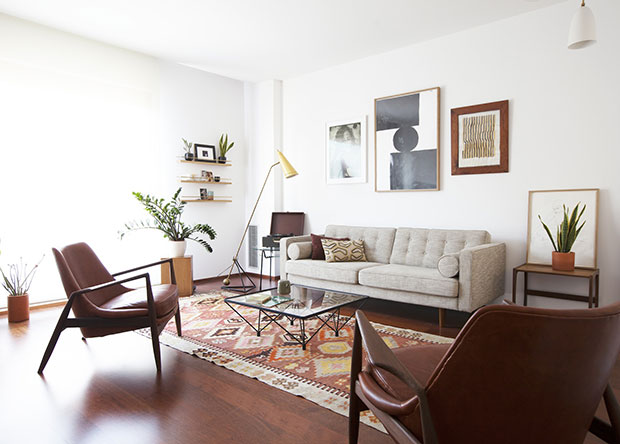 A&B Curated
The unique geometric legs give this coffee table a pretty interesting overall look.
Geometric Gold Coffee Tables
Geometric coffee tables bring a modernized look to any room. But gold geometric coffee tables? They bring the glam with them!
Contemporary Coffee Table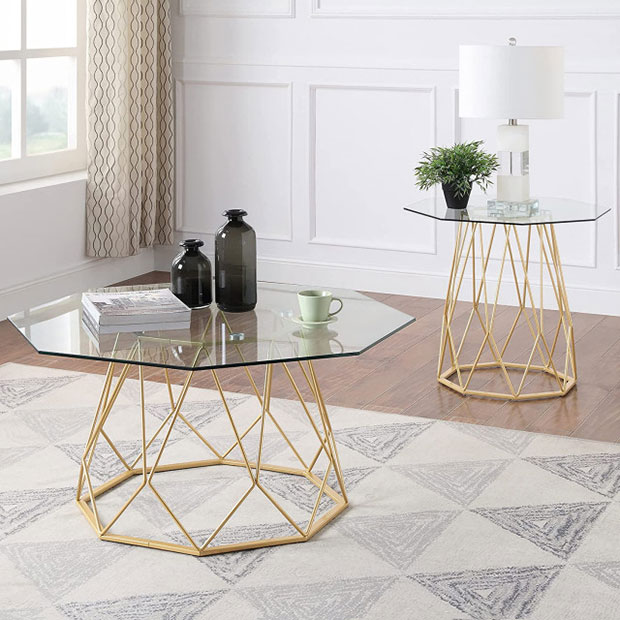 eFurnish
The gold metal base adds a glam charm to a contemporary-style coffee table. The sharp features of the glass top aren't ideal for homes with children though.
Talin Geometric Gold and Wood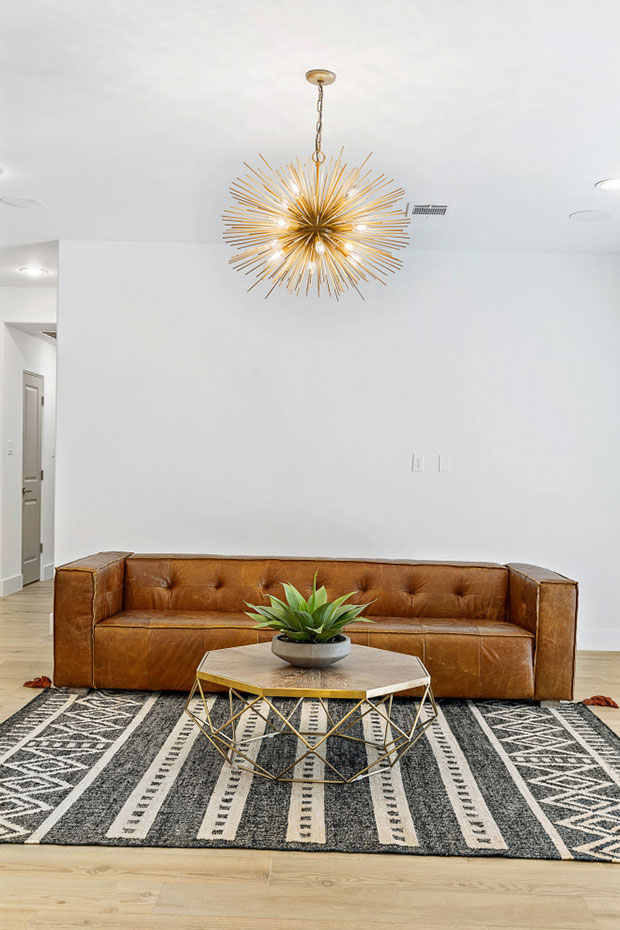 Light Citizen
The oak wood top nearly blends in with the gold-painted base so that it looks like this is one golden coffee table.
Emmett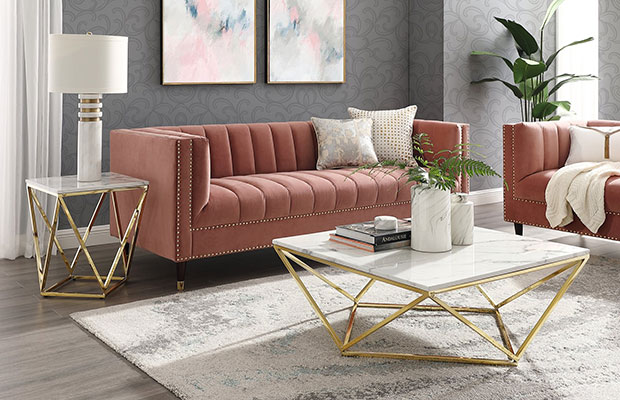 Inspired Home
A marble top and gold metal base finish are the perfect combinations for a glamorous and elegant coffee table. Surely, you are going to surround it with contemporary and elegant furniture.
Kezmyn Trestle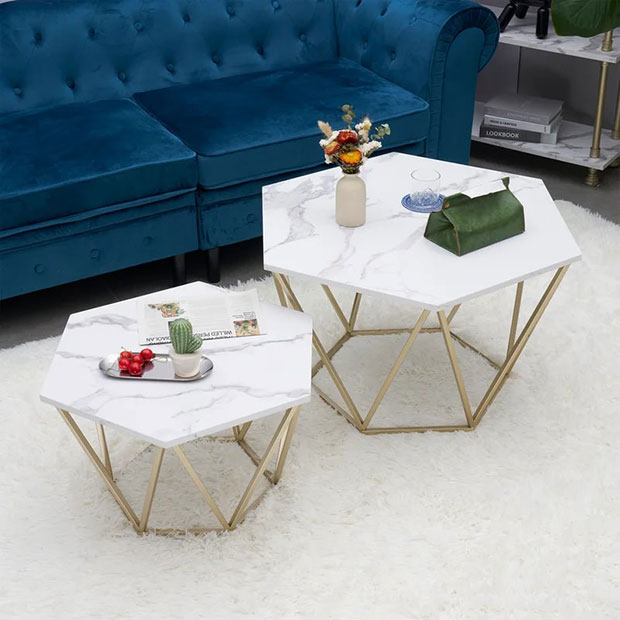 This coffee table is similar to the one above. But its table top is a hexagonal shape rather than a square. If you're looking for a coffee table that embraces more unconventional shapes for both the leg and top, this may be for you.
Elem Block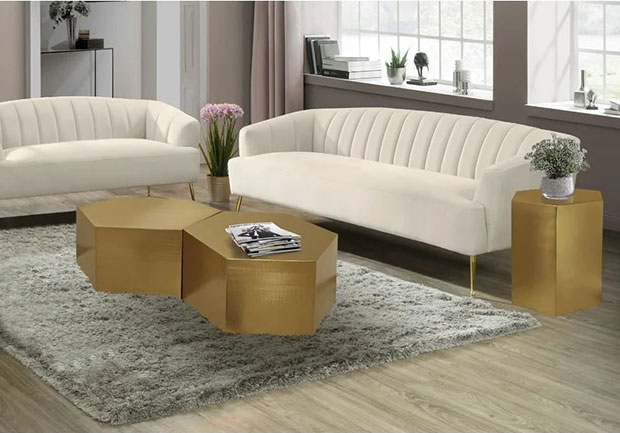 Everly Quinn
A coffee table that is fully coated with a gold finish will definitely bring so much light into your living room. Your entire space is going to light up and look pretty expensive!
Como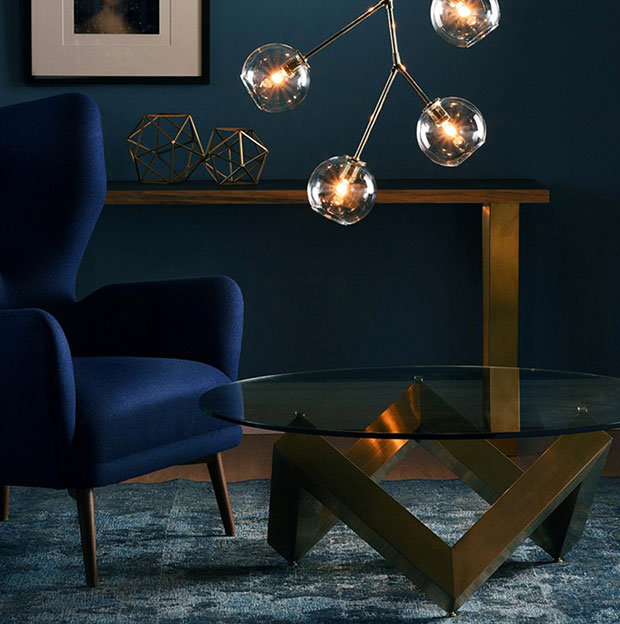 Nuevo
With a unique geometric base design, this coffee table looks nearly futuristic but definitely a contemporary style that will fit with the trends these days.
Terzo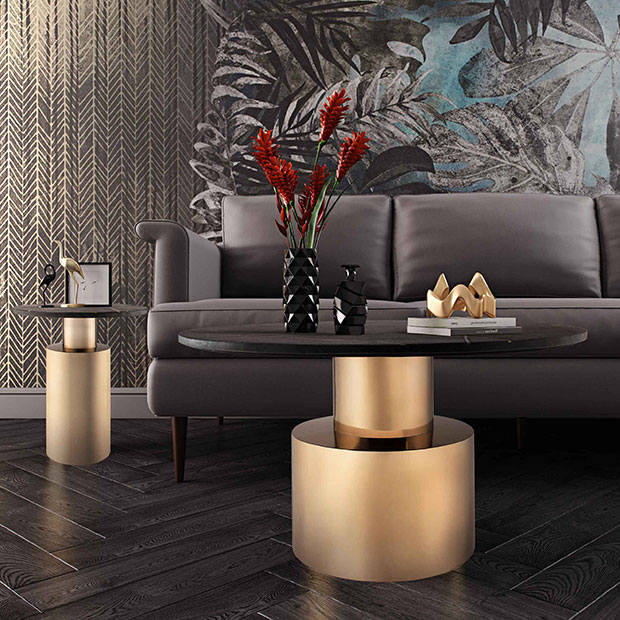 TOV Furniture
There's nothing more glam than this black marble top with a gold pedestal base. This is perfect for ultra-modern interior design.
Floral Honeycomb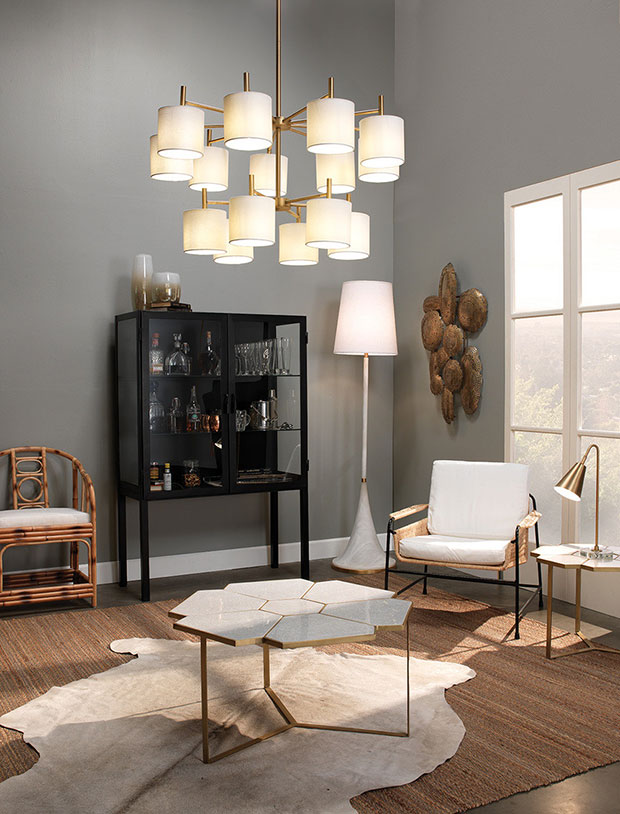 My Swanky Home
This coffee table impresses with the use of geometric shapes to form a floral-shaped honeycomb coffee table. It makes for a very pretty addition to any living space.
Industrial Coffee Table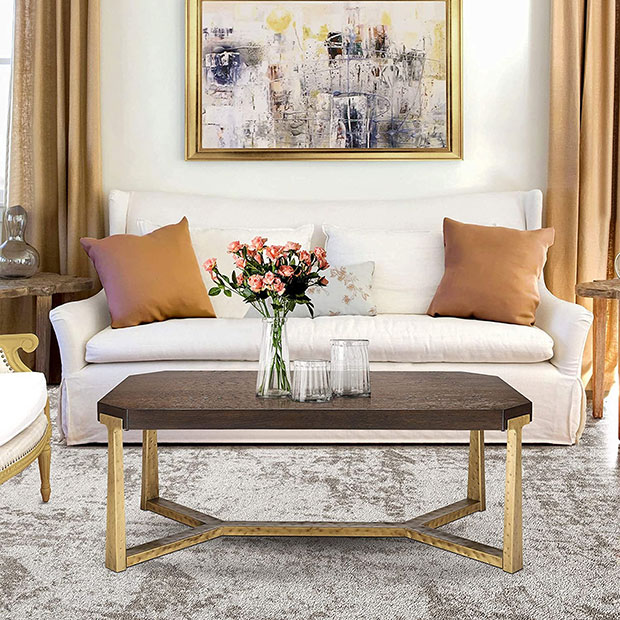 eFurnish
Even with its industrial charm, this coffee table is looking quite glamorous due to its gold metal base. It's perfect for more traditional homes.
Trygve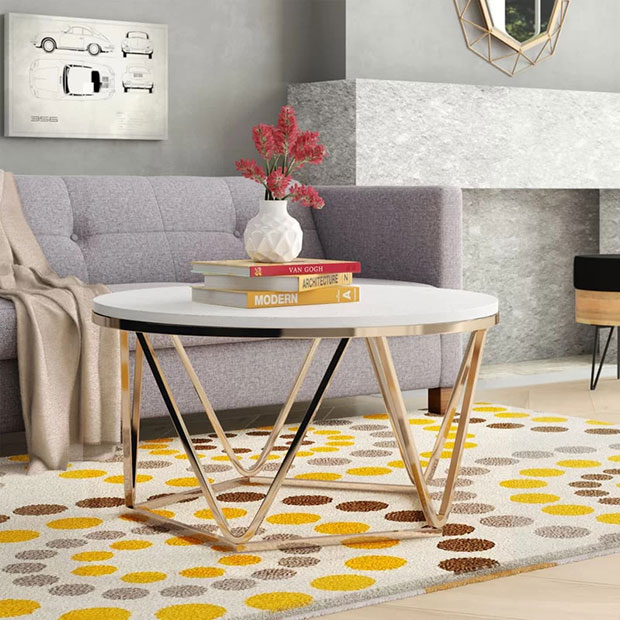 This art deco coffee table is perfect for modern glam interior design styles. For those who have some artistic spirit in them, this could be the right coffee table for you.
Aigne Drum

Orren Ellis
Speaking of artistic geometric coffee tables, this one should be included in the conversation. Besides the unique aesthetic design, it is still a pretty functional one.
Pimlico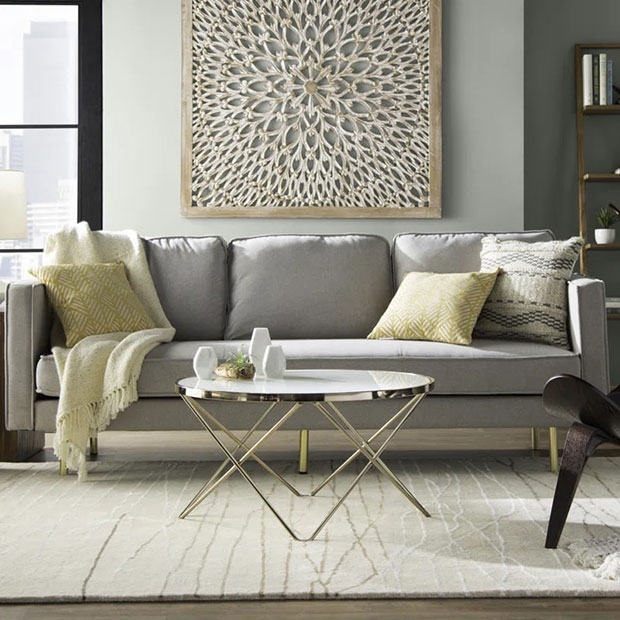 With a golden champagne finish, this coffee table sets itself apart from all the other golden geometric coffee tables. It's a sleek design that will work well even with minimalist interiors.
Jaxton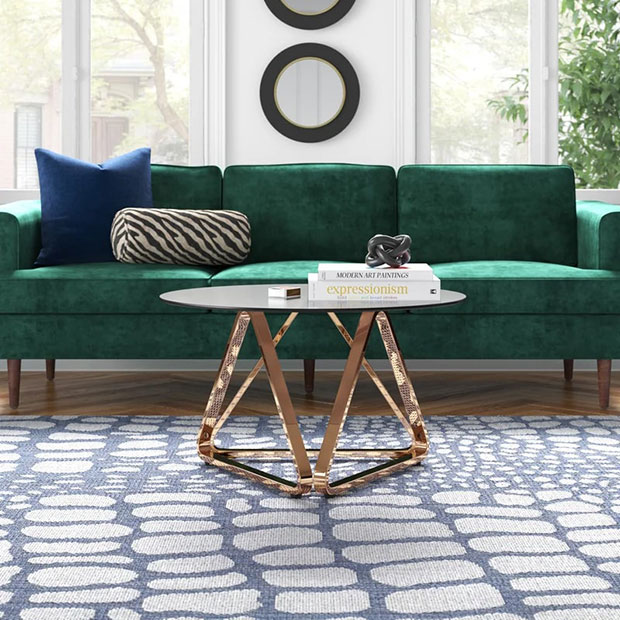 Etta Avenue
The champagne rose gold finish is a refreshing look for glam-styled geometric coffee tables.
Bonus!
The following ones are too good to be left out but don't quite fit in with the three major categories above. So, let's take a look at them!
Geometric Copper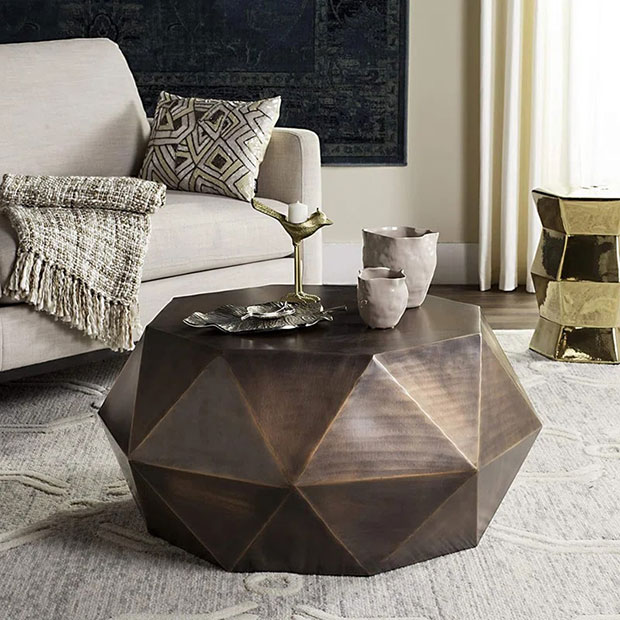 Corrigan Studio
Unlike the solid wooden geometric coffee tables seen above, this one is actually crafted from iron and is topped with a copper finish.
Signature Designs Inamorata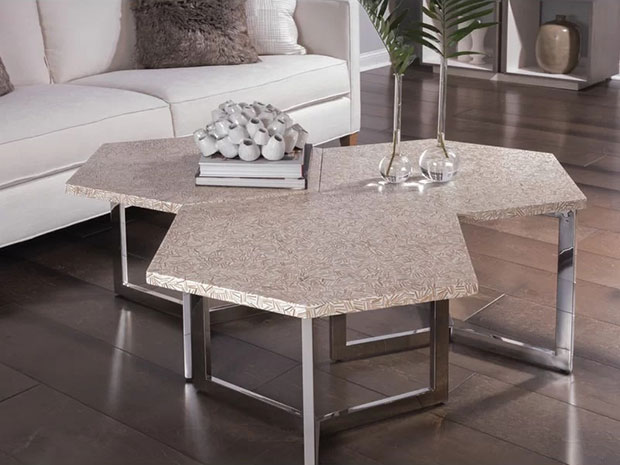 Artistica Home
This stunning table top is actually made of plastic! The finish definitely elevates the overall look of this coffee table.
That's all for the geometric coffee tables! Which one of these did you think will fit in your living room?
Like This Post? Pin It!