70 Gorgeous Living Room Design Ideas for the Home Maker
|
If there's a room in your house that the whole family spends a lot of time in, it has to be the living room. It shouldn't be a question then that this living space requires attention in making it look great, functional, and comfortable. Completing all these requirements may be a challenge but there are various living room design ideas to choose from or get inspired from to design or decorate your own living room.
How to choose the living room design that fits your style and needs?
When it comes to choosing a living room design, you may feel like you have too many ideas. Too many living room design ideas might make you feel all over the place. You wouldn't know what to focus on, your style is going to become all over the place. In short, there's just a lot of décor styles and trends that you may be drawn to use for your own living room. But you have to learn how to choose the right living room design for you!
You must understand first that you will need to find the design style that suits you before you do any spending. Find a style that matches your personality, that will not only be functional but also comfortable for you. This will not only make you save money, but you get to save lots of time too.
The key here is to find the design style that you really love. This doesn't necessarily mean your choices are limited to a particular look, label, or trend. Many design styles are a combination of various styles. But here are some basic steps to take to discover the right style for you:
1. Look through your closet
A simple step in the right direction: look through your closet to get some design clues. Take note of the colors, fabrics, and patterns in your clothes. You will find that you actually do have a preferred design style!
2. Create a style vignette
Go around your home and collect any object with aesthetics that you like, gather them together to create a styled vignette. This way, you could narrow down the design styles you love.
3. Gather inspiration
Gathering design inspiration from various places like galleries, museums, gardens, or restaurants; or from various media like films, music, or magazines.
4. Create a mood board or design board
Once you've gathered inspiration, discern any patterns, trends, colors, or themes that you lean into, and create something resembling a mood board or inspiration board.
5. Experiment
Discovering the design style that suits you is not going to happen with a snap of a finger. So, experiment! Besides, over time, as you discover more sources, you will find that your preferred design style is evolving. So, don't be afraid to mix and match!
Now, let's a look at some living room design ideas to give you a boost of inspiration!
Modern Living Room Design Ideas
Modern living room design ideas, simply put, is all about sleek and uncluttered style, prioritizing function over aesthetic. It's all about keeping the décor minimal. Speaking of décor, along with furnishings, these things are usually made of natural materials, neutral, or earthy colors, and do not have unnecessary and extravagant detailing. Modern design styles also tend to have monochromatic colors.
Check out these modern living room design ideas!
New Modern Ranch House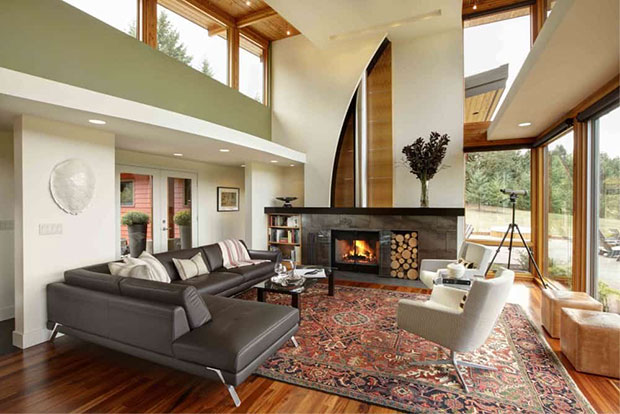 Kraft Custom Construction
Another aspect of modern living room design ideas is the embracing of natural light. This is because windows are unadorned so they allow lights of light into the room.
Chimney Corners Remodel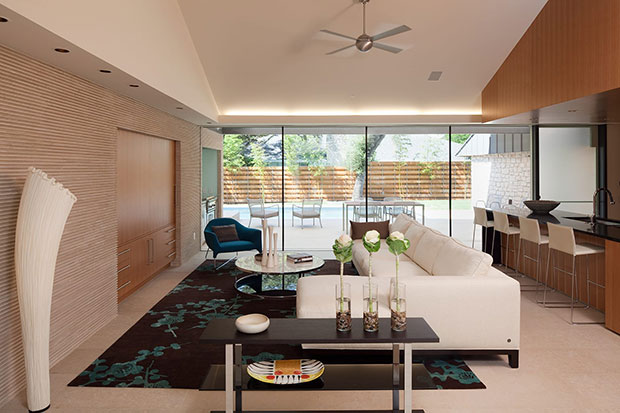 Webber + Studio, Inc
In this living room, the television set and stand are hidden behind that compartment door. This frees up a lot of space and makes the whole room look uncluttered.
The Manor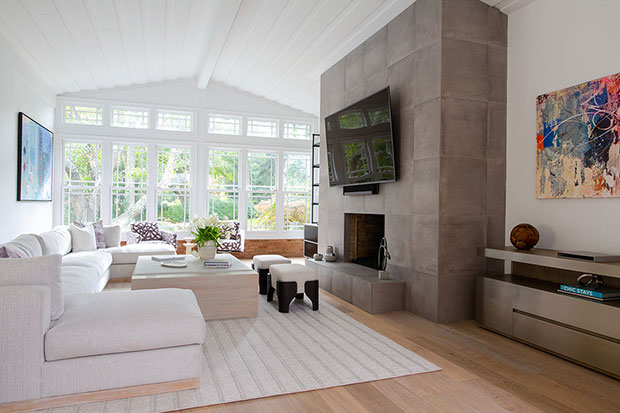 Widell + Boschetti
All these light neutral colors brighten the room up even more. And the darker tones are nice contrast, adding layers to it.
Barbara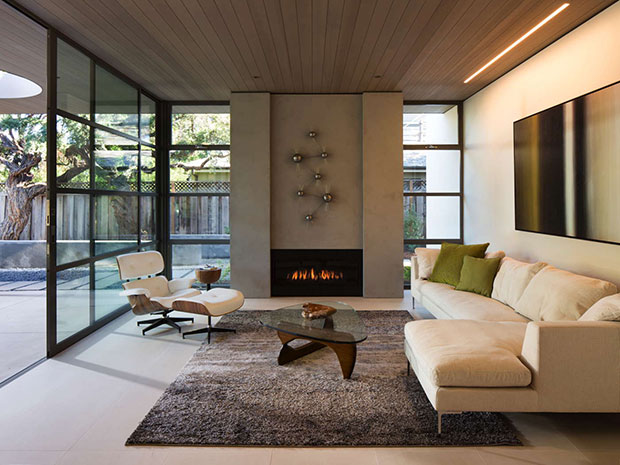 NorthWall Builders
Minimalistic yet chic. This is a key factor for modern living room design ideas.
Newport Beach Residence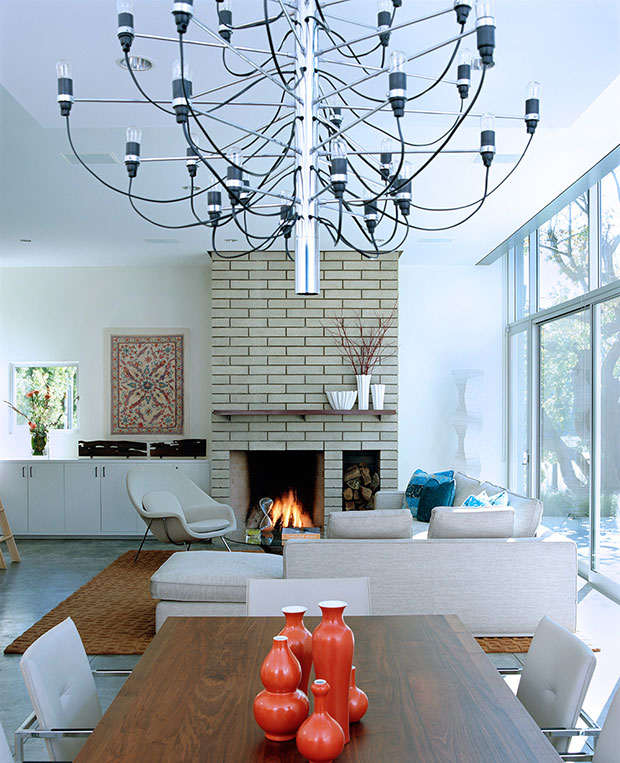 Paul Davis Architects
Open plan for modern living rooms is a perfect option to get that uncluttered look. It also opens up more space and make the room look much brighter.
South Clark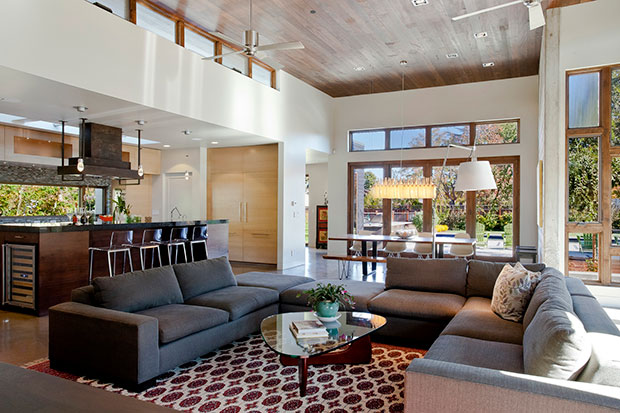 Elevation Architects
While modern living room design ideas tend to stray away from too much patterns, it is nice to add a bit of touch of that to add some personality
Moraga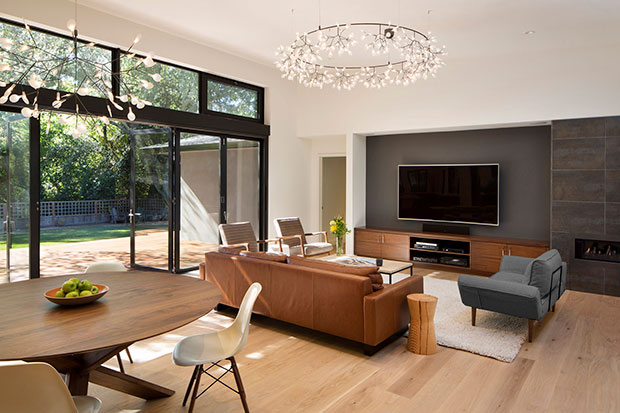 ODS Architecture
The natural wood materials to go along with the earthy colors emphasizes the modern style.
Poplar Mid-Century Modern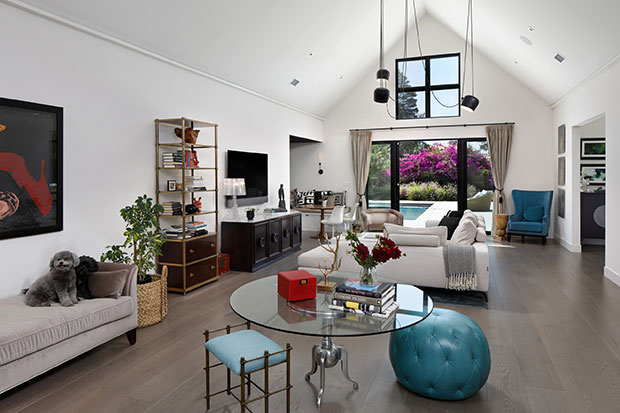 Melinamade Residential Design + Interiors
Mid-century modern design is still modern design but uses more dynamic decorative accents. So, it seemed appropriate to place this particular living room under here.
Edward Dart Mid-Century Modern Rehab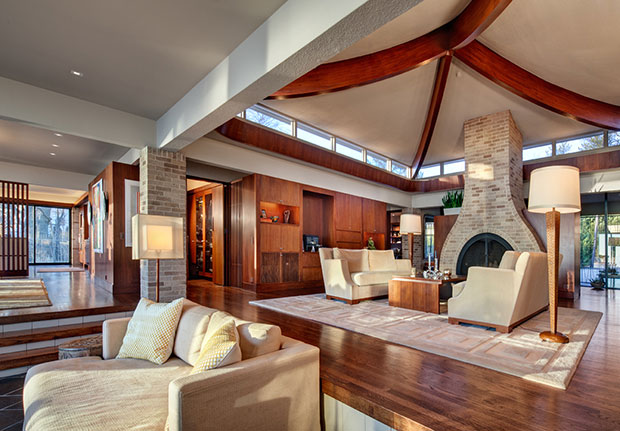 Becker Architects
Another key thing about mid-century modern living room design ideas is that they have a timeless and classic feel to them brought by the furnishings and décor, such as in this one.
Modern Townhome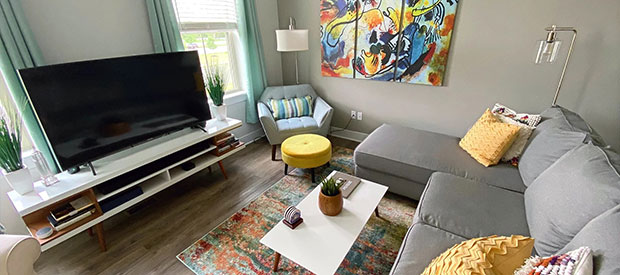 Dunsmuir Price Design
Another example of a mid-century modern living room. This kind of living room, while minimalistic, brings a lot of personality. It's a perfect for home makers with personalities that align with the aesthetics.
Contemporary Living Room Design Ideas
Just like its name, contemporary design is about the now and future. Contemporary living room design ideas follow this rule. It's about simplicity and subtle sophistication with many similarities to modern design. In fact, anything that is modern and current with the styles of the moment is contemporary style.
Contemporary and modern may be similar in that they are both minimalistic, feature clean lines and an open space plan. But contemporary style feature state of the art materials, glass, and metals, and have a stricter color palette in black, white, and grey.
So, let's take a look at some contemporary living room design ideas!
La Jolla Contemporary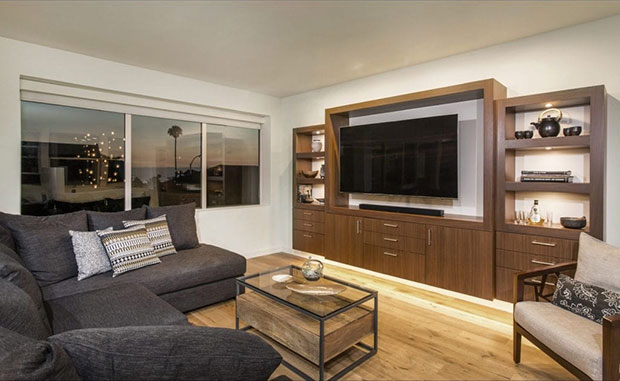 A perfect example of contemporary living room design that offers subtle sophistication.
Fallbrook Contemporary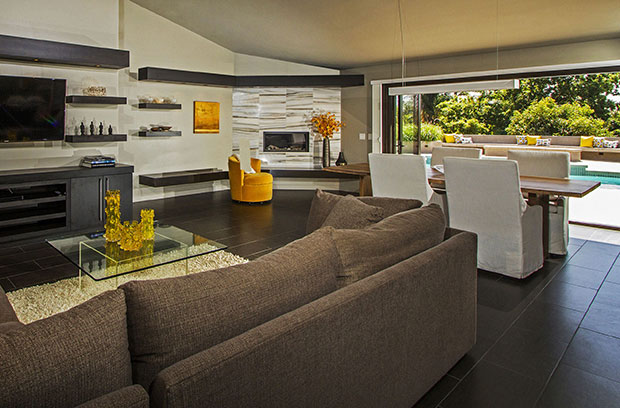 Springfield Design
With the dark color palette, the bouts of vivid yellows across the room certainly adds another layer to the space.
Hollywood Hills Residence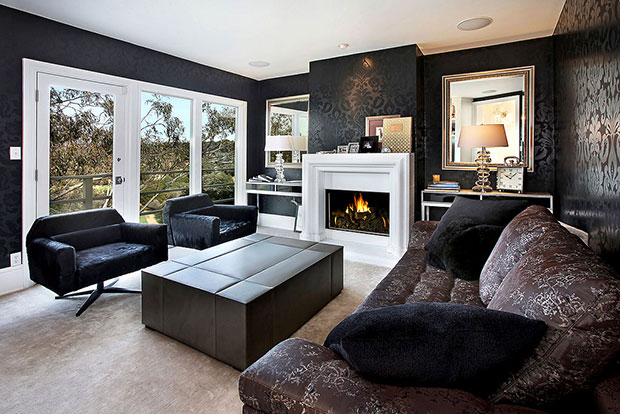 Shelley Star Design Studio
The dark color palette is subdued by the subtle floral patterns. It makes the room look more elegantly inviting.
Riley Residence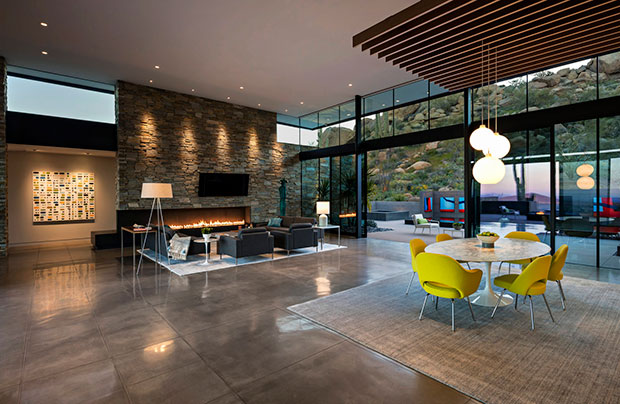 Tate Studio Architects
This huge open space plan is perfect for contemporary living room design ideas!
Bay House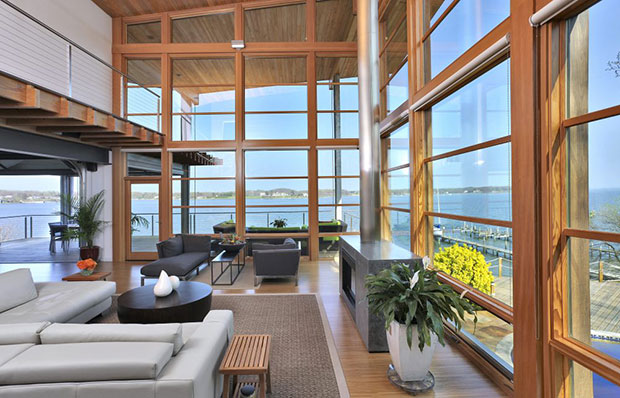 Gardner Architects LLC
Having all those big windows that allow for lots of light into the room doesn't make the room all dark especially with the black, white, and grey color scheme.
Highland Park Family Residence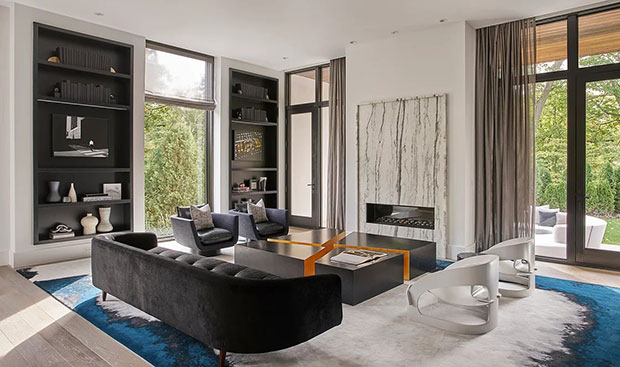 Studio Gild
The sleek lines and color palette make this living room look very stylish and somewhat futuristic.
Costebelle Residence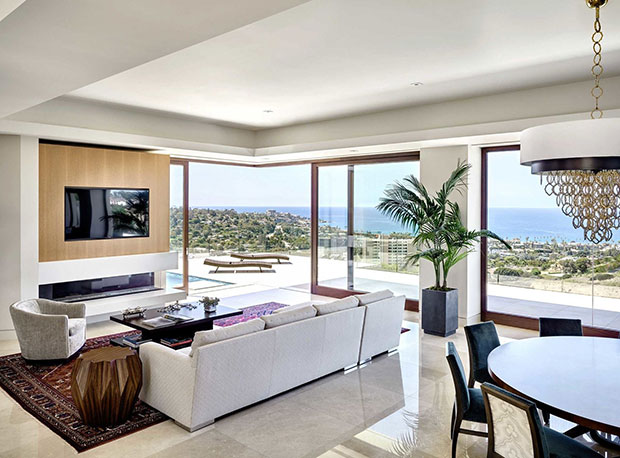 Island Architects
The addition of that beautiful rug and unique wooden stand may be out of the box for contemporary living room design ideas, but it's a beautiful addition.
Paradise Valley Residence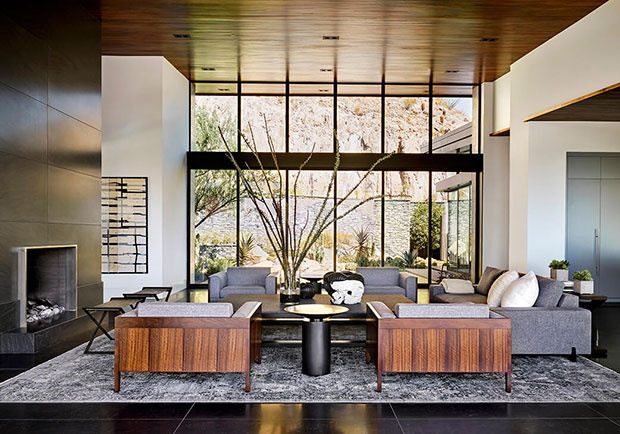 IMI Design Studio
This color palette combined with that dark wood material is pretty chic and stylish.
Camelback Mountain Residence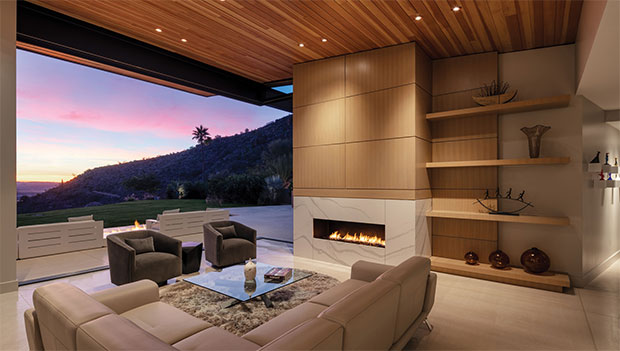 True North Builders
This contemporary living room may have not strictly adhered to the color palette common for contemporary design, but everything else about it does.
Tribeca Penthouse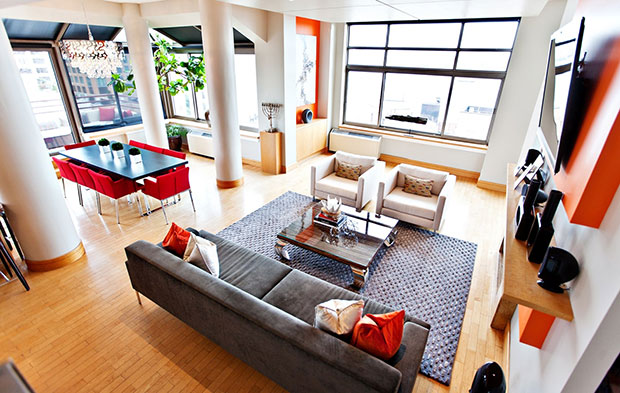 Halden Interiors
As the strict color palette common in contemporary design may be too boring for you, you could add splashes of colors around your home.
Traditional Living Room Design Ideas
Largely based on 18th and 19th-century European styles, traditional interior design appeals to what a conventional home looks like. Simply put, traditional living room designs are timeless, comfortable, and put together but not overly fancy.
In this style, the furniture, textiles, colors, and décor are something familiar as the design is usually based on styles from the past.
Let's take a look at some wonderful traditional living room design ideas!
Palace Verdes Mediterranean Villa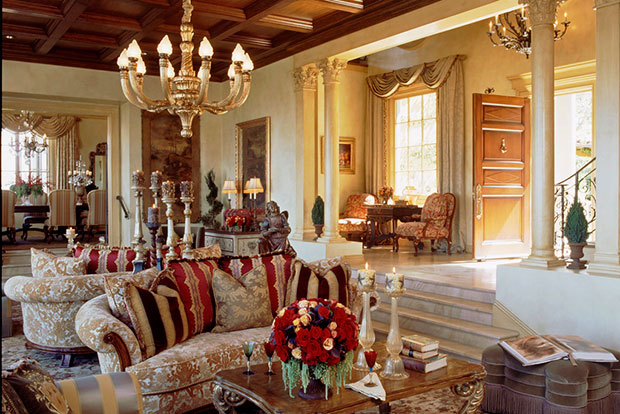 Kathryne Designs Inc.
Perhaps a clear example for traditional living room design ideas is this home with the vintage, European style furniture.
Westfield Traditional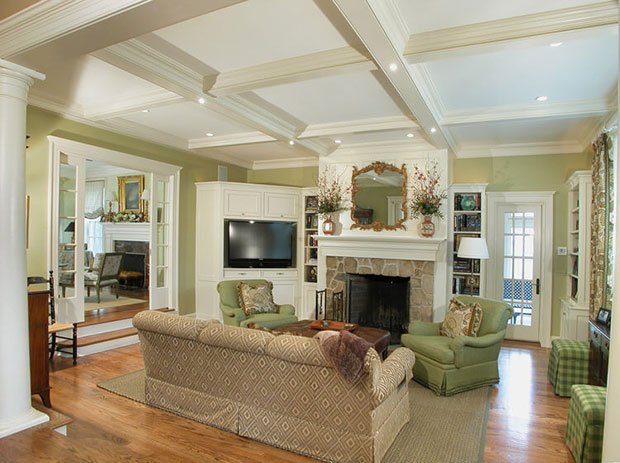 KBK Interior Design
Not every traditional living room design has to have those extravagant vintage sofas. But these are still old-school sofas that capture that traditional design style.
New Canaan

Michael Smith Architects
The wainscotting and ornament details in this room bring out a subtle sophistication.
NJ Stately Residence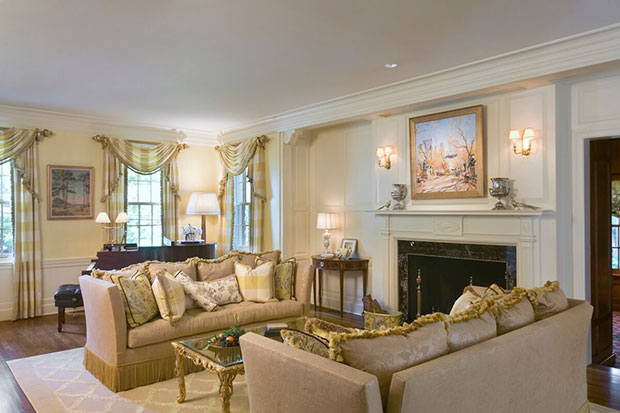 KBK Interior Design
Ruffles, floral patterns, and wainscotting seem to be fundamental details when it comes to traditional living room designs.
Ponderosa Commons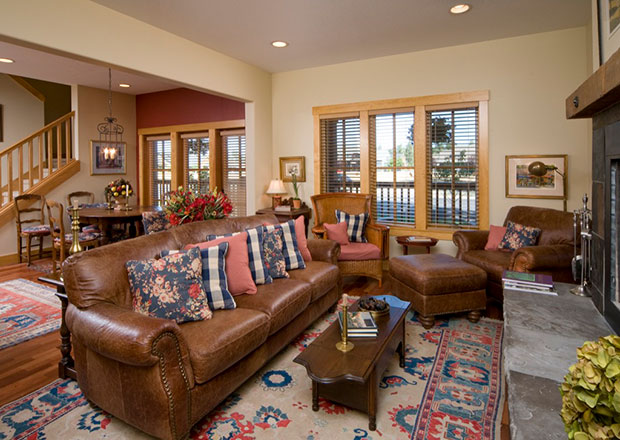 Christian Gladu Design
The vintage leather chairs and the organization of this living room is a timeless and classic living room look.
Pelican Crest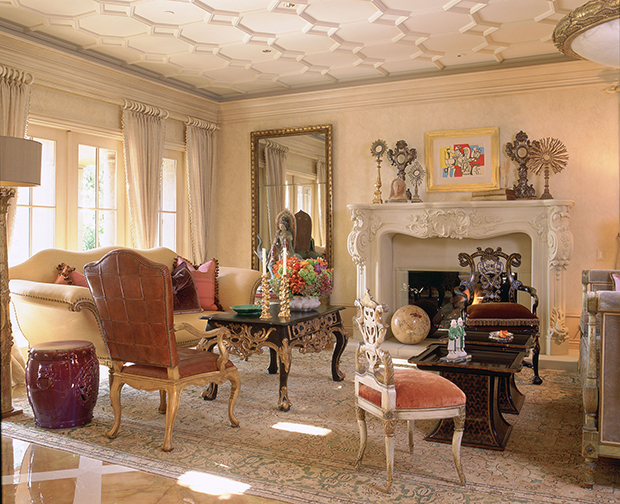 Wendi Young Design
All these intricate design details truly bring out a traditional elegance with comfortable living.
Genoa City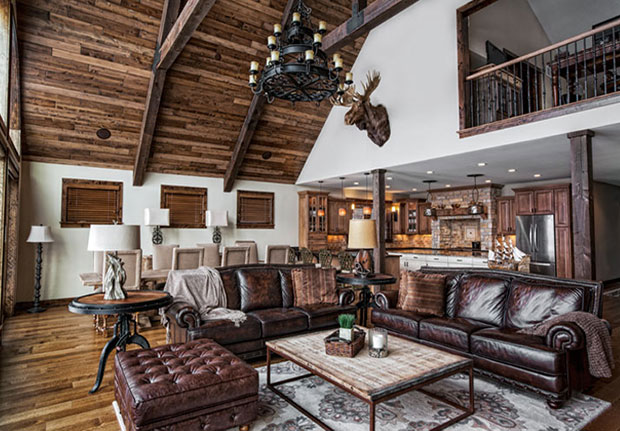 Jacqueline Zinn
With the faux leather seats, the dark wooden finishing, and some fine ornament details, you can already have your own traditional living room.
Woodland Drive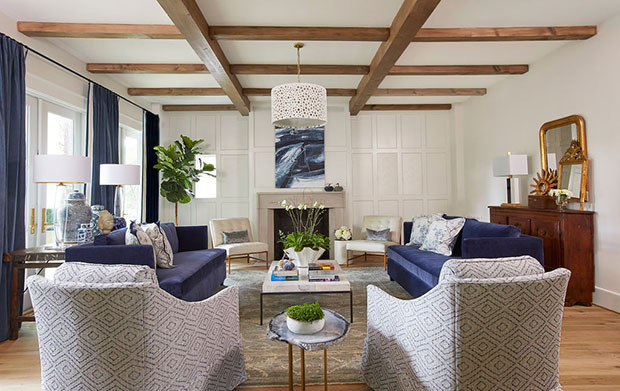 Long & Long Design
The ornaments and patterns are nice details that bring much life into this living room.
Bon Ton Residence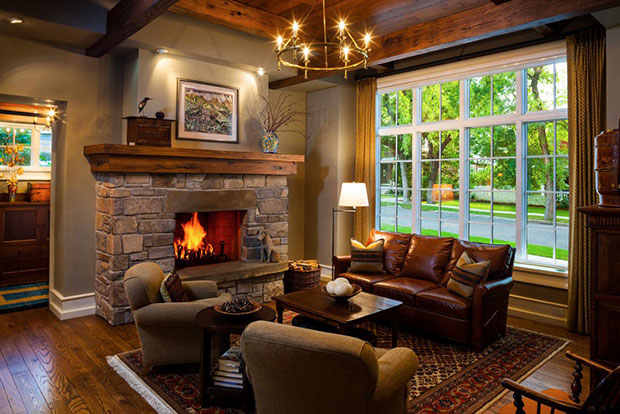 Locati Architects
The dark wood finishing and furnishing simply add in that feel of chicness.
River Oaks Residence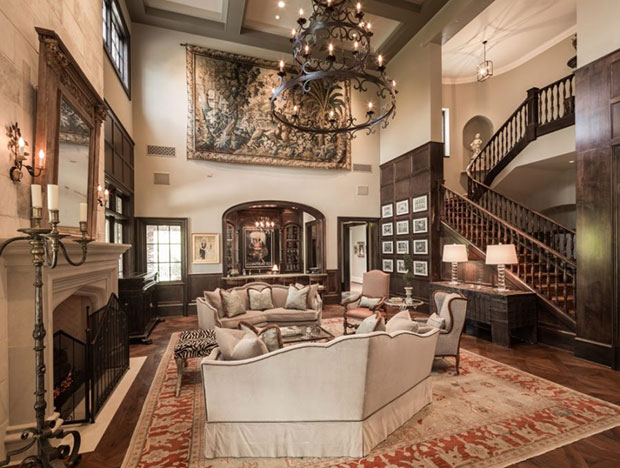 Eubanks Group Architects
The dark wood finishing on the floors is a nice contrast to the rather neutral colors of the seats.
Transitional Living Room Design Ideas
Your living room design ideas do not have to be strict of a single style. In fact, transitional living room designs are essentially a mixture of traditional and modern styles. This kind of style brings together pieces from two design styles to give that classic look updated with a modern feel.
Here are some transitional living room design ideas!
Clubhouse Drive Remodel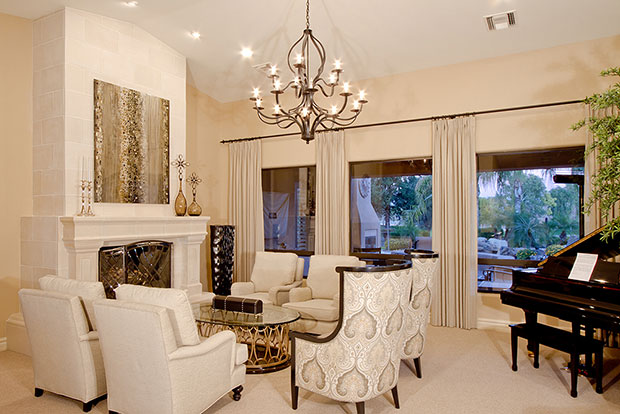 Davis Design
The accents of black and gold colors bring a sophisticated elegance to this living room.
Northeast Redesign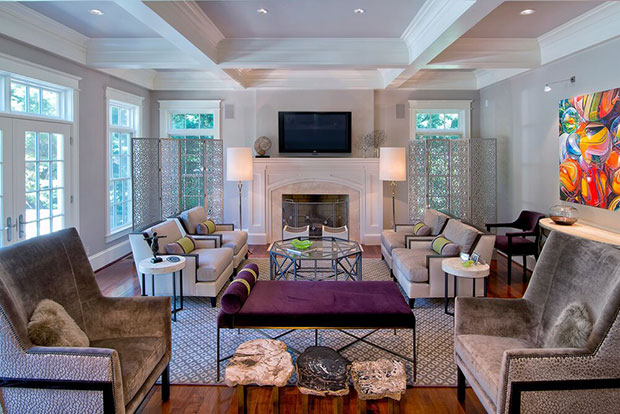 Lauren Sachs Design
With the traditional furnishing and ornamentation, the touch of modern art in this living room elevates its beauty.
Manhattan Beach Haven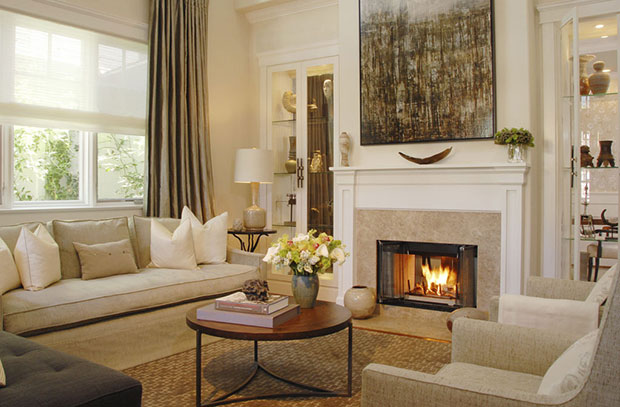 Annette English + Associates
Couple your traditional style furniture with some modern design elements to create a sleek yet chic living room.
Belvedere Lagoon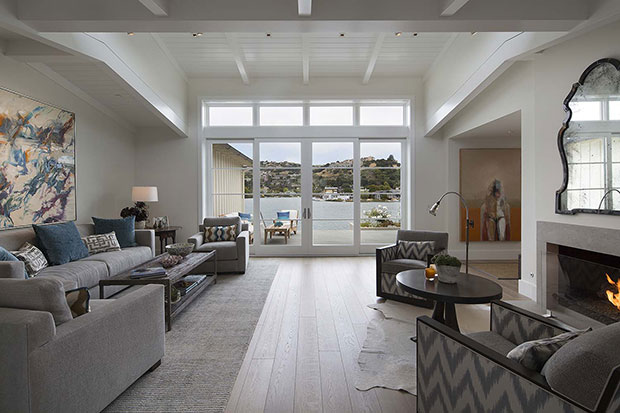 Schneider Design Associates
The grey neutrals are enough to not make the room look all too dark. And the big windows help in too with all the light it brings.
Copper Crest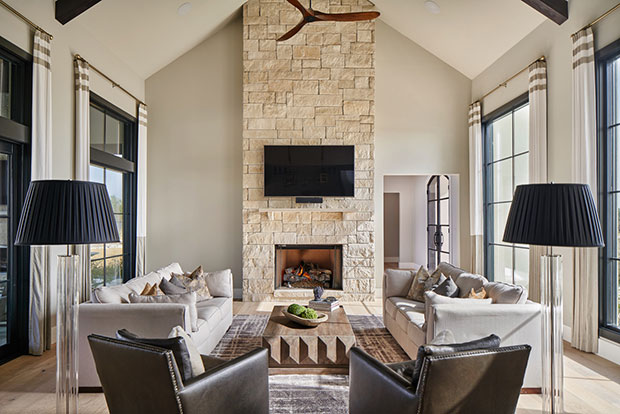 Keith Wing Custom Builders
Pairing up dark colored chairs with neutral sofas bring in more style dynamic to your room.
Transitional Allure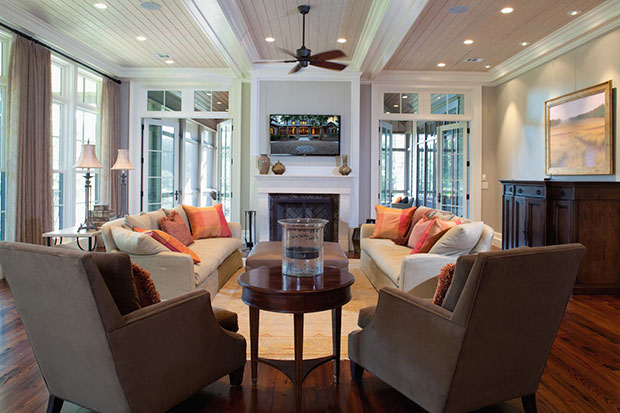 Court Atkins Group
The contrast of the darker tones with the neutral tones is alleviated more with some splash of colors in the form of accent pillows.
Historic Townhouse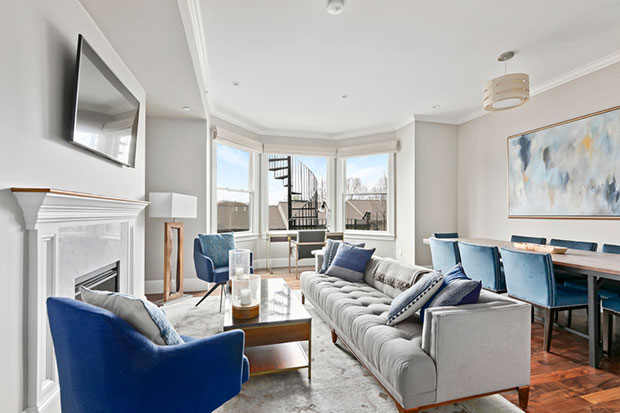 Tower Design
The modern open space plans turn out to be a great fit for traditional furniture.
Valley Drive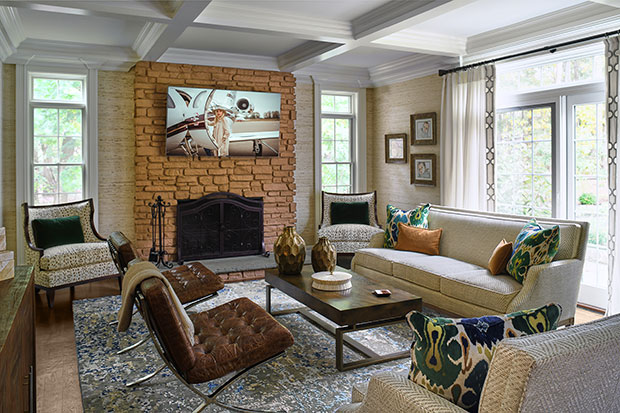 Cooper Interiors
The combination of vintage and modern chairs in this living room is a unique and interesting design choice.
Living Room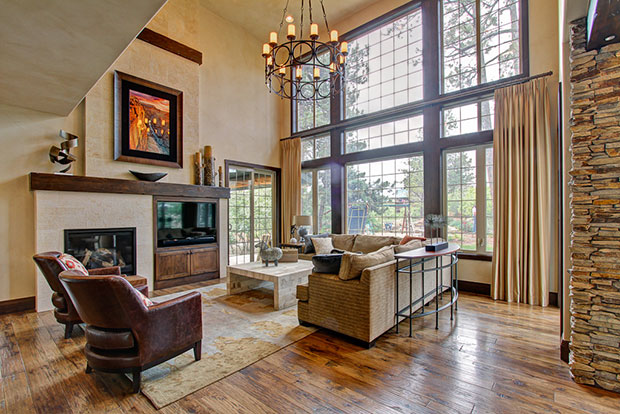 Interiors by LK
At first glance, this living room has that traditional chic elegance due to its color palette. But the dash of modern furnishing brings that transitional style.
American Dream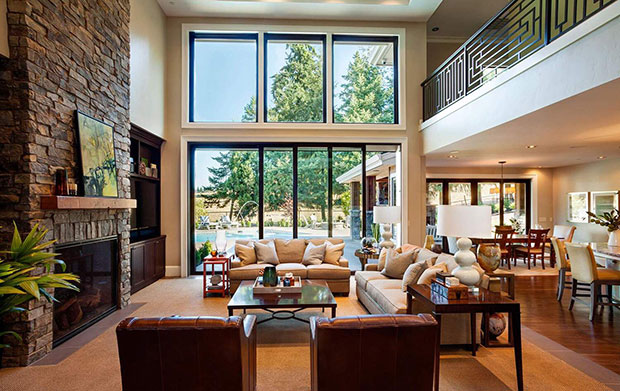 Westlake Development Group LLC
Another example of a transitional living room in which vintage and modern furniture are mixed together for a wonderful look.
Rustic Living Room Design Ideas
Rustic design style is more of a broad style, encompassing various styles such as modern or Tuscan. But rustic design style is represented by natural, rough, aged, and casual design styles. The most common materials used for this style are weathered raw wood.
Let's look at a few rustic living room design ideas!
Edgewood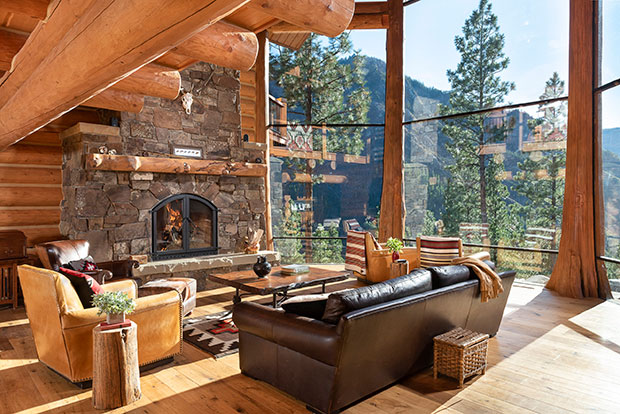 Edgewood
Besides the obvious use of wood in the architectural design of this living room, the abundance of wooden furniture perfectly encapsulates the rustic interior design.
High Times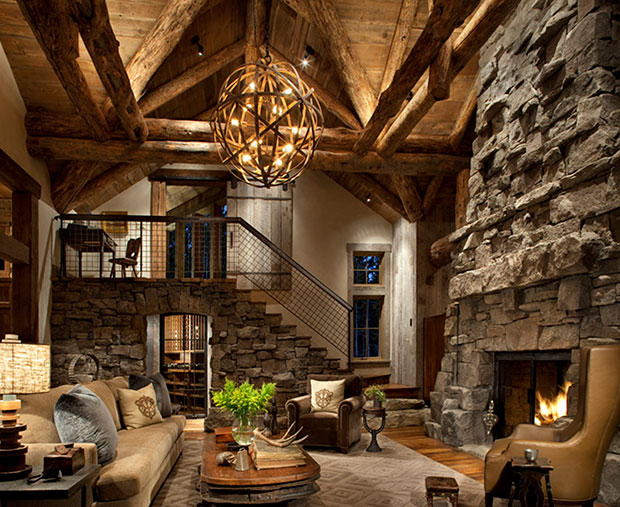 Faure Halvorsen Architects
Aged bricks, wooden coffee tables, and footstools are commonly found in rustic homes.
Alpine Ski Chalet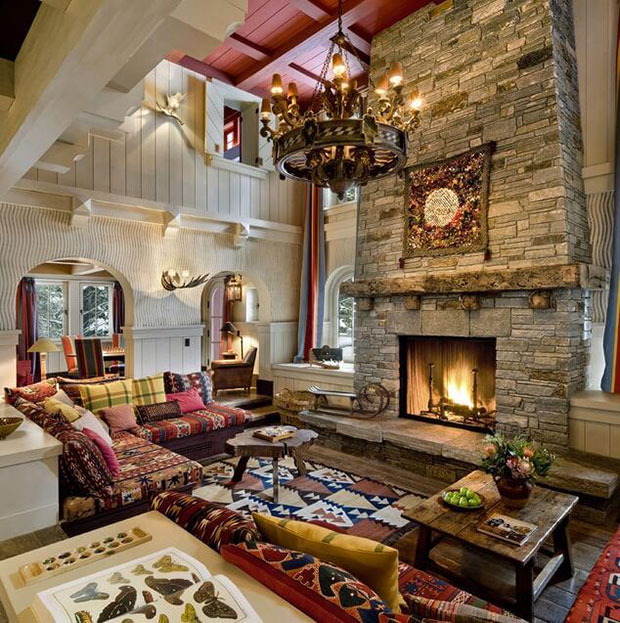 John Malick & Associates
Having your entire living room made of weathered wood could seem boring, so add some splash of life and personality with striking and colorful patterns in covers and rugs.
Mountain Camp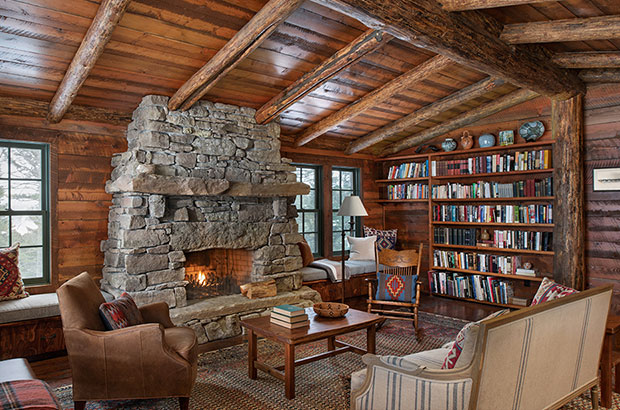 Yellowstone Traditions
Vintage furniture works so well with rustic style. In a way, you get a bit of traditional design style in your home to go along with the rustic aesthetic.
Great Point Lodge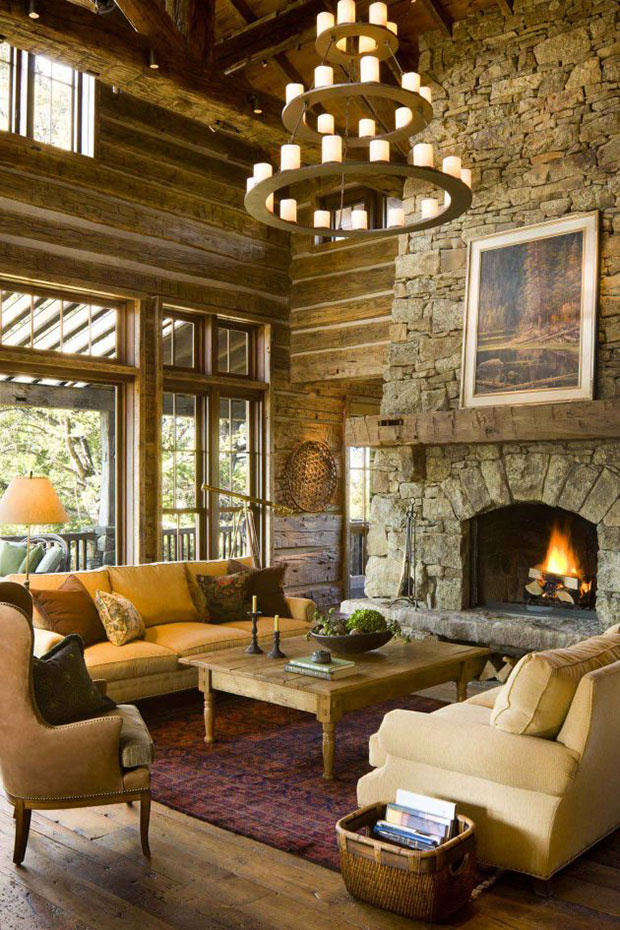 OSM Construction
It's very interesting how the sofas and seats have colors that are in the same shade range of the center table.
Elk Ridge Lodge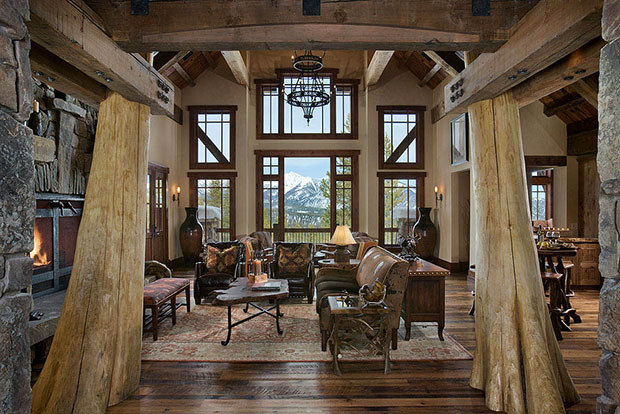 To complement the weathered look of the furniture, the homeowners added in colorful accessories with striking patterns.
Fayette Ranch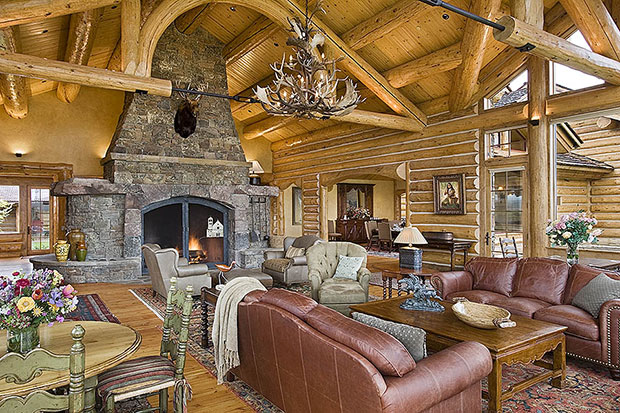 Teton Heritage Builders
Choosing furniture that are within the hue range of floor finishing is a great design choice.
Industrial Living Room Design Ideas
Much like rustic interior style, industrial mixes up various design styles, whether it's modern or contemporary. In industrial interiors, it embraces piping and ductwork, often giving a feel of raw, unfinished, and casual atmosphere.
Here are some industrial living room design ideas you may want to take a look at!
Modern Brick Bachelor Pad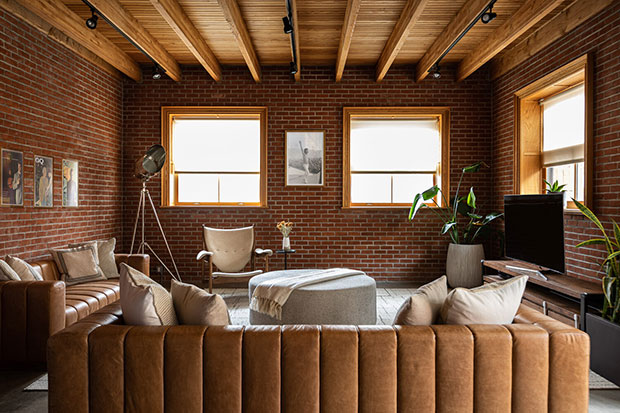 Kelsey Ann Rose
One of the key ideas of industrial living rooms is that it embraces space. Even with the seemingly small space of this room, the scarce furniture make it seem that there's still lots of space in the room.
Apartment Remodel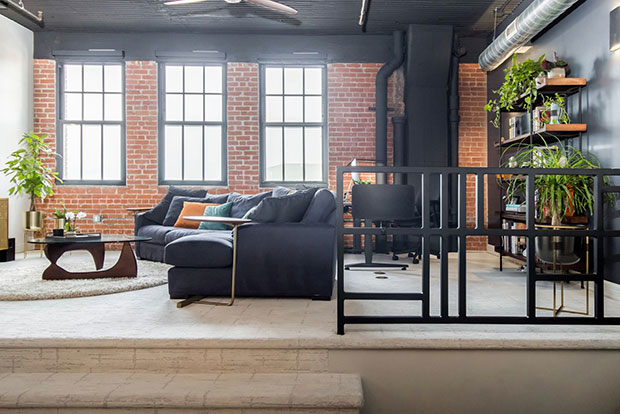 Kahmann Construction LLC
Some contemporary style furniture works so well with industrial interior design. Take note of this particular shelf that fits in with the aesthetic.
Riverfront Renovation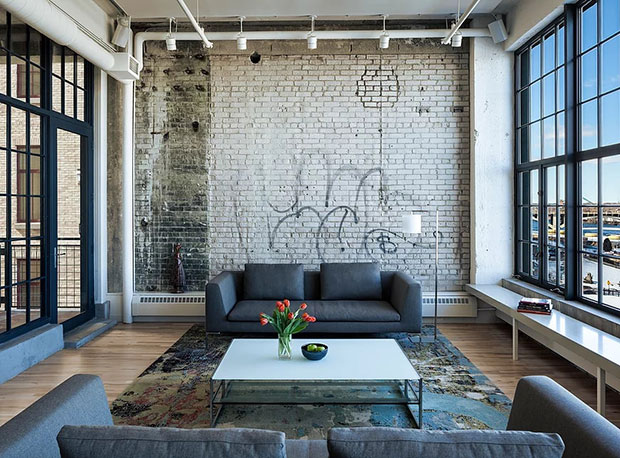 Jodi Gillespie Interior Design
That unpainted brick wall definitely elevates the industrial aesthetic of this living room.
Martingale House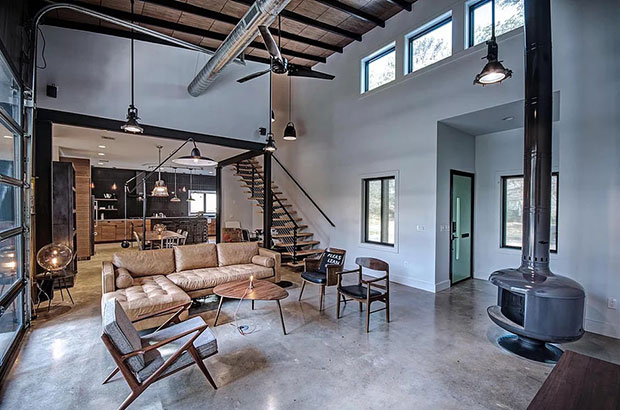 The Garner Company
This choice of fireplace design is incredible, perfectly complementing the industrial look design.
Toy Loft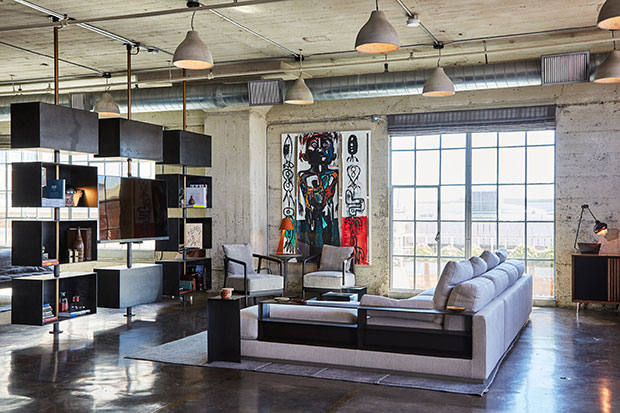 Andrea Michaelson Design
Industrial interior design is quite common in lofts. But this one, separates itself from others with its own unique shelving display.
Park Loft Midtown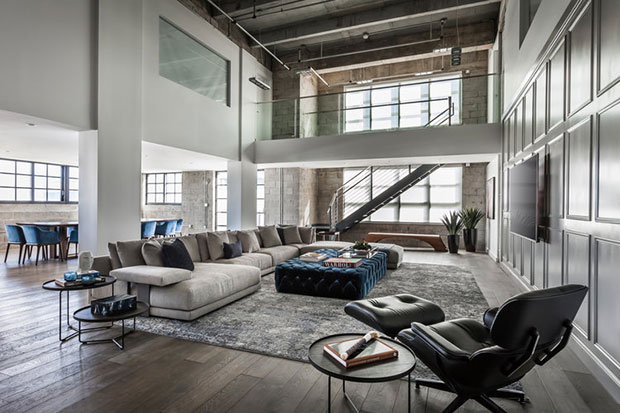 2ID Interiors
Perhaps another distinct feature for industrial interior design is that there isn't much furniture as to allow that much space in your living room.
Apartment Upper East Side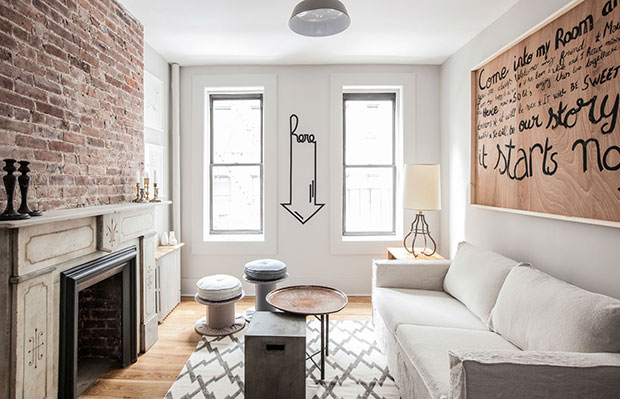 The New Design Project
This living room has a pretty interesting coffee table choice that is just perfect for the room's design style.
Eclectic Living Room Design Ideas
If you can't decide on a singular design style, or you want to mix elements of various design styles into your living room, then, eclectic design style may be for you! It is an informal mix of décor and furnishing from multiple design styles all in one place. This is often shown in bright colors and patterns with some unexpected elements.
So, take a look at some eclectic living room design ideas!
Modern & Eclectic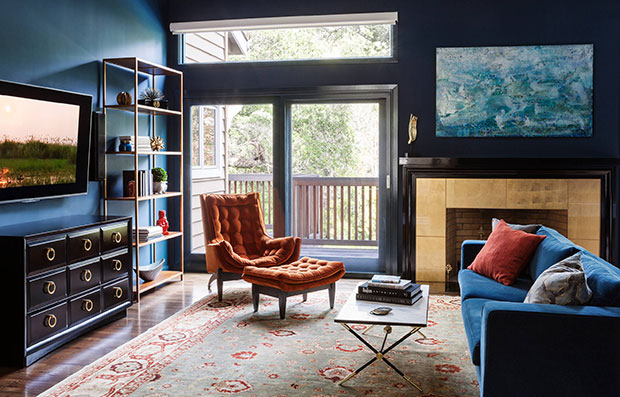 While this room may have tried to stick to one color scheme, it also has a splash of brighter colors to contrast with the darker color tones.
Colonial Revival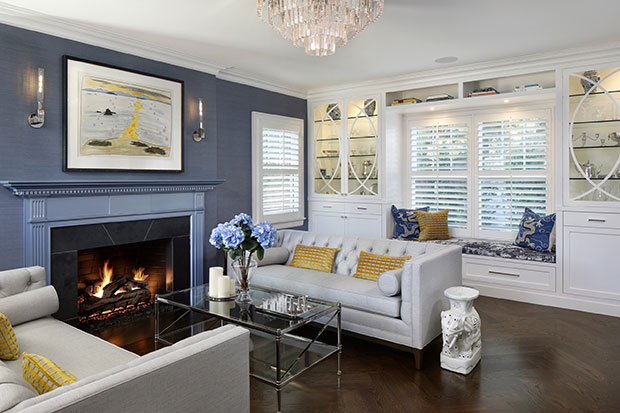 Melinamade Residential Design + Interiors
In this living room we see a combination of modern, contemporary, and traditional design elements into one place.
Aster

Inside Stories
Even with some hints of rustic, modern, and traditional, the addition of bright and vivid colors and floral patterns elevates the eclectic look.
Highland Hills Unique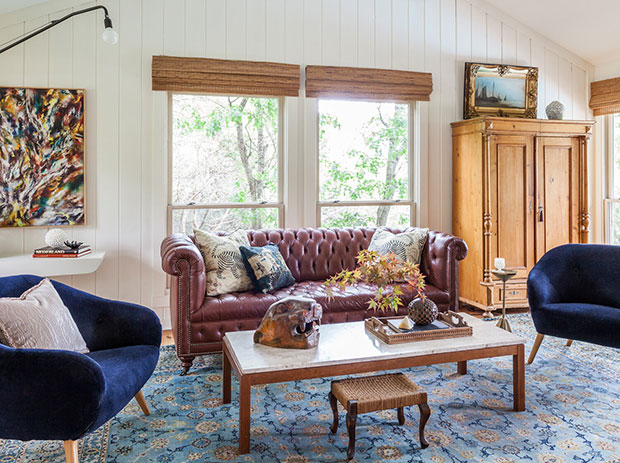 To contrast a rather rustic interior design, adding that bright rug and contemporary seats bring lots of personality to the room.
Clarksville Bungalow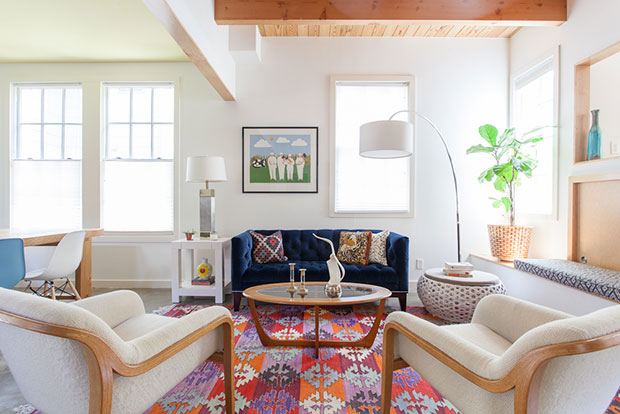 Erin Williamson Design
Having different colored and style chairs manage to bring out that eclectic style.
Harborside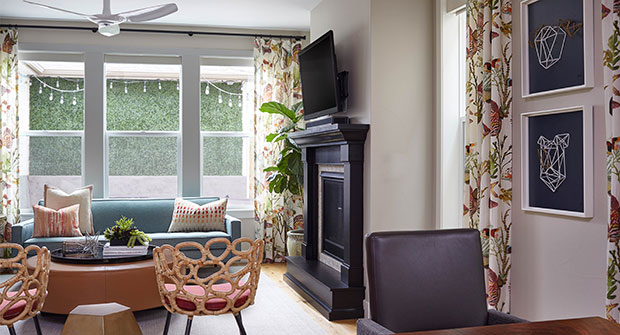 Inside Stories
The best way to truly get an eclectic room style is to mix and match bunch of furniture from different design styles.
Fullerton Family Fun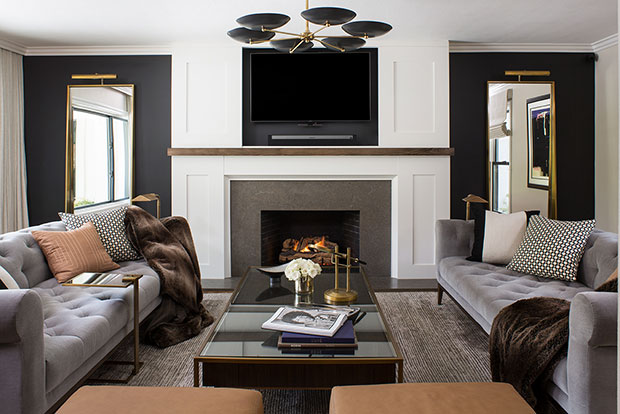 Breeze Giannasio Interiors
This living room is strange yet good example of how eclectic living room design can be so subtle without having to resort to bright colors and patterns.
Quail's End at Joshua Tree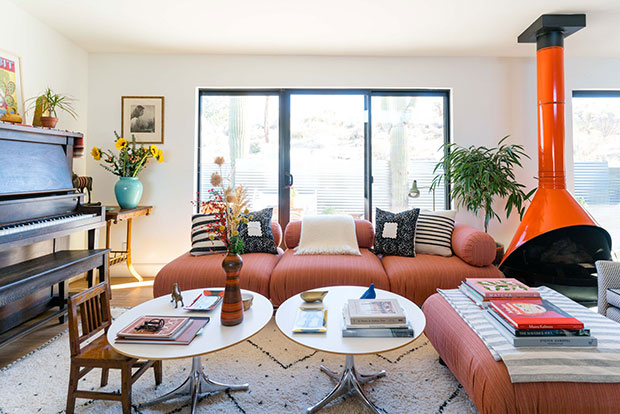 Even without the bright colors, the eccentric furniture choices are something to be desired for eclectic living rooms.
Atwater Village Craftsman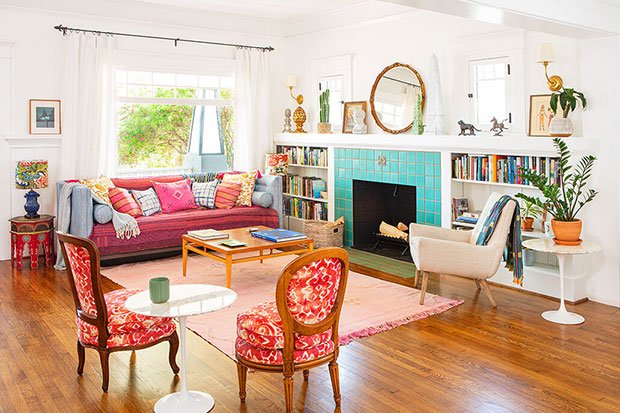 Julia Chasman Design
The strange yet endearing mix of colors and furniture pieces definitely makes this a fun and comfortable living room.
Shabby-chic Living Room Design Ideas
We've explored shabby-chic dining rooms before. It's time to get acquainted with shabby-chic living rooms. It is a style where furniture and furnishings have the appearance of being antique and signs of wear and tear. Shabby-chic interiors are often decorated in white or neutral colors.
Let's have a look at shabby-chic living room design ideas!
Precedence Road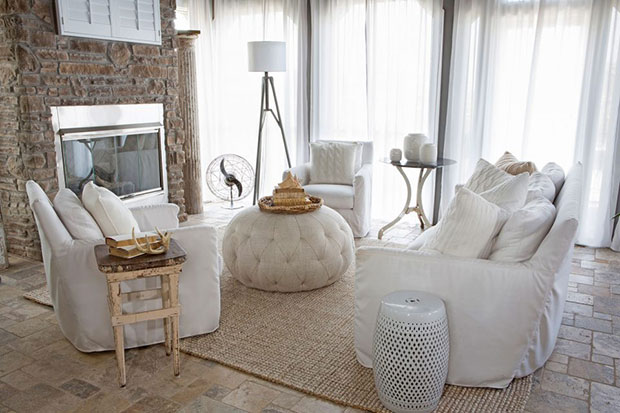 R. Cartwright Design
All these white sheet covers truly encapsulate the shabby-chic style.
Faded Glamour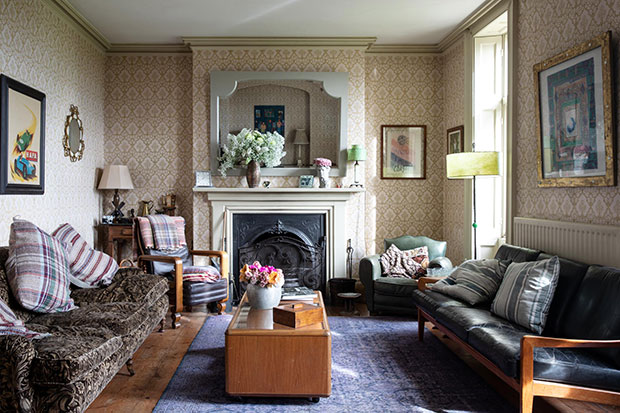 Amy Neunsinger
This living room's shabby-chic style is quite subtle and is really in the parts where the most of furniture pieces are looking quite antique.
Dwelling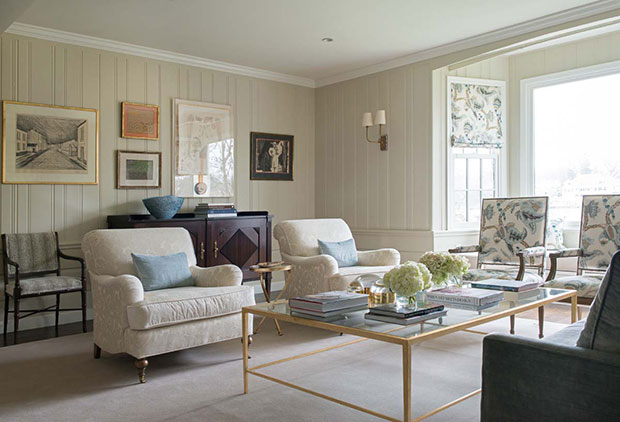 Keough Stearns Interiors
Simplistic yet chic. Even with the addition of colors, it retains its shabby-chic charm.
Jenkins Parade Home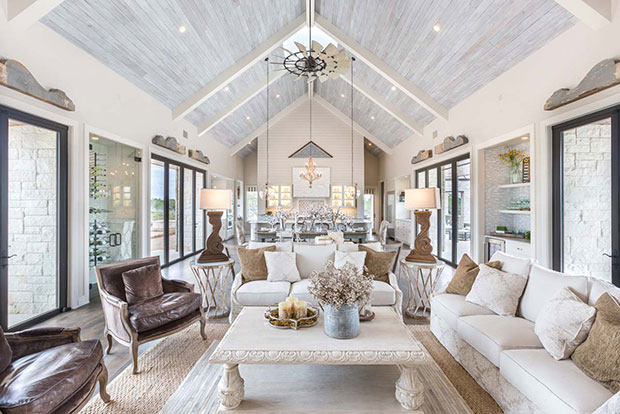 Michelle Thomas Design
This living room has pretty interesting furniture and furnishing choices. The splash of earthy colors to go along with the off-white and lighter greys is astounding.
Willowend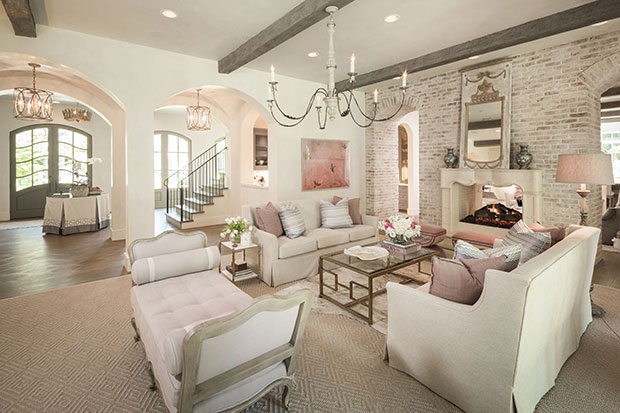 Thompson Custom Homes
Some hints of bronze and gold tones are great complementary details in shabby-chic interiors.
European Chateau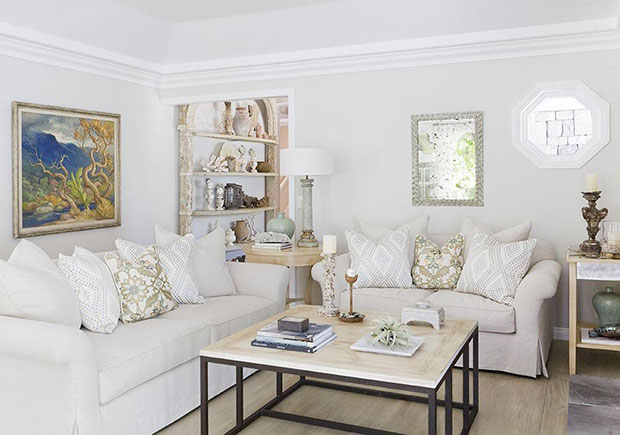 Bliss Home & Design
From the furniture to the décor, this home embodies the spirit of shabby-chic style.
The Strand Beach House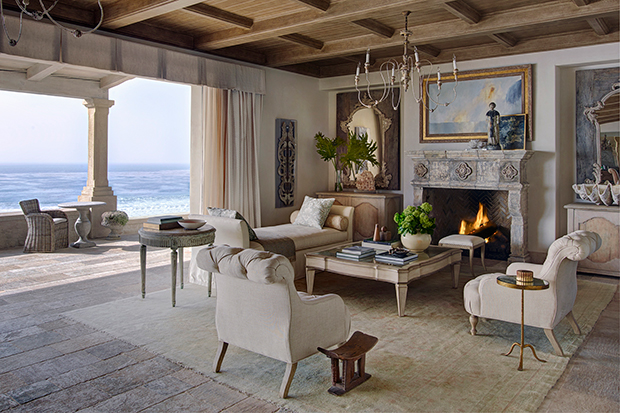 Oatman Architects Inc.
With some hints of traditional elegance, this is quite the spectacular living room design.
There we have it! Various living room design ideas that will surely inspire the homemakers!
Like This Post? Pin It!