60 Hip Retro Bedroom Designs That'll Take You Back
|
Are you tired of the most common interior style designs? Do you feel like your modern and contemporary designs lack some "it" factor? Perhaps, retro-style design can bring that to your home.
Retro interior design brings versatility and timelessness due to the nature of this style. Retro style is an eclectic mix of old style and new forms or old materials and finishes with new forms. Any period can be an inspiration for this design style, but the eras from the 50s to the 70s are the most common. Sometimes, even styles from the 80s can be tapped into. Bringing furniture, décor, patterns, and/or color schemes from those eras and mixing them with modern or contemporary elements can create a more dynamic and interesting look.
As such, retro style can certainly bring so much life into your homes. In particular, retro bedroom designs would be an incredible choice.
How to design a retro bedroom?
Retro bedroom designs can be funky and full of personality due to their eclectic style. So, when you re-design your room to create a retro look, don't be afraid to get experimental. Here are some easy tips to design a retro bedroom.
1. Feature wall
One of the easiest ways to bring a retro vibe into your bedroom is by having a feature wall. Pick one that tells a story or brings some sense of nostalgia.
2. Lighting
Elevate your bedroom look with stylish lighting fixtures from the 50s to the 70s. Plenty of these lights are abstract or geometric in shape. Other examples are pot-lid retro pendant lamps and orb-shaped lamps.
3. Patterns and textures
When decorating your bedroom, create some dynamic patterns and textures with accents. Throw in some patterned pillows and textured blankets or carpets.
4. Pastel colors
In the 50s, pastel colors were the trend. And with chrome accents and curved lines, you can recreate that period.
5. Neon colors
On the other hand, in the 80s, neon colors were prevalent alongside neon signs.
6. Timeless furniture
You will find several timeless pieces of furniture that are still popular today like egg chairs, womb chairs, shell chairs, and Eames lounge chairs. These can be accent furniture in your bedroom. Hanging chairs, day loungers, and ottomans are also great choices for retro bedroom designs.
7. Wall décor
If you would rather not have a feature wall, hanging some wall décor would make up for it. Handicraft and macramé art was big in the 60s. Neon signs would also be great décor for your bedroom, especially at night.
8. Plants
Indoor plants are practically ubiquitous décor, regardless of style. But it was especially common in the 60s to have them inside.
How do you make a modern room look vintage?
If you have a modern room and want it to look vintage, there are some elements that you could start with to turn your space around.
1. Furniture
For big furniture pieces, it is best to keep it simple with a modern style so it is easier to make any changes in improving the vintage aspect of your bedroom. In this case, you can easily transform your modern bedroom through vintage-inspired bedding, sheets, and pillows.
2. Vintage accents
Mix some modern or contemporary pieces with vintage accents or accessories. This could be in the form of lamps or accent chairs.
3. Colors
For retro bedroom designs, you have quite a selection of color palettes from different style periods. But when turning your modern bedroom into a vintage, you need to start by picking out a color scheme and sticking to it. While this style encourages experimentation, don't just recklessly throw in every color in the color wheel.
4. Repurposed materials
One of the easiest ways to really capture that vintage style in your modern room is by incorporating repurposed materials. It could be a vintage nightstand or reusing an old chest drawer as a table stand.
What is the difference between retro and vintage styles?
Retro and vintage can sometimes be used interchangeably, but they are actually two different styles from different roots.
Any style that lived through 20 to 99 years falls under vintage. Some would even say that to be considered "vintage", a style needs to be at least 50 years old. Anything older than a century is antique.
On the other hand, retro – from the French word, rétrospectif, meaning "retrospective" – is about reviving styles or fashions of the past and recapturing nostalgia. As stated above, retro design usually takes inspiration from the 50s to 70s eras. But the furniture and décor don't necessarily have to be old or aged. The key is to recreate or recapture style from the past. So, for your retro bedroom designs, you don't need to fill your space with vintage or antiquated furniture or décor. Anything that recaptures the style of the past is good enough.
Retro Bedroom Designs for Inspiration
Now, let's check some hip retro bedroom designs to get inspiration from!
One Ocean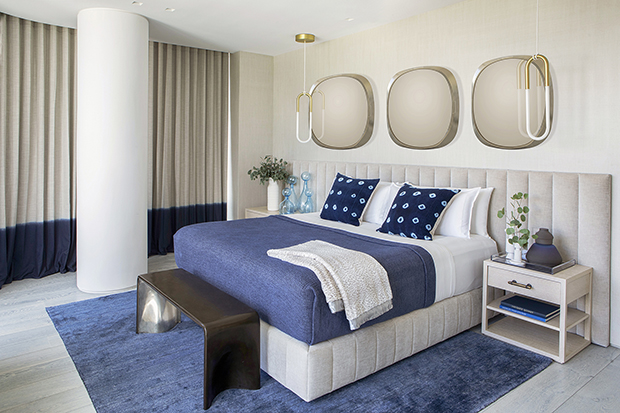 The curved lines in the accent pieces are a callback to popular design trends from the 50s. It's a nice blend of the straight lines of modern design.
Key Biscayne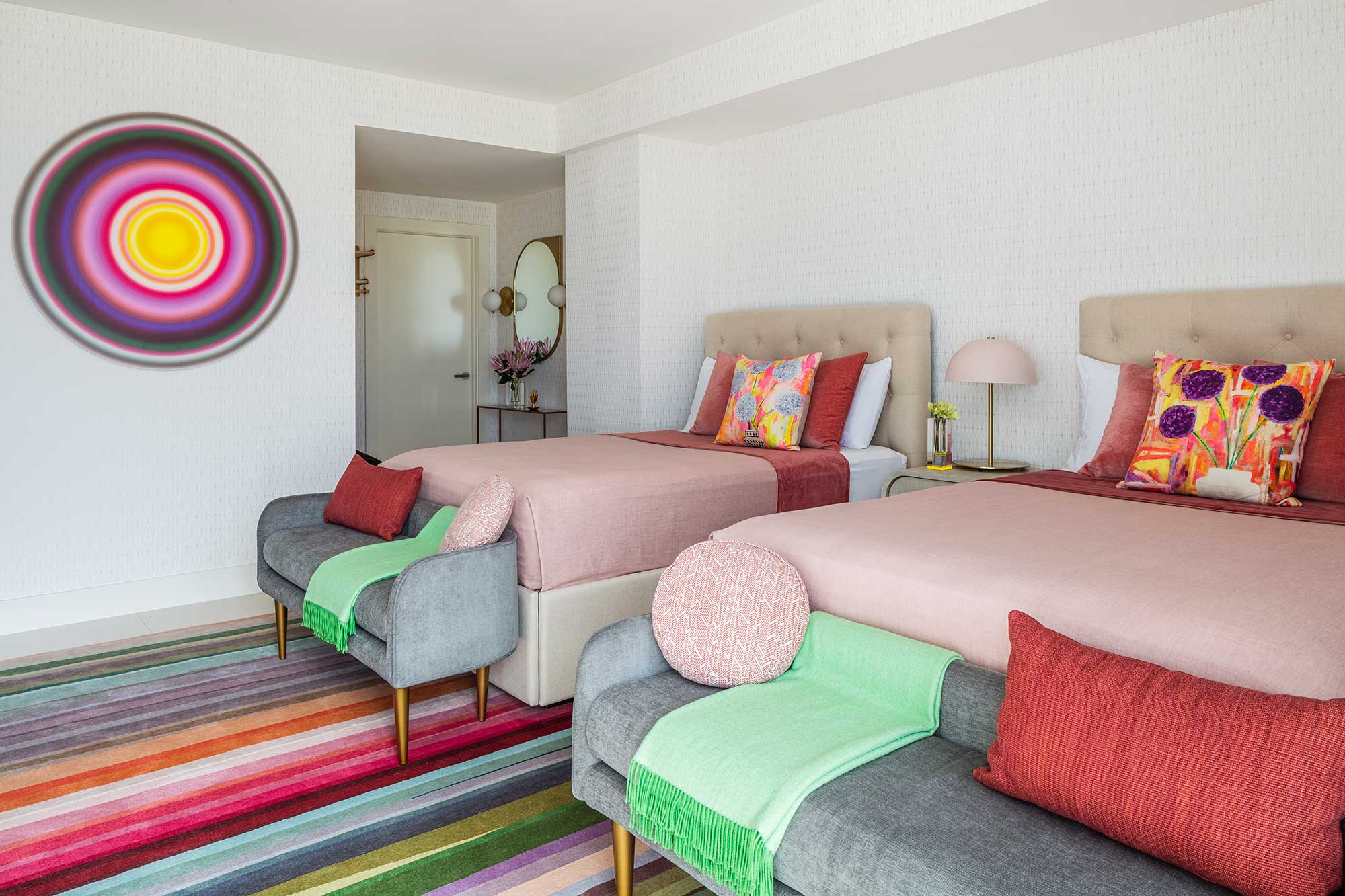 Retro bedroom designs inspired by the 80s could take advantage of its love for colors. This room, in particular, creates a funky look with the combination of neon and Pantone colors.
One Bal Harbour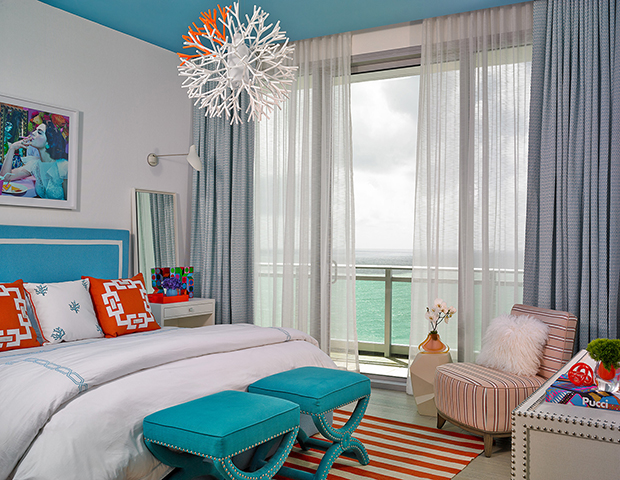 It is so easy to bring personality in retro bedroom designs with patterns. Don't shy away from them. Incorporate them through your area rug, throw pillows, and even the upholstered fabric of your chair.
Hibiscus Island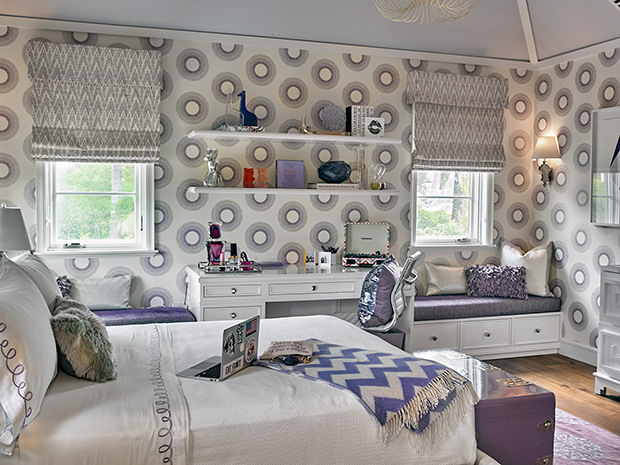 Wecselman Design
A feature wall may not just be enough, especially for a teenager's room. Fill up all the walls with wallpaper with striking prints. It also needs to be noted how the repurposed vintage chest trunk is given a new life with its bright purple paint.
Dream Girls Suite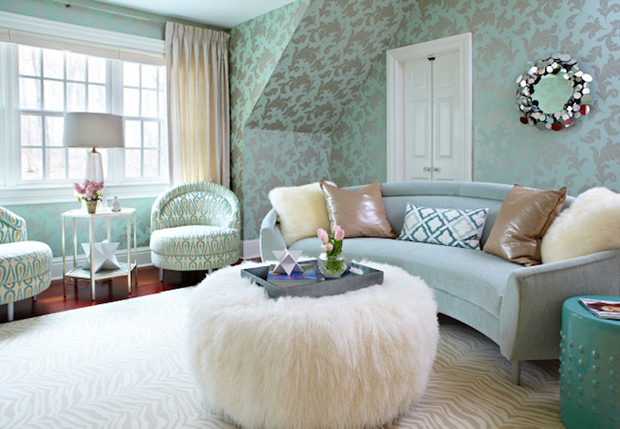 Some retro bedroom designs also encourage including shaggy accents like this ottoman. It certainly adds a textural dynamic to the room.
Retro Chic Teen Girls Bedroom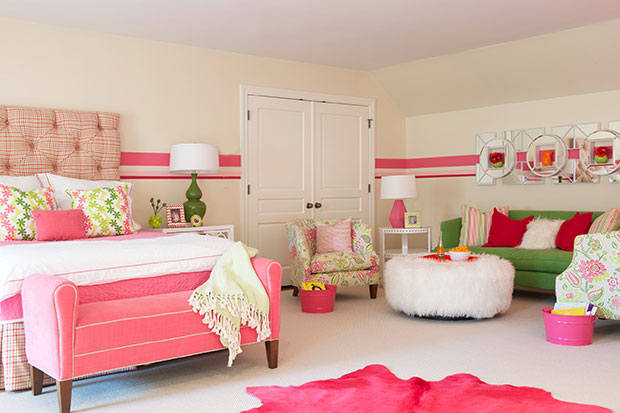 Last Detail Interior Design
Retro bedroom designs are perfect for teenage girls! The bursts of color and accent pieces are things that they would certainly appreciate and enjoy.
West Village Townhouse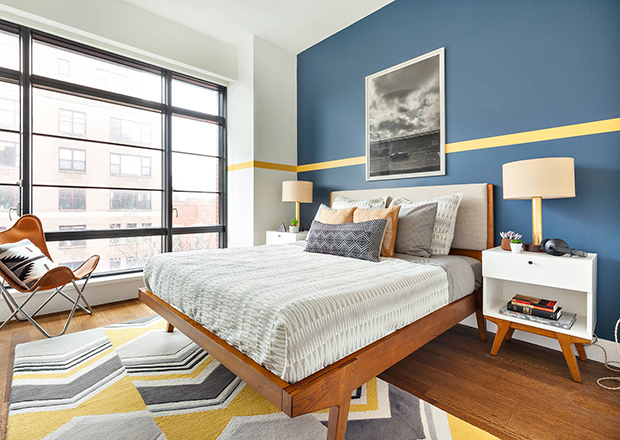 Life Well Lived
You can also take a more subtle approach to create your retro bedroom. Start small with a funky patterned area rug like this.
Newtown Penthouse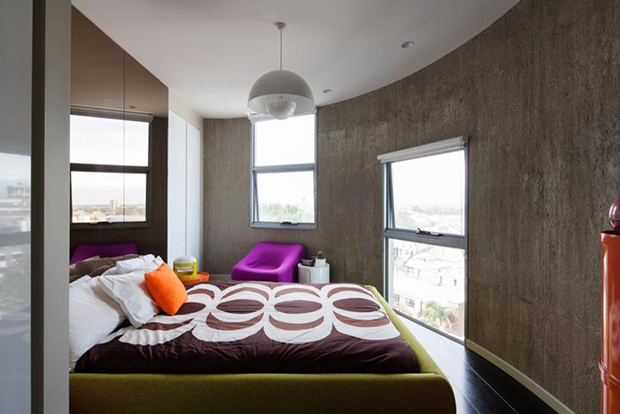 Vampt Vintage Design
The dome-shaped pendant light is a great choice to bring in some subtle retro elements.
Contemporary Renovation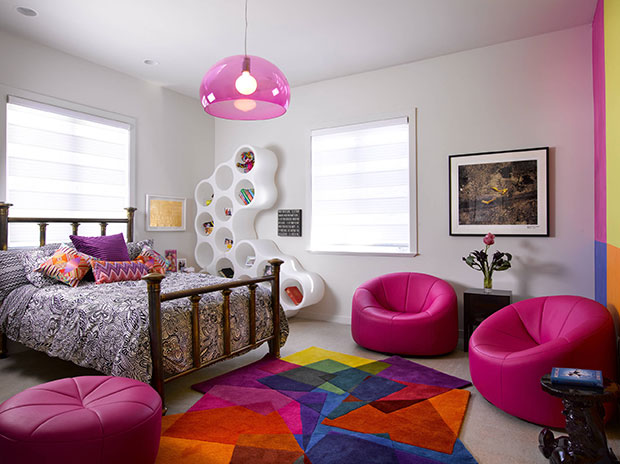 Hollub Homes
This is truly one of the funkiest retro bedroom designs. Though it is a colorful room, it creates a perfect balance of these bright colors with neutral ones to not overdo it.
The Oakbella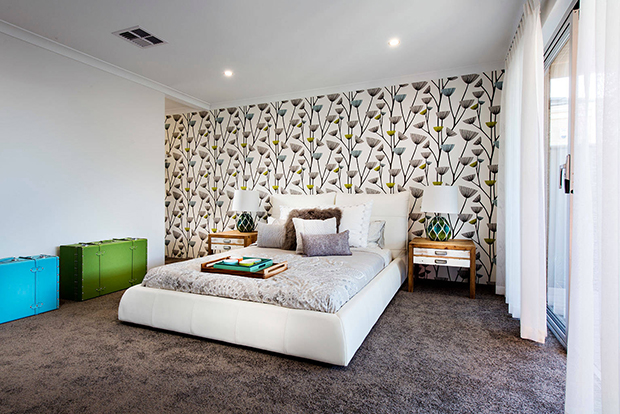 Domain Homes
Tropical prints are a nice feature wall option as it was a trend in the 80s. But don't ignore the vintage chests and table lamps adorning this bedroom.
East Side Drive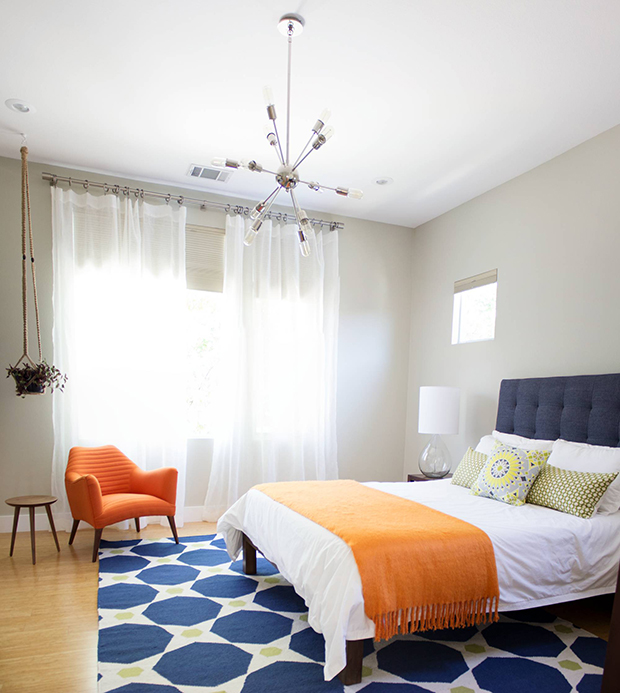 Sarah Stacey Interior Design
This abstract chandelier lamp is the perfect complement to the geometric prints of this area rug. Plus, the hanging plant is a great choice instead of just leaving the indoor plant on the ground.
Venice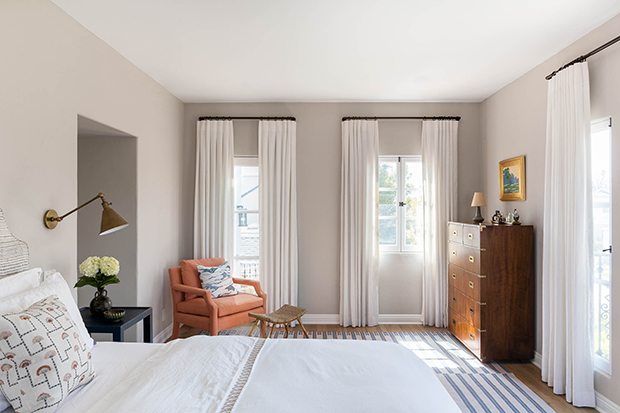 The cabinet may not be an aged thing but it is still a welcomed furniture piece for any retro bedroom design as it perfectly captures that nostalgic vibe.
Hancock Park Remodel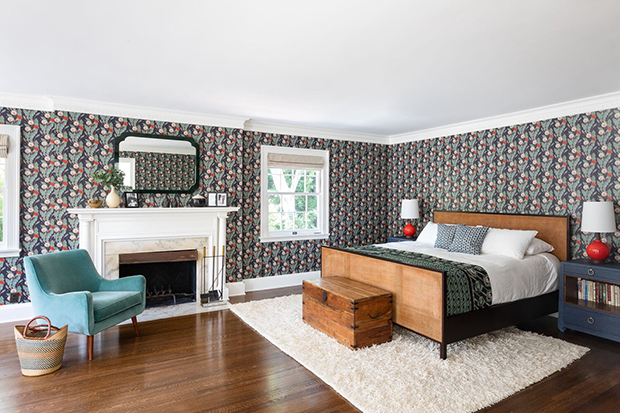 Despite the number of little vintage objects around this room, it manages to keep the retro vibe subtle. But such style makes it perfect for adults who don't want the pop of colors in many retro bedroom designs.
2019 Pasadena Showcase House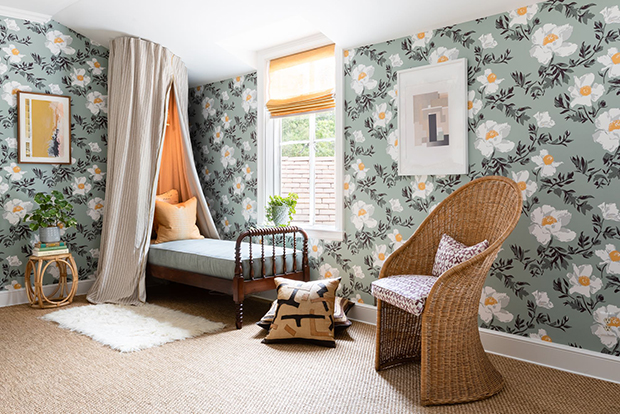 The natural materials with the floral print are a great combination to bring that coziness while also filling the room with vintage accents.
South Pasadena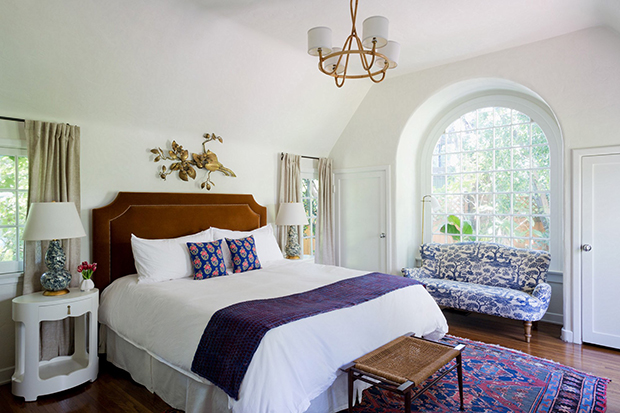 Add a vintage sofa into your bedroom as your vintage accent.
Los Feliz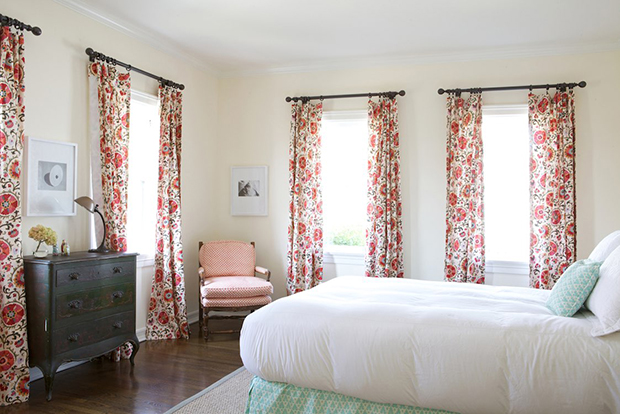 Taylor Jacobson Interior Design
Instead of floral wallpapers, you can opt for floral curtains. You can also throw in an aged cabinet drawer like this one and live its appearance as it is, though you can also repaint it.
Mammoth Mountain House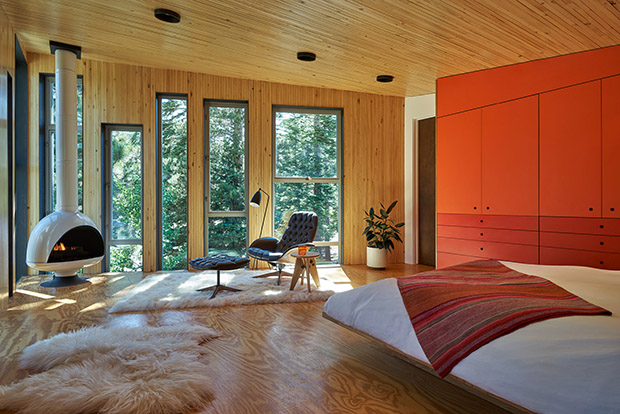 Erin Ellwood Design
Though the lounge chair can be an element for retro bedroom designs, it is also a good choice to bring some contemporary feel to your bedroom.
Lincoln Center Penthouse & Guest Quarters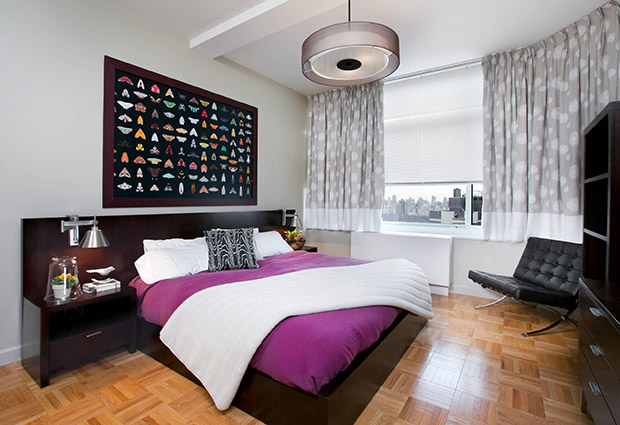 YDC Design
For the more sophisticated adults, may want to consider retro bedroom designs like this. There's a subtle retro vibe with the lounge chair and chandelier but minimalist enough.
Georgia's Room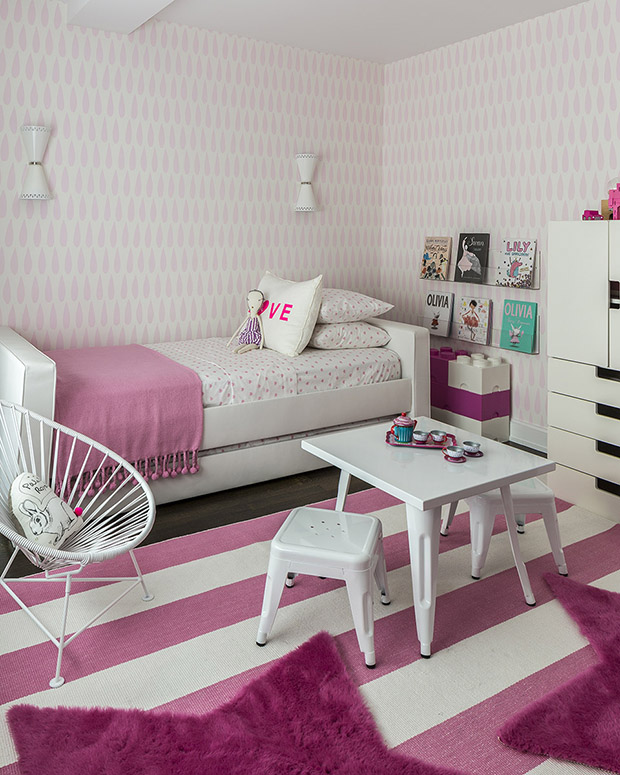 Plastic seats and tables like these are great furniture choices for a kid's retro bedroom. Plus, the need for brighter pops of color in kids' rooms makes it a perfect face for retro bedroom designs.
Jackson's Room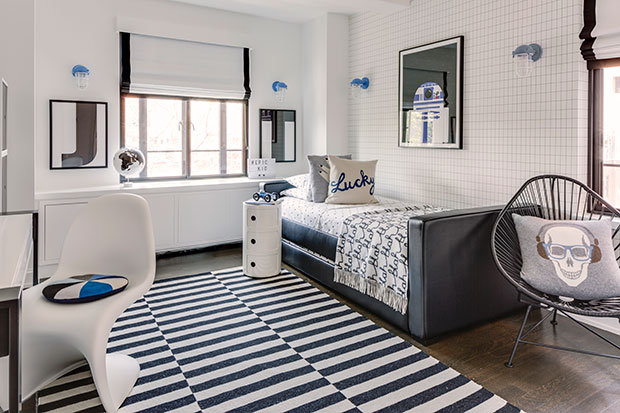 The best thing about this retro bedroom is the timeless pop culture reference. And it is further highlighted with the color palette and other retro accents.
Liam's Room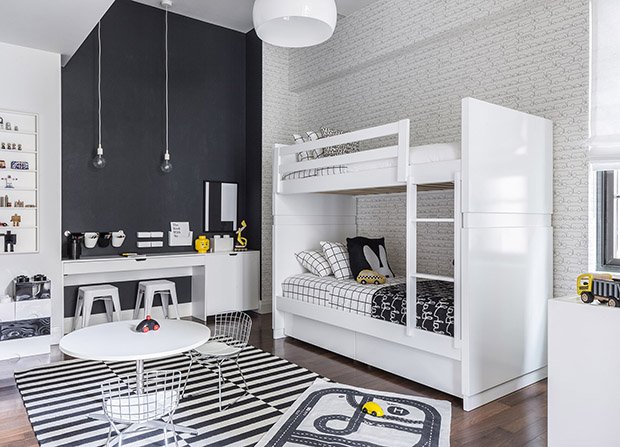 Sissy + Marley Interior Design
The varied prints and patterns work perfectly well together to liven up this kids' room.
Retro Redux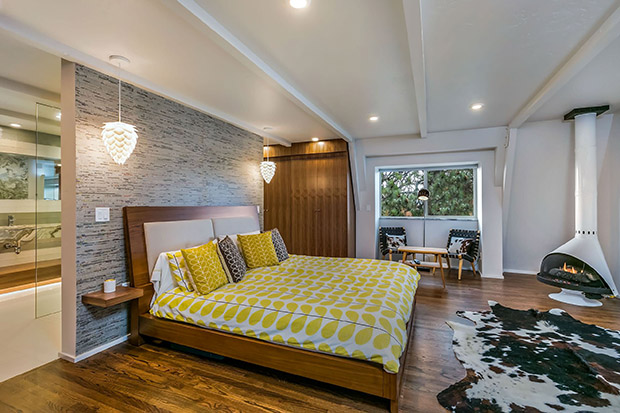 Copperline Homes
The faux animal area rug is a nice contrast with the more colorful sheets. As it is with retro bedroom designs, there is a good balance of colors.
Retro Inspired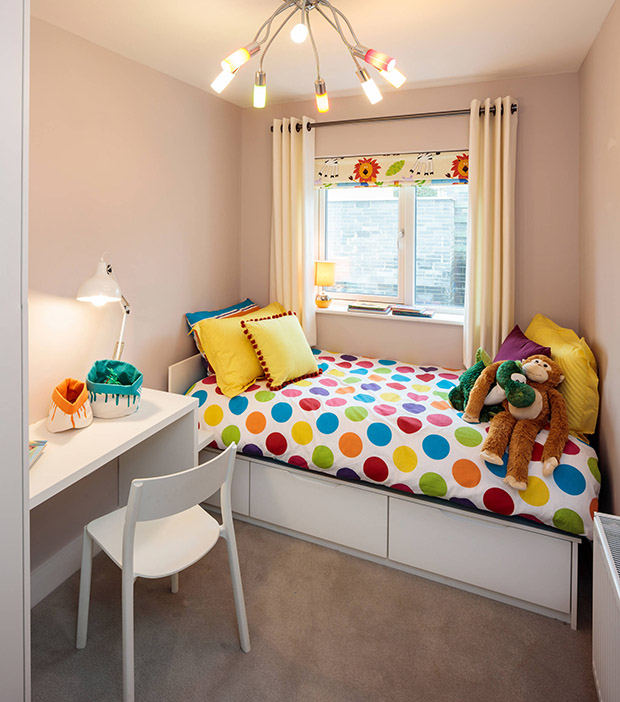 Eily Roe Interiors
Nothing says like retro more than colorful polka dots! And if that's not enough, the chandelier definitely makes a striking statement.
Retro Revival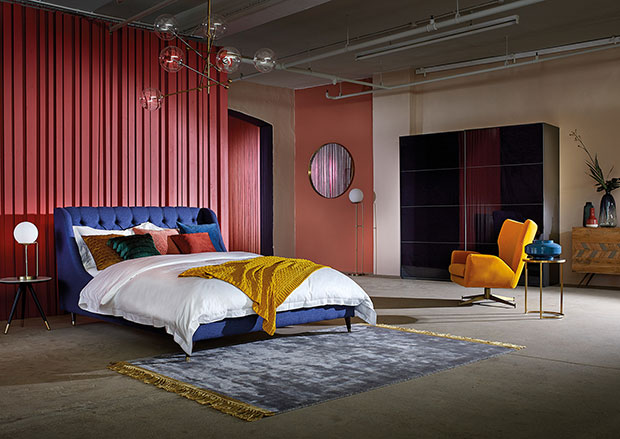 This geometric chandelier is perfectly complimented by the round lamps all over the room. Plus, the muted color choices bring a lot of life into this space.
Graphic Form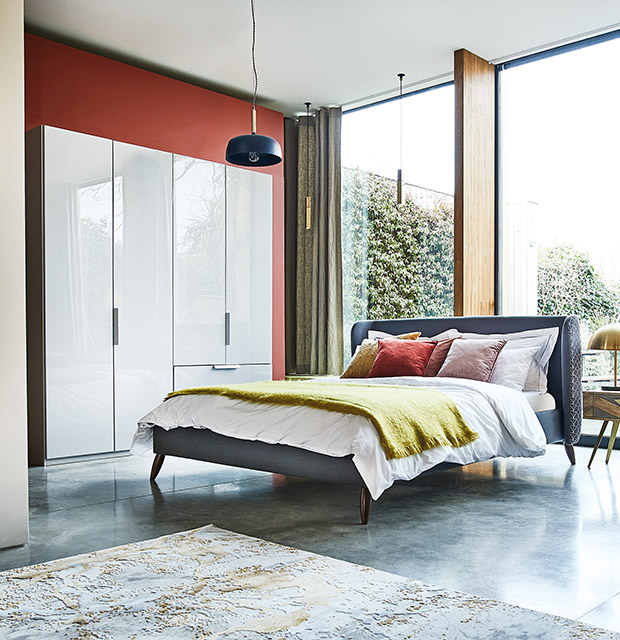 Though simple bed designs are encouraged for retro bedrooms, this room interestingly opts for a bed frame with retro printed upholstery.
Outland Dwelling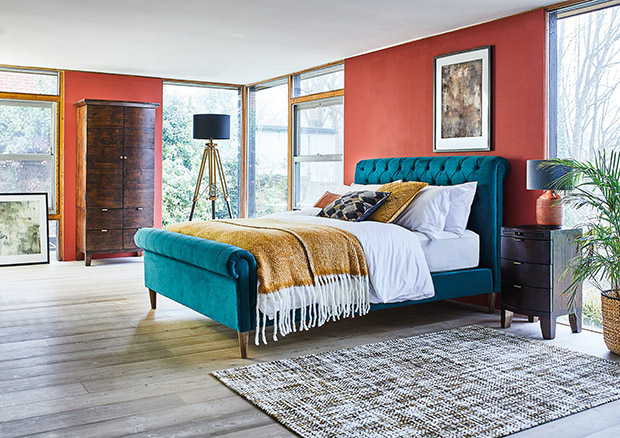 The contrast between the wood material of the vintage cabinets and the velvet bed upholstery is a nice look in this bedroom.
Modern Jive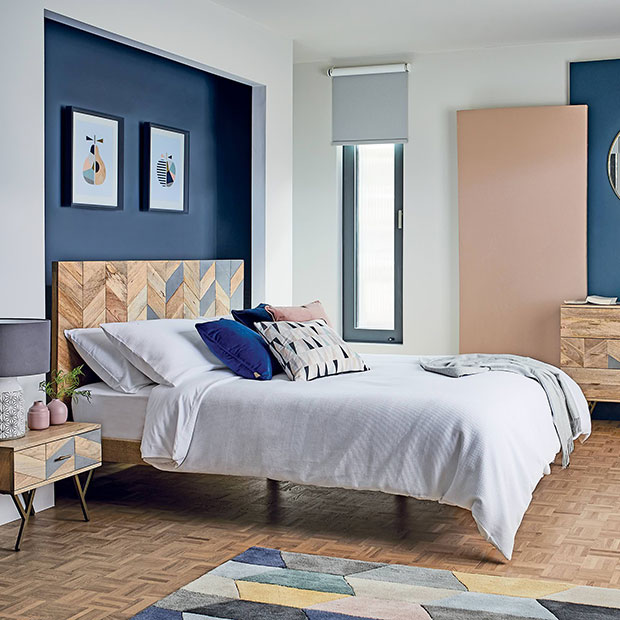 Barker and Stonehouse
This bedroom has a clear motif of geometric shapes that brings about the retro vibes of it all. The Pantone colors are also great choices to go along with it.
Mid-Century Retro Bedroom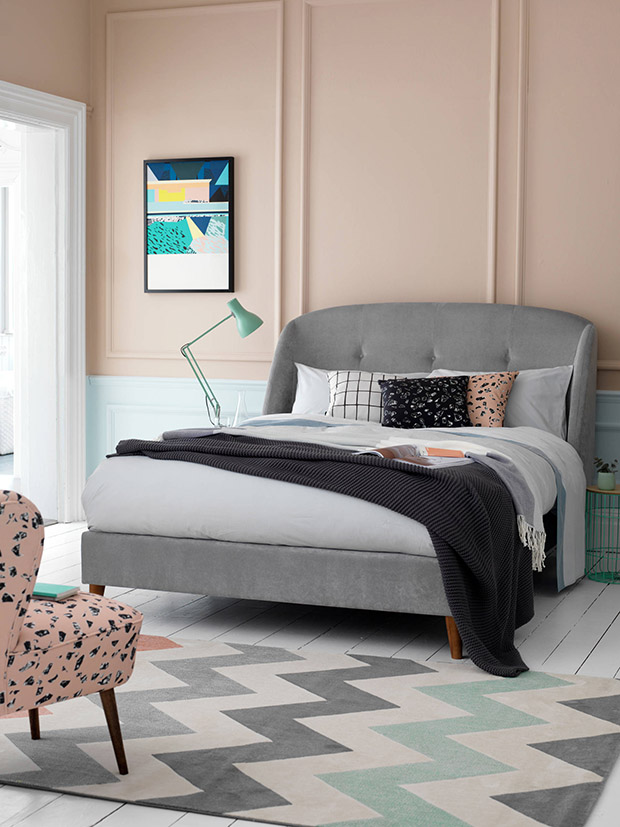 Button & Sprung
The framed abstract art piece is a great cherry on top detail of this retro bedroom. The colors themselves complement with that the ones in the room.
Vintage Vernacular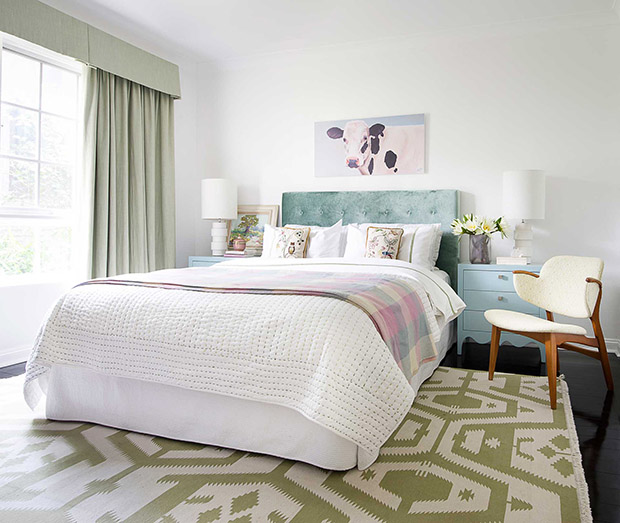 Brett Mickan Interior Design
Mid-century furniture like that chair is a great option for retro bedroom designs. It brings a bit of modern and retro in its appearance.
Victorian Railway Carriage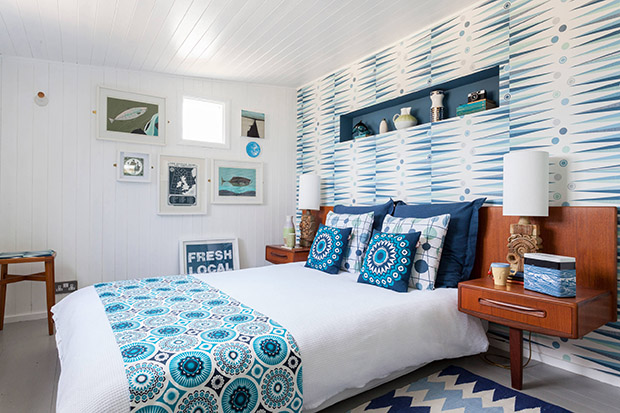 Chris Snook Photography
Like with some retro bedroom designs, the explosion of prints and patterns in this room is a welcomed sight.
Edinburgh Apartment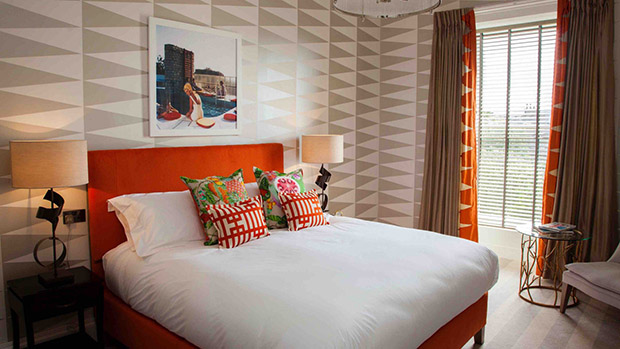 Malcolm Duffin Design
Try to incorporate some curves and spirals against the straight lines of modern interior design to get a retro look to your bedroom. This could be in the form of décor and accessories.
Stayner Renovation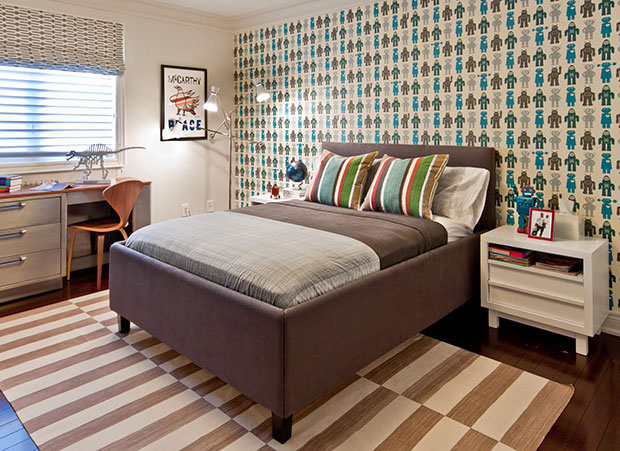 Shirley Meisels
The robot feature wall not only captures the retro vibe but perfectly caters to a kid's personality and interests.
Sunfish Lake Modern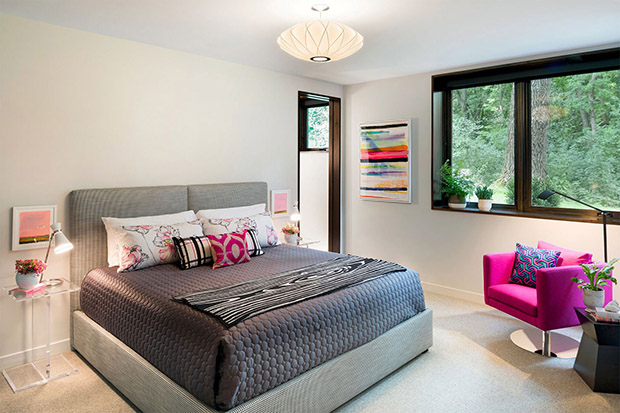 While that bright pink chair stands out in this room, it also perfectly compliments the rest of the space.
Mid-Century Lake House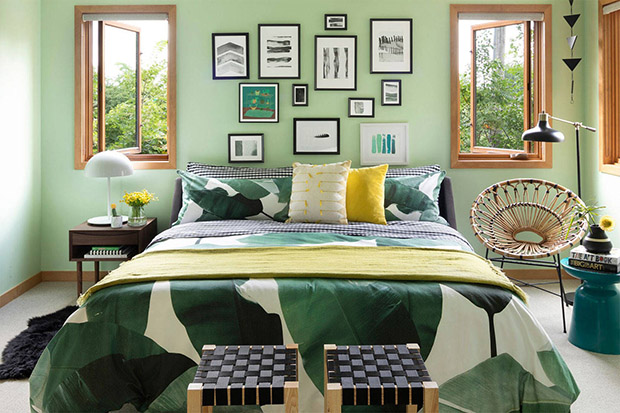 Lucy Interiors
The mismatched sizes of the frames are great design details that add to the eclectic style of retro bedroom designs.
Rising Hills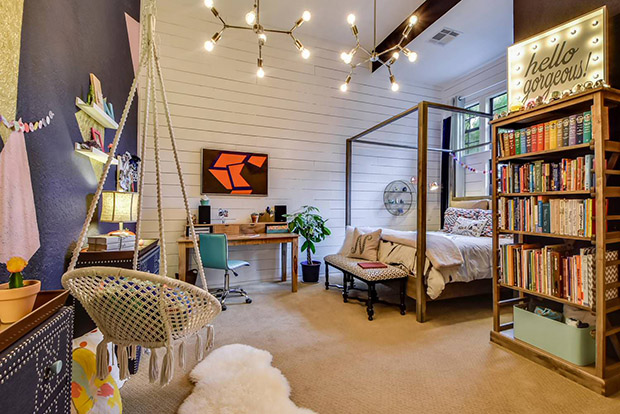 This bedroom went all out with the eclectic and eccentric mix of furnish and décor without looking messy or disorganized.
Rising Hills Guest Suite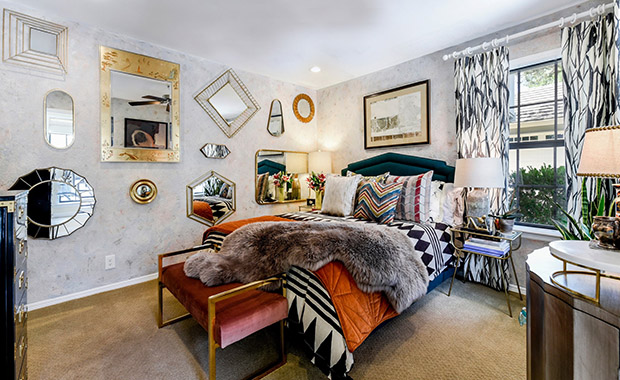 The owners of this home clearly believe there's no such thing as too many mirrors. Regardless, their varied shapes and designs bring a dynamic look to this room.
Rathervue Master Bedroom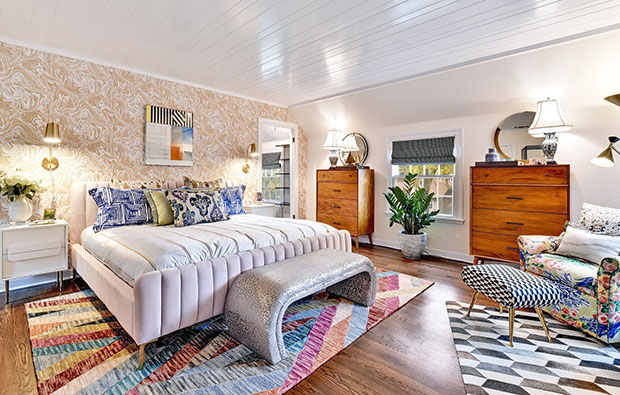 Turnstyle Design
This room has to be one of the prettiest retro bedroom designs. There's a nice balance of colors, materials, and patterns.
NJ Country House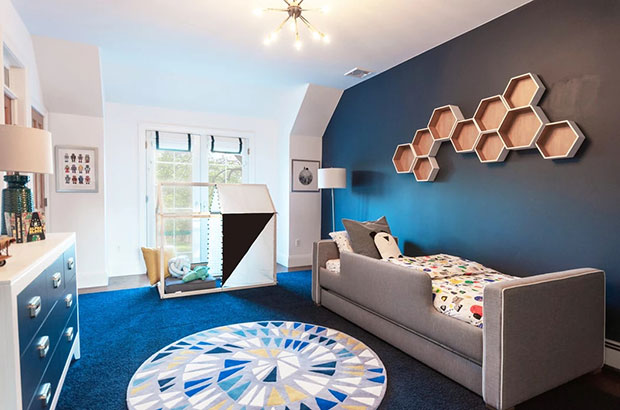 Curated Nest Interiors
The honeycomb shelving unit is a nice touch of detail for the theme and purpose of the bedroom.
Mid-Century Modern Family Remodel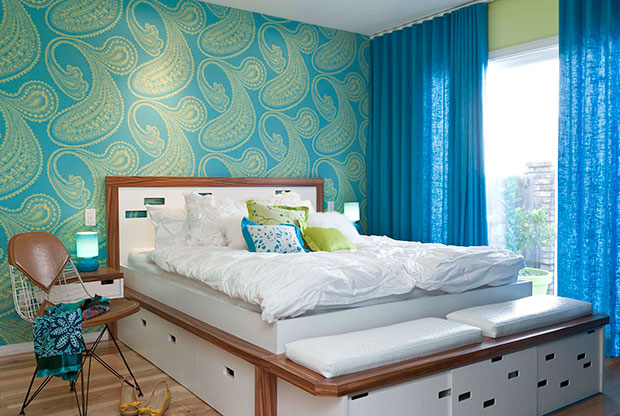 Kristy Kropat Design
If you really can't help it, go ahead and find a funky bed frame that will match the rest of your retro bedroom interior.
Girls Room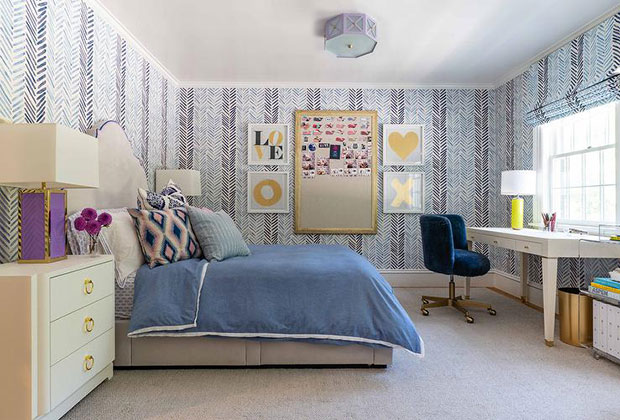 Liz Caan Interiors
Add a little bedazzle into your retro bedroom with gold accents like this girl's room. You can just tell that this room is full of a teenager's personality.
Cameretta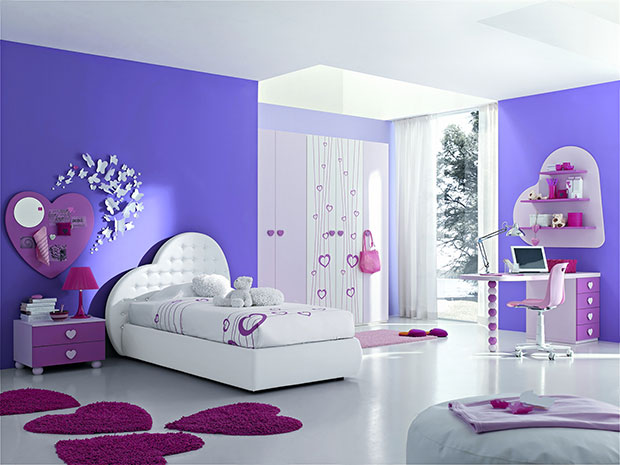 Mariani Arreda
The heart theme along with these furniture designs creates the perfect retro look for a young girl's room.
Chalkboard Wall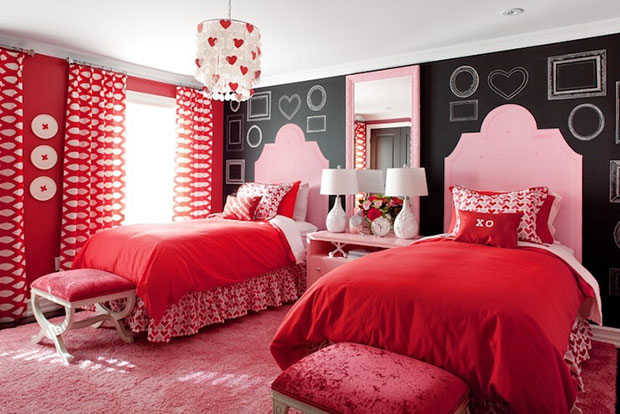 Jennifer Brouwer Design
For a slightly edgier look, this chalkboard wall certainly helps bring contrast to the reds and pinks of this bedroom.
Downtown Renovation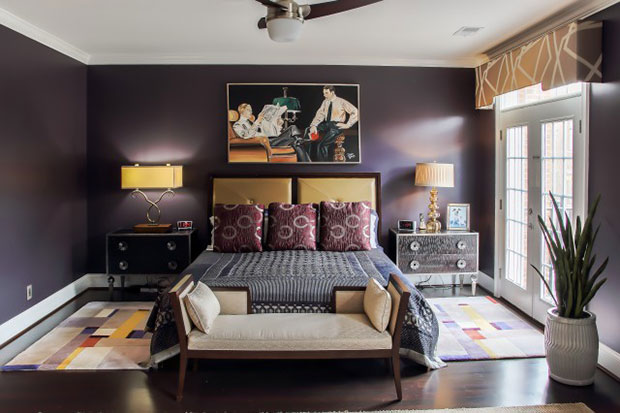 Capital Kitchen & Bath
The area rug is a nice outlet of brighter color to slightly oppose the moodier paint on the walls.
Suprematism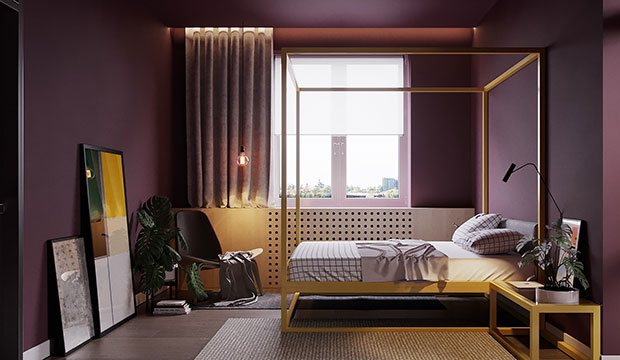 Dezest Design
Retro bedroom designs could also make good use of the casual atmosphere it brings. It is pretty evident here in this bedroom.
Elegant Minimalism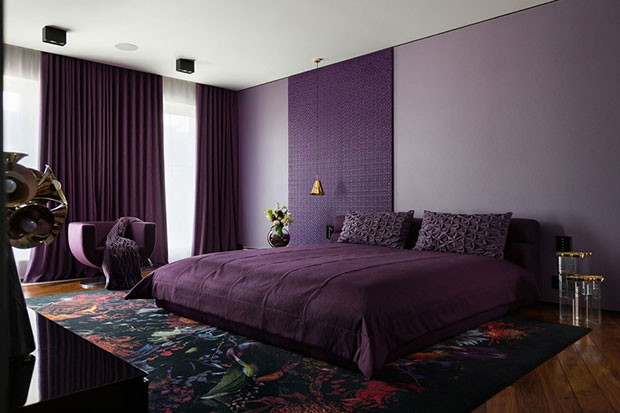 Yuriy Zimenko
The elegant and minimalist look this room has doesn't escape from some elements of a retro bedroom. This includes the chair and dynamic textures present.
Kids Room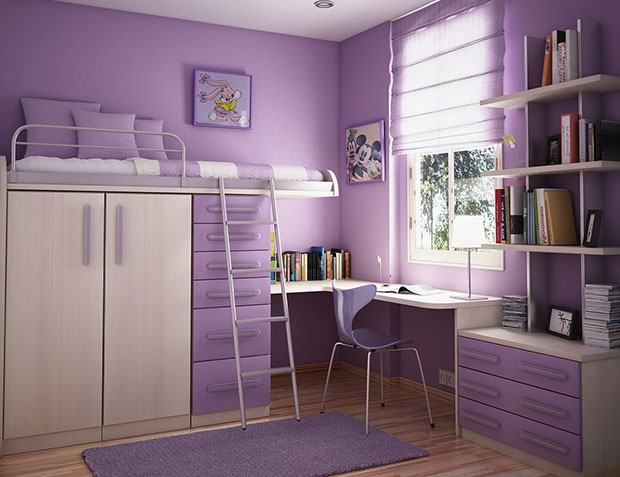 Sergi Mengot
The curves on the furniture make for a basic but fantastic beginning of retro elements for a bedroom.
Romantic Vintage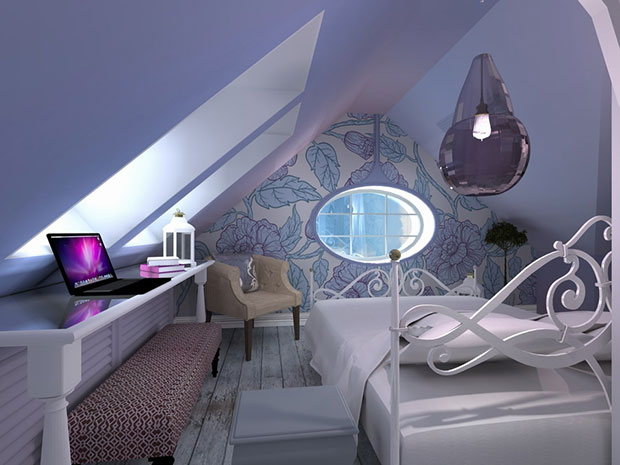 Victoria Lazareva Design Studio
The disco ball-esque chandelier is a nice touch of detail that truly captures the 80s era.
Curated Color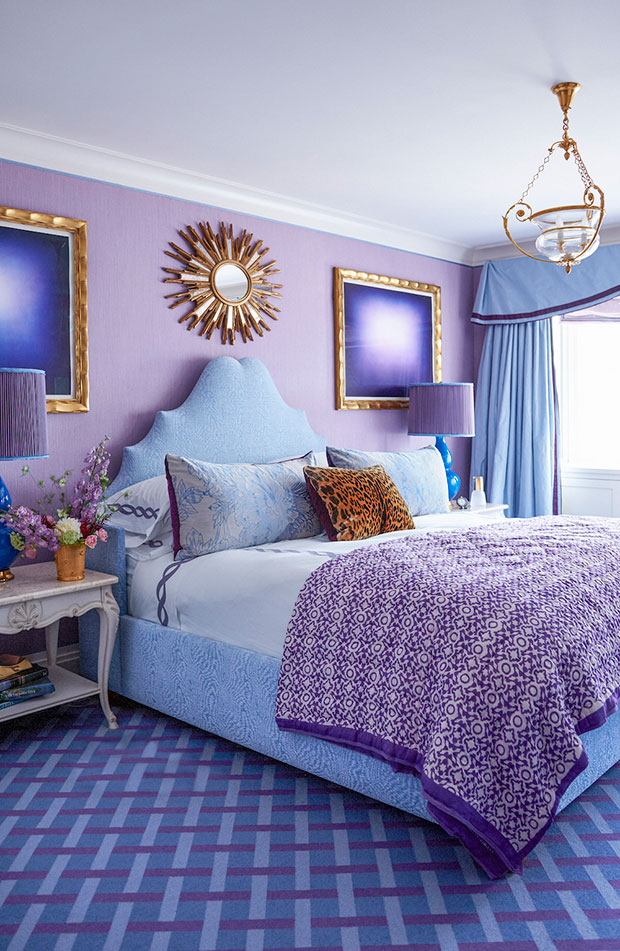 Alex Papachristidis Interiors
Though the bed frame isn't a simple design, this room does its best to bring that vintage look.
Holiday Condo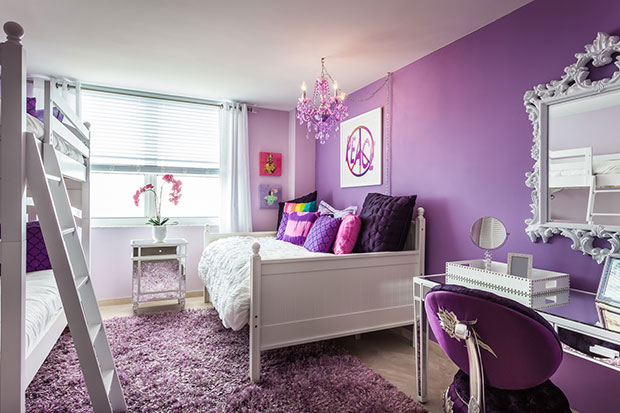 Alicia Connolly Design
That "peace" graffiti artwork cements the retro look and vibes of this bedroom.
Savannah Best Custom Home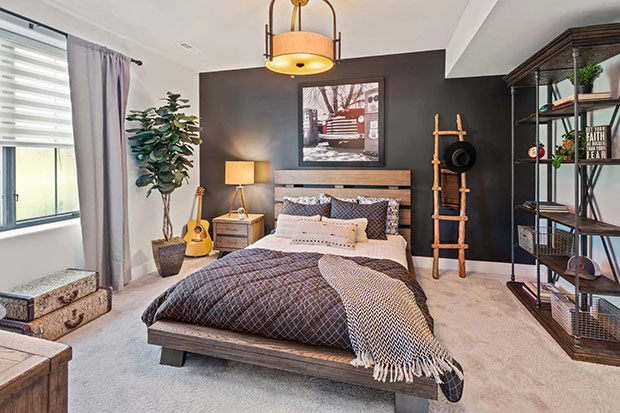 Justin Doyle Homes
The number of repurposed materials used in this bedroom qualifies it as a retro bedroom. Though, it is in the edgier spectrum of retro bedroom designs.
Yarrow Point New Build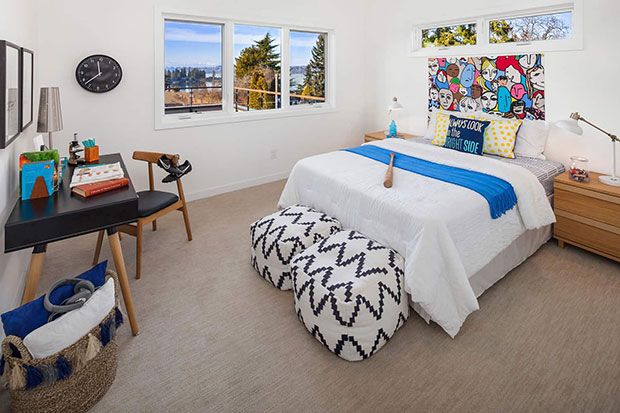 Seattle Staged to Sell & Design
In contrast to the more colorful retro bedrooms in this list, this room is a little more toned down but just as louder with the retro statements.
Oakland Hills Boy Bedroom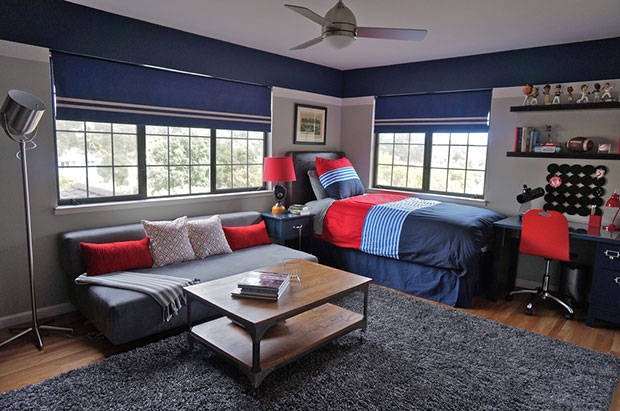 Alina Druga Interiors
The eclectic mix of furniture choices in this room is definitely an interesting one.
Sandhill Crane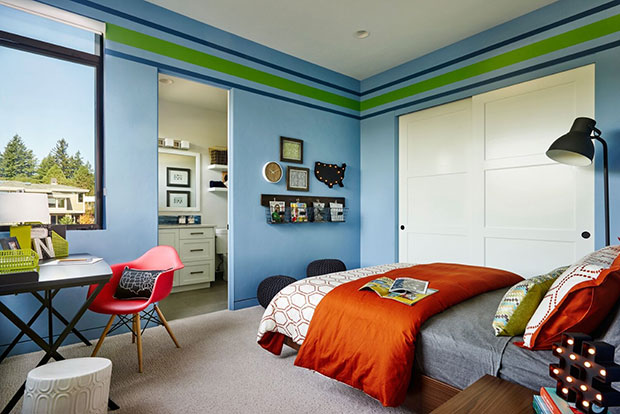 Garrison Hullinger Interior Design
This room shows how much mid-century furniture designs fit with retro bedroom ideas.
Dumbarton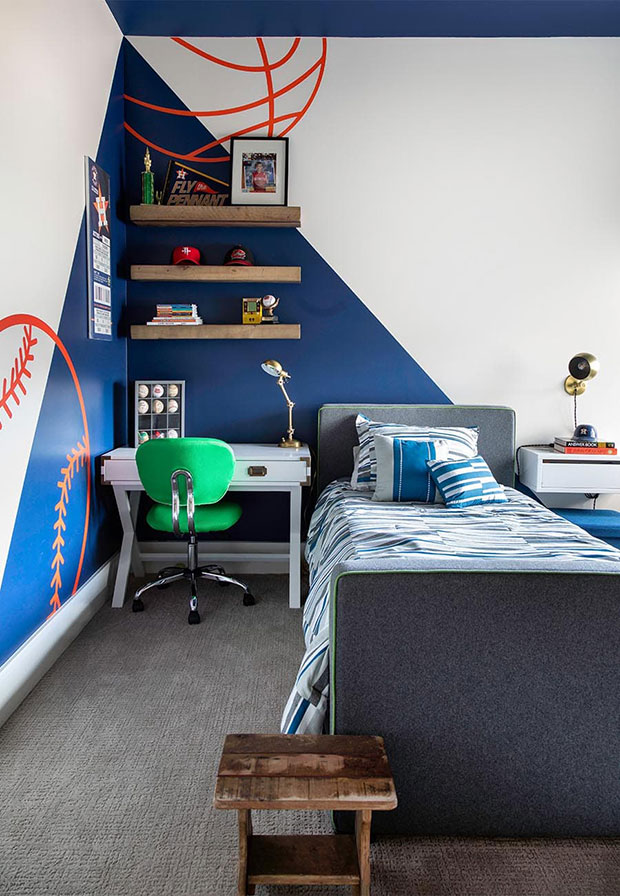 Laura U Design Collective
The lamp fixtures in this room are certainly interesting ones that hint at a bit of industrial and vintage.
Apartment Models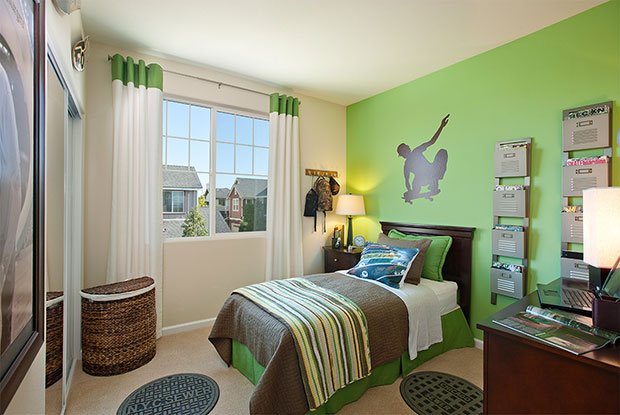 Borden Interiors & Associates
There are a lot of interesting details in this bedroom like those sewer lid cap rugs and repurposed mail organizers
Teen Room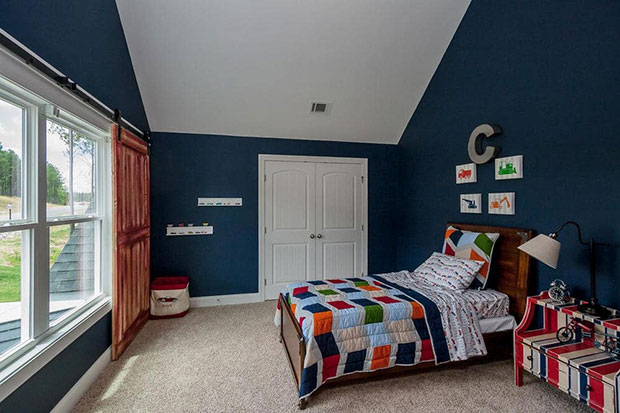 Winchester Home Builders
The vintage bedside table is smartly painted to match the sheets and the walls.
Chicago Residence #4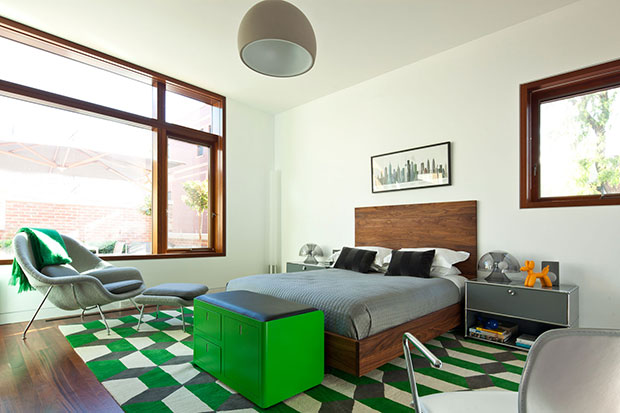 Stephanie Wohlner Design
With the area rug bringing brighter colors into this room, it is best to compliment it with similarly colored items like this bench.
Spectacular Addition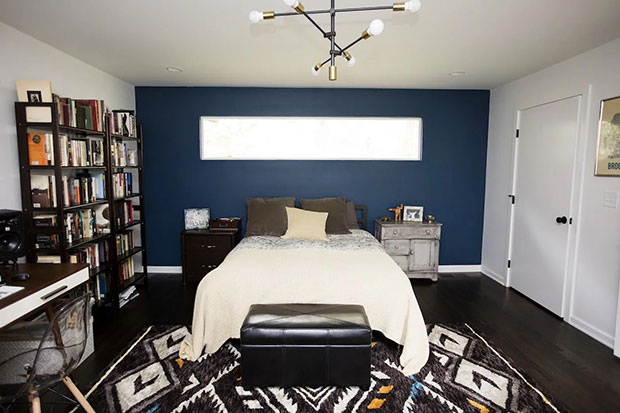 Weidmann Remodeling
One thing that 80s-inspired retro bedrooms encourage is to incorporate translucid furniture like that desk chair.
Wooddale Country Club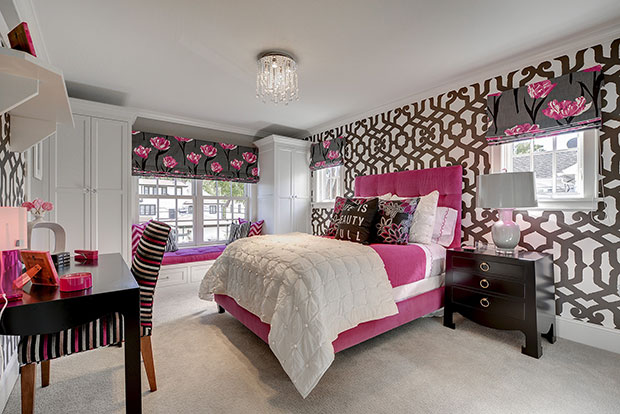 Indian Hills Artisan Tour Home
The striped upholstery of the chair is a great match to the abstract print of the wallpapers.
Bamm Hollow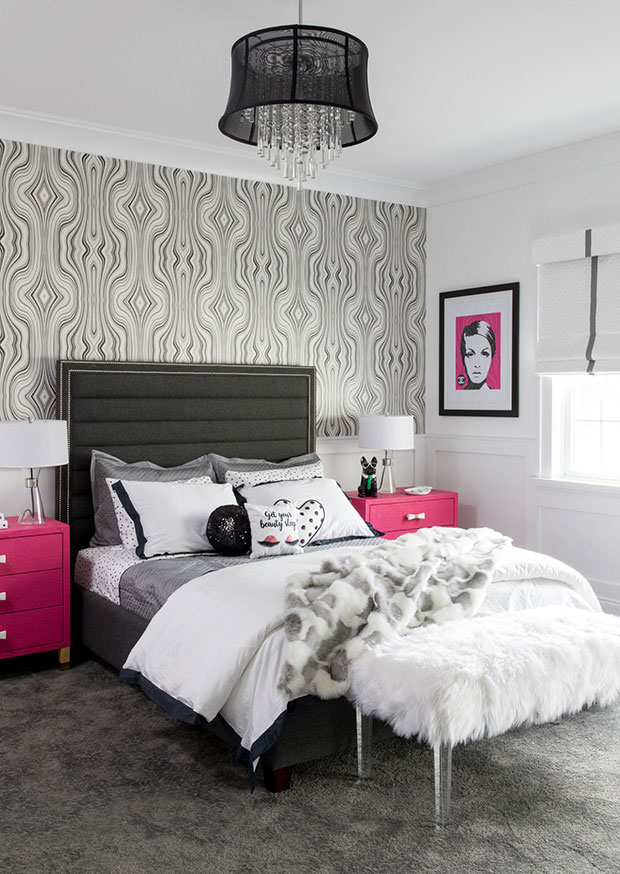 Touch Interiors
The ottoman bench is a great combination of shaggy texture and translucid material. Definitely captures the essence of retro bedrooms.
That's all for our picks of retro bedroom designs! Did any of these bedrooms interest you in redesigning and redecorating your own room?
Like This Post? Pin It!