Love vs. Arcade Obsession: A Guy Turned Bedroom into An Arcade and Lost Fiancée
Some people really have that passion and love for something that it moves them to do more than just loving it. I'm talking about how their likes and interests are reflected in the things and spaces which are connected to them just like bedrooms. Since the bedroom is a personal private space, we tend to give it themes depending on our interests and hobbies. We also see to it that it is designed based on our needs and on what we do every day. A guy did a huge makeover to his bedroom just to turn it into something he really really really like which is arcade but lost the person he really really love because of his arcade addiction.
Chris Kooluris, 37 spent over $32,000 to transform his bedroom in his New York City apartment into a 1980s-style arcade. But by doing so, he lost his fiancée who got fed-up because he was consumed by decorating his bedroom. Well, girls need attention but bedrooms don't. Yet, this guy spent more time putting in stuffs in his bedroom that fulfills his hobby, not realizing that his life would take a huge detour when everything gets done.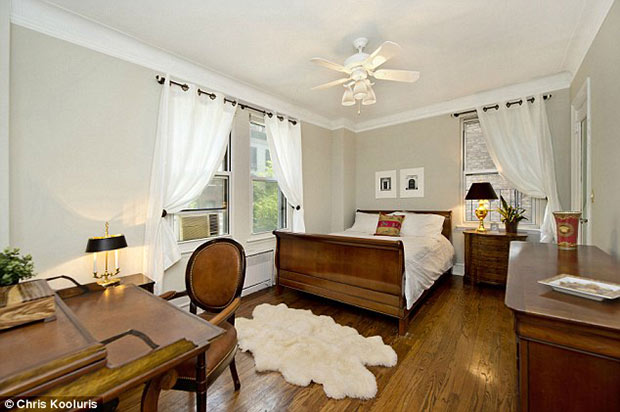 This is his bedroom before the makeover. It sure looks a bit traditional but cozy. I actually think it is beautiful.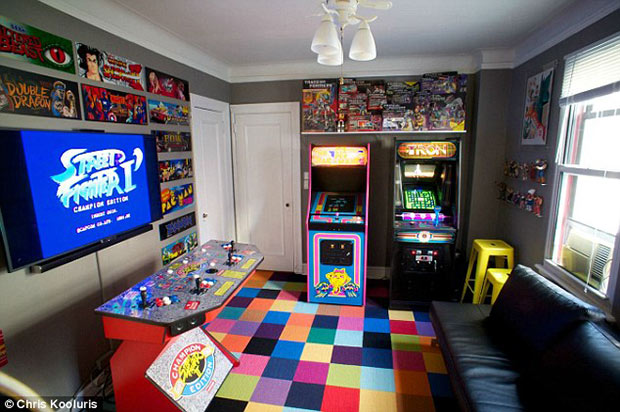 But he thought that he wanted to be surrounded not by this coziness but with things that he love. He wanted to play arcade in his very own space.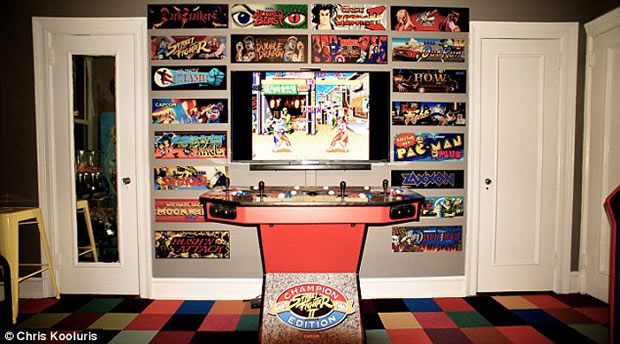 After reading a book called Ready Player One which is a 2011 novel about a future world obsessed with the arcade game culture of the 1980s, he was moved, inspired and motivated to change the look of his bedroom.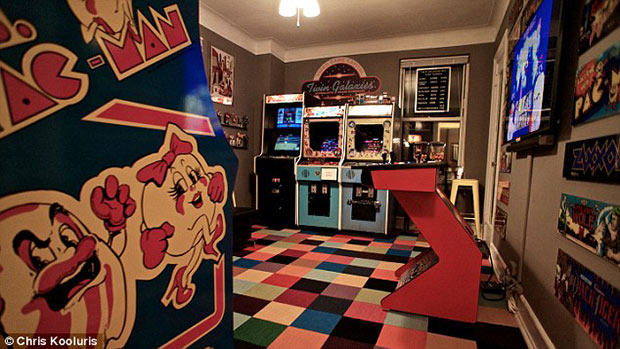 Before he decorated his space, he moved to the Brooklyn apartment of the woman he got engaged with. But he didn't receive any offers for the place when it went to the market. So, he decided to keep it and redecorate it.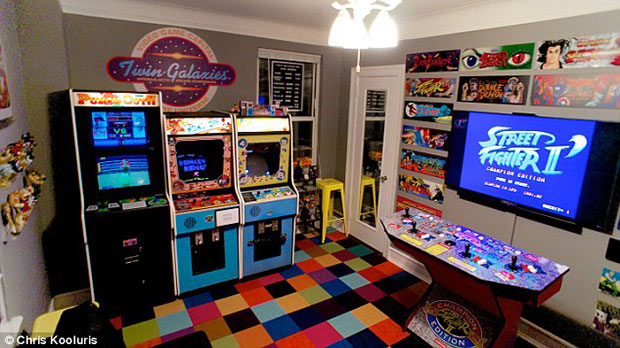 His arcade includes games like Street Fighter II, The Kong Off, Punch-Out!, Tron, Fix It Felix Jr. and even the game in Disney's Wreck-It Ralph.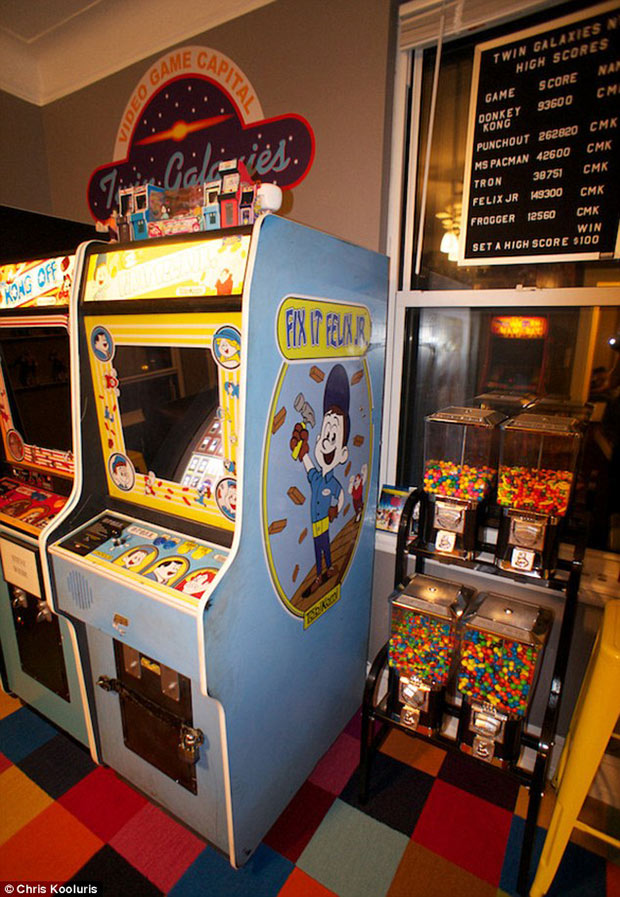 There is also a vending machine where gamers can get instant snacks.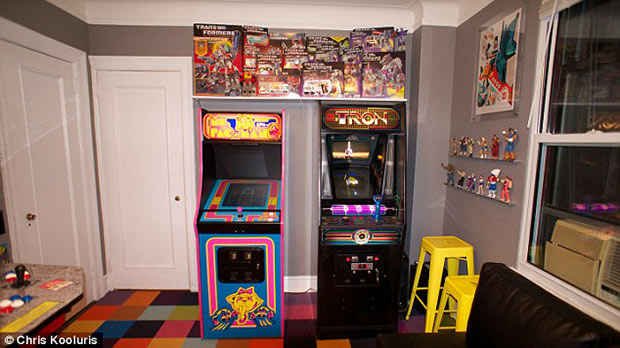 The once bedroom is now full of colors from the flooring to the posters and other display.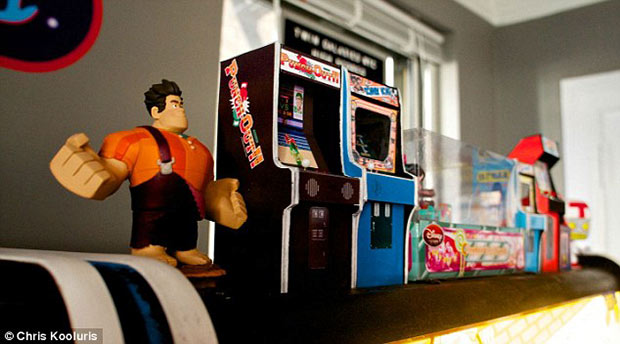 Different action figures are mounted on shelves in the room along with posters of arcade characters and games.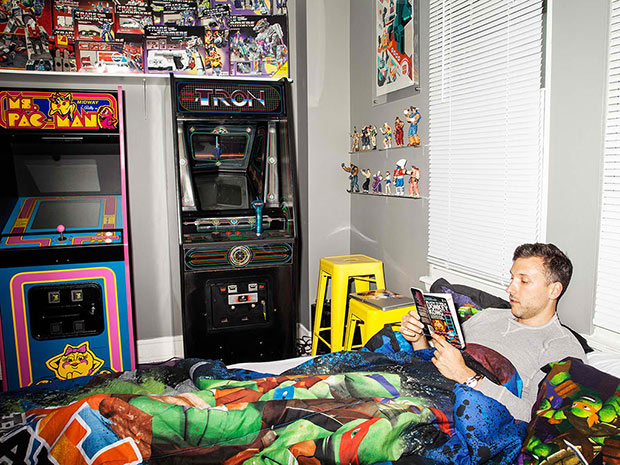 Since Kooluris lost his fiancée, he spends his time alone in the bedroom except for nights when friends come over for games. He has that Teenage Mutant Ninja Turtle duvet set.
Cool bedroom, right? He really spent much for this space and he is now surely surrounded by things he love and enjoy expect for his girlfriend. When his room was done last February, his fiancée returned the engagement ring on March. She wasn't happy about his obsession. But after what happened, Kooluris admits that it is hard to enjoy the room because he misses his fiancée. He was even quoted saying to the New York Daily News: 'I always end up thinking about her.'
FREE TRENDING HOMES IN YOUR INBOX!
Never miss any updates! Subscribe to our feed and we'll send you the latest trending homes right to your inbox daily! Join us Now!