55 Navy Blue Bedroom Ideas for the Confident and Powerful
|
When picking out a color for their bedroom, people tend to pick out light colors. For years, these colors were considered to be calming. Turns out, colors like navy blue can be a perfect color for your bedroom. They can even create a calming mood just right for a bedroom.
Sure, navy blue bedroom ideas can be intimidating. But with the right styling, you can surely create a beautiful bedroom suited to your needs, style, and personality.
Is navy blue a good color for a bedroom?
Navy blue bedroom ideas are welcomed anywhere for anyone who wants to have a classy, cozy, and timeless look in their bedroom. It's the perfect color to help you fall asleep being the color of the night sky (or the deepest oceans). It's a versatile color that can suit modern or even traditional décor and maximalist or even minimalist style.
What goes with the navy in a bedroom?
The color navy goes with a wide range of colors. You can create unique navy blue bedroom ideas simply just by mixing and matching colors that could go along with navy blue. And you have a variety of these colors that contrast and complement beautifully with navy blue. But what colors go exceptionally well with navy blue?
1. Pink
Blue and pink are a classic combination, and it works just as well specifically with navy blue. The warm and cool tones are a great complement to each other.
2. Orange
Being the exact complementary color to blue in the color wheel, you will not go wrong with the combination of navy blue and orange. It should present a nice balance of warmth and coolness.
3. White
Another classic combination is navy blue with white. This combination will give you an image of whitecaps atop ocean waves. You can have a bit of an outdoor feel with these colors.
4. Mustard yellow
If you want to have a more dynamic color scheme in your bedroom, try pairing navy blue with mustard yellow. Its warmth and brilliance will contrast greatly with the cool, deep tones.
5. Sky blue
If you want to have a monochromatic scheme, combine navy blue with sky blue. This pairing is reminiscent of clear blue skies over a vast ocean. On that note, you can totally try lighter blue tones against navy blue to get a more attractive and scenic view to your liking.
6. Red
While blue and red are a classic All-American color pairing. Picking out scarlet or vibrant reds with your navy blue can create a sophisticated look.
7. Gold
Speaking of sophisticated, metallic gold with navy blue will definitely give you a sophisticated look. Not only that but it can also bring a glam and expensive look to your bedroom.
8. Green
Another color combination that could bring an outdoorsy feel to your bedroom is blue and green, as it can be seen in nature.
9. Black
Now, black and navy blue together can be quite a risky choice. But you can totally opt for this color choice. Just try to incorporate white or neutral colors with them, and choose the kind of navy with higher saturation.
10. Bright colors
As navy blue is on the darker end of the color spectrum, it only seems natural to pair it with bright colors for your navy blue bedroom ideas. Bright colors like coral, lime green, and lemony yellow can definitely lighten up the room.
11. Neutrals
If you want to create a peaceful bedroom, find some nature-inspired elements and warm neutral colors to go with your navy blue.
Is navy too dark for the bedroom?
No. In fact, as mentioned above, navy blue bedroom ideas are just perfect. Navy blue is a perfect color as it creates a calming mood in your bedroom. It is also important to pair navy blue with colors that are not in the same saturation as the navy blue you picked. It's not just for the sake of aesthetics, but also to keep your bedroom from being too dark.
Let's take a look at some navy blue bedroom ideas that will have you reconsidering.
Columbia Dream Home 2014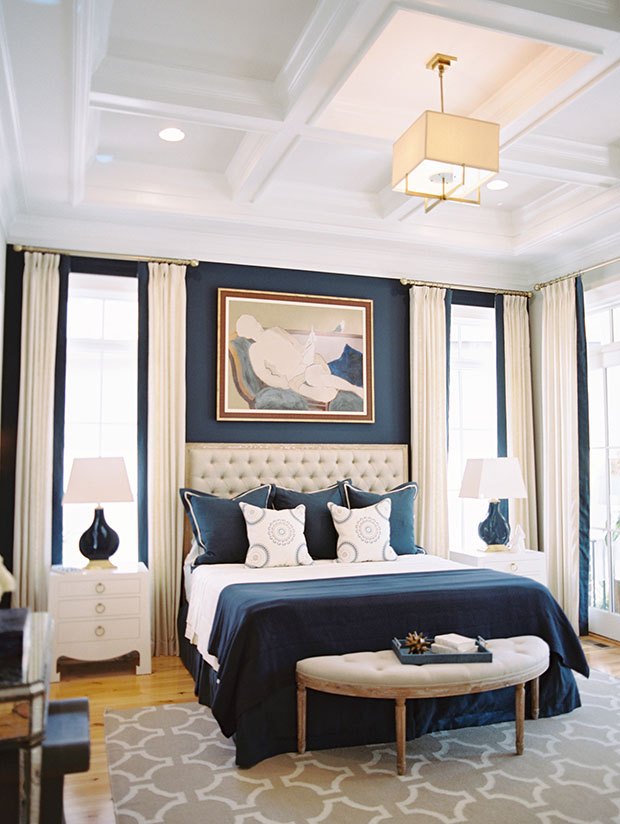 Steven Ford Interiors
Matching your sheets and pillowcases with the color of your walls is a classic thing to do to complete your navy blue bedroom ideas. Add some accessories all around the room too that could be complementary accents.
Mattapoisett Landing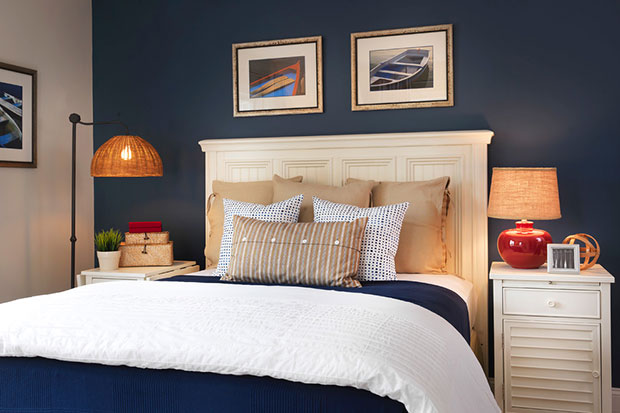 Morr Interiors
If you deem navy blue bedroom ideas too dark for your preference, all you need to do is pair them with neutral colors. Also, notice the natural elements such as the rattan accessories and lamp shades.
Gulf Place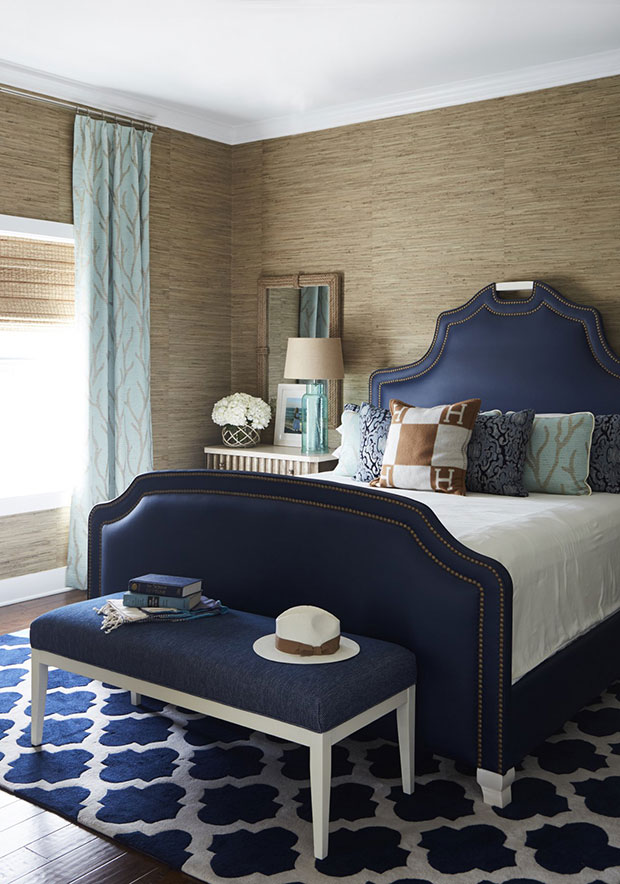 Kristin Drohan Collection
The earthy colors offer a nice contrast to the navy blue fabric upholstery and rug. Together, it brings a warm and cozy look to the bedroom.
Old Noyac Path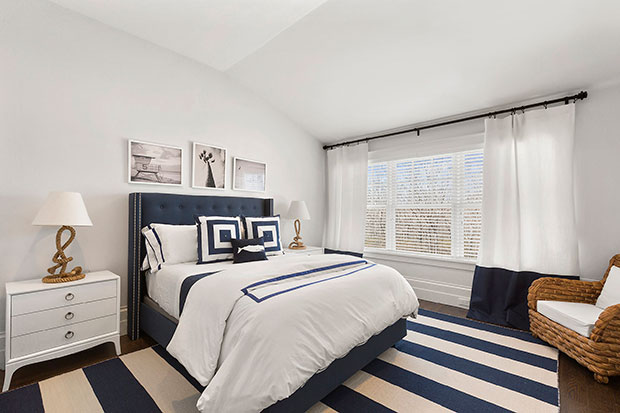 Blue Ocean Design
This bedroom makes great use of patterns to add some dynamics. And with the rattan chair and lamp, these color combinations prove to resemble a nautical theme.
Manhattan Beach Casual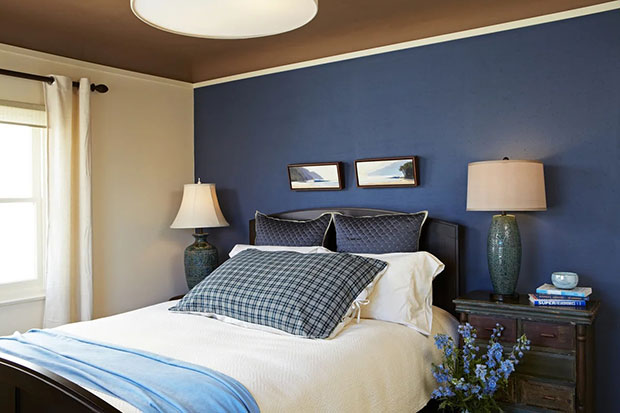 Hudson Home Interior Design
Use lighter shades of blue as accents to create a dynamic in colors. Interestingly, they bring that dynamic even through flowers.
Contemporary Tudor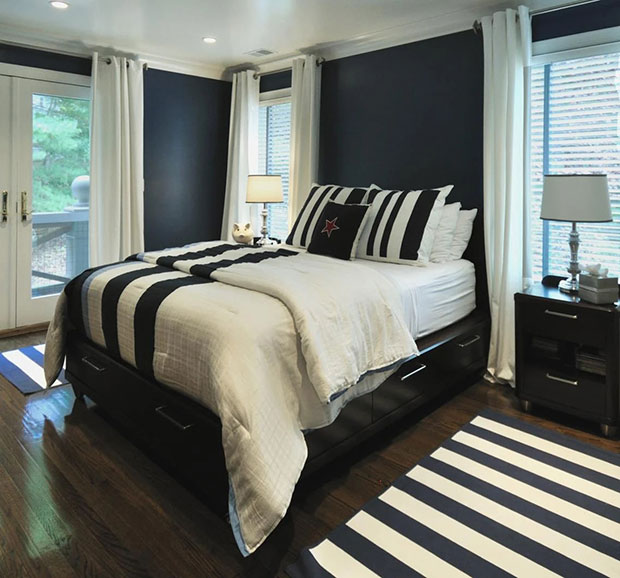 Davis Tamburin Inc.
See how they added whites into the room that's filled with navy blue, black, and dark earthy colors. It serves to contrast and lightens up the room.
Florida Estate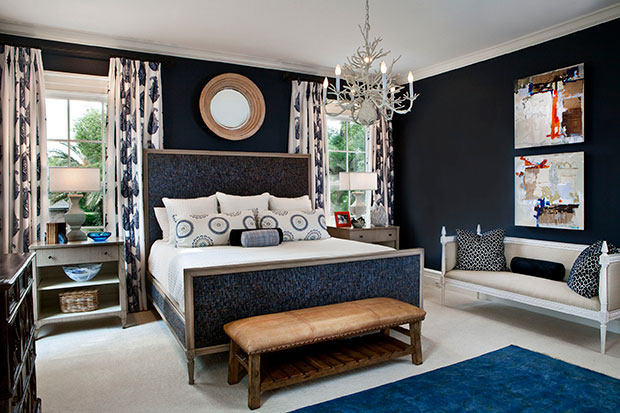 Linda G. Burnside Interiors
Filling the room with different saturations of navy blue has to be on the list of bold navy blue bedroom ideas.
Barbour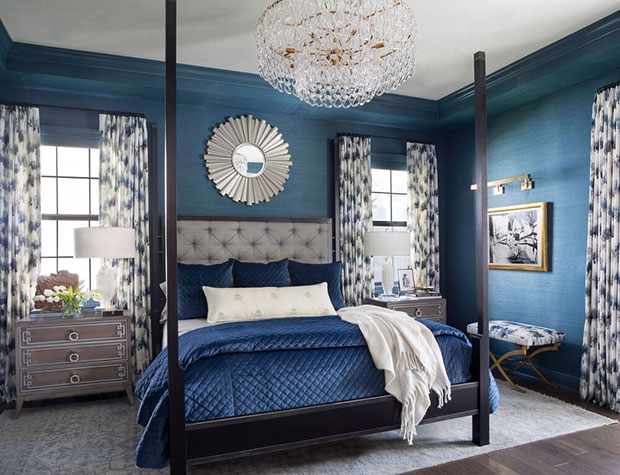 Laura Lee Home
The reason why navy blue bedroom ideas are appealing is the sophisticated and luxurious look it brings just like in this room.
Huntington Beach Casual Elegance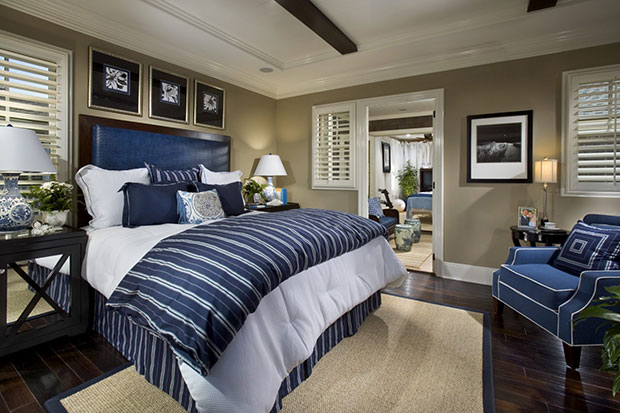 JM Interiors
Despite the simplicity of the overall design and décor, with the navy blue and complementary colors, this bedroom manages to showcase some elegance.
West Elm Holiday House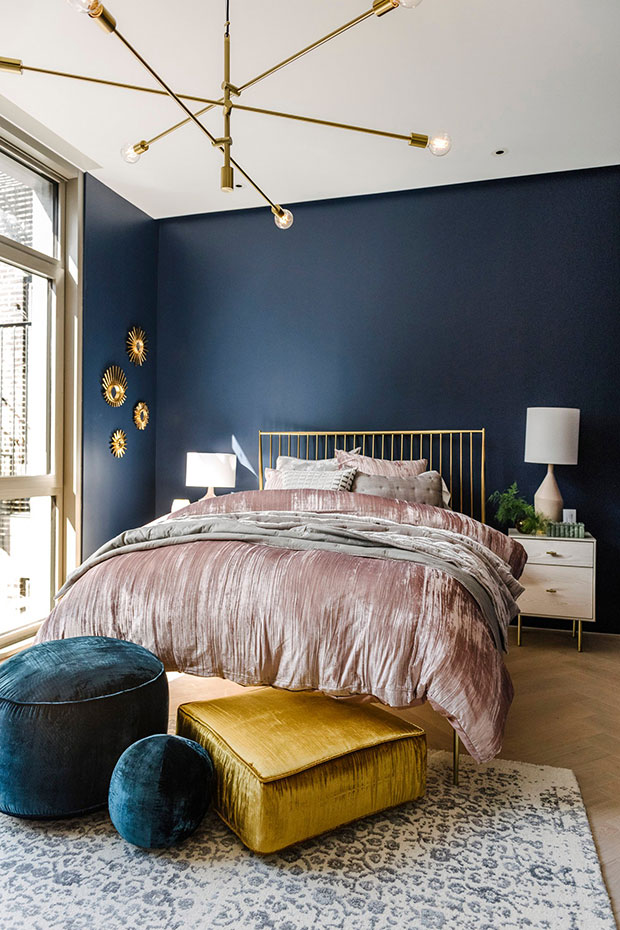 Landon Vonderschmidt
Speaking of elegance, there is no better way to have that than by adding gold accents to navy blue bedroom ideas.
Finn's Room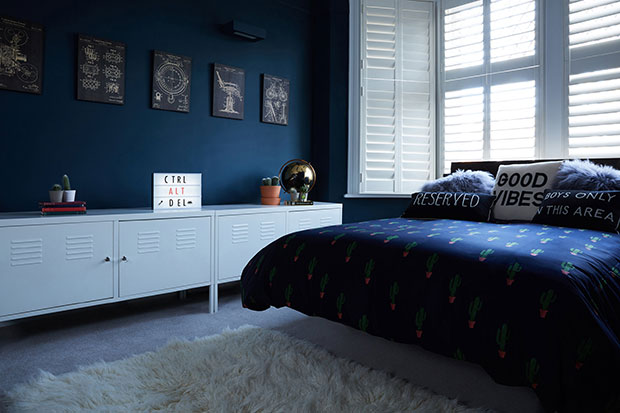 Born & Bred Studio
Navy blue is also an excellent mood maker for teenage boys' bedrooms. Find the right complementary colors, and dynamic patterns to create the perfect ambiance fitting your kid's personality.
Bold & Eclectic Master Bedroom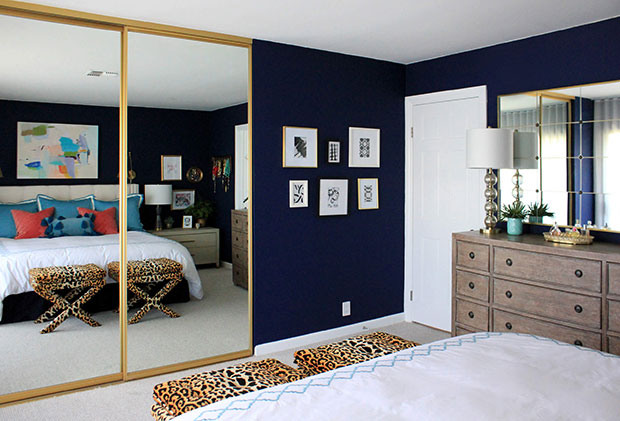 Shana Cunningham Designs
If you're too worried that navy blue could be too dark for your bedroom, this bedroom offers a solution by incorporating mirrors. Mirrors are great accessories to lighten up the room
Mid-century Modern Row Home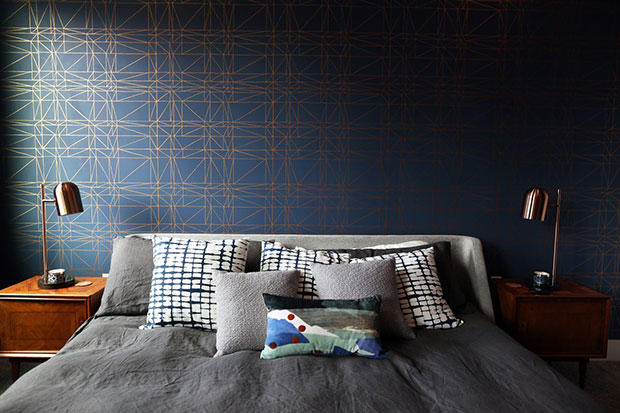 Breathe Design Studio
A plain navy blue wall may not be enough so try wallpaper with geometric patterns instead. It could certainly elevate the overall look of your bedroom.
Upper West XL in Ashburn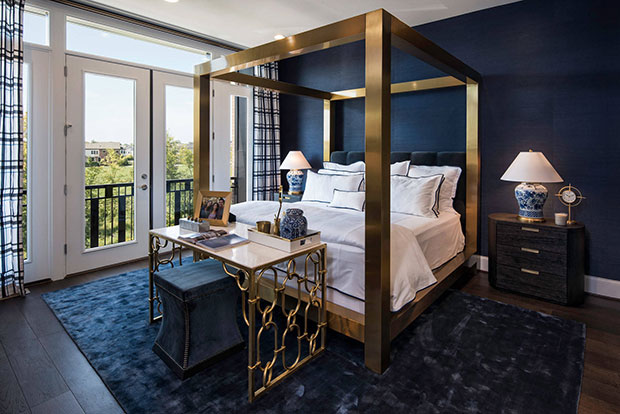 P [Four]
The gold finish is a great complement to the navy blue walls. Such colors will definitely bring glam into your bedroom.
Bold & Blue Bedroom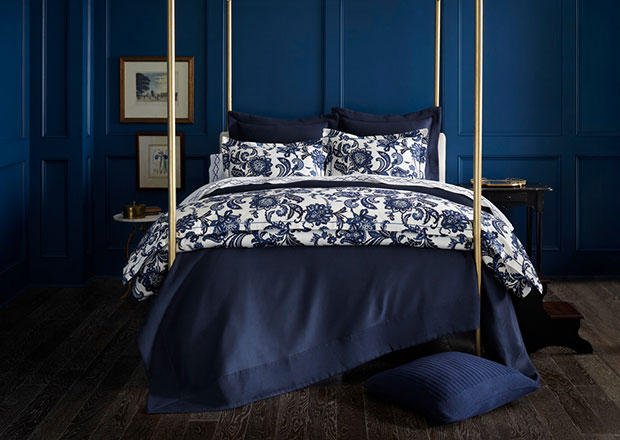 Linen Alley
Like its name, these specific choices of this shade of blue together in one room are quite the risk only for those who are bold enough to try it.
700 Square Foot House and Garden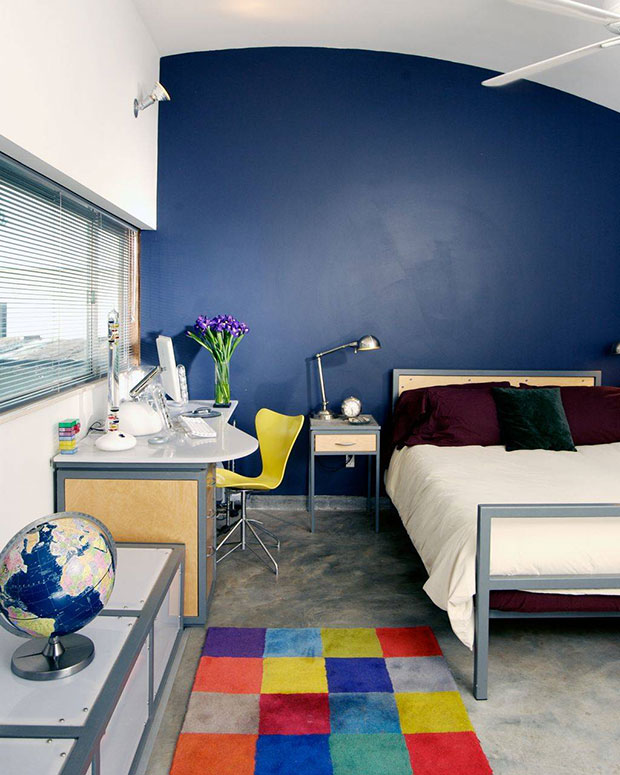 M+A Architecture Studio
This bedroom takes a rather unique approach of combining navy blue with a rainbow of colors. Rather than a sophisticated elegance, this combination brings a youthful vibe to the room.
Upper Mountain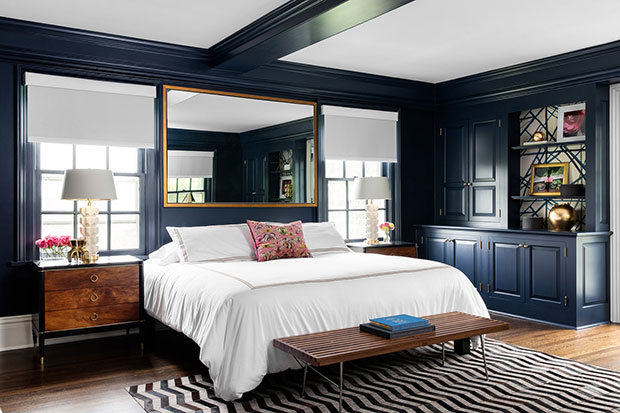 ModClair
Even the built-in shelf and cabinet are finished in navy blue, creating a uniform look. Another thing to note is how the navy blue is not overwhelming.
Private House West London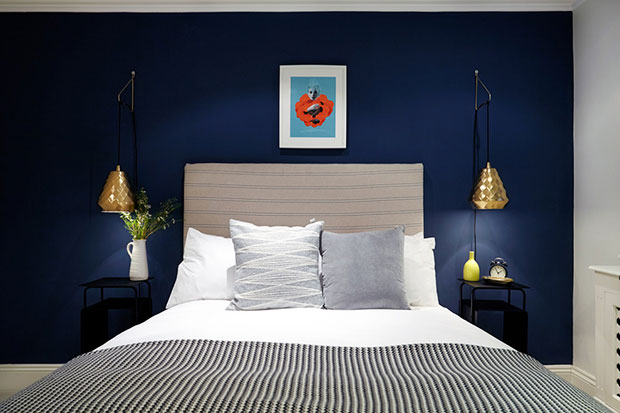 Anna Stathaki Photography
If you don't want to fully commit to navy blue bedroom ideas, you can always just have an accent wall with the color. Even with just a single navy blue wall, you can create a room with a lot of attitudes.
Midcentury Bohemian Master Makeover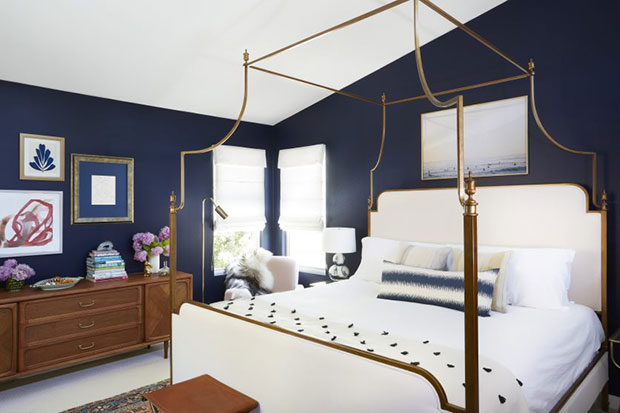 Murphy Deesign
In contrast, this room fully commits to having all of its walls painted navy blue. Accompanied by neutral colors, they form one warm and cozy bedroom.
Gold + Glamorous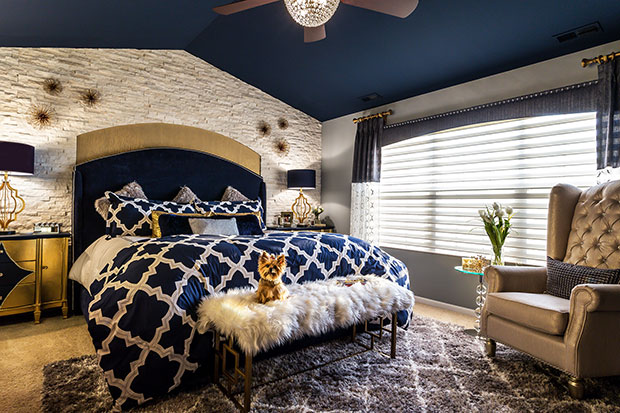 Bromberek Design Team
If not the walls, try to paint your ceiling navy blue. It certainly is a refreshing and unique look. But the gold accents and vintage furniture bring some glamour.
Earthy Interior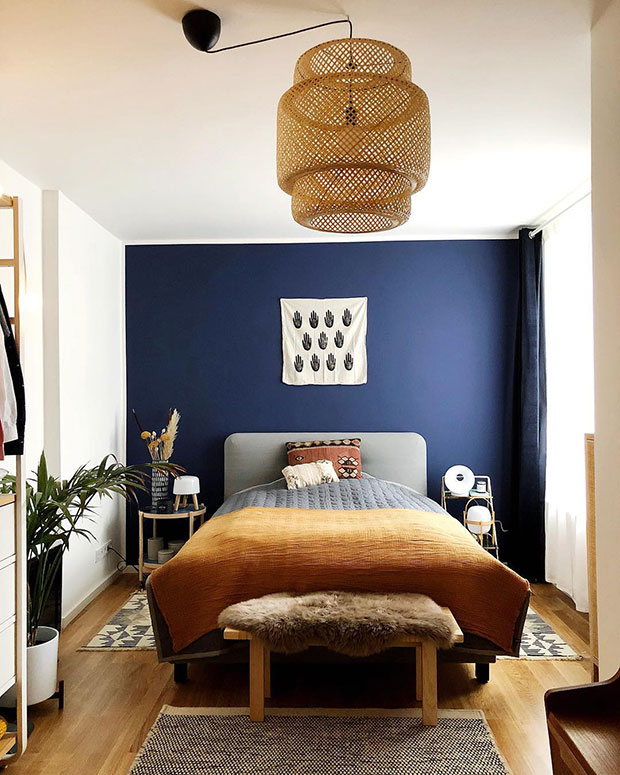 Igor Josif
In a room filled with earthy colors and nature-inspired elements, the navy blue accent wall certainly adds some personality.
Panther's Bastion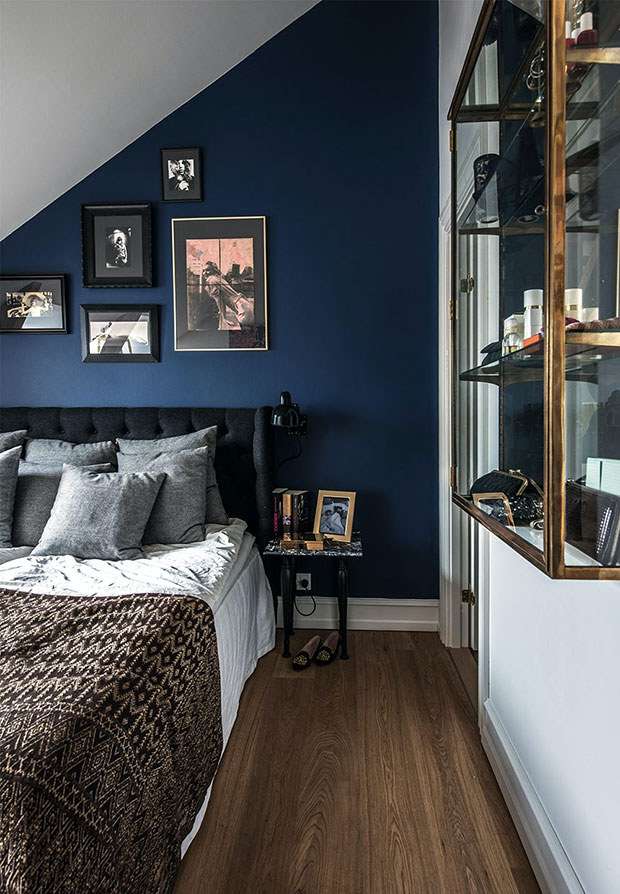 Bo Bedre
Having a dark fabric upholstery against your navy blue accent wall is certainly a bold choice. But it brings an overall sophisticated look to the room.
Interiors with Art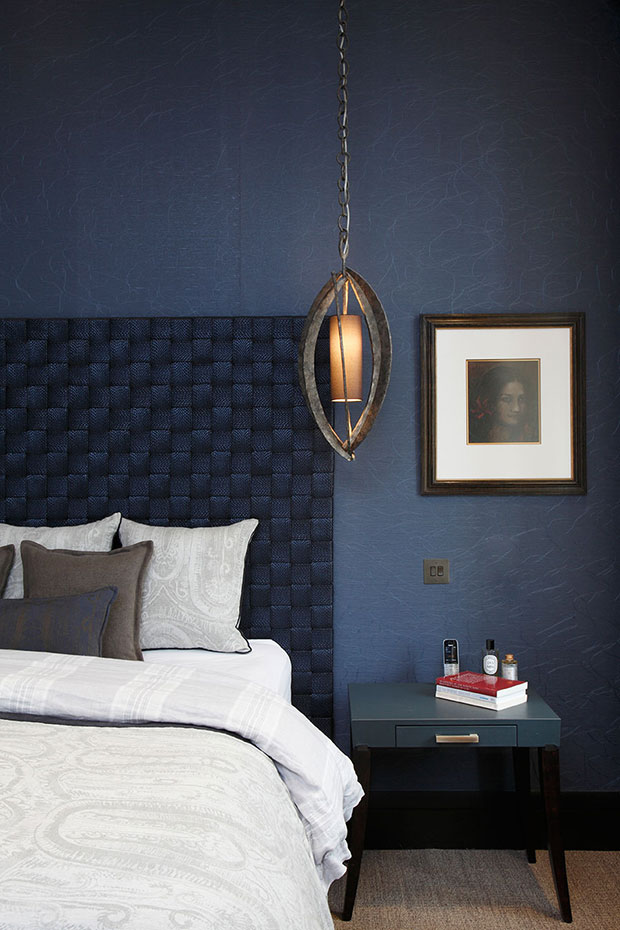 James Balston Photography
Now this room is pretty interesting as it incorporates a navy blue bed headboard against a lower saturated navy blue wall.
Renovate Project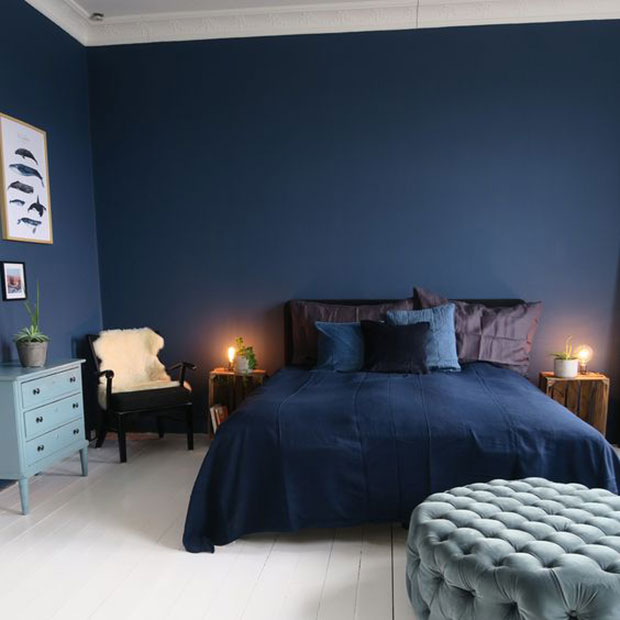 Josefine Obdrupgard
For those who want to set a moody ambiance, navy blue is certainly the perfect color. Incorporate some darker colors, but remember to bring in some contrast too.
BluDot Modu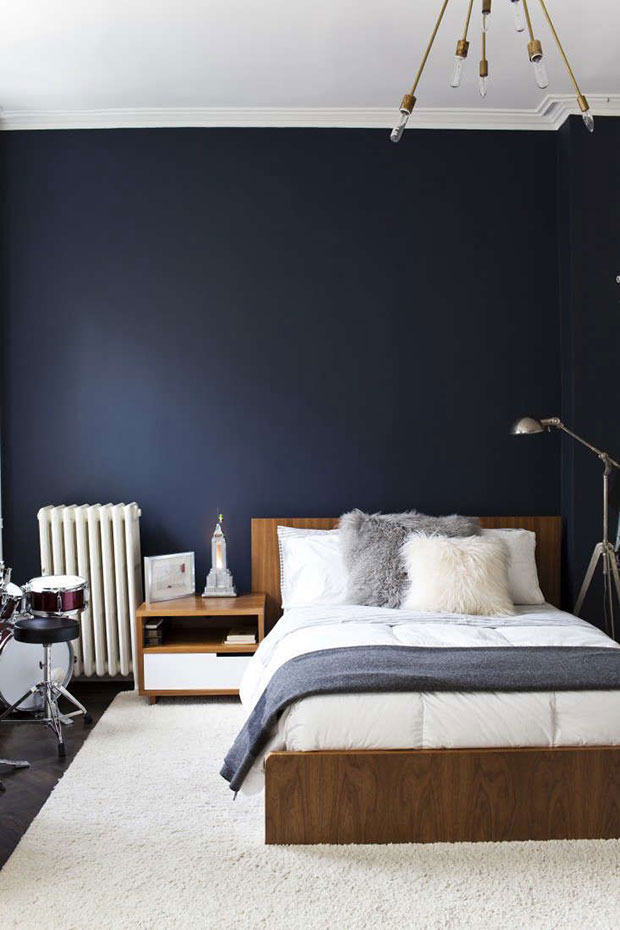 Remodelista
The thing about navy blue bedroom ideas, even when you're sparse with décor, the navy blue walls alone can bring so much life and personality to the place.
Noe Valley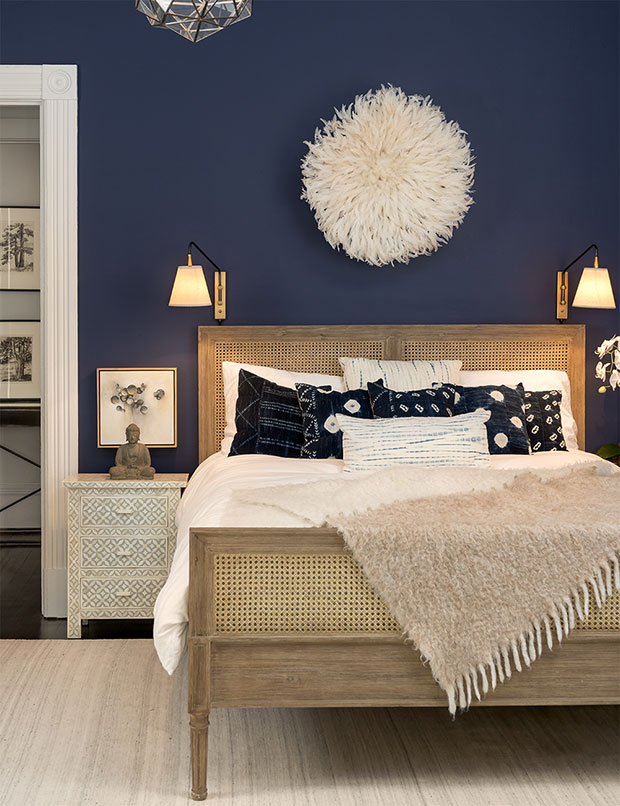 Sway Studio
This combination of navy blue, white, and earthy colors certainly make a statement of warmth and comfort. If you needed any more reason to have navy blue walls, surely this bedroom should convince you.
Orlando's Guest Bedroom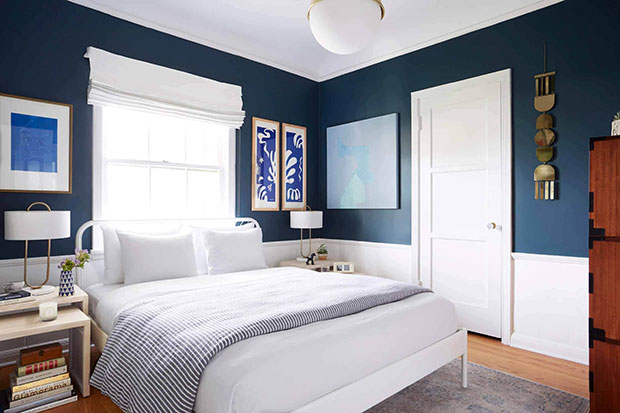 Zeke Ruelas
The plain white bed and its sheets create a beautiful contrast with the navy blue walls. This combination creates one of the cleanest looks of navy blue bedroom ideas.
MSK Quarter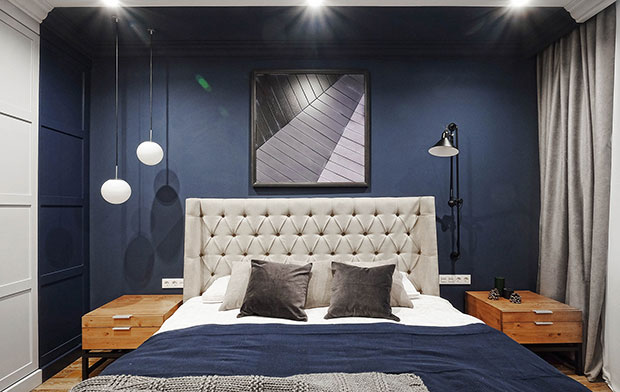 Denis Krasikov
The areas where they decide to have painted with navy blue are quite interesting, as it gives a fun twist to what an accent wall could be.
Hamilton House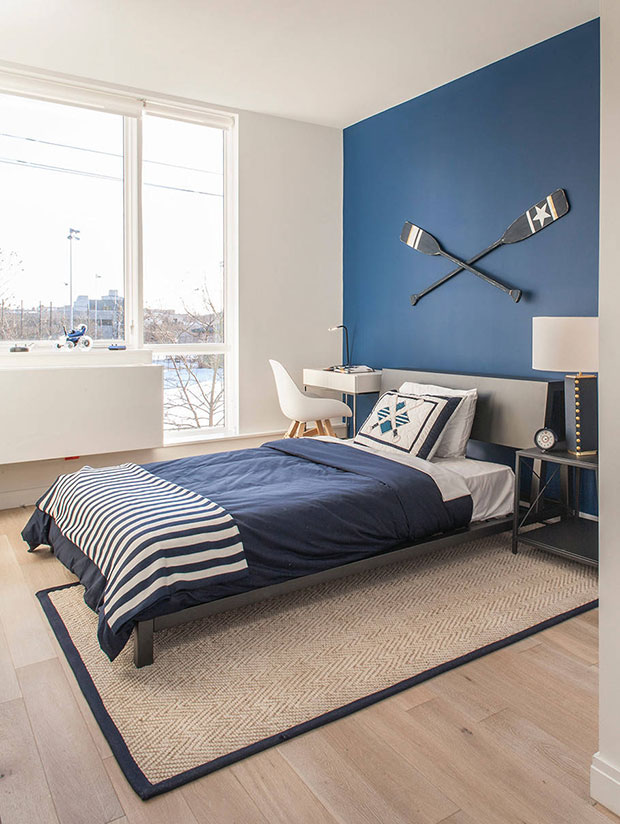 Monday Creatives
Navy blue bedroom ideas are a great way to build up a nautical-themed bedroom, especially for your young ones.
Seaport High Rise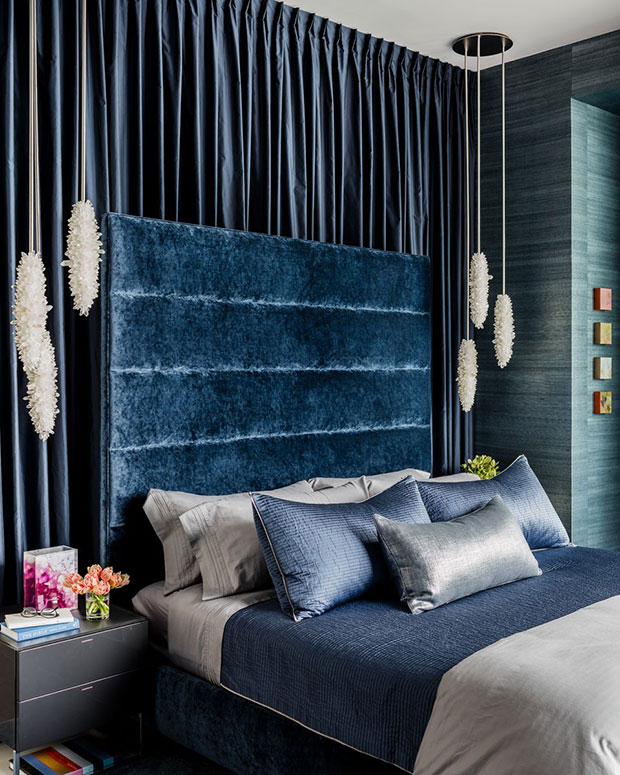 Elms Interior Design
Add velvety fabric and elements into your bedroom with navy blue and you can ensure a sophisticated and luxurious look to your space.
Ocean Blvd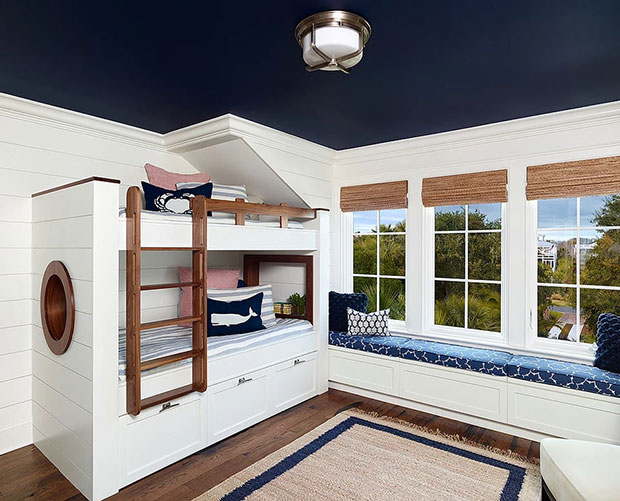 Amy Trowman Design
The navy blue ceiling is complemented by navy blue accents in fabrics found around the room.
NJ Country House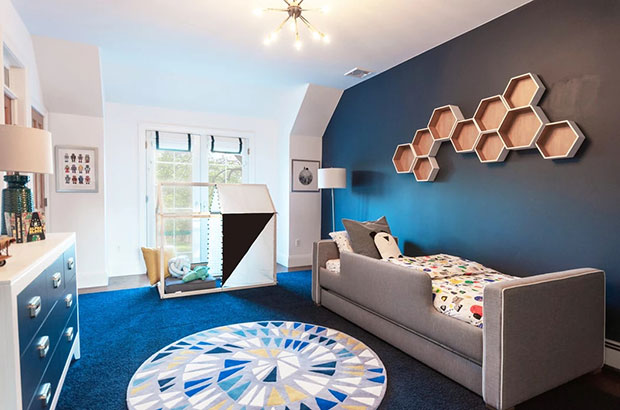 Curated Nest Interiors
This room has created a perfect balance of navy blue with white while adding some splashes of bright colors.
Haven Beach Getaway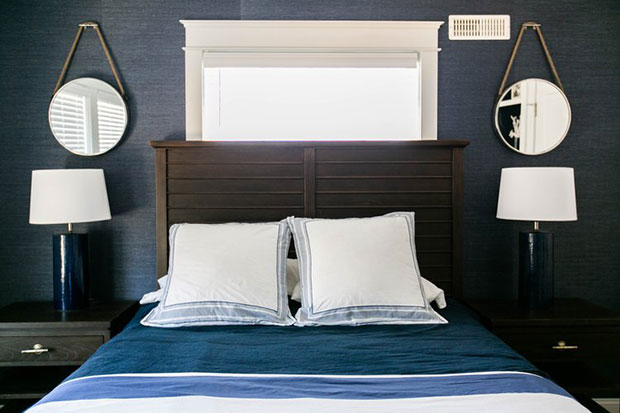 The Red Chair
The glossy navy blue bedside lamps are a great complementary addition to this room.
Long Beach Island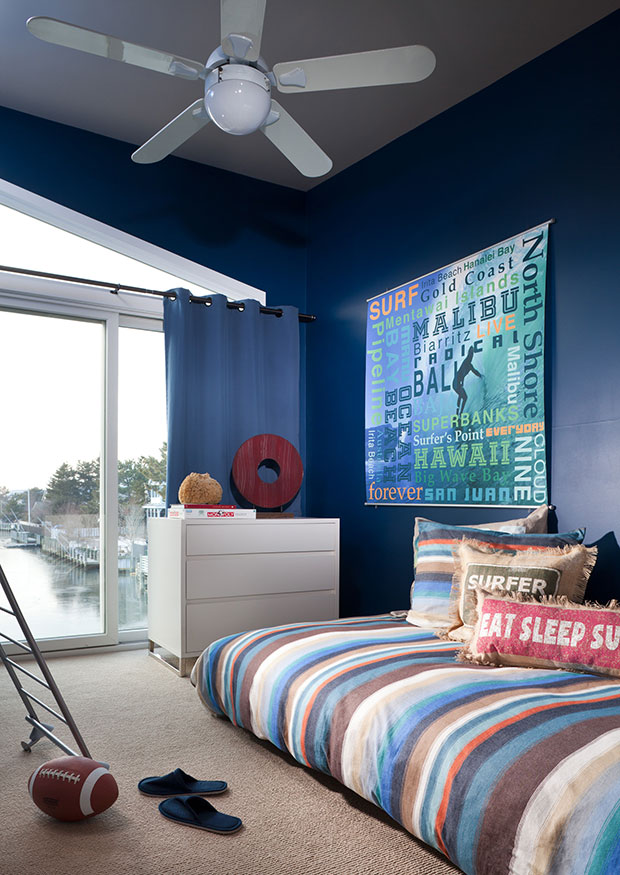 Clear Home Design
Having a wall of windows should certainly help alleviate your worries about navy blue bedroom ideas being too dark.
Ferry Road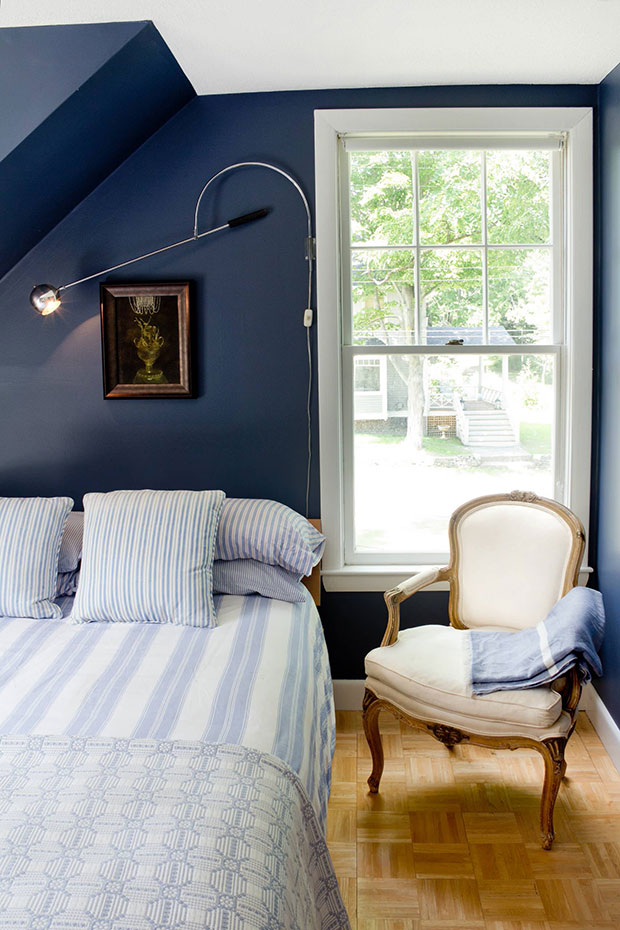 Tyler Karu Design + Interiors
The lighter shades of blue found in the fabrics present prove to be great complementary pieces to the navy blue walls.
Attic Bedroom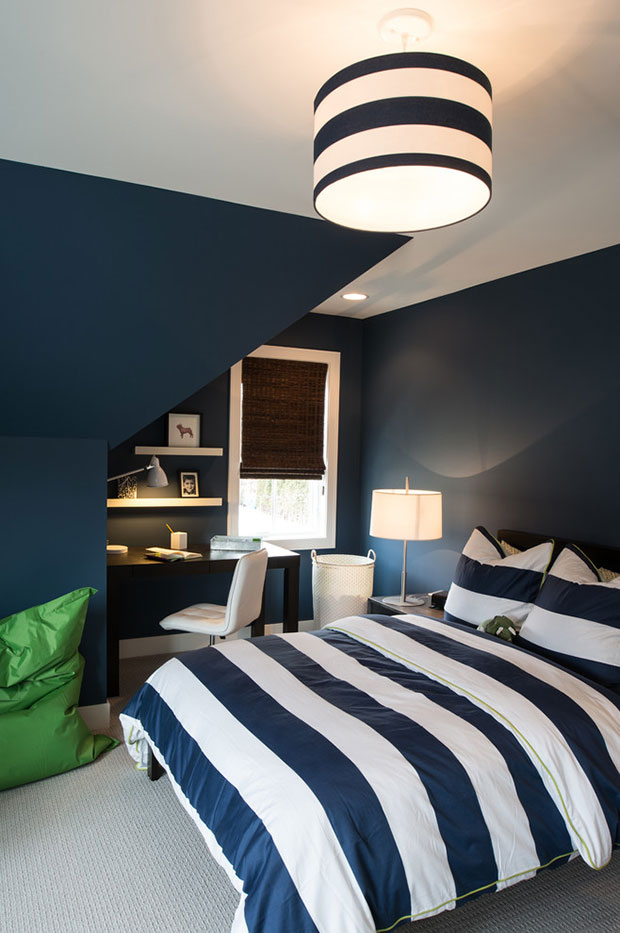 Refined LLC
For an attic bedroom, it is quite the bold choice to paint the walls navy blue. But it definitely sets an ambiance.
Transitional Remodel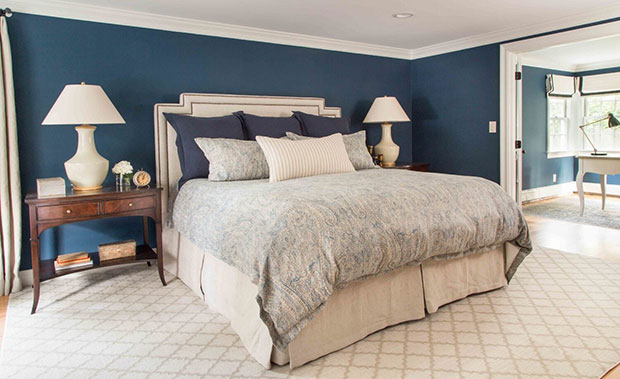 Bee's Knees Interior Design
When it comes to navy blue bedroom ideas, it is best in big bedrooms like this one. And we can see why.
Arlington Forest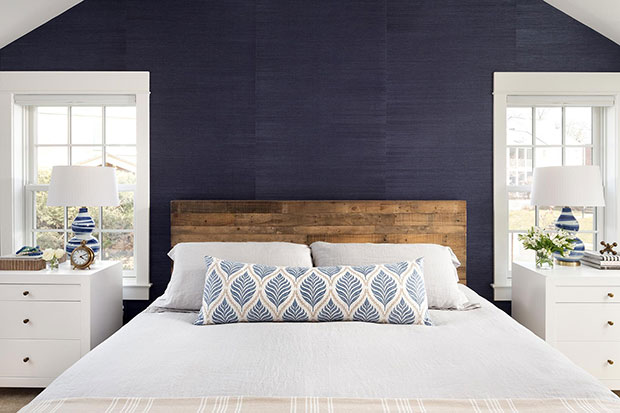 Jefferson Street Designs
The dark navy blue walls create such a stunning contrast between the white furniture and accessories.
Lugano On The Lake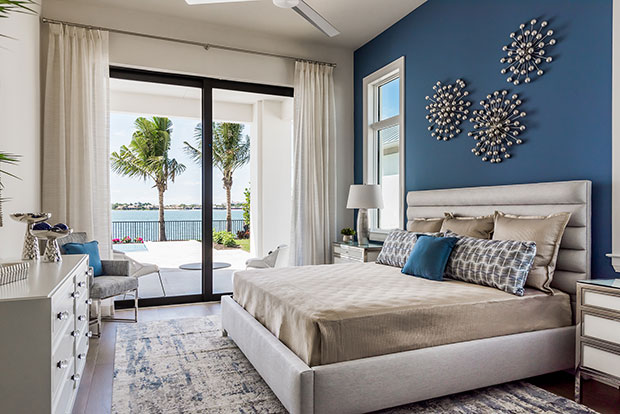 Though navy blue walls already pack a punch, it is never too much to adorn it with some beautiful décor. Just remember not to overdo it.
Remington Retreat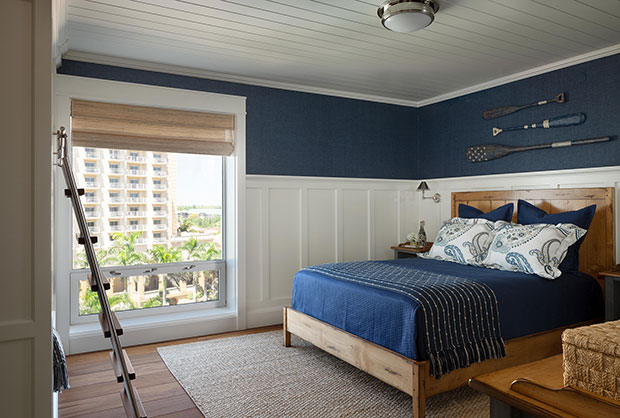 Freestyle Interiors
If you're going for a nautical theme with your navy blue bedroom ideas, boat paddles seem to be a popular decorative piece.
CM Natural Bedroom Design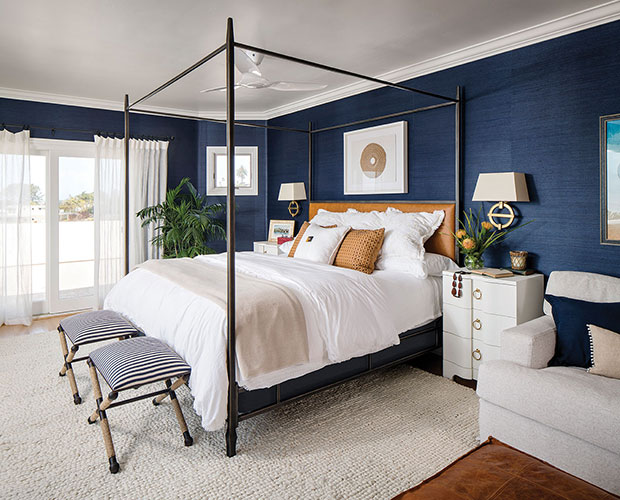 Chipper Hatter
Black and gold accents are a double threat that further emphasizes the sophisticated look that navy blue walls bring.
Apartment Models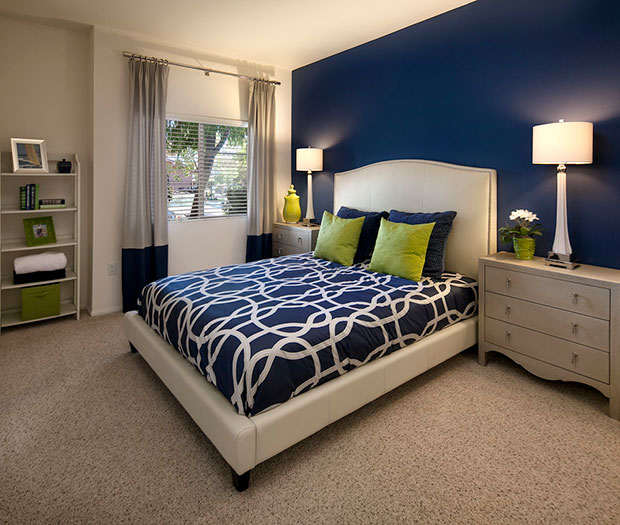 Borden Interiors & Associates
Even just picking a bed sheet and curtains that match your navy blue accent wall completes the navy blue motif.
Heavenly Bedroom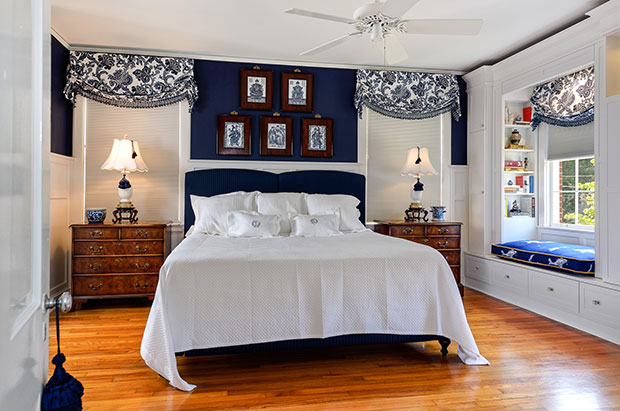 Jerome H. Davis Interiors
The navy blue upholstered bed is a nice pick to match the navy blue walls.
A Mixed Motif Approach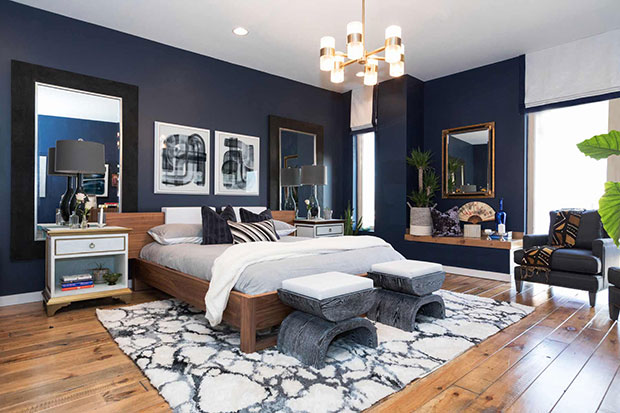 Henck Design LLC
Here's another example of how navy blue bedroom ideas could really set up a sophisticated and elegant aesthetic and ambiance.
Riverside Penthouse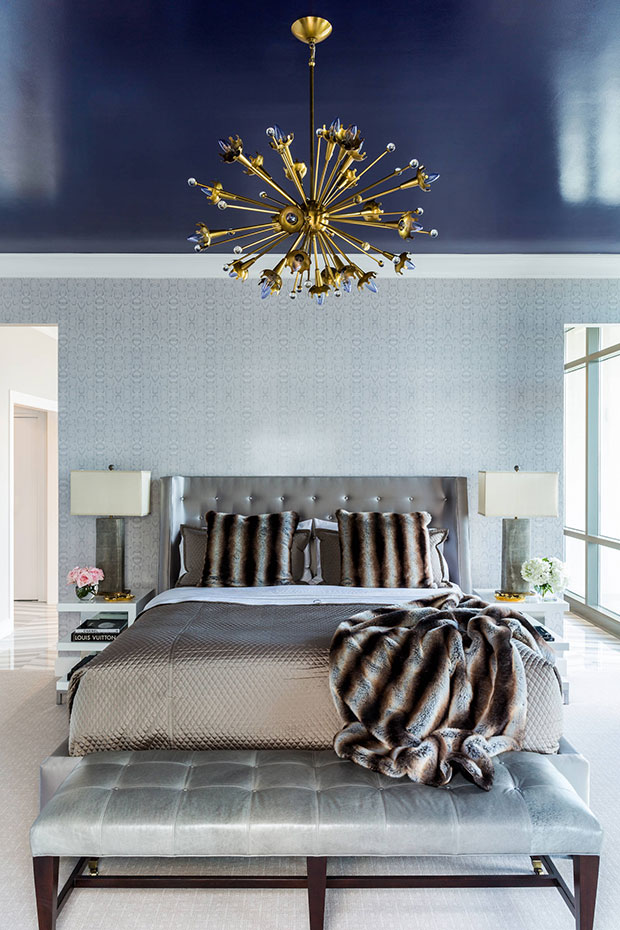 Tobi Fairley Interior Design
The very light hints of blue on the walls are a nice touch to complement the navy blue ceiling.
Lockhart Bedroom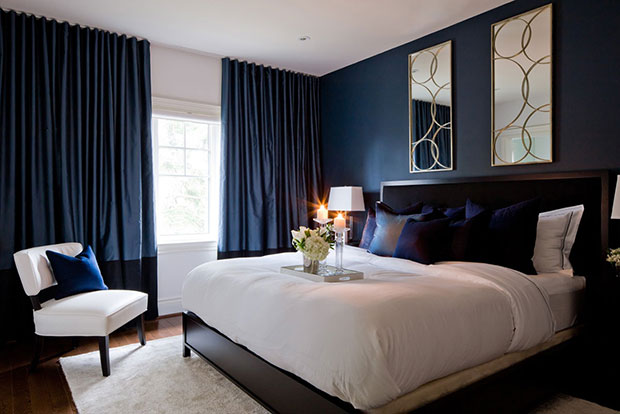 Jane Lockhart Design
The gold-framed mirrors above the bed are definitely great decorative pieces for navy blue bedroom ideas.
Jonny Boy's Bedroom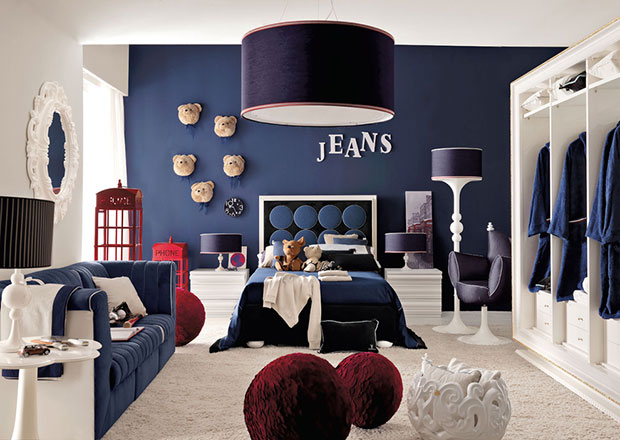 Imagine Living
The most interesting thing about this bedroom is the incorporation of different saturations of navy blue into one space. It creates a more dynamic look.
Blue Bedroom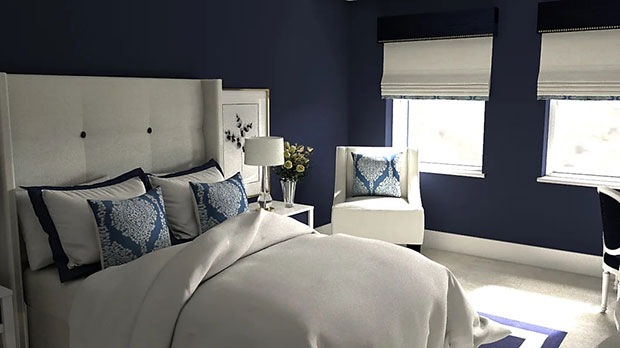 Mariama Janneh Interior Design
To complement your navy blue walls, add accent pillows.
Boys Room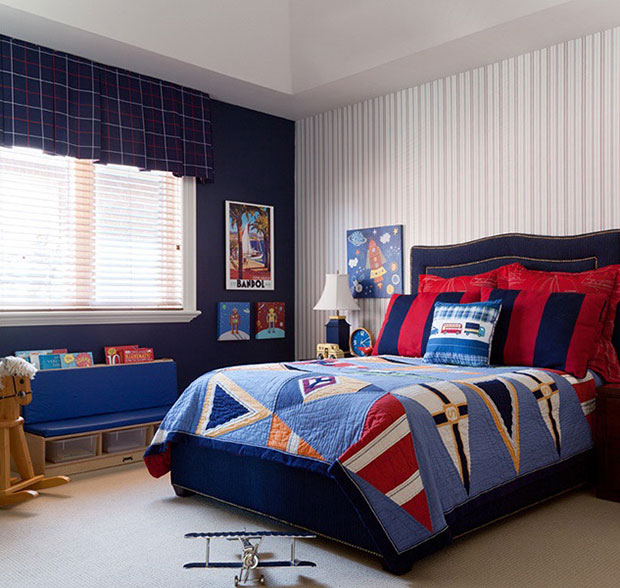 Merigo Design
The red pillows are a great choice for this navy blue upholstered bed. The color choices are also perfect for a boy's room.
One Bedroom Wee House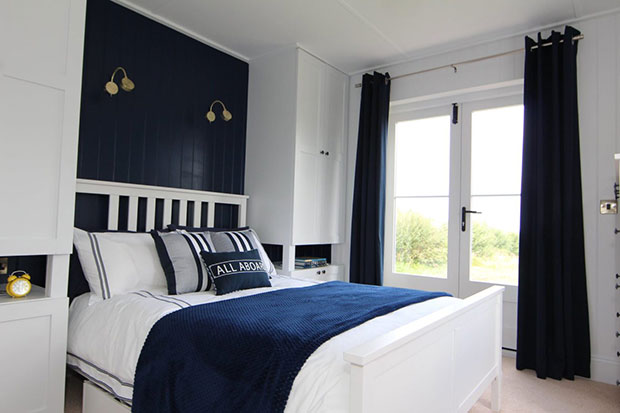 The Wee House Company
The navy blue curtains perfectly complement the accent wall.
Menlo Park Residence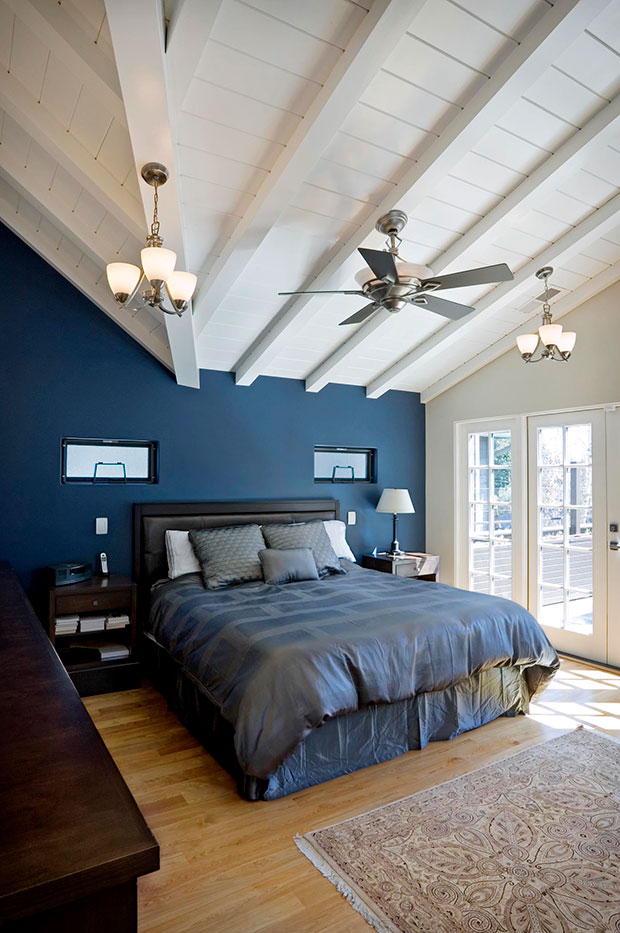 Martinkovic Milford Architects
The wood finish of the furniture in this bedroom offers a warmth very much needed in this bedroom.
Hilltop Family Home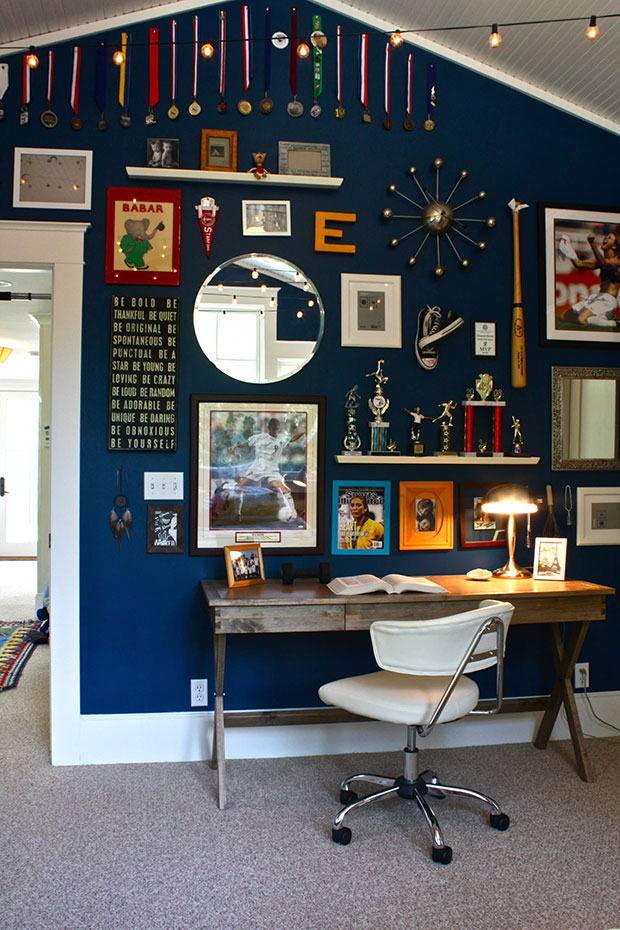 Shannon Malone
While most navy blue walls don't hang many decorative pieces, this home goes all out with it. It's not as overwhelming as one would expect especially with the right balance of colors.
Summer House in Blue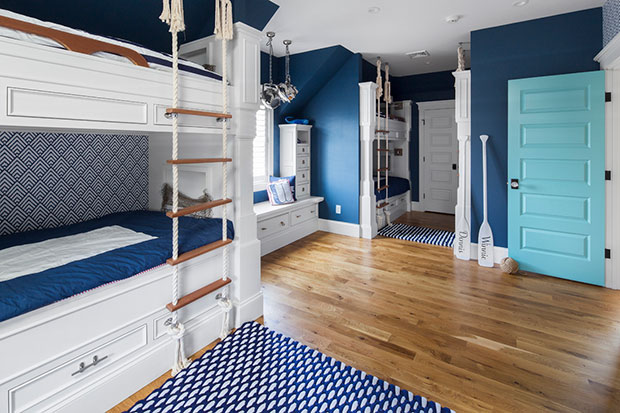 GMT Home Designs Inc.
Another nautical-themed bedroom that makes good use of the navy blue walls to fully capture the theme.
Northwest Hills Residence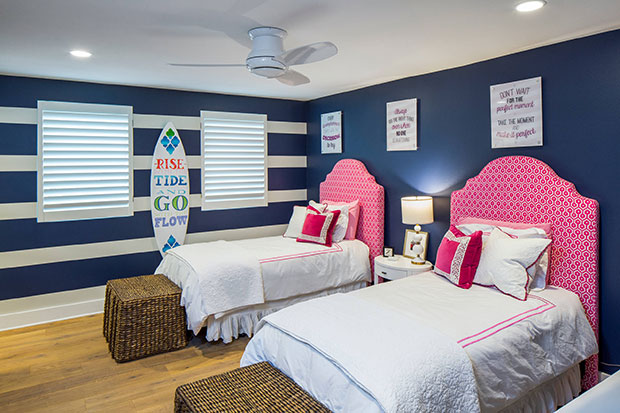 Bravo Interior Design
The pink upholstered beds are a stunning contrast to the navy blue walls. What is seen as a "masculine" color is definitely given a feminine touch with the beds.
Practical Magic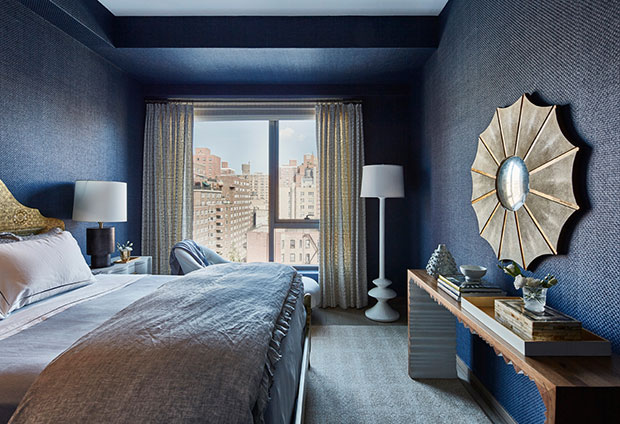 Toledo Geller
The texture of the walls brings some cool dynamics to this bedroom.
What do you think of all these navy blue bedroom ideas? Did any of these catch your attention?
Like This Post? Pin It!