70 Contemporary Bedroom Ideas for the Awesome Homeowners
|
One of the most personalized rooms in your house is your bedroom. There are many ways you can style them and many design styles from which you can work your room around. Contemporary bedroom ideas are quite popular these days.
If you fancy laying in your bedroom that looks like it's from the current times, then you should be looking into contemporary bedroom ideas!
What contemporary style means?
Often confused and used interchangeably with modern design, contemporary style is all about clean lines and sophisticated pieces. The only difference is that while modern is specific to a period, contemporary bedroom ideas are not at all. It's anything trendy to the current times. The confusion and interchangeable nature between these two design styles are understandable as contemporary design could take elements or aspects that can be found in modern design style.
Contemporary design has been usually thought of as cold and sterile. After all, most contemporary bedroom ideas are usually sleek and chic, but also serene and inviting. Taking advantage of current trends, you can create a contemporary bedroom with vibrant colors, soft textures, and warm wood.
How do I make my bedroom contemporary?
A core part of contemporary bedroom ideas is simplicity and cleanliness. In creating a contemporary bedroom, there are several things you need to remember!
1. Open space
Contemporary bedrooms are, more often than not, open and airy. A huge part of this reason is simplicity and minimalism. Never put any unnecessary furniture in your bedroom if you must.
2. Bold colors
While there is a misconception of contemporary bedroom ideas being only filled with greys and neutrals, be bold enough to include a few vibrant colors in the room. Just add a few greens, yellows, and purples in décor just so it doesn't overpower the overall look of the room.
3. Natural light
Like many rooms or spaces, natural light plays an important role in making the room look more spacious than it really is. This does not only mean having large windows. It also means you can opt for light-colored blinds or curtains.
4. Clean lines and simple shapes
As mentioned, contemporary style is all about minimalism. You can get furniture with clean lines and no decorative or ornate details.
5. Accessories
Contemporary bedroom ideas don't require that many accessories. But if you're going to get a few, get ones with a fun shape or bold color. Throw pillows with eye-catching designs or a pop of color can work too. You can even hang some contemporary artwork!
6. Artificial light
Sure, natural light is important. But so is artificial lighting. Make sure your light fixtures are subtle but cool. You can opt for chandeliers, pendant lights, or cove lighting, among others.
7. Experiment with your wall
Experiment with your wall. You can choose to have wallpaper instead of painting over your walls. If so, try wallpapers with geometric patterns or other interesting designs. On the other hand, you can choose to have an accent wall. A textured accent wall will certainly add dynamic to your bedroom.
Now, let's take a look at some cool contemporary bedroom ideas you may want to consider!
Willow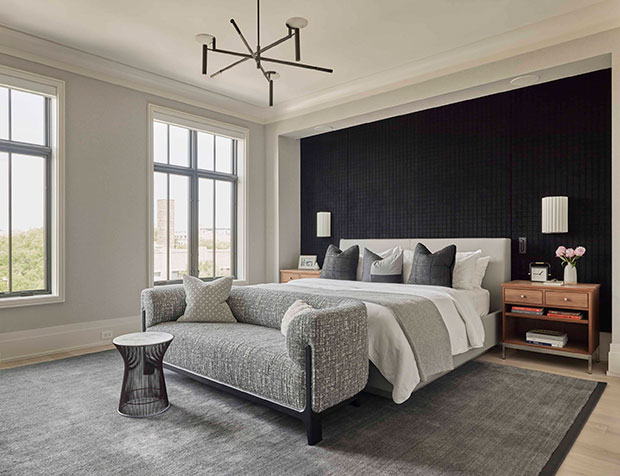 That pink rose is a nice touch of décor. It naturally pops out in this room of dark and neutral colors.
Park City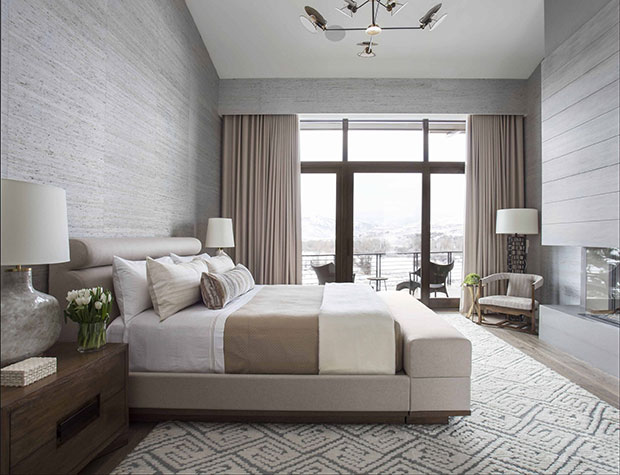 A lot of contemporary bedroom ideas tend to lean more into being monochromatic like this one.
Fremont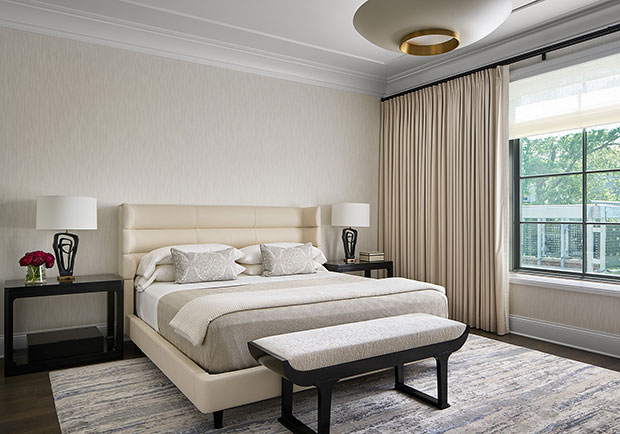 Keeping the furniture simple enough is strictly achieved here. But it doesn't hurt to add some subtle decorative pieces like the bedside lamps.
Wabash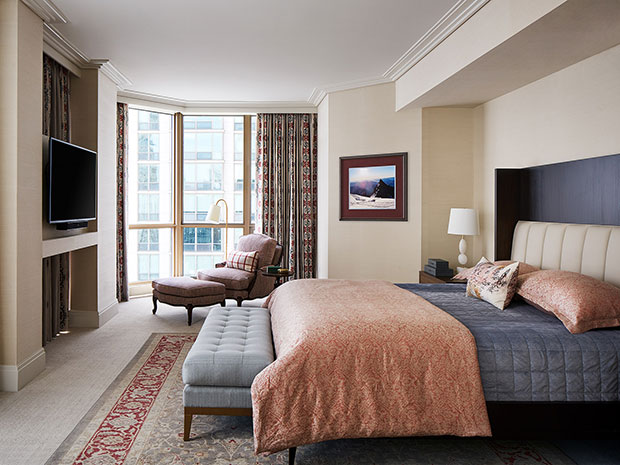 Choosing fabric with bold colors and patterns is the best way to incorporate them into your contemporary bedroom ideas.
Renelle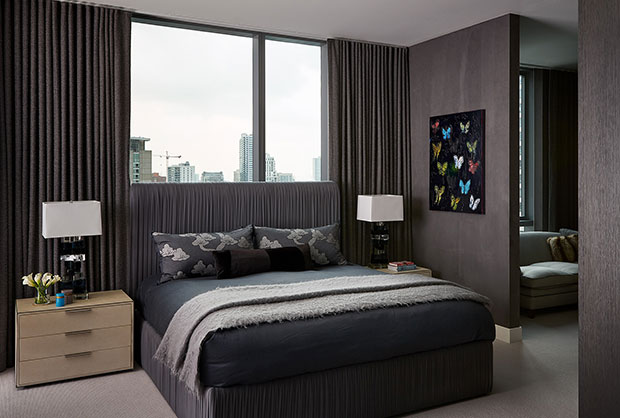 The light wood bedside tables are great choices to not drown the bedroom too much into dark colors.
Hinsdale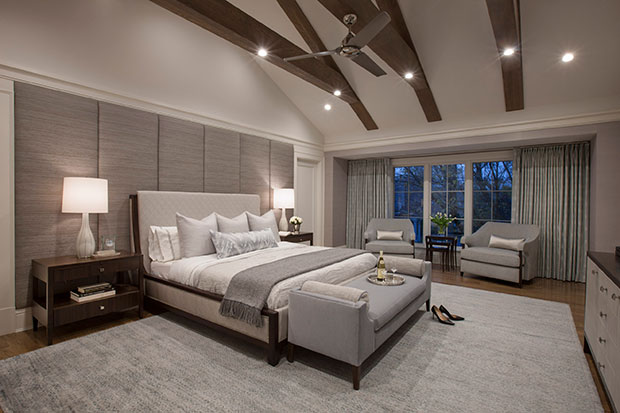 The high ceiling definitely helps in emphasizing the openness and airiness of this bedroom.
Astor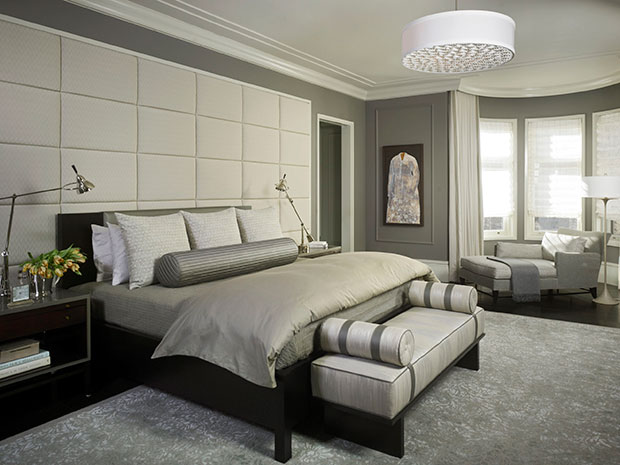 You should also consider contemporary bedroom ideas for the luxurious feel that they often bring with them.
Bodin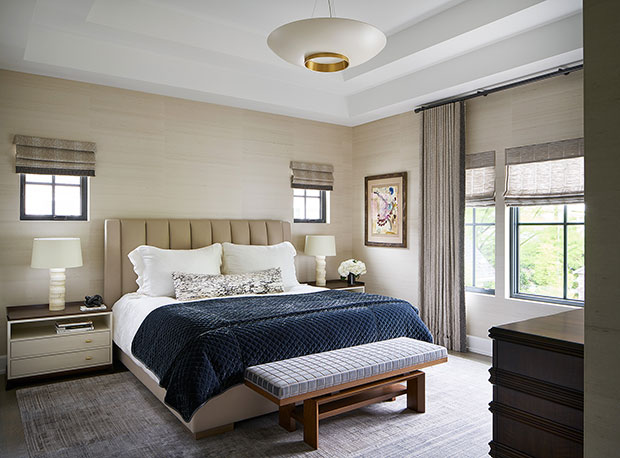 Even in contemporary bedroom ideas, mixing of materials such as wood and metal is very much welcomed.
Delaware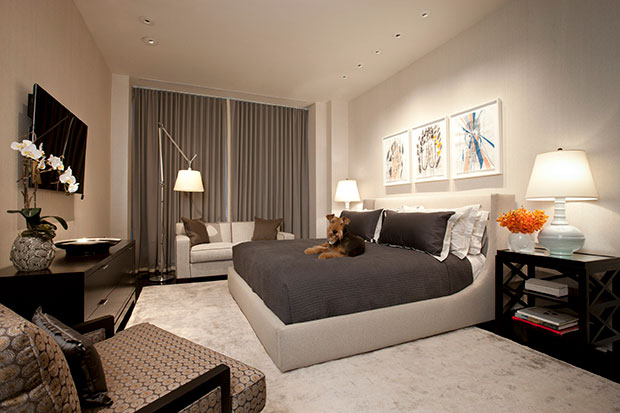 Michael Abrams Interiors
Those artworks above the headboard definitely add a personality to this bedroom.
Apartment at the Smyth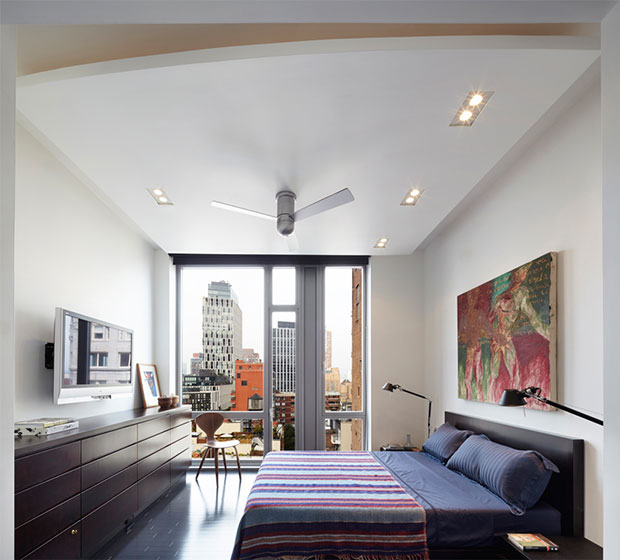 Bromley Caldari Architects
The colorful artwork undoubtedly becomes the focal point of the room. The striped blanket sheet is a nice addition to add some color, other than the ones coming from the artwork.
Downtown Penthouse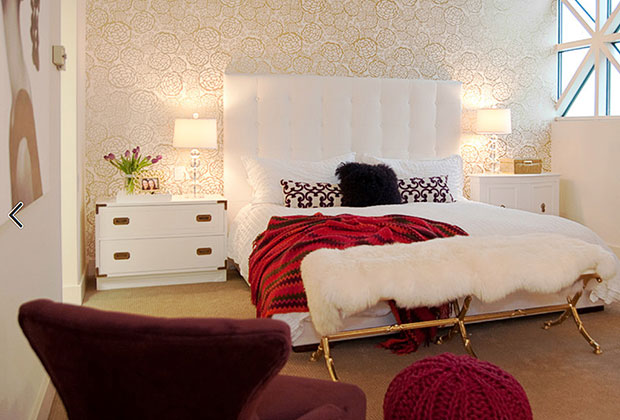 Judith Balis Interiors
This room makes good use of an accent wall to highlight the obvious color palette choice.
Miami Modern Penthouse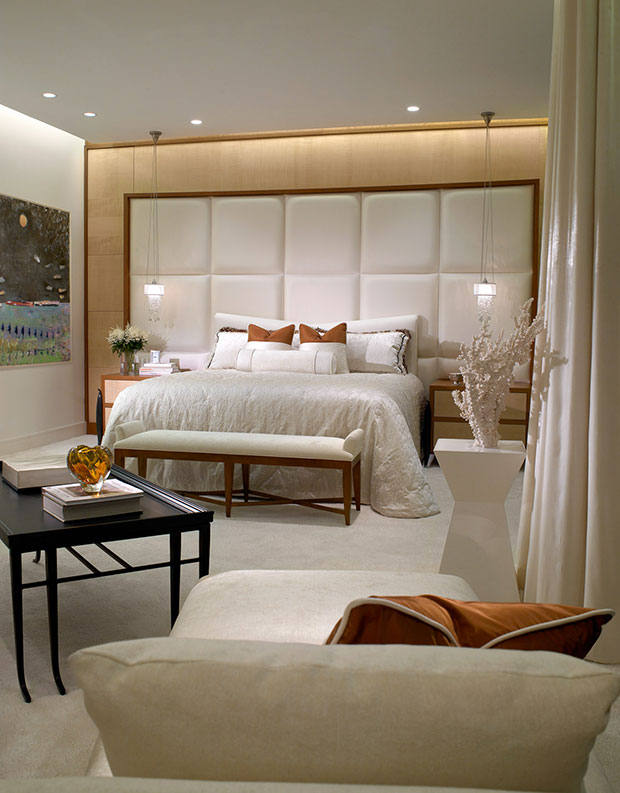 The striking pedestal seems like an unnecessary furniture addition but it's a fantastic inclusion to add some beauty to the room.
Casual Contemporary Renovation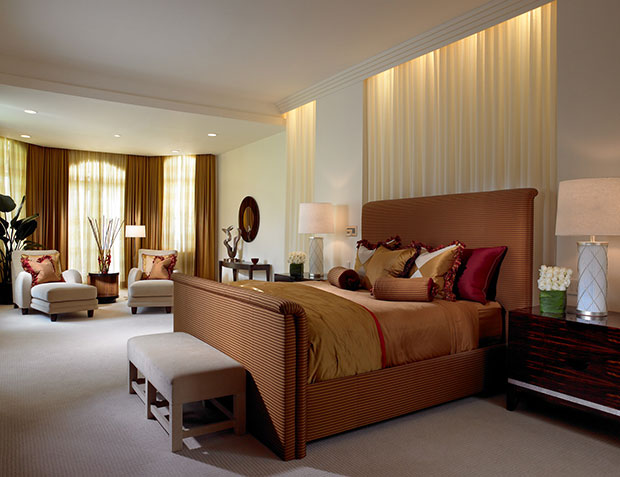 This is one of the more interesting contemporary bedroom ideas due to the use of colors that you don't usually see in contemporary bedrooms.
Private Relaxed Sanctuary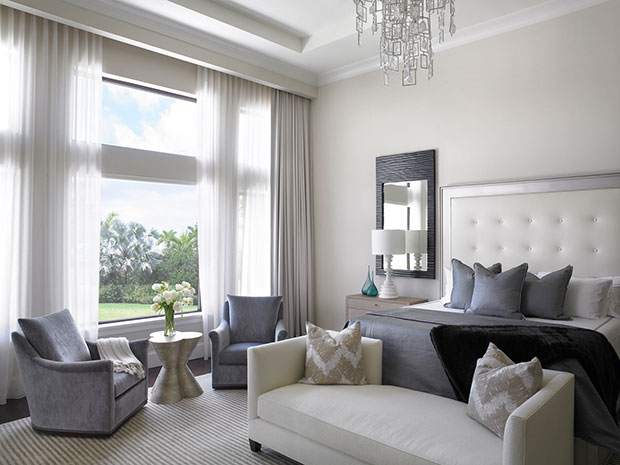 Alene Workman Interior Design
The few ornate décors bring some sense of luxury into this bedroom. But overall, they work in harmony with the room's furniture.
Yellowstone Club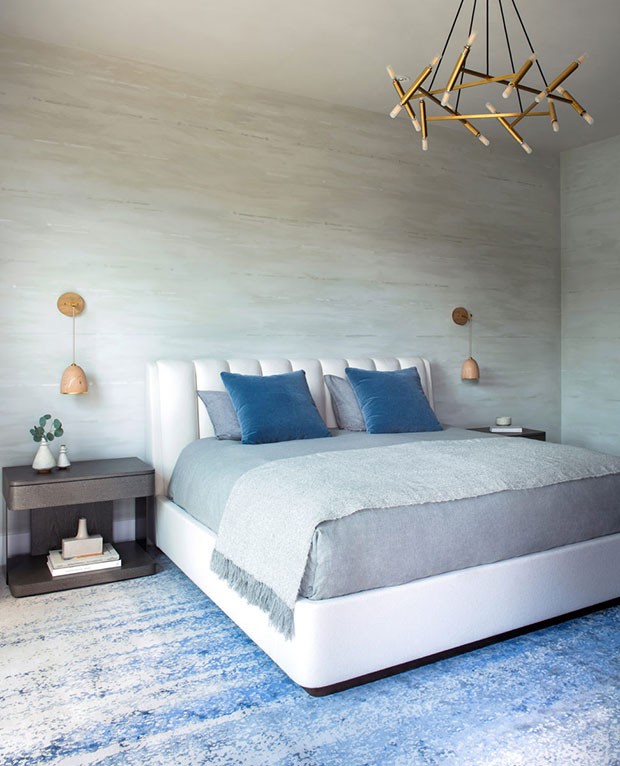 This bedroom perfectly encapsulates the minimalism strived for in contemporary bedroom ideas. And the chandelier is the perfect accessory here.
Wine Country Retreat
The accent wall here not only brings a color change, but it also adds dynamic in texture due to the different material that is used for it.
Sonoma Vacation Home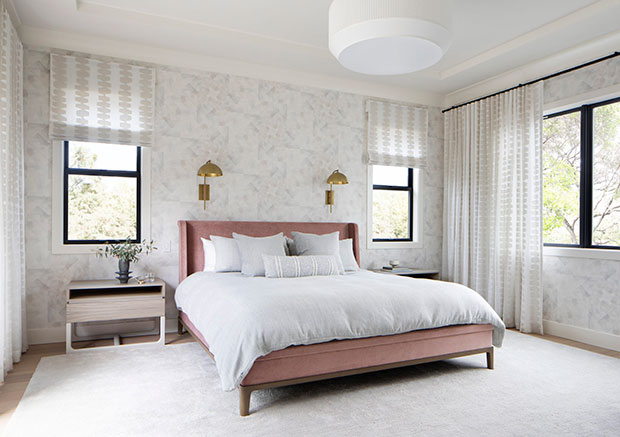 Niche Interiors
The addition of some pastel colors could definitely liven up your bedroom, especially if you want to evoke a youthful look.
Pacific Heights Penthouse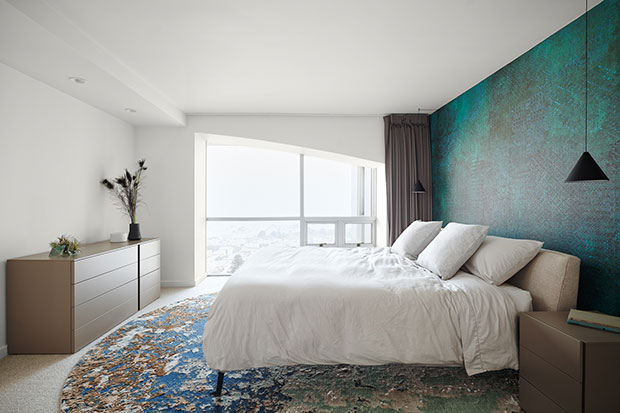 Isolina Mallon Interiors
This worn-out-looking rug definitely takes your attention. In addition, it somehow works with the unique accent wall.
Fieldstone House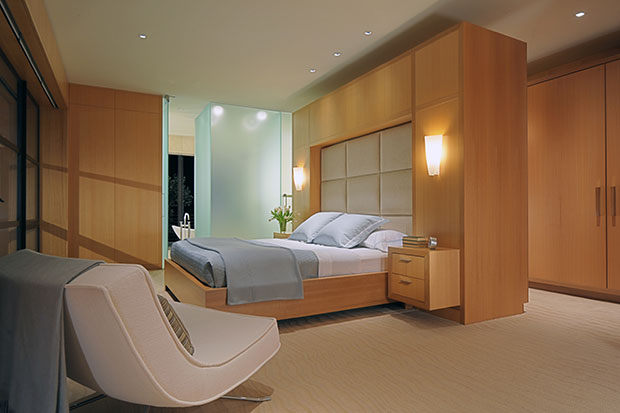 The open floor plan is effective, especially to provide the most efficient storage solution without having to make the room crowded.
Daly Mansion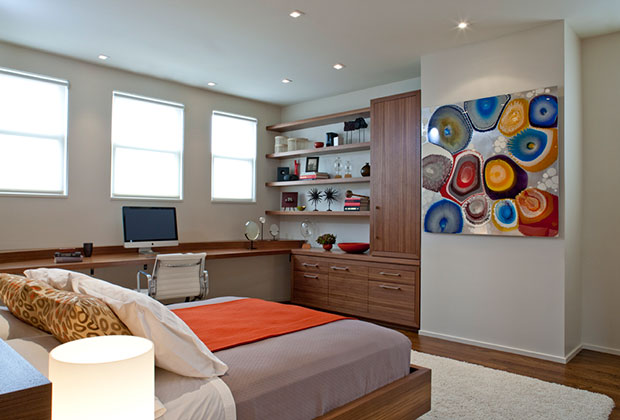 De Meza Architecture Inc.
With all the neutral colors and natural materials, the contemporary artwork is like a breath of fresh air.
Kreifels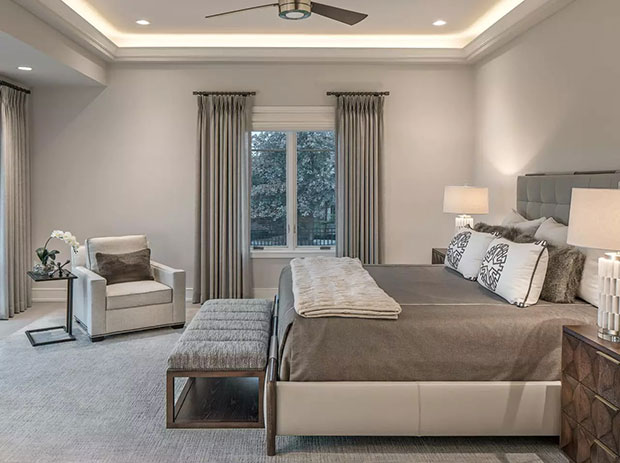 Since contemporary bedroom ideas require minimalism, your furniture choices must not only be functional. At least choose ones with designs that bring lots of personalities.
Private Residence No. 45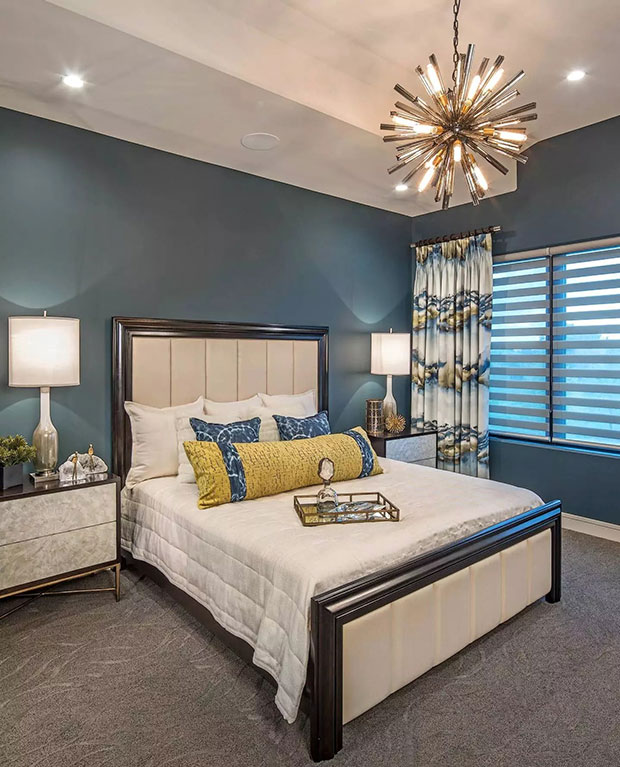 Add pops of color through your throw pillows and curtains, especially for a room filled with neutral colors.
Private Residence No. 44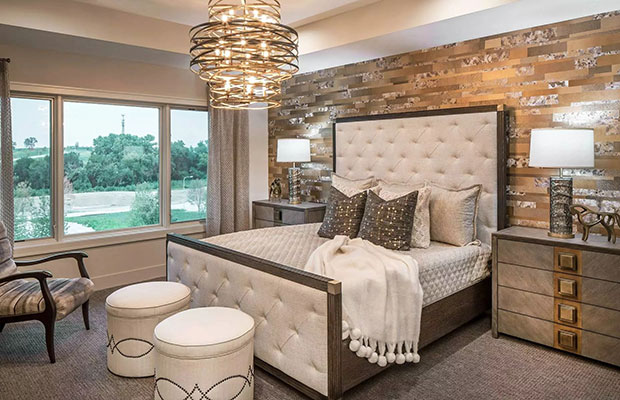 Interiors by Joan and Associates
Another contemporary bedroom idea that uses an accent wall. Though, this time the accent wall's color is within a similar shade range as the rest of the room.
Greenwich Village Residence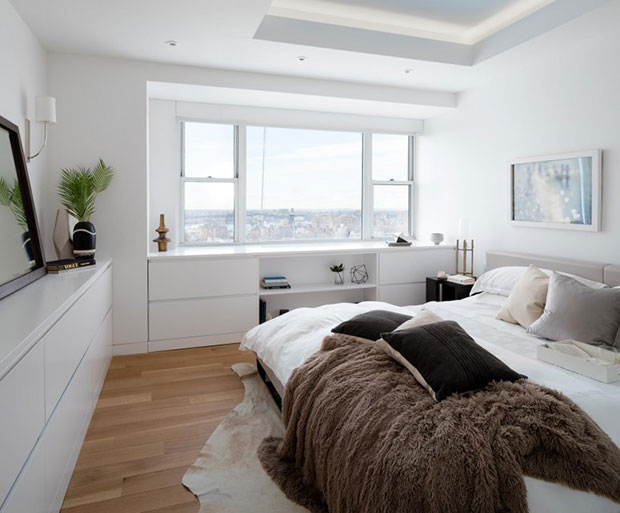 Jordan Parnass Digital Architecture
One of the simplest contemporary bedroom ideas. But the pristine white walls and the wooden flooring are a perfect match to create a serene-looking room.
Base Village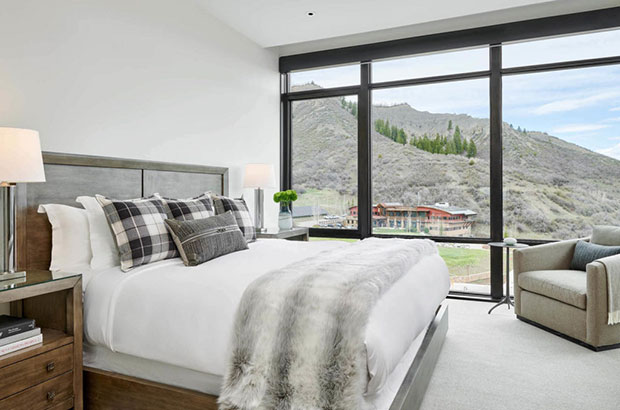 The plaid throw pillows are a nice touch to add some dynamic to patterns.
Distinctive Duplex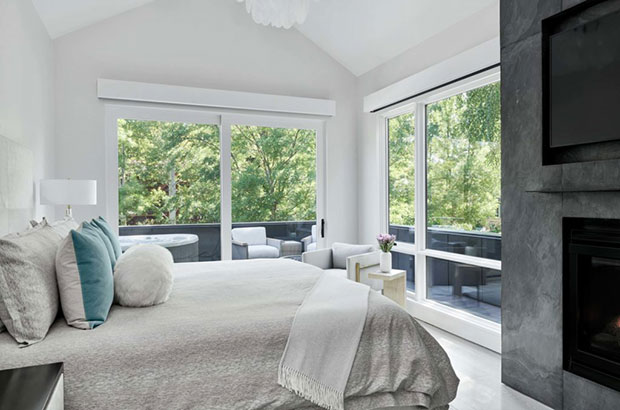 Apart from the throw pillows, these bedroom's fabric seems to follow a theme. And it also works in harmony with the room's color palette.
Carbondale Ranch Remodel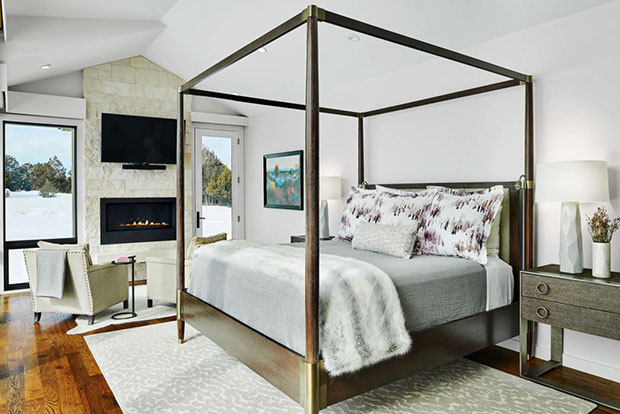 Bedframes with canopy are not quite common in contemporary bedroom ideas. So, it's an interesting choice here.
Aspen Penthouse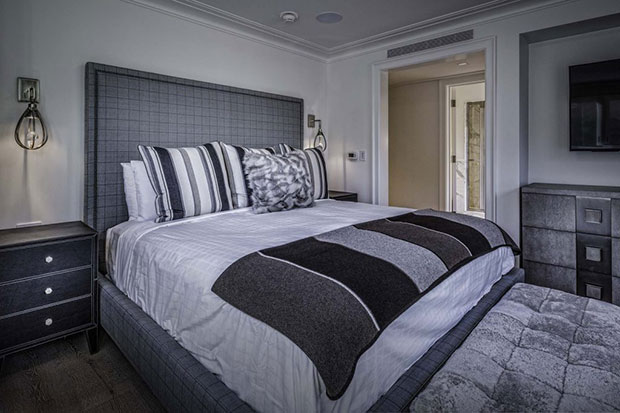 The checkered bed upholstery is an interesting subtle detail. In a monochromatic bedroom like this, they rely on different patterns to add variety.
Colorful Mountain Retreat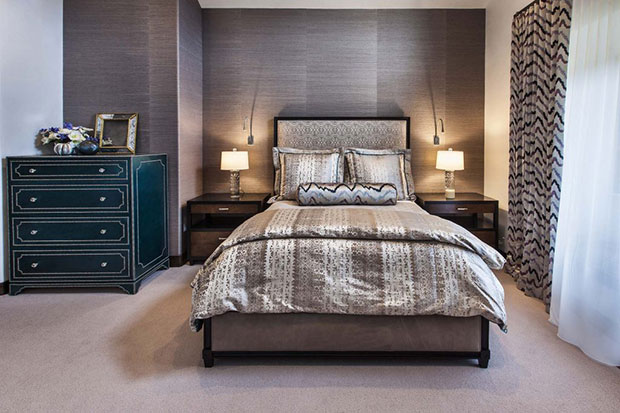 Cathers Home
The glam cabinet drawer is quite an interesting treat. It's like a pleasant surprise when you enter this room.
Barn Village 840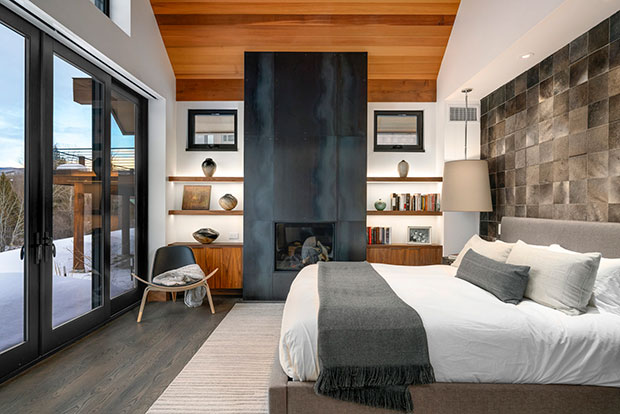 This accent wall offers variety in color as well as texture. It creates an even more interesting overall look of the bedroom.
Fairway Overlook 497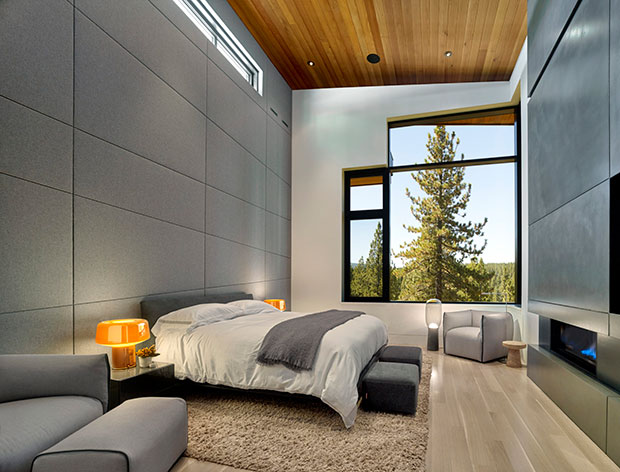 Kelly & Stone Architects
This bedroom brings style even with its bedside table and floor lamps. All of this comes together for one chic and stylish contemporary bedroom.
Milina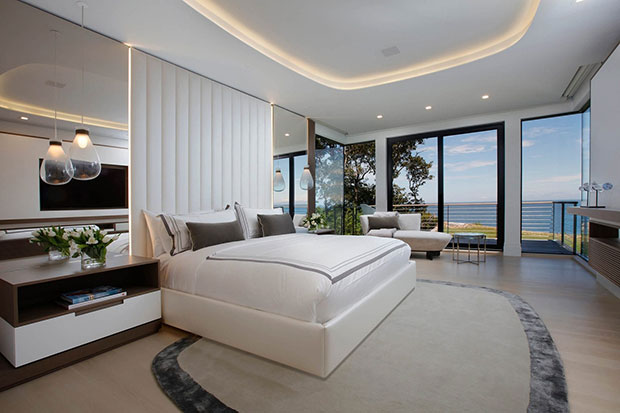 What's interesting is the fact that instead of having bedside table lamps, this bedroom's occupant chose a pendant light.
Regalia II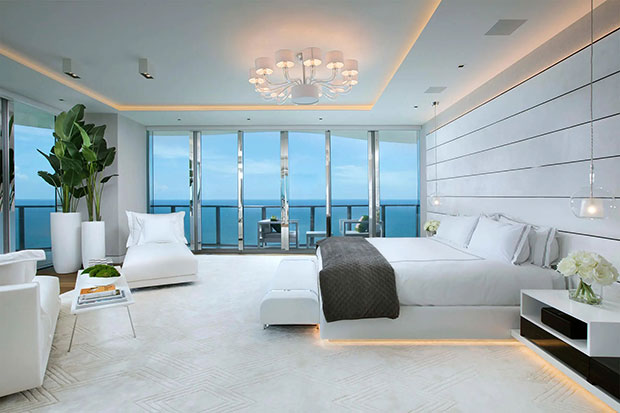 Similarly, this room also shook things up a bit with the pendant lights. Additionally, the black accents are incredible touches to the room.
Jade Signature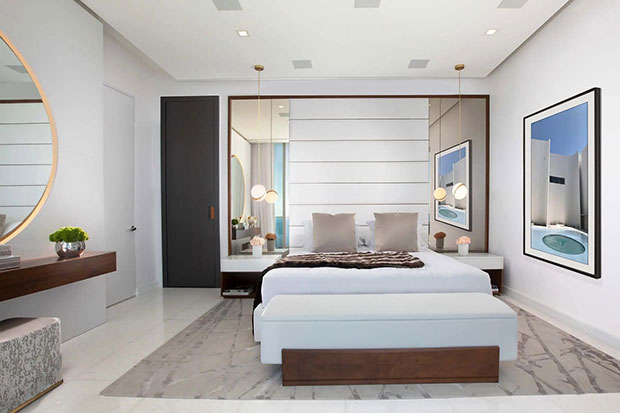 The overall design of this bedroom is incredibly unique as much as it is stylish.
Regalia III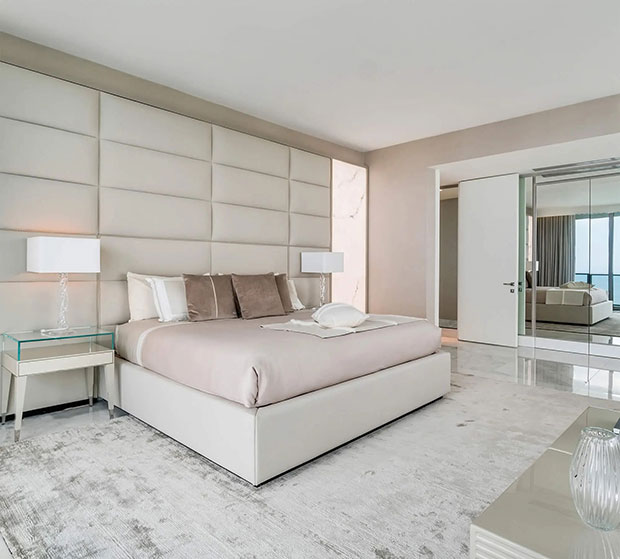 Sometimes it's thought that a luxurious look can be achieved with maximalism. But even minimalism in contemporary bedroom ideas can bring that out.
Marquis Miami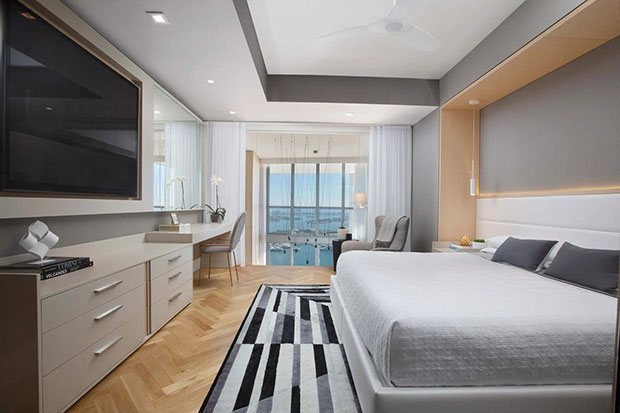 Getting a rug in the colors that match your sheets is the way to go!
Santa Barbara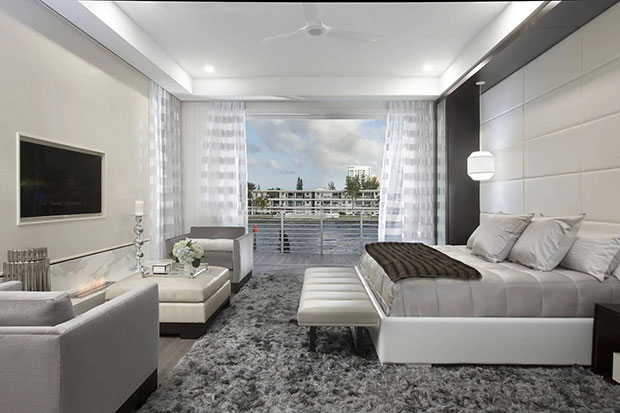 A niche to the wall to install your television is quite the nice design touch. It helps in maximizing floor space, especially for smaller bedrooms.
Acadia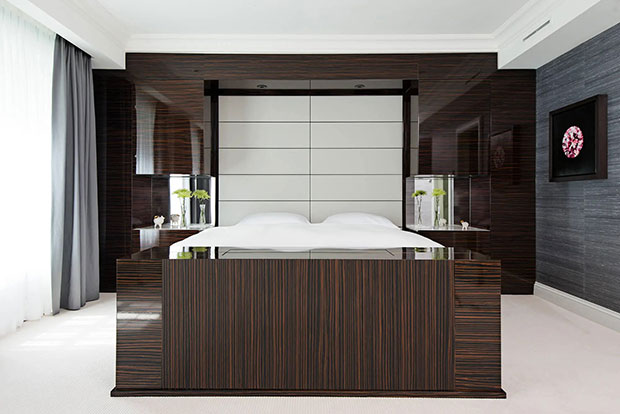 The high gloss finishing on the furniture definitely brings a luxurious feel.
Sunny Isles Ritz-Carlton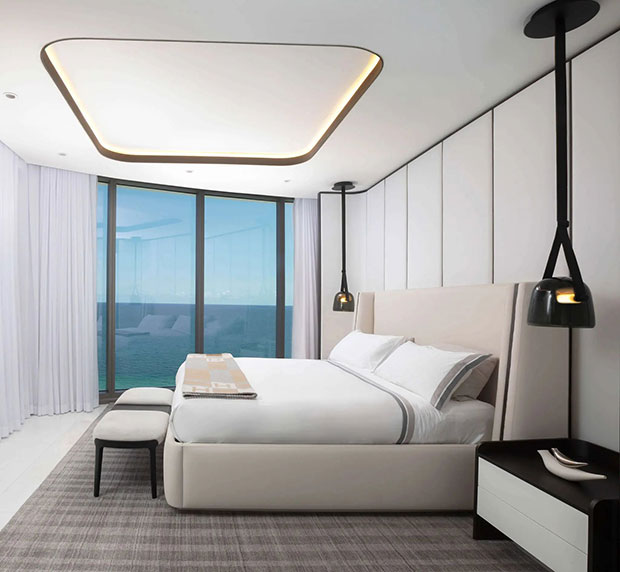 Britto Charette
There's a certain roundness to this bedroom that is fairly interesting and charming.
Intracoastal Residence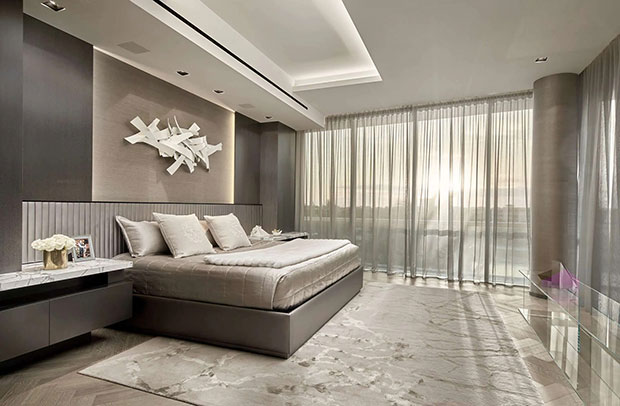 The abstract art above the headboard is a delightful touch. And the bronze tinge of color here gives the room an overall stunning look.
Oceanside Residence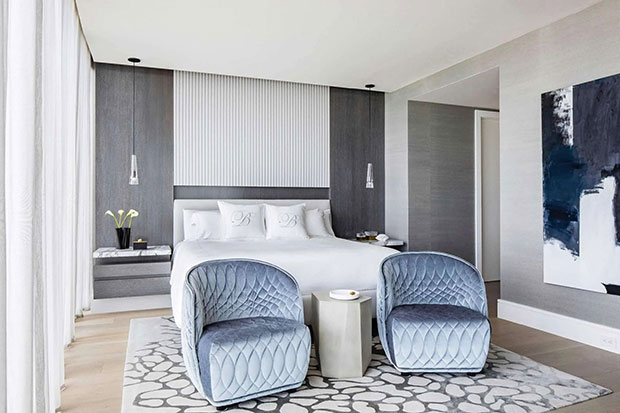 Even without bold colors, this contemporary bedroom makes good use of the patterns and prints to bring some personality.
Royal Palm Residence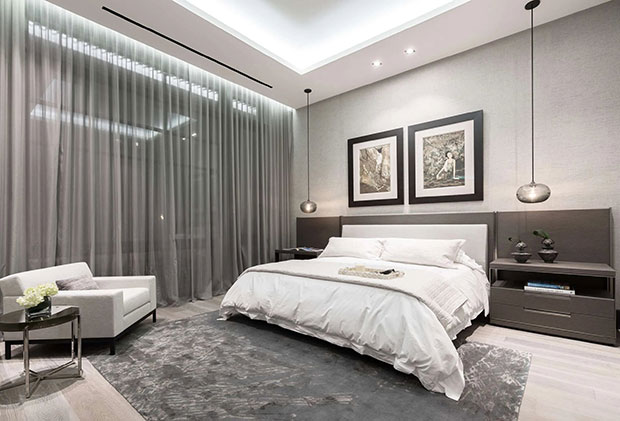 Here is a clear color scheme that is faithfully followed, creating a warm ambiance.
Metropolitan Residence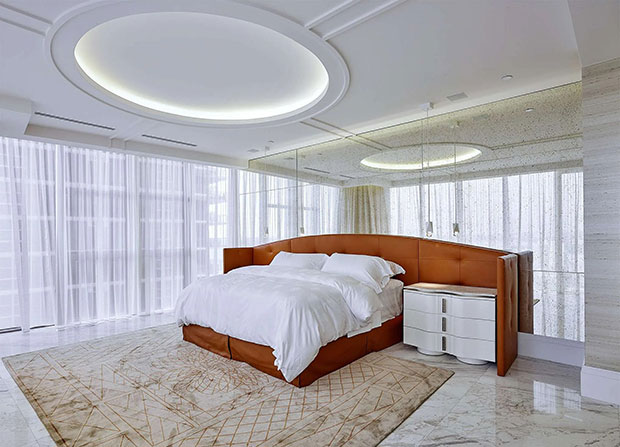 The upholstery of this bed definitely shines and takes all the attention. Though, granted this is one of the most minimalist contemporary bedroom ideas.
Beachside Residence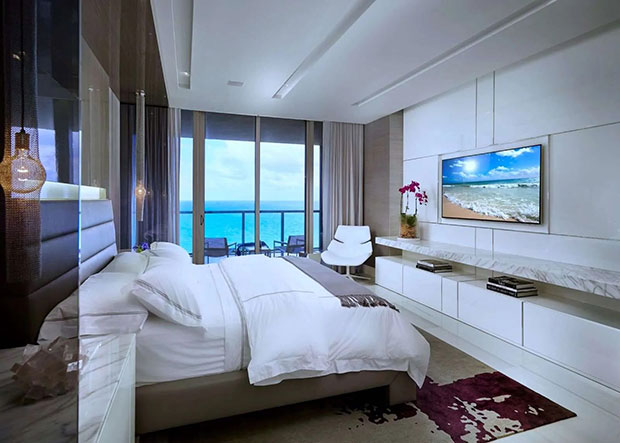 B+G Design Inc.
The furnishing of this bedroom is neat and clean that efficiently maximizes the space provided.
Bedroom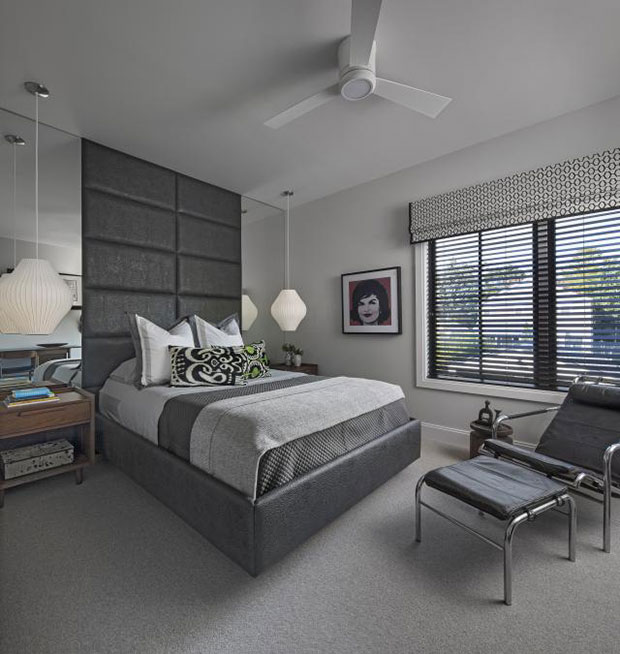 AMW Design Studio
Those throw pillows are a wonderful addition to a monochromatic bedroom.
Politzer Residence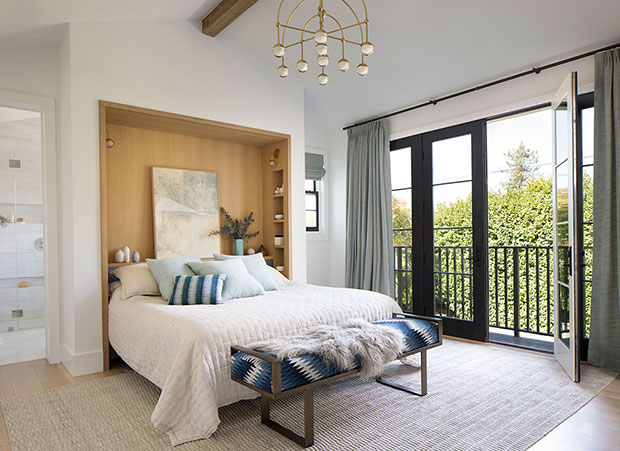 This ottoman brings some youthful vibes into this bedroom.
Stanford New Construction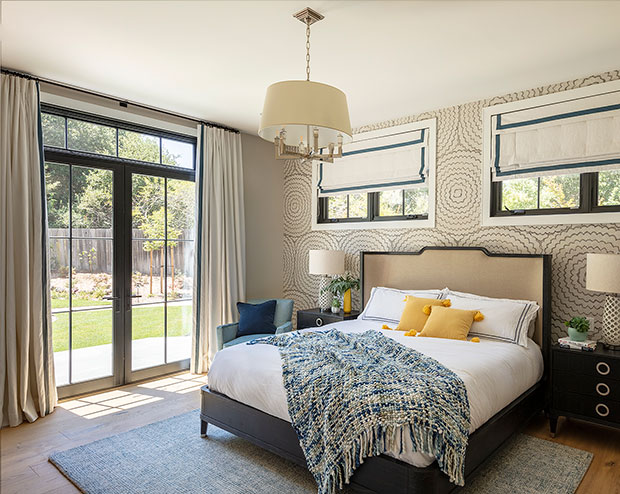 The accent wall matches so well with the furnishing in this bedroom. It also clearly sets the tone and ambiance of the room.
Alamo New Build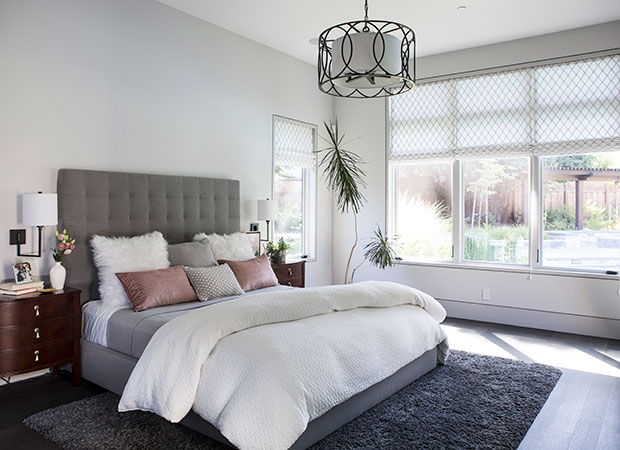 These curtain shades are a great choice with their neutral color, allowing for as much natural light.
Walnut Creek Remodel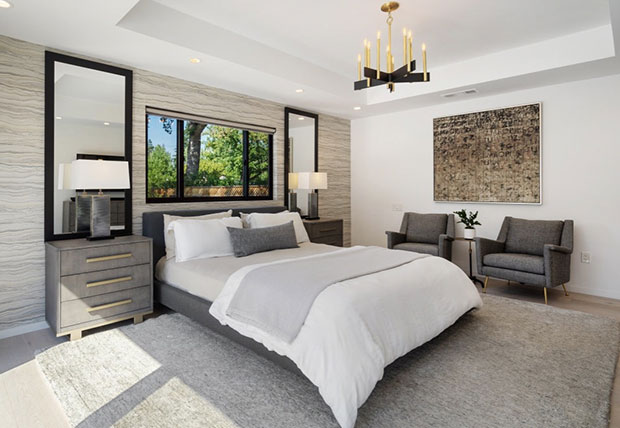 Fiorella Design, LLC
The window above the bed's headboard is quite an interesting design detail. Uncommon yet charming.
Sleek Seaside Sophistication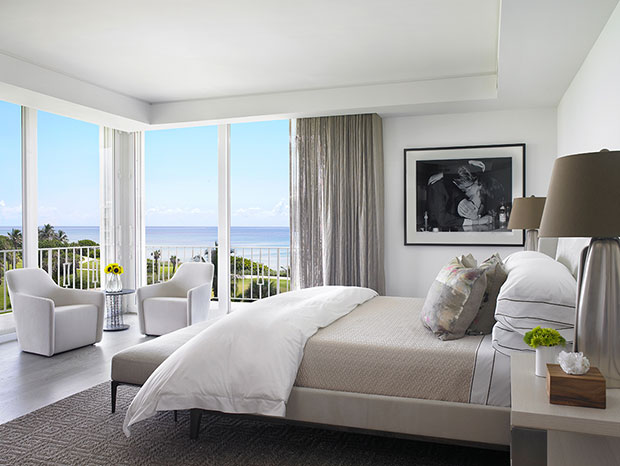 The beige furniture and sheets bring a calming feel to this room.
Contemporary Seaside Sophistication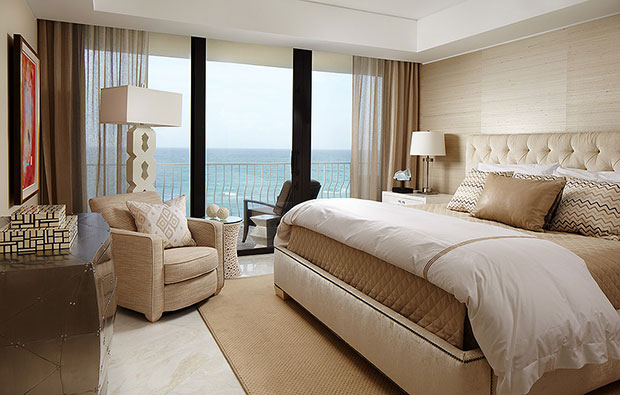 The geometric design of the chest drawer is definitely an eye-catcher. It may seem out of place, but it perfectly fits the mood of the room.
Oceanview Cutting-Edge Penthouse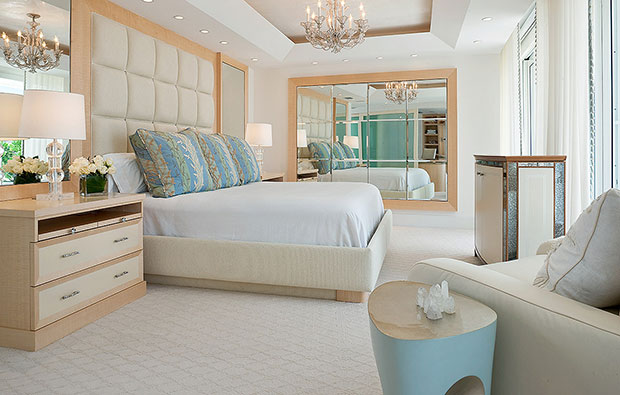 The beige and light blue colors are perfect, especially considering the location of this home.
Deco Meets Tropical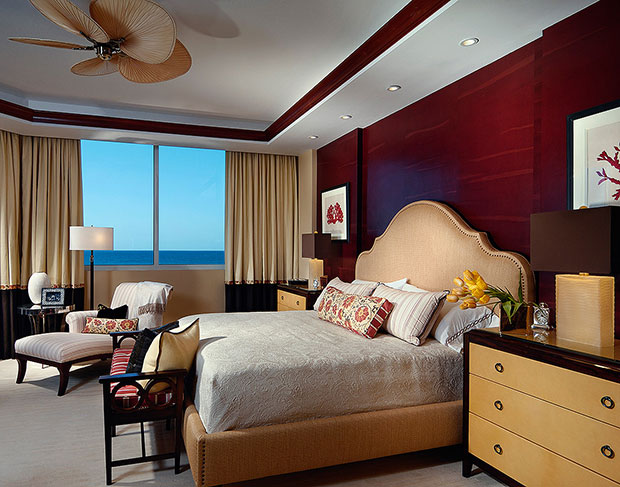 This dark red accent wall brings a sophisticated chicness to the overall look of the room.
Bond Meets the Beach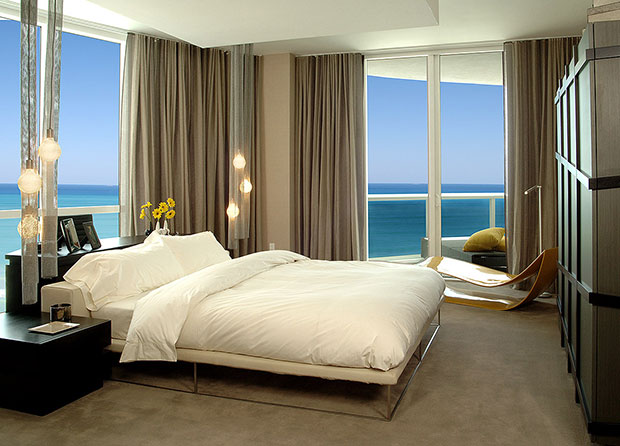 For your contemporary bedroom, you can try to bring some striking furniture pieces like this unique lounging chair.
Oceanfront Renovation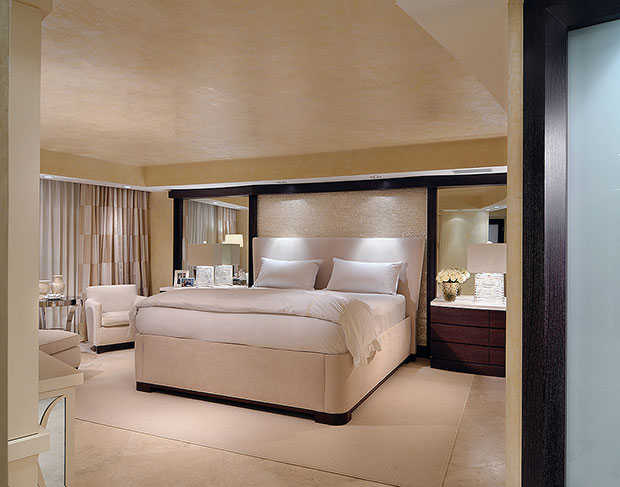 Cindy Ray Interiors
This color combination, along with its lighting, creates the perfect serene ambiance for a bedroom.
Watkins Residence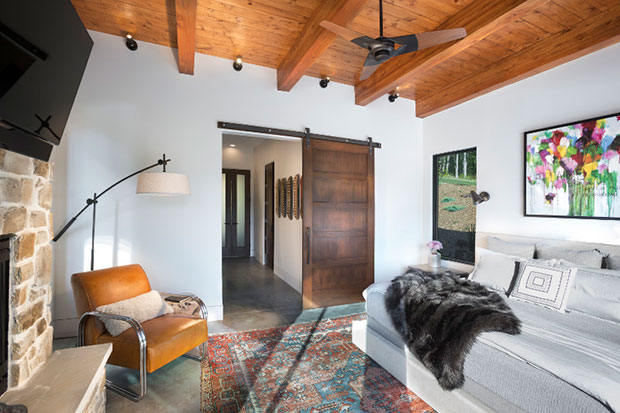 Even with contemporary bedroom ideas, you can add some rustic charm to it.
Rhodo Reno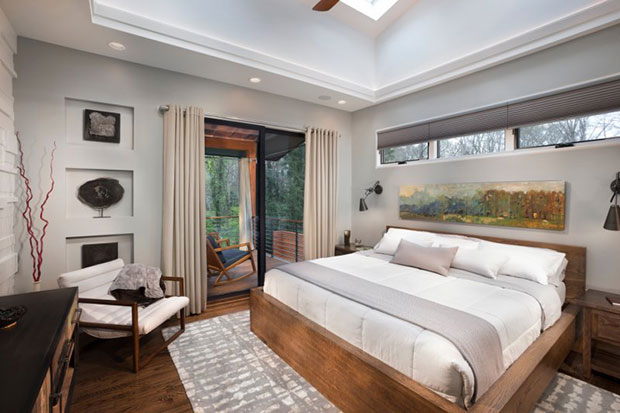 Living Stone Design + Build
Instead of an accent wall or painting your walls, you can put up incredible works of art to make a statement.
Waldorf Astoria Residence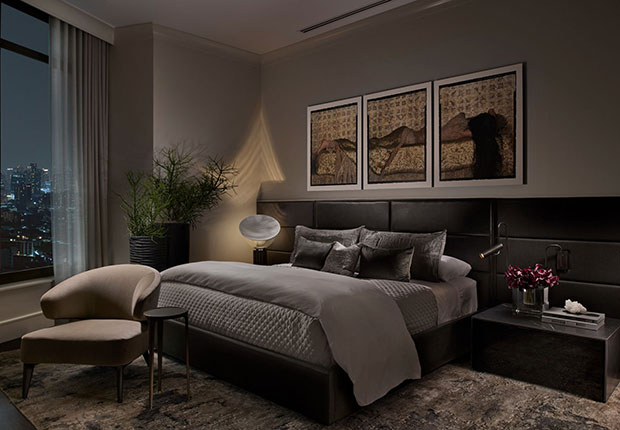 If you want some chicness in your bedroom, this color palette is quite the perfect choice. And that mood light? Truly, sets the tone of the room.
Roswell Residence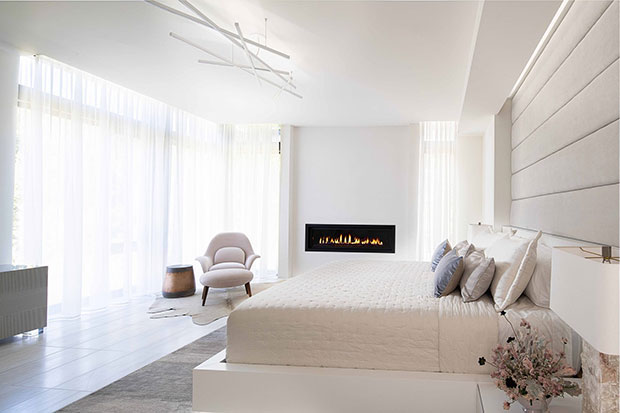 In contrast, for a more preppy look, you can try this color palette. Regardless, they all offer a relaxing ambiance fitting for bedrooms.
Museum Place Penthouse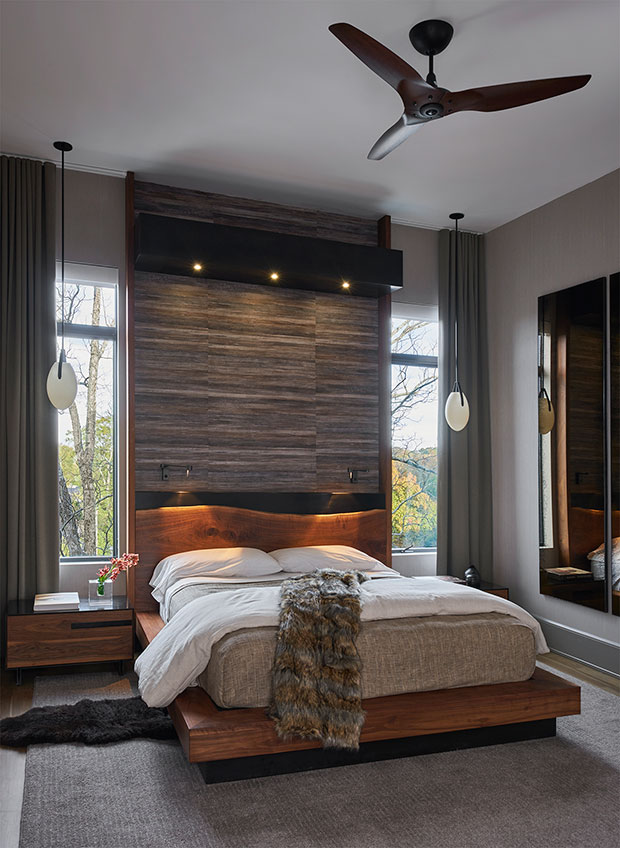 All this wood brings a rustic charm into this contemporary bedroom, creating an eclectic overall look.
Midtown Loft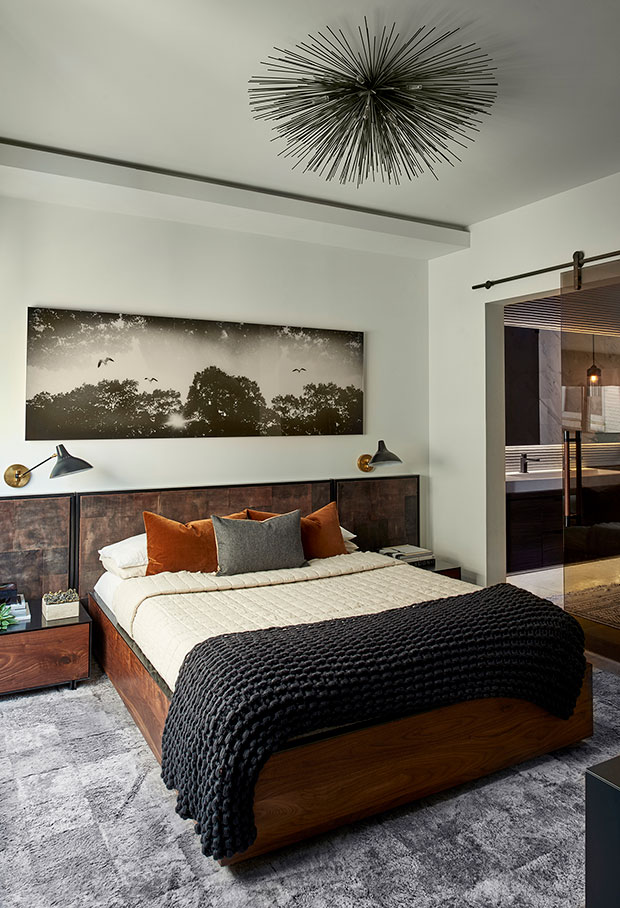 The charm that the rustic elements bring only emphasizes the warmth and coziness of this bedroom.
Mandarin Oriental Residence #2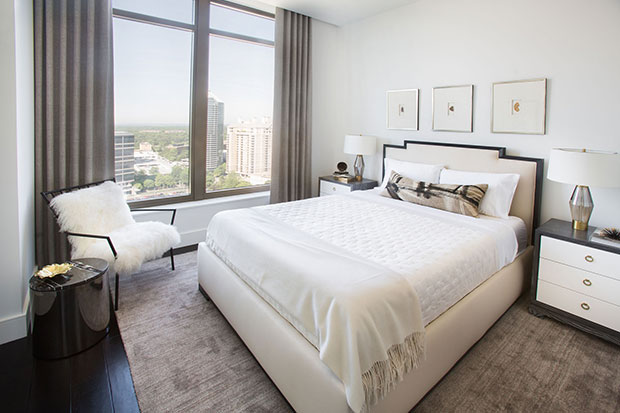 Include some stylish furniture pieces to further highlight the sophisticated look of your bedroom.
Mandarin Oriental Residence #1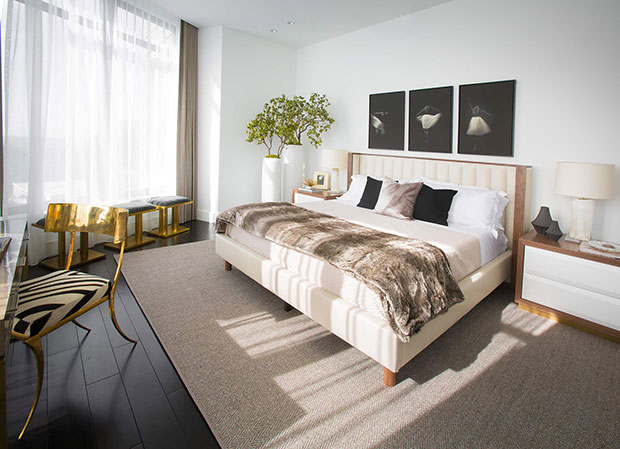 Habachy Designs
The gold accents only further showcase a luxurious feeling to the room. But it doesn't compromise the serene ambiance.
Port Street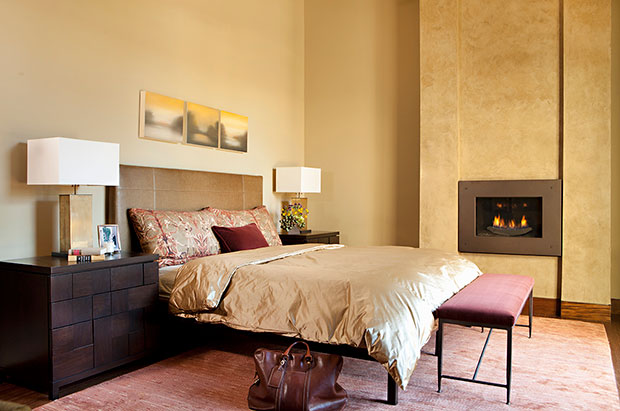 This color scheme gives this room a fantastic glow against the natural lighting.
Strand Beach II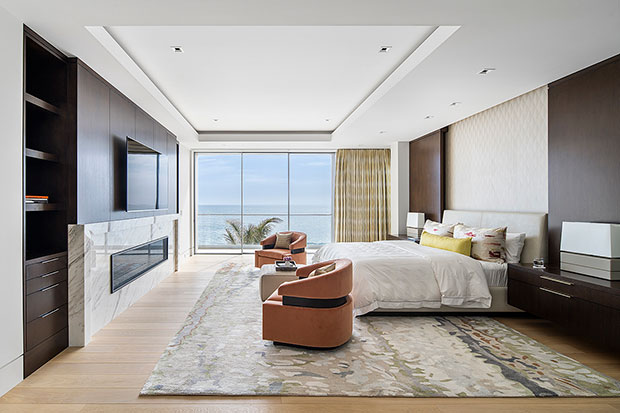 Though there are about a few different colors, they do not clash in a way that can be sore to the eyes. Instead, they all work together for one eclectic bedroom.
Hollywood Hills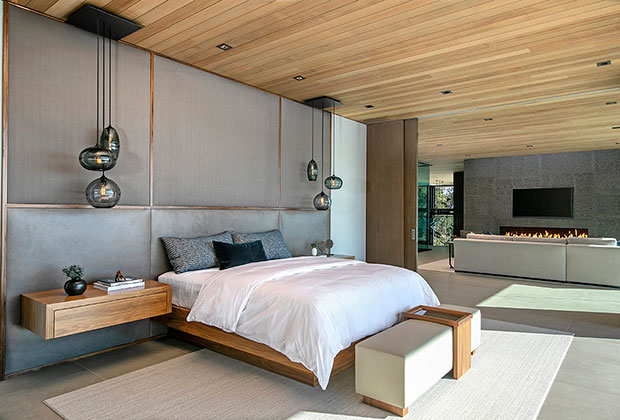 The floating bedside table is a nice design touch that makes it seem like the room is a lot more spacious.
Laguna Bluff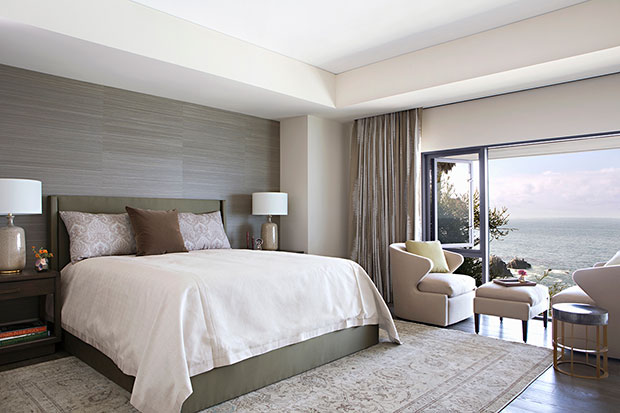 The room's layout works perfectly to accommodate the scenic view it is afforded. Additionally, this color palette emphasizes a warmth and coziness fit for bedrooms.
Pelican Point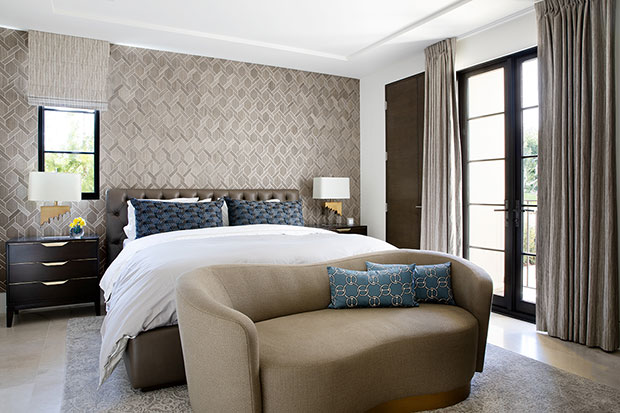 This accent wall's appearance makes it seem there's also a textural dynamic.
Emerald Heights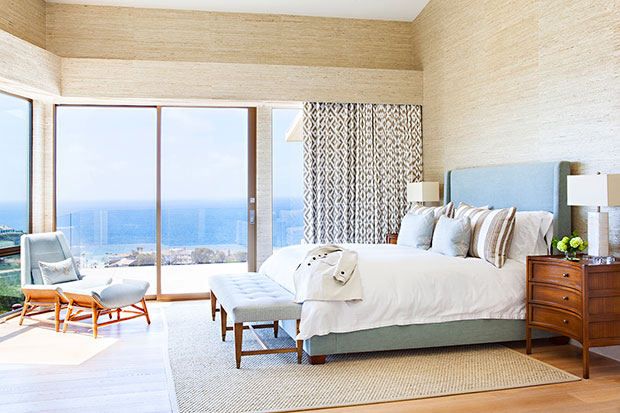 Michael Fullen Design Group
The grey-blue upholstery is perfect to bring some coastal charm to this contemporary bedroom.
Hill Country Residence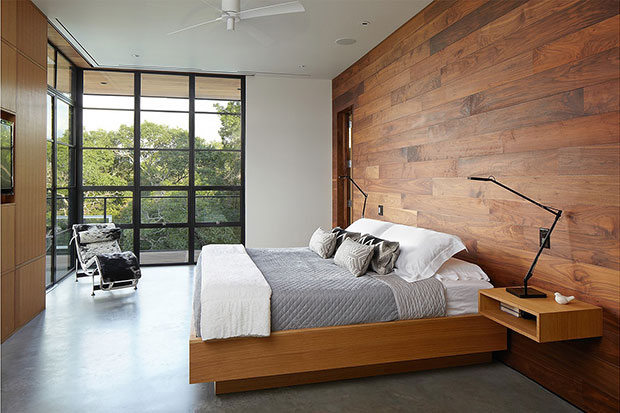 Cornerstone Architects
The natural wooden color definitely carries an air of warmth and coziness. While it's expected to bring some rustic charm, it is surprisingly not obvious.
That's all for contemporary bedroom ideas! Hopefully, this list brought you some ideas of your own!
Like This Post? Pin It!