50 Best Modern Chandelier Designs To Light Up A Room
|
Lighting fixtures in our homes does not only make it bright but also adds a certain charm to any given space. For homes with the latest style, modern chandelier designs are often the most sought out.
Modern chandelier designs have a more modernized design that mostly uses LED and is a combination of classic and contemporary. These chandeliers can also be equipped with refractive crystal prisms or small mirrors.
As a general rule, not all chandeliers can be added to any home space. There are certain factors to consider including the ceiling height, the room space, and many more.
Are Chandeliers Still In Style?
Like all home decorations (no matter how quirky) never really gets out of style. Sometimes, they just evolve into something else that works well with the recent design trends.
Design trends often go into a cycle: sometimes they go out of fashion one moment, then they are back in the next. As a homeowner, it is almost impossible to keep up with these trends every time. It is impractical and will be costly too. That said, it is important to choose a style that makes you happy or a design that reflects you and your personality.
Modern Chandelier Designs You'll Love To Have
If you are looking for the best modern chandelier designs to complement your modern home, here is a collection of gorgeous chandeliers for you!
Veloce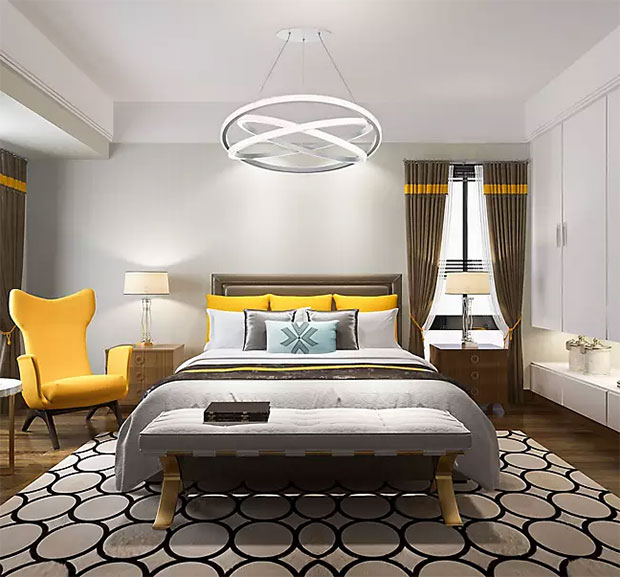 Modern Forms
This modern chandelier design has three thin wires that mount three smooth rings. The playful arrangement of the rings adds a fun look.
Caracas 3-Arm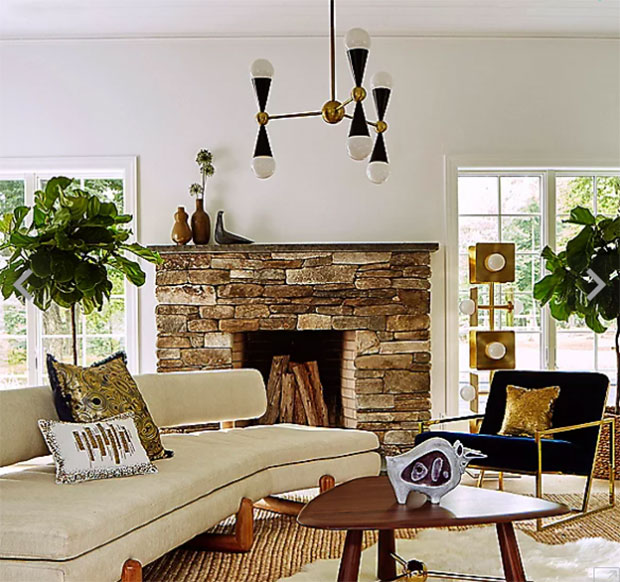 Jonathan Adler
The chandelier has three metal batons with metal cones. The clever geometric design is eye-catching.
Linear Suspension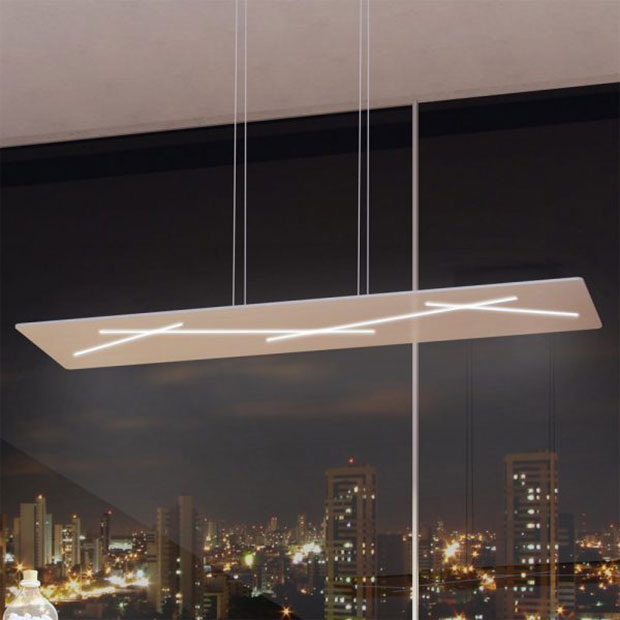 Home Designing
This ultra-modern design will add a slick look to any modern home.
Light Sputnik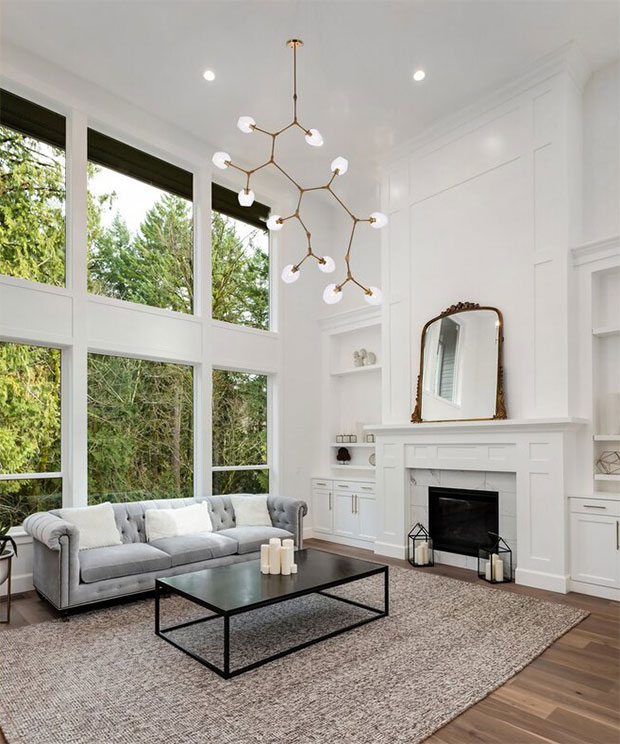 George Oliver
Made from metal and glass, the chandelier has 11 lights and comes in 3 finish options including brass, black, and light antique brass
Sonoma Barn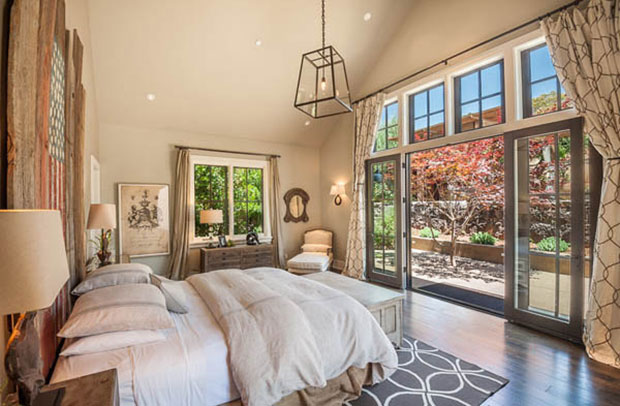 Castor Architecture
The edgy design of this chandelier is quite complimentary with the soft colors and design of the room. A single light is encased on a rectangular transparent casing.
Geometric Chandelier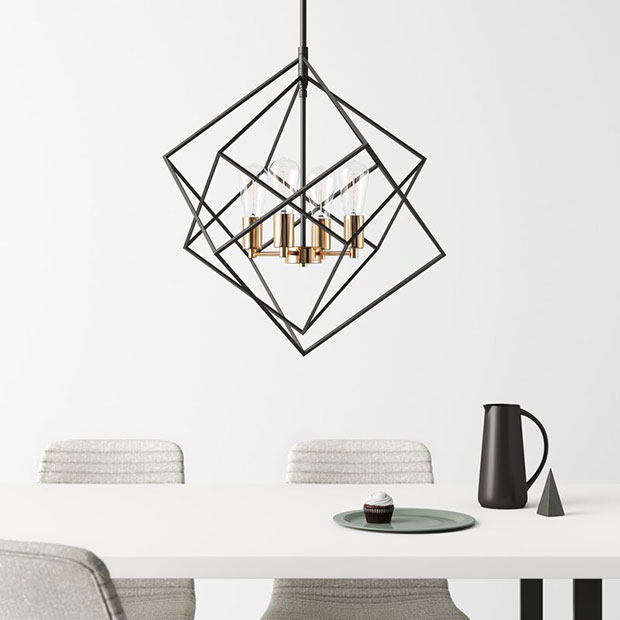 AllModern
The 4-light chandelier is encased in a geometric frame. The design is edgy and unique.
Cortes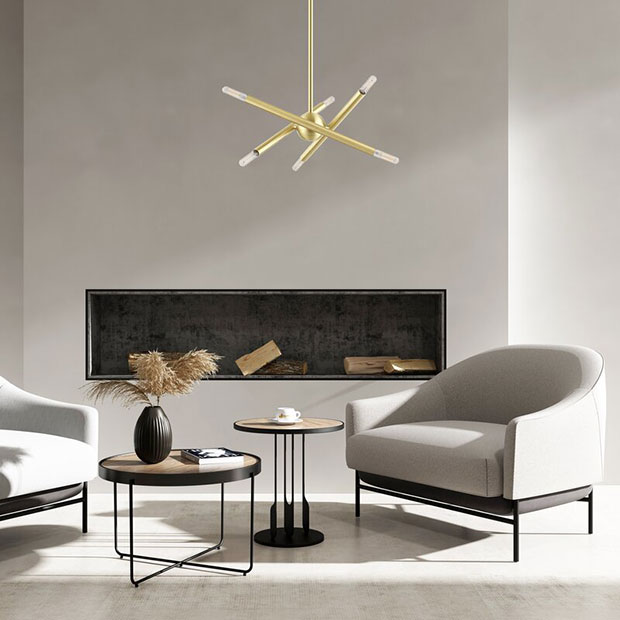 All Modern
Suspended on a satin brass finished, the design is flashy and eye-catching.
Oban House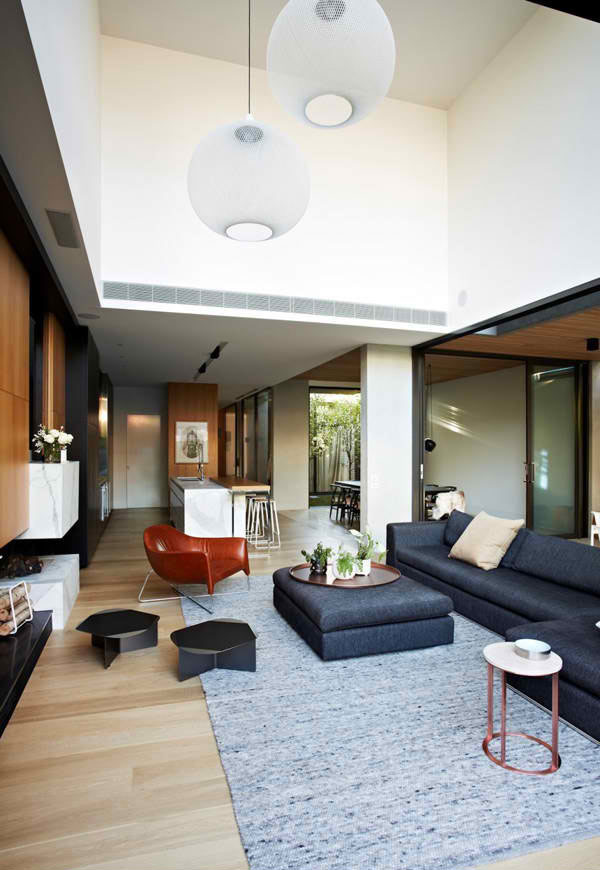 Workroom Design
The huge balls of light at the center of this high-ceilinged room is both eye-catching and complementary. Its design is perfect for the airy and open feel of the room.
Turnersville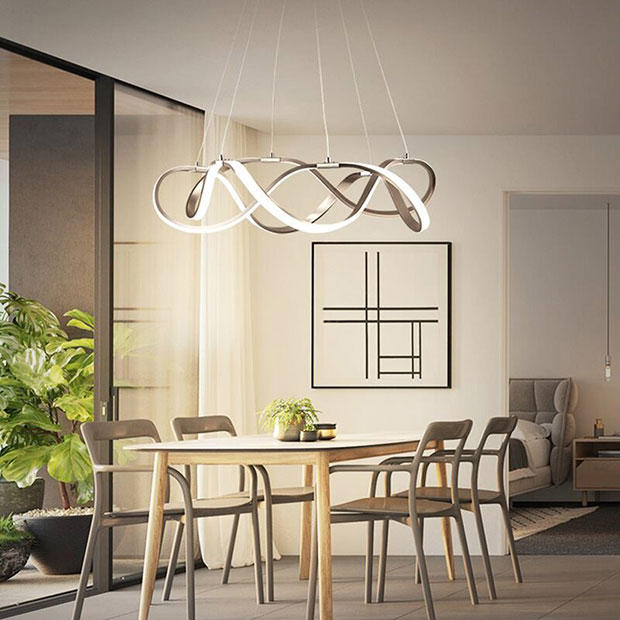 Orren Ellis
A dimmable and energy-saving chandelier, this lighting fixture will grace any home with its unique and gorgeous design. It has both an artistic ribbon silhouette and six long hanging cables.
Glass Crystal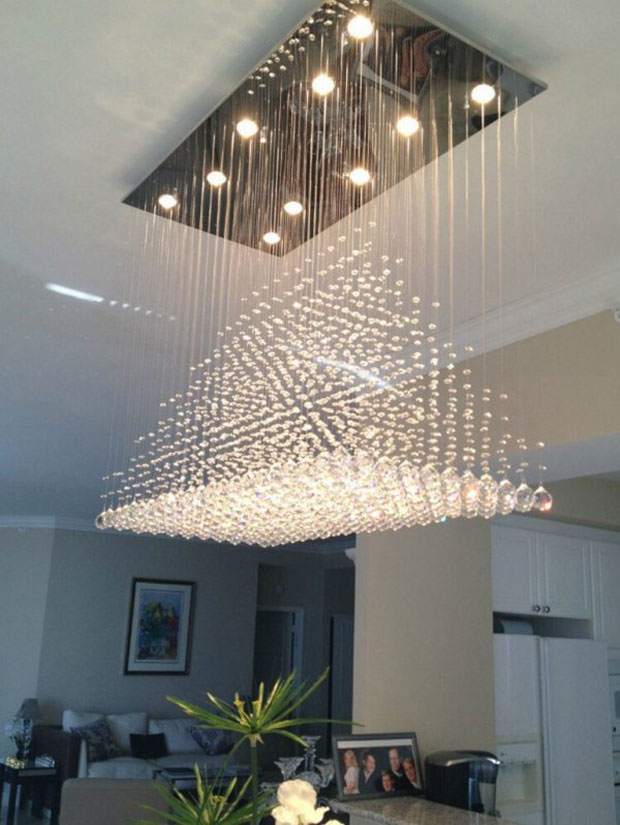 Siljoy Store
Made from clear crystals and a polished chrome stainless steel base, this chandelier can easily be the masterpiece or focal point in any home.
Valentino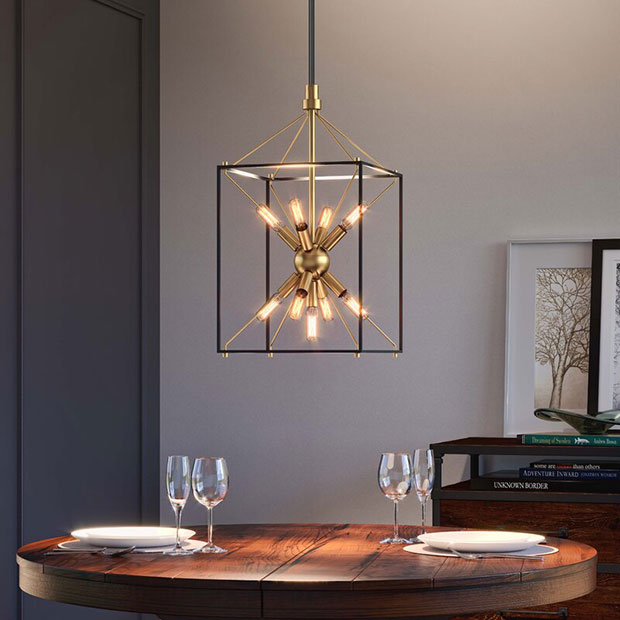 Brayden Studio®
With its retro-futuristic look, modern chandelier designs like this are sure to catch the eye of every guest. The design 9 incandescent bulbs in a black frame.
Bridwell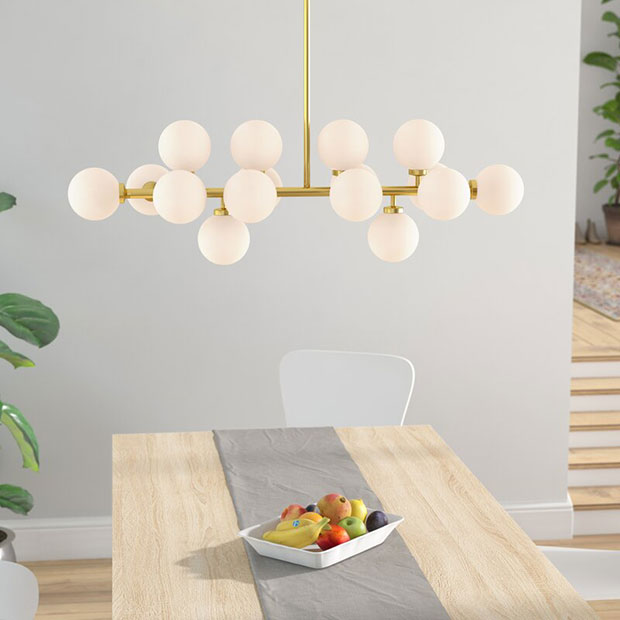 George Oliver
The lovely design of this chandelier embraces a modern linear shape. It has 16 lights equally distributed on a gold metal rod.
Wave Chandelier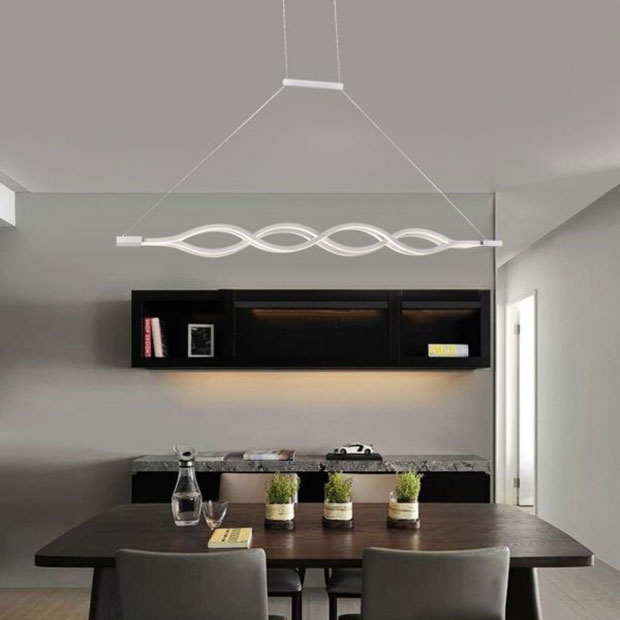 EverFlowery
This LED modern pendant lighting has an appealing wavey design. It makes space look wider and more elegant with the astonishing design.
Boyette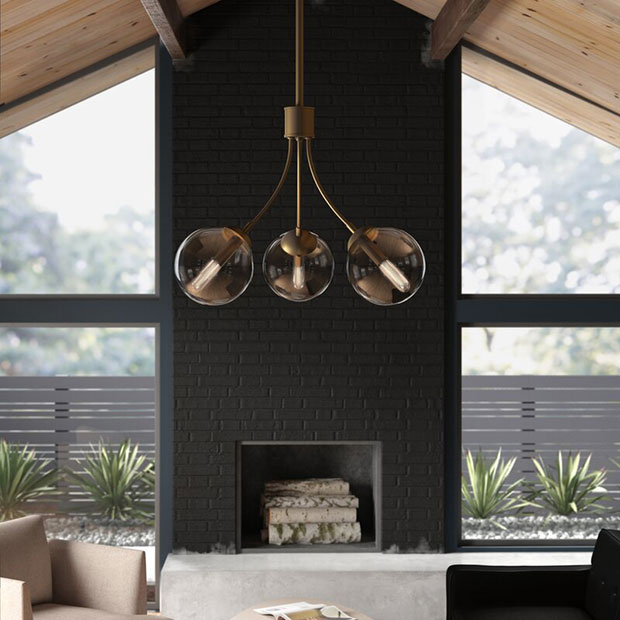 AllModern
This chandelier has three streamlined metal arms with a natural brass finish and clear glass globe shades. Its design is appealing and compatible with sloped ceilings.
Trulli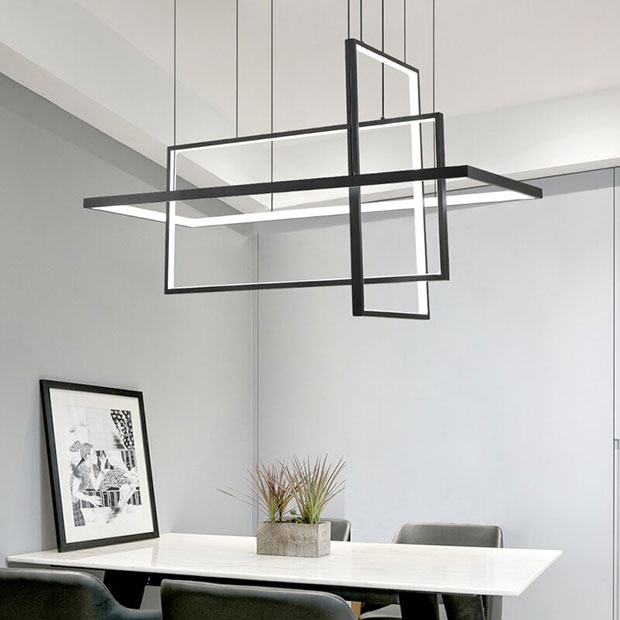 Orren Ellis
The edgy geometric design of this chandelier is quite astonishing. It has an energy-saving and bright LED light source.
Ring-Shaped Halo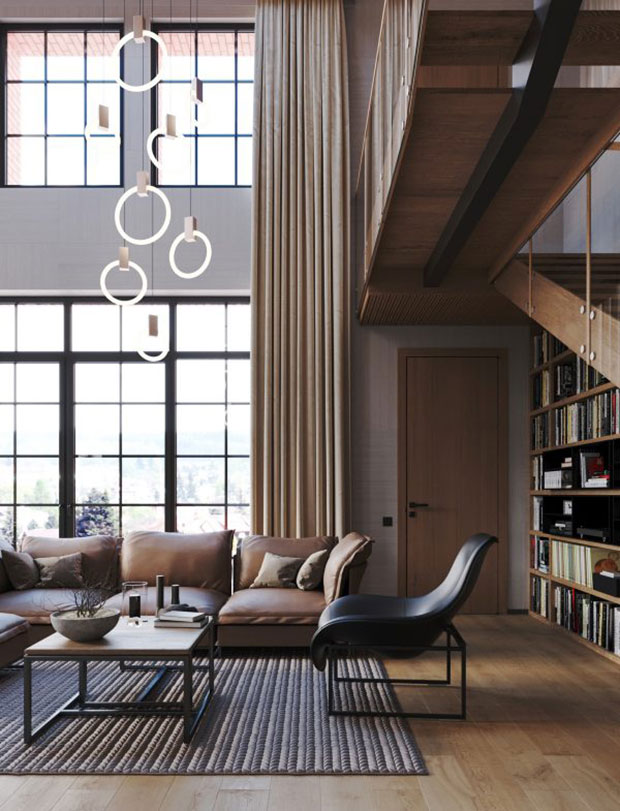 Matthew McCormick
The extraordinary design of this chandelier features eight-inch copper rings. The design is perfect for high-ceilinged rooms with open spaces.
Zulema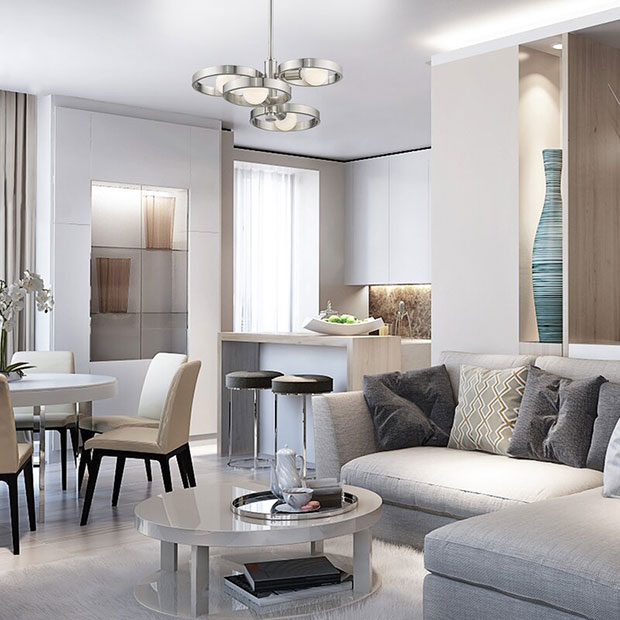 Wrought Studio™
Like most modern chandelier designs, this fixture offers a dramatic focal point to any room. It has pivoting frames and rotating metal rings.
Biscayne Condo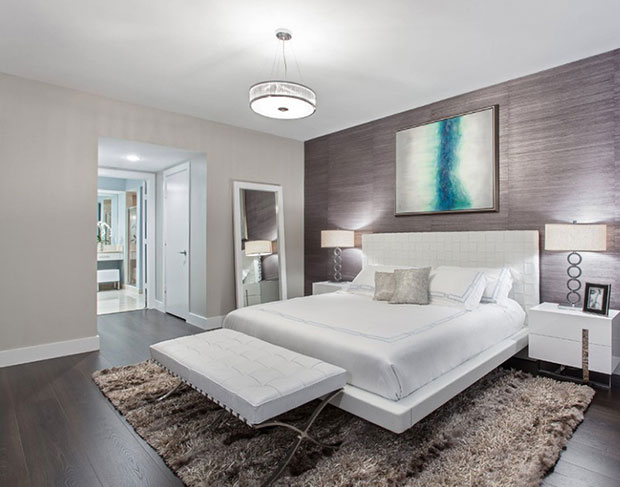 MH2G
The clean and crisp light this chandelier offers is soothing and relaxing. It has a rounded shape and complementary design to the room.
Scoggins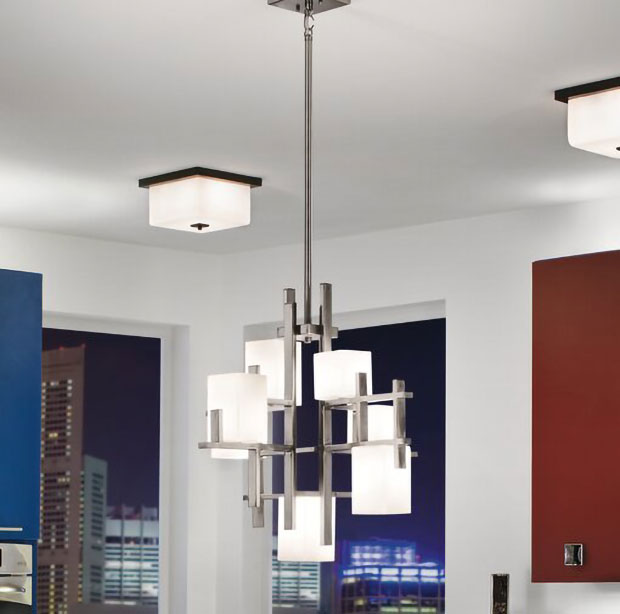 Orren Ellis
This 7-lights chandelier has a cool and modern look. It is primarily made from metal and features a sputnik fixture design.
Brinley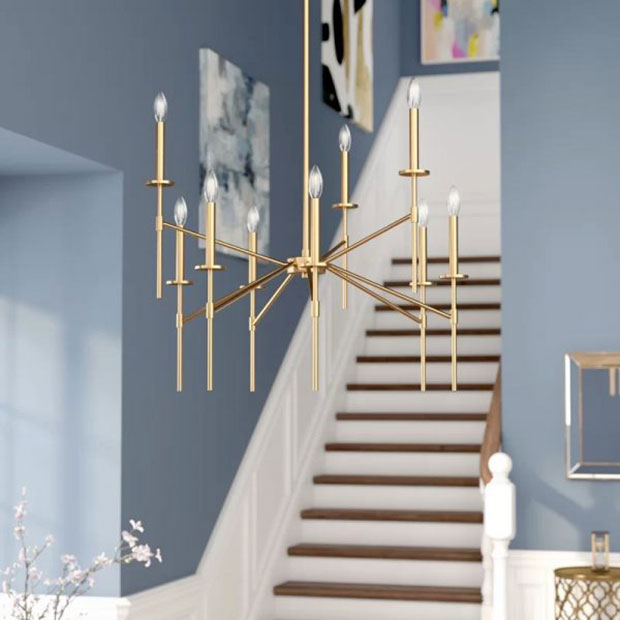 Joss & Main
Featuring a 9-light chandelier and two-light wall sconces, this modern chandelier design has an appealing look.
Lila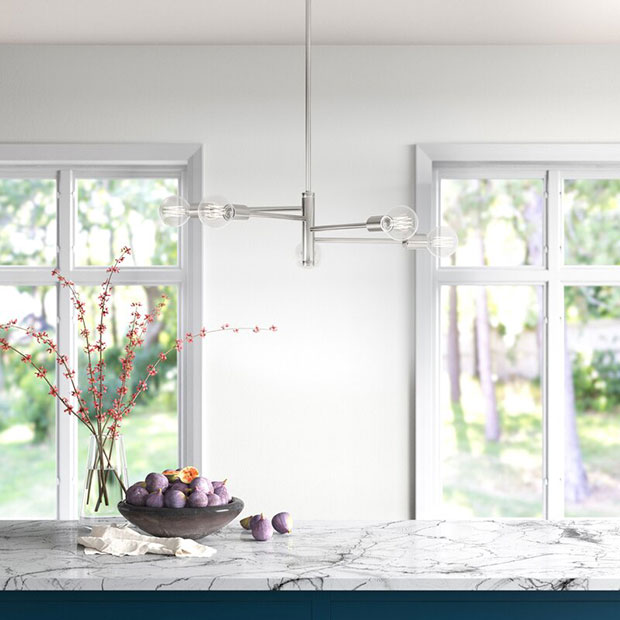 Mercury Row®
This 5-light sputnik-inspired chandelier has a metal and cylindrical body with five horizontal arms. Its design allows the light to be spread out evenly.
Azuela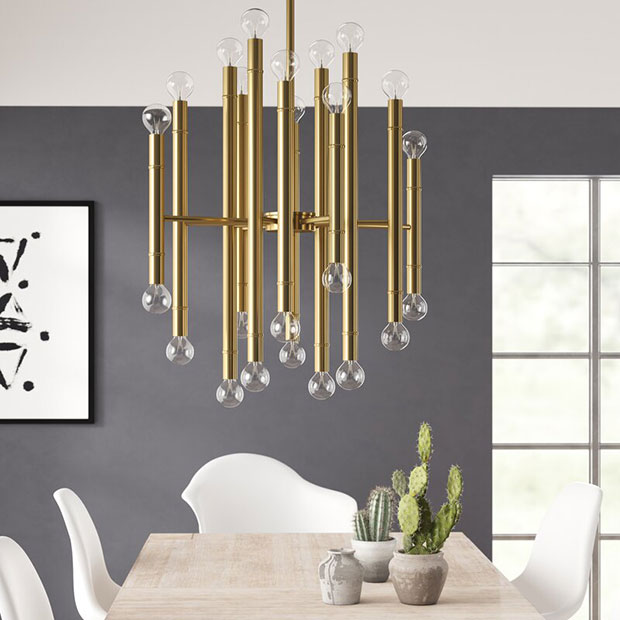 AllModerdn
With a statement pendant light, this linear chandelier is made of metal with a sleek gold finish. It has a total of 24 lights and a drum-like silhouette.
45-Light LED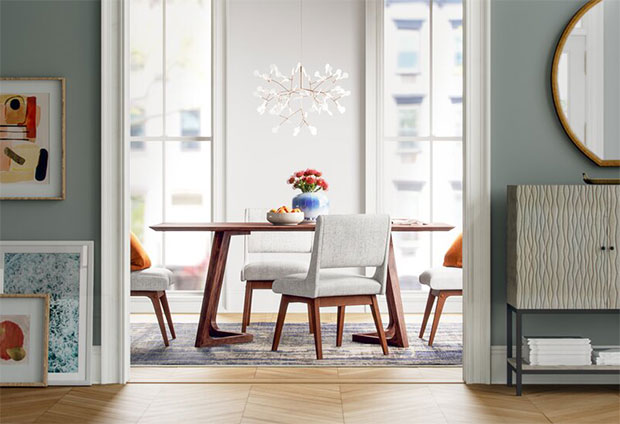 Wade Logan®
Featuring 45-LED lights, this charming modern chandelier design showcases a web-inspired silhouette. It has crafted from wrought iron in a copper finish.
Modern Farmhouse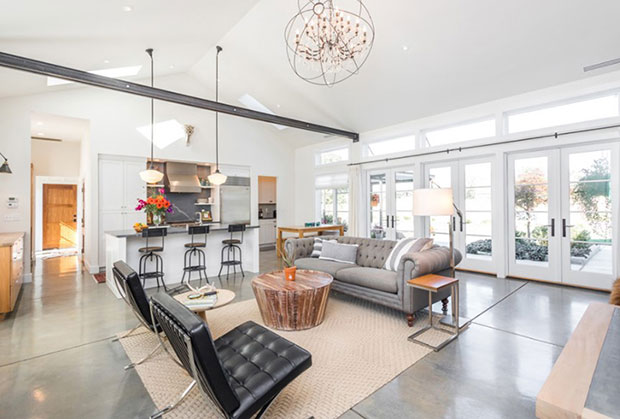 DeMambro Architecture
Reminiscent of a solar system, this modern chandelier design is interesting and eye-catching. Its finish is complementary to the room's accent color.
Cortez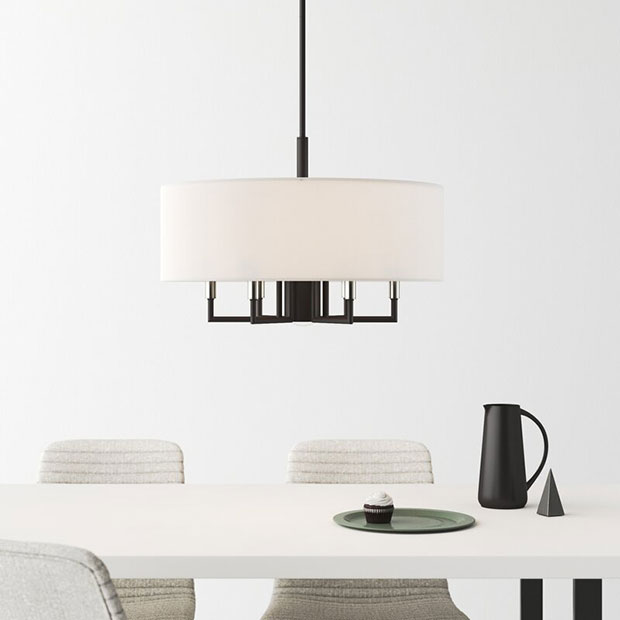 AllModern
With adjustable height and dimmable features, this chandelier embraces a modern and contemporary design. It has a seven-light pendant and Scandinavian gray finish with brushed nickel accents.
Byler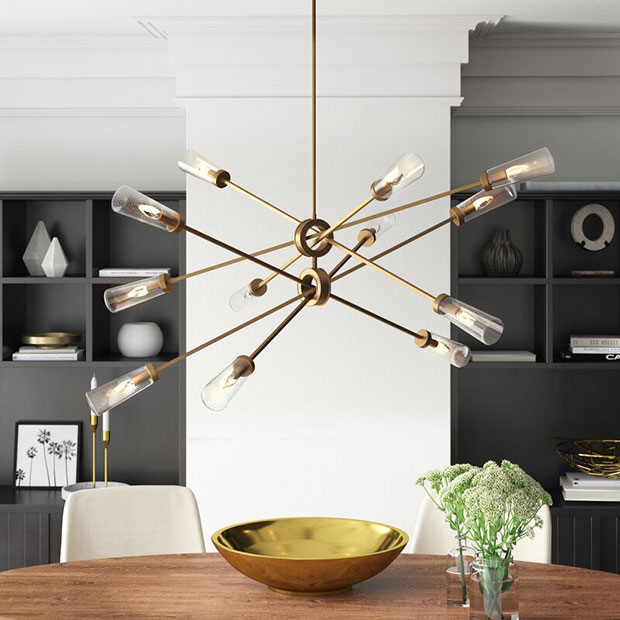 Mercury Row®
Featuring a 12-light linear design, this chandelier has a sputnik-style silhouette.
Cayson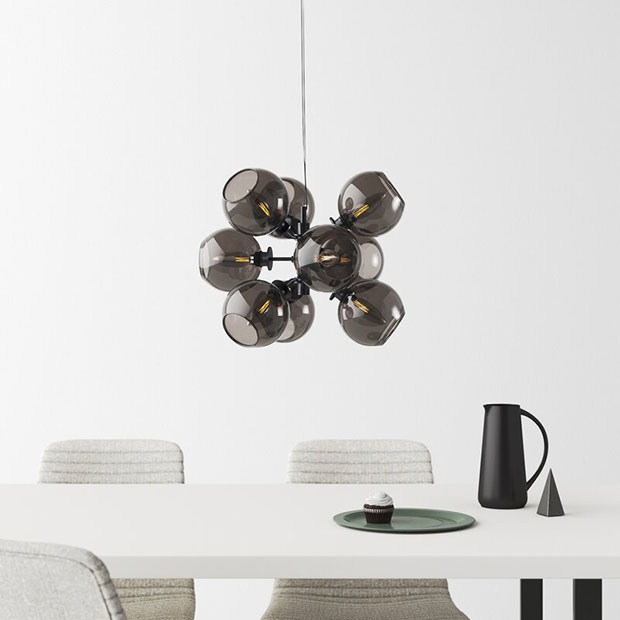 AllModern
With its clustered balls of light, this chandelier looks charming and eye-catching. It has a total of nine lights and a black finish.
Seager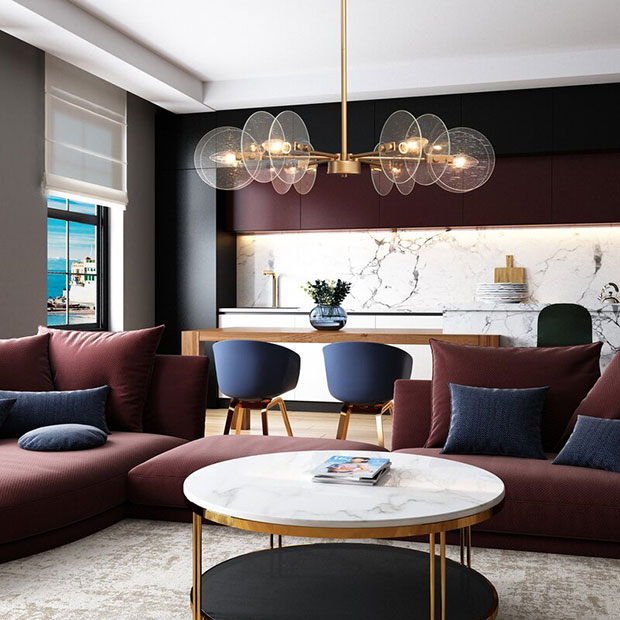 Corrigan Studio®
This chandelier has two parallel bubble glass sheets that surround each bulb head. It has a total of six lights and a material made from both metal and glass.
Dyal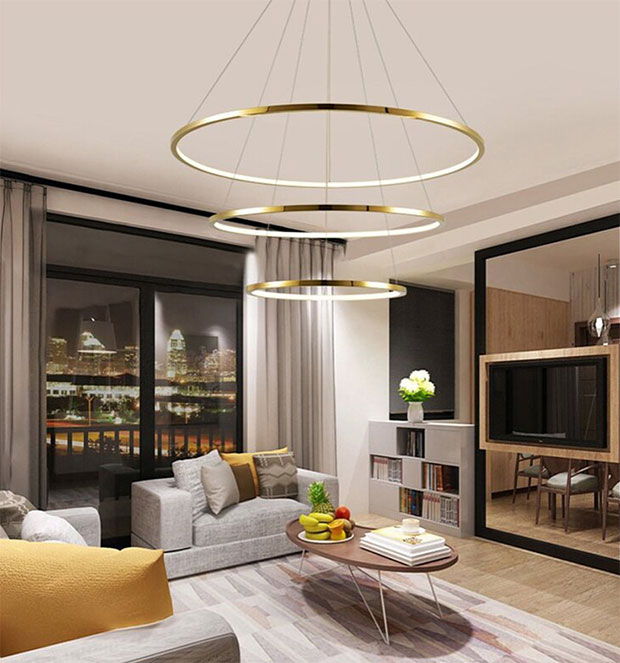 Orren Ellis
Made from metal and acrylic, this chandelier has a built-in LED light and can be adjusted in terms of its height.
Byrd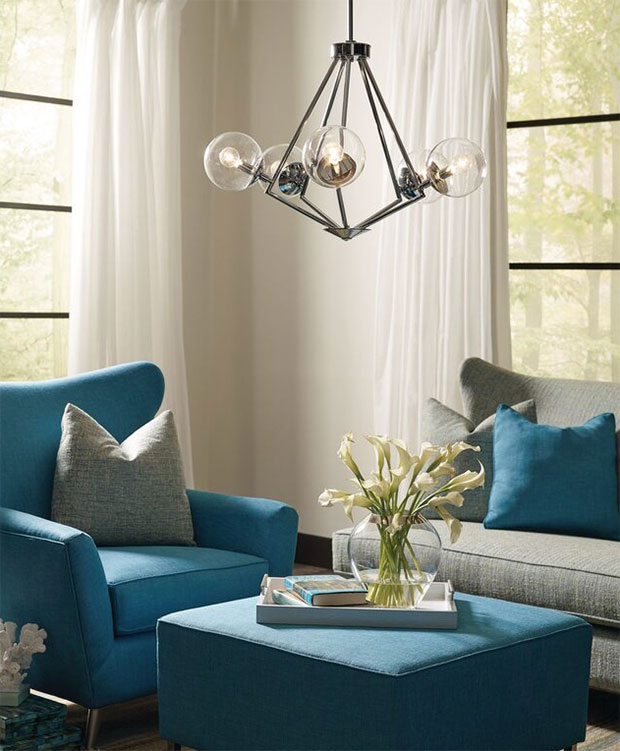 Ivy Bronx
This five-light chandelier has a sleek linear frame with a mid-century modern appeal. It has a total of 5 lights and a polished chrome finish.
Cornalin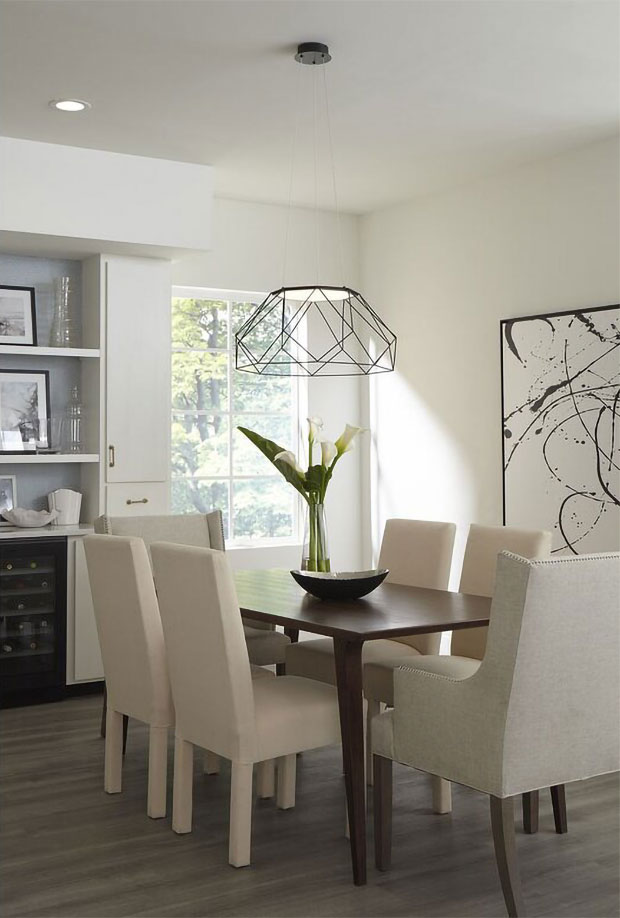 AllModern
With its open diamond-patterned frame, this chandelier is not imposing and is very minimal. It also has a classic matte black finish and a round ceiling plate.
Dolph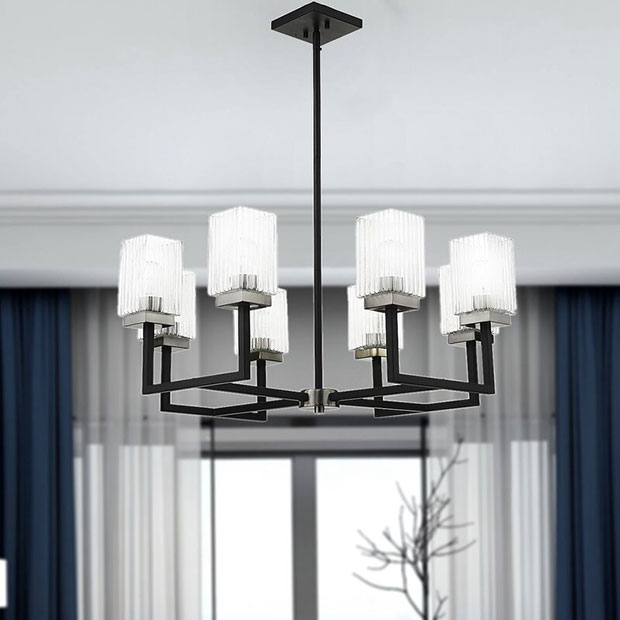 Latitude Run®
The unique fixture design of this chandelier is visually appealing and quite edgy. It has a total of 8 lights and is made of metal.
Liskeard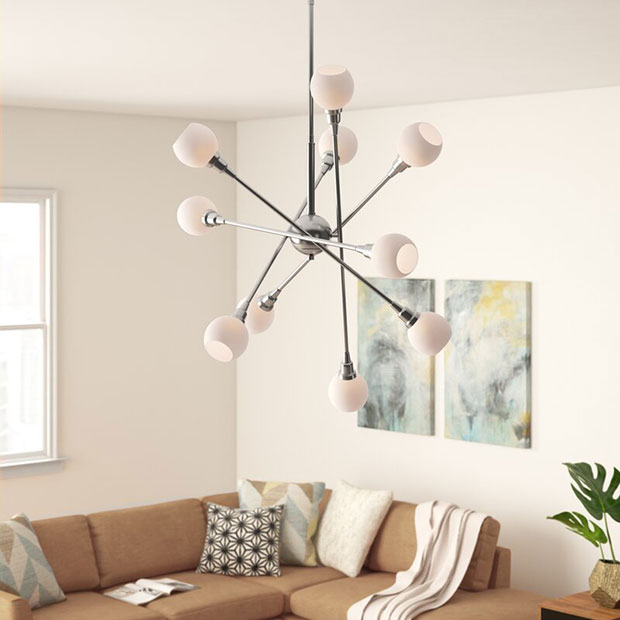 Brayden Studio®
This modern chandelier features a bold and modern design that adds a natural elegance to any room. With a total of 10 lines, this lighting fixture can easily brighten up a room.
Israel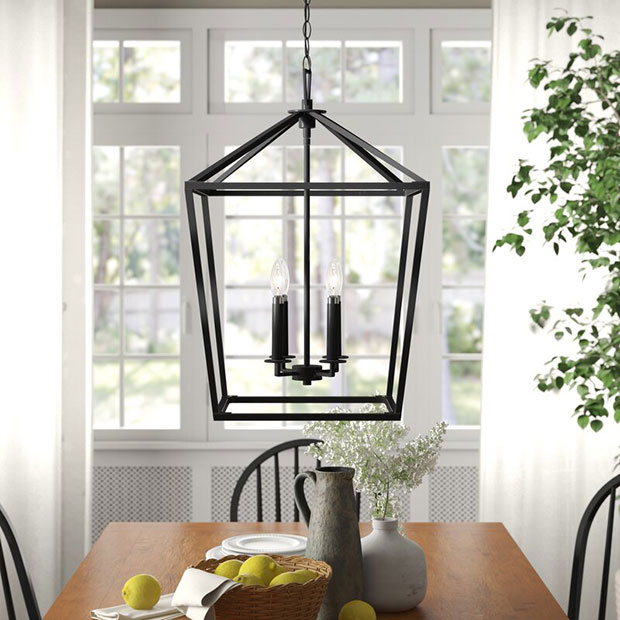 Birch Lane™
Crafted with a tapered, open metal frame, this chandelier has a clean-lined lantern. The classy look gives off dimmable, ambient light.
Basco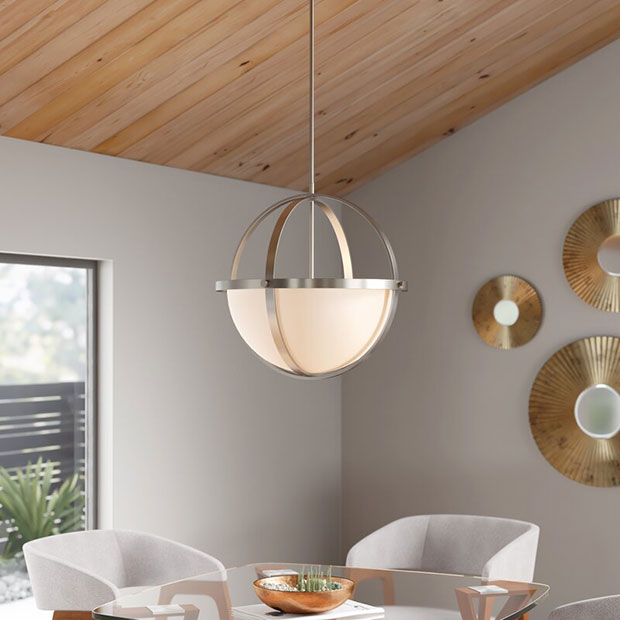 AllModern
Featuring a light-shaded globe chandelier, Basco has a unique visual appeal that makes a room soft and relaxing. The design has 3 lights and is made of metal.
Irina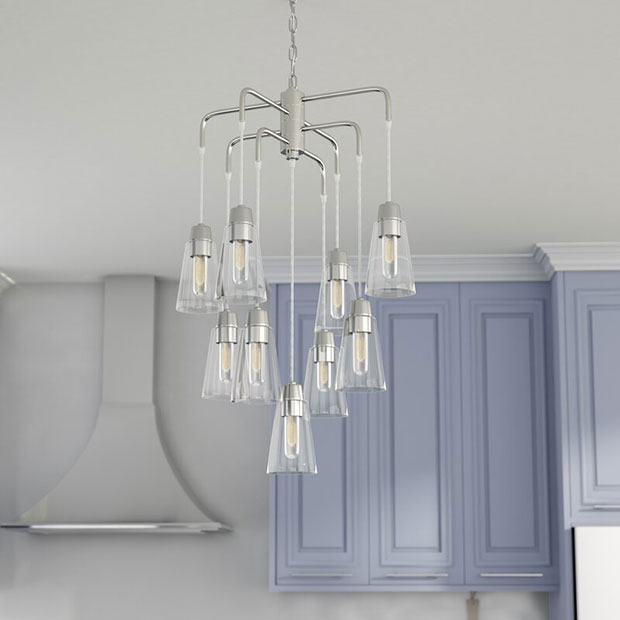 Ivy Bronx
Modern chandelier designs often offer an eye-catching accent in any home. This is embodied by the bright and modern look of this chandelier. It had nine dangling lights with clear bell shades.
Aliki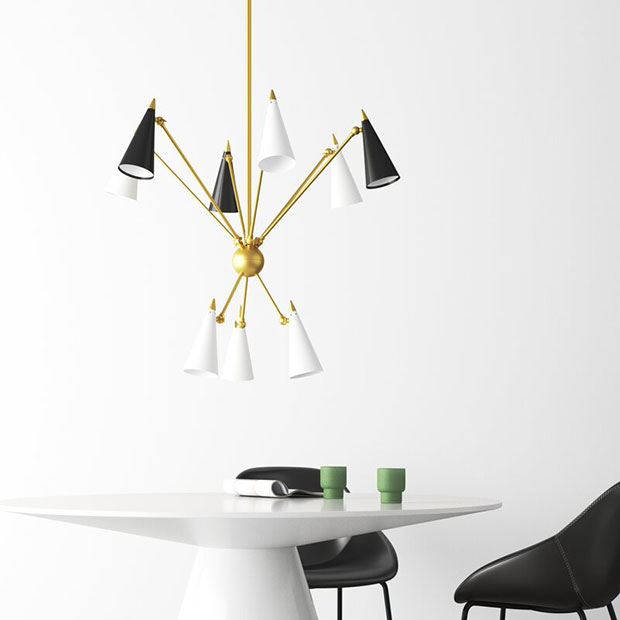 AllModern
The unique shape of this chandelier is eye-catching. It has 9 lights with a unique feature design.
Shotwell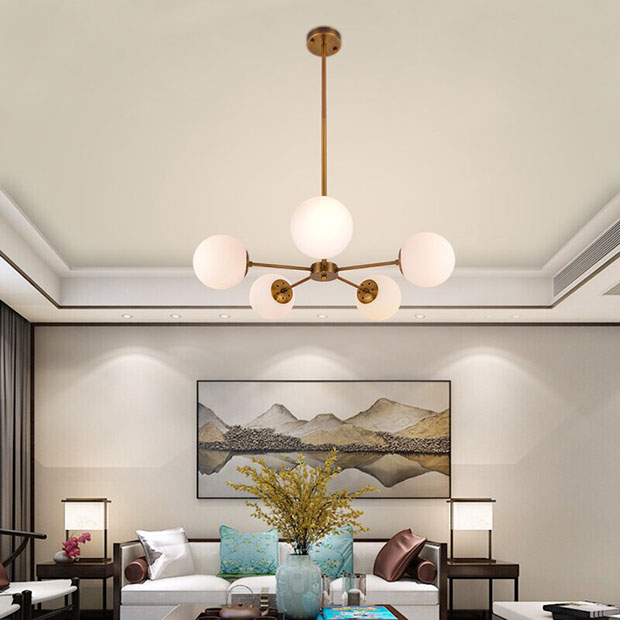 Corrigan Studio®
This retro-designed chandelier has 5 lights in a brushed brass metal ball.
Connors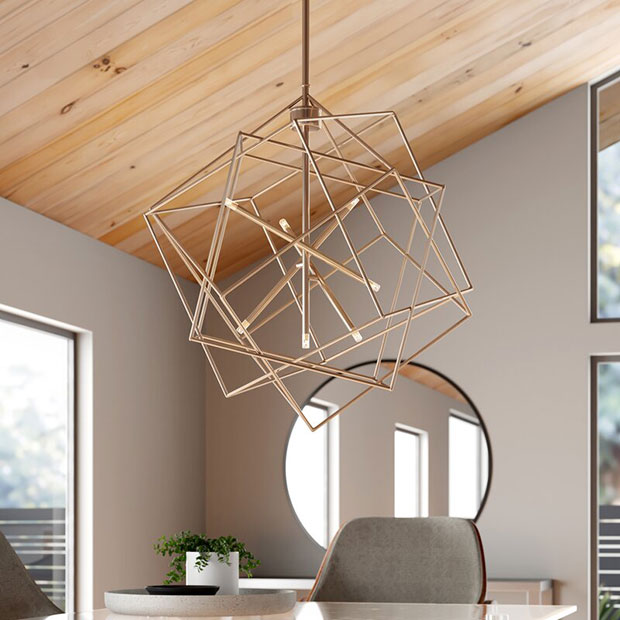 AllModern
This geometric chandelier offers an eye-catching appeal to any space. It has 7 LED bulbs and an adjustable hanging fixture.
Gagliardi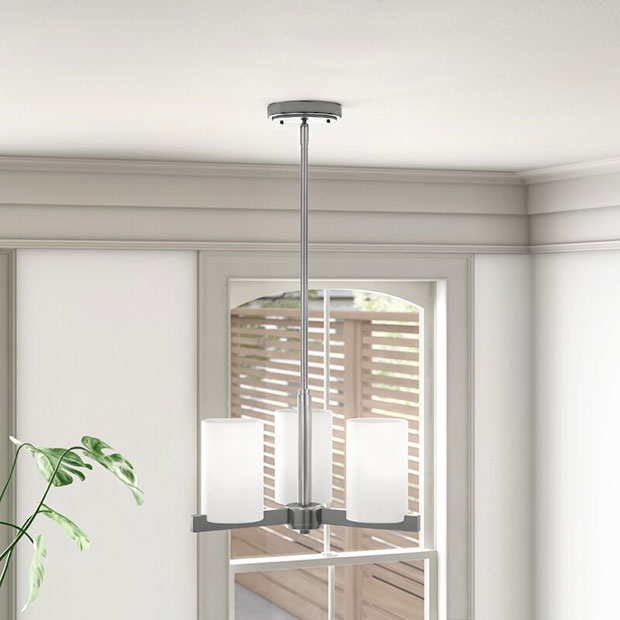 Zipcode Design™
This three-light shaded chandelier has a minimal and modern look that adds a fashionable touch to any room. Its hand-blown satin white glass cylinder shade adds a stylish look.
Kawakami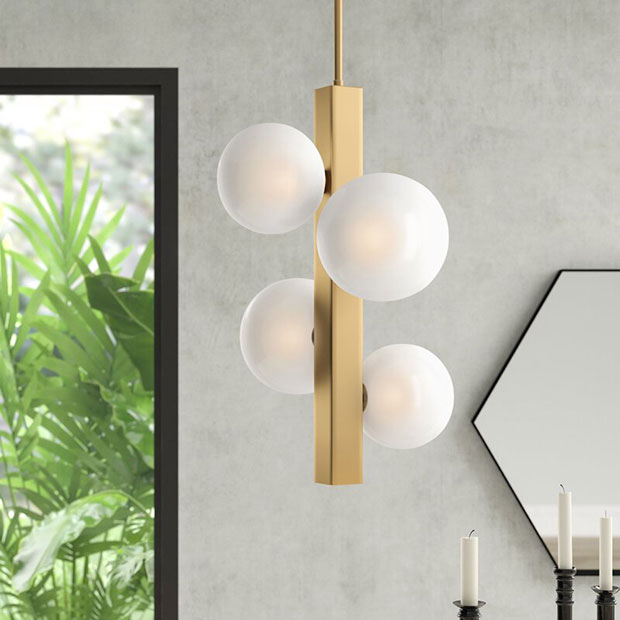 Mercury Row®
Another unique chandelier is added to our list of modern chandelier designs. This chandelier has an angular metal beam in the center with a cluster of four lights spanning off each side.
Marcos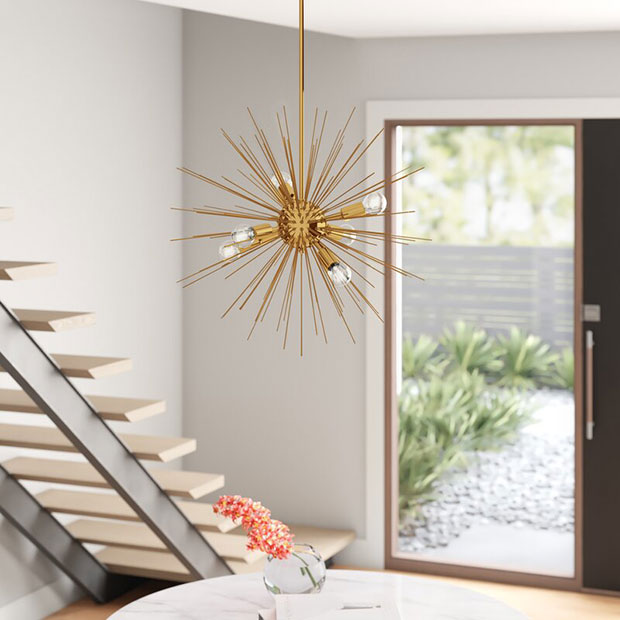 AllModern
Like an exploding light, this chandelier has an eye-catching and elegant design. It has an adjustable height and is dimmable.
Mine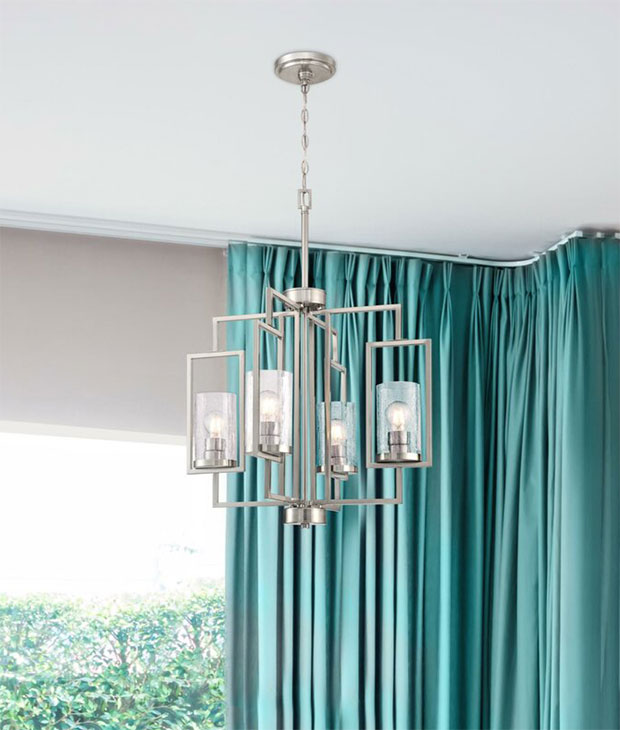 Ebern Designs
This chandelier has crackle glass cylinders framed in brushed nickel. Its shaded fixture design looks appealing and elegant.
Constellation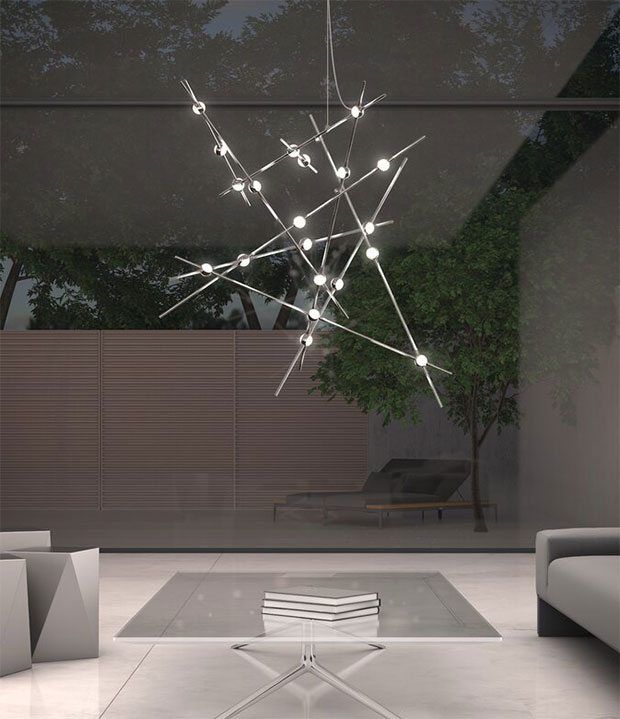 Sonneman
Looking like a group of stars, this chandelier looks classy and modern. It has a series of pre-configured bulbs that looks exactly like a constellation.
Dennie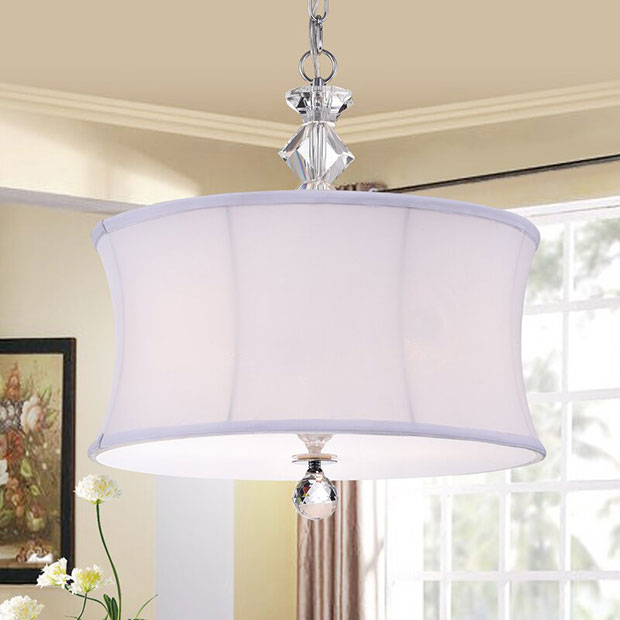 Ebern Designs
With the elegance of a drum chandelier, this lighting fixture has a total of 3 lights and is made of metal.
Higginson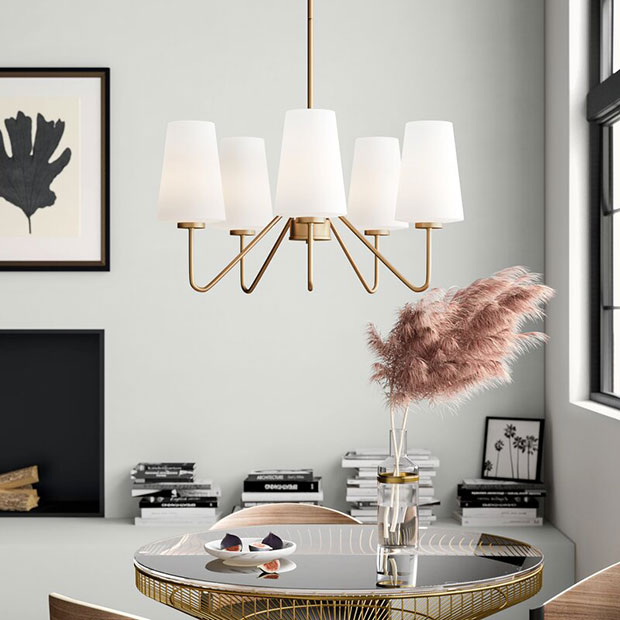 Mercury Row®
With a mid-century modern flair, this chandelier is elegant and very classy. It has tapered shades and a streamlined silhouette and a sleek brass finish.
Aaru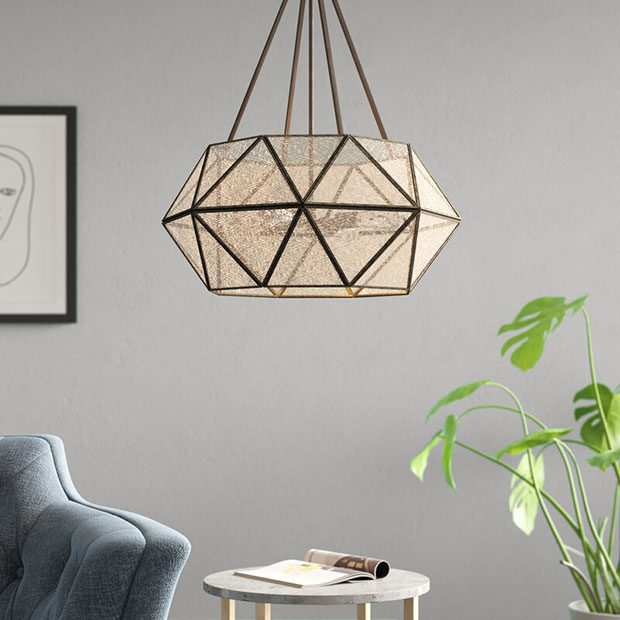 Joss & Main
Another geometric modern chandelier design is featured here. The Aaru has an oiled burnished bronze finish and an open, angular shade.
Melany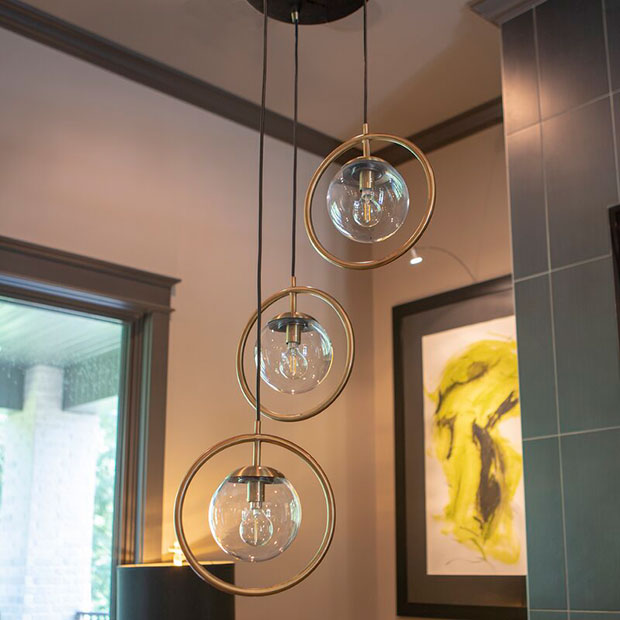 Orren Ellis
This three-tiered has a unique shape and interesting design. It has clean modern lines with a luxe finish.
Godbey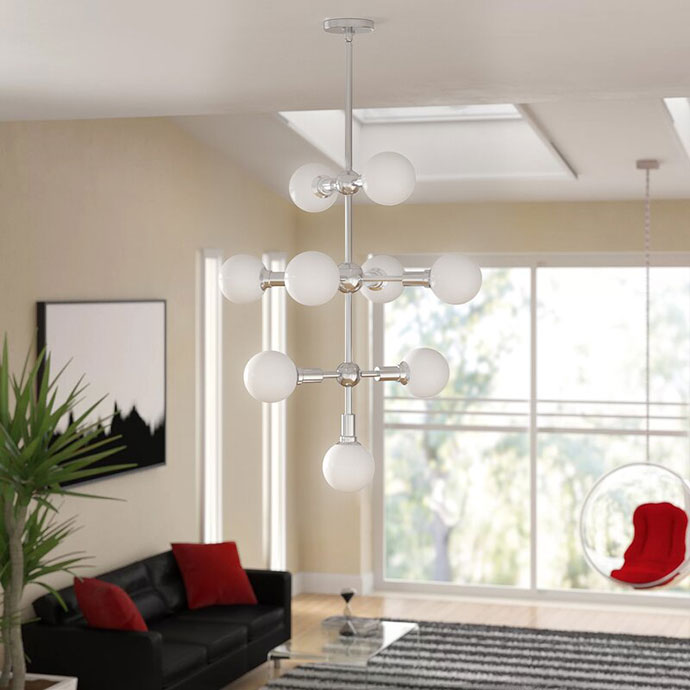 Wrought Studio™
The chandelier has a functional and stylish look that will look well indoors. It has a total of 9 lights and features a sputnik fixture design.
Majorette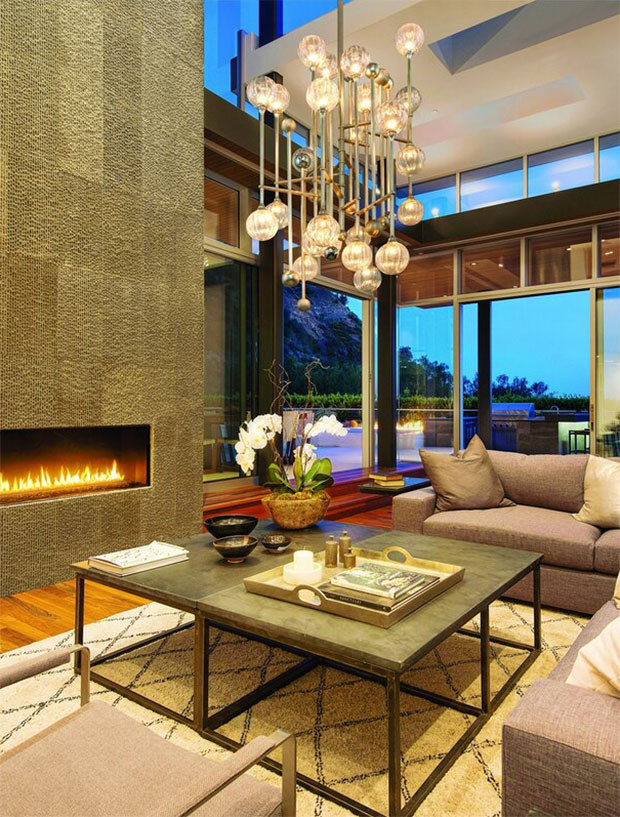 Corbett Lighting
The elaborate elegance of this chandelier is eye-catching. It has a total of 24 lights and features a sputnik design.
Now… What do you think about all these beautiful modern chandelier designs? Do you think they will look perfect in your home?
Share your thoughts in the comment section below!
Like This Post? Pin It!