60 Charming Bedroom Rug Ideas to Add Extra Style
|
Rugs are perfect accessories that will certainly boost the look of your bedroom. But beyond just aesthetics, rugs in your bedroom can also offer some function in the form of comfort. Instead of stepping onto the cold floor in the morning, you wake up, let your feet be met by a warm, cozy rug.
There are many styles of rugs out there. Even narrowing it down with bedroom rug ideas, can still be quite challenging. Though finding the right bedroom rug to fit with your room may be hard, there is no shortage of bedroom rug ideas.
Are rugs good for bedrooms?
The answer is a resounding yes! Not only do they enhance the room's look, but they also serve some functional purposes too. As already mentioned before, it adds some warmth to your feet, especially in the cold mornings. But it also provides a cushioning for our footsteps, reducing slips and falls, and minimizing injuries when one actually falls.
If your room is made of hardwood, it would be best to have a rug in the room to protect the floor from scuffs and marks by your shoes or furniture being dragged across. Rugs are also helpful in muffling sound or noise reduction. This is especially helpful if family members (or yourself) walk around like they're marching.
No matter what bedroom rug ideas you may have, they will all serve this purpose.
What type of rug is best for the bedroom?
Your bedroom is a space for you to relax, prioritizing your comfort above everything else while also providing you a space that fits your own personal style. The perfect bedroom rug is one that fits these two properties.
The bedroom is usually a low-traffic, private space so plush, high-pile or shag rugs are perfect here. In this case, polypropylene and wool, which are both hard-wearing, durable, and soft rug materials, are perfect.
Bedroom Rug Ideas for Inspiration
Now, let's take a look at some bedroom rug ideas that will certainly boost your room's look!
Lakeside Master Bedroom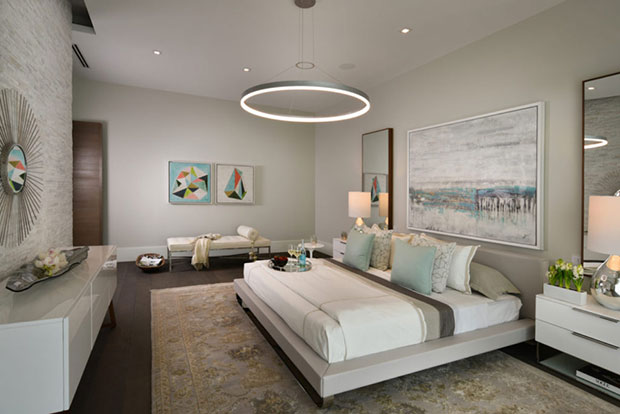 Hollub Homes
There are some bedroom rug ideas with patterns that look like modern art. This particular bedroom even complements all the fine artworks found all over. Not only that, but the color of this rug complements that of the bedsheets.
Hayden Hollub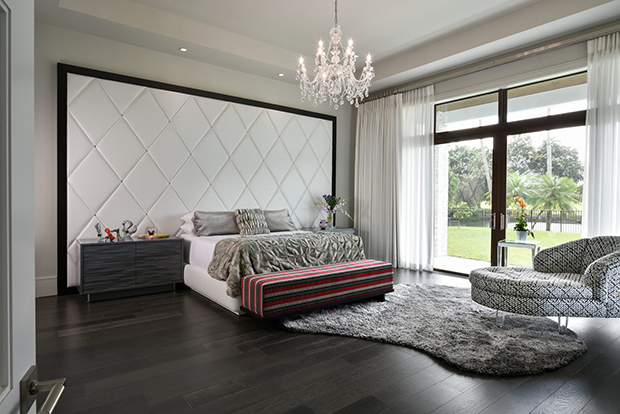 Hollub Homes
Soft rugs like this are pretty common bedroom rug ideas. The color choice even complements that of that chaise lounge. In the overall scheme, it makes the room look more sophisticated and chicer.
Organic Contemporary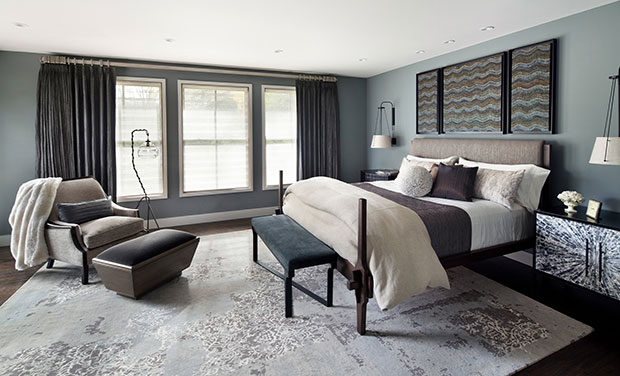 Spectrum Interior Design
Direct your attention to the streaking pattern of the rug that matches well with the cabinet door of the bedside nightstand.
Wave House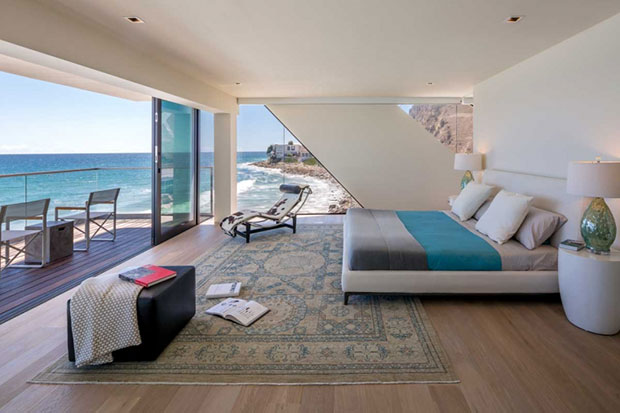 Mark Dziewulski Architect
This particular rug color seemingly blends in with the hardwood floor. And the beautiful patterns are well-fitting for this coastal home.
Lake Estate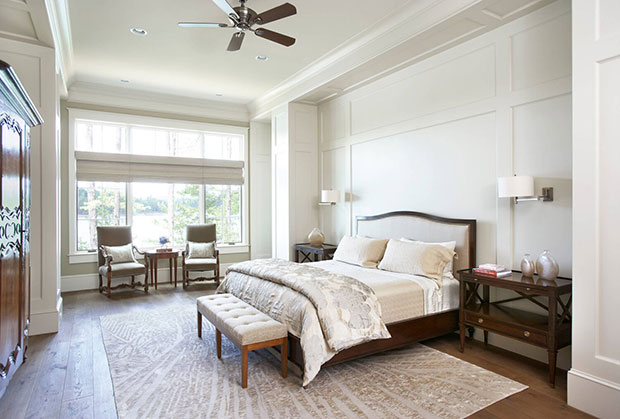 Linda McDougald Design
With the warm neutral colors, this rug and its color and design match with the bed linens. This creates a beautiful color harmony and a relaxing atmosphere.
Fremont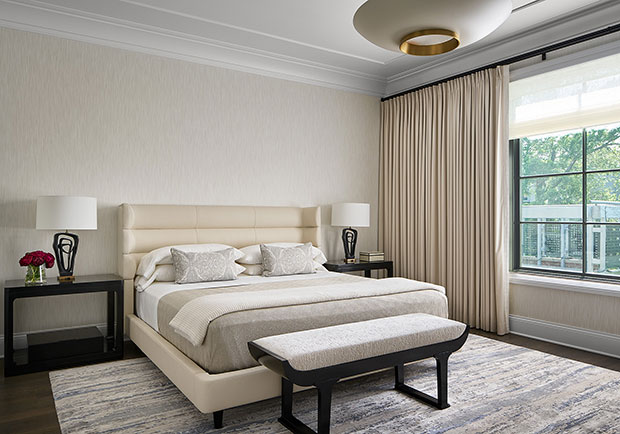 Michael Abrams Interiors
Willow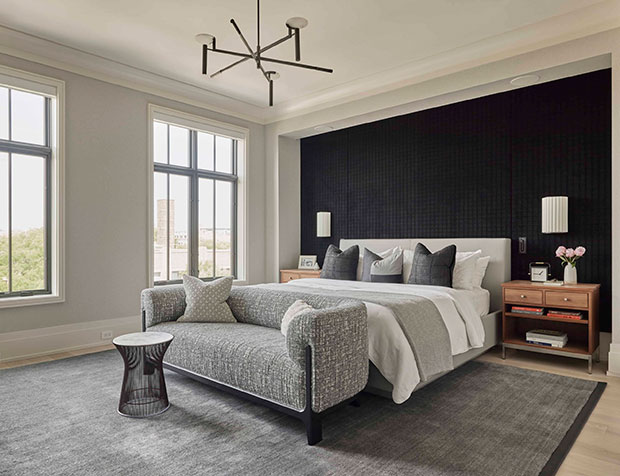 Michael Abrams Interiors
With a dark padded wall, the grey linens, couch, and rug are nice choices to complement it, creating a balance in colors.
Wabash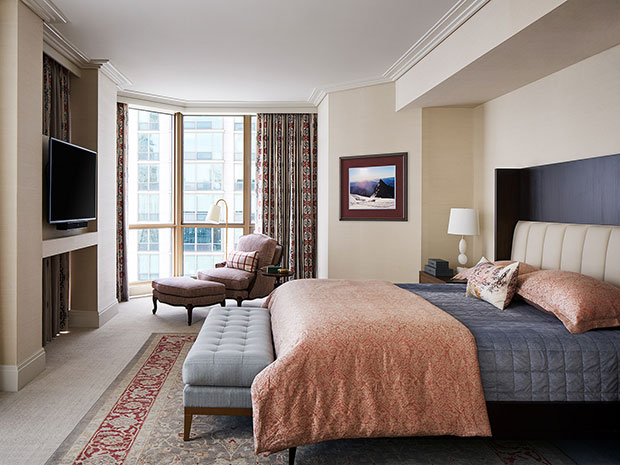 Michael Abrams Interiors
We've had some bedroom rug ideas that match with bed linens. But this time, the color choices for this rug match that of the curtains.
Captiva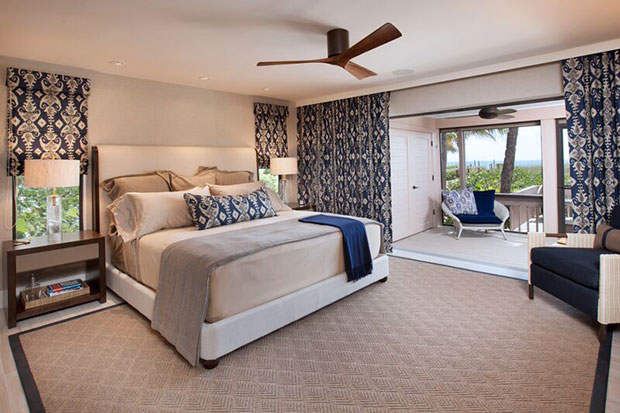 Michael Abrams Interiors
With the bold patterns and colors of the curtains, this home knows too well to get a bedroom rug that doesn't clash with that. Still, on its own, this rug is a beauty.
Burling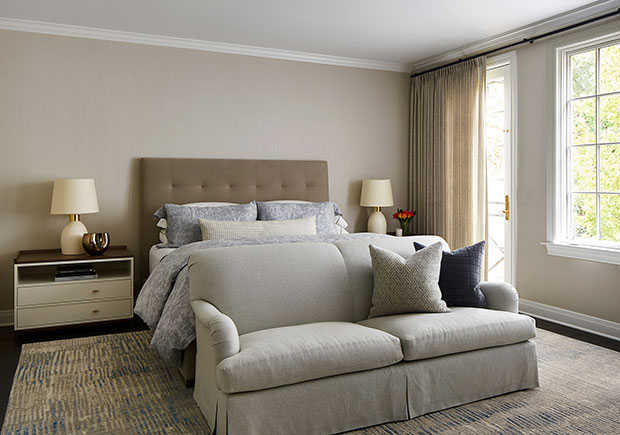 Michael Abrams Interiors
A key point in bedroom rug ideas is to find one where the colors on the rug could also be found around the bedroom. This way, the colors don't clash, instead, it creates color harmony.
Columbia Heights Residence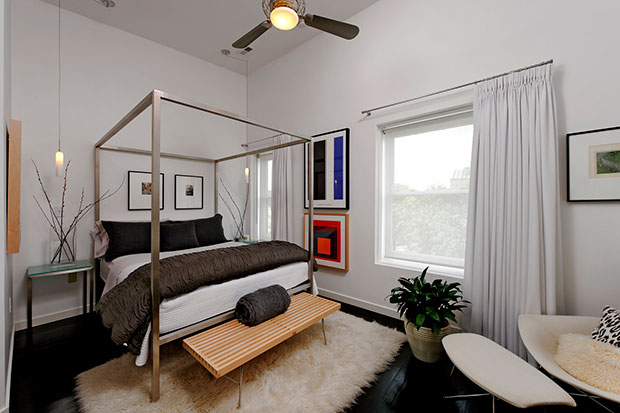 Patrick Brian Jones PLLC
Soft and puffy rugs like this are common bedroom rug ideas. They immediately give a luxurious impression. In the case of this room, with the furnishing choices, this rug certainly elevates the look.
Cathedral Heights Residence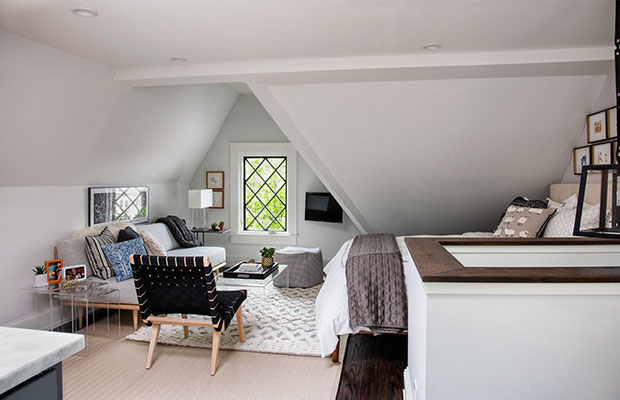 Patrick Brian Jones PLLC
For a cozy and homey feel, this particular bedroom rug is perfect. With the bolder and more color picks found across the room, this choice of white and muted grey color for the rug is the right fit.
Shaw Residence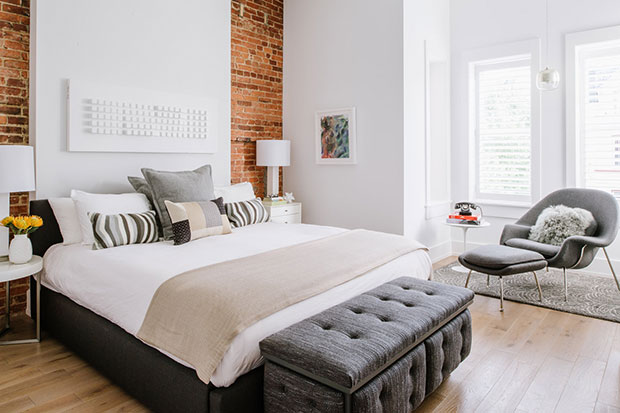 Patrick Brian Jones PLLC
Many bedroom rug ideas will have you place the rug beneath the bed. But in this bedroom, this rug fulfills its aesthetic purposes elsewhere. Still, it stands out, especially against the pure white walls and windows.
West Drew Street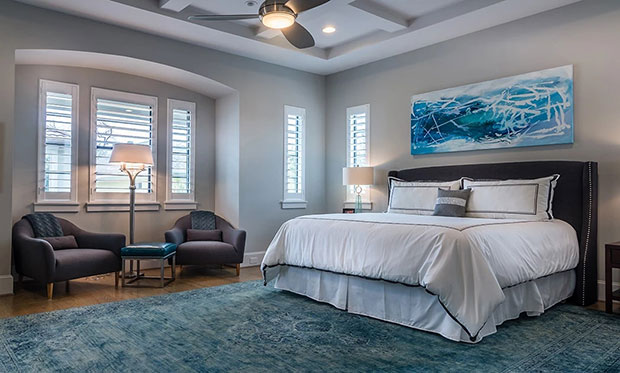 Masa Studio Architects
Rather than matching your bedroom rug with the linens, get it to match with an art piece found on your bedroom wall. This particular shade of blue gives a cool atmosphere into the room.
Modern House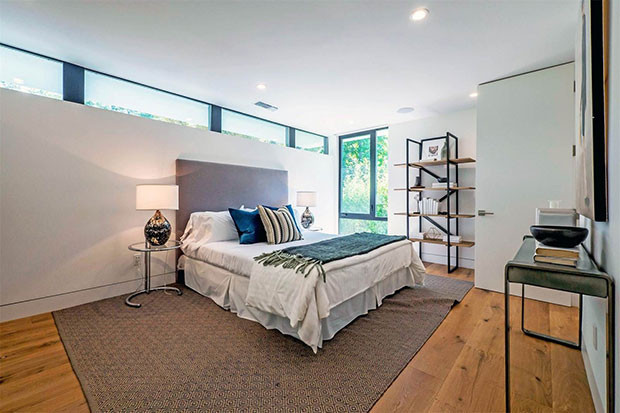 Element Design Group
Complementing the headboard color, this particular rug is enough to give a boost of a modern look into this room.
Rockwood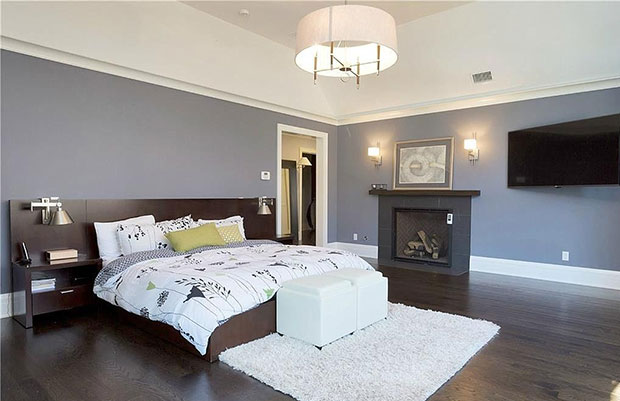 Legacy Construction Northeast LLC
Thick, fluffy rugs are also common picks for bedroom rug ideas. This one in particular is a clean and chic look, doing its best as an accent piece.
Lake Isle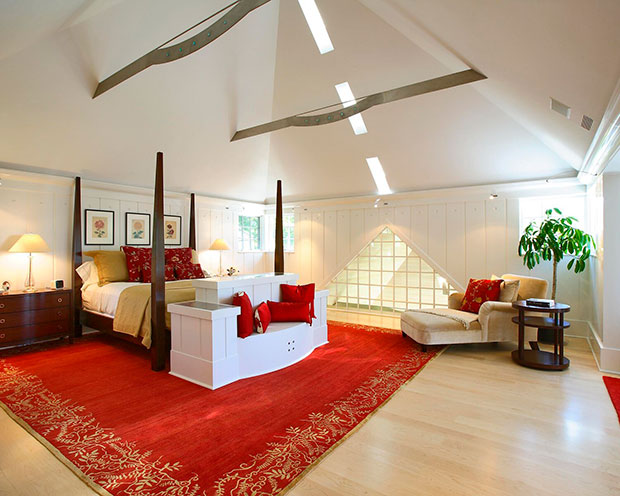 Legacy Construction Northeast LLC
This bedroom rug is looking like a red carpet. The colors and design make the room look very regal. It's a perfect compliment too to the furnishing and overall interior design.
Beach Glamour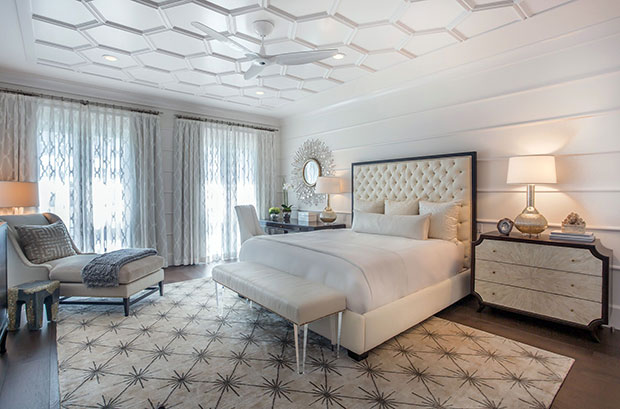 Pineapple House Interior Design
The colors on this rug are a perfect complement to this bedroom's color scheme. But even more so, it seems it also matches thematically with the patterns.
Marina Place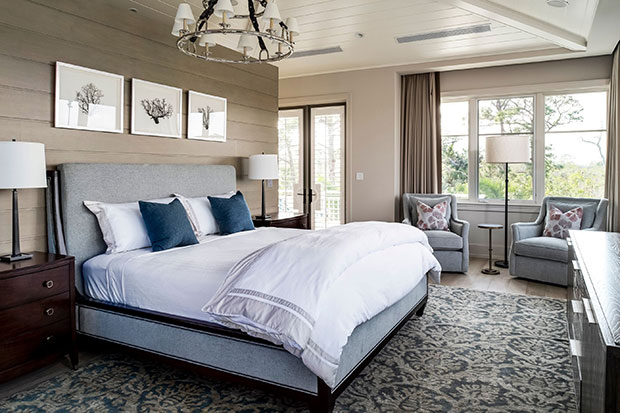 Pineapple House Interior Design
This bedroom rug, adds a little layer of interest as it contrasts the warm glow emitted by the soft, neutral, and muted colors of the rest of the room.
Jupiter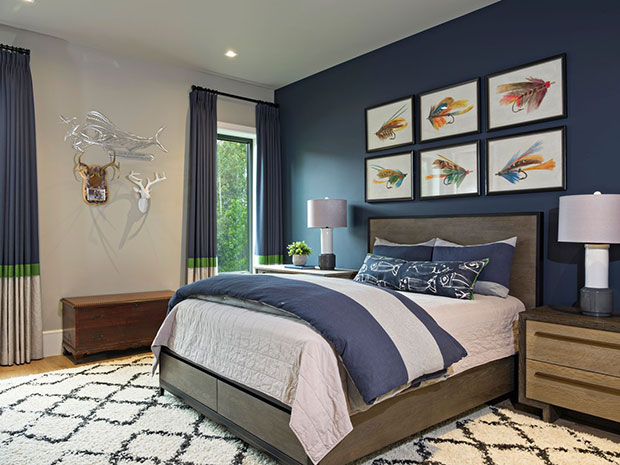 Pineapple House Interior Design
Choosing a rug with neutral colors to contrast the darker tones in your bedroom is a smart choice. It lightens up the room in a way, keeping it from looking too edgy.
Gunnison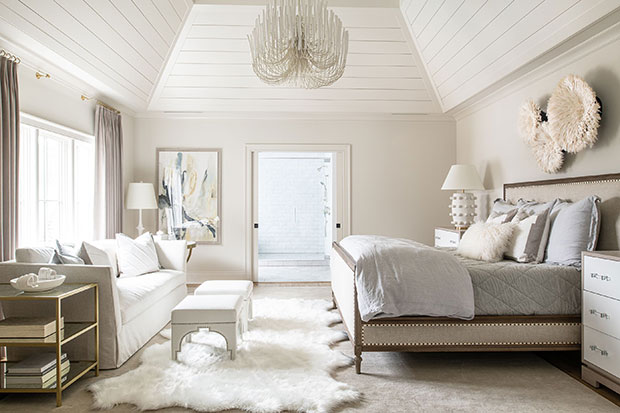 Pineapple House Interior Design
Faux animal fur rugs are also quite one of the favorite bedroom rug ideas. With this room giving off pristine and sophisticated vibes, this choice of bedroom rug is spot on.
Waldorf Astoria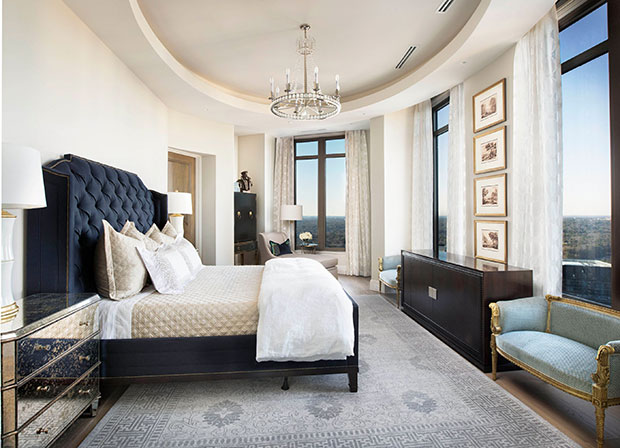 Pineapple House Interior Design
The muted color and the subtle design pattern for this traditional-looking bedroom design.
Paradise Valley Residence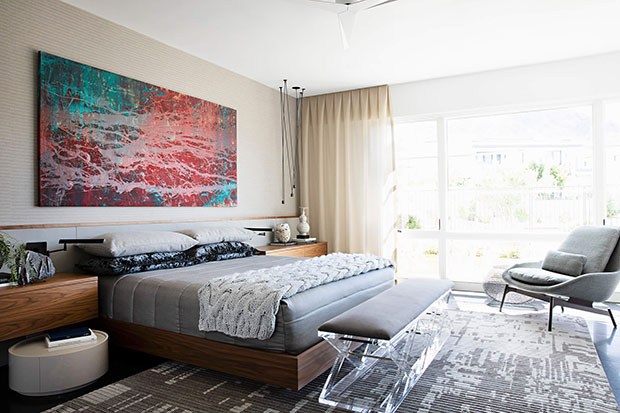 IMI Design Studio
A simple yet cool design that elevates further the contemporary look of this bedroom.
The Village at Mountain Shadows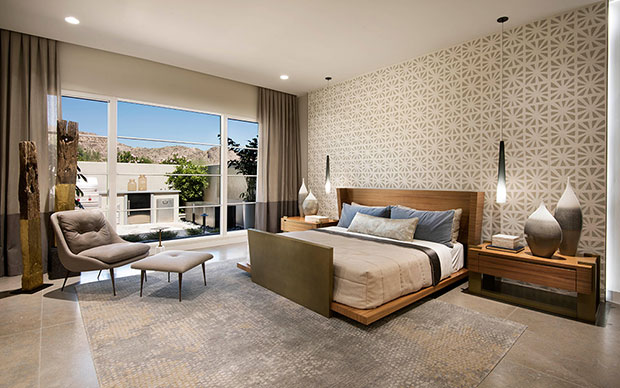 IMI Design Studio
You may need to squint to even spot the rug in this bedroom. Bedroom rug ideas like this are innovative and clever. Not only does it seemingly camouflage with the floor tiles, but it also goes along with the room's overall color palette.
Los Angeles Residence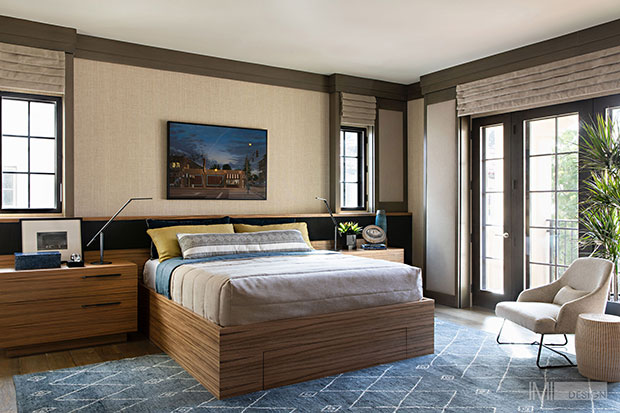 IMI Design Studio
This rug choice is quite interesting as it contrasts the neutral and earthy colors. It brings a lightness that could only be brought by this shade of blue.
Paradise Valley Residence 3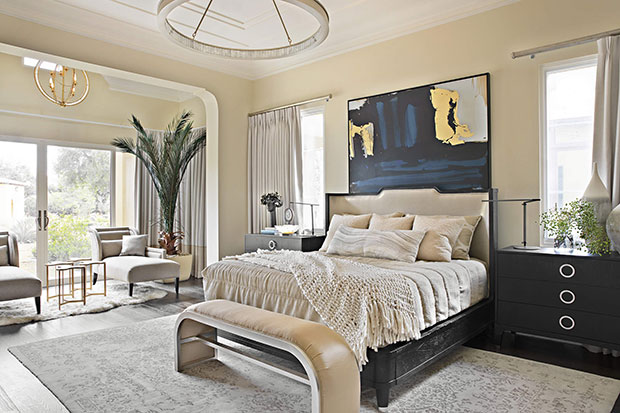 IMI Design Studio
The inconspicuous print does not attract attention to itself. But it's a perfect accessory piece for this type of room design.
Summit Showhouse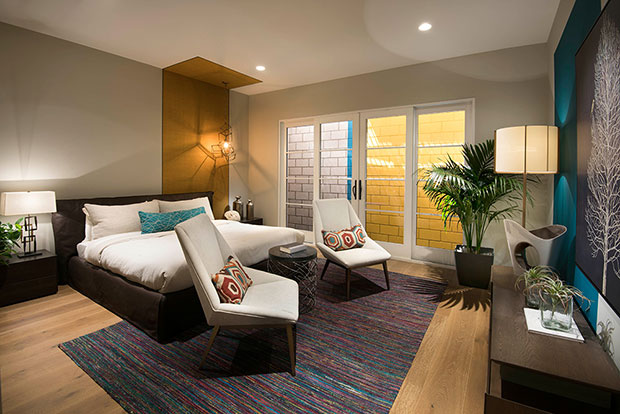 IMI Design Studio
Eclectic bedroom rug ideas like this are to be desired! The colors do not clash with the room's color palette but it stills pops out.
Mountain Side Residence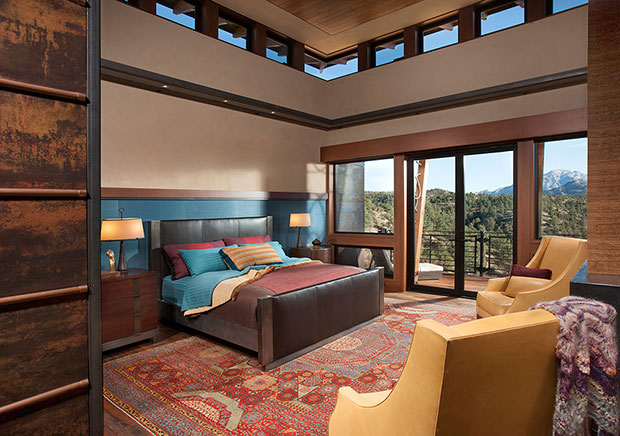 IMI Design Studio
This is one of the boldest bedroom rug ideas on this list. The vivid colors and the bold print create a stunning bedroom rug that nearly covers the entire bedroom floor.
Private Residence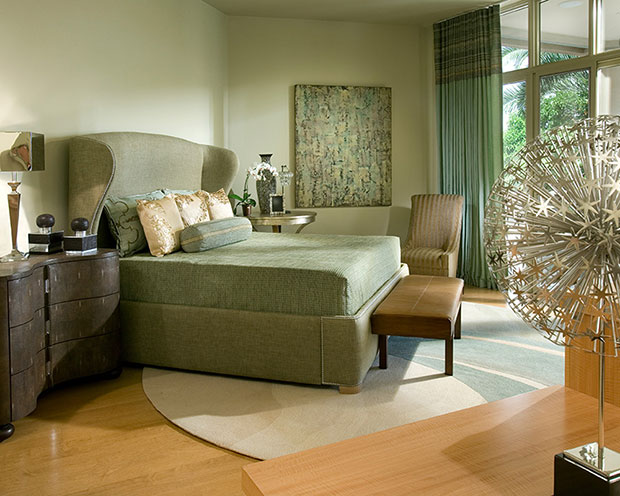 IMI Design Studio
The usual bedroom rug ideas you are going to get are rectangular. But here we have a circular rug that brings a different kind of look into this room.
Bimini's Best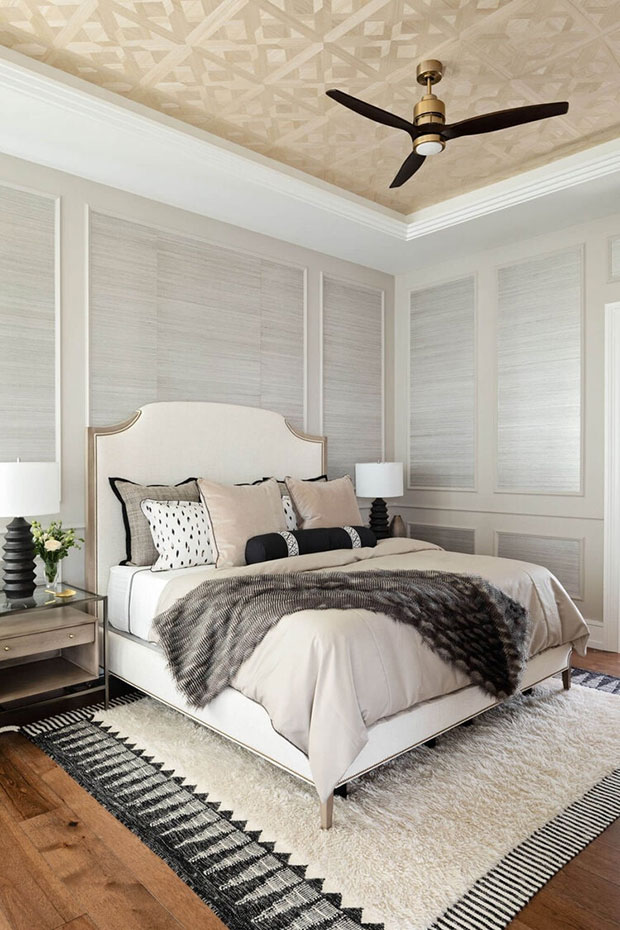 Emily Moss Designs
Going along with a black and white scheme, with some soft neutral colors in splashes, this rug fits perfectly. But its texture also slots right in with the rest of the room.
Coastal Modern Canal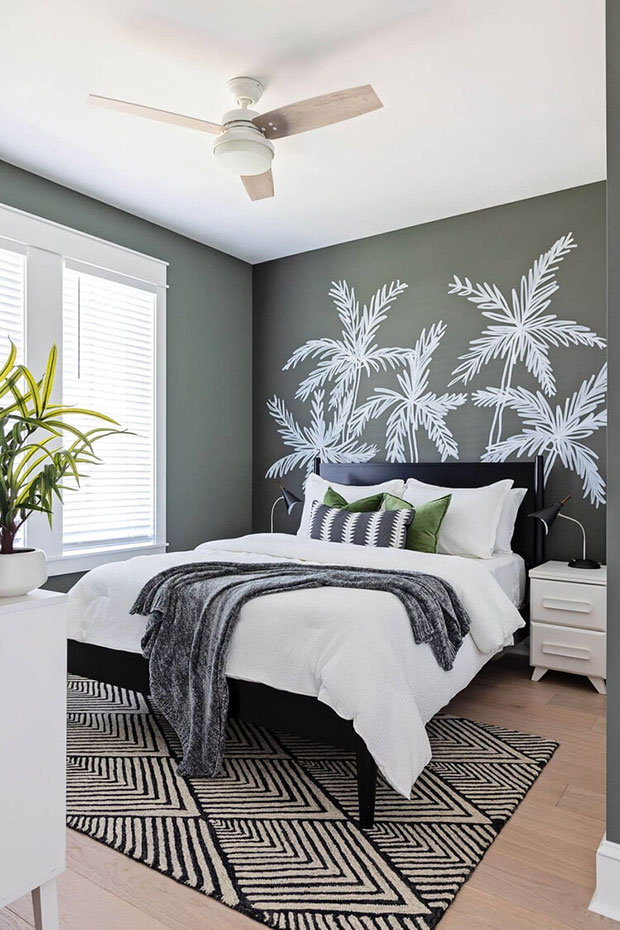 Emily Moss Designs
The striking patterns of this rug make one's attention gravitate towards it.
Bikini Bottom Beach House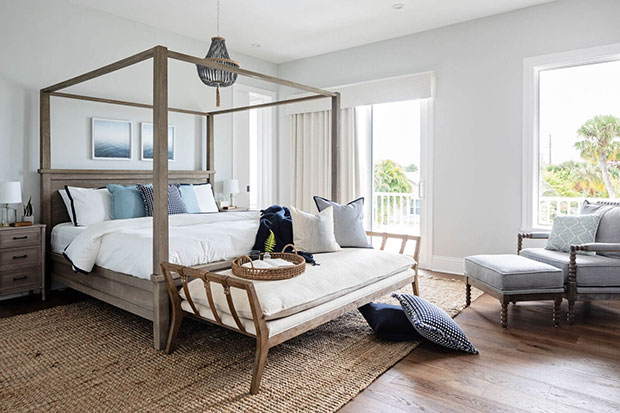 Emily Moss Designs
This unique rug completes the coastal and modern design look of this bedroom. It certainly elevates that coastal vibe of this beach house bedroom.
Gulf View Beach Resort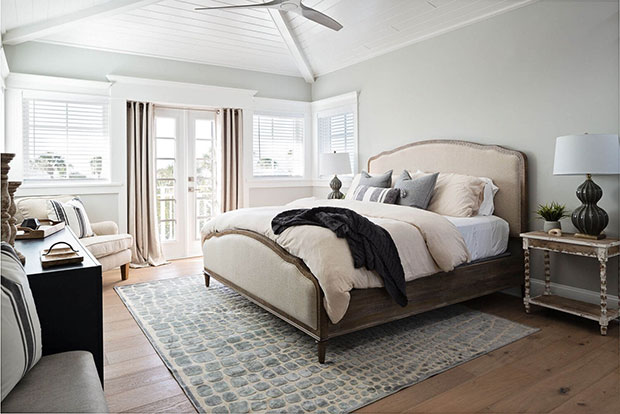 Emily Moss Designs
This bedroom rug has quite an old-school look to it. And the round prints match with the wall paint color.
North Bay Modern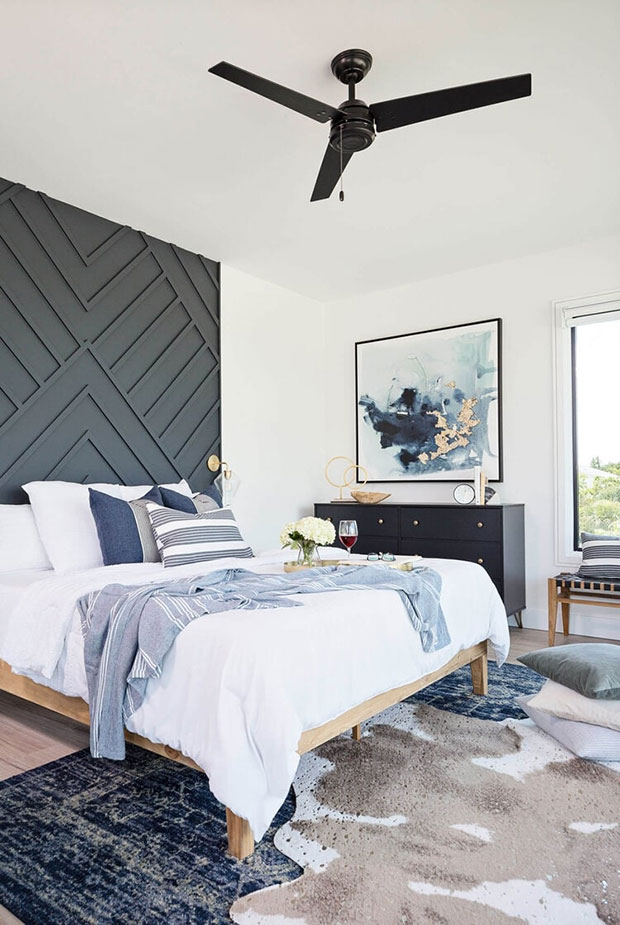 Emily Moss Designs
Another great tip for bedroom rug ideas is layered rugs. In this bedroom, two contrasting rugs in colors are layered on top of each other. Not only that, but while the bottom rug is rectangular shaped, the top rug is irregular shaped. This creates an interesting look overall and how layered rugs should be done.
Marina Blue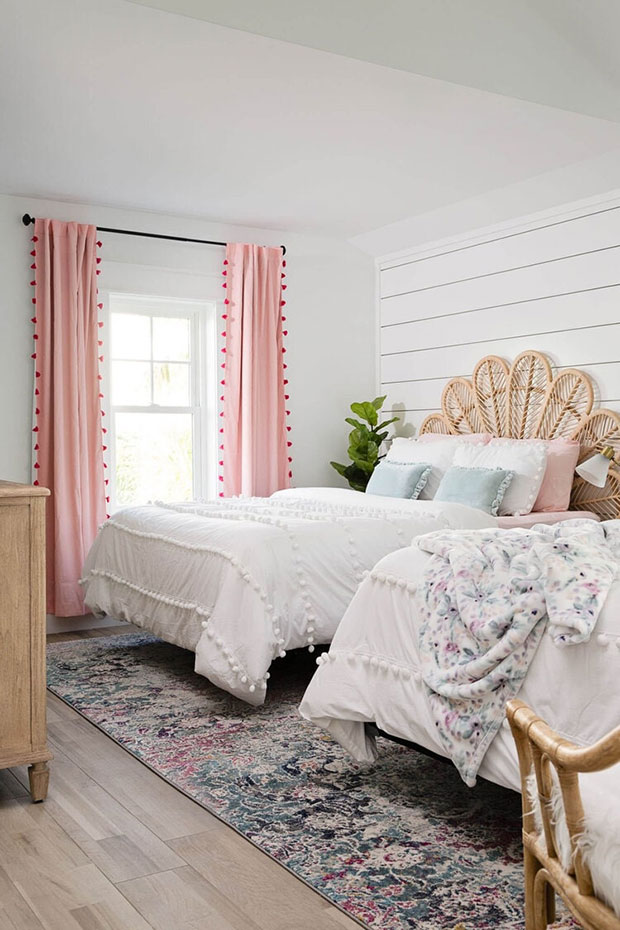 Emily Moss Designs
The floral print to go along with these colors of darker tones is a good design combination for a rug. It then creates contrast and yet still compliments the color palette of this bedroom.
Bimini Beauty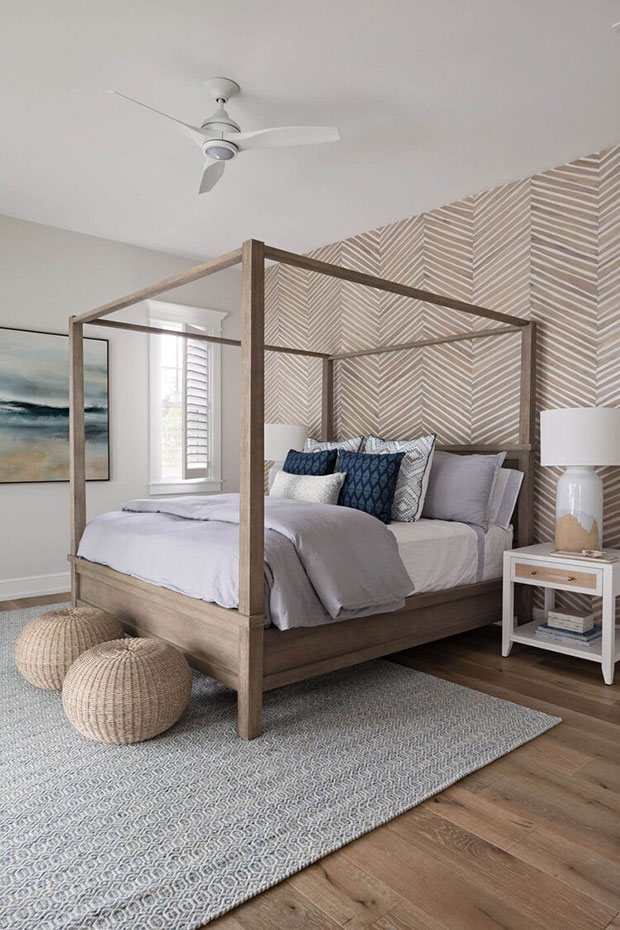 Emily Moss Designs
Geometric patterns seem to be a recurring theme in this bedroom. It is seen clearly by the wallpaper and the linens and is finished off by the rug.
Dream Cottage with a View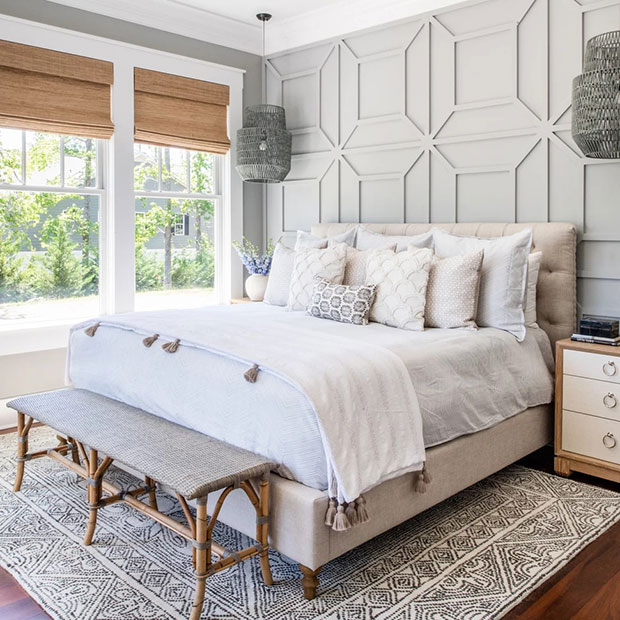 Mary Hannah Interiors
The pretty tribal print of this rug elevates the farmhouse look of this bedroom. It brings a certain edge to this cozy, neutral bedroom.
Cape Shores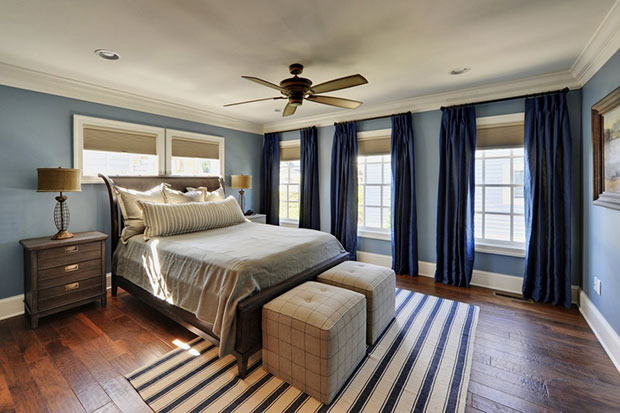 Echelon Custom Homes
A striped bedroom rug like this seems pretty plain. But it works for this particular bedroom with its traditional and classic simplicity. It's also pretty consistent with some line patterns found in the linens.
Gish Home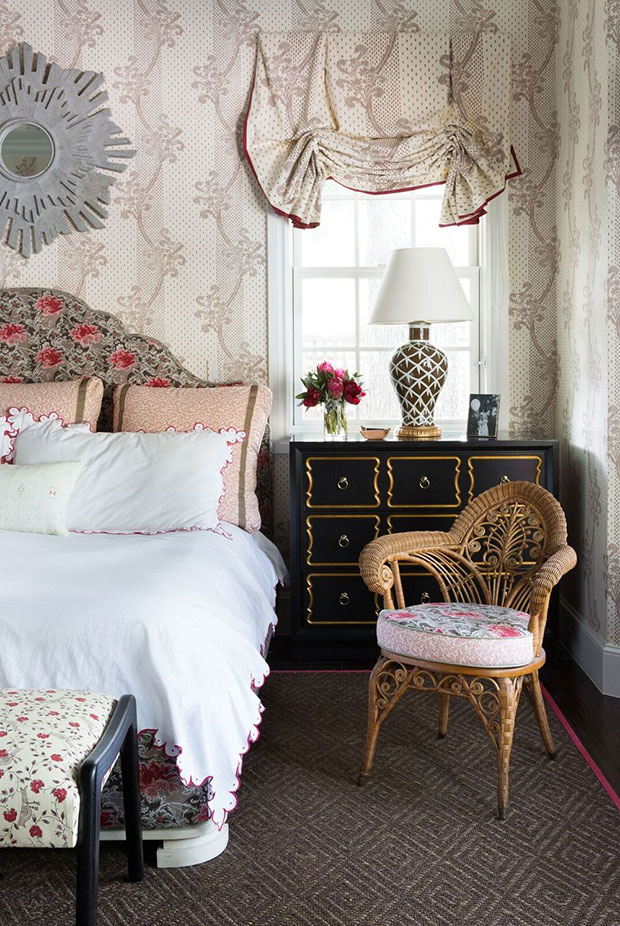 Tilton Fenwick
With some light color tones used in about every fabric in this room, it only makes sense to pick a bedroom rug that is a stark contrast to this. It also brings out a regal fashion and feeling to the room.
A New Start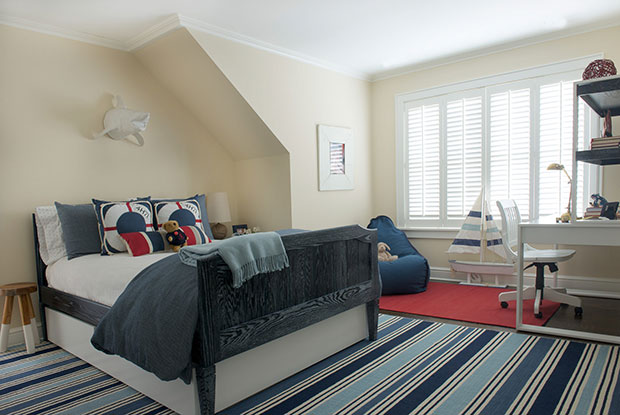 Dalia Canora Design & Art
For a kid's bedroom, bedroom rugs like this are perfect. Simple print and vivid colors are the way to go to make the room relaxing, inviting, and comfortable.
Anita Lane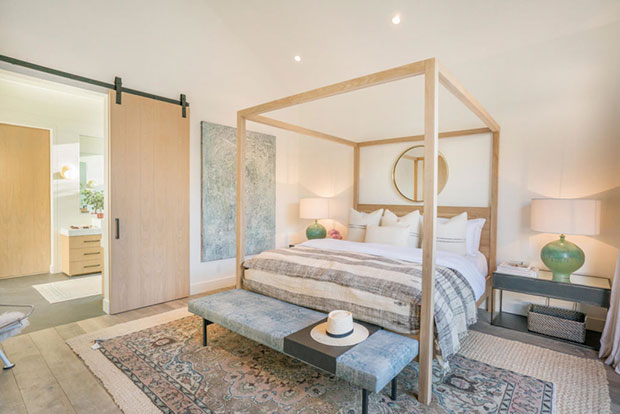 KRS Development, Inc.
It may not seem like it at first, but this bedroom has layered rugs. Most layered bedroom rug ideas will have a regular-shaped rug paired with an irregular-shaped one. But in this room, having both rectangular-shaped rugs work as one is bigger than the other, and they are within each other's color range. It creates the illusion of having a single bedroom rug.
Los Angeles Abode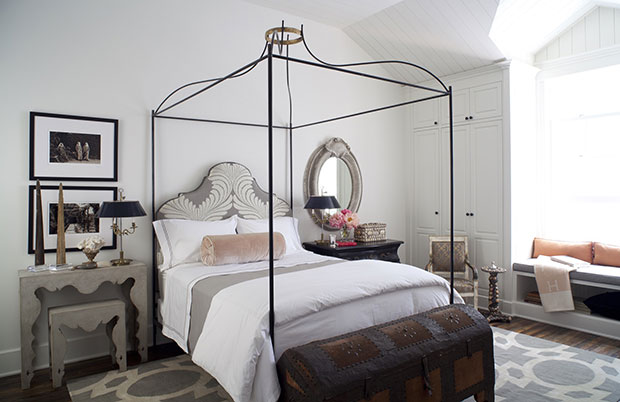 Tara Shaw, LTD
As far as the furniture pieces in this bedroom go, it's giving a very classical, traditional design look. And the bedroom rug choice is a perfect fit.
Dapple Grey Drive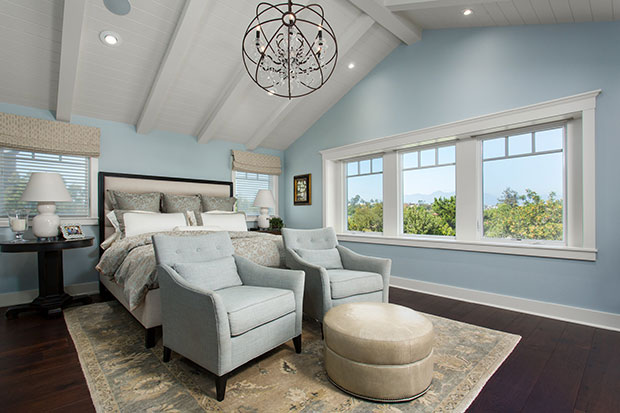 Peters Architecture
While most rectangular rugs are run perpendicular to the bed, this one runs lengthwise over the bed. It's a unique design choice that you could consider for yourself.
Westlake Village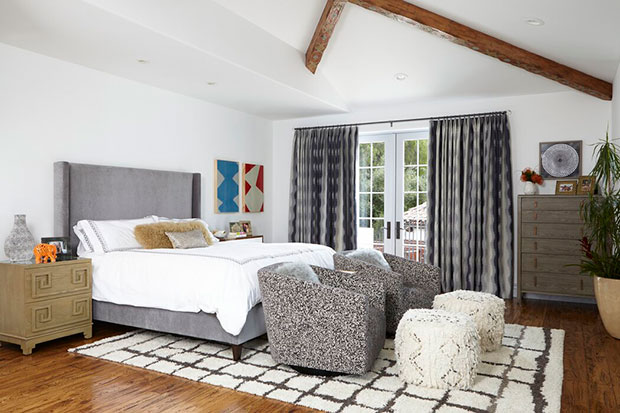 Susan Corry Design
Like those ottomans, the rugs are texturally fitting with the furnishing in this bedroom. The colors too elevate a soft glow in this space.
Bower Residence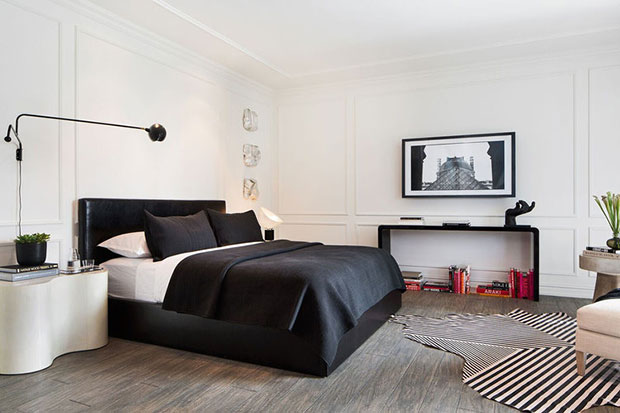 SFA Design
In comparison to most bedroom rugs that are found immediately around the bed floor, this one's a little off to the side. In addition, the zebra print elevates the stylish and chic overall look of this room.
The Altair Residence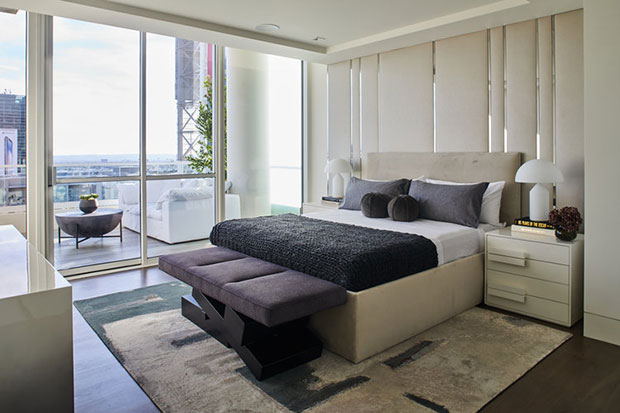 SFA Design
For the contemporary chicness of this room, this bedroom rug is such a perfect fit. The incomprehensible print and the color choices work for such a contemporary space.
Dana Point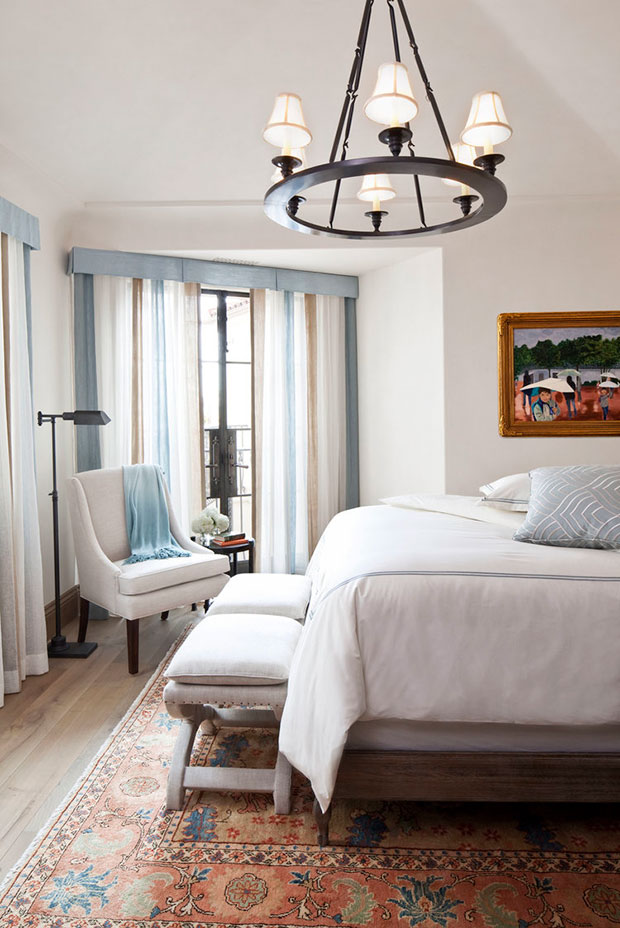 SFA Design
The bright colors and bold patterns make this one of the standout bedroom rug ideas on the list. The faded style is very fitting for this traditional room design.
Master Bedroom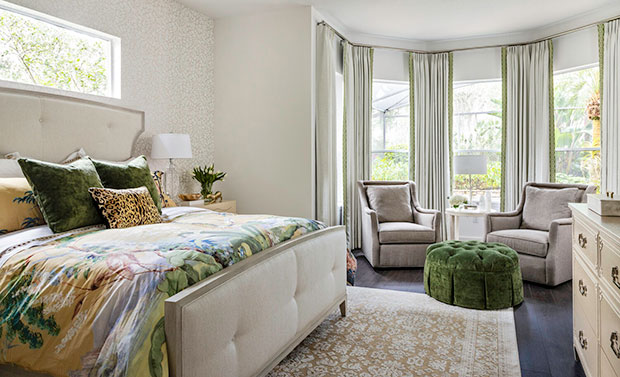 Tina Marie Interior Design
The faded golden yellow color of the rug further lights up this room. And with the abundance of various shades of green, there is beautiful color harmony.
Windsor Square Traditional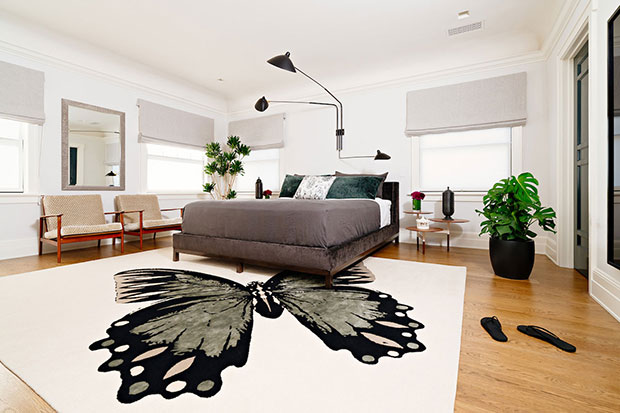 BAR Design and Construction
A huge butterfly print on the rug and nothing else. It's a simple design but one that will get you looking.
Windsor Square Traditional 2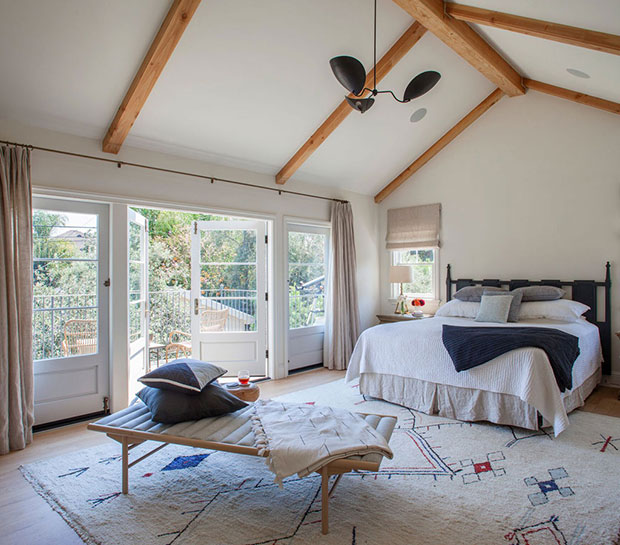 BAR Design and Construction
The unique print and the colors used to give off friendly and cozy vibes.
Traditional Cape Cod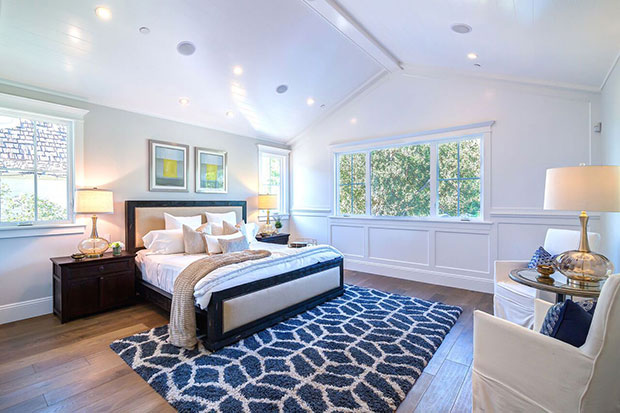 BAR Design and Construction
With the walls and ceiling painted white, having a darker-colored bedroom rug is a great addition to the room. It certainly elevates its look.
New Construction Spanish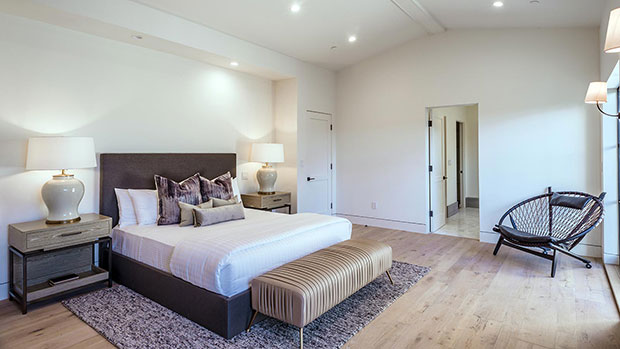 BAR Design and Construction
With an almost all-white room, putting all the colors down to a certain point in the room really brings one's attention to all the objects there. And it's especially effective because the colors work together perfectly.
Italianate Revival Estate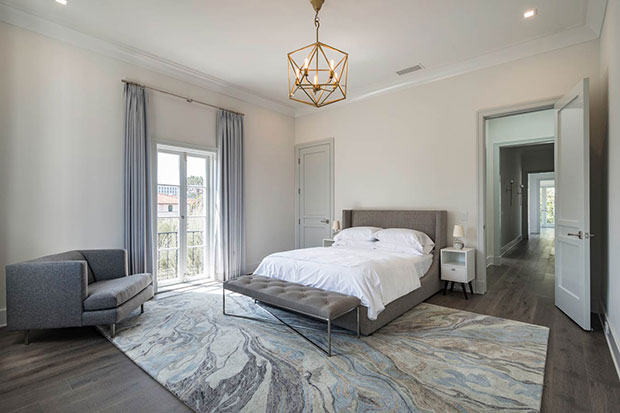 BAR Design and Construction
A mosaic-like print for bedroom rug. In the context of this particular bedroom, this rug definitely stands out.
Southampton Cottage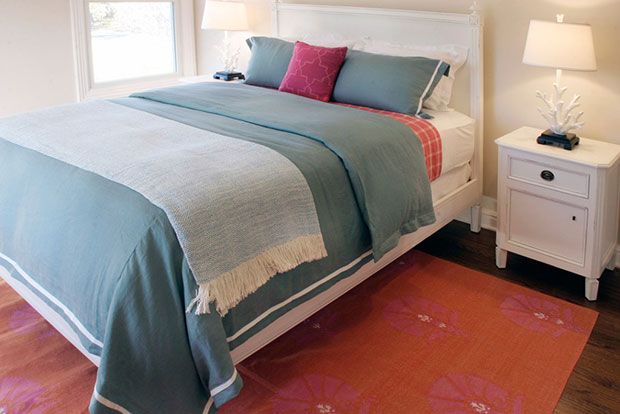 Amy Hill Designs
This bright shade of red complements the colors of the linens. And with the white walls, bedframe, and nightstand, it surely pops in this room.
Southampton Village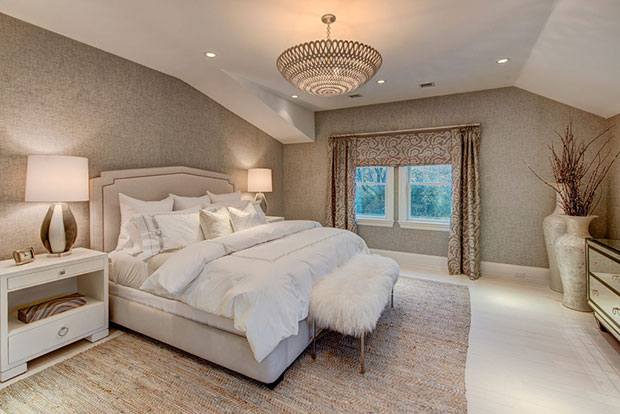 Amy Hill Designs
It's very interesting how the texture of this bedroom rug matches well with the wallpapers. Overall, due to the neutral colors, this room exudes a charming and relaxing atmosphere.
Watermill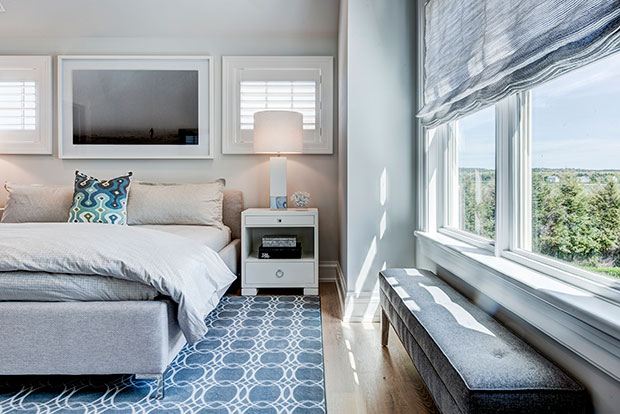 Amy Hill Designs
This bedroom is giving off blue hues for a cool and relaxing atmosphere. And it is further emphasized by this rug.
Capistrano Beach Condo Remodel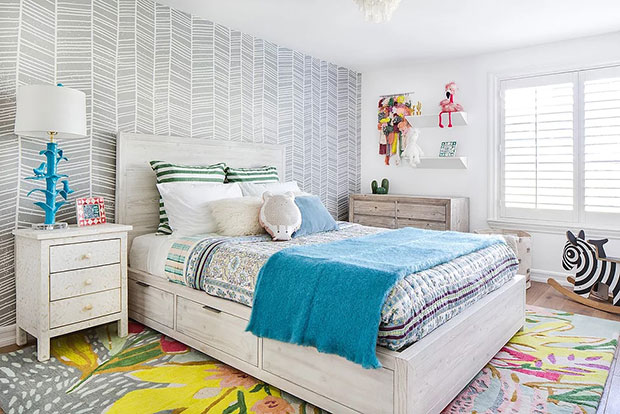 Chelsea Lauren Interiors
This floral patterned, brightly colored bedroom rug is the perfect bedroom rug for a child!
Capistrano Beach Condo Remodel 2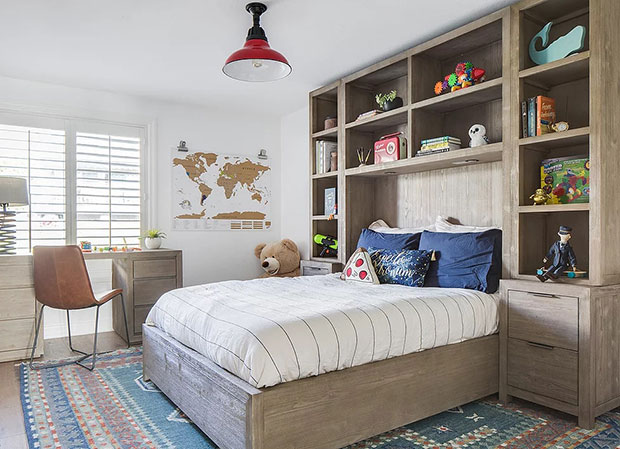 Chelsea Lauren Interiors
Similarly, you could have rugs with colorful, intricate print to brighten up a child's room.
Frisco Remodel 2018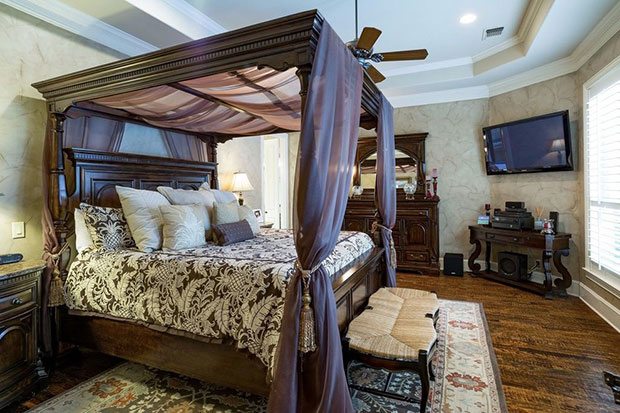 Notting Hill Interiors Inc.
With all this exquisite furnishing, the bedroom rug does not stand out too much but it does boost the harmony of every object and color found in this room.
Soft & Homey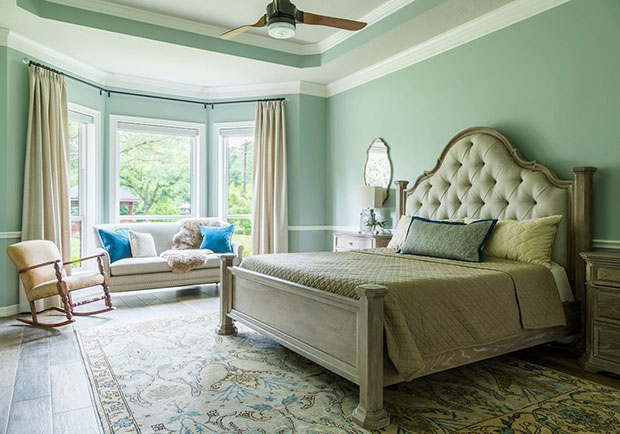 By Design Interiors
When it comes to patterns, this room is plain. But it is definitely boosted by the bedroom rug. At the same time, the colors work in perfect harmony with the room's color palette.
That's it for our bedroom rug ideas! Did this help you narrow down your choices?
Like This Post? Pin It!