70 Amazing Bedroom Design Ideas for Independent Adults
|
Arguably one of the most important and used rooms in your house is the bedroom. As it is a room where you sleep and relax, a lot of bedroom design ideas center around incorporating and reflecting your personal style. That seems the most basic and best way to design any bedroom.
But of course, there could be various bedroom design ideas that you may deem fit or match with your own personal style. After all, you could have many favorite colors, patterns, and materials you may want to use in your bedroom.
We'll help you narrow down those choices here!
What are some good bedroom themes?
For independent adults, you may have a more sophisticated taste for bedroom design ideas. Or because you now have a room of your own that you pay and care for, you may want to take a wild route and do some out-of-the-box, unconventional decorating and designing to your bedroom.
Let's break down some perfect bedroom themes.
1. Luxury theme
You are going to need some budge to pull this off. Elegant and luxurious materials and textures are a must. And the color palette can be anything, instead of being restricted to neutrals or muted colors.
2. Vintage theme
Old-fashioned with a casual and romantic look is the fundamentals of a vintage bedroom theme. The use of vintage materials like furniture and textures that were a trend from the past is a must! This kind of theme is going to give your room some nostalgic vibes but with charming elegance.
3. Country theme
Inspired by English countryside homes, country-themed bedrooms will see exposed wood floors and wooden furniture. Natural lighting is common but the windows are not completely unadorned. Instead, they use light curtains and blinds. Some indoor plants could also elevate the room.
4. Floral theme
Romantic and charming! For a more vibrant look to your room, you could consider floral themed bedroom. This means floral prints on fabric, maybe even for wallpapers.
5. Bohemian theme
With a bohemian-themed bedroom, there are no strict rules to follow on what it is going to look bohemian. But bright colors and striking patterns are staples for bohemian themes. Essentially, you can mix design styles from various eras to create a unique kind of synergy.
How to design a bedroom
With the many bedroom design ideas you could have, you may find it tricky to start designing your room. There are so many elements to consider in creating the perfect bedroom design that would totally suit your style and fit your own comfort.
You can always start by creating a mood board to ease the process, narrowing down the themes you will want to use in your bedroom. Then, you can start visualizing how your room will end up looking.
Here is an easy guide to follow in designing a bedroom.
1. Choosing the colors
First off, painting your bedroom is one of the first things you must do in designing a bedroom. The color palette of your choosing has an important role in creating the atmosphere for your space. You get to pick the right color scheme that brings more natural light to your room or one that evokes rest and relaxation. There are vast paint colors to choose from but take note of some important points like light color schemes create an illusion of more room space. Look into color palettes and which ones work well together.
If not paint, you can opt for wallpapers and feature walls instead. These are going to add visual interest, texture, and warmth. Choose a wallpaper that could add some dimension to your room or make your room look larger than it really is.
2. Pay attention to ceiling
The ceiling is often overlooked in design. There are many ways you can adorn your ceiling. You can paint it with a color that's lighter than the one used on the walls. You can add architectural elements in the form of beams or moldings or even a decorative paint treatment. You can even have a chandelier!
3. Plan a proper room layout
Whatever bedroom design ideas you may have, it remains that the bedroom is cozy and simple. You must be smart in how you position your furniture around the available space, making sure that there will be ease of movement around. This also means keeping the furnishing to only what is necessary, with accessories being kept to a minimum.
4. Choosing the right furniture
Having planned your room layout, choosing the right size furniture will come easy. See to it that your furniture choices also fit with each other. Remember that furniture and accessories that are too small for the room can look lost in a large room.
5. Keep proper and ample storage
What a better way to declutter your room by keeping proper and ample storage.
6. Create a private nook
Create an intimate space for reading or lounging in your room with a comfortable chair and a footstool. If you have the space, create a window seat under the bedroom window.
7. Dress the windows
Pick the right drape to frame your window, adding to the aesthetic value of the room. Think of how the drapes are going to affect the lighting in your room as well.
8. Consider lighting options
This isn't just about simply providing illumination to the room. Consider other lighting options that "layer" throughout your room. Get ambient lighting for the whole room, small lamps for reading, and accent lights. Install them with separate switches so you can select which ones to use to light certain areas.
Now, let's take a look at some amazing bedroom design ideas!
Modern Bedroom Design Ideas
Modern bedroom design ideas are quite popular, especially for their sleek and clean style. With minimal decoration and neutral colors, it is a design style that will definitely appeal to adults.
Lowertown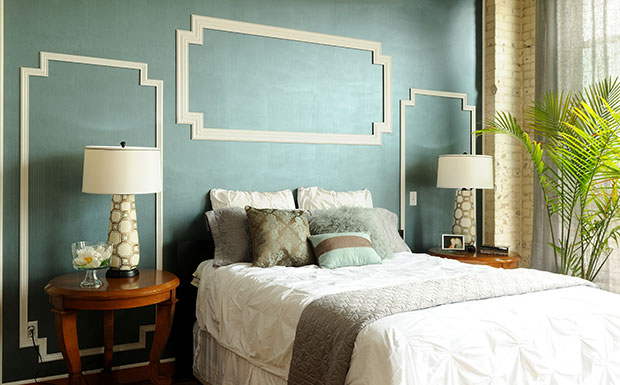 Tiffany Hanken Design
Getting some fabric for your throw pillows to color match with the wall is a good idea!
Las Olas Residence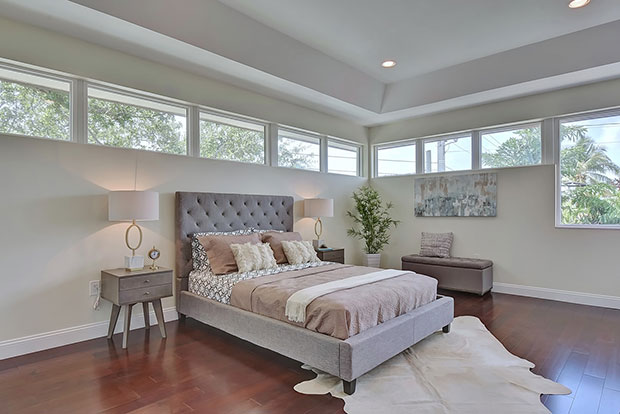 Nest Plans
The light color tones create a very relaxing atmosphere perfect for a bedroom. And the windows too provide so much natural light that it elevates a warm atmosphere.
Twin Peaks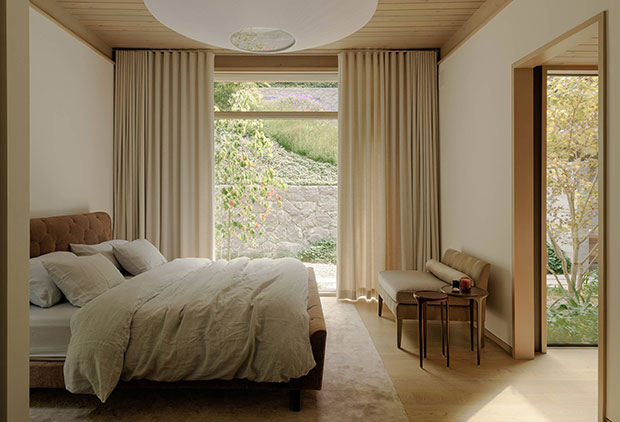 Feldman Architecture
The natural tone colors emphasize the calm simplicity of this bedroom. If simple and sleek bedroom design ideas are right up your alley, here's one design to consider.
Russian Hill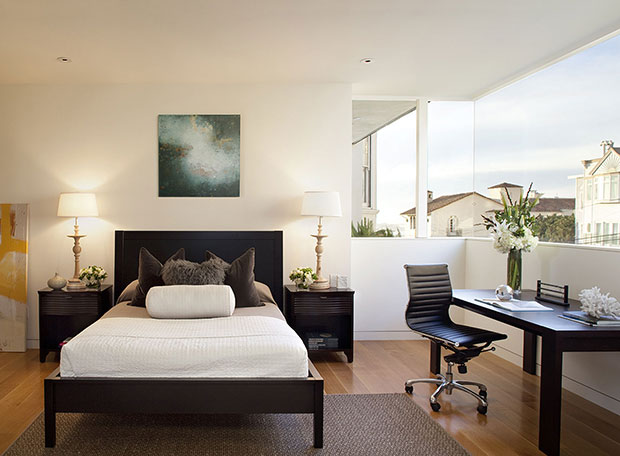 John Maniscalco Architecture
The sleek black furniture highlights the room's fit for any adult. They also bring out a clean style.
Parkland Residence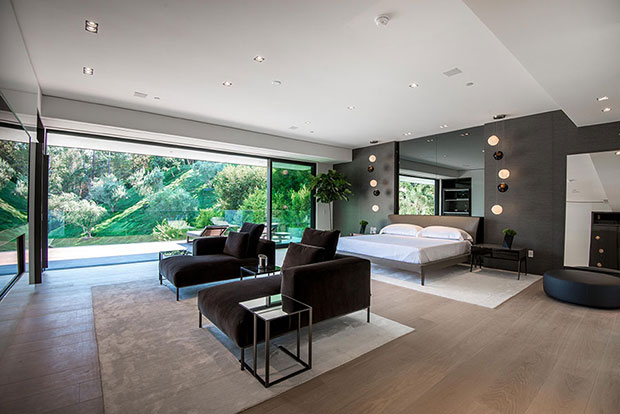 MGS Architecture
This spacious bedroom could have gone on a route by adding more furniture. Instead, it goes for a simple and decluttered look that makes the room even more spacious.
Mansion Plaza Turtle Creek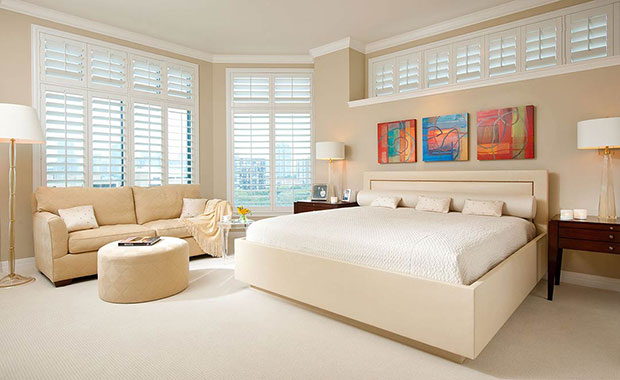 CVD Interior Design
The nearly monochromatic scheme is charming on its own. Even with the dark wood side tables, it complements the rest of the room well. Not to mention, those modern abstract paintings totally pop-off.
Charming Modern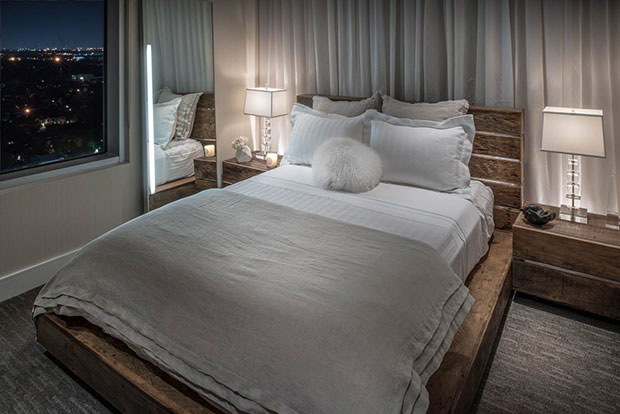 The material of which the bed frame and the bedside tables are made is a very interesting choice. But it has almost a modern rustic charm to it.
Let the Modern Begin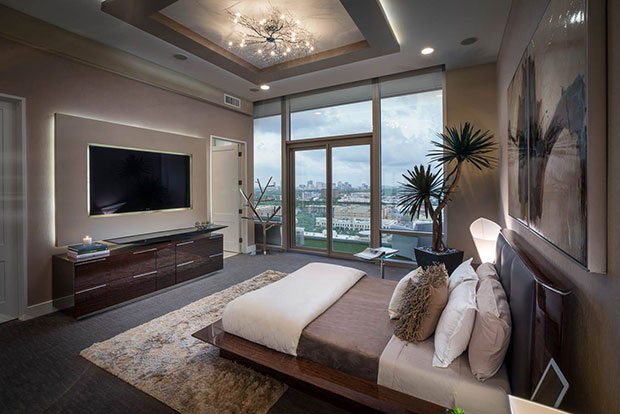 Mauricio Nava Design, LLC
The warm, earthy colors are chic. They provide a very cool look to this modern room.
Lafayette Residence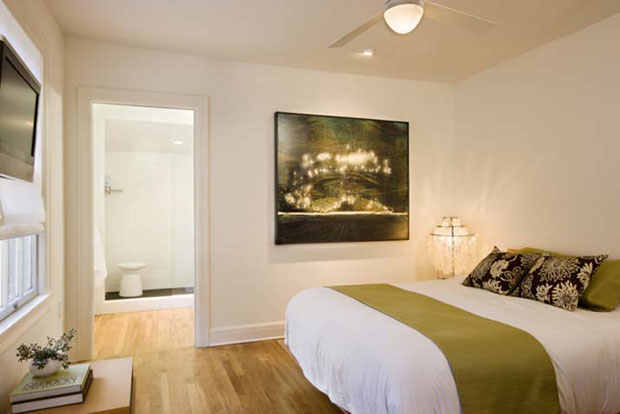 Texas Construction Company
A minimalistic modern take for a bedroom design is a delightful idea. The huge painting hung on the wall is certainly the striking décor with the lack of color splashes on the wall.
Mississippi Modern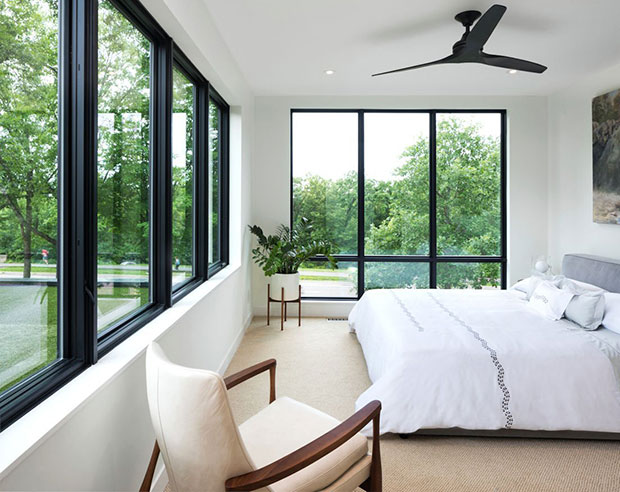 Charlie & Co Design, Ltd
With a room like this that provides a lot of natural lights, the color palette chosen is played this off perfectly.
Mid-Century Modern Bedroom Design Ideas
While essentially mid-century modern design is a modern design, mid-century has its distinct feature to it. Some retro feel and dynamic decorative accents are quite more present and what you will see in mid-century modern bedroom design ideas.
Mid-Century Meets California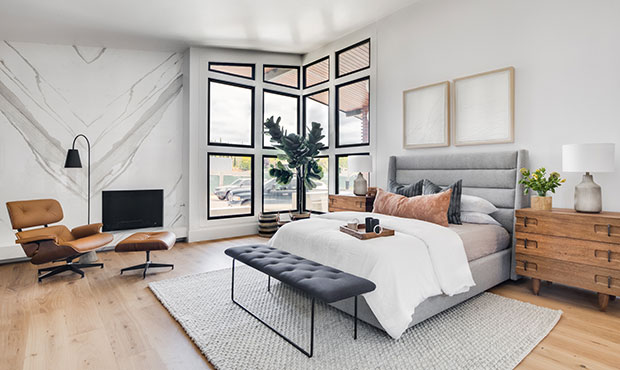 Lindye Galloway
The dynamic colors and furniture choices are definitely charming and stylish.
Homage to the Eichler Home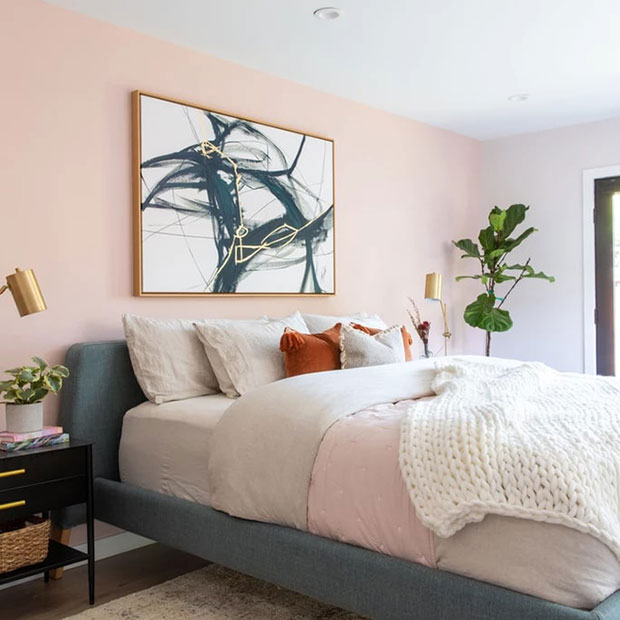 Carmit Oron Interior Design
The bed alone has some pretty interesting color scheme, and yet they all seem to come together for a lovely bed.
Woodside House 2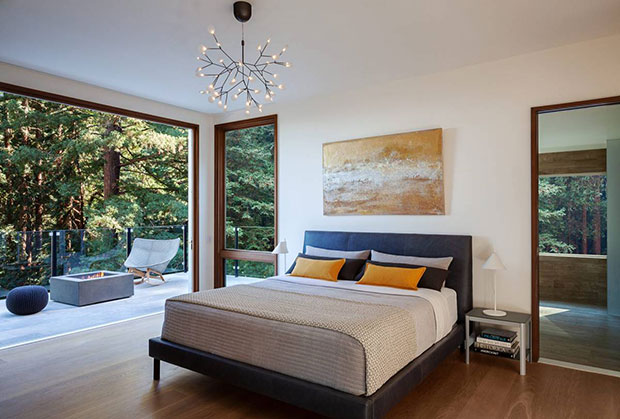 Dotter & Solfjeld Architecture + Design
This bedroom's chandelier light is an attractive point that appears to be so subtle.
Lagoon House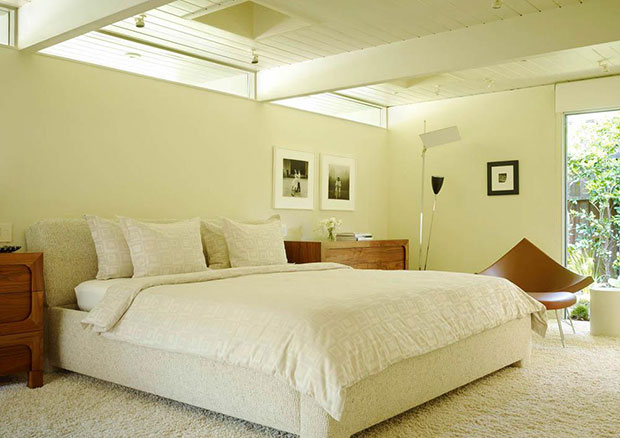 Gary Hutton Design
The color scheme of this bedroom is a pretty interesting choice. But it does so well in reflecting natural light into the space.
Floyd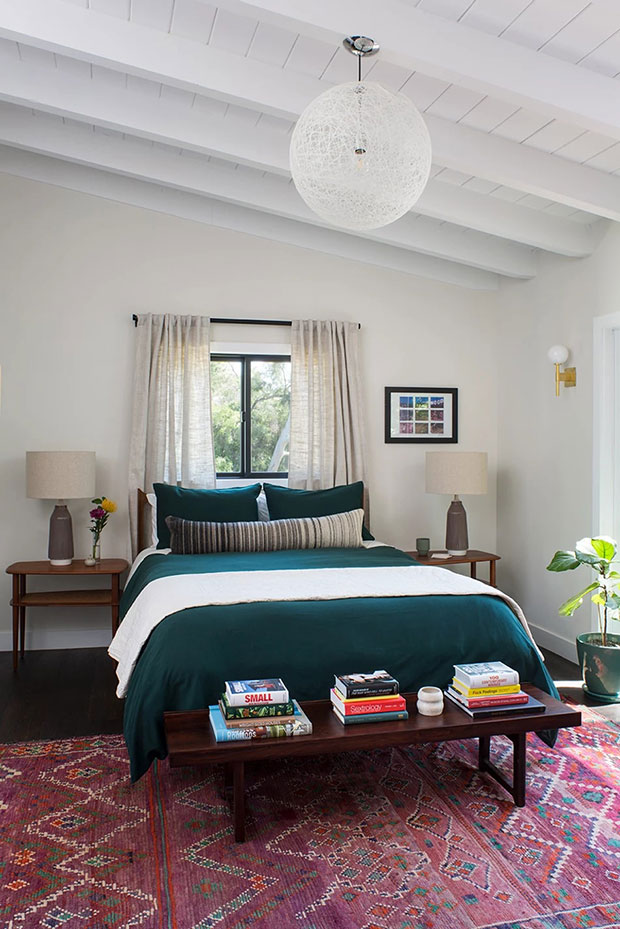 Kelly Martin Interiors
The bold pops of colors aren't something you would find in traditional modern bedroom designs. But mid-century bedroom design ideas allow for such colors.
Los Angeles Mid-Century Home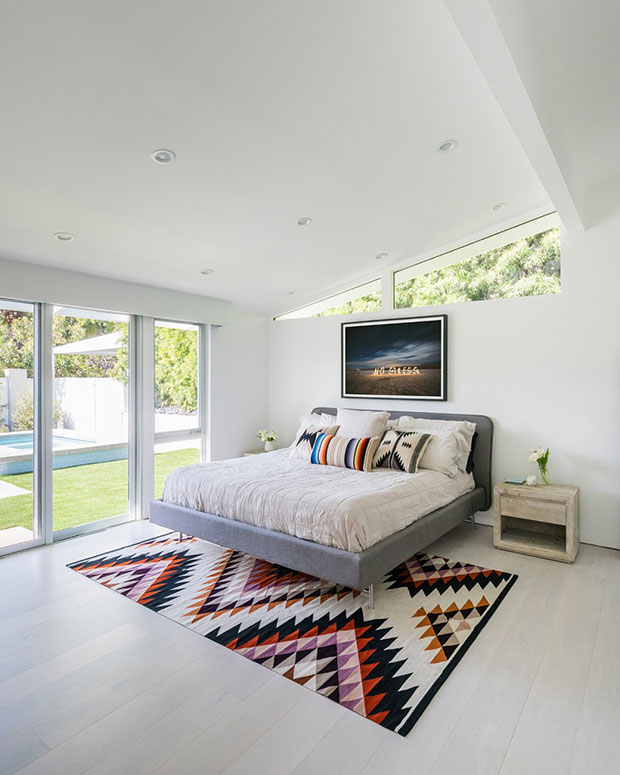 Alexander Gorlin Architects
The throw pillows and the bedroom rug matching surely take the attention in this room.
Orange-Slice Modern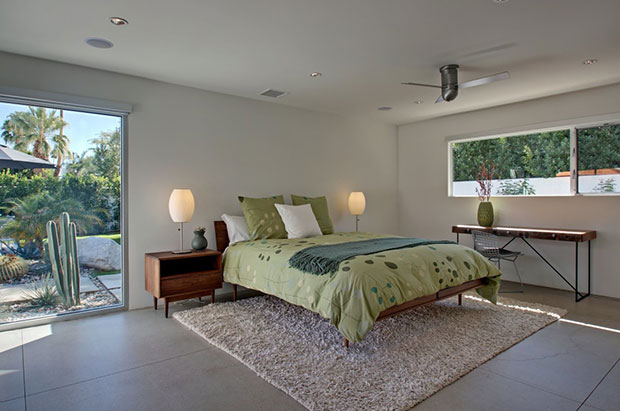 Moderne Builders
Just because you're an adult, it doesn't mean you can have some fun with your fabrics.
Contemporary Bedroom Design Ideas
Simplicity, sophistication, texture, and clean lines are stapled descriptions and requirements for contemporary bedroom design ideas.
Minimalist Maximalism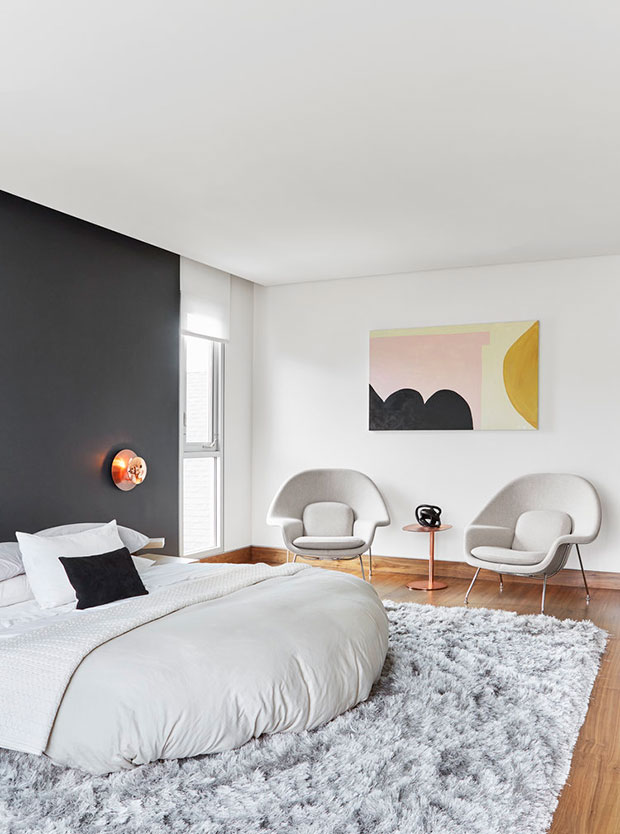 Kerry Vasquez Design
Frameless beds are quite the common theme in minimalistic contemporary spaces. And this one is no exception.
Intracoastal Residence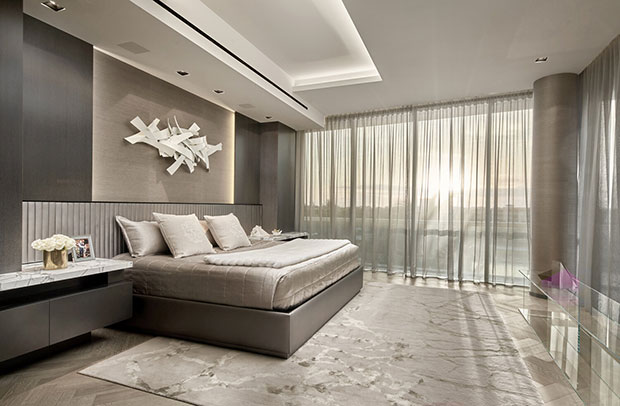 B+G Design Inc.
The bronze color palette is sleek and sophisticated, highlighting that contemporary design look.
A New Approach to the Master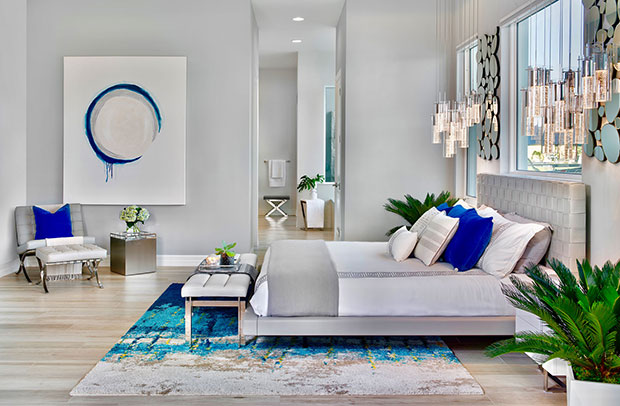 Leili Design Studio
The décor and furnishing in this bedroom scream that of a luxurious bedroom.
Soho Loft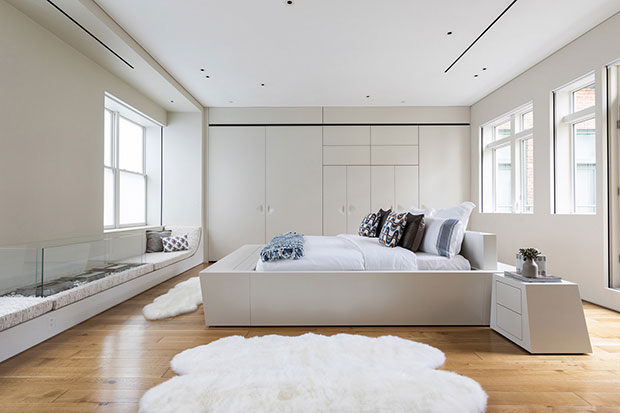 Cathy Hobbs Design Recipes
This bedroom has quite a unique layout but it emphasizes the clean lines and decluttered style.
Lake House Luxe #1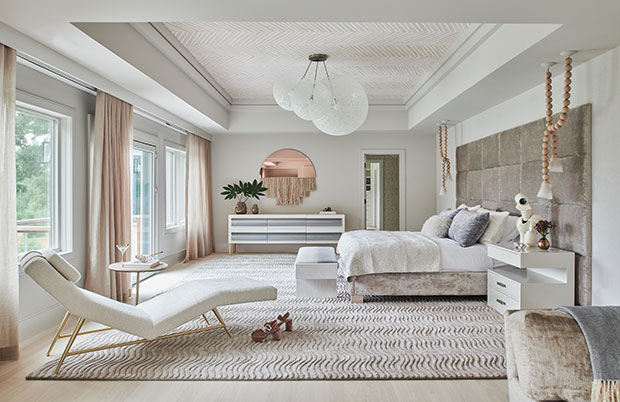 D2 Interieurs
A luxurious contemporary bedroom idea would more or less look like this. Its chic sophistication isn't just highlighted by the décor but also by its color palette.
L'Ambiance on Longboat Key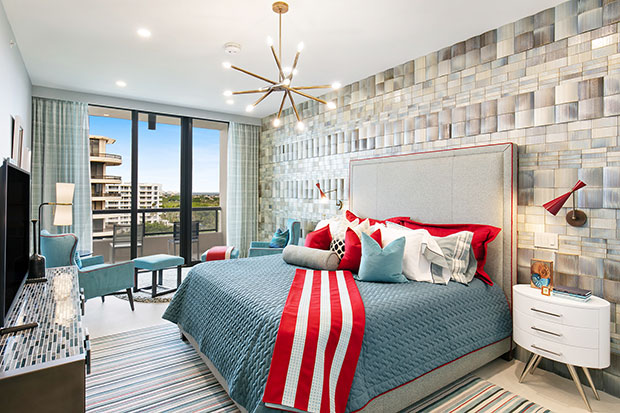 Markley Construction
This bedroom is quite the charmer. With patterns, textures, and popping colors, it surely supplies a fun vibe into the room.
Golden Isles I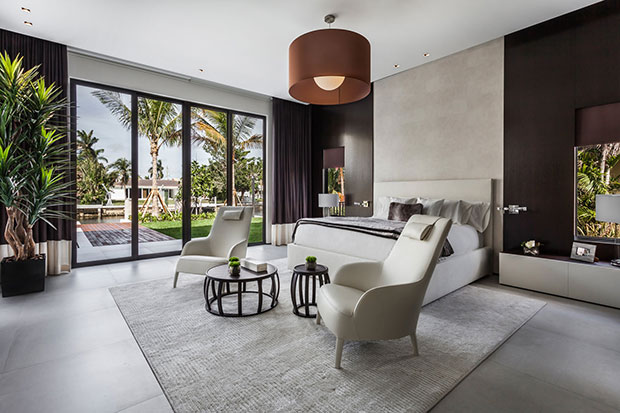 2ID Interiors
Pairing sleek furniture with some striking color tones, makes one interesting and luxurious-looking bedroom.
California Quarry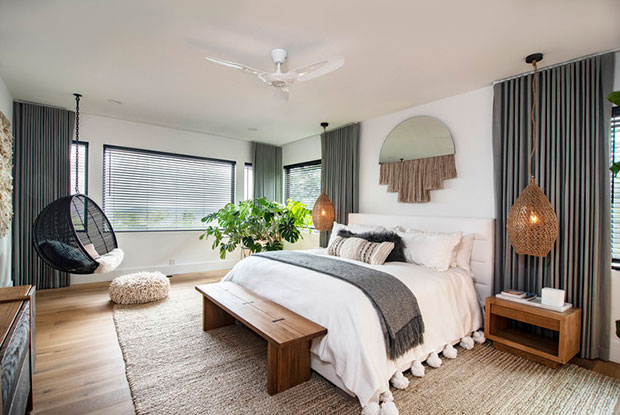 Dichotomy Interiors
For a more homey and cozy contemporary bedroom design, check this one out. Notably, the homeowners seem to like tassels.
Seashell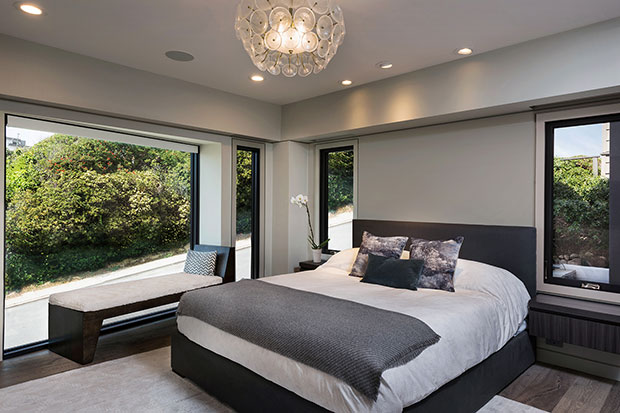 Oasis Architecture & Design
The color scheme brings out a subtle sophistication for this bedroom.
Laguna Beach Temple Hills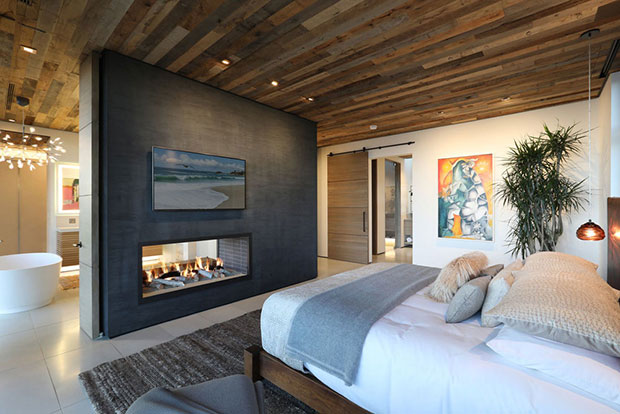 Corbin Reeves Construction
Open floor plans like this are quite common for contemporary bedroom design ideas.
Traditional Bedroom Design Ideas
For a timeless and classic look, you may want to look into traditional bedroom design ideas. It's all about comfort and class but not overly fancy.
Traditional Bedroom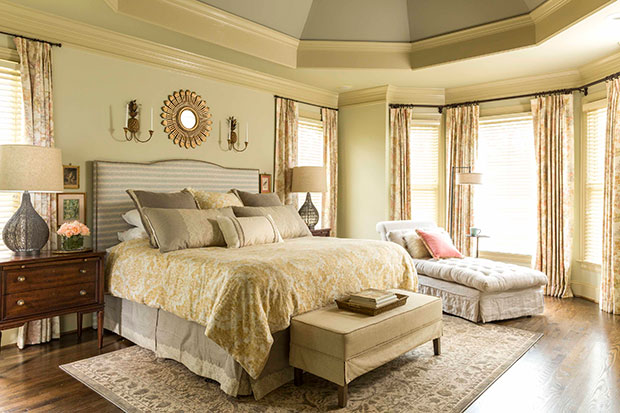 Leah Atkins Design
The prints on the fabrics bring an air of familiarity and warmth. The molding on the ceiling is an attractive point perfect for traditional bedroom design ideas.
English Cottage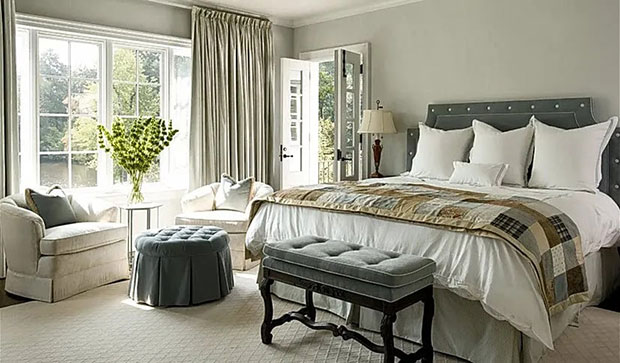 James S. Collins, Architect
Some classic, timeless furniture could simply fulfill a traditional look you may be looking for.
Hill Creek Home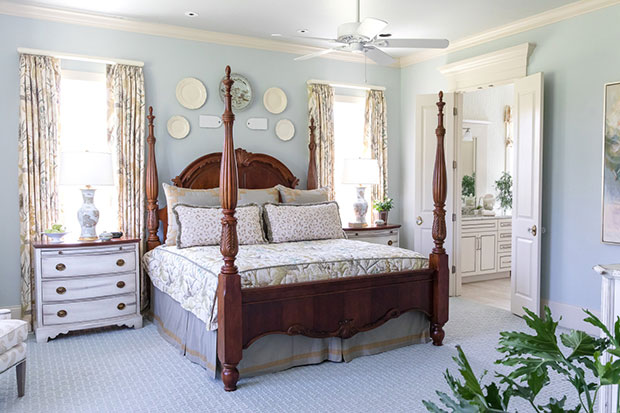 Mitchell Construction, LLC
All the furnishing in this bedroom gives off a sense of nostalgia. It's definitely elegant and beautiful.
Deer Crossing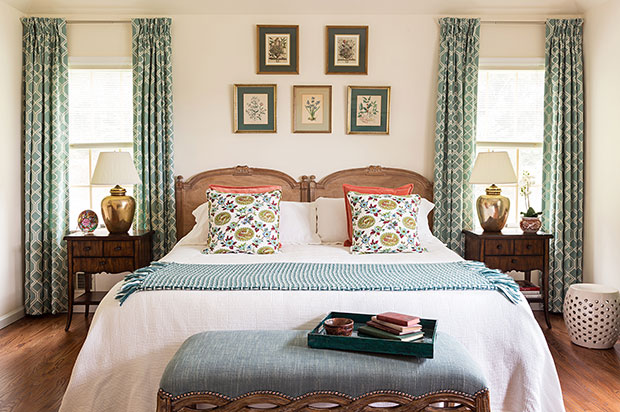 The Red Shutters
The different yet lovely color tones come together to create a relaxing ambiance.
Greenwich House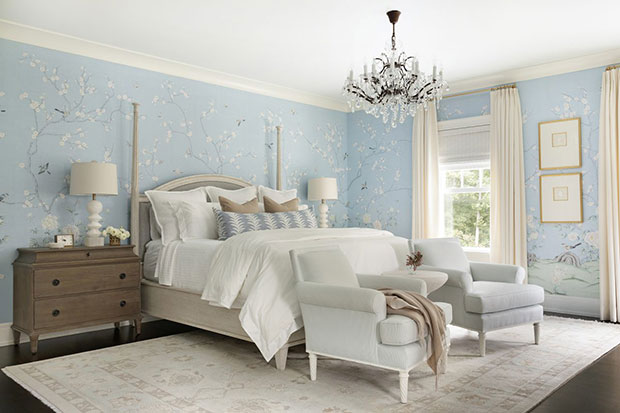 Bria Hammel Interiors
The wallpaper itself is making the room very inviting. The mood is immediately uplifted by the design and colors.
Knoll Drive House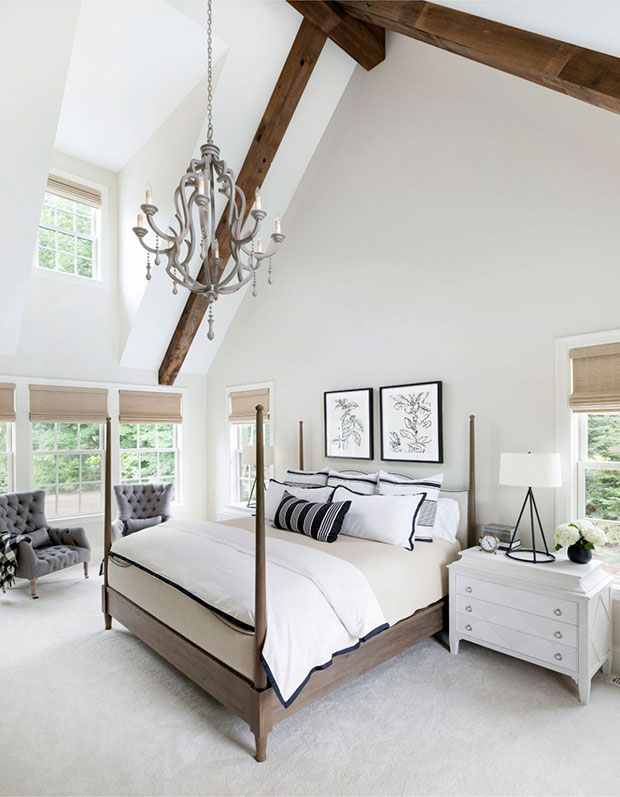 Bria Hammel Interiors
The chandelier in this room is elegantly striking, adding some visual dynamic to the ceiling.
Portola Valley Residence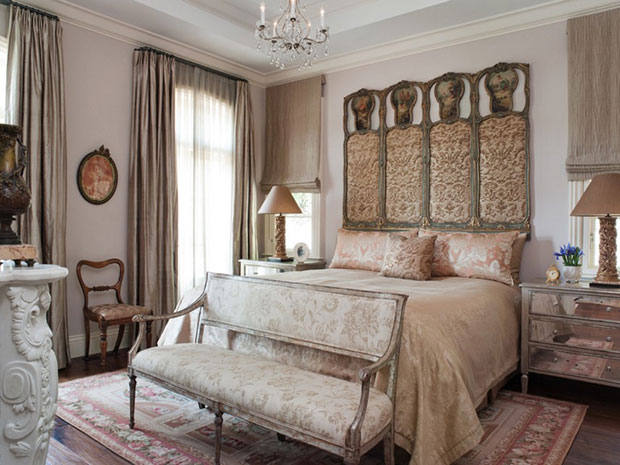 JPM Construction
From the vintage furniture and décor to the fabric prints, this bedroom is all about timeless elegance.
Riomar Bay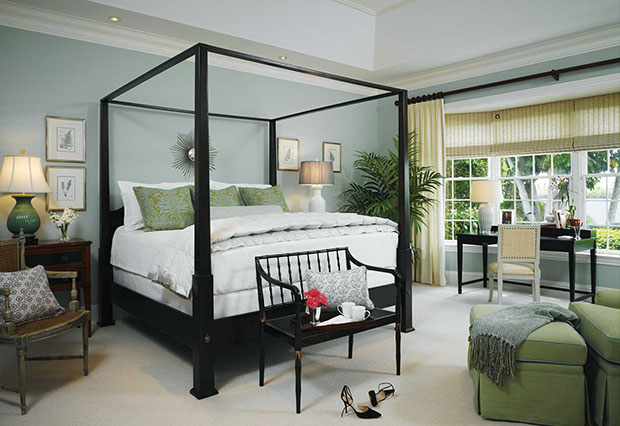 L.K. DeFrances & Associates
The combination of black and green is eclectic and one that works so well to elevate an elegant look.
Glen Ellyn Modern Traditional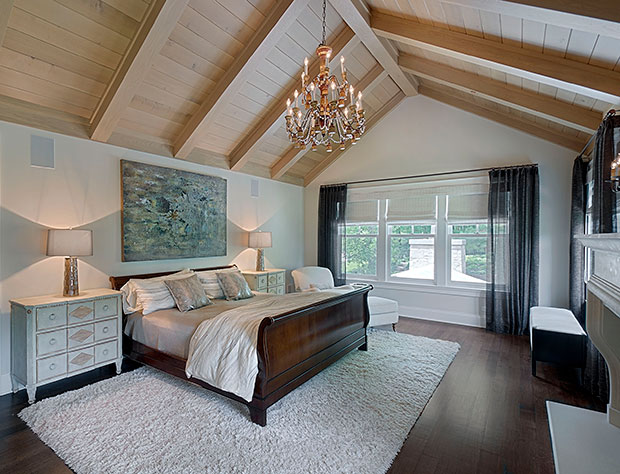 Marsha Jones Interior Design Ltd.
The furnishing in this bedroom is exceptional and that chandelier does so well to complement the overall look of the room.
Elegant Bedroom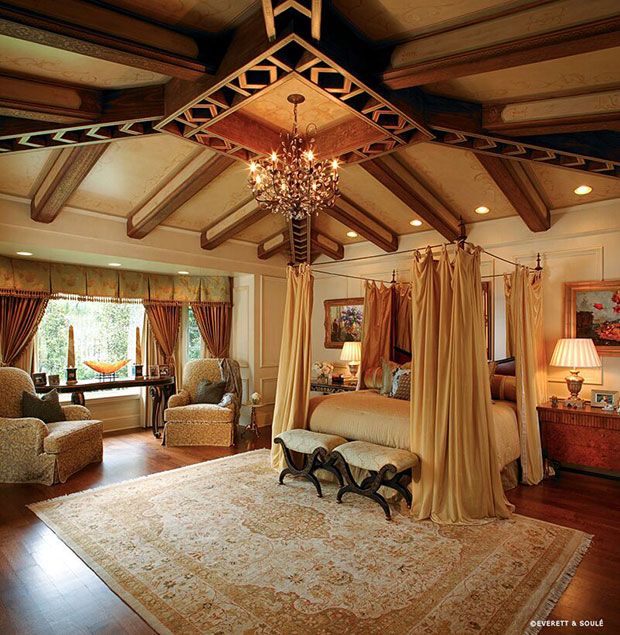 Jones Clayton Construction
This bedroom has one of the best ceiling designs on this list.
Transitional Bedroom Design Ideas
The mix of traditional and modern styles will lead you to a design style that is called transitional. With transitional bedroom design ideas, you will see classic mixed with modern and emphasis on comfort and softness.
North Shore Elegant Transitional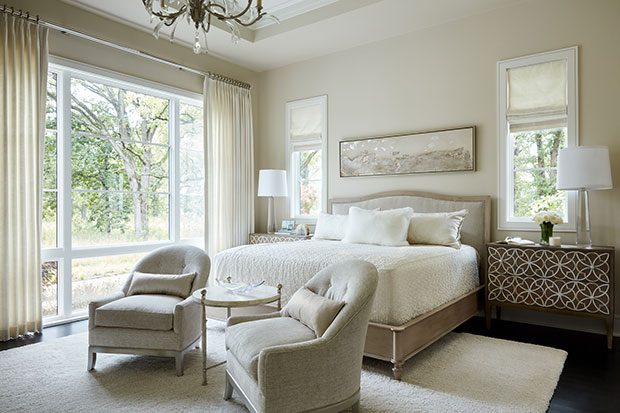 Marsha Jones Interior Design Ltd.
For a medium-sized room like this, the amount and size of furniture around the room are perfect functionally and aesthetically.
Parade of Homes 2020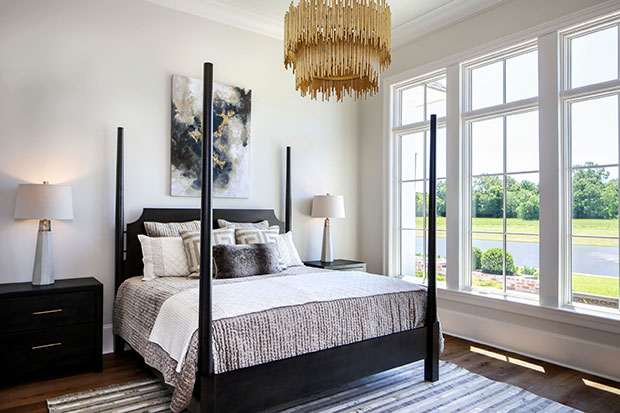 Aimee Walker Interiors
Anybody's attention is definitely caught by this extraordinary chandelier. Not just with its structure but also for its golden color that stands out in this black and white room.
Parade of Homes 2019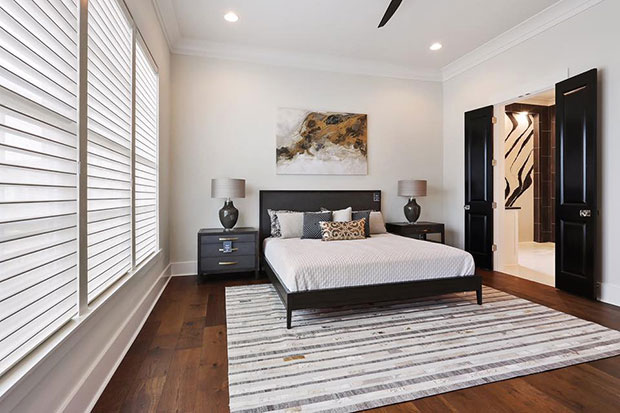 Aimee Walker Interiors
A minimalist transitional bedroom is possible as such in this room by blending furniture from traditional and modern styles.
Hudson Street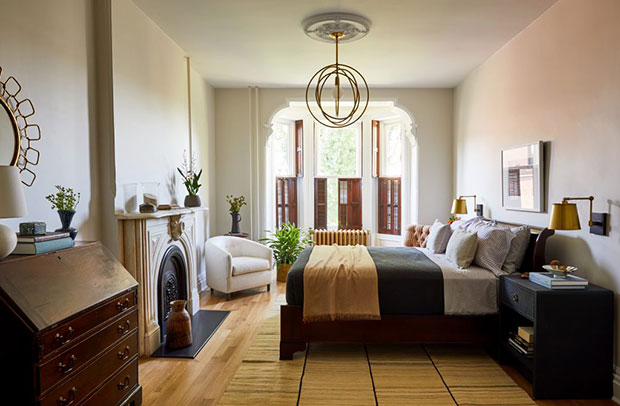 J. Patryce Design & Company
The cool display of some vintage furniture with modern twists creates a visually interesting bedroom.
Frederica Lake Low Country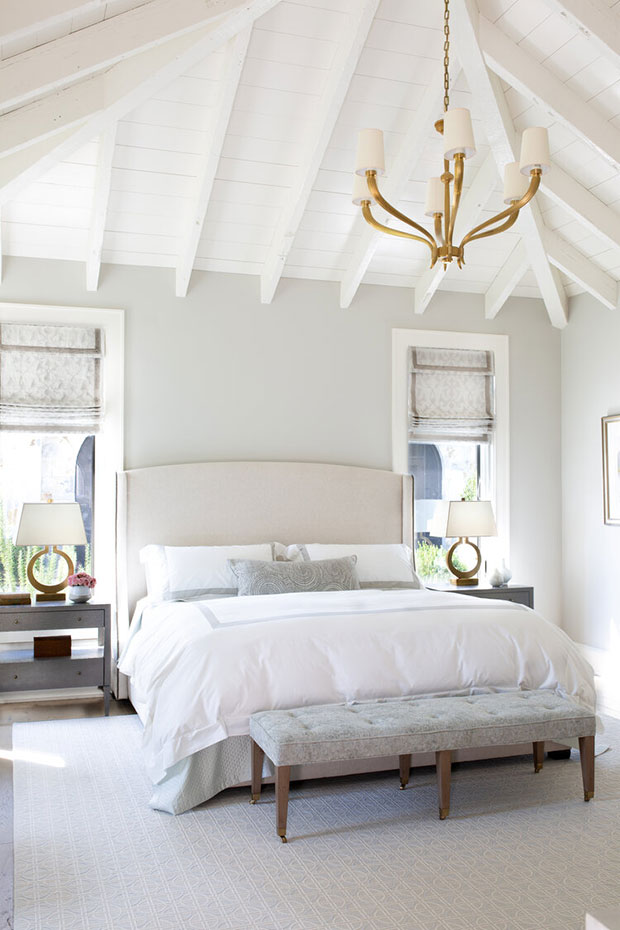 Linda McDougald Design
Light color tones like this really put an emphasis on the softness that is required in transitional bedroom design ideas.
Westlake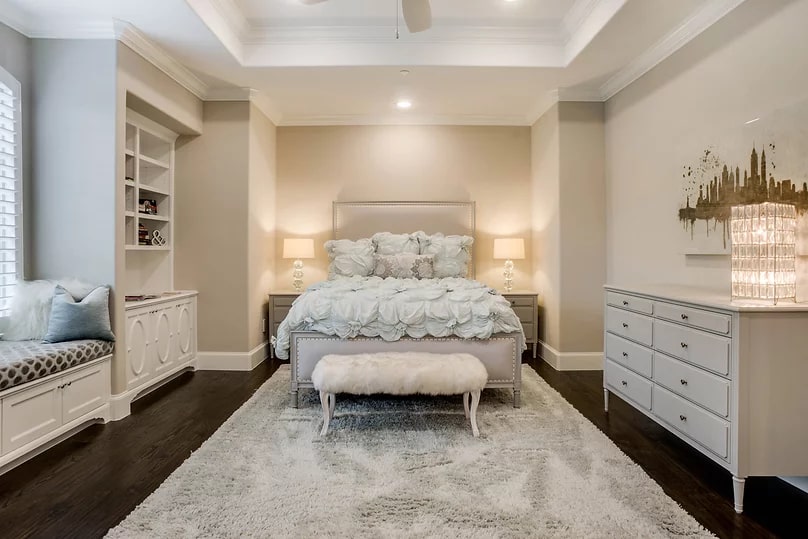 Le Belle Maison Interiors Inc.
Even with the intricate furnishing, the simplicity in functionality is greatly emphasized in this room.
Bristol Circle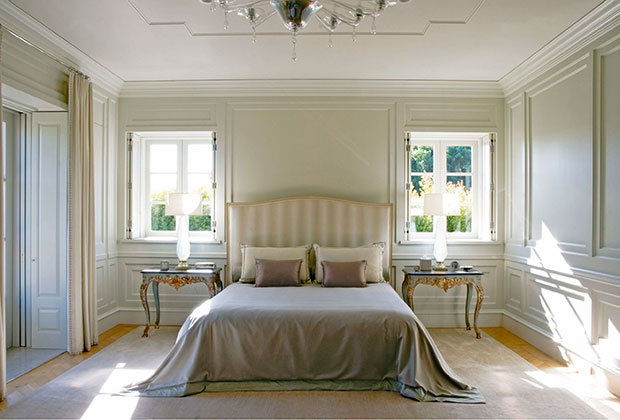 Studio William Hefner
With the moldings and vintage bedside tables, this room has the makings of one of the most elegant transitional bedroom design ideas here.
Florida Home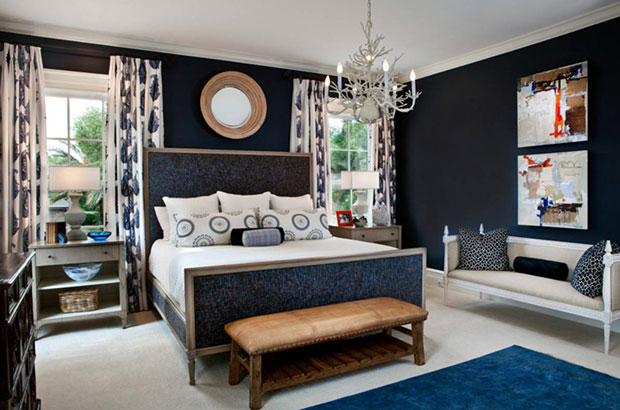 Linda G. Burnside Interiors
In contrast to the usual grey tones of a lot of transitional bedrooms, this room dips into darker color tones to create a visually stunning room.
Villa Park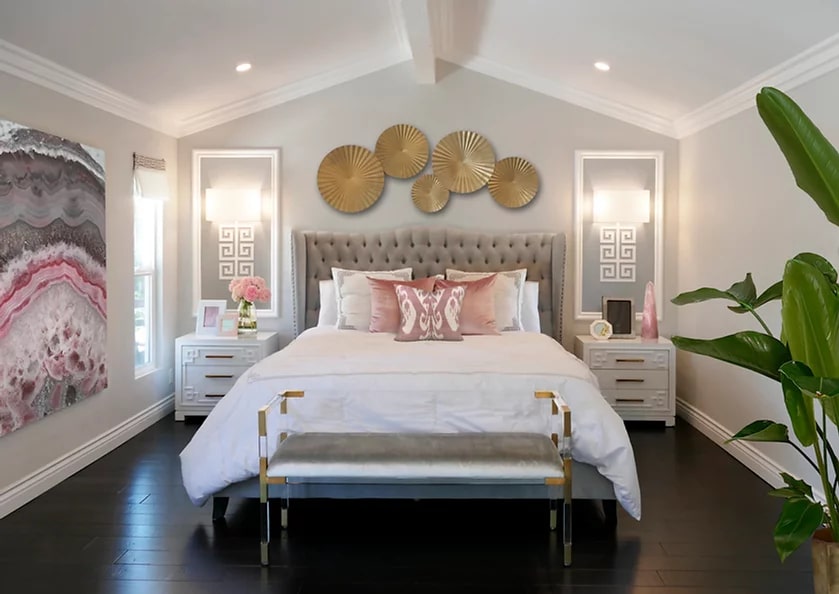 Billy Kien Designs
The décor in this room is top-notch that carries out most of the aesthetics.
The New Hoboken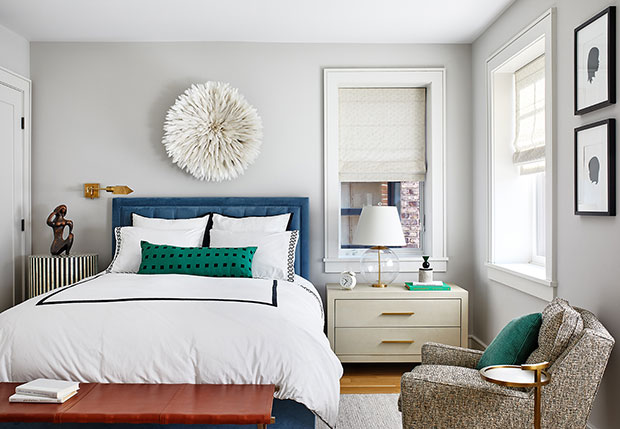 Breeze Giannasio LLC
With some interesting pops of color, this room looks fun and comfortable.
Rustic Bedroom Design Ideas
With natural, casual, rough, and aged design style, rustic bedroom design ideas have that unique appeal attractive to a lot of people, especially adults.
The Hideaway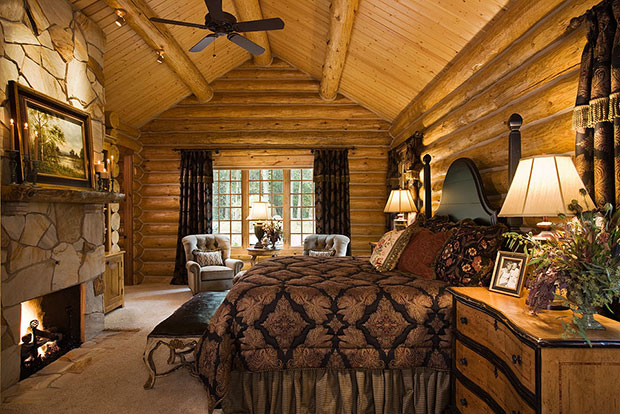 Marsha Jones Interior Design Ltd.
From the log walls and the vintage furniture, this rustic cabin bedroom looks very cozy.
Jackleg Trail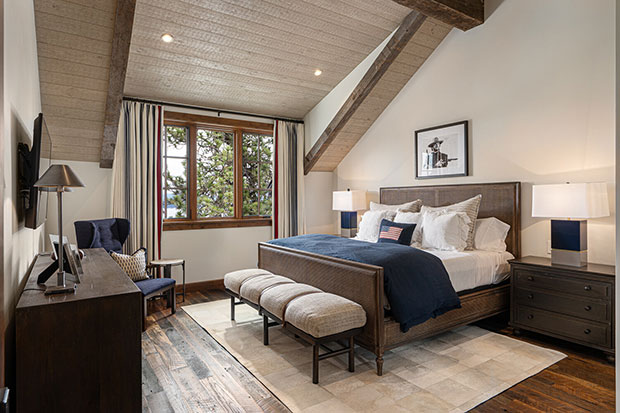 Vens Photography
The bed frame here is of really interesting texture that brings together all the other elements of this room.
Miramont Residence 8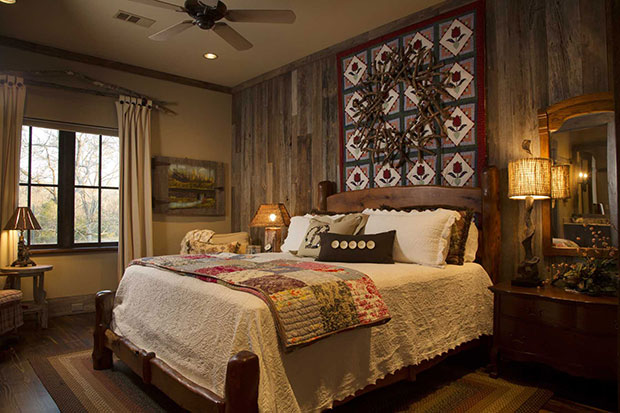 Ellis Custom Homes LLC
There are many aspects of this noteworthy room, especially when it comes to the furniture and décor.
Cross Lake 4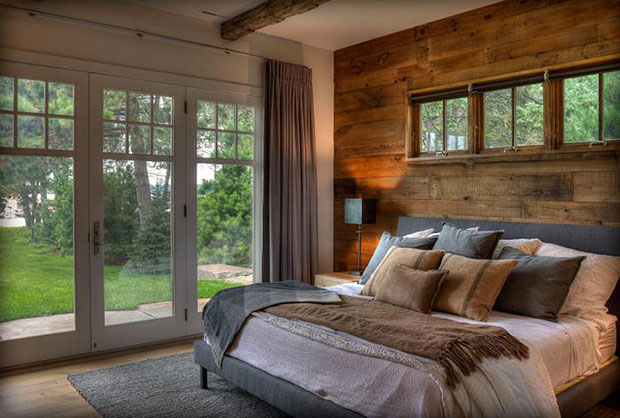 Lands End Development
The aged wood timber being used as a ceiling beam in contrast to the rest of the ceiling structure is very interesting.
Gull Lake 4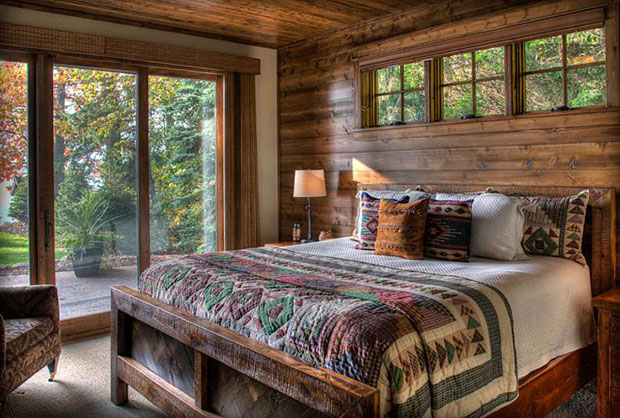 Lands End Development
The consistency of the natural wood material used creates such a cohesive look to this room.
Woman Lake 2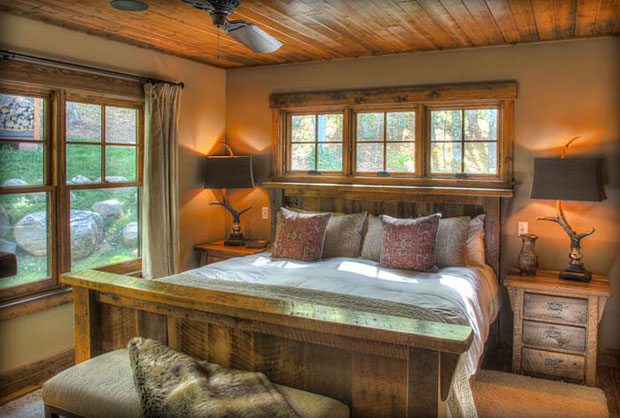 Lands End Development
The fabric choice, especially when it comes to the prints, really complements the rustic overall look.
High Alpine Ranch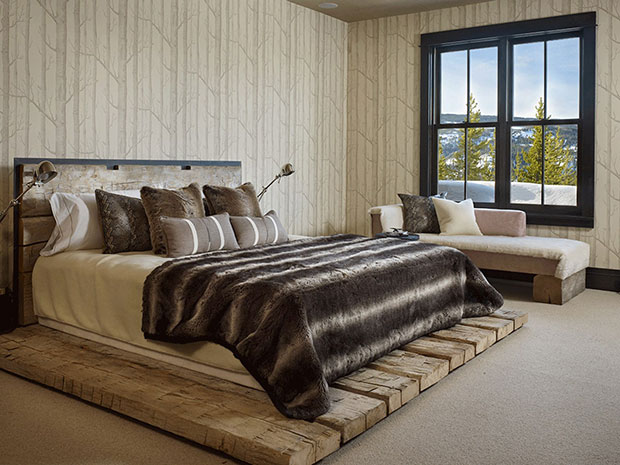 Lisa Kanning Interior Design
The subtle woodland wallpaper is such an incredible touch. But what really catches attention is the bed frame.
Eclectic Bedroom Design Ideas
Eclectic bedroom design ideas with its artful mix of various design style elements may be hard to pull off to create a visually stunning space. But its stunning informal mix of furnishing and décor should pay off in the end.
Hinsdale Eclectic Mix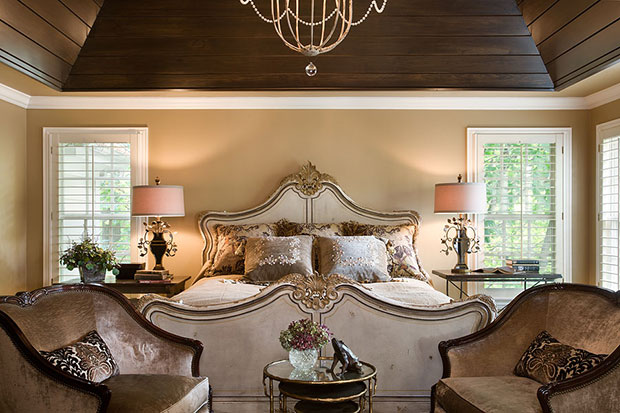 Marsha Jones Interior Design Ltd.
Some modern furnishing and vintage furniture could not have gotten more breathtaking than this.
Modern Wonderland Home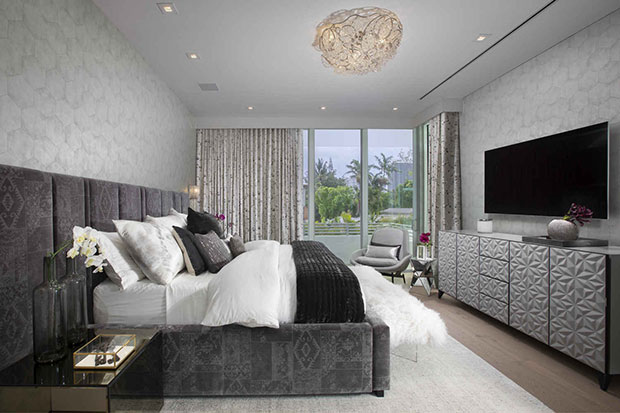 Dkor Interiors
You may err at eclectic bedroom design ideas but they are also capable of looking luxurious like this one.
Piney Point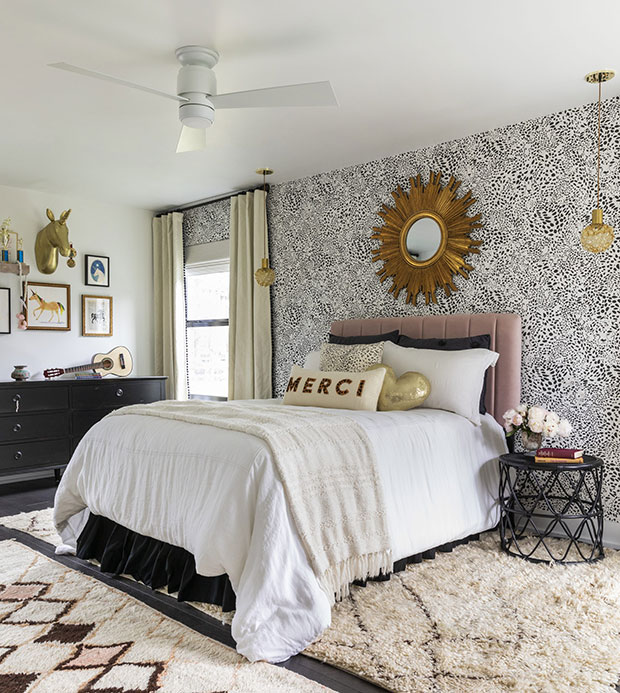 NEST Design Group
This room is just filled with popping décor. And yet they all oddly work together.
Eclectic Bedroom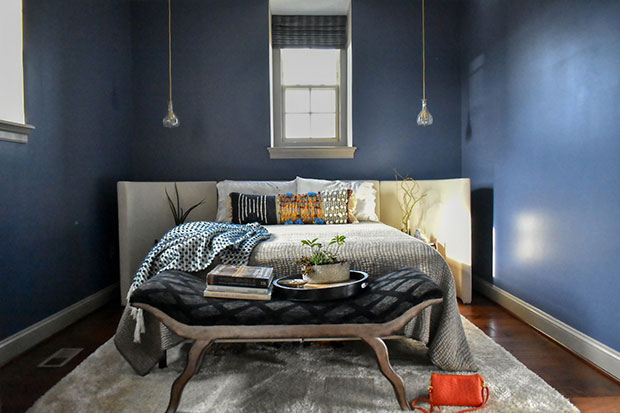 Lotus + Lilac Design Studio
This room has some pretty interesting furnishing and décor choices. But it all works for a simple eclectic bedroom.
Colorful Rye Home with Character in Spades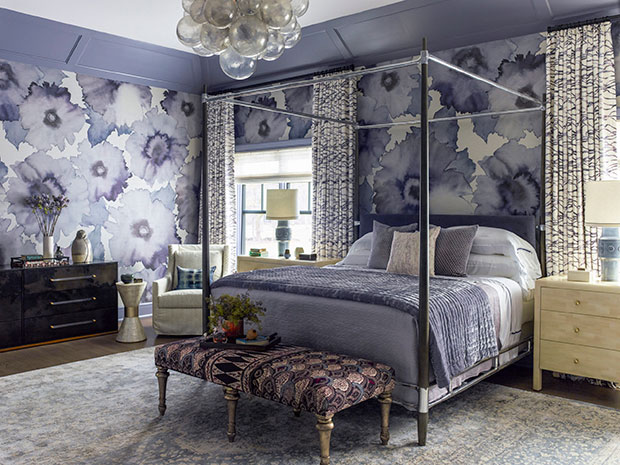 Kati Curtis Design
The color palette of this room is so inviting and eye-catching, you would almost miss the eclectic mix of furniture.
Tribeca Five Bedroom Apartment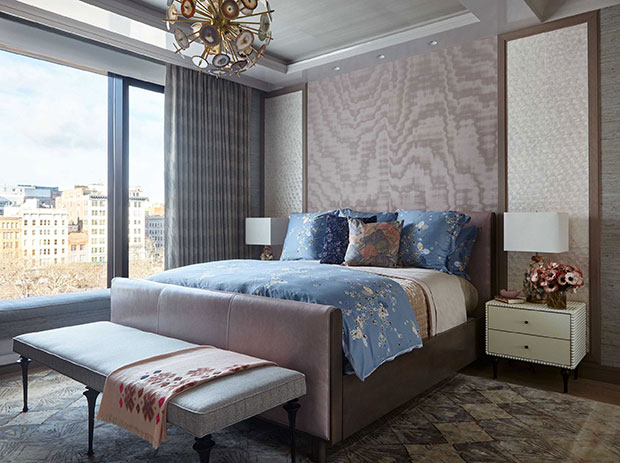 Kati Curtis Design
With some interesting combinations here, bring your attention to the unique chandelier.
Chelsea Penthouse Apartment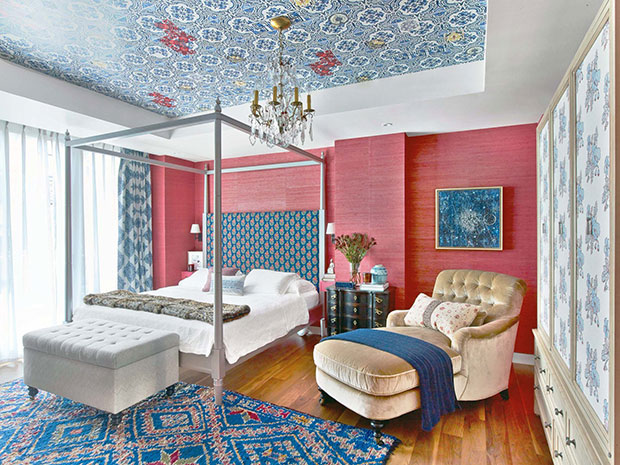 Kati Curtis Design
The prints and patterns on this room are enough to fill the checklist for eclectic bedroom design ideas. But you also need to pay attention to the mix and match of furniture.
Eclectic But Classic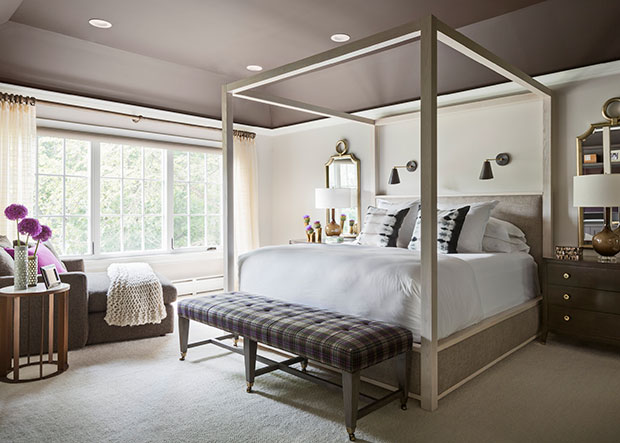 Nicole Farina Home
Compared to the bedroom example above, this one reigns in on the bright and vivid colors and patterns. Instead, it brings the focus on the various mix of furniture style.
Industrial Bedroom
If you're an adult living in urban areas and in places like lofts, you may want to consider some industrial bedroom design ideas. The large spaces and exposed structural elements are quite appealing styles.
Park Loft Midtown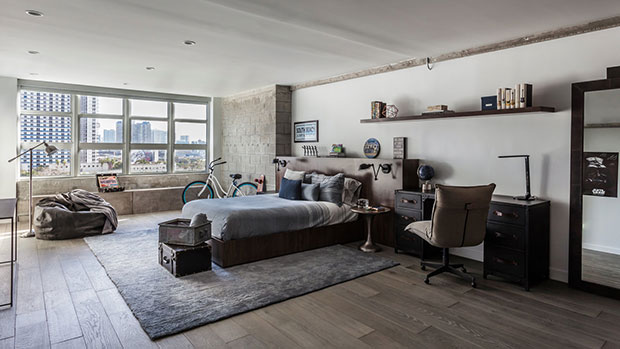 2ID Interiors
So much of the stuff in this bedroom loft is of varied textures that work so well together.
Denver Lodo Penthouse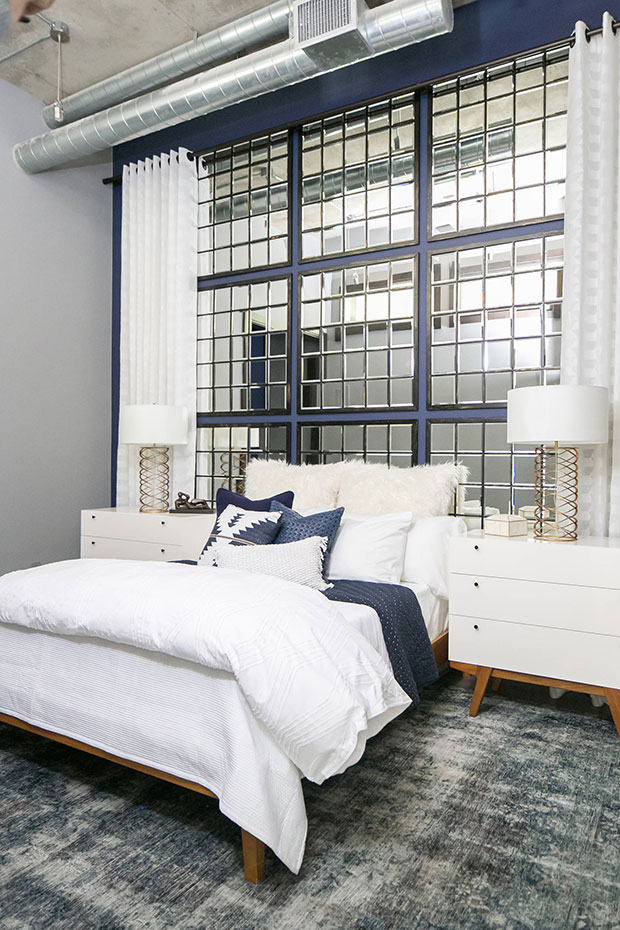 Earthwood Remodeling
Mixing industrial style with some modern elements is quite common in this design style.
Red Hook Rowhouse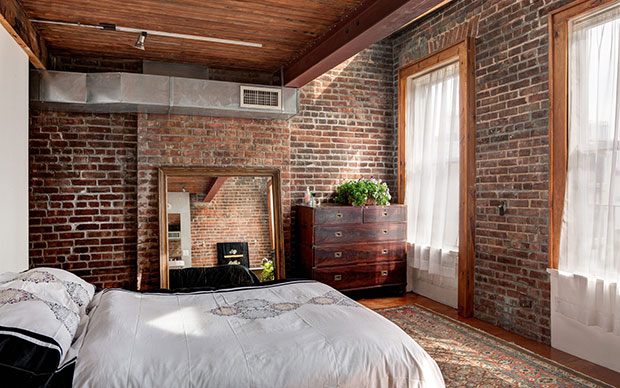 David Cunningham Architecture Planning PLLC
The exposed bricks really do highlight the industrial style of this room.
Industrial Mix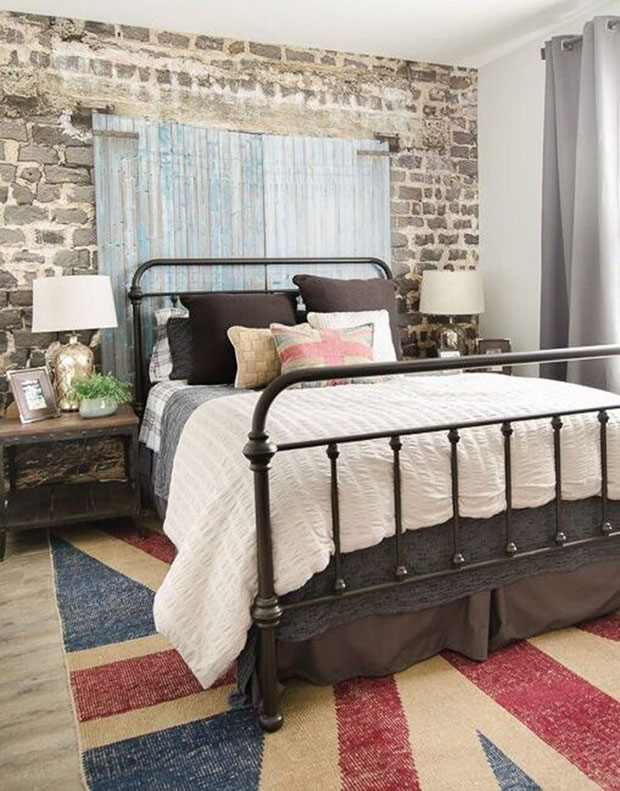 Nina Williams Interiors
The bed frame and the reclaimed and aged bedside tables emphasize a simple industrial bedroom design.
New Orleans Penthouse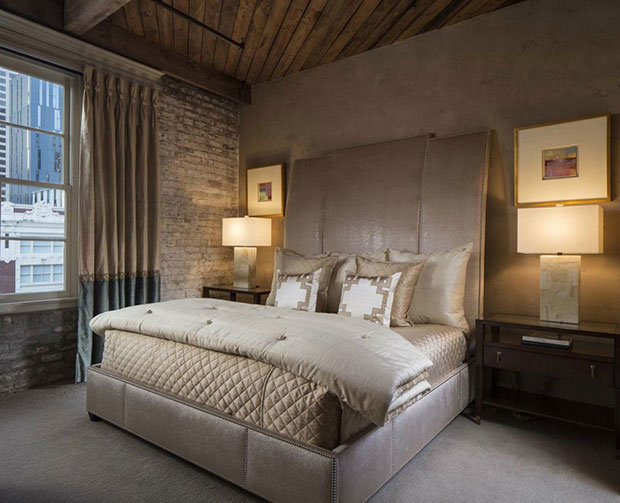 Posh Exclusive Interiors
Your eyes may have immediately gone over to this interesting bed frame. But don't let it distract you from the overall look of the room.
Barker Block Loft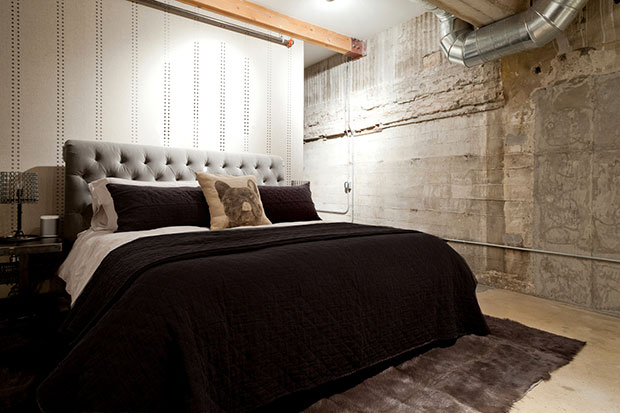 Kelly Sutton Design LLC
The untouched walls are just peaked industrial design. But even then, it brings a unique charm to the rest of the room.
Sugar House Loft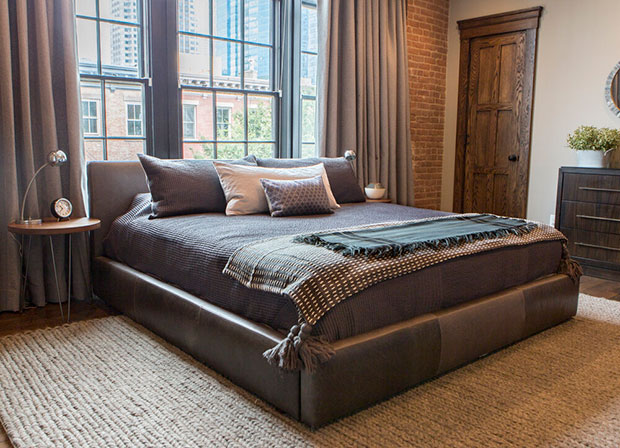 Hco Interiors
Some touch of contemporary style to go with elevates the overall look of this room.
Industrial Master Bedroom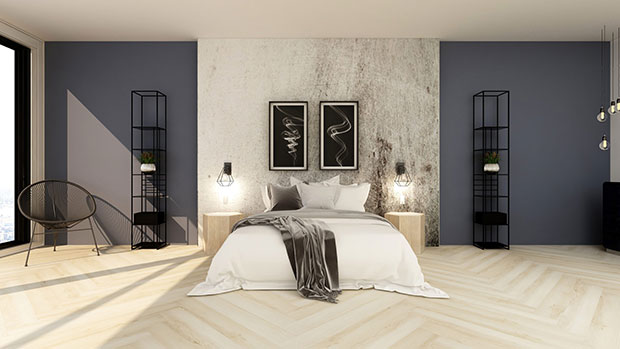 IV Design Interiors
Spacious bedrooms like this are perfect for some industrial design. The bare furniture and some modern art pieces truly complete the look.
That's it for some amazing bedroom design ideas! Hopefully, these have inspired you to design your own!
Like This Post? Pin It!