55 Awesome Small Bedroom Closet Ideas To Maximize Space
|
If you have a bedroom and you think it is not large enough to have its own closet, then you are mistaken. This small bedroom closet ideas will definitely change your mind.
Bedroom closets are small rooms, enclosed recess, or a cabinet that stores clothing. While not all bedrooms need a closet, it is a nice thing to have. Particularly if you are the organized type who wants everything sorted, arranged, and stored properly.
Small bedrooms, in particular, can be a tricky place to have a closet. Not only does it need to be artfully installed, but it should also be placed properly so as not to become an obstruction in the foot traffic.
If you are considering having one despite having limited space, this small bedroom closet ideas is for you.
Storage Tricks for Small Bedroom Closets
Small space may have a lot of limitations when it comes to organizing stuff. But if you maximize it and apply some small closet storage tricks, then space is not a problem! Here are some tips to maximize your small bedroom closet ideas:
Re-organize your stuff seasonally.
Not all clothes can be used within a certain point of the year. Some clothes are reserved for special occasions or even for certain seasons only. For these clothes, you can store them under the bed or in hard-to-reach areas in your closet. This way, you stay organize and have those you always need within your reach.
Cleanout your closet.
Most of the time, we have clothes, accessories, or shoes that we don't use or wear anymore. That said, schedule a date where you can purge that unwanted and unnecessary stuff. You can hand them down to younger family members, give them to friends, or even donate to charity.
Install task light inside your closet.
Having a closet within a small bedroom may become one of those dark and cramped spaces inside your room. To avoid that, install task lighting to add an open feel to it. You can use either recessed lights, a small sconce, or adjacent sconces.
Install sliding doors.
Instead of the usual doors, you can use sliding doors to cover your clothes. They look trendy and at the same time does not take up space. It also makes finding your stuff a lot easier.
Install shelf dividers.
Shelf dividers are great for organizing stuff and keeping stacks intact. They are great add-ons to help your pile up folded clothes without the fear of toppling over.
Use wicker baskets.
Aside from shelf dividers, wicker baskets are also great options to use. You can use them to store clothes, accessories, and even shoes. You can use several without making your space look cluttered.
Add storage under the clothes.
Another storage trick you might want to consider is adding a small dresser and a shoe rack beneath the hanging clothes. You can use the dresser to hold accessories, hats, scarves, and other small items.
Use a free standing clothing rack.
If your tiny closet is already brimming with stuff, then you can get a freestanding clothing rack to give additional space. You can easily put your most used stuff here such as jackets, sweaters, scarfs, or even your pouch.
Use modular shelving.
Aside from free-standing racks, you can also use modular shelvings inside your bedroom. You can use this to display your prized possessions or even those that you need regularly. Paint it with the same color as your bedroom so that it blends well, or make it extra eye-catching to make it one of your room's focal points.
Be creative with existing space.
Often we overlook unused spaces in our bedrooms, and that's putting them to waste. For example, you can use a column of rods on empty wall space for storing high heels. You can also use shower hooks in your closet for your purses. Sometimes you can get inspired from small stuff like this with your old kitchen items!
Small Bedroom Closet Ideas
Getting ideas can be hard, especially if you don't know where to look. Below are some cool small bedroom closet ideas to get inspired!
Green and White Room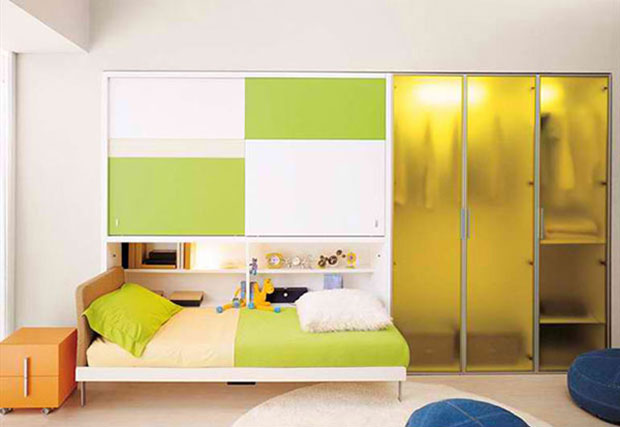 Resource Furniture
This small bedroom design has a built-in wall bed next to the small bedroom closet. With the wall bed and closet installed together, space is thoroughly maximized.
Fitted Furniture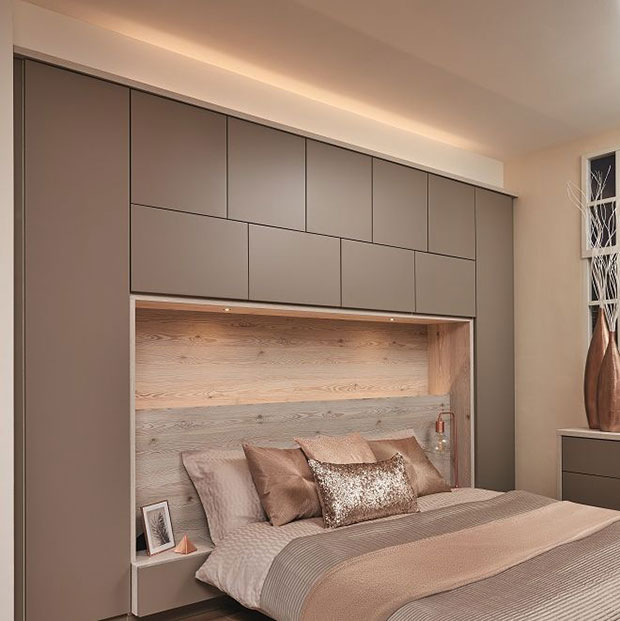 Neville Johnson
This small bedroom has fitted its drawers and closet on the headboard. The design looks clean and minimal.
Mirrored-Room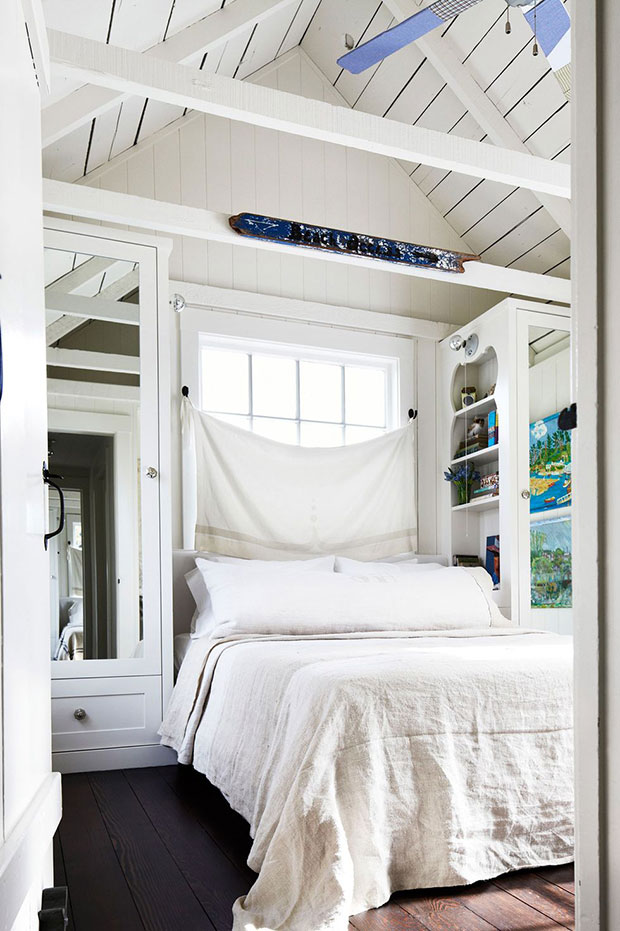 Alec Hemer
This space used this small bedroom closet idea with mirrors on the door to make the room look bigger. The closet is also placed right next to the bed and added some shelves on one side for some stuff.
Behind Bed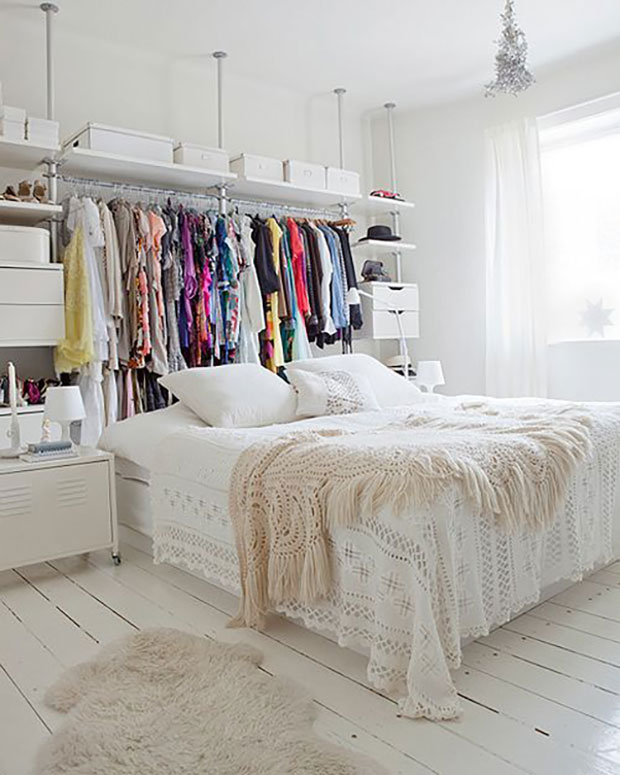 Decor 8
Another great small bedroom closet ideas to consider is having them behind the bed in the open. Just like on the image, you can use wicker baskets to organize your stuff.
Walk-In Closet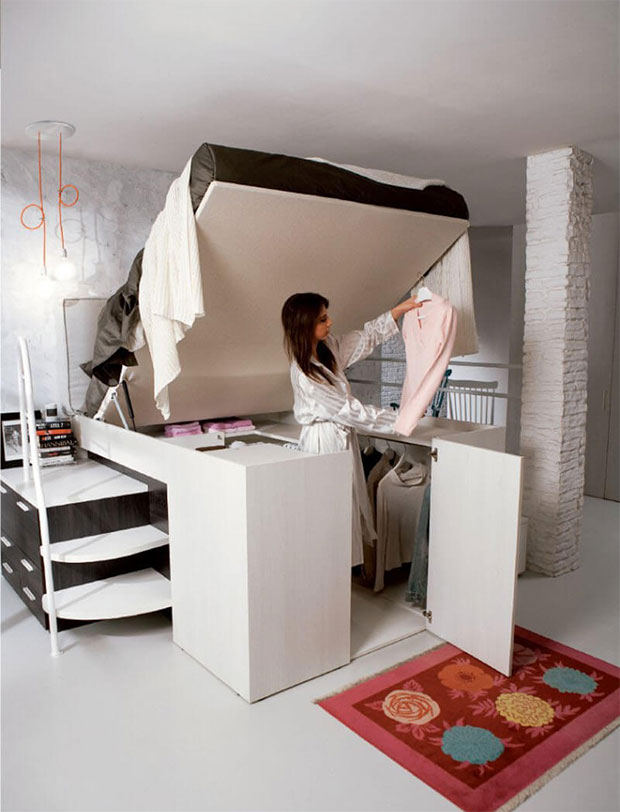 Cool Home Decorations
Here is a customized small bedroom closet ideas where you can enjoy a full walk-in closet – but it is located beneath the bed.
Lavender Room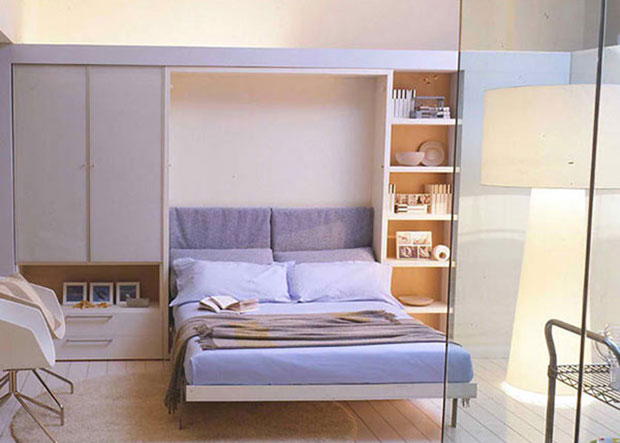 Resource Furniture
Another gorgeous small bedroom closet idea is to incorporate it into the head board of the bed. This example shows a wall bed with shelves, cabinets, and drawers strategically placed.
Beneath the Bed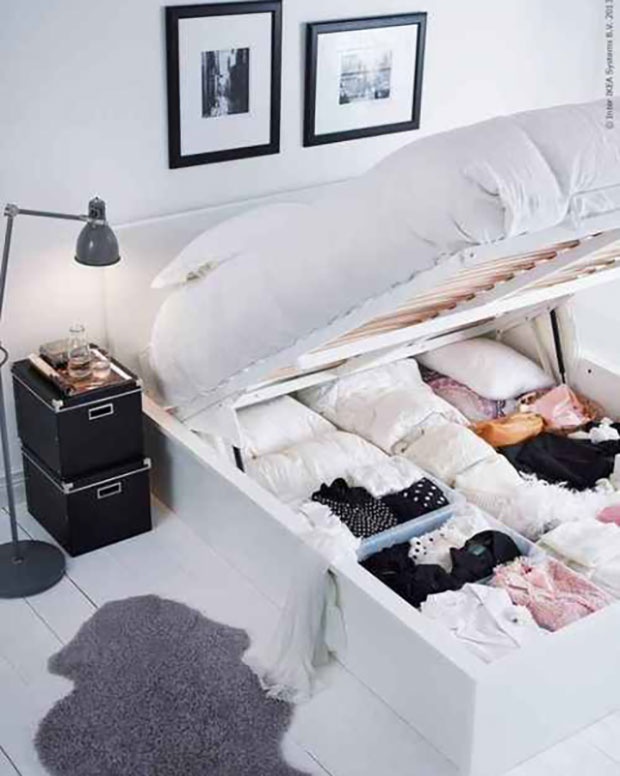 Ikea
Not really a closet, but this is a good option to store your clothes: by placing them beneath the bed!
Secret Storage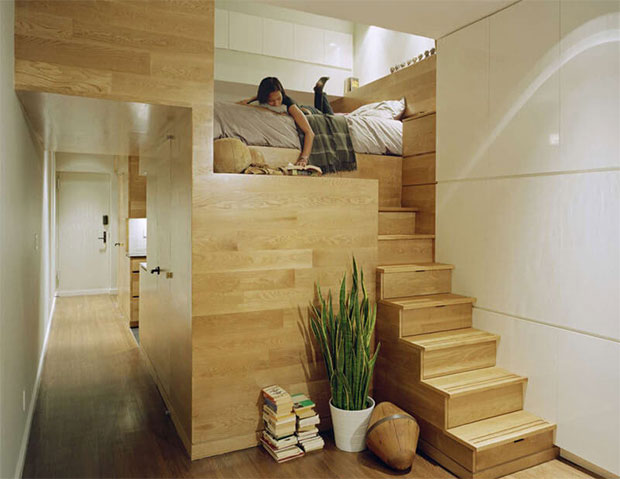 Cool Home Decorations
This small bedroom closet ideas is a brilliant one and reminds us with a house filled with clever hidden storage ideas. The bed is elevated and around it is the closet space for your clothes and stuff.
Floor Storage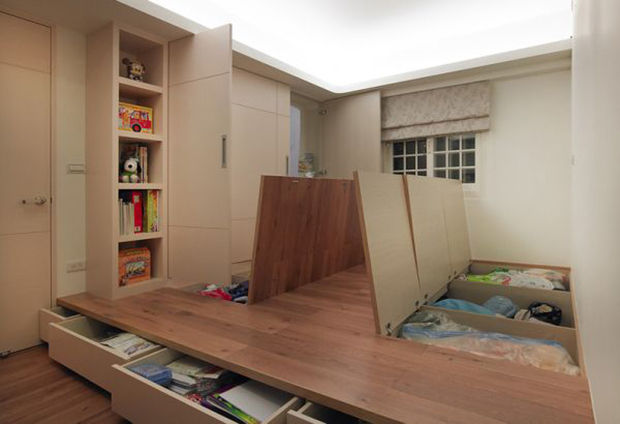 Home Edit
Another small bedroom closet idea is to place your closet on the floor. Just make sure that the bed is movable too so that getting your stuff is convenient.
Hidden Storage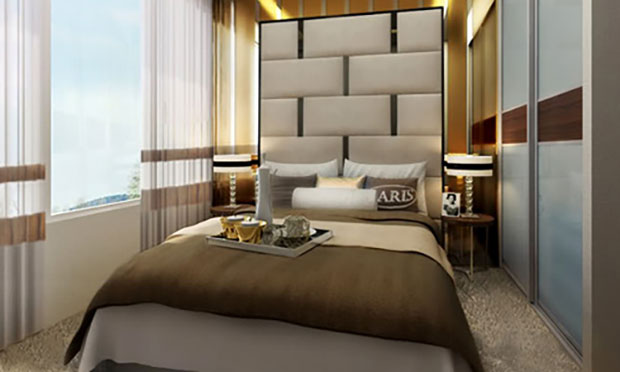 Crainelee
The closet here is placed on the side and hidden by sliding doors. Its door design has the same theme as the curtains for design consistency.
Closet Below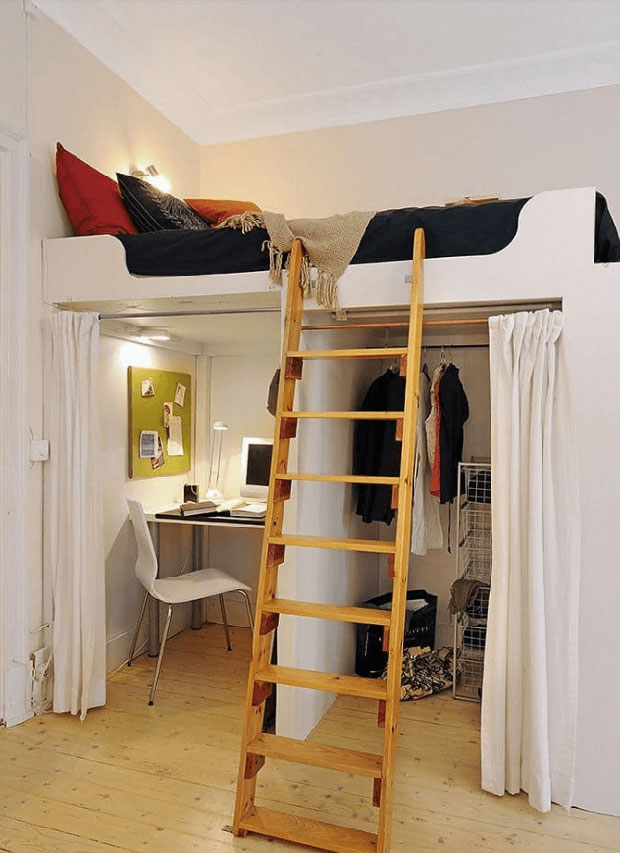 Design Bump
For high-ceilinged rooms, this small bedroom closet idea is a brilliant one. The bed is placed above the office space and the mini-walk-in closet with curtains for privacy.
Cabin-Style Loft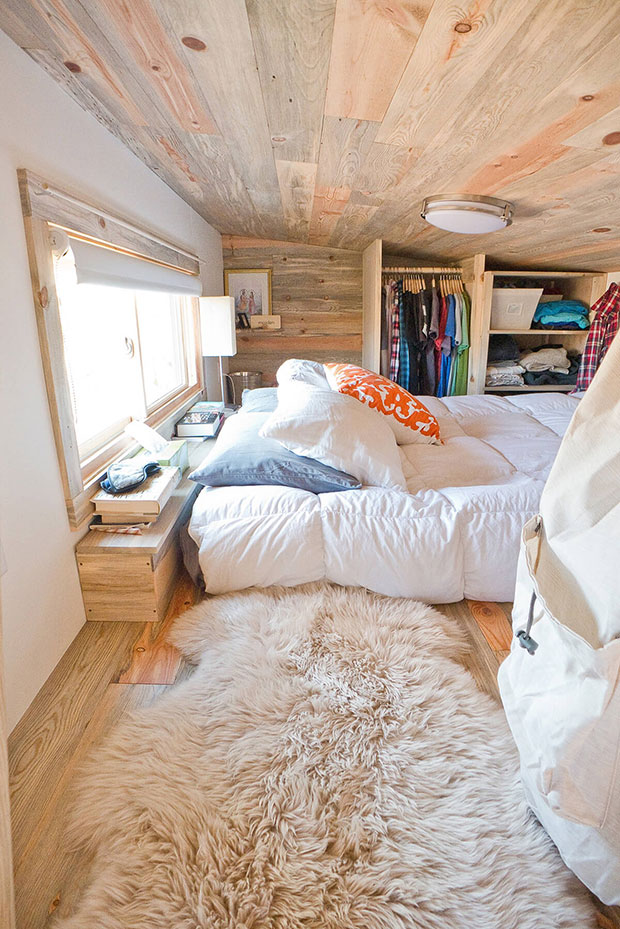 iDesign Arch
Despite having a low-ceiling, this room looks cozy enough with the large window. The custom-built closet is also placed on one-side beside the bed for easy access.
Cabinet Room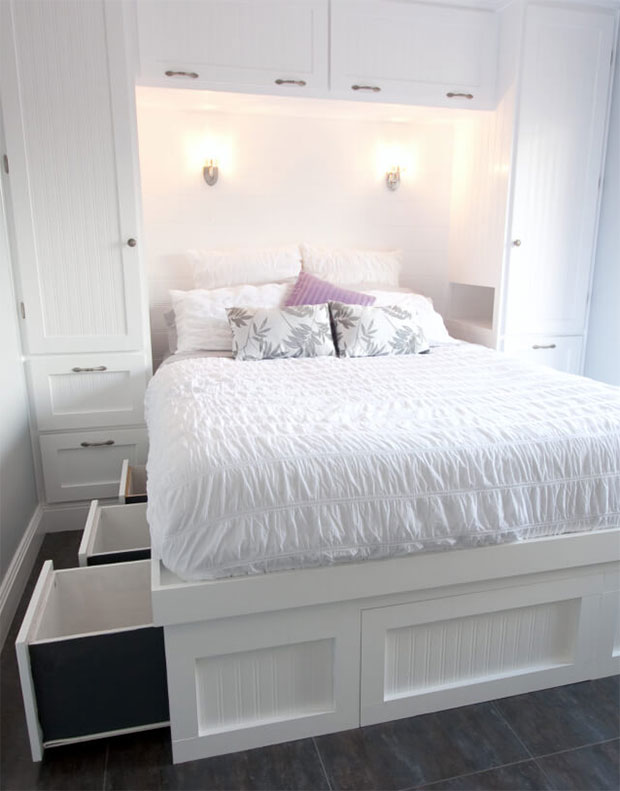 Saw Dust Girl
This room has cleverly installed drawers and cabinets around it, including under the bed.
Wall Closet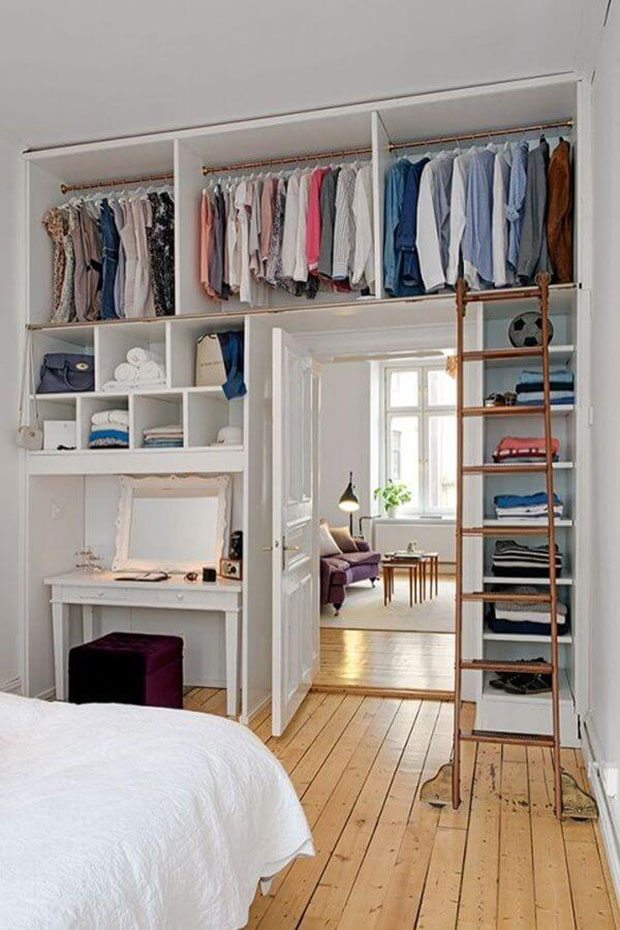 Icons Corner
Reminiscient of a home library, this small bedroom closet ideas make use of the walls to place the wardrobe. The owner has even placed a movable ladder to easily reach stuff.
Overhead Storage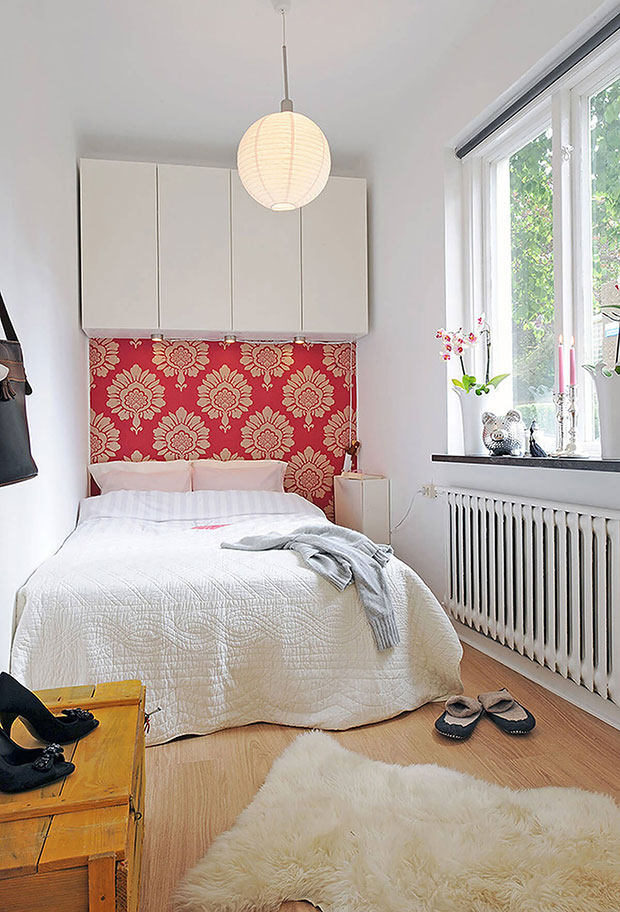 Decor8 Blog
If the room is too narrow, having your closet/ wardrobe overhead the bed is a clever idea. The designer also added a bright and floral-patterned design on the headboard for a splash of color.
Side Closet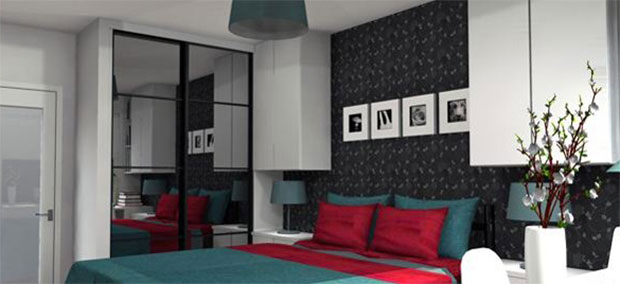 Renata Pietrasiuk
The closet here is placed on the side of the bed and then covered with a glass door to make the room look bigger and less cramped.
Michigan Lake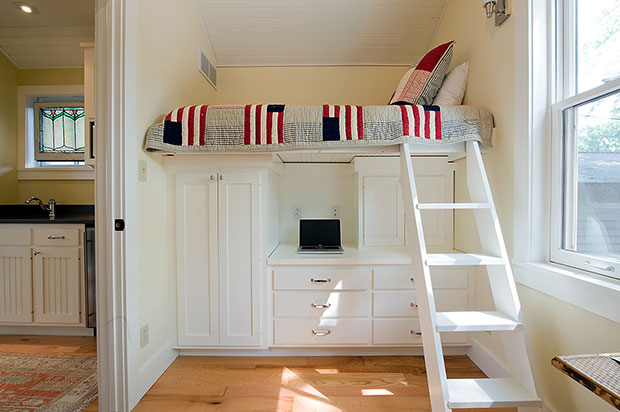 Hamilton Snowber Architects
Instead of trying to fit everything in the floor space, the designer opted to place the bed on top of the closet and the small workspace for more open space.
Neutral Colors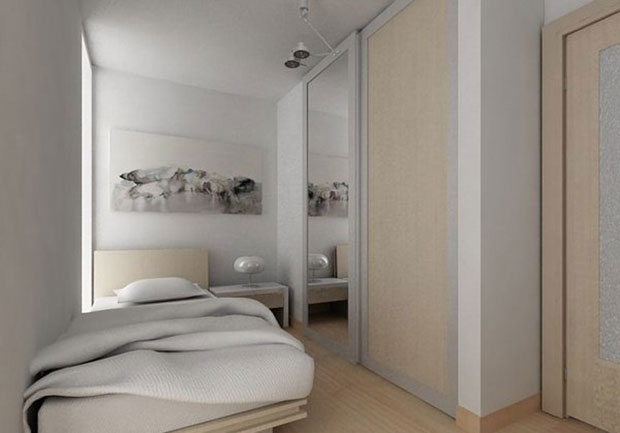 Architectemr
This small and narrow bedroom has a closet built next to the wall. The neutral colors add an open feel and the designer also used sliding doors with glass to save space.
Bed Box

Home Design Lover
This small bedroom conveniently makes use of a bed box and has a custom-closet and shelves as well as a table to maximize the space.
Condo Bedroom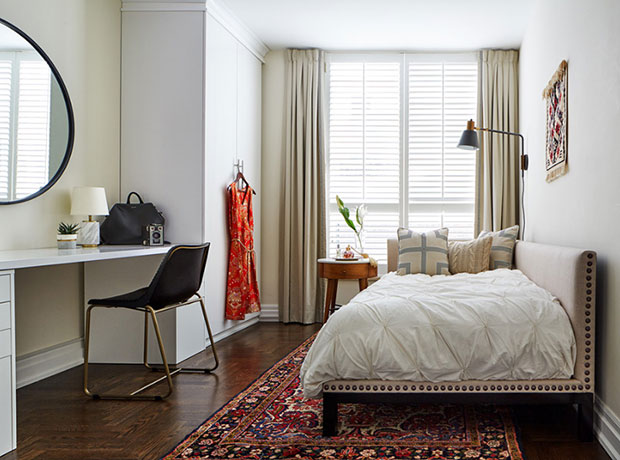 Ferguson Designs Inc.
This cozy bedroom space has a nice small closet comfortable placed on the corner of the room next to the vanity table. Take note of the bed too with its cute design.
Orange Bedroom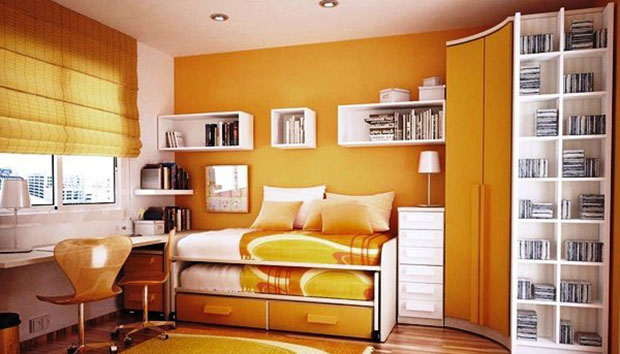 Sergi Mengot
This room's space has been maximized well with custom-build drawers and shelves and a closet cleverly incorporated on it. The white color also tones down the bright orange color.
Longboat Condo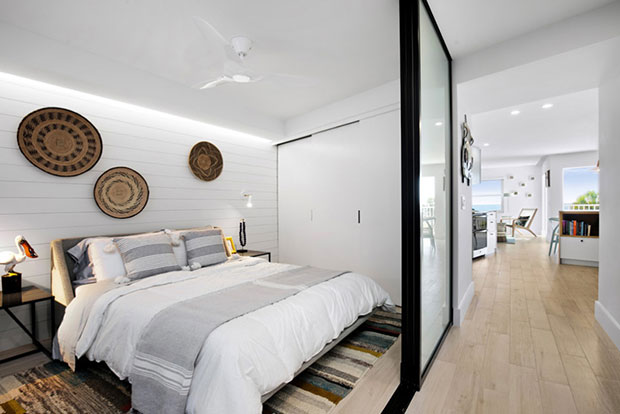 Leader Design Studio
The small bedroom closet idea used here is that of a built-in closet cleverly hidden behind white sliding doors.
Elegant Room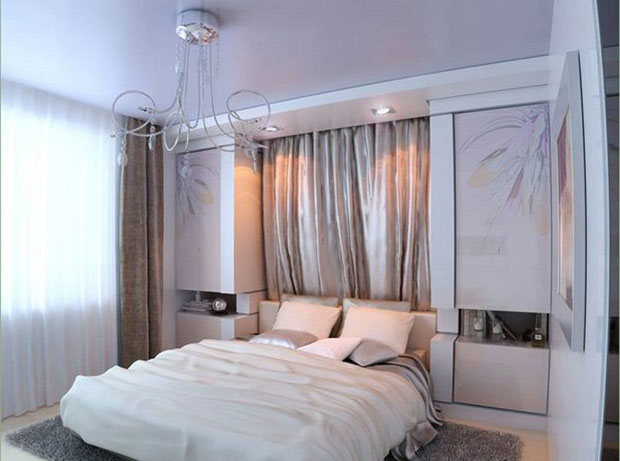 Home Design Lover
Small bedrooms can be elegant and stylish too, just like this small bedroom design. The designer has used a built-in closet and even added an elegant chandelier.
Narrow Closet and Storage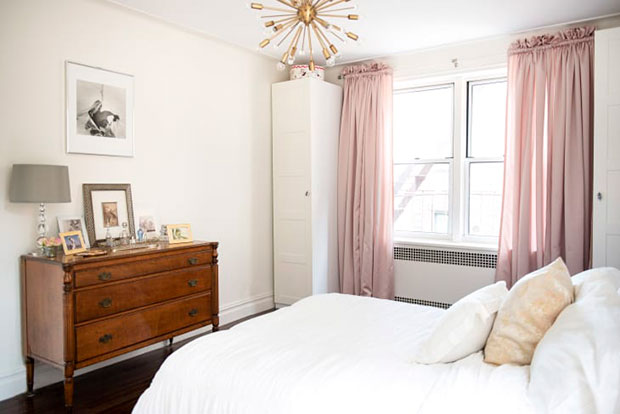 CREDIT
This design makes use of a narrow closet/ storage space and then added a drawer for other clothes/pieces of stuff.
Bare White Walls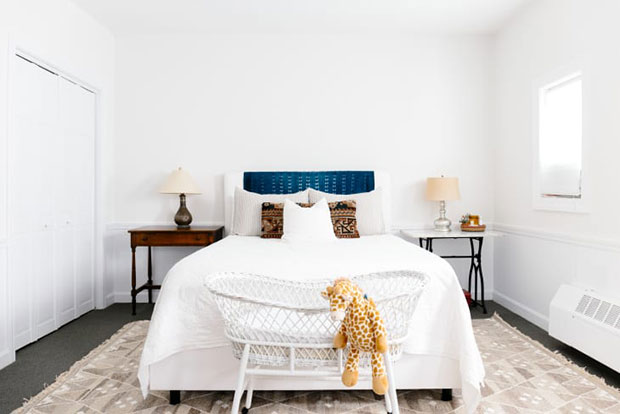 Anna Spaller
The closet is placed on one corner and painted the same white bare color of the wall for a more open look.
Chic Bedroom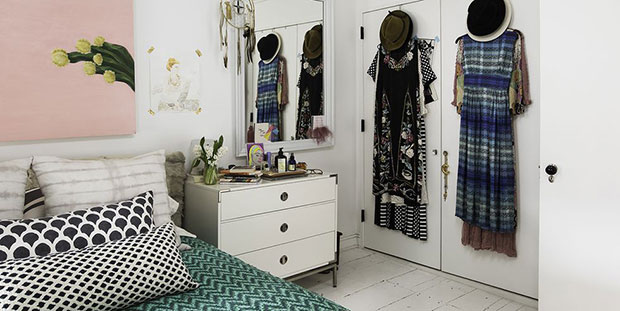 Nicole Cohen
This chic bedroom makes use of lovely patterns on the bed. The closet on the corner also has a hook on the front for extra dress and accessories.
Wood Walls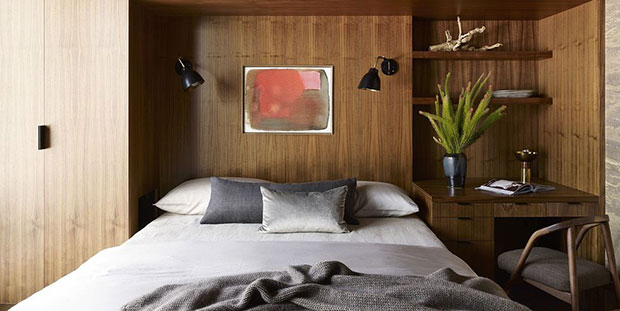 Bjorn Wallander
The warm wood used in this room looks classy yet modern. The closet has the same wood panel as the headboard and the worktable on the other side of the bed.
Tropical Room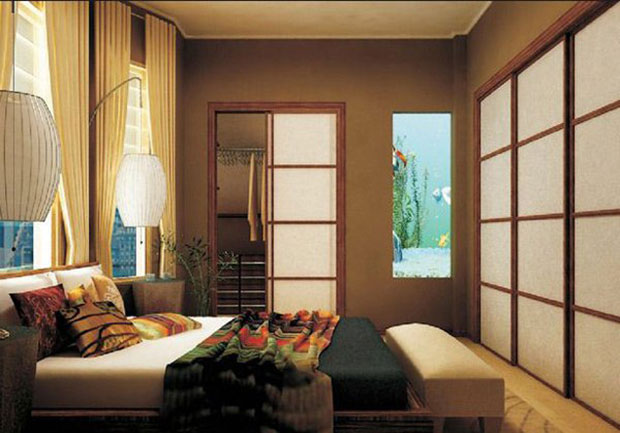 Marie Burgos
The nice touch of warm hues in this room adds a tropical ambiance to the bedroom space. Its nice little closet has also a nice sliding door with the same material as the door/ wall.
Flatiron Condominum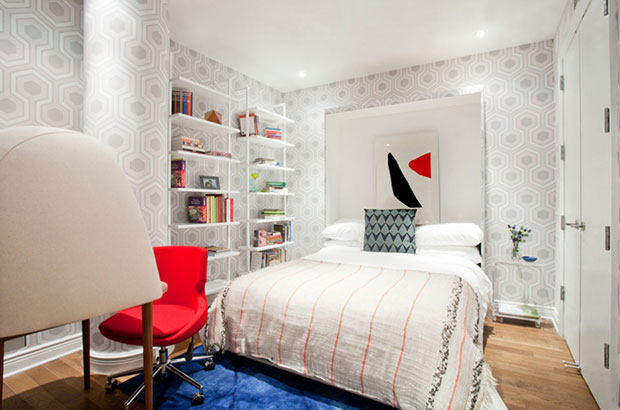 Jaime Walters
This small bedroom has a nice cute white-doored closet at the side. It also has an open shelf on the left side for additional space.
Nested Room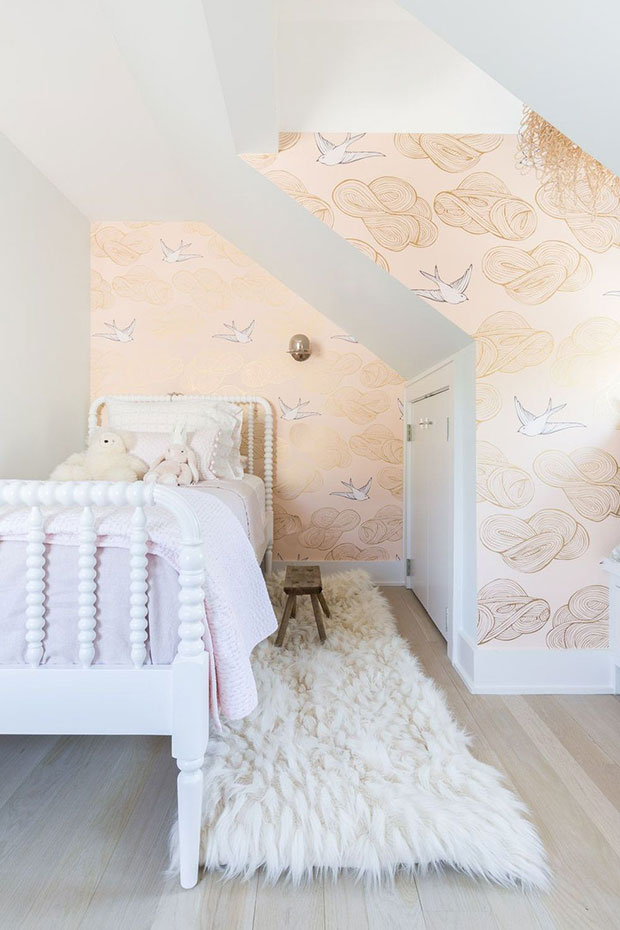 Alyssa Rosenheck
For rooms with a slanted ceiling like this, the odd spaces can also be made into a closet or storage space for small bedrooms.
In-Law Cottage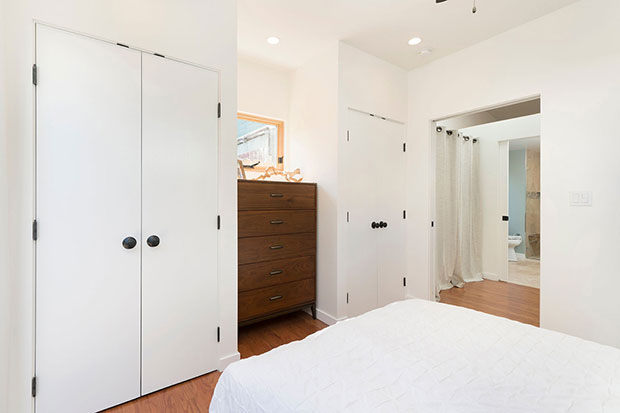 McDunn ADUs
Despite the limited space, the designer was able to build a custom closet in the room for storage space and even placed a dresser on the center for additional storage.
Chelsea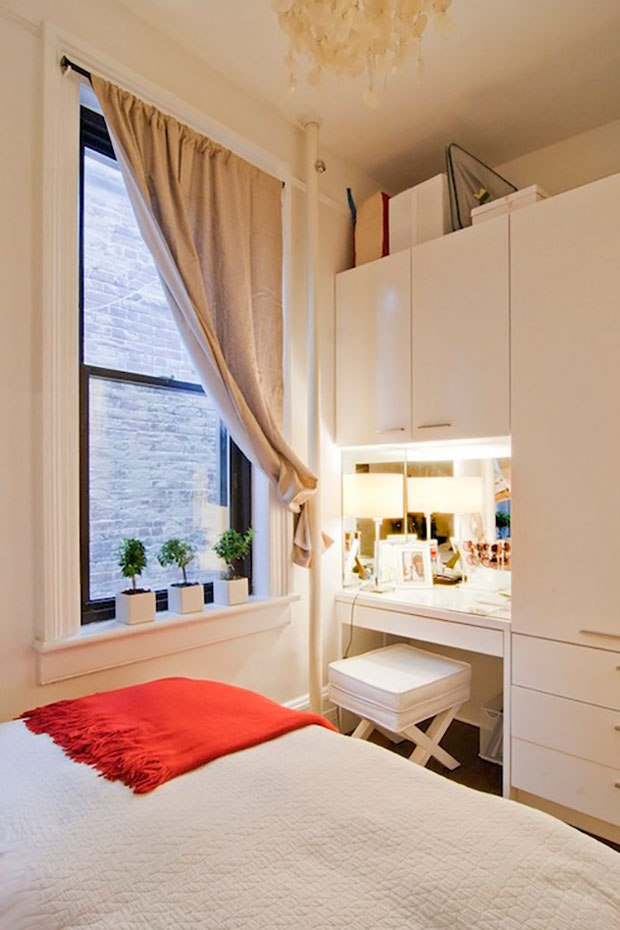 Anjie Cho
The clean and chic design of this bedroom looks relaxing and even more emphasized by the small plants on pots. The designer also added some extra space at the top of the closet for additional storage.
Guest Room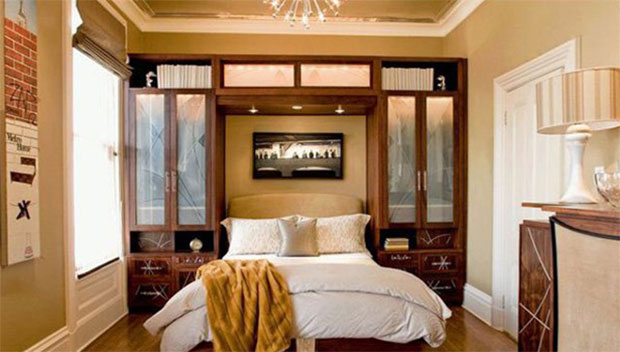 Adeeni Design Group
The classy look of this room is even made more pronounced with the distinctive design of the built-in closet at both sides of the bed.
Dogpatch Condo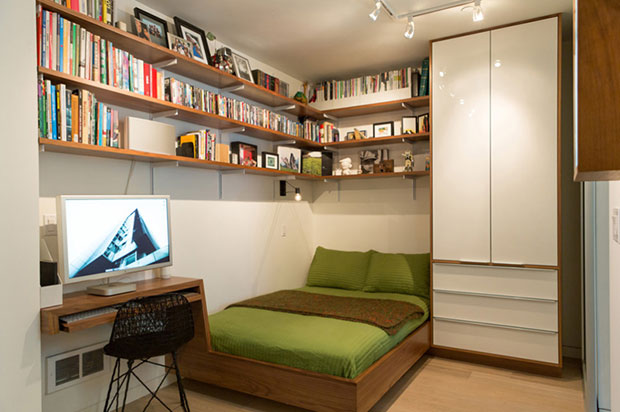 Chad Bournedoss
The designer has customized a charming closet that fits perfectly with the small bedroom. It also has installed shelves for books and memorabilia including a small worktable.
Murphy Bed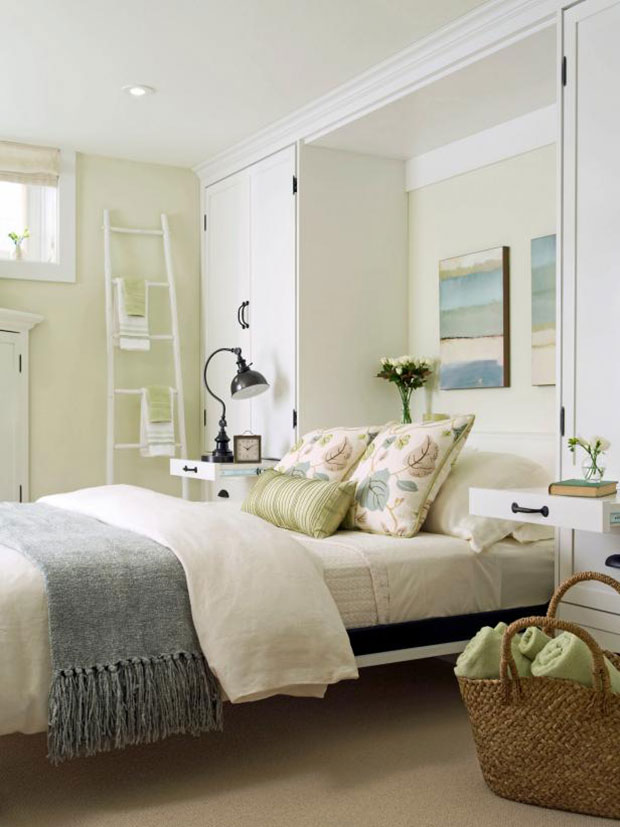 Brandon Barre
The designer here installed a murphy bed and then added the closet on the side of the bed. There is also a cut ladder-shaped fixture on the side for extra hanging space.
Upholstered Wall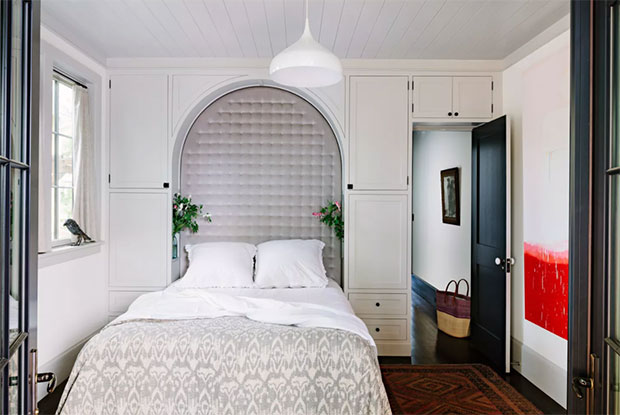 The Works
This classy room has an upholstered headboard which adds an elegant appeal to the room. The walls are also customized with lots of cabinets for storage space.
West Village Apartment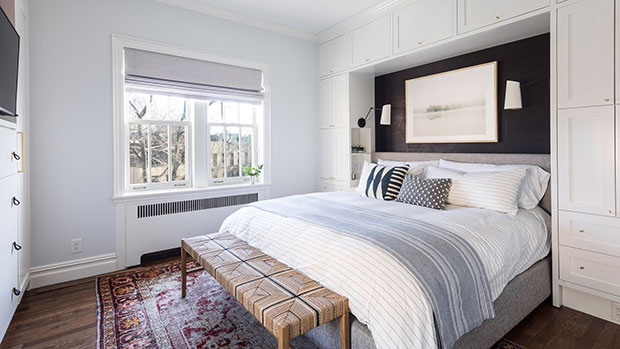 Ben Herzog Achitect
This bedroom may have limited space, but the storage capacity is maximized with lots of built-in cabinets and drawers.
Wood Focal Point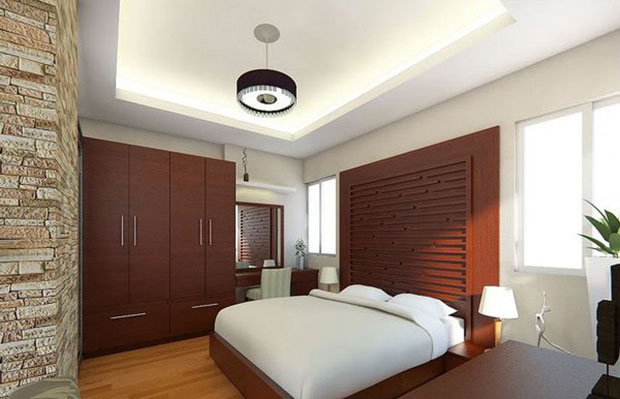 Torring
This small space looks a lot bigger with the wooden highlights of the room, including the double-door closet.
Clever Storage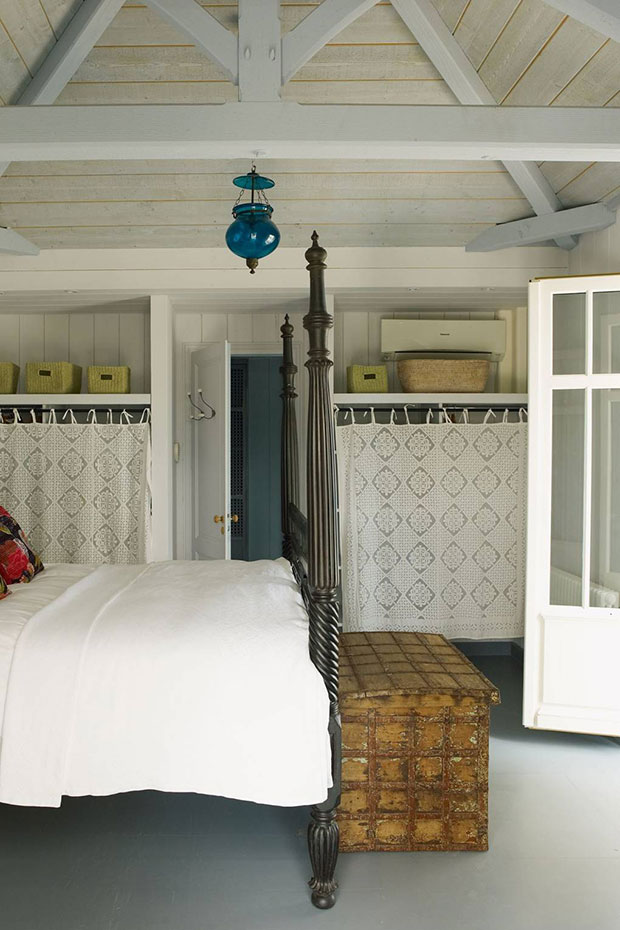 Jonathan Tuckey
This room's closet and storage space is hidden behind a set of curtains and makes use of wicker baskets for sorting smaller stuff.
Storage Bed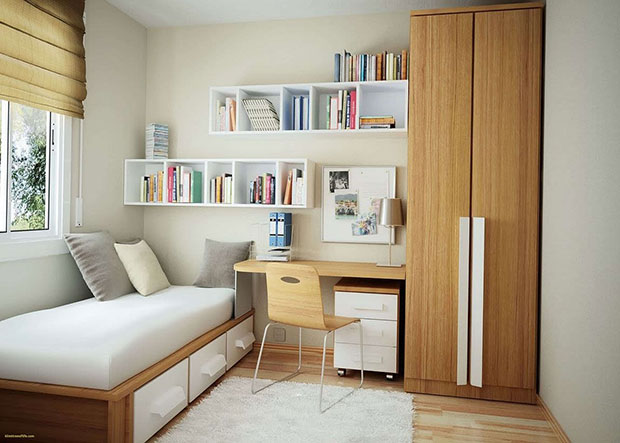 HD-Ecor
This customized room has lots of built-in storage spaces including the closet, shelves, worktable, and bed. The lovely wood color and the white walls look soothing and relaxing.
Wall Wardrobes

Jane Taylor
The wardrobes in this room are cleverly concealed behind falls wall. The design makes a clean and minimal effect.
Chalet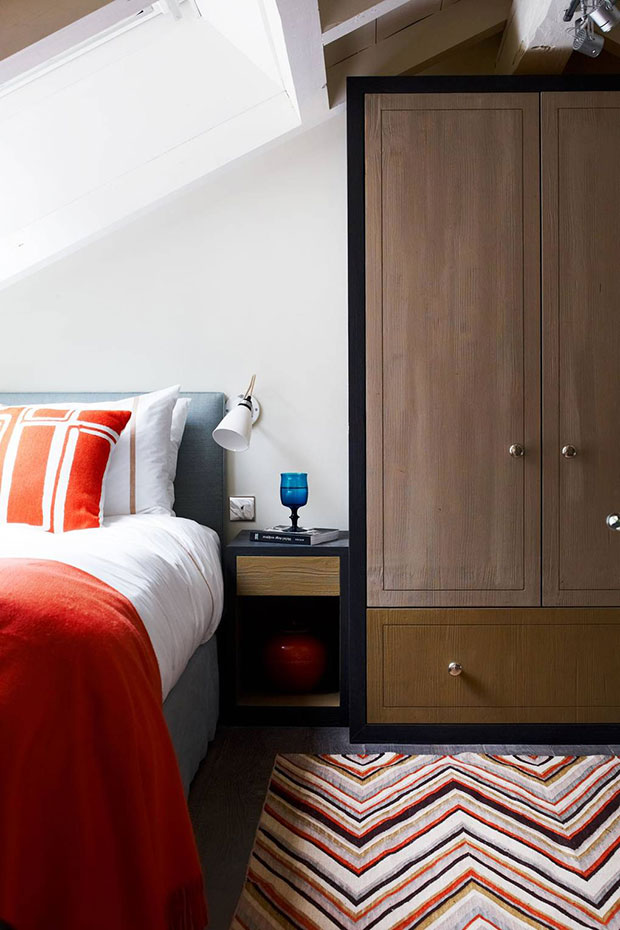 Kate Earle
The large wardrobe balances the colorful patterns in the room and adds a distinct look to the room.
Striking Room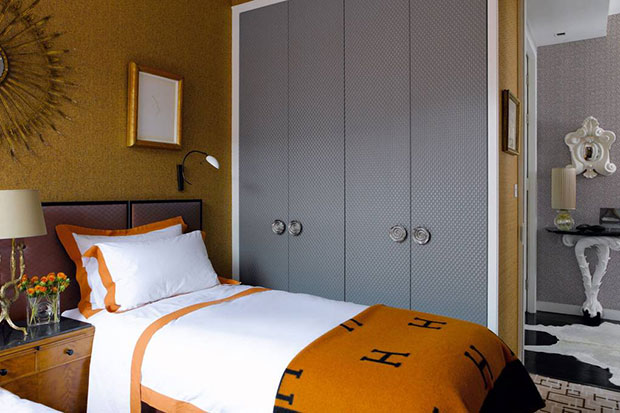 Mark Gillette
The striking colors of gold and silver of this small bedroom look great. The effect makes the room elegant.
Concealed Wardrobe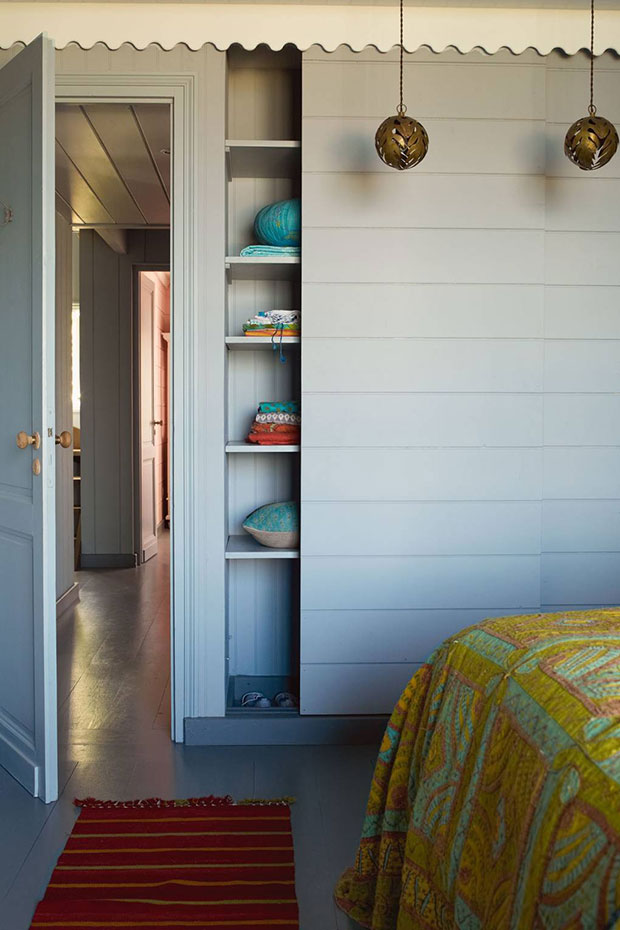 House and Garden
This wardrobe/ closet is hidden behind a sliding door in the same shade and design as the room's wall.
Illusionist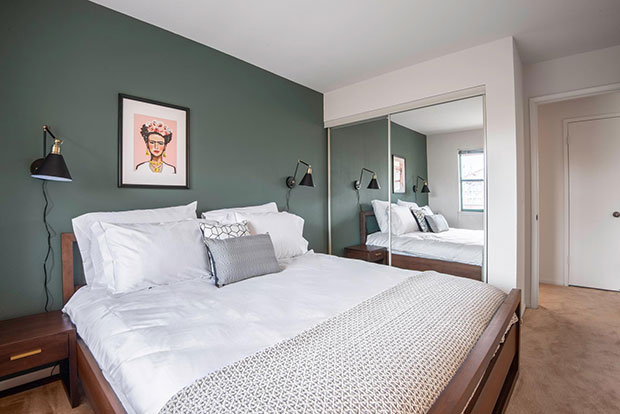 The Blue Ground
The large mirror on the sliding doors of the closet gives off the illusion of a big room with plenty of space.
Cypress Residence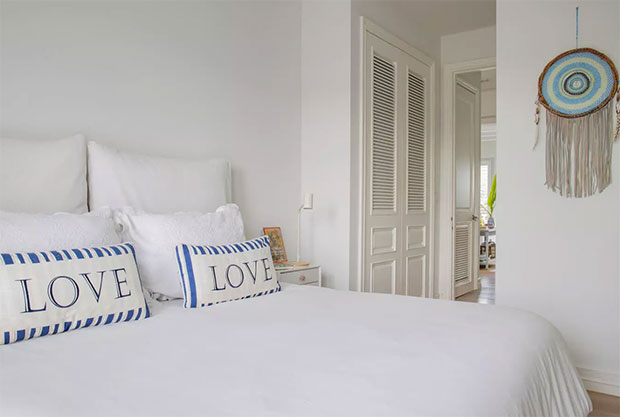 Maite Granda
The white bare walls and dream catcher on the wall adds a beach vibe feel to the room. The closet is also strategically located near the door.
Ski Chalet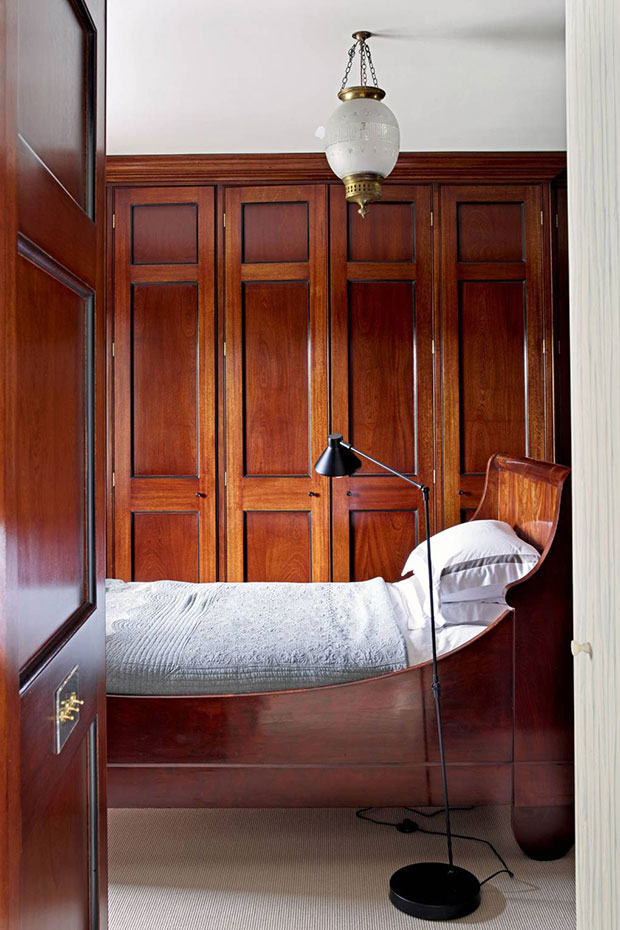 Hugh Henry
The wooden built-in wardrobe looks great with the matching bed. The design rather adds a cabin room or ski chalet feel.
Box Room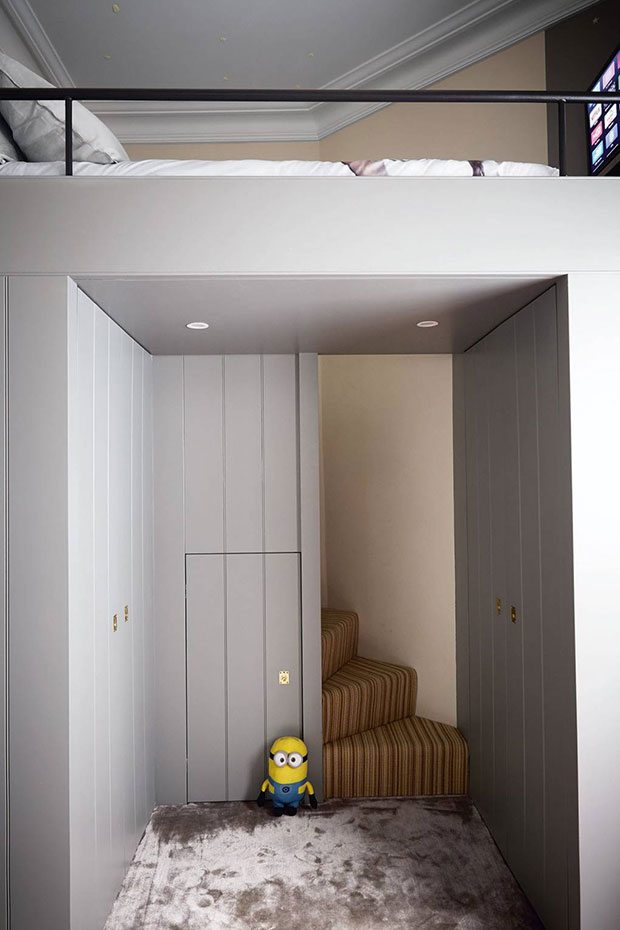 Johnny Holland
This tiny box room is an ingenious small bedroom closet idea with the bed at the top of the closet. The extra space in between is a great place to play and will be a sure hit with the kids.
Mirrored Bedroom Wall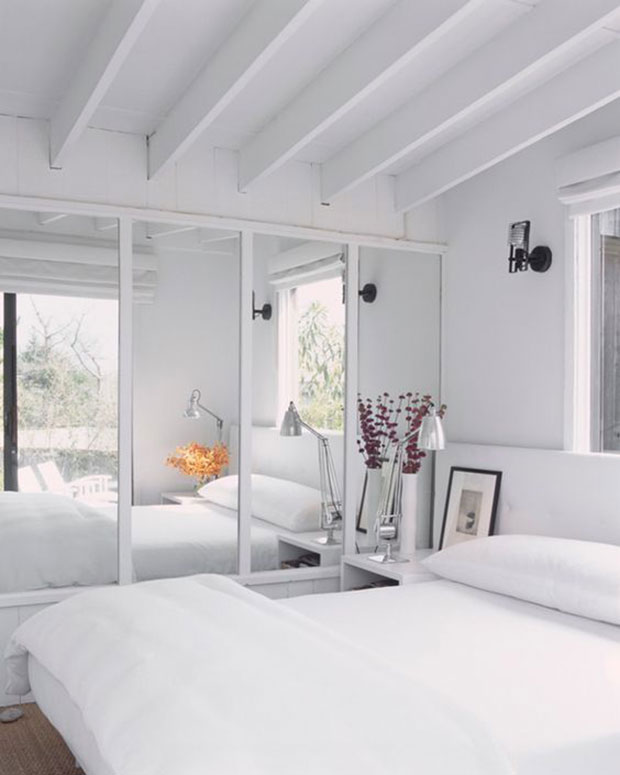 Reno Guide
Another great example of a mirrored sliding door for the small bedroom closet ideas.
Bright Colors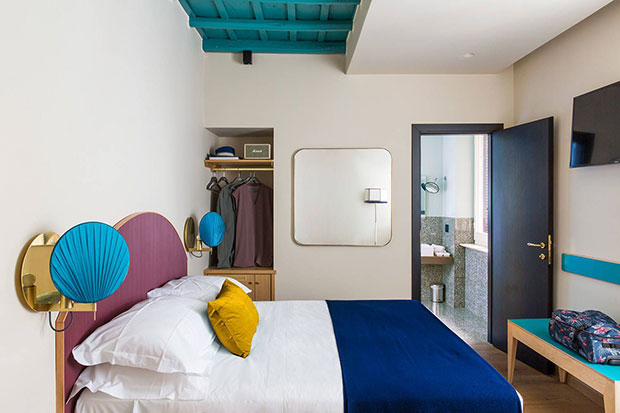 Decoist
The small corner closet in this room is certainly fitting for minimalists who keep small pieces of clothes.
Boho Bedroom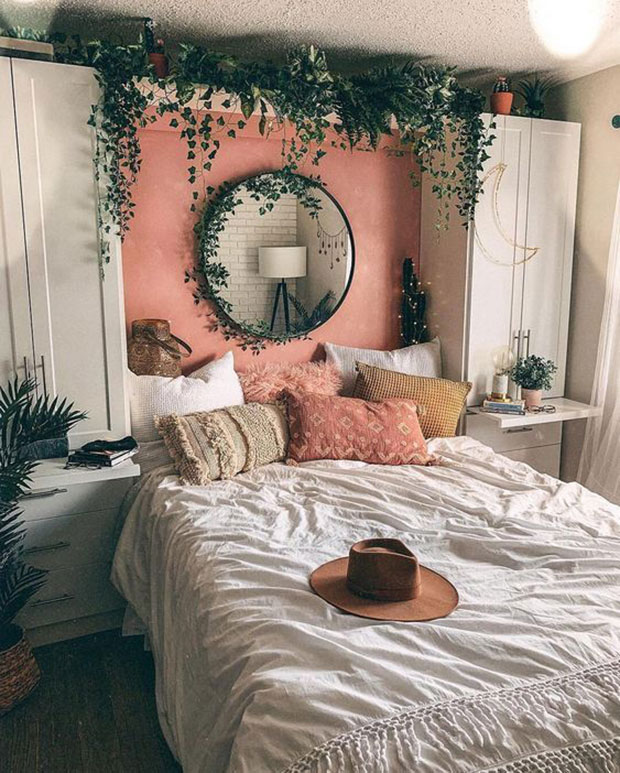 Digs Digs
This charming boho bedroom features a built-in wall closet and a bed adorned with plants. The effect is quite nice and very charming for a small bedroom closet ideas.
Closet Door Organizer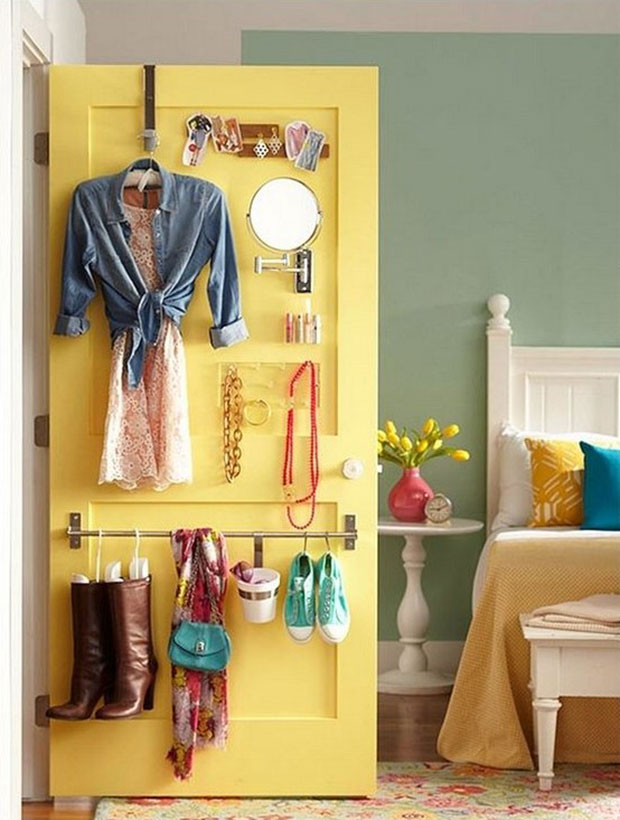 Renoguide
This bedroom may be small, but its space is well-utilized including the closet door with hooks for extra stuff.
Stylish Bedroom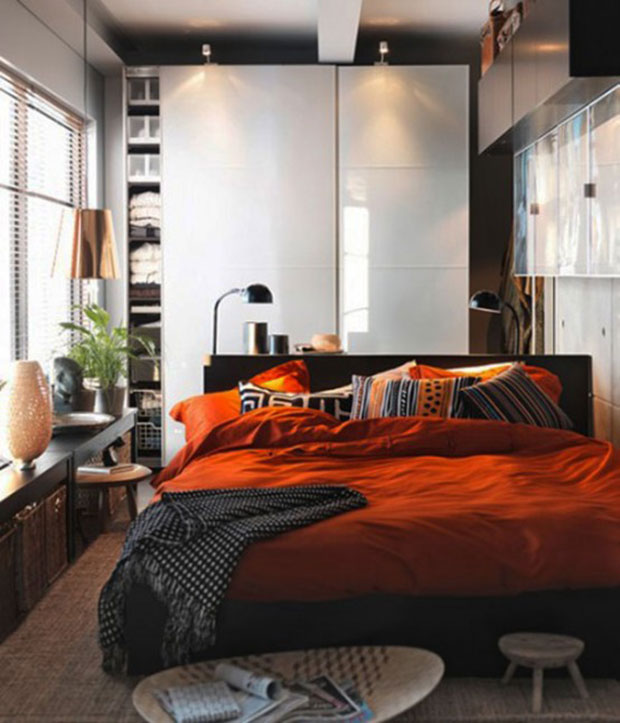 Digsdigs
The sleek and glossy closet at the back of the bed adds a sophisticated look to this small bedroom.
Lavender Bedroom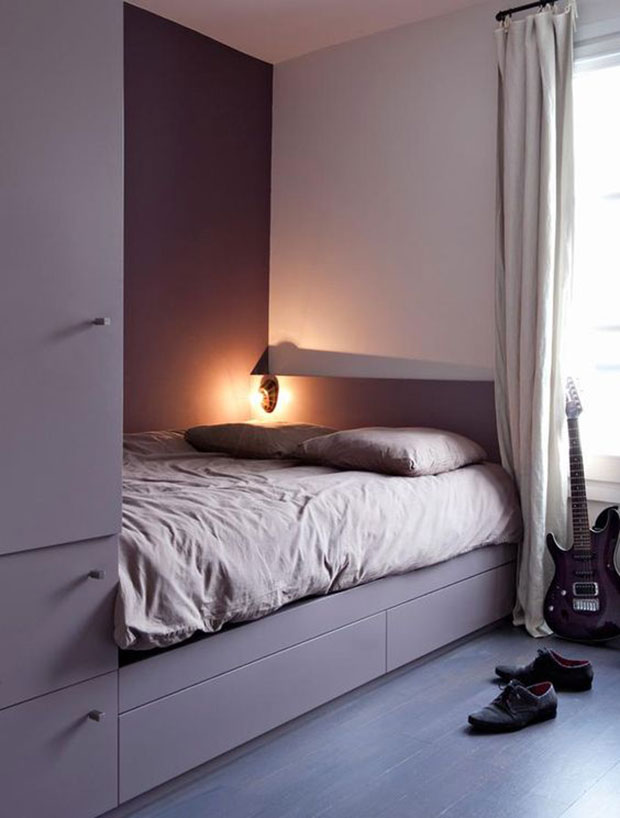 Renoguide
The bed and closet combination of this design looks clean and rather multi-functional.
Wooden Bedroom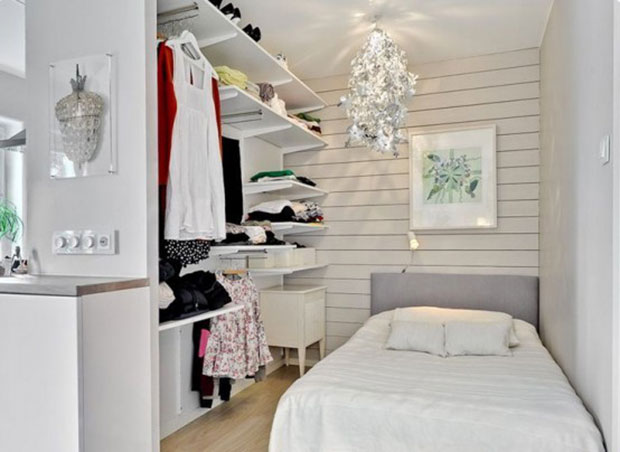 Digsdigs
This bedroom features an open closet just beside the bed with open shelves. The effect is rather chic and comfortable.
There you have it! Hope you got lots of inspiration from this collection.
Which small bedroom closet ideas from this collection is your favorite? Share it with us down on the comment below!
Like This Post? Pin It!