60 Fun Bunk Bed Ideas for the Little Kids to Have Fun With
|
What is the first thing you imagine when you hear of bunk bed ideas? Your brain may picture a cramped summer camp room with rows of bunk beds, or the shabby college bunk beds, or you may think of enlisted personnel standing in attention by their bunk beds in a military barrack.
Such places make a good choice and use of installing bunk beds. In situations where a room does not have the luxury of space, often the solution is to get a bunk bed. It maximizes room usage by having more than one occupant and also freeing up floor space. In this case, often guest rooms would have bunk beds to accommodate more people, say a number of your extended family pays a visit to your home.
But modern bunk beds combine excellent ergonomics and fun aesthetics. There are so many bunk bed ideas you can have with the variety of designs, sizes, and components. You can have shelves, drawers, and cabinets built-in these bunk beds, or integrate a closet and a study desk. This way it saves even more space to move around.
What age is appropriate for bunk beds?
Bunk beds have the reputation of being the sleeping choice for children, preteens, and teens alike. Granted, the first results that come up when you look up bunk bed ideas accommodate and target this young audience. Especially for kids, bunk beds can be fun. After all, they'll be sharing rooms with their siblings, creating an environment akin to that of a sleepover.
However, in the 21st century, trendy and unique bunk bed ideas have evolved for adults. After all, there is a great benefit in choosing bunk beds, especially in smaller rooms. And with the wide variety of bunk bed ideas, you can surely have your own pick.
How can I decorate my bunk bed?
Bunk bed ideas aren't limited to just simply picking a bunk bed. It isn't solely about creating space. You can find different creative ways of decorating your bunk bed to avoid a dull look.
In the case of bunk beds for children, it is important to have a fantastical decoration fitting with their age. It's also important to decorate them according to their preferences and comfort.
As it is with bunk beds, children would have to share a room. Decorating would then become a challenge especially when each child has their own preferences. But you can let them express their own individuality by decorating each of their own bed. Here are some simple and fun tips to help your child personalize their own bunk bed!
1. Add some color
You can style each bed with colors that complement each other to avoid looking identical. Use different shades of the main hues found in the room for each child's bedding. You can mix up bright and neutral hues. For example, have one bedroom with colorful bedding with light accents and the other with white bedding and colorful accents.
2. Add pillows
Normally, comforters for both beds would be the same. So, you are left to individualize with pillows. Pick pillows that add fun and personality to the room. Choose different patterns, colors, textures, and sizes. You can place them in various ways, not just by the head of the bed. You can try putting them against the wall or by the foot of the bed.
3. Additional accessories
You can get creative by adding small accessories that would a little flair. The most common of it all is adding curtains. Not only does that give the child some privacy, but it also adds texture. You can also try mixing and matching with other design accessories like Christmas lights, colorful pennants, and the likes. So get creative in the way that they fit in nicely with the room aesthetic and that it doesn't look messy or tacky.
If you deem it better, you can always paint the beds themselves, with light, neutral colors being the trend these days. If you have a white frame, not only does it make the whole bunk look clean, it will also allow colorful beddings to pop out.
Bunk Bed Ideas for Inspiration
Let's take a look at our picks of fun bunk bed ideas that your kids will surely have fun with!
Alys Beach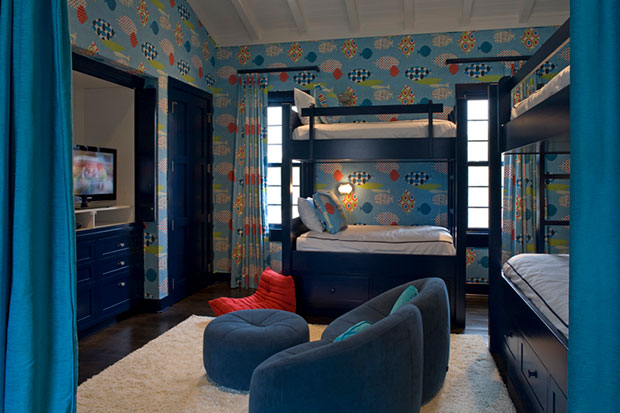 Christ & Associates
They really pull out a blue theme here as the dark blue bunk beds frame matches nicely with the wallpaper. Even the door, TV stand, bean bag chairs match with the color scheme. It's a perfect style for a typical boy's room.
Home on the Depot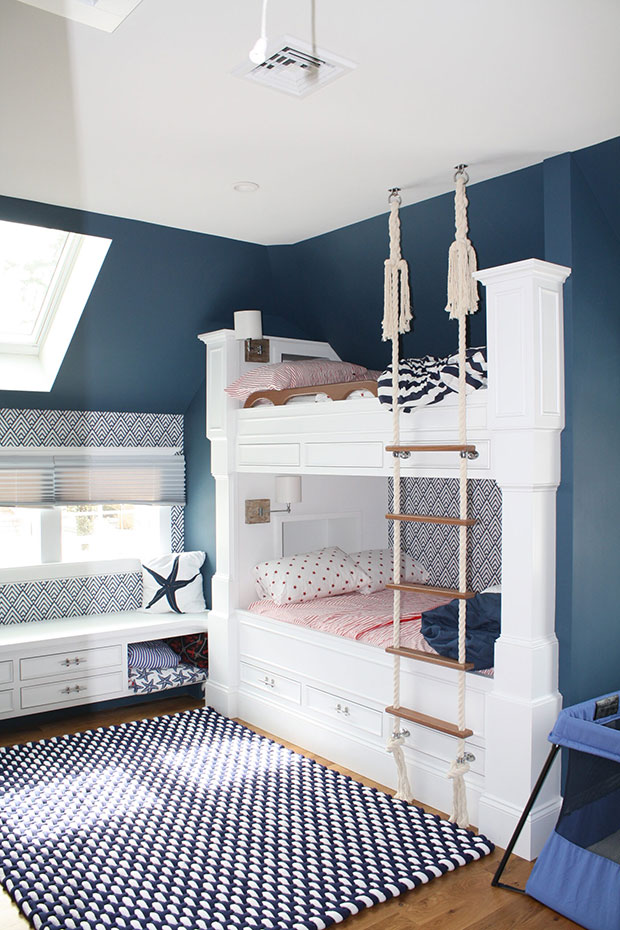 Encore Construction
Different from conventional bunk bed ideas, this one doesn't use a regular ladder configuration. Instead, it has a nice rope ladder attached to the bunk. Another noteworthy detail is how each bed has its own small lamp that the occupant can move as they please.
Coastal Signature


Lovelace Interiors
This built-in bunk bed offers a string of drawers to be used by the kids. Even the steps that lead up to the upper bunk level are drawers. With the frame having a neutral color, the colorful beddings and decorative pillows brightens the set-up.
Valley Vista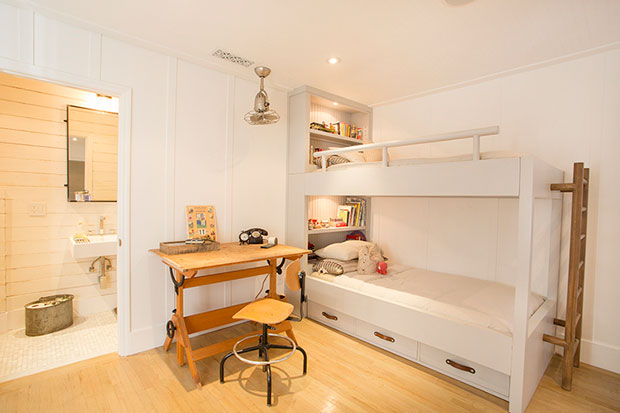 Thea Home Inc.
Of simpler bunk bed ideas, we give you this one. Notice how they turned the headboard into a built-in shelving unit for the kids to keep their things. It's also interesting to see how the ladder is installed by the foot of the bed so it makes way for the desk on the side.
Upper Cedar View Residence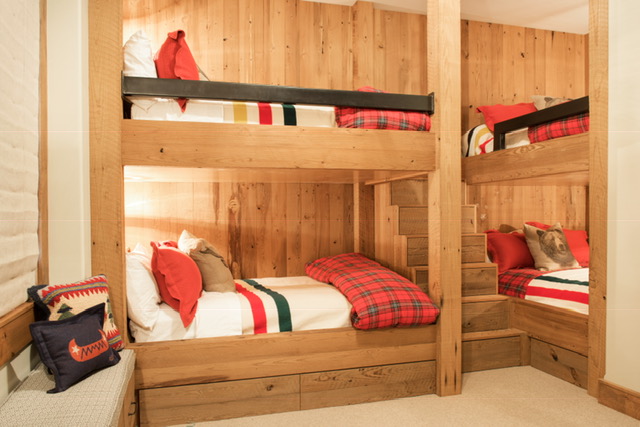 Design Associates
If you ever want to stray from modern or contemporary bunk bed ideas, here's a rustic style. Tucked to the side, they managed to fit two bunk pairs that run perpendicular to each other.
19th Street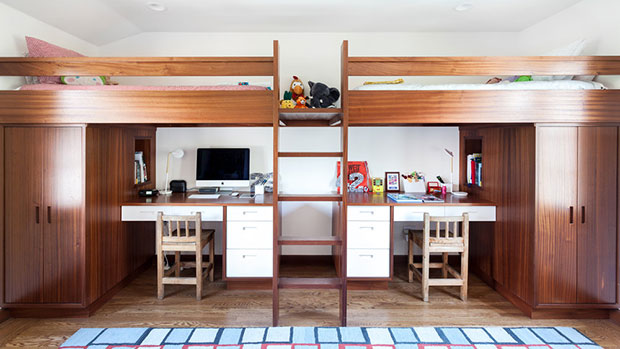 Littrell Architecture + Design
Here is one of the more useful bunk bed ideas. With the beds in upper level, the lower level is free to be made into a study desk and a built-in cabinet. This is really efficient for space-saving designs.
Contemporary Kids Bunk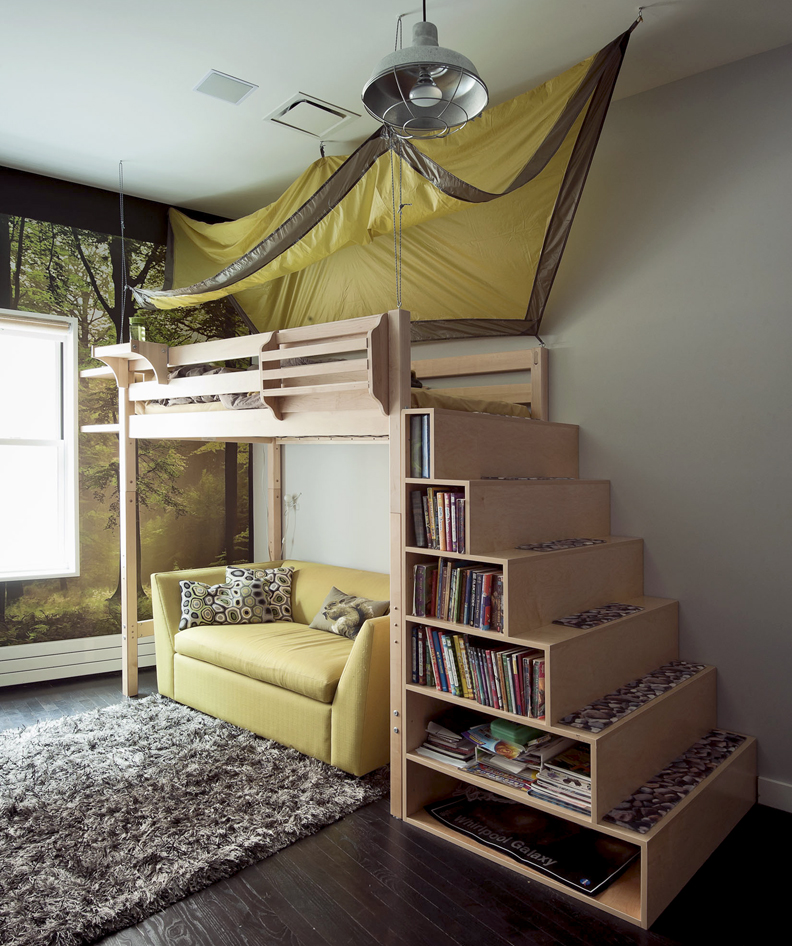 Tamara Hubinsky Interiors
There's a lot going on for this bunk bed idea. First off, we have a couch seat at the bottom level. And the stairs double in function as shelves too. Finally, the upper bed bunk has a canopy that almost resembles a tent.
Moonlight Residence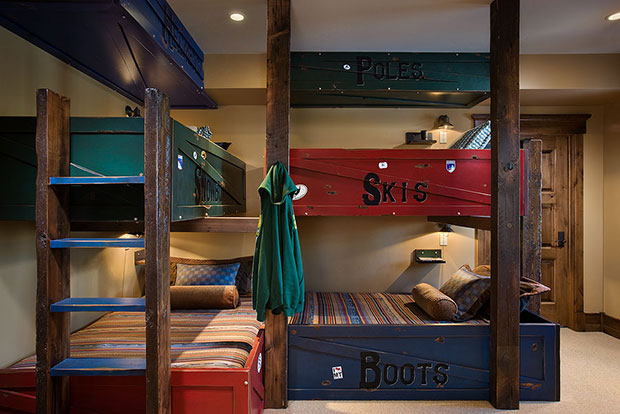 Design Associates
For cabin homes in the mountain, you'll likely see rustic bunk bed ideas like this one. With its ski-inspired theme, the rustic wooden frame of the bunk beds takes center stage in this design. It is also unique with the way each bunk is painted to fit with the kids' styles.
Thrushcross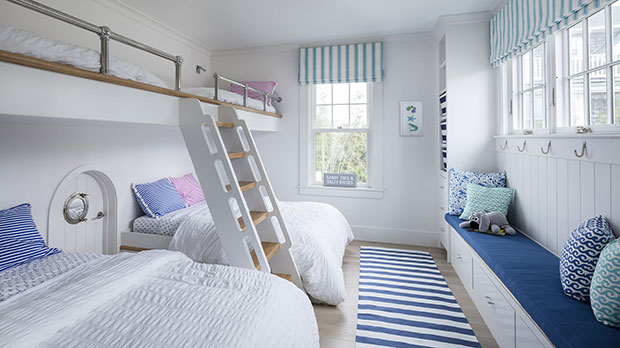 Evergreen Building Systems LLC
Inspired by a naval theme, the different hues of blue paired with white puts emphasis to this. Even the ladder is reminiscent of ship ladders. Notice, too, the pink pillows that contrasts with the overall color scheme.
Friendly Ramble Home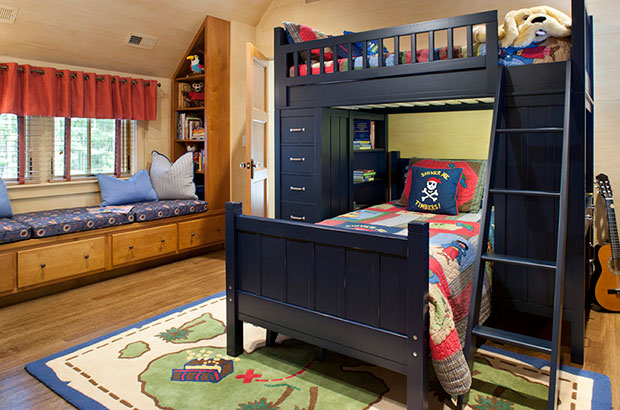 Ambiance Interiors
One of the more uncommon bunk bed ideas is the L-shaped bunk bed style. This is when the upper bun and lower bunk are not positioned in the same direction. The lower bunk bed is installed between built-in shelving units.
Sabathia Residence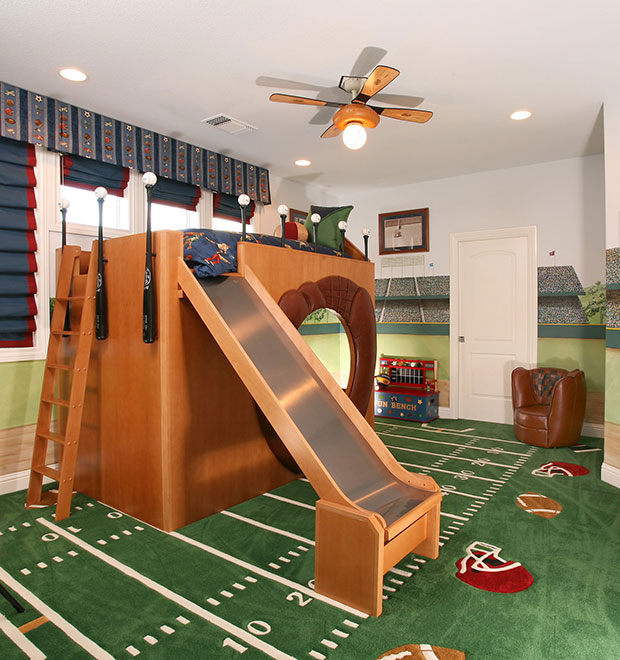 Martin Perri Interiors
Looking for sports-inspired bunk bed ideas? Here's a good example. The bunk bed itself is inspired by baseball. Notice the baseball bats and baseball glove hole that leads to the playground on the lower level. Plus, if climbing down by a ladder becomes too much of a chore, your kid can just go slide down!
Heritage Remodel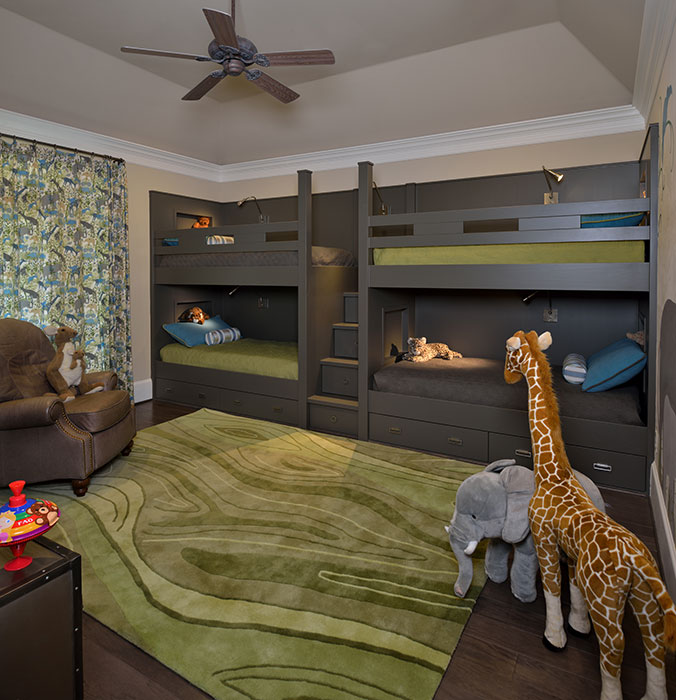 Vining Design Associates, Inc.
Compared to the usual white bunk bed frames, this built-in bunk plays on warm, earthy colors. It might also be the room's theme what with the color scheme of the beddings, rugs, and other furniture. Take notice that each bed has its own small lamp.
Pacific Palisades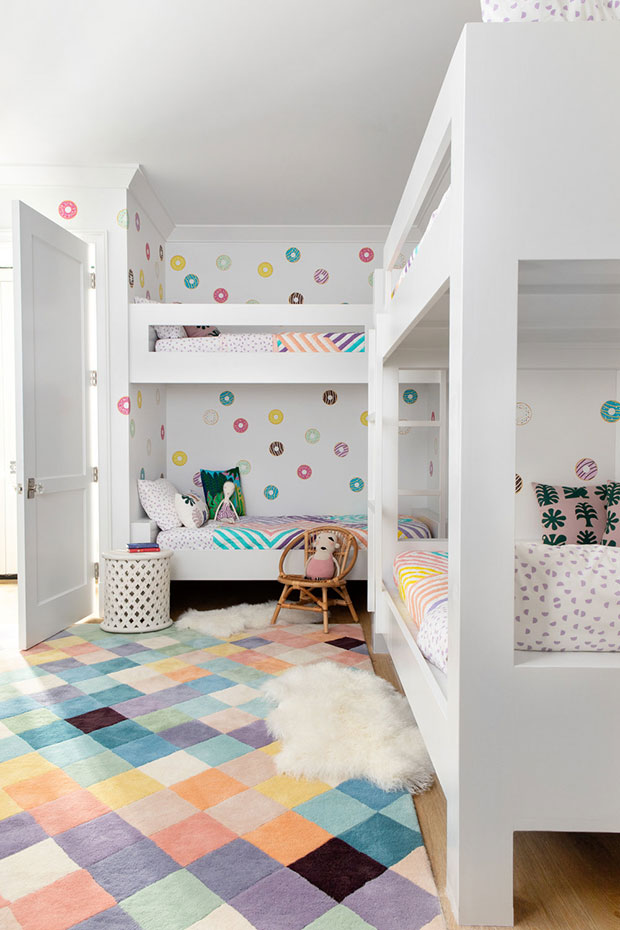 Chango & Co.
A nice, pretty, and clean bunk bed. Instead of decorating the bunks themselves, the owners chose to decorate the walls with colors that match with the beddings and the room rug.
Jersey Shore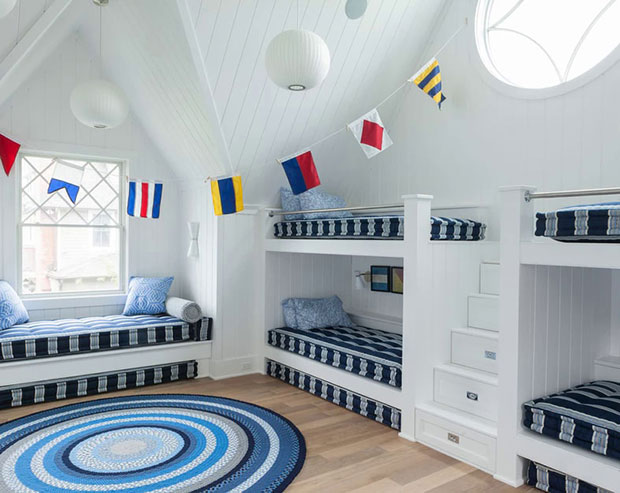 Siberian Floors
Another one of the naval-inspired bunk bed ideas! With its white walls, ceiling, and bunk bed frames, the room comes to life with beddings and the string of flags as accessories.
Astor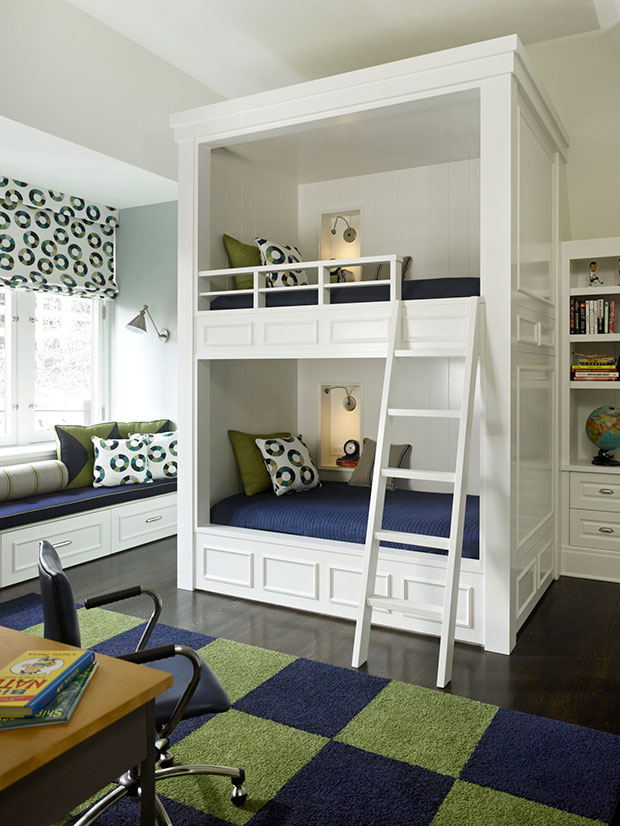 Michael Abrams
The thing that is most interesting about this particular bunk bed is how its frame – size and height – resembles of a bookshelf. But with such configuration, it allows an equal bunk space in height for each bed.
Bunkroom Bliss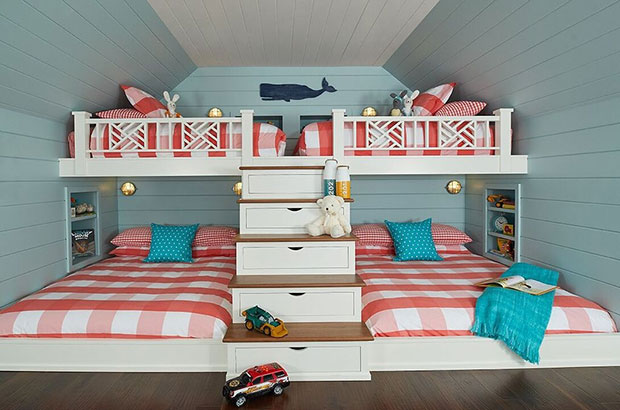 Bayberry Cottage
This is one of the more interesting bunk bed ideas on this list. This bunk bed has no frame to the sides which you may not notice immediately. It's like the rest of the bunk frame is installed into the wall to fit the whole furniture piece.
Ultimate Boys' Room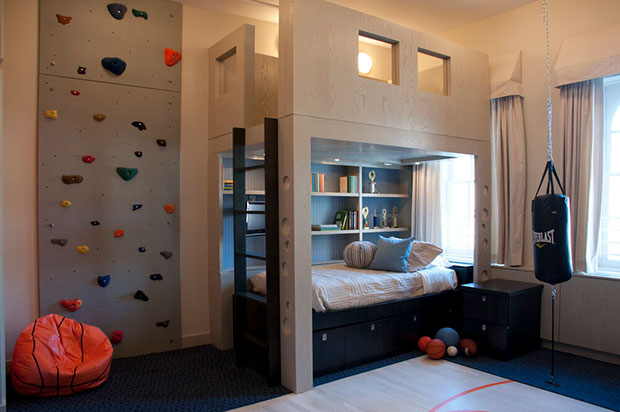 Perianth Design
For active young boys, this may be one of the perfect example of bunk bed ideas. The bed is in the lower bunk that has a built-in shelving unit and drawers. The upper level is a free space for your little boy to play.
Sugar Lake Summer Home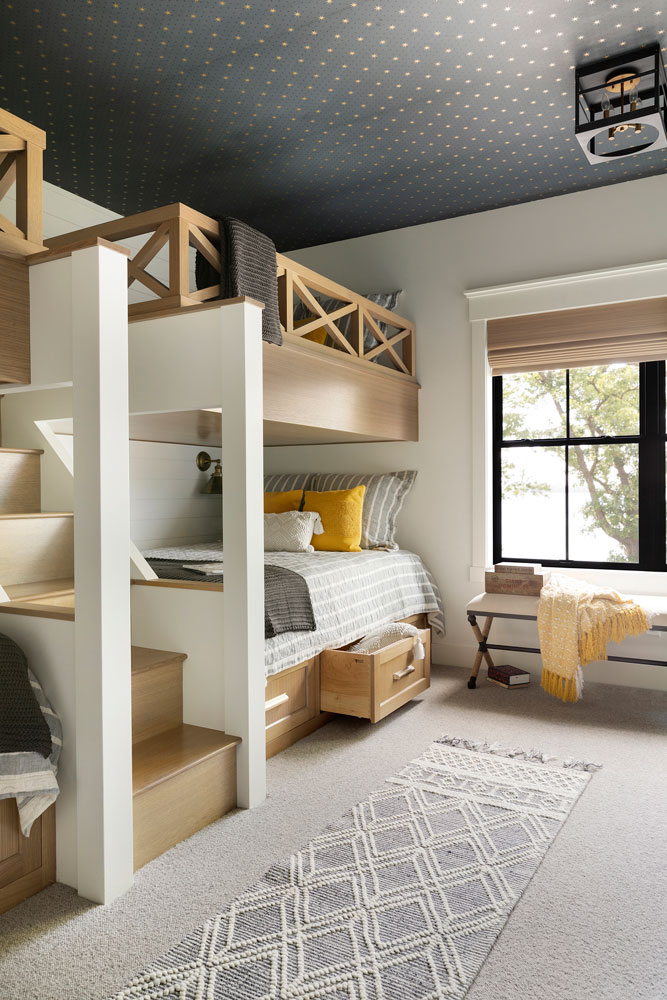 Martha O'Hara Interiors
Crafted from fine wood material, this bunk room exudes of stylish modernity. For the bunks on the lower level, they have drawers built-in to the frame.
Treehouse Bunk Bed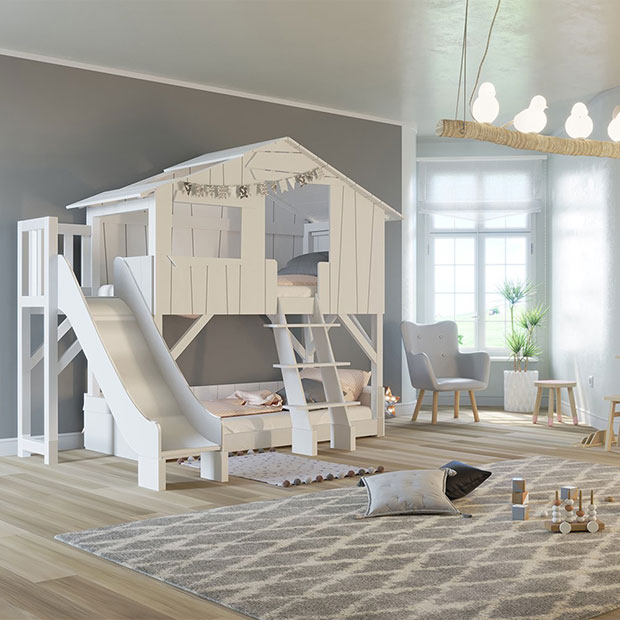 Cuckooland
If we talk of adventurous bunk bed ideas, take a look at this treehouse bunk bed. Shaped and built like a treehouse, it also has an easy-step ladder and its very own slide.
Bouldin Creek Residence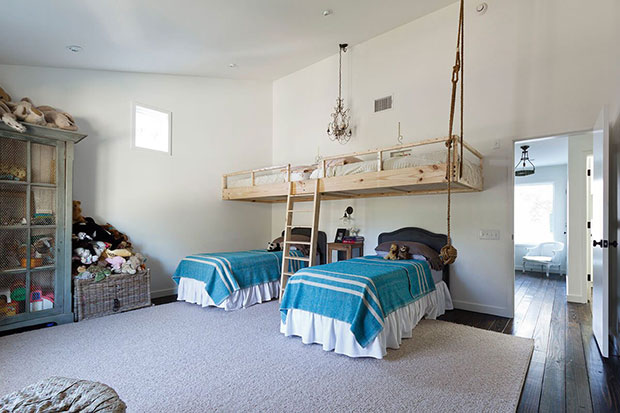 Restructure Studio
Here's one interesting bunk bed idea! Regular beds adorn the ground while a seemingly floating bunk bed rises above, making for such an interesting bunk room.
Fort Mini Bunk Bed


Room & Board
Unlike the regular shape and configuration of bunk beds, the ladder isn't a separate object installed but is actually part of the framework. It's tilted to an angle to make it an easy way to go up and down the upper bunk.
Bloomfield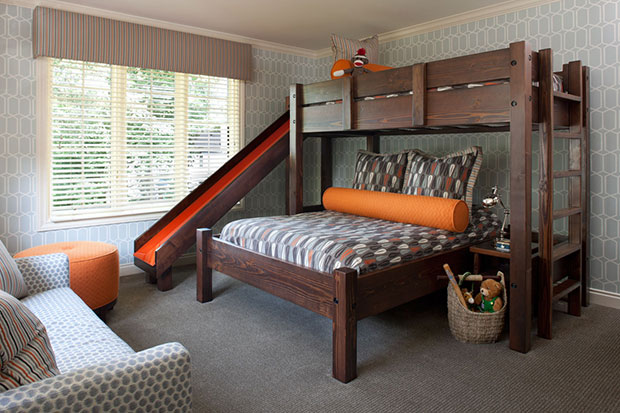 Asmar Interiors
Another one of those bunk bed ideas with a slide. With the lower bunk bed running perpendicular to the upper bunk bed, it is provided with more space and gets a night stand of its own.
Edwin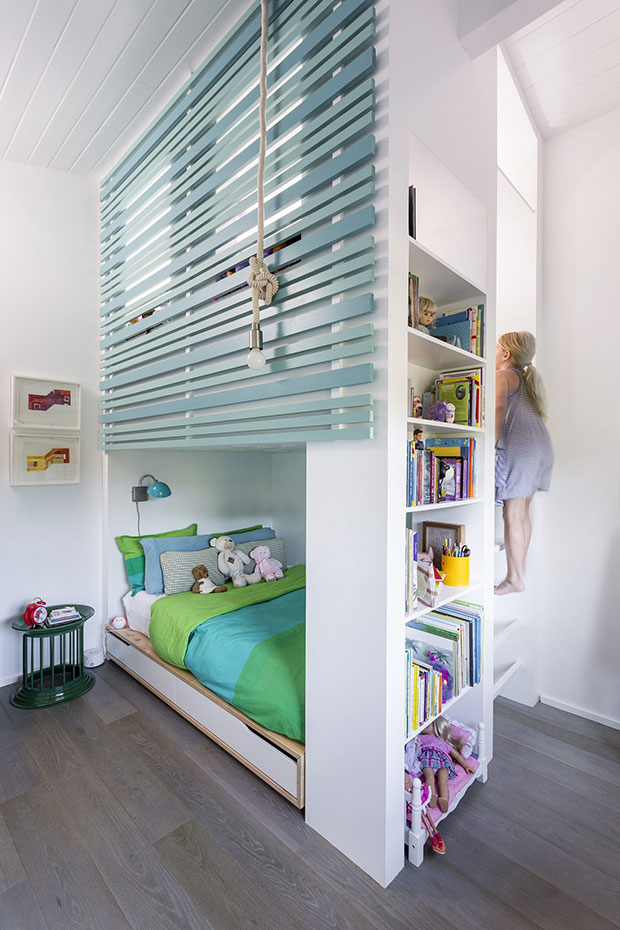 Brown Design Group
Instead of having the built-in shelf inside, facing the bunk bed, this one has it built outside. And beside that shelf is a ladder that leads to the upper playhouse.
Marco Island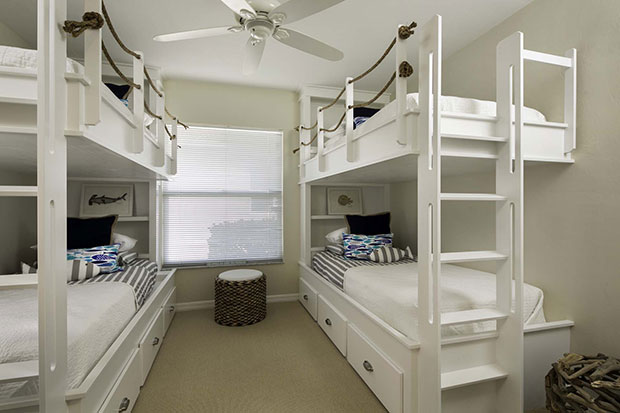 Stonebreaker Builders and Remodelers
The neat and slick bunk frames bring a cool and chic look the room. Take note how they used ropes instead of a wooden railing for the upper bunks.
Coronado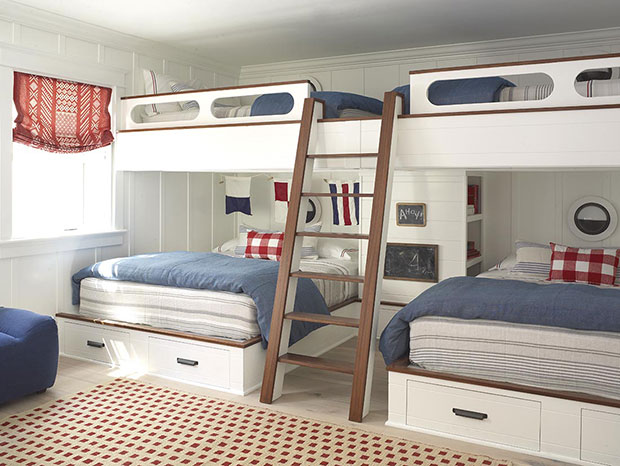 Burnham Design
The designers for this room really committed to the naval-inspired theme. With the bunk beds resembling bunks in ships, they even installed portholes to emulate the theme perfectly.
Wagon Bunk Bed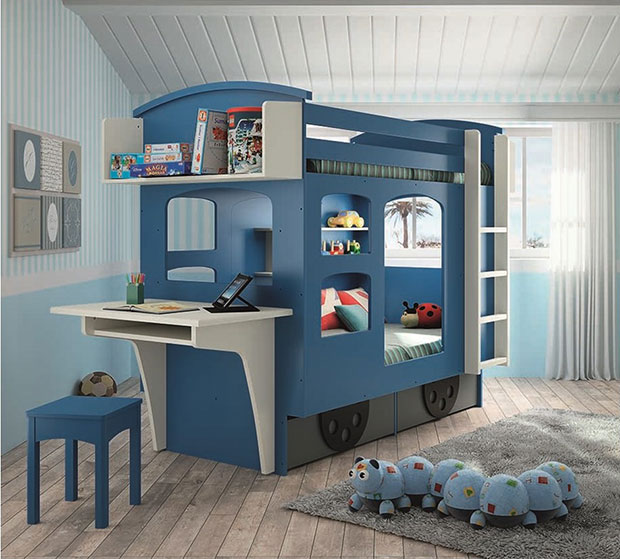 Cuckooland
This is one of the bunk bed ideas perfect for the little toddlers. With the way it's built like a wagon, it naturally makes way for an activity table installed with the bunk frame.
Beechwood Residence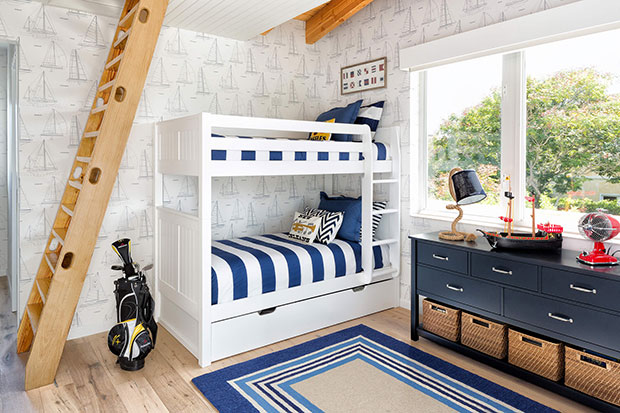 Maite Granda Interior Designer
The way this bunk frame is built seems more compact than the ones on this list. It has clear nautical inspiration, not just with the colors.
Riverbendview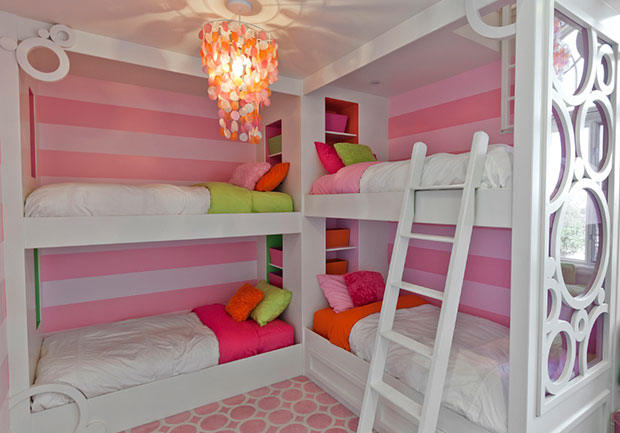 Upland Development
Compared to the typical bunk frame structure that are very straightforward, this one has intricate carvings in the frame. Aside from that, they managed to add built-in shelves and more personality by decorating the walls.
Brainerd Lakes Shingle Style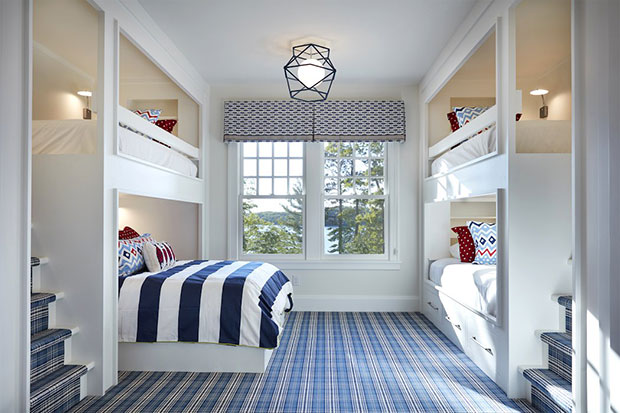 John Kraemer & Sons, Inc.
The bunks are all looking about the same, except for one that is installed differently. They also efficiently place the stairs on the side of this built-in bunk so that it looks like there are rooms within a room.
Classic Irvington Tudor Remodel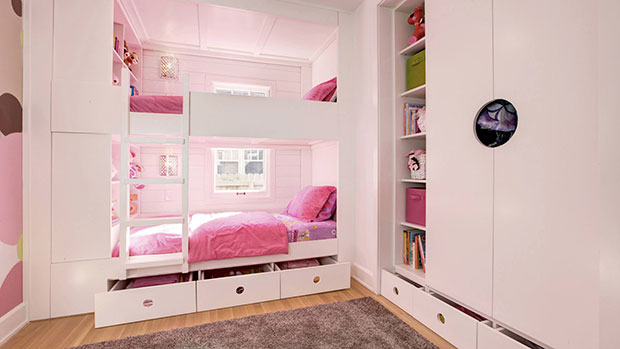 Haus | Architecture
Interestingly, the built-in shelves are not placed by the headboard and on the opposite side of the ladder. Instead, it's by the foot of the bed and next to the ladder. Personally, this makes moving in and out of the bunk much easier.
Wizards Bunk Bed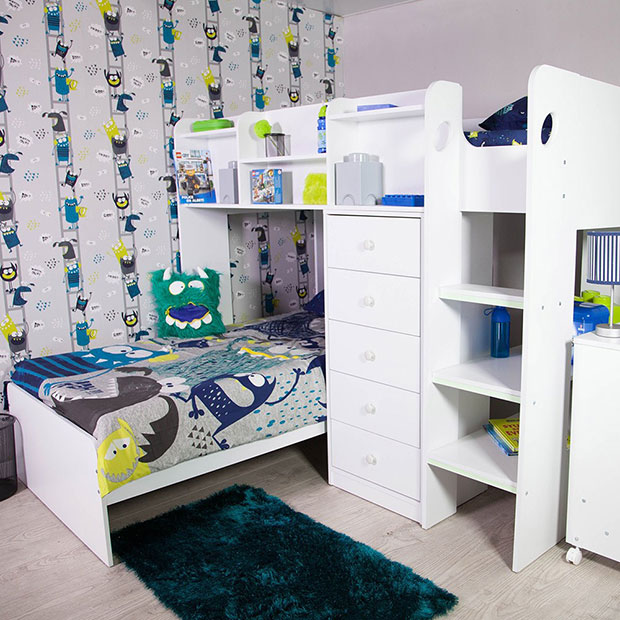 Cuckooland
This bunk bed surely has lots of built-in storage spaces. The ladder steps goes farther to be able to store stuff. And they even make use of the railing for the upper bunk as another shelving unit.
Deer Valley Retreat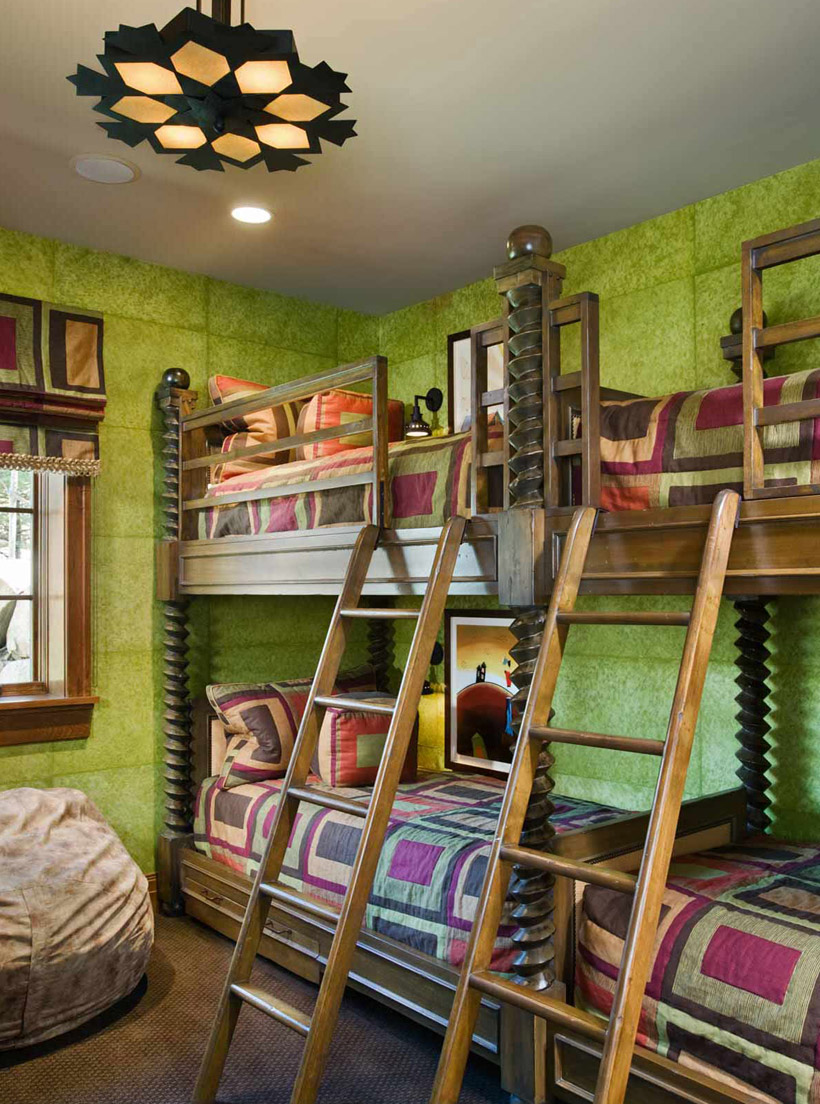 Hartebrownlee & Associates
This bunk bed has the most intricate framework design. With the detailed designs, it surely is an eye-catcher. And its earthy colors perfectly match with the otherwise colorful beddings and wallpaper.
Lincoln Park Residence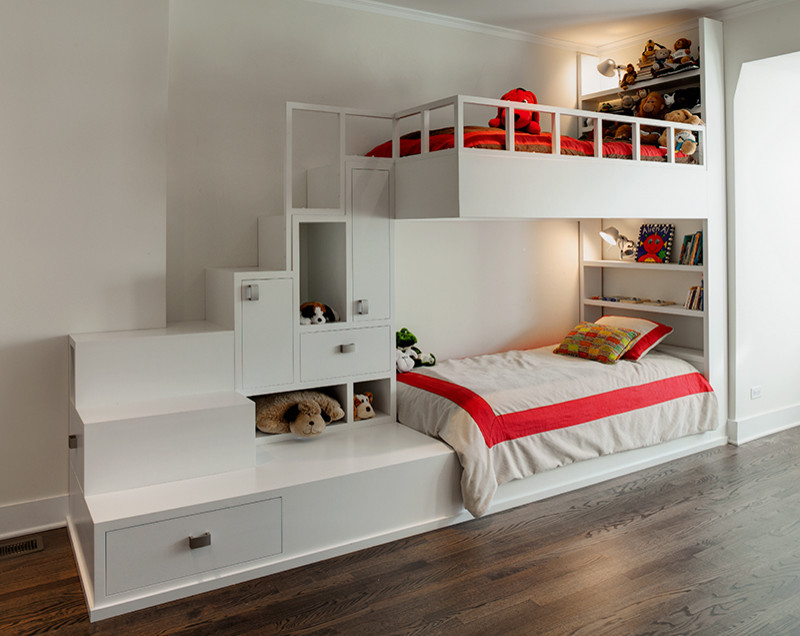 SPACE Architects + Planners
This bunk bed takes advantage of the stairs leading to the upper bunk. Drawers, cabinets, and shelves are provided but also a portion is left out for the kids to stand to reach. Interestingly, there is a drawer on the side of the stairs.
Beach House Narragansett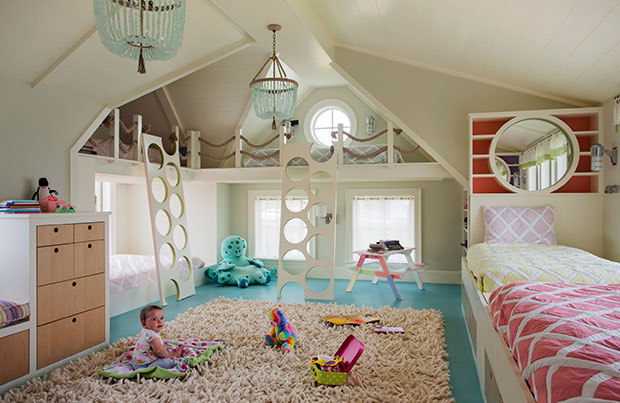 Andra Birkerts Design
A rather interesting bunk room. Only one side technically qualifies as a bunk bed, but they have a perfectly designed room that matches the house's overall theme. The ladder leading up to the upper level beds are the real eye-catching pieces here.
Play, Play, Play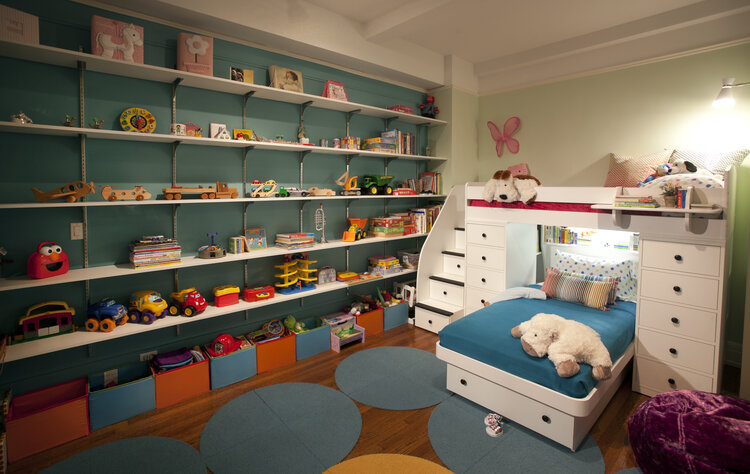 Perianth Design
This bunk bed is small and fits perfectly for little kids not just in bed size. The height that needs to be climbed and the drawer sizes match with what's suitable. Not to mention, it gives up a lot of space for the children to play.
Thorton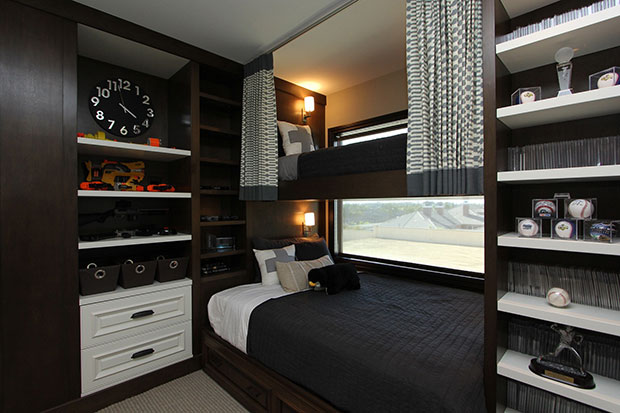 Robeson Design
In a rather contemporary design, the bunk beds are fitted in between shelves. It's a perfect design for kids who already have a lot of interest in collecting toys and memorabilia.
Mayhew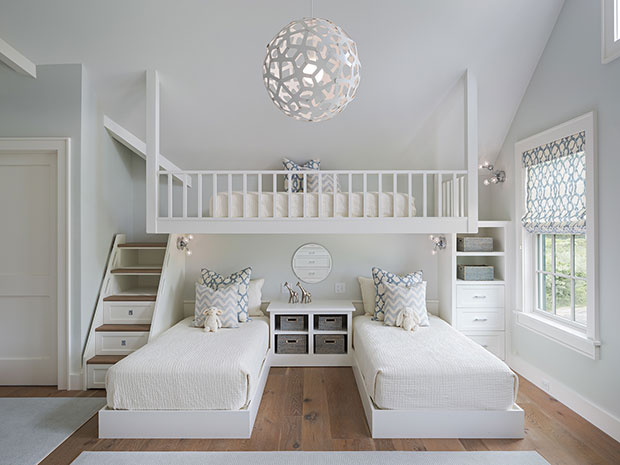 Sophie Metz Design
The off-white color scheme just brings out a chic and clean look. The stairs leading up are interesting in the way that it doesn't use all of it as secret drawers. This offers variety and uniqueness.
Suncadia Coal Mine Modern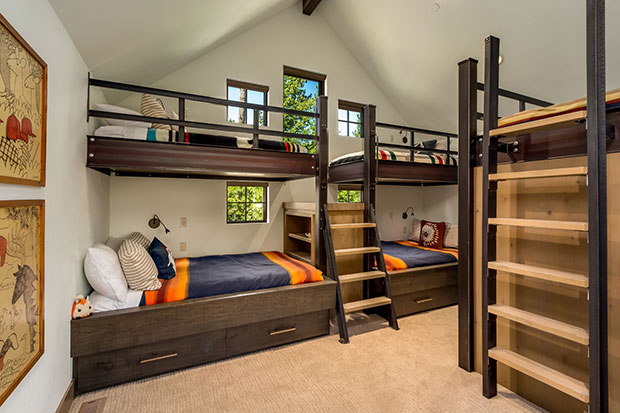 4D Architects, Inc.
The combination of iron and wood gives this room a bit of an industrial feel to it. But that style gets drowned out with the varied colors in the beddings and pillows.
Heber-Red Ledges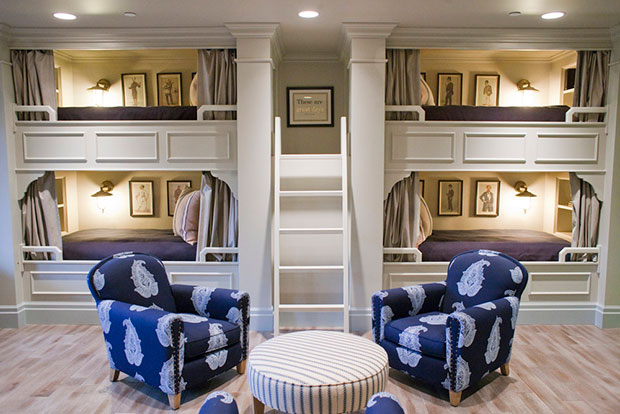 Harman Wilde Interior Design
In this one, each bunk bed has a feel of being an individual hotel room with its style and the way the beds are framed. Not to add that each bunk has curtains for privacy.
Bohemian Apartment Boys Room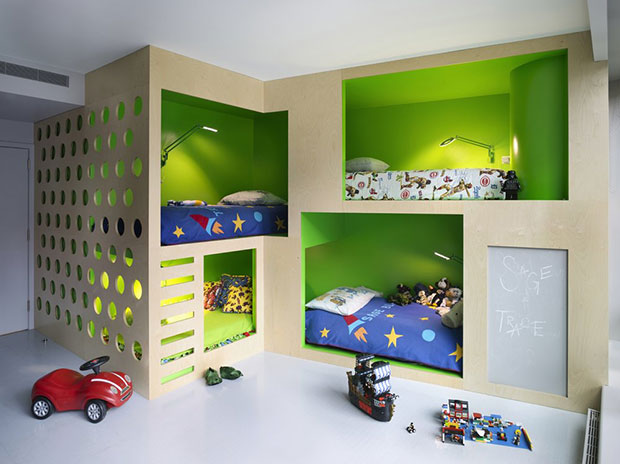 INC Architecture & Design PLLC
When talking of unique bunk bed ideas, this boy's room is surely one. With its unique rectangular configuration, not one bunk is designed the same as the others. The interiors being pointed neon green is a nice contrast to the neutral color of the bunk frame.
Bohemian Apartment Girls Room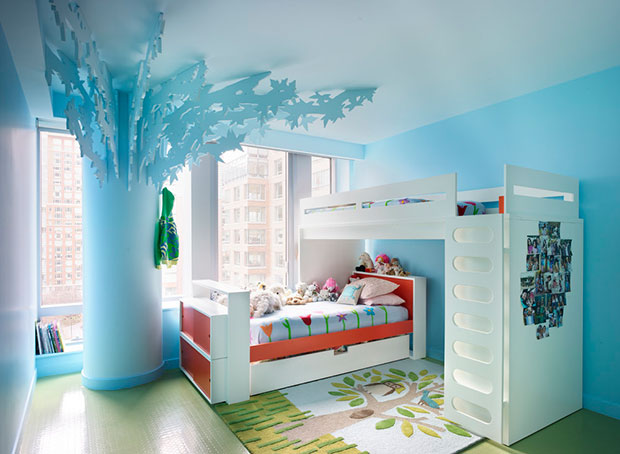 INC Architecture & Design PLLC
On the other hand, the girls' room of the same apartment is bursting in pastel colors. With its own unique bunk bed, the white paint perfectly contrasts the rest of the room.
Boat Bunk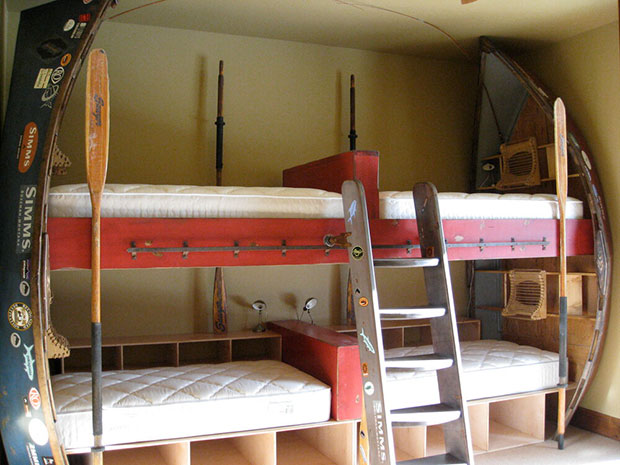 Rusty Nail Design
This bunk bed idea takes its design to a new level. Everything about its framework is made deliberately to resemble a boat but also placed in consideration built-in shelves for convenience.
Hamptons House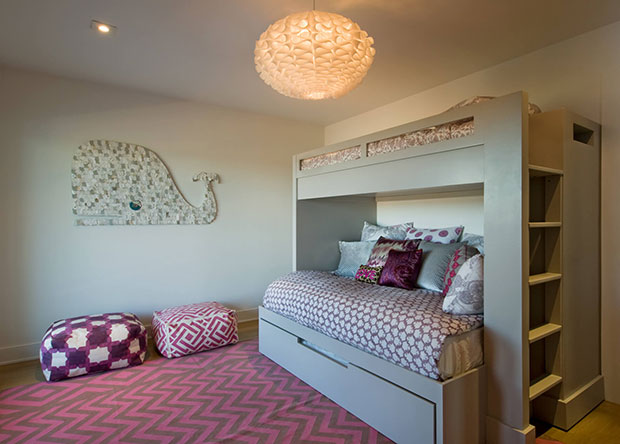 DHD Architecture + Interior Design
This bunk bed is the trundle type where a secondary bed is tucked below the main one when not in use. This allows for at least three occupants in the room.
Wine Country Retreat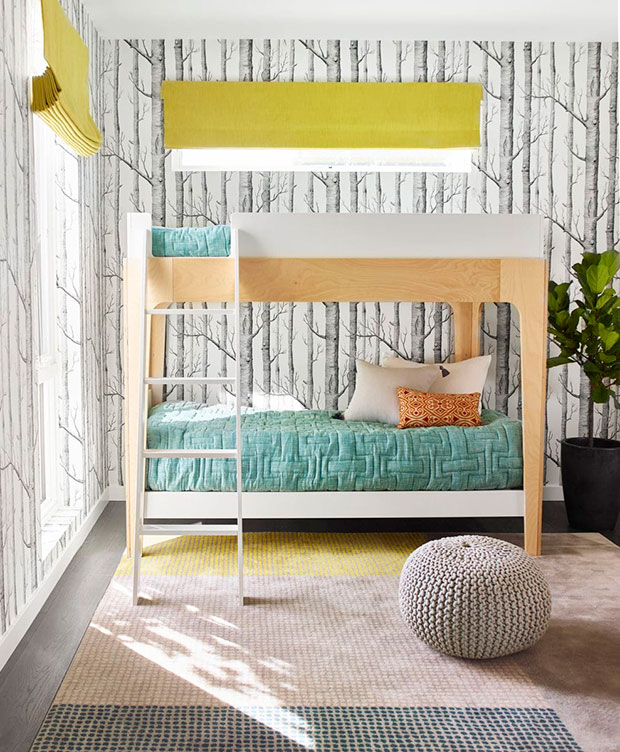 Niche Interiors
A simple yet slick contemporary design where the bunk frame pillars are not your typical straight line. It's a subtle design change but it looks really impressive.
Upstate Farmhouse


Chango & Co.
For a large family or extended family with many kids, bunk beds designed like this are preferred and suitable. Each bunk pair seamlessly attach to each other in a U-shape form. This would be really helpful especially if the room is small.
Cape Cod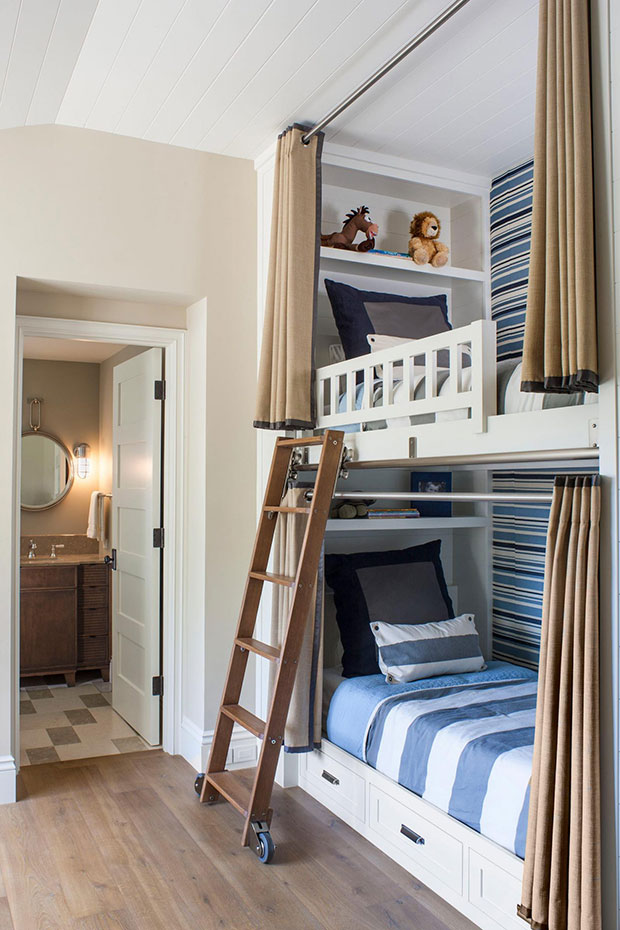 Norman Design Group
The part that stands out with this bunk bed wheeled ladder. It's also fairly interesting that they matched the wallpaper inside with the beddings.
The Boys Room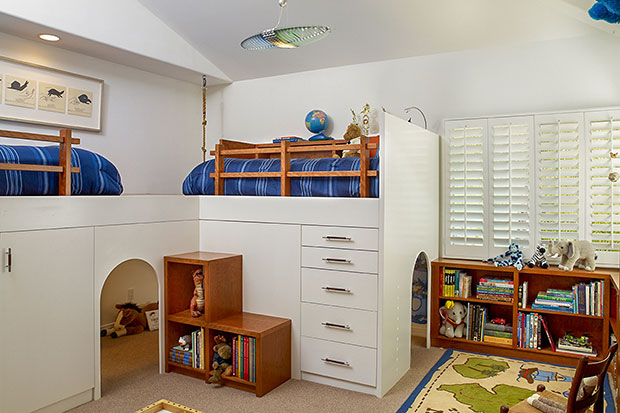 Emi Interior Design
With the bunk beds on top of the structure, this allows the lower level to be used as a playhouse thing for the kids as well as a storage unit with built-in cabinets and drawers. Interestingly, instead of using a regular ladder, they have the box shelf used as a step.
Studio City Hills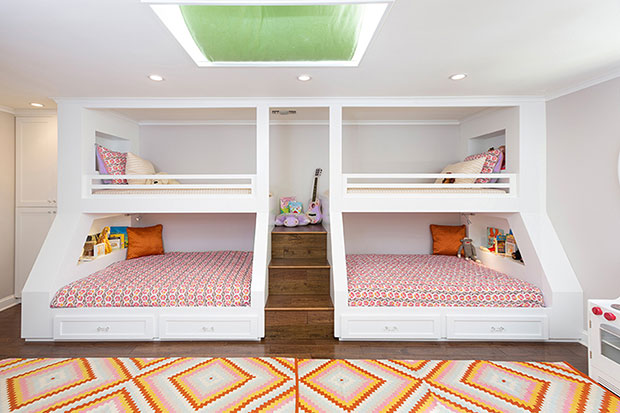 Emi Interior Design
The shape of this bunk bed is rather interesting, especially with how it's configured, adding angles so as to not look basic. It's also pretty interesting that the steps squeezed in between the pairs are dark floor wood, adding a contrast to the pure white bunks.
Oak Knoll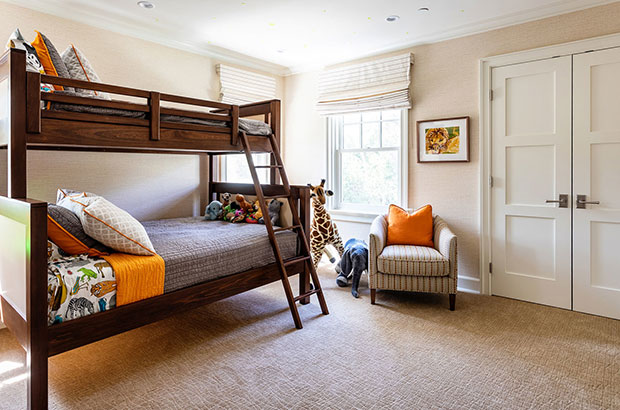 Waterford Construction
With the bottom bunk being larger, the ladder is angled nicely for an easier climb. While it's relatively a simple design, the rich dark wood material gives it an elegant traditional look.
Coastal Bedroom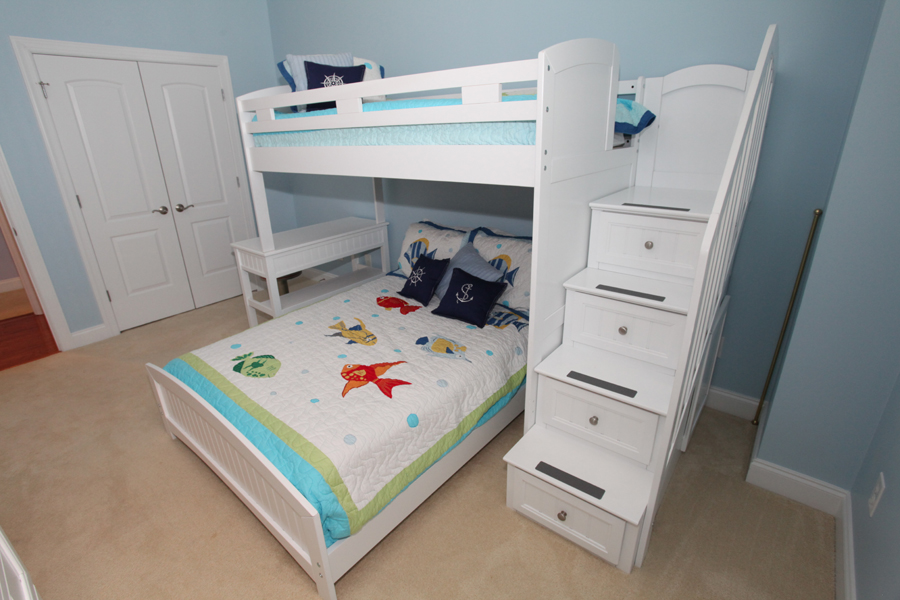 Design Results
Another L-shaped bunk bed where the bunks run perpendicular to one another. On one side, the stairs double as drawers. And on the opposite end, the bunk extends a shelving basket.
Irvine Terrace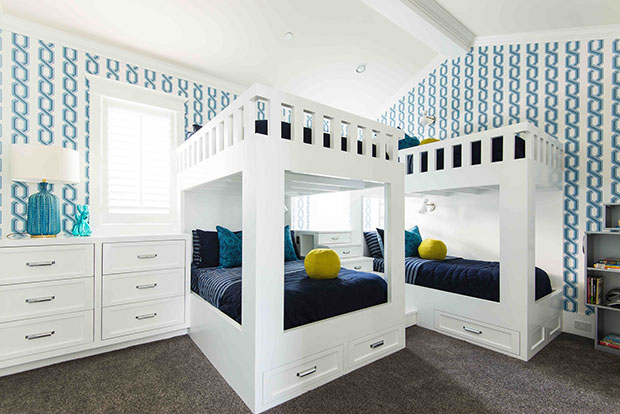 Melissa Morgan Design
Rather than the built-in bunk beds that seem to be installed to one side to look like a box, this one looks like two different bunk beds that are connected with the stairs in the middle. The white frame perfectly complements the wallpaper.
Beach Frame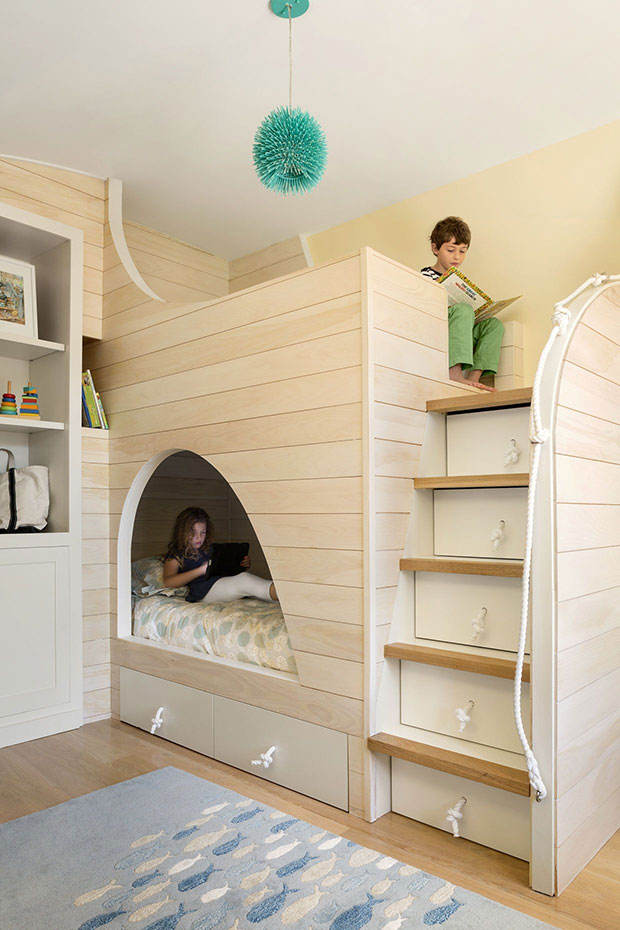 Caleb Johnson Studio
This built-in bunk bed is painted nicely and with great details to almost resemble a beach house. The opening of the bottom bunk is nicely carved, adding variance. Even the rope details are noteworthy.
Orr Residence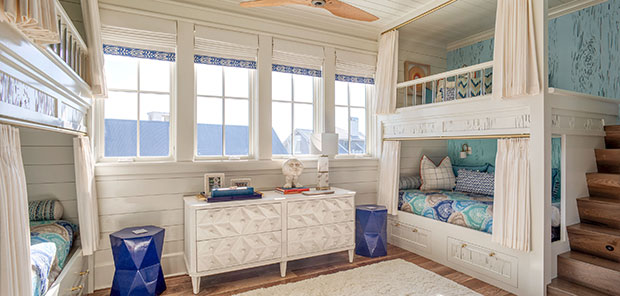 Geoff Chick & Associates
If you look closely, there are fine and intricate detail carvings on the bunk beds that somehow complements with the wallpaper design and beddings design.
We Game To Please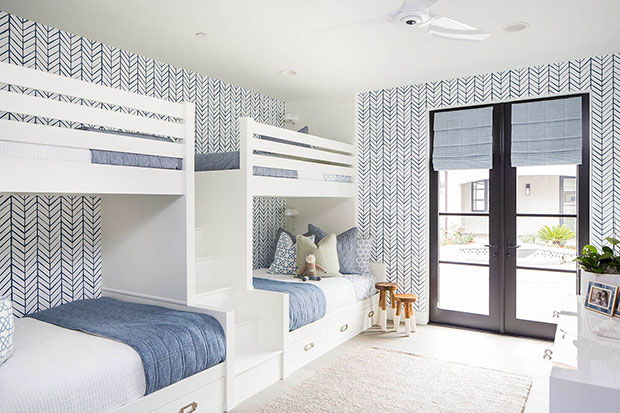 Tracy Lynn Studio
The pure white color and its clean structure makes this bunk bed stand out in the midst of light blue hues.
44th Craven Street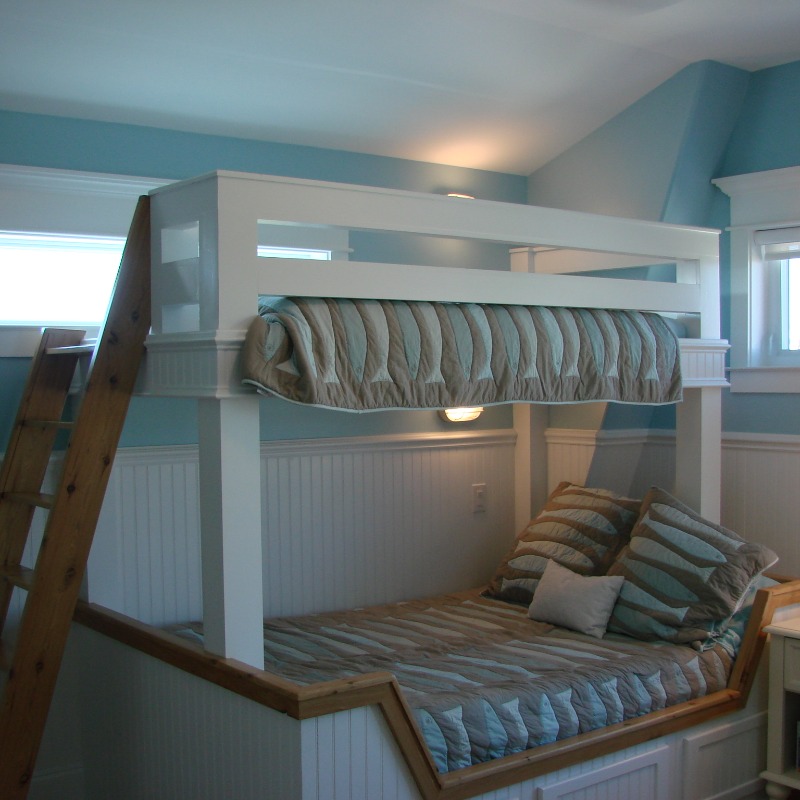 Charles Fox Home
Here's another bunk bed that's inspired by the seaside aesthetics. It's beautiful that they make use of the same wood material for the ladder and the bottom bunk accent. It serves a nice complement to the white paint.
Kiawah Family Home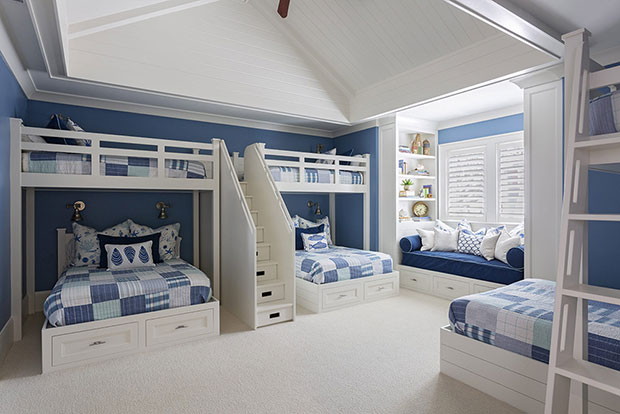 Margaret Donaldson Interiors
The beddings matches perfectly with the wall paint and complements with the white bunk bed framework. This creates a cool atmosphere in the room.
Maine Lakeside Home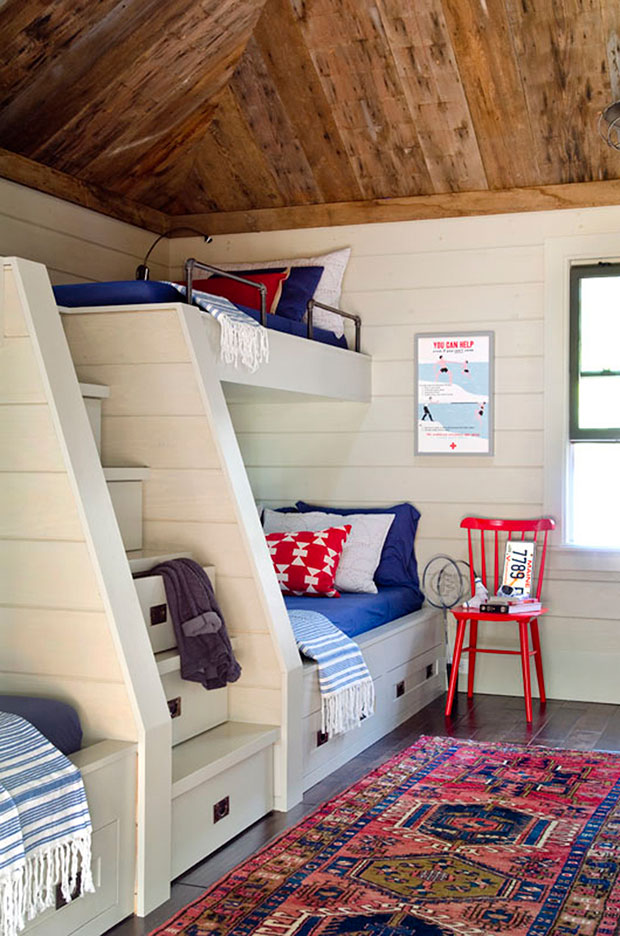 Olson Lewis + Architects
The angle framing by the stairs is a nice touch to add some depth into the bunk bed design. Another interesting detail is the metal railing on the top bunk that contrasts with the mainly wooden structure.
The Nest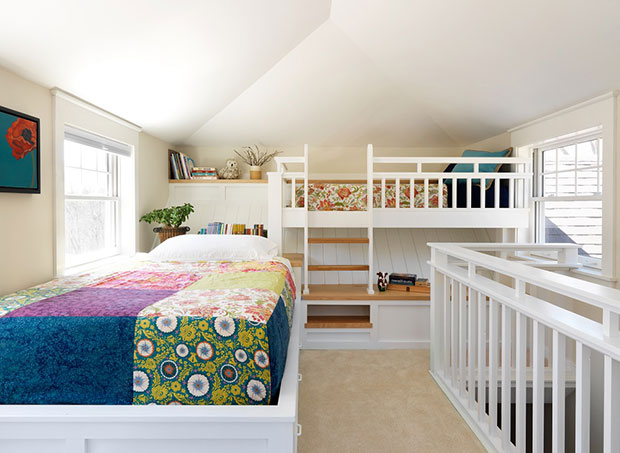 Jennifer Lane Architecture & Design
The light brown top accent is beautiful pairing with the white-coated bunk bed. With its rather neutral colors, the colorful beddings clearly bring life into the room.
Grove Farmhouse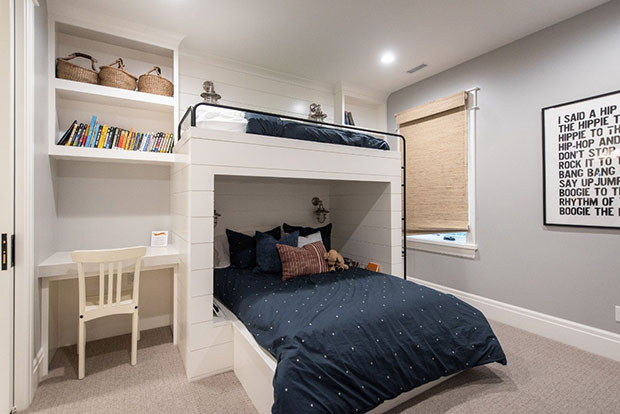 Raykon Construction
For this one, the bunk bed is literally built-in between shelves. The ladder extends to the top bunk railing which is a pretty interesting design.
Stonington Hill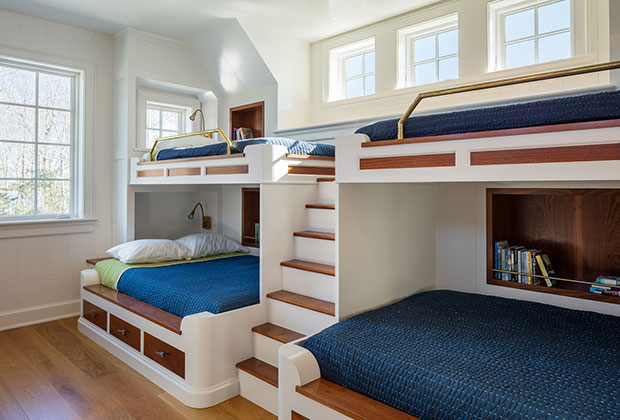 Peter Cadoux Architects
The natural wood accents are a good touch to the rest of the bunk paint. The bronze railing is a perfect choice to match with accents.
What do you think of this list of fun bunk bed ideas? Surely, this would have helped you decide on your own bunk beds!
Like This Post? Pin It!