60 Purple Bedroom Ideas for a Chic and Royal Look
|
Sticking to a color palette or color scheme can totally affect the way your bedroom will look and feel. In particular, purple bedroom ideas have a charm of their own that definitely stands out more than the most color palette.
Purple has long been associated with royalty. It is also known to induce feelings of serenity and tranquility, perfect for bedrooms. Combine a luxurious look with a relaxing ambiance, and you may just have found the perfect color palette for your bedroom!
What colors go with purple in a bedroom?
Purple is quite a versatile color. Purple bedroom ideas don't have to be solely made up of one color. With many shades and tones, each is bound to give different vibes, especially when paired with other colors. So, what colors go perfectly well with purple?
1. Emerald
Purple and green are often eclectic pairings. But for traditional spaces, these two can be the perfect combination.
2. Forest green
Incorporate the forest green color with purple for a moody ambiance.
3. Black and white
Black and white pairing, on their own, is quite popular. And for a reason! It's a classic combination and when added with purple, mixes traditional charm with a bit of modernity.
4. White
White is one of the most reliable hues. It's a neutral color that is more valuable as an accent color, helping to emphasize another color. In this case, it's purple.
5. Silver
With the regality that the color purple brings, adding a silvery accent in décor could further emphasize that.
6. Grey
Often thought of as a dull color, grey is actually a pretty complementary color to purple. When you have a bolder shade of purple, it is best to pair it with grey.
7. Yellow
Purple and yellow is another color combination that could help emphasize that luxurious and regal feel. Not to mention, they are actually complementary to each other! You can also replace yellow with gold.
8. Brown
Brown is surprisingly a good complementary color to purple. This combination is good for creating a familiar and welcoming feel.
9. Pink
Purple and pink are a common combination, especially for bedrooms for the young ones. You can also opt for much lighter hues of pink to go along with purple for a more tranquil mood.
10. Dark blue
For an eclectic vibe with a darker tone, pair purple with dark blue.
How do you style a purple bedroom?
Conceiving purple bedroom ideas can seem intimidating, especially because it's not a color you often see in homes. But with the right moves, you can create a unique bedroom, that you can call your own. Here are ways you can style your purple bedroom:
1. Use complementary colors
As stated above, purple bedroom ideas don't have one face. With a range of shades and hues, couple them with colors that perfectly go well with purple, different color schemes will give you different vibes.
2. Mix dark with light
Take a chance on creating a dynamic monochromatic-like bedroom. Instead of coupling purple with other colors, mix a very light hue of purple with a pretty dark shade of the same color, or vice versa.
3. Try patterns
Patterns can be a bold choice, especially for purple bedroom ideas. But you can opt to have these patterns in accent pillows, for example, so they are subtle and not too overwhelming. If your wall has patterns, stay away from patterned throw pillows.
4. Try metallic tones
For grown-up bedrooms, try to incorporate some metallic tones into the bedroom. Metallic gold accents can give it a glam look.
5. Remember less is more
Purple on its own is already filled with so much personality. So, when you're decorating your purple bedroom, remember that less is more. You don't want your room to look overwhelming or for you to feel overwhelmed, so keep this in mind.
6. Consider the walls
Take some careful consideration with your walls. If you're going to have a solid purple wall or patterned wall, pick out neutral furniture and linens to keep the space light and airy. Again, the point here is to not make the room look overwhelming.
7. Paint the ceiling
If painting all your walls purple can seem risky, why not try it on your ceiling first? When you do though, pick out a statement light fixture that will look splendid against your purple ceiling.
8. Dress the windows
Try dressing your windows with a shade or hue different from the purple that already exists in the room. If your wall is a dark solid purple, try using a soft lavender curtain or blind for your window, or vice versa. This could be another good example of mixing dark and light tones.
On the other hand, if your room isn't quite purple yet, you can add splashes of color by dressing the windows.
Let's go ahead and take a look at some purple bedroom ideas!
Hunt Club/Westport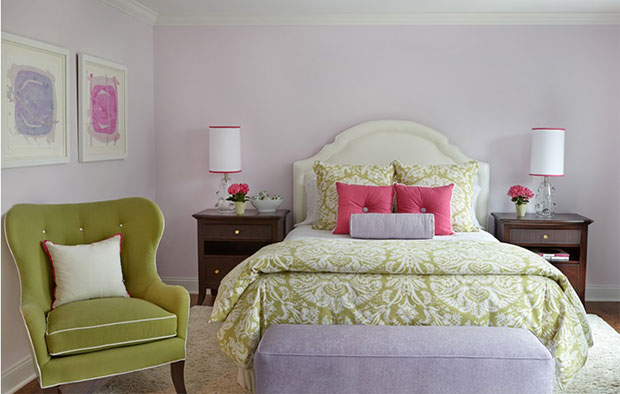 Connie Cooper Designs
A soft lavender paint for the walls makes it perfect for a preppy-style room. These shades of green are a great complement so.
86th Street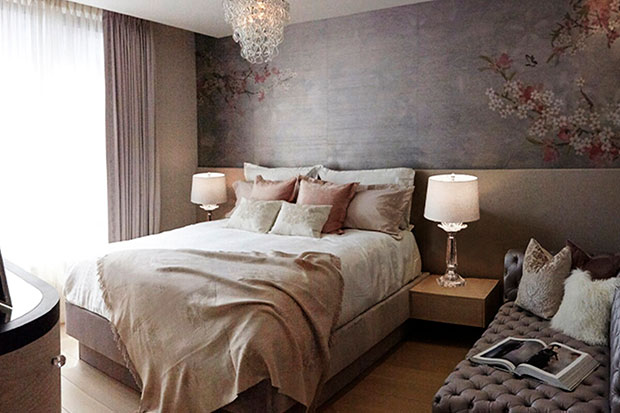 Joe Ginsberg
The beautiful floral painting creates an interesting charm with this darker purple tone. Having that tufted chaise lounge certainly adds to the luxurious feel.
Cottage Avenue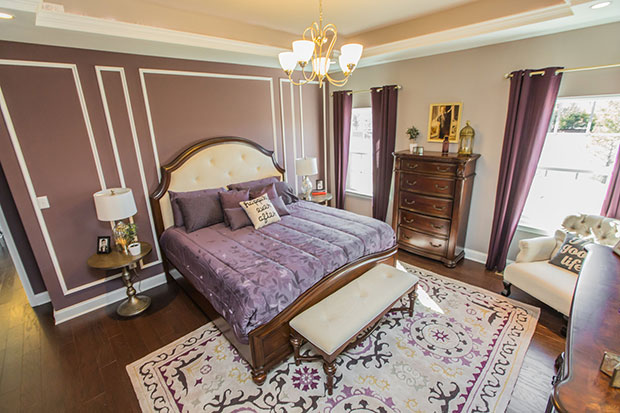 Brynn Charles Designs
If you don't want to commit fully to purple walls, you can opt for an accent wall. Then add some splashes of purple through the curtains and linens.
Custom Interior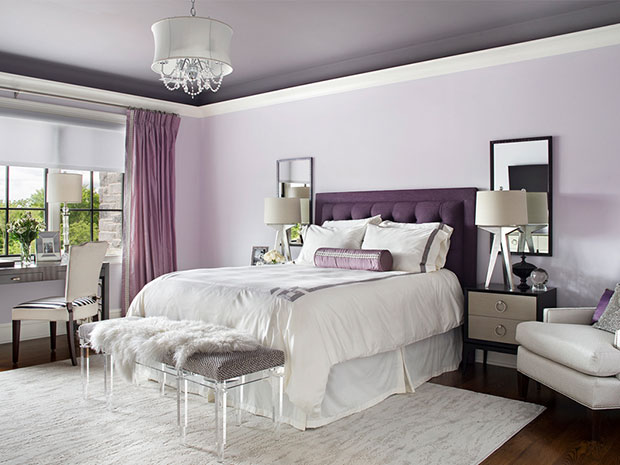 Interiors by Donna Hoffmann
This room is a great example of purple bedroom ideas where mixing dark and light tones are done efficiently.
Scottish Cottage in the City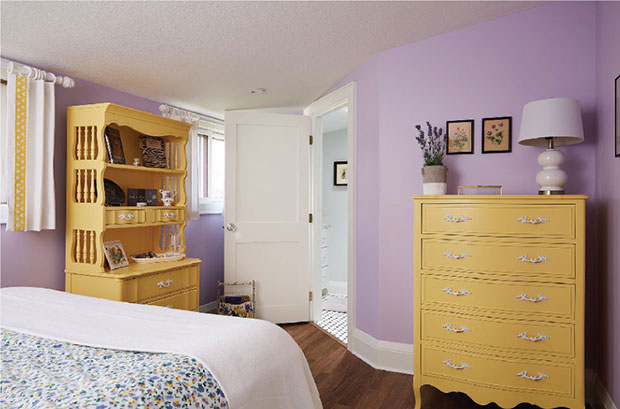 Fox Interiors
Most purple and yellow combinations bring a luxurious feel. But this particular room, with this lighter hue of purple, doesn't exactly give off that luxurious vibe. Perhaps, it's the furniture and décor pieces. Perhaps, it's these particular hues together.
Colorful Rye Home with Character in Spades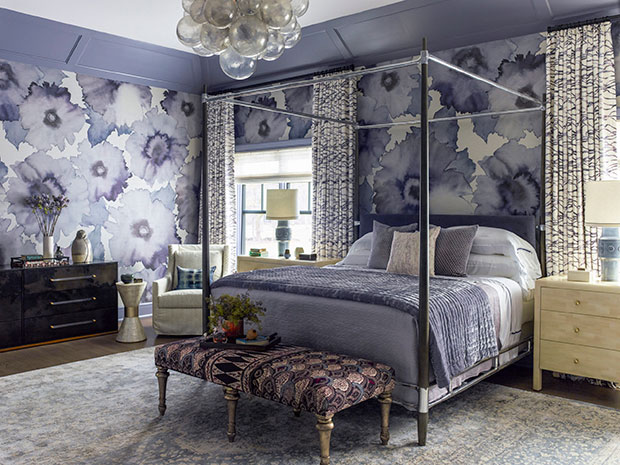 Kati Curtis Design
The floral walls make it certain that the room is not fully swimming in purple. It's a brilliant design choice.
Palisades Residence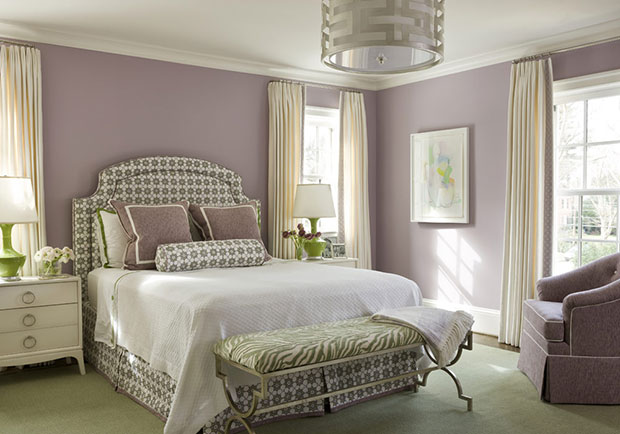 Catherine M. Austin Interior Design
This light purple color gives this room a soft glow, perfect for a relaxing ambiance.
Lavender Room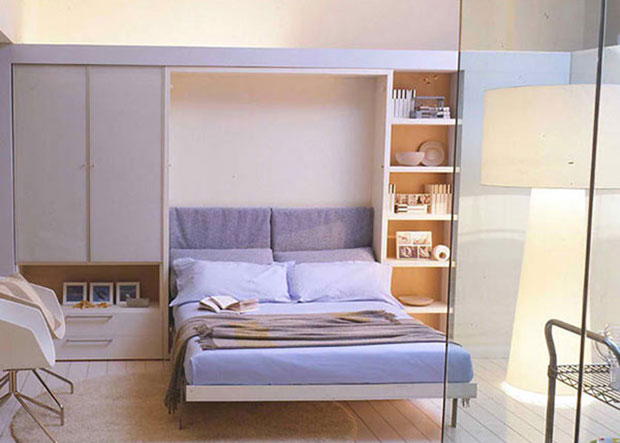 Resource Furniture
Painting a light lavender on the furniture goes so well with the purple sheets and linens.
Lavender Bedroom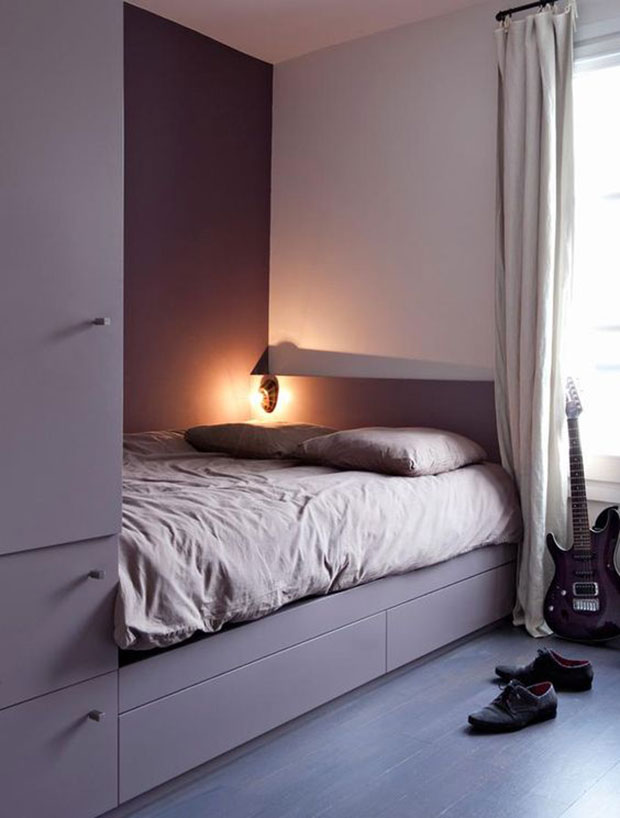 Renoguide
The purple bed frame (that also extends as a cabinet) and even darker purple accent wall bring quite a modern look to this room. Even the wooden floor is polished to reflect this purple glow.
Austin

Rachel Anderson
Many purple bedroom ideas could dip into an eclectic vibe. This bedroom is a perfect example. Not only is the color combination unique, but even the pieces are also an eclectic mix of styles.
Bedroom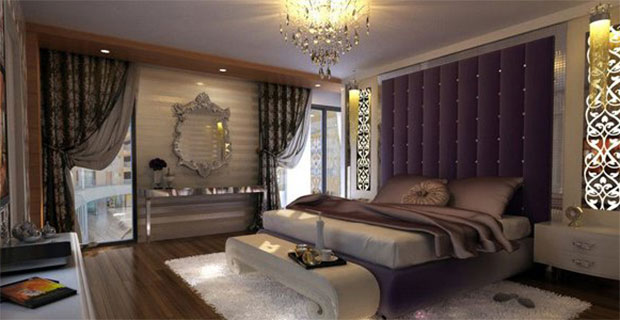 zgsally
Some purple bedroom ideas don't have to necessarily have everything or half of the things in purple. A striking upholstered purple headboard can be enough to get anyone's attention.
Zorilla Kids Room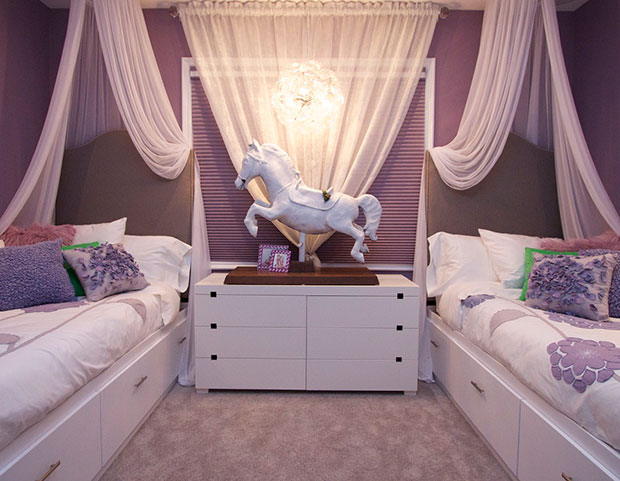 Purple bedroom ideas are popular for young girls. This kids' room is a perfect example of how the color purple can pack a punch when it comes to personality.
Industrial Purple Room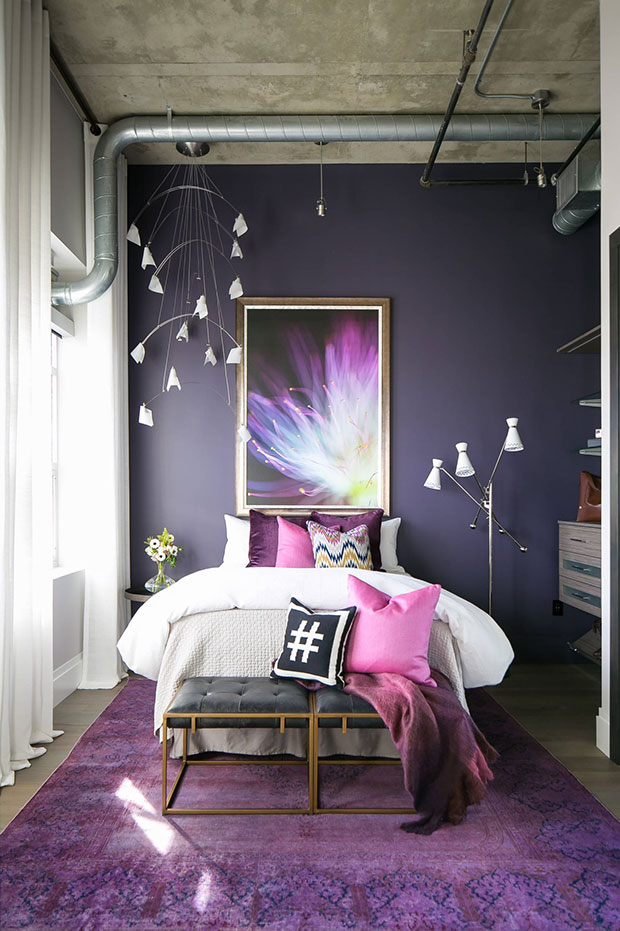 Robeson Design
Who would have thought that purple would go so well with an industrial bedroom design? The different shades of purple bring different vibes to this room.
Miller Residence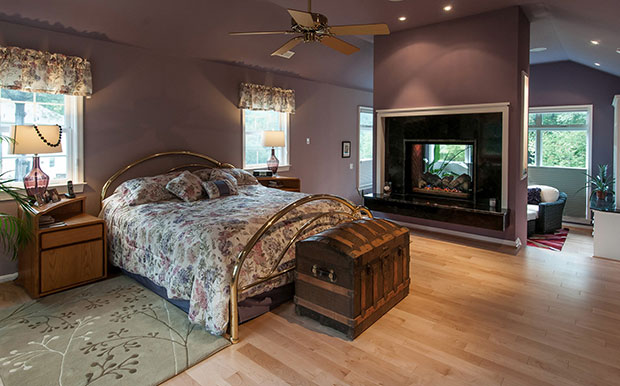 Michael Geissinger Photography
This darker tone of purple creates a more intimate and mature vibe, especially with the light fixture. Such vibes are perfect for adults.
Scarsdale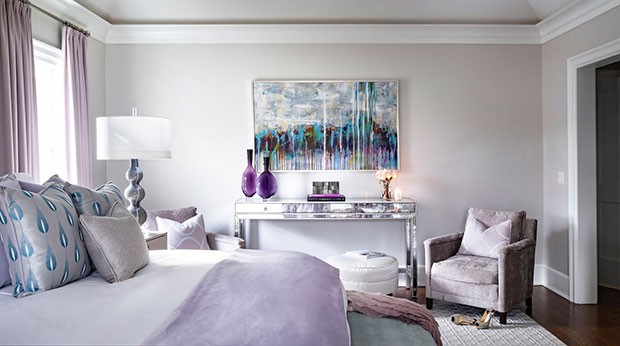 About every shade of purple in this room is on the lighter side and so along with the neutral colors around, this room has one of the more calming looks.
Beach House Miami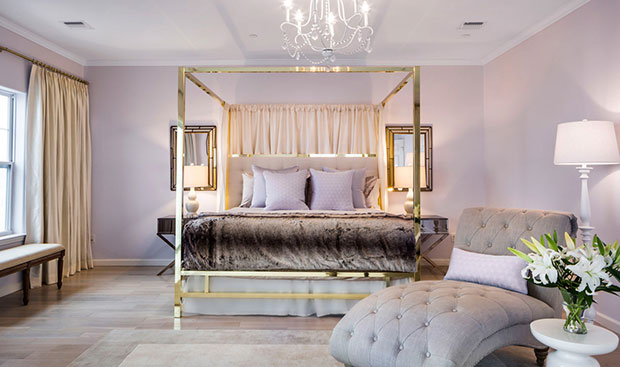 DLT Interior Designs
Having a metallic four-poster bed against this shade of purple truly brings out a glamorous preppy look. The chaise lounge and chandelier further emphasize that.
New York Penthouse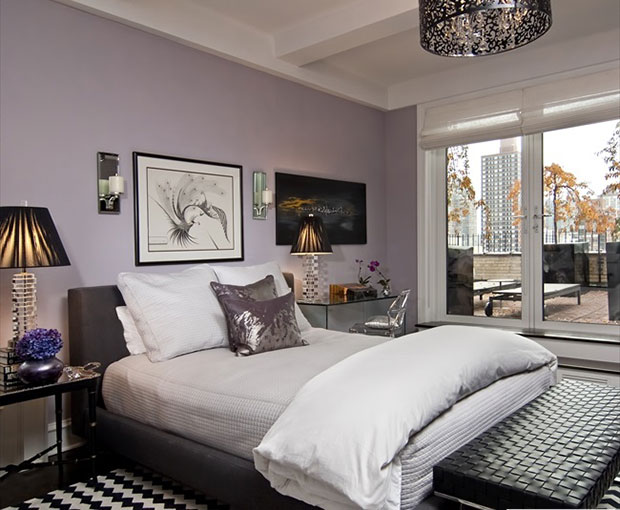 Beret Design Group, Inc.
The black and white accents plus the metallic tones found around come together to create a stunning glam look.
Downtown Renovation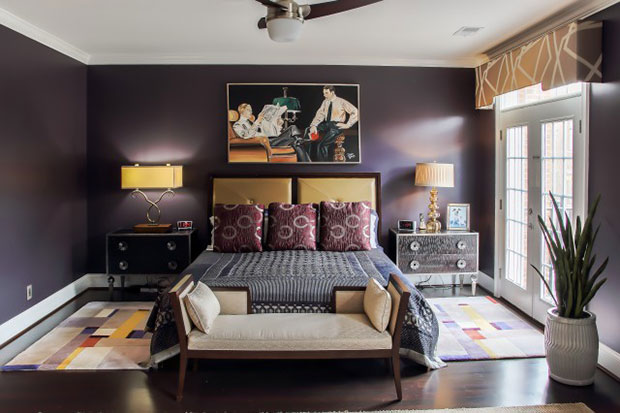 Capital Kitchen & Bath
This is a pretty dark shade of purple that brings a modern charm to an otherwise more traditional-style bedroom design.
The Sheffield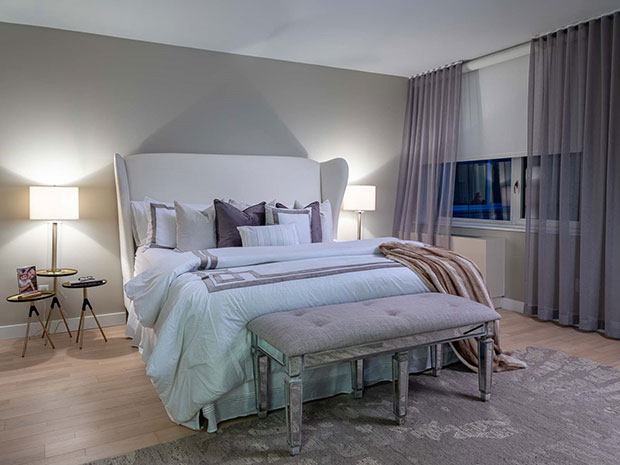 Tahar Décor
If you're looking for more subtlety in purple bedroom ideas, take a look at this room. Add bits of purple here and there through the fabric. Then, pick some neutral colors that could amplify the purple theme.
Beechwood & Llewellyn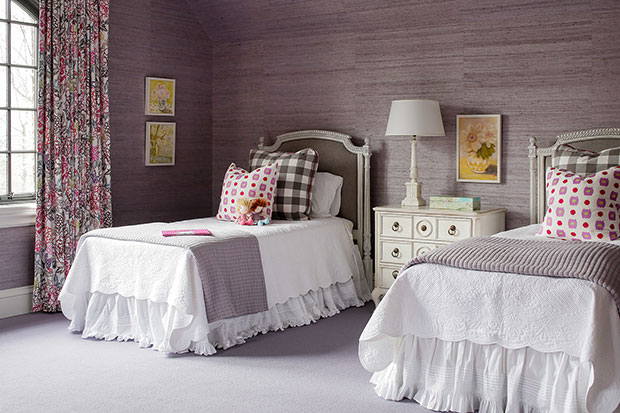 That floral curtain is a perfect match against the purple walls. The subtle graining pattern doesn't clash with the floral patterns.
Beechwood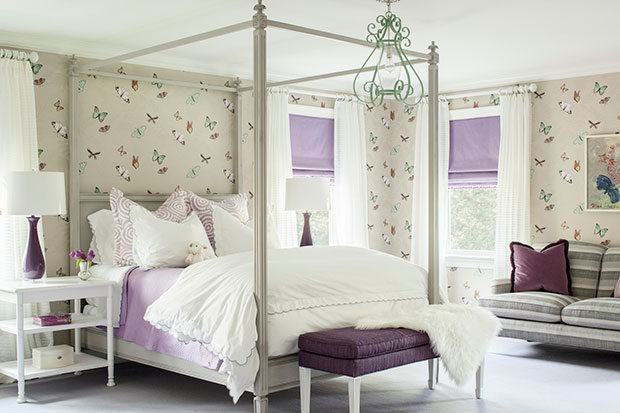 ML Interior Designs
The way the purples in this room are scattered and are of different tones makes this room even more interesting.
The Beach House at East Matunuck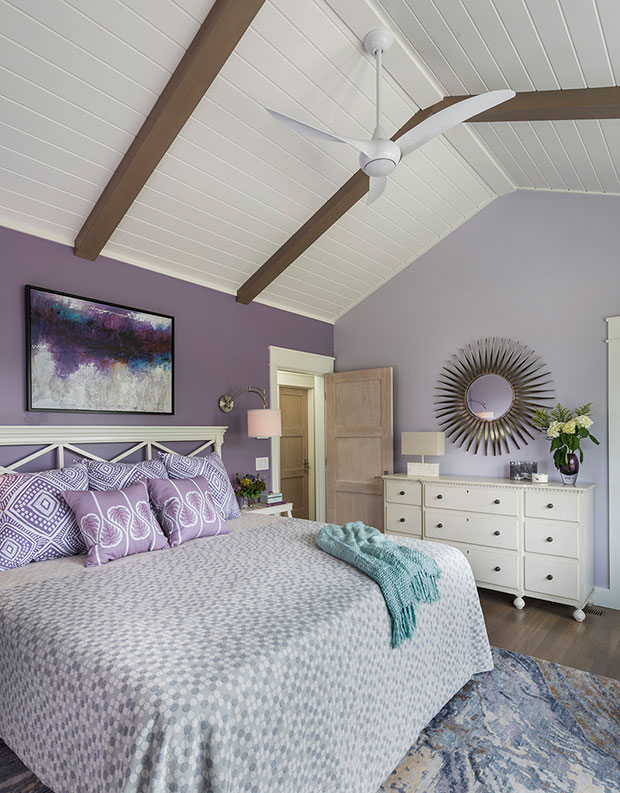 Sweenor Builders
For these purple bedroom ideas, your walls don't have to be the same shade of purple. Take a look at this particular bedroom for example. This is another way to get creative with the 'mixing dark and light tones' tip.
Global Glamour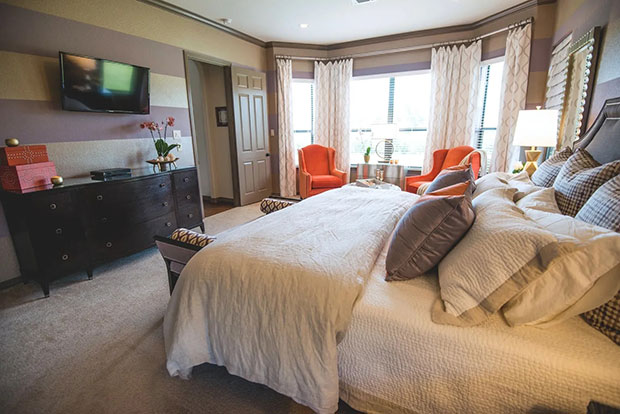 Pink Door Designs
In some purple bedroom ideas, you can mix in gold as accents. But in this room, the wall is literally a mix of purple and gold, creating an interesting look.
Inverness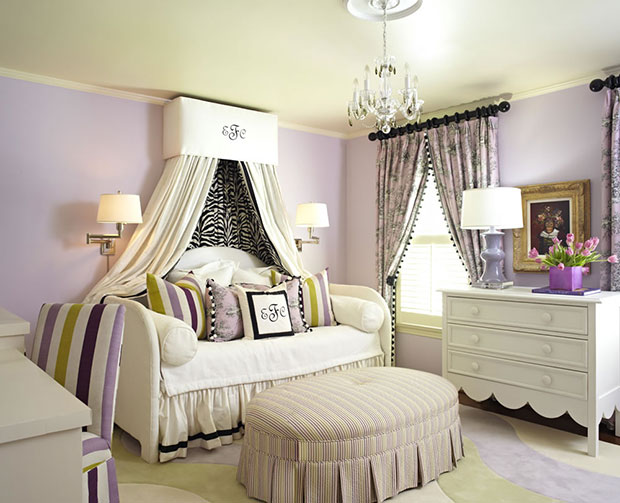 The pastel tones are perfect for this child's room. The incorporation of some darker color tones adds dynamic.
Promised Land Farm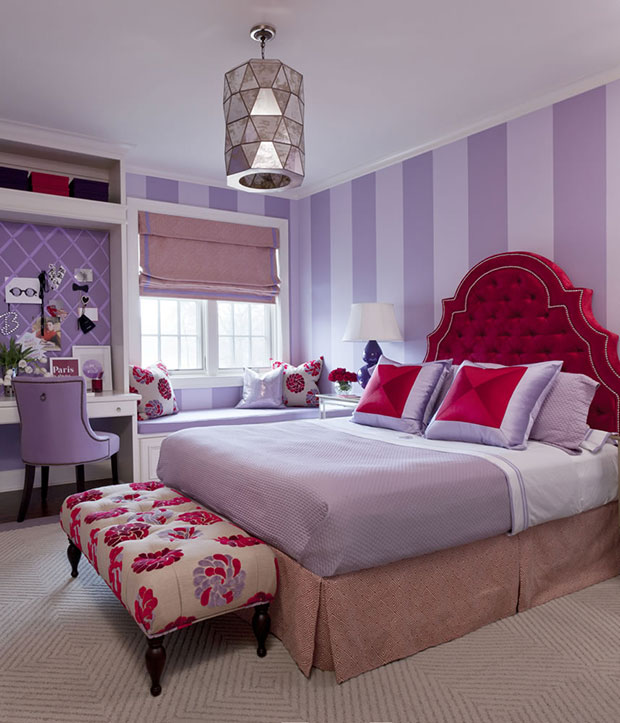 Tobi Fairley
The patterned room walls and desk wall are a great touch of design, especially as it uses dark and light tones. Another thing of note is the bright reds used along that create such a stunning visual.
Purple Bedroom Scheme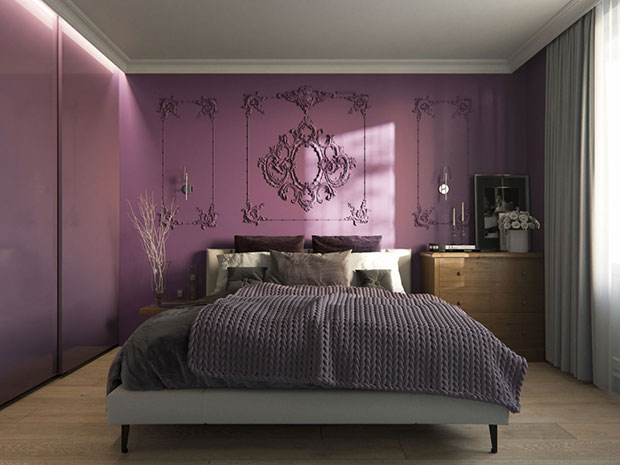 Nikolay Limanskiy
Rather than patterns on the solid purple wall, they have etched ornate details that elevates the luxurious look of this room.
Bedroom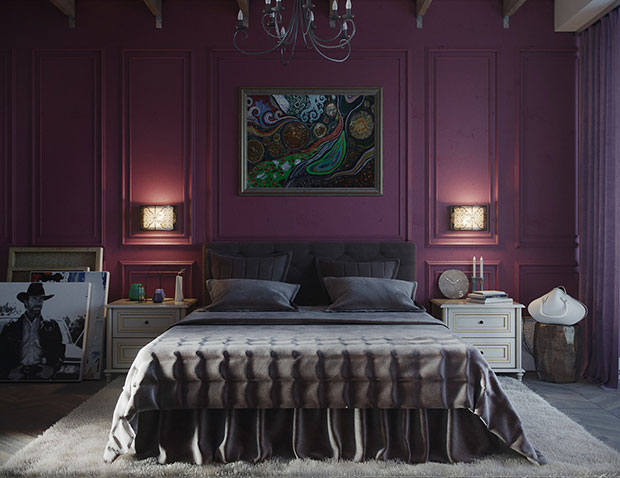 Dmitry Dolgikh
For this traditional bedroom design, this shade of purple is a perfect choice. It complements well with the ornate furnish and details all around the room.
Flowers & Swirls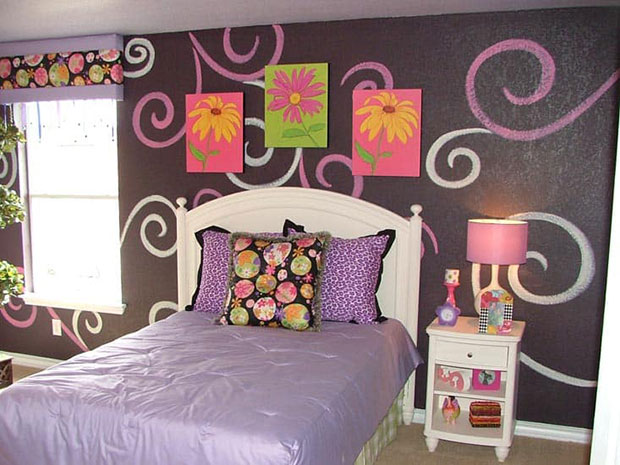 Abella Designs
The flowers and swirls design on the wall is perfect for a young teenage girl's room.
Stratford Residence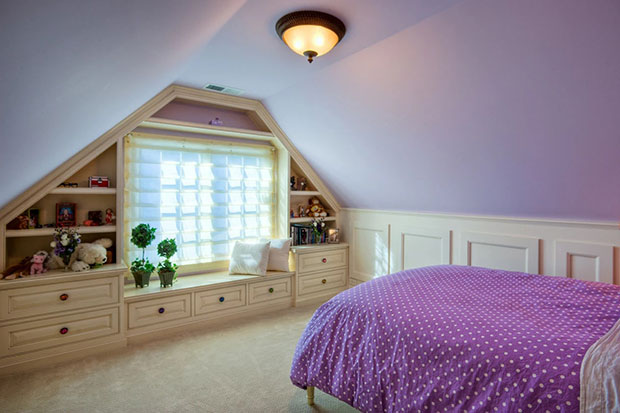 Fleur de Lis Designs
Due to the location and configuration of this room, it allows for the purple paint to be extended to the ceiling. The darker purple blanket is a nice contrast.
Suprematism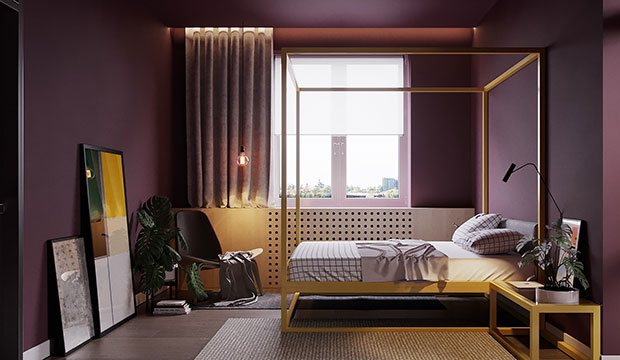 Dezest Design
This kind of purple and gold accents would have given a completely luxurious look. But the décor choices bring a casual feel that subdues that glam look a little.
Contemporary Bedroom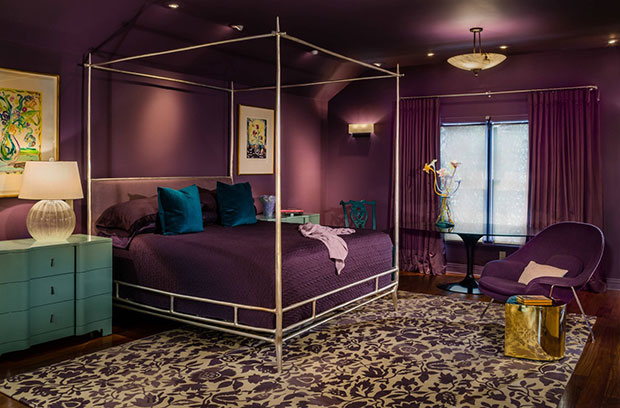 Harrell Remodeling
Some purple bedroom ideas really go out with the colors. The bold color choices, plus the ornate details, bring a maximalist feel to the room.
Elegant Minimalism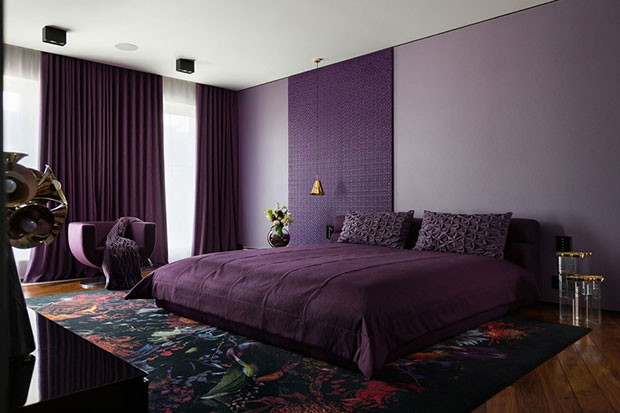 Yuriy Zimenko
In contrast, this room is actually minimalist. Though, the bold purple could say otherwise. Plus, that rug is surely overflowing with visuals.
Comfort Zone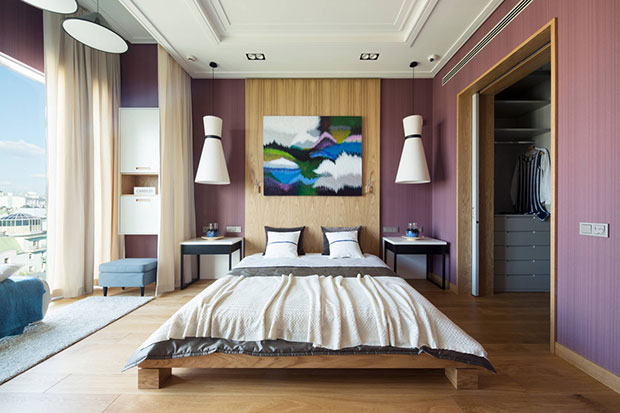 Sadkova Xenia
There aren't that many purple bedroom ideas that show the beauty of purple and brown combined, but here's one! Like its name, this combination brings a feeling of comfort.
Bohemian Mod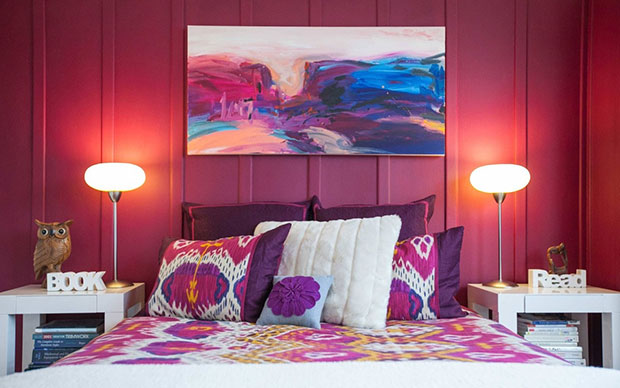 Rachel Blindauer
It's quite the bold choice to have a painting like this hang against a purple wall. There is a risk of colors clashing, yet somehow, this room makes it work.
Pinstripe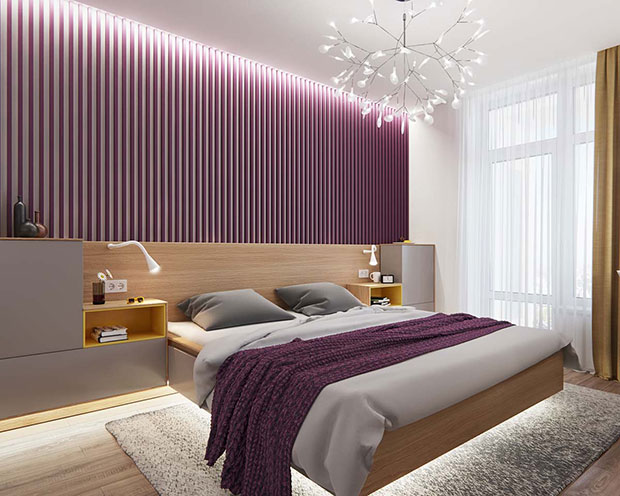 Fog Architecture
The pinstripe wall makes it a perfect accent wall. And it is rightfully matched with that blanket.
Hillingdon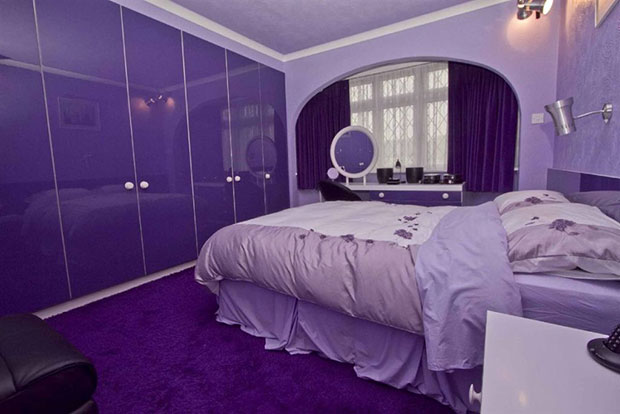 Rightmove
This is the most purple of all purple bedroom ideas on this list. Nearly everything is purple, barely sparing a corner to any other color.
Bright Townhome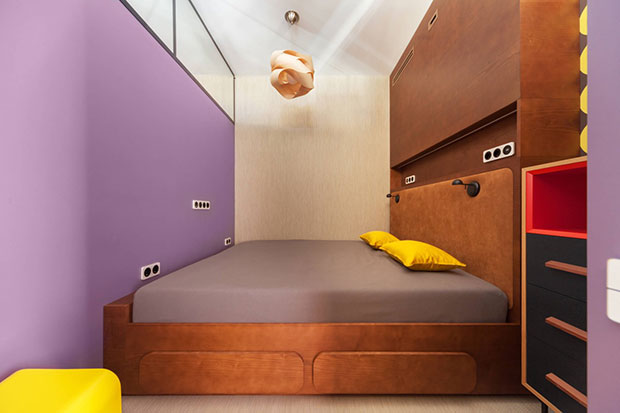 Dvekati
An eclectic bedroom design like this requires some eclectic color scheme. And this room perfectly takes on the challenge!
Crowland Terrace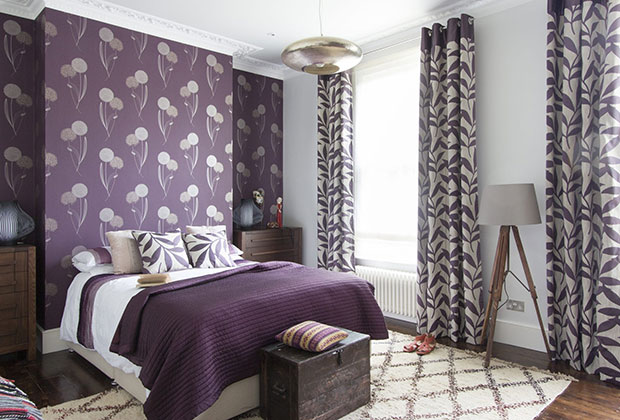 Amberth Interiors
The dandelion prints on the purple accent wall are complimented by the floral prints in the curtains and throw pillows.
Lakeside Home Darien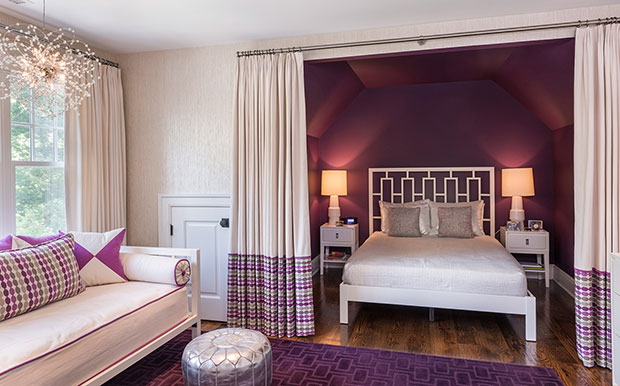 Hollester Interiors
With an interesting bedroom design, they took full advantage of this cave-like section and drenched the walls and ceiling with purple.
Lake Forest Showhouse II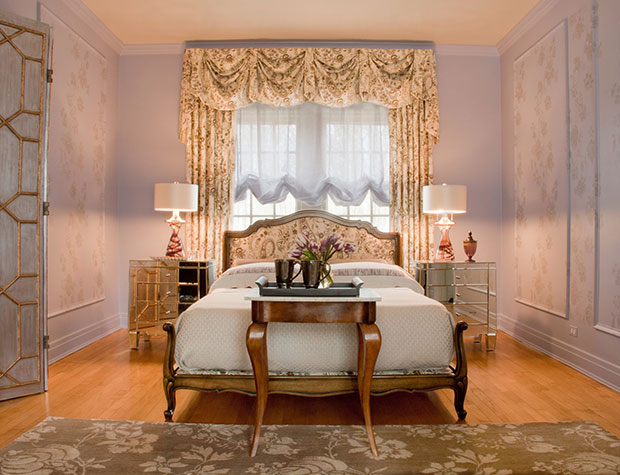 Elizabeth Drake
The soft purple walls bring a brighter glow to this room.
Purple Wardrobe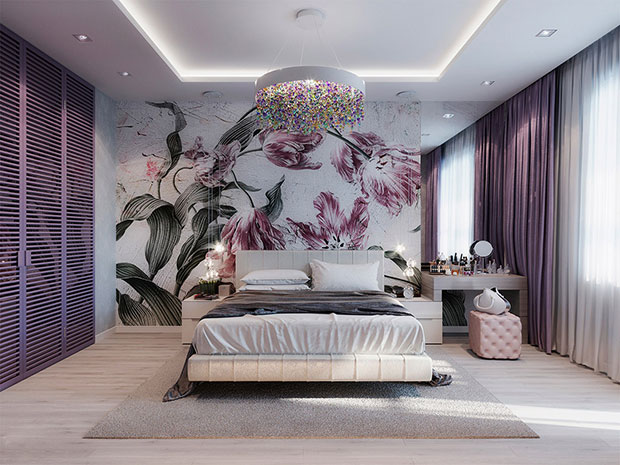 Valeri Giovani
Most purple bedroom ideas opt to have the walls painted in purple. But in this room, they have the wardrobe doors painted in it instead. It is then matched by complementary colors found around the room.
Visionnaire Bedroom Design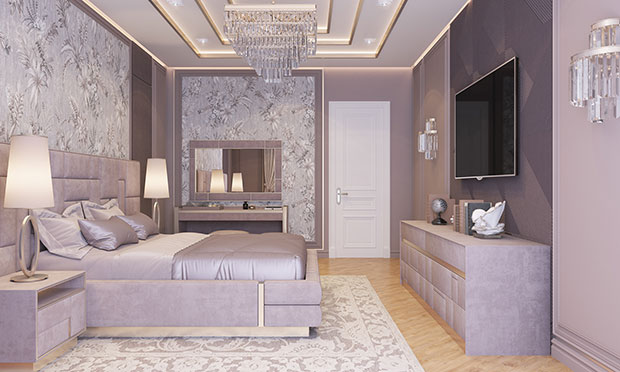 Aynur Derbulova
From the walls to the upholstery and furniture, this room does great work in taking advantage of the range of purple shades and hues.
Ashland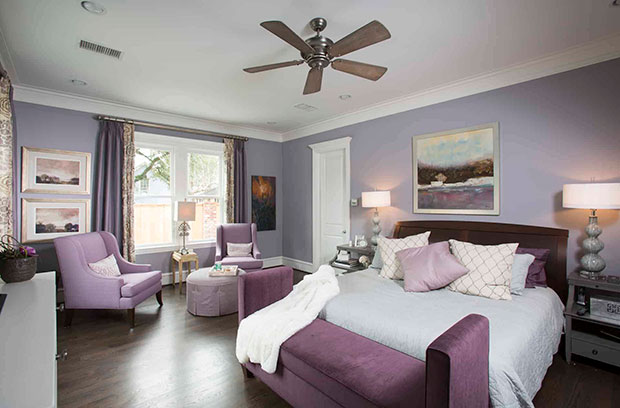 Aspire Fine Homes
While not fully purple like other purple bedroom ideas, this room created a perfect balance of different shades of purple plus other complementary colors.
Clark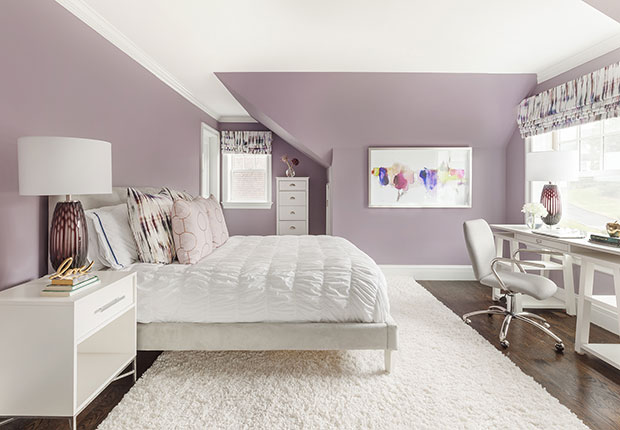 Clean Design
Purple and white really go well together. And in this shade of purple, they are a pretty combination that gives a relaxing ambiance.
Custom Upholstery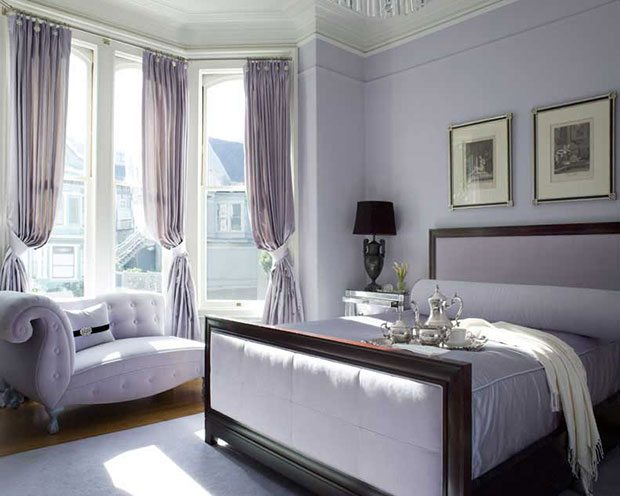 Jona Collins Interior Design
This purple hue brings a good balance of sophisticated and preppy.
Secluded Sanctuary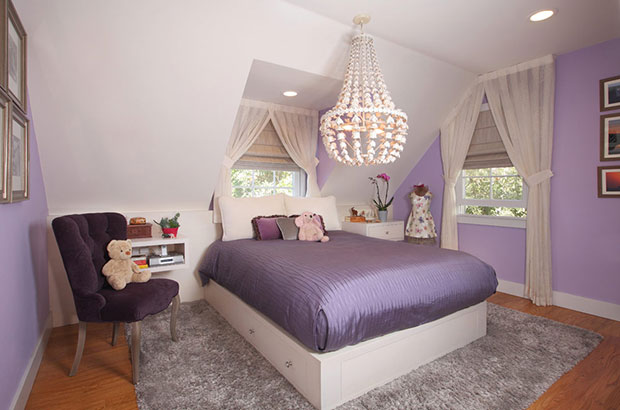 Where most accent walls are the ones with color or pattern, this room is quite the opposite. The accent wall becomes the plain one.
Beaming Bibliophile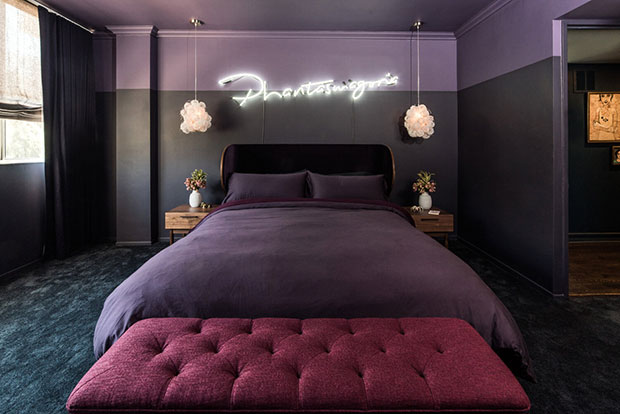 Sarah Barnard Design
Borderline gothic, but overall glam, this room has a pretty interesting combination of dark purple and an even darker shade.
Urbans Point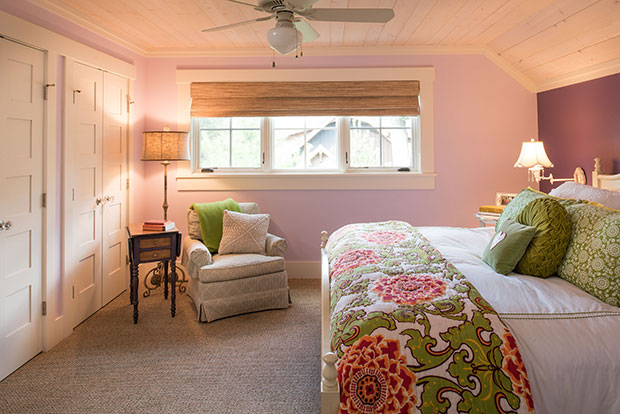 Liv4 Architecture
Choosing a purple tone that is close to pink in the color spectrum is quite brilliant. It gives an interesting dynamic when paired with a darker shade of purple.
Peyton Model Home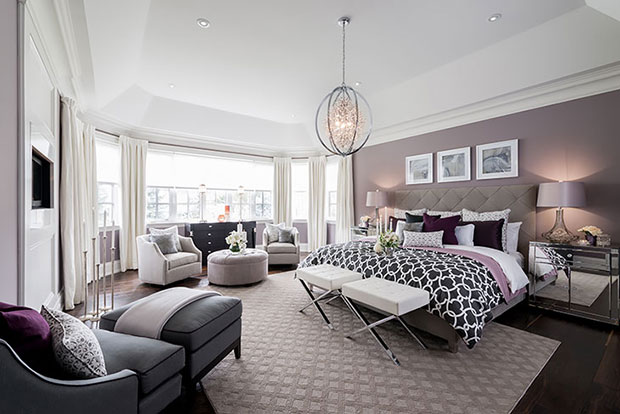 Jane Lockhart Design
These dark color tones together bring a very sophisticated look to this bedroom. Such is perfect for bedrooms for adults.
Shingle Style New Construction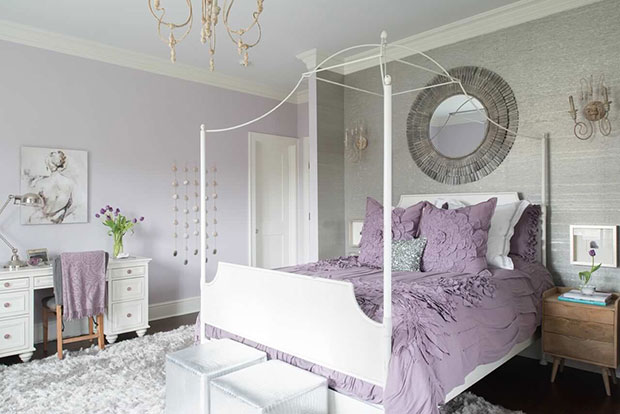 Dalia Canora Design
As seen in some purple bedroom ideas, if you have a light shade of purple for your wall, choose linens of a darker shade.
Purple Grey Bedroom Design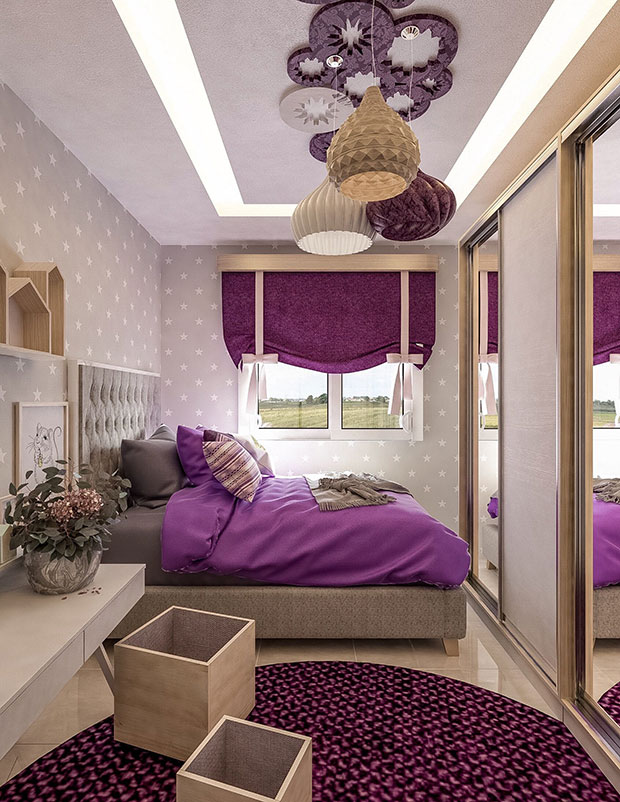 Heba Hassan
This room is just a stunning mix of shades of purple. It is even made more beautiful with the perfect decorative pieces.
Kids Room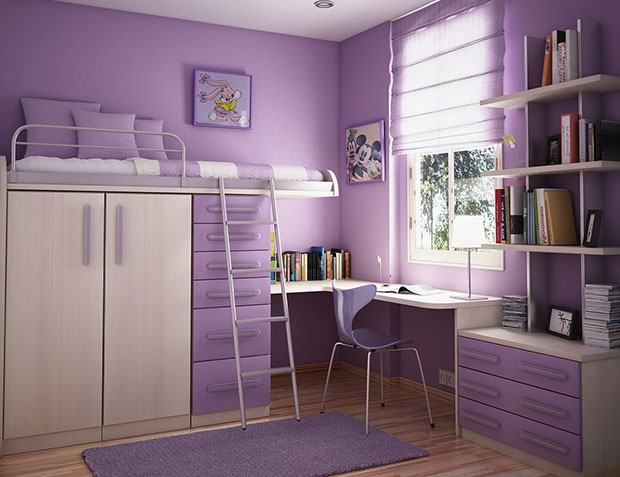 Sergi Mengot
For kids' room, it is indeed better to use a shade of purple that is on the lighter side of things to bring out their youthful energy.
Kaliningrad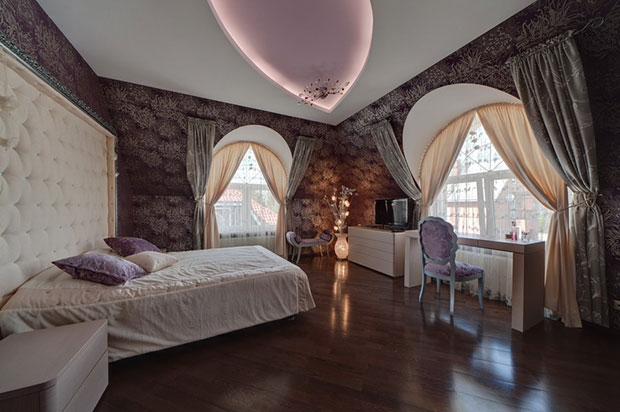 For this kind of ornate details and design, there is no better color choice than purple!
Romantic Vintage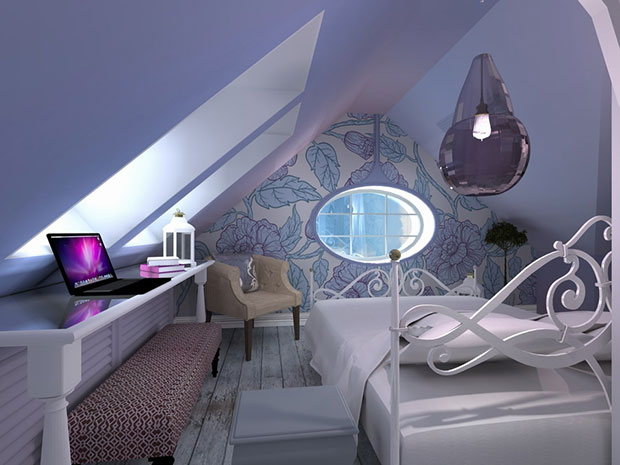 Even with the accent wall, there are bits of purple in the artwork.
Four-Room Apartment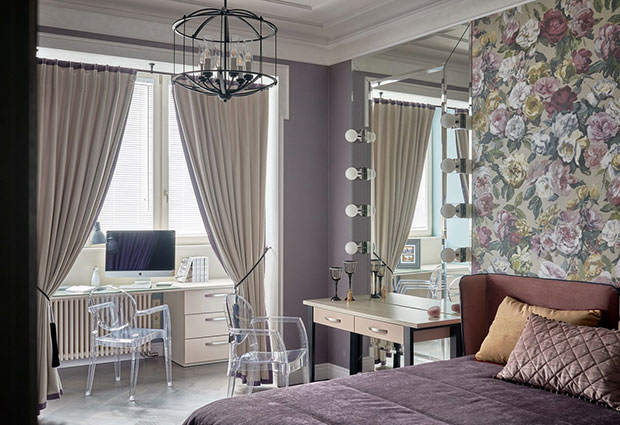 Victoria Lazareva Design Studio
This beautiful floral wallpaper is the perfect match with the purple walls.
Curated Color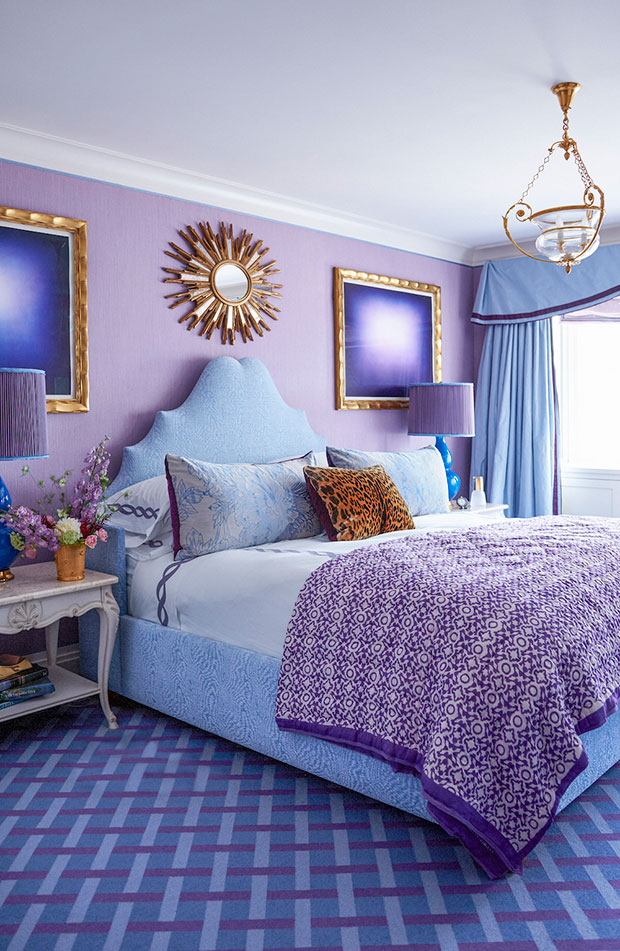 Alex Papachristidis Interiors
Purple and blue are another unexpectedly beautiful combination. With the right décor, they could create a stunning bedroom design like this.
Holiday Condo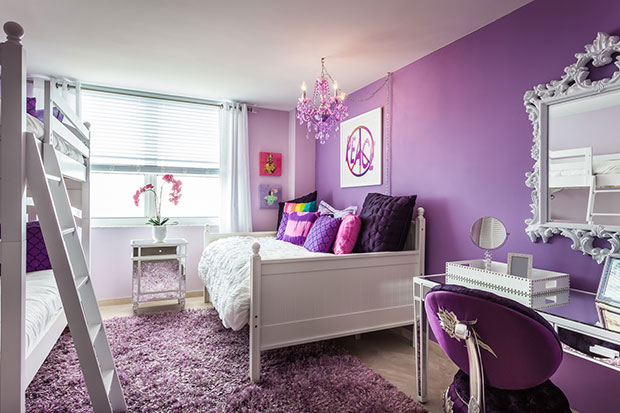 Alicia Connolly Design
To match the purple walls, add purple throw pillows of different shades (and even some other colors).
Del Ray Oaks Transitional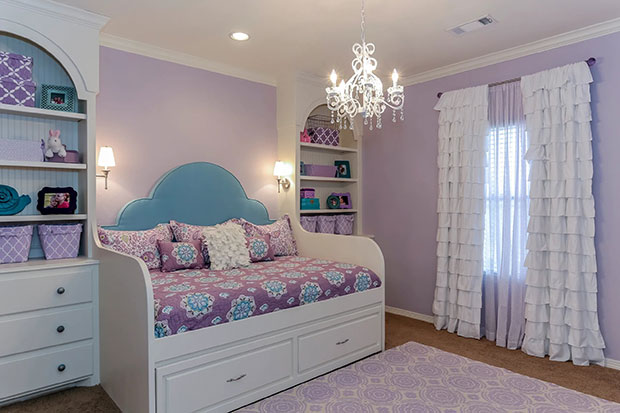 Designs by Debra Cruz
A soft purple wall accompanied by floral-patterned linens is the perfect combination for a little girl's room.
Travis Heights Remodel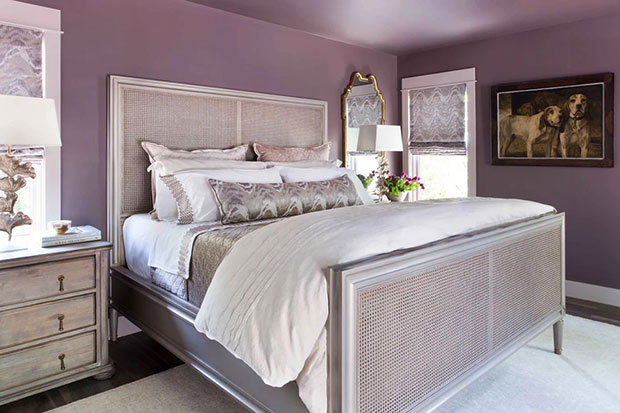 Meredith Owen Interiors
With a silvery tone and metallic gold touch, this bedroom brings a casual glamorous look.
Family Home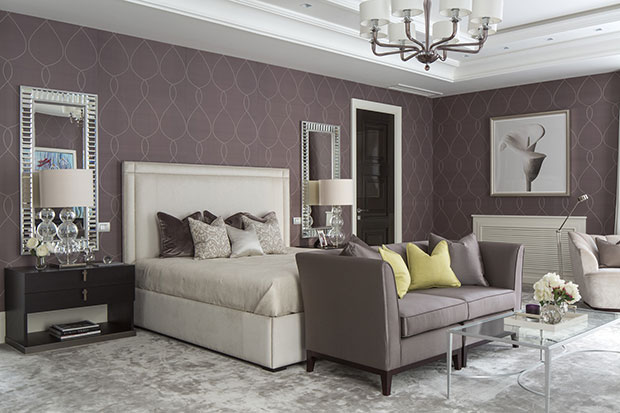 Cobalt Interiors
Patterned purple walls are not always common in purple bedroom ideas, with purple being such a strong color on its own. But with small, subtle patterns, it could make for a very interesting room visual.
That's all for purple bedroom ideas! Did any of these inspire you to redecorate your own bedroom?
Like This Post? Pin It!