50 Lovable Baby Girl Nursery Room Ideas for the Expecting Parents
|
Are you welcoming a baby girl into your family soon? Are you scrambling for baby girl nursery room ideas? Don't worry, we got you!
When it comes to baby girl nursery room ideas, there's a lot of things you can do and explore. The great thing about baby girl nursery room ideas, you are not limited to a single design style. A wide array of design styles is at your disposal. But of course, with all that design choices, you have to find the right balance to create not just a functional room, but also a visually pleasing one.
Along with the excitement of parents, especially new parents, of buying nursery furniture like cribs, you would have to figure out incorporating these items with colors, patterns, layers, and decorative pieces into a cohesive nursery room theme.
How to make a nursery room safe
Decorating and styling a baby girl nursery room can be lots of fun, but in the excitement of making your baby girl nursery room ideas come to life, you may forget a couple important reminders in building a nursery room.
It's more important to not overlook the safety and security of a nursery room. After all, you wouldn't want your baby to be in harm's way. So, here are some nursery safety tips to keep in mind as you decorate your nursery room.
1. Pick a sturdy crib
Get your baby a safe and sturdy crib. It's been recommended to buy or use a crib that was manufactured after 2011 when safety standards were changed. That being said, don't use cribs with loose or missing pieces or one that can be opened on one side.
Your crib should be coupled with a firm mattress that is the correct size for the crib. And cover the mattress with a snug-fitting crib sheet. No inflatable mattresses!
2. Ensure crib safety
Even with the proper crib, ensure that the area inside the crib is safe. Do not place pillows, blankets, bumper pads, or stuffed toys with the baby. Instead, you can use sleepers or sleep sacks. Any hanging toys or mobiles should be removed, especially when your baby starts getting up on all fours.
3. Playpen safety measures
Much like for the crib, when you buy a playpen, make sure they follow the latest safety updates. If the baby can stand, try not to place large toys or any object that they can use as steps.
4. Have safe changing tables
Some cribs have changing tables, but you can also buy a separate one. If you do, make sure they're the sturdy kind with a guardrail and safety belt.
5. Secure furniture and place them away from the window
Your kid will soon be able to crawl and may just attempt to climb furniture, so secure them properly by using brackets. In addition, don't place the crib and other nursery furniture close to the window. For the safety of the child, they might attempt to climb and fall from the window. In addition, there is danger in glass breaking, so better keep the furniture away.
6. Safety covers
Ensure that all electrical outlets are covered with safety covers to keep the babies from sticking their fingers in. Avoid using cords and wires that are left on the floor, too. This will certainly grab the baby's attention and will lead them to the electrical outlets.
7. Be wary of cords
Similarly, cords from blinds and draperies must be kept out of children's reach. It is best to use cordless window treatments.
8. Proper storage
Babies are quite the curious little ones, so make sure to store baby care products in proper storage where they won't be able to reach and open.
Tips when decorating a nursery room
Decorating a nursery room can be a fun and rewarding experience. But just like decorating any other room in your home, the challenge of decorating a nursery room can be just as daunting. If you have so many baby girl nursery room ideas, it helps to have a guide or tips that will help you. So, here are some easy tips for decorating a nursery room!
1. Choose a specific theme
It's not necessary to stick to a single concept theme for the nursery room. But it helps a lot if you stick with a specific idea to help you focus and create a more cohesive design.
2. Choose the perfect palette
Pick the perfect color palette you envision the nursery room to be splashed with.
3. Choose textiles before paint
But before you finally settle with the paint for the nursery room, make sure first that the color scheme of your textiles, such as curtains and beddings, go well with the paint.
4. Identify a focal point
For most nurseries, the crib is the focal point. But you can always divert from the norm and instead choose something else like a dresser or a large window or an alcove.
5. Decorate the ceiling
With your baby has spent most of their time on their backs, give them a little something nice to look up to. Paint the ceiling or decorate it with murals or decals.
6. Create a nursing station
To make sure nursing time will be stress-free, consider creating a nursing station. Find the right nursing chair for you and organize your station.
7. Create a sanitation station
Similarly, set up a spot in your nursery as a sanitation station. You would want to keep the nursery germ-free, so have all your sanitation supplies ready for use at the sanitation station.
8. Be creative with storage
It's no secret that babies have come with lots of stuff. It will be such a hassle to sort through the entire room for a single object. So, get ahead of that be creative and smart with your storage solutions.
9. Leave room for growth
The thing to remember about nurseries is that they grow as the baby grows. You're going to have to anticipate that the baby's crib will eventually have to be exchanged for a toddler-size bed unless your nursery room has enough space to be equipped with both. Think ahead to save money and make most of your available space.
10. Pay attention to the windows
As mentioned above on how to make a nursery room safe, make sure to use cordless windows. But this doesn't mean that style will be sacrificed. Take this into consideration when you're deciding on the textiles and color palette.
11. Install proper lighting
Especially for babies that are always on their backs, staring at the ceiling, having intense overhead lighting is unsuitable. You can install a dimmer for overhead lights. You can also install a nightlight for safety and comfort.
12. Baby-proof the nursery
As discussed above, when you design, don't forget to incorporate all the nursery safety checklist.
Baby Girl Nursery Room Ideas for Inspiration
Since we've got all that covered, let's take a look at some baby girl nursery room ideas!
Williams Island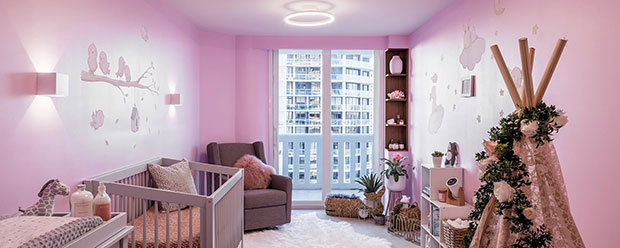 Mila Design
The first thought you may have with baby girl nursery room ideas is the color palette being pink. This room takes that to heart, then picking out furniture and decorative pieces that go along with color.
Southern Inspired Nursery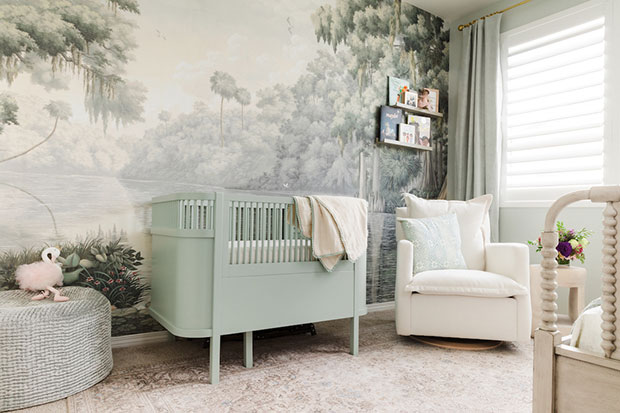 Little Crown Interiors
Subverting typical expectations for baby girl nursery room ideas, here's a southern-inspired nursery room. That beautiful nature-themed wallpaper is surely going to grab the baby's attention.
Butterfly Nursery for Twins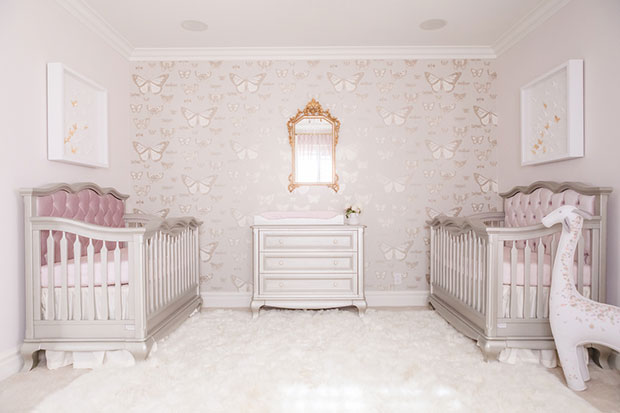 Little Crown Interiors
If you're having twins, take a look at this nursery room idea! Rather than placing the side of the crib by side, have them face each other in the room.
Charm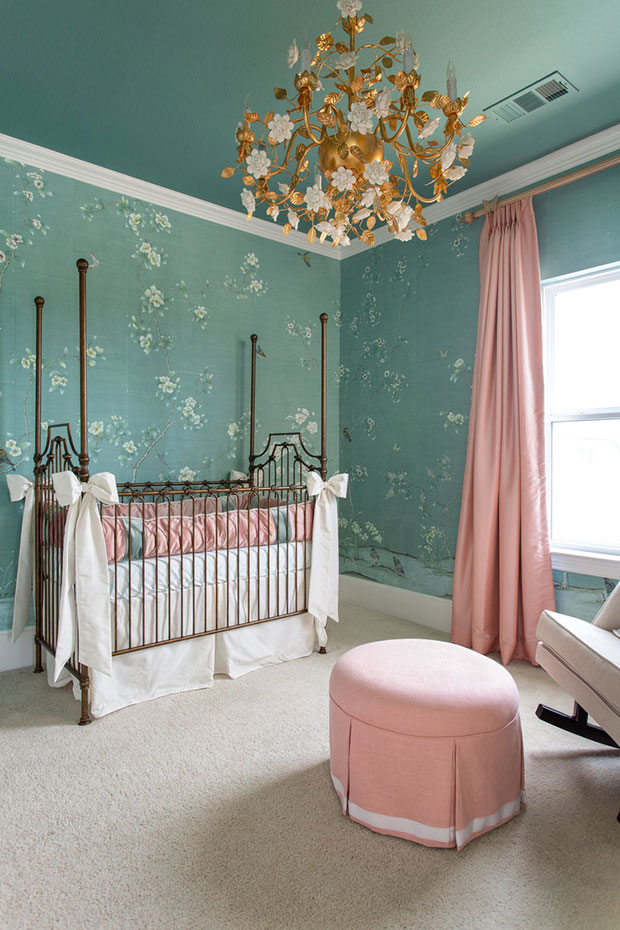 Nathan Hejl Interiors
The combination of this light shade of pink and green is very charming.
Natural & Neutral Nursery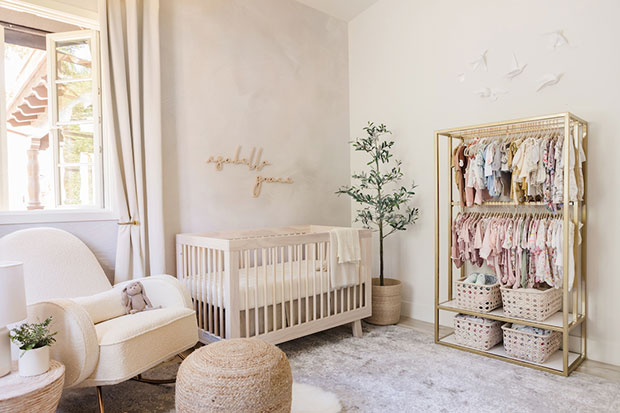 Little Crown Interiors
As its name stands, the natural and neutral colors of this particular nursery room bring out quite the serene atmosphere perfect for a baby.
Floral Nursery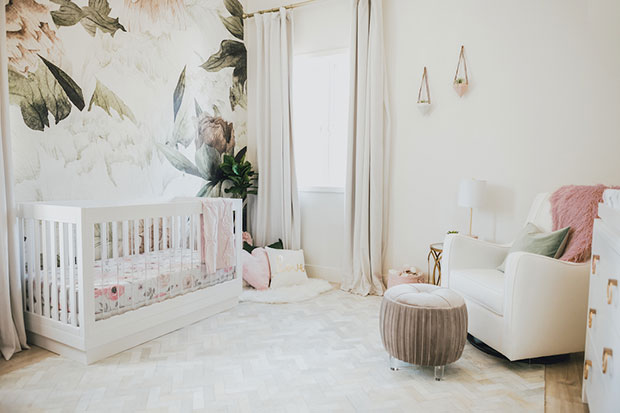 Little Crown Interiors
Rather than sticking to typical baby girl nursery room ideas, let pink instead be a color accent rather than the dominating palette.
Ines's Garden Nursery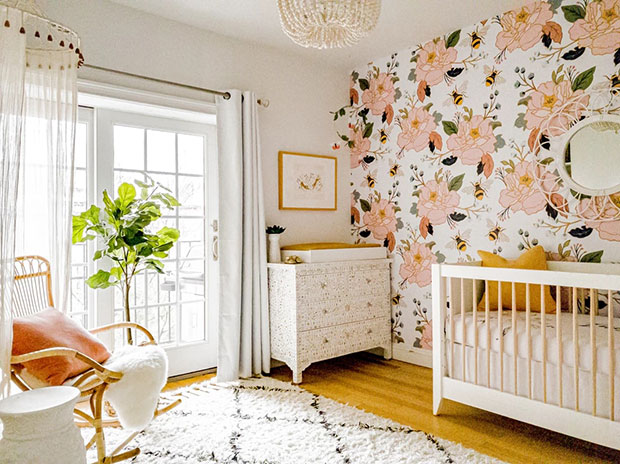 Curated Nest Interiors
Having one wall side covered in floral wallpaper is a pretty design choice.
Paint Strokes Colorful Nursery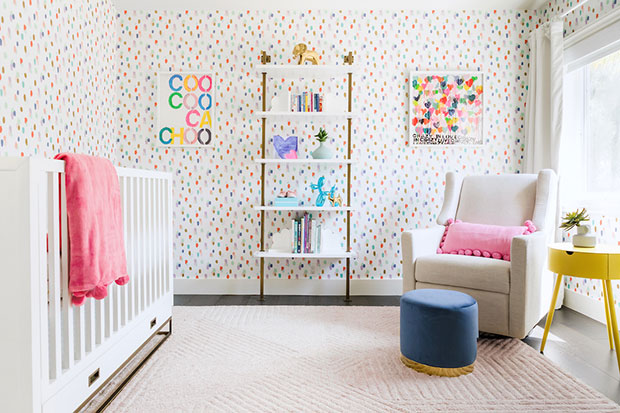 Little Crown Interiors
If you're looking for more fun baby girl nursery room ideas, take a look at this one. With the colorful walls and decorative pieces, it will surely brighten up everyone's mood.
Floral Vine Girl's Nursery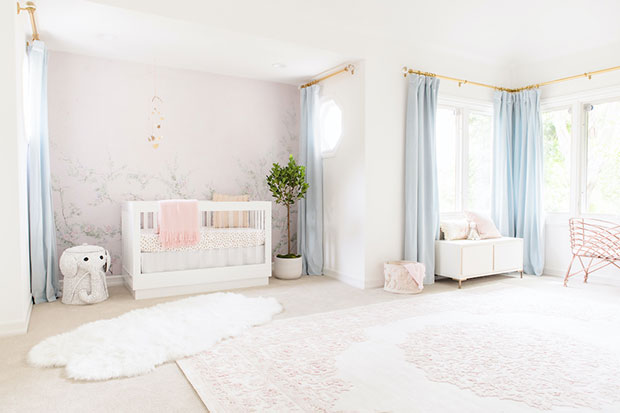 Little Crown Interiors
The light color hues further brighten this nursery room.
Girls' Neutral Nursery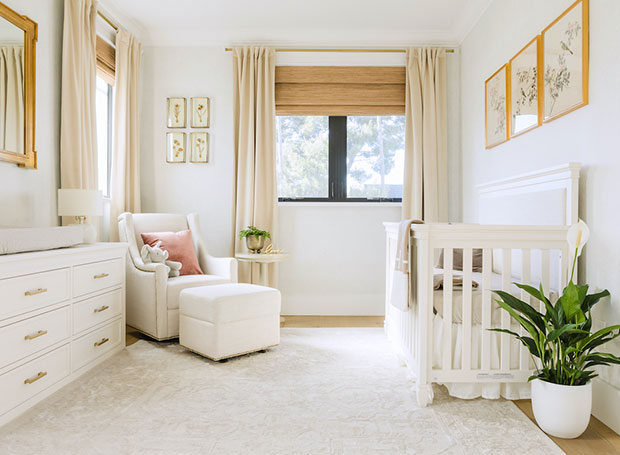 Little Crown Interiors
For more neutral baby girl nursery room ideas, you can stick with lighter shades of colors.
Charlotte's Boho Nursery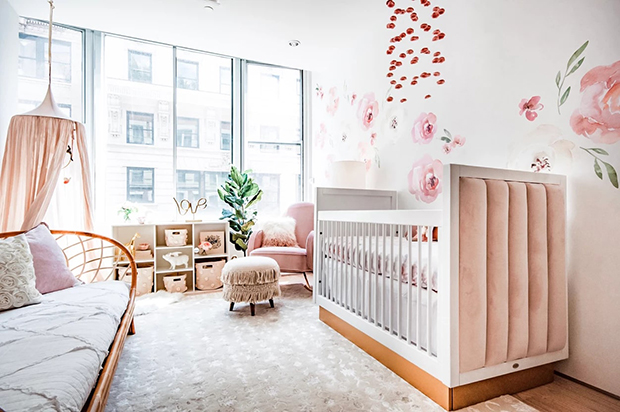 Curated Nest Interiors
Rather than a full floral wallpaper, why not have your wall painted like this?
Stella's Floral Nursery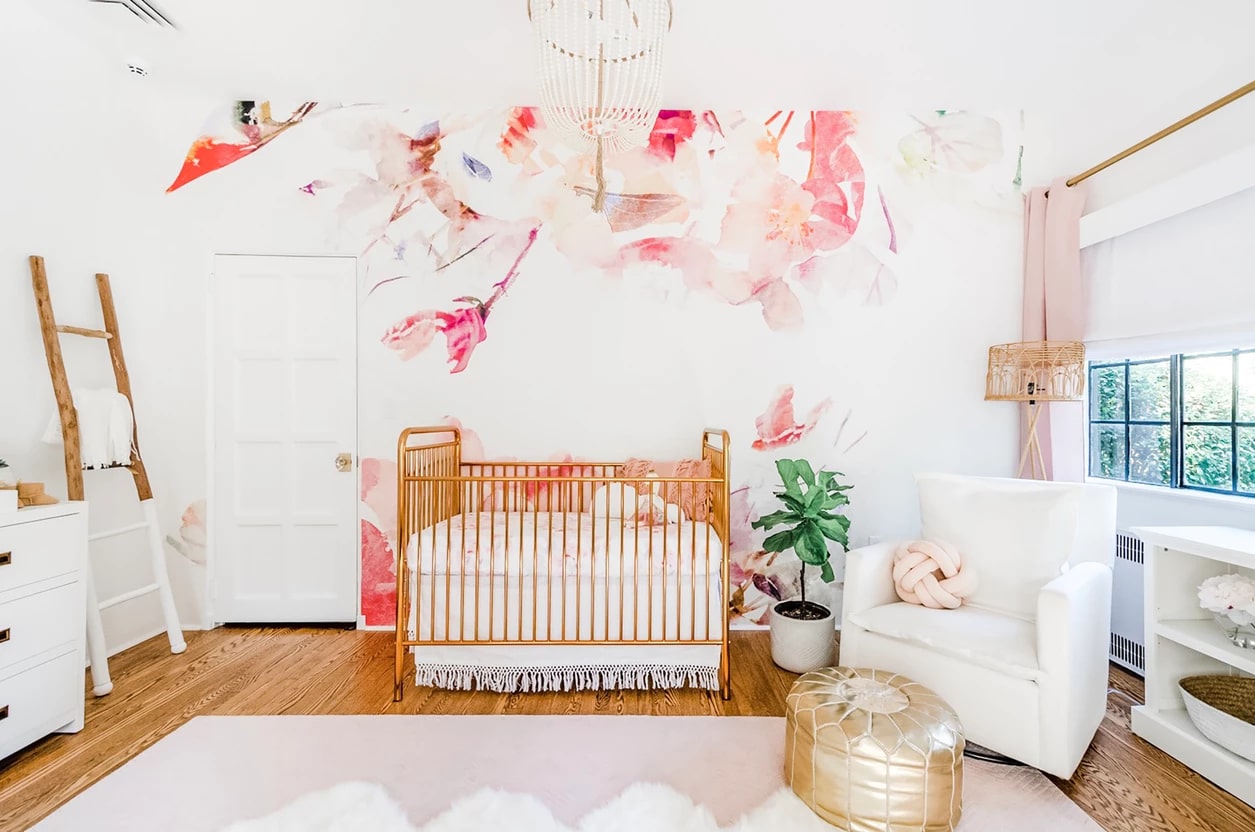 Curated Nest Interiors
You don't need to paint over every wall in the nursery room like this one. Only the side where the crib is pushed against is the ideal spot to get the baby entertained by the colors.
Blush Glam Nursery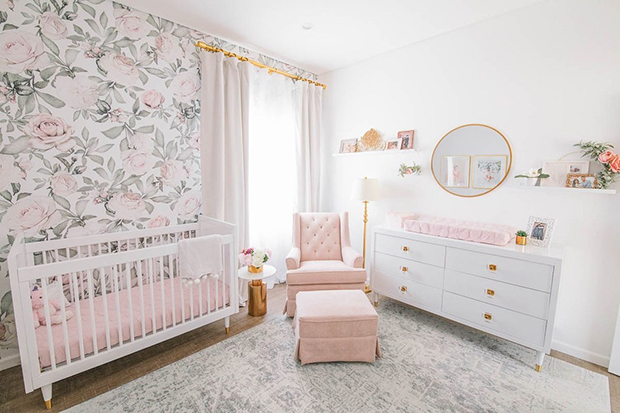 Little Crown Interiors
What's pretty interesting is how the color palette of the carpet matches with the wall side covered in wallpaper.
Modern Blush Nursery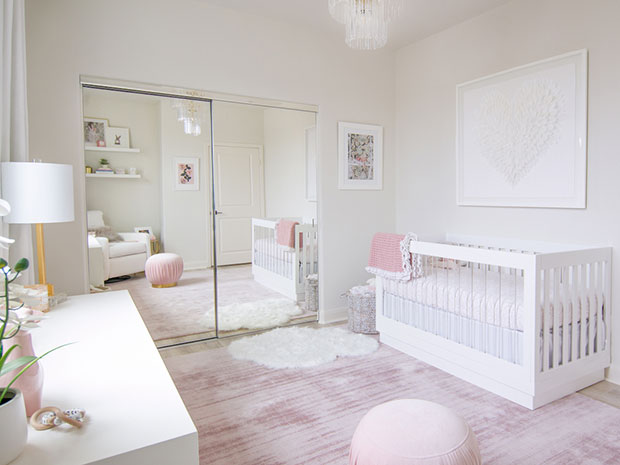 Little Crown Interiors
With the room painted in variations of shades and hues of white, it is pretty to see the splashes of pink in decorative pieces and textiles.
Pink & Gold Nursery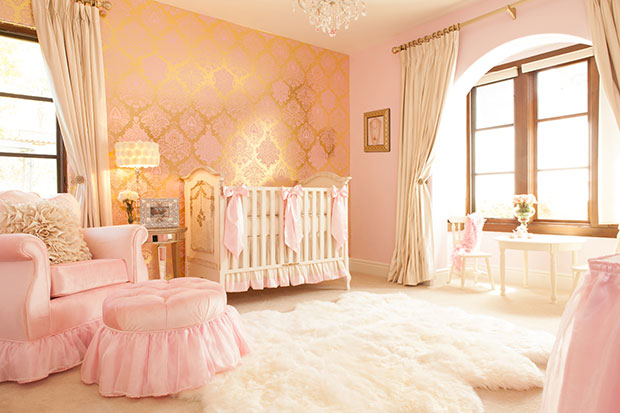 Little Crown Interiors
Some baby girl nursery room ideas can be chic and sophisticated like this one in particular. It is not necessarily with the furnishings and decals, but the combination of pink and gold colors elevates the look.
Ellary's Nursery

C2Design
This color combination certainly brings a certain kind of chicness that juxtaposes with the floral wallpaper.
Neutral Pastel Nursery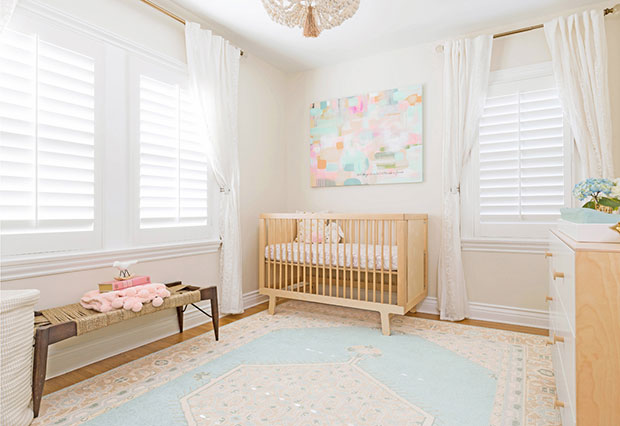 Little Crown Interiors
To contrast with the natural, wood colors, we got some light pastel palette that brings a youthful look to the nursery.
Pastel Floral Nursery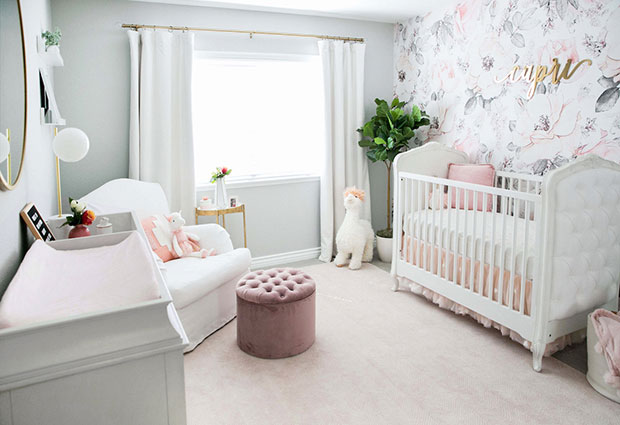 Little Crown Interiors
The greyish undertones are a cool complementary color to the otherwise pastel floral theme of the room.
Ivory & Coral Nursery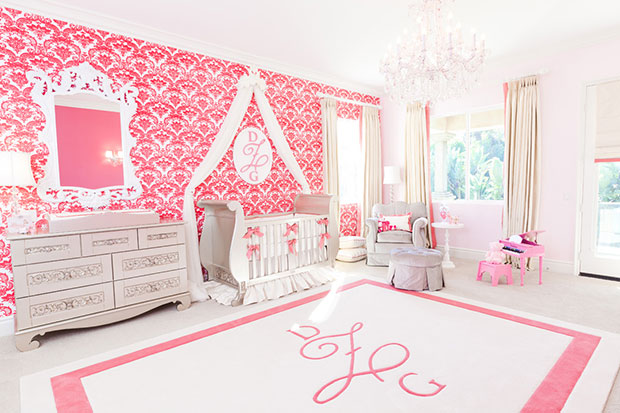 Little Crown Interiors
The color palette, the furniture and decorative pieces, and the decals all come together for a perfect room fit for a little princess.
All White Nursery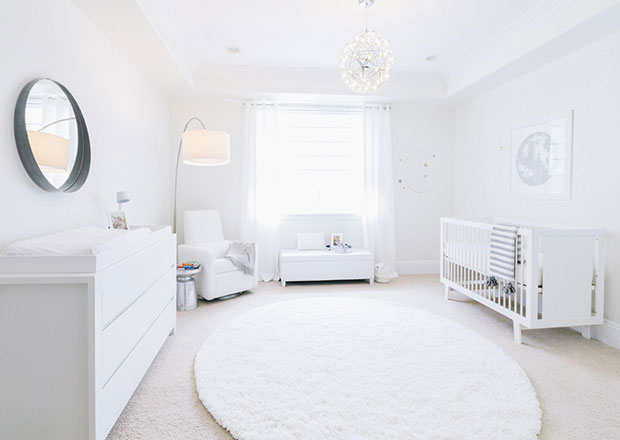 Little Crown Interiors
There is a certain charm to this all-white nursery room.
Glam Hot Pink Nursery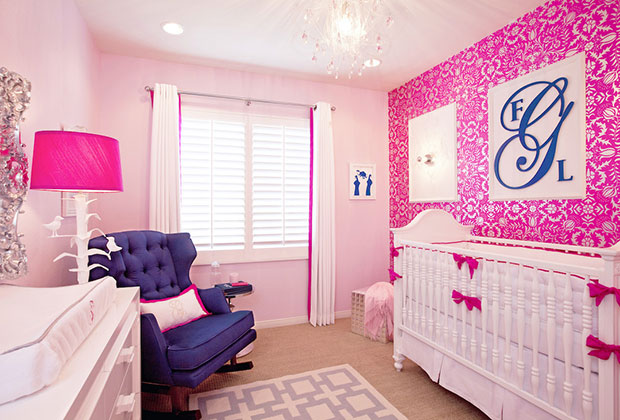 Little Crown Interiors
Some baby girl nursery room ideas can also be bold and bright. The glam hot pink color brings a powerful glow into this nursery.
Shadylane Nursery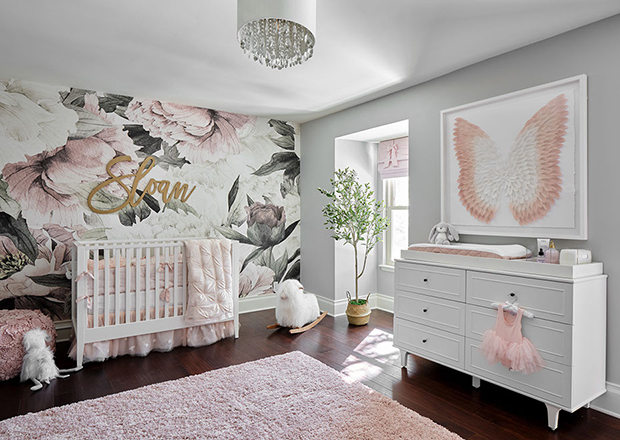 Haven Design & Construction
The dark wood floor is a cool contrast to the lighter shades of color in this nursery. It's not from the list of typical baby girl nursery room ideas, but it certainly has its charm.
Manarina Nursery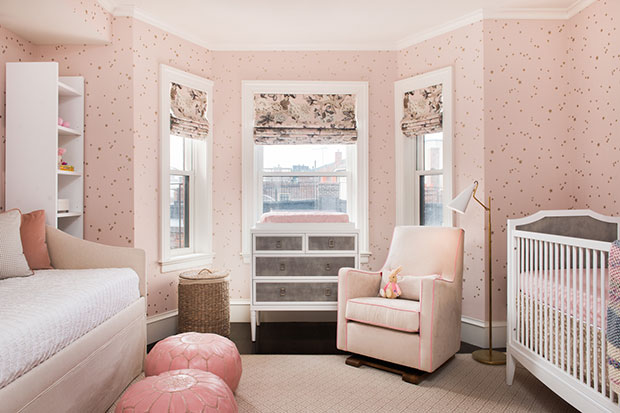 Mandarina Interior Design Studio
This light shade of pink, coupled with darker, neutral colors is just enough not to make this room look overwhelming with the colors.
Cole Valley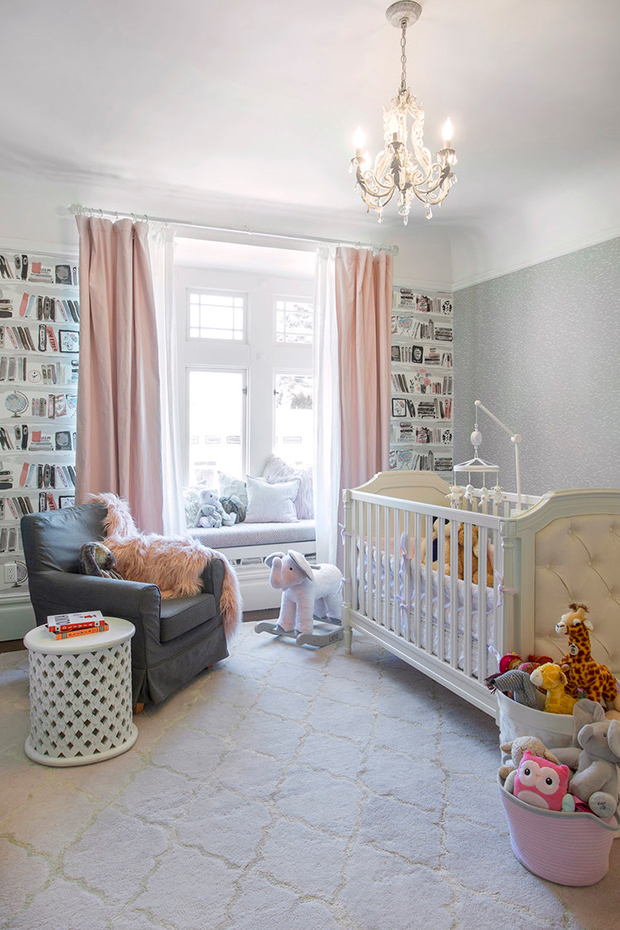 Stacee Christen Interiors
This nursery room certainly does not fit the bill for typical baby girl nursery room ideas. The eccentric wallpaper and color choices get the job done.
Taylor Residence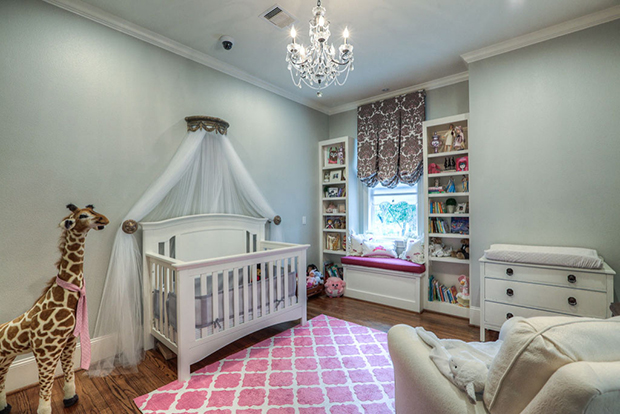 Alleanza Custom Homes
In a room of white and grey, the splashes of pink bring a different sort of life into this nursery.
Coto de Caza French Elegance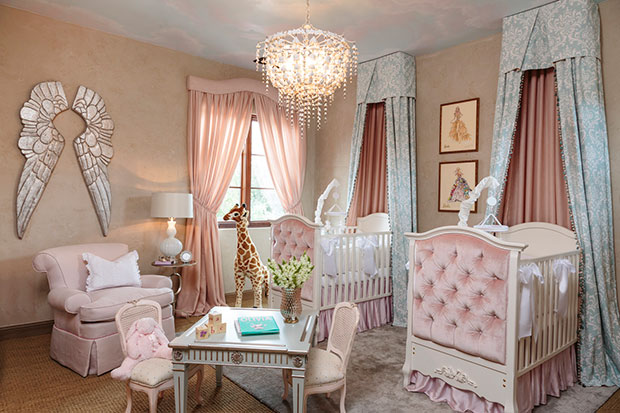 Rockabye Mommy
For expecting parents to twins, here's a classy yet cute baby girl nursery room idea. That angel wings decal is certainly attracting attention.
Belle's Nursery Nook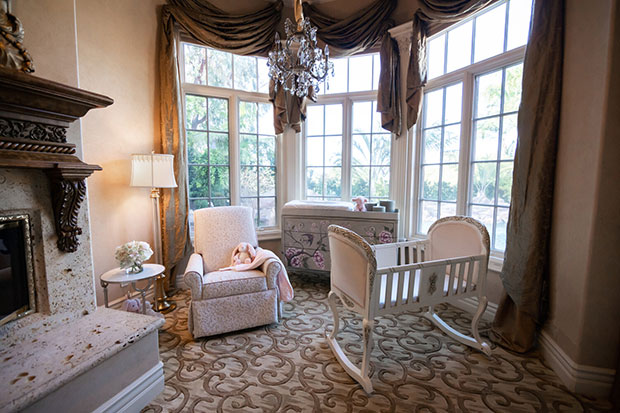 Rockabye Mommy
Another one of those elegant baby girl nursery room ideas. It's the furniture choices, intricate design details, and colors coming together to create such a beautiful nursery.
Modern Farmhouse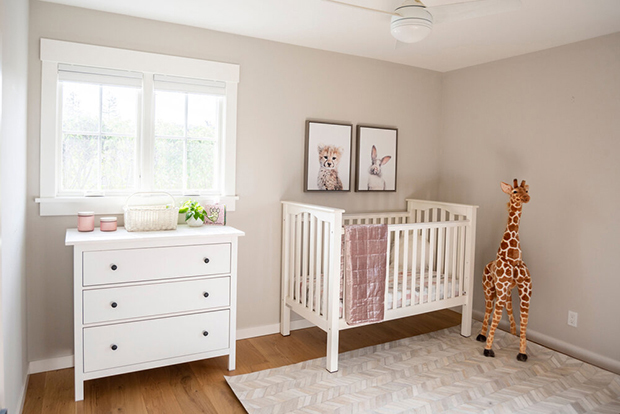 Edgewood Builders Inc
Baby girl nursery room ideas don't have to be extravagant with many furniture and decorative pieces. Take a look at this nursery room, for example.
Sea Island Nursery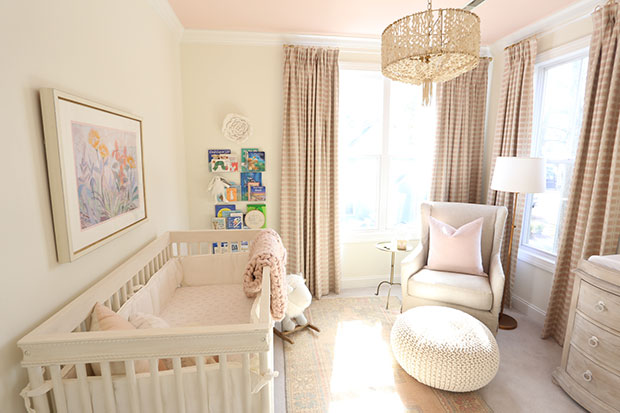 CH Design + Interiors
The neutral and light color shades bring a special kind of warmth into this nursery. Not to mention, the ample natural light that's coming into the room elevates that atmosphere.
Lyric's Nursery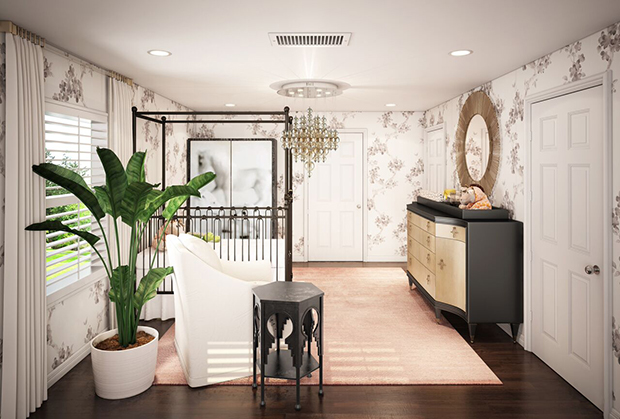 Rockabye Mommy
The addition of black and gold accents into this nursery brings a sophisticated charm. Without it, this nursery room would have looked and felt different.
Purple & Paisley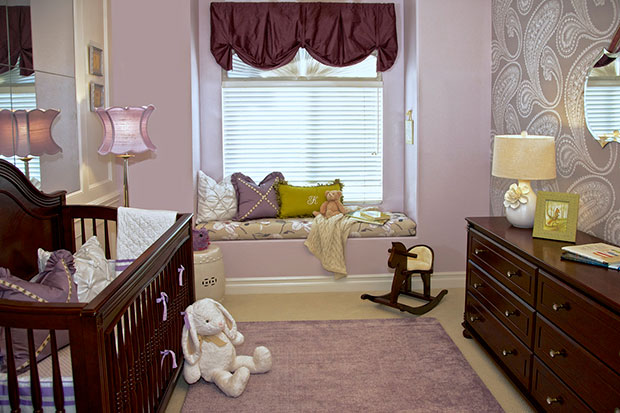 Rockabye Mommy
Now, these color combinations are unexpected and exciting. It looks fun and playful, yet also giving a charming look.
Neutral Design Palette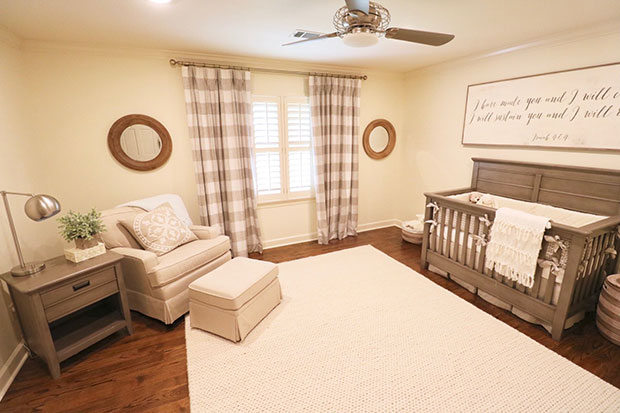 CH Design + Interiors
The yellowish tinge of color on the walls is a perfect and beautiful contrast to the natural wooden colors.
Backstreet Girl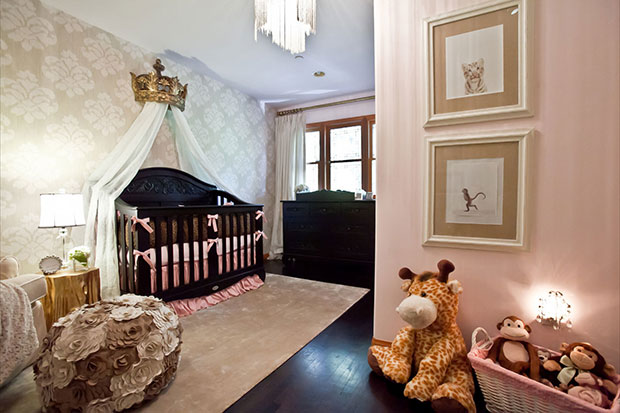 Rockabye Mommy
One of the more eccentric baby girl nursery room ideas, the dark wooden floor and the black crib is quite an interesting design choice. But all the other colors and pieces fit well with this theme.
Goodwin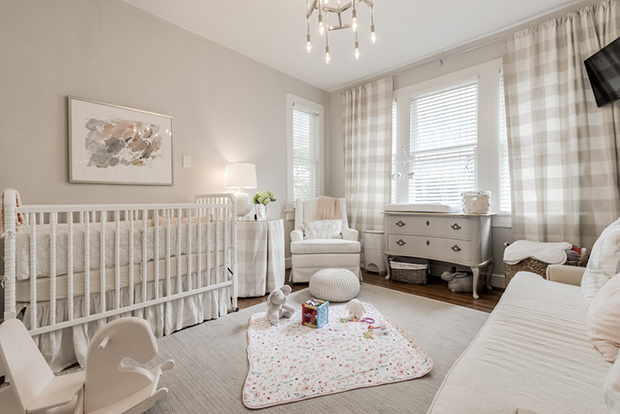 Sibley Design Build
The charming simplicity of this nursery does not make it any less than the more extravagant ones.
Kids Design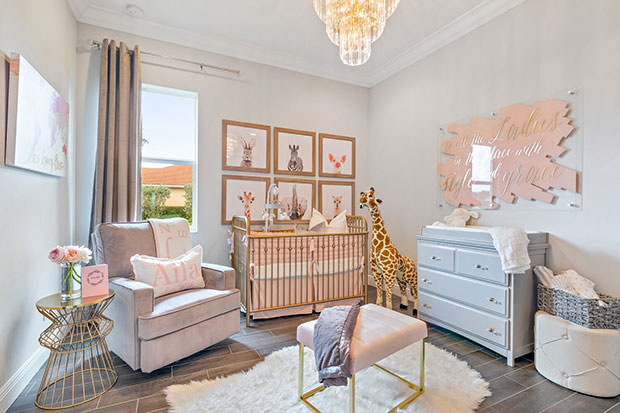 Interiors by McCall
The style of these furniture pieces is sophisticated and classy, prettily contrasting with the fun colors and decorative pieces.
Preston Hollow Classically Fresh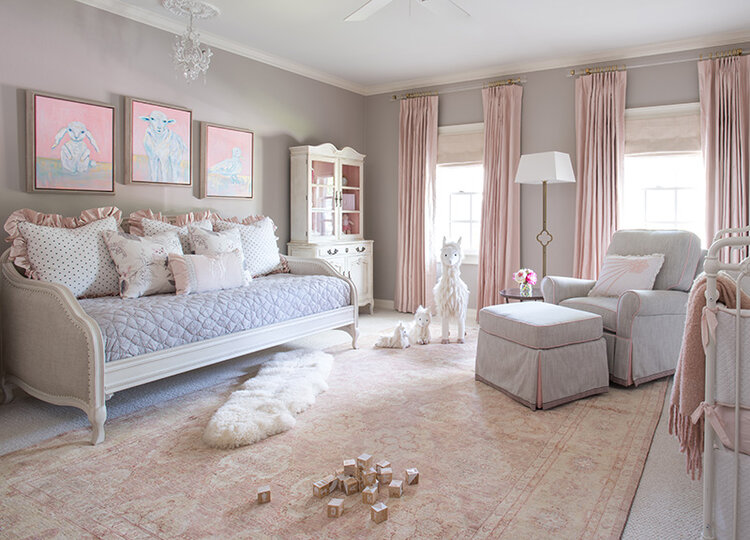 Kim Armstrong Interior Design
With traditional furnishing and a color palette, this nursery room has a sophisticated charm to it.
Bronte Beach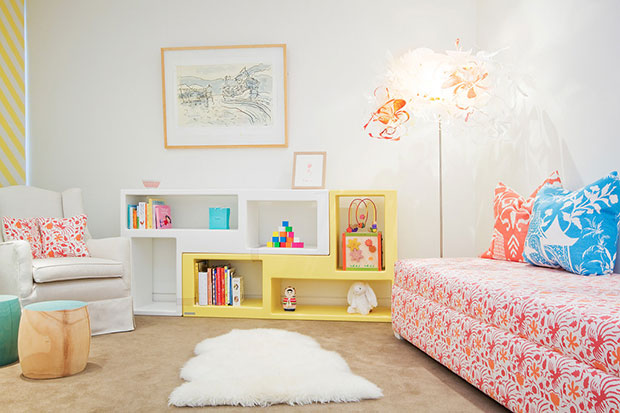 Touch Interiors
Some baby girl nursery room ideas don't stick with the usual color palette. But this particular nursery is equally as fun and interesting with its color scheme.
Dumbo Loft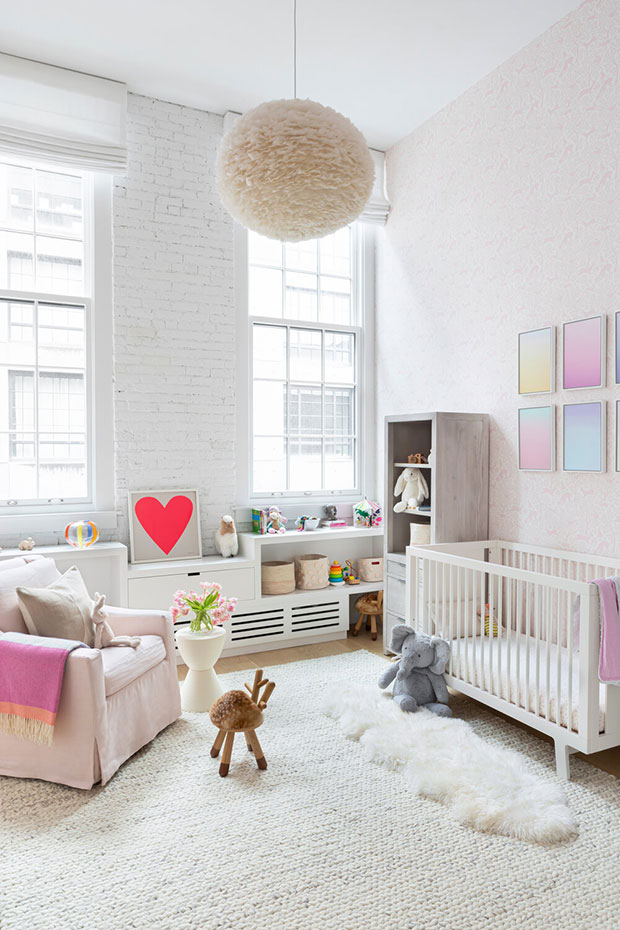 Chango & Co.
All these baby toys and decorative pieces bring that friendly vibe much needed in a nursery.
Cremorne Project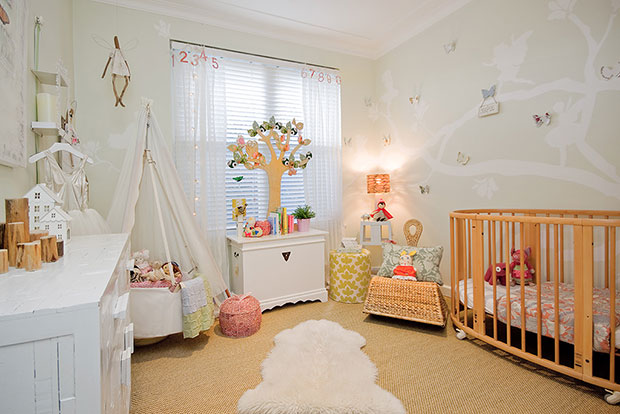 Touch Interiors
The decals and decorative pieces bring out that fun and cool mood fit for a nursery.
Botsman Interior Design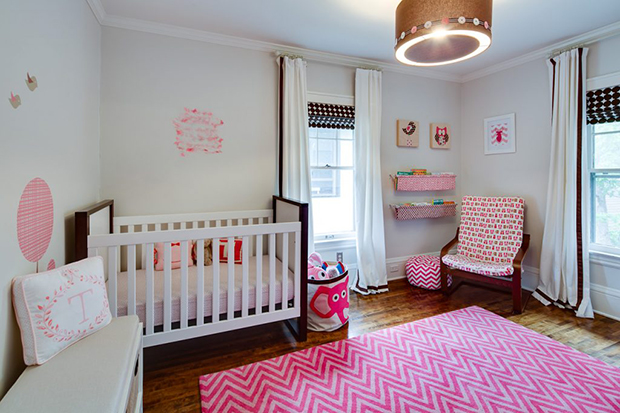 Teskey Mediaworks
With the plain painted walls, much of the life is brought by the vividly colorful furnishing.
Home Show Expo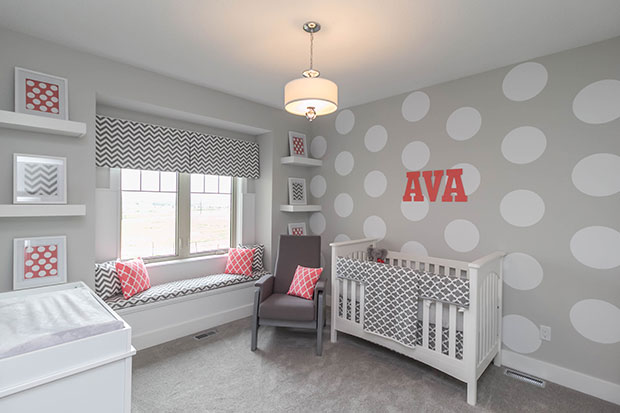 INSTYLE by Colbi
Onto the list of unconventional baby girl nursery room ideas, looking at this room feels like staring into the black-and-white era of television. But then you get the sparse bright colors to mix it up.
Waterfront Residence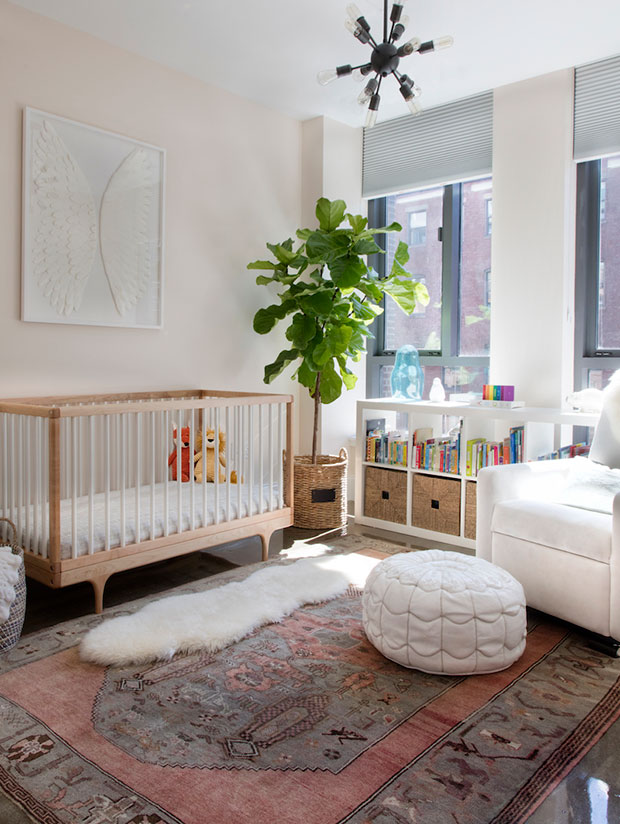 Stanton Schwartz Design
This nursery room has a strong homey feel to it. It must be the combination of natural and neutral colors with splashes of bright colors, and don't forget that plant in the corner!
Valley Club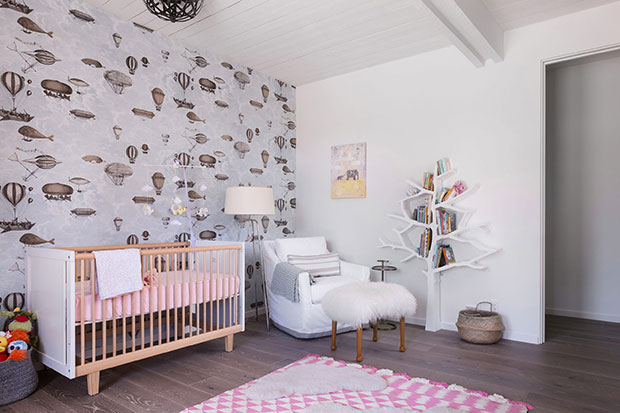 Brown Design Group
Unlike the usual floral-themed wallpapers, this nursery room boasts a hot air balloon-filled wallpaper! Also, take note of that little tree shelving.
Quinn's Nursery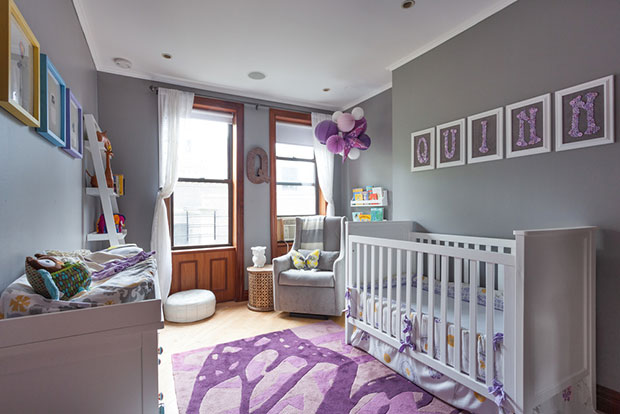 Maison Maya
Instead of the usual pink color associated with girls, try out purple instead. It's a darker color that gives off a more sophisticated mood.
Sweet Boho Nursery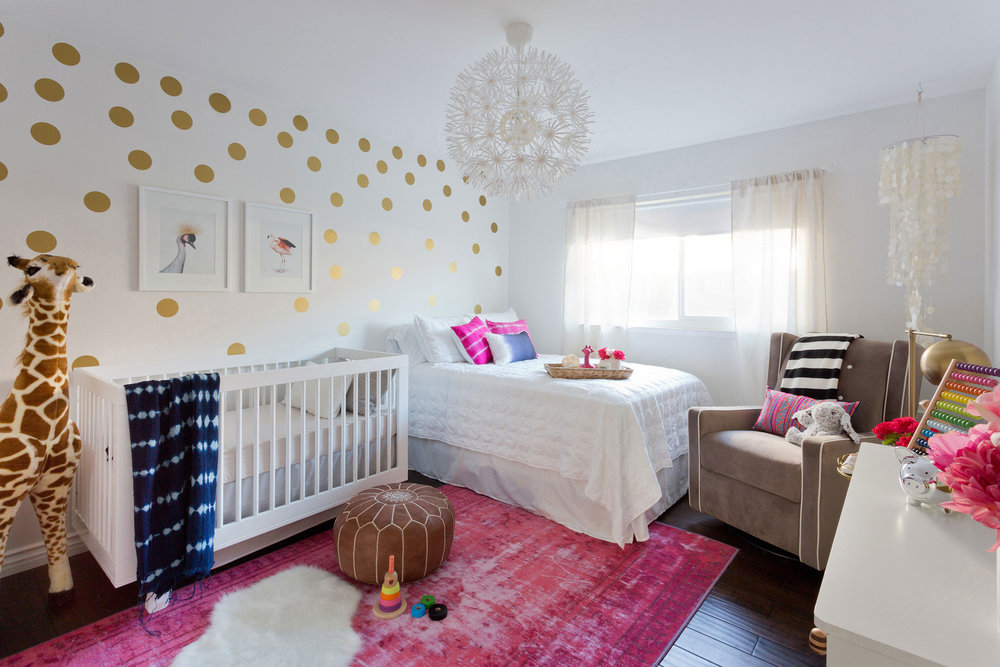 Soko Interior Design
That nursing chair immediately grabs your attention, but it is the center of the bohemian theme of this nursery.
Nursery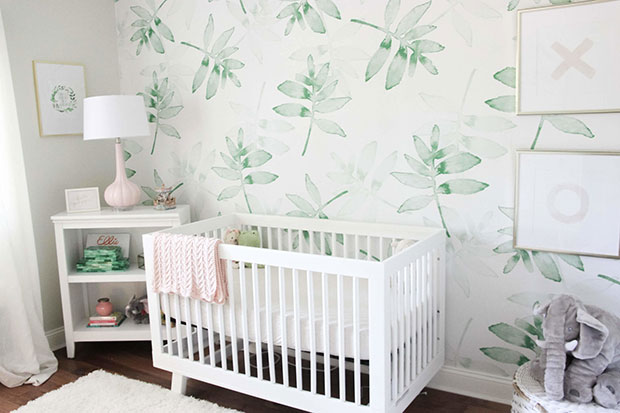 Inspired by Designs
Light shade of green is a cool and pretty alternative to the usual shades of pink commonly used in baby girl nursery room ideas.
Clipper Street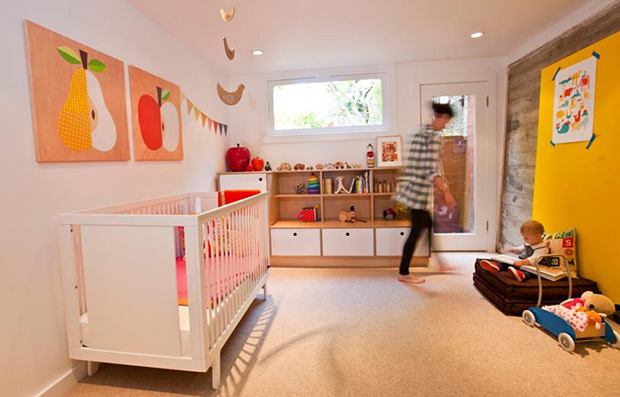 Red Princess Productions
With a minimal approach, this nursery room is looking neat and offers lots of space for the baby to crawl around.
West Hollywood Nursery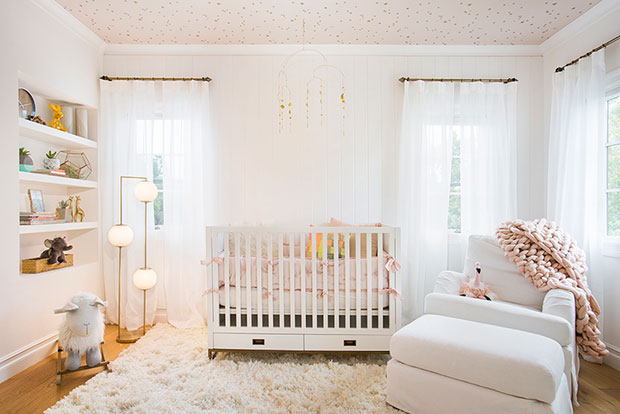 Wake + Loom
The fluffy rug is a must for nurseries, especially if you have hardwood flooring.
Mansion in May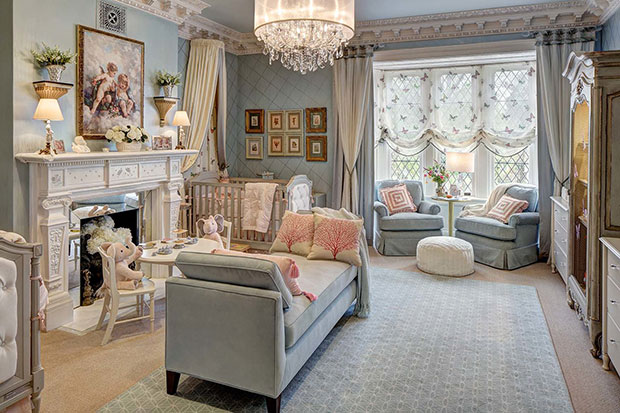 Interior Decisions Inc.
A traditional-style nursery that certainly looks like it belongs in a time long gone. But its sophisticated elegance is something to be desired for.
Hannah's Sophisticated Nursery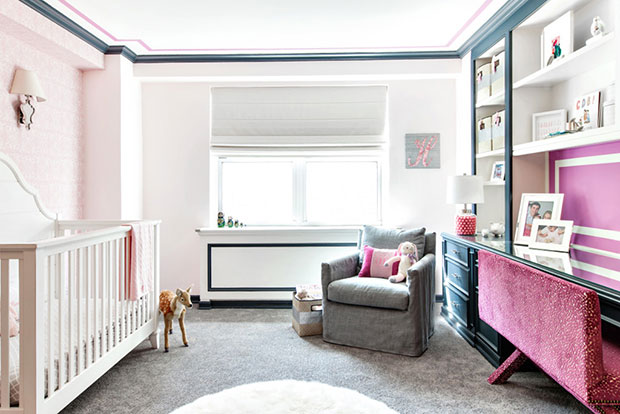 Touijer Designs
This sophisticated nursery is designed to be used further into the future what with a personal desk for the baby when it grows older.
What do you think of these baby girl nursery room ideas? Were there any that caught your attention?
Like This Post? Pin It!