50 Innovative Storage Beds You Need to Have
|
In recent years, we seemed to have found a new love for multifunctional furniture. Understandably so as it would help us preserve space and save some money. You can point at just about every piece of furniture in your home and find one that has multiple uses.
This is no different for beds. Storage beds are becoming an increasingly popular thing. With the combination of comfort and functionality, these storage beds are perfect if you need additional storage or if you are short on bedroom space for a separate storage unit.
Storage beds come in various stylish designs so you won't ever have to worry about them looking out of place or ruining the aesthetics of your room.
Is it good to sleep on a storage bed?
Yes! Since storage beds are built to have drawers or additional storage space, their structural integrity is guaranteed to be firm. These drawers, for example, can lend weight to the frame of your bed. In fact, storage beds are great for mattress stability which prevents accidents and makes sleep better.
Sleep experts even recommend pairing your storage bed with a latex mattress to maintain the natural alignment of your spine.
What should you not put in a storage bed?
As storage beds offer you additional storing space, you may be tempted to just store away anything you want in your bed's built-in storage. However, that shouldn't be the case! Experts say that you should only use these additional storage spaces for sleep-related items and that unrelated articles can hinder sleep.
But what exactly are the things you should not store in a storage bed?
1. Empty suitcases
Not only are they bulky, but storing empty suitcases just isn't practical when you can make use of them as well to store other things.
2. Bulky out-of-season clothes
Bulky seasonal clothes should not be stored here. You can get less or not bulky seasonal clothes that fit in.
3. Things used daily
It doesn't make any sense to put things you need to use daily even though most storage bed drawers are easily accessible. For ottoman-style storage beds, it would be such a hassle to lift the top every day. That's what your regular wardrobes should be for.
4. Anything you feel that needs to be stored or isn't labeled
Now, some people might take this opportunity to store just about anything in their storage bed drawers just in case you'll need it. Chances are you'll forget all about them. The built-in storage in your bed is not made for you to hoard things you'll probably never even use or need!
How do you clean under a storage bed?
Cleaning under storage beds is quite the challenge. Most storage beds are low in design so there isn't much space underneath that will allow you to use a broom or vacuum to clean. If your storage bed has feet, cleaning underneath it would be easy.
For the opposite, there are some creative ways you can do to clean underneath your storage bed. You can use one of those small robot vacuum cleaners. Or an electrostatic mop with a long stick to it to reach farther spots. More creatively, you can use a hair dryer to push out the dust out under the bed.
But every now and then, you must thoroughly clean under the bed and the simple methods mentioned are not enough. So, you are going to have to disassemble the bed 3-4 times a year. This is also a good way to ventilate both the lower compartment and mattress. Remember that you also must clean the bed frame underneath to remove dust and mold. You can use water and vinegar with a soft cloth and liquid sponge to disinfect the inside.
Now, let's look at some innovative storage beds you may want for your home!
Deyani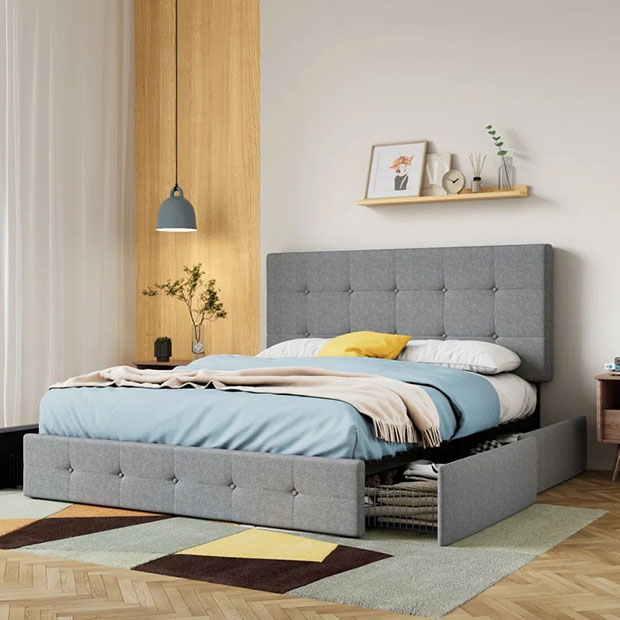 Bring some class and comfort together with an upholstered storage bed. On either side of the bed, you have two steel drawers that will give you much additional storage space.
Deenah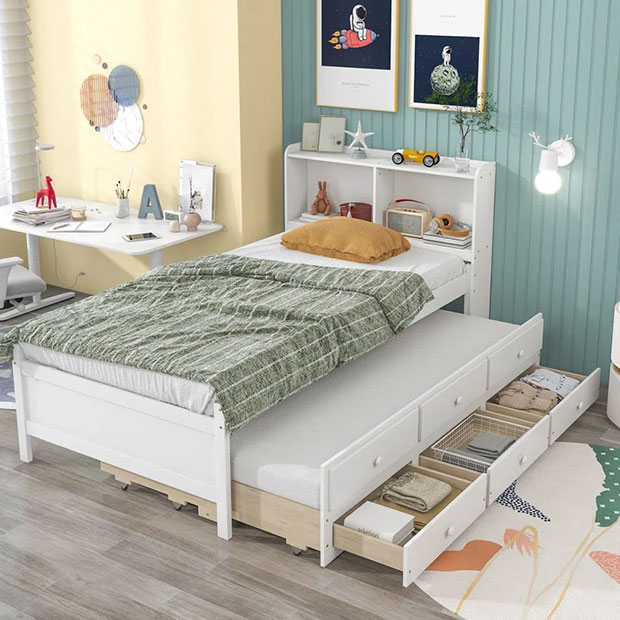 Winston Porter
Imagine having an extra bed space and storage space in one piece of furniture! This bed is surely perfect if your child is having a sleepover.
Krick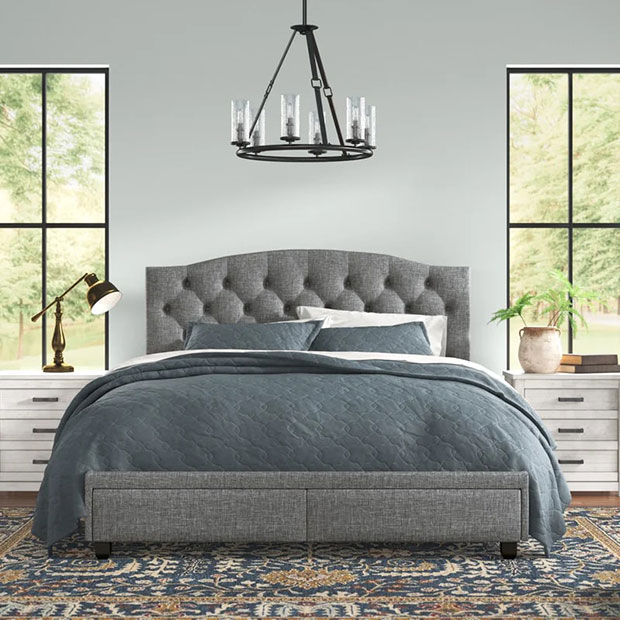 With a stylish design, you wouldn't have to worry about storage beds like this ruining your room's aesthetic. Its drawers are by the foot of the bed too so they are easily accessible and won't need to lift your sheets up for better access.
Mariel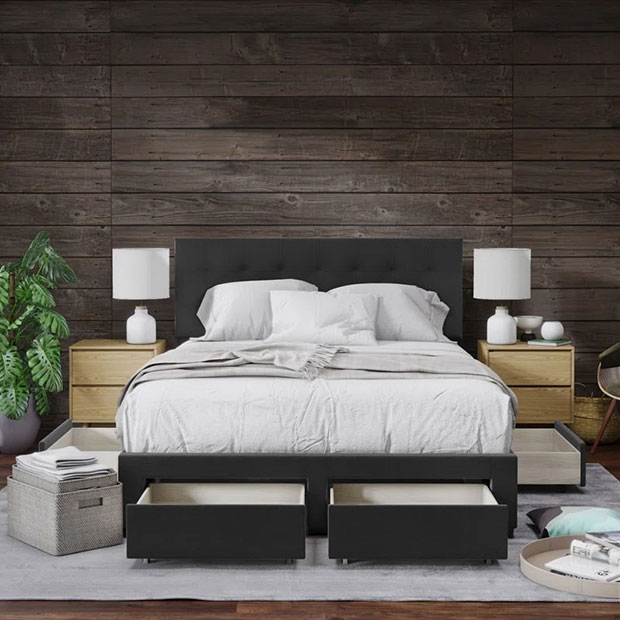 This bed is a great blend of traditional and contemporary design. It's perfect for those who want that traditional elegance but without looking outdated.
Ayotte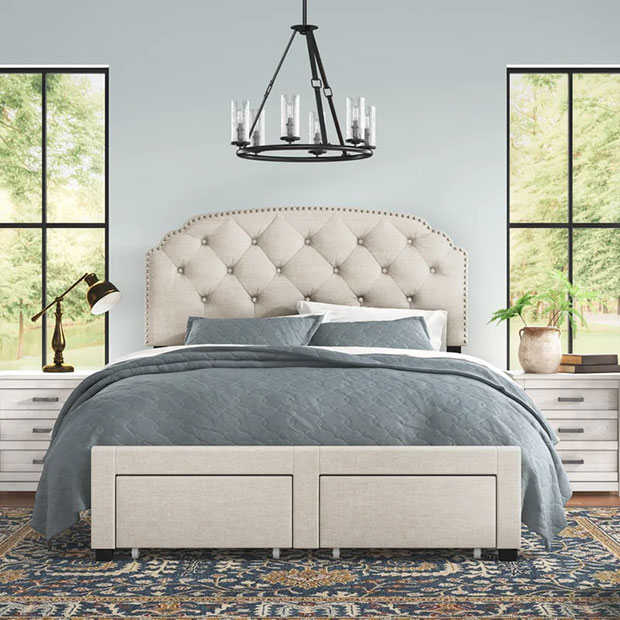 The nail head trim and button tufting come together with the eye-catching silhouette for one elegant storage bed design. And it has deeper built-in drawers that will surely fit extra linens and blankets.
Nebraska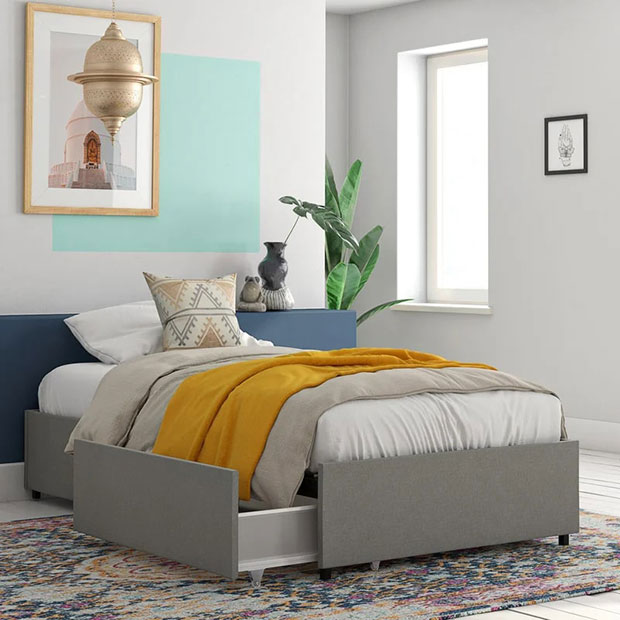 Due to its design, this storage bed's built-in drawers are subtle and provide ample storage space for extra pillows, linens, and blankets.
Esparza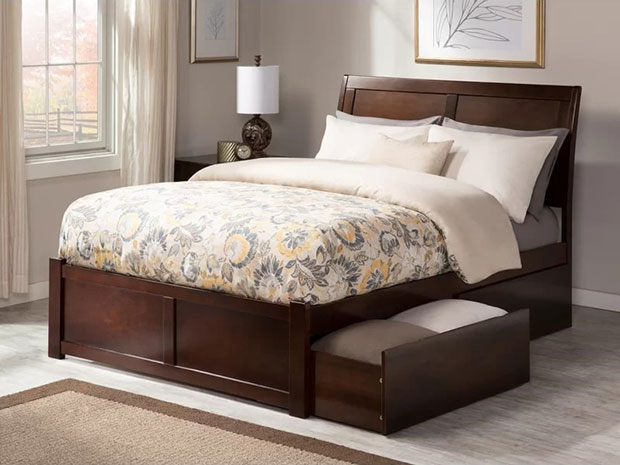 The sleigh-style headboard and panel details bring in a traditional appeal that you wouldn't want to miss. And unlike the upholstered storage beds seen previously, its solid wood frame and antique walnut finish definitely bring a bit of rustic charm.
Clements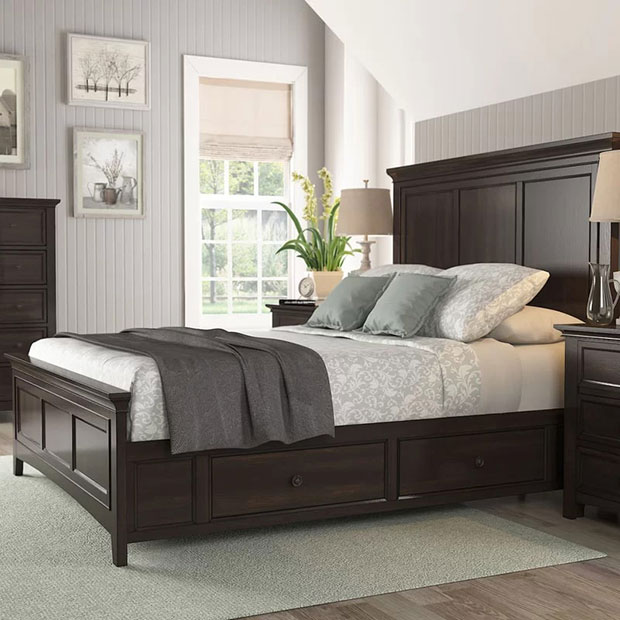 Another traditional storage bed design that will certainly elevate the look of your bedroom. In addition, it has two built-in drawers on either side of the bed.
Abernathy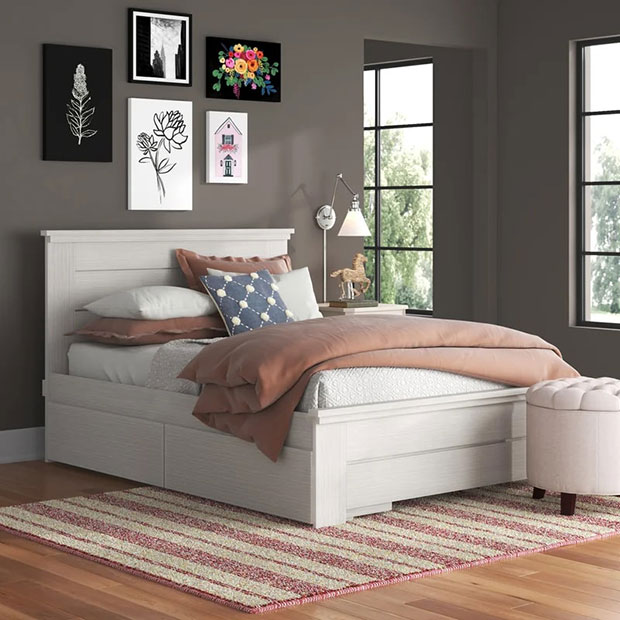 Three Posts
With a smaller headboard frame than the one above, this storage bed delivers just about a similar traditional appeal. But its natural wood grain will definitely make it appeal to modern farmhouse bedroom designs.
Milliken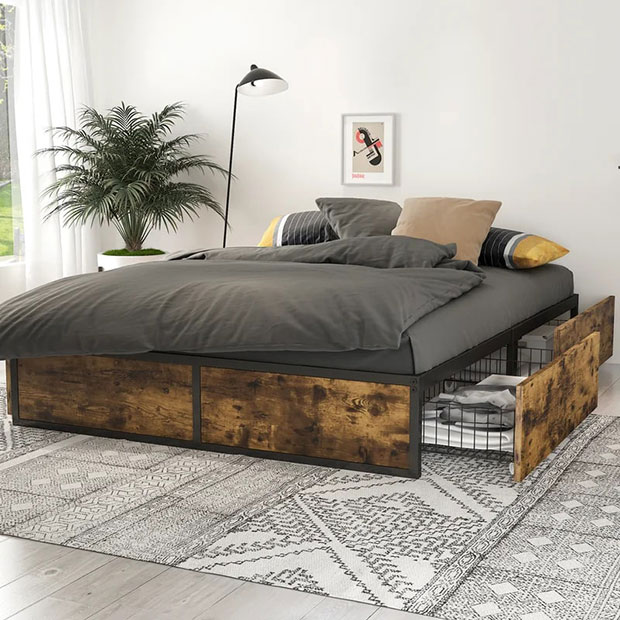 Steelside
This storage bed is a perfect blend of rustic and industrial styles. Such style and design will appeal to younger, more adventurous spirits out there.
Achillefs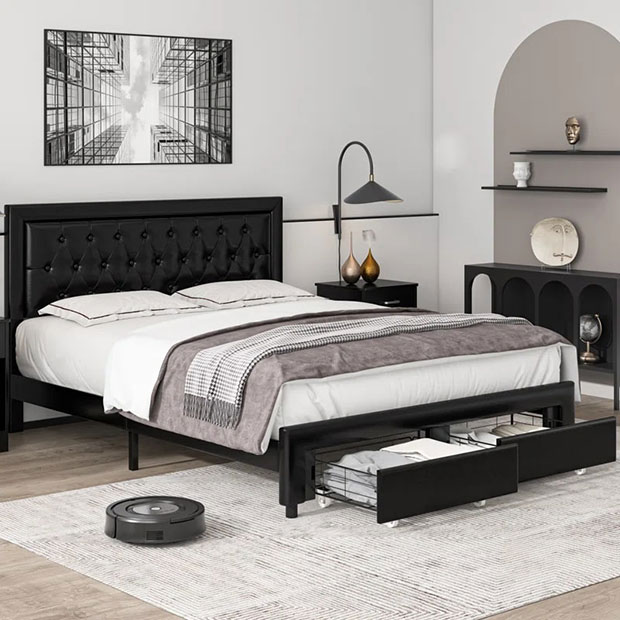 The foam-padded headboard brings some textural dynamic into this storage bed design. It's quite the eclectic design that will have the head turning.
Samarinda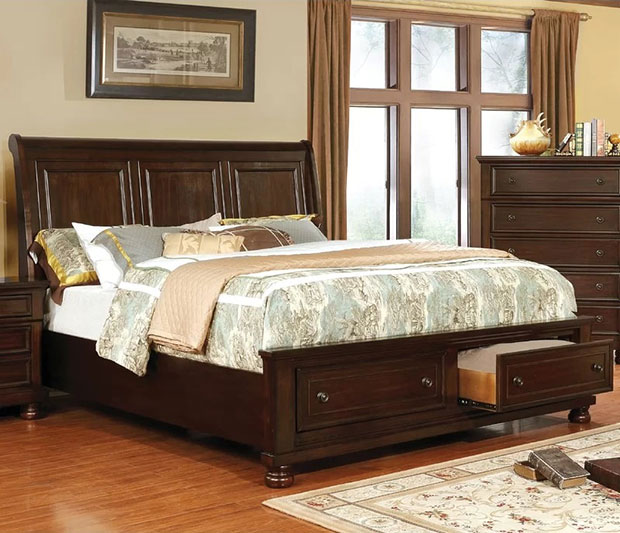 Lark Manor
This storage bed boasts exquisite ornate details from the headboard to the feet. It's one of the more beautiful designs, and even more useful with the built-in English dovetail drawers.
Seliga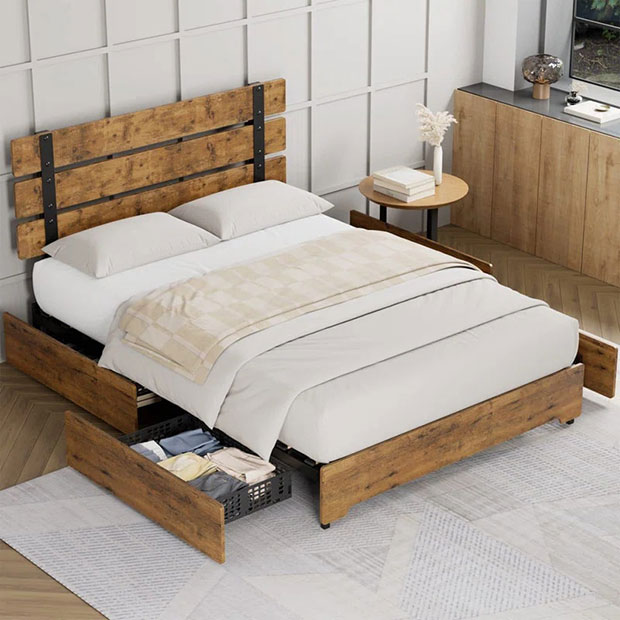 Millwood Pines
Do you have a rustic-themed bedroom design? This storage bed design will definitely fit right in. It also has some industrial charm in it that would fit perfectly in loft-style bedrooms.
Mahn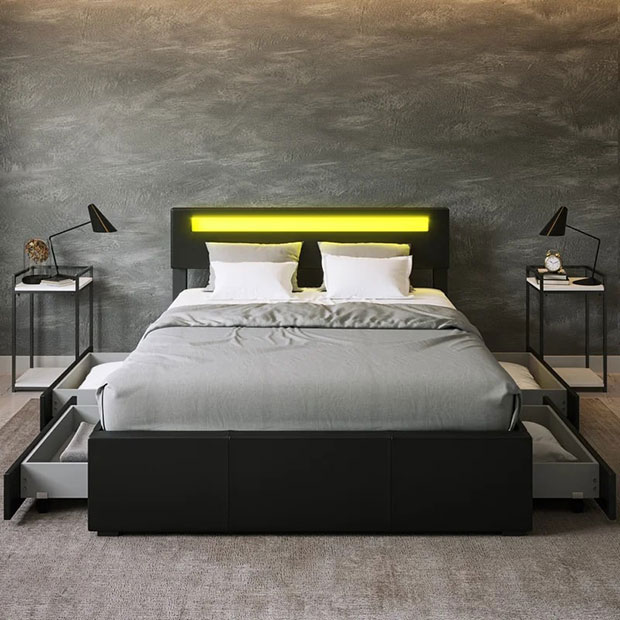 Even storage beds can look so futuristic. With a remote controlled-LED headboard, streamlined modern style, and black faux leather upholstery, this storage bed presents the perfect image of a novel and sleek design.
Mahurin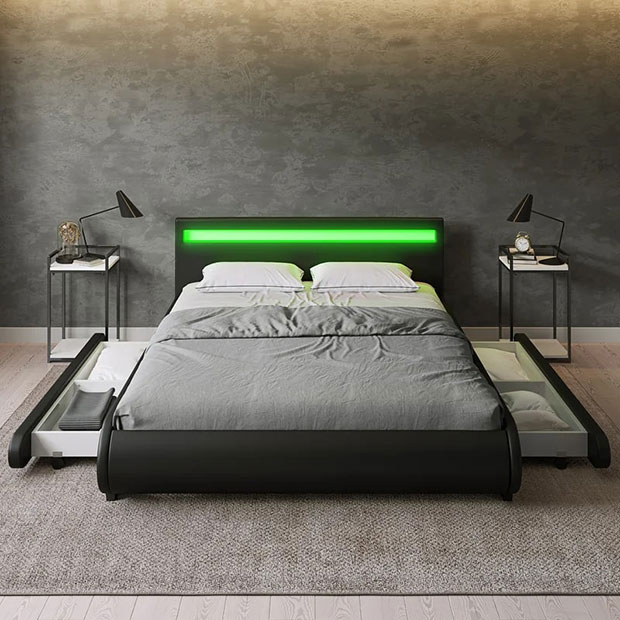 Due to its curved edge design, this storage bed looks even more futuristic-looking than the one above. And instead of four separate built-in drawers, there's a long drawer on each side.
Ellenburg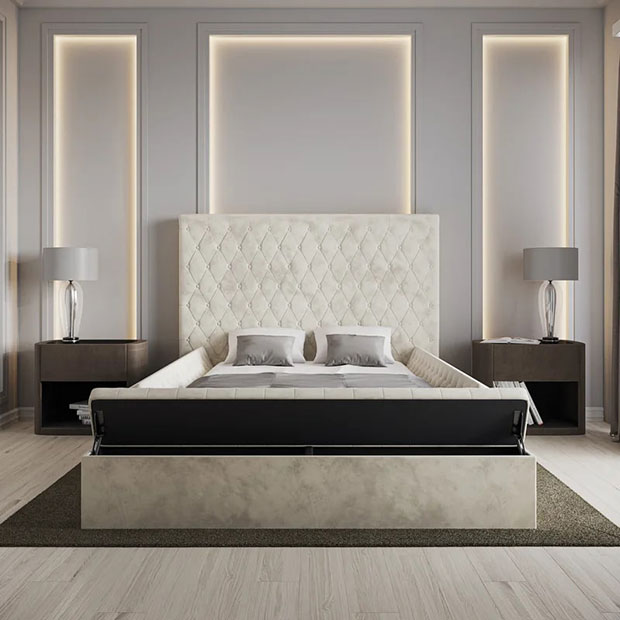 Most storage beds you will find have built-in drawers-style for their storage compartments. But this bed has an ottoman-style storage design on three sides!
Caralynn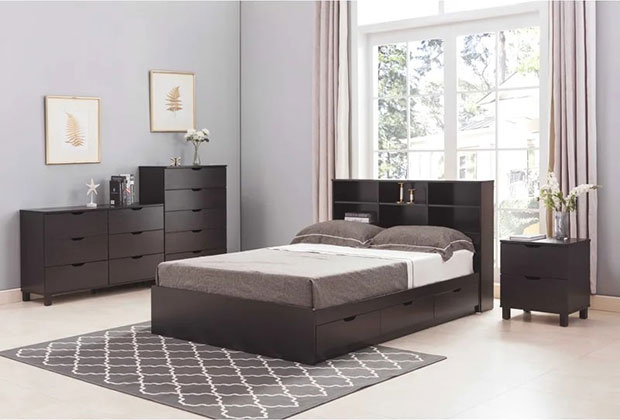 Wade Logan
This storage bed design allows you to store and display things other than linens and such thanks to the bookcase headboard. Just be careful you don't put things that could hurt your head when and if they accidentally fall from the shelves.
Tantallon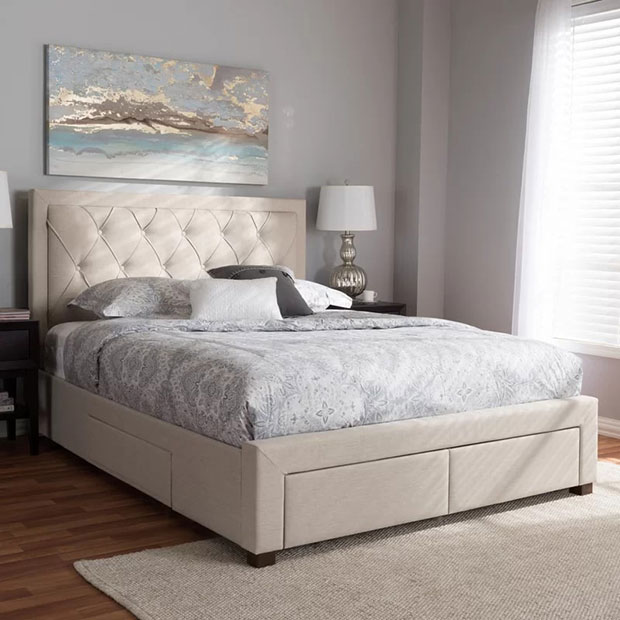 The foam-padded, button-tufted panel on the headboard adds a touch of luxe and glam to this storage bed design. And as a bonus, it has a total of four built-in drawers!
Custodio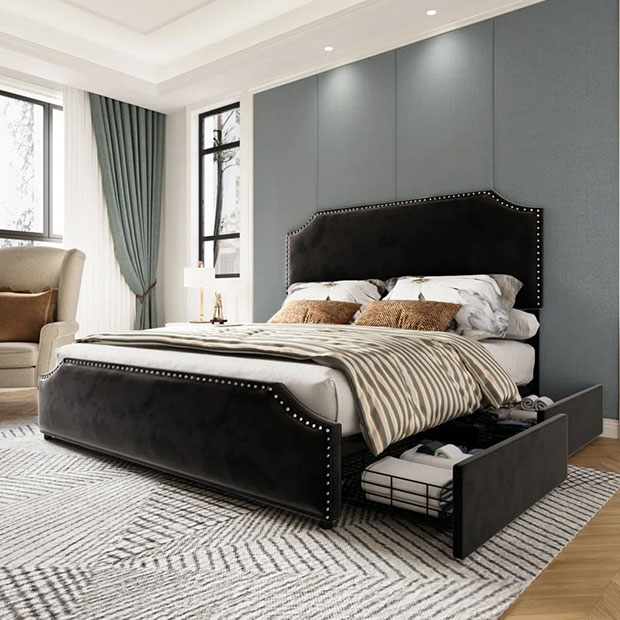 Rosdorf Park
The nailhead trim plus the velvet upholstery bring together a sophisticated and luxurious look to this storage bed.
Bret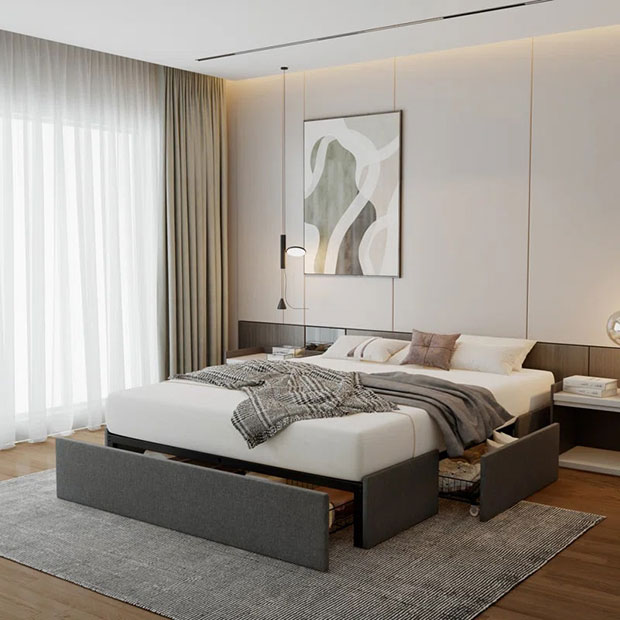 The simple yet sleek design allows for the built-in drawers to seamlessly blend in with the bed's frame. A minimal design that's perfect for minimalists.
Cletus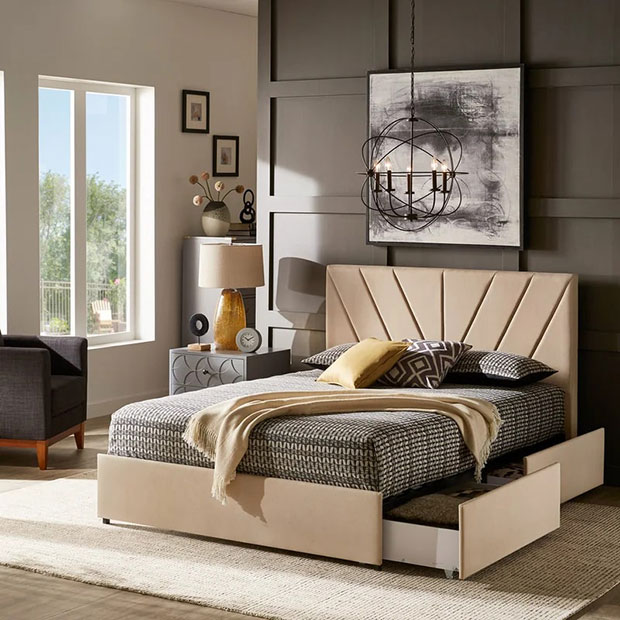 Mercury Row
In a sea of storage beds with button-tufted headboards, this V-shaped channel headboard is a refreshing and timeless look.
Schreffler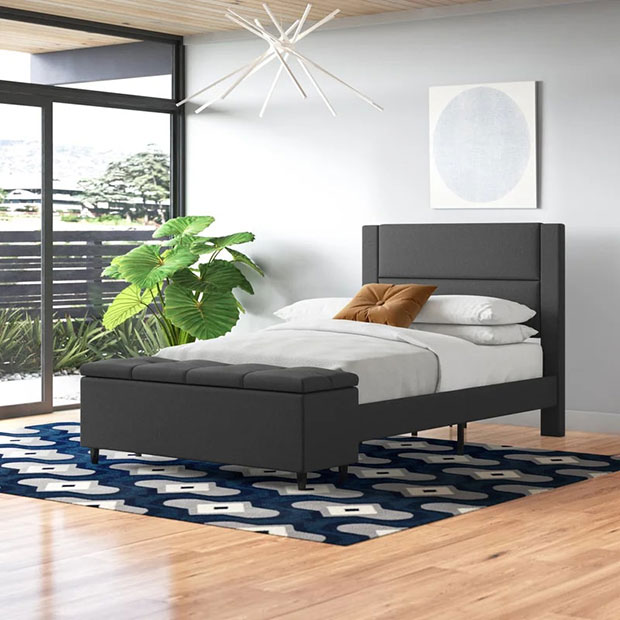 The attached ottoman does not only provide additional storage space but is also a bonus seating.
Sariel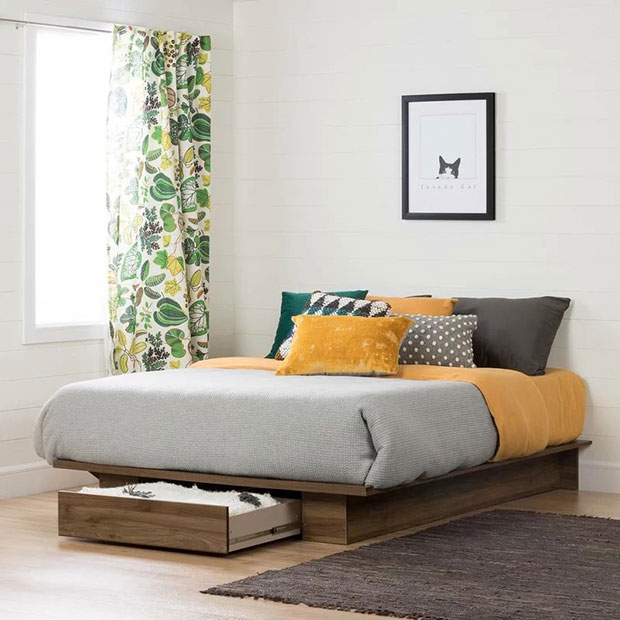 Ebern Designs
A simple modern storage bed with a unique frame design, perfect for the minimalists out there.
Lowall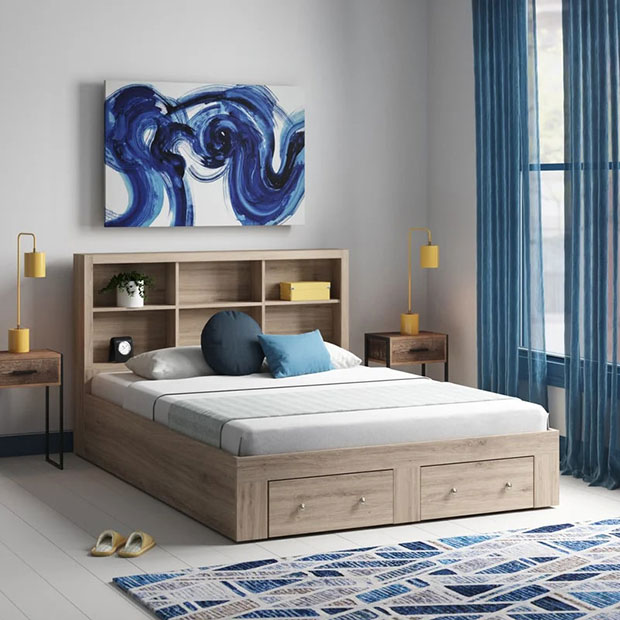 Zipcode Design
Storage beds with bookcase headboards are perfect for your kids who wish to have their favorite things close by. And then, there are still built-in drawers by the footboard for more storage.
Dianka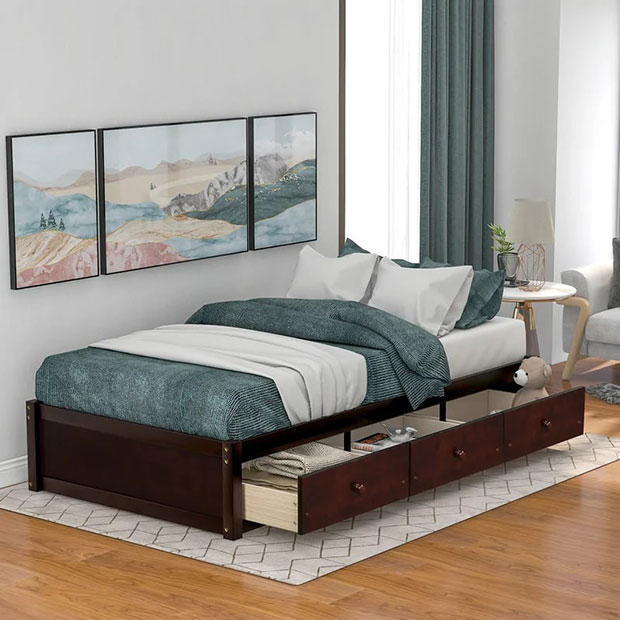 With both rustic and industrial charm, this storage bed is perfect for minimalists who also don't have the luxury of space in their rooms.
Braham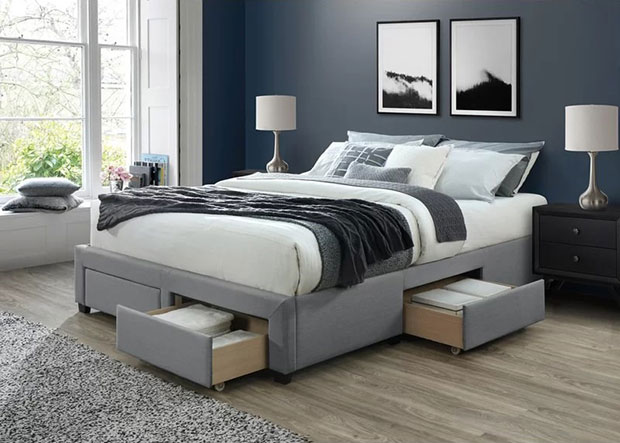 This storage bed is perfect in both transitional and modern bedroom designs. In contrast to the Tantallon one, where the drawers by the footboard seamlessly blend when shut, there is a clear divide here.
Aadya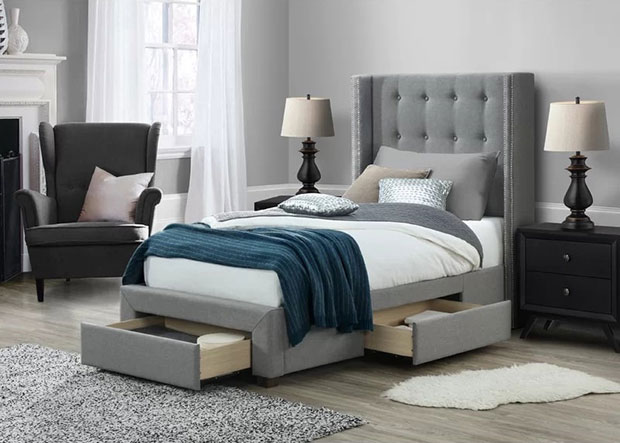 The winged headboard is a nice touch that brings a bit of elegance and sophistication to the overall look of this storage bed.
Helladius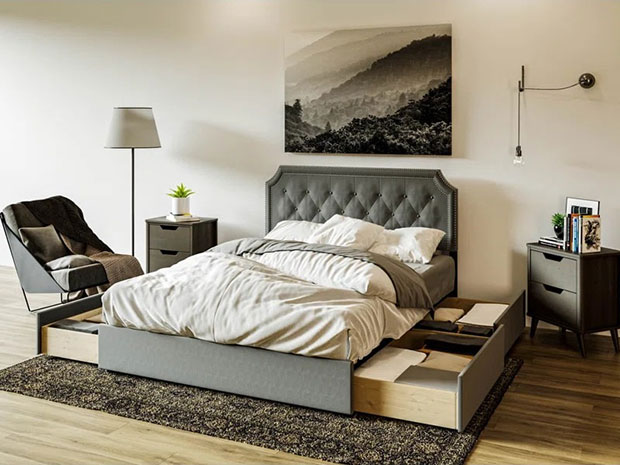 The curved corner design, plus the nailhead trimming and button tufting, of the headboard brings much-needed personality to the overall look of this storage bed.
Anatole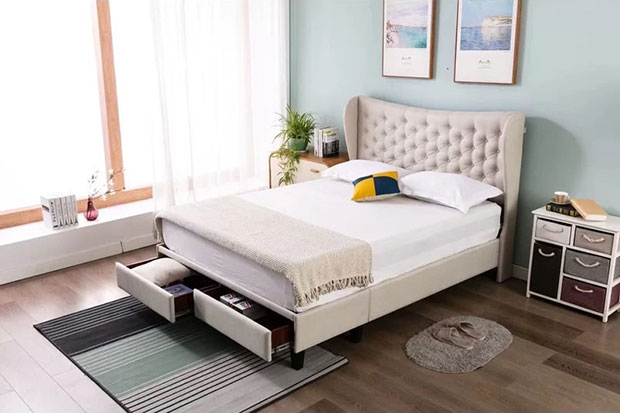 Red Barrel Studio
The tufted headboard is a nice contrast to the rest of the plain upholstered frame. It definitely defines the style of this storage bed.
Quitaque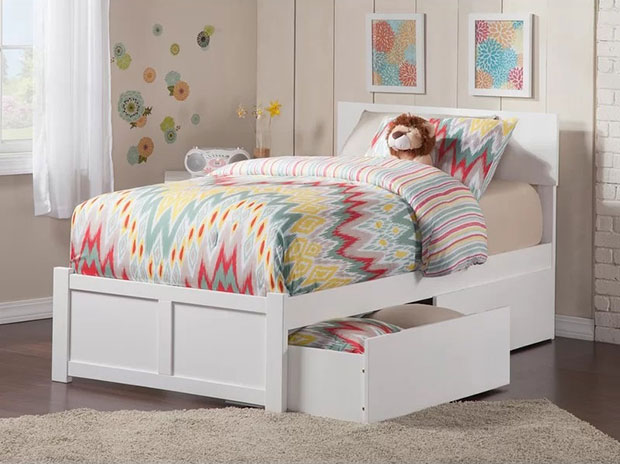 Storage beds for kids are especially perfect when they are minimalist and built with clean lines.
Quitaque 2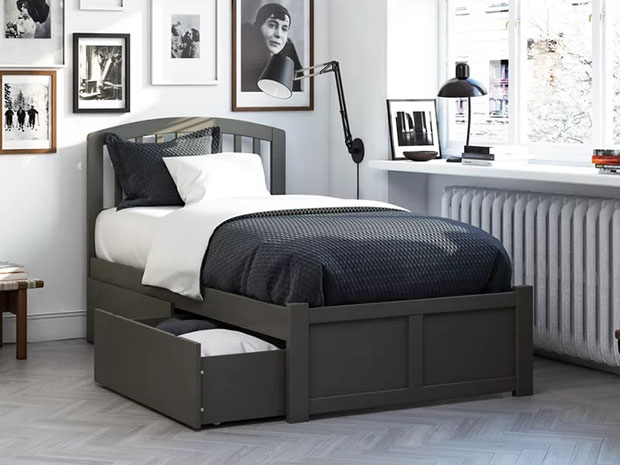 Rather than a plain headboard or headboard-less storage bed, this one includes a traditional-style headboard.
Alivio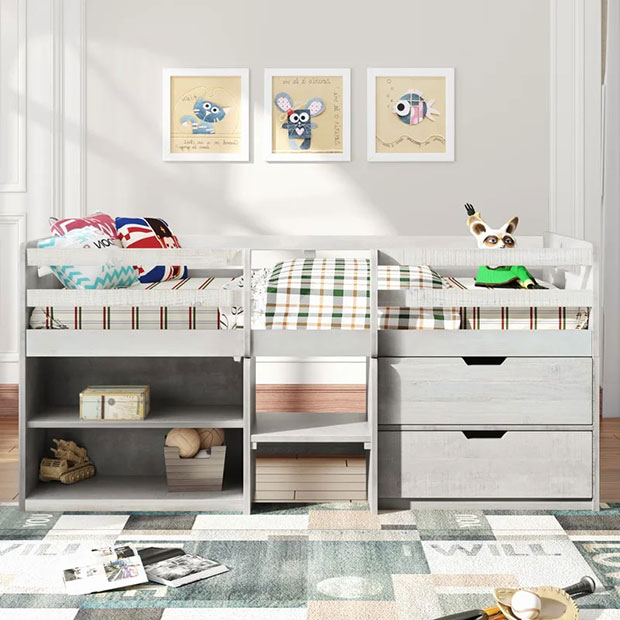 Harriet Bee
For the more adventurous kids, a loft-style storage bed is a perfect bed choice. Plus, it provides plenty of options for storage for the kid.
Fusion Mates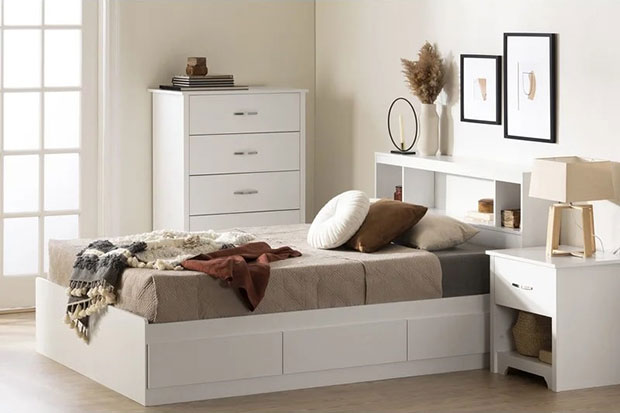 This simple and minimalist design can fit in just about any bedroom design style. Other than the bookcase headboard, it has drawers that are raised, in comparison to most of these storage beds' drawers with wheels.
Fusion Queen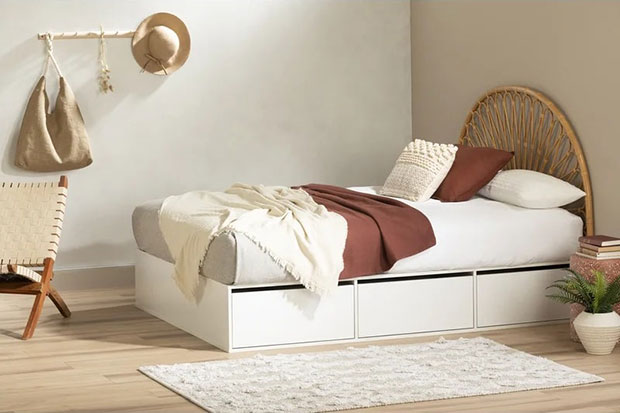 South Shore
The unique headboard design brings a country farmhouse charm into this, otherwise, contemporary storage bed.
Abril
The different finish on the headboard's frame is very refreshing and gives it a more mid-century modern look.
Dipansu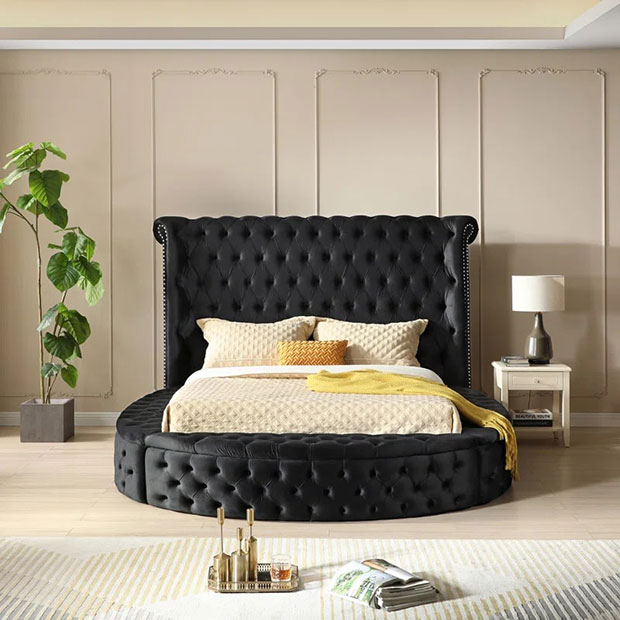 House of Hampton
We've seen rectangular storage beds. Now, how about a round storage bed? The shape alone will certainly require a bigger space to accommodate it. But foam-padded, velvet upholstery already screams luxury. Also, notice its ottoman-style storage compartments.
Sheridan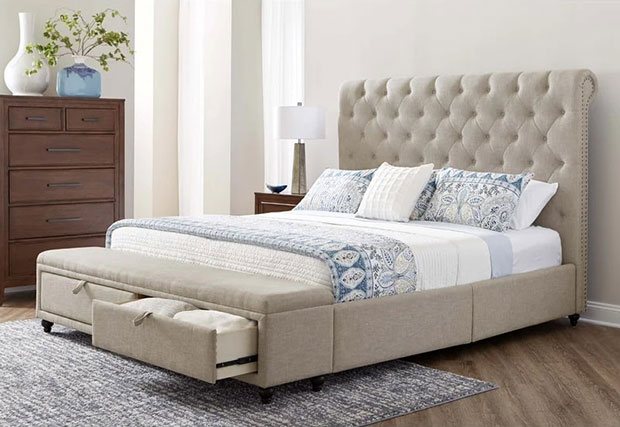 Lane Furniture
That little pull string is a nice additional touch to make it easier to pull the drawers out. But it's also a little unique and eccentric detail.
Caitbrook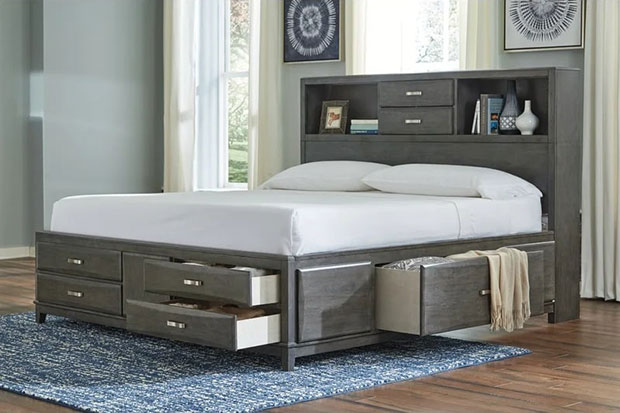 Signature Design by Ashley
The contoured drawers are nice little design details that truly add more personality to this storage bed. The variation in sizes of the storage compartments also allows you to store a variety of things.
Vedant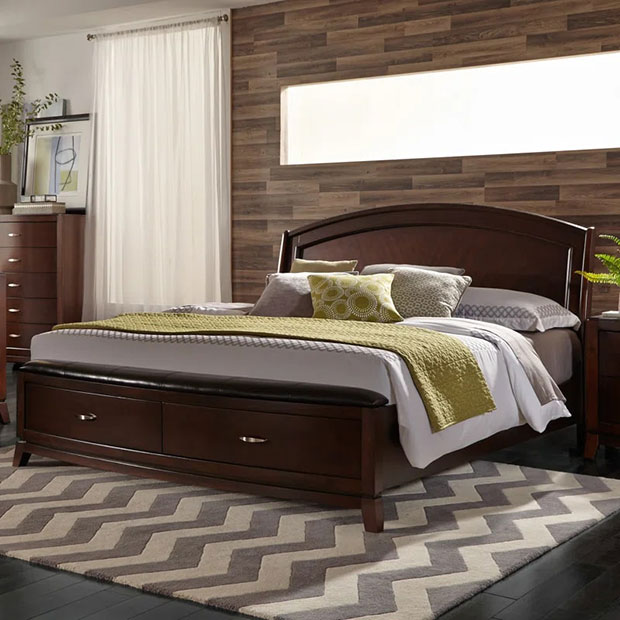 Darby Home Co
This storage bed has such a beautiful silhouette and an even more beautiful finish. You also can't help but notice the padded footboard.
Perera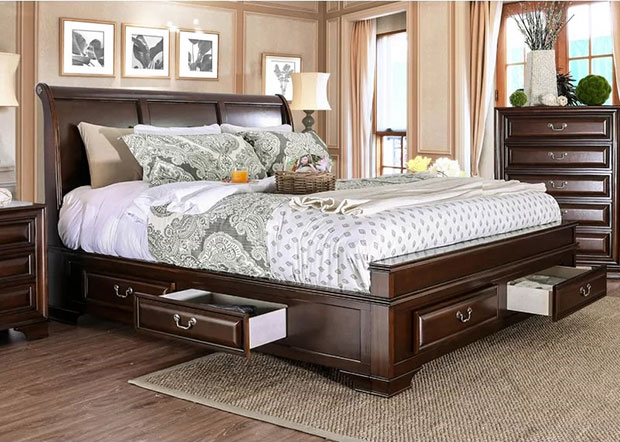 Charlton Home
Every little fine detail in this bed design overshadows the fact that this is a storage bed. With the drawers even having intricate finishes, you would not think these are functioning drawers.
Jetties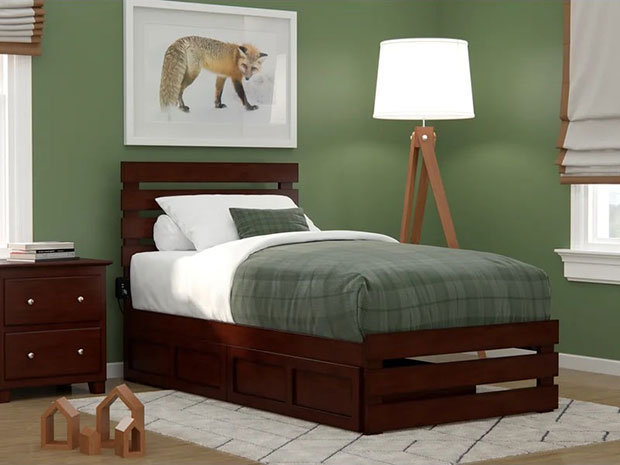 Sand & Stable Baby & Kids
The horizontal slat headboard and footboard and the drawer panel design create a nice blend of traditional and farmhouse for this storage bed.
Upholstered Platform Bed with Hydraulic Storage System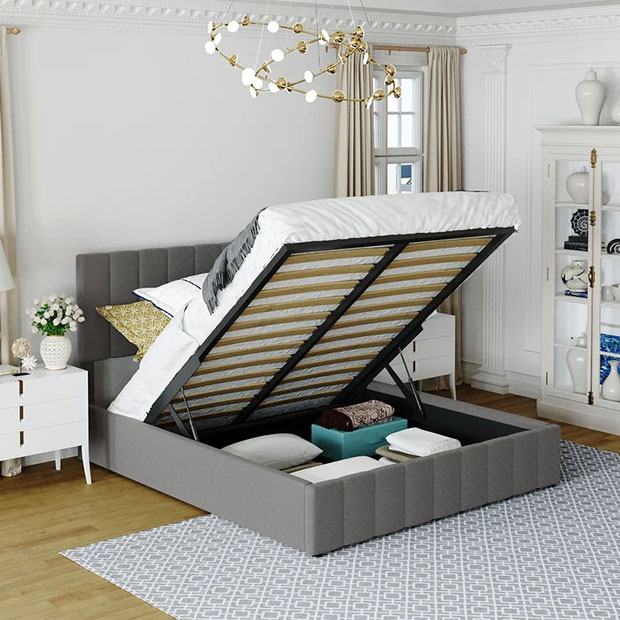 Latitude Run
This storage bed has quite a unique storage system. Instead of drawers or even ottoman-style compartments, this has a hydraulic storage system in which you'll have to practically lift the entire bed to access whatever you had hidden under your mattress. Talk about being inconspicuous.
Peirce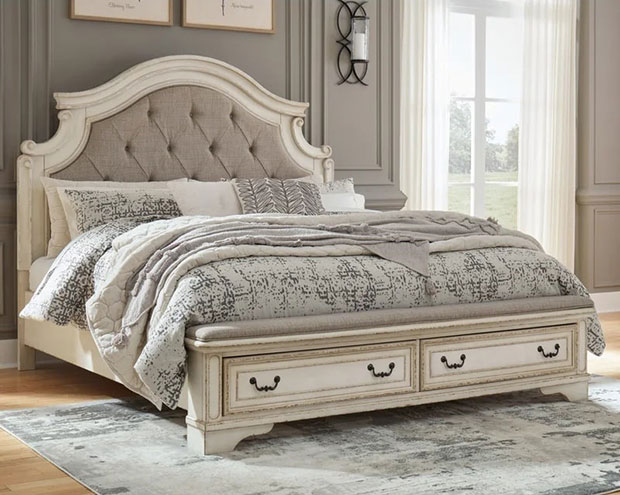 Ophelia & Co.
Truly, there is a storage bed design for just about every design style. Here's one that will fit in with shabby-chic bedrooms.
Gael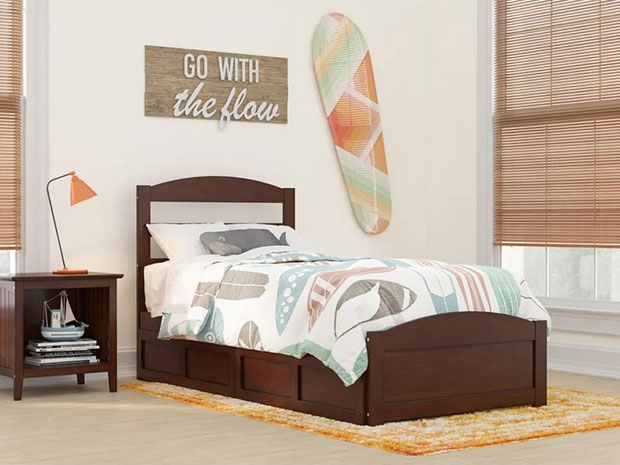 Andover Mills Baby & Kids
Thanks to the headboard, this storage bed has an overall classic look, perfect for those who want to keep it simple but still chic.
Cassanora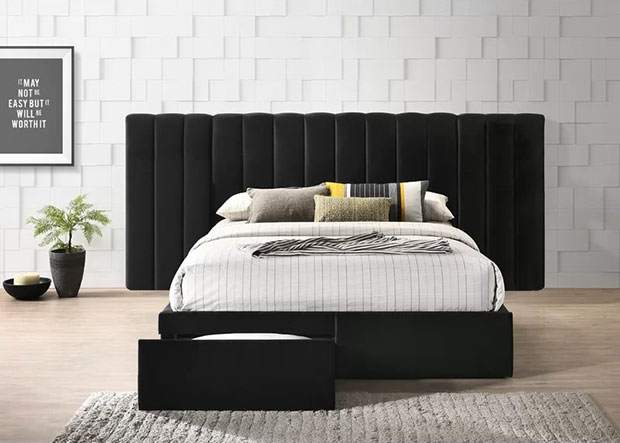 Mercer41
The long headboard design definitely will require you to have a bedroom layout that would accommodate it.
2016 Home-A-Rama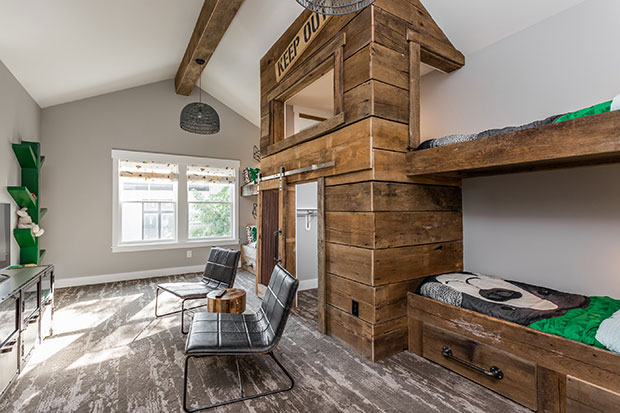 G&G Custom Homes
One of the ways to own a storage bed is to have a custom-built bed like in this home. Though, this will probably cost you more than simply buying a storage bed in your closest home depot.
Karson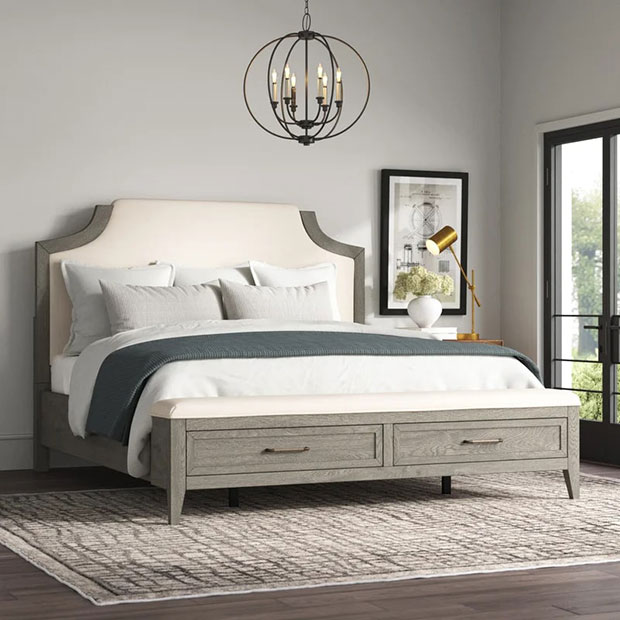 Greyleigh
The wood distressing finish is a nice touch that goes along well with the natural wood grain color variation. Overall, it gives a sophisticated and classy look.
Cuvier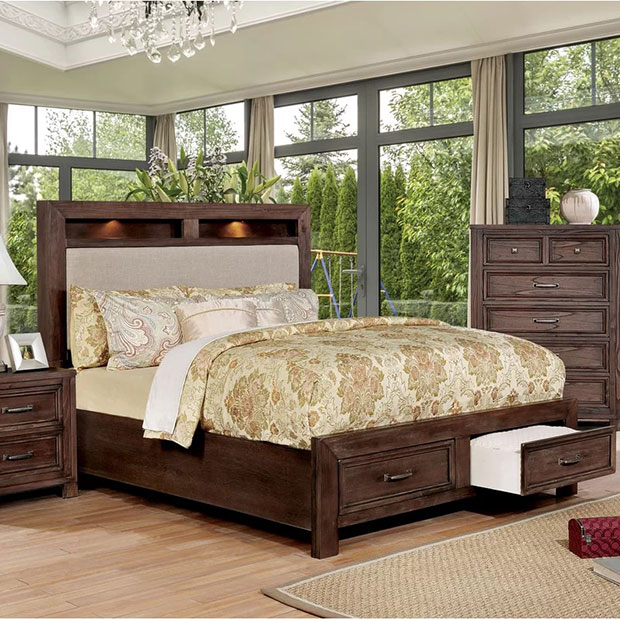 Loon Peak
The LED touch lighting feature is a surprising but welcomed addition. It gives it a contemporary update to an otherwise transitional storage bed design.
Rittenhouse Square Condo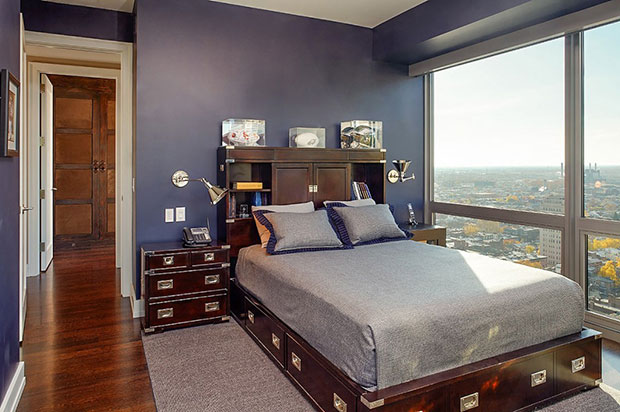 Orion General Contractors
The beauty of custom-built storage beds is that it truly caters to one's personality. Much like this storage bed, in particular.
Mid-Century Modern Family Remodel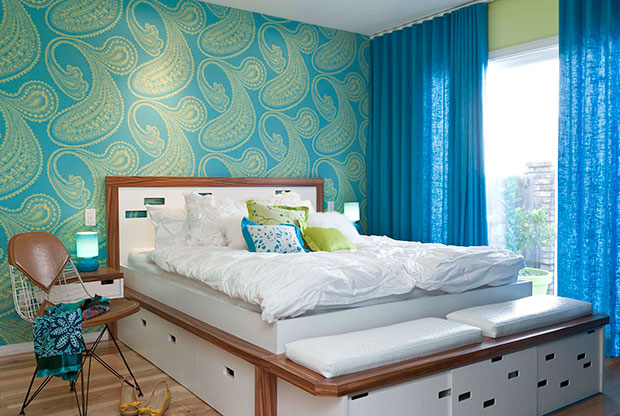 Kristy Kropat Design
One of the most unique storage bed designs with its eclectic details. The holes on the panels serve like knobs to push and pull the drawers.
That's all for our selection of storage beds you are going to want for your own bedroom!
Like This Post? Pin It!