55 Daybed Ideas for Living Room for a Relaxing Setup
|
Daybeds are multifunctional furniture pieces that could be very useful, especially in small living rooms. They are something like a cross between a sofa, bed, and chaise. This makes them perfect as additional seats for a social gathering, the perfect spot for a nap, and an extra sleeping bed for when friends crash for the night.
Functionality aside, there is no shortage of assortment of daybed ideas for the living room.
Are daybeds out of style?
Hardly. Back in 2020, daybeds were one of the trendy furnishings, and they still continue to be trendy pieces in interior design! Due to its versatility, it can be found in any room of your house. But you will find that are plenty of suitable daybed ideas for the living room.
How can I make my daybed look good in my living room?
Daybeds don't take too much to the style and make them look good in your living room. Here are steps you can take to style your daybeds!
1. Color palette
The first step to take is considering the color palette of your living room. Match your daybed, including linens and such, with the color scheme existing in your living room.
2. Material
A cool assortment of daybed ideas for living rooms also means their frames can be made from different materials such as wood and metal. Pick one that suits your taste and the energy of your room.
3. Throw pillows and blankets
One of the easiest ways to style a daybed in a living room is to style it like you would with a sofa. Adding accent pieces like throw pillows and blankets helps customize your daybed to your style and the living room's overall theme.
4. Room placement
The room placement of your daybed also plays in its styling. A daybed can be a focal point in your living room. But if you have a bigger sofa, then that should be the focal point. In this case, the daybed would be better as a window seat, for example. If it's your focal point, make every other piece of furniture in your living room smaller.
5. Décor
Since the daybed also acts as a sofa in a living room, decorate it like you would with a sofa. Bring decorative pieces around it like a coffee table or a side table.
How do you make a daybed look like a sofa?
As mentioned, any daybed idea for the living room always functions as a sofa, if not a bed or a chaise. But due to its versatility, it doesn't quite look like a sofa. So, how do you style a daybed to look like one?
Here are 6 easy tips to make your daybed look like a sofa:
1. Pillows
Add two or three large pillows on the long side of the daybed. This will hide some depth and make the daybed look smaller. In terms of function, they can be used as a backrest if your daybed doesn't have one, making seating on a daybed a lot more relaxing.
If you want to add some layers, you can add smaller throw pillows after the large ones. Put one on each end of the daybed.
2. Throw blankets
Traditionally, throw blankets are expected in sofas. So, throw in one for your daybed too! It will make the space inviting and cozy.
3. Coffee table
Much like with pillows, coffee tables can make a daybed look smaller and look more like a sofa. Moreover, coffee tables are practically staples in any living room.
4. Side table
Similar to nightstands for regular beds, side tables for daybeds also provide space for decorative pieces or additional storage.
5. Bed skirt
This idea is very convenient especially if the daybed of your choice has a trundle. Bed skirts will hide the trundle and additional legs, creating a clean look. Match the bed skirt with the bedding and pillows of your daybed and with another décor in the room.
6. Ottoman
Ottomans and footstools can be a great addition to go along with your daybed to make it look like an inviting place to sit like a sofa. Ottoman themselves could be extra seating. In addition, some ottoman designs also carry storage compartments with them so it would truly be a nice addition to your living room.
Daybed Ideas for Living Rooms
Now, let's check out some daybed ideas for the living room!
Chadlee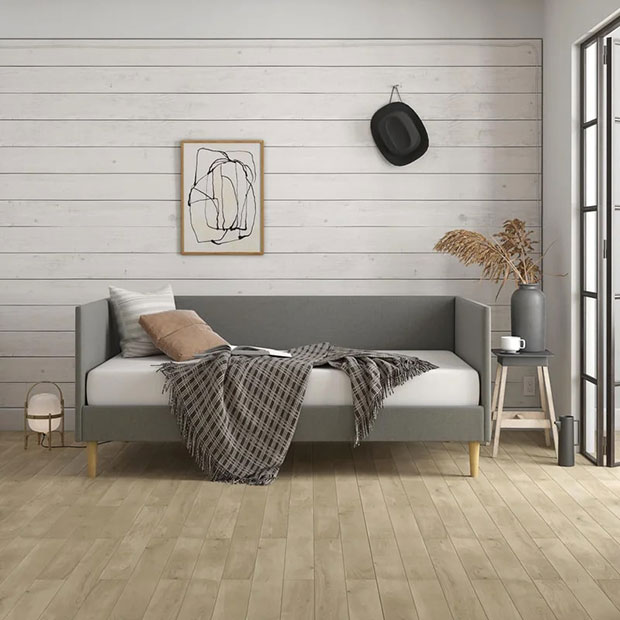 Mercer41
The slim form makes this perfect for small spaces. Not only that, but its mid-century style will certainly fit in modern homes.
Barrett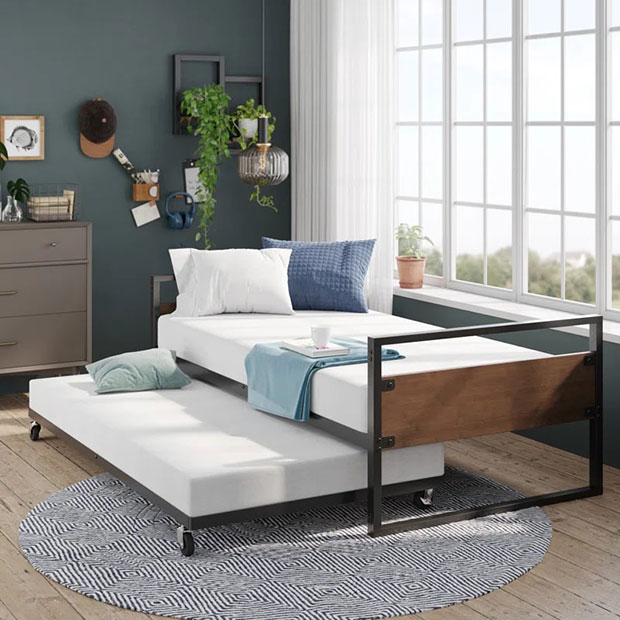 Trule
Bring some modern industrial charm with daybed ideas for living rooms like this. There's even a trundle that you could easily hide underneath.
Idaho Residence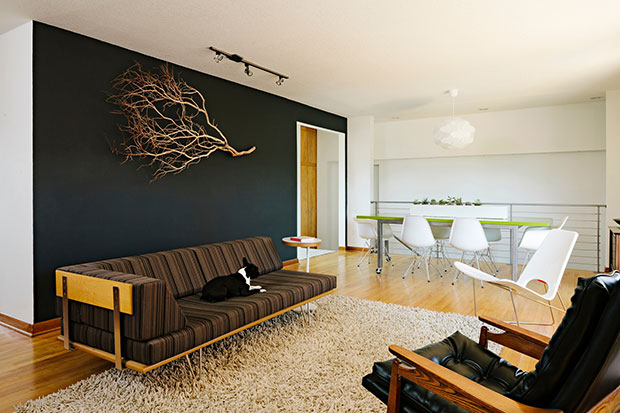 Transom Design Build
Cool contemporary daybed ideas for living room will surely make your home urban and trendy. Just take a look at these more modern daybed designs.
Aesop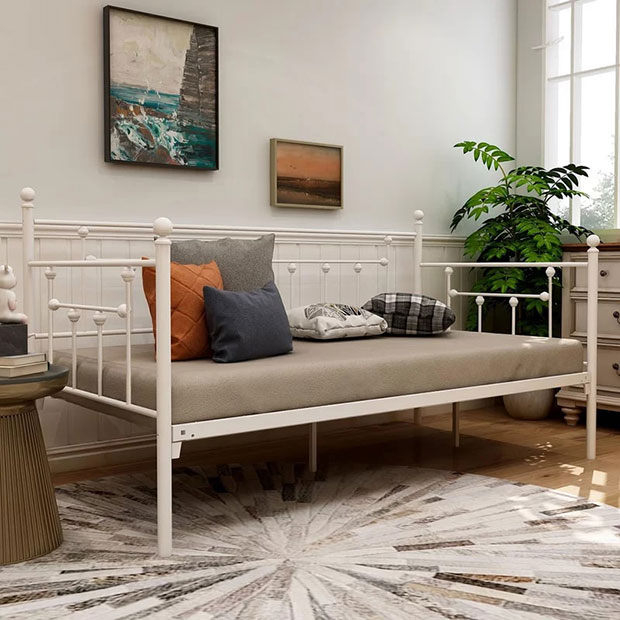 Here we have a more traditional-looking daybed with its simple design and little ornate details. This is perfect if you're not planning on having your daybed as the focal point in your living room as it is not too flashy.
Schwenksville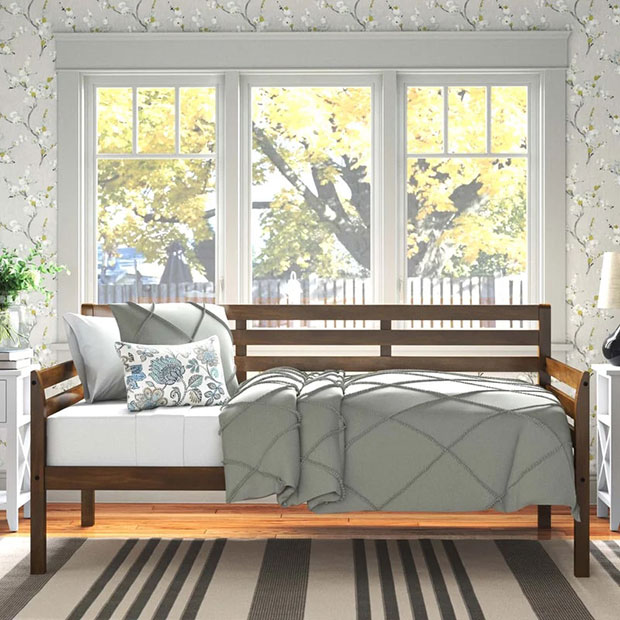 You will find many daybed ideas for living rooms with beautiful finishes and clean lines like this. If you want a simple but sophisticated daybed design, this one's for you!
Schwenksville Twin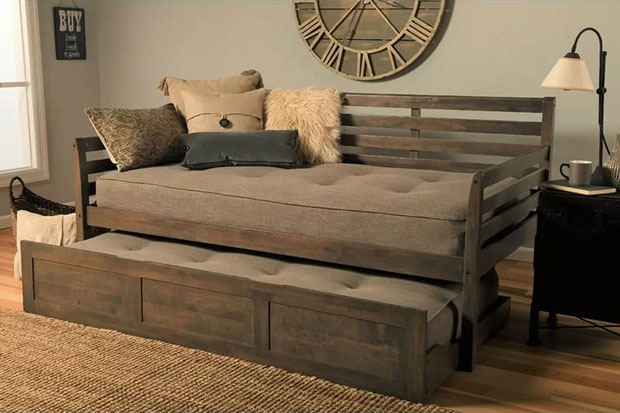 But if you're looking for another extra to an extra bed, here's one with a trundle. The trundle design makes it easy to hide your mattress, making your daybed look like a rustic-framed sofa.
Kilgore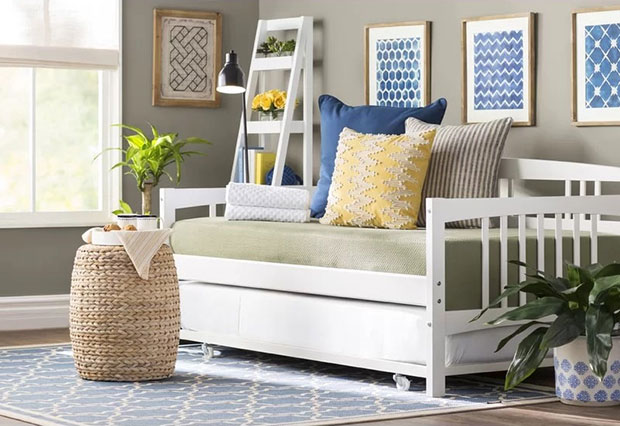 You will find those daybed ideas for living rooms have a great assortment of frame designs. This one has a simple but cute design that would be perfect for preppy-looking living rooms.
Kirstan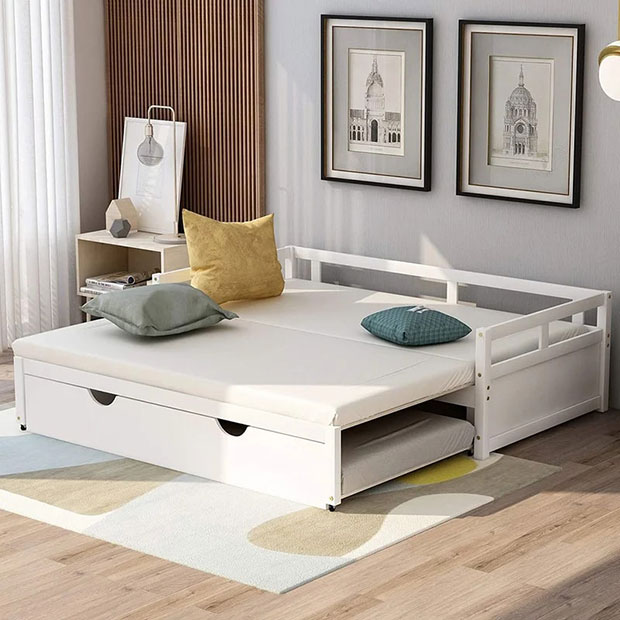 Red Barrel Studio
Most daybed ideas for living room can only accommodate 1-2 extra people. This particular daybed can have 3 people sleeping side by side, perfect for when you have sleepovers.
Plunkett Twin Daybed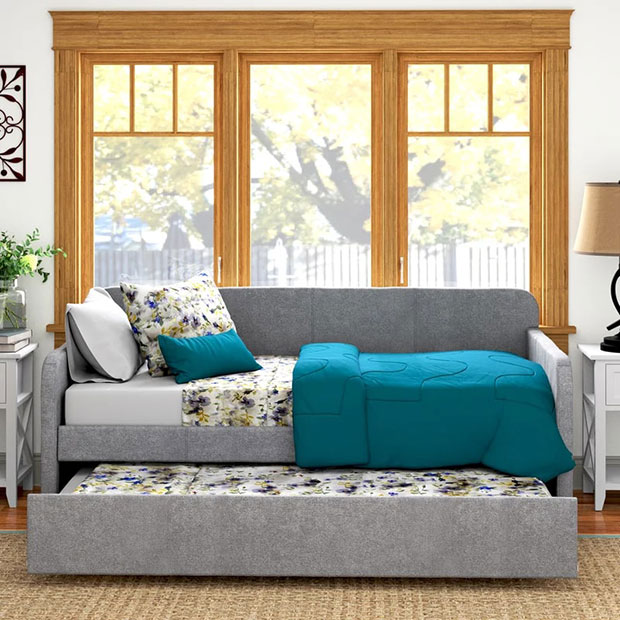 The clean lines and seamless design hide the trundle, allowing for this daybed to look just like a regular sofa.
Seraphine Twin Daybed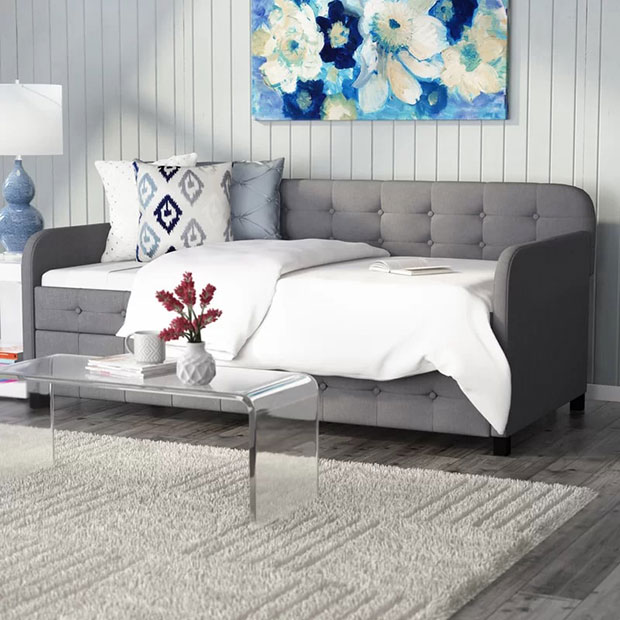 The tufted design is a great detail that commits to the sofa-like appearance of daybed ideas for living room.
Hitz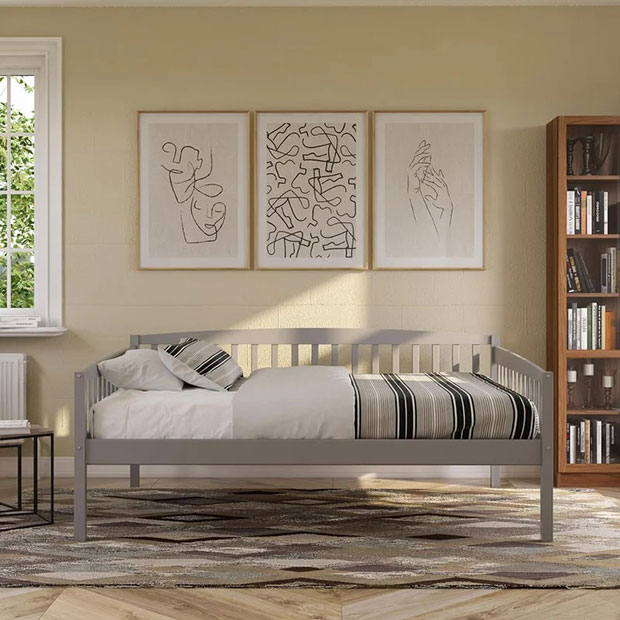 With its elevated design, it provides plenty of space for you to put bins and boxes underneath this daybed.
Alayna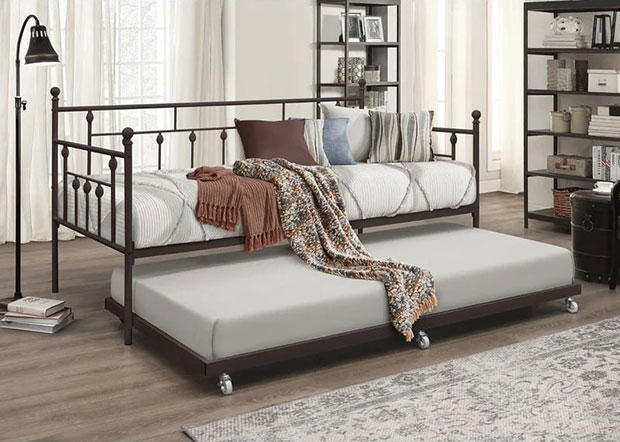 Daybed ideas for living room with wheeled trundles are pretty convenient, especially if you want to place the trundle bed somewhere else in your home.
Parnassus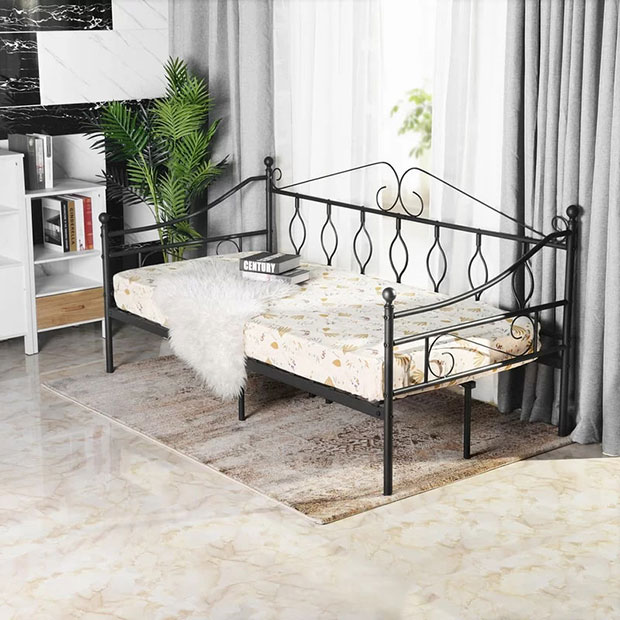 Andover Mills
The scrolling design and fine details of the frame make this daybed ideal for traditional and country-style living rooms.
Creatively Cohesive Studio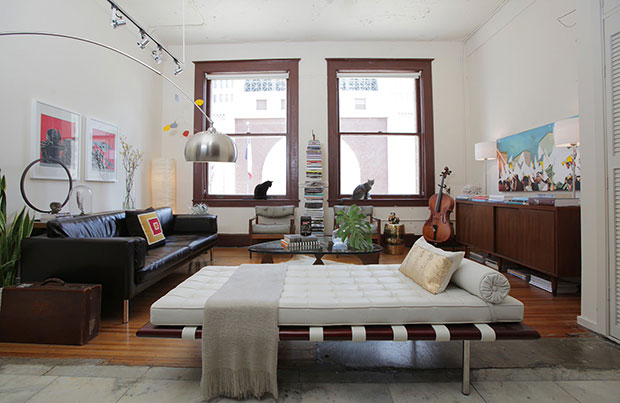 Valerie McCaskill Dickman
This particular daybed is one of the more contemporary designs for daybed ideas for living rooms. It's mostly known as the Barcelona daybed.
Anais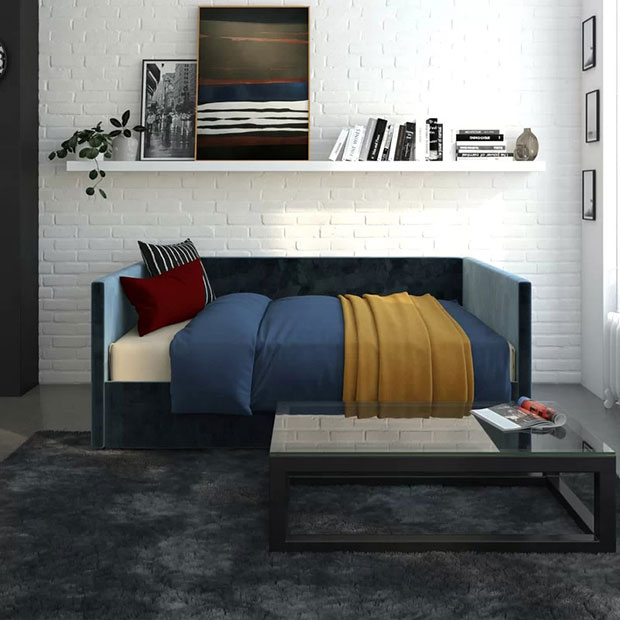 Instead of hiding a trundle bed like most daybed ideas for living room, this particular daybed has hidden storage compartments.
Granillo Twin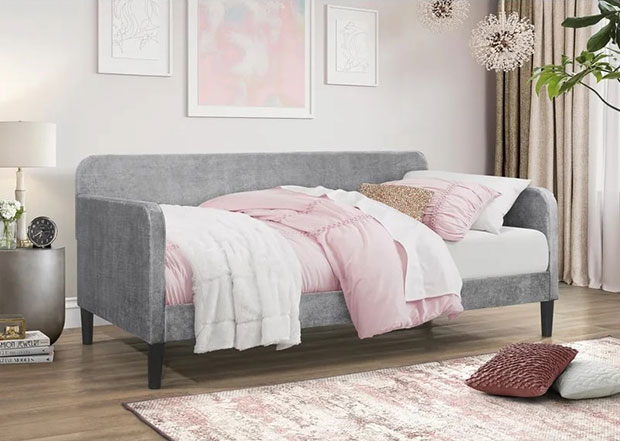 With its sofa-like silhouette and velvet upholstery, you may second guess whether what you're seeing is actually a daybed or not.
Carwile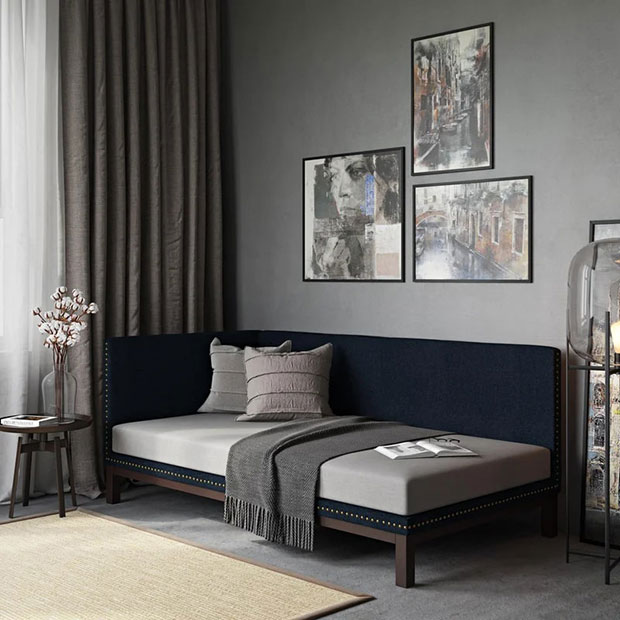 Daybed ideas for the living room can also look classy and sophisticated like this. Its design is definitely refreshing and novel.
Ishee Queen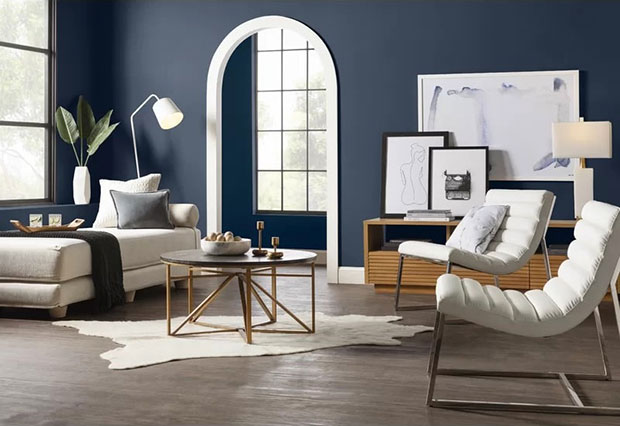 Mercury Row
This type of daybed is certainly not made to be the focal point of any living room. But you can flip the top cushion when you need to turn it into a queen-size mattress.
Steel Daybed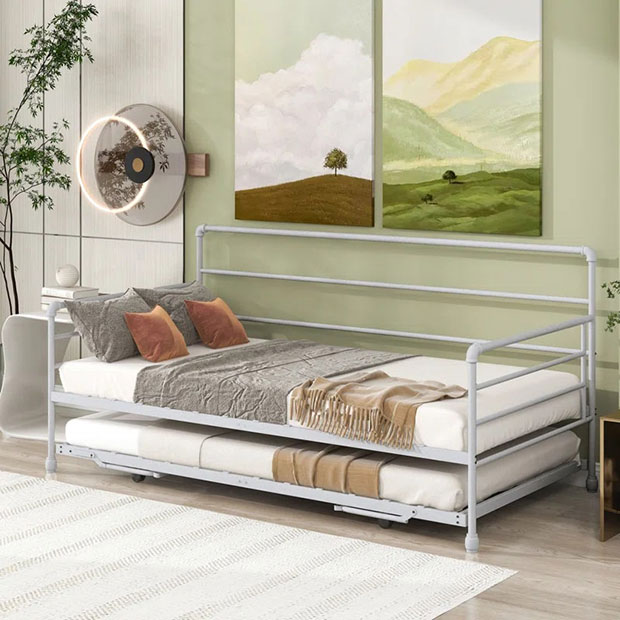 fulljojor
The curved metal piping design is an interesting detail that certainly brings an industrial charm.
New Modern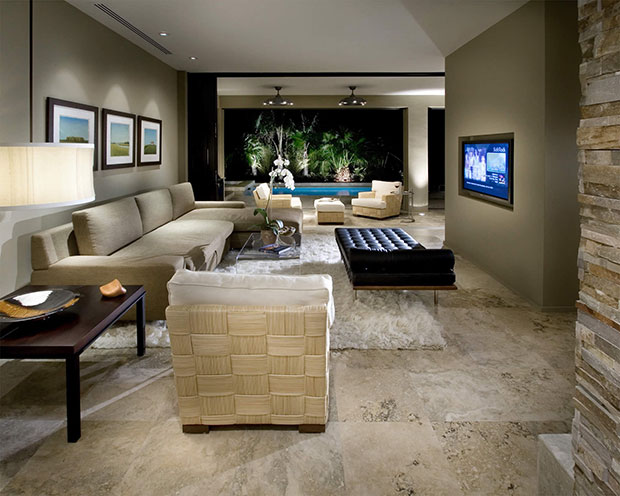 Phil Kean Designs, Inc.
When daybed ideas for living room are not your focal point, you can place them in your living room this way.
Beckett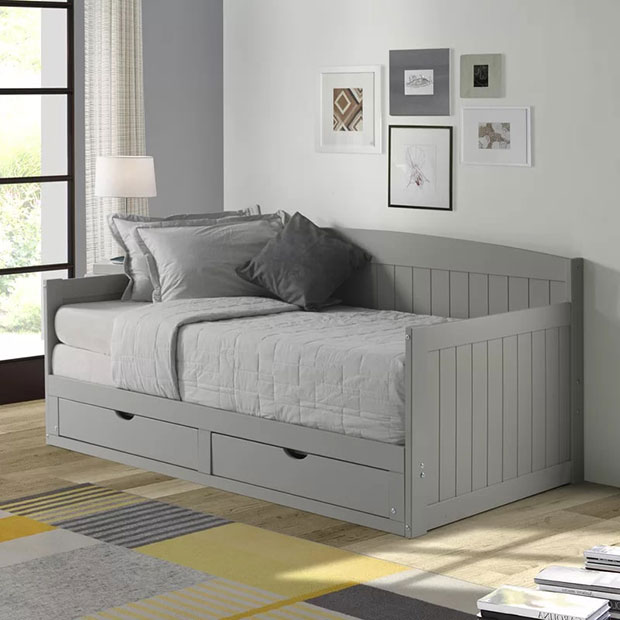 Rosecliff Heights
This daybed design will certainly fit in well in a child's room too!
Jabari Twin Daybed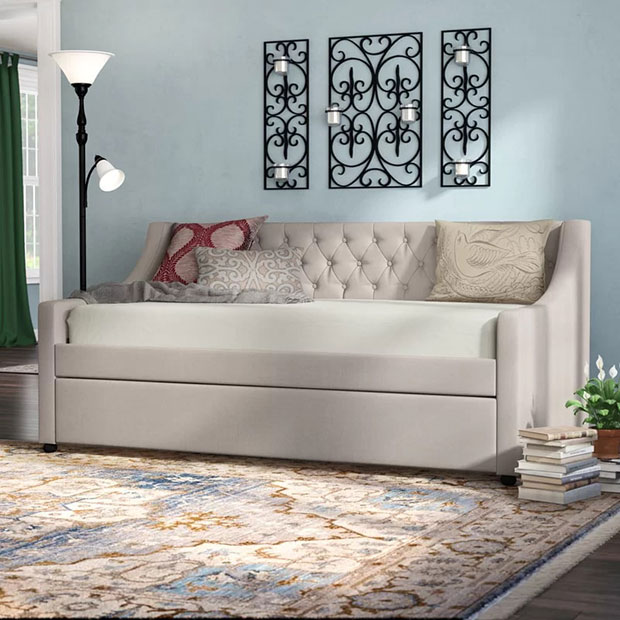 Charlton Home
The tufted design is only on the backrest gives it some pop of personality.
Bechtold Twin Daybed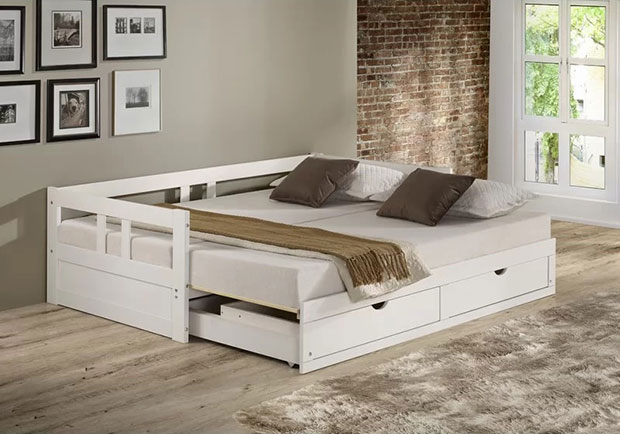 Harriet Bee
This is one of the daybed ideas for living room with an interesting low backrest. In addition, its trundle bed also provides storage compartments.
40 Mercer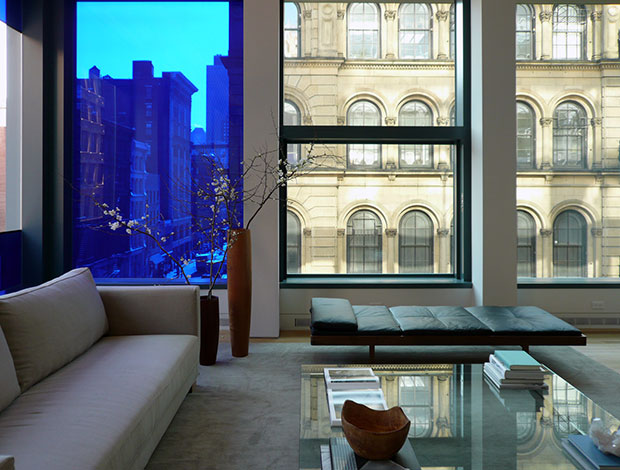 A more simplified variation of the Barcelona daybed seen earlier. It is perfectly placed by the window for a nice afternoon nap.
West Village Townhouse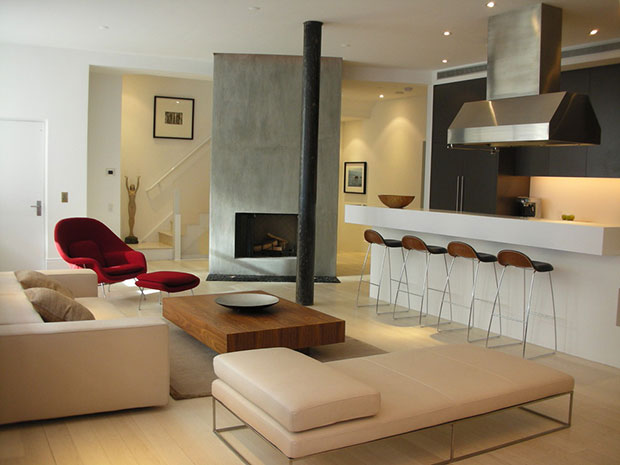 West Chin Architects & Interior Designers
Here's a daybed that perfectly matches the couch, creating a harmonious look in this living room.
Covid Nights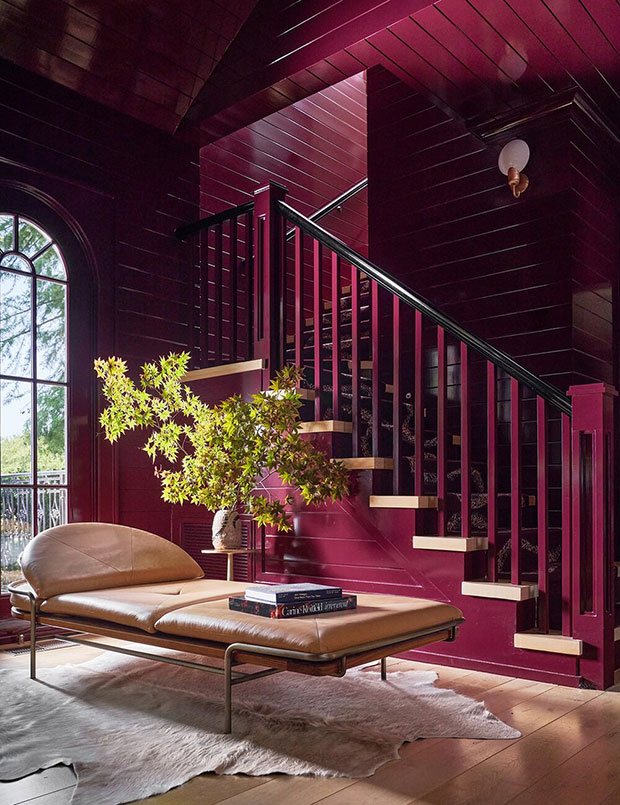 Chad Dorsey Design
This daybed design is pretty interesting with its own headrest that you can elevate on your own accord.
Chapalet Twin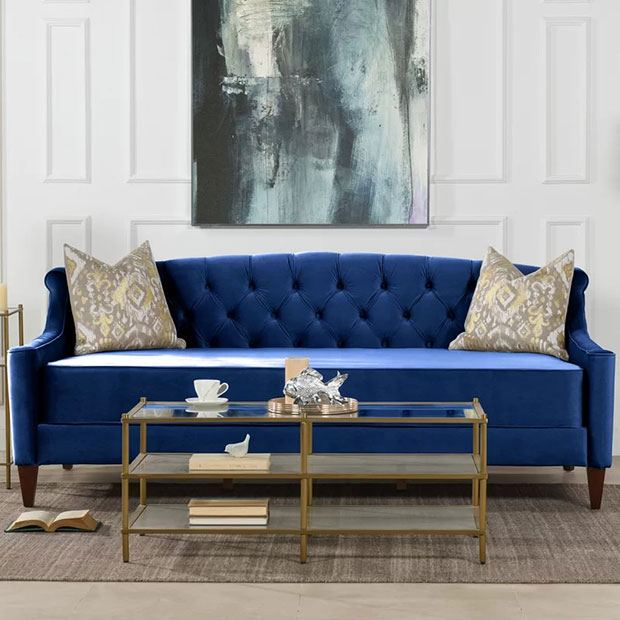 Canora Grey
The wingback silhouette brings out a traditional design, though this one's given a contemporary update.
Backless Daybed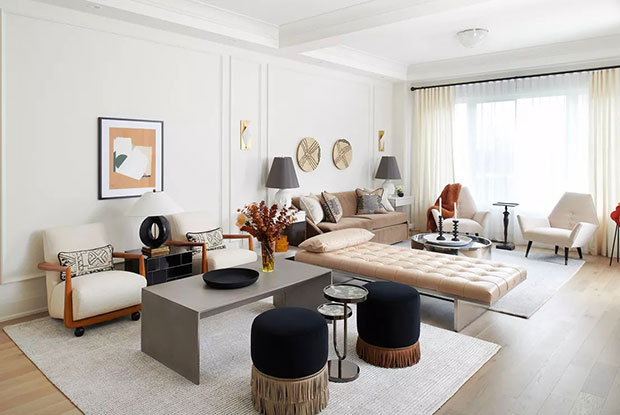 Sabrina Albanese Interiors
This Barcelona daybed is the perfect choice to go along with the rest of the furniture and finish in this living room.
San Francisco Decorator Showcase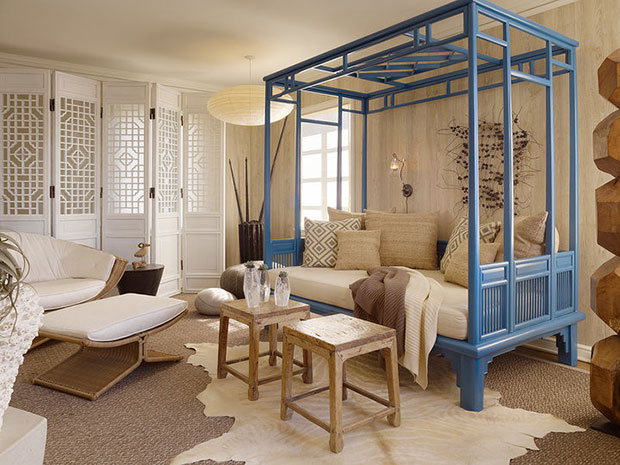 Philpotts Interiors
Just when you think you have daybed ideas for living rooms figured out in how they generally look, we get this special daybed design with its own canopy!
Landis Twin Daybed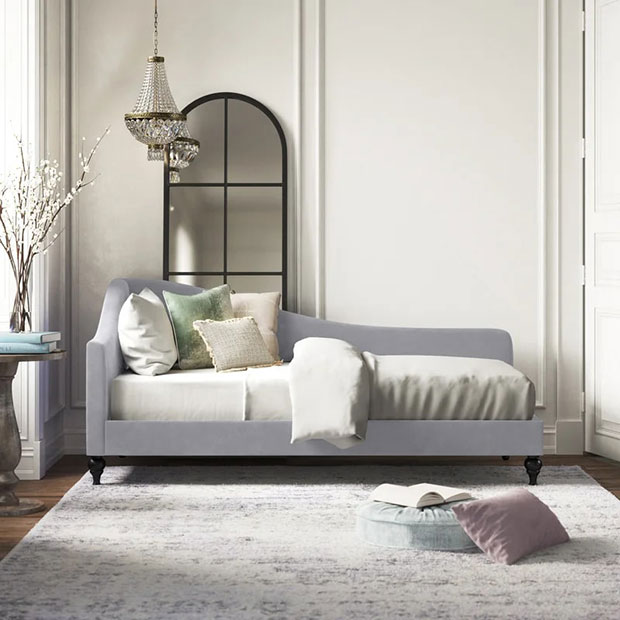 With its classic, French country-inspired look, this is looking to be one of the fancier daybed ideas for the living room.
Jordane Twin Daybed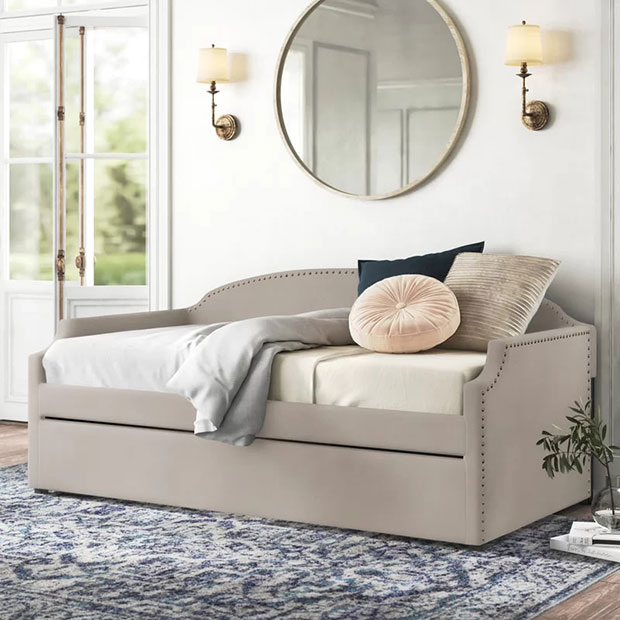 Kelly Clarkson Home
The nail head trim, arched back, and notched arms definitely give it a classic look but with a modern peppiness to it.
Writer's Home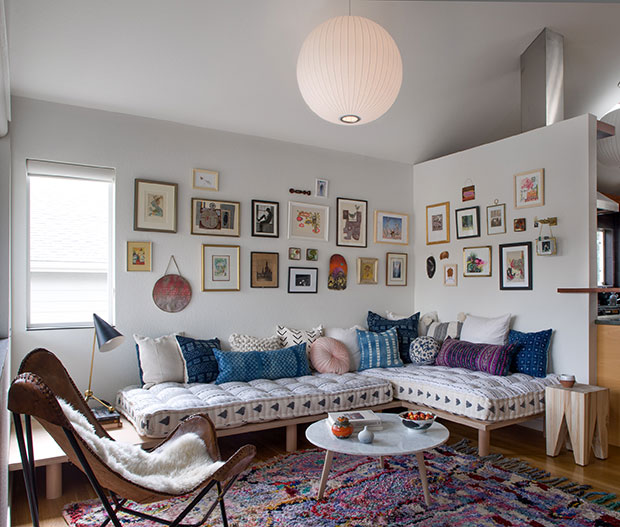 Some daybeds definitely don't have to be something expensive that you buy from the store. This built-in daybed provides plenty of space to lounge.
Peaceful Abode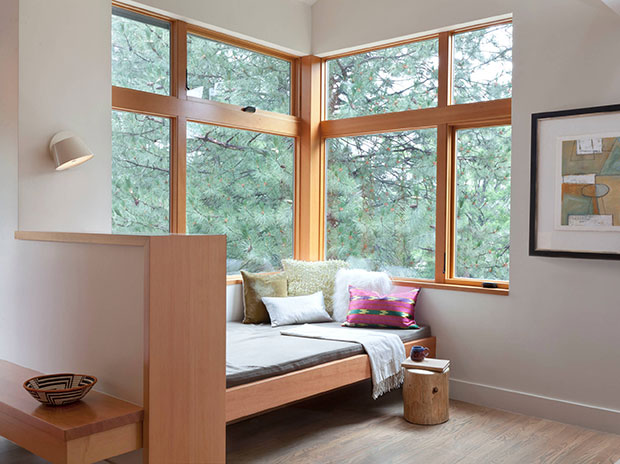 Studiovert Environmental + Interior Design
Another custom built-in daybed for your consideration! You won't even need to think about its placement in the living room about all the other furniture.
Three Maples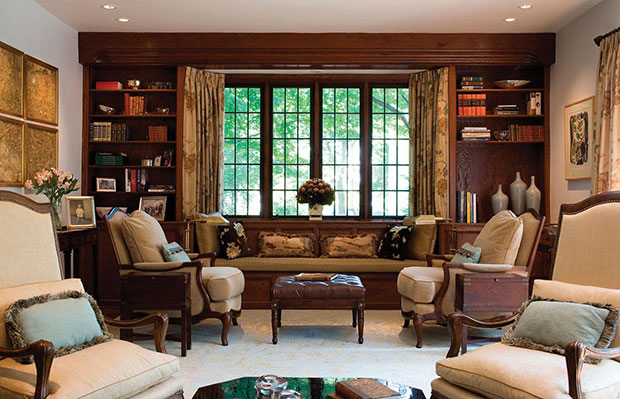 Meyer & Meyer, Inc.
Here's another built-in daybed, but this time, it's squeezed between bookshelves! If you're not sleeping, this spot is perfect for just reading and relaxing.
Tribeca Loft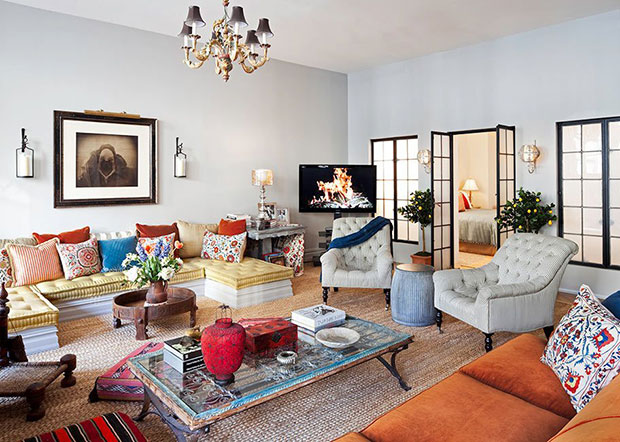 Deborah French Designs
Without a backrest to go with this built-in custom daybed, large throw pillows are added in for that comfort.
Twin Daybed with Mattress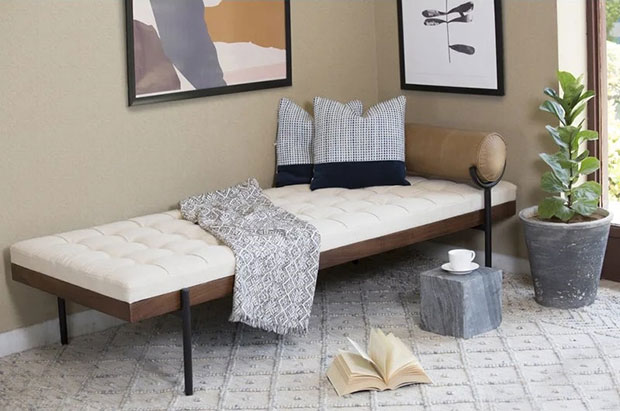 Home Accents LLC
This clean daybed design even has a tool to perch a lumbar pillow for when you want to lay your head to rest.
North Kingsway Residence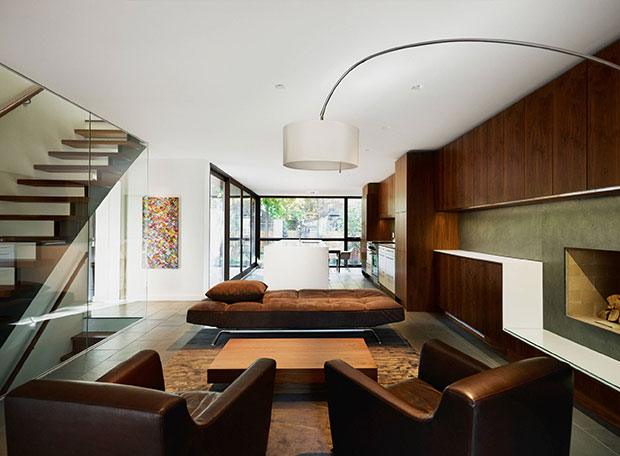 Sustain Design Architects Inc.
The bulky appearance of this daybed seems to be well-fitting with the other furniture in this living room.
Bright Pop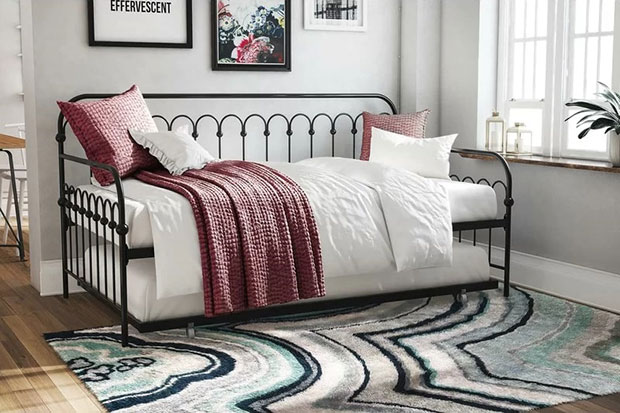 Novogratz
Its rounded details are a charm of its own that will surely bring a modern chicness to your living room.
Arliss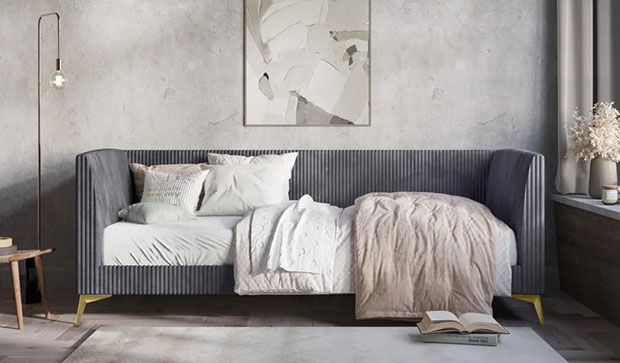 Etta Avenue
The velvet upholstery and the golden legs blend together for a glamorous look that will certainly elevate the overall look of your living room.
McKay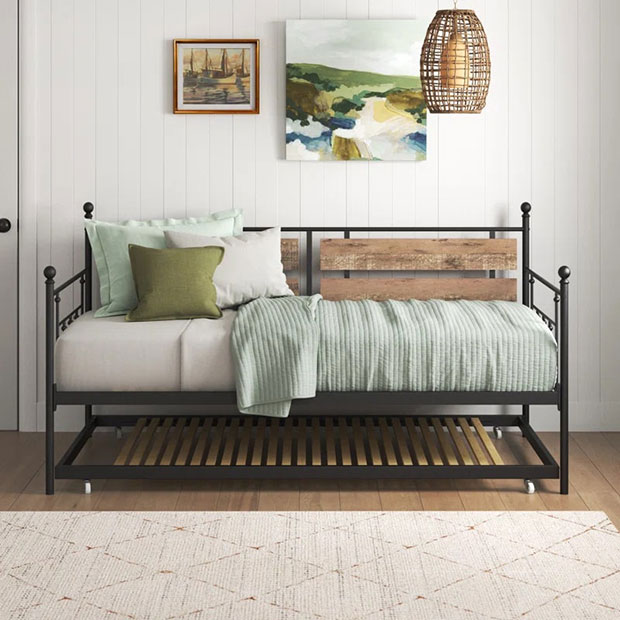 Here's a nice blend of rustic and industrial elements, making it quite versatile furniture that will go along with a lot of living room design styles.
Elyse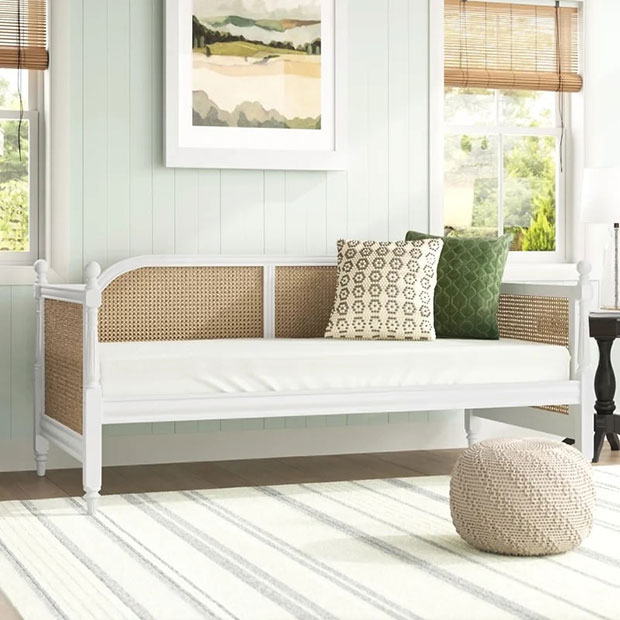 The inclusion of rattan into the frame material is refreshing and charming. This could very well fit in coastal farmhouse living rooms.
Apolla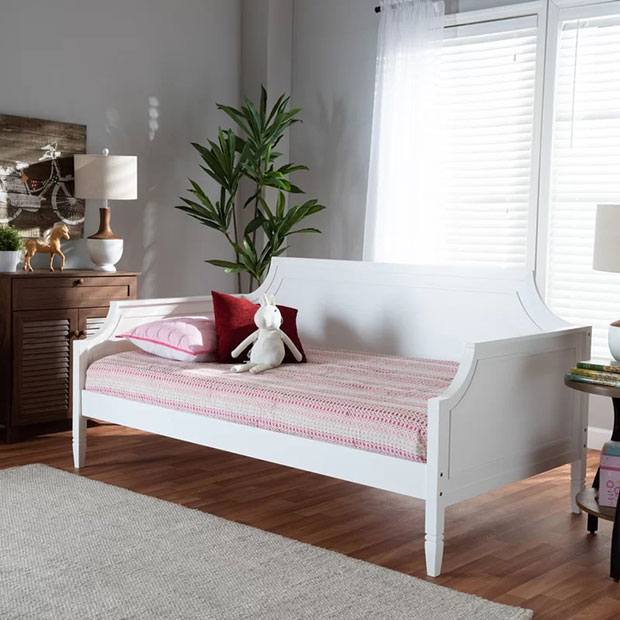 Sand & Stable
The beautifully crafted curves and notches are not to be overlooked as it brings a chic charm to the overall look of this daybed.
The Swell House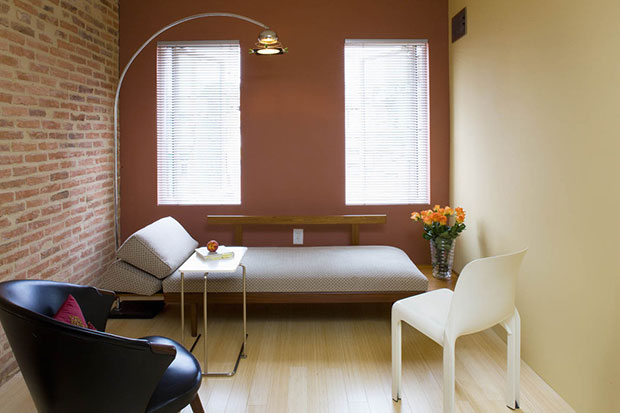 Brennan + Company Architects
Here's a case of the daybed being the focal point of a living room. It perfectly showcases, too, how daybeds are perfect for small living rooms.
North Beach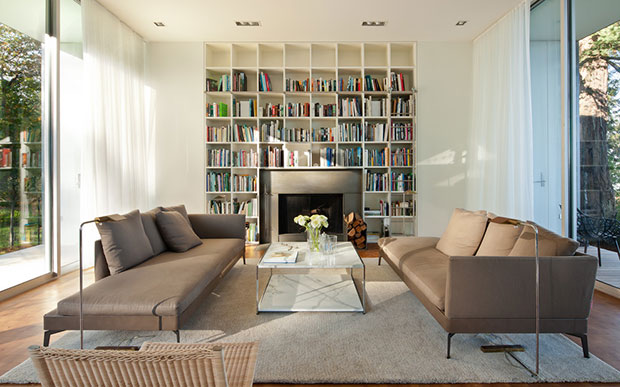 Heliotrope Architects
This home makes the bold choice of having just daybeds in their living room. With its sleek contemporary design, it perfectly resembles a chaise lounge.
Brooklyn Apartment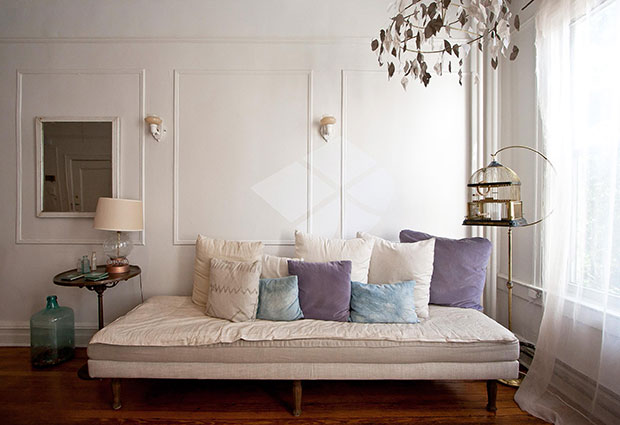 Chris Dorsey Architects, Inc.
The way this daybed was styled is giving a shabby-chic charm that you could consider for your own home.
Portland Floating Home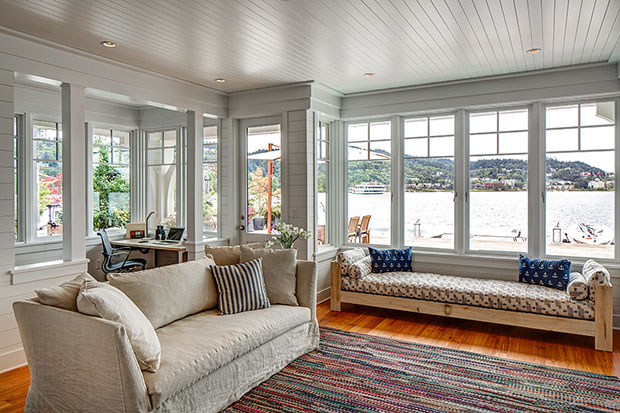 BC&J Architecture
A custom-built daybed that is perfectly and mostly used as a window seat to enjoy a scenic view like this.
Lynden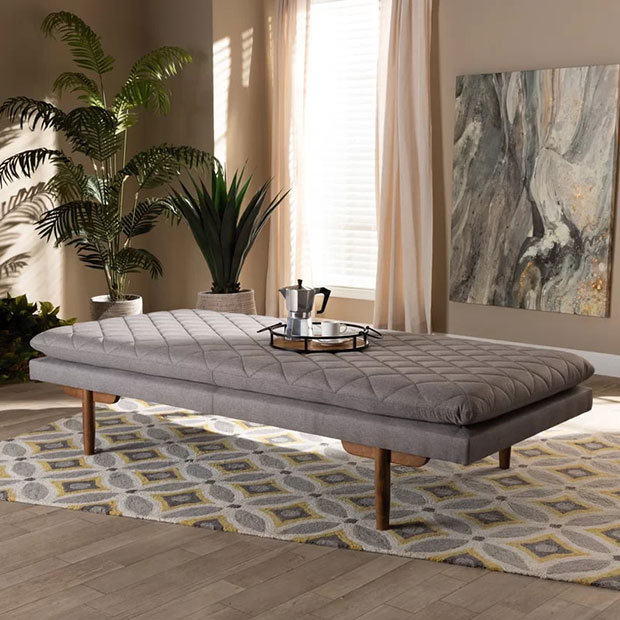 George Oliver
A modern update on the classic mid-century daybed design will certainly elevate the overall look of your living room.
Twin Daybed with Built-in Desk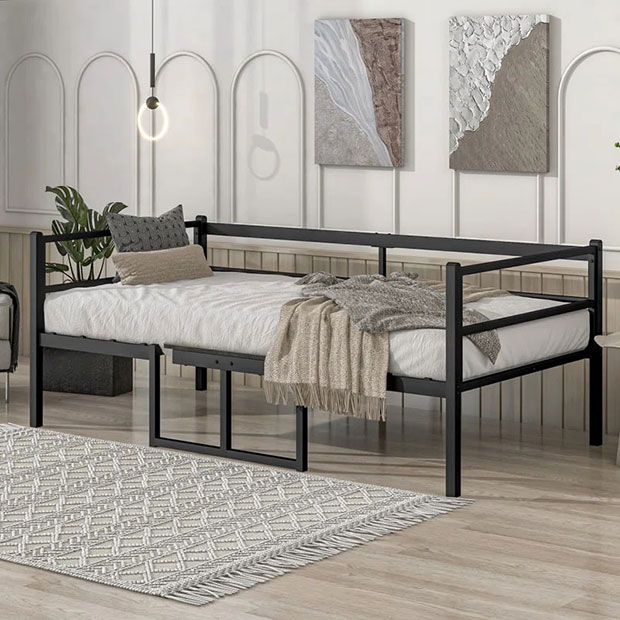 See that base leg in the middle? You can lift that up to be used as a desk when you are not using the daybed as a, well, bed.
Verdene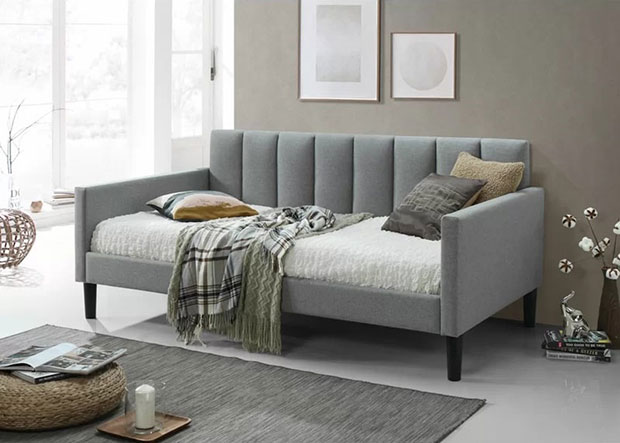 Latitude Run
The cool and sleek design is highlighted by the vertical tufting design of the backrest.
Wonderful World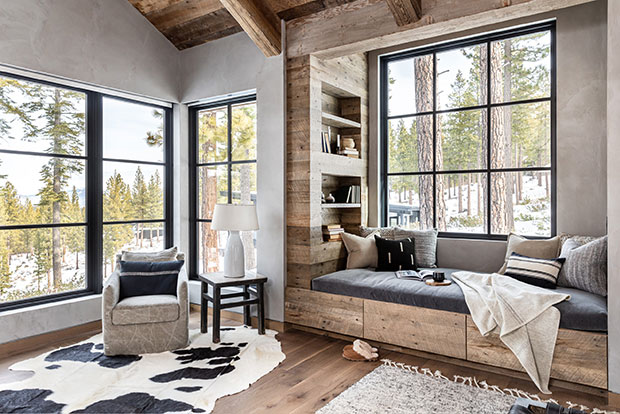 KTG Design
Another built-in daybed, though this time you wouldn't need to get up to pick up a book or turn your alarm off when the shelves are facing the bed.
Marrakesh by Design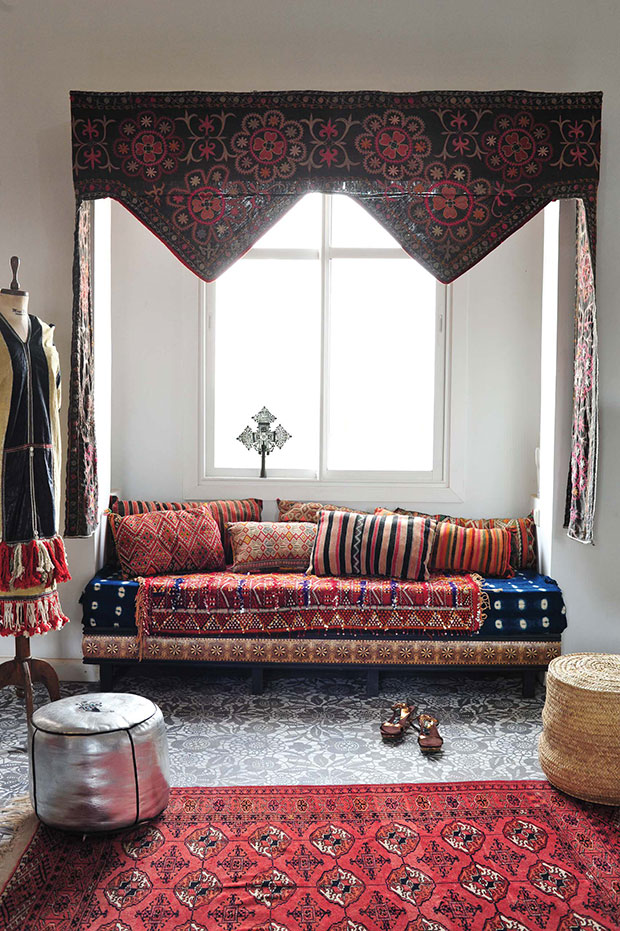 Artisan Books
While you may see quite a dull styling of daybed ideas for living room, this one doesn't hold back with the patterns, showcasing a rich culture.
Aliaksey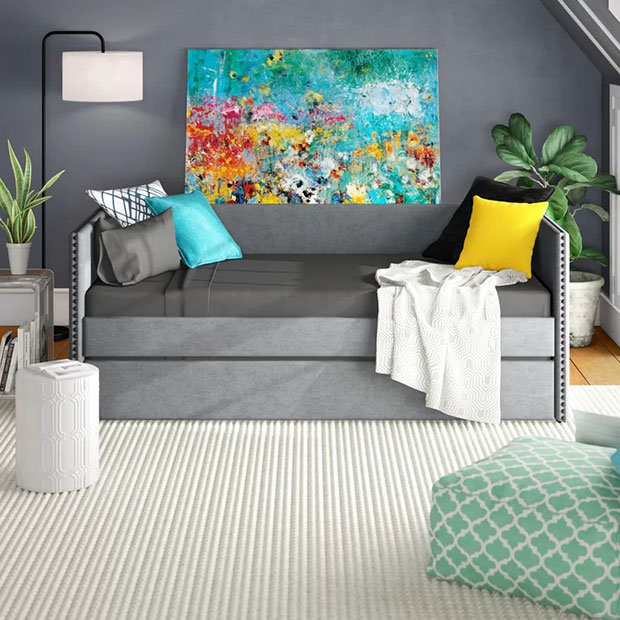 Wade Logan
The sleek and slim frame is quite the beautiful contrast to the central area with the mattress and trundle.
B/S House Phase One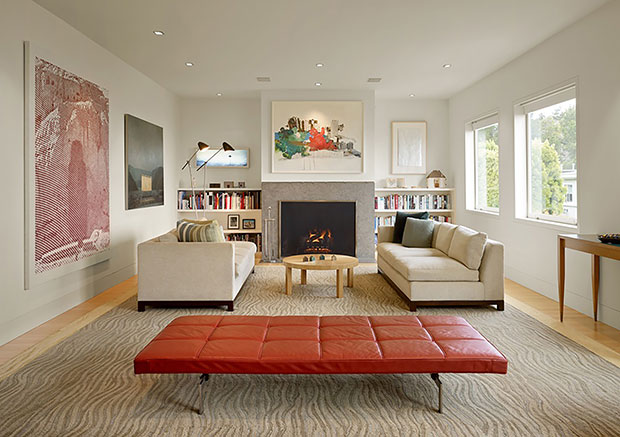 Hulburd Design
The color of this daybed is quite an interesting choice, considering the color palette of this living room. Nevertheless, it is quite a charming addition.
Flower District Loft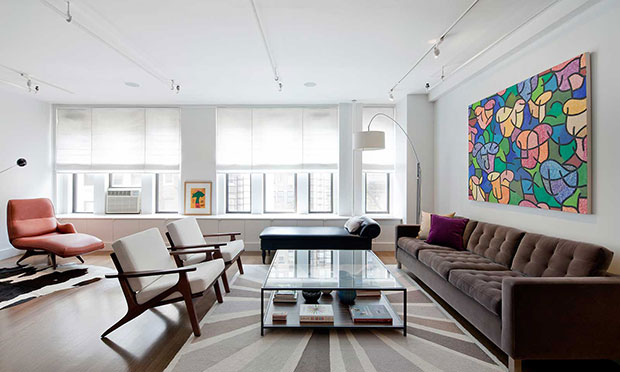 Aman Architecture
The color of this daybed doesn't seem too different with how varied the colors are in this living room.
Kouba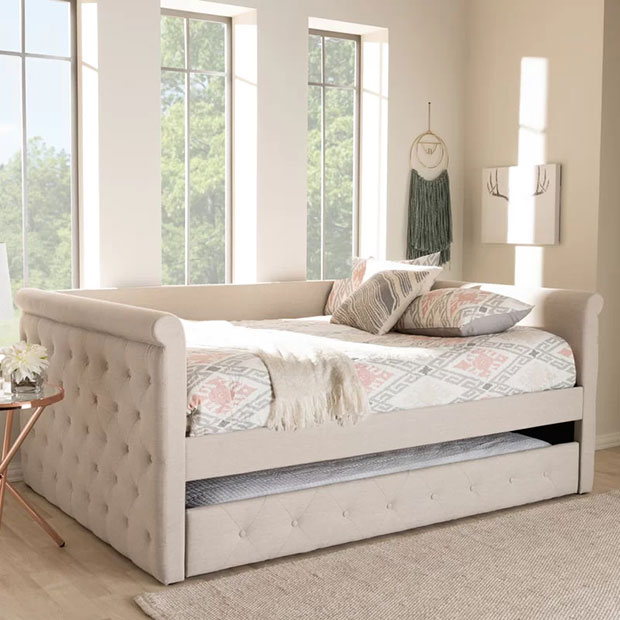 Three Posts
The button-tufting gives this daybed a plush look to go along with its contemporary design.
That's all for our selection of daybed ideas for living room!
Like This Post? Pin It!