60 Head-Turning Coffee Table Designs for a Charismatic Living Room
|
Coffee tables can spice up your living room. It has almost become a classic staple for every room that could elevate its overall visual appeal.
Depending on the coffee table designs, your coffee table can provide additional storage or a pop-up workspace. Not only can a coffee table be a stylish charmer, but it can also be a functional addition to your living room.
How to choose the perfect coffee table for your room?
As it is, there are many coffee table designs to choose from. From mid-century modern style to farmhouse chic. There are quite a plethora of coffee table designs to go through. But you can't just simply pick one without considering how much of a perfect fit it is to your room.
Here are some tips to help you choose the perfect coffee table for your room!
1. Consider the shape
In this, you are going to have to consider the layout of your living room. Is the room large or is it small and narrow? Do you have pets or children? If you do, round or oval coffee tables are ideal. This avoids corner injuries since there would be curved edges instead.
Rectangular coffee table designs, allowing 30 inches between TV console and coffee table, would allow a lot of room to walk. Whereas, rounded coffee tables give a little more space to walk.
2. Consider the size and height
The size of your coffee table should be proportionate to that of the sofa. Take note that the coffee table should be at least half the length of your sofa, but not longer than the sofa itself.
In height, the coffee table should not be lower than 1-2 inches from the seat of your couch. So, if your sofa seat is higher, then you need a taller table. This makes it easy for you to set down their glass or plate.
3. Consider function
Consider the overall function of your coffee table. Is it simply a decorative piece or is it to provide storage? If additional storage is a requirement, how much storage do you need? Some coffee table designs come with shelves or drawers enough to store a stash of magazines or even kids' toys. And even without additional storage, you will want your coffee table to at least be able to hold drinks or a plate down with ease.
If the coffee table is more of a decorative piece, you can focus on lines and textures that suit you.
4. Consider the material and style
When it comes to materials, coffee table designs come in a wide variety of them too. Formal, casual, modern, or vintage, these styles sometimes come hand-in-hand with the materials too. Industrial ones come in metal. Some coffee tables combine glass with brass or steel for a more sophisticated look. Oak and maple coffee tables give a more casual look as opposed to the more formal look of walnut and cherry tables. Some sleek tables made of metal are well-suited for a contemporary look. If you like some rustic casual aesthetic, try a rustic oak table.
5. Consider the scale
In interior design, scale is very important so that every piece in the room is at an appropriate scale. It's about making sure the size and visual weight of objects are comparable. For example, if you have a heavy-set sofa, a small dainty coffee table is going to make the room look off. So, pair it with a large table instead. Dainty coffee tables would work best with more delicate loveseats or sofas.
6. Consider alternatives
Sometimes the perfect coffee table for your room isn't even a table. Chests, trunks, and ottomans are some valuable alternatives for typical coffee tables. In a way, these are unique and out-of-the-box coffee table designs, providing an eclectic appeal to the overall vision of your living room. These options also provide additional functions. For instance, ottomans can be used to put your feet up while also adding some texture to your room.
Another alternative is having a set of tables instead of just one. If your living room is wide, this could be an option for you. Place two sets of identical nesting tables next to each other that could expand the surface area, creating one larger table.
Coffee Table Designs for Inspiration
Now, let's take a look at some head-turning coffee table designs to add some charm to your living room!
Hanni Coffee Table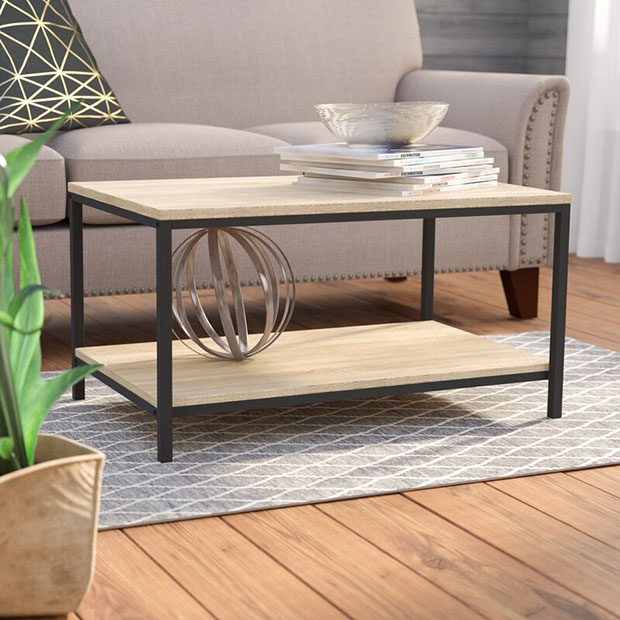 Starting with some simple, minimalistic coffee table designs. The clean lines and neutral hues make for a perfect home piece for modern and casual designs.
Favin Cross Legs Coffee Table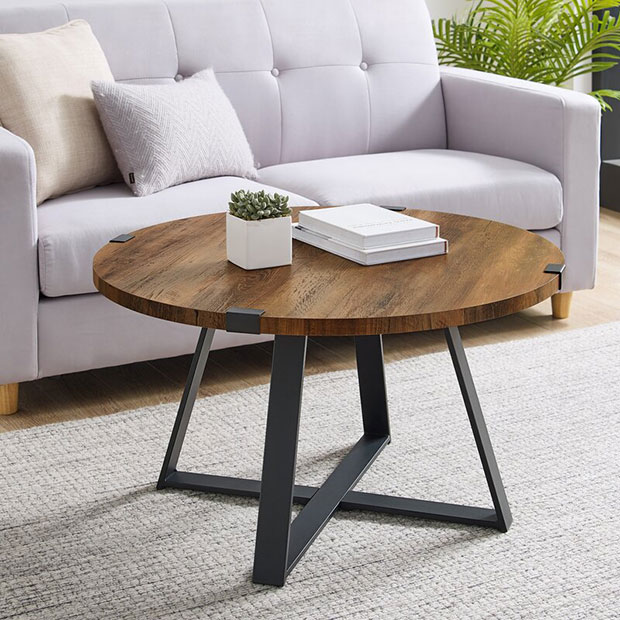 The grain detailing on the tabletop brings in a rustic charm. But with its metal legs, it has an overall urban industrial look.
Chawanda Coffee Table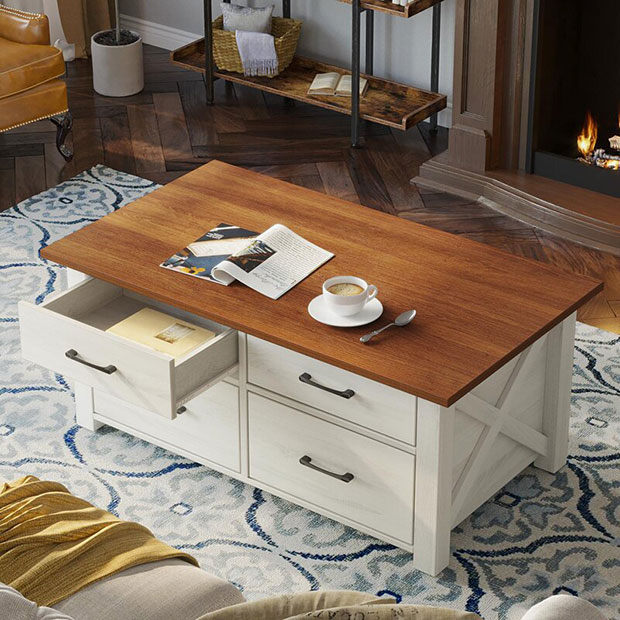 While the tabletop is spacious, the rest of this coffee table design provides lots of storage. Aside from the drawers, on the opposite side, there are shelves with ample storage for TV remote controllers and figurine displays.
Haneline Coffee Table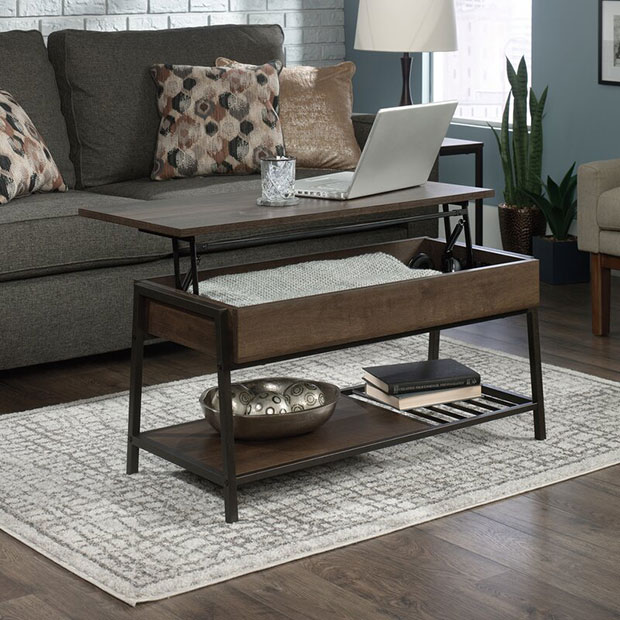 Gracie Oaks
On this list, you may see a couple of lift-top coffee table designs like this one. Such design allows for a hidden storage area. The lift-top design allows for you to be able to work in your living room, making this quite a multi-functional coffee table.
Laguna Solid Wood Coffee Table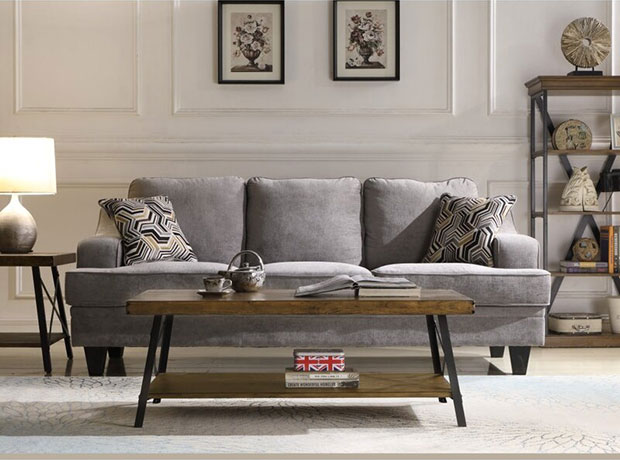 With the natural wood finish and mixed material design, this coffee table boasts a coastal farmhouse look.
Teres Drum Coffee Table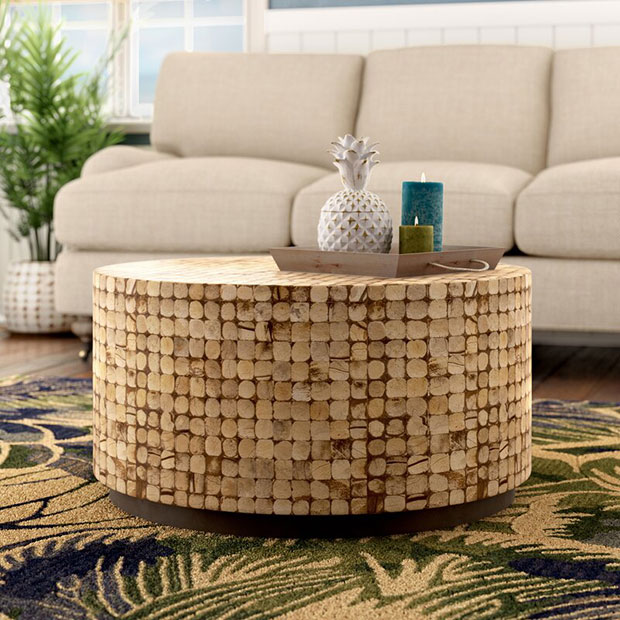 Sand & Stable
Some coffee table designs are so uniquely endearing with the materials by which it was made. This, for example, is made from individual pieces of coconut shells, painted and shaped for a mosaic-style pattern.
Cainsville Coffee Table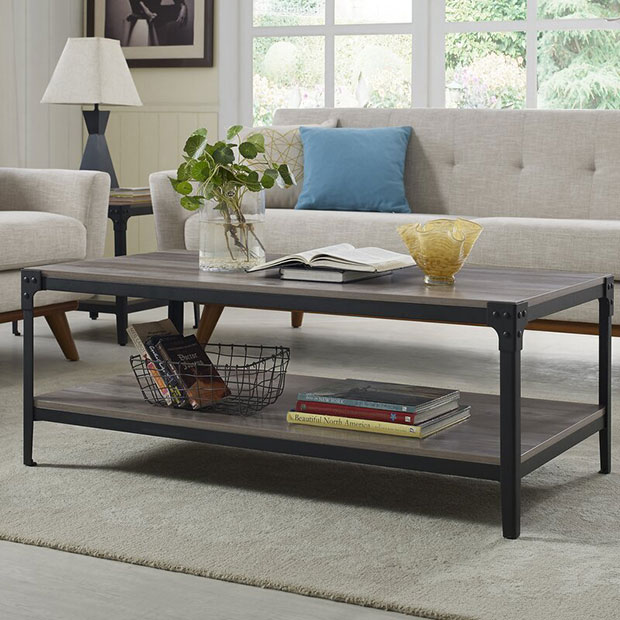 Greyleigh
Add an eclectic coffee table to your home that has a clean, contemporary design but with rustic, industrial charm.
Enzo Coffee Table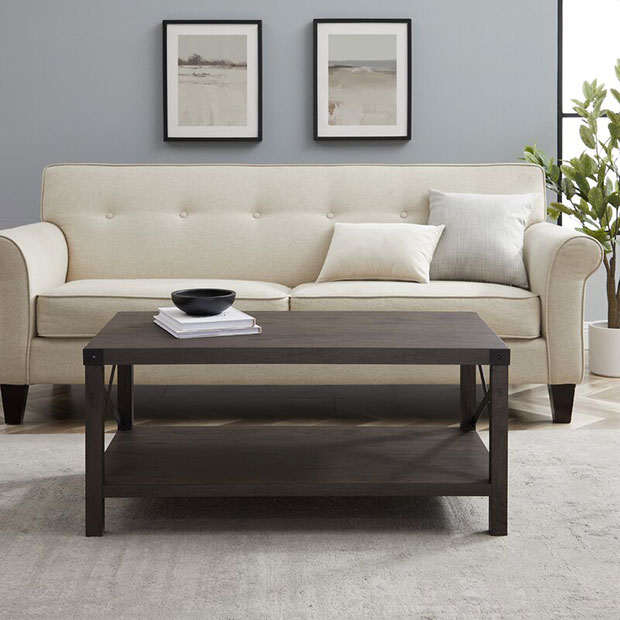 Foundstone
If you're looking for more traditional-looking coffee table designs, don't look too far! It's a sleek and clean design, perfect in modern homes.
Southside Frame Coffee Table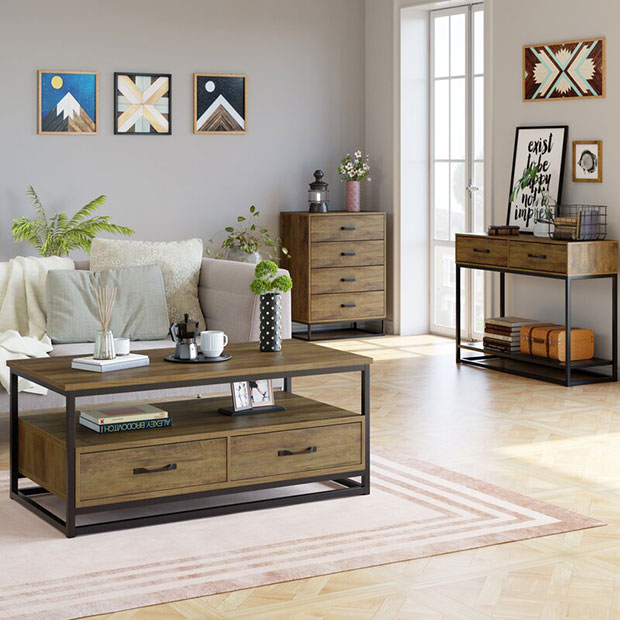 The second shelf and drawers below help stash away things that would have been visually overwhelming if left out on the surface.
Bexton Coffee Table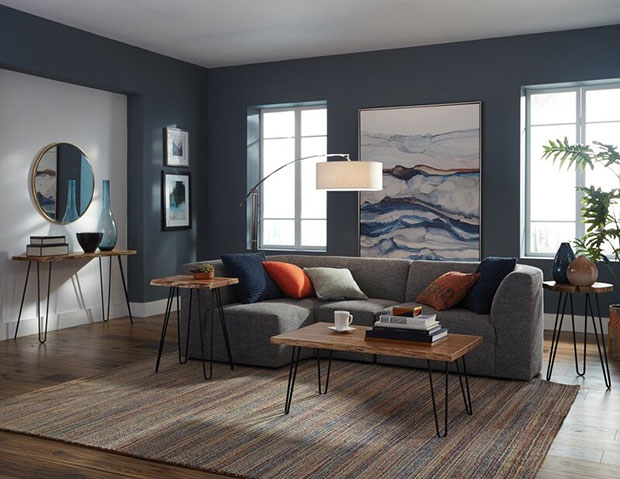 This incredible coffee table design combines mid-century modern with an industrial flair. Such coffee table designs are perfect for urban homes.
Tylor Block Coffee Table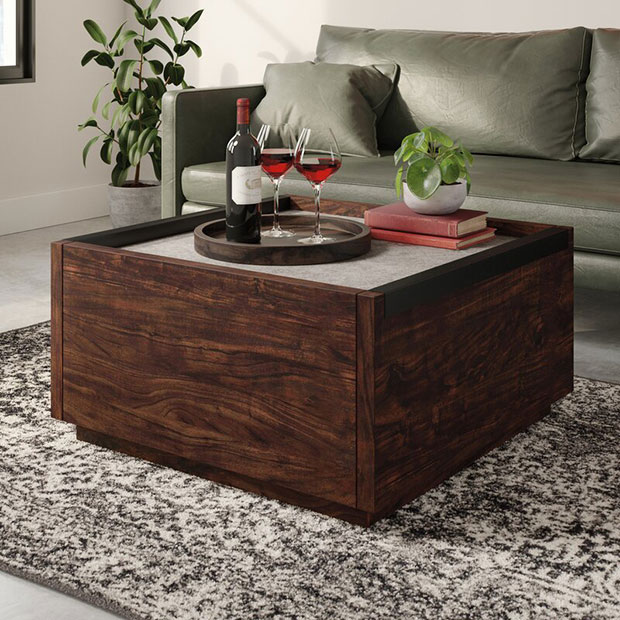 At first glance, you may just see a lofty crate coffee table design. But there are sliding drawers that hide hidden storage spaces.
Classen Frame Coffee Table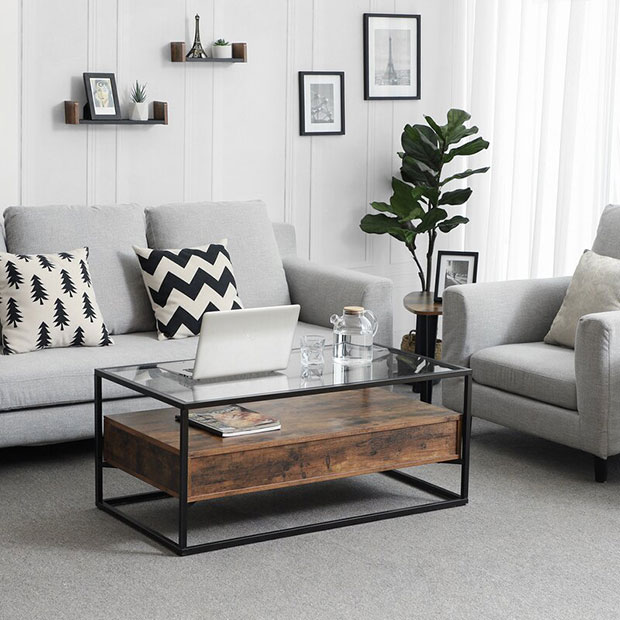 Union Rustic
The rustic style shelf contrasting with the glass tabletop and iron frame makes for an overall charming coffee table design.
Engen Coffee Table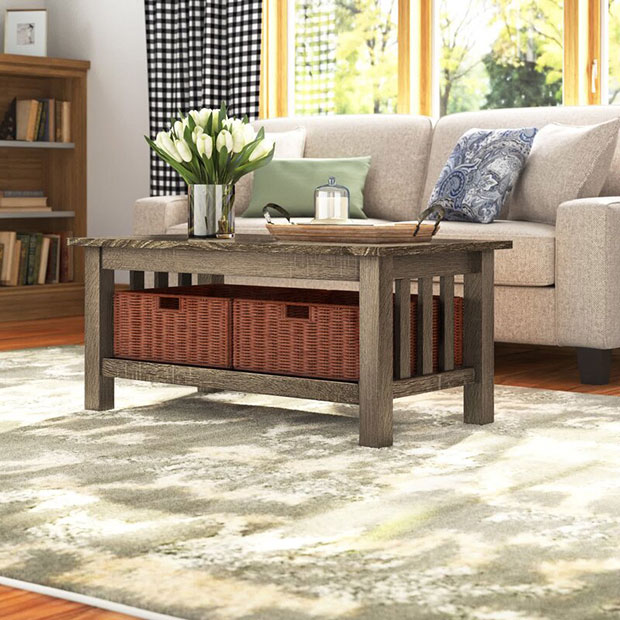 Instead of drawers, this coffee table has wicker baskets. It complements the coffee table piece.
Samons Coffee Table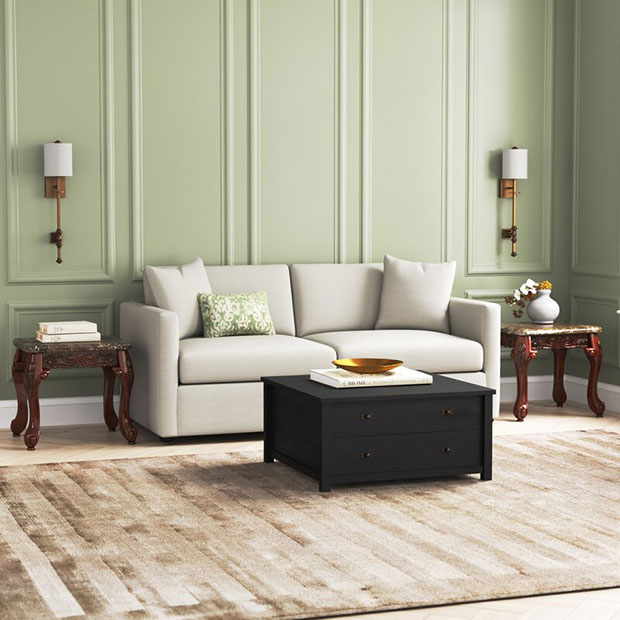 Add a modern farmhouse charm into your home with this coffee table. It has a spacious top surface with enough room to even play board games.
Cross Legs Coffee Table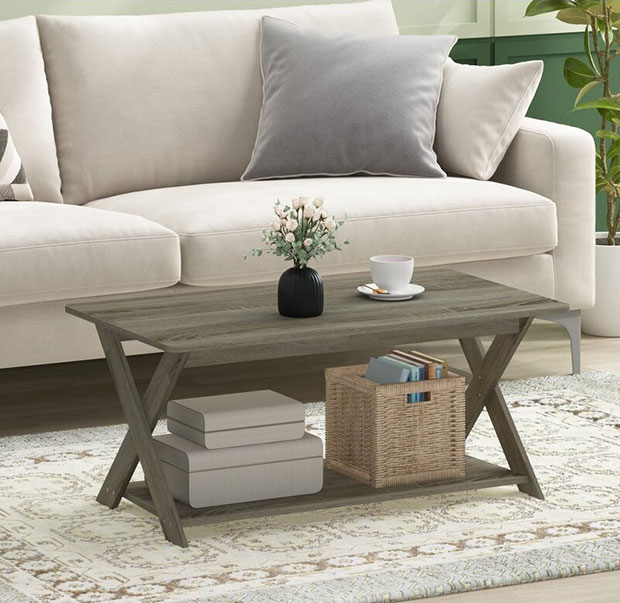 The cross legs are a bit different from your usual coffee table designs. But it would certainly be a charming addition.
Almeida Coffee Table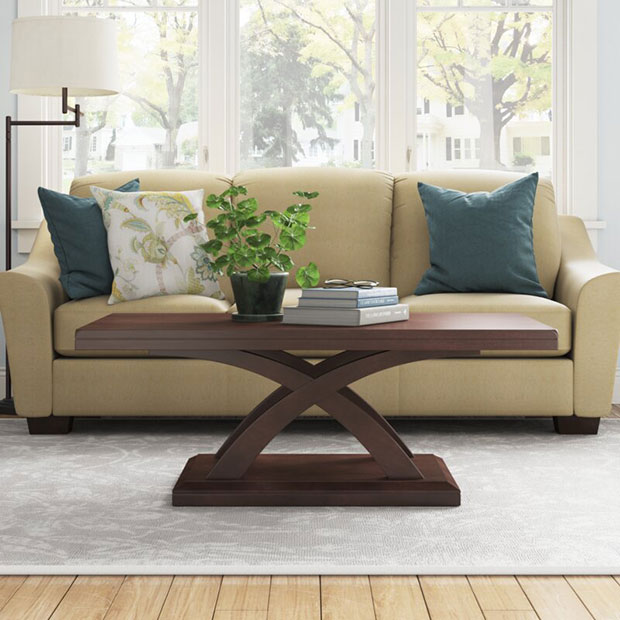 With beautifully crafted curved legs, this coffee table will surely add some stylish charm to your living room.
Magdalen Coffee Table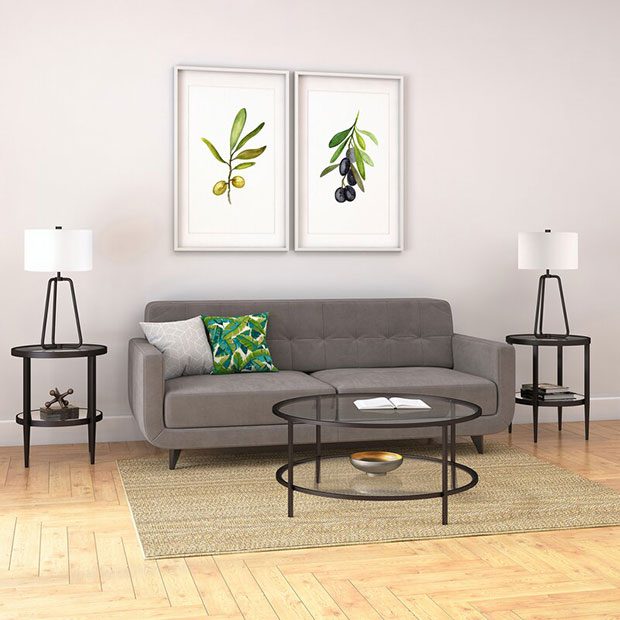 A more fancy and stylish coffee table design while maintaining its function.
Pettigrew Coffee Table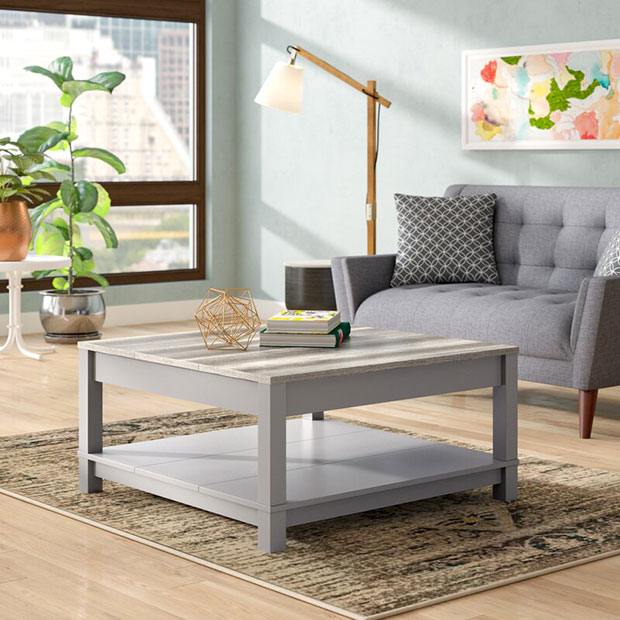 Andover Mills
A lovely coffee table that brings a homey feel with its understated design and neutral finish.
Amethy Coffee Table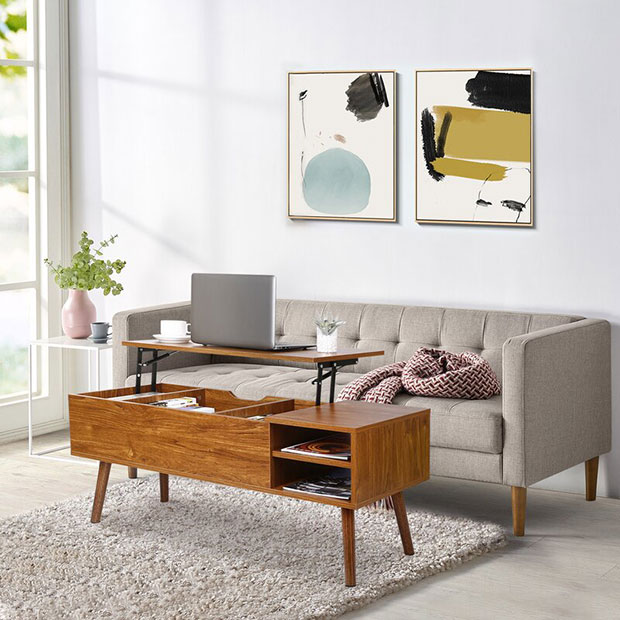 Corrigan Studio
With the lift-top table, this coffee table hides a large compartment. The lift-top surface is pretty convenient for when you want to work in your living room.
Danity Coffee Table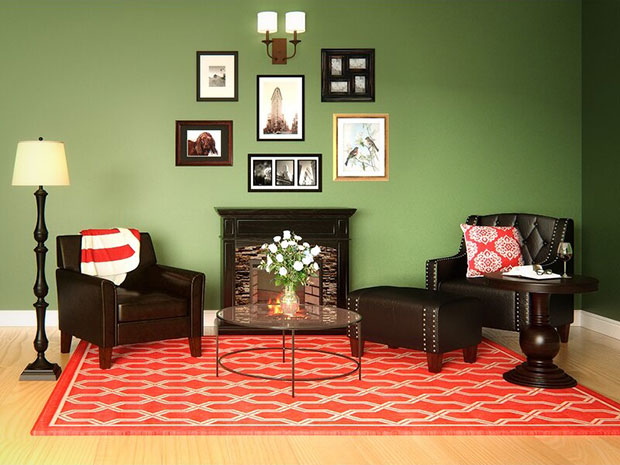 House of Hampton
A more traditional coffee table design with only the surface top available to hold things. Rather than for more functional use, this coffee table design is more of a decorative piece.
3 Legs Coffee Table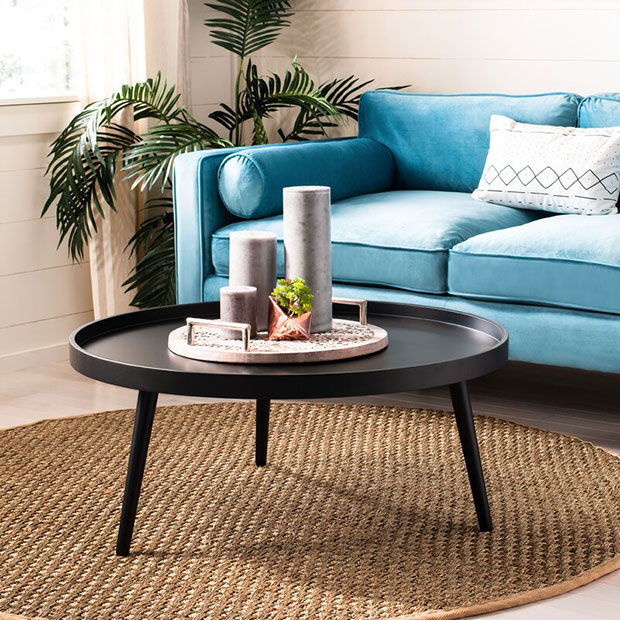 This posh contemporary coffee table is quite charming with its round tray surface top. Coffee table designs like this are perfect for holding drinks and plates.
Allina Coffee Table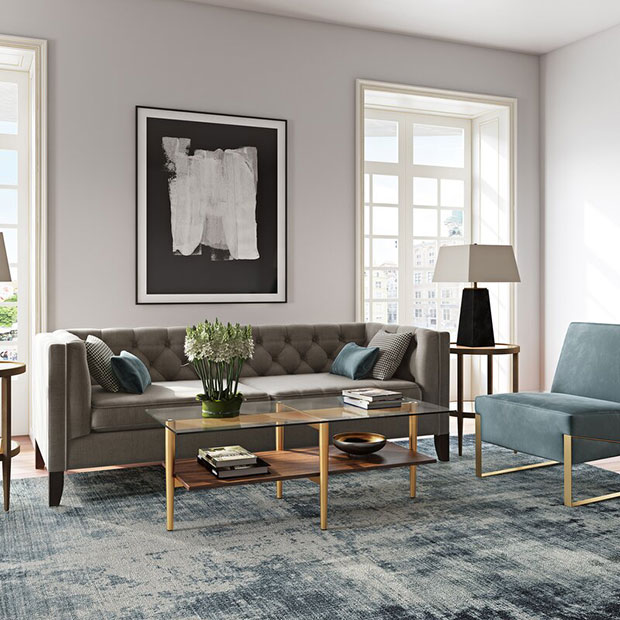 This is quite the fascinating coffee table design with its framing in the center, instead of the usual on the side. It's a beautiful mid-century glam addition to your living room.
Almarin Coffee Table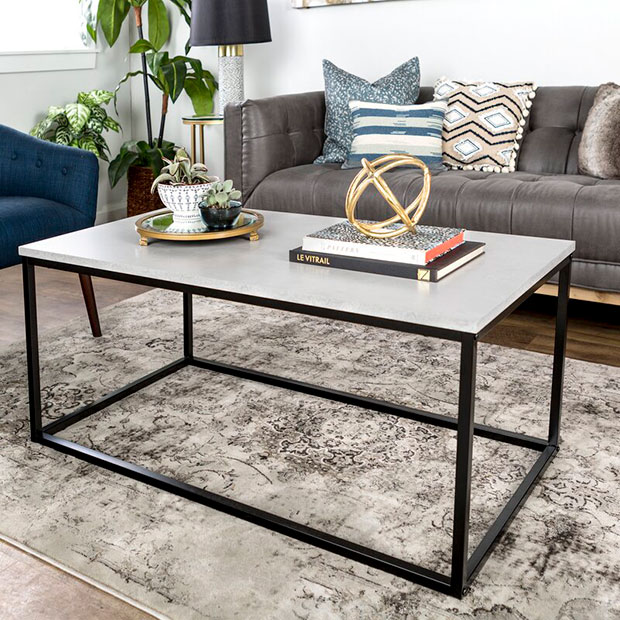 A very straightforward coffee table design that is minimalistic yet charming.
Cate Coffee Table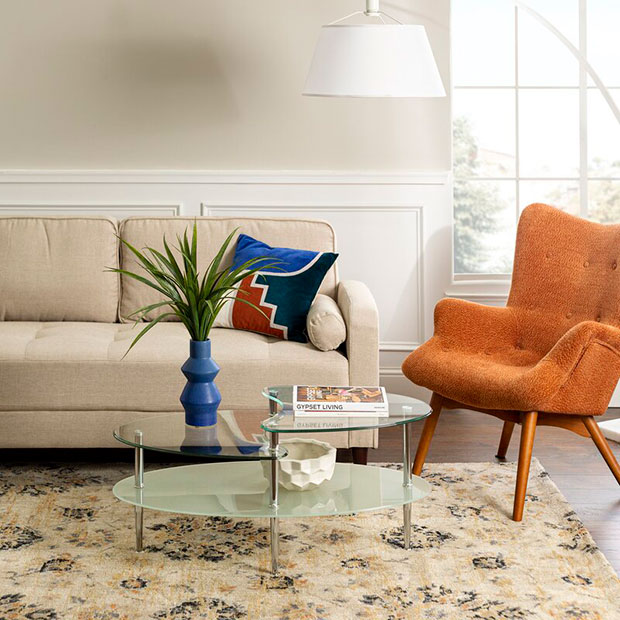 Wrought Studio
If you prefer sleek and sophisticated coffee table designs, you may want to take a look at this. An elegant coffee table, especially perfect for contemporary homes.
Coffee Table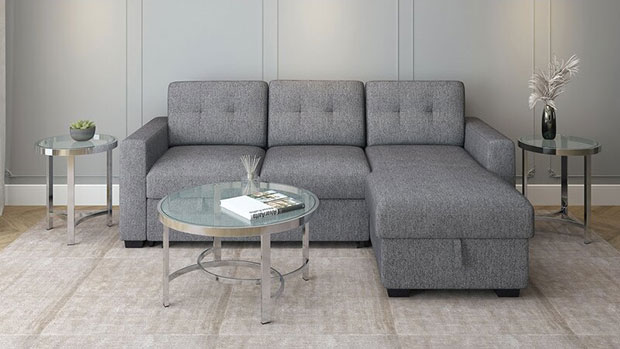 Bring your attention over to the overlapping curved stretchers which makes this coffee table uniquely itself.
Ameia Coffee Table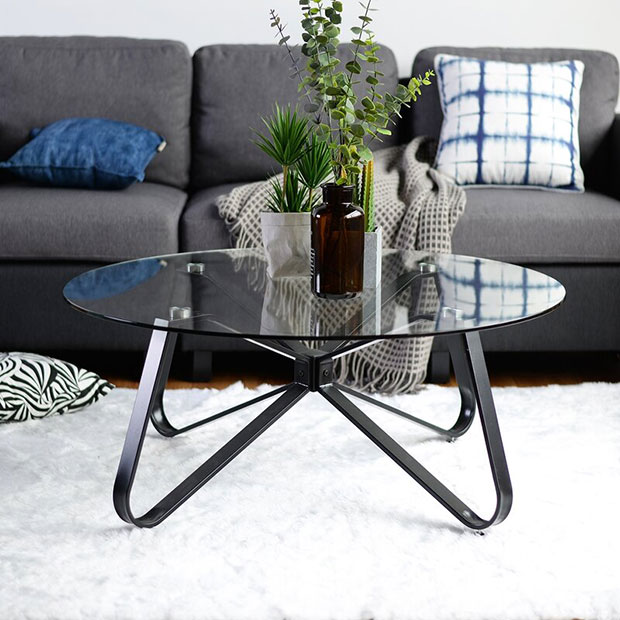 Ebern Designs
This small coffee table has a pretty and unique metal base design that will surely get heads turning.
Kilby Frame Coffee Table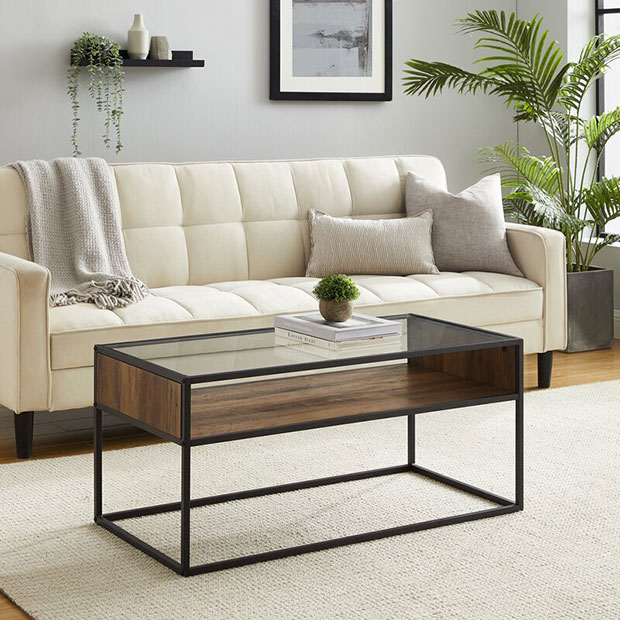 The lower open shelf of this coffee table is perfect to keep a stash of magazines.
Chesterfield Sled Coffee Table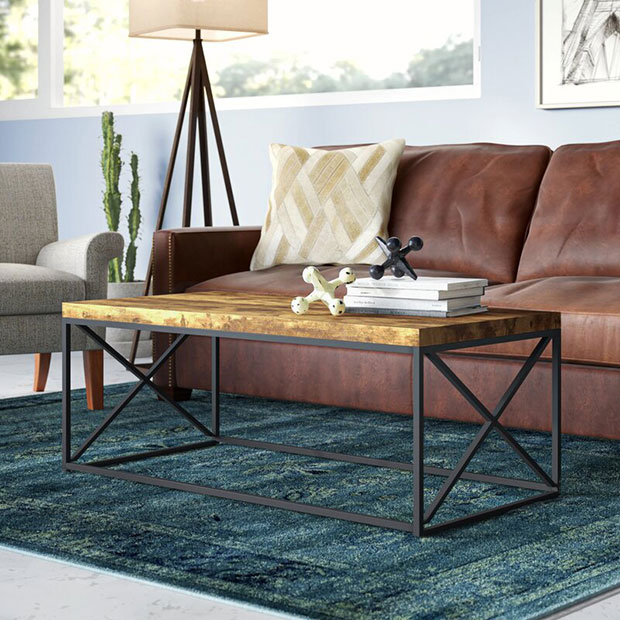 Trent Austin Design
Minimalistic coffee table designs like this are perfect in modern homes.
Ard Coffee Table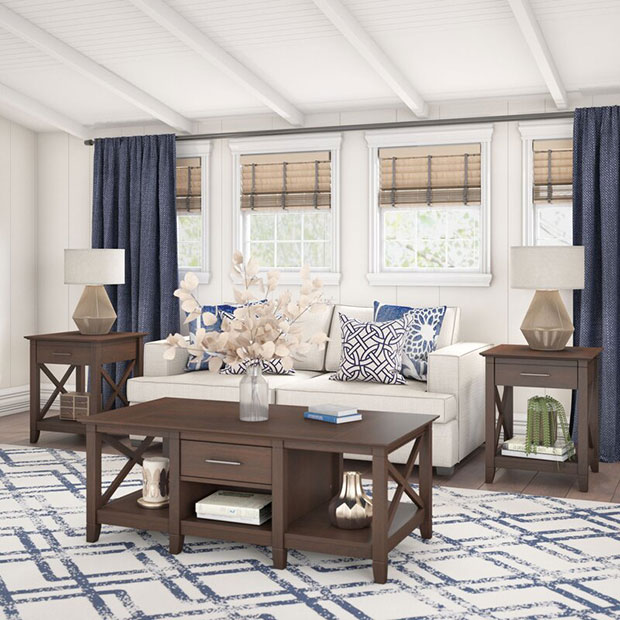 Rosecliff Heights
The best thing about this coffee table allows for a lot of room for storage for various things of various shapes and sizes. You can even have vases and figurines displayed on the spaces to the side.
Nave Coffee Table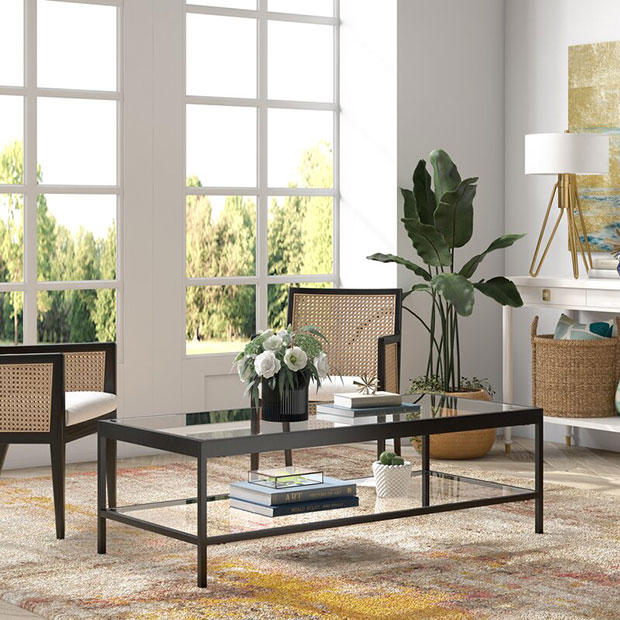 If you've got some space in your living room, a long coffee table like this would work out well.
Goodall Coffee Table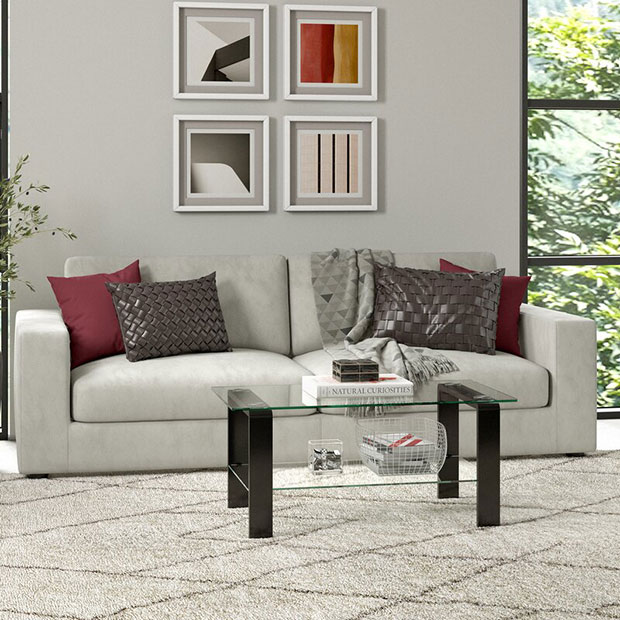 What's most interesting with this coffee table design is how the top and lower tempered glass shelves look like they are floating.
Michaelson Coffee Table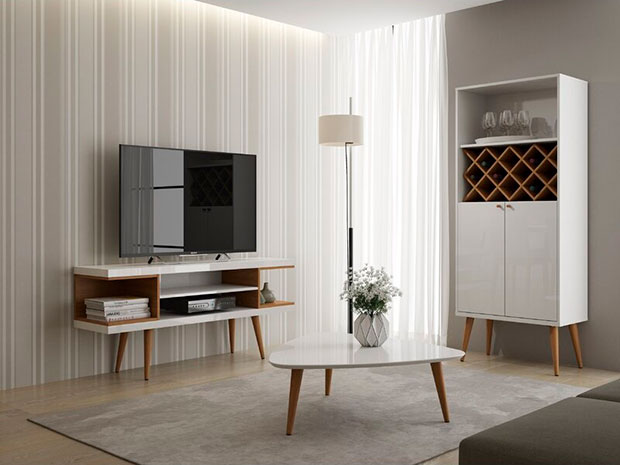 With the mid-century-inspired look, the triangular silhouette is sure to catch everyone's attention. It's a sleek and stylish design that will surely elevate your living room's visual.
Madilynn Trestle Coffee Table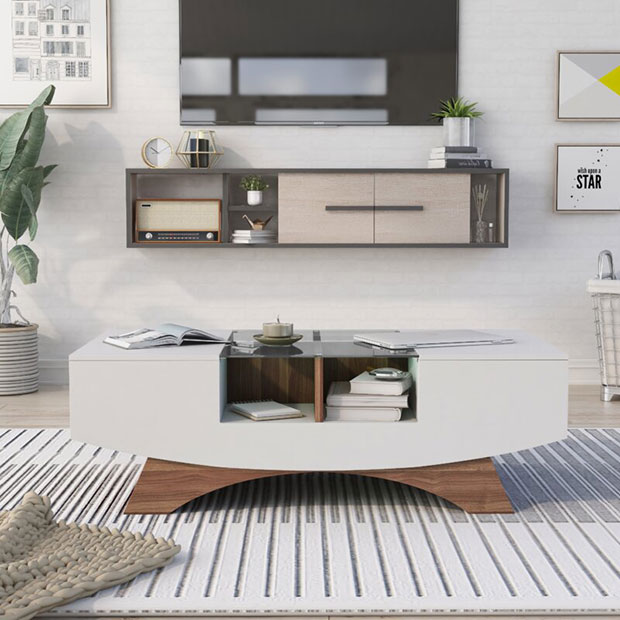 Wade Logan
This coffee table has such a distinct design that will surely add some personality to your living room.
Shumake Frame Coffee Table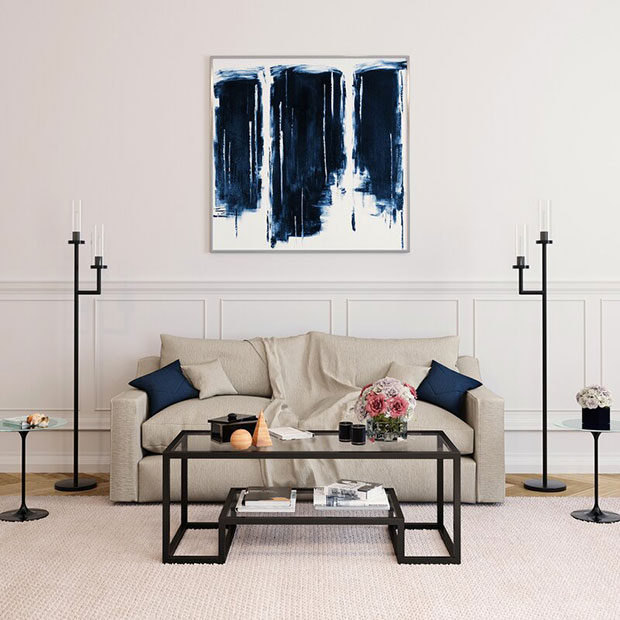 Willa Arlo Interiors
The way the lower shelf is designed is something so unique and visually interesting.
4 Legs Coffee Table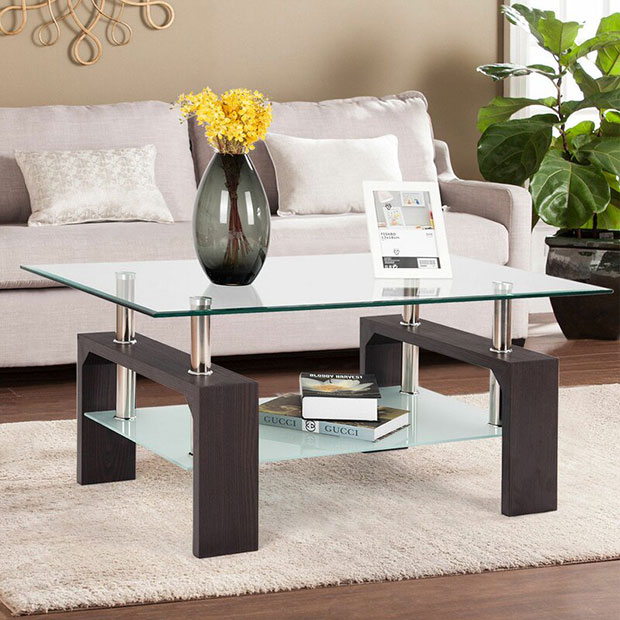 Some coffee table designs are surely artfully constructed. A great example is this coffee table.
Sled Coffee Table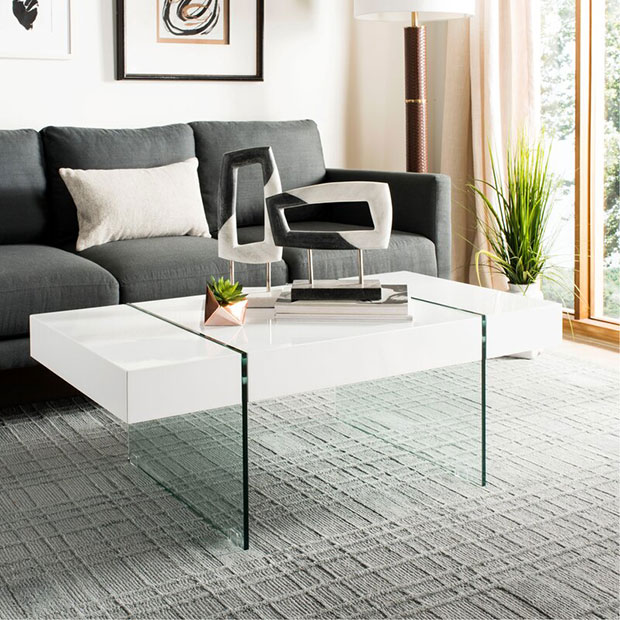 Orren Ellis
While most coffee table designs we've seen have metal or wooden bases, this one boasts a unique glass base. Such a coffee table will fit in so well in contemporary living rooms.
Ducor Cross Legs Coffee Table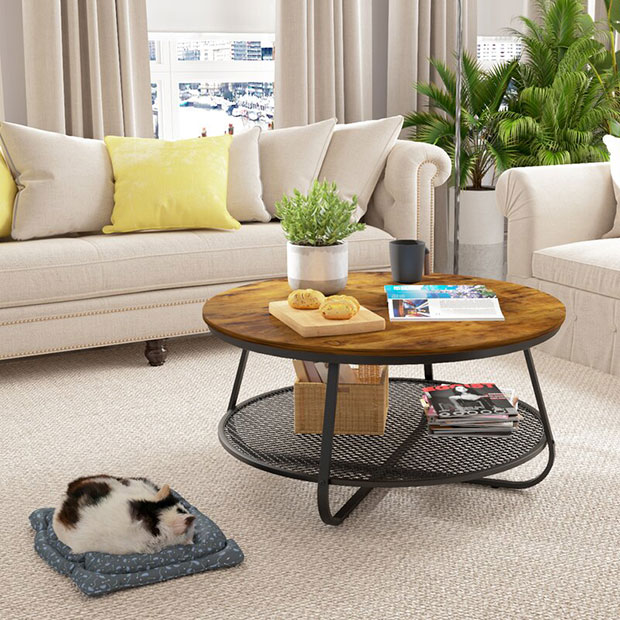 Interesting yet attractive contrast between the wooden top surface and the iron base shelf.
Solid Wood Coffee Table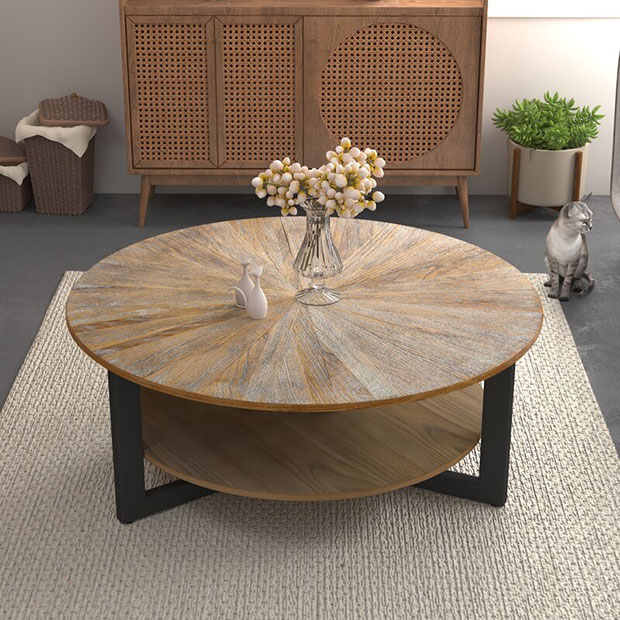 The natural wood grain detailing in itself is a sight to see. While it has an urban industrial look, its rustic appeal can also be something desired.
3 Legs Coffee Table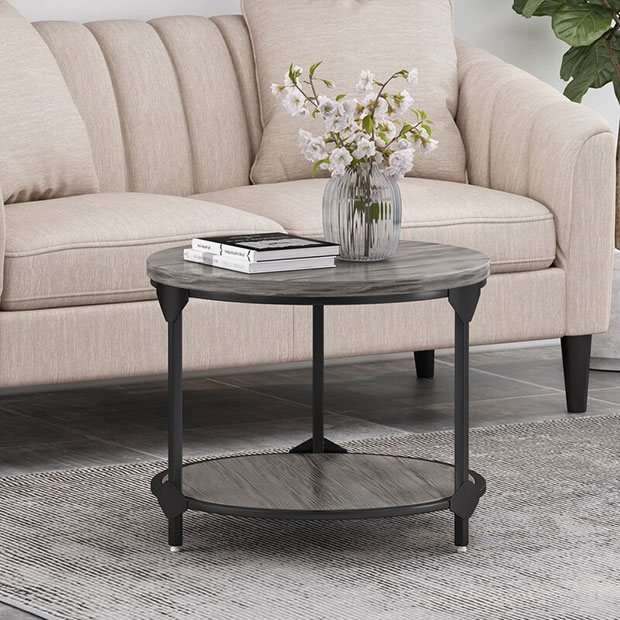 17 Stories
Despite its relatively smaller stature than a lot of these coffee table designs on this list, this stunning piece, with its refined touch, is surely going to grab attention.
Tia Solid Coffee Table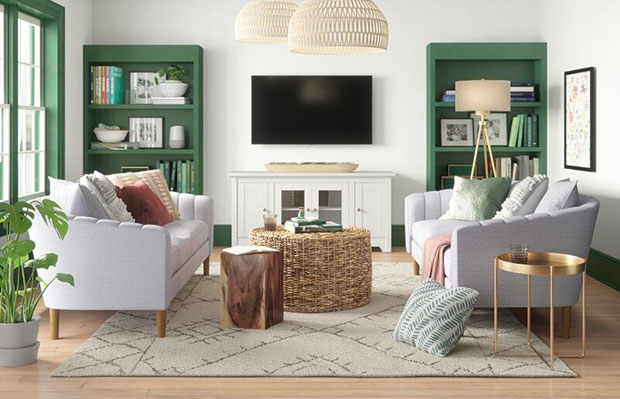 Mistana
If you're looking into coffee table designs that aren't exactly tables, you may want to take a look at this one. Here's one that is made of rattan abaca and with natural finishes.
Burnes Coffee Table

AllModern
The flared legs are a charming design detail that will bring personality to your living room.
Macri Coffee Table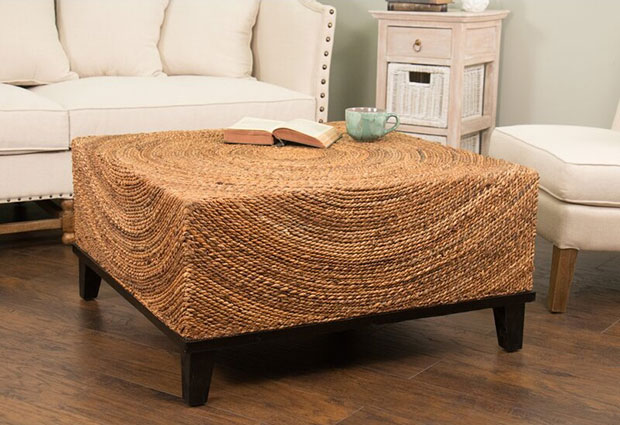 Birch Lane
This carefully and masterfully handwoven abaca coffee table adds texture and dynamic to your living space.
Brock Coffee Table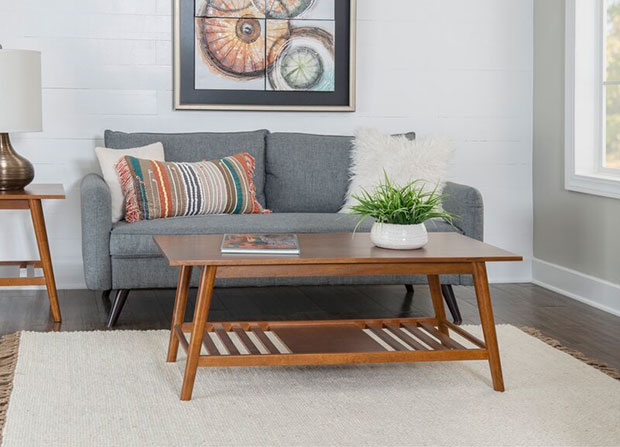 Hashtag Home
The slatted lower shelf certainly brings a different charm to this coffee table design.
Hayslett Sled Coffee Table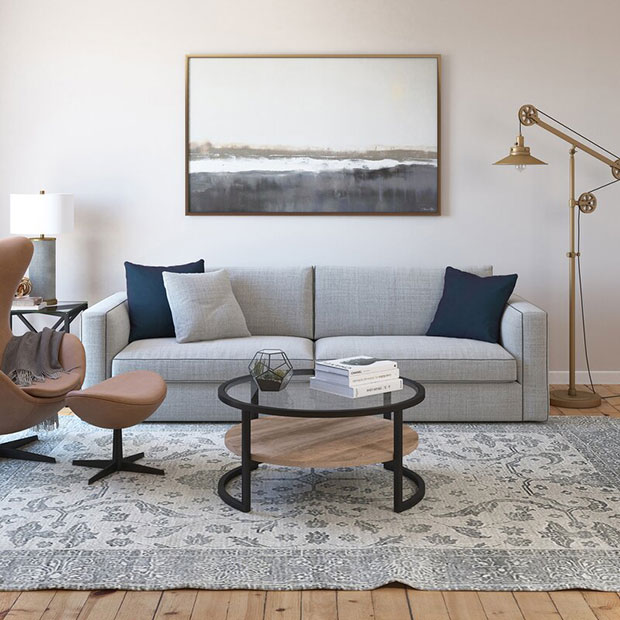 An elegant coffee table design with an industrial-style charm due to the wooden lower shelf.
Mccaslin Coffee Table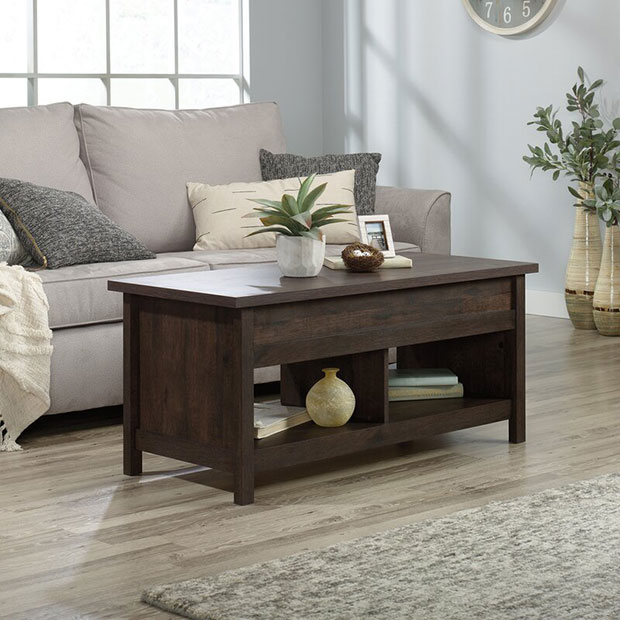 At first glance, this coffee table seems to be your classic coffee table design. But the top surface can be lifted to be used as a workspace and reveal a hidden storage compartment.
Colten Block Coffee Table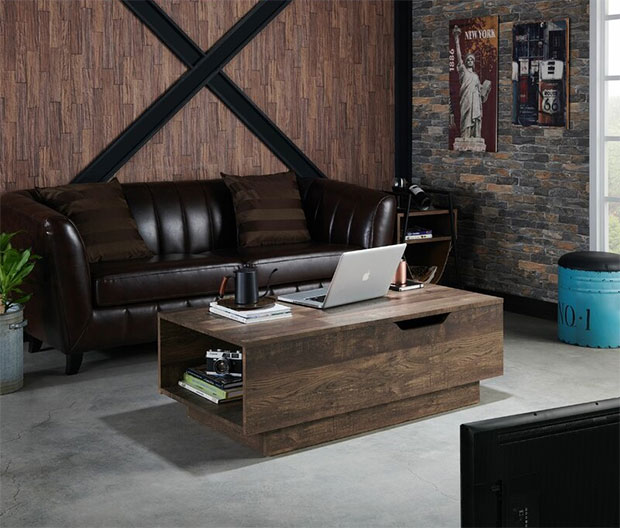 Laurel Foundry Modern Farmhouse
Another coffee table design with a lift-top hiding a storage compartment. This particular design, though, brings in a rustic charm.
Pamila Coffee Table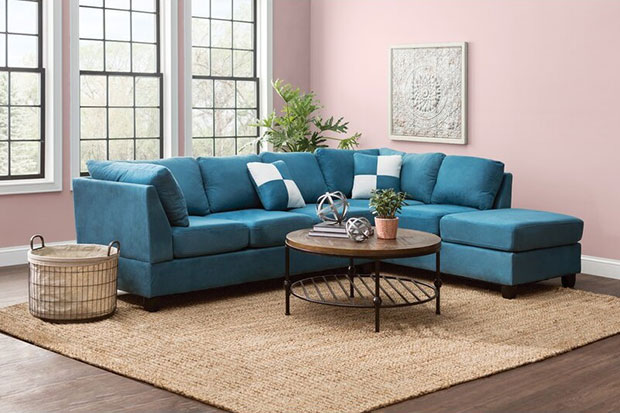 This is quite the charming coffee table with a rustic appeal that will add some personality to your living room.
Coffee Table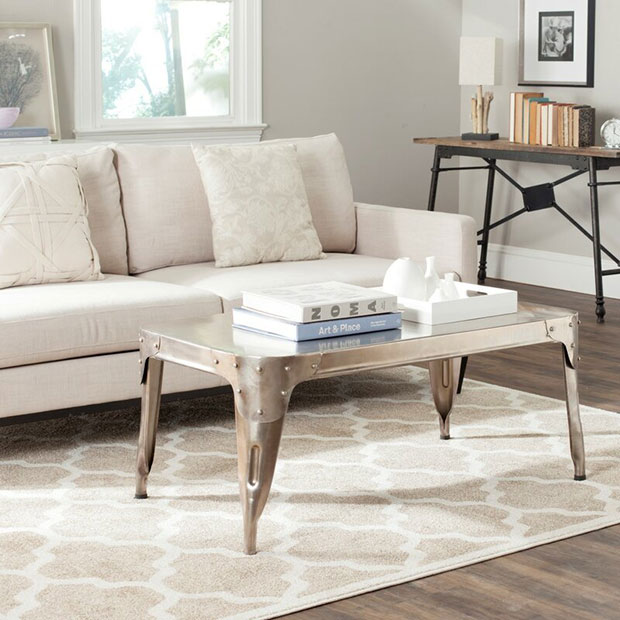 Williston Forge
Bring a different kind of charm in your living room with this iron coffee table that was so masterfully crafted.
Winnie Sled Coffee Table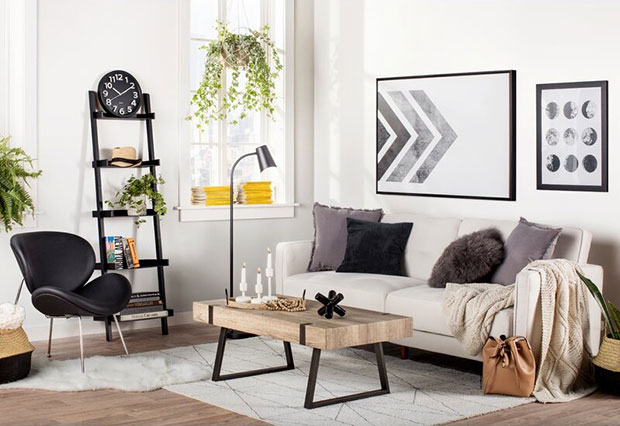 Zipcode Design
The metal legs are quite the attractive point of this coffee table, while also bringing an industrial aesthetic.
Basilico Coffee Table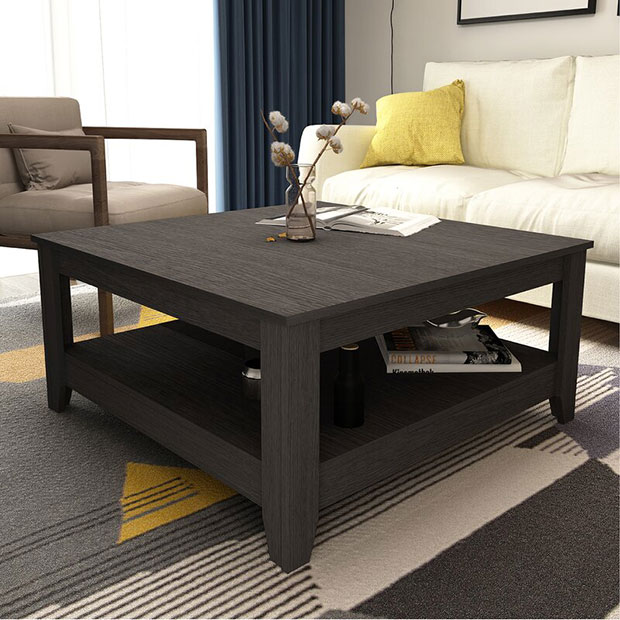 Winston Porter
You can't go wrong with this classic compact coffee table design. This will certainly look good in both modern and traditional living rooms.
Ashwood Coffee Table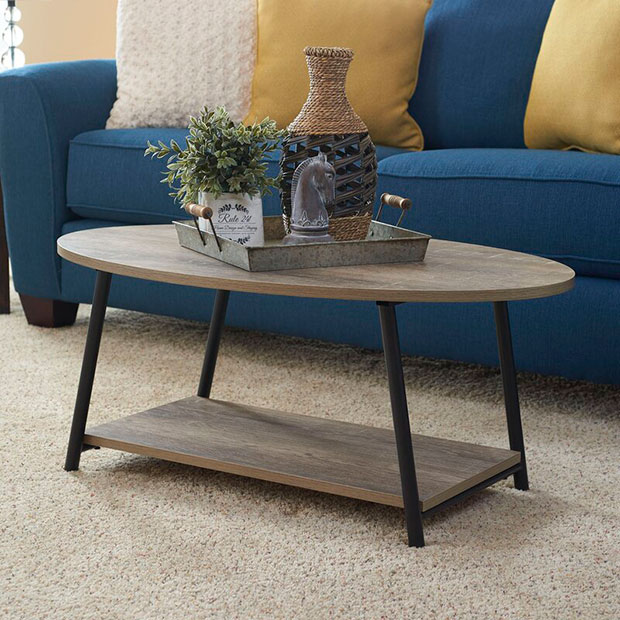 While in most coffee table designs the lower shelf simply mimics the shape of the tabletop surface, this coffee table takes an interesting design choice.
3 Legs Nesting Coffee Table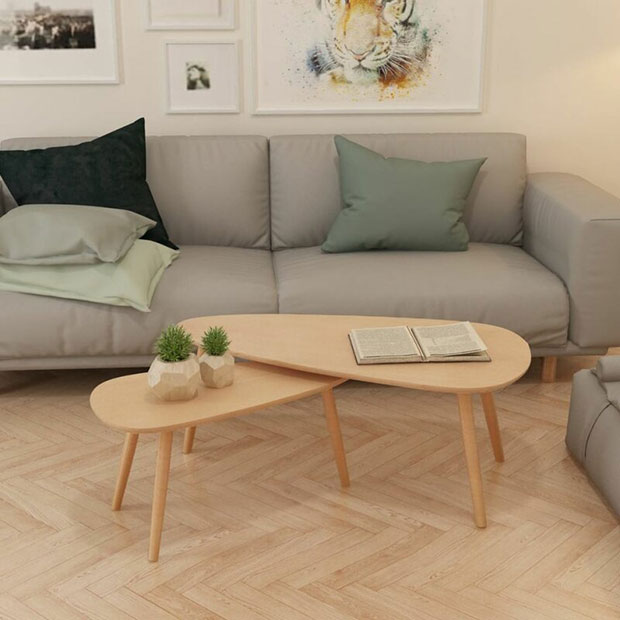 Foundry Select
As one of the suggestions of alternative coffee table designs, consider a table set like this. This way you could set each table, with the help of their different sizes, with their function.
4 Legs Coffee Table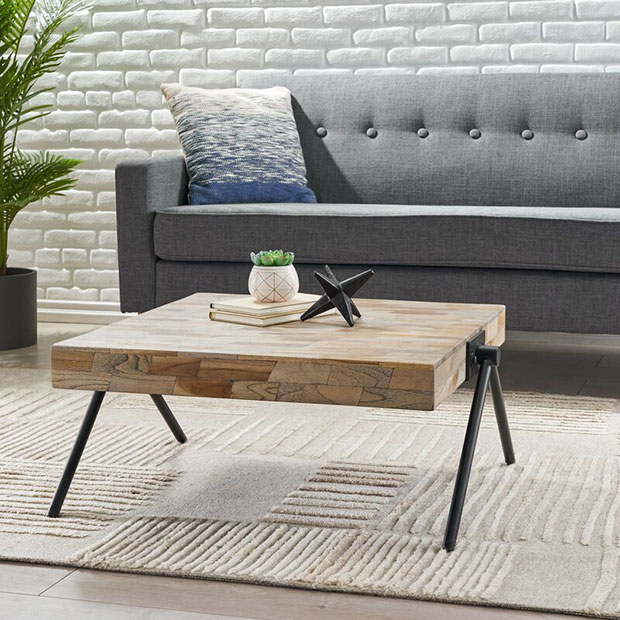 Loon Peak
The raw industrial touch will certainly have people looking at this coffee table.
4 Legs Coffee Table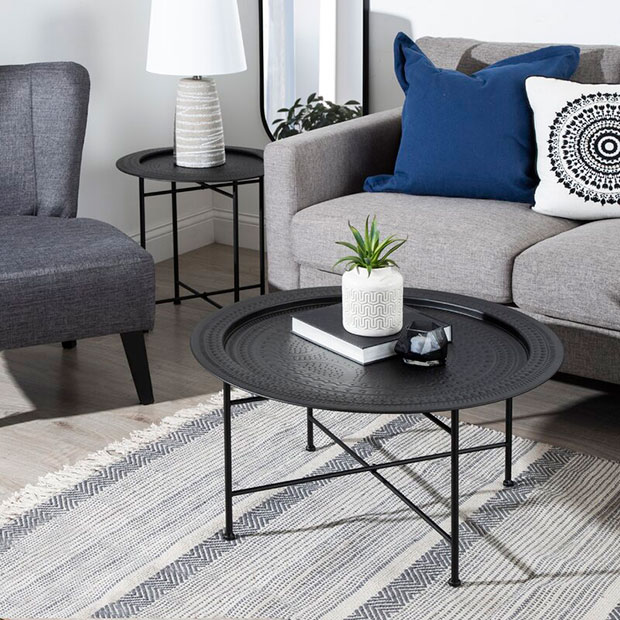 Dakota Fields
With a sleek tabletop surface design that is reminiscent of a tray, this kind of coffee table is perfect to serve drinks to guests.
Ahart Frame Coffee Table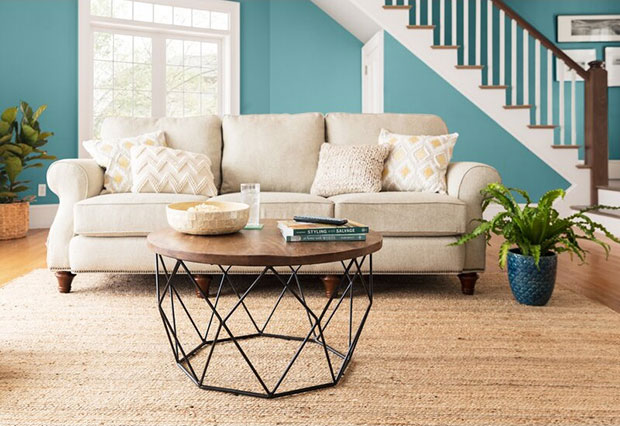 The diamond-patterned base calls for this coffee table to be the perfect centerpiece in your living room.
Campanelli Coffee Table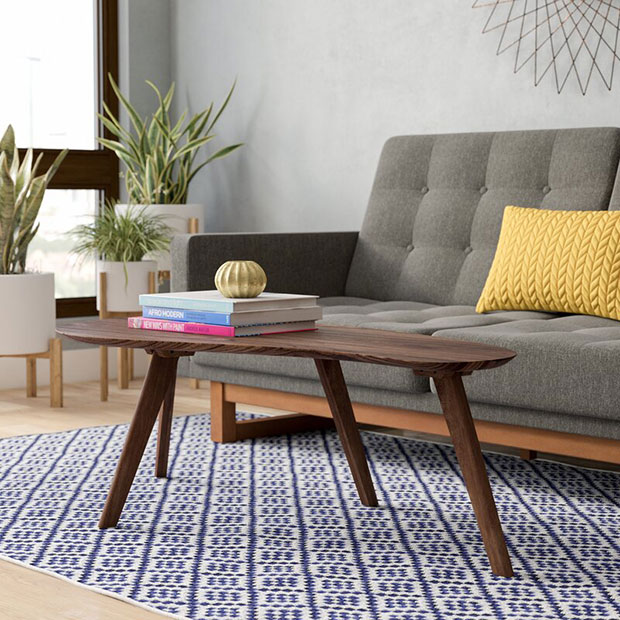 The flared four legs and the abstract shape of the top surface all come together to bring one neat mid-century modern coffee table.
Stallard Pedestal Coffee Table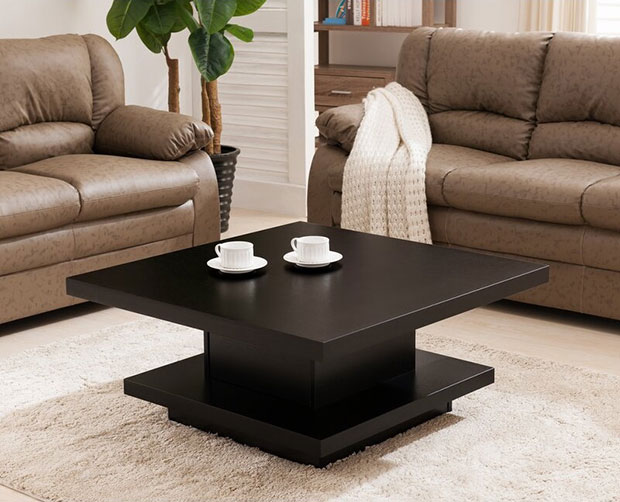 Mercury Row
This coffee table enjoys a bold yet simplistic silhouette, perfectly setting the tone for a contemporary living room.
Desma Coffee Table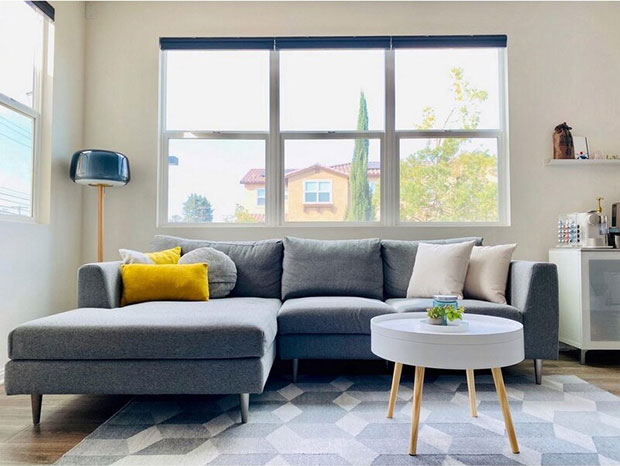 George Oliver
This attractive piece of furniture isn't your typical coffee table design. It has an easily removable tabletop lid revealing hidden storage space.
Coffee Table with Storage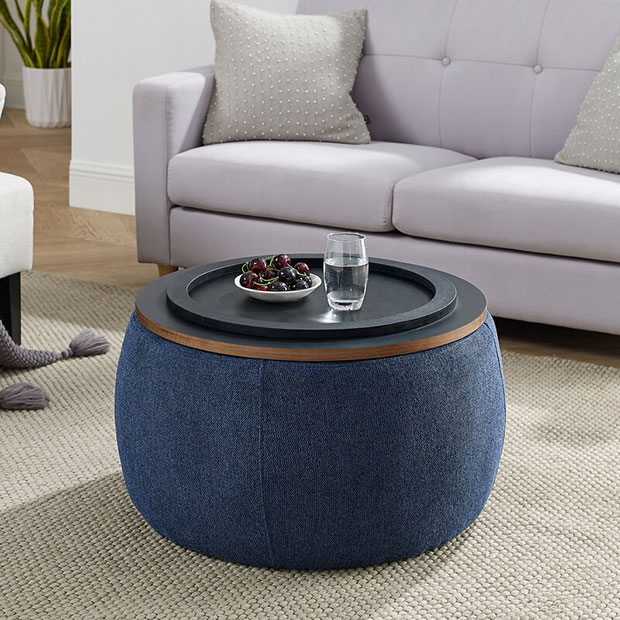 Latitude Run
Interestingly, this coffee table resembles an ottoman chair more than a coffee table. And it is so since it can also be used as one or as a footstool or a seat. All you need to do is flip the tabletop lid!
Cambridgeshire Cross Legs Coffee Table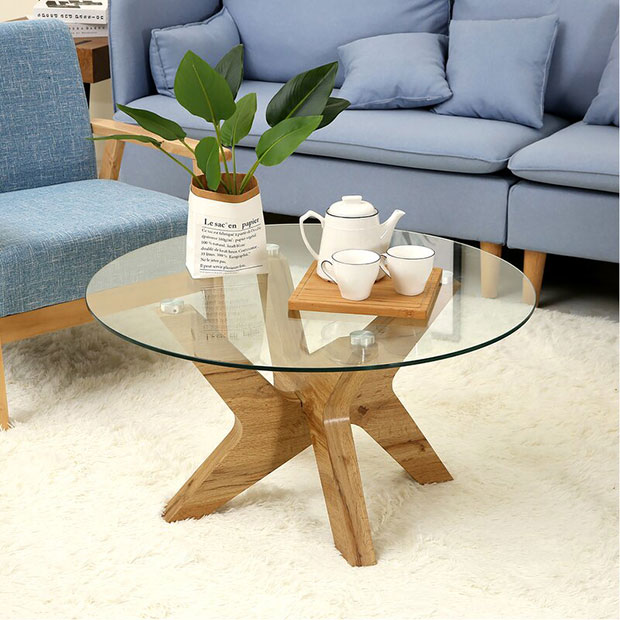 Ivy Bronx
The x-shaped table legs somewhat look like a great architectural piece. This would certainly liven up your room.
That's it for amazing coffee table designs that will surely add personality to your living room!
Like This Post? Pin It!