65 Cozy Country Kitchen Designs for the Home Cooks
|
Our kitchens are integral to our homes. The way your kitchen is designed is integral to the main function of the room. It is important to have a design that will ease the flow of movement, to have the place organized, and a design that creates the perfect ambiance for its main purpose.
There are many designs to choose from that could fulfill all these things but if you seek a warm, cozy, and comfortable kitchen, you may be looking at country kitchen designs.
What is a country kitchen design?
Country kitchen designs are all about casual and cozy decorating style, alluding to the simple country life. Aesthetically, the country interior design uses pastels and bright colors, vintage, and secondhand furniture, and accent pieces. You will see the use of natural materials such as wood, brick, and stone, and do not shy away from exposed beams, wood paneling, and flooring as part of the classic country design elements.
Some specific variety of details could, however, bring out specific variations of country style including modern or traditional country styles, and even regional variations such as English or French country style.
How do I make my kitchen into a country kitchen?
As mentioned before, country kitchen designs are supposed to encapsulate both country's feel and look. It comes with the colors and materials to bring out that warm, cozy, and homey feel in country kitchen designs.
Here are 7 ways to turn your kitchen into a country kitchen!
Most country kitchen designs opt for white paint as it makes the room look more spacious. But you can also choose brighter colors to liven up your walls, cabinets, and even appliances! As it is with a country feel, nature-inspired shades and palettes are a recurring theme.
2. Using patterns
Plaid and tweed fabrics may come to mind when somebody mentions country style. But many more options fit in with country style such as floral, woodland and animal prints. Your choice of style and colors for your cookware and tableware could also create a cohesive theme in your kitchen.
3. Adding antique details
If your country kitchen design isn't leaning more on a modern look, try adding some antique details to give it a more traditional feel. Some vintage dining tables and chairs could help or some small ornaments to place around the area.
4. Investing in traditional appliances
Although not necessary, some homeowners replace their kitchen appliances with more traditional ones to capture an authentic country look.
5. Mix and match
The thing about country kitchen designs is that they look better and cozier when things are mixed and matched. It's a charm that highlights the casual look that country kitchen designs aim for.
6. Putting everything on display
The appeal of a country kitchen being homey is coming from the fact that it has been used and used often. This could be shown by displaying everything you have such as tea towels and crockery. This doesn't mean a completely disorganized kitchen. You could use cupboards with glass doors so that your extensive crockery collection is on full display. Place hooks where you can put up your gloves, aprons, and towels.
7. Using scents
It is said that baking scents could elevate that homey feel of country kitchens. There is a variety of scented candles of which you can choose from that smell like freshly baked pastries such as bread and cookies.
Country Kitchen Designs for Inspiration
Now, let's take a look at some cozy country kitchen designs!
Room to Breathe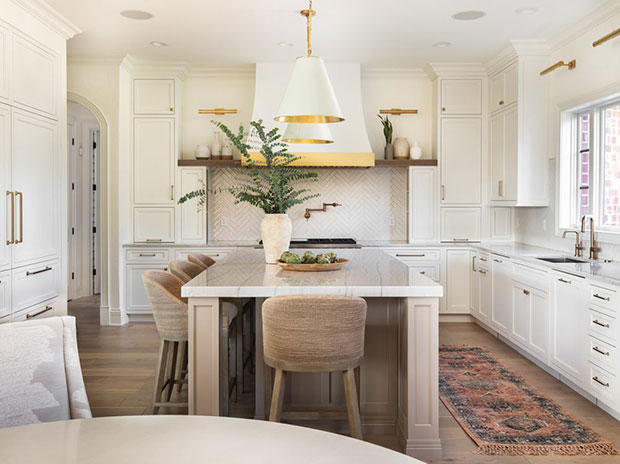 Karr Bick Kitchen + Bath
The addition of gold and bronze accent colors elevates this kitchen to a more elegant design. But the mix of white and natural wood colors brings that cozy and homey feel desired.
Wildcat Bend Court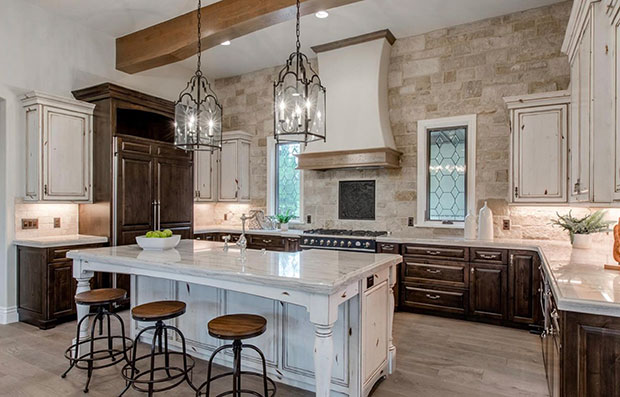 Ryan Homes Colorado
Antiquated-looking furniture and furnishing are one of the charming aspects you can see particularly on this country kitchen design. The cabinets and island table certainly are up to the standard appearance without it looking too shabby.
English Country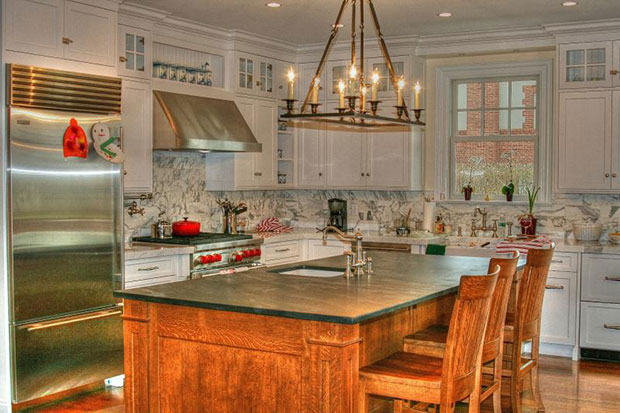 CCS Woodworks Inc.
Huge island tables like this are some of the charms for country kitchen designs. But with this being more a specific variation of English country, you can see some key elements of said design style.
French Country II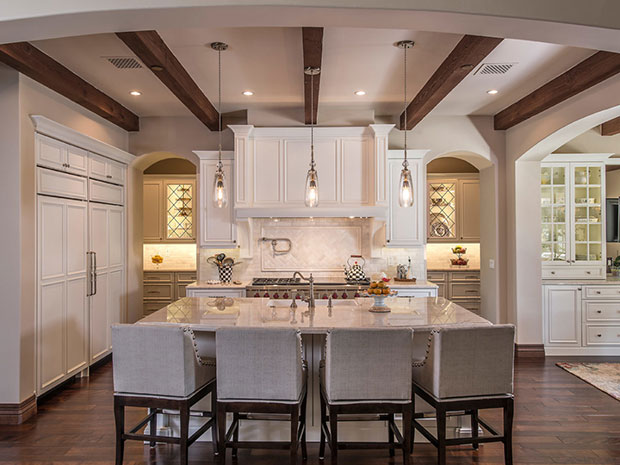 Starion Custom Residences, LLC
The upholstered chairs, decorative furnishings including cabinets, and range hoods make up for such a fine and stylish kitchen.
Wellington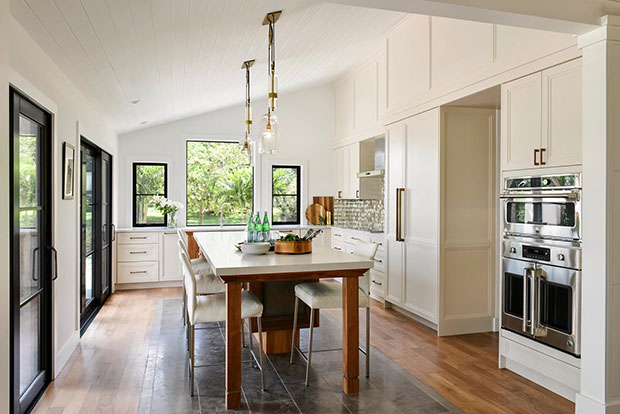 Milieu Interior Design & Custom Homes
This is one of the most casual and cozy country kitchen designs with a more modern take to it.
Modern Farmhouse meets French Country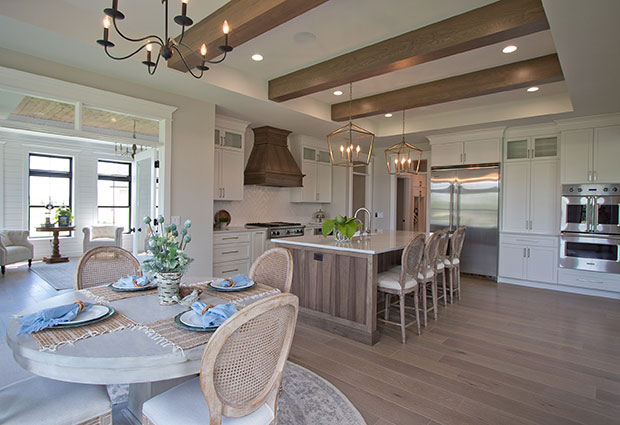 The shabby-chic chairs stand a beautiful contrast against the modern kitchen appliances. But altogether, it brings a unique charm of style.
Farmhouse Flair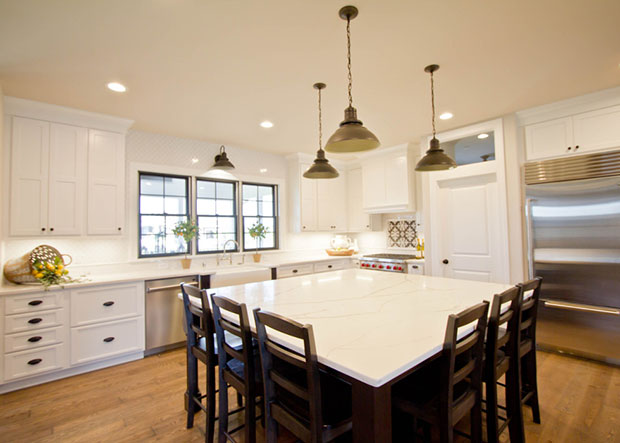 Farmhouse and country design styles have some similarities that could be mixed together like in this kitchen. It brings the best of both styles in simplicity and comfort.
Elegant Country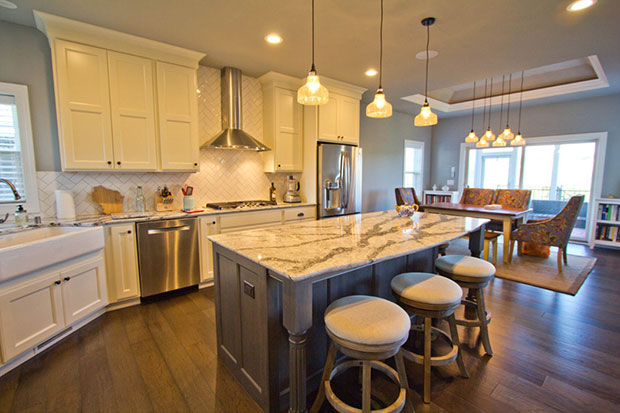 Coyle Carpet One Floors & Home
What's interesting with many country kitchen designs is the pristine white furnishing of the sink and cabinets adjacent. Then, opting for more rustic-looking island chairs and tables.
Saddle River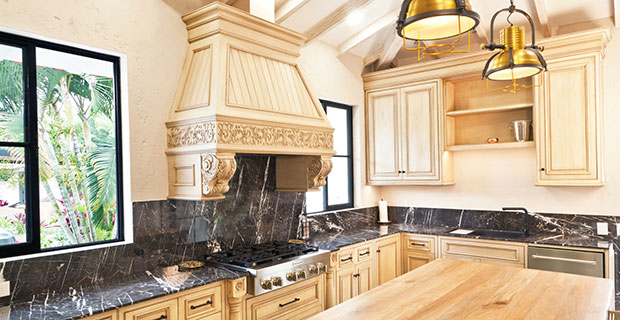 WL Kitchen & Home
One of the charming points for French country kitchen designs is the decorative range hoods. While the cabinets and other furniture do have moldings and carvings, much of the attention goes to these range hoods.
Mettawa French Country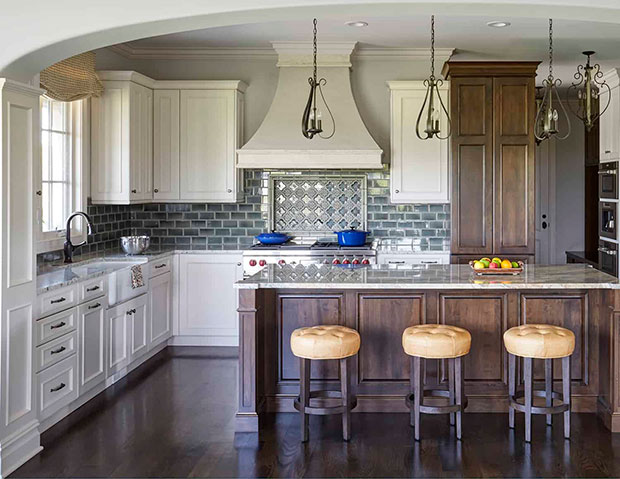 Here is an interesting contrast of white painted cabinets and natural wood tones. There's also a need to point out choices of some traditional appliances.
Rustic English-Country in Green Oaks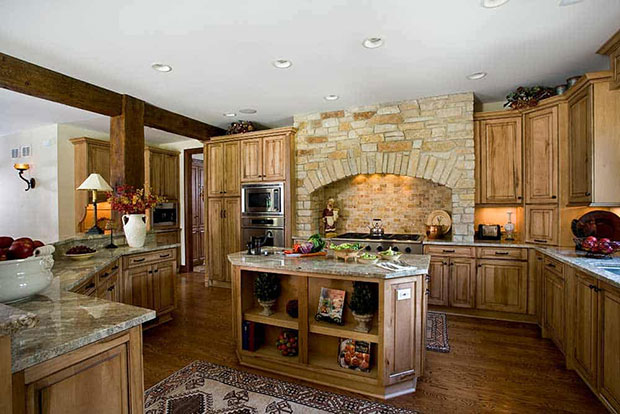 The rustic appeal definitely brings the warm and cozy ambiance of this particular kitchen. And those decorative accessories and pieces are very country style.
A Rustic, Country Retreat in Mettawa
Contrary to the previous country kitchen designs, this country kitchen with rustic appeal features much more variety of colors.
French Country in Riverside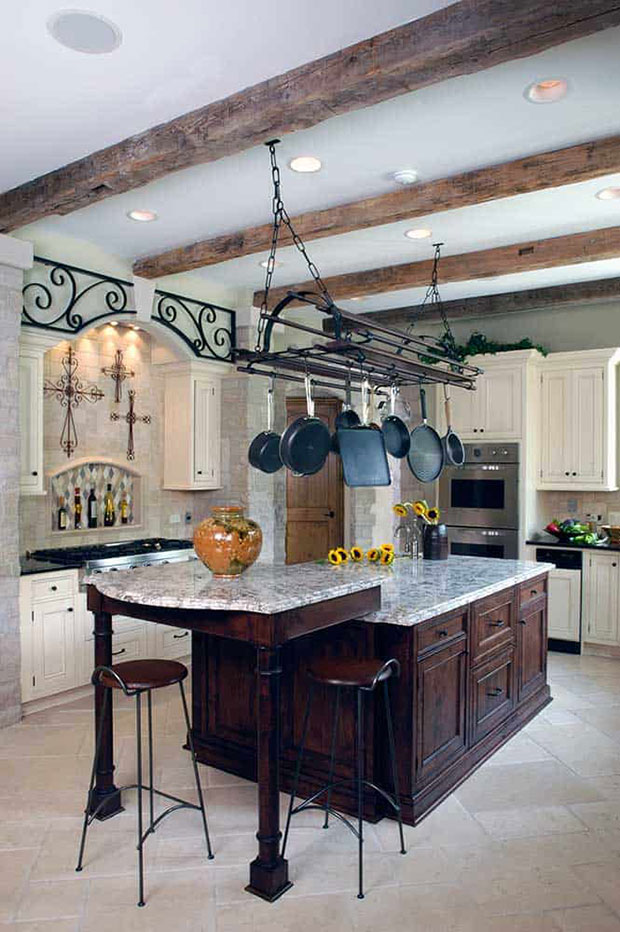 Exposed rustic beams are one of the charming points in a country kitchen. But this home kitchen also features some fully furnished traditional furniture and appliances that give it a sophisticated look.
French Country in Bannockburn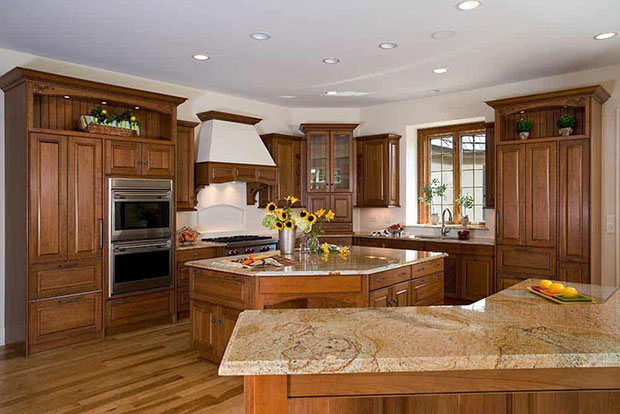 Albeit a very straightforward kitchen design with not many decorative pieces, the decorative moldings and carvings do make this kitchen look classier yet traditional.
French Country in Powers Lake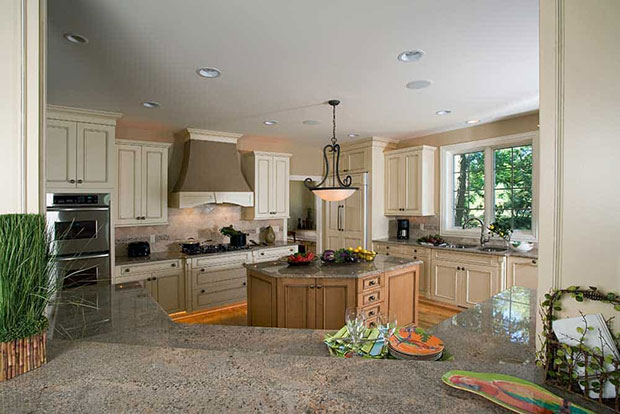 The light color tones of this country kitchen work perfectly to create a warm and cozy ambiance.
Country French manor in Barrington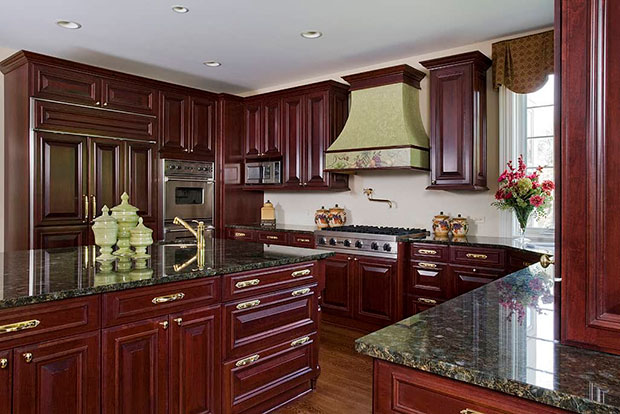 Orren Pickell Building Group
The range hood design pops out in this kitchen furnished in dark wood tones.
French Country Kitchen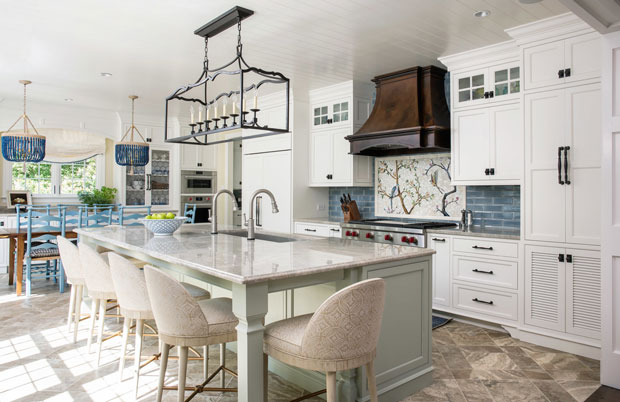 Tony Giammarino Photography
The artistic backsplash tile is something that will definitely get people's attention. It brings a little bit of a whimsical feel to this kitchen.
Natural Beauty Kitchen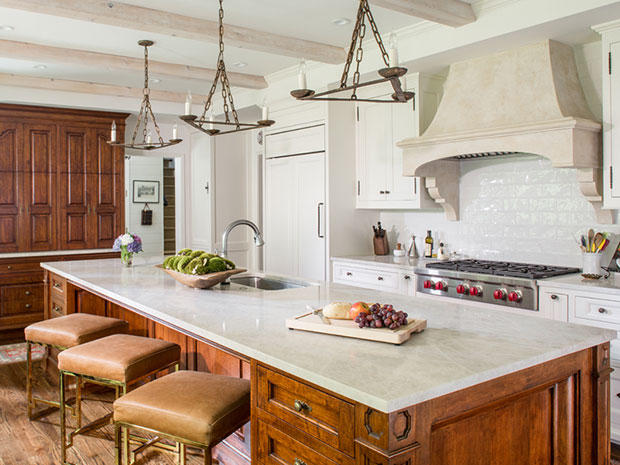 Huge island tables like this are well-appreciated in country kitchen designs as they bring a homey feel to the rest of the room.
Space for Everyone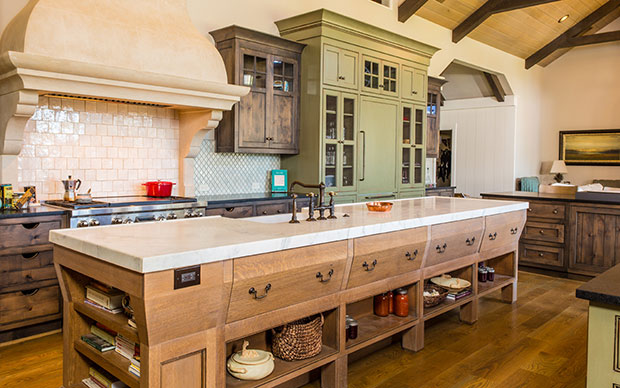 Phillips Collins Construction
The wooden furniture choices definitely capture the country kitchen appeal. Not only that, but the decorative pieces found throughout the area capture that casual, 'lived-in' essence of country kitchen designs.
French Haven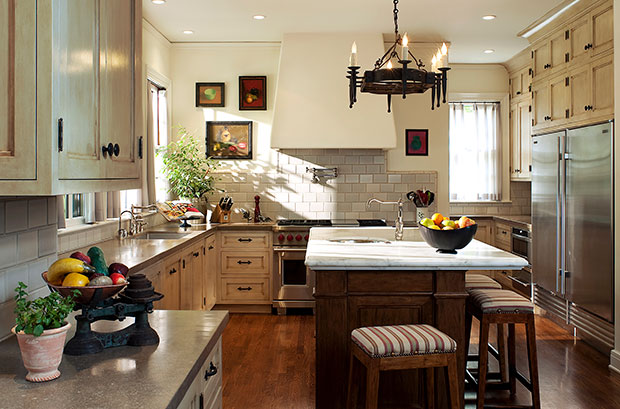 Tommy Chambers Interiors
The natural light combined with the light color tones bring a wonderful and welcoming warmth present in many country kitchen designs.
Traditional Country Estate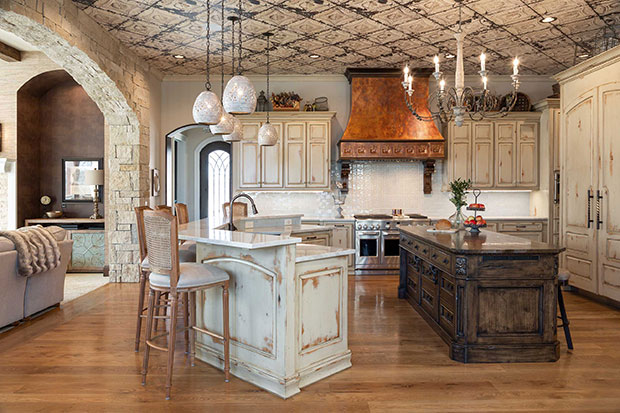 Tran + Thomas Design Studio
The worn-out look of this kitchen's furniture bring a timeless elegance. And the way the brilliant bronze color of the range hood strangely complements them is interesting.
St. Paul French Country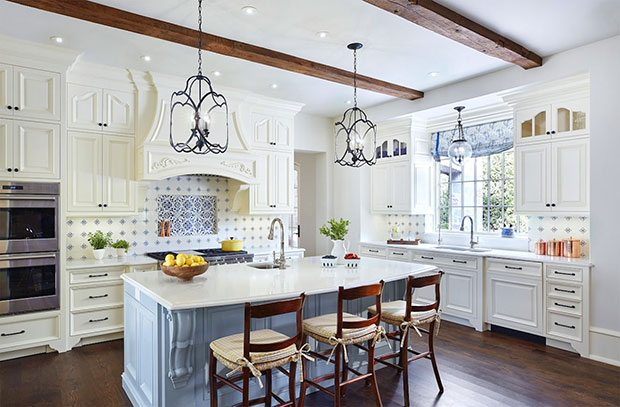 Charlie & Co. Design, Ltd.
The color choices of this particular kitchen bring a much cooler ambiance than the usual warm ambiance. Still, it gives off the same welcoming and casual look.
New English Country Manor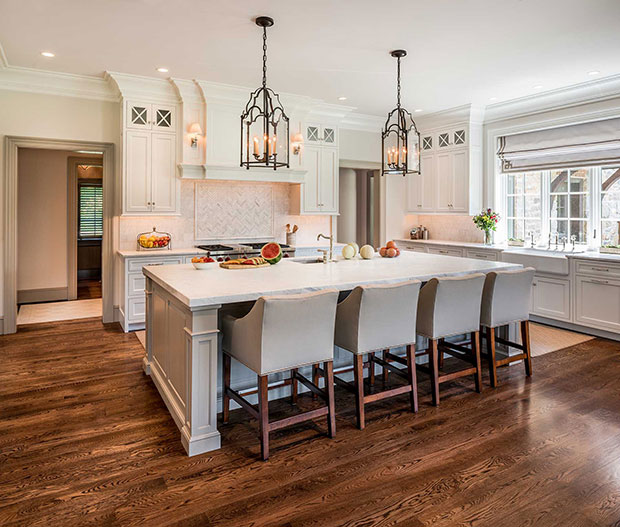 It is fairly interesting to see the stark contrast of the dark wooden floor paneling as opposed to the white kitchen furnishing.
New Country French Classic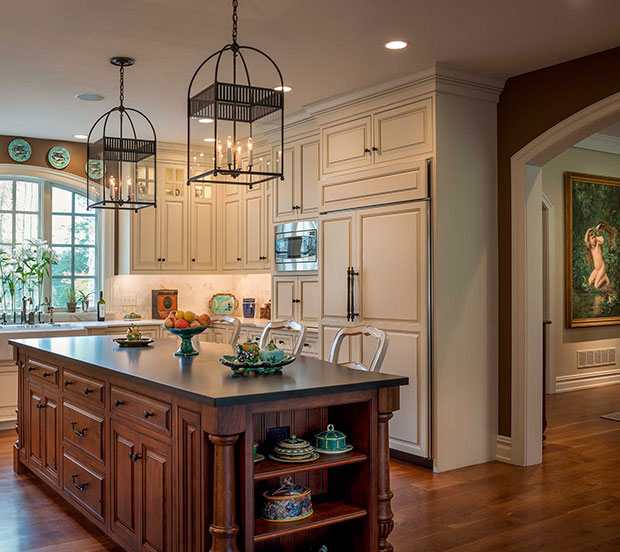 Island tables with shelves on the side are perfect for country kitchen designs to be able to display eccentric accessories.
Marshallton Residence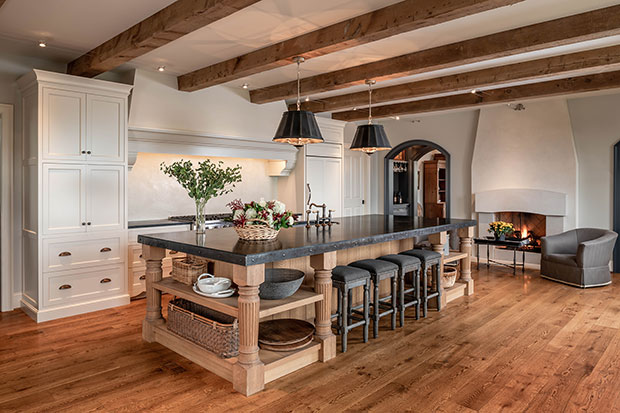 Porter Construction
This country kitchen has to be one of the most casual country kitchen designs.
Historic Brookhaven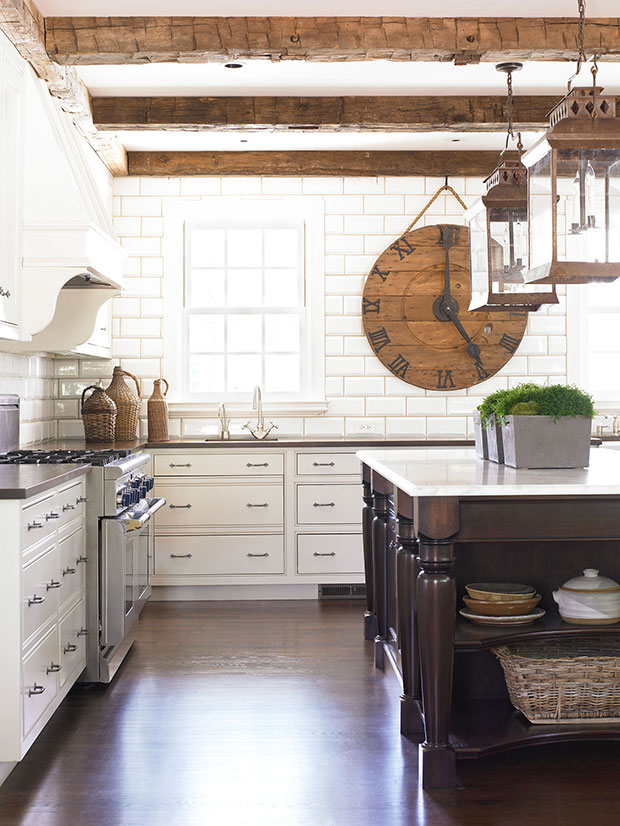 Amy Morris Interiors
The exposed beams, old-aged accessories, and the vintage range stove all contribute to that country kitchen design aesthetic. This is certainly one old-fashioned kitchen.
Chippenham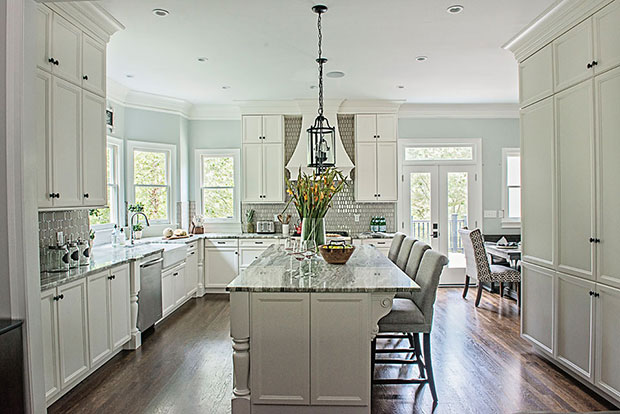 Emily Dyer Design LLC
For a more modern country kitchen look, you may need a simple, clutter-free design without many decorative and accent pieces.
Country Cottage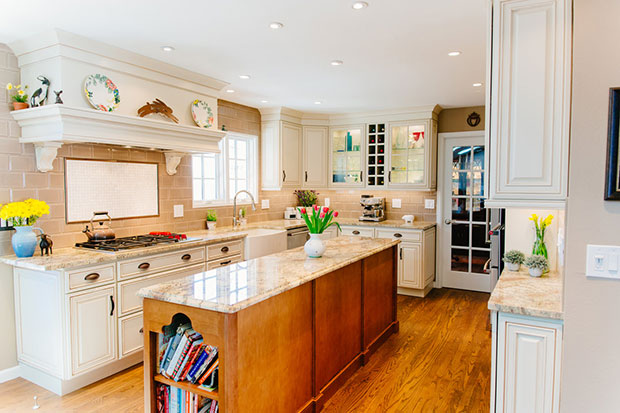 "Busy" is the first word that comes to mind, looking at this kitchen. This country cottage kitchen instantly livens up with some whimsical decorative pieces found throughout.
Denver Country Club Classic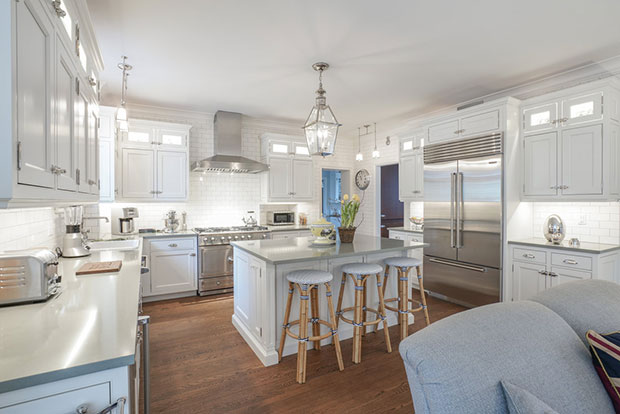 Jan Neiges CKD LLC
Here is a classic country kitchen design that is simple as it is cozy.
Declan Kitchen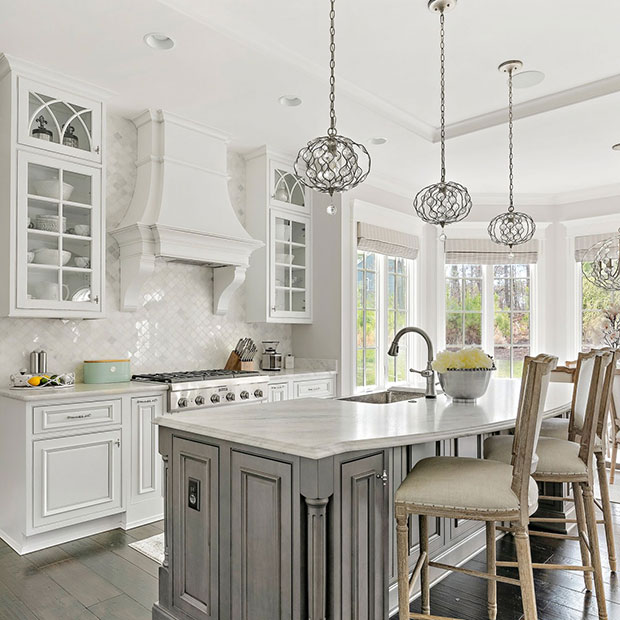 Perkinson Homes
Many country kitchen designs boast some stunning chandeliers that complement well with rustic and vintage style.
Gahanna Luxury Kitchen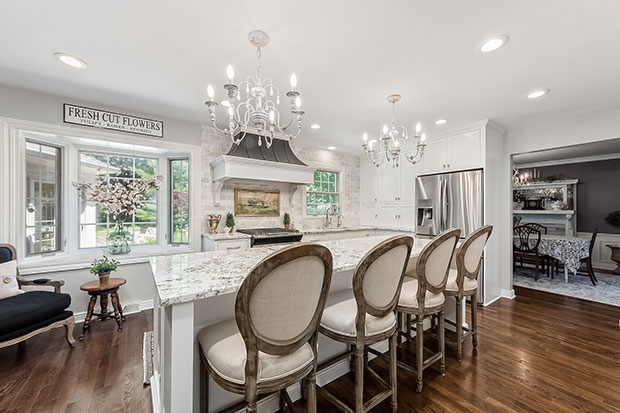 Kitchen Kraft Inc.
There is a beautiful visual appeal on the contrast between the vintage furniture and some more modern elegance of furnishing.
Lakemere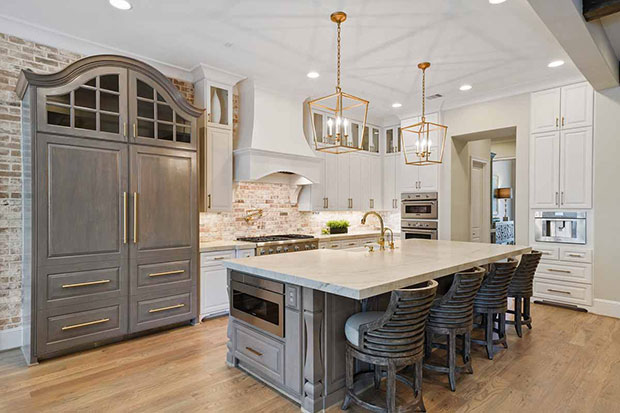 Scene One Interiors
The brick wall side of this kitchen is quite interesting, adding another visual layer of interest. This too, with traditional and antiquated-looking furniture.
Granada Hills Traditional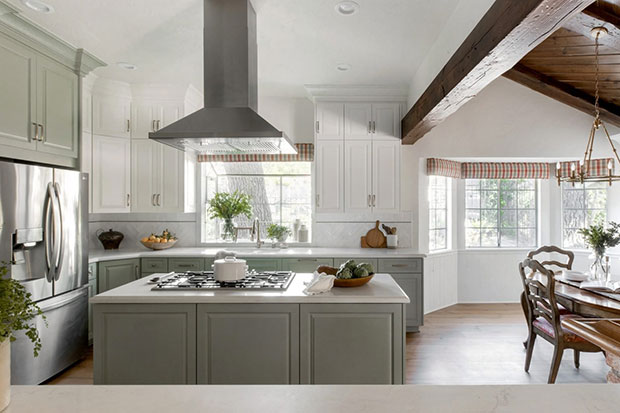 JLK Interiors
Open floor plans are an effective way of giving the room that welcoming and casual atmosphere.
Greenview Kitchen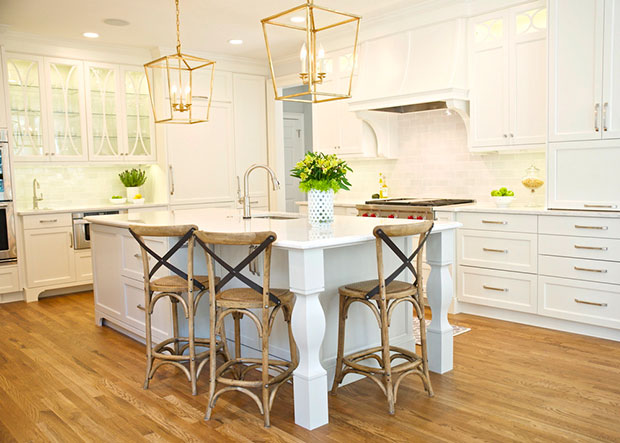 Something is appealing about the addition of rustic island stools that contrast with the pristine white, traditional furniture and furnishing.
Willow Brook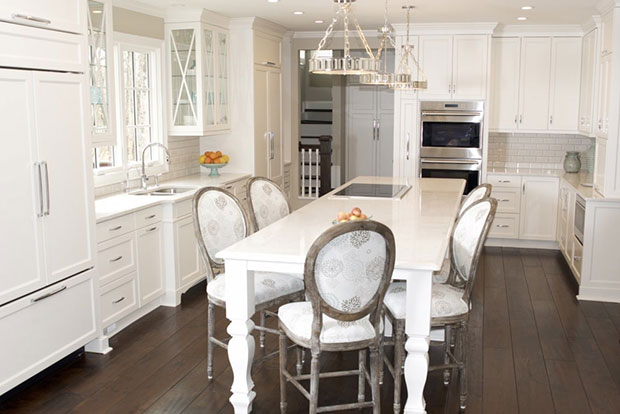 Architecturally Inspired Kitchens
The worn-out chairs bring that "used" and "lived-in" look for this kitchen. It is a great complement to a spotless country kitchen.
Spindlewood

Marshall Veal Custom Homes
This island table does its work as the focal point of this kitchen so well with those beautiful decorative carvings.
French Renaissance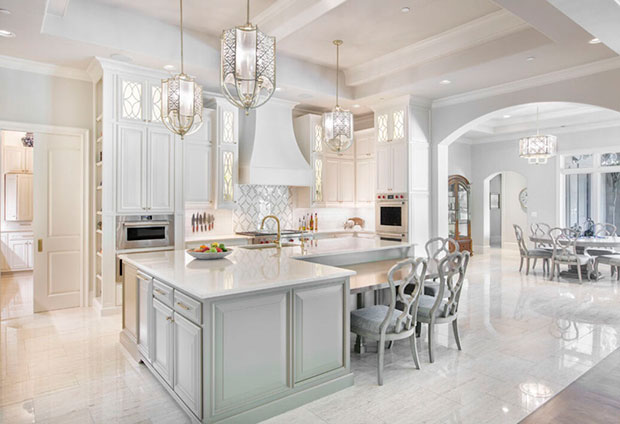 Heritage Design
The interesting point in this kitchen is the lower-level section of the kitchen island. That seems to be a modern flair for this kitchen.
Ridge Park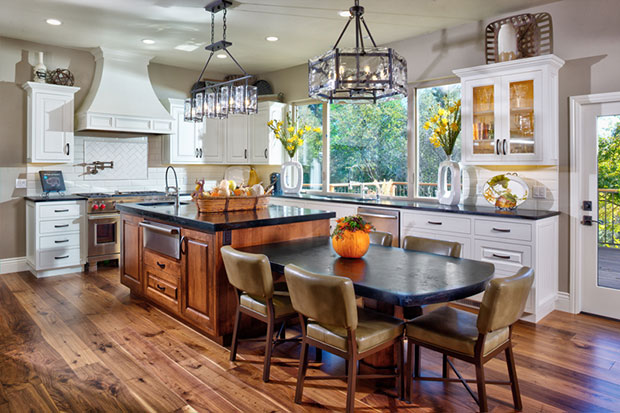 JNT Building & Remodeling Inc.
Having a dining table extension to the kitchen island definitely brings a casual, homey, and cozy feel to the entire kitchen.
Edina French Provincial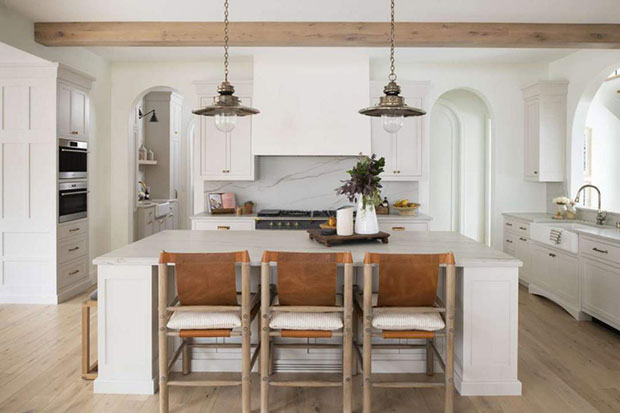 City Homes LLC
The rustic chairs and eclectic chandelier elevate the aesthetic value of this country kitchen.
French Country Charmer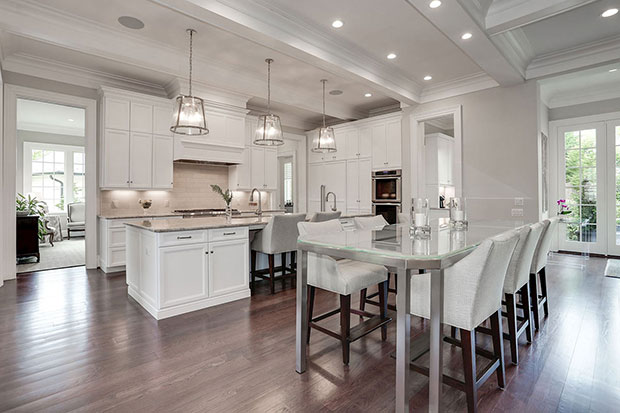 Add a bit of modern flair for your French country kitchen with some eclectic choice of modern furniture.
Southern Hospitality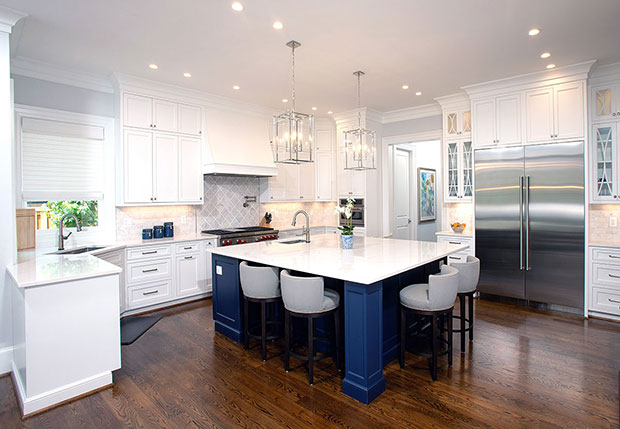 Joy Design + Build
The dark blue paint on the kitchen island is such an interesting choice that is nearly a subtle detail.
Metropolis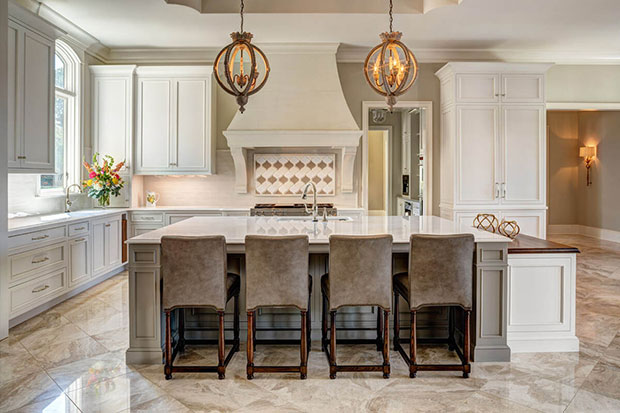 Augusta Homes, Inc.
The chandeliers and floor tiles truly bring elegant sophistication to this kitchen.
Custom Kitchen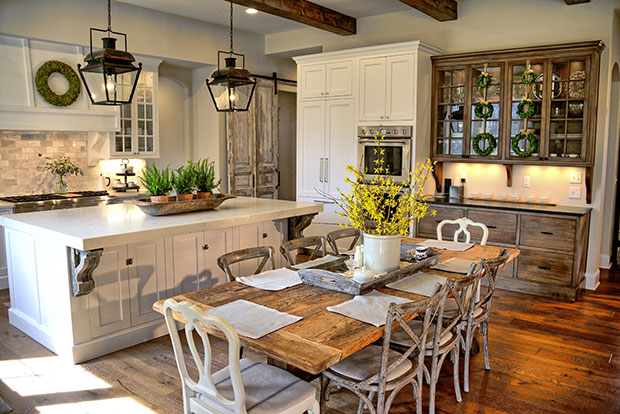 This custom kitchen has to be the most traditional country kitchen design on this list with some rustic farmhouse flair.
Custom Kitchen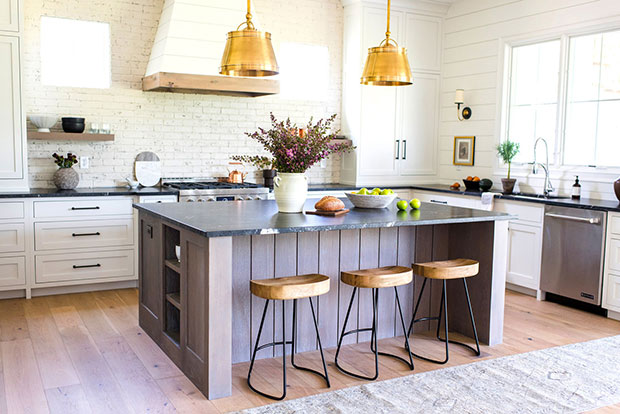 Homes by Design
Here's another faithfully traditional country kitchen design! With all the natural materials, plus traditional appliances, this creates a perfect warm ambiance.
English Country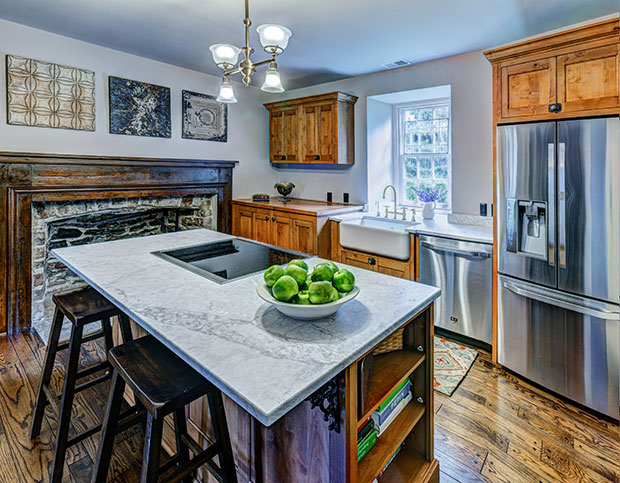 Having a fireplace in your kitchen elevates the warm ambiance and country aesthetic.
Italian Countryside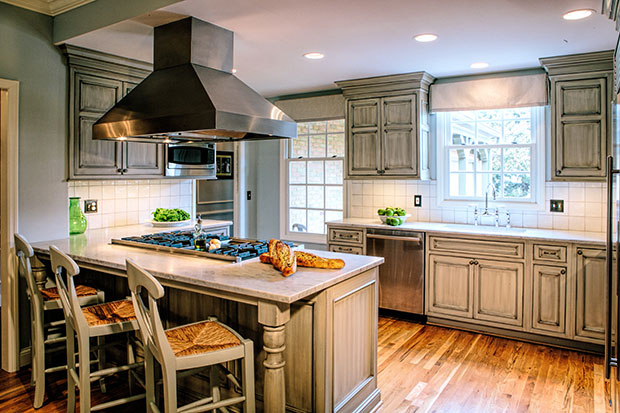 Angela Bonfante Kitchen Designs
This shade of grey paint is perfect in country kitchen designs for a casual and comfy look.
French Country Estate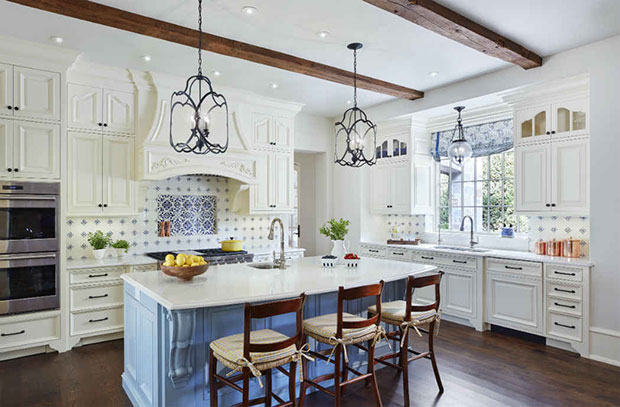 Martha O'Hara Interiors
If you're going to have one color to be dominant in your kitchen, match the color of your kitchen island with wall tiles or the curtains like here.
Farmhouse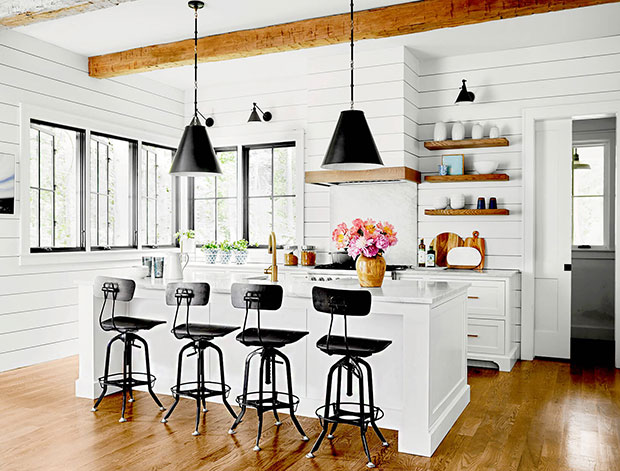 Interestingly this kitchen has some industrial-style elements to it that make for quite an interesting visual.
Farmhouse Kitchen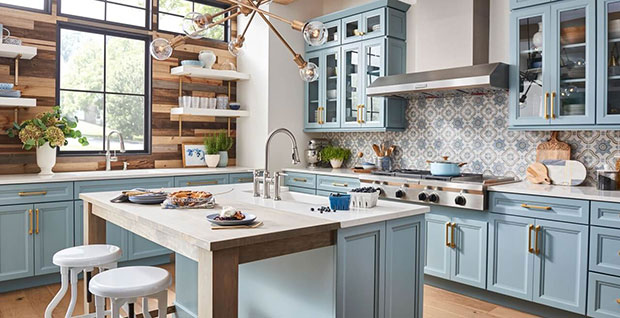 Tradewinds Kitchen & Bath
Out of the country kitchen designs we've seen so far, this one really takes advantage of pastel colors in creating a cool, cozy, and casual kitchen.
The Juneau House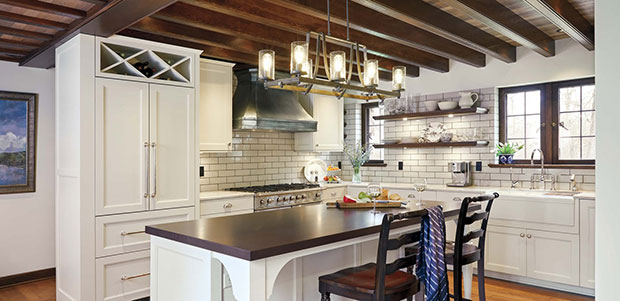 Refined Renovations
The open, floating shelves are great storage choices for country kitchen designs as it allows the display of crockery, contributing to that "lived-in" aspect of country kitchens.
English Country Parade Home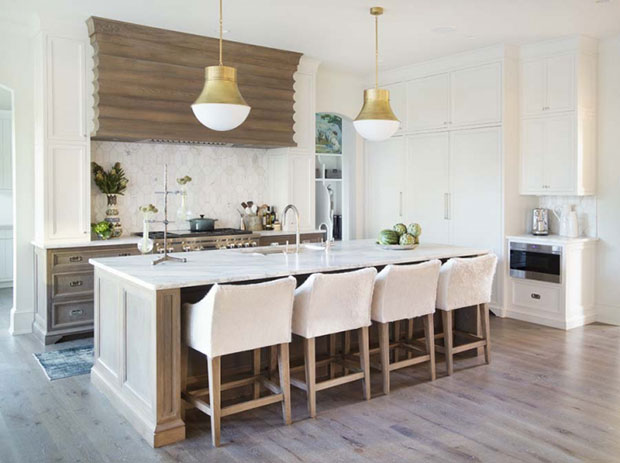 The most interesting point in this kitchen is the unique decorative range hood design. It also perfectly matches the bottom cabinets and the kitchen island.
Timeless French Country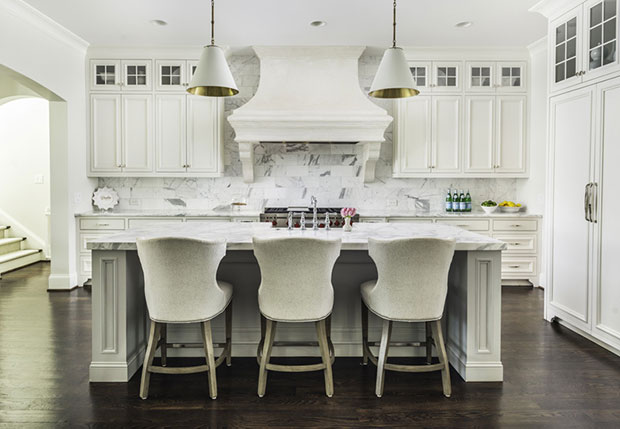 You can never go wrong with dark wooden floor paneling for your country kitchen design.
French Country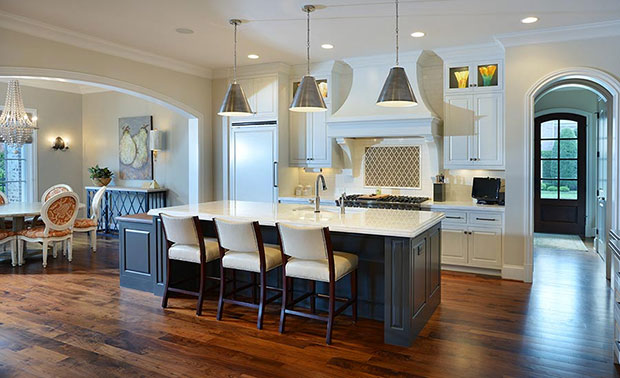 While many country kitchens will have the floor the darker color shade in contrast to the kitchen island, this one is in reverse. Though there isn't a strict rule to that, it is a nice flip of things.
French Country Cottage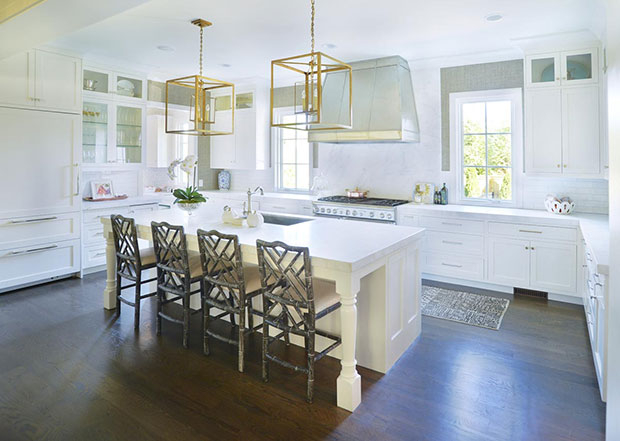 Castle Homes
Your country kitchens may need more cabinets with clear glass doors.
Krason House Tour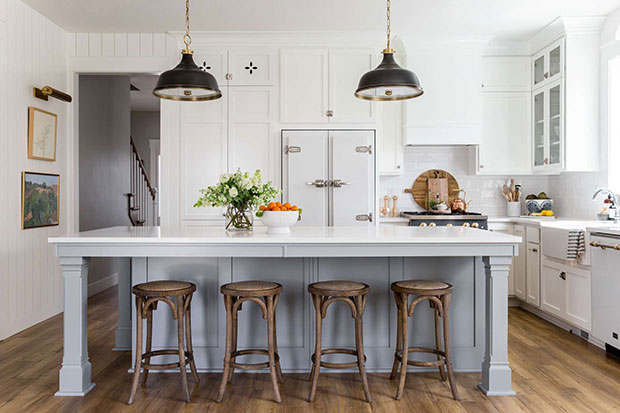 House of Jade Interiors
This country kitchen is really committed to using vintage appliances to truly make a statement with its visual.
Luna Vista Residence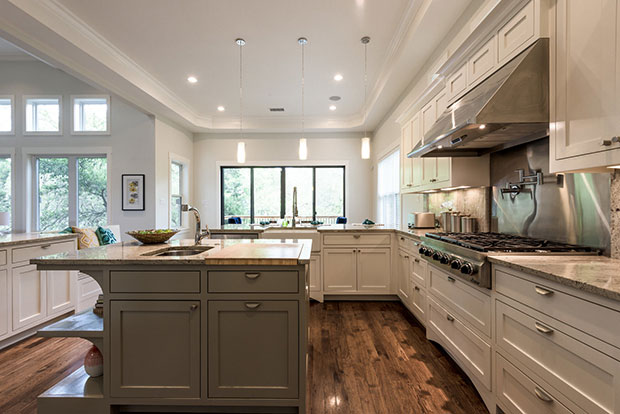 Daniel Boardman Residential Design
A kitchen configuration like this somehow creates a cozy impression perfect for country kitchens.
Historic Newton Victorian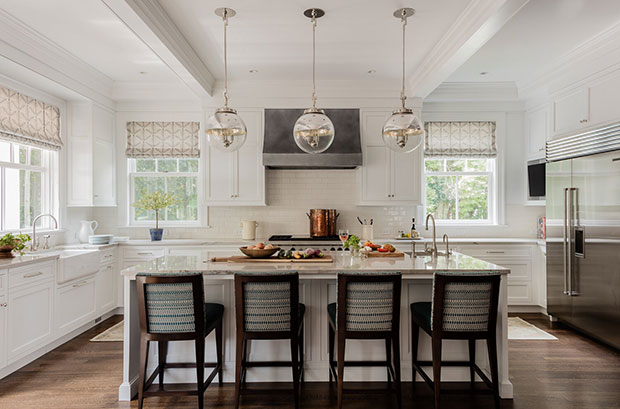 Add some visual layer with the fabric patterns on the chairs and curtains.
Wellesley Chef Kitchen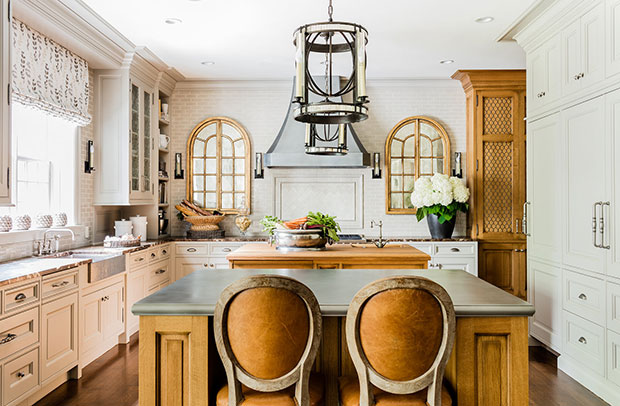 Those custom windows on either side of the range hood are great complements to the furniture in this kitchen.
Annisquam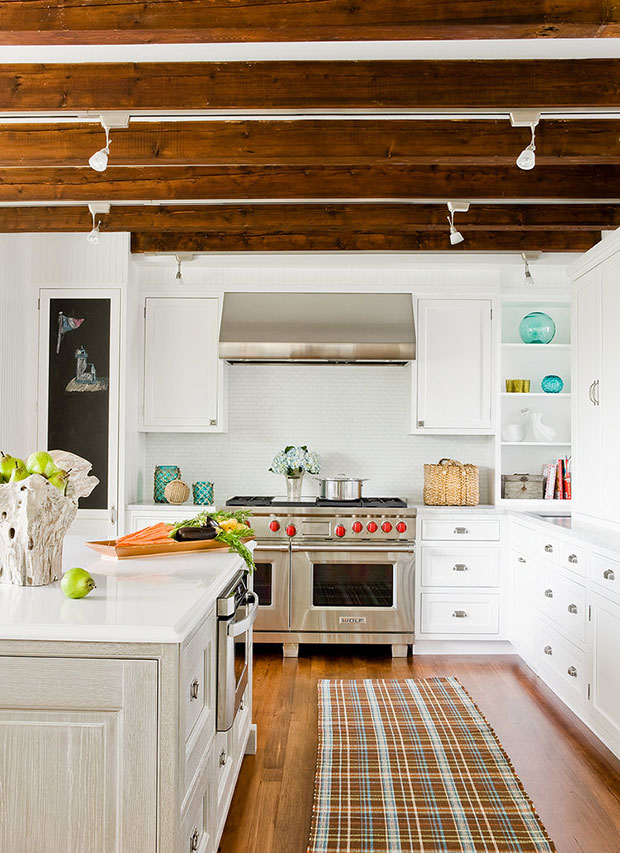 Venegas and Company
Bring some quirk to your wooden floor panel with a plaid patterned rug.
Maine Country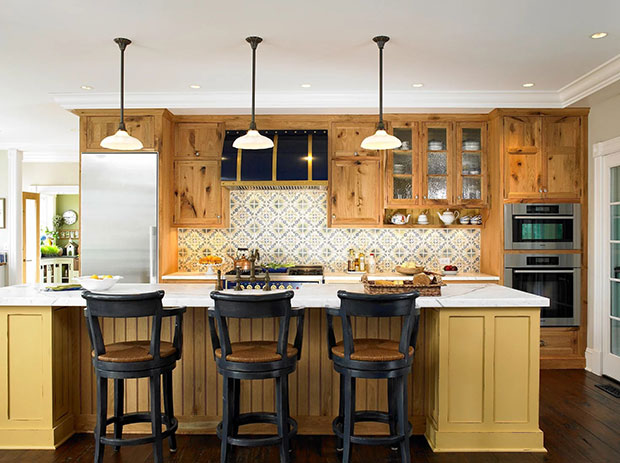 Most of the time, the cabinets would match with the kitchen island but this kitchen brings a twist to it.
Country House Charm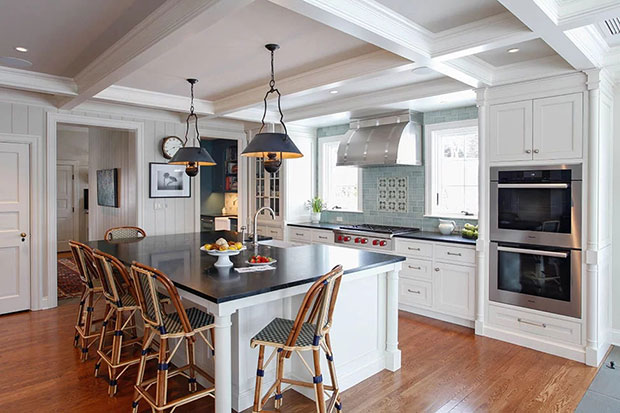 This home kitchen has an interesting range of shades of color. The light blue wall tiles are a nice contrast to the black countertops.
Connecticut Country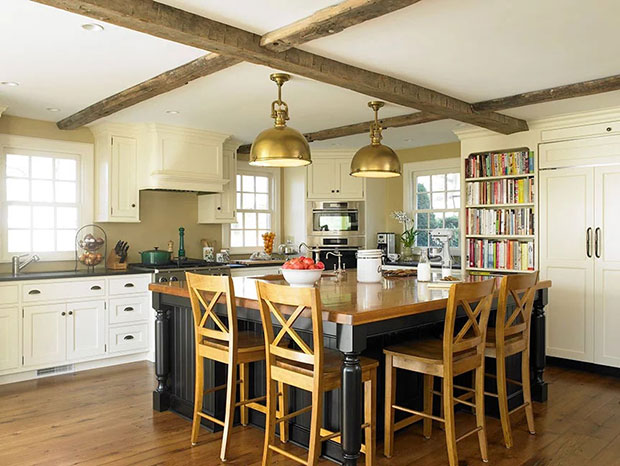 The polished wooden surface is an interesting distinction with the aged exposed beams.
Irish Country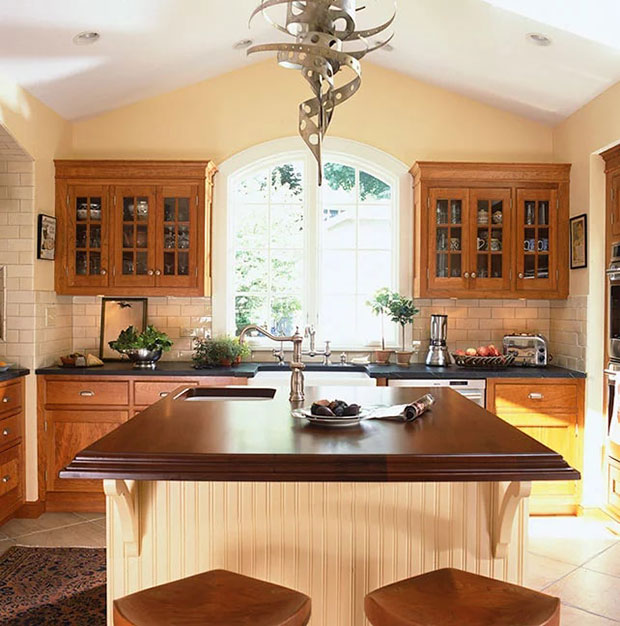 While the cabinetry is excellent, this striking and unique chandelier needs to be pointed out.
English Country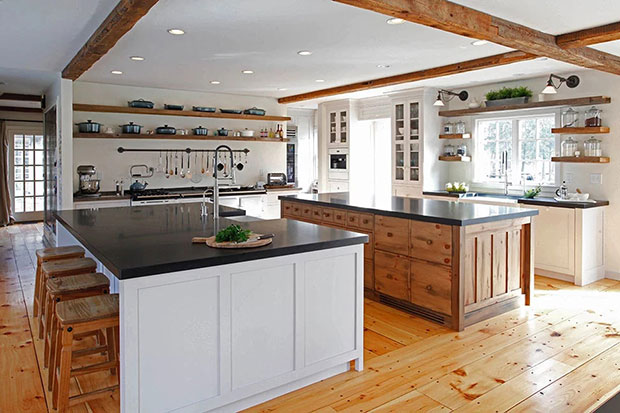 Christine Donner Design
The combination of open shelving and glass door cabinetry keeps this kitchen looking busy with the number of objects that can be plainly observed.
Porter Road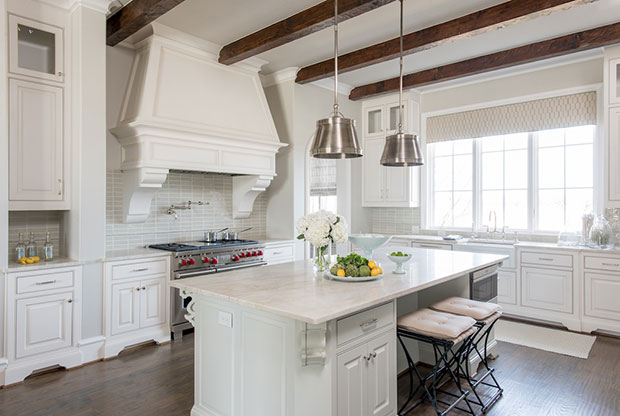 Traci Connell Interiors
Island chairs like these are quite novel and seem a little out of place, but in the overall look of the kitchen, it fits perfectly.
There we go for some cozy country kitchen designs perfect for the home cooks! What were your favorites from this list?
Like This Post? Pin It!