65 Industrial Style Kitchen For A Unique Home
|
The kitchen is one of the busiest places in a home. Other than cooking meals, you can receive guests and family members alike. It is then important to have a kitchen design that is functional and efficient. If that's what you're searching for, you should consider an industrial style kitchen.
What is industrial kitchen style?
An industrial-style kitchen is a trendy urban design that prioritizes functionality and efficiency. It is a well-structured design that prioritizes the ease of movement around the kitchen as you work. However, this does not mean that aesthetics is compromised. In fact, an industrial style kitchen brings a lot of styles.
Defined by their raw textural beauty, industrial style kitchens can be a versatile concept to work with. Exposed bricks, stainless steel, and concrete are stapled materials in an industrial style anything. You can find that versatility when you get creative and mix these industrial elements with other design elements.
What color should an industrial kitchen be?
When it comes to industrial style kitchens, it is a style that is inspired by and supposed to emulate commercial kitchens; hence, the name. This means that industrial kitchens tend to be clinical, and color can be hard to incorporate into the space. In addition, stainless steel is commonly used in these places.
But industrial style kitchens in residential homes have evolved to incorporate colors one way or another. If it's not in the exposed brick colors, you can use tiles with colors based on your own personal taste. You can also incorporate colors with the cabinet doors, if not the countertops or wall tiles.
In different variations of the industrial-style kitchen, you can expect a plethora of colors to be used for different styles. Loft-style kitchens, for example, are filled with earthy to dark edgy colors.
Let's check out some industrial-style kitchens to inspire you!
Franklin Street Loft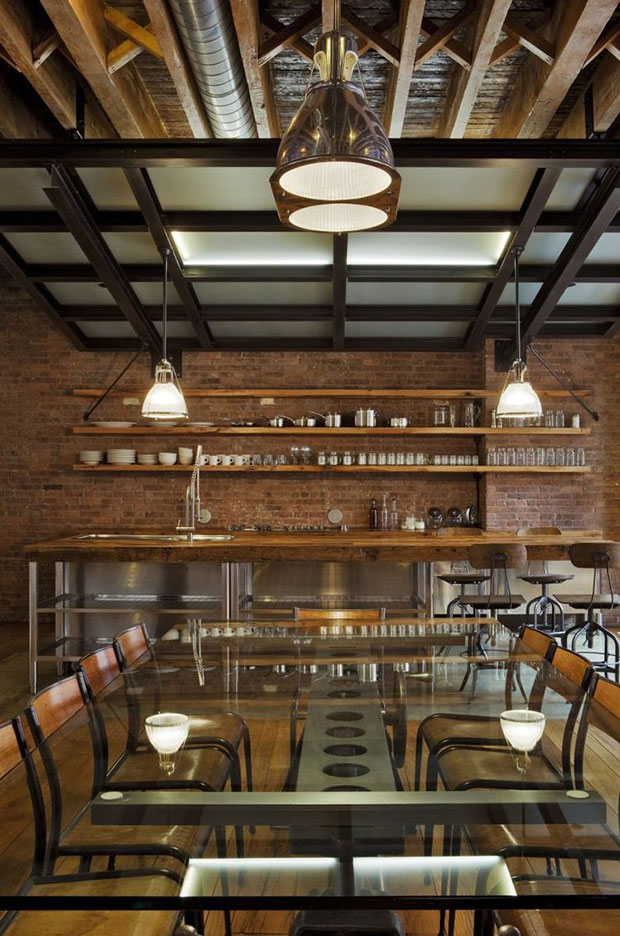 Starting off with industrial-style kitchens with a classic loft-style kitchen design. This is pretty common since most loft homes tend to go for an industrial interior design.
13th Street Penthouse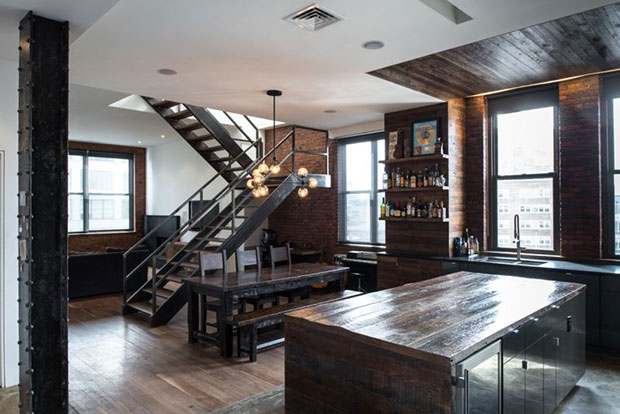 You may also find reclaimed and refurbished wood alongside stainless steel and bricks in many industrial-style kitchens.
West 22nd Street Penthouse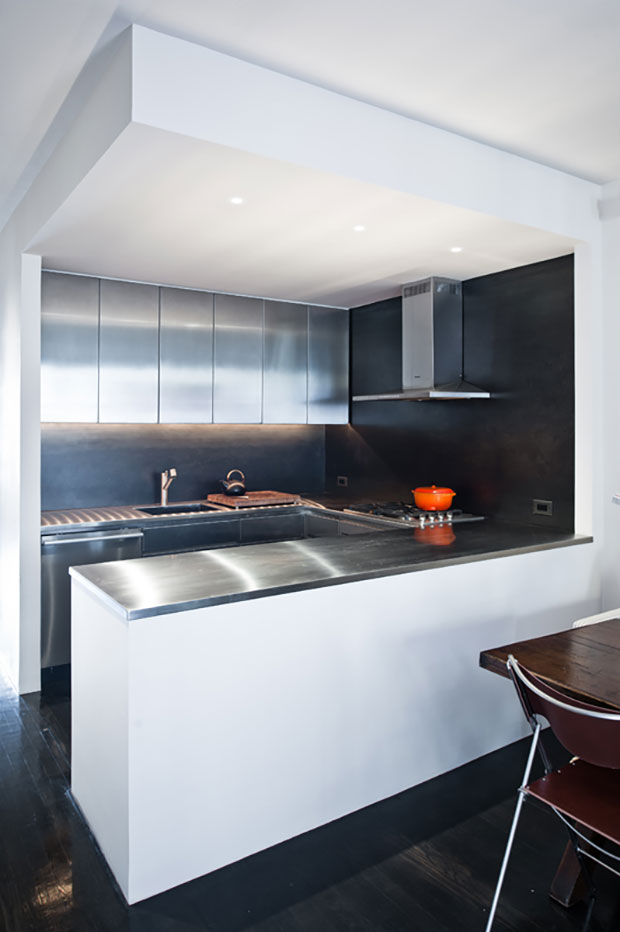 Jane Kim Architect
This penthouse's kitchen is absolutely committed to the stainless-steel surface. It's not an "in your face" detail, but it qualifies as industrial style-inspired.
Gotham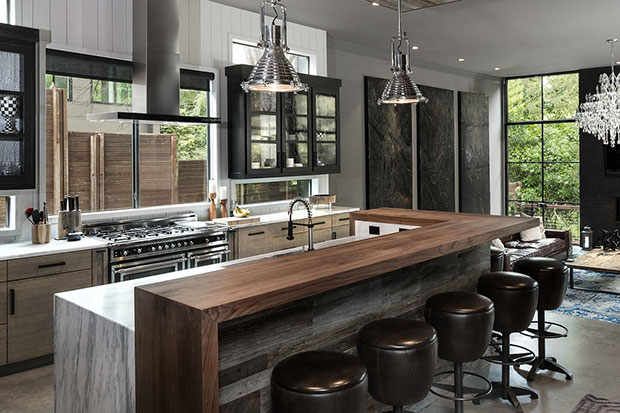 The combination of metal and wood brings a chicness that only this combination of raw textural beauty could give.
Casa Blanca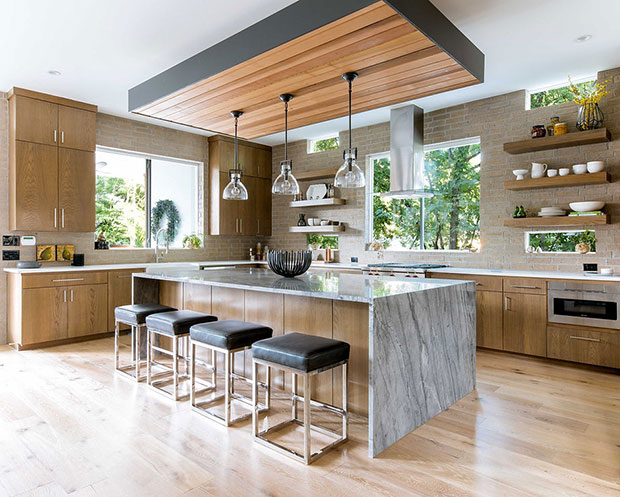 Rosewood Custom Builders
Mix in some modernity with a marble countertop to your mostly industrial-inspired kitchen. This way you can have an urban design while keeping up with the trends.
Marine Loft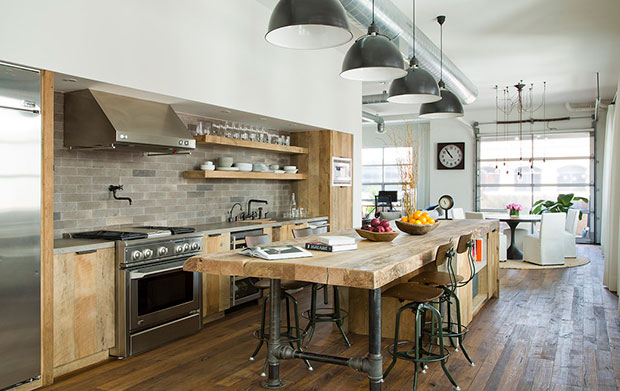 SUBU Design Architecture
The exposed pipes on this kitchen island instantly make it the focal point of this kitchen. And the island stools are the perfect choice to compliment it.
Division Street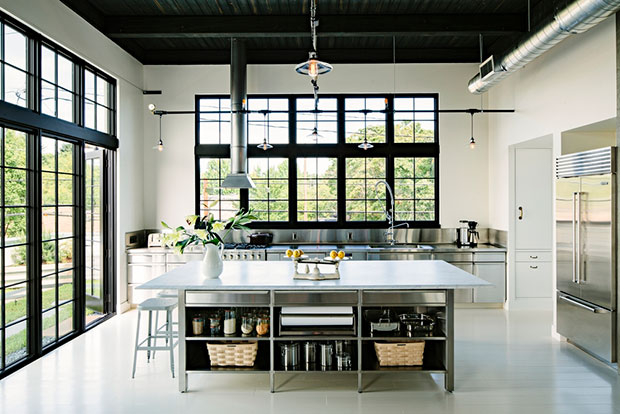 Emerick Architects
The whole aesthetics of this particular industrial style kitchen really does resemble that of a commercial kitchen, following the "clinical" look of, having clear stations.
Brooklyn Loft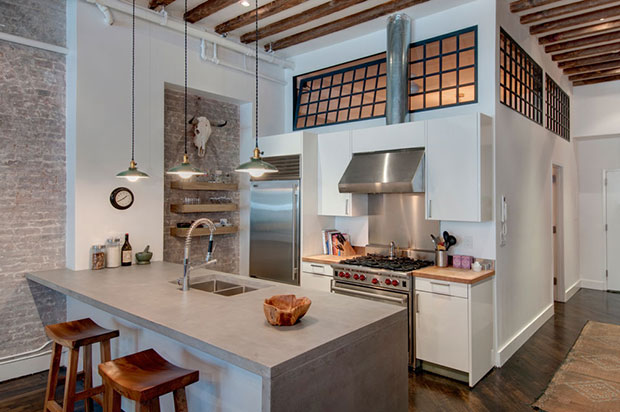 Reiko Design
While you may find plenty of industrial-style kitchens in big, open spaces, you can also plan to have an industrial-inspired kitchen for your small kitchen, just like this Brooklyn loft.
Wasatch Contemporary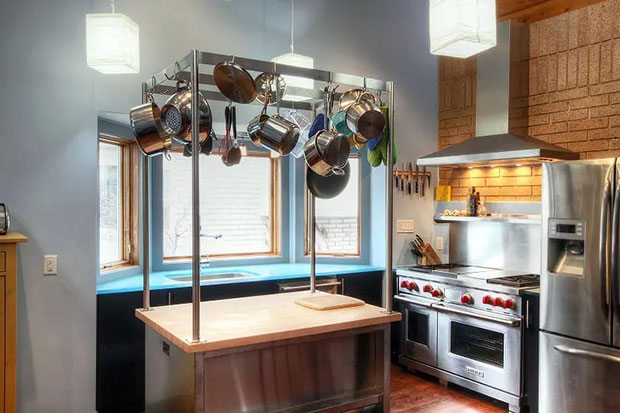 The kitchen appliances have got the industrial style down. What's most interesting though is the moveable kitchen island, which works to the advantage of this rather small kitchen.
East Bungalow Loft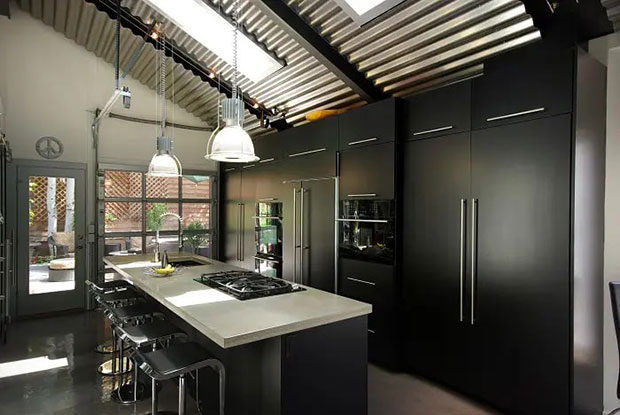 Renovation Design Group
A modern industrial chicness that is achieved to the max with the jet-black paint on about every exposed surface.
Riverside Loft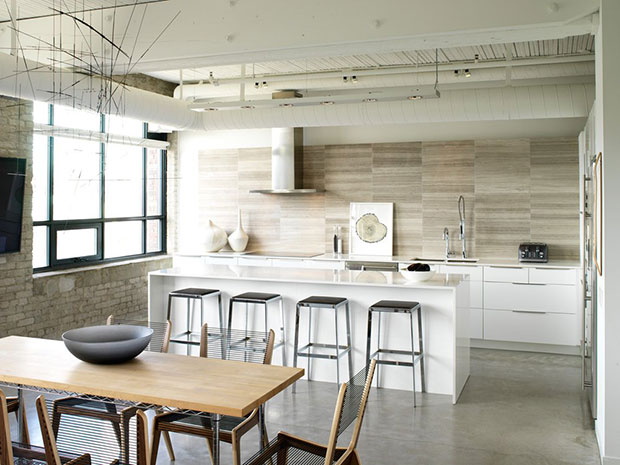 The backsplash tile is a nice touch, adding some dynamic that contrasts with the exposed bricks everywhere else in the room.
Merchandise Loft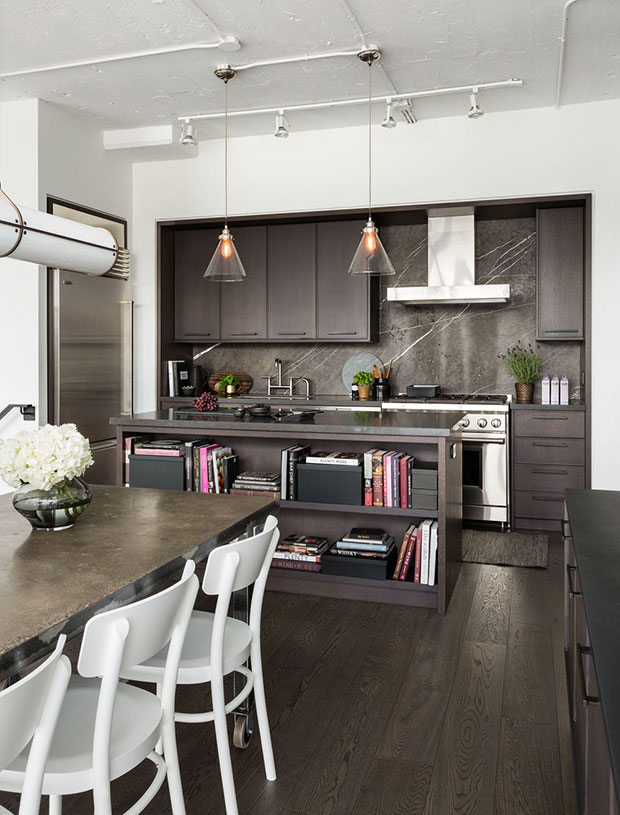 Croma Design
The dark bronze color palette is a refreshing change of pace that matches perfectly with the flooring. It's also a good match to the stainless-steel appliances.
Santa Caterina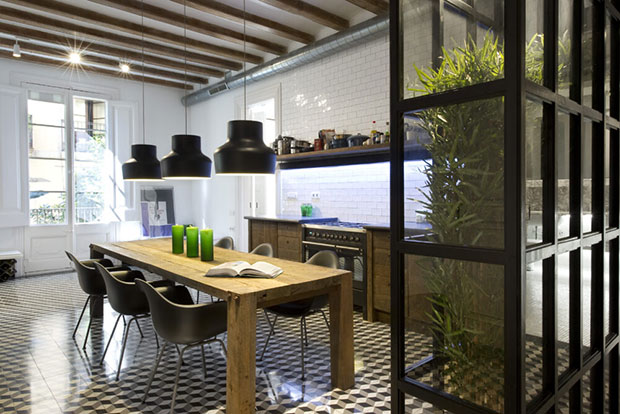 Many industrial-style kitchens tend to be minimalist, relying on the natural aesthetics of the materials in elevating the visual appeal of the entire room.
Private Sunset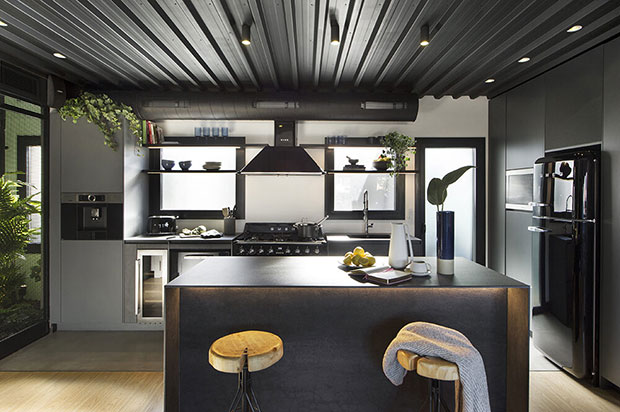 The incorporation of some greenery into this industrial style kitchen gives it a different kind of charm
Commercial Space Turned into Loft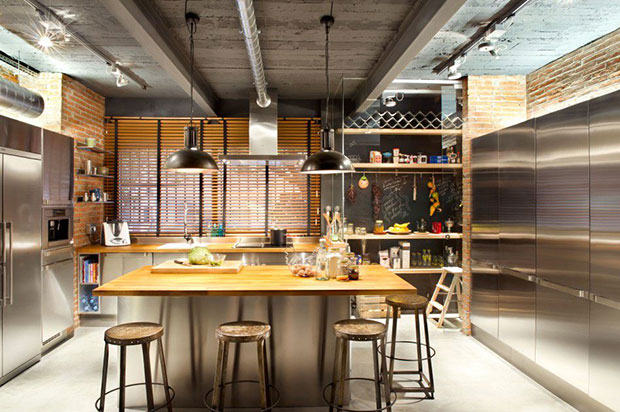 The open shelves are truly quite the most fascinating and most faithful part of this industrial-style kitchen. If you've ever been in commercial kitchens, you will find that this is quite common.
House in Benicassim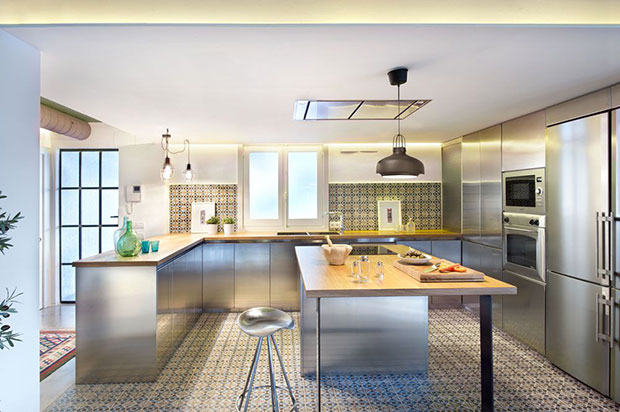 Egue y Seta
As mentioned before, adding color to an industrial-style kitchen can be difficult, especially with the domination of stainless steel. But this home managed to bring color through the backsplash and floor tiles.
Belltown Aerie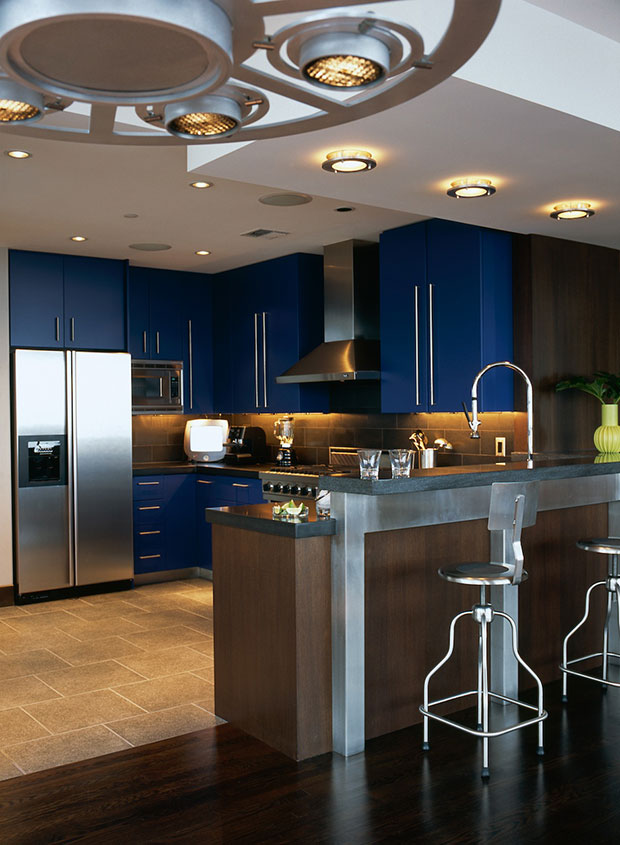 If your cabinets are not made of stainless steel, why not paint them over with a color of your choice or a color that complements the other colors found in the kitchen? In this kitchen, the dark blue cabinets go well with the natural wood tones.
Diva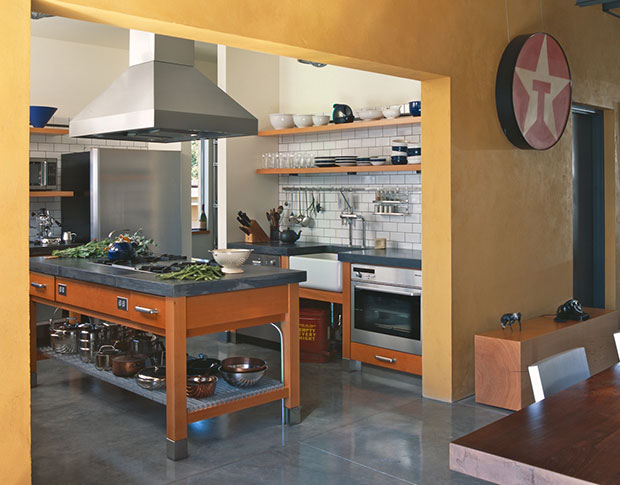 PLACE Architects
To bring some lighthearted feeling to the room, painting every wooden surface orange is a great design choice. While the appliances and fixtures capture the industrial style aesthetics, the color brings a homey feeling.
Kitchen Loft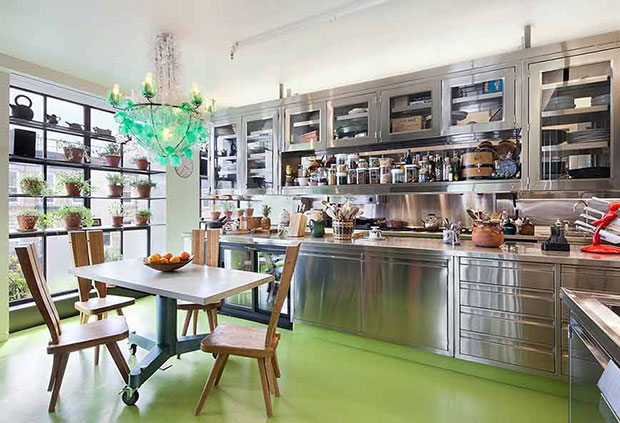 Vanni Archive
With every stainless steel counter and cabinet, painting the floor with bright neon green adds some casual loveliness to this kitchen.
The Old Fish Cellar Mousehole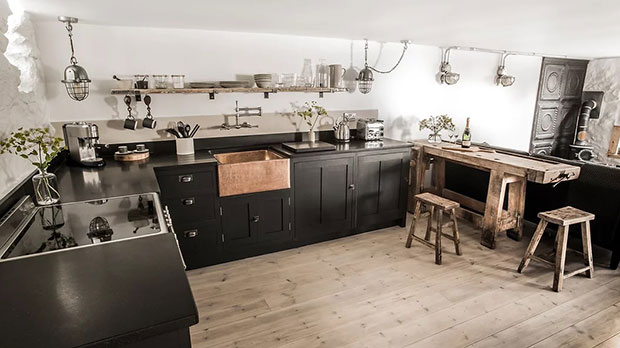 Camilla Banks Interior Design
The reclaimed wood for the shelf and kitchen island brings a rustic charm that has been noted to work so well with industrial design style.
Kensal Rise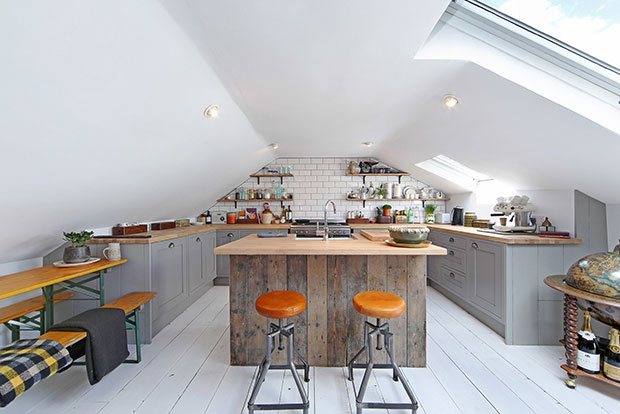 All & Nxthing Interiors
If you're hesitant to bring colors through backsplash tiles, appliances, countertops, or cabinets, why not bring them through the bar stools? Even these small pops of color can make a difference in the overall look of your kitchen.
Spring Kitchen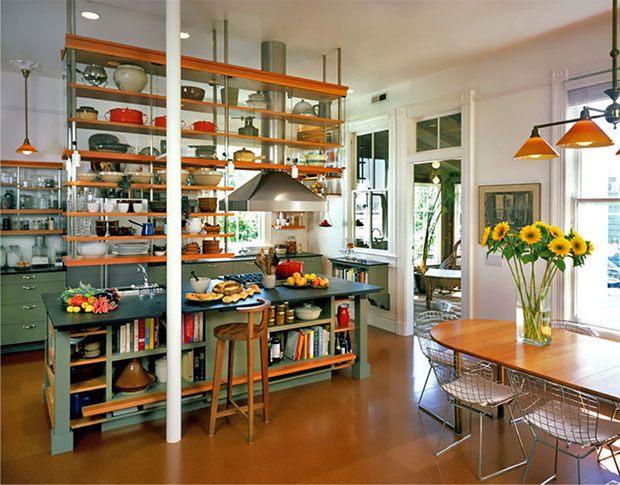 Actual-Size Architecture
Living up to its name, the different shades of green and oranges really bring the loveliness of spring to the room. These color combinations and the number of colors alone separate this particular kitchen from many industrial-style kitchens.
NW 13th Avenue Loft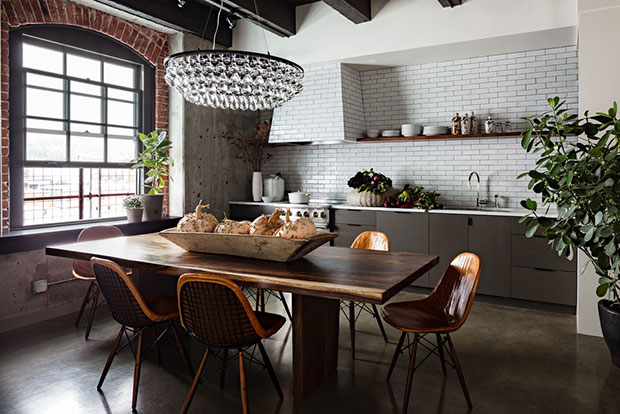 This gorgeous chandelier is a striking contrast to a space where it's aesthetic almost looks worn and aged.
Pearl Loft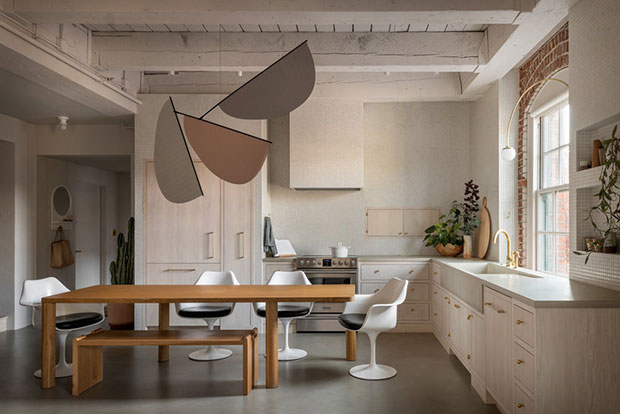 Jessica Helgerson Interior Design
Rather than opting for dark, edgy colors like many industrial kitchens you may find, this one opts to keep it light and neutral, which is a nice change of view.
Flatiron Triplex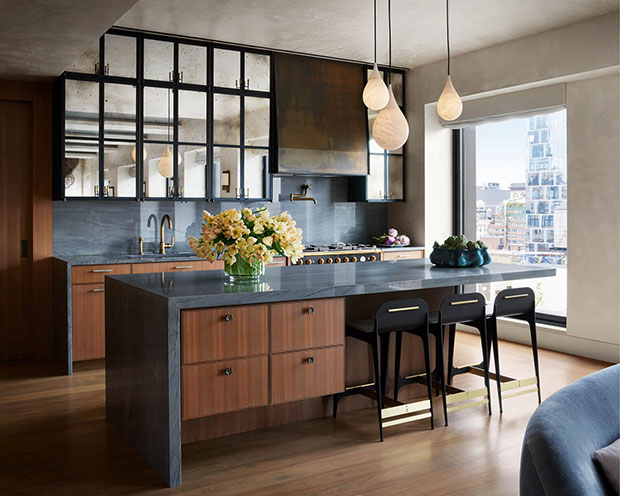 The rusty look of the range hood is a great design detail that easily contrasts with the polished marble countertops and backsplash.
Broome Street Loft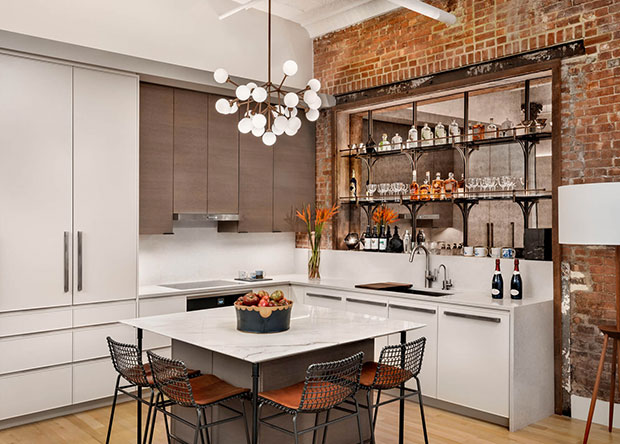 With an exposed brick wall, it is easy for an industrial-style kitchen to fall into a dark look. But with the mirror addition to this particular kitchen, allows for the room to look lighter.
Lower Fifth Avenue Loft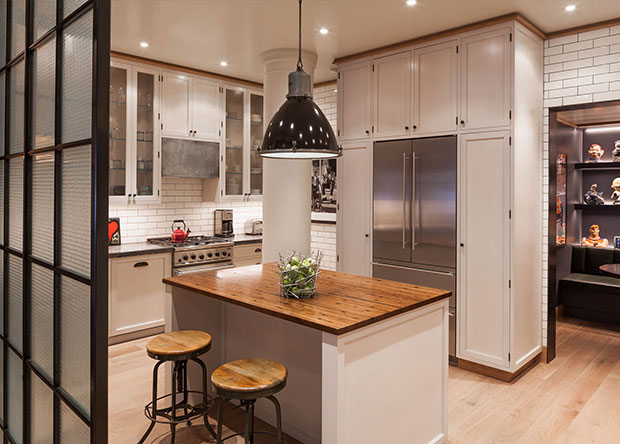 DHD Architecture & Interior Design
Here's a classic loft-style kitchen look with nearly every fixture living up to the industrial aesthetics.
Capitol Hill Loft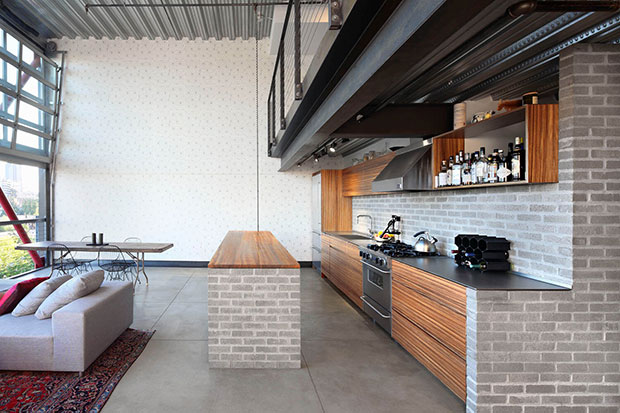 SHED Architecture & Design
The wooden kitchen island countertop is an interesting look to go along with the exposed brick island.
Quonset Hut Renovation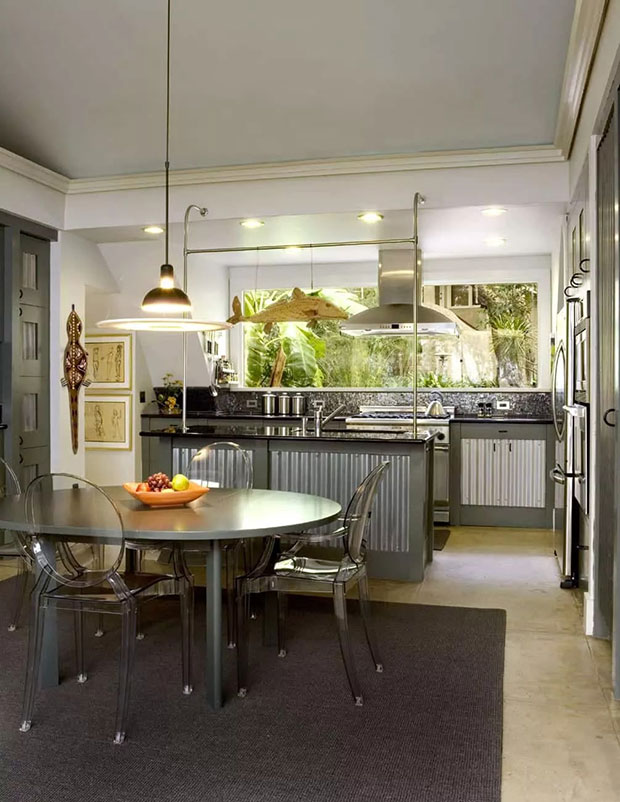 Frederick + Frederick Residential Architects
With a rather modern background, the appliances and fixtures in the kitchen are the ones that are bringing the industrial charm.
Portage Bay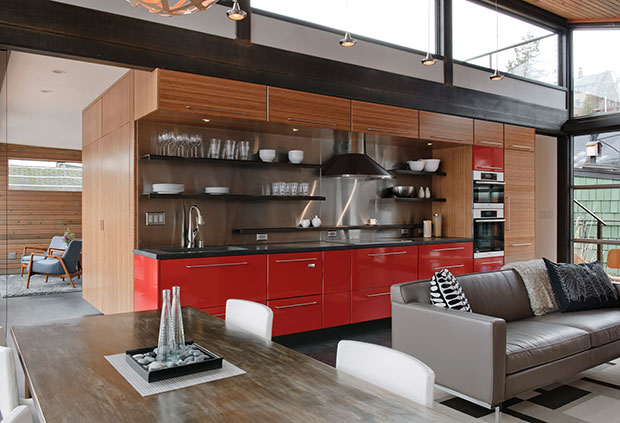 Dyna Builders
The stainless steel backsplash, along with the design of this kitchen, is a subtle move, especially against a rather contemporary home design.
Clarissa Project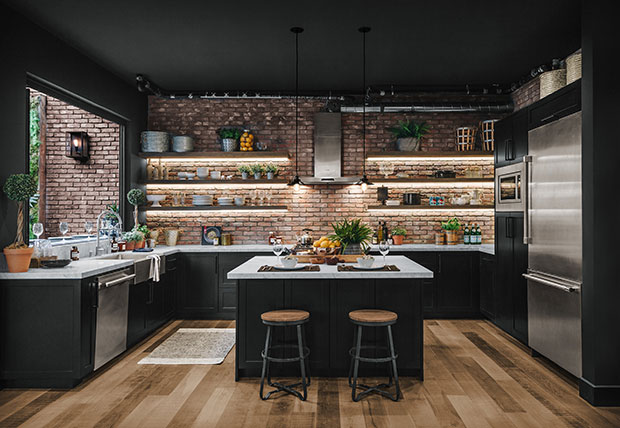 Andrew Heiser
The lights underneath the shelves are nice additions, especially considering the dark colors of the ceilings and fixtures.
Yaletown Double Loft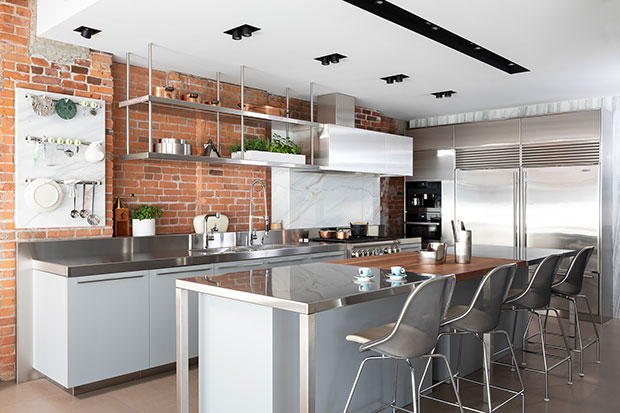 The stainless steel countertops against wooden cabinets are a refreshing take as opposed to what is the usual full steel appliances.
Mainland St. Bachelor Pad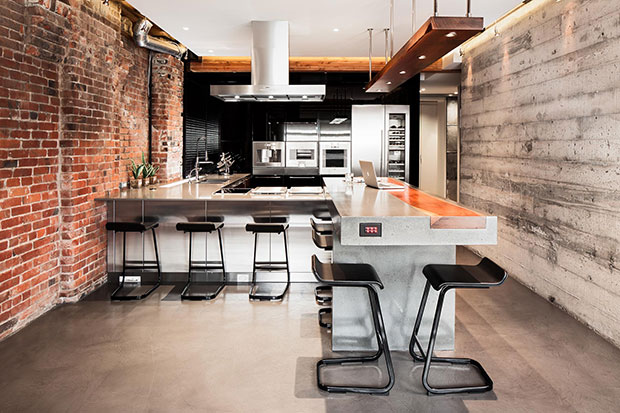 Falken Reynolds
The concrete island offers a great contrast to the stainless steel countertop next to it. While it does have its industrial charm, this kitchen looks more contemporary.
The Loft Kitchen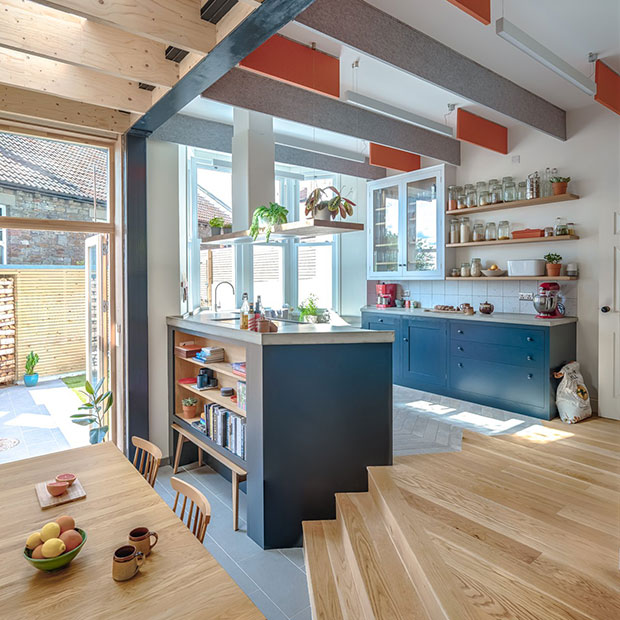 This loft kitchen is pretty interesting as it gives some farmhouse vibes with the colors, greenery, and lots of natural light.
Dark Green Shaker Kitchen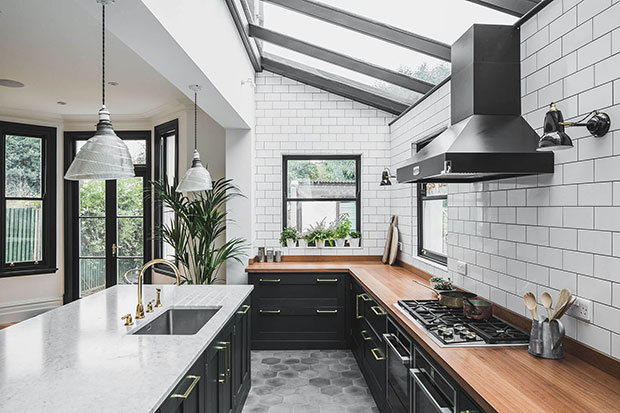 This industrial-style kitchen is proof that these kitchen designs don't have to look the same way. In addition, the skylight is a great idea to bring more natural light, especially if you are opting for darker colors.
Eco Extension Shaker Kitchen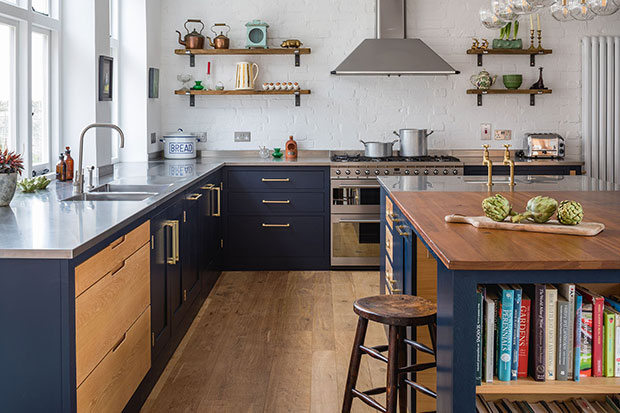 One of the main features of industrial-style kitchens is the open shelving.
Contemporary Grey Industrial Kitchen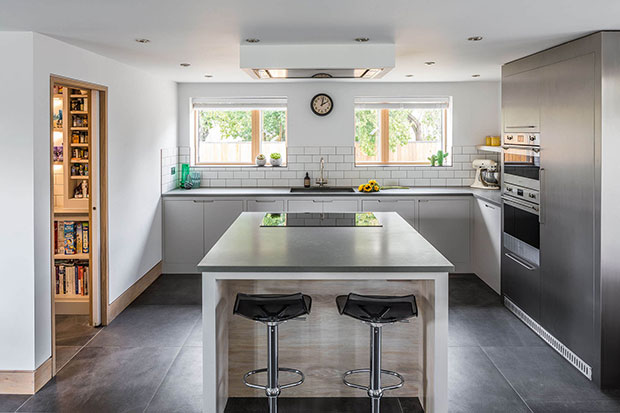 A lot of industrial-style kitchens use classic range cookers, but this one uses the more modern induction cooker.
Steel, Marble, Reclaimed Wood Kitchen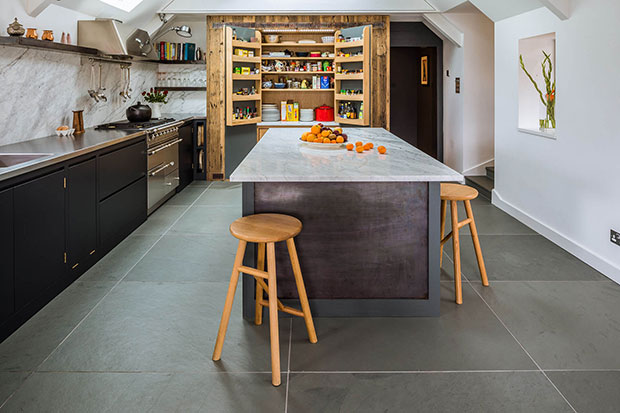 This kitchen serves a good balance of wood and steel for a more modern take on an industrial-style kitchen.
Green Industrial Kitchen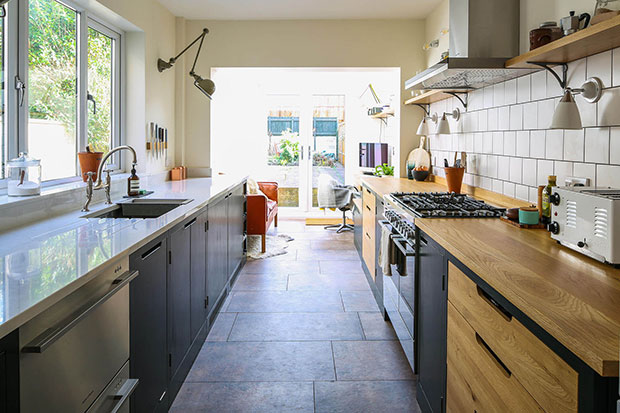 Even with the light fixtures, this kitchen really pays attention to keeping up with the industrial design style.
American Diner-Style Industrial Kitchen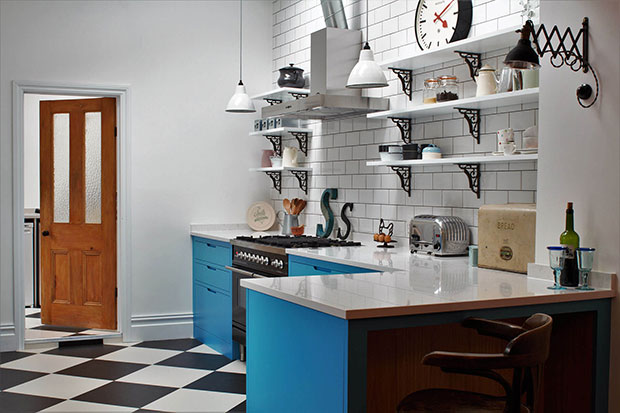 The blue paint gives this industrial kitchen some personality and a youthful vibe.
18th Century Manor House Traditional Shaker Kitchen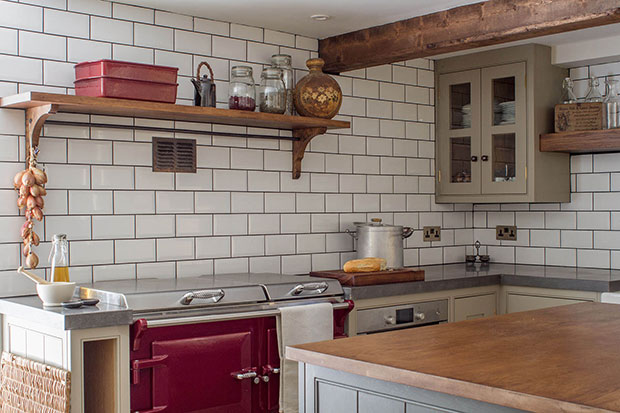 Sustainable Kitchens
This home's kitchen really takes the best out of rustic and industrial together for this eclectic kitchen design.
The High-Rise Home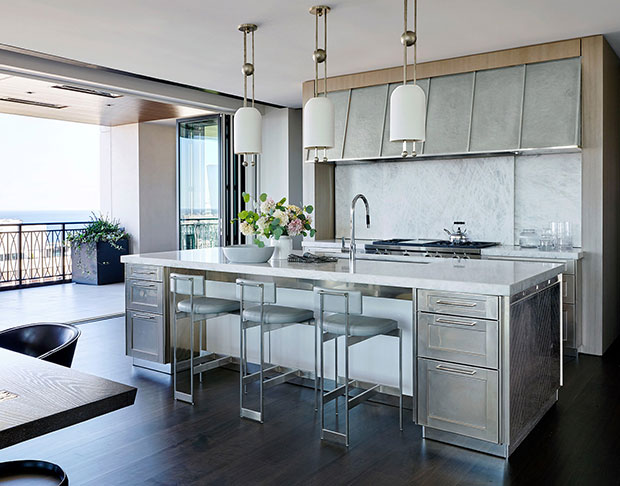 James Thomas Interiors
It's interesting to see that though the kitchen cabinets are made of steel, they don't quite look like the commercial ones.
Richmond Warehouse Convention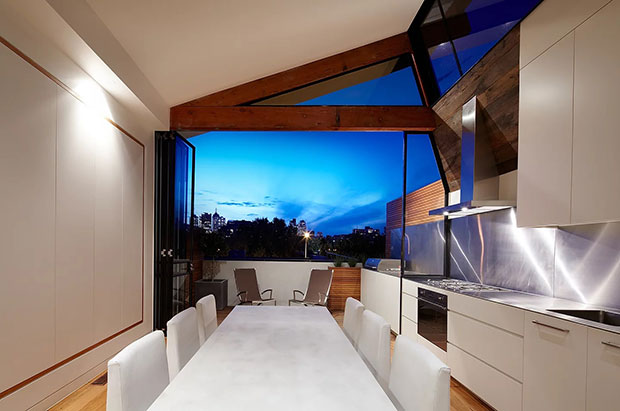 K+Architects / Peter Clarke Photography
This kitchen is placed cleverly in that it extends to the outside balcony to include an outdoor kitchen. And since the indoor and outdoor sides are connected, they stick to one industrial style that fits both sides.
West Loop Loft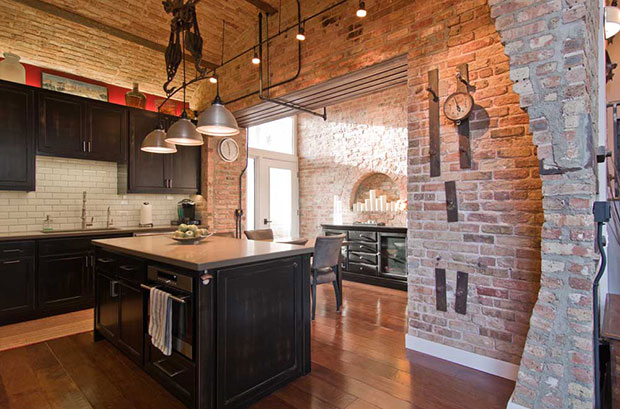 The natural red brick color brings a lot of personality to this space, accompanied by the dark wooden cabinets.
Printers Row Loft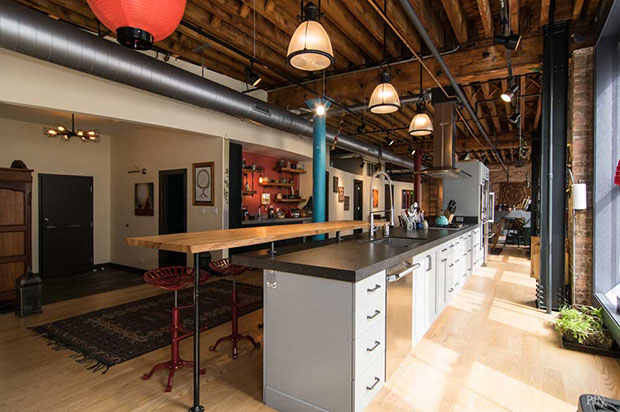 Besch Design Ltd
With an open layout like this, an industrial-style kitchen is a great design style to have, especially as it goes along with the entire loft look.
Palomino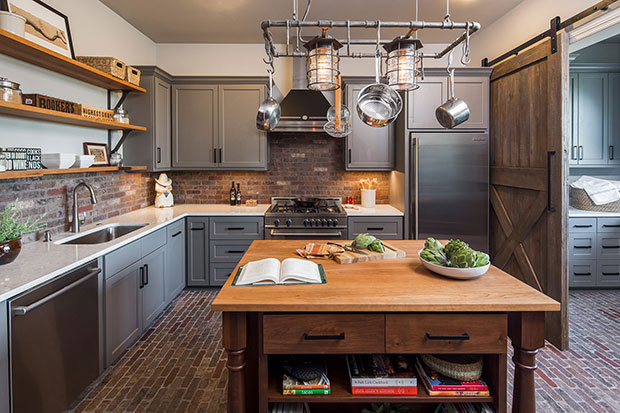 Dawn Hearn Interior Design
The sliding barn door is just a cherry on top of the overall design of this industrial-style kitchen.
Capitol Hill Washington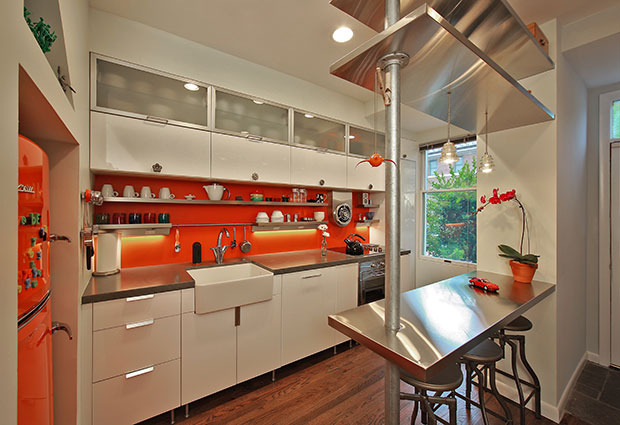 Kingston Design Remodeling Inc. / Kenneth M. Wyner Photography
The bright orange color certainly livens up this small industrial-style kitchen. It also gives it a more youthful look, perfect for young homeowners.
Great Jones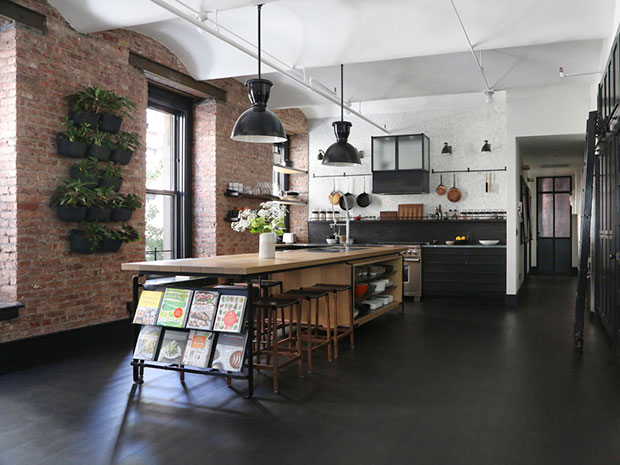 This long kitchen island also doubles as a dining table, saving lots of floor space, especially for small homes. The open shelving is also a great feature to have.
Lovell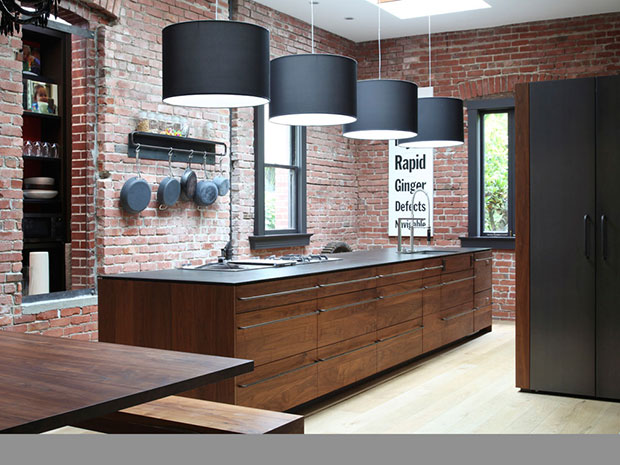 Union Studio
Bring your attention over to an old window opening that was repurposed as a shelving unit. This exactly is what industrial styling is also about.
Apartment Remodel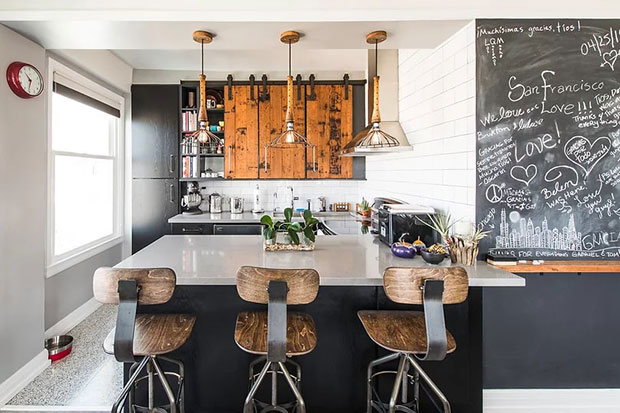 Bailey General Contracting Co.
Turn your awkward small space into a cool and chic industrial-style kitchen like this. Its overhead lights are quite unique and cool fixtures.
Rustic Kitchen

Effe
If you want to capture a rustic industrial-style kitchen, it would work to your advantage to use vintage appliances like this refrigerator.
Royal Burn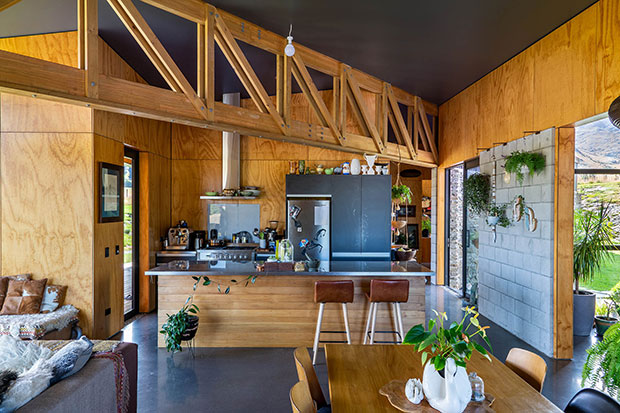 Paul McCredie Photographer
Interestingly, the natural wood grain detail and the greenery brings a serene feeling to the overall look of this kitchen.
Hot Box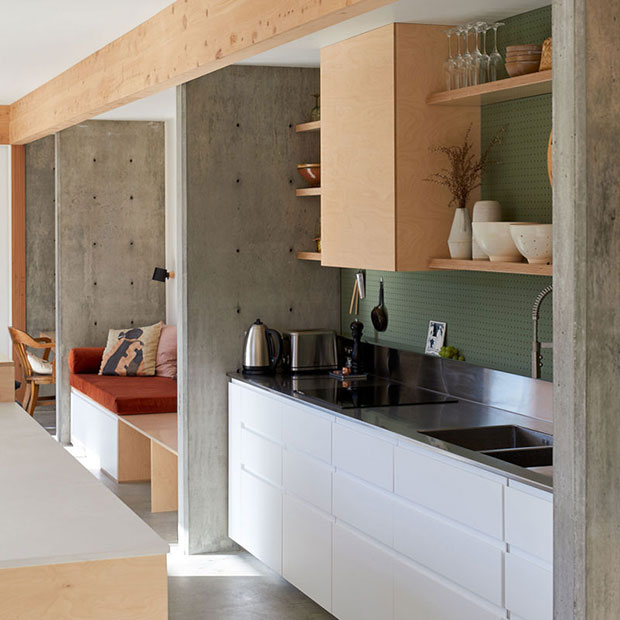 Patchwork Architecture / Simon Wilson
With limited space, this home brings together an industrial charm with some modern sensibilities to this kitchen.
Clocktower Loft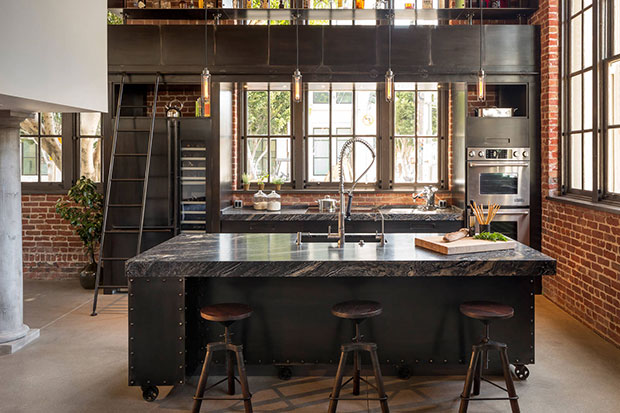 Muratore Construction + Design
This entire kitchen unit just screams industrial from the get-go.
Container House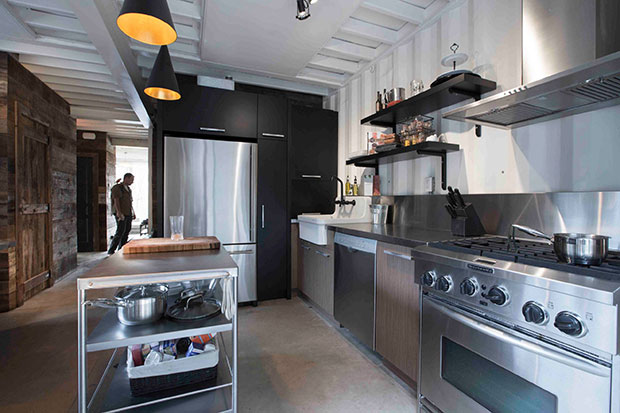 Les Collections Dubreuil
With a repurposed container box turned into a container house, what better style to take inspiration from than industrial design style?
Hip Home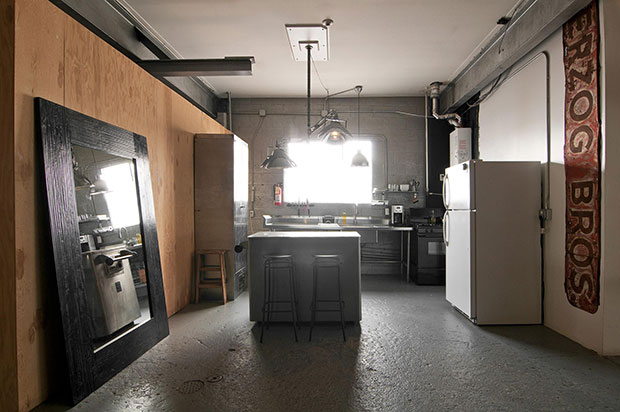 Lucy Call
Industrial-style kitchens have a way of giving a casual feeling. Just take a look at this, for example. It may not be in line with many people's palette, but it has a charm of its own that one could reconsider.
Private Home B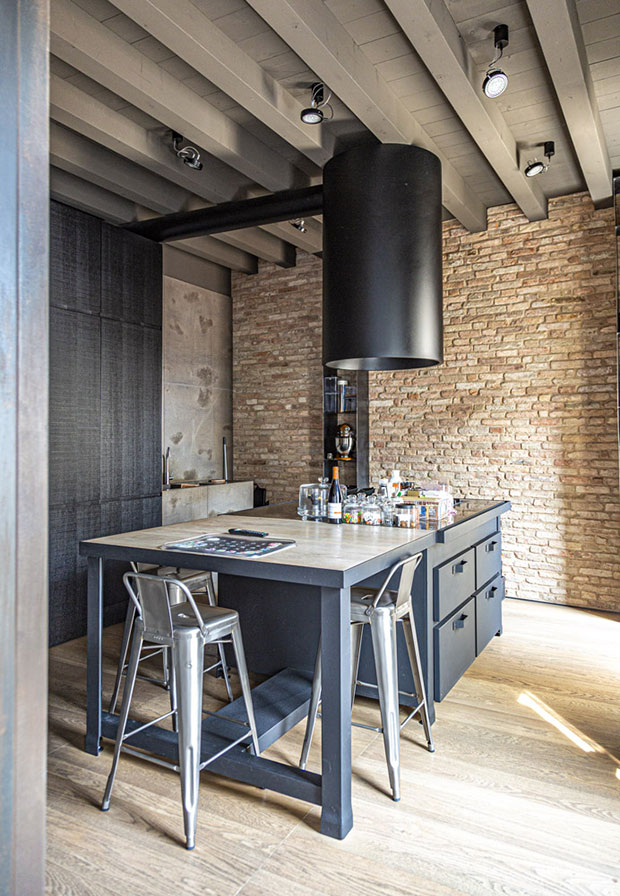 Silvio Stefani Architect
With modern fixtures using industrial style aesthetics, you have one eccentric kitchen design in your hands.
Loft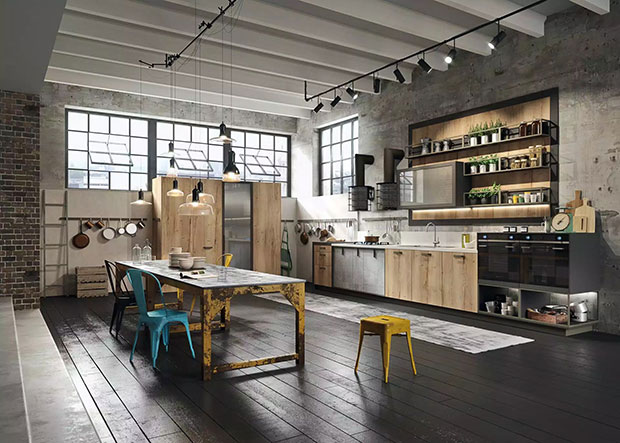 Snaidero
With a space like this, this home takes full advantage of it, creating various ways to bring industrial charm features into it.
Carriage House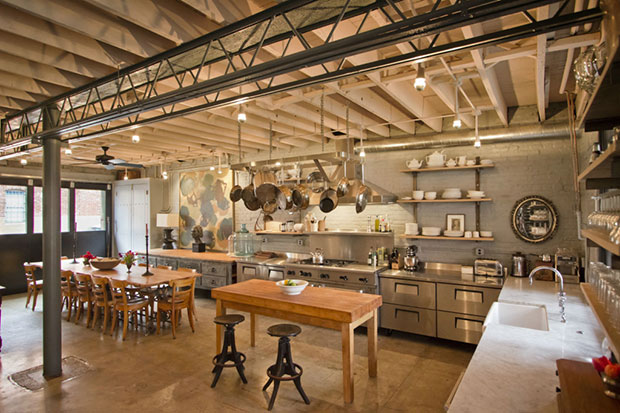 Bennett Frank McCarthy Architects Inc.
This home's kitchen will certainly be able to entertain many guests, as well as have so much space to move around while cooking up some things.
City Dwelling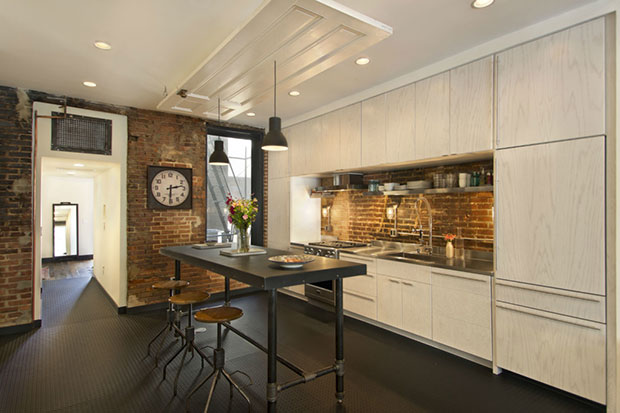 Bennett Frank McCarthy Architects Inc.
Letting the natural wood grain in the cabinet surfaces allows it to be consistent with the natural and raw textural beauty of this industrial-style kitchen.
Apartment in Moscow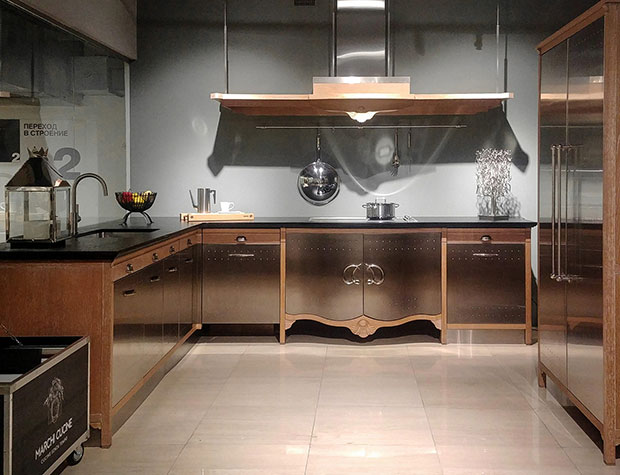 Marchi Cucine
It's interesting to see subtle ornate details in an industrial-style kitchen. But in this way, it brings some sense of luxury into the space.
Way Modern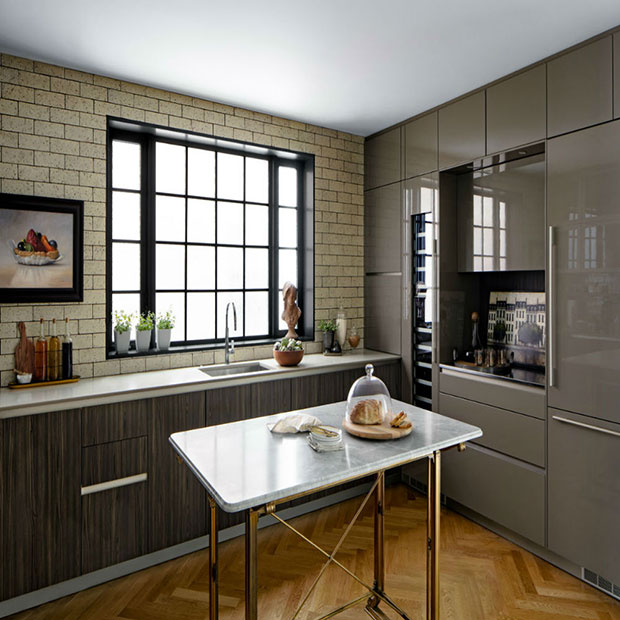 Snaidero DC Metro
Adding high gloss kitchen cabinets certainly brings a more modern feel to it.
Contemporary Kitchen No. 17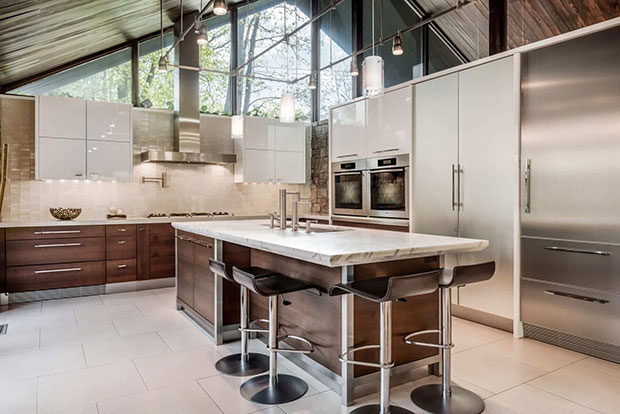 Bilotta Kitchen & Home
Incorporating some contemporary aesthetics also works so well with industrial design style to keep it more up to date with the times.
Hillsborough Modern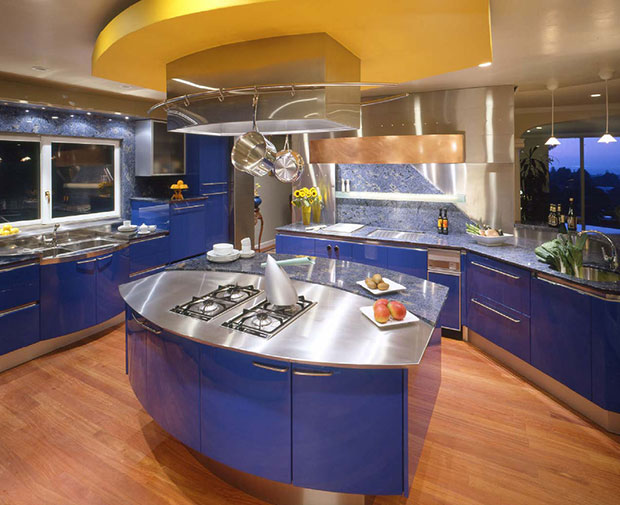 Livingston Interiors
Subverting expectations of a "clinical" look, this home chose some blue cabinets and marble tiles.
Somewhere in Minsk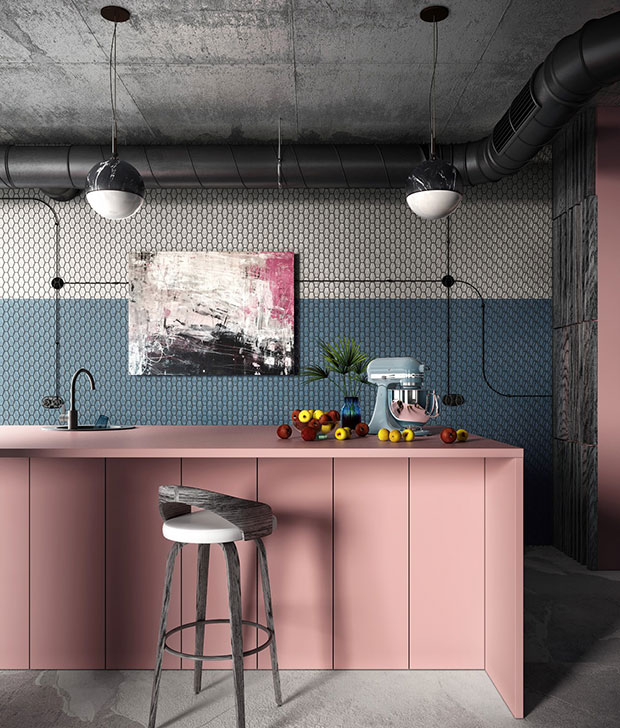 Arama Studio
In order not to stick with a stereotypical look, this home boasts a pink kitchen island that perfectly complements the dark edgy colors usual in industrial kitchen designs.
In order not to stick with a stereotypical look, this home boasts a pink kitchen island that perfectly complements the dark edgy colors usual in industrial kitchen designs.
Like This Post? Pin It!