50+ Astonishing Kitchen Island Ideas for Cooks at Home
|
Is your kitchen needing more space? Do you think you can cook well if you have unlimited space for preparing food? If yes to all, then you might need more kitchen island ideas to work on!
The kitchen is most often, a place where the family or friends come together to create something delicious. Without a doubt, a kitchen island will provide you enough workspace to maneuver around.
Having a kitchen island will make work a lot easier in the kitchen, even without having a lot of people in the kitchen. Thus, it is important to make it very comfortable.
Not because it is functional, it cannot be stylish or unique, however. You can add more personality to this helpful kitchen feature by making it the focal point of your kitchen design. Make it interesting, unique, and definitely eye-catching!
How to Decorate the Kitchen Island?
Like most of our items at home, a kitchen island can come in various shapes and sizes. It also comes in various textures, materials, and colors. Sometimes choosing can be overwhelming, so here are some useful tips for you on how to decorate the kitchen island.
1. Place plants and vases.
One of the easiest tip to decorate the home (and your kitchen island) is by placing plants on it. This way, you can maximize the color impact of flowers. You can try on using multiple arrangements and then compliment it with vases in different shapes and sizes.
2. Drinkware and tableware.
Another additional decoration you can place on your kitchen island is your glasses, cups, and plates. You can even add pretty coasters too. This will not only add more aesthetic appeal, but it will also encourage your family to sit down, grab a drink, eat snacks, and chat with you as you cook and prepare meals.
3. Fresh produce.
There is nothing more appealing than a kitchen with fresh fruits and vegetables. And what better way to display that than on your kitchen island. You can use fruit bowls or baskets in various shapes and sizes, depending on your kitchen design.
4. Small appliances
Another kitchen island ideas that you can consider is your kitchen appliances. Not only will it add personality to your kitchen, but it will also free up counter space. You can display your colorful toaster, juicer, blender, or even your coffee maker.
5. Fresh baked goodies.
Does your family enjoy eating small meals? Getting snacks? If yes, then consider a self-serve station for your kitchen island ideas! You can put your freshly baked bread, cookies, and other goodies on your kitchen island.
6. Cooking Tools
If you love cooking and spend most of your time in the kitchen, another kitchen island idea is to make it your main preparation area. You can place your sink and faucet here, perhaps a vase of handy cooking utensils, and even your favorite cookbook.
What to Consider When Making a Kitchen Island?
A kitchen island serves any purpose. It's not just an additional feature in our homes. Hence, it is important to know the considerations you need to decide on when making one.
1. Decide on the function of your kitchen island.
When looking at kitchen island ideas, you need to consider what is the main function of your own kitchen island. Will you be using it to serve meals? Do you need an additional seating area? Or maybe you need more space for food preparation? Make sure that you understand how you want your kitchen island to function.
2. Choose the appliances you will need.
Do you want your kitchen island to be functional? If yes, then consider adding kitchen appliances. You can integrate those into your kitchen island design. Doing so will be practical and can help improve the kitchen flow. You can incorporate your microwave, prep sink, steam oven, pull out freezer, dishwasher, and even pull-out trash.
3. Consider adding storage.
Aside from the extra counter space, one helpful kitchen island idea you can consider is the extra storage potential that you get. Decide whether you want it to hold small yet bulky items? Perhaps your collection of family heirlooms or holiday dishware that you reserve for special occasions?
4. Decide on the shape.
You will be surprised at the variety of kitchen island ideas when it comes to shapes! The kitchen island doesn't have to be a regular rectangular shape. Consider the traffic flow of your kitchen space, the sightlines compared to the other rooms in the house, and the space you'll need to be able to work comfortably.
Note: Ideal space around all sides is at 36-48 inches to accommodate foot traffic.
5. Look for the appropriate style.
At this point of your quest for kitchen island ideas, it is now time to check for the style you want. Do you have a color preference? Are you looking for a modern design? Or contemporary? Whatever you choose, it is important to have a fixed style or design so that you don't have to redo anything.
Creative Kitchen Island Ideas
Now that we have moved the considerations and decoration options out of the way, let us take a look at some impressive and creative kitchen island ideas. This collection will surely inspire you to make equally astonishing kitchen island ideas!
Built-In Sofa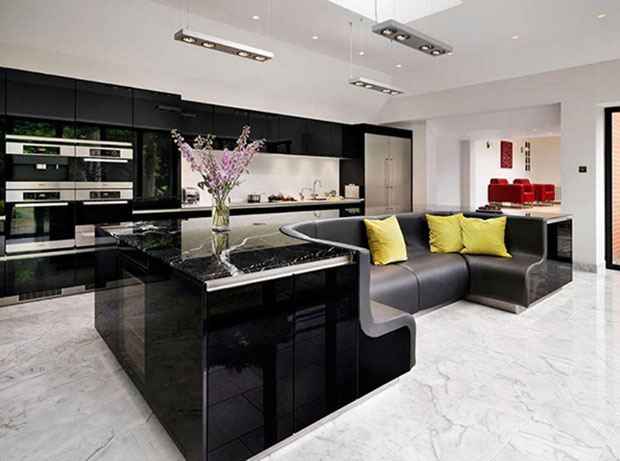 Myers Touch
This kitchen island design is perfect for homes that enjoy having company over dinner. The kitchen island has a built-in sofa that can seat your guests while preparing a meal.
Curved Sofa Island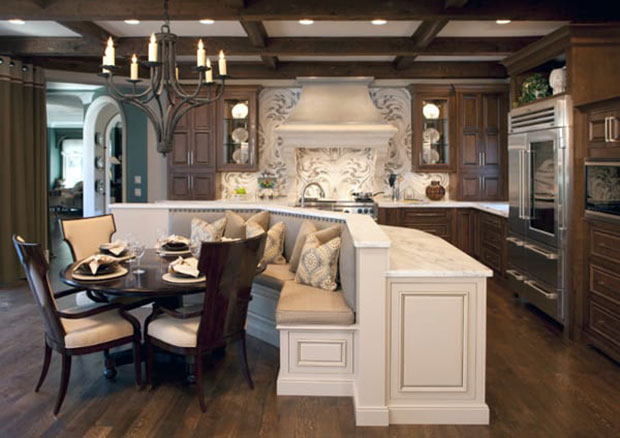 Insidesign
Another example of the multi-functional kitchen island ideas is this classy island with a built-in sofa. This kitchen island is merged with the dining table as an additional seating area.
Kitchen Renovation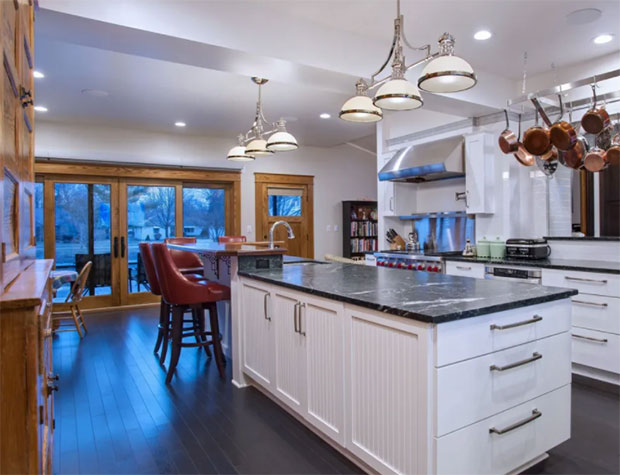 Cabinets By Design LLC
This kitchen island is artistically connected to a four-seater dining space.
2-Layered Kitchen Island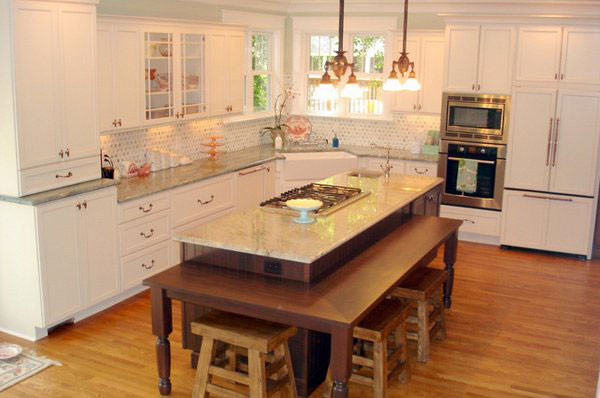 Essence Design Studios
This beautiful 2-level kitchen island separates the counter space for preparing the food and eating them.
Lake Minnetonka Dream Home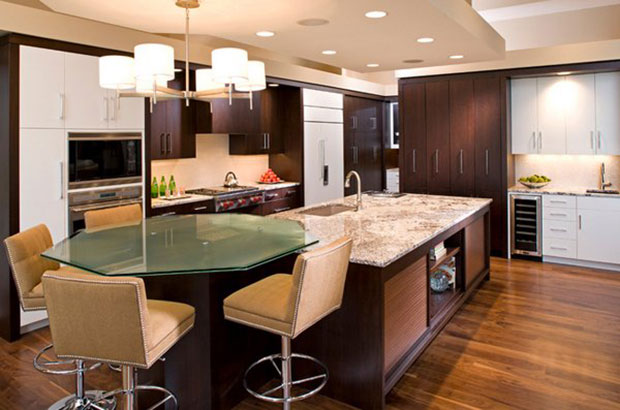 Eminent Interior Design
The kitchen island is merged together with a glass-countered dining space. It is a unique contrast from the marbled-countertop in the kitchen.
Substantial Residence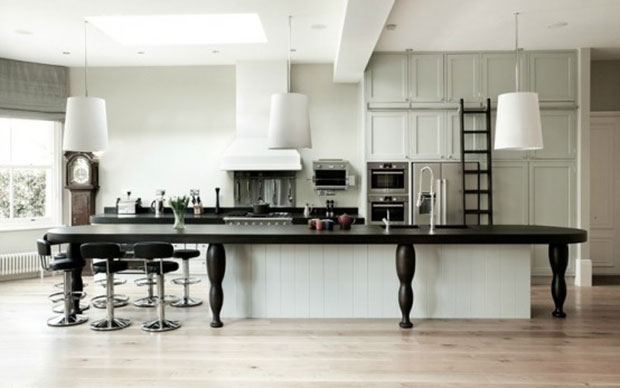 Cochrane Design
This impressive and spacious kitchen island looks picturesque with its black countertops and the curvy black legs. It is a nice contrast to the white paint, cabinets, and lighting inside the room.
Street of Dreams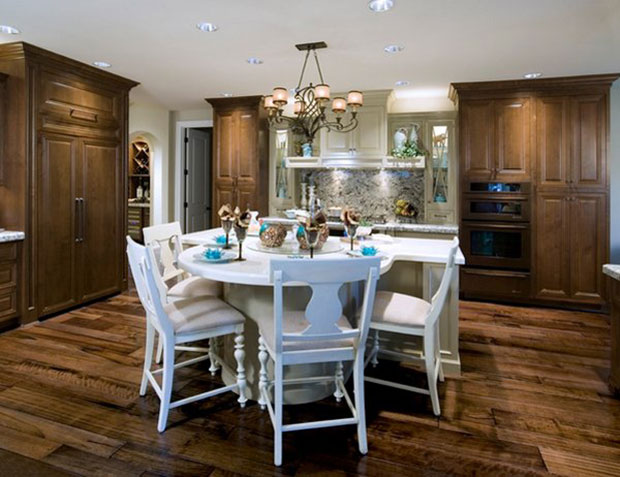 Rockwood Cabinetry
Another classy kitchen ideas to add is this white island that is connected to a circular dining table.
Sydney Open Plan Kitchen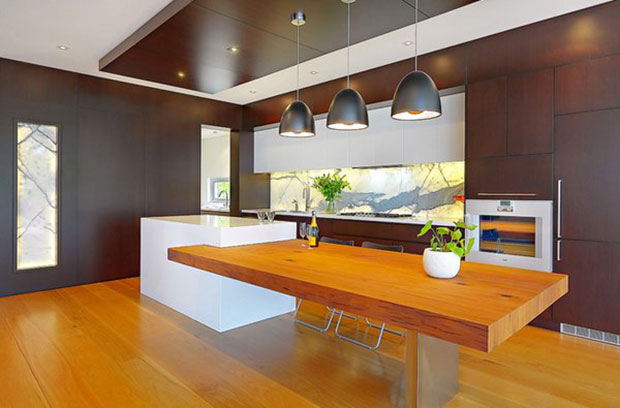 Impala Kitchens & Bathrooms
The elegant design of this kitchen island will make you think of comfort and class rolled into one. The designer used rich wood as an extension to the marble white kitchen island.
Gallery Loft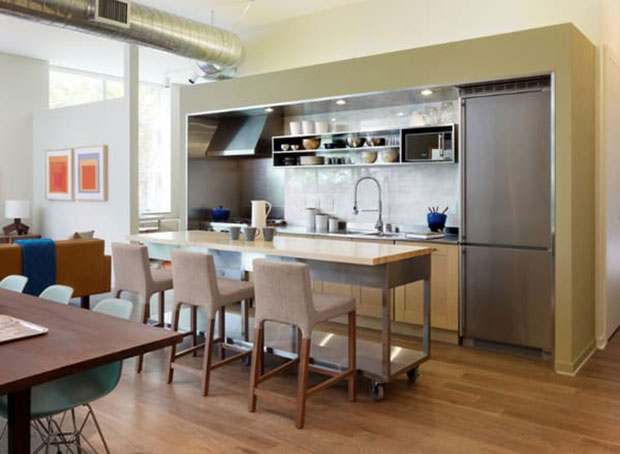 Eric Straudmeier
This simple yet practical kitchen island is not only convenient (with its movable design) but is also quite minimal and will look well with industrial room designs.
Bright Blue Storage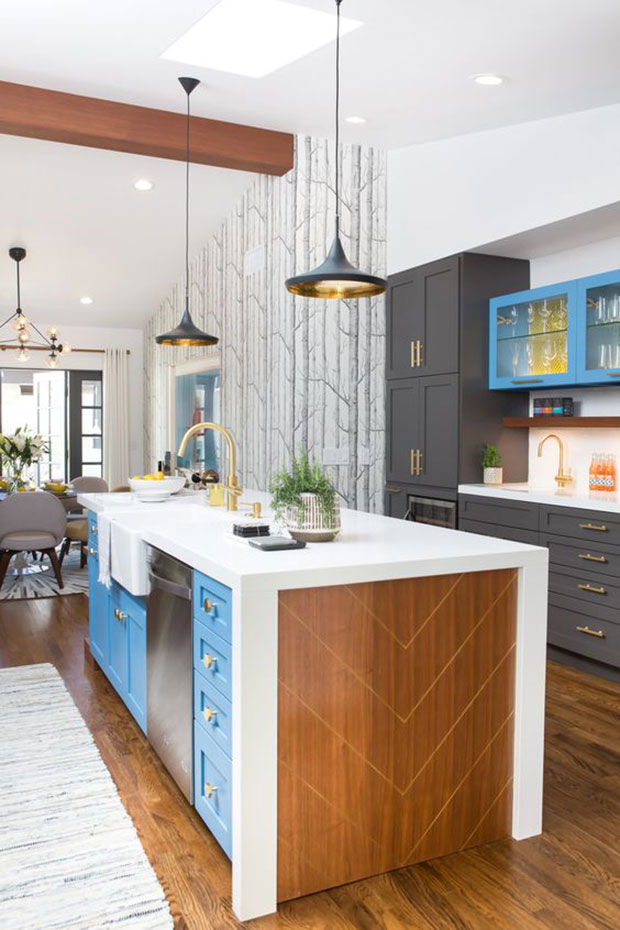 Digs Digs
This visually appealing bright blue kitchen island adds a splash of color to the neutral colors of the room.
Calacatta Gold Kitchen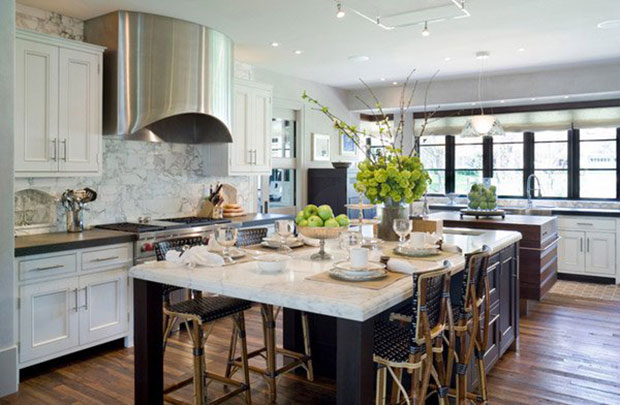 Carthage Stoneworks
This classic and elegant kitchen also has nice cute seating. Its countertop complements the marble backsplash of the cooking area.
Green Kitchen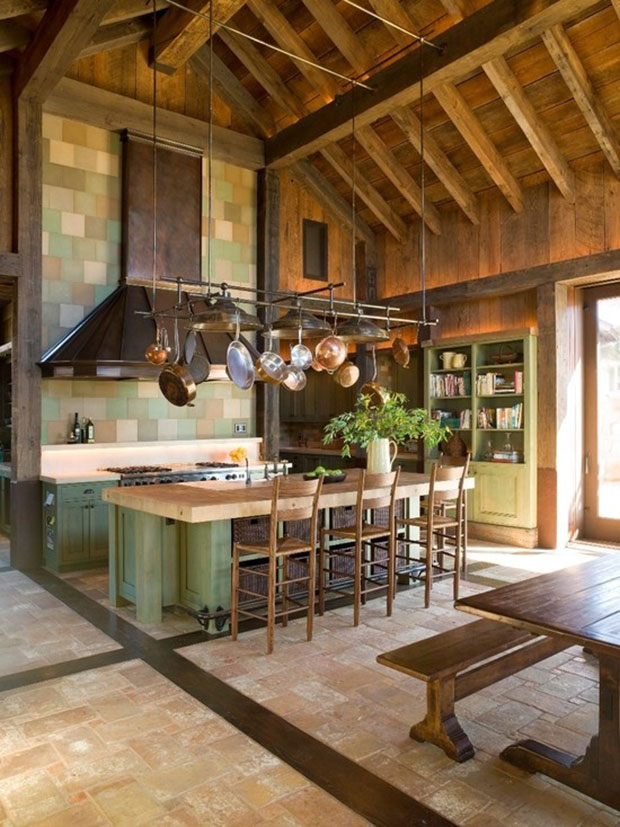 Digs Digs
This homey kitchen island is designed to complement the rustic and country feel of this high-ceilinged kitchen. The pots and pans at the top add a unique touch to space.
White Ash Kitchen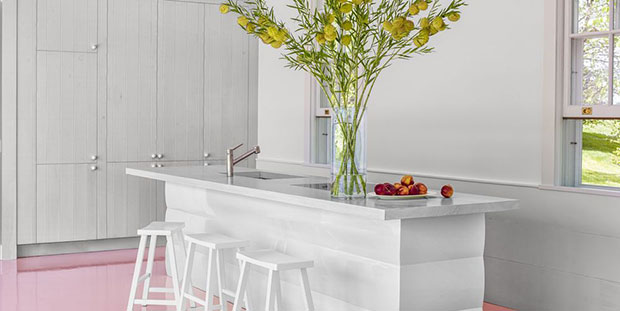 William Waldron
This gorgeous and minimal kitchen island is perfect for spaces with small spaces.
Lincoln, RI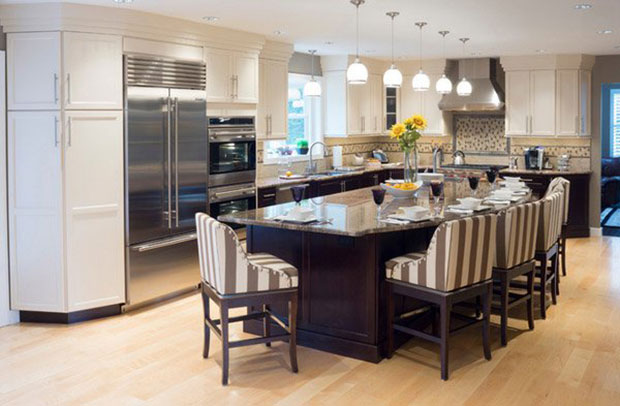 Nathan J. Reynolds-Poulin
This charming kitchen island has a curvy design and is connected to a seating space at the front.
Unique Kitchen Island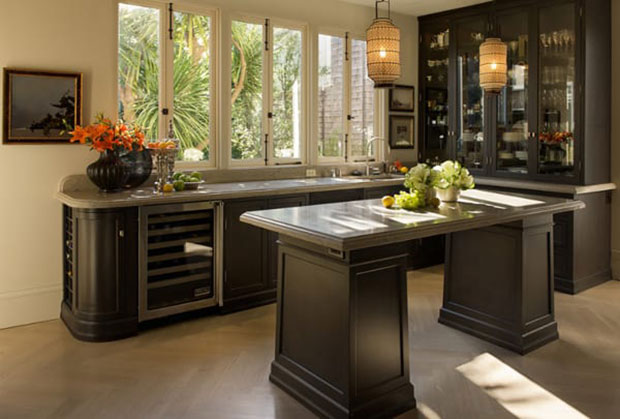 One Kindesign
This simple yet stunning black kitchen island has an open space at the bottom. This makes it look like a table in the middle of the kitchen with an elegant design.
Cast-Iron Kitchen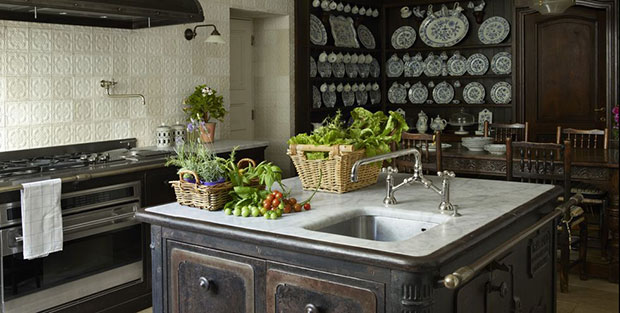 Simon Upton
This square-shaped kitchen island ideas will add a classic look to any kitchen. The island is made of a cast-iron stove and has a Carrara marble.
Modern Kitchen Design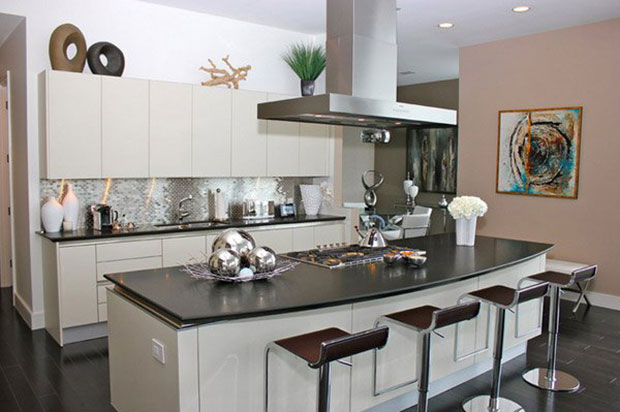 Mauricio Nava Interior Design
This sleek and modern kitchen island is topped with a stainless silver countertop.
Hague Blue Kitchen Island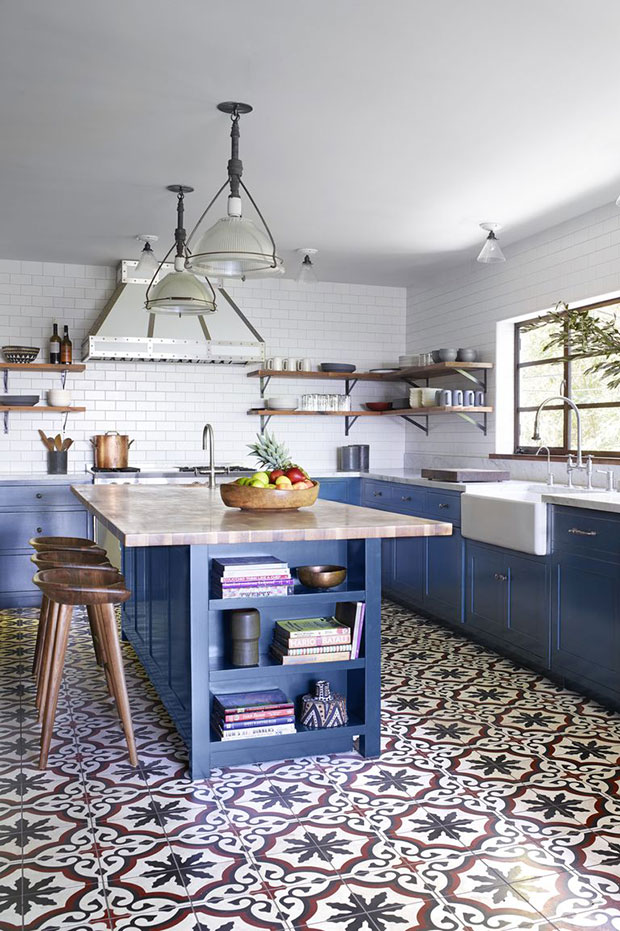 Richard Powers
The kitchen island featured here is that of a home in Hollywood Hills. The kitchen has a vintage feel with charming pendant lights and shelving space on the kitchen island.
Zen Kitchen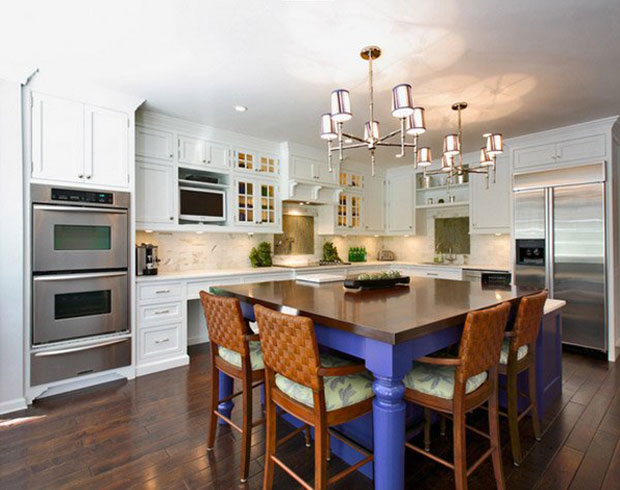 Olga Adler Interiors
This cute kitchen island features a periwinkle color at the base. The chairs around the dining portion of this kitchen island ideas have a woven design.
Menlo Park Ranch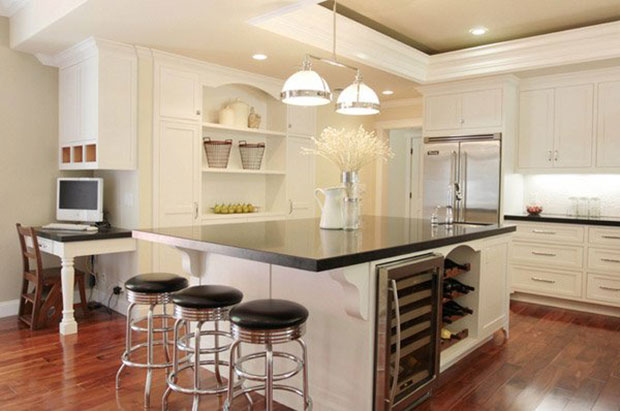 Studio S Squared Architecture
Aside from pots and appliances you can also use your kitchen island to store wines.
Rustic Kitchen Island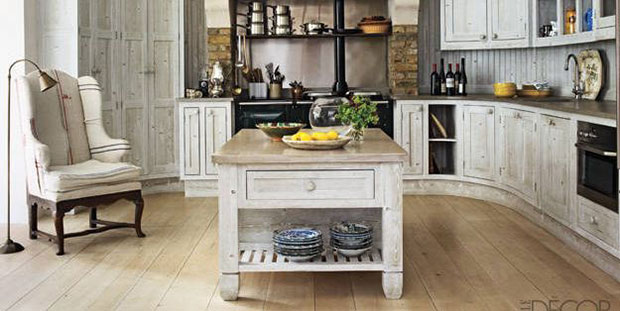 Simon Upton
This rustic kitchen island takes you back to the golden years.
Bowman Residence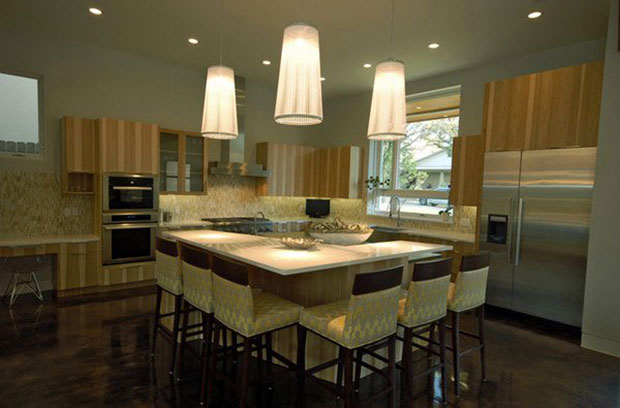 Cornerstone Architects
The elegant pendant lights in this beautiful kitchen island add a natural warm glow to the kitchen. The designer used the kitchen island as a dining area too with the availability of the seating.
Melissa Sole Kitchen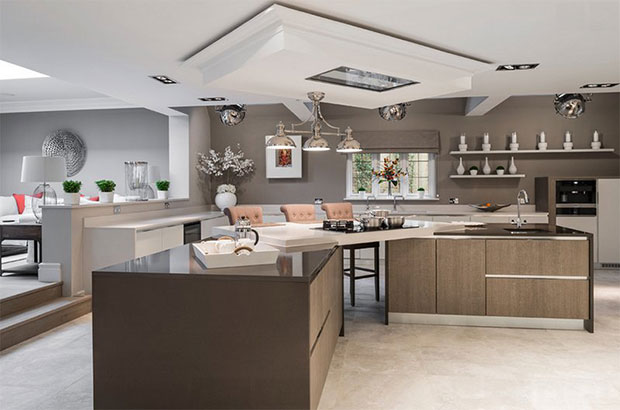 Lida Cucina
This kitchen has 2 islands connected by a white countertop that acts as a dining space.
Pink Kitchen Island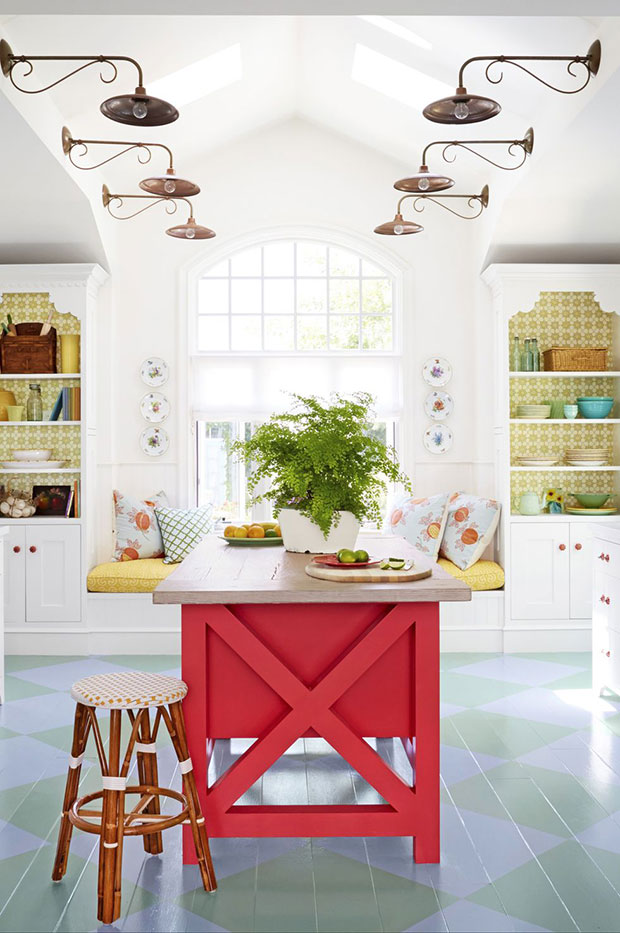 David Tsay
The charming design of this kitchen island will brighten your day. It is further complemented with the large potted plant at the center.
Honey Onyx Bar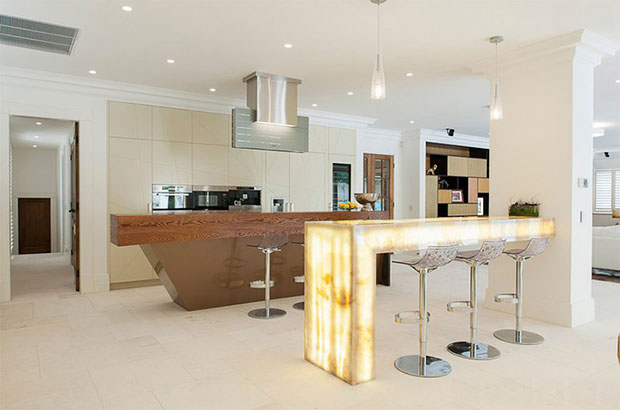 Royston Wilson Design
This kitchen has 2 kitchen island ideas with 2 different themes that work great together.
Sanctuary Cove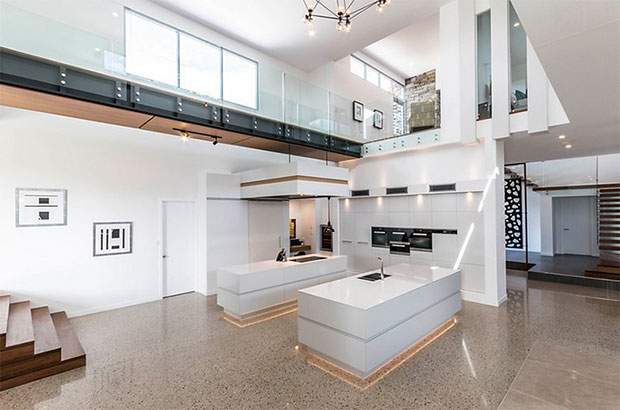 PM Concepts
These gorgeous 2 kitchen island ideas have a design that makes them look like floating.
Contemporary Elegance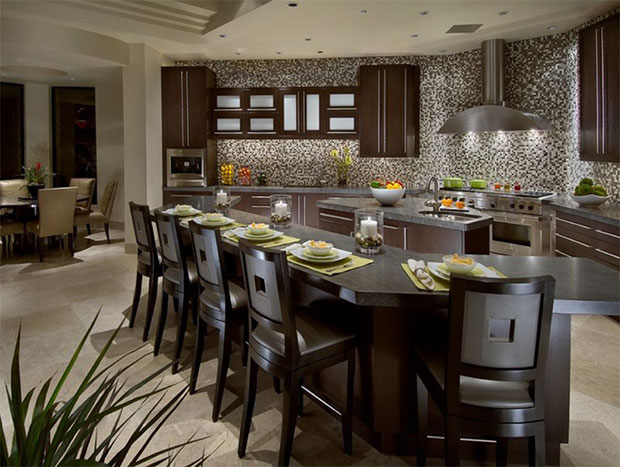 Janet Brooks Design
This gorgeous kitchen island set up features 2 islands with different functions: one to prep while the second one is to serve food.
Trendy Kitchen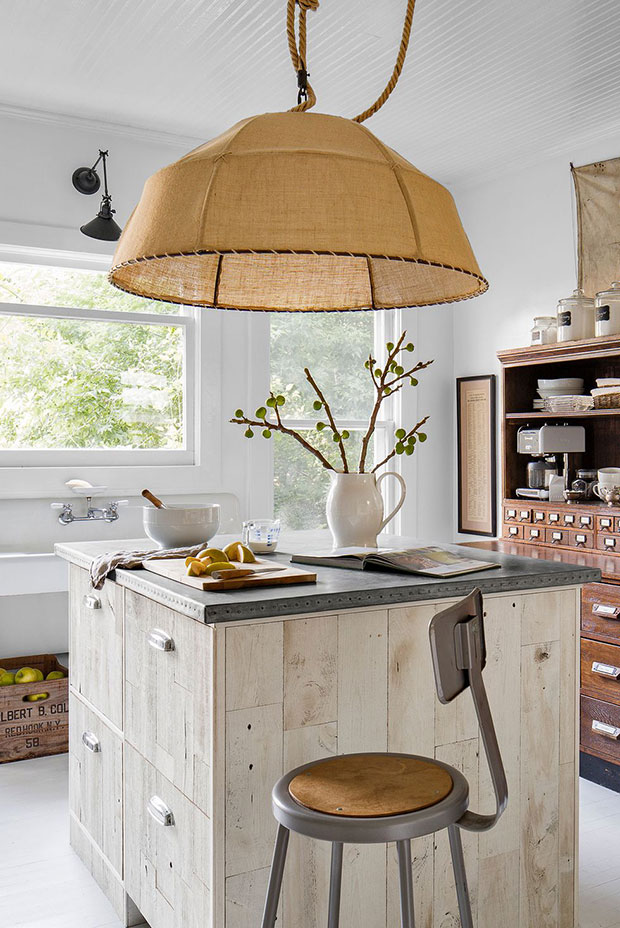 Good Housekeeping
This simple yet lovely kitchen island has several storage spaces available. It is also further enhanced by the oversized lighting above it.
Pet-Friendly Kitchen Island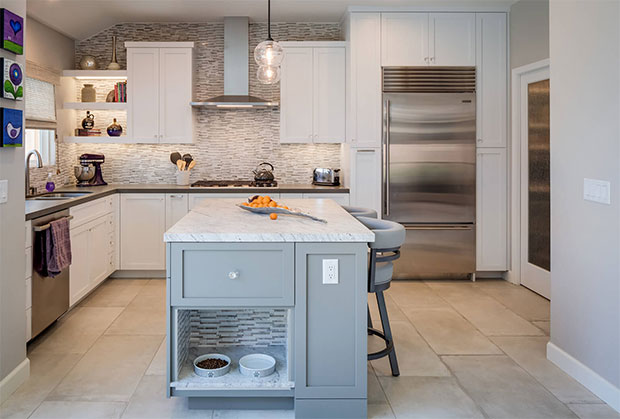 Marrokal Design & Remodeling LLC
Pet-lovers who are looking for unique kitchen island ideas will love this pet-friendly kitchen island design. A feeding station is placed at the bottom of the kitchen island with storage above for pet accessories.
Futuristic Island Idea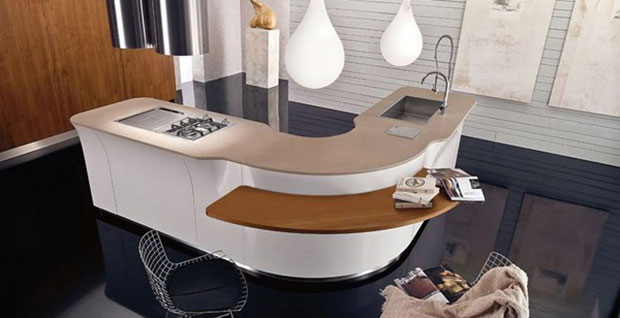 Iseecubed
This curvy kitchen island design looks spectacular with its soft curves and white teardrop pendant light.
Acropolis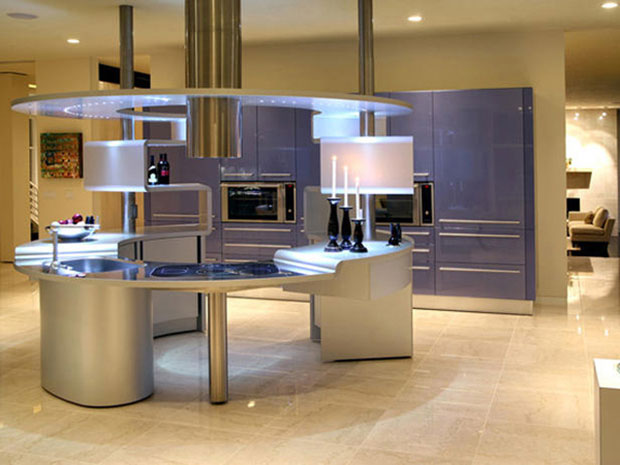 Pininfarina Design
Another futuristic kitchen island ideas to include in this list is this rounded kitchen island with its glossy countertop and legs.
Ola20 Peninsula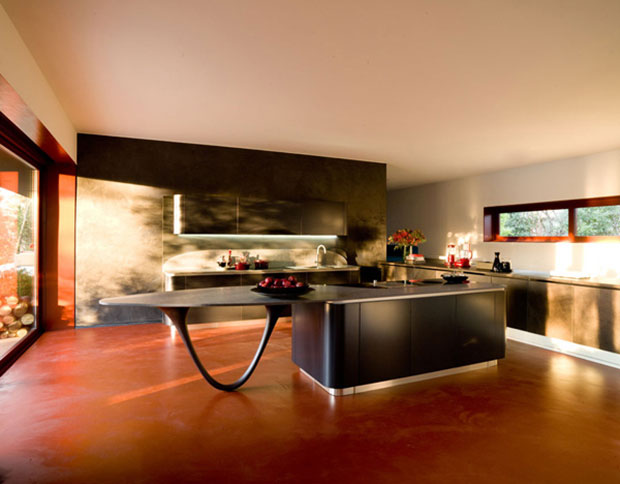 Pininfarina Design
This iconic kitchen island has unique leg support at the extension. It is further emphasized by the smooth and black surface of the countertop.
Classic Modern Design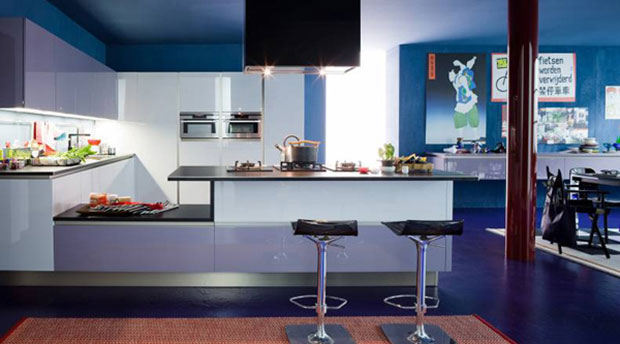 Veneta Cucine
This lovely modern kitchen island has glossy finishing. The lovely lavender color enhances the design even more.
Barton Hills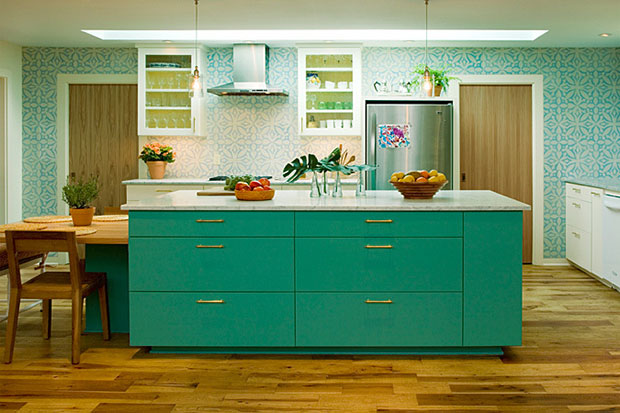 Amity Worrel & Co.
This charming kitchen island has an attached Pecan dining table for casual family dinners.
Stokley Drive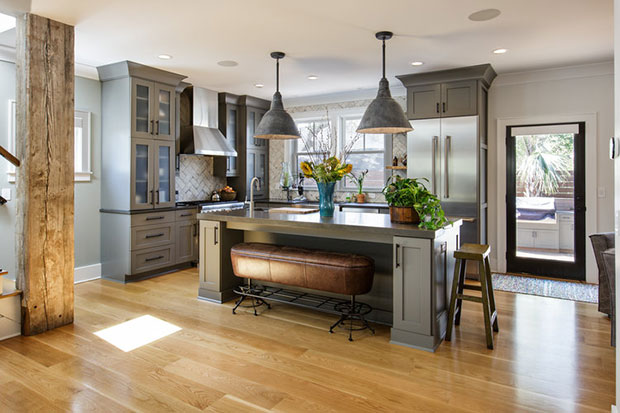 Suzanne Trecco Designs
This kitchen island has built-in appliances at the back and unique seating furniture on one side. The legs of the island are of the same style as the kitchen cabinets.
Riverhouse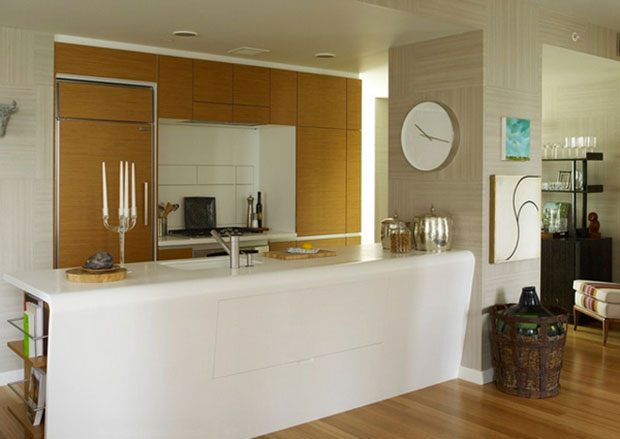 Thom Filicia
The kitchen island on this home has a sleek and glossy design. Its soft curves make it very modern and futuristic.
Bohemian Condo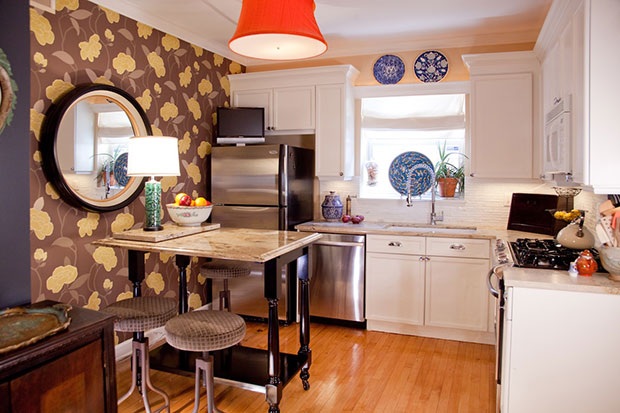 Lisa Wolfe Design, Ltd.
No space? No problem! This condo embraces a bohemian theme and its kitchen island is a movable platform that is a dining room at the same time.
Eclectic Farmhouse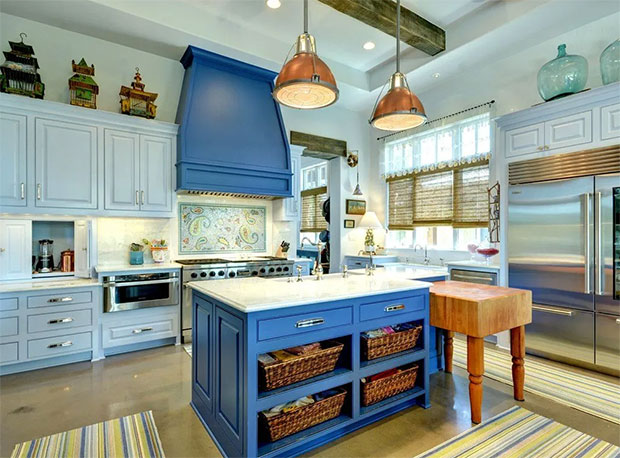 CREDIT
This farmhouse has a unique bright blue-colored kitchen island with a butcher block stand.
Lucci Orlandini Design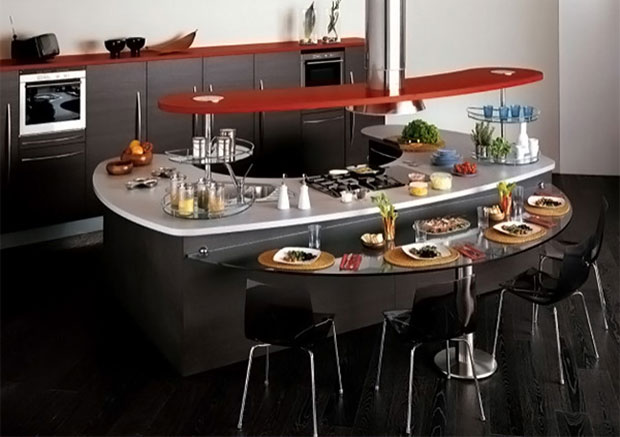 Snaidero
This kitchen island looks futuristic with its curve design and glass countertop.
Ocean Dunes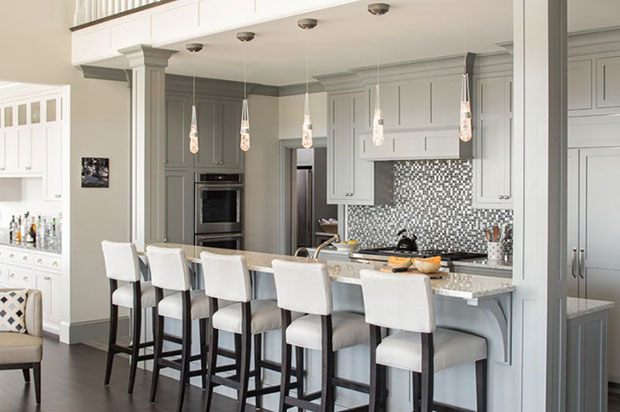 Richard Moody & Sons Construction LLC
This kitchen island looks like a home bar and a kitchen rolled into one. The gray color is warmed by the cute pendant lights hanging from above it.
Beechwood Manor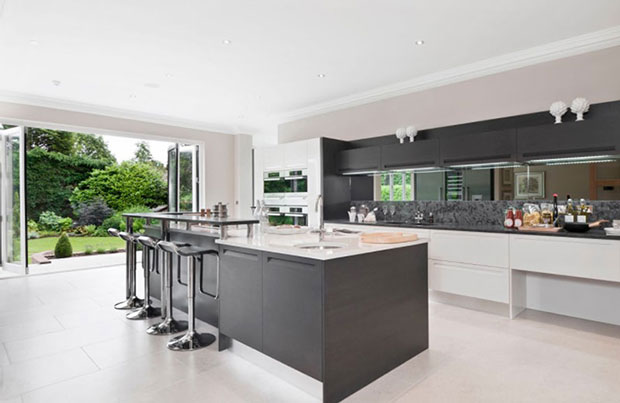 Alexander James Interiors
The elegant color of gray and white of this kitchen is further complemented by the classy kitchen island with its glossy countertop and silver chairs.
Energy Star Home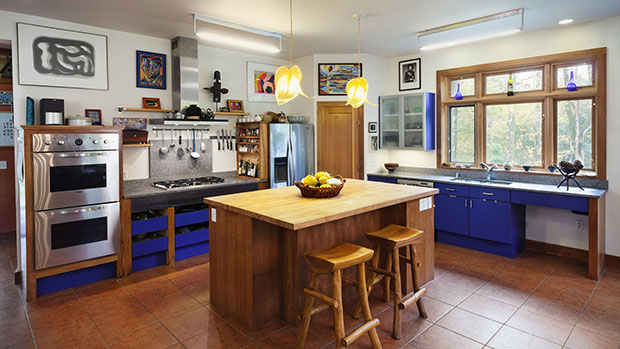 Alfandre Architecture
While most of the kitchen island ideas involve glass or marble, this kitchen island is made of warm wood and has 2 wooden stools.
Yellow Island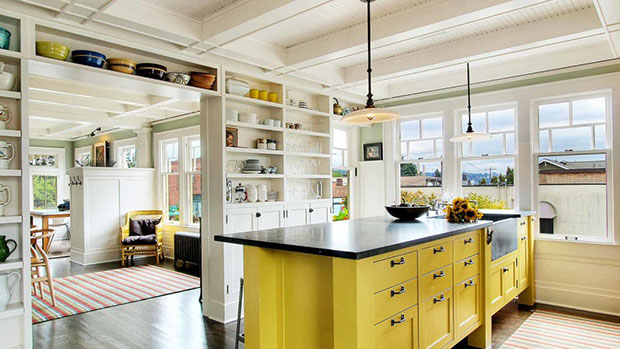 J.A.S Design-Build
This bright kitchen island is painted in bright yellow making it a central feature in the kitchen.
LEED Gold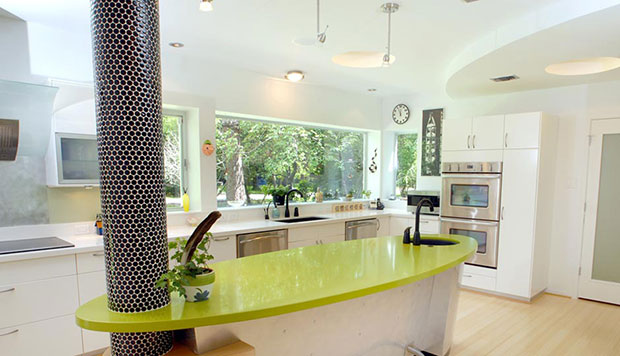 RD Architecture LLC
This sleek and glossy kitchen island adds a splash of color to the white and pristine kitchen. It also has a rounded and oval-shape design that is unique.
Caesarstone Island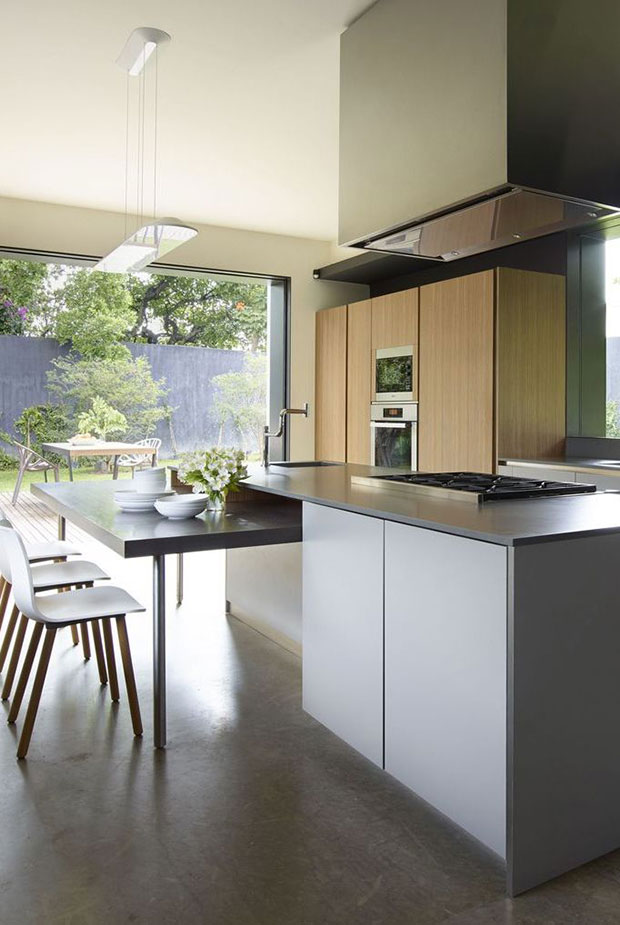 Richard Powers
This sleek and minimalist kitchen island has an extended table for dining.
Rustic Modern Kitchen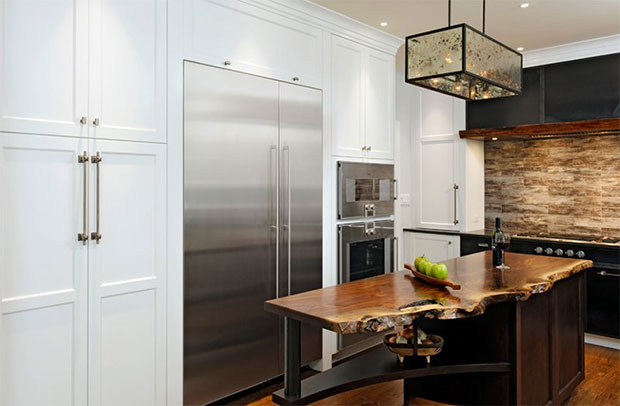 Lauren Levant Interior
The natural wooden countertop of this kitchen island is dramatic with its rough edges.
Atherton Estate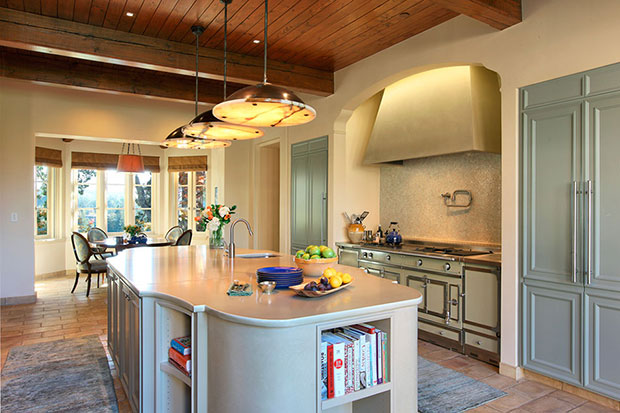 Scavullo Design
This wide and open kitchen island has numerous storage spaces including a shelf for books.
Riviera House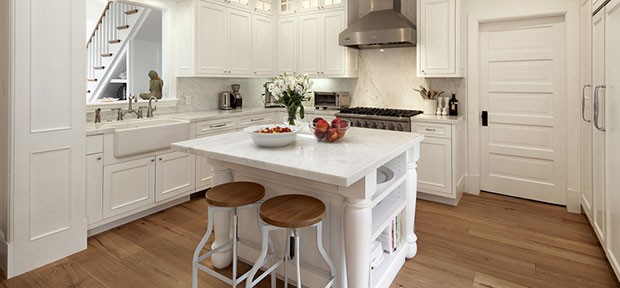 Allen Construction
This charming white kitchen island has curved and intricately designed table legs with shelves for books and other kitchen appliances.
Greenbrier Estate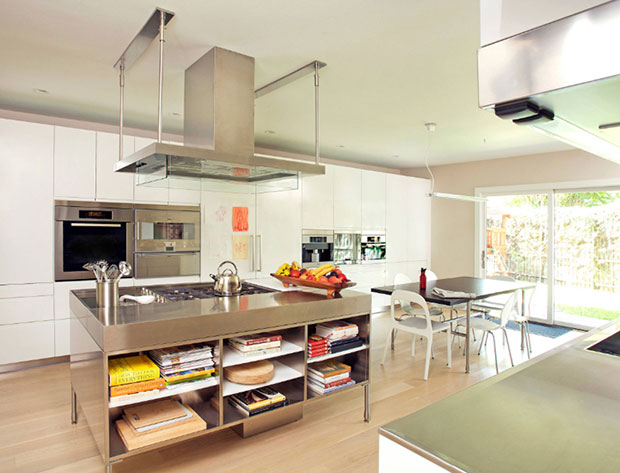 Linda Fritschy Interior Design
This stainless steel kitchen island has its space maximized with the stove at the center and some spacious shelvings for storage.
Honeycombed Island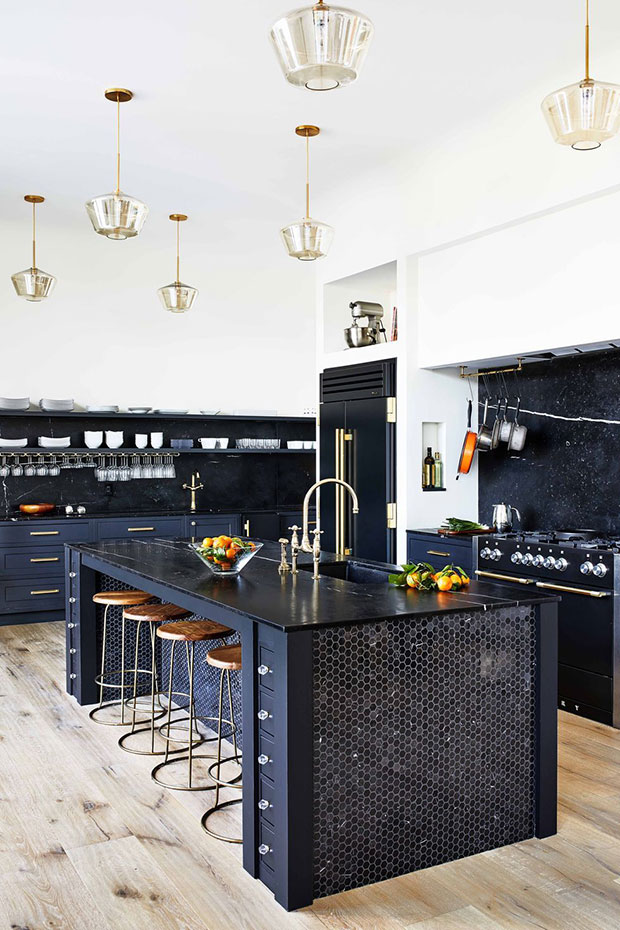 Stacy Zarin Goldberg
This gorgeous black tiled kitchen island has a unique honeycombed-design cover that makes the island eye-catching.
Pet-Lover Island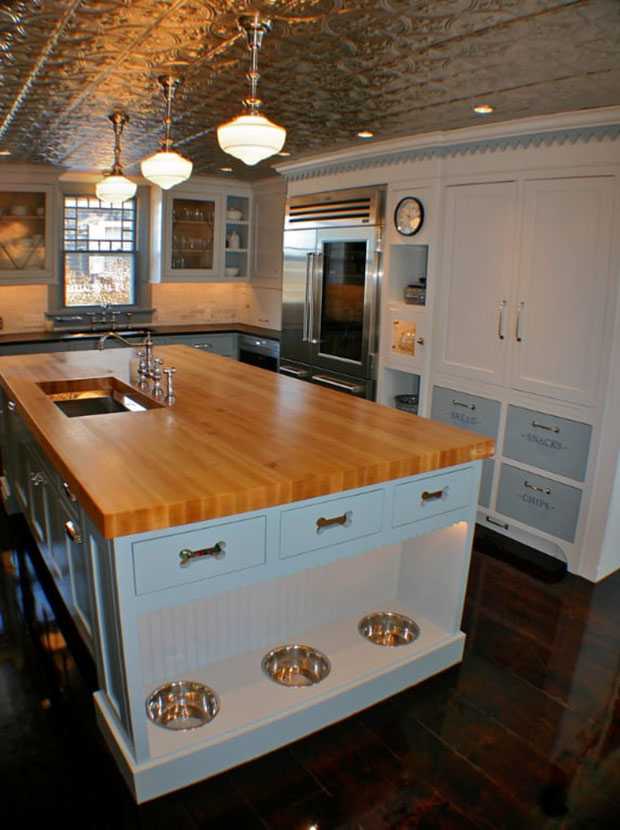 Onekindesign
Another cute kitchen island idea is this design with space for feeding the pets.
Curved Island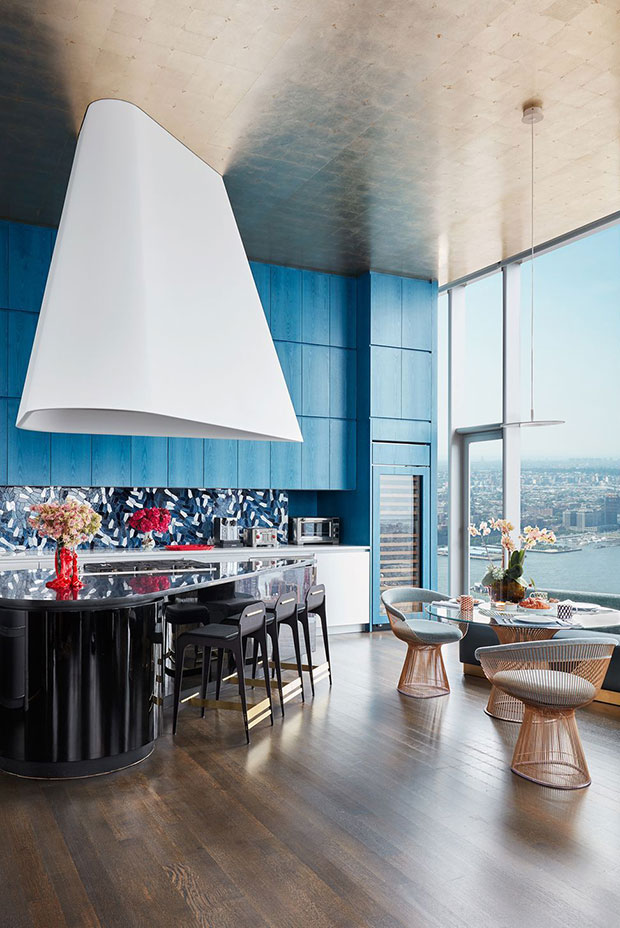 Richard Mishaan
This dramatic kitchen island features a rounded and black lacquer design.
So you see, your kitchen island CAN be an island of design and style!
We hope that this collection has opened your eyes to the unique possibilities of lovely yet interesting kitchen island ideas!