50 Gorgeous White Kitchen Cabinets For A Clean Look
|
White kitchen cabinets are a timeless classic and choice of design in kitchens. It's simple and smart, yet eclectic and elegant. It's a style that also appeals to many people's preferences. White-painted kitchen cabinetry is an enduring style because of these.
While one may think that there is danger in it being bland, white kitchen cabinets easily mix with a variety of colors, materials, and design styles. It's simply a classic staple where you could never go wrong however you mix and match hardware and door styles. In some instances, sticking to a plain white vanilla color scheme can be just as beautiful.
The color in itself brings additional light into the room, reflecting every available light. Not only then does it make the room brighter, but it also makes space look bigger in appearance.
On the flip side of things, light colors like this easily stain and such smears make it easy for the eyes to see. But then again, your kitchen does require attention and maintenance. Having white kitchen cabinets doesn't necessarily mean extra care. In this article, we'll also talk briefly about the best ways to keep your white cabinetry in pristine condition.
What Color Countertops Go Best With White Cabinets?
With your white base cabinets, a perfectly matched countertop is naturally to be decided.
First off, do not overlook the overall aesthetic, feel, and functional preferences in your kitchen, such as countertop maintenance, materials, and textural elements, etc. You also have to take into consideration your budget to make a perfect choice. With all of that in mind, it would be way easier to pick the perfect countertop to match with your white kitchen cabinets.
With the versatility of the color white, there is not one single color that is suited "best" with it. The best color countertop to go with the white cabinets would be the one that aligns with the design theme of your kitchen. When that's been decided, you now would have the option of whether to go with warm or cool color tones.
You can work along with the color scheme of your kitchen. If there's a color motif present in the walls of your kitchen, choose a countertop with veins or splashes of the same color. With this, you really have to consider the wall paint, floors, and tile backsplash of your kitchen. A simple kitchen can work with multicolored or dramatic countertops; whereas, a busy and colorful kitchen would look best with simple and solid countertops. You can also look into color undertones. If you choose a warmer white undertone, cool-toned countertops would make it warmer. Matching your white kitchen cabinetry with white countertop colors could make it look more contemporary and modern, and clean and serene. While gray countertops offer a look of sophistication, black countertops add a dramatic flair.
The most common and popular countertop materials include stones, laminate, wood, and concrete. If we're talking durability, the best options would be granite, quartz, laminate, and concrete. Granite countertops have become more common and more affordable over time and offer a wide variety of colors from white to black, to red to blue. Quartz has become more popular especially as it provides more color choices. Plastic laminate is one of the most popular kitchen countertops and available in many colors and styles. Meanwhile, concrete countertops would look best if you're going for an industrial-themed kitchen.
On the other hand, wood is also heat resistant and durable, and stylish. But over time, knife marks may show and so it requires maintenance to prevent cracking and warping. Marble countertops are also quite common but they are not as durable as other surfaces.
What's The Best Way To Clean Your White Kitchen Cabinets?
White kitchen cabinets are no different from other colors in keeping them clean. The key to maintaining your white cabinetry in its pristine condition is simply maintenance. A routine of cleaning and wiping down is the universal solution.
1. Microscopic particles borne from cooking in frying pans are not noticeable but once accumulated can be an eyesore. So always plan to clean your cabinets at least once a month and spot cleaning in-betweens.
2. When you spot nasty little smidges already on your white surfaces, there's a simple home remedy that can be used to treat it. Mix up a cleaning solution of 2 cups of warm water, 1 cup of vinegar, and 1 tablespoon of baking soda. Dip rag in this solution, wring out excess liquid and wipe down your cabinets. You can do this at least once a month.
3. If you're going to clean your cabinets daily, you can try warm water, dishwashing liquid, and a soft cloth.
Also, a good important note is to never use an abrasive pad in cleaning out stains. This will only ruin your white kitchen cabinets' finishing.
White Kitchen Cabinet Ideas for Inspiration
Now that we've covered the best countertop colors and best cleaning methods, here are some of our picks of white kitchen cabinet designs!
Philanthropists' Residence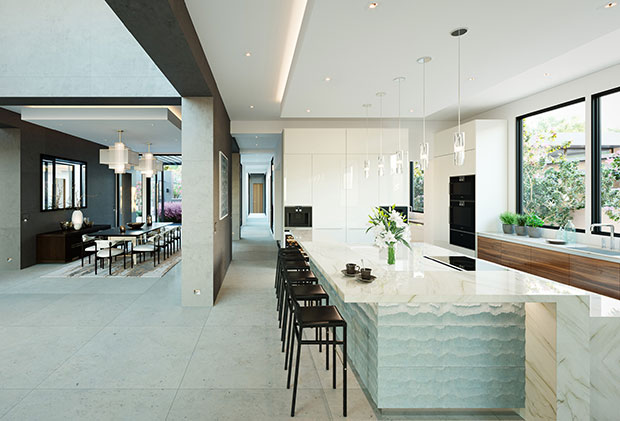 Studio Architects
The door handle-less style of the cabinets emphasizes a clean and contemporary look. It matches well with the kitchen's motif and offers a sophisticated contrast to the grey dining area.
The Burg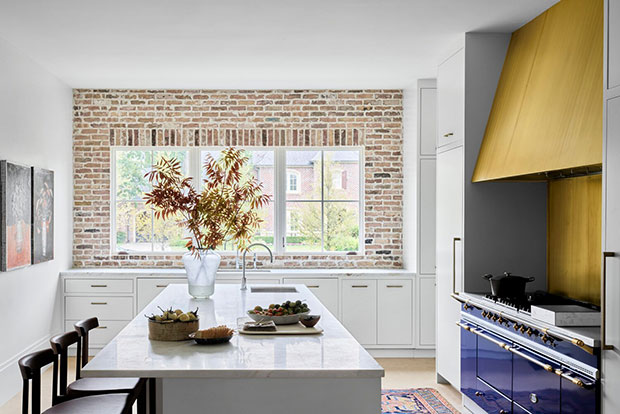 Chad Dorsey Design
The gold-colored door handles are subtle and complement the serene look of these white kitchen cabinets. Notice too, the glossy dark blue range oven and wooden range hood adding some splash into the room.
Coke Den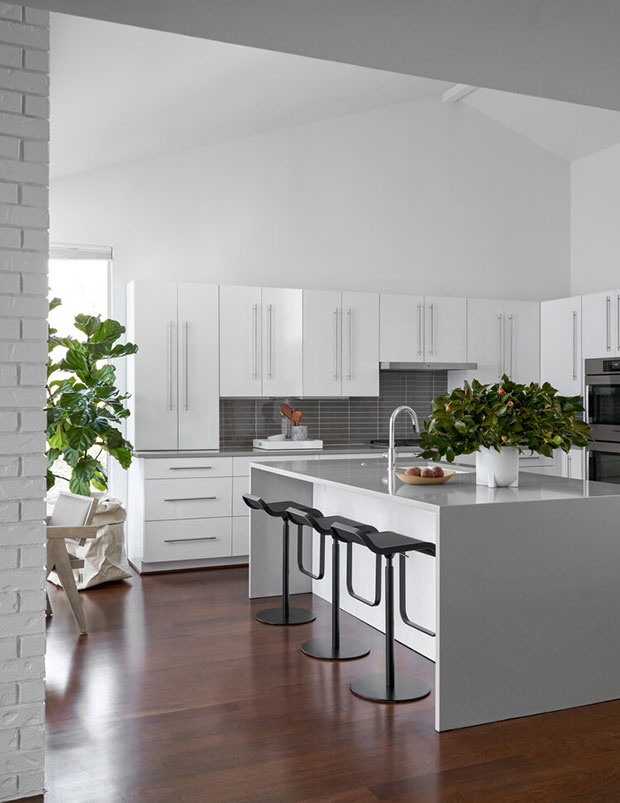 Chad Dorsey Design
In this kitchen, there's a clear white and grey color motif as evident with the pairing of grey quartz countertop with the white kitchen cabinets, and grey and white backsplash tile. This motif fits perfectly well with the laminate floor for a contemporary look.
607 86th Ave NE Medina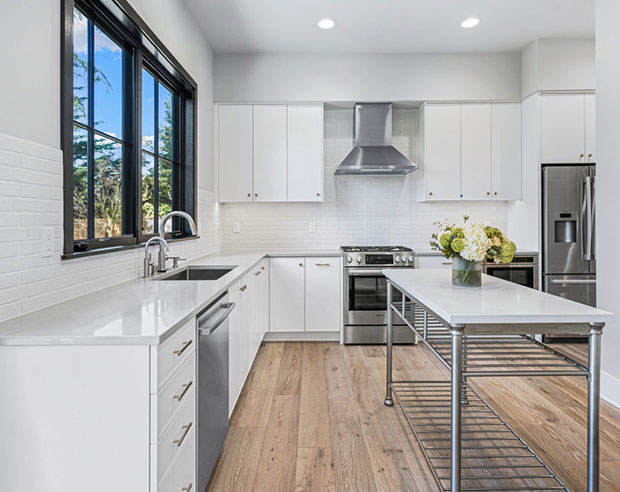 John Buchan Homes
A simple kitchen design that draws a little with industrial inspiration as the white cabinetry mixes with the silver and steel.
NE 21st Medina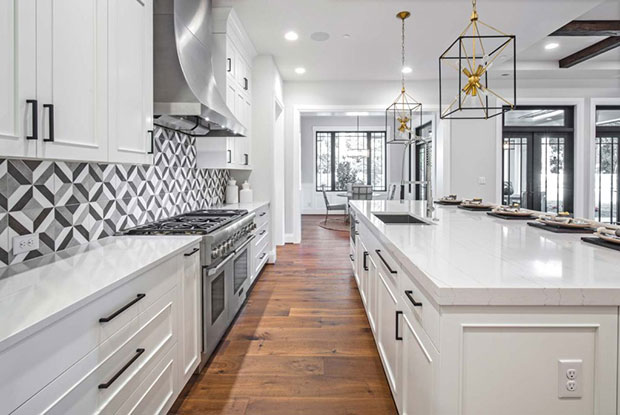 John Buchan Homes
With the open floor design of the kitchen, it is made to look even more spacious with the white kitchen cabinets. The black and grey mix bring a chic look into the space. That backsplash tile too is quite the attraction.
Luxury Custom Kitchen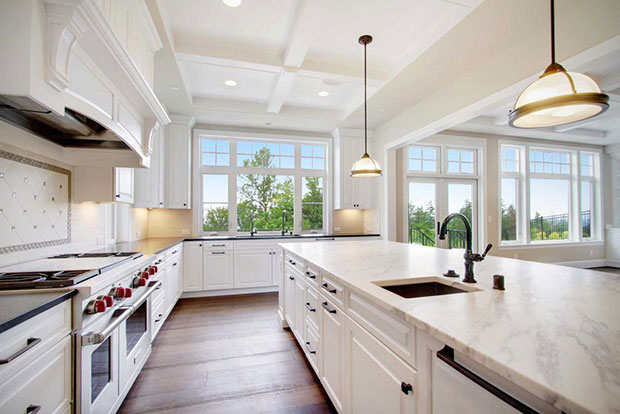 John Buchan Homes
The big windows surely make this kitchen brighter and feel wider. Compared to the examples above, this one exudes more of a modern style with the laminate countertop choice and the wooden carved panels.
2451 78th Ave NE Medina


John Buchan Homes
This kitchen has a homey and secure feel to it with the warm tones. But it's worth noting the built-in light in the wall cabinets.
Industrial Farmhouse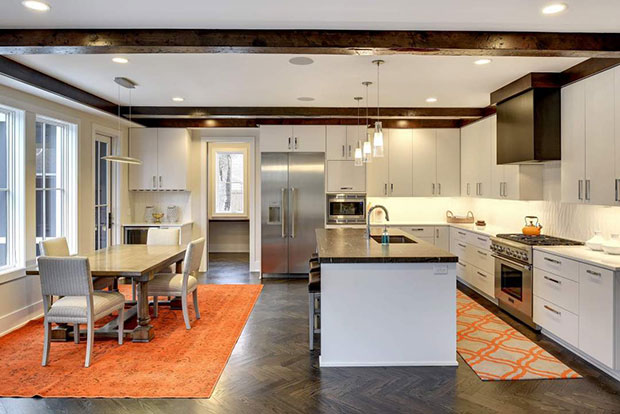 City Homes, LLC
The white kitchen cabinets allow for the dark colors to be accented in this house. Although it's not quite in the name, it's the dark wooden ceiling beams, coupled with the range hood and laminate floor that gives it an almost rustic aesthetic.
Industrial Modern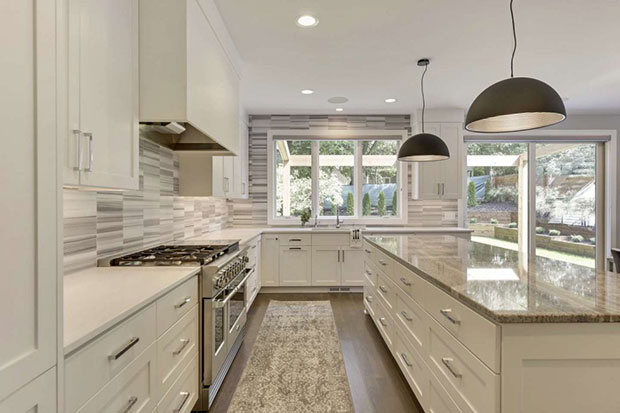 City Homes, LLC
The overall aesthetics of this house is bordered on industrial design but with a modern twist, and that's exactly what's delivered in this kitchen. The whites and greys perfectly encapsulates the theme.
Traditional Edina Elegance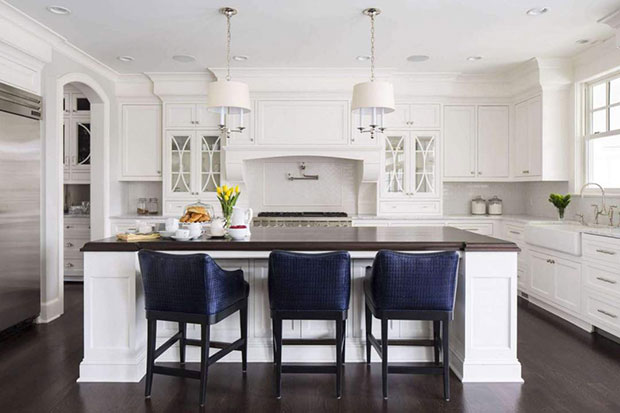 City Homes, LLC
Now, this home boasts of a traditional design as evident by the cabinetry design. Also worth-noting is the choice of wood countertop for its kitchen island.
Clean and Contemporary Kitchen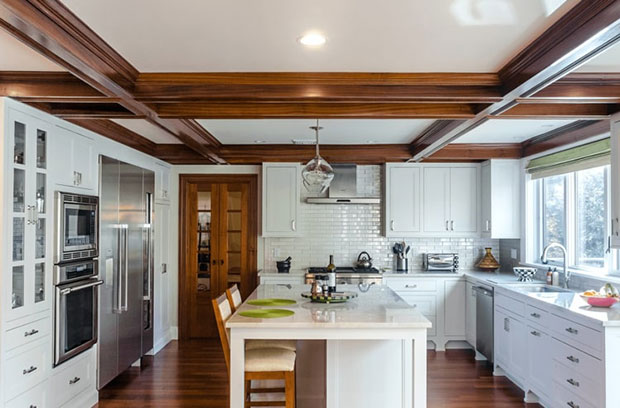 Daniel Contelmo Architects
Originally with an awkward layout, the architect team that renovated this kitchen envisioned for this space to be simple yet modern, highlighting the beauty of natural materials as seen by the finished mahogany beams and emphasizing warmth and cleanliness.
Lakeside Retreat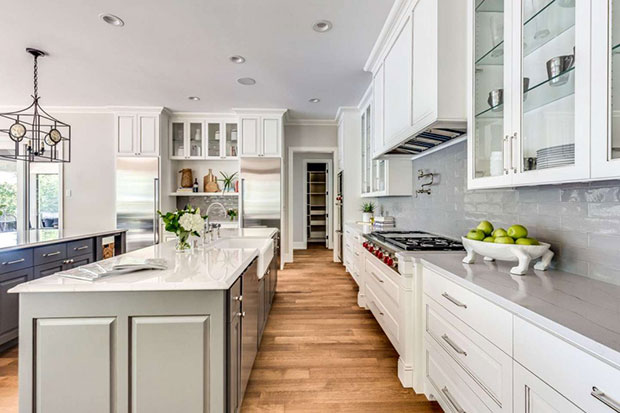 City Homes, LLC
This cozy kitchen switches it up with glass door cabinets and closed panels. This makes the kitchen space look more open. The brown-grey and whites are not too bold and bring an earthy tone, completing that homey feel.
Contemporary Renovation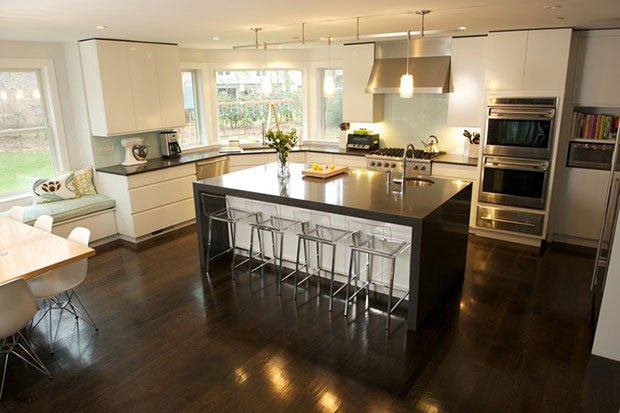 Daniel Contelmo Architects
The homeowners wanted a space with strong, clean lines and plenty of room for their growing family, and is delivered by the architects. The handle-less cabinets make this white cabinetry seamless. With black countertops and dark laminated floor, the bright open windows bring in much needed natural light.
Westchester Renovation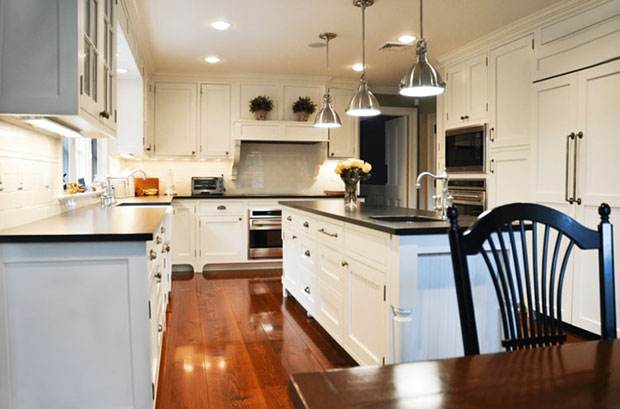 Daniel Contelmo Architects
As part of an interior renovation, the renewed traditional kitchen seamlessly fits with the style of the house. The black laminate countertops provide a stark contrast to the white kitchen cabinets. But is well-balanced with the wooden laminate floor. Interestingly enough, glass-front cabinets are added in the mix and a shelf was made over the stove hood.
Townes Circle, Edina


City Homes, LLC
One thing that stands out in this white cabinetry is how prominent the hinges are. Rather than being tucked in on the inside, they are exposed outside. It's not bothersome to the eye but rather just an interesting note of detail. In addition, there is a nice variety with quartz countertop on the base cabinets and wood countertop for the kitchen island cabinets.
New Canaan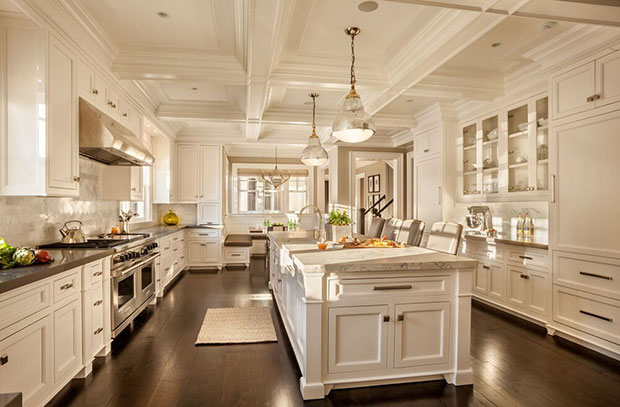 Garrison Hullinger Interior Design
This home perfectly blends contemporary finishing and influences with colonial style home which is perfectly captured in this white kitchen. This pristine white kitchen would have looked dull if it not for its variety in countertops and the dark wooden floor contrasting the whiteness.
McCormick Creek Farms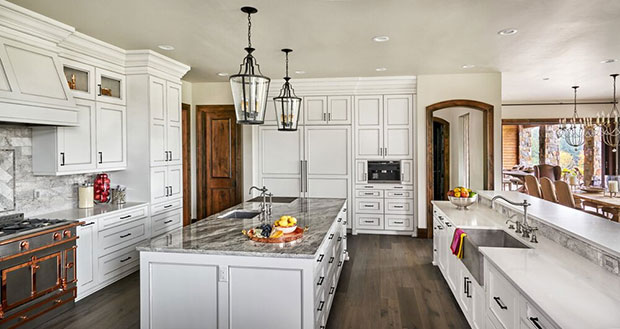 Garrison Hullinger Interior Design
Elegant and rustic. These were the two motifs that the homeowners wanted to be showcased in their home. The elegant finishing on the white kitchen cabinets and paired countertops, coupled with the wooden floorboards and doors, highlighting the home style. And despite being on the side of the picture, range stove and oven is quite the beauty.
Heather Court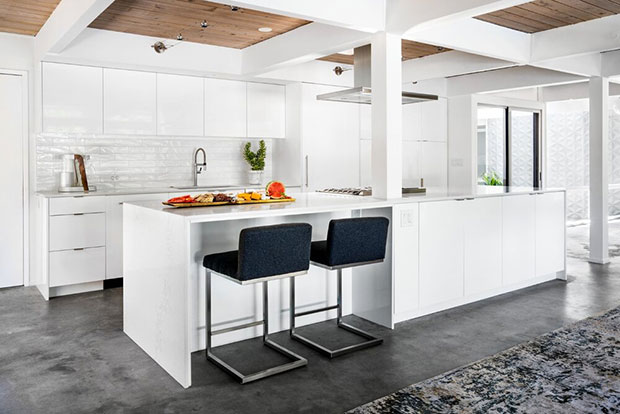 Garrison Hullinger Interior Design
This kitchen boasts off nearly an all-white scheme, from its cabinetry, the backsplash, and countertops. It's simple but chic. It is also interesting to note the wooden ceiling as opposed to the concrete flooring.
Camelia Court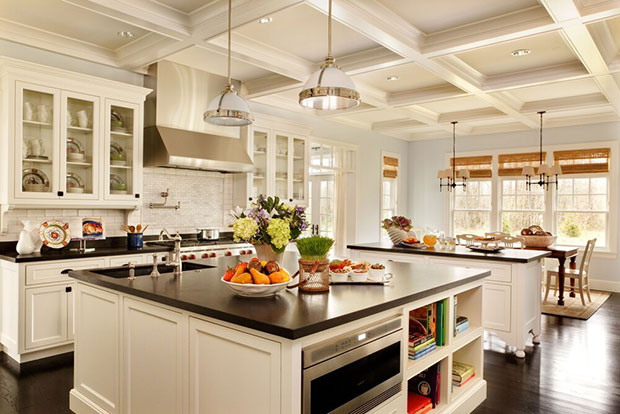 Garrison Hullinger Interior Design
The contrast of the white kitchen cabinets to the black countertops and floor gives a dramatic and stylish flavor. Though this color scheme may seem warm and dark, the seafoam blue color of the walls add some coolness.
Portland Heights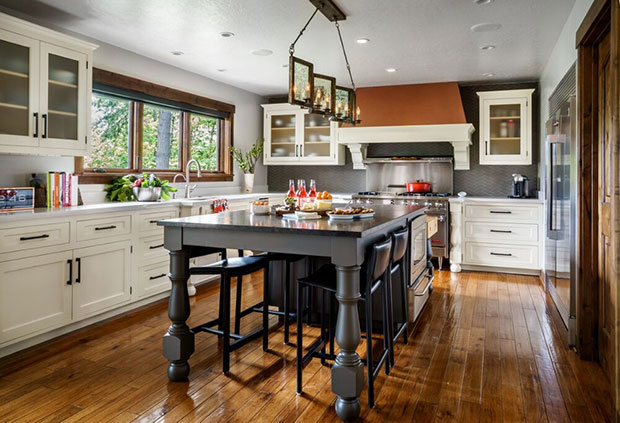 Garrison Hullinger Interior Design
The translucent glass-front wall cabinets of this kitchen separates itself from all the other ones on this list. The light grey countertop accenting the cabinetry. The all-black kitchen island is a nice contrast to the white kitchen cabinets.
Northern Heights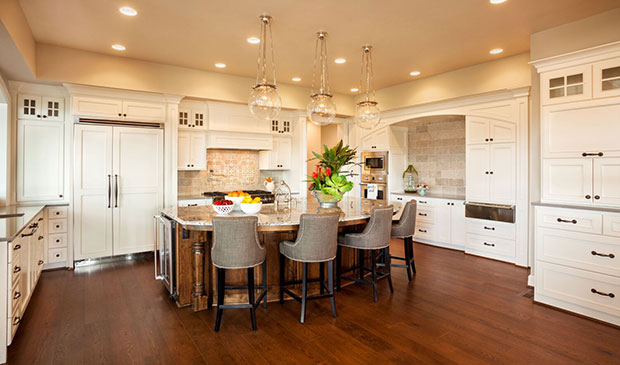 Garrison Hullinger Interior Design
The white kitchen cabinets are given life with its grey countertops, not attracting much attention to itself. But the polished wooden kitchen island is beautifully set amongst the white cabinetry.
Kitchen Renovation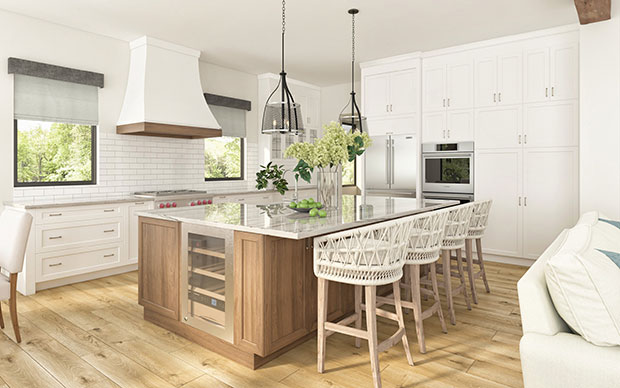 Signature Designs
A delicate warmth of coziness exudes from this kitchen. The light brown wood helps in highlighting that atmosphere. Also so as to not draw blandness with the cabinetry, they provide variety with glass-front cabinets.
Kitchen Remodel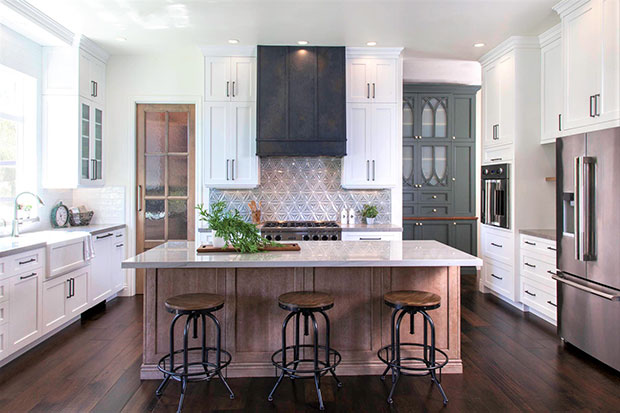 Signature Designs
Busy is what could be described for this kitchen. What with the mix of browns, greys, and blacks to splash in with the white kitchen cabinets, it is an interesting kitchen without one focal point to truly focus on.
Royal Kitchen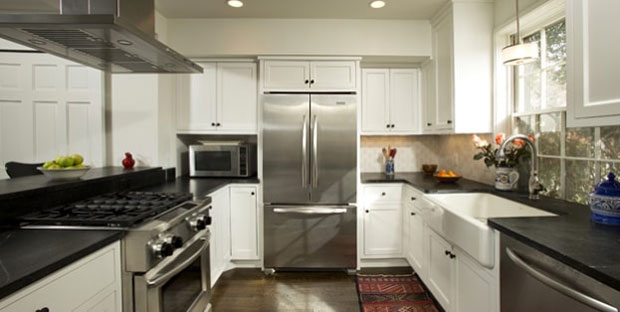 Braswell Design + Build
Another beautiful stark contrast and blend of white kitchen cabinets with black countertops. Despite it obviously lacking a bit of space, you can see how the white color scheme (and the window!) help in giving it a more spacious and free feel.
Tanger Kitchen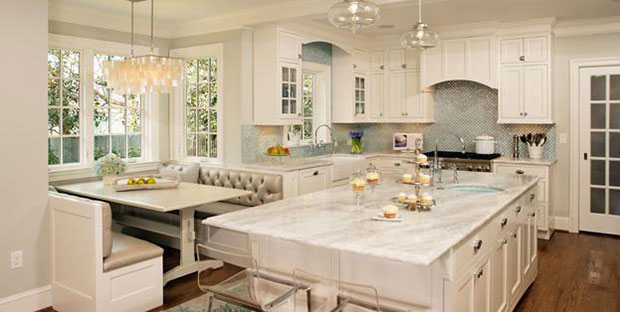 Braswell Design + Build
The grey splashes in countertops bring life out of these white cabinets. The baby blue backsplash tiles also add in a cool tone.
Cedar Lake Modern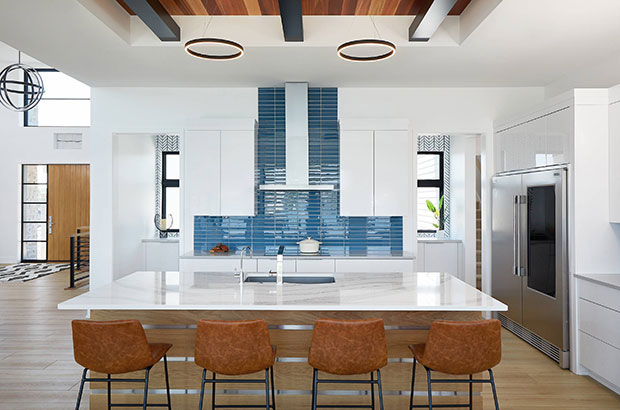 42 North Architects
Cool is the first word that comes to mind with this modern kitchen. Those sea blue backsplash tiles add much needed cool light and tone into the room. While the grey countertop splashes also add into the variety.
Eagle Point Club Residence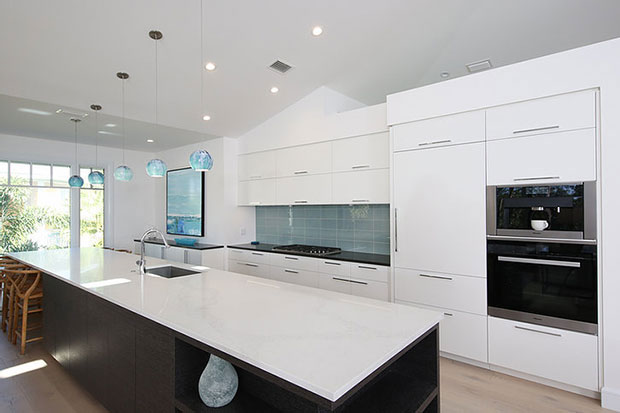 Saratosa Interior Design
The seamless white cabinetry is a sight to see. It's very interesting to see how the colors play opposite for the base wall cabinets and the kitchen island, with the base cabinets having black countertops while the black kitchen island cabinets have a white countertop.
North Andover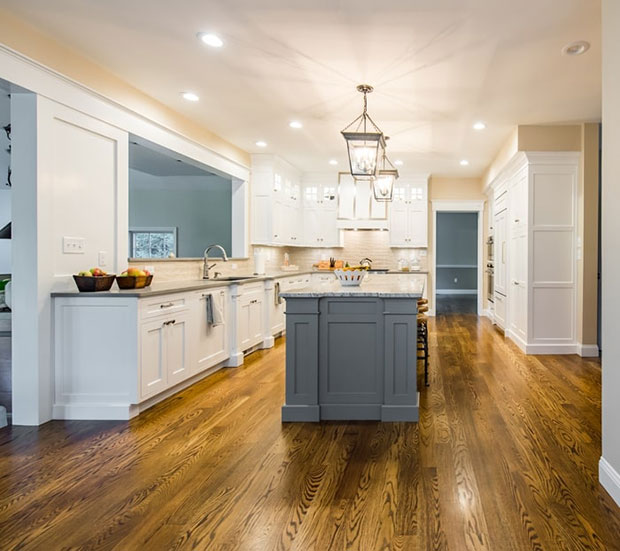 Apple Wood Construction
Another kitchen that plays on opposites! The wall cabinets with grey countertop is complimented by a grey kitchen island with white (with grey veins) countertop.
Narrow Traditional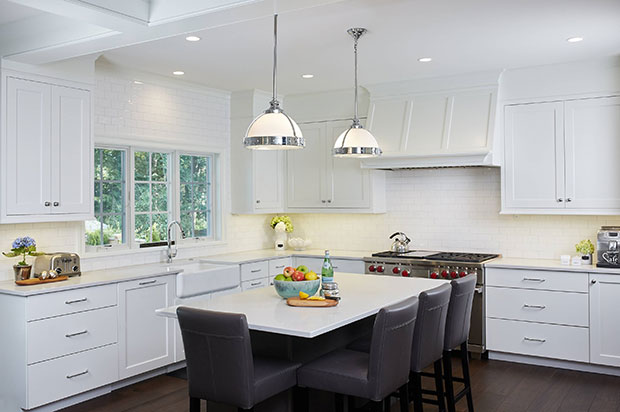 42 North Architects
A traditional style kitchen that is almost all-white. The grey leather chairs are well-suited to the color and complements nicely with the laminate floor.
Bayou Low Country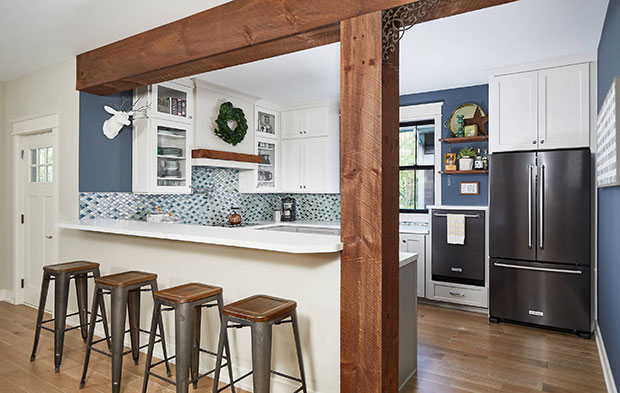 42 North Architects
An all-white color scheme for the kitchen cabinets and countertop seem to be a perfect decision considering the walls' deep shade of blue. Regardless, the backsplash tiles add more color to the kitchen.
Chestnut Street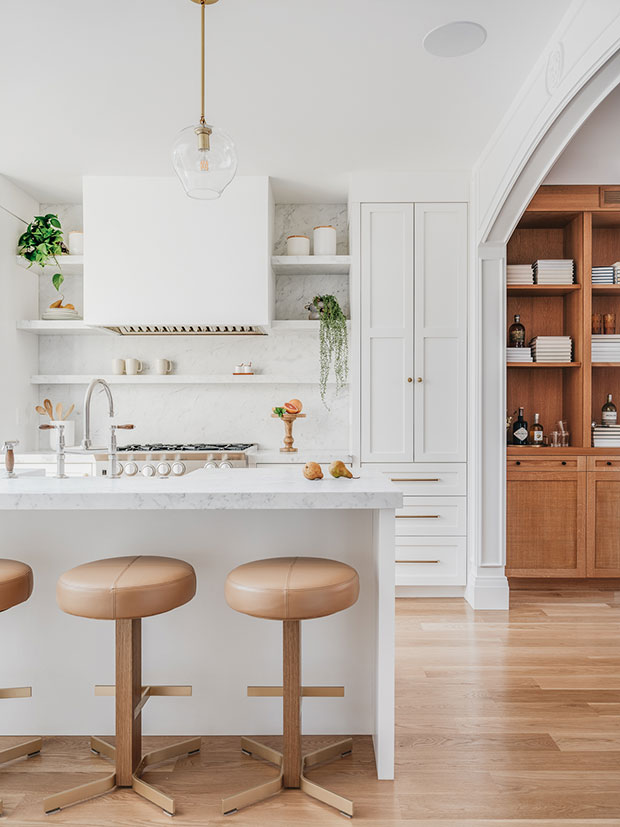 IDF Studio
With the homeowner wanting a bright and feminine vintage house, the all-white cabinetry, countertop, and backsplash accented by golden brown colors is perfect choice.
Downey Street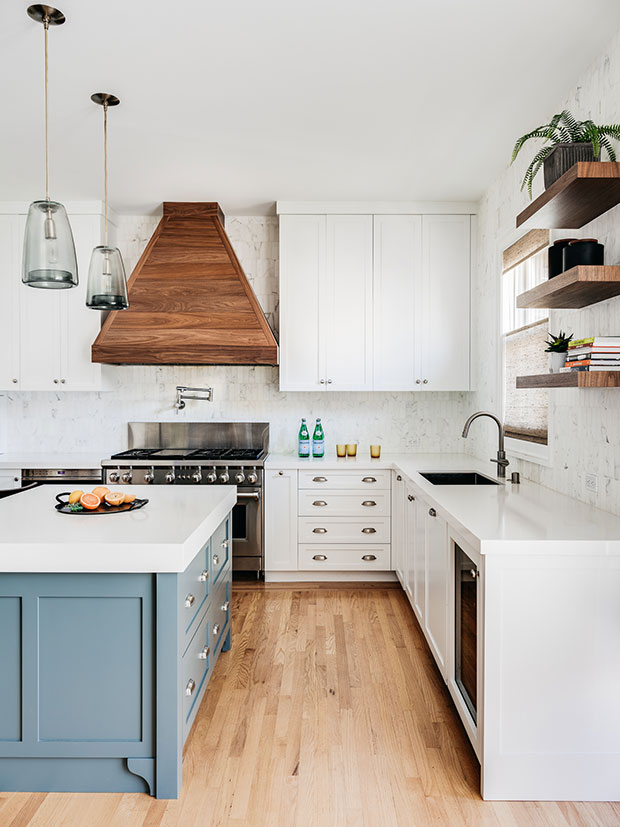 IDF Studio
The slick white cabinetry coupled with the full-height marble backsplash is nicely complemented by the wooden range hood and shelves. The grey-green island was deliberately added more like as a furniture piece.
Knockadoon Nutcracker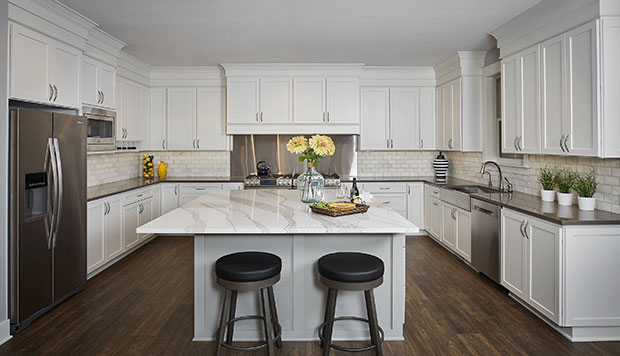 42 North Architects
The rich brown floor complements the white kitchen cabinets. The base cabinets' brown countertop perfectly fitting in with the design theme.
Donegal Avenue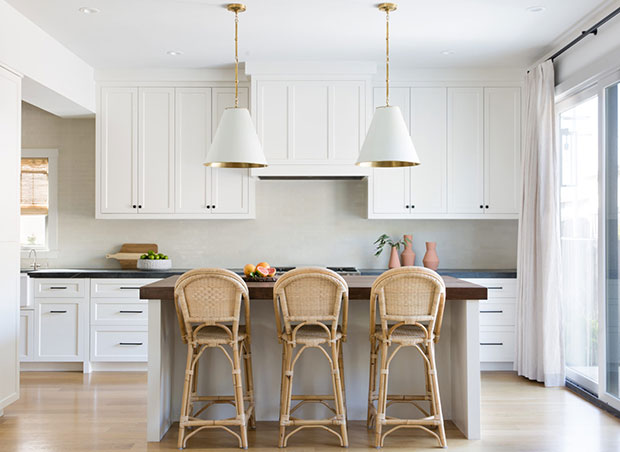 IDF Studio
A simple kitchen that's even made brighter with the open window. With the wooden countertops matching the cabinetry, it completes a casual atmosphere.
Studio City Modern Remodel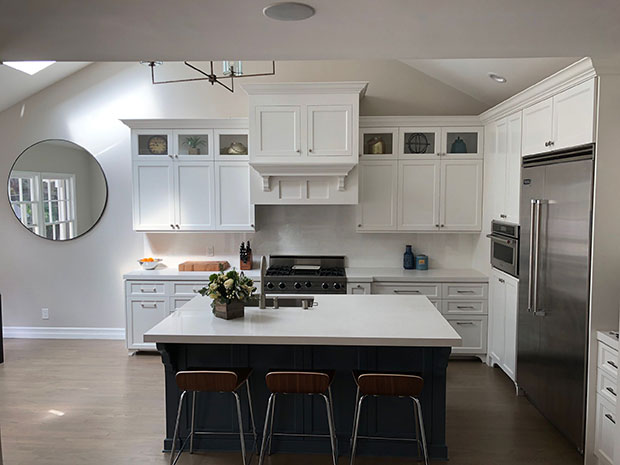 Reategui Interiors
Interestingly, despite the only light streaming is one from the skyline, the white kitchen cabinets make the space not fall into a darkness.
Calle La Espalda Interior Remodel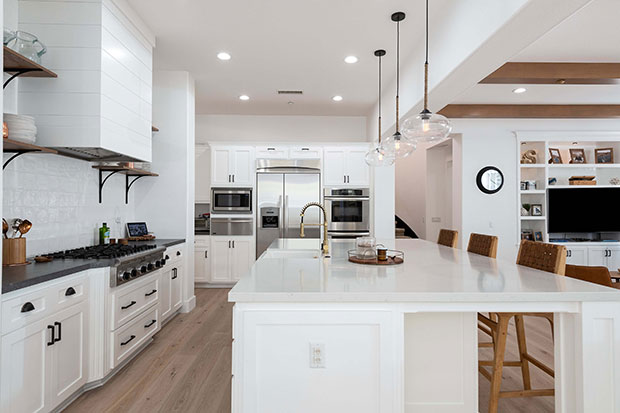 Streamline Construction
These pristine white kitchen cabinets are accented by the grey countertop and black handles.
Jasper Hill Makeover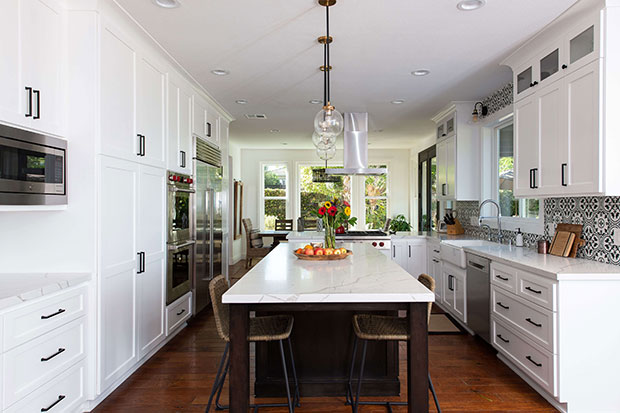 Streamline Construction
The black and white backsplash tiles are said to be the focus point of this kitchen, standing out so due to the white kitchen cabinets.
Coto de Caza Kitchen Transformation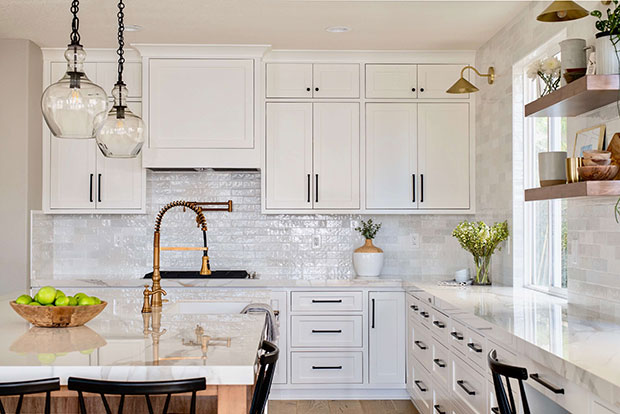 Streamline Construction
For a fresh feel, the designers of this kitchen installed porcelain countertops and glazed ceramic wall tile, pairing them up with the white custom cabinets. They even added stained floating shelves.
Royal Palm Yacht and Country Club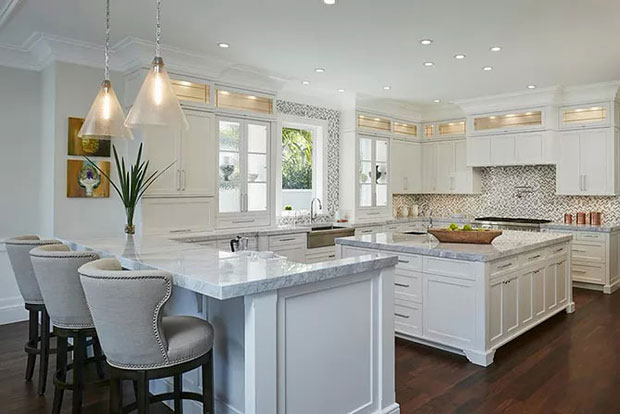 Restyle Home, LLC
The intricate black and white backsplash immediately catches your attention in this one. In addition, the built-in lights on the topmost compartment of the wall cabinets draw interest.
Lake Drive Contemporary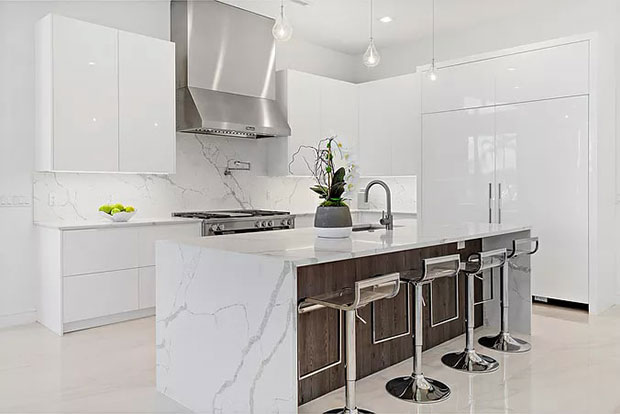 Restyle Home, LLC
The sleek, handle-less design of these custom white kitchen cabinets bring a stylish, contemporary look.
The Georgian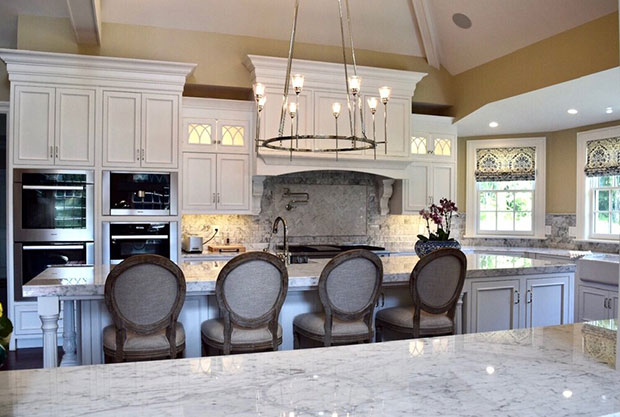 Noah & Lilly Kitchen Designs
The grey backsplash tiles add layers to this kitchen, it being an interesting choice to complement the yellow walls.
Soft Contemporary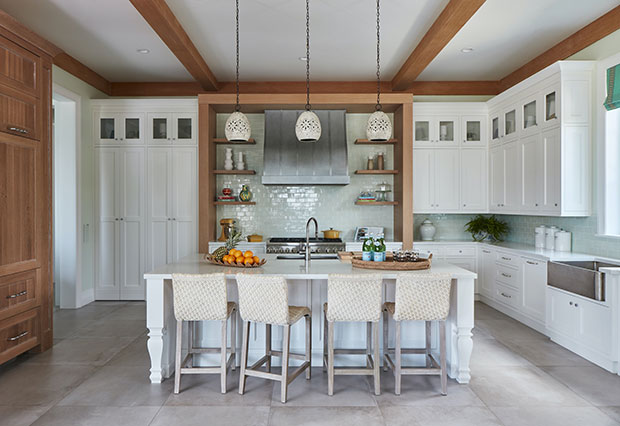 JMA Interior Design
In this kitchen, the addition of brown shelving and beams is an interesting choice to go with the white wall tiles, making it fresh and cool.
Buckhead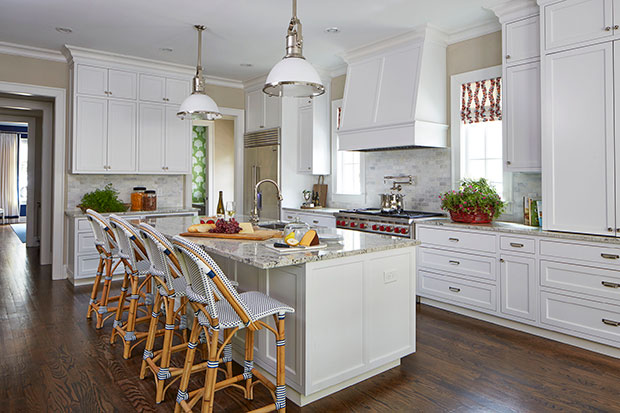 Kandrac & Kole Interior Design
The coffee-stained countertops complements well with white-and-grey backsplash tiles and the muted yellow walls.
Nestledown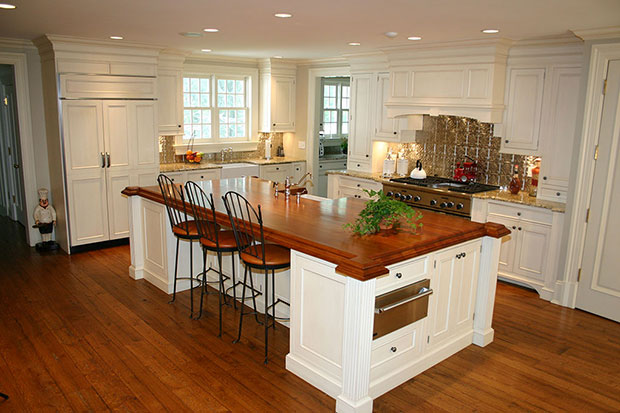 Karp Associates
For this kitchen, there's a good and interesting choice of granite and wood countertops for base cabinets. In addition, the glazed wall tiles fit well with the range cooker.
Bayfront Avenue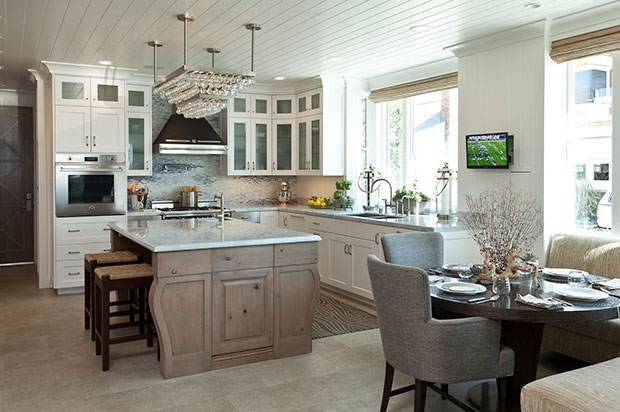 Anne Michaelsen Design
The wooden kitchen island is one that immediately catches your attention. But the interesting backsplash tiles will also draw you in. Plus, the top wall cabinets stray from what has been most seen on this list, opting for glass-front cabinets.
Newport Coast Remodel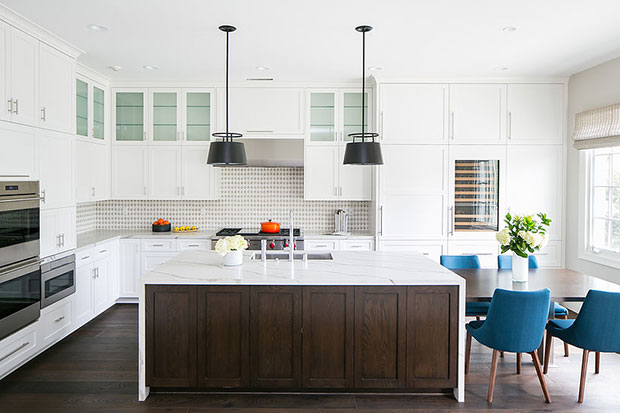 Anne Michaelsen Design
These custom-made white kitchen cabinets are neat and chic. While it's subtle, the black and white tiles add attitude to it.
Glendevon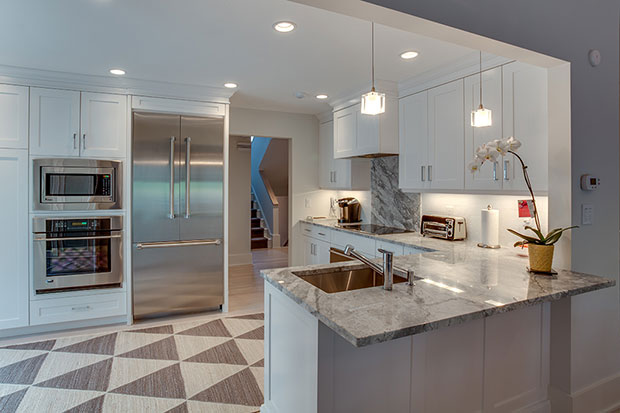 Karp Associates
Interestingly, rather than having the entire backsplash wall covered in granite, they only installed it along the width of the range hood. Another note to cover is the interesting floor tile pattern that works perfectly well with countertops.
Vista Raquetta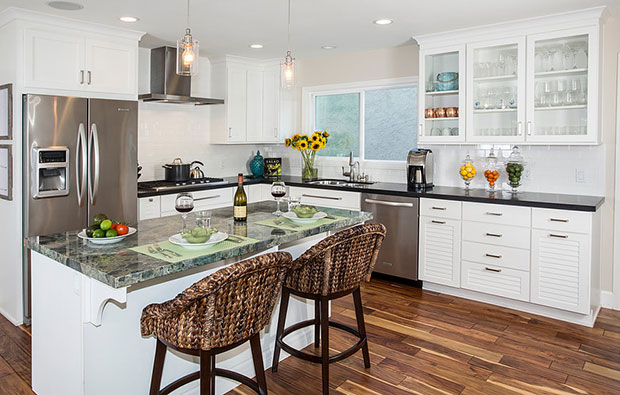 Anne Michaelsen Design
The top cabinets provide variety with glass-front ones to one side and closed panels on the other. It is quite curious their choice of using black laminate counter top for the wall base cabinets and then granite countertop for the kitchen island.
Riptide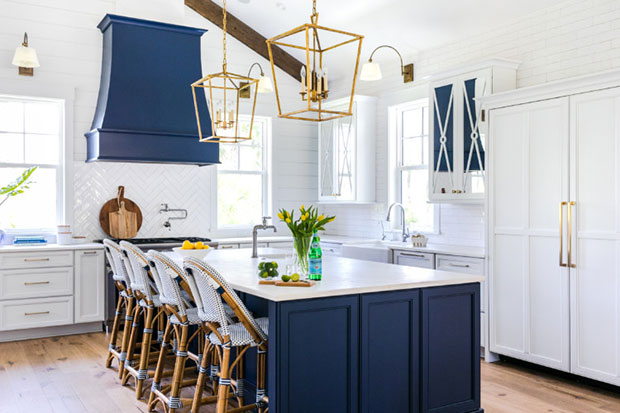 Heritage Homes of Jacksonville
Like its name, this kitchen has a very coastal feel to it with the deep shade of blue sticking out in the sea of white cabinetry and walls.
Brightmore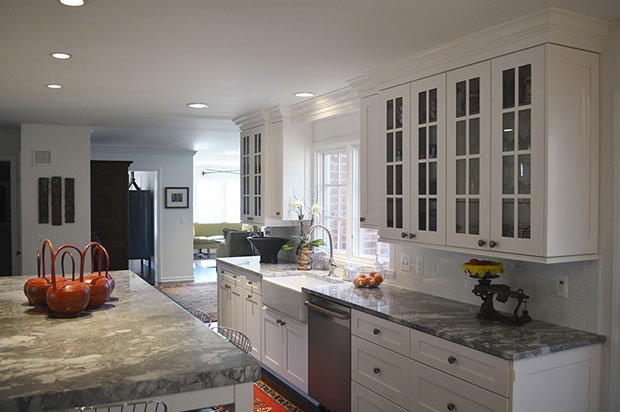 Gittleman Construction Inc.
The choice of using more glass-front cabinets is interesting and somehow provides a neater look to the kitchen.
This list has shown that white kitchen cabinets make it easy to achieve a clean look in your kitchen. Hopefully, this list helps you give more variety to your place.
Like This Post? Pin It!