60 Relaxing Outdoor Kitchen Designs for Family Gatherings
|
Whenever the weather outside is warm and pleasant, you will suddenly have the urge to spend the rest of the day outside. But of course, you don't have to actually leave the house to spend a nice day out. If you have a yard with ample space, considering having an outdoor kitchen.
Having an outdoor kitchen isn't just simply having the components of a kitchen. Various and trendy outdoor kitchen designs allow for a family or families to hang out and have a relaxing time within the comfort of their own home.
Outdoor kitchen designs range in just about every design style. No matter the space or style, you can put into consideration various outdoor kitchen features regardless. If you have space in your yard, you can have the complete package of outdoor kitchen designs with bars, grills, storage, and seating areas. But even with a smaller space, you can have a thing or two of those features.
So, before going through some outdoor kitchen designs, you have to know the considerations first of building an outdoor kitchen.
What to consider when building an outdoor kitchen?
Before you rush into the idea of having an outdoor kitchen, you must know the important considerations of having one, no matter the outdoor kitchen designs you have in mind. You must know what you want, where you want it, but most importantly, if you could even afford it all.
So, here are ten key things to consider when building an outdoor kitchen.
1. Budget
First and foremost, you have to check your budget for building an outdoor kitchen in your yard. You have to determine the right budget that you can stick with it; otherwise, you might run into trouble. When coming up with a budget, there are certain things you have to keep in mind and make sure there is a line item for each element in the kitchen (i.e. cabinets, countertops, seating, lighting, utilities, etc.).
Keep in mind material quality. Higher quality finishes may cost more but they tend to last longer. You also need to keep in mind utilities since electricity, water, and gas are going to be needed in a kitchen. Plan ahead for these extra expenses. Lastly, if you plan to have internet or cable in your outdoor kitchen, consider these as additional expenses as well in your budget.
2. Location
Before having an outdoor kitchen built, you need to consider the environment and climate, where your home is built since various environmental and climate factors, will affect the design and materials used for your outdoor kitchen. You may need features like outdoor heaters, fans, pergolas, or a roof, depending on the need.
3. Layout
Layout is a key thing, especially considering the available space you have. While most indoor kitchen layouts can be configured for outdoor kitchens, the space is still a crucial factor. You would need to adjust your layout depending on the space available to you.
4. Functionality
Professional kitchens have four distinct functional zones: cold, hot, wet, and dry. This is true for outdoor kitchens, too. In connection with layout, consider your zone placements as you plan. Also, don't forget the utilities. Make sure that water, gas, and electricity are accessible in the area.
5. Design Options
There are a plethora of options for outdoor kitchen designs. While some may want their outdoor kitchens to replicate their indoor ones, some want to create a living space along with it. In this case, you will have to consider the materials and design that will be functional, but also of its maintenance. Again, take note of the climate and environment in which you're building your outdoor kitchen at.
6. Appliances
When purchasing for appliances in your outdoor kitchen, a lot of point of consideration is your preference and levels of entertainment. But you will also need to consider the environment and space. Getting a grill that can smoke, roast, grill, and bake will save a lot of space and even money! Geography and climate also come into factor when picking refrigerated appliances. Ultimately, it's important to choose high-performing models to get the best value.
7. Lighting
If you spend time in your outdoor kitchen even in the evening, consider installing efficient lighting. The thing you need to remember is having a light over the dining area and/or sconces over the bar. You could also consider task lighting around or beneath the counters.
8. Seating
Complete your outdoor kitchen with comfortable seating. What's trendy these days are low seating away from the cooking area. But you can also have a large, low table for guests. Barstools by the counter work for an informal gathering. If you have quite a spacious yard, best to consider multiple seating areas.
9. Storage
With outdoor kitchens, they are vulnerable to small creatures, and stuff like dust and pollen. Therefore, you would need proper storage units to store utensils, crockery, and the like. It's recommended that you store these in plastic containers within the cabinetry.
You would also need a designated space and storage for cleaning products. After all, you need to maintain your outdoor kitchen countertops.
Outdoor Kitchen Design Ideas
Now that we have all that covered, let's take a look at some outdoor kitchen designs perfect for family gatherings!
Fun For All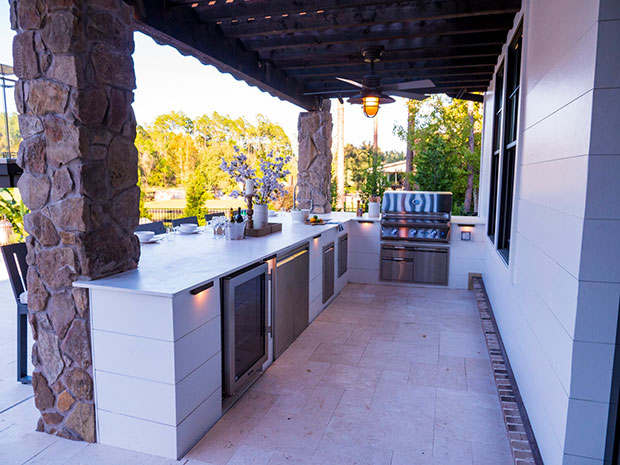 Check this outdoor kitchen that's built by connecting it to the main house. It's compact but allows more space for a lagoon-style pool and a whole lot of space for the kids to play around. You can consider such examples of outdoor kitchen designs and layouts like this to not sacrifice that recreational space in your yard.
Staycation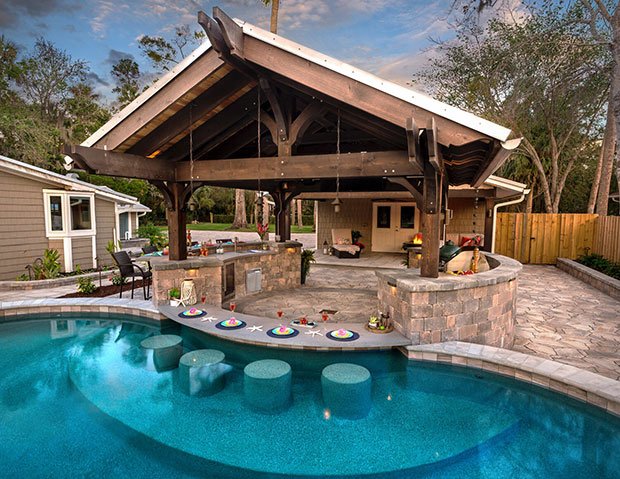 For homes with a lot of yard space, ideal for outdoor kitchen designs increases. This circular outdoor kitchen allows for a swim-up bar annexed to the kitchen.
Beachside Cabana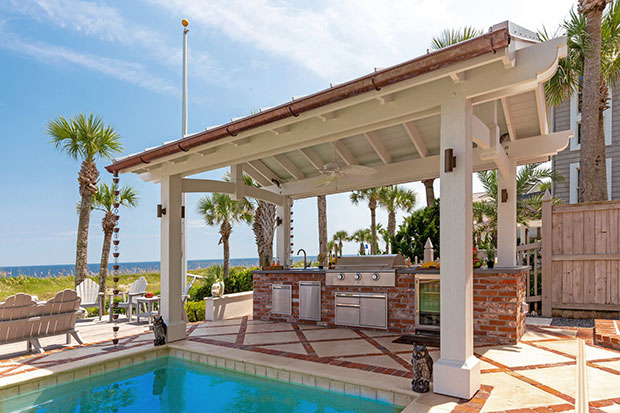 With a scenic view of the beach, this outdoor kitchen was designed so that it doesn't block that view. The gable cabana is a perfect choice to offer some protection and shelter without sacrificing that beautiful view.
Just a Swingin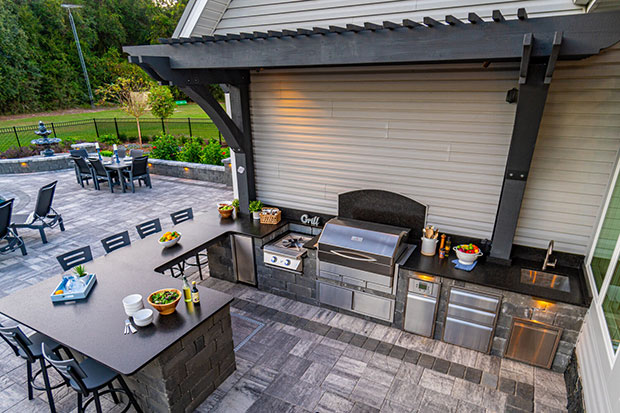 This slick outdoor kitchen is topped off with a large floating bar. This kitchen is connected to the house, allowing for the rest of the yard space for a free-form pool to be built and lots of space for the kids and family to play around.
No Last Call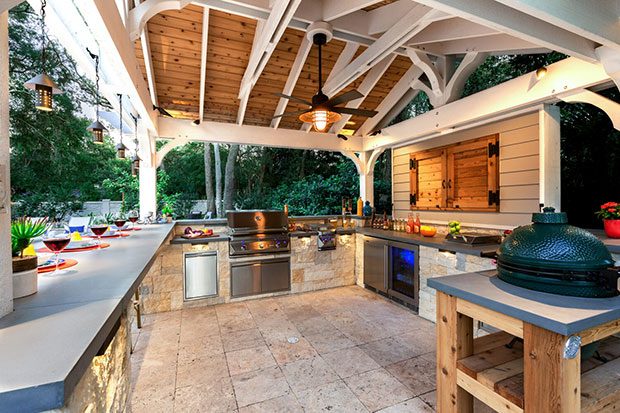 Notice that compartment above the fridge? That's an outdoor TV cabinet feature. A pretty unique feature idea when it comes to outdoor kitchen designs.
Saint John's Sanctuary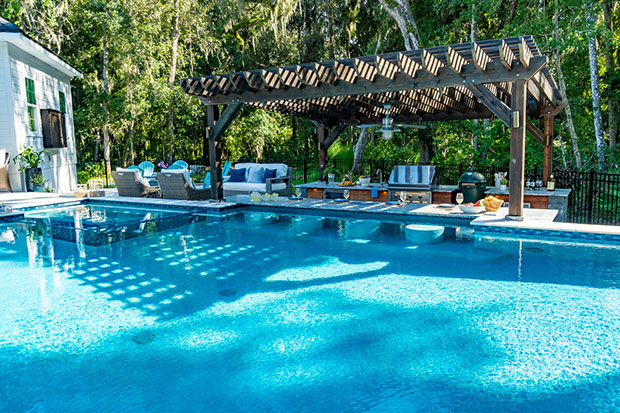 Another one of the outdoor kitchen designs with a swim-up bar. And instead of a gable cabana to shelter the outdoor kitchen, this one has a single-pitch cedar pergola.
Summer Escape

Pratt Guys
Another outdoor kitchen with a floating bar. What's interesting about this outdoor kitchen is how the brick foundation of the bar is not connected to the rest of the kitchen, which is a common design in outdoor kitchens.
Lake Charlevoix Beachfront Infinity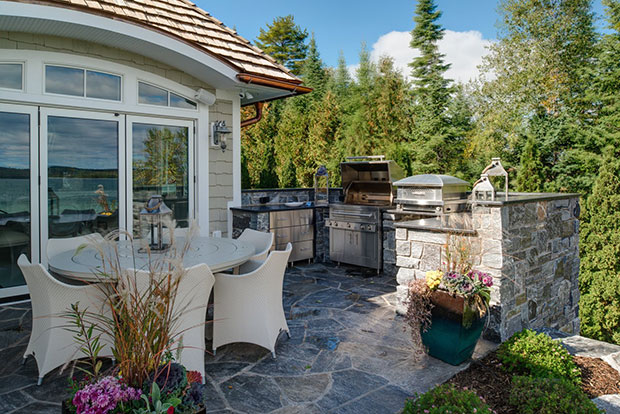 Birchwood Construction
You can also decide to have a small, compact outdoor kitchen like this one. However, take note of how this kind of design makes your kitchen vulnerable to weather elements.
Free-standing Pavilion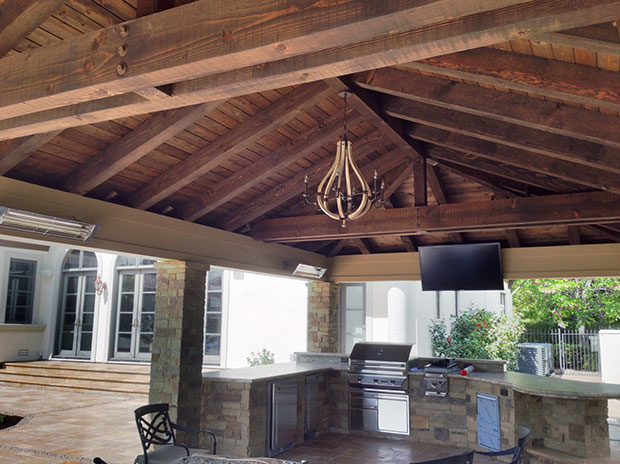 T.D. Construction
This outdoor kitchen is built as a free-standing pavilion. This allows the kitchen itself and the dining area to be protected from weather elements. And just like this one, they have television installed, and there's even a chandelier!
The Marco Estate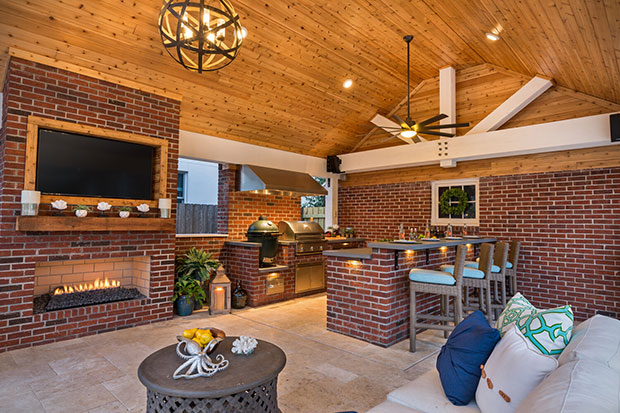 Now, this is one of those outdoor kitchen designs that almost resembles an indoor kitchen with its layout. This red brick outdoor kitchen follows along to match with the traditional architecture of the house.
Into the Deep Blue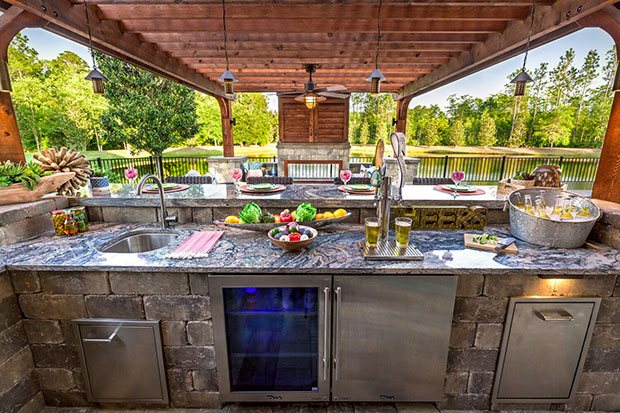 Pratt Guys
This Stonegate outdoor kitchen is designed for a cozy and relaxing space. The six-post pergola that protects the kitchen features extends to also shelter the fireplace and living area where the family could watch TV.
Newport Beach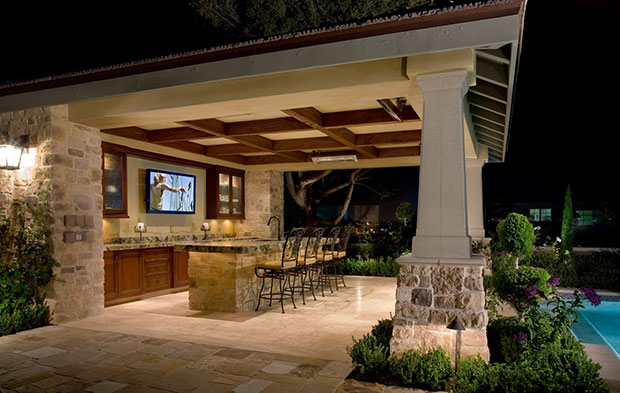 Mirage Landscape
Building your outdoor kitchen under a pavilion is a wise decision, protecting the countertops and such from weather elements. And if you have television installed as well, then, the shelter is a must.
Bee Cave Outdoor Living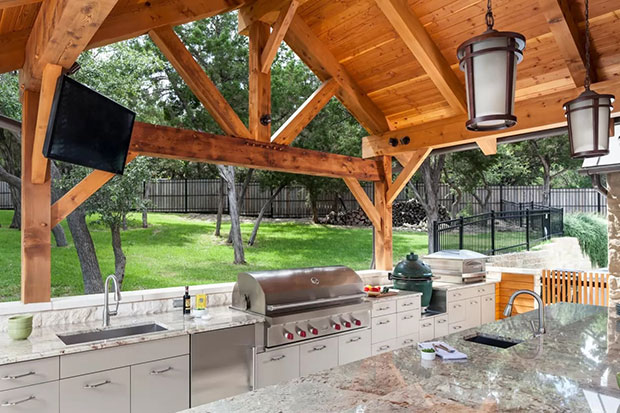 CG&S Design-Build
Compared to the more contemporary outdoor kitchen designs, this outdoor living nods at rustic design style.
One of Each, Please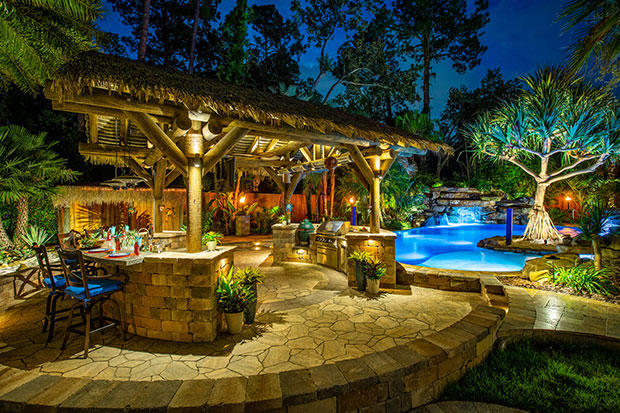 Pratt Guys
There's something about circular outdoor kitchen designs that gives off the strongest vacation vibes. This makes it a perfect design to really bring out a relaxing ambiance.
Modern Meets Mediterranean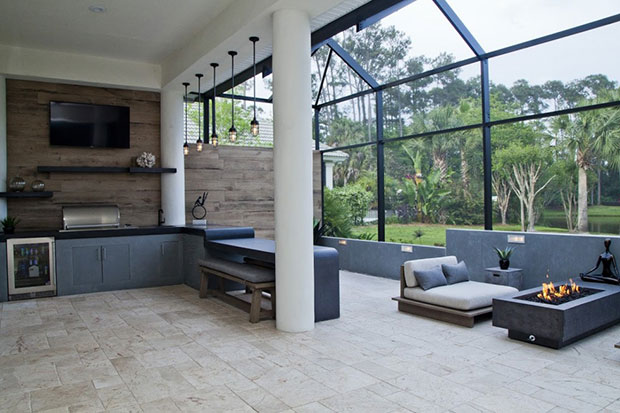 Cascade Outdoor Design
The wood backdrop provides some semblance of privacy as well as creates a warm contrast to the dark colors prevailing in this outdoor living.
The Palmer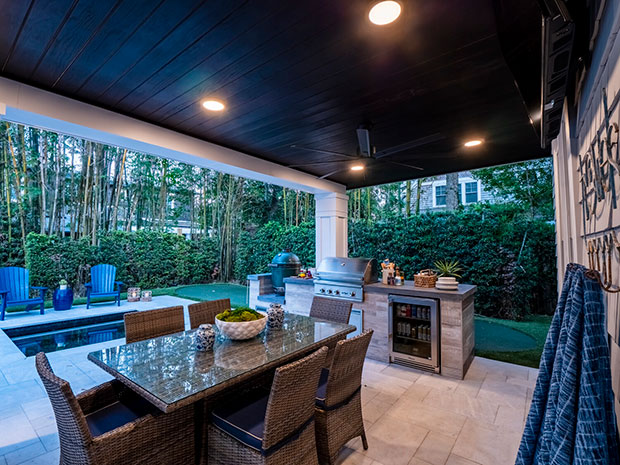 Pratt Guys
A very simple outdoor kitchen design that does not lack in beauty and yet provides enough for wonderful outdoor dining.
Ladera Ranch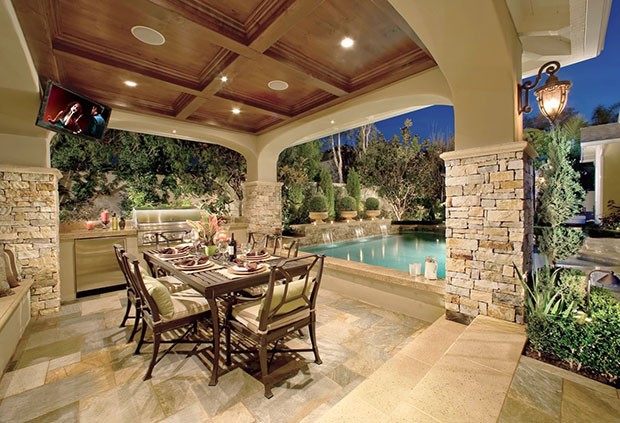 Mirage Landscape
A very elegant and sophisticated outdoor kitchen design. It's interesting to see the recessed ceiling design and the choice for dining furniture. It makes for one fine outdoor dining experience.
A Chef's Dream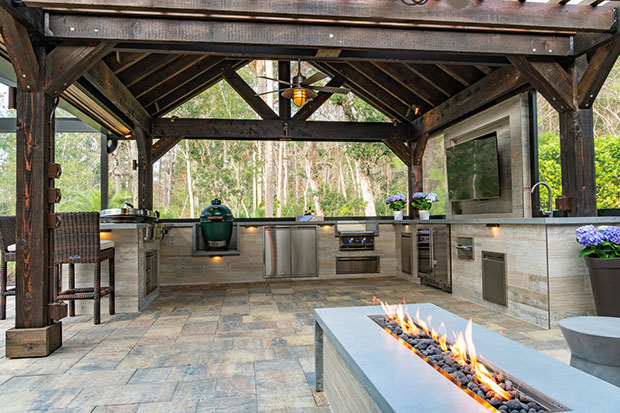 This outdoor kitchen has a really cool style. The contemporary kitchen countertop structure is a nice contrast to the, otherwise, rustic pergola.
Mother of Pearl
This is one of the prettiest outdoor kitchen designs on this list. It must be the Permacast columns attached to the pergola, or the curves stacked stone island bar or the pretty lighting. Perhaps, it is all of the above.
Blue Ridge Retreat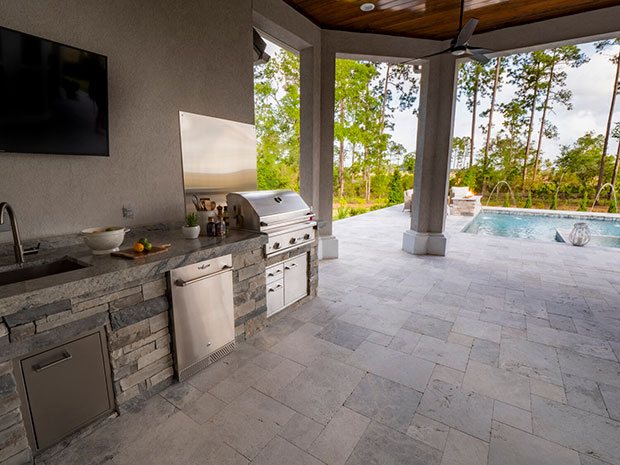 If you're looking for outdoor kitchen designs without an island bar next to them, here's a good example for you. They have their own dining set separate from the kitchen.
Southern Charm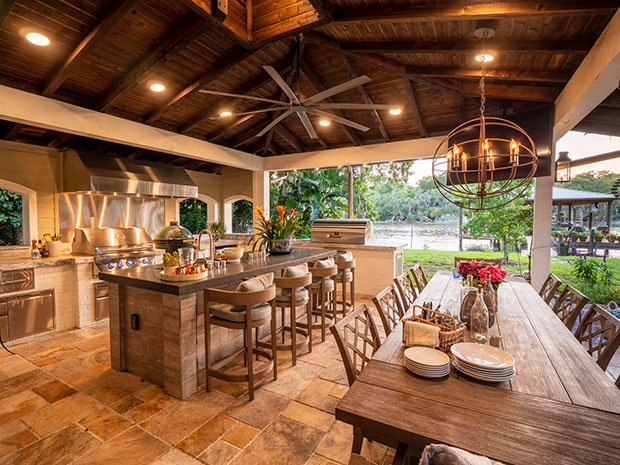 This charmingly elegant outdoor kitchen is built for large family gatherings. They also made sure to build the framed cabana in such a way it doesn't block their view of the river.
Cozy Cabin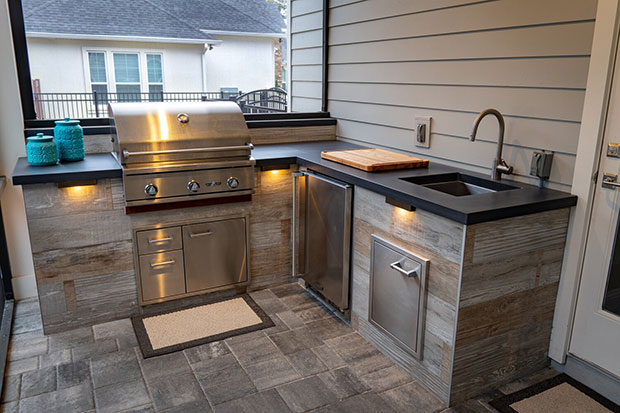 Pratt Guys
If you don't have the luxury of space, you can still have an excellent outdoor kitchen like this one.
Shingle Style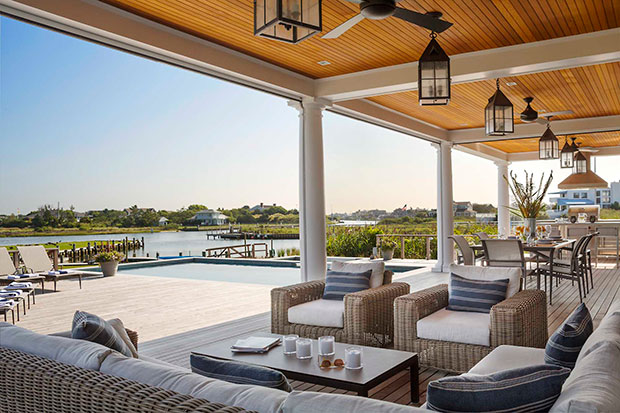 Smiros & Smiros Architects
With a porch-style yard, this allows for a cozy and comfortable outdoor living sectioned into kitchen, dining, and seating areas.
House on a Hilltop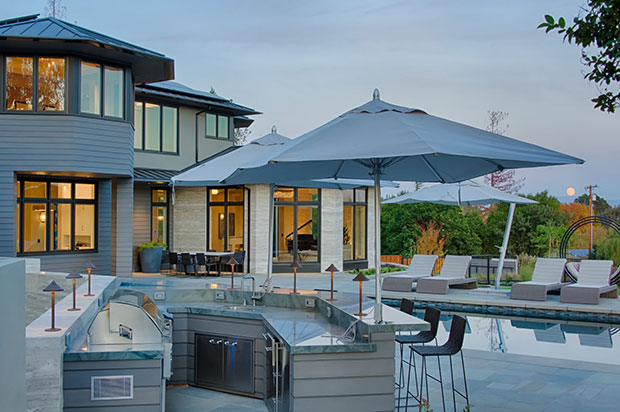 This home boasts a cool and slick outdoor kitchen. It's proof that you don't need extravagant space for this kind of outdoor kitchen design.
Portola Road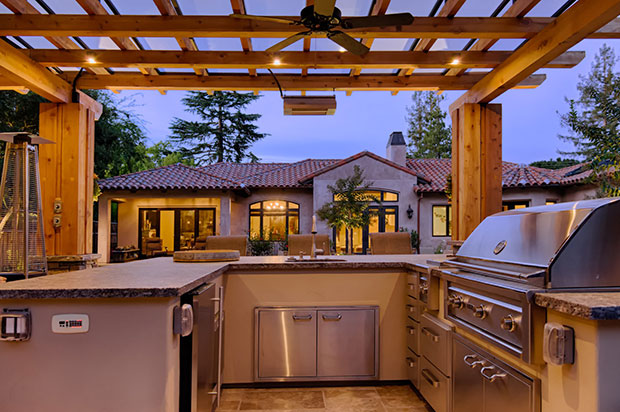 Kikuchi + Kankel Design Group
The highlight of this outdoor kitchen is covered with a polycarbonate roof.
Bailey House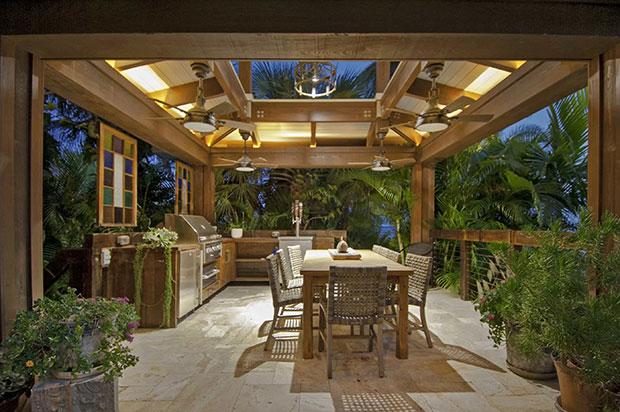 One of the more interesting outdoor kitchen designs with its architectural cabana and accessories. With its surrounding nature, it definitely has a relaxing ambiance.
Bella House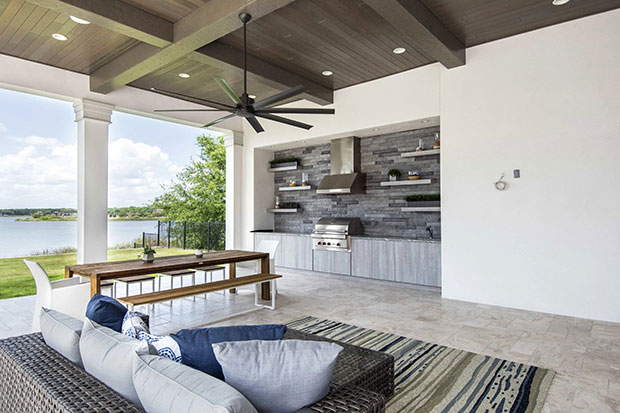 Now, this is one of the cleverest outdoor kitchen designs. Installing your kitchen into a recess in the wall saves up space. And if you already had a large enough space, then you have even more space for any additions you want in your outdoor living.
Bradley House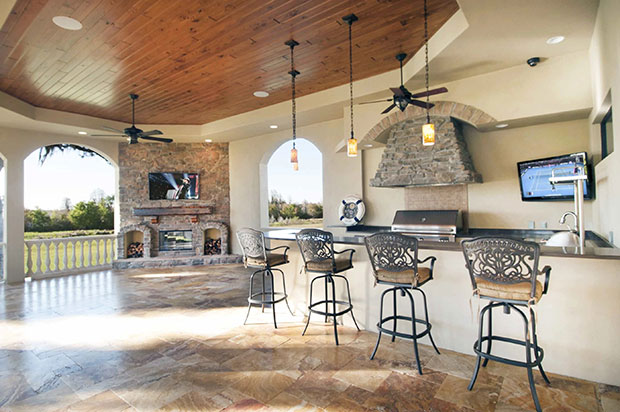 HD 2020
Building an outdoor kitchen along with your patio is an excellent idea. This makes the possibilities of designing and decorating your outdoor living limitless.
Beach Blonde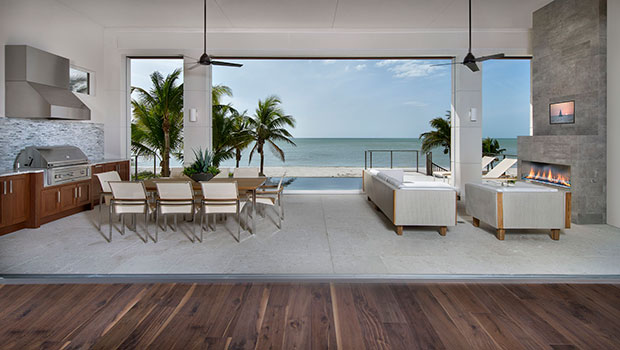 Freestyle Interiors
If you're searching for chic, contemporary outdoor kitchen designs, take a look at this one. The open floor plan of this home makes outdoor living easily accessible to the family.
Hayden House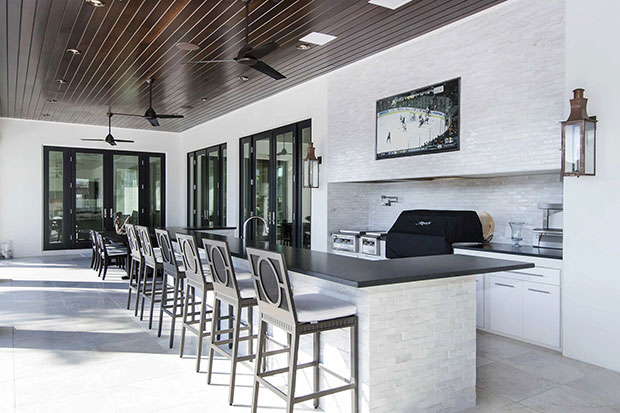 HD 2020
Another outdoor kitchen that's built into a wall recess. They also make use of that available space above to install a television.
Lake Magdalene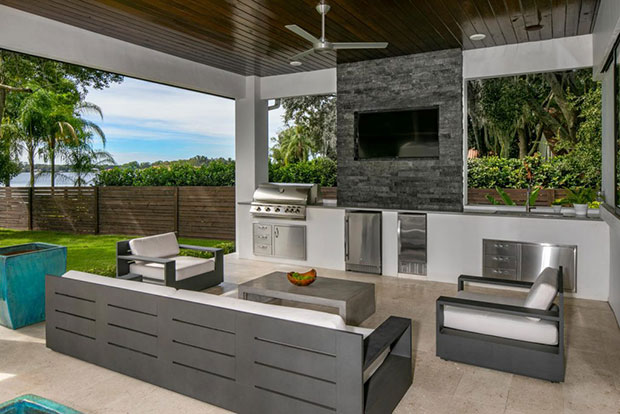 Debra Ackerbloom Interiors
The general color palette of this outdoor kitchen is cool and chic. And those planter boxes pop out to bring an eclectic side of the space.
Cliffside Lakeview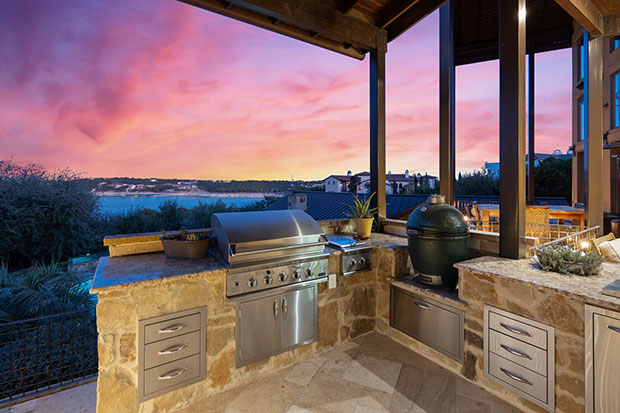 Hobbs' Ink, LLC
With a unique home location, the way this outdoor kitchen was built is also uniquely it is own to combat and adapt to the elements, and offer a scenic view.
Historic Hyde Park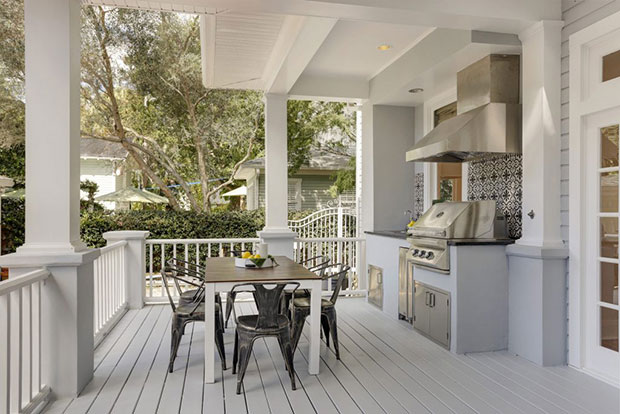 Debra Ackerbloom Interiors
A more modern take of outdoor kitchen designs. And how about that black backsplash tile?
Lakeway Lookout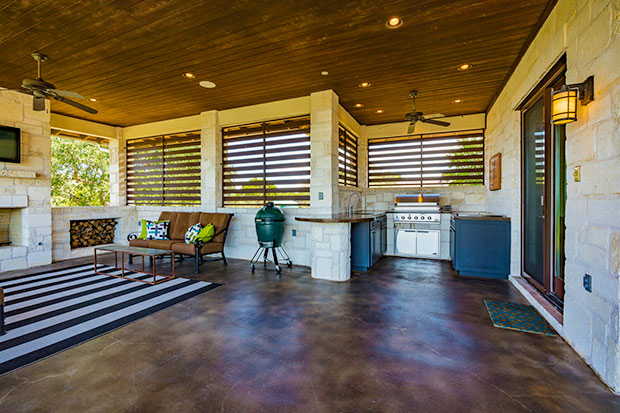 Hobbs' Ink, LLC
An outdoor kitchen that doesn't look like it's outdoors with the structural framing and sheltering it. But this gives your family some privacy and protects your appliances from various elements.
Seminole Heights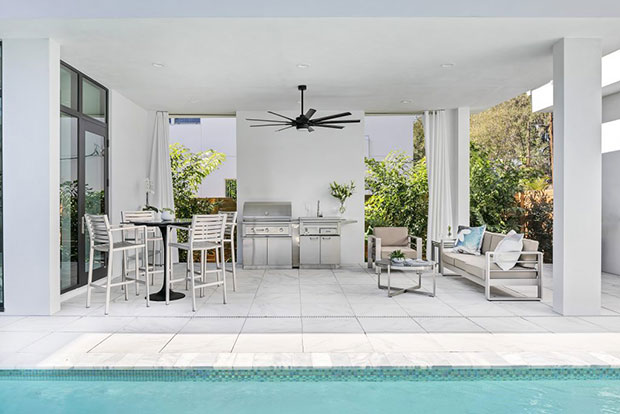 Debra Ackerbloom Interiors
The color palette, or lack thereof, brings in a slick and chic look to this outdoor kitchen that also includes a seating area.
Modern Dogtrot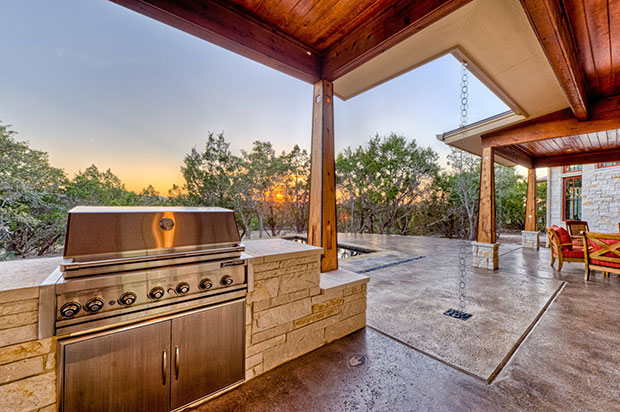 Hobbs' Ink, LLC
This one has an interesting layout where the outdoor space is split in half, one part being the kitchen and the other as the dining area.
Aptos Outdoor Kitchen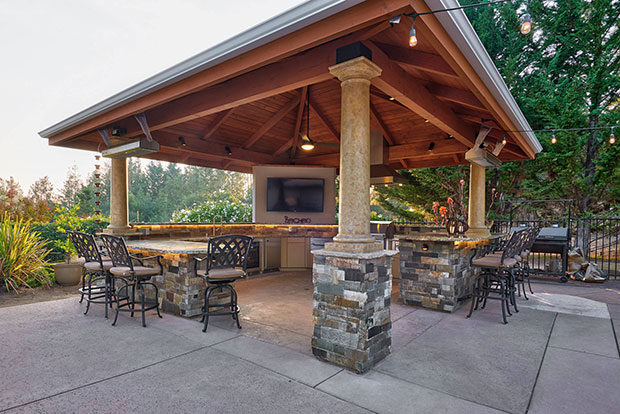 Precision Point Construction
Where most outdoor kitchen designs with a gable cabana like this, the television is usually installed by the rafters. But for this one, they have built a wall side where the TV was placed.
Neo-Prairie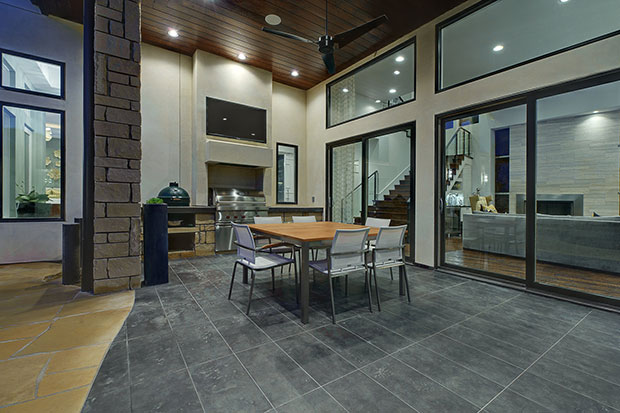 Apart from the grill appliances, this outdoor kitchen is very likened to a traditional indoor kitchen layout.
Outdoor Neo-Prairie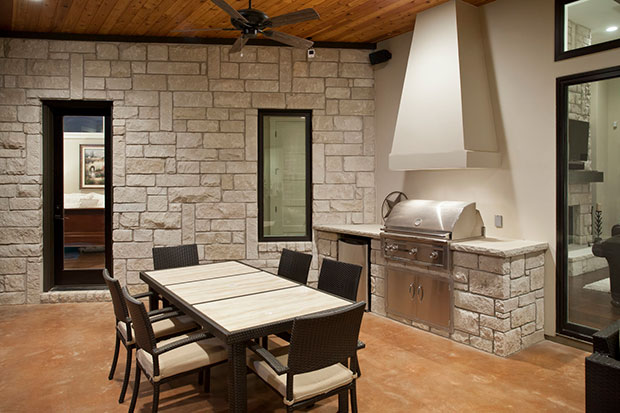 Hobbs' Ink, LLC
Interestingly, the outdoor kitchen base is made of the same material as the exterior wall of the main house.
Bohner After Garnet Valley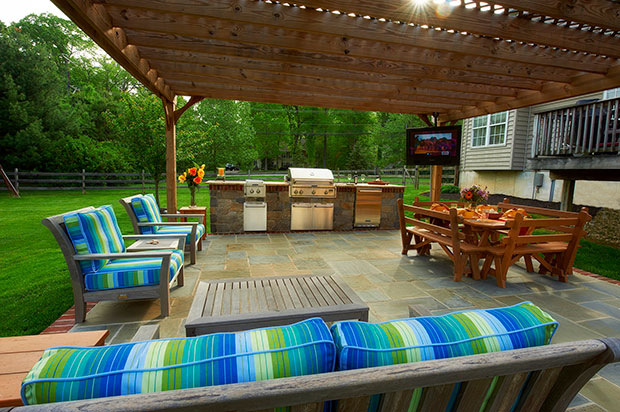 With the overall rustic design style, those colorful seat cushions add some eccentric personality.
Wilmington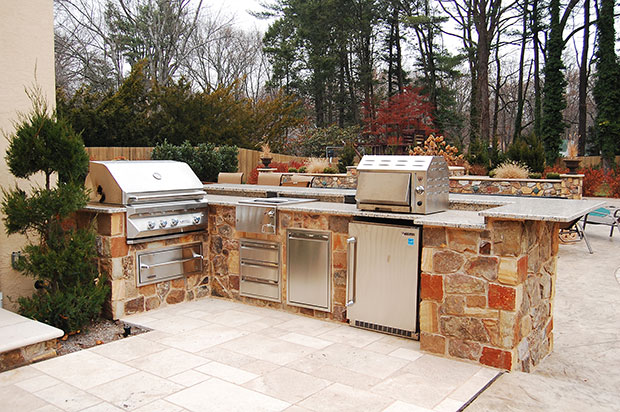 The way the earthy colors of the stacked stone outdoor kitchen matches so well with the background of nature brings a very scenic view of the yard.
Elkins Wilmington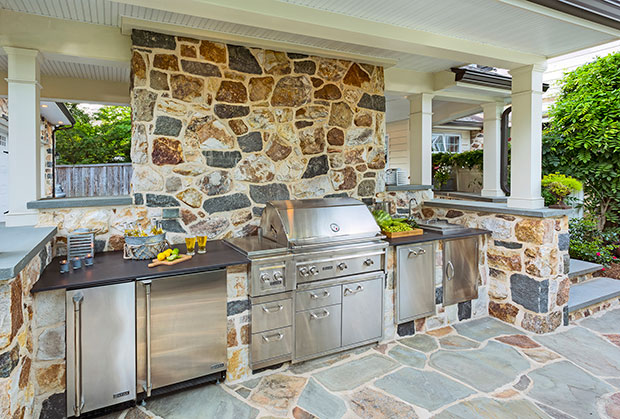 Some outdoor kitchen designs like this one could make good use of roofing that's very much like for a house, instead of a standalone place like a cabana.
Marcelo Wilmington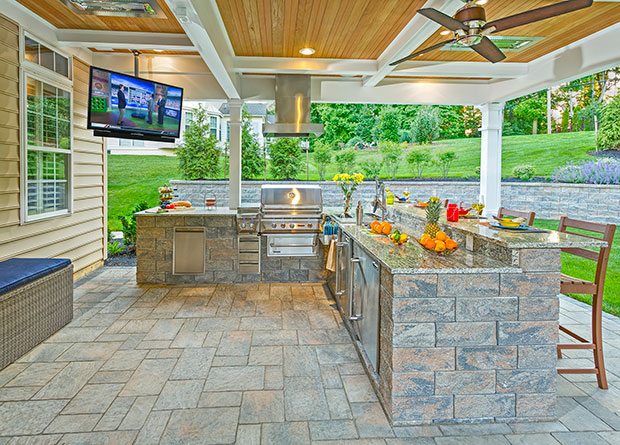 Although not exactly the same, the floor tiles and the kitchen base tiles matching makes this outdoor kitchen easy on the eyes.
Weigand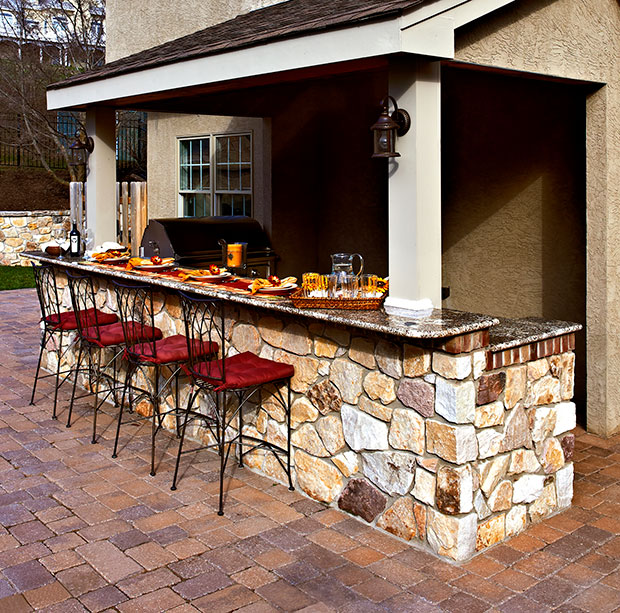 Using the main house structure to create a roof over your outdoor kitchen is an excellent and wise choice.
Foley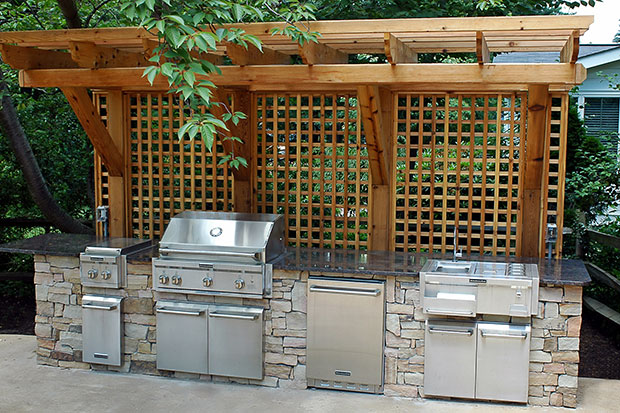 Of this list of outdoor kitchen designs, this is the first example where they have a pergola trellis as a kitchen shelter.
Backyard Oasis Malvern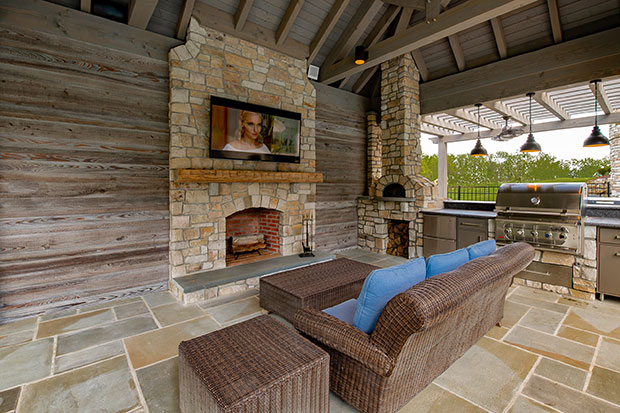 This outdoor kitchen boasts the immediate use of a brick oven and fireplace for a warm and cozy and gastronomically satisfying hangout.
Backyard Oasis Newark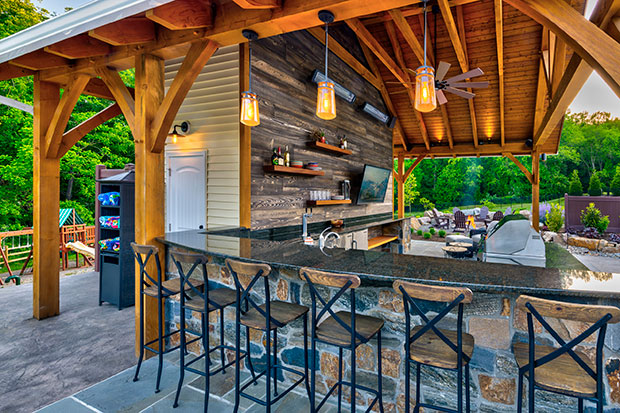 Take a look at this outdoor kitchen with its little room shack!
Outdoor Living Garnett Valley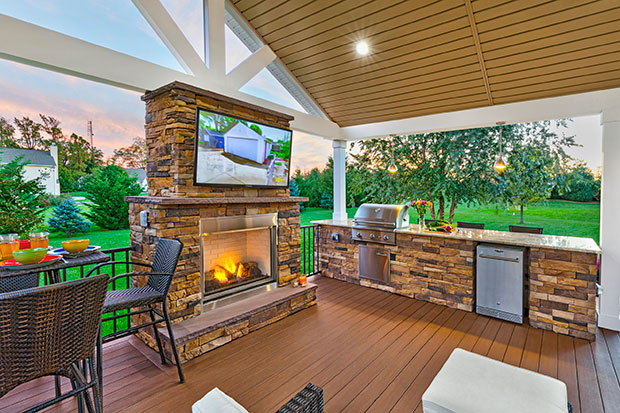 For its modern look, this outdoor kitchen has quite the contemporary, state-of-the-art appliances and fireplace.
Backyard Retreat Chadds Ford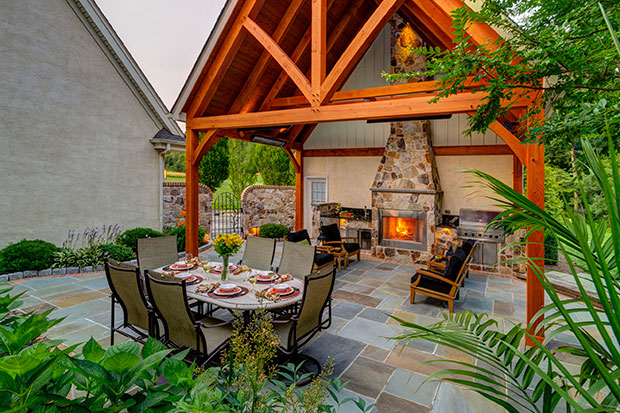 DiSabatino Landscaping
This backyard retreat truly makes for comfortable outdoor living. What with the cabana and the seats, surely the family will have a great relaxing time.
Bridge Valley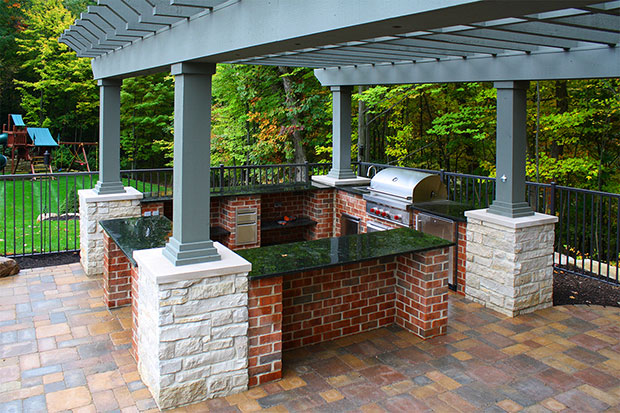 The red brick kitchen is a nice contrast to the white brick column foundation of the pergola. And the way the kitchen is configured will allow for spots for food preparation or for guests to perch their food or drinks in.
Hillside Retreat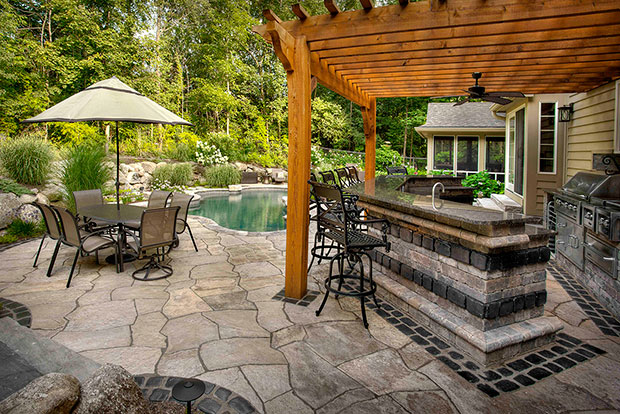 Outdoor Living
With the dark palette of the outdoor kitchen features and appliances, it is a nice change having a lighter colored pergola above it.
Riverview Outdoor Kitchen and Pool House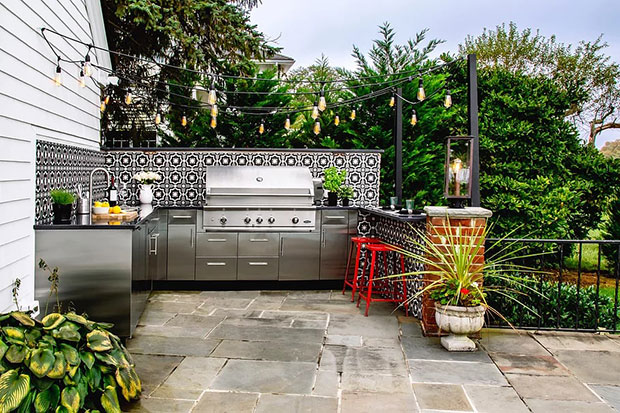 House of Cline Design
With the small space they have for the outdoor kitchen, the architects really made most of the available space and created this beautiful kitchen.
Mid-Century Outdoor Sanctuary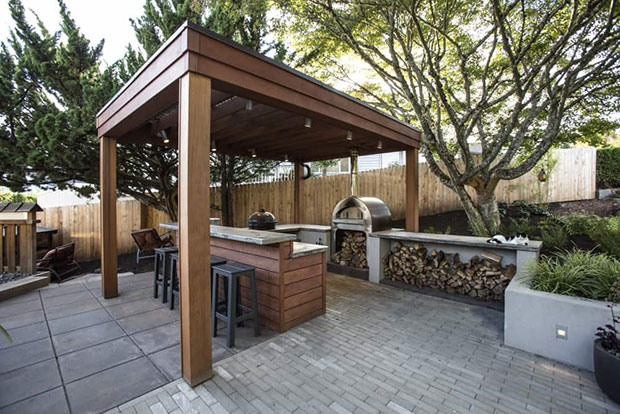 Kraft Custom Construction, Inc.
This mid-century style outdoor kitchen design is just a glimpse of the complete look of this "outdoor sanctuary" where there are elevations and tiers to separate the kitchen from the dining area, seating area, and garden.
Ispiri Outdoor Showroom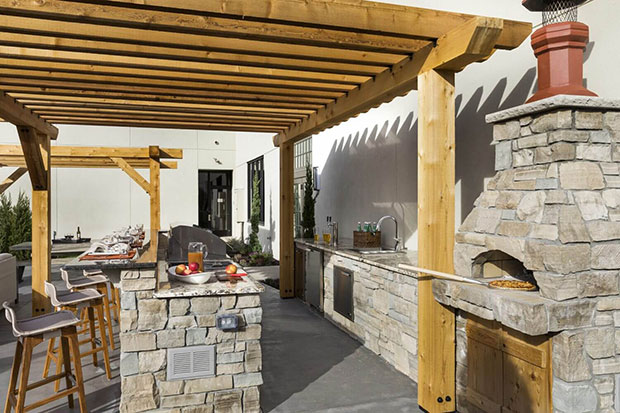 This outdoor showroom was meant to show the mix of Midwest with West Coast style. This is perfectly encapsulated by this outdoor kitchen patio.
Versatile Backyard Remodel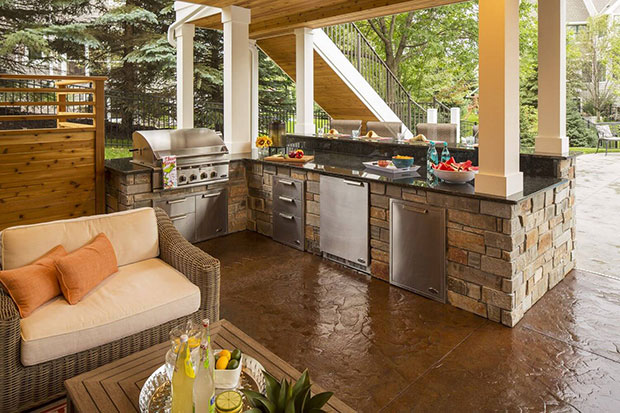 Ispiri Design-Build
This outdoor kitchen is perfectly built right under a balcony. It's a clever and beautiful architectural style.
Outdoor Kitchen Pavilion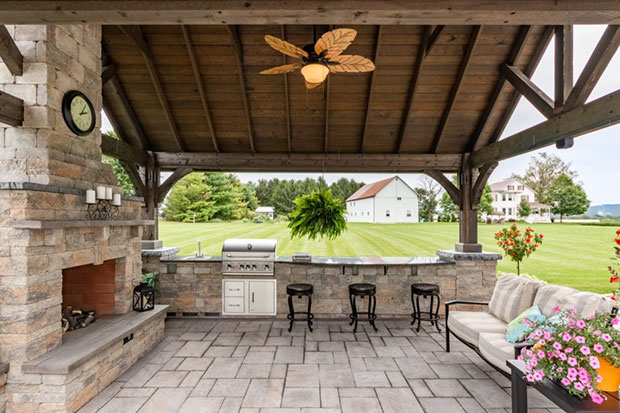 Willow Gates Landscaping
With that beautiful scenic location and background, building an outdoor kitchen pavilion is just perfect. And the fact that it embraces a rustic farmhouse style is even more excellent.
Backyard Oasis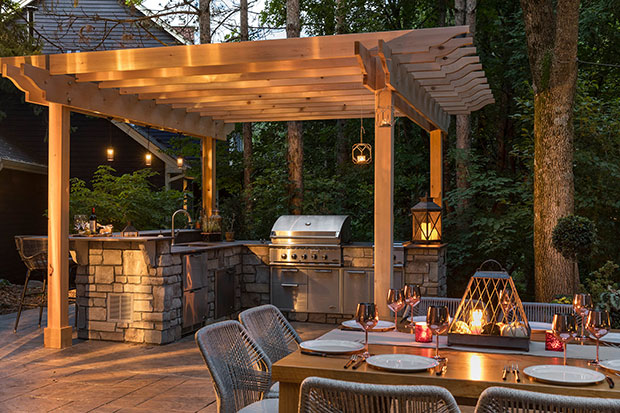 Ispiri Design-Build
The pendant task lighting in this outdoor kitchen adds a warm, cozy feeling to this backyard oasis.
Frenchman's Harbor Private Client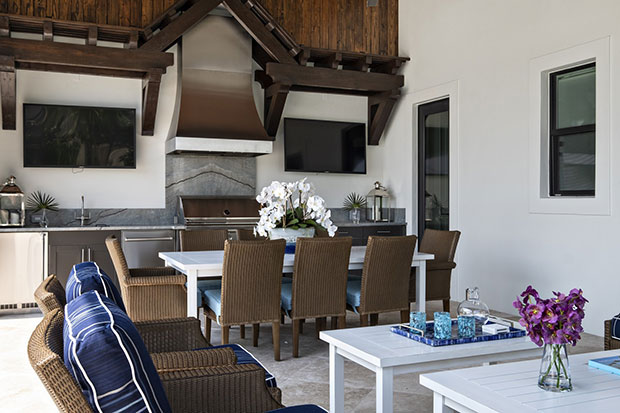 St. Amour Interior Design, Inc.
The color palette and organization in this outdoor kitchen are interesting and cool. It's enough to highlight the modern style and give a very warm ambiance.
Outdoor Living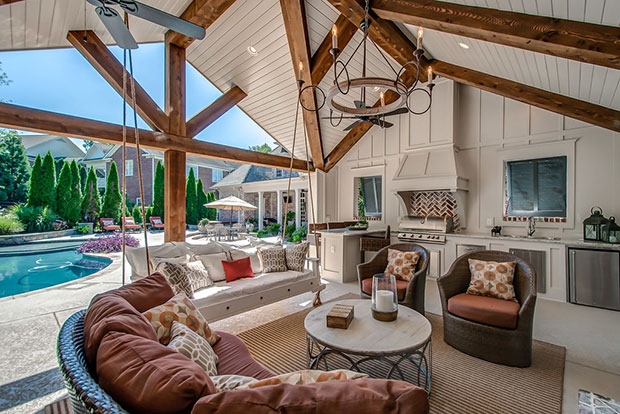 Superior Custom Homes
What's very interesting with this home is that the dining area isn't directly close to the kitchen. Still, this outdoor kitchen truly lives up to the "outdoor living".
Frisco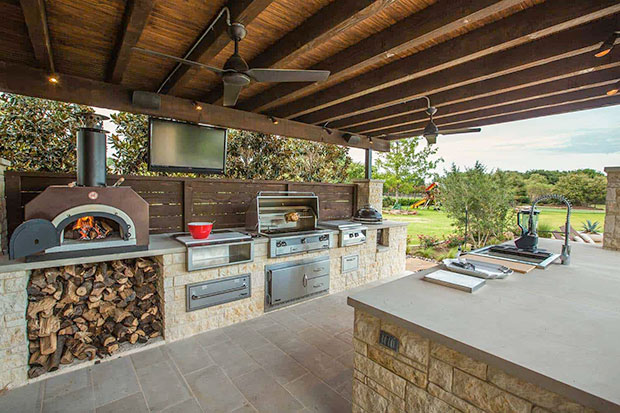 This outdoor kitchen is quite spacious, perfect for big culinary preparations for any family gathering.
That's it for some relaxing outdoor kitchen designs! Hopefully, you took inspiration from any of these for your own outdoor kitchen.
Like This Post? Pin It!