70 Fab Small Balcony Design Ideas for the Trendsetter
|
If you have a balcony in your house, especially if it's small and compact, you may not realize how often overlooked this part of the home is. With its size, sometimes it's being used like a storage space for dead plants and broken furniture.
And if your small balcony hasn't been used that way, it's probably as plain as a desert. Much of that may have to do with the balcony size. But that shouldn't stop you from creating a relaxing and entertaining hangout space.
Usually, apartments have those typical balconies that are devoid of color or personality. You can come up with your own eclectic small balcony design ideas to spice things up. And because of its space, you may not even need to spend so much. You may find that some small balcony design ideas come from putting pieces together.
You can do much more than just by simply placing a lawn chair. You can even transform your tiny balcony into a little gardening space. For those living in condos and apartments in cities, your small balconies could be your own little urban oasis.
How can I make a small balcony look nice?
The hesitance in decorating one's small balcony may come from the lack of space. Admittedly, the space can be a disadvantage, but even with that there are a lot of potential for small balcony design ideas.
Here are some easy tips for making your small balcony look nice.
1. Add a small table
Imagine having your morning coffee on the balcony of your house. A small table would leave some room to move and make it easy for it to be moved in and out of the balcony if needed.
2. Add a built-in seat
Maximize every square inch of space you have by having built-in seating installed. This way, you don't have to worry about your furniture pieces being knocked out by the wind.
3. Choose floor pillows
If you are renting your place, it may be best to choose floor pillows instead of investing in outdoor furniture. So, pick comfortable ones and your choice of design.
4. Choose folding furniture
For your furniture choices, it may be best to opt for folding ones that you can easily bring in and out of the balcony if necessary. And if not in use, you can easily tuck them away to give yourself some more space to walk around.
5. Install a hammock or a hanging chair
Instead of your usual outdoor furniture, consider installing a hammock or a hanging chair on your small balcony to give it a refreshing look.
6. Adding an outdoor rug
To add some color and life, bring in an outdoor rug with eclectic patterns or vibrant colors.
7. Add some greenery
You can add some small planters in the corners and sides of your balcony. You can install planters on the railing as well. But one of the best ways to save up even the smallest space is having a vertical garden.
8. Use the wall space
In addition to the vertical garden as suggested above, you may even opt to hang some art on the wall of your balcony.
9. Let there be light
For some cool late-night hangouts, install some outdoor lighting. String lights and lanterns are quite the beautiful aesthetics for such.
10. Secure your privacy
If your balcony doesn't have a wall to the side that separates you from your neighbor, you can add some tall plants to create a natural wall.
11. Add shade
Add a retractable awning to your balcony that will protect you from rain or harsh sun rays. You can opt for ones with bold colors or patterns to make it stand.
How small can a balcony be?
Balconies vary in size, of course, depending on whether they are part of a house or apartment. Usually, house balconies are larger than apartment balconies.
Balconies average around 4 feet deep by 10 feet wide for smaller apartments. The smallest usable depth for a standing balcony is 1.5 to 2 feet. At 3 feet, two people can sit for coffee, and 6 feet can have four people sit around a dining table.
With so much potential for compact balconies, here are some small balcony design ideas that you could learn from?
Lakeshore Living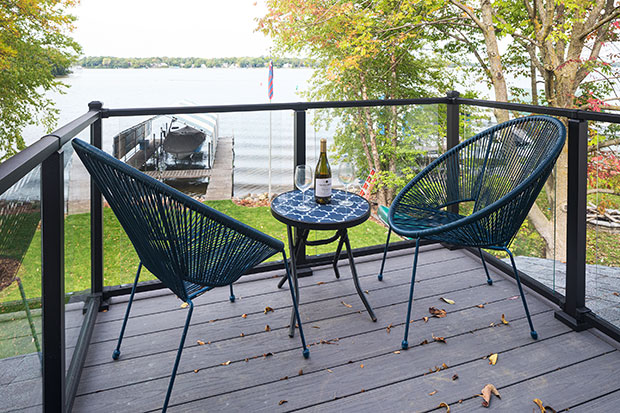 AMEK Home Remodeling
This balcony is one of the tiniest but smart small balcony design ideas on this list. But it managed to have these two lawn chairs, made possible because of the really tiny table they have.
Vareze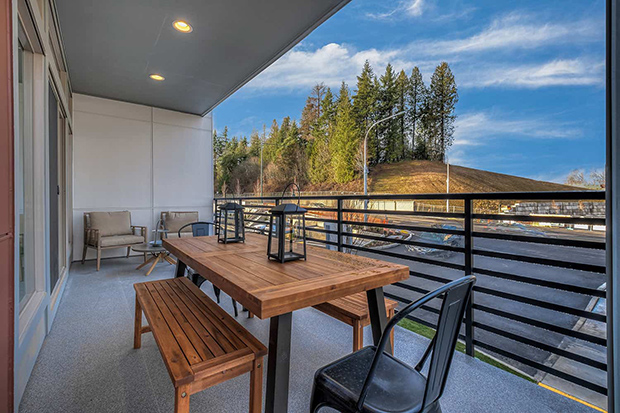 Tri Pointe Homes, Inc.
For long, narrow balconies like this, opting for a long table that matches with the balcony is a smart choice. And, the bench that can be easily tucked away is also a good option to allow people movements around the balcony.
Northwest Highway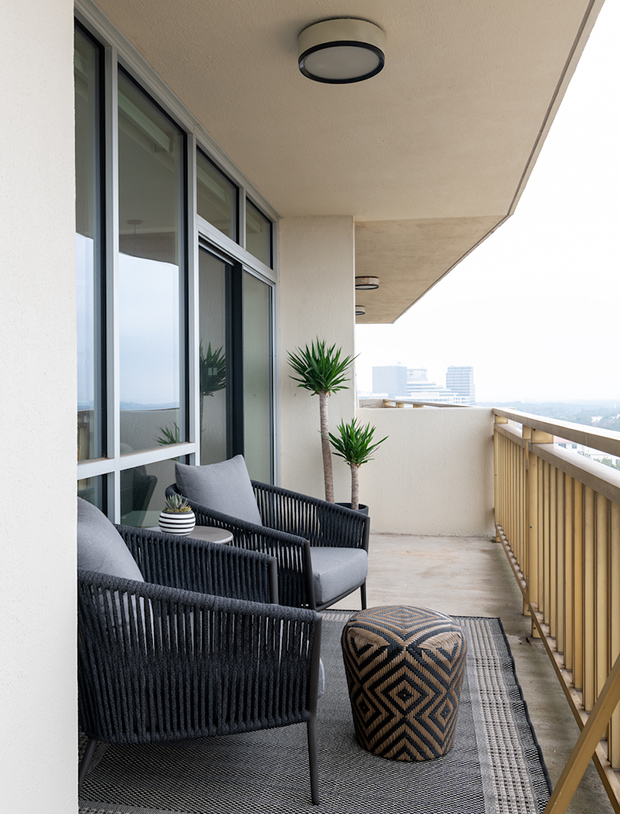 Traci Connell Interiors
The color choice of the lawn chairs, rug, and ottoman are a nice touch to contrast the light paint of the balcony. Additionally, the ottoman's unique pattern is a standout.
Garrison Landing Condo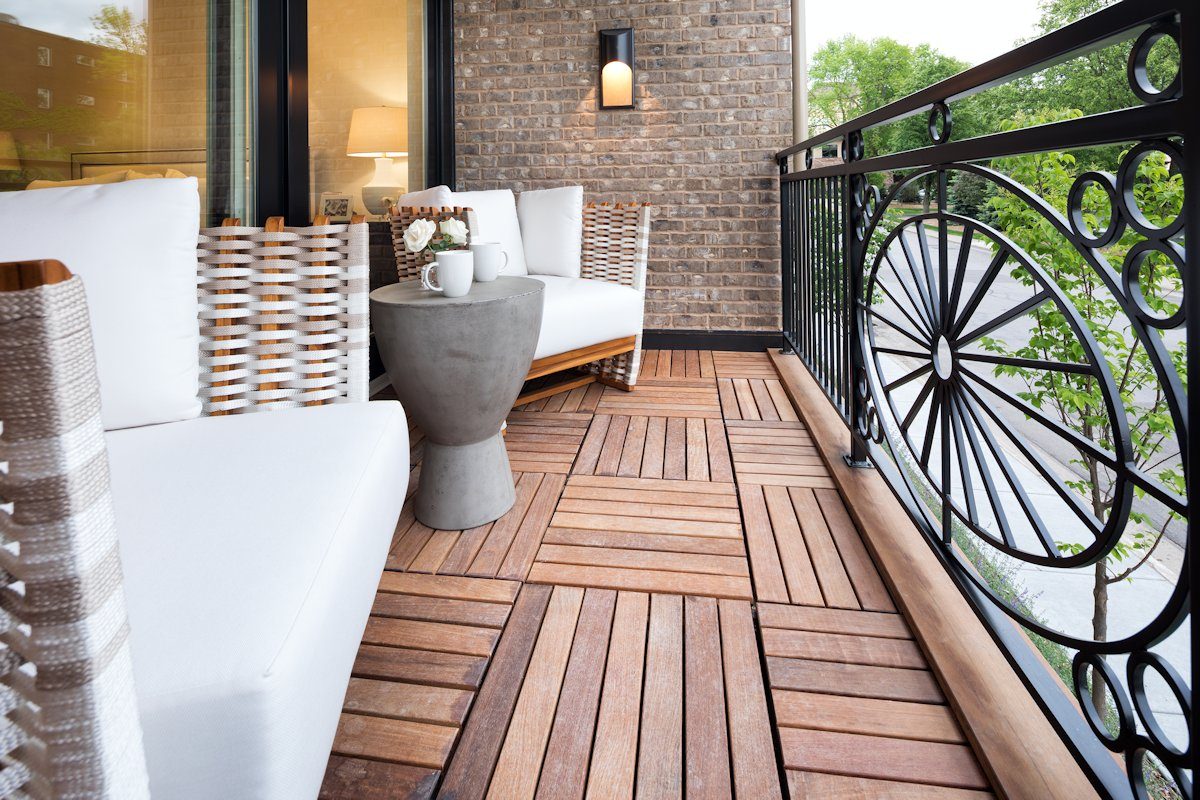 John Kraemer & Sons, Inc.
For small balcony design ideas that do a bit more spending, take a look at this one. They have the balcony floor decked out with wooden tiles. Also, take note of the sconce light installed.
Wayzata Luxury Condo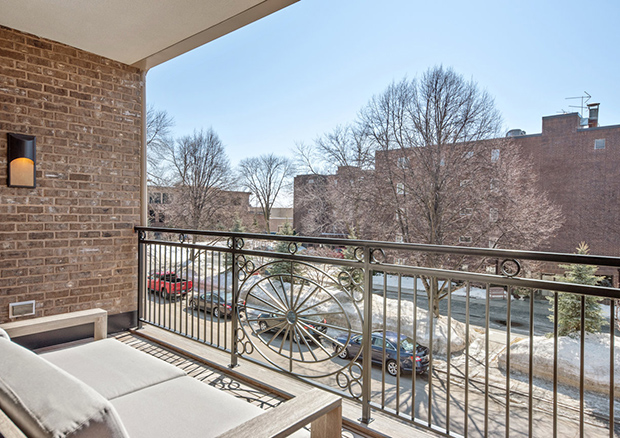 John Kraemer & Sons, Inc.
If your balcony is simply just for a place to sit and relax, you can opt to have a lounge seat like this placed in the area. Look at how the neutral colors of the furniture match with that of the balcony.
Glasman Residence

Buchmann Design Architectural Studio
One of the simple yet classic balcony design ideas is to simply have a stool down right the center. With the balcony railing design and structure, like this, lightweight materials may be the only appropriate furniture on the balcony.
Rental Balcony Makeover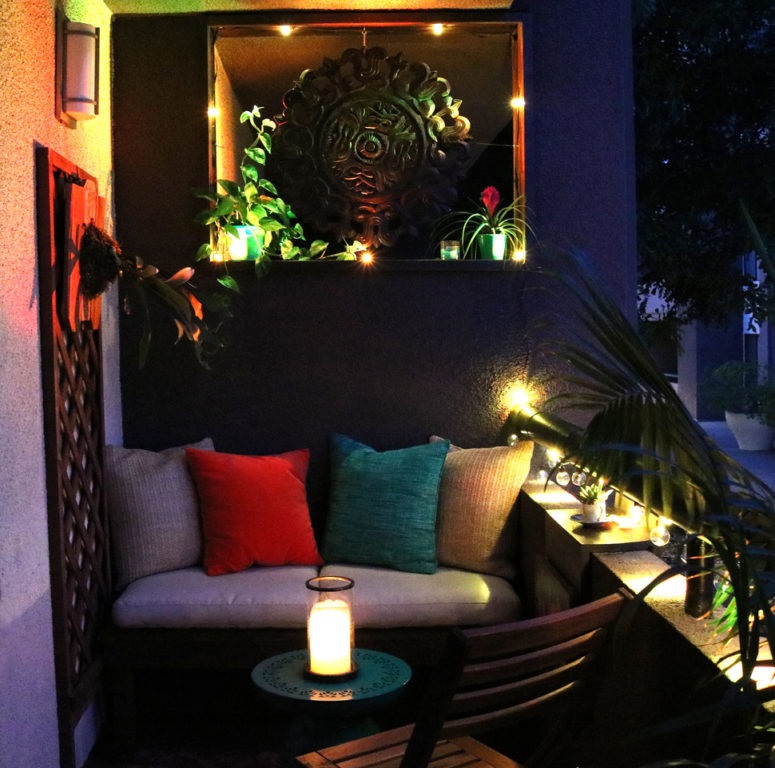 Engineer Your Space
This rental balcony checks off the list what makes small balcony design ideas look nice. Up on the wall, they hang a mirror and some ornaments. Don't forget the light series installed so prettily.
Beach House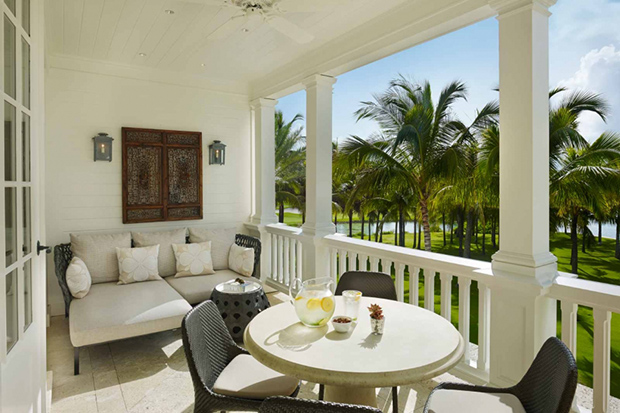 Marguerite Rodgers Interior Design
A small round table like this might be a perfect choice for small balconies. Adding in a couch on the side, we'll allow for people to rest comfortably.
DIY Balcony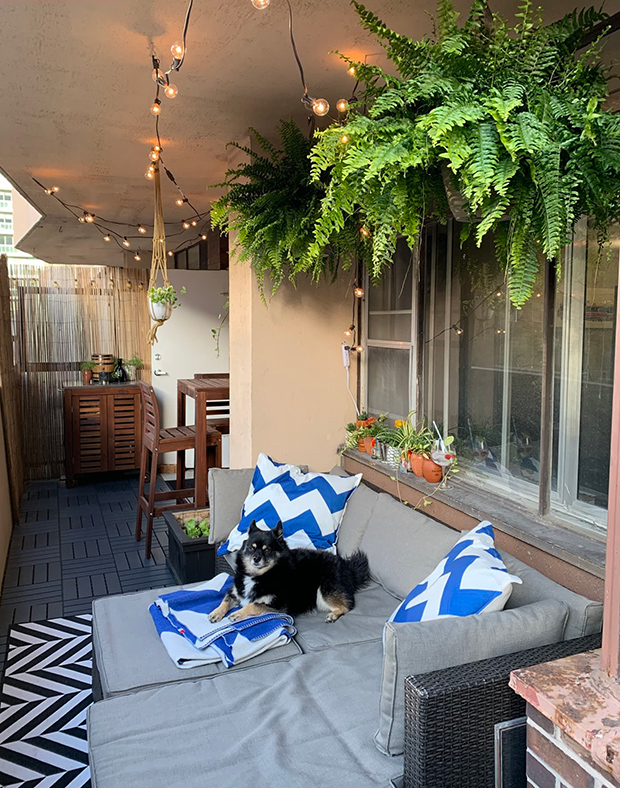 Jen Robinson
With a narrow balcony like this, somehow, the homeowners managed to place a couch in the balcony. Also, take notice of the string lights, planters, and the wood slats for some privacy.
Modern Glam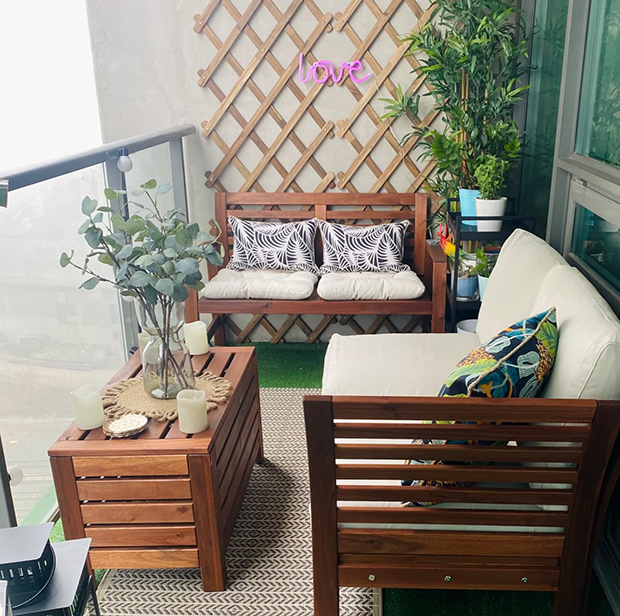 Shruti Chopra
This balcony prides itself for its modern glam style. There are many important design details here too from the faux grass, the patterned throw pillows, and that wall design. Another important detail is having a storage stand for all the small planters.
San Leandro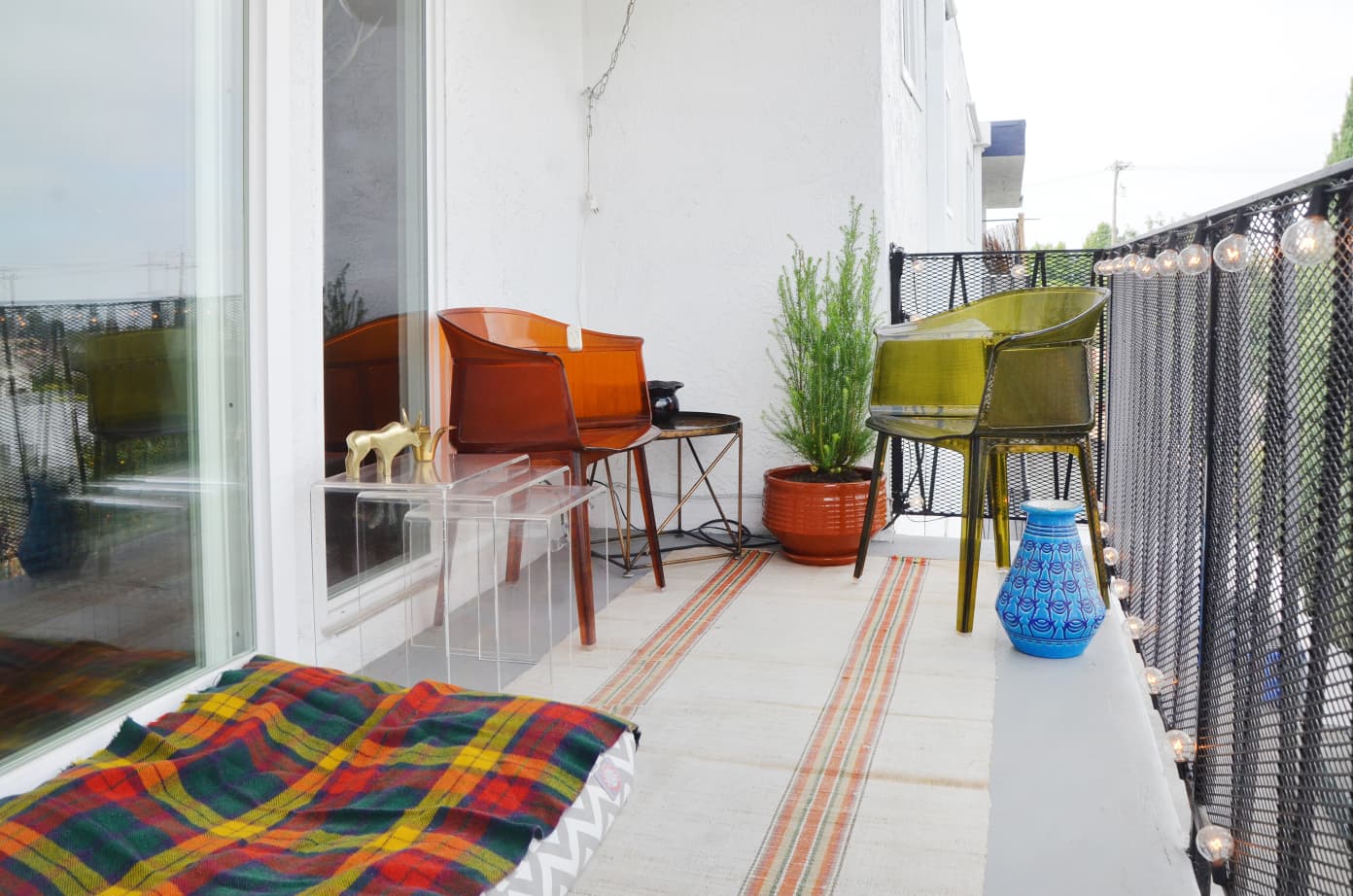 Esteban Cortez
Besides the eclectic furniture choice, the way they installed the string lights is something note-worthy, as they did not just simply install them.
Raised Shotgun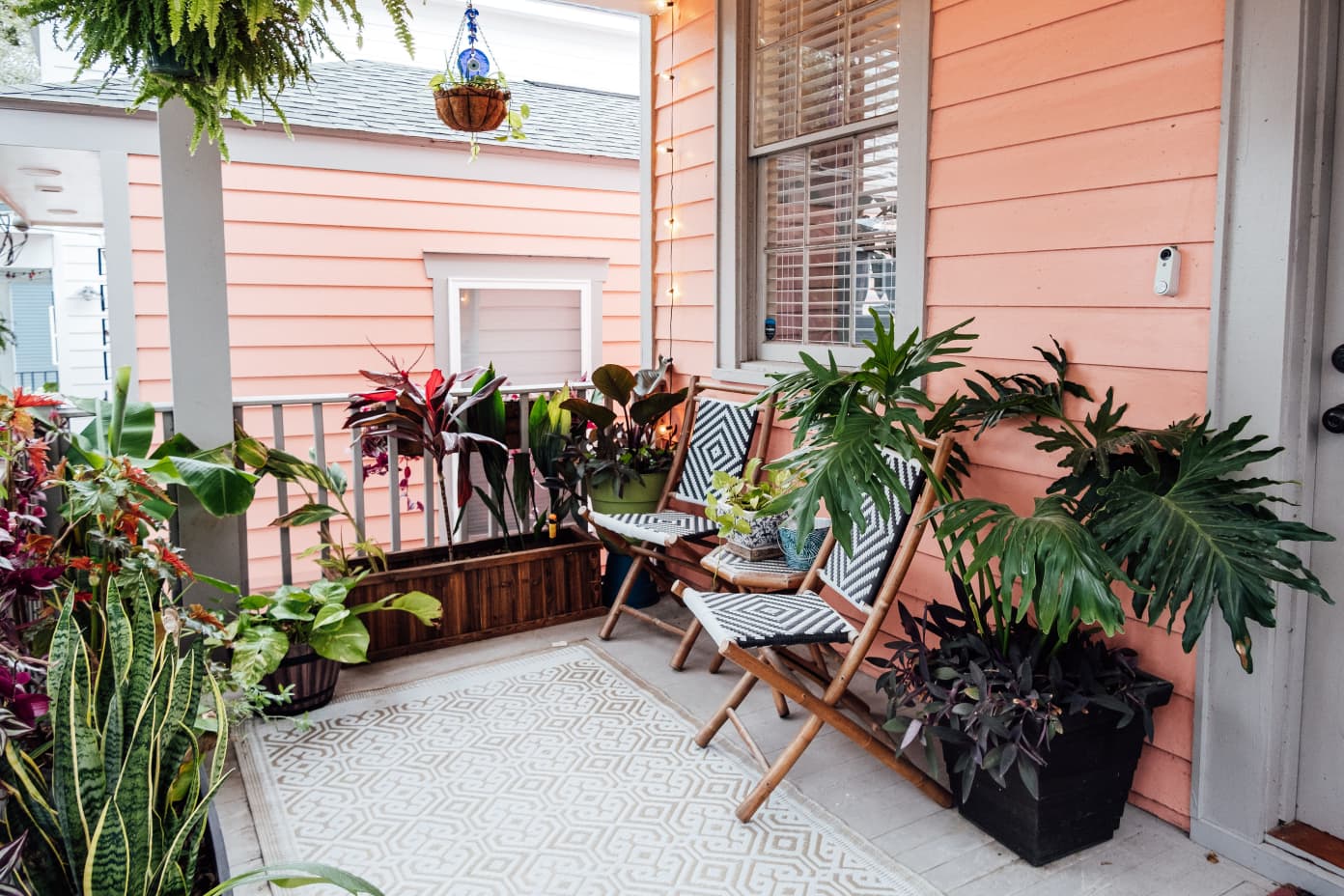 Laura Steffan
Much of this balcony is made pretty by the numerous planters. But the rug is a nice touch and the folding chairs and tables are smart choices for small balcony design ideas.
Bucktown

Alexis Buryk
The sparse planters scattered around the balcony is a great decision to make the room seem more spacious. The addition and use of a trolley cart are smart as it makes it easy to move around and in and out of the balcony. It also doubles up with its function.
Balcony Garden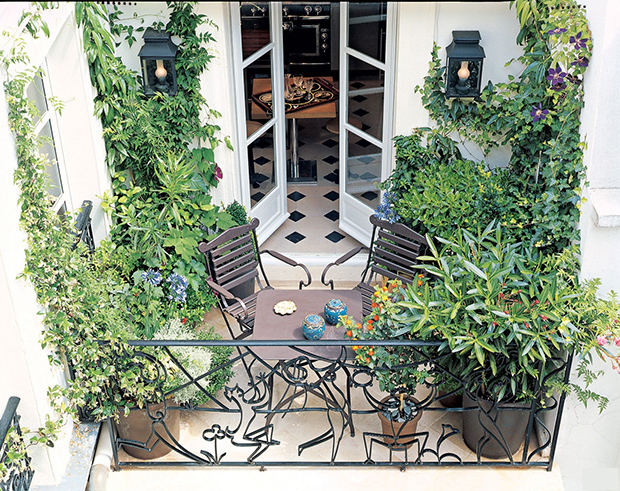 Marina Faust
The homeowners for this decided to turn their balcony into a garden. They placed a variety with planters and vines to cover the walls. And in the middle of it all, is your classic garden table and chairs.
Small Balcony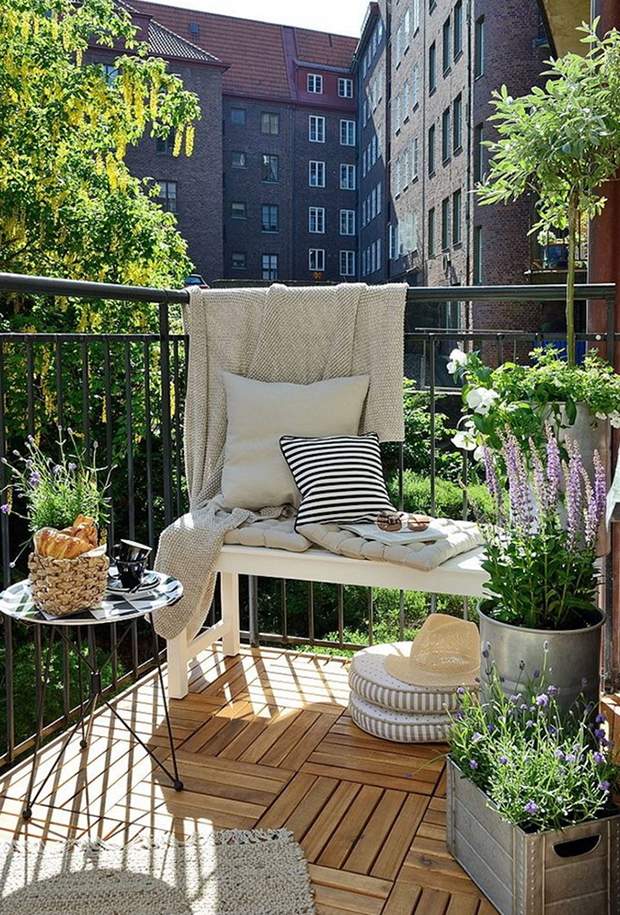 Dust Jacket Addict
Apart from the wooden tile decking, the tin planters are pretty choices for this balcony. Also take note of their foldable coffee table. These are pieces that are smart choices for any small balcony design ideas.
Vintage Modern Mix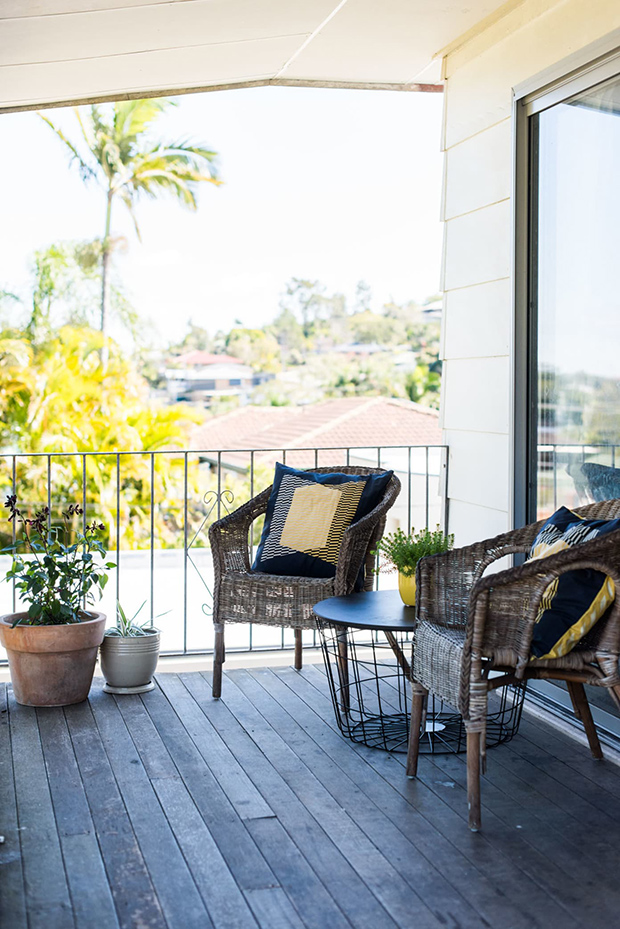 Hannah Puechmarin
The rattan chairs with those coolly patterned pillows are a nice combination to really give life to this house balcony.
Mini Balcony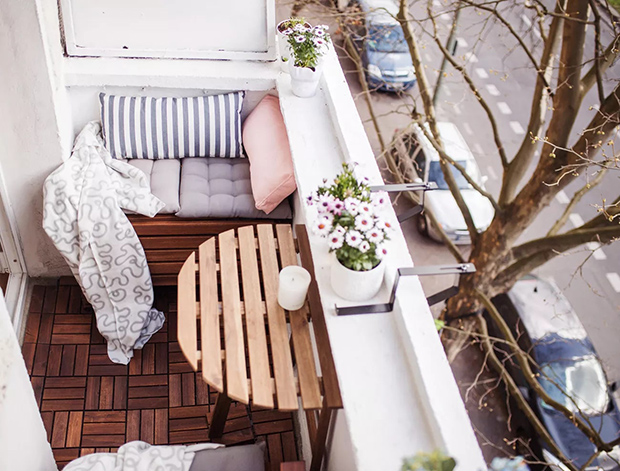 Bekleidet
For a standing balcony like this, it's completely fascinating how they managed to have a built-in bench seating and a small coffee table. This one is a good example for extremely small balcony design ideas.
Puttin' on the Ritz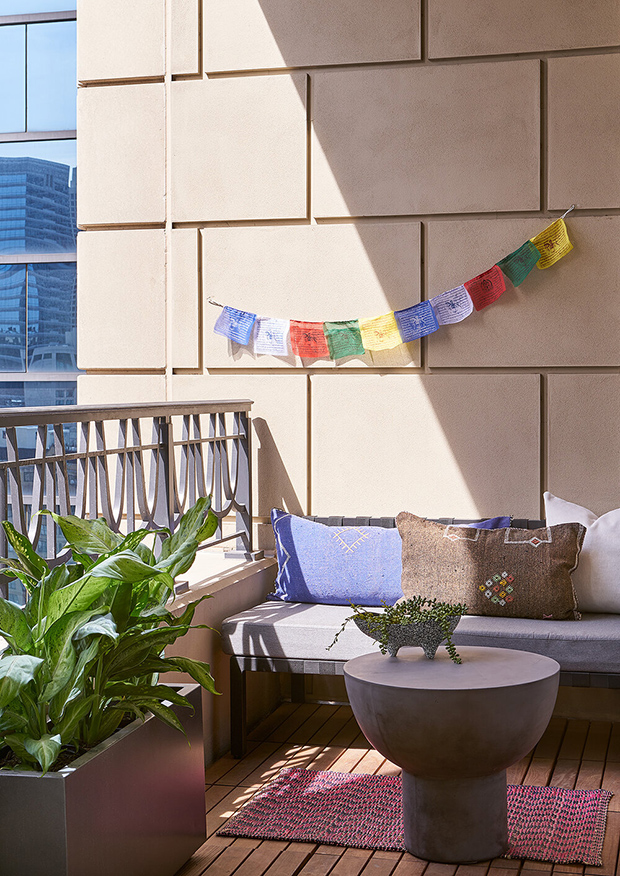 Studio Sven
With the grey furniture, the vivid colors of the rug, throw pillows, and the pennant are a perfect contrast. The color combination definitely gives off a cozy feeling.
Outdoor Rug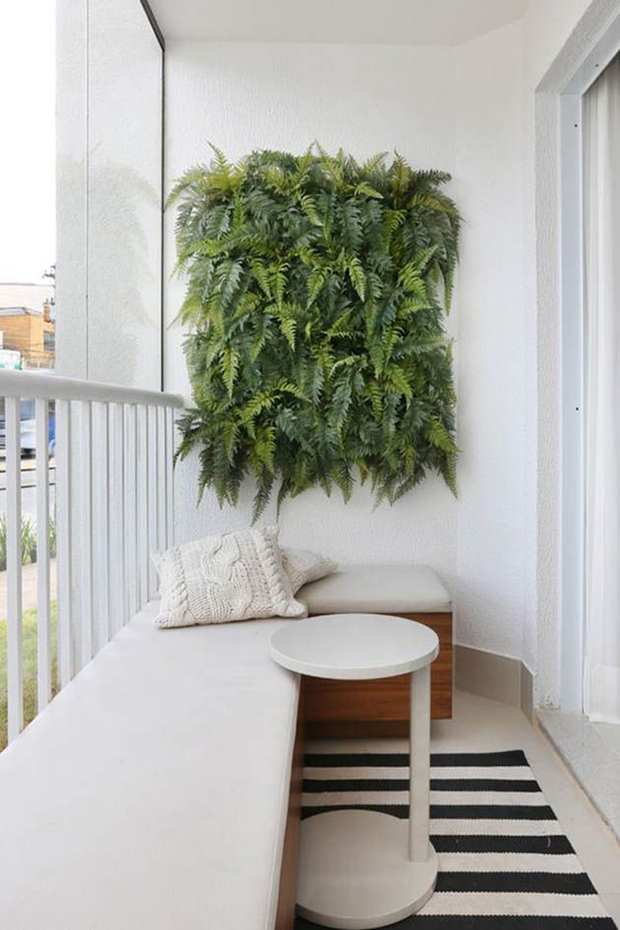 Luiza Gomes
With the balcony being predominantly painted in white, the rug and the wall plant are nice additions to bring in some personality.
Palm Beach Apartment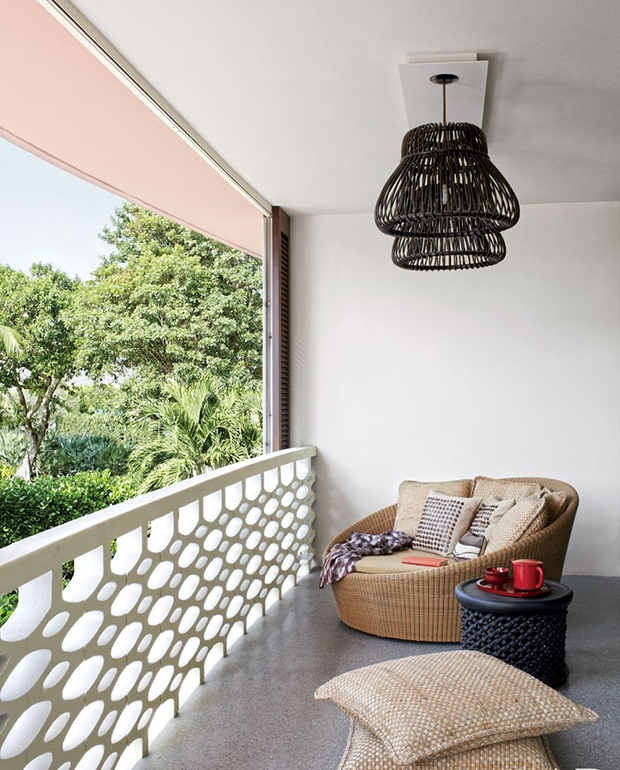 Björn Wallander
The unique set of seat and coffee table totally brings in a chic style. Also, having throw pillows as cushion seats is a smart decision to free up more space.
Personal Apartment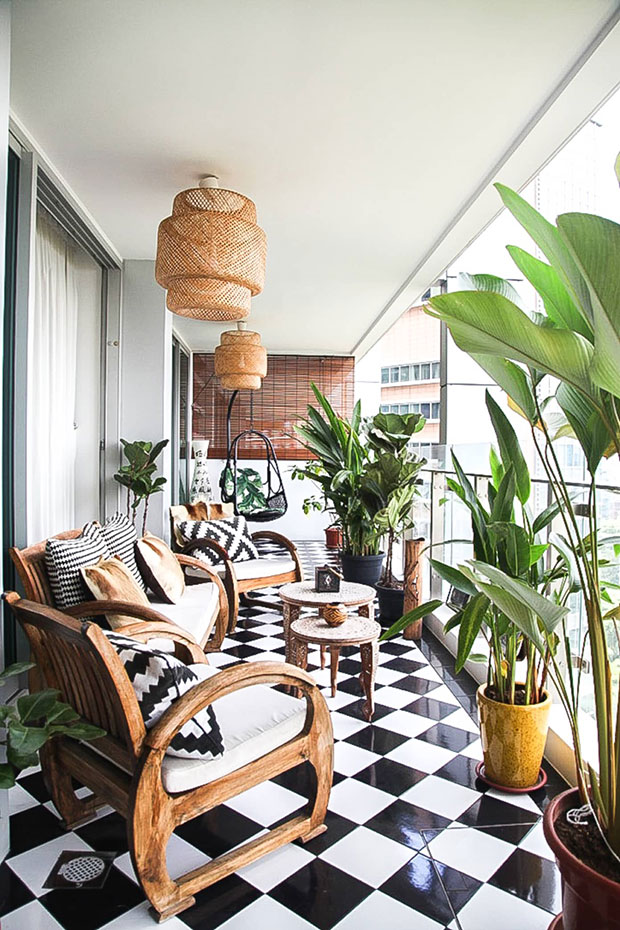 Vivienne
For this long, narrow balcony, the homeowner certainly had a theme going on with the consistency in material type and colors. They also made most of the space available with its length.
Chicago Apartment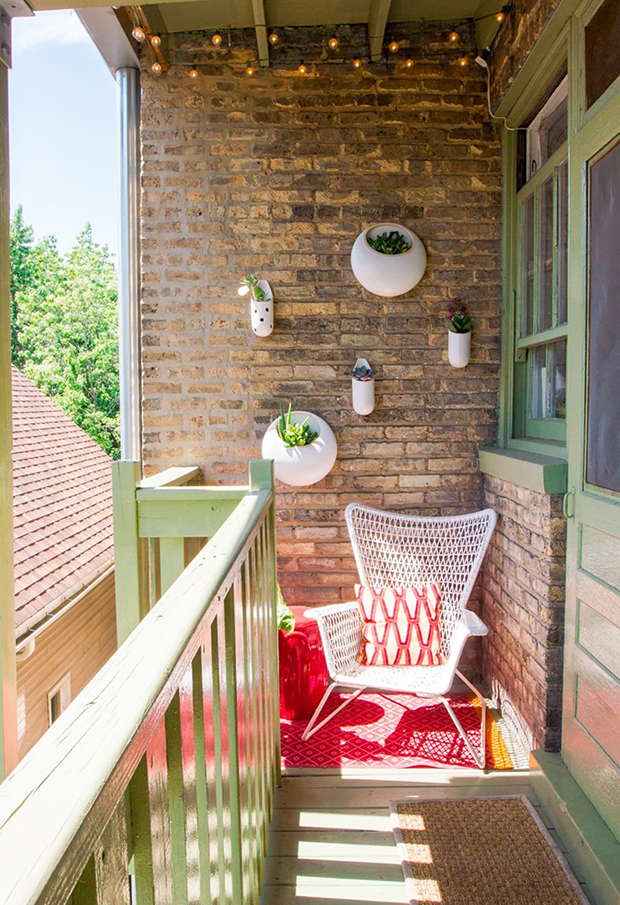 Julia Brenner
Those unique wall planters are quite the sight to see. The lone lawn chair, accompanied with the pillow and rug, bring much life to the balcony.
Bright Balcony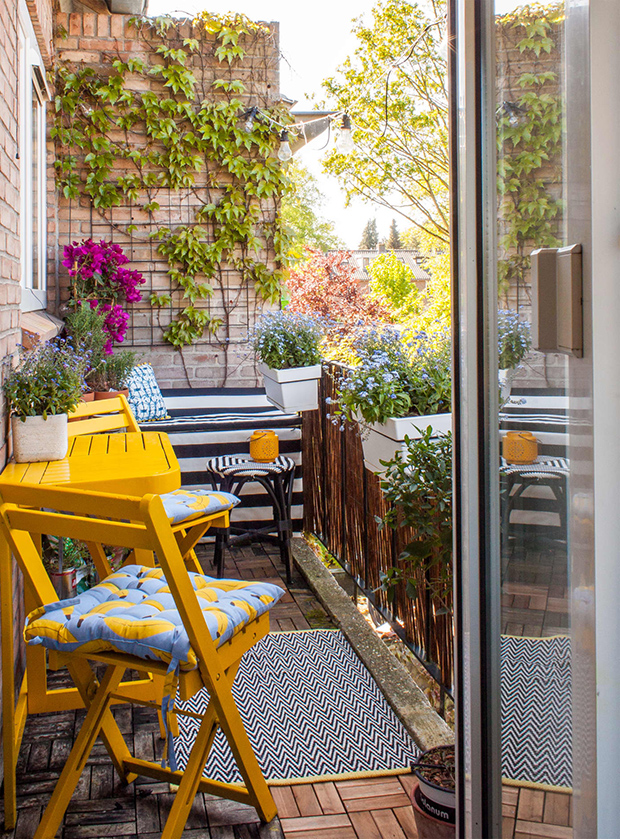 Winkie Vesser
Bring so much personality to your balconies with bright and vivid colors and bold patterns with the furniture and accessory pieces.
Hollywood Hills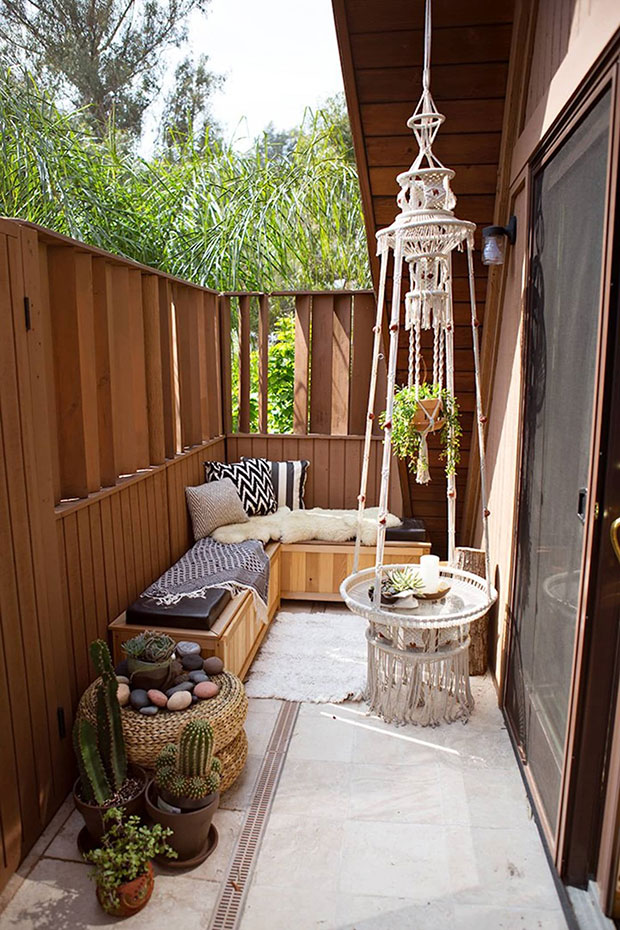 Bridget Pizzo
The highlight of this balcony in Hollywood Hills is that floating coffee table. It's unique and unexpected, adding personality to the living space.
Terrasse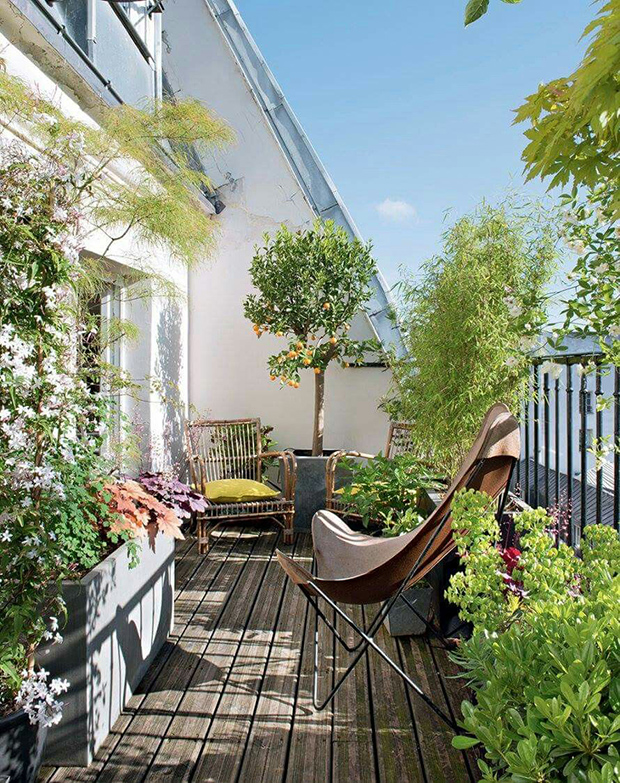 Candice
This is one of those small balcony design ideas that opt for their space to be a balcony garden. The variety of plants is on itself giving much life and personality to the area.
LA Balcony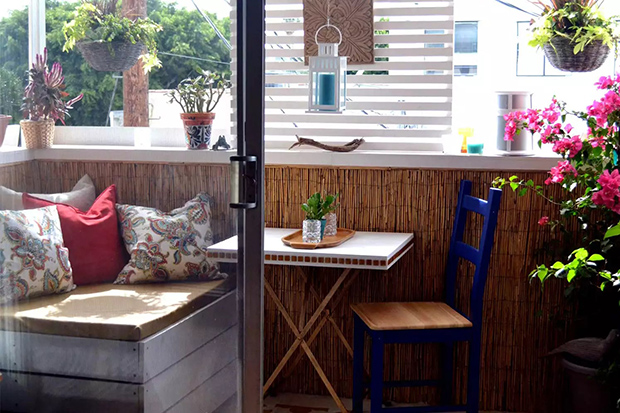 Engineer Your Space
A great suggestion for small balcony design ideas is to have a built-in seating paired with a separate chair like this. Instead of having standalone chairs, this could save up space and maximize seating potential.
Little Balcony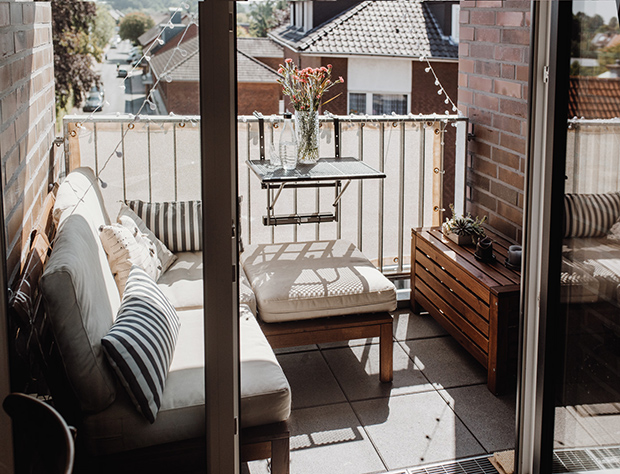 Bekleidet
To give some privacy to this little home balcony, they attached a fabric into the railings. Also, take note of the proxy coffee table attached to the railings as well. This saves up some floor space to allow a sectional couch like this.
Sunny Balcony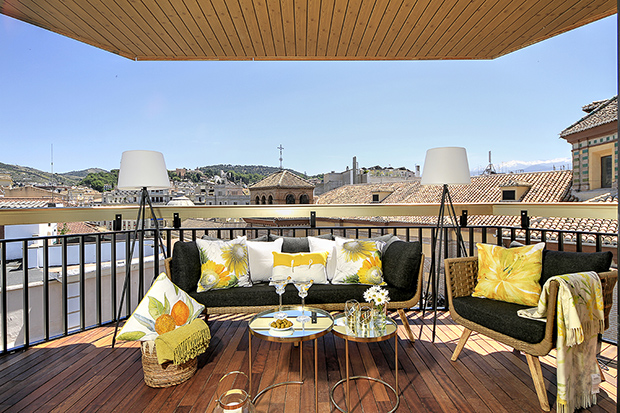 Decora y Vende
The floral themed throw pillows contrast with the black cushions but also compliments the wooden flooring and ceiling. It also emphasizes the weather of the place.
Enclosed Balcony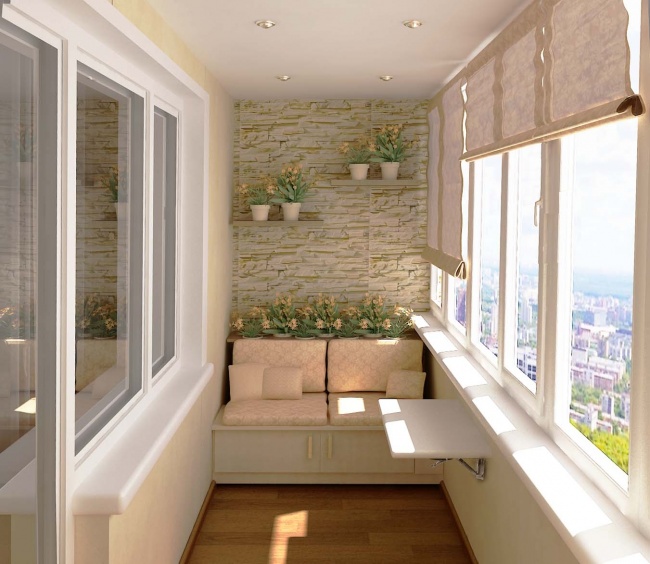 Stroylandiya
Consider an enclosed balcony for your small balcony design ideas short list! An advantage to this is giving much privacy for yourself. And for this one, you could install blinds that will help you get shade from the intense sun rays.
Beach View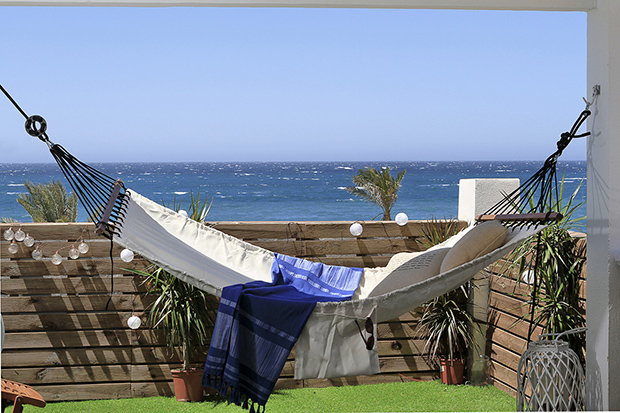 Decora y Vende
With the cool, sea breeze and a beach view like this, having a hammock in your balcony is definitely a must. Despite the faux grass, the sparse small plants add more life to this balcony.
Contemporary Balcony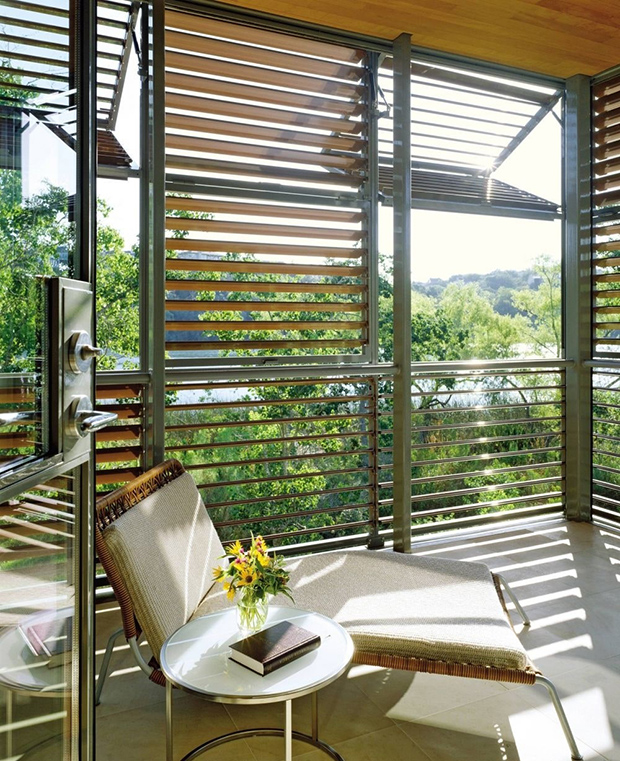 Robert Reck
Here's another one of enclosed small balcony design ideas! That lounge chair, coupled with the unique window enclosure structure, brings in that contemporary style.
The Leaf House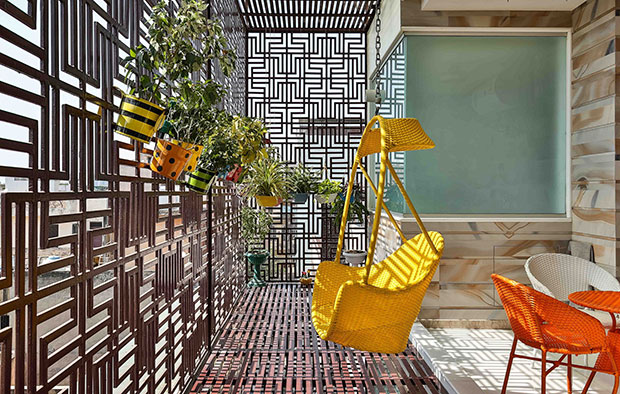 Linear Concepts
The unique enclosure is enough to give some privacy and shade, while getting enough light and view of the outside. The vibrant swing and chairs and table bring much color to the room.
Urban Oasis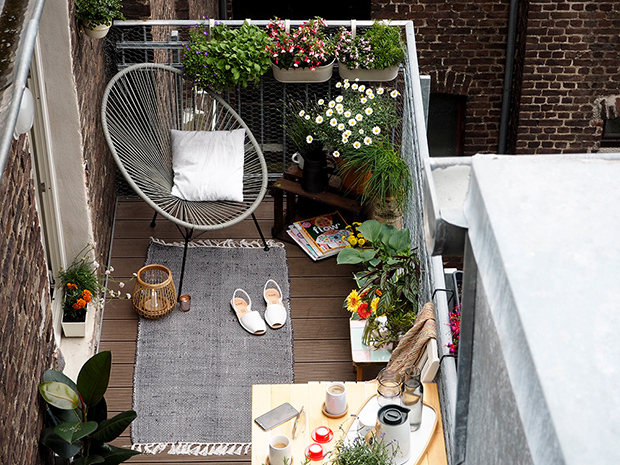 Craftifair
This sweet urban oasis is eclectic and stylish. The organization of the planters, lawn chair, and table are something to be sought after.
Fabric Privacy Screen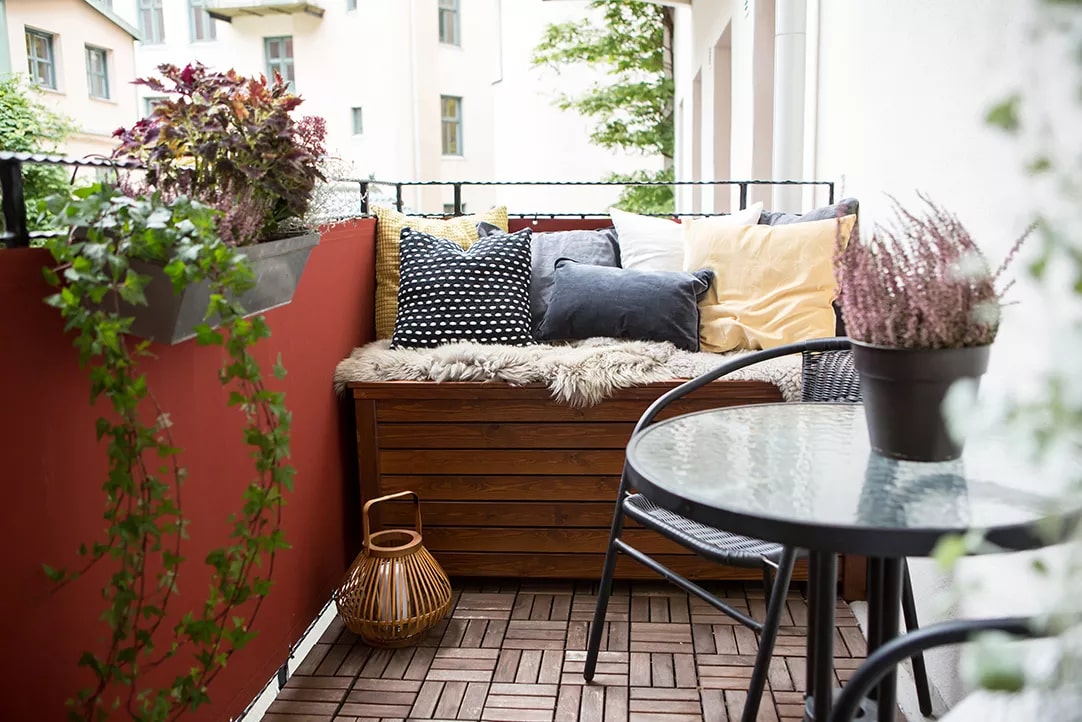 Alvhem
Here's another suggestion for small balcony design ideas with fabric being used as privacy screen.
Pallet Sofa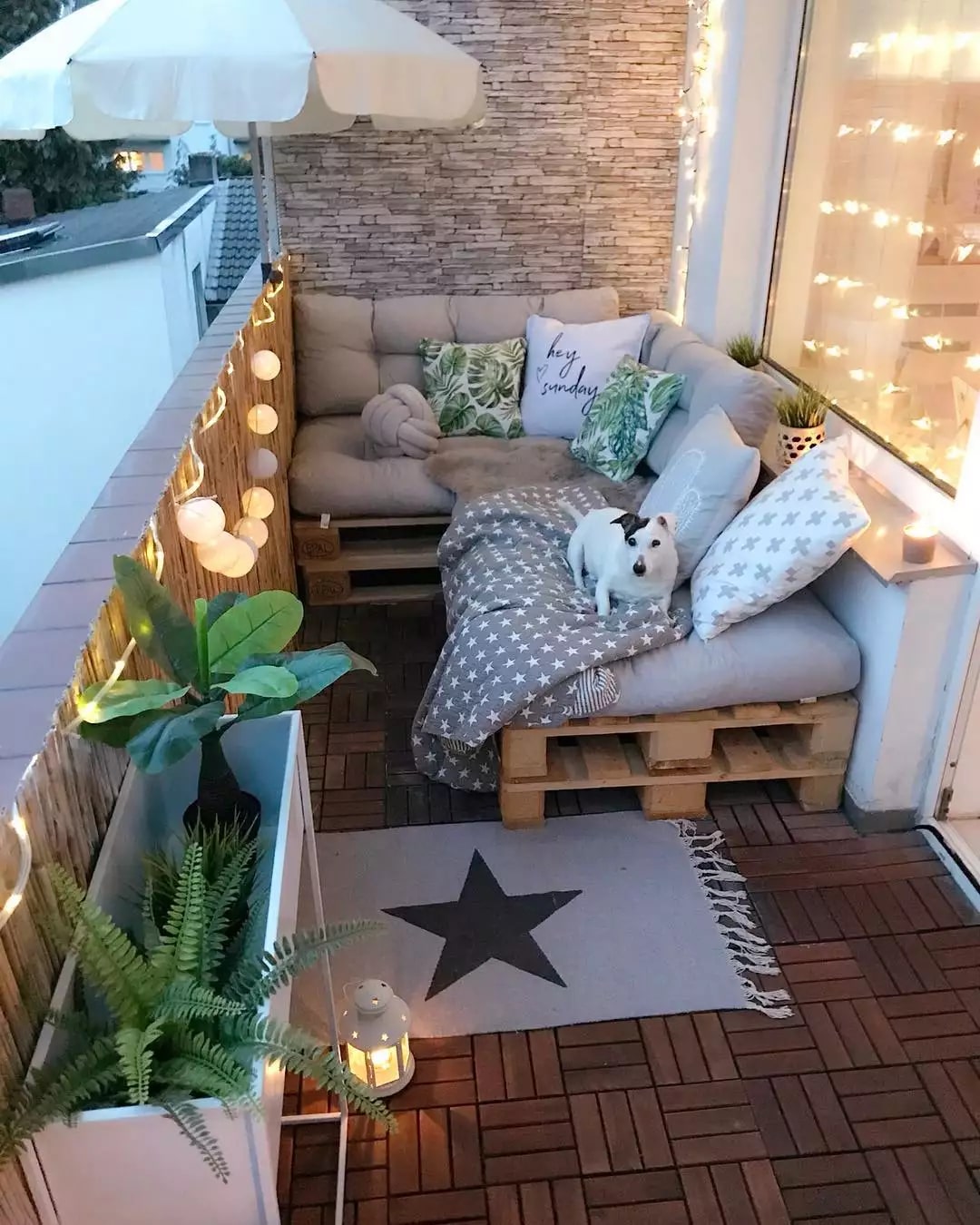 Villa Snow White
The wooden crate bed used for the seats is an inexpensive yet cool design choice. The varied throw pillows, too, add some contrast to the cushions.
Balcony Canopy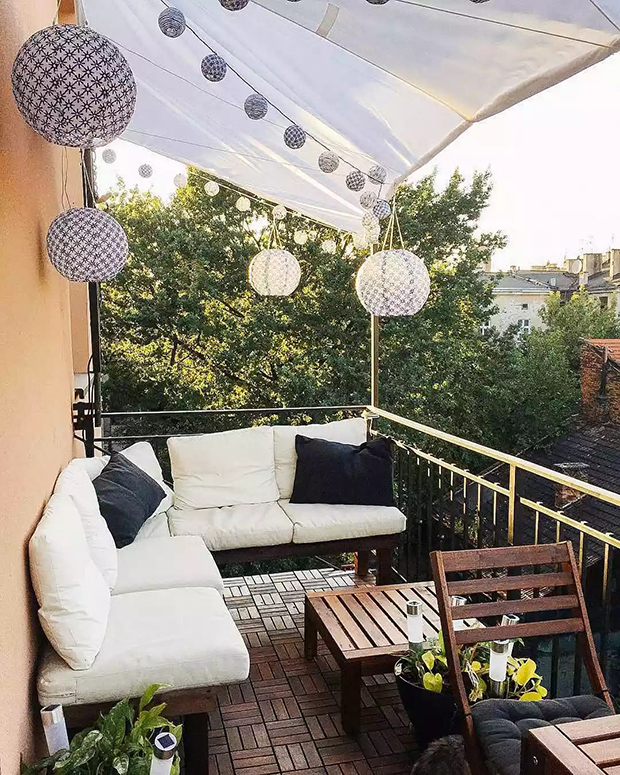 Mora Korytowska
The point of focus for this balcony is the canopy installed for shade. The canopy then acts as a good support for the lantern string lights.
Mini City Balcony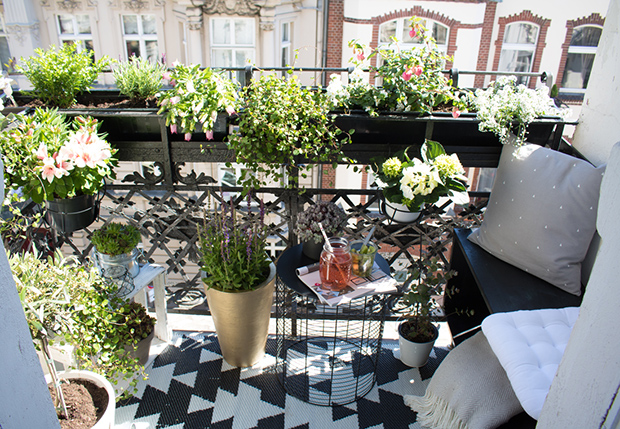 Pretty Nice
The rug matching with the built-in bench, railing, and planter boxes seems to be the base color theme of this balcony. But the variety of plants is what truly brings much personality here.
Bohemian Balcony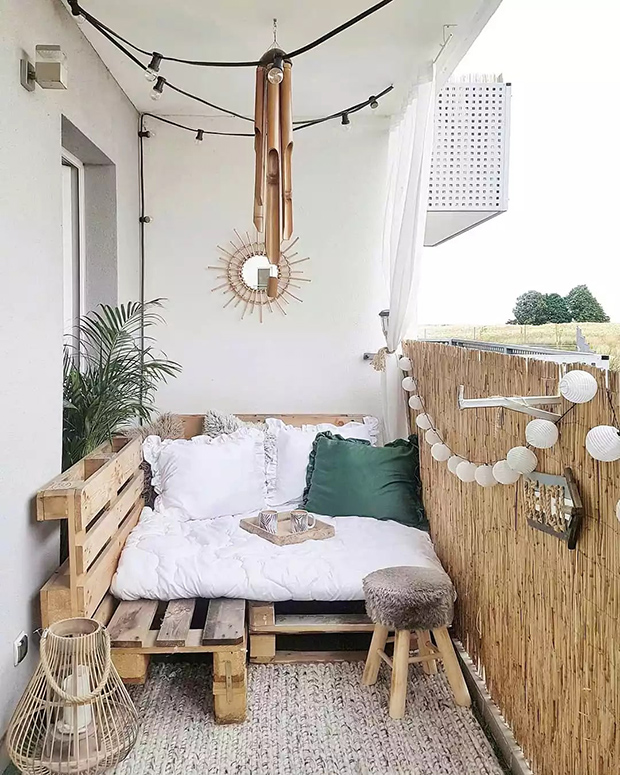 Oliv Home
The accessory pieces on this balcony really complete a bohemian design style.
Water Hyacinth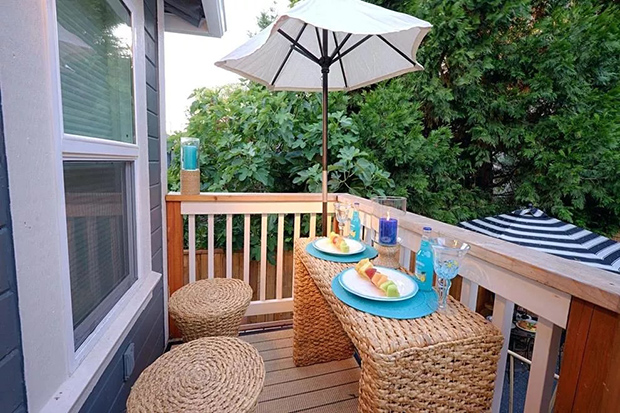 Paradise Restored
The table and chairs are made of woven water hyacinth. That in itself adds texture and stylish look to this balcony.
Multifunctional Balcony Furniture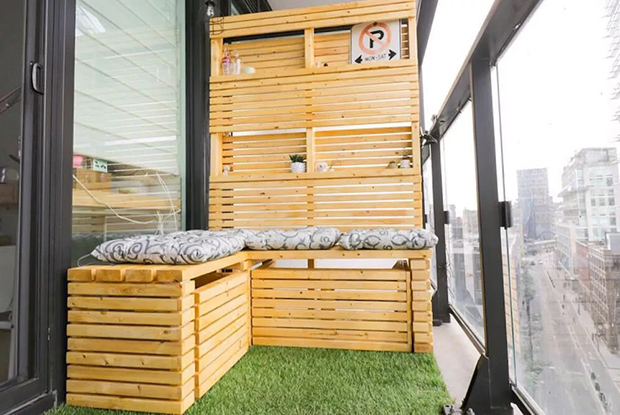 Shape and Explore
To really maximize the space of this balcony, the homeowner built this DIY multifunctional balcony furniture that provides seating and vertical storage.
Layered Rugs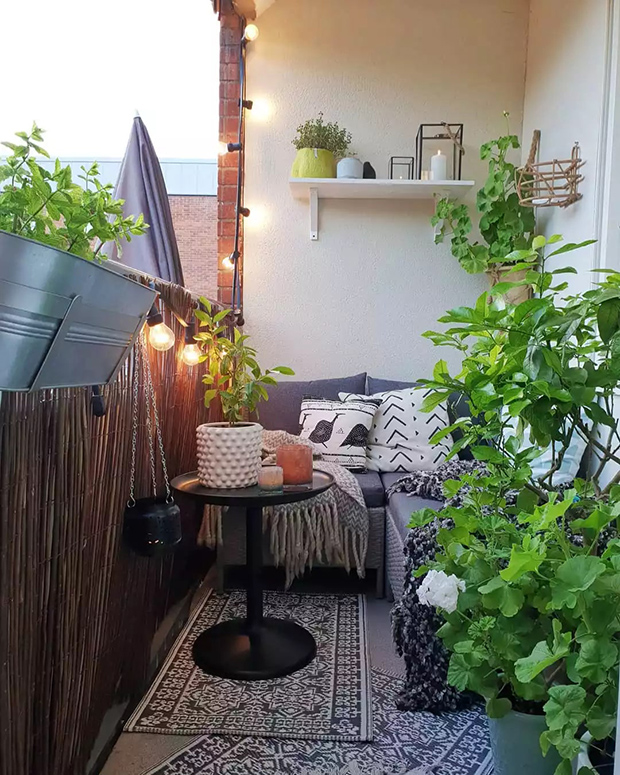 Christine Cambring
The coolly patterned pieces, like the rugs and the throw pillows, add much personality to this balcony.
Bistro Balcony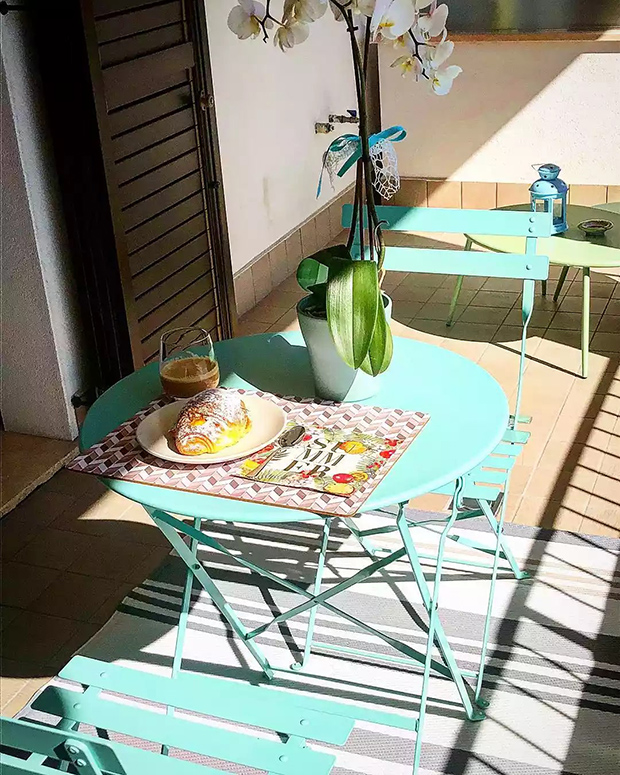 Sapriccion
To contrast the rather plain colors of the balcony, the lawn chairs and tables were painted with vibrant colors.
Scandinavian Balcony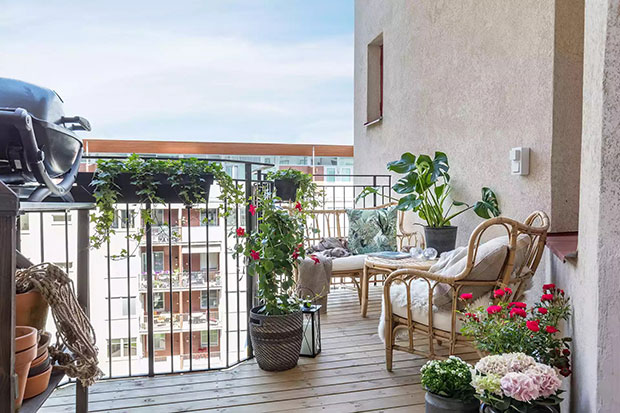 Alvhem
With the irregular shape of the balcony, this home managed to make use of it, finding the perfect pieces and where to place them.
Small Apartment Balcony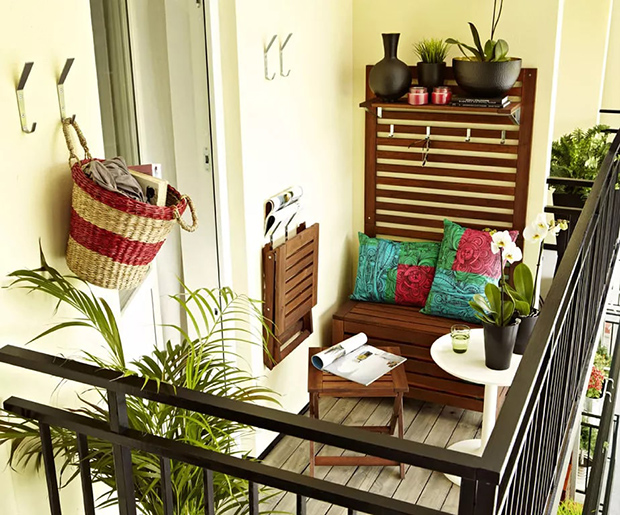 Ikea Ideas
The foldable tables and the multifunctional built-in seat are perfect furniture choices for small apartment balconies like this one.
Balkon Bar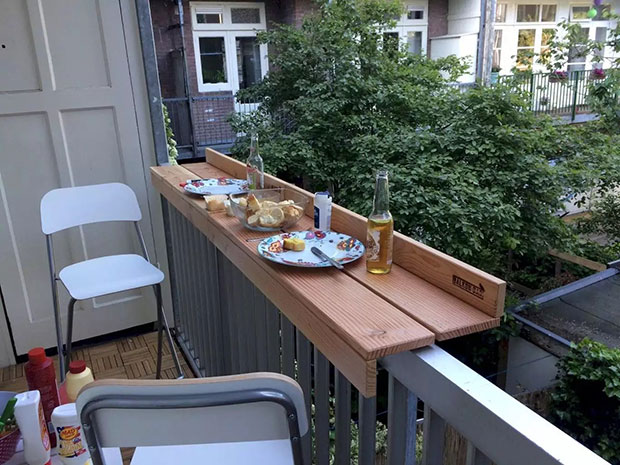 Balkon Bar
When it comes to unique small balcony design ideas, this needs to be put into spotlight. Balkon Bar specializes in creating a mini-bar in your balcony to enjoy your hangouts with a couple of drinks.
Small Space Outdoors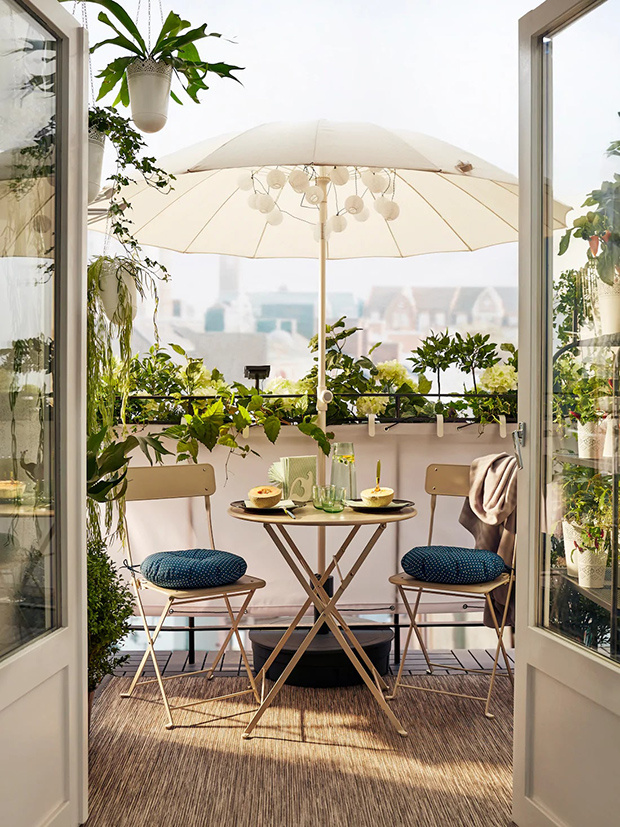 Ikea Ideas
The lightweight, foldable furniture are not only perfect to allow space for movements, but are also chic and stylish.
Sunny Side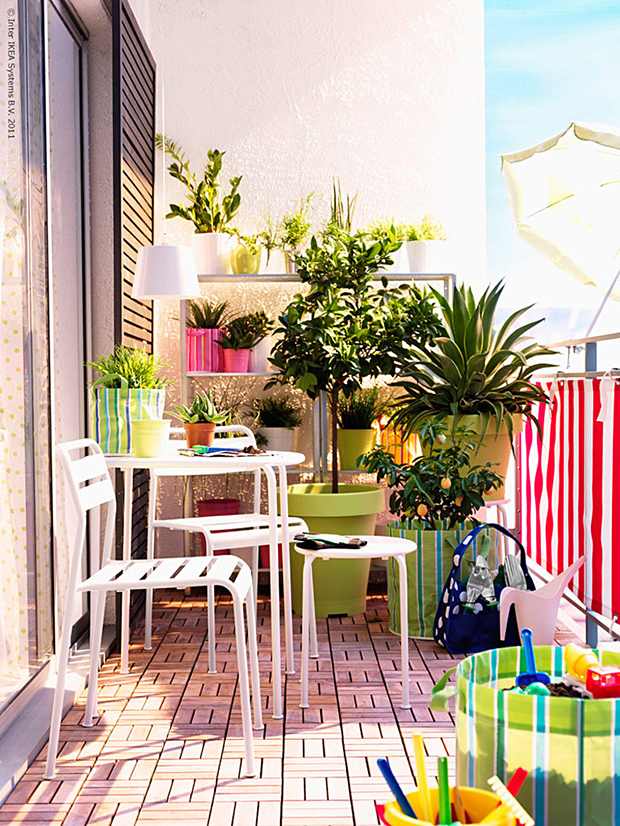 Ikea Ideas
This balcony manages to bring in vibrant colors not just with the fabric privacy screen, but also with the planter containers.
7000 at Williams Island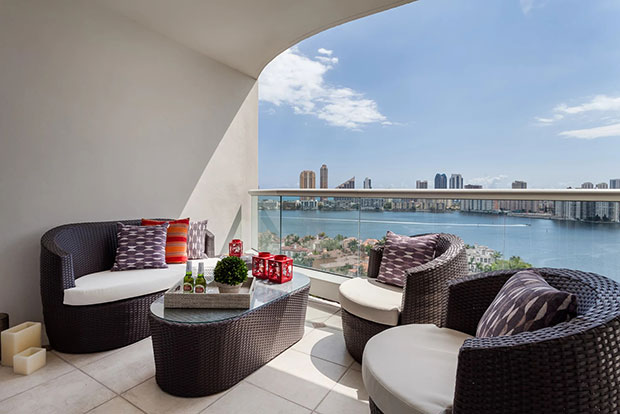 Guimar Urbina Interiors
These contemporary-styled furniture present a sleek and cool look to this balcony.
Contemporary Townhouse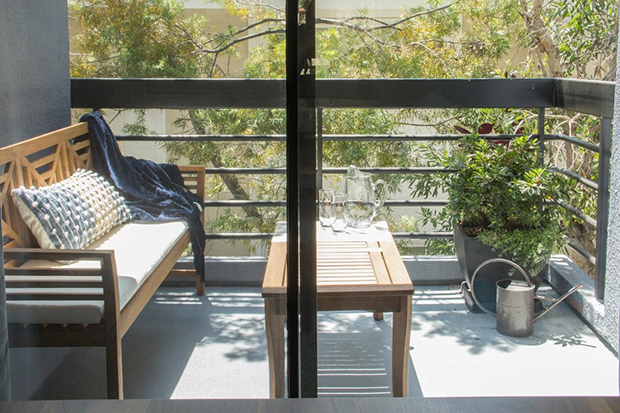 Rebecca Quandt Interiors
In this contemporary townhouse, they take a minimalist route in design their balcony. Regardless, it's sleek and cool.
Hermosa Beach Condo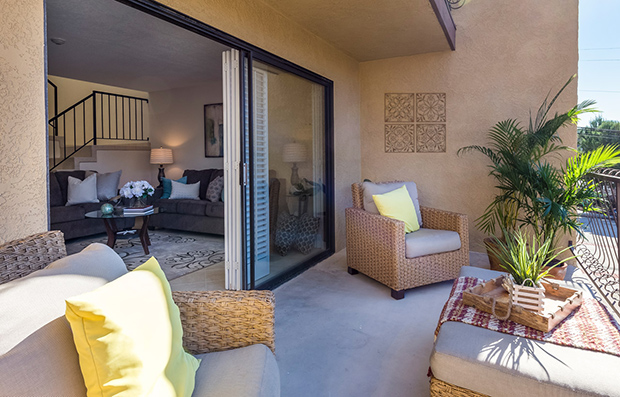 Babilon Design
The woven furniture stays consistent with the condo's color palette and theme. Interestingly, the addition of those bright yellow pillows complements but also stands out.
Midtown Condo Renovation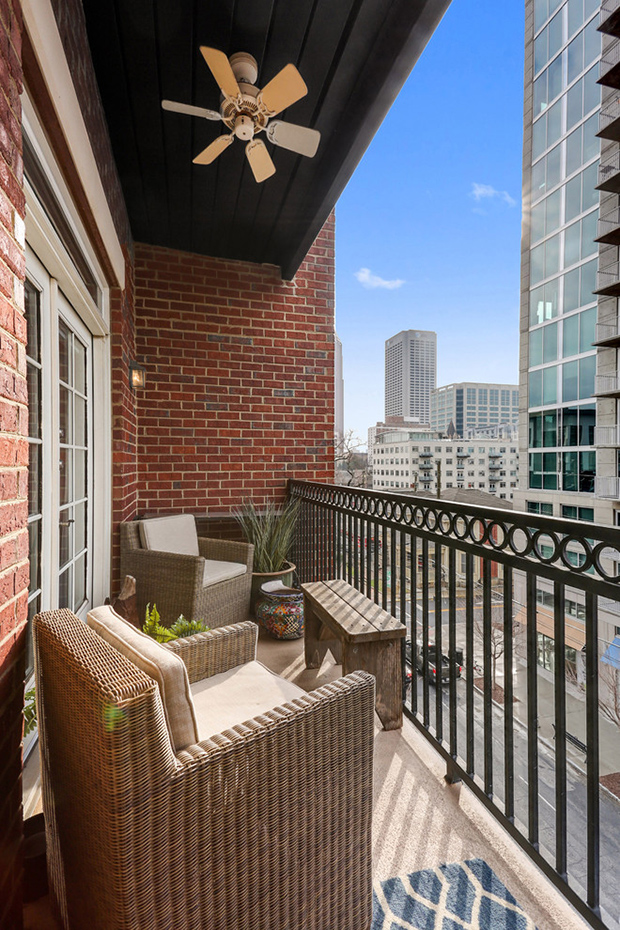 Infinite Home
The rustic style of the furniture pieces is a pretty interesting choice set against the brick wall background.
Modern Industrial Beach Home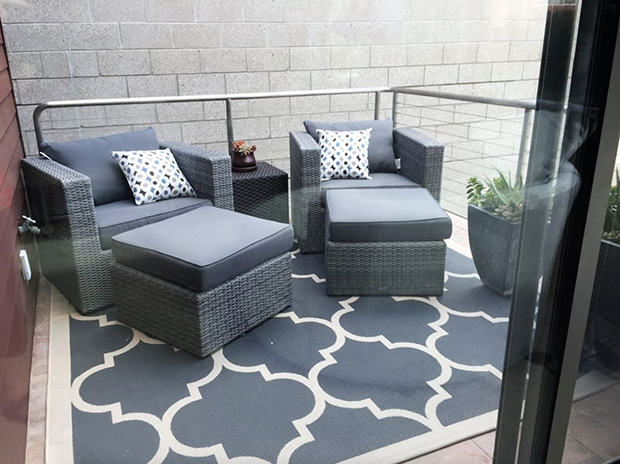 Anna Rode Designs
The black and grey color palette of this balcony furnishing makes those patterned throw pillows standout and personality.
Riverfront Penthouse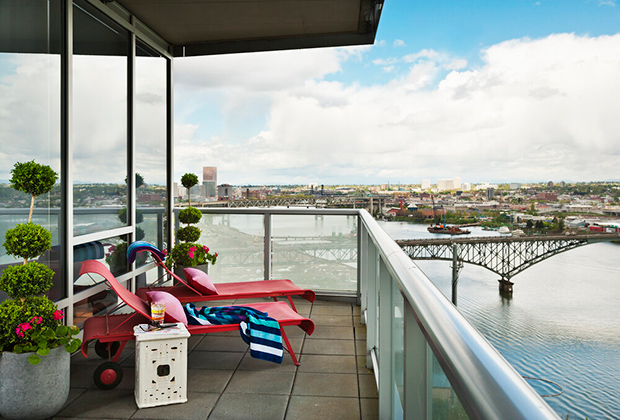 Cielo Home Design Studio
With the contemporary industrial setting of this penthouse, having those brightly colored wheeled lounge chairs is nice contrast.
Oceanfront Cottage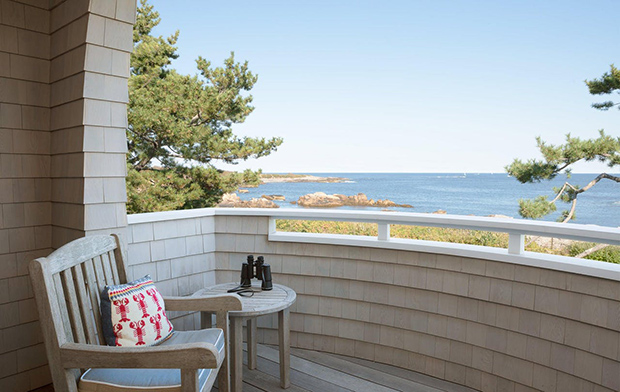 Whitten Architects
The rustic cottage style is evident in this balcony too. But the addition of the lobster print throw pillow is really cool and witty, especially with the home location.
Duboce Triangle Deck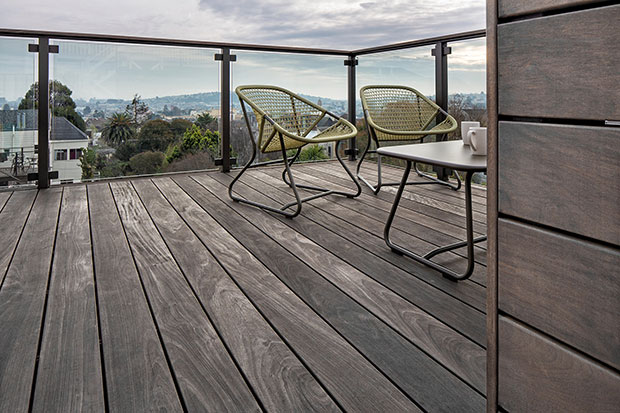 Claudio Martonffy Design
Small and lightweight furniture pieces that could be easily moved in and out of the balcony are the way to be, especially for balconies that do not have awning.
San Francisco Modern Flip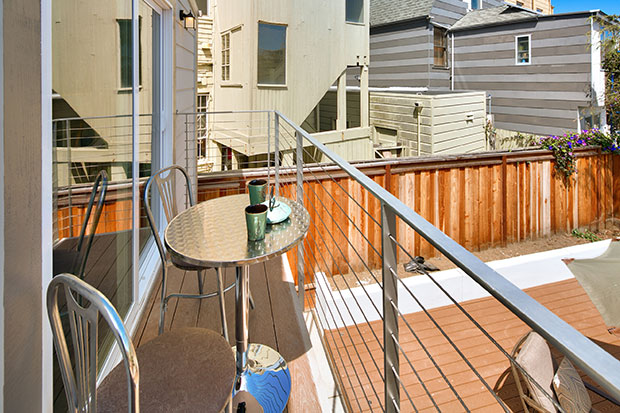 Chic Home Interiors
For a balcony that's extremely narrow, placing bistro-style tables and chairs is perfect. These ones even match with the balcony design style.
Manhattan Beach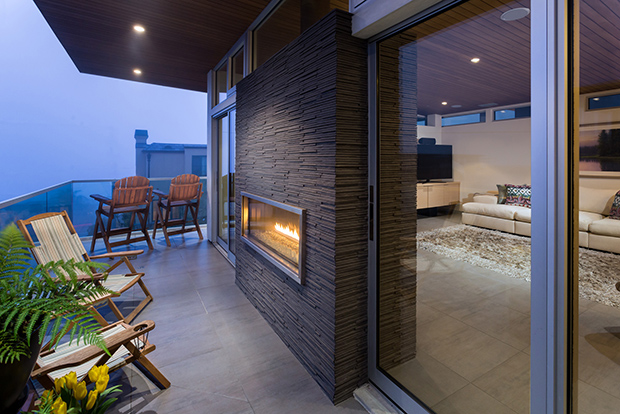 Peters Architecture
While this apartment balcony is looking luxurious with its own fireplace, the folding chairs are a nice contrast to the contemporary industrial look of the place.
Howland Canal No. 2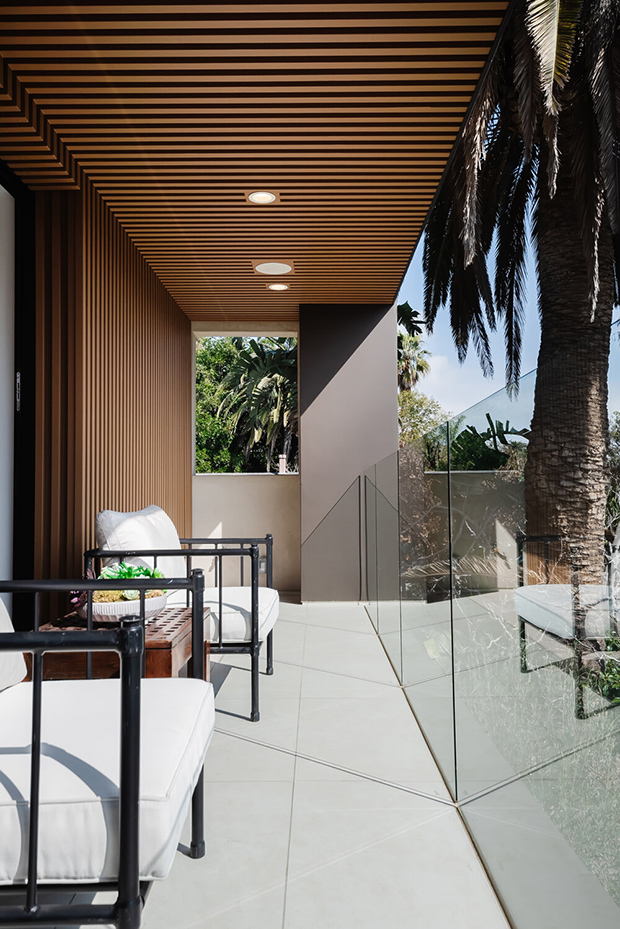 Peters Architecture
Simple, chic, and stylish. This is one of those contemporary small balcony design ideas that just straight up cater to its functionality.
Oakland Hills' Views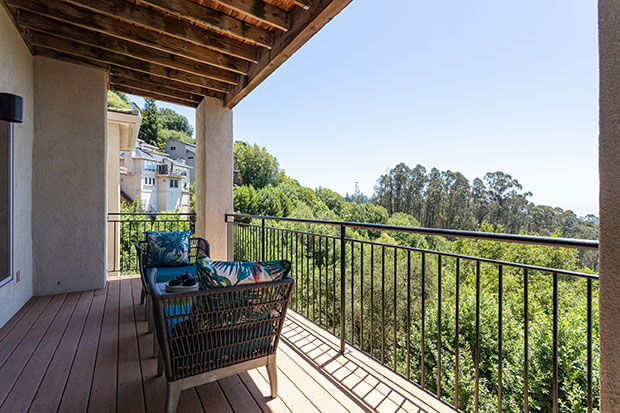 Chic Home Interiors
The seat cushion and floral-patterned throw pillows bring much needed light, life, and personality to this balcony.
Marina Palms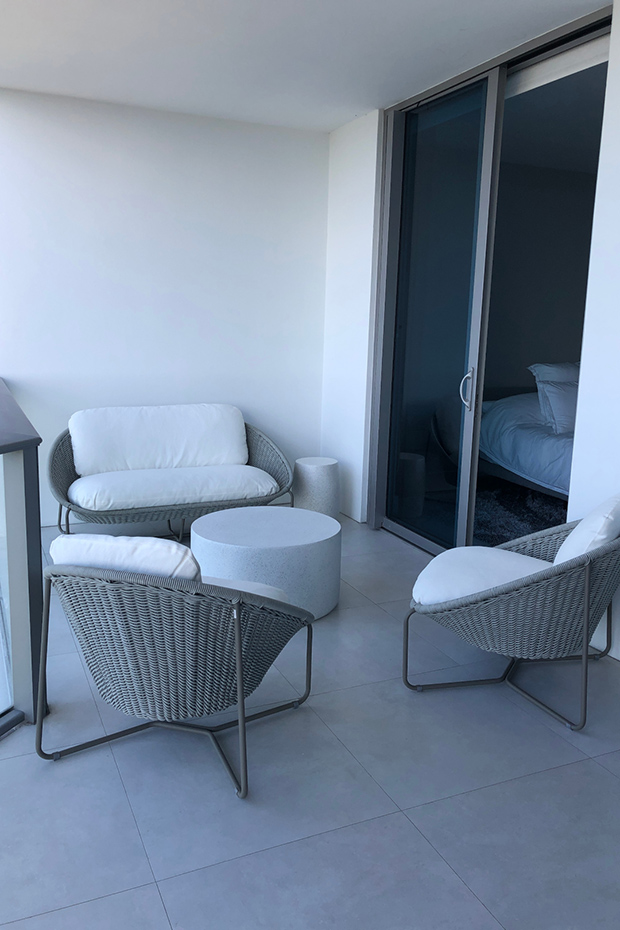 Cynthia Kriz Design
A very minimalist small balcony design idea. With it's color scheme, it offers just the right amount of chicness in addition to the furniture style.
Riverview Condo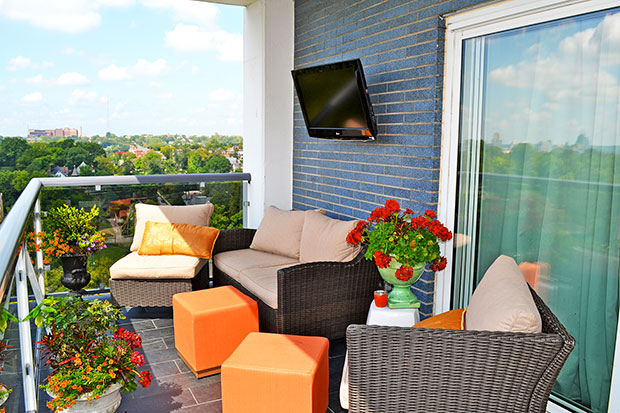 Sally L. Noble Architect
This condo balcony is just oozing with colors and personality. Those vibrant orange footstools prove to be a good complementary piece to the vibrant flowers. Also, take notice that they even installed a television in their balcony!
Flats at Upshur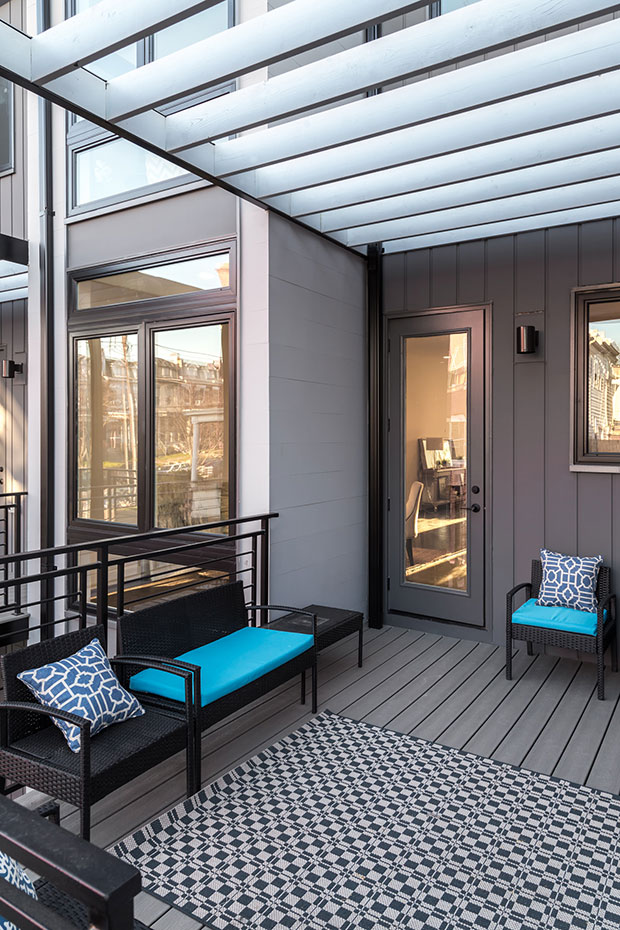 Teass\Warren Architects
To offer more space for movements, all the chairs, and even the coffee table, in this balcony are pushed to the side.
Quantum on the Bay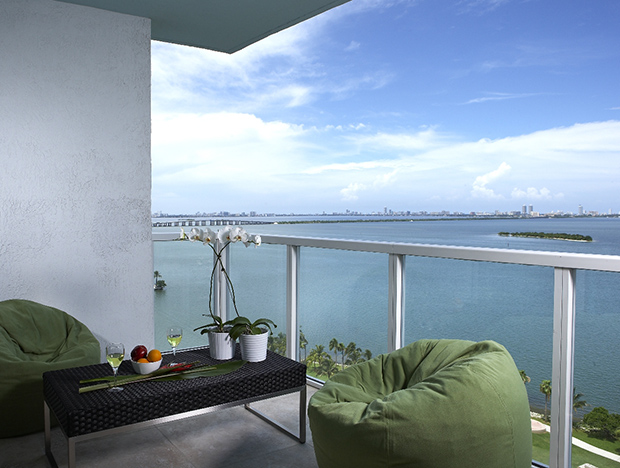 J Design Group
Instead of your regular seats, this balcony chose to have bean bags instead for seating options.
Zalanta 212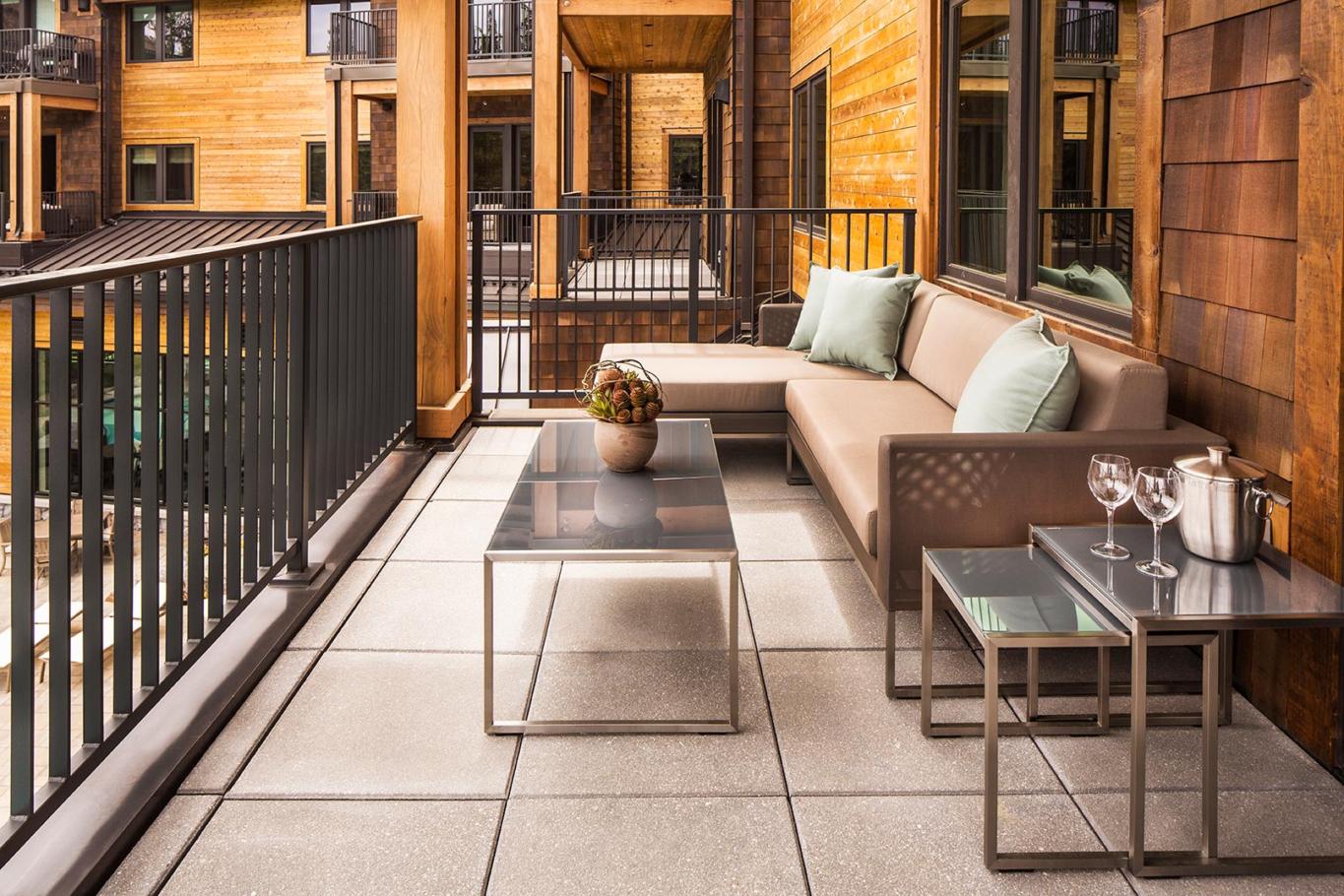 Talie Jane Interiors
Despite the space, the homeowners to this place were able to make their balcony look like a living room with that couch and coffee table.
Long Island City Apartment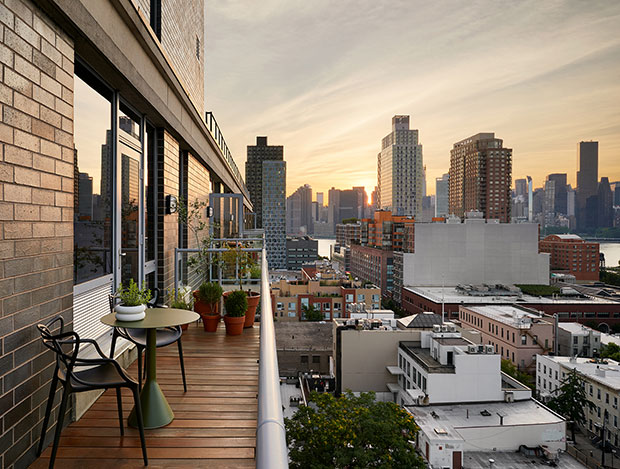 STADTArchitecture
Once again, another small balcony design ideas that opts for bistro-style chairs and table.
Zalanta 214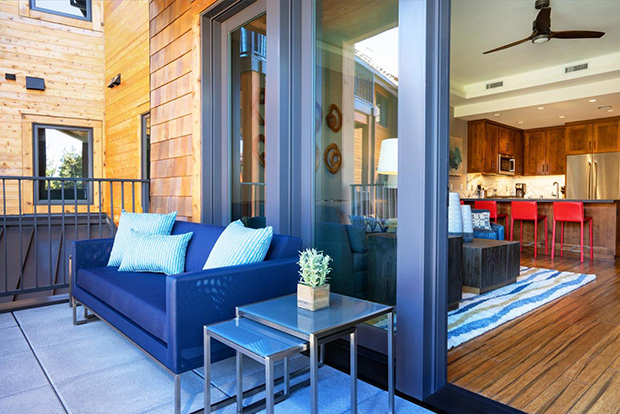 Talie Jane Interiors
The striking blue couch is definitely an eye-catching piece on this balcony.
White Plains Apartment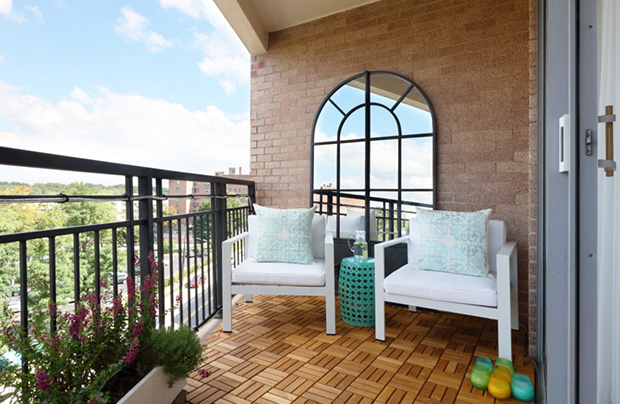 Luminosus Designs
Of the small balcony design ideas with unique pieces, at this apartment they put up a mirror on the wall. It may be a strange design choice, but it adds a little pop to the whole place.
Lakewood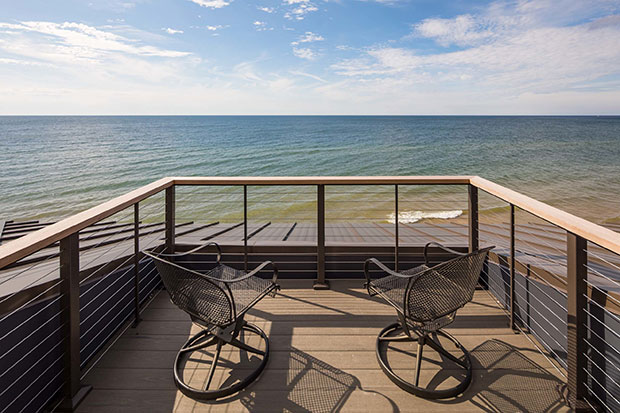 Visbeen Architects
In this home, this balcony is solely for having a relaxing view of the sea. With its size being comparable to that of a standing balcony, having swivel chairs is a good choice.
Spectacular Secluded Resort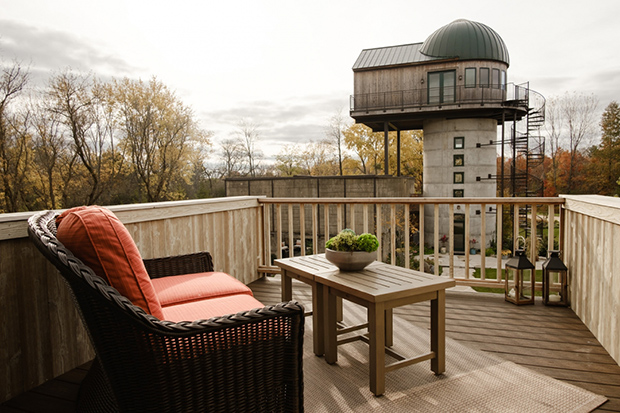 Interior Enhancement Group
With that view and backdrop, somehow the furniture choices add into that eerie yet stylish feeling.
Essex Custom Home Construction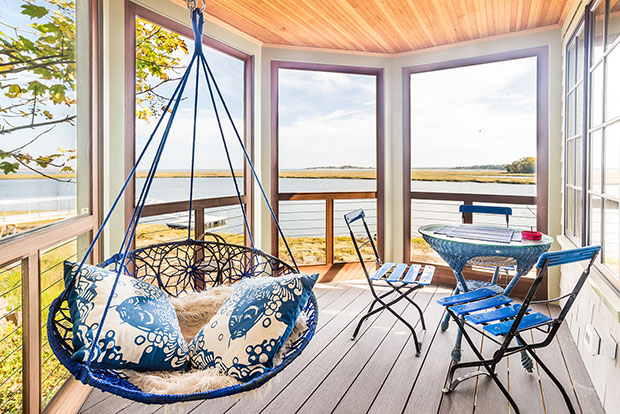 Curran & Sons Construction, Inc.
Another enclosed balcony to take a look at! With the huge windows, it offers a scenic view of the landscape. Not to mention, such design allows the installation of this swing.
So, what do you think of these small balcony design ideas? Did any of these inspire you to go out and restyle your own balcony?
Like This Post? Pin It!