50 Fun and Extraordinary Game Room Ideas for Gamers
|
With the rise of online games, come to the clamor for fun and exciting game room ideas to be incorporated into a house.
Game rooms are a section of space in a home dedicated to playing games, relaxing, and even entertaining guests. It is often equipped with lots of entertainment options and is decorated differently to attract household members to unwind.
While it is not a requirement to have separated from the rest of the house, a game room is mostly desired to be in a separate room. So as not to disturb others and for the member to enjoy it exclusively.
Before, game rooms can include indoor sports equipment such as a billiard table, foosball, maybe even a climbing wall, or a basketball court (if with enough floor space). Now, however, game rooms can be spaces with computers, a VR set, or a set of video games too.
In this article, we will look at various game room ideas for gamers who enjoy a bit of space to play their favorite video or online games.
How To Convert a Room Into A Gaming Room?
In truth, there is no step-by-step process on how to convert a room into a gaming room. The main key here is to simply fill it with amazing and entertaining stuff that will make you and the rest of the family (and even your guests) coming back for more.
As a guideline, below are some amazing tips on how to turn a room into a gaming room:
1. Create a versatile room. A game room doesn't have to have one set of games or pieces of equipment. As a rule, make it as versatile as possible. Put in a lot of stuff (games and other entertainment items) there.
2. Choose a theme. What is fun about game rooms is that you can make it to any theme you want. You can select whatever theme you enjoy the most and put it there. Game rooms are for fun so make it so.
3. Put in lots of natural light and cool lighting. Your game room doesn't have to be dark and gloomy. Make it more fun by adding cool lighting and put in more natural light if you can.
4. Use built-in shelving. Game rooms need stuff – a lot of stuff. That said, expect items that need storing and organizing. You can use built-in shelves for these.
5. Invest with great equipment. Game rooms should be made with longevity in mind. So, invest in the best options for your computer desks, speakers, and monitors.
How Much Does It Cost To Build A Game Room?
When you decorate a room, expect costs to differ from one home to another. The same is true for game rooms.
If you really want to look for cost-effective game room ideas, look for the best game room accessories that will be efficient and long-lasting. Your budget will be your basis when putting up a game room, and often, you can even DIY some stuff inside like your shelvings and even the painting of your room or decorating your walls.
On average, your gaming setup can cost approximately $1000-3000. Remember to check reviews first when your budget is tight to make sure that you have got the best deals.
Game Room Ideas for Inspiration
If you are ready to invest in a game room, below are some game room ideas that will definitely inspire you!
Video Game Lovers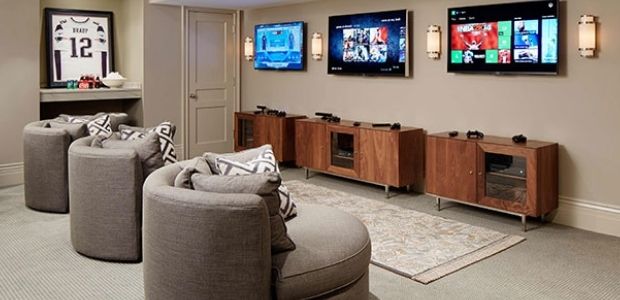 Soucie Horner
This game room idea is perfect for those who love video and online games and love to play them with friends. There is also an area for snacks and drinks.
Dream PC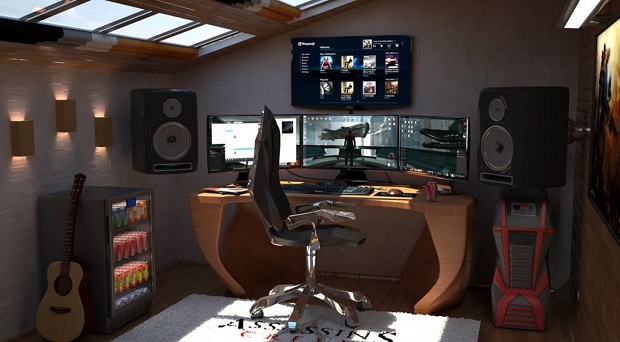 Don Pedro Home Design
Gamers will love these cool game room ideas with their speakers and triple monitor screens for a better gaming experience. There is also cold drink storage at the side for beverage.
Street Art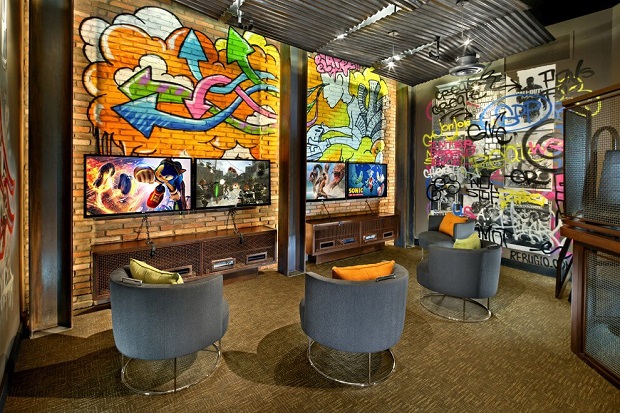 Randy Smith Photo
The edgy and unique design of this game room is utterly relaxing and very playful. It also has a high ceiling and bright lights that will surely keep you awake and playing all day.
Cinema-Like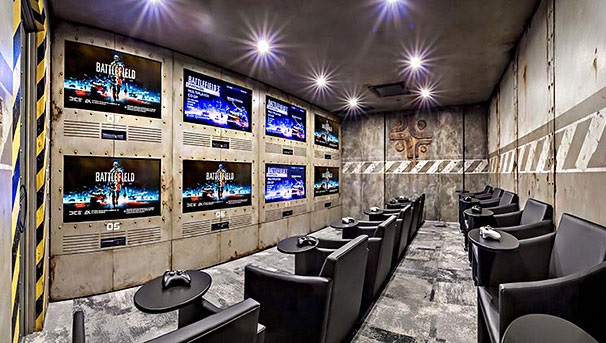 K&W Audio
These epic game room ideas are filled with big screens and leather-seat for gamers to convene together. The rugged look of this room looks futuristic.
Small Game Room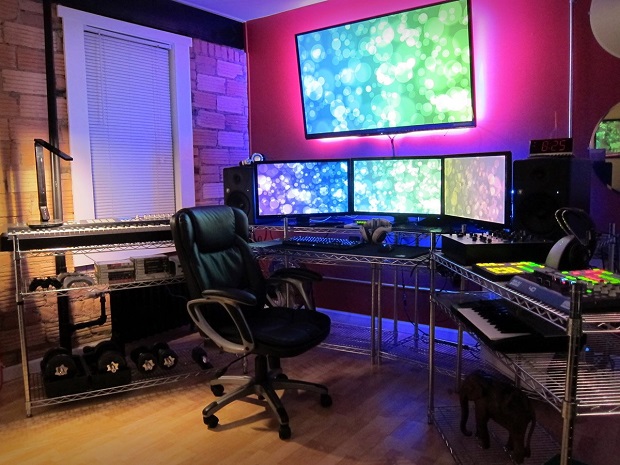 Locker Dome
These game room ideas are perfect for small spaces with their stainless desks/ shelves. There are also other stuff inside the room for exercising and even for music.
Zorrilla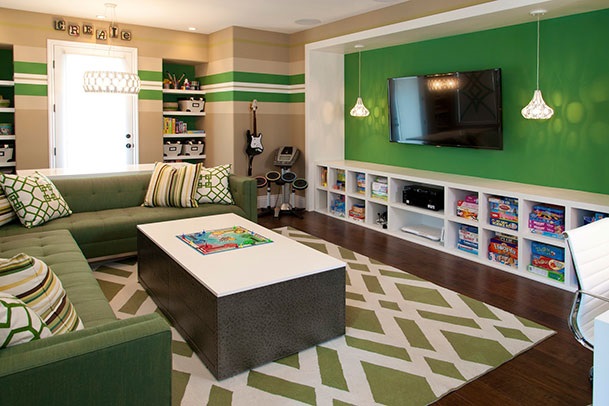 Robeson Design
The clean and green color theme of this room looks fresh and comforting. It has open-shelving for the various board and video games as well as a big TV screen for a more gaming experience.
Mario-Themed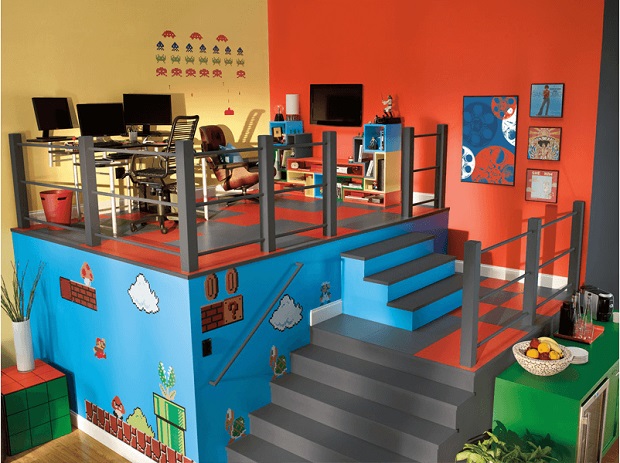 Flickr
Now this is one cool set-up for little kids and kids-at-heart. The entire game room is placed in an elevated space and is painted in bright colors.
Wide Screens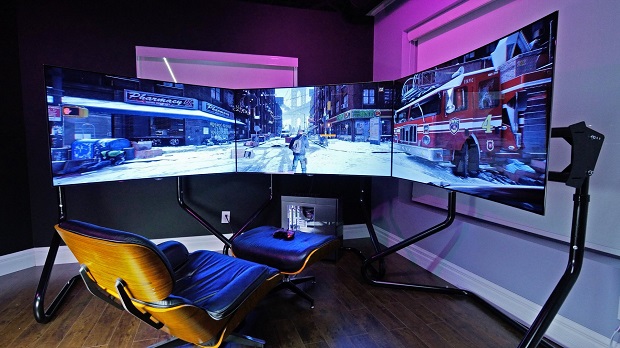 Don Pedro Home Design
For a full-immersive experience, having a large and wide screen such as this is epic. The chair is also pretty comfortable with a footrest.
Park Cities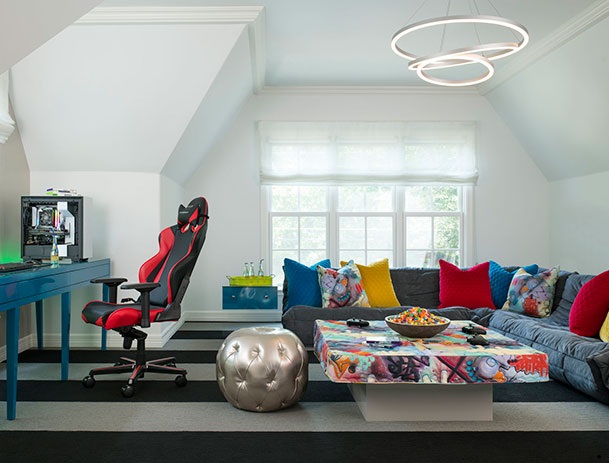 Mary Anne Smiley Interiors
This game room looks utterly relaxing and inviting with that colorful couch at the back. Notice the coffee table with its bowl of snacks.
White Room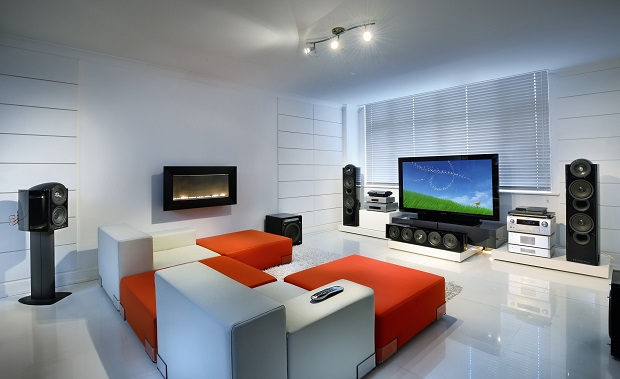 Pinterest
This white room looks elegant and very modern looking. Its modular furniture and orange couch look great. One will definitely enjoy staying here for hours!
Sci-Fi Theme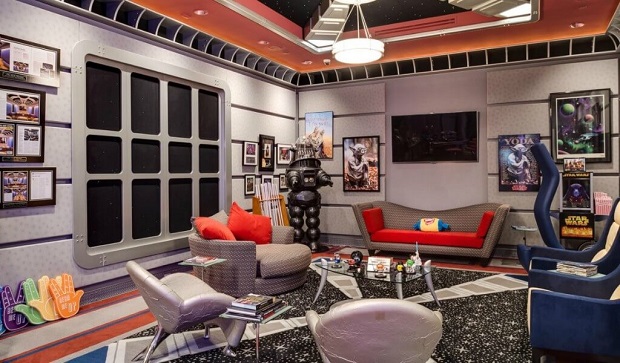 Pinterest
Love this sci-fi-themed game room ideas with its plushy chairs and edgy decorations. There are even photos of Star Wars characters on the walls for emphasis.
Retro Vibe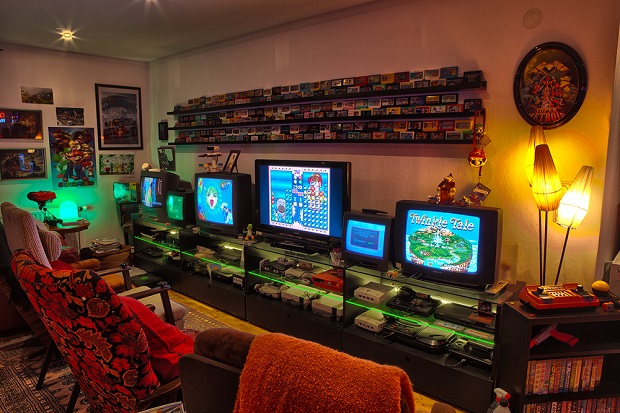 Retro Video Gaming
These game room ideas give off a retro vibe not only in design and in the layout but in the decorations as well. the lamps on the side add a cozy feeling to the room.
Character-Themed Room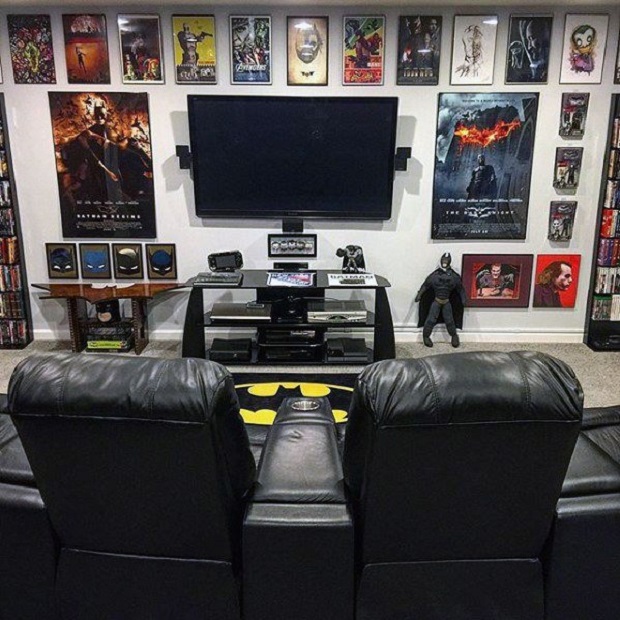 Don Pedro Home Design
Who can deny that this is a room for batman-lovers? If you love batman or any character, for that matter, these game room ideas are perfect! It has a wide collection of pictures and even collectibles inside the room.
Arcade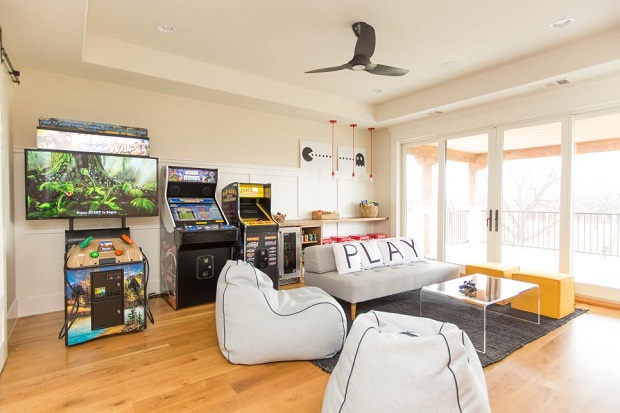 Sasha Smith
This game room has open and wide windows that let natural light in. It also has arcade machines inside and the couch with its PLAY throw pillow is inviting.
Wide Space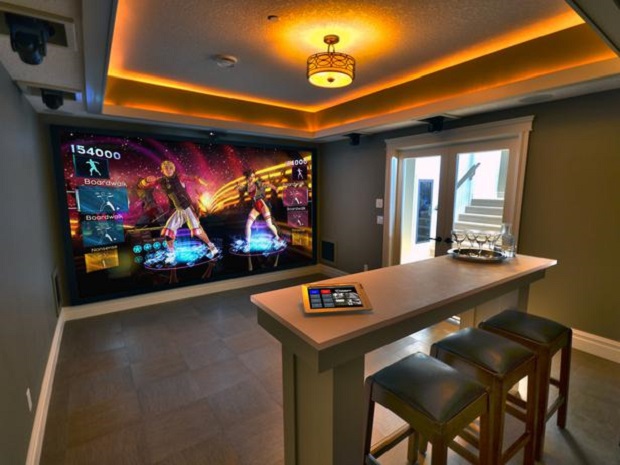 HGTV
Game rooms do not necessarily have lots of stuff inside the room. This design in particular has a big widescreen (that takes up most of the wall), 3 stools, and a table. Perfect for VR games, right?
Man Cave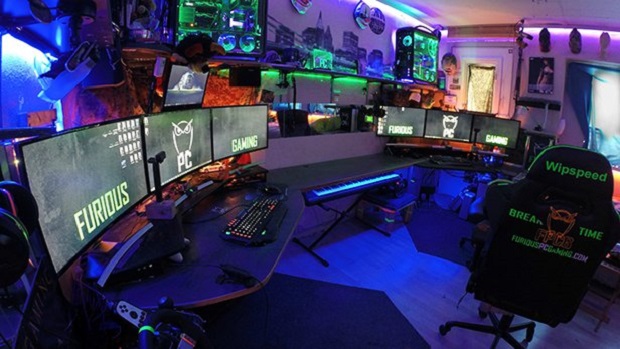 Don Pedro Home Design
Now this is one epic game room ideas with its screen and cool lights.
Pacman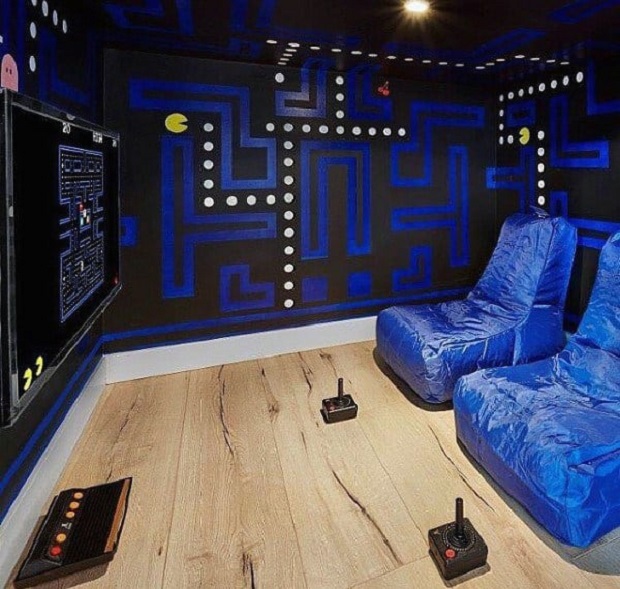 Net Luxury
Pacman-lovers will enjoy this Pacman-themed game room with its cute walls and comfy blue chairs.
Space Theme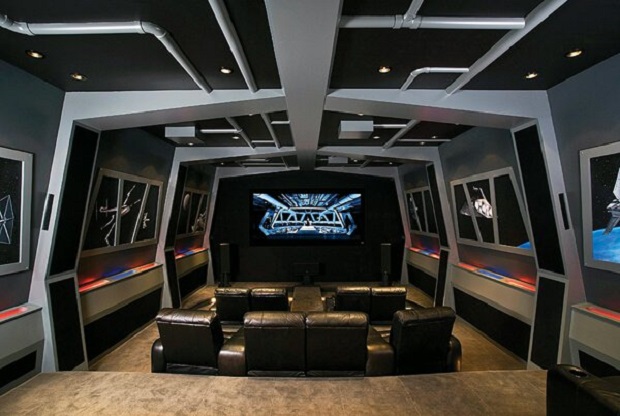 Pinterest
Space lovers will enjoy these space-themed game room ideas. The designer has designed the room in such a way that makes you feel like you are in a spaceship.
Lindon Estate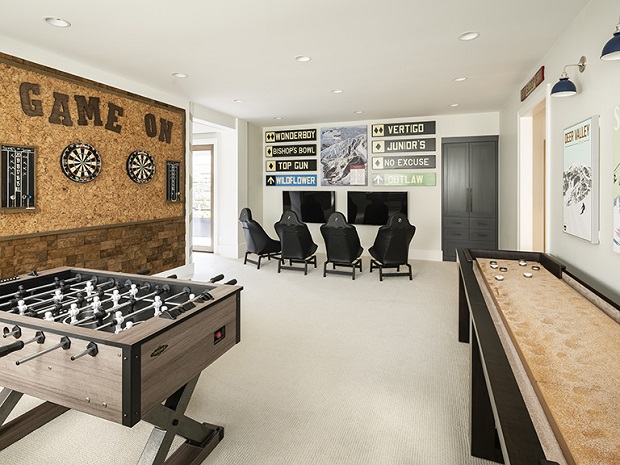 Magleby Construction
This luxury estate has a clean and elegant game room. Notice that aside from the comfortable gaming chairs and wide screens on the side, the room also has other game pieces of equipment for everyone.
Modern Game Room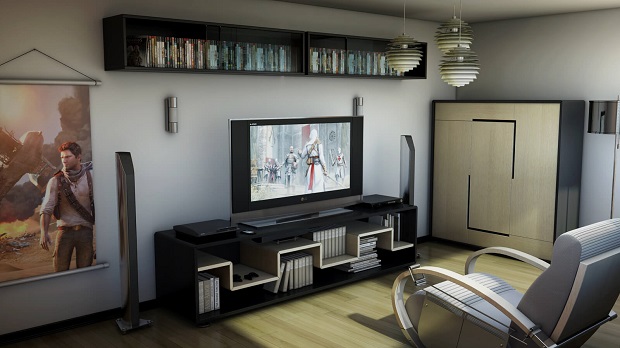 Millenium
The modern and clean design of this game room looks appealing. There are multiple storage areas here too and that chair at the center looks very inviting.
Aficionado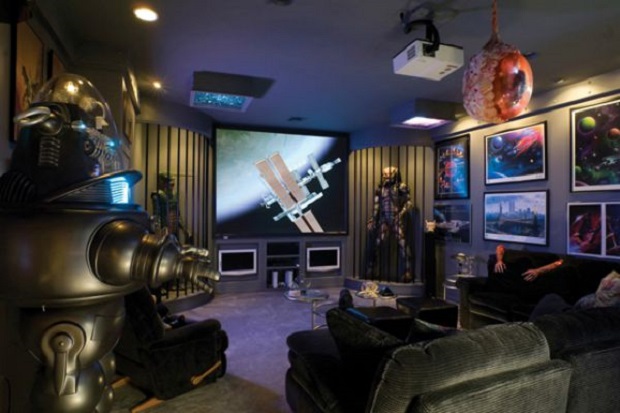 Distractify
Another sci-fi-themed game room ideas is this featured room. The room has life-size sculptures and cool decorations around it.
Basement Entertainment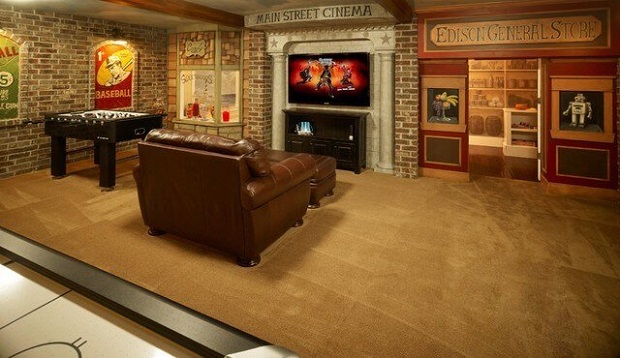 Pinterest
Decorated with earth-tones, this game room ideas look homey and adds an outdoorsy feel to it, even though the room is in the basement. The walls are also painted/ designed to look like a pub.
Small Living Room Set-Up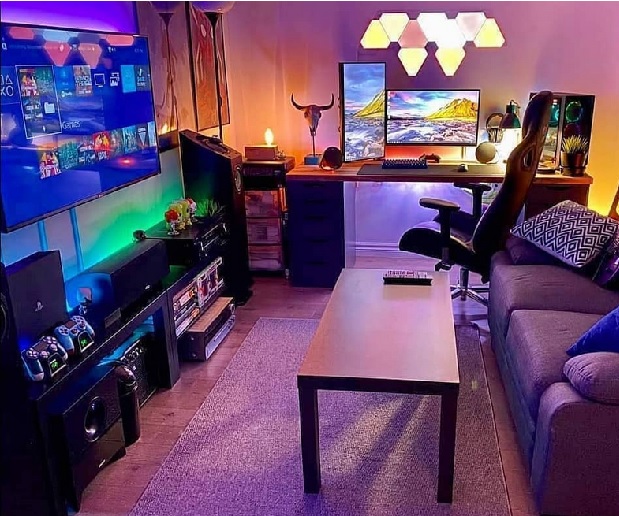 Setup Asylum
This game room is incorporated with the living room. Notice how the designer added some cool lights and gaming decorations to make it like a game room.
Collectibles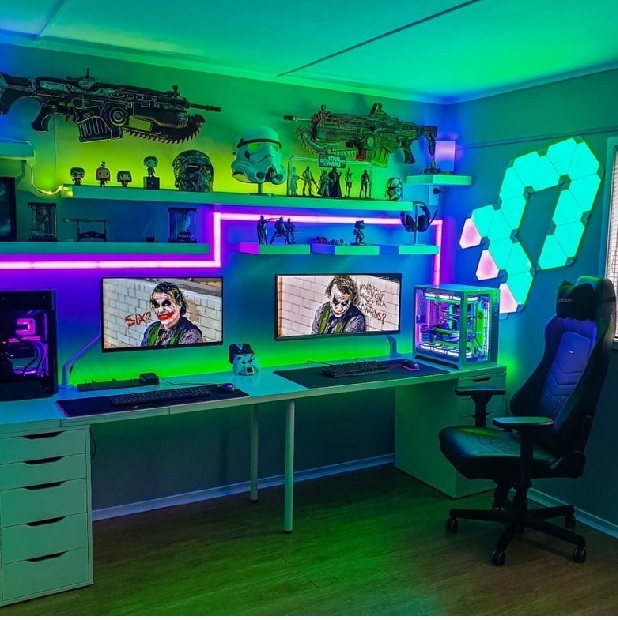 5 Percent Gamer
If you have some cool collections, like this one, displaying them is a great thing. The room is set-up for 2 players with 2 separate computers.
Elegant Game Room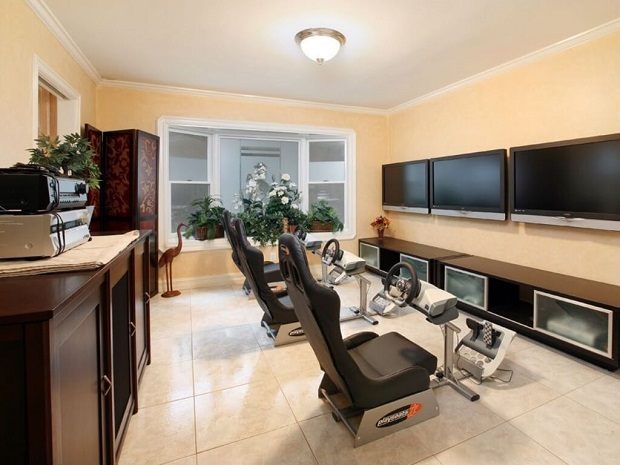 Pinterest
If you think game rooms can never be elegant, you are mistaken. This game room idea has a beautifully furnished interior design. It even has a bird sculpture on the side with large plants for a fresher look.
Attic Game Room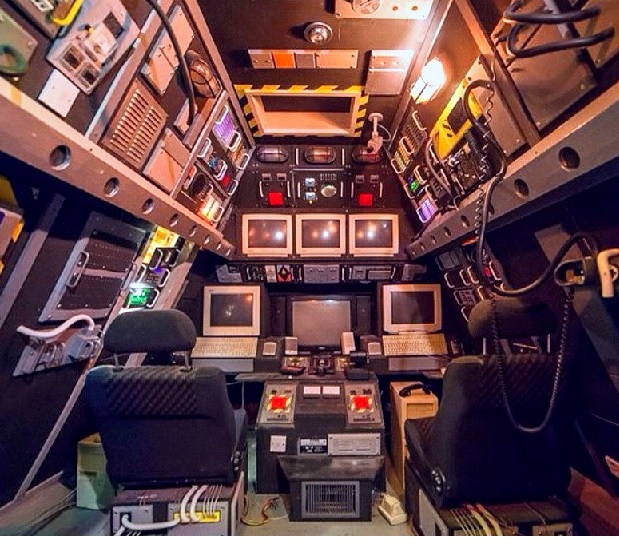 Lock Woodx
The computer might be old-fashioned, but the concept of this game room is fantastic. This is an attic that has been transformed into a space-ship-themed room.
Nindtendo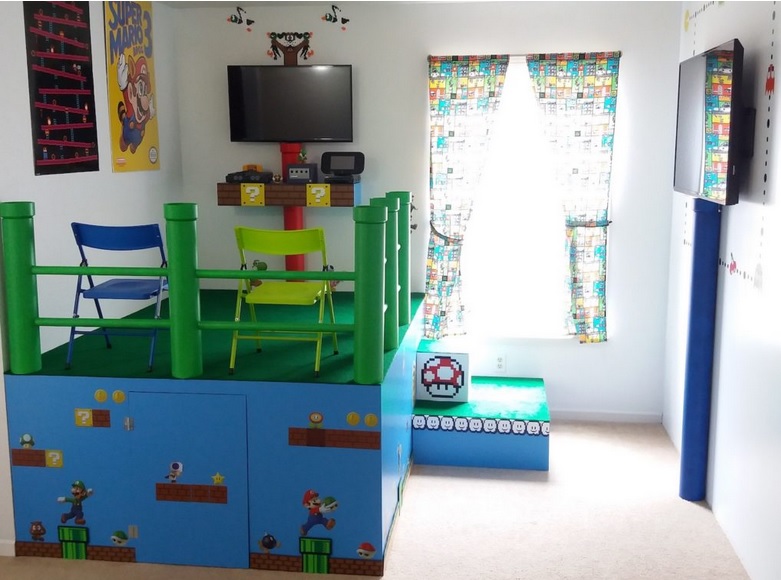 JOCO2012
Now this is one creative game room idea with the theme of Nintendo. Notice how the owner went all-out and even had a Nintendo-themed curtain.
Black and White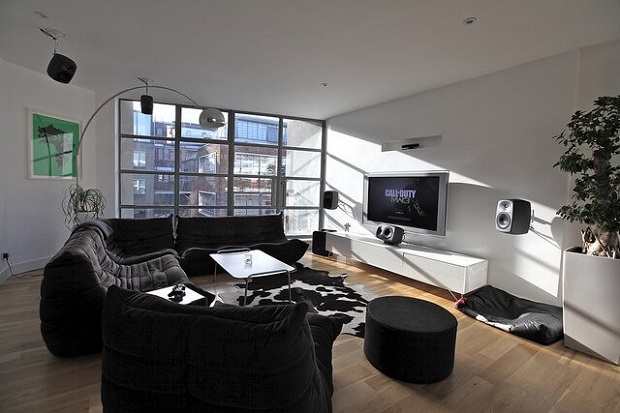 Flickr
This game room idea has lots of natural lighting with its wide-open windows. It also has comfortable plush chairs to make the game a lot of fun.
Amplified Sound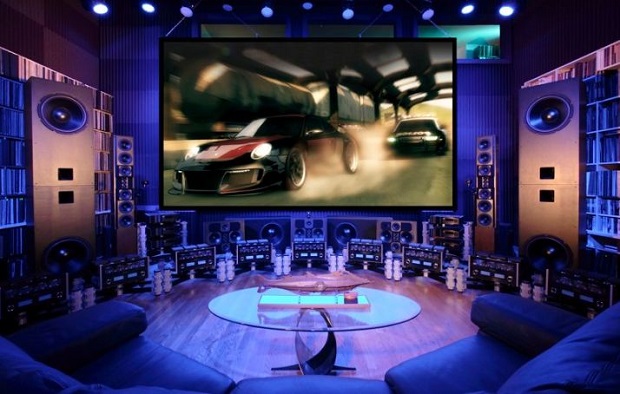 CREDIT
For a better playing experience, investing in a good sound system is a great option. This game room idea had several speakers inside and is accompanied by cool lights.
Blue Room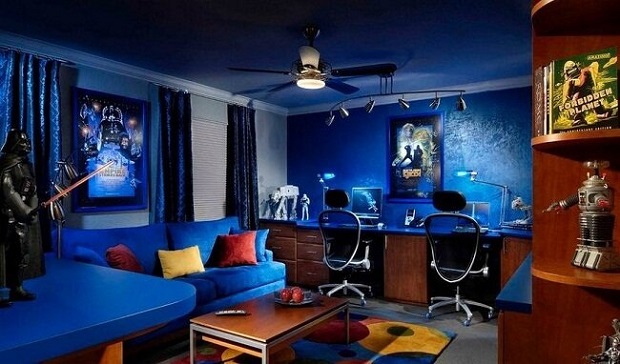 Decoist
The blue color of this room adds a sci-fi vibe to space. Notice the fun collectibles around the room which you can also add to your game room.
Storm Trooper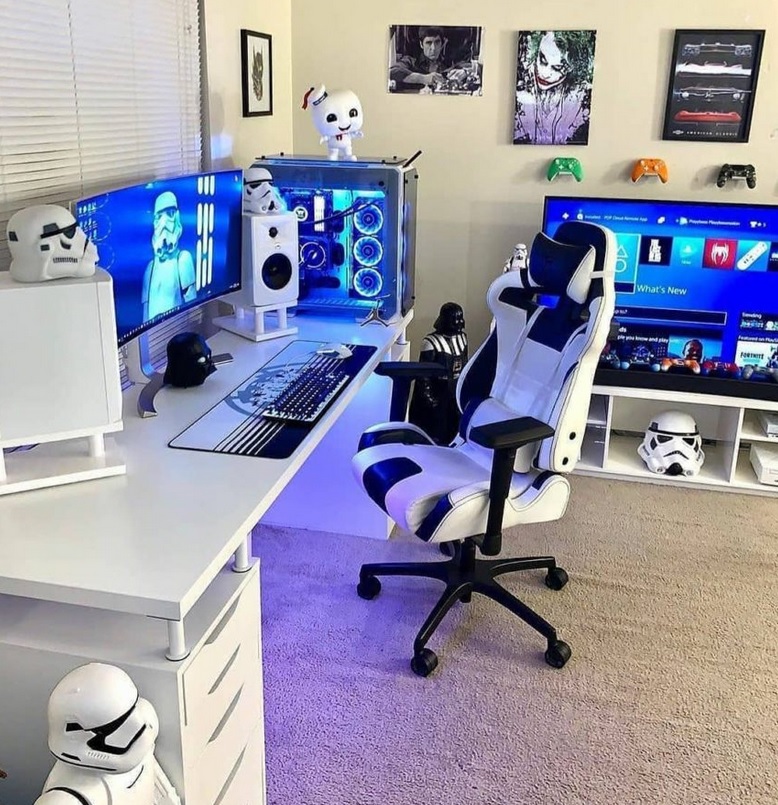 Level Up Gaming Tech
Storm-trooper fans will love this storm trooper-themed game room. The white color makes the room relaxing and inviting.
Modern Room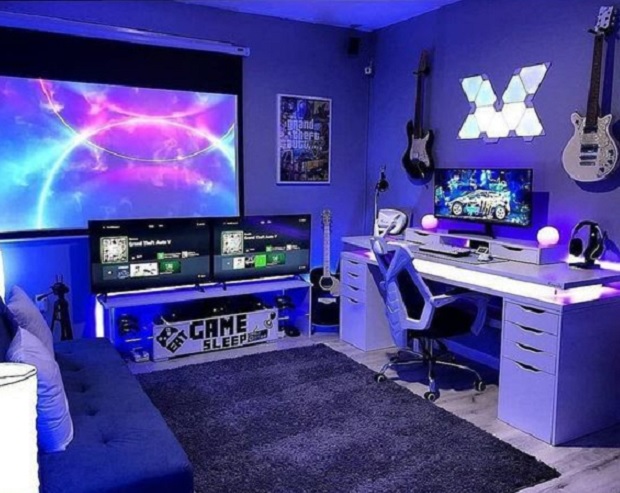 The Technology
This gaming room features multiple screens and a comfortable couch to sit in or lie down. The lighting is also cool and futuristic.
Neon Lighting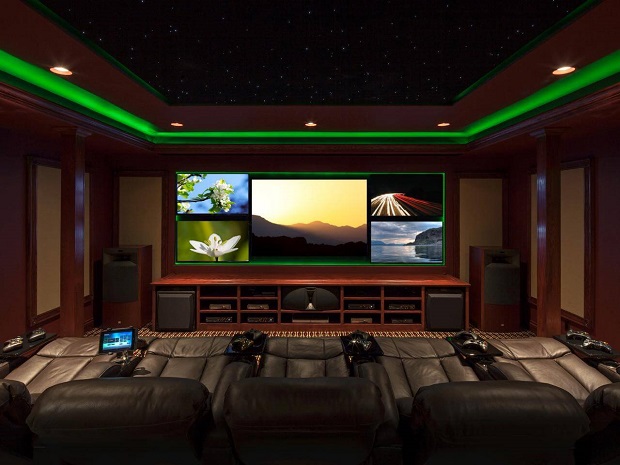 Pinterest
This gaming room has a cinema vibe that will make you want to stay in for hours, sitting comfortably on those reclining chairs. Look at that ceiling with the stars. Pretty great, huh?
Futuristic Gaming Room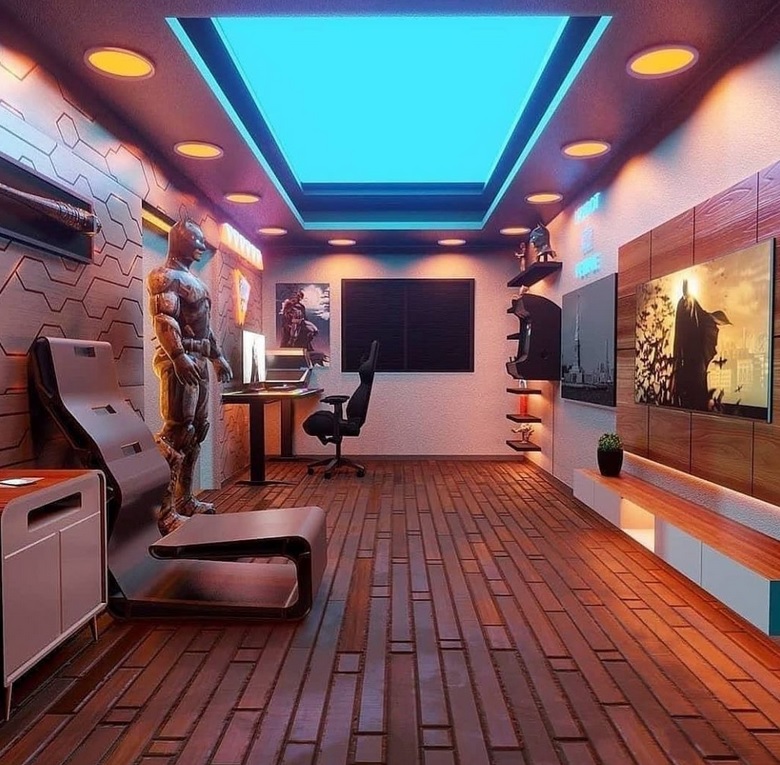 Level Up Gaming Tech
Another batman-themed gaming room idea is shown here, with an even more modern and futuristic design. The room looks like a place that batman will love to stay in!
Video Game Haven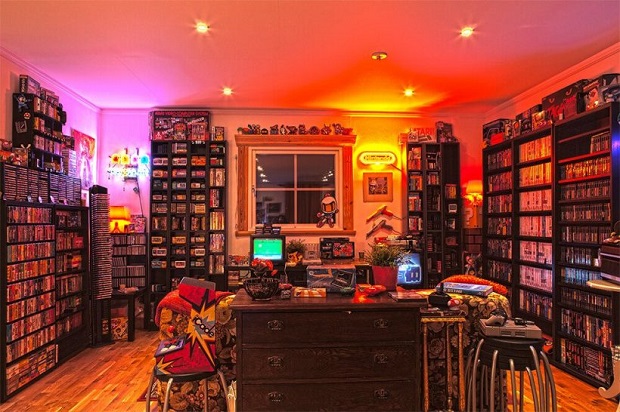 Retro Video Gaming
Now this game room ideas is like a home library design minus the book and adding the video games.
Four Monitors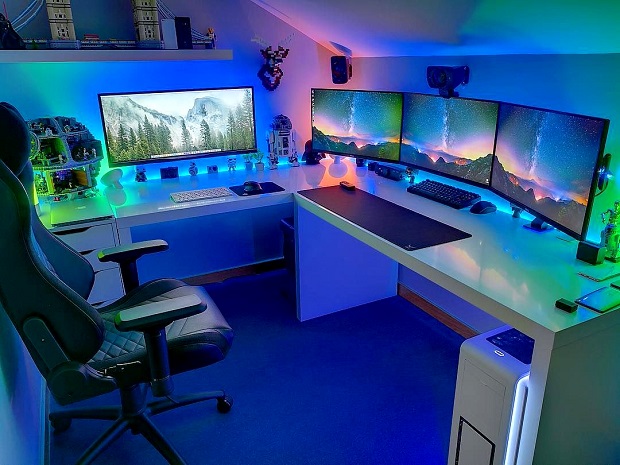 Akpad
The owner here has placed 4 monitors together on a large desk. The area is not too crowded and looks great with the decorations arranged on the table.
Toys and Game Collection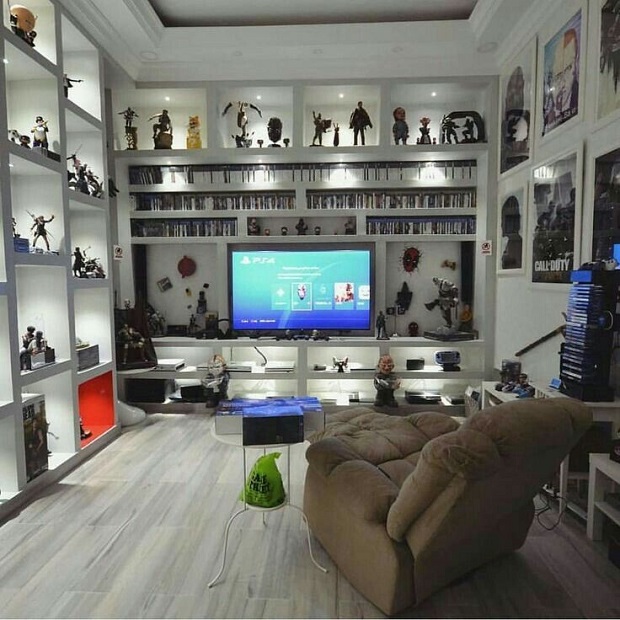 Showcase your collections of games and collectibles just like this awesome game room. The recliner chair is quite inviting too!
Rock Star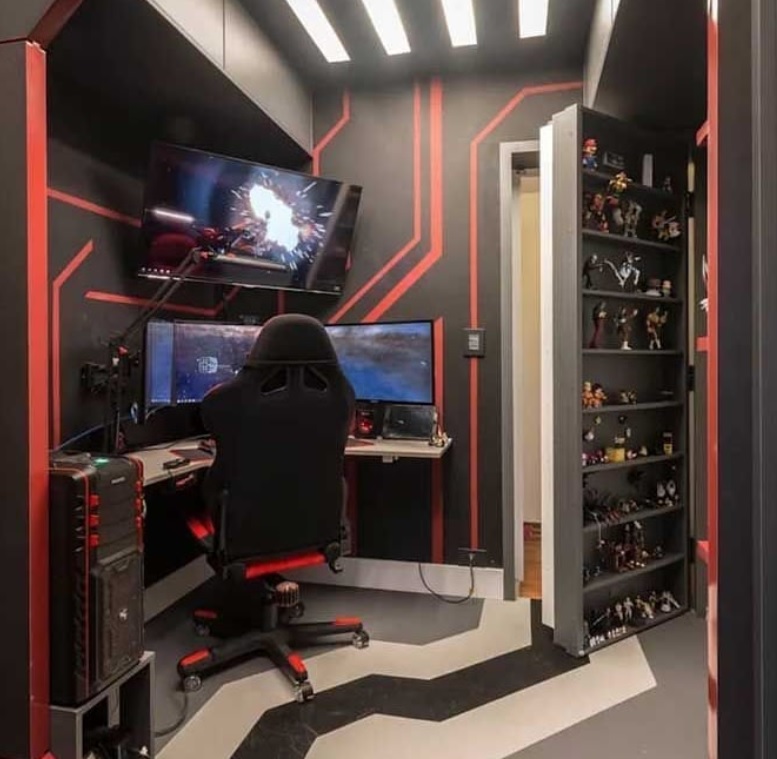 Creasete
This rock star setup is perfect for small gaming rooms. The design is quite futuristic and the owner even placed a built-in shelve on the door for collectibles.
Loft Game Room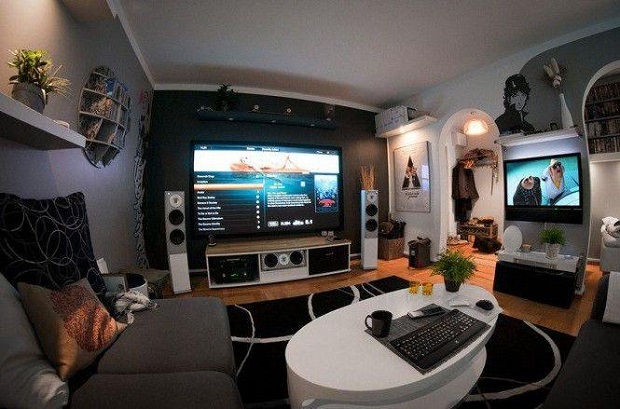 Don Pedro Home Design
This loft has all sorts of fun equipment for gaming including huge speakers, a comfortable chair, and fun decorative elements.
Bedroom Game Space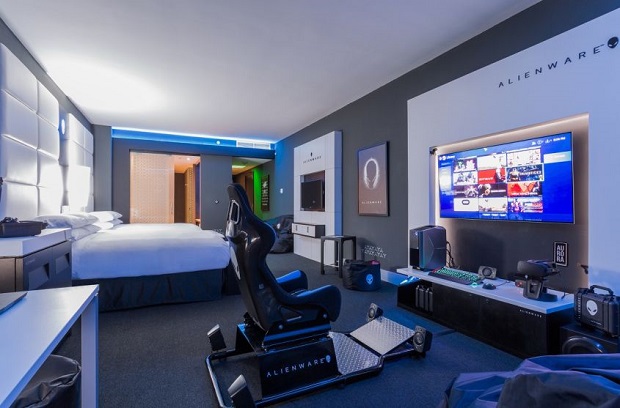 Arkpad
This is a bedroom with a gaming space in the corner. The gaming chair is quite amazing as well as the other pieces of equipment inside.
Decorative Wall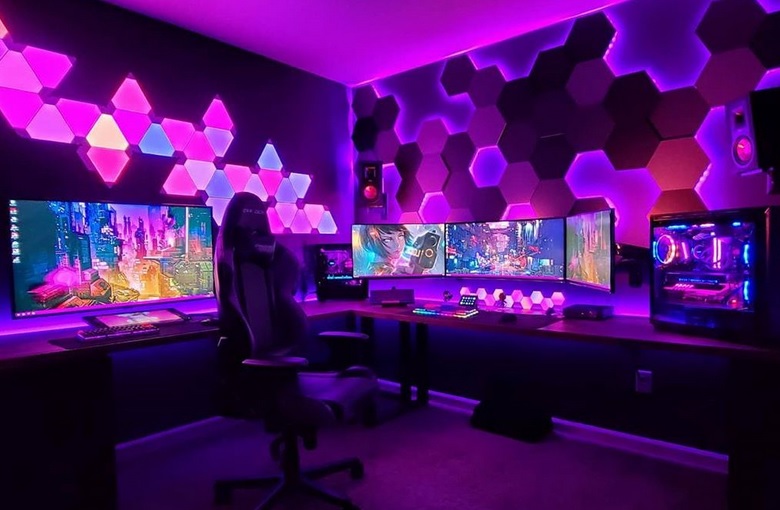 Havok Harakiri
The flashy wall in this game room ideas is quite mesmerizing to watch. It adds a cool and futuristic feel to the room.
Cool Room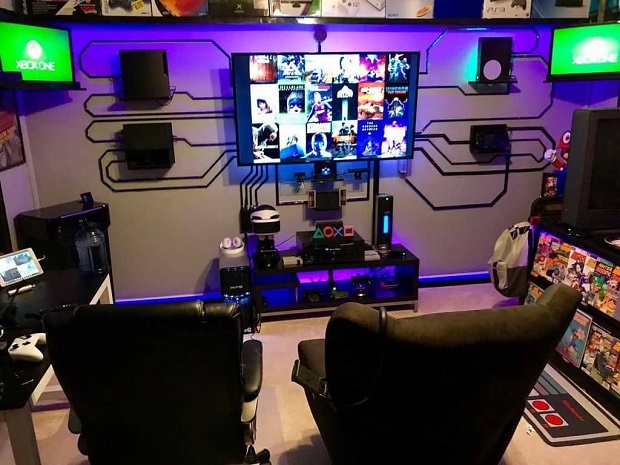 Uhappy Hipsters
This may be a small space, but it has been maximized for a great gaming experience. Notice how every inch has been decorated with fun stuff and cool gadgets.
Recording Room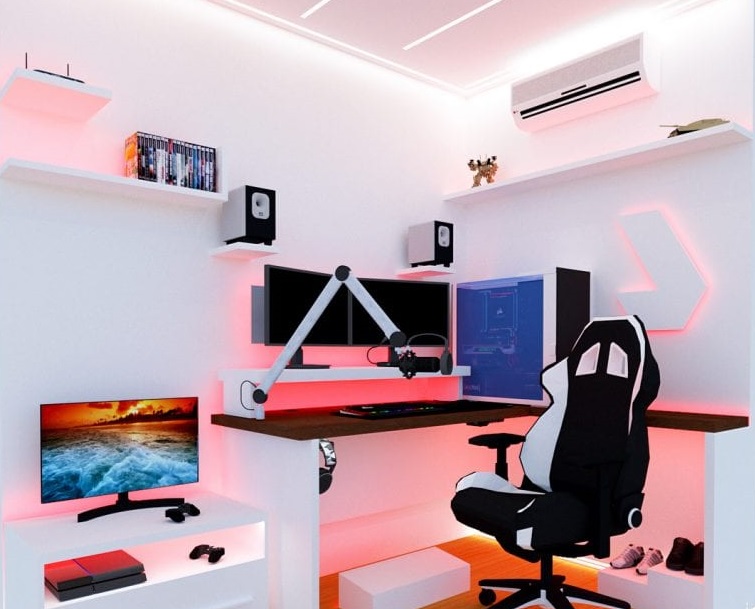 Arkpad
This room is quite relaxing with its white walls and sleek pieces of equipment inside.
Game Over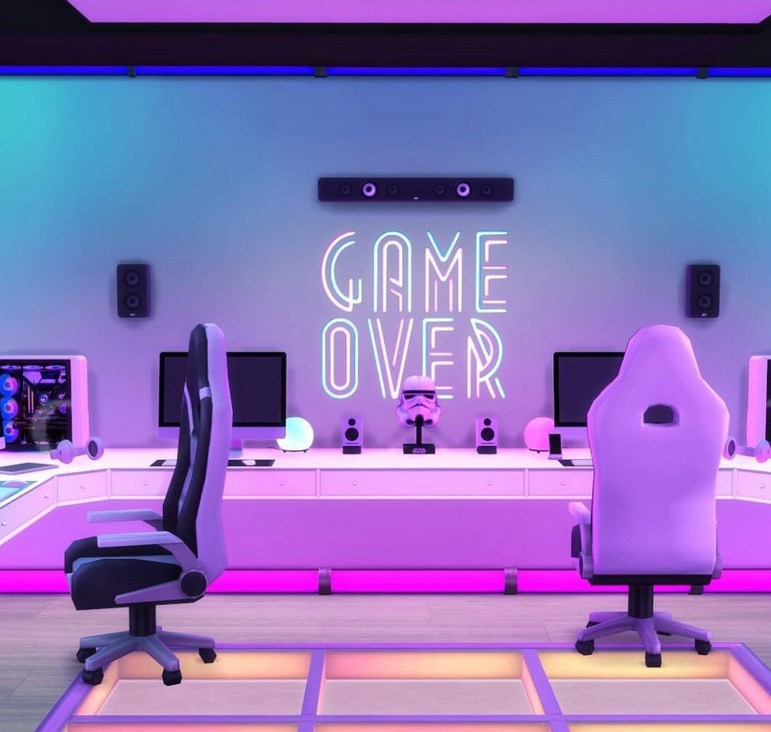 Sims Interior Design
The sleek setup of this gaming room idea is truly remarkable. The floating desk, the bright decal, and the lights make you feel as if you are in the future.
Stickers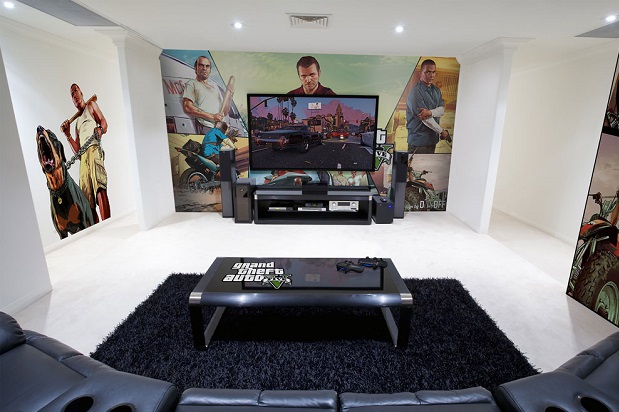 Arkpad
This game room is pretty minimalist and with its white walls and black furniture and appliances. What is pretty awesome here are the cool stickers or drawings on the wall.
Cinema Theme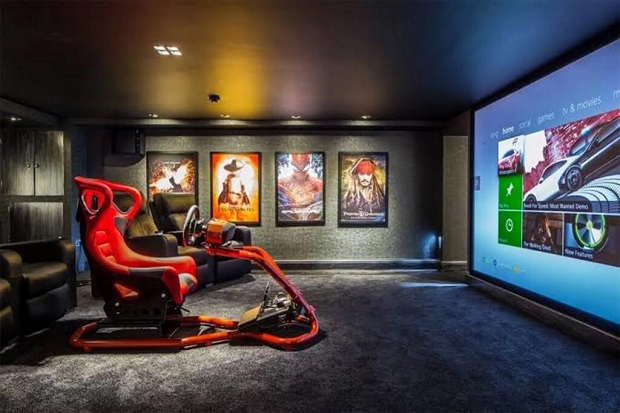 Daddy Geek
The fantastic screen and gaming chair in this room makes you feel like you are in a cinema. Notice the posters and the recliner chair. That is one awesome setup!
Neon Modern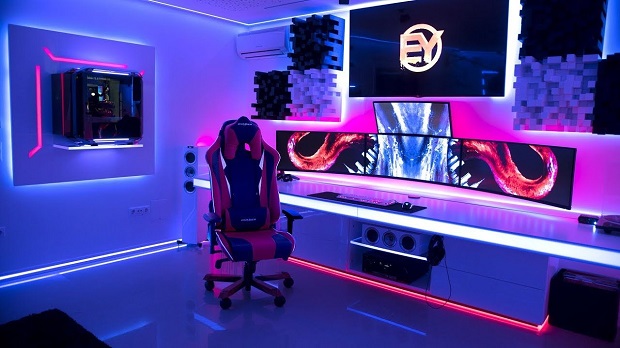 Arkpad
The cool neon lights and monitor set up in this room give you the impression of being in a control room. Notice the wall decors too. Quite cool, right?
Arcade-Themed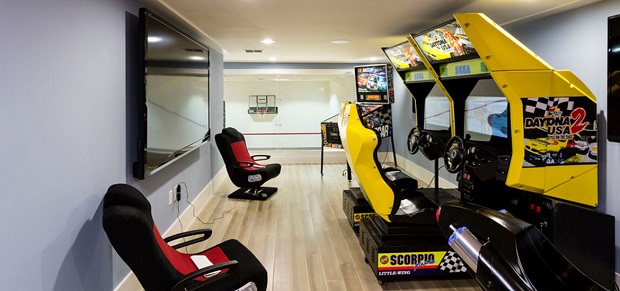 Harry Lim Photography
Another arcade-themed game room is showcased here with the huge games and big screen.
Minecraft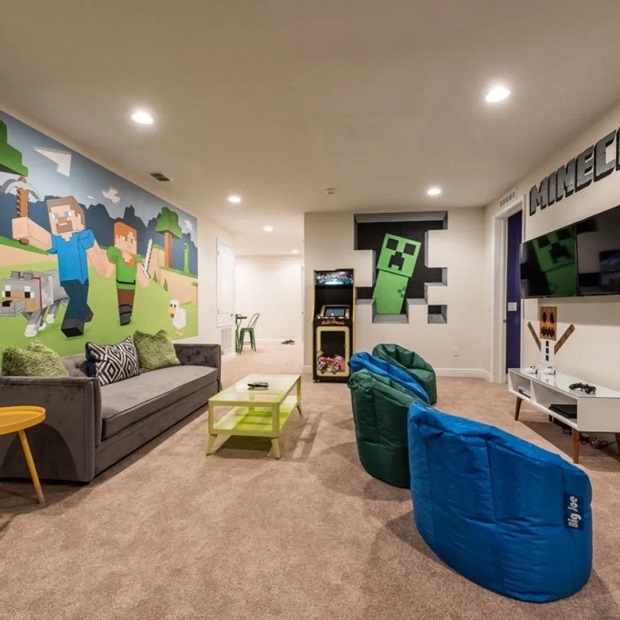 Moana Secret Getaway
If you love Minecraft, this game room idea is for you. The walls have been painted with Minecraft images and the furniture are with the same shade too.
Cool Purple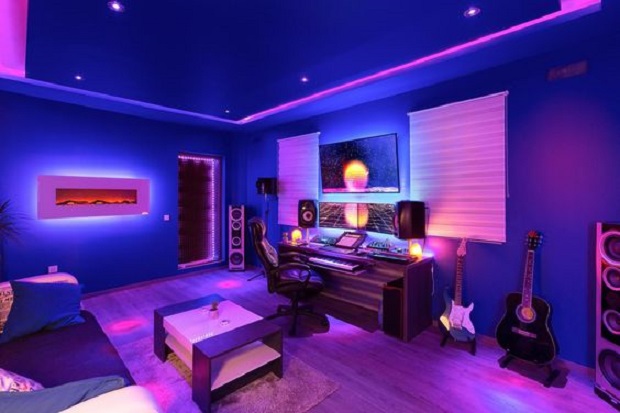 Arkpad
The cool ambiance of this room is emphasized by the awesome lights inside. The owner is clearly into music too with the guitars and speakers in it.
With proper planning, for sure, you can also set-up the best game room ideas that will fit you and your family's needs.
So… Which one is your favorite by far? Don't forget to share it with us in the comments below!
Like This Post? Pin It!