50+ Impressive Home Office Desks for People Working From Home
|
Some people love working at the office. Some love working at home. When you are working from home, your home office desks matter a lot.
When you think about it, you can sit down anywhere. At the kitchen table, the coffee table, or at the solace of your bedroom. But if you want a more productive day, home office desks can help 'A LOT'. It is easy to see that a desk is your best friend when you work in the comfort of your home.
With the innovation going on, there are a lot of desks you can buy and have in your home. But if you are one trendy homemaker and will want everything to be aesthetically pleasing, then a normal desk just won't do. If you are on the lookout for great ideas, we are showcasing some impressive home office desks that you can also have.
What Are Types of Office Desks?
Before choosing a home office desk, it is important to know what are your options.
A desk is not just a four-legged table where you can put your stuff on. It also has several key features that are only applicable to one or two activities. Hence, the need to choose properly when deciding on your home office desks is important. After all, you can't just buy any desk for the sake of buying one.
Below is a helpful guide on the types of office desks to choose from:
1. Corner/ L-Shaped Desk
These home office desks are perfect for large offices. They are perfect for people working with multiple tasks a day.
2. Executive Desk
An executive desk is the most standard desk available for the home office. This table is perfect for medium office sizes and is large enough for working on complicated tasks. The desk is also usually designed with several drawers and cabinets for storage.
3. Foldable Desk
As the name implies, a foldable desk is a temporary desk that can be moved around the house. Its surface are easily folded down into a thin piece and can be stored easily inside a closet.
4. Floating Desk
A floating desk is a desk installed directly on the wall. Because of this, floating desks have no legs and some can be folded d
5. Height Adjustable Desk
Height adjustable desks are perfect for workers who prefer an ergonomically designed work area. As the name implies, this type of desk can raise or lower a desktop depending on the user's preference.
6. Leaning/ Ladder Desk
Leaning or ladder desks are vertically-oriented that have multiple levels of storage. The desk resembles that of a ladder leaning against a wall.
7. Secretary Desk
Secretary desks are a vintage piece of furniture. They have an upper board that folds down to make a writing surface. This type of home office desk has little cubbies and drawers that can be used to store small objects.
8. Shell Desk
A shell is a three-sided desk with little-to-no-storage underneath. This type of home office desks are typically rectangular shaped and has plenty of open space at the bottom.
9. Standing Desk
Standing desks are desks that are designed with higher height. They are perfect for people who find it more productive to work while standing up.
10. Writing Desk
Compared to other home office desks, a writing desk is smaller and is meant to be used for lighter activities. This type of desk is usually made of thing rectangular writing surface and open space at the bottom. Unlike the shell desk, a writing desk has a small drawer beneath the writing surface.
How to Choose a Home Office Desk
When preparing to buy or order home office desks, it is important to choose the appropriate desk for you. It doesn't necessarily have to be the most expensive one of the most eye-catching one. Rather, it should be what fits your needs and style.
Below are some tips to help you choose from the wide array of home office desks selections.
1. Look for the best material options.
First and foremost, consider the material of the home office desks that you are considering. Remember that durability and appearance depends on how a desk is constructed. Wood decks, for example, provides a traditional and warm feeling. It is heavy, however, and is susceptible to warping.
Another are metal desks which are perfect for an industrial-themed design. Glass desks are more elegant, but can also be high-maintenance. On the one hand, laminate desks are cheaper, especially when compared to real wood, and won't suffer water or heat damage.
2. Select the appropriate shape and size for your room.
The shape and size of furniture make or break the room's layout. And this also holds true for the home office. Not to mention the ergonomic-impact on your body when using your home office desks and chair.
One helpful tip is to find a desk that is of the proper size for your height. It can help improve your posture and help you become more productive.
To find your ideal height, simply take your height in inches and divide it by 2.5.
3. Consider the desk's placement inside the room.
Before purchasing or building a desk, remember to vision out where it will be placed inside the room. Evaluate first where you are going to place your desk and see how much space is available.
Remember that you should have enough free space to move about. Allocate at least 3 feet of space in front of the desk for the chair to move freely.
Avoid obstructing doors and areas where there is foot traffic. Also, consider the accessibility to an outlet and avoid areas with sun glare.
4. Review the purpose of the home office desk.
When considering your home office desk, remember to think about the purpose of the desk.
Do you have enough space? If not, maybe consider a built-in desk where you can integrate it to other furniture (i.e. a desk office and a dressing table).
How many people will use it? If it is more than one, a multiple work station will be sensible.
Answering the above questions will help you choose between one desk from another, especially when given a lot of options.
Home Office Desks Design For Inspiration
Some home offices are visited by clients. If that is the case, then don't hold back when choosing the design of your home office desks. More often than not, a room's ambiance help boosts a brand or company's image to prospective clients. And it makes you memorable too.
If you need to impress clients or just simply want to have a great home office desk to work on, this collection is for you.
Unique Home Office Desks
Do you want the most unique table there is?
Check out below collection for inspiration!
Cape Craftsman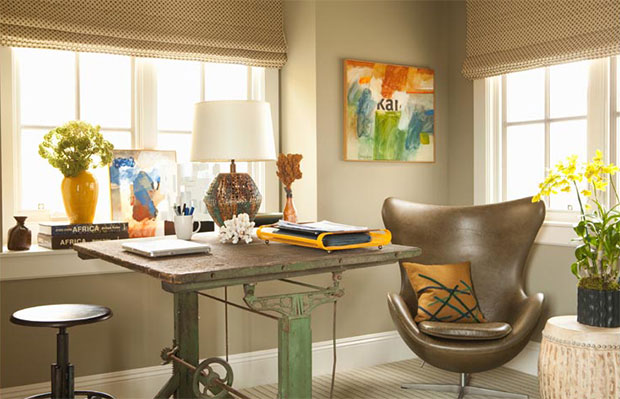 Lucas Studio
Got an old sewing machine? You can easily recycle it and turn it into a home office desk, just like this example here!
Suitcase Desk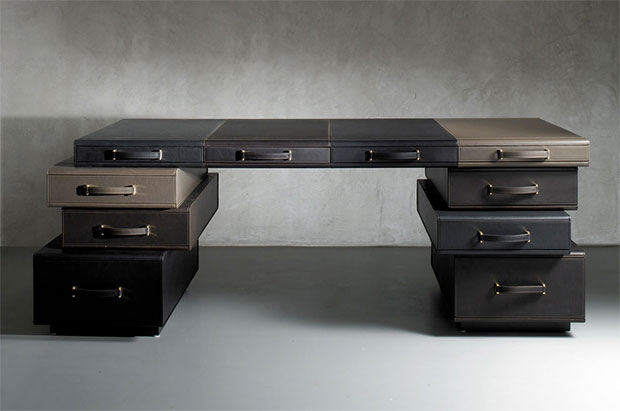 Maarten De Ceulaer
Travel-lovers will love this travel-themed home decor with a table of the asymmetric tower of suitcases.
Mini-Cooper Desk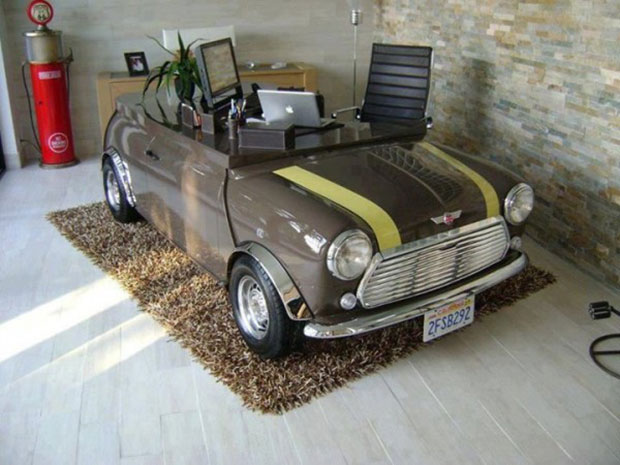 Minimania
Car-lovers will get excited with this mini-cooper desk. The desk is perfect for home office workers who love to have fun stuff at home!
Cavour CM Desk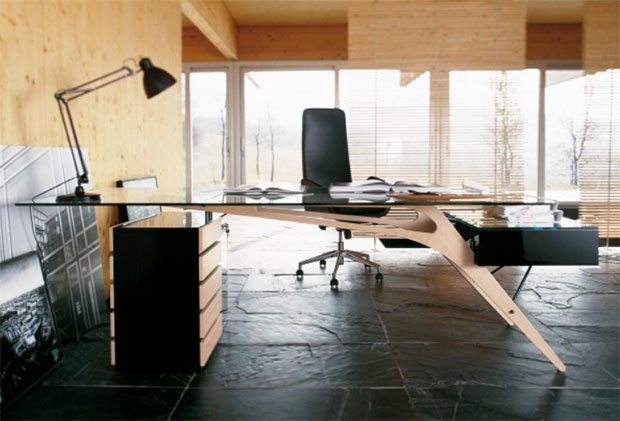 Carlo Mollino
This unique design is perfect for homes with a modern and futuristic theme.
Industrial Desk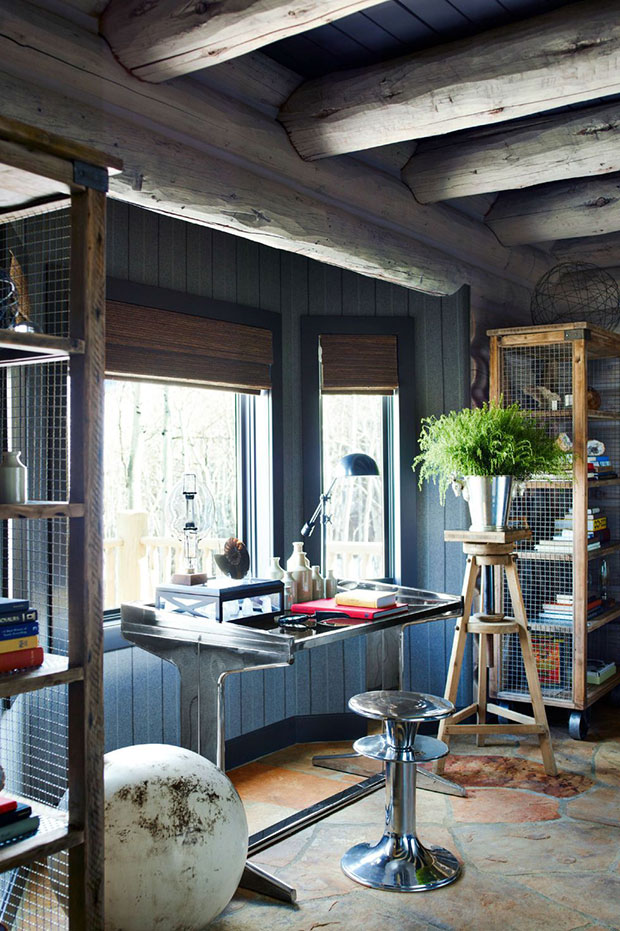 Eric Piasecki
If you prefer industrial designs, then this aluminum table is perfect for you.
Trunk Desk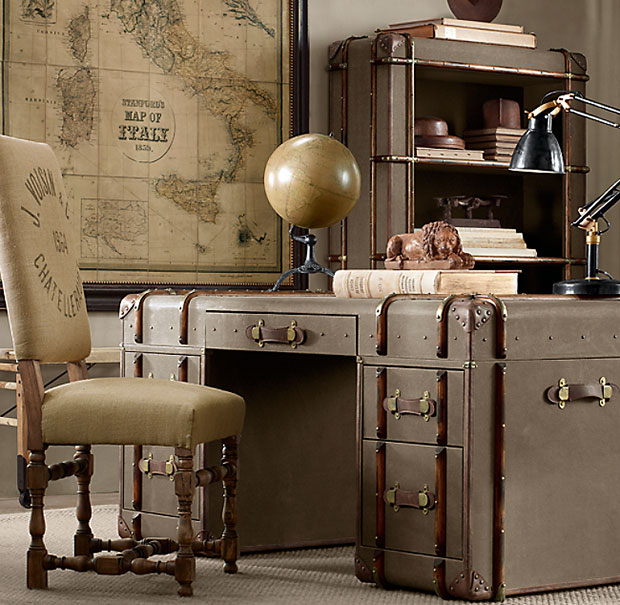 RH
Another travel-inspired home office desk that will make you feel like traveling even at the comfort of your home.
Bohemian Theme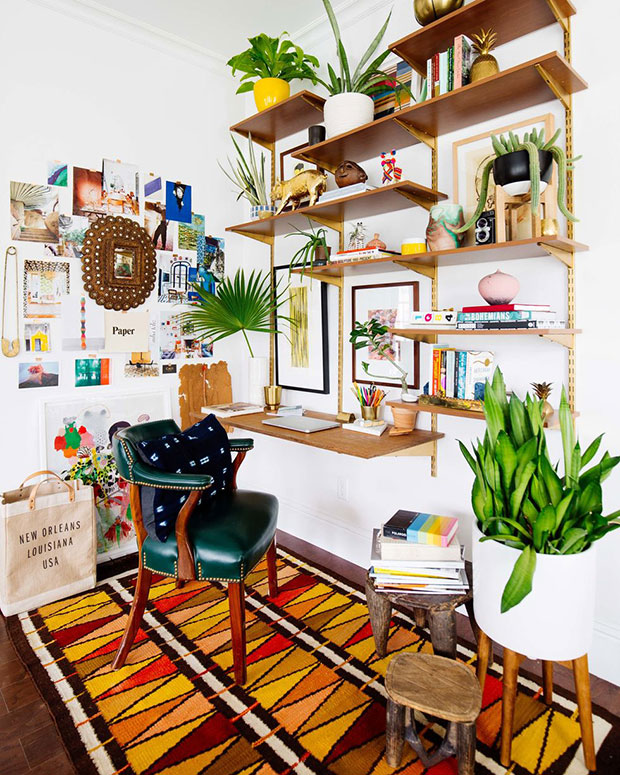 Old Brand New
The designer has made use of a bohemian-inspired room with patterns and colorful decorations. The desk is equally unique which is attached to the wall and has the same material as the shelves.
Aviator Wing Desk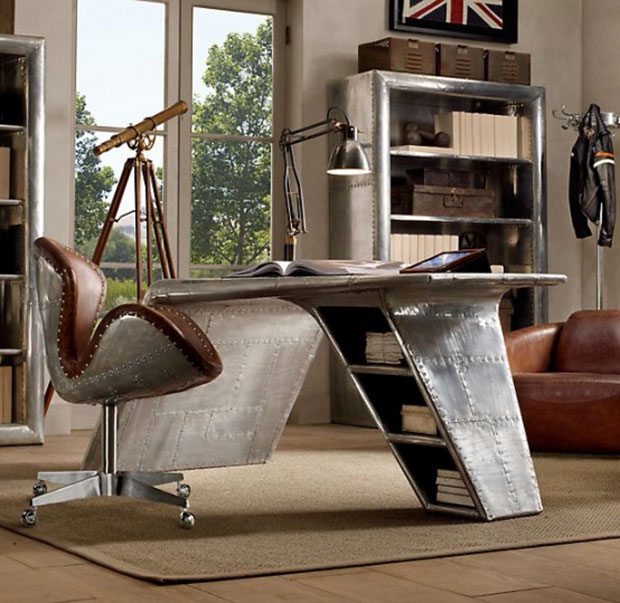 Rh Interior Design
This aluminum table is perfect for rusty and/or industrial-themed rooms. The table is designed with the shape of the bent wing of a plane.
Boxed Table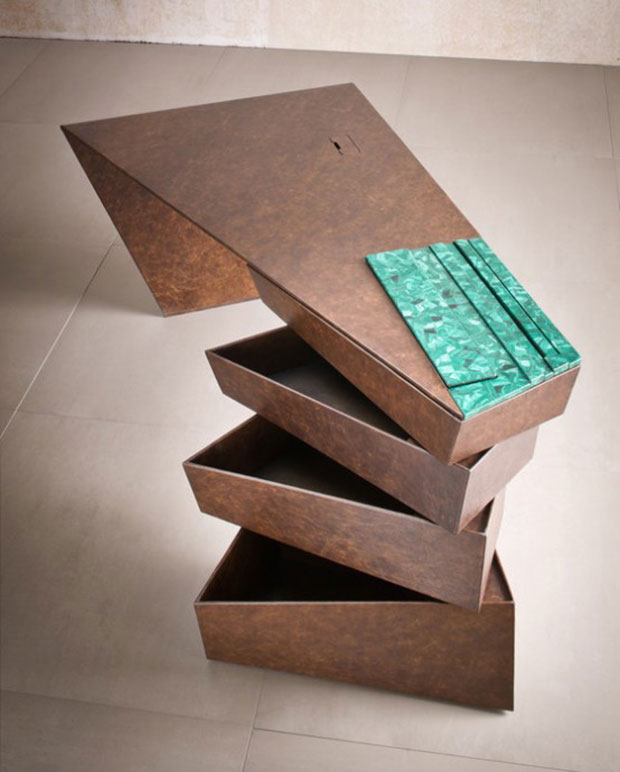 Digs Digs
The table's unique shape makes it a great addition to any eclectically designed home office.
Honeycombed Table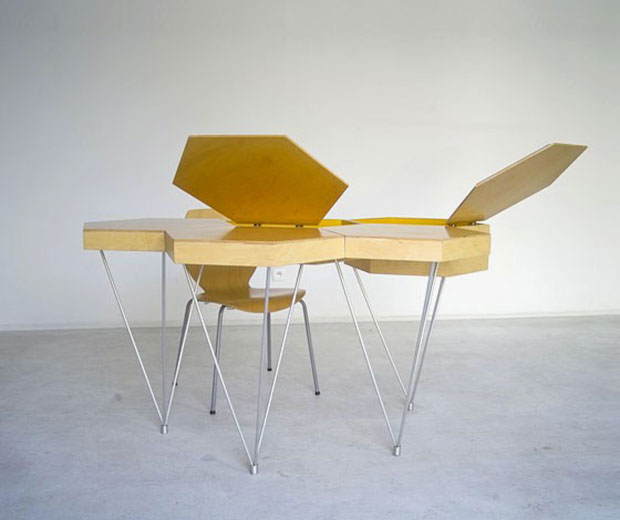 Anna and Marek Lorens
This modular table is shaped like a honeycomb. It has hexagonally-shaped storage boxes that are perfect for storing stuff.
Office Downtown Toronto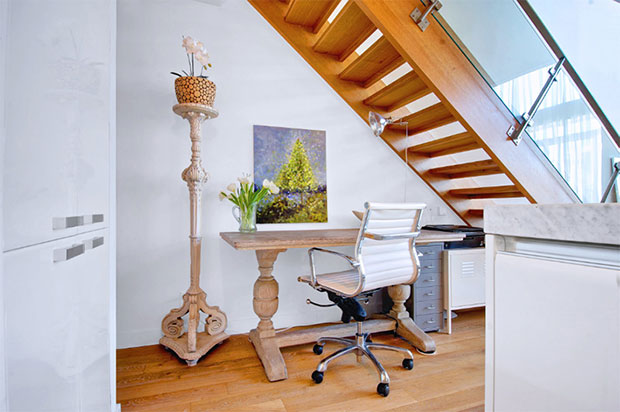 Andrew Snow Photography
The desk has an elaborate design that is further emphasized by the wooden stand next to it.
Santa Cruz Home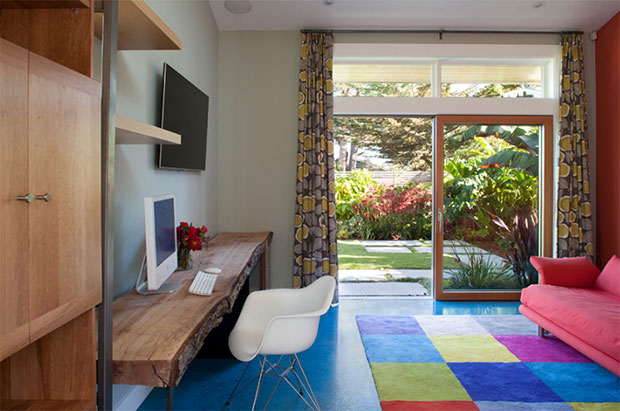 Feldman Architecture, Inc.
This office table is made from thick wood. The edge is creatively designed with a rough surface.
Minimalist Home Office Desks
Do you rather have a minimalist design at home? That is not a problem at all. Check out these minimalist home office desks!
Reclaimed Wood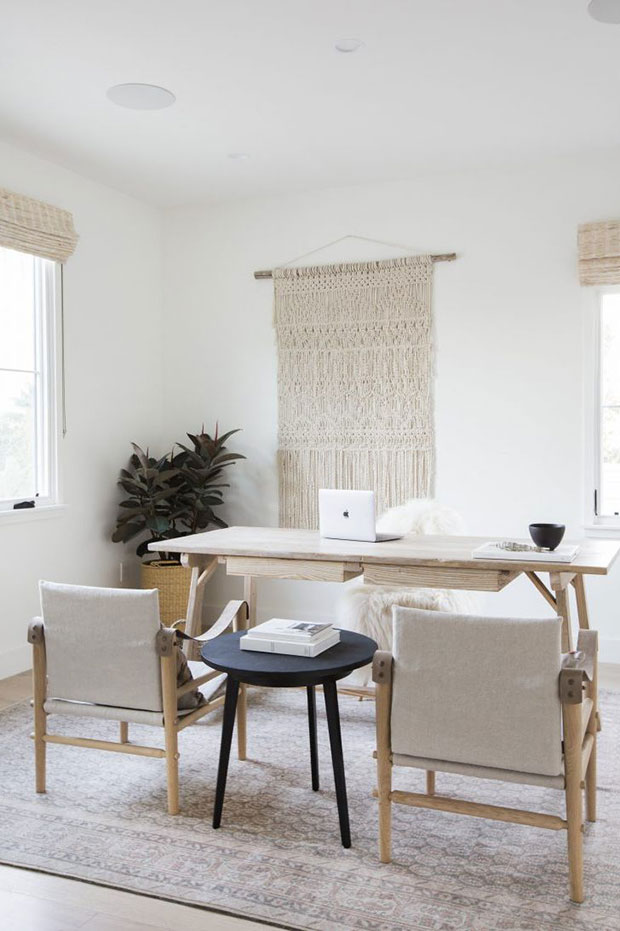 Nicole Franzen
This home office has a tropical and relaxing vibe to it. The designer used reclaimed wood for the desk and chair.
Rolling Table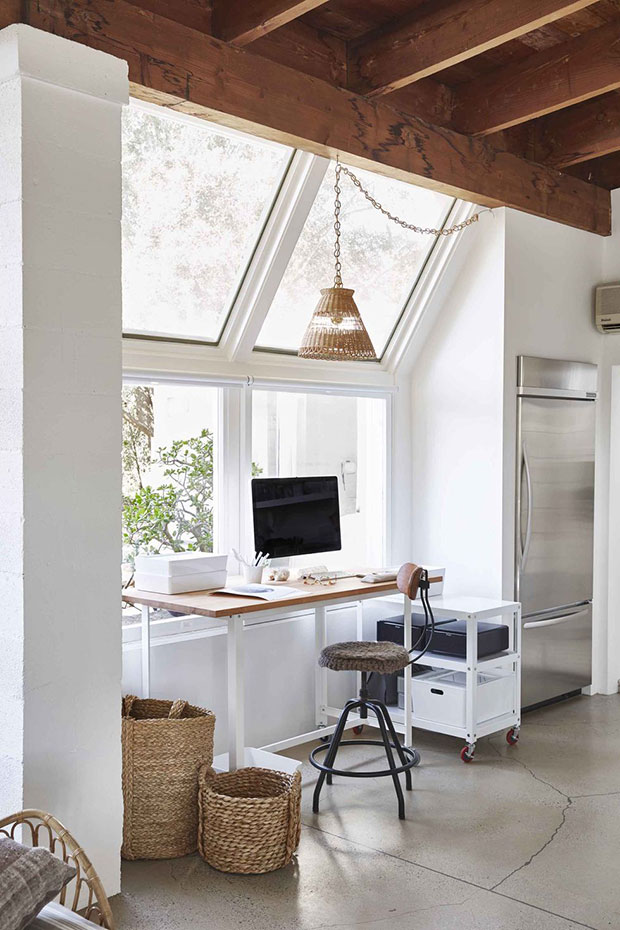 Victoria Pearson
One of the best things about this home office desk is that it has wheels. This makes moving the table around easier. Not to mention the design is quite minimal.
Bronze Desk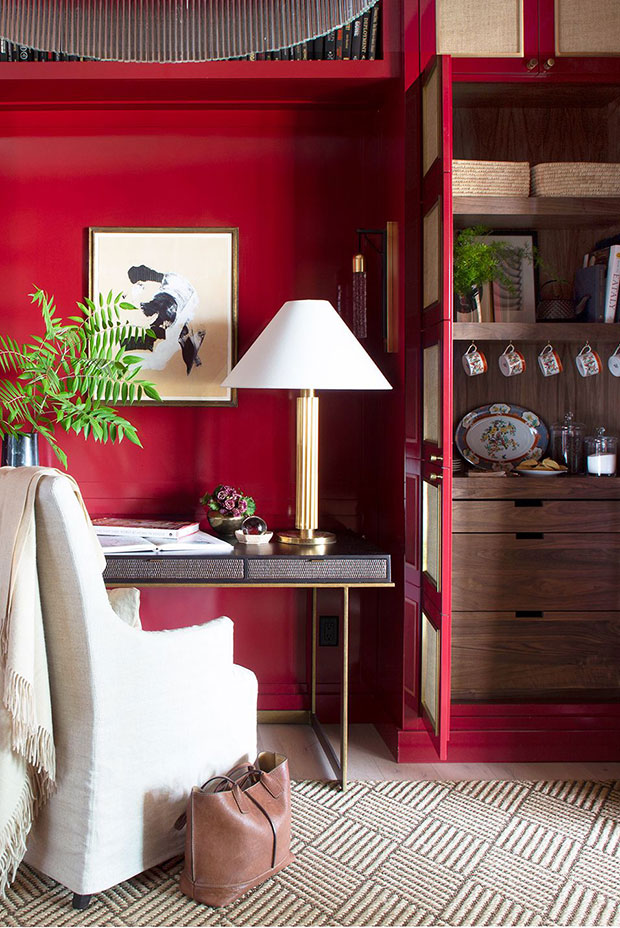 Marie Flanigan
The table used in this room is perfect for areas with small spaces. It is not bulky and is elegantly designed.
Glass Table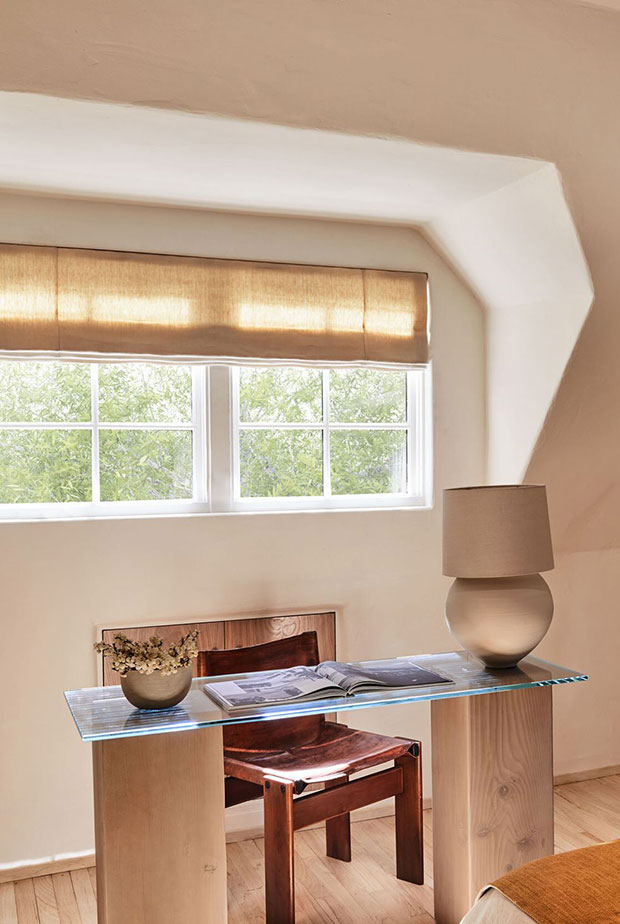 Corinne Mathern Studio
If you prefer something glossy, then this glass table is a great option. The room is further made more modern with the neutral tones of the room.
Transparent Desk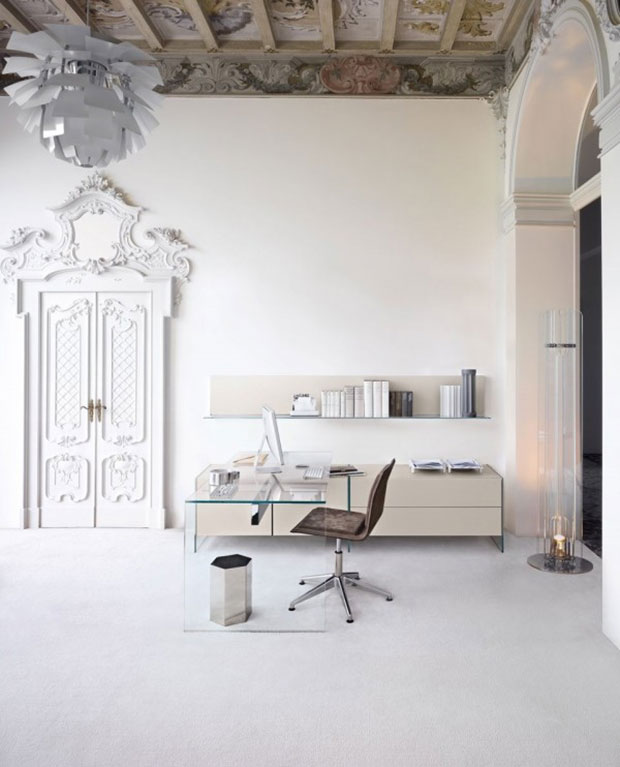 Gallotti & Radice
The desk is made of 12mm transparent tempered glass. One look and it will appear as if you are working on an invisible table.
Multi-storage Home Office Desks
Do you love having all your important stuff nearby? Check out these multi-storage home office desks to keep you organized.
Leaning Writing Desk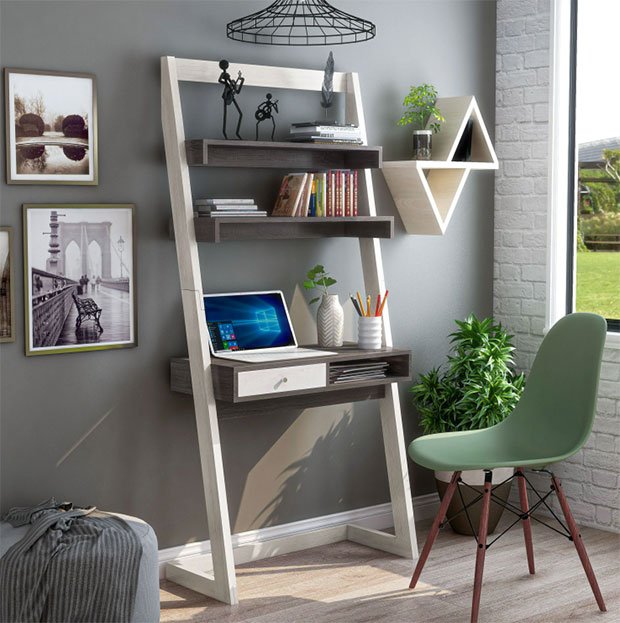 Furniture of America
The open frame design of this home office desk is perfect for any modern room. It also has built-in shelves for your home office stuff.
Executive Style Desk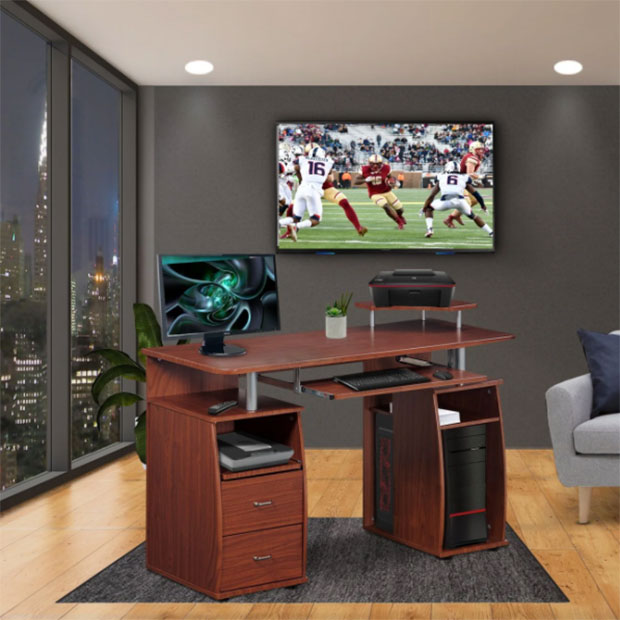 Overstock
This modern contemporary home office desk is perfect for home workers with a desktop. The table has room for cables and additional storage for stuff.
Gray Barn Desk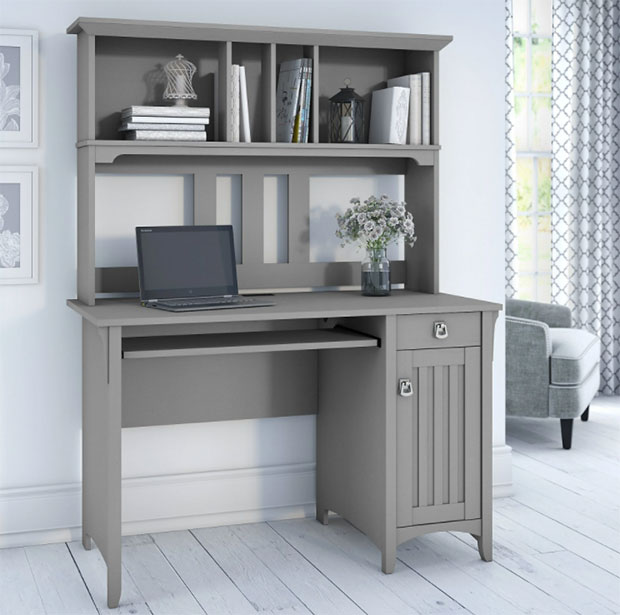 The Gray Barn
One look at this charming home office desk takes us back to the country with its clever and alluring design.
Framework 2.0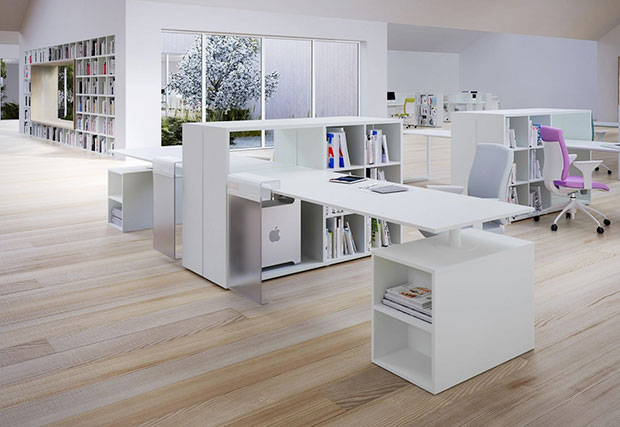 Fantoni
This modern home office desk is perfect for multiple workers. The design is bright with lots of storage spaces for stuff.
Modular Desk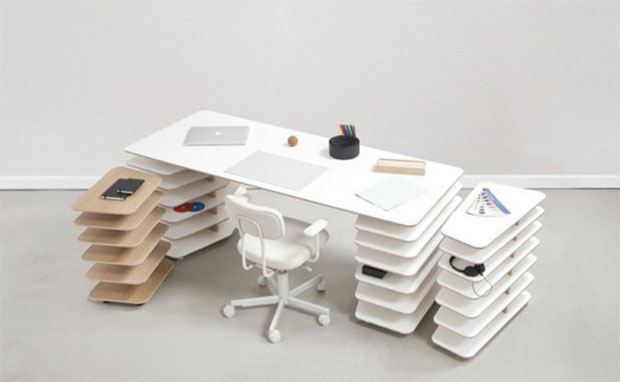 Strates
If you like shelves and plenty of storage space, this modular desk with floating shelves is perfect for you.
Origami Desk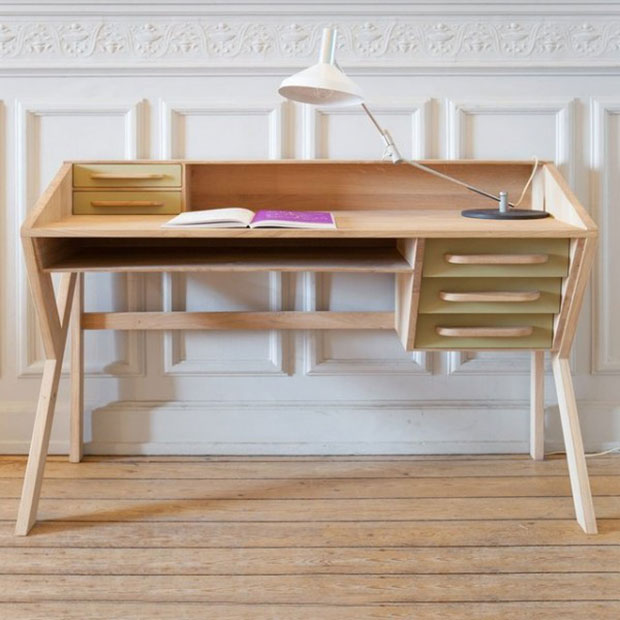 Fancy
This origami desk has an innovative design that will surely turn heads. It has multiple storage spaces and drawers for keeping important items.
Multi-functional Home Office Desks
Do you want a multi-functional desk? Here are some ideas for you.
Vina Office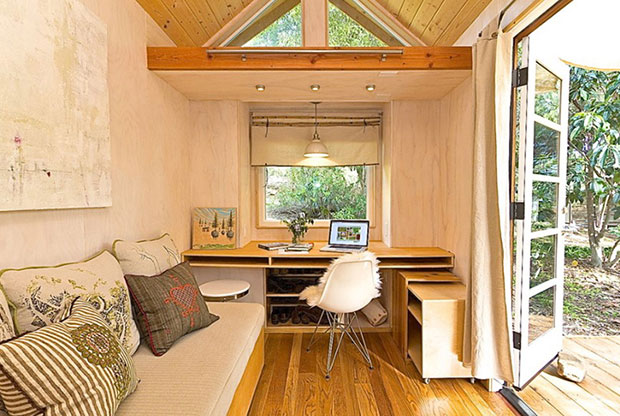 Sol Haus Design
This home office is built in next to the wall. It is multi-purpose with stuff stored in its cabinet. This makes sense as the house is a tiny one.
Brooklyn Brownstone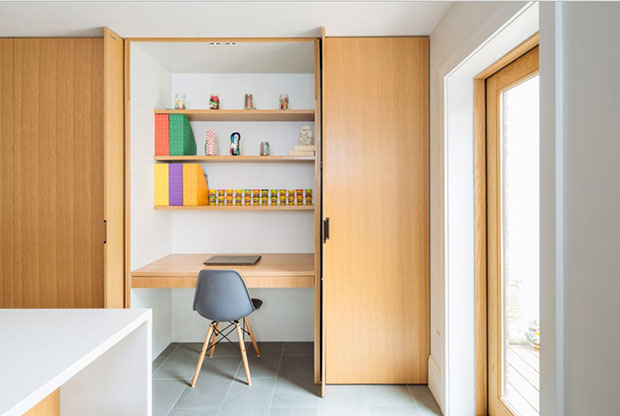 Sonya Lee Architect llc
What's impressive about this design is the way the home office desk is designed. The designer has added a door which allows the homeowner to hide the space when not in use.
The Cubus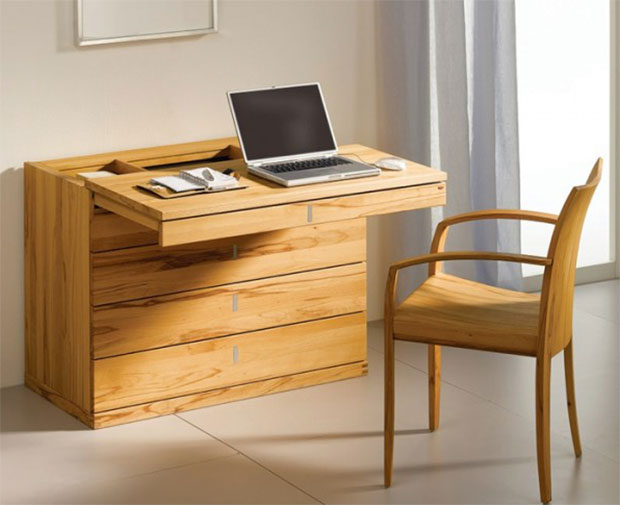 Team 7
This desk is perfect for small homes with little to none workspace. The desk has a slide-out top that can be moved. When stored, the desk appears to be a sideboard.
Futuristic Table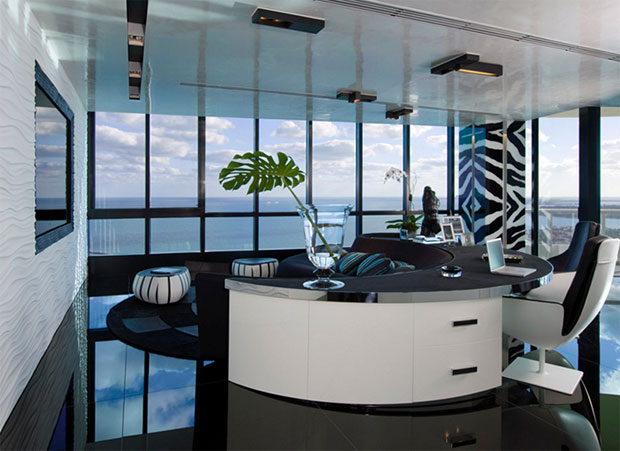 Nieto Design Group
This desk was merged with the living room sofa. The design adds a futuristic look to the room.
Work Desk Bed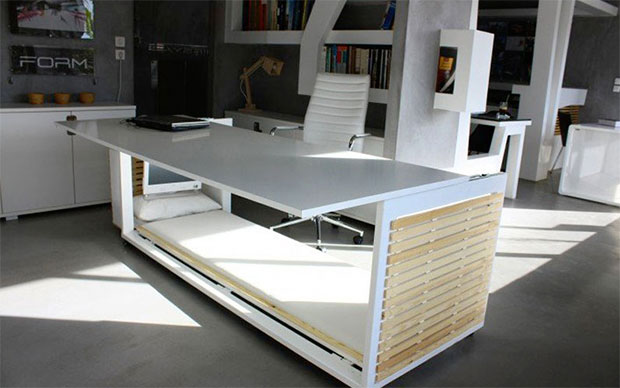 Studio NL
This work desk is a multi-function workspace that lets you sleep and work. The bottom can be used as a bed if you want to take a power nap.
Worknest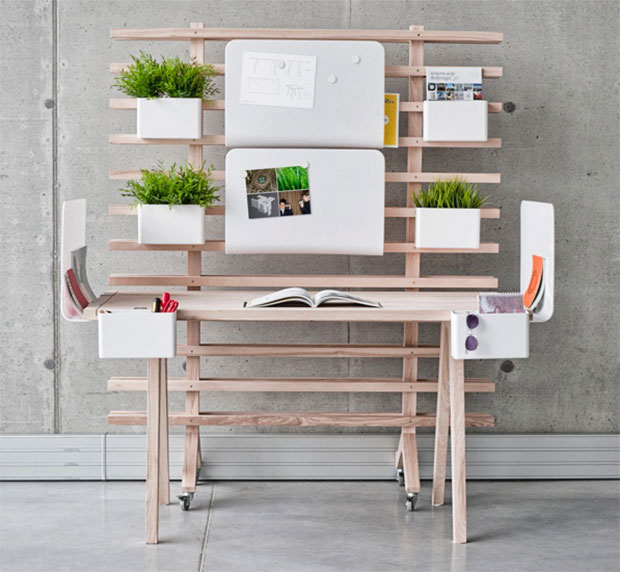 Wiktoria Lenart
Plant lovers will enjoy this home office desk design. The desk has pots where you can put a live plant.
Smart Desk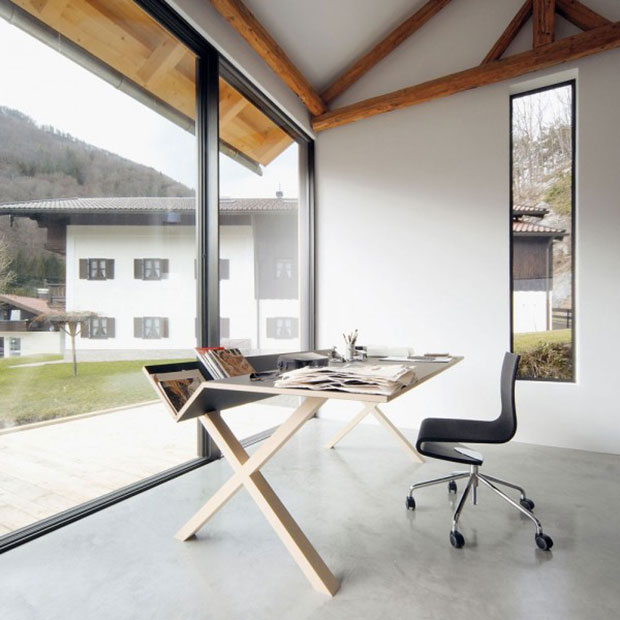 Moormann
This desk looks quite simple with its unimposing yet unique design. The desk has a magazine rack where you can place your reading materials.
Chromium Desk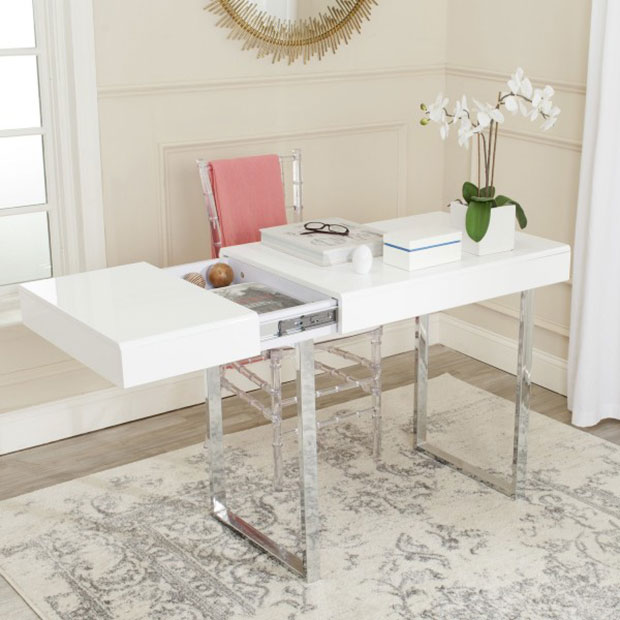 Safavieh
This cute desk is perfect for small spaces. It has a little compartment that you can slide out for storing stuff.
Corner and L-Shaped Home Office Desks
Are you leaning towards the corner and/ or L-Shaped desks? Check out these examples!
Secret Garden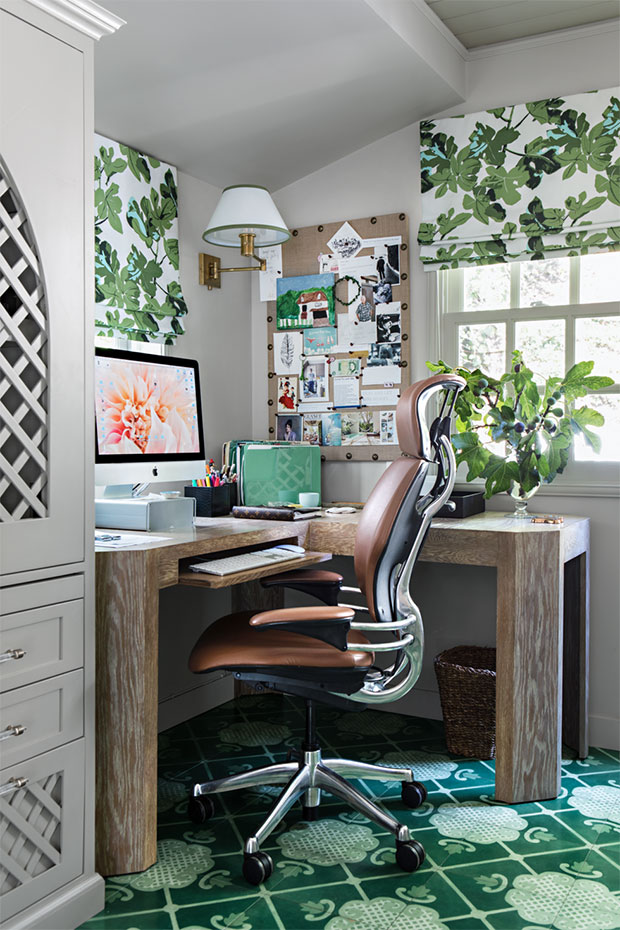 Joe Lucas
This home office desk is made of thick wood that is further emphasized by the green prints of leaves in the curtain shades and on the floor.
Table Glass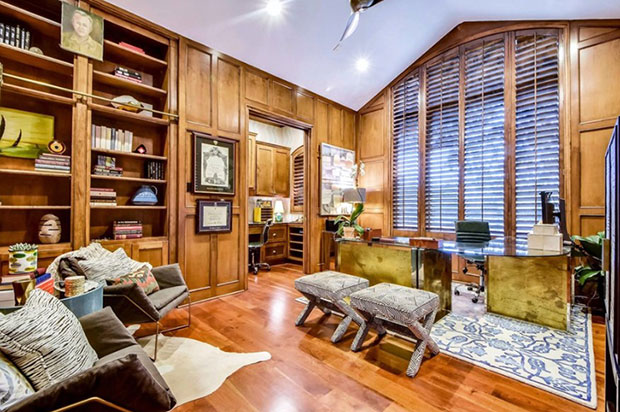 Turnstyle Design
While we are used to wooden L-shaped desk, this home office table is made from glass. Unusual, but certainly adds a nice touch to the room.
Masculine Desk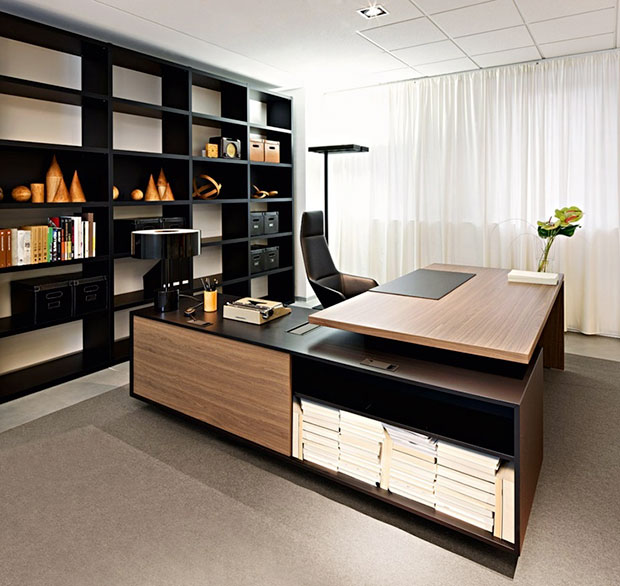 Sinetica
The table's imposing design is perfect for home offices that welcome clients at home.
Minimal Room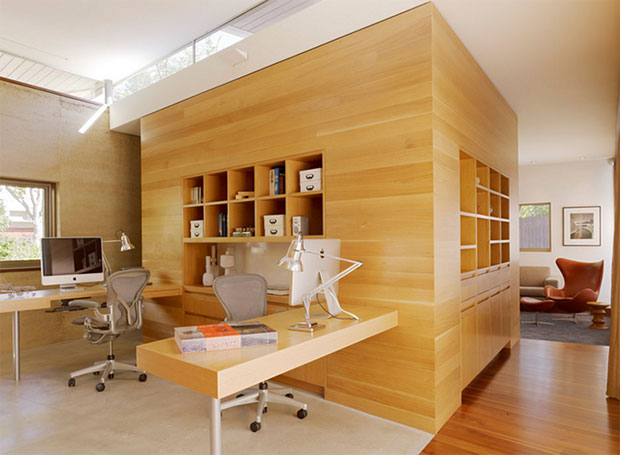 CCS Architecture
The minimal design of this home office desk complements well with the clean and minimal design. It is designed as a part of the cube storage at the wall.
Classy Desk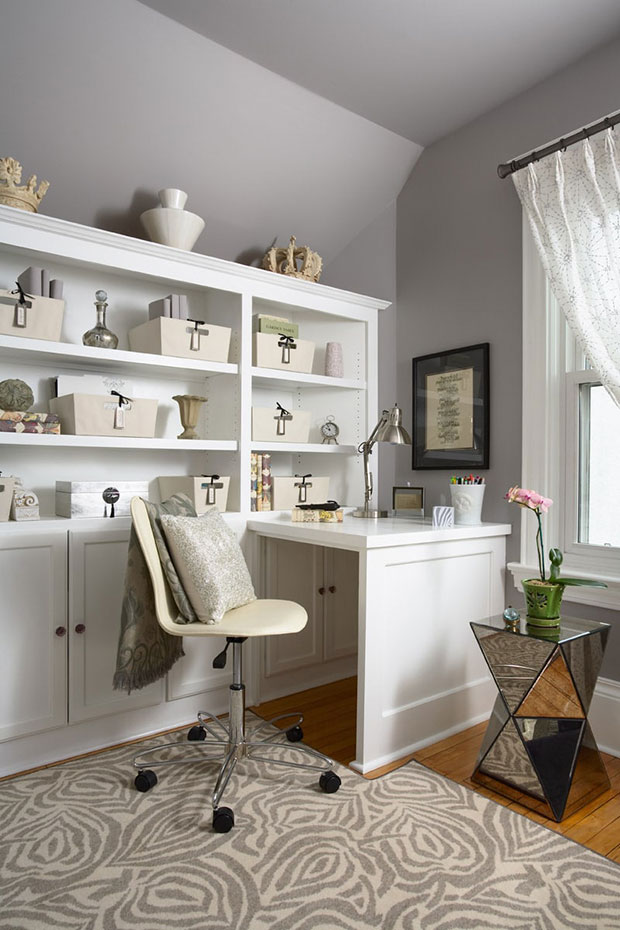 Lilu Interiors
This home office desk is an extension of the room's storage. This makes it easier to reach out to the files and other important stuff stored there.
L-Shaped Rotating Desk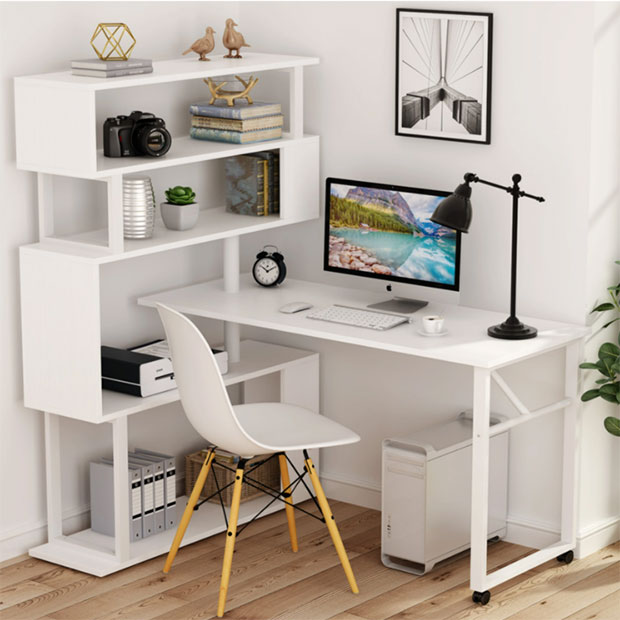 Overstock
This computer desk can be rotated up to 180 degrees. You can easily arrange it to your personal and space requirement.
DIY Blue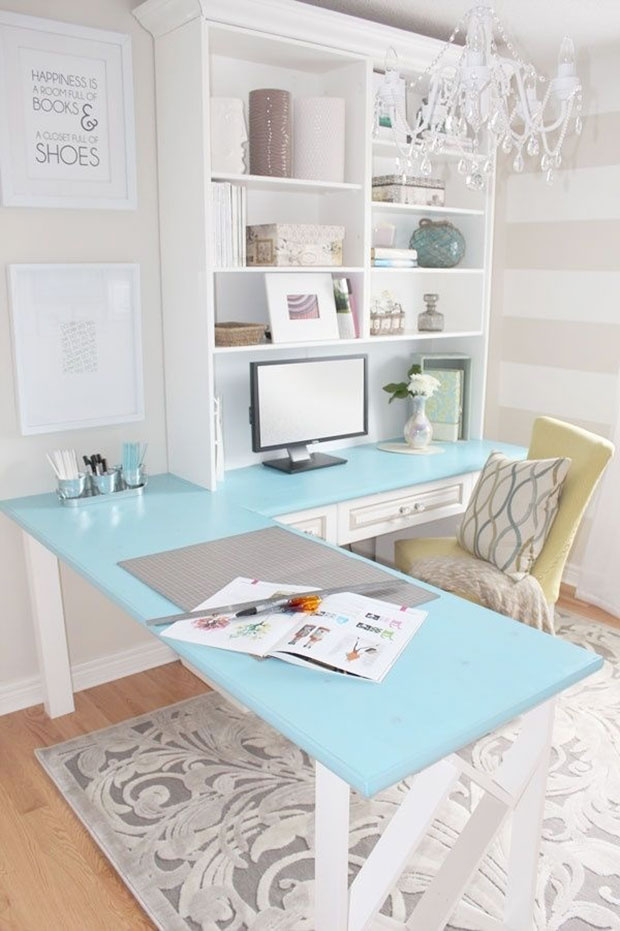 Sabrina
This pretty table looks whimsical and extremely creative. The light color of the room is further enhanced by the glossy light blue color of the table.
Elegant Home Office Desks
If you prefer something more elegant, check out these examples!
Earth-Toned Desk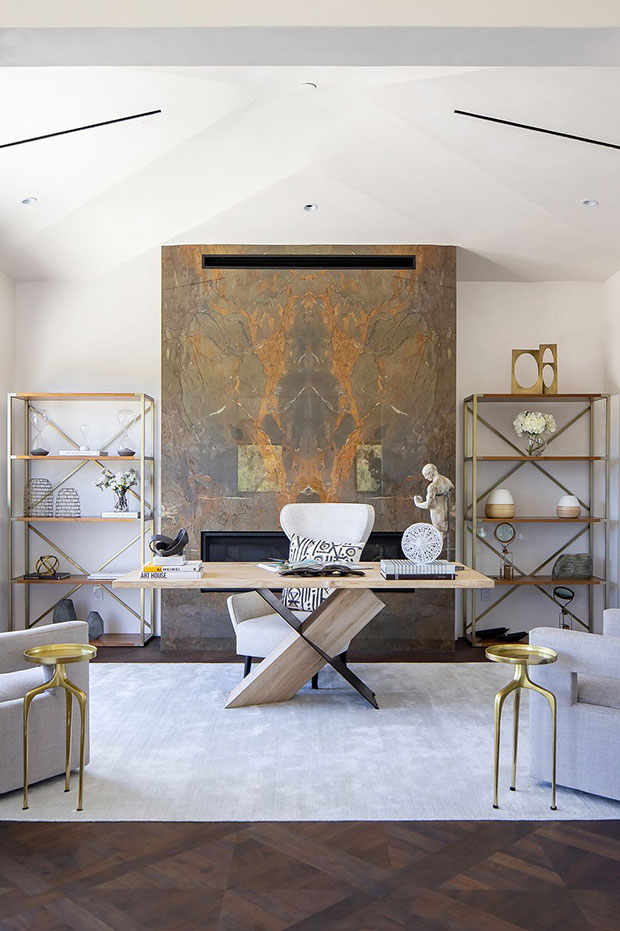 Breegan Jane
The table used here has central legs that are uniquely positioned to support the table. What makes this room particularly catching is that it is centered on this large fireplace at the back.
Simple Worktable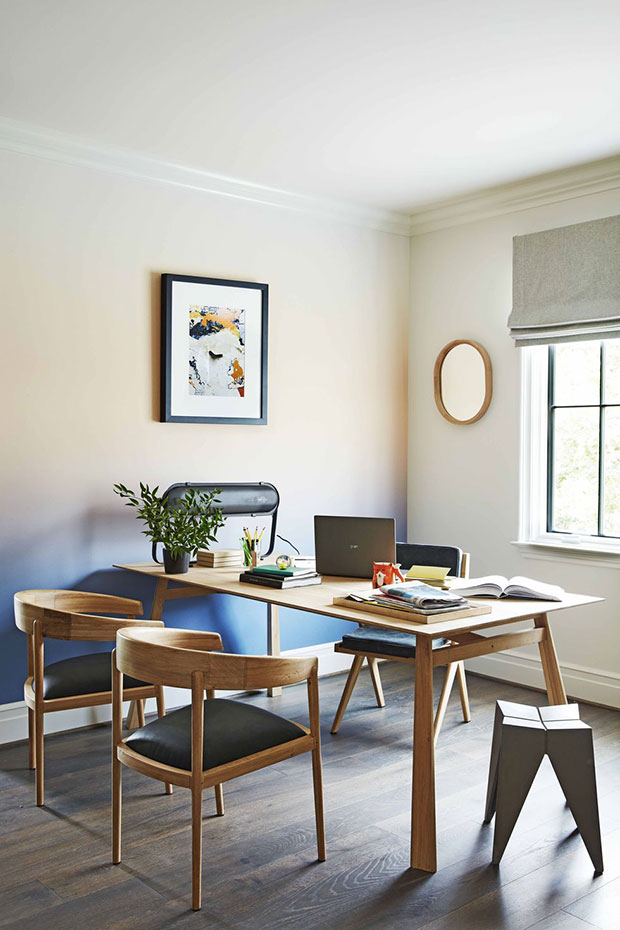 Dani Arps
This table is perfect for minimalist homeowners. The designer used a simple thin work table that added a clean and minimal workspace.
Minimal Black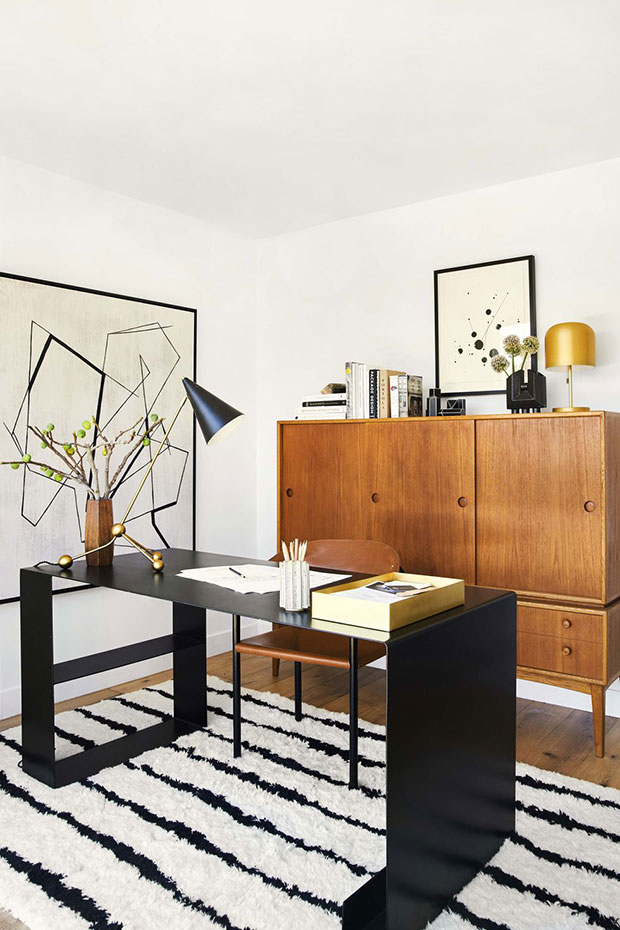 Tessa Neustadt
The simple and elegantly designed black table adds an interesting touch to this home office.
Vintage Look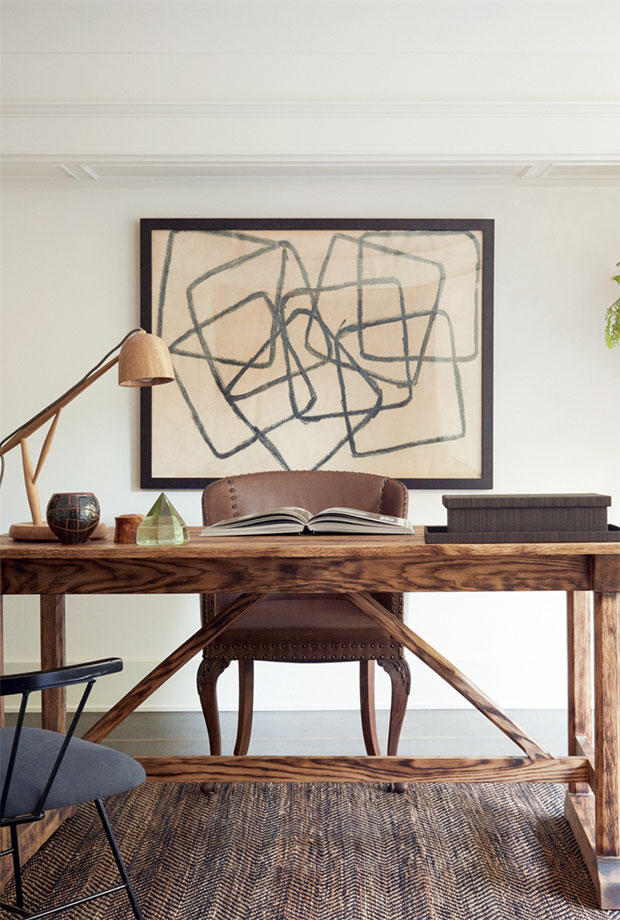 Joe Schmelzer
This wooden home office desk gives the room a vintage look.
Montvale Home Office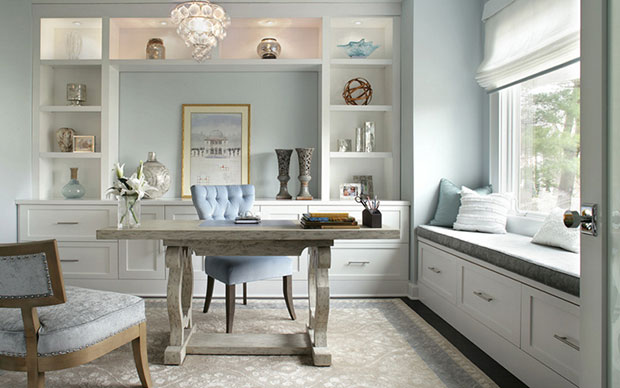 Jennifer Pacca Interiors
This room's desk has a unique table stand. The table is further emphasized by the lighter tones of the furniture around it and the paint-color of the room.
Almaden Hills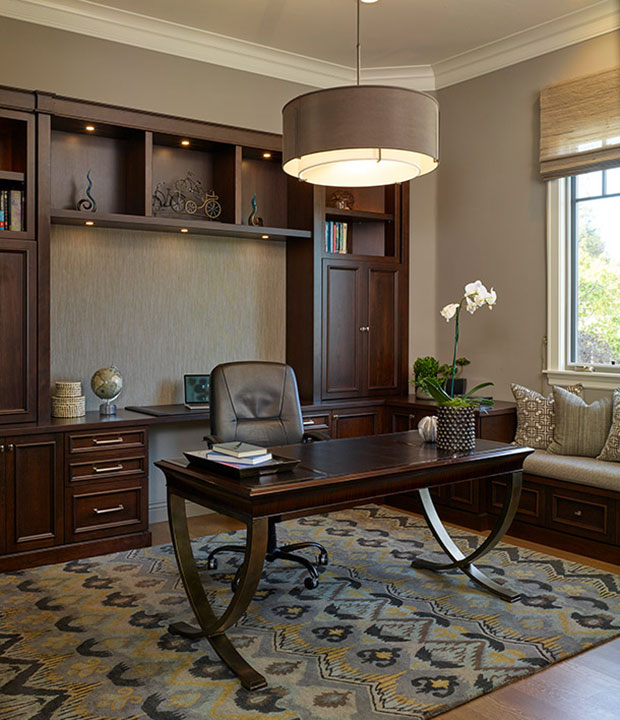 Alison Whittaker Design
The room embraces a dark earthy color which is further embraced by the dark and wooden home office desk at the center. This table's desk has a curved design that adds softness to the room.
Kentfield Office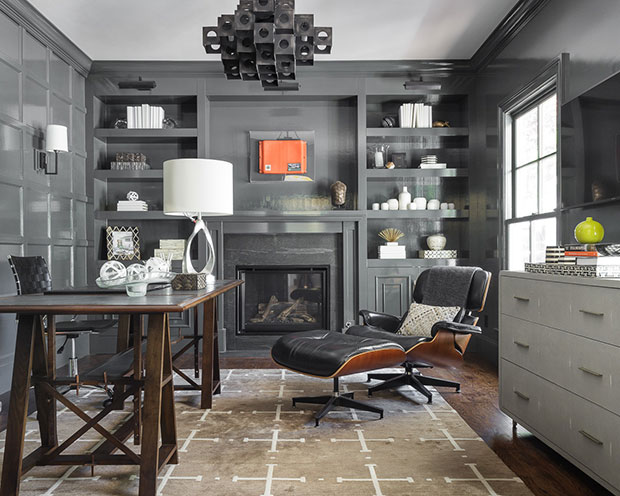 PatriARCH Architecture
The masculine effect of this room is further emphasized by the gray and metallic design. It home office desk complements the design well.
Belize Condo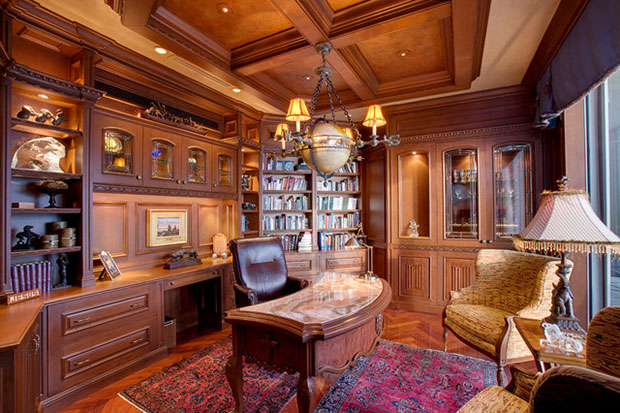 41West
The neo-classical design of this home office is further emphasized by the curved and richly-detailed desk at the center.
Fisher Island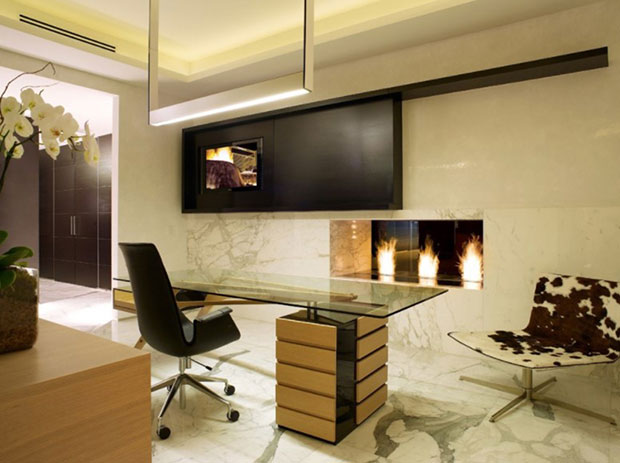 Pepe Calderin Design
Aside from the luxury furniture and fixtures in the room, the table is equally as eye-catching with its glass top and elegantly designed stand.
Little Italy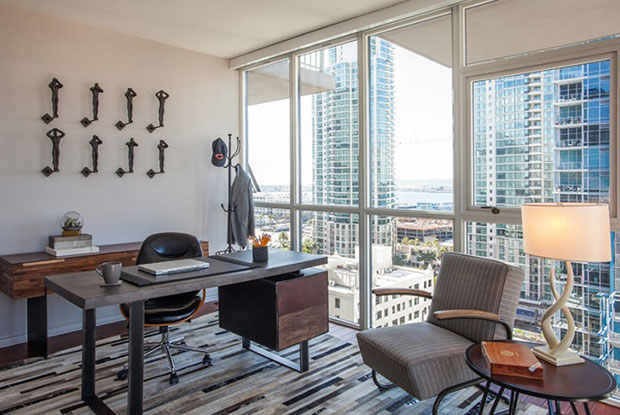 Studio H Design Group, Inc.
This lovely industrial-designed table adds a contrasting look to the otherwise modern feel of the room.
Hollow Core Desk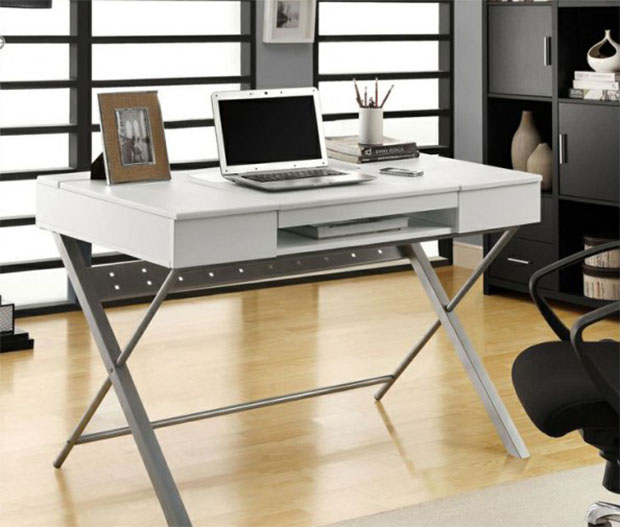 Monarch Specialties
If you are tired of having too many wires on your office desk, then this Hollow Core Connect IT Desk is perfect. It has multiple storage compartments inside the table itself and makes wiring a lot more cleaner.
Abrahams Computer Desk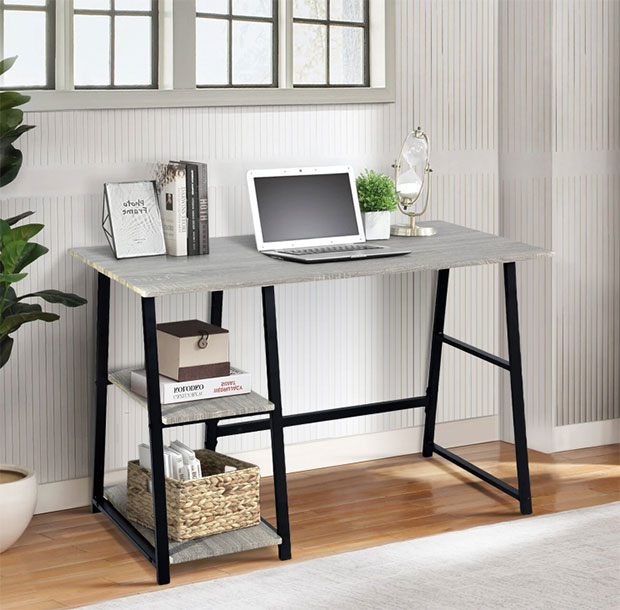 Carbon Loft
This contemporary industrial designed desk has sleek metal frames with two open shelves for storage. The design is minimal and will look perfect if you have limited space for your home office.
Magie Amber Desk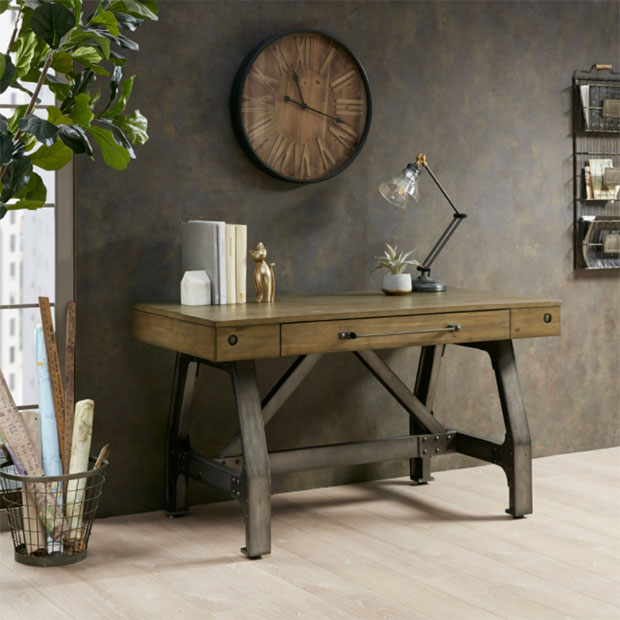 Carbon Loft
The rustic and industrial design of this desk adds a charming look to any home office space. The top has is finished with amber and graphite and has metal accents.
Bin Desk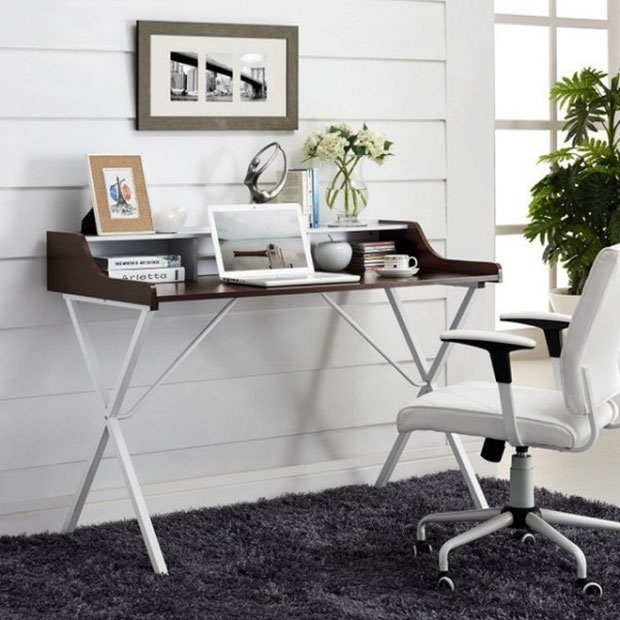 Fancy
This charming desk does not have drawers but small compartments at the top.
Lightweight Desk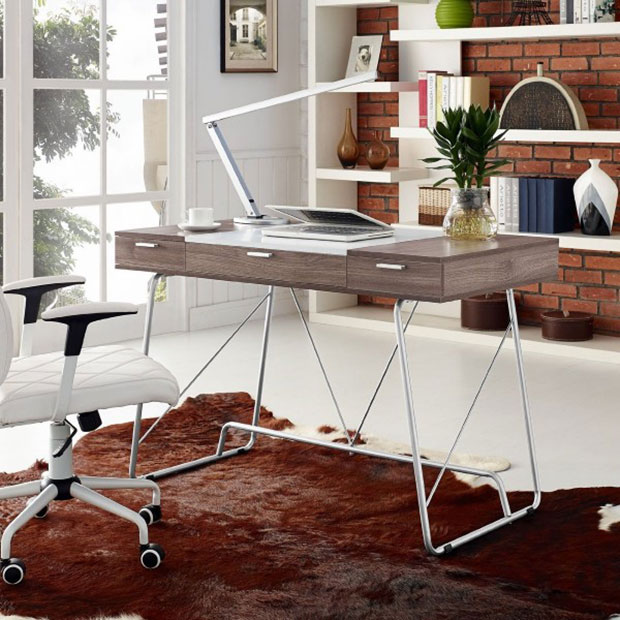 America Luxury
The contemporary design of the desk is classic and charming. The desk has wood-panel tops and drawers.
Abeyance Office Desk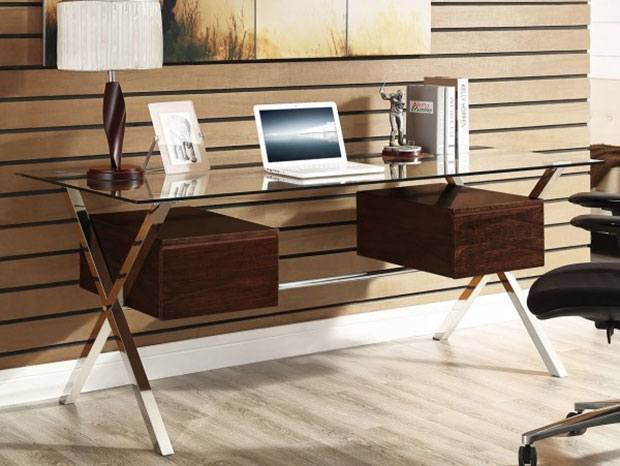 Amazon
The abeyance office desk features a suspended tempered glass top on a polished a-frame form. It also features wooden drawers that add a unique design to it.
There you go! Hope you have found inspiration by just looking at this collection!
Hope you found the perfect home office desk for your home!
Like this post? Pin It!