55 Gorgeous Home Bar Ideas To Keep You At Home
|
When you want to have a drink, you may need to go outside and hop from bar to bar. While that could be fun, sometimes you just want to stay home and have a drink. Especially with the pandemic, you may be a little hesitant to go out and barhop.
On the other hand, you may want a place to entertain guests and friends at home and serve them a drink or two. The best solution is to have your own home bar. A home bar can simply be a place where you can organize and mix drinks or a full-on bar where people can sit and have a conversation. No matter the size of your home you can find a way to have one with various home bar ideas.
How do I build a bar in my house?
Even with a variety of home bar ideas, there are essentially basic and key decisions to follow when you want a bar built in your home.
1. Determining the location
The first step is to determine where you want your home bar setup. The place where you want to do most of the entertaining is most likely the place where you want to build your home bar.
You're also going to have to determine whether this is going to be a permanent fixture in your home or not. Can it be moved around? But if it's a permanent fixture, then you must be thinking this home bar needs new space for entertaining. Some would have them built in a basement, adjacent to the kitchen, or added to the patio in your backyard.
Another thing to consider is whether you want a wet bar or a dry bar. If it's a wet bar, you are going to have to consider it being built near plumbing. Otherwise, if you don't want to tackle a plumbing project, a dry bar should be the ideal option.
2. Planning the layout
Your home bar ideas are not complete without planning the layout and design as this is where your ideas come together. This will help determine the size of the bar that your space can accommodate, the type of furniture and beer refrigeration needed, and other resources.
So, you must measure the space available to you to best make modifications to your vision. You must consider several factors like ceiling height, doorway and stairway widths, sump pump location, electrical outlets, access to waterlines, etc. Then, finally, you must layout a floorplan: where the bar counter is going, cabinet's placement, etc.
3. Choosing design elements
To complete the look of your home bar, some design elements should be carefully noted. Design elements like bar stools, counter, and such are to be decided to get a better overall feel and look of what your home bar could be.
4. Accounting for appliances
During the planning, you must be able to account for appliances or fixtures you'll need in your home bar. A bar fridge is definitely a must to keep your beverages and mixers refrigerated. Though, your exact refrigeration needs are going to depend on what kind of beverages you plan to have and serve.
Bar sinks and built-in ice machines are also some fixtures you would definitely want to have in your home bar design.
5. Deciding on a DIY home bar vs hiring a professional contractor
There are three options to bring your home bar ideas to life! You can buy and install a ready-to-assemble home bar, build a custom bar yourself, or hire a professional contractor to build it for you. This would all depend on whether you have a lot of free time, how handy you are, your budget, and your timeline for getting this project finished. The handiness and free time definitely matter if you are considering a do-it-yourself (DIY) option.
Though, if your home bar idea is something part of a bigger and more complex project, then you should definitely consider hiring a contractor.
How do you decorate a homemade bar?
Decorating your home bar can be fun just as it can be daunting. Aside from the design itself, your home bar décor reflects your personality and taste. Here are some easy tips to decorate your homemade bar!
1. Shelves
One easy way to decorate home bar ideas is through shelves. Apart from adding more storage, they add some depth to your bar and create an illusion that your space is much bigger than it really is. The materials chosen alone for your shelves could already uplift the overall look of your home bar.
2. Lighting
Simple and standard lighting may not be enough to decorate your home bar. Pendant lighting has become a trend and favorite lighting choice in recent years. Hang a few of them over the center of your home bar and it will certainly set the perfect mood. In some cases, people want their home bar to emulate a pub atmosphere. Then, you can opt for lower-wattage light bulbs and soft lights.
3. Wall décor
Wall décor is one of the easiest ways to lift the overall look of your home bar. Decorate your wall by hanging custom framed art or some framed sports memorabilia. The most important thing is adding your personal touch to the empty wall spaces.
Home Bar Ideas for Inspiration
Now, let's take a look at some cool home bar ideas that will have you wanting one for your home!
Il Nostro Sogno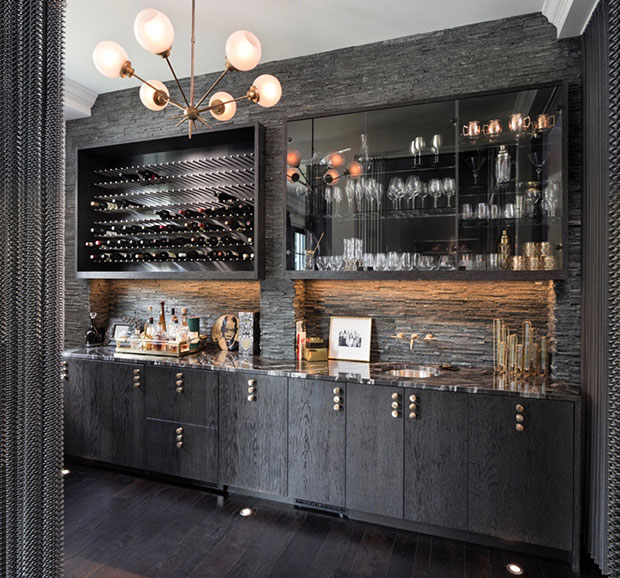 Dwelling Designs
Some home bar ideas have them built in a small room adjacent to the kitchen. Despite the space, this home bar manages to look sophisticated.
Shingle Style Elegance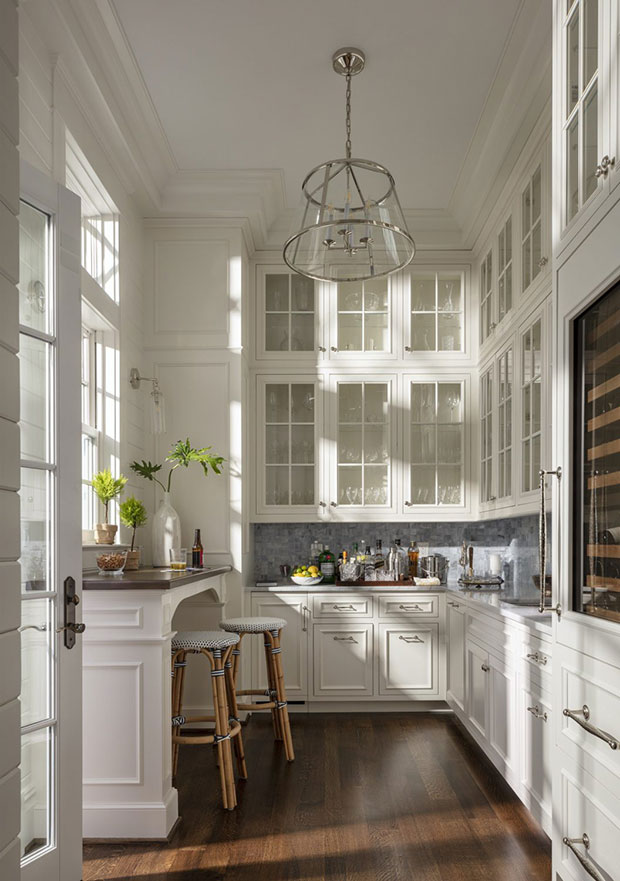 Purple Cherry Architects
If there's an awkward space in your home, you can conveniently turn that into your home bar.
Sunlit Mornings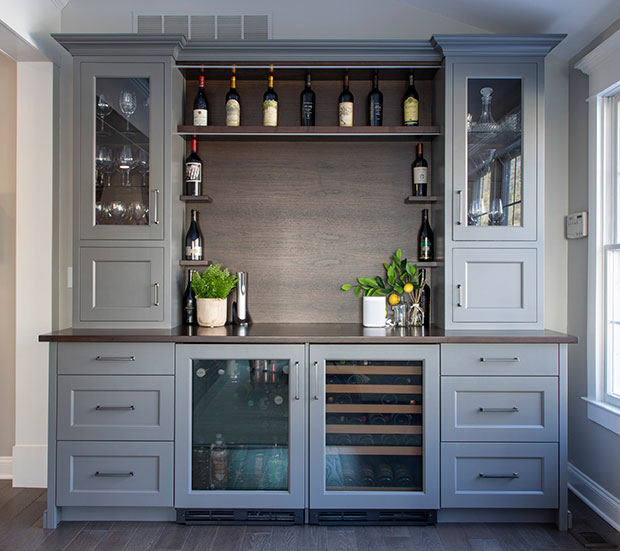 Some home bar ideas don't have to be extravagant to be inviting. This simple dry bar design will still have you wanting a drink now and then.
Midwest Modern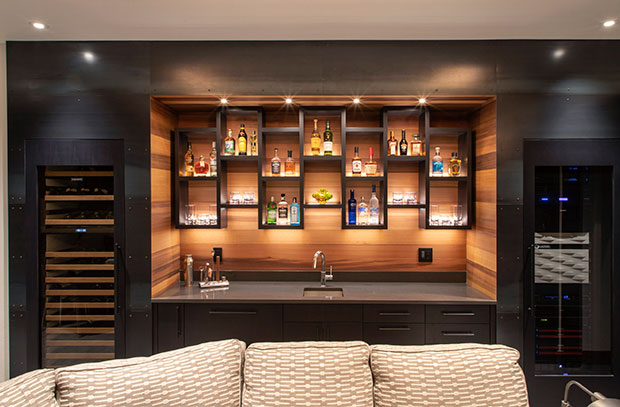 Instead of the usual shelf configuration, this home bar shakes things up with this style, giving it a more contemporary look.
Emerson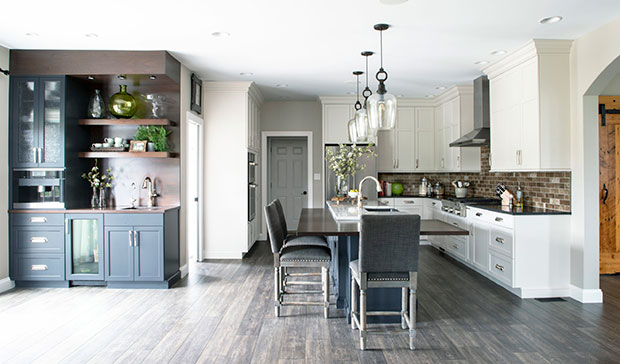 Kitchens by Eileen
In an open floor plan kitchen, a wet bar cabinet set-up like this won't feel cramped or small. You won't even have to worry about seating since you can just freely move around the space.
Grosse Pointe Farms Custom Kitchen Remodel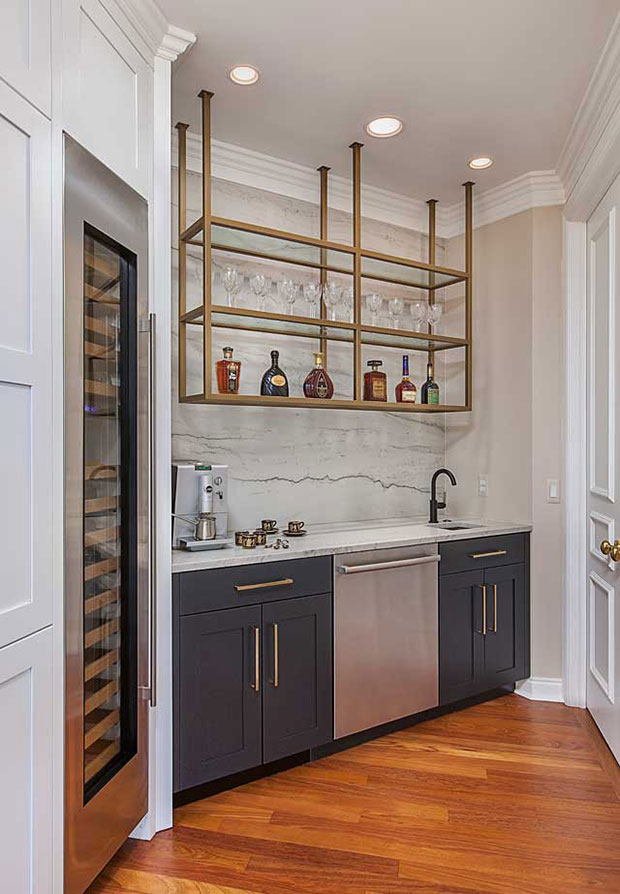 MainStreet Design Build
At times, you need to be creative with your home bar ideas when you have an irregularly shaped space. Instead of floating or cabinet shelves, they opted for this hanging shelf.
Home Bar Remodel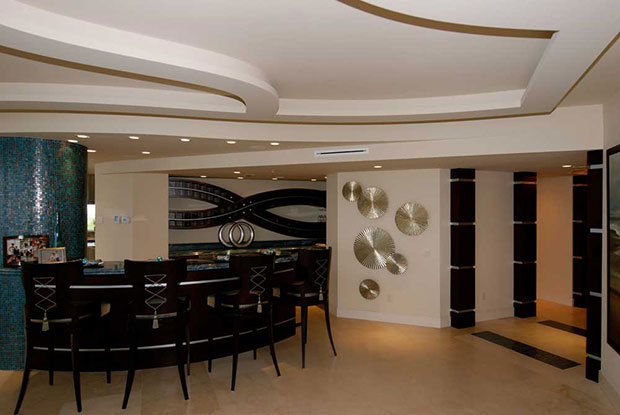 Builtbysbs
A luxurious home bar remodel that effectively uses the curves in their home. Almost every piece of furniture and fixture has some ornate design that contributes to it.
Stylish Country Orono Home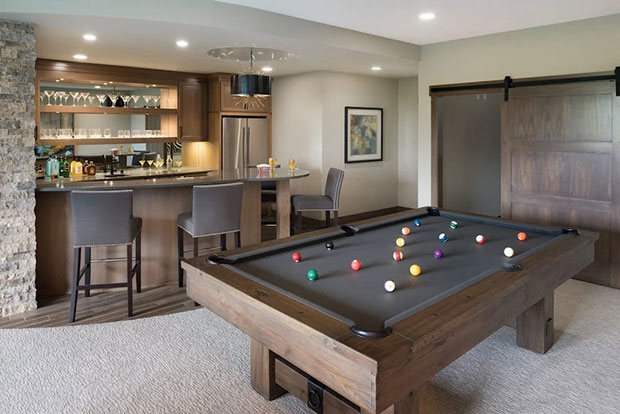 A lot of home bar ideas are also accompanied by a pool. What better way to pass time by playing pool and having a drink?
Contemporary Lakeside Artisan Home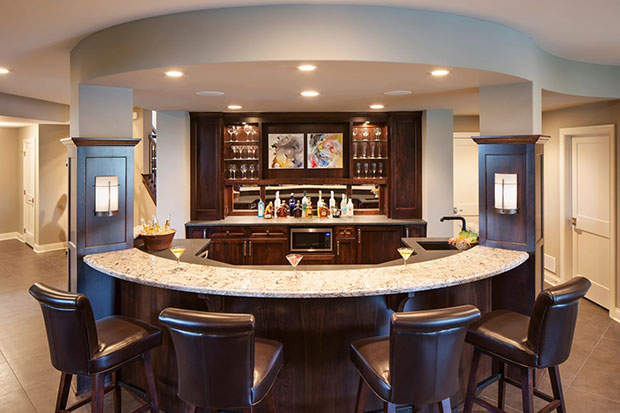 The overall look and feel of this home bar are sophisticated, having its own little space and fully furnished.
Rustic Cottage Artisan Home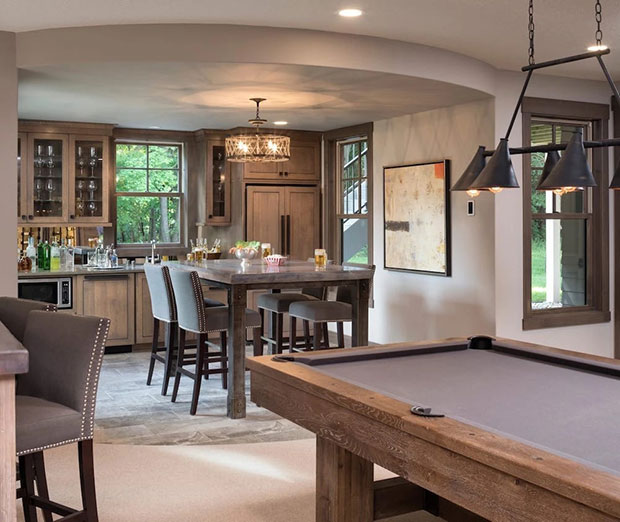 If you have the luxury of space, you can allocate a room and space of its own. Notice how the floor by the home bar is different from the rest of the basement. It seemingly creates its own home bar identity.
Tuckborough Urban Farmhouse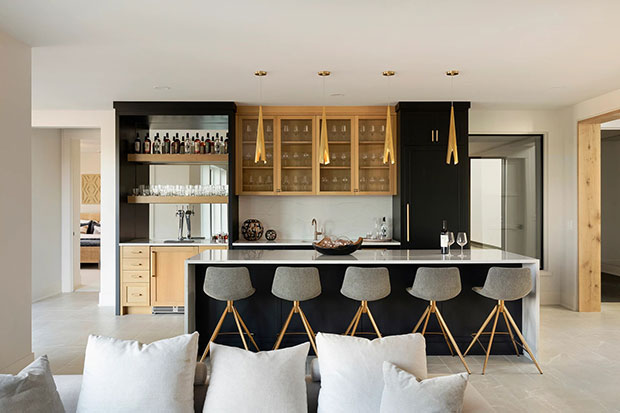 This home bar is complete with important fixtures such as a beer fridge and kegerator. You will have plenty of beverage options.
Elevated Modern Farmhouse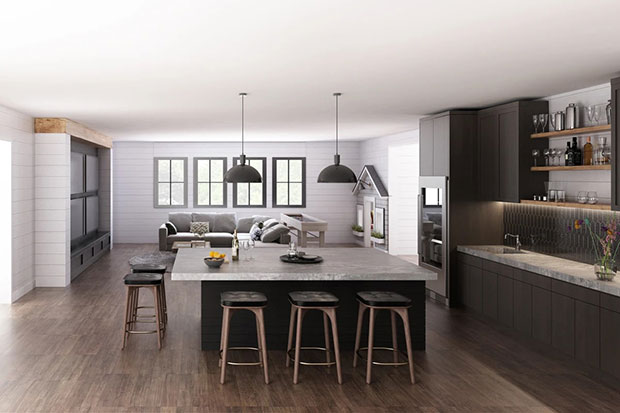 If you're thinking of a huge gathering and entertainment, an open floor plan that includes a home bar and lounging area is a great project that will certainly accommodate all your guests.
Modern Medina Two-Story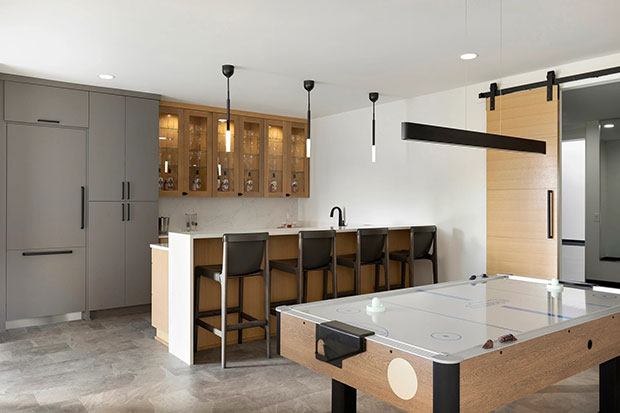 It's pretty interesting to see the consistency in the color palette for this room. But it's also worth highlighting the simplicity of design.
Modern Tudor Rambler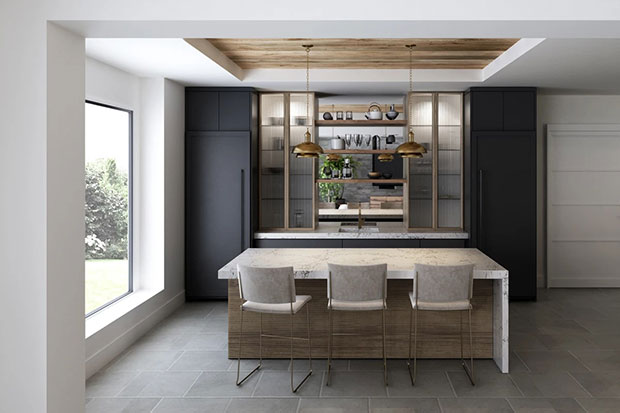 The cabinet and shelving designs are incredible styles that contrast the rather plain fridge surround cabinets on either side.
Modern European Rambler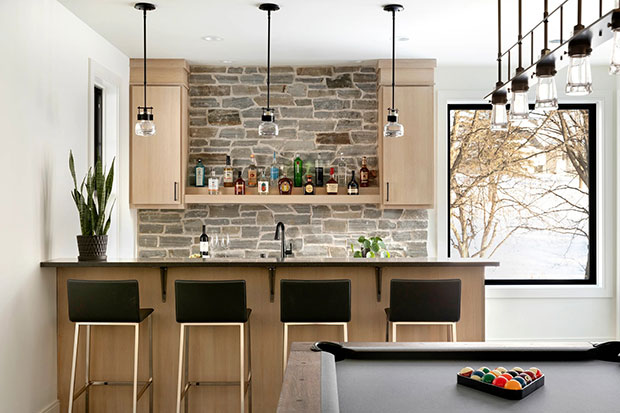 Sometimes home bar ideas don't need to be flashy. Who knew a home bar could look as homey as this? Maybe it's the planter décor and neutral color tones.
Rustic Modern Estate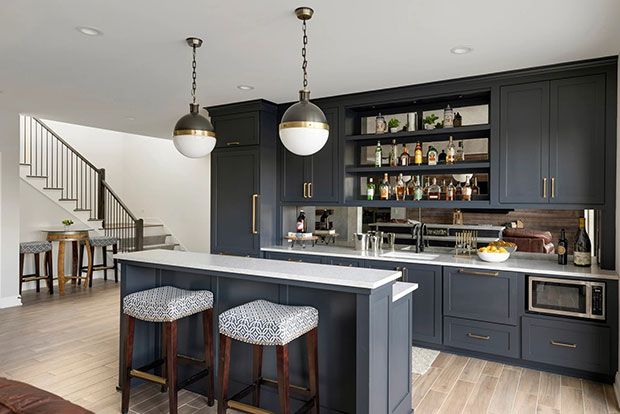 Instead of a plain or natural material wall background, they covered the bare wall with glass. This effectively makes the home bar look lighter, considering the grey finish.
Orono Contemporary Rambler
The open, floating shelves give it a free feeling, a space that doesn't look cramped and cluttered.
Modern Prairie Rambler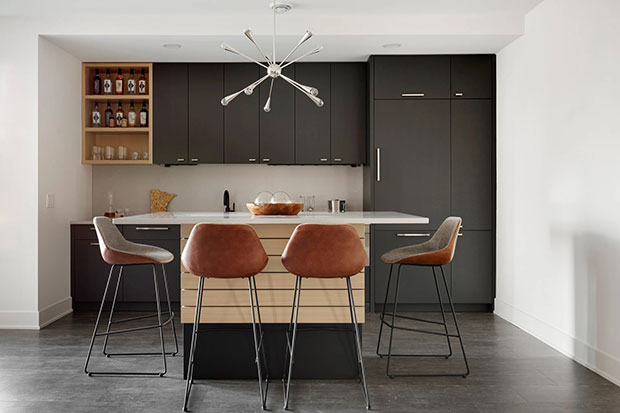 That one open shelf is a nice addition to contrast the closed cabinet shelves.
Modern Transitional Two-Story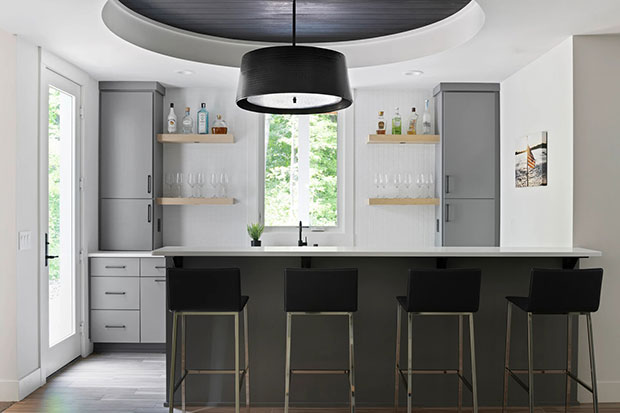 The absence of bulky-looking or wide furniture and fixtures makes the room look more spacious and less cramped for this limited space.
Transitional Plymouth Residence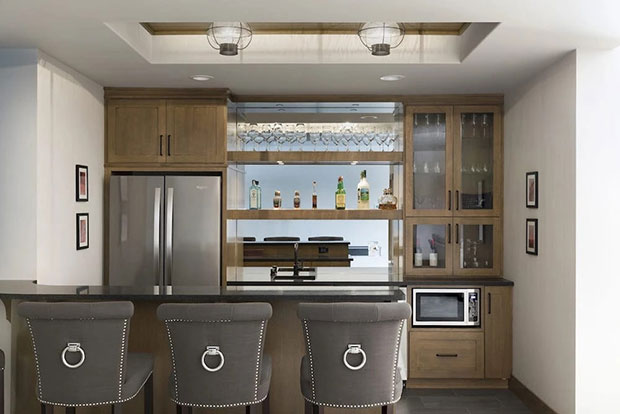 The spacing of beverages displayed on the shelf is perfect. It doesn't make it look cluttered and only further elevates the aesthetic look of this home bar.
Contemporary Farmhouse Orono Home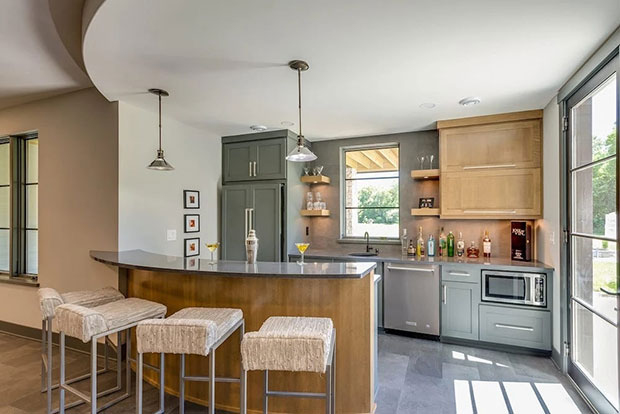 Home bar ideas with curved bar countertop aren't all too common due to room shape limitations. But this one mirrors the curve of the ceiling.
Industrial European Residence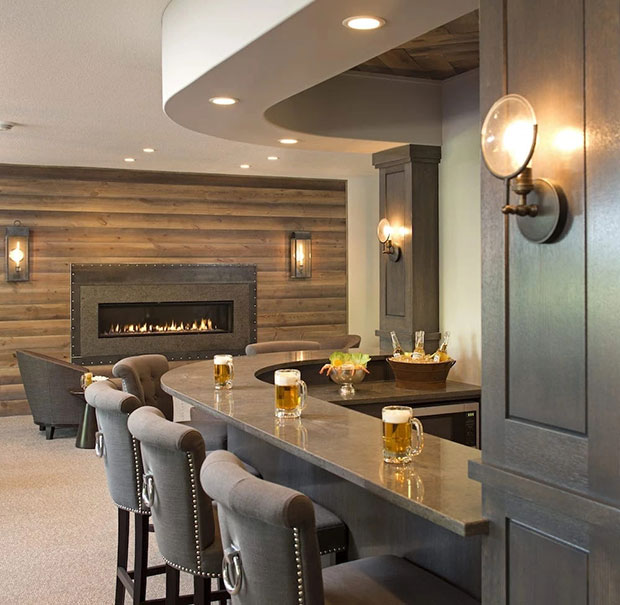 For more luxurious and expensive home bar ideas, you don't need to shy away from intricate designs.
Contemporary Edina Home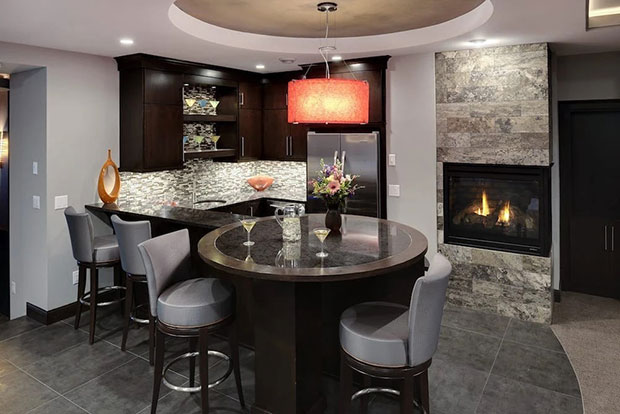 The most interesting point of this home bar design is the unique bar countertop. Somehow, with this design, it looks like you can have two separate conversations for a small countertop.
Country Cottage Homestead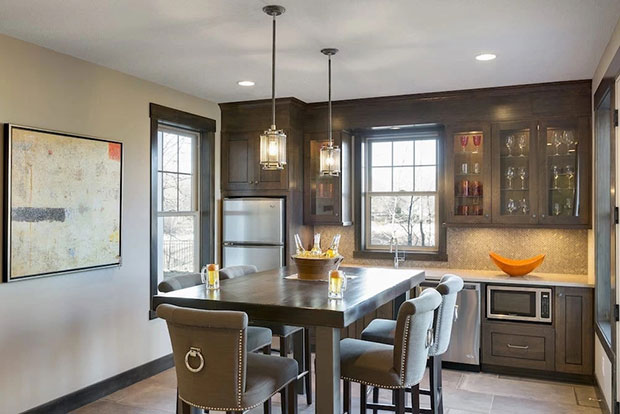 Swanson Homes
The furniture and appliances choices are pretty interesting as they give a traditional look, yet at the same time, the finishes bring some country aesthetic.
Southwest Prairie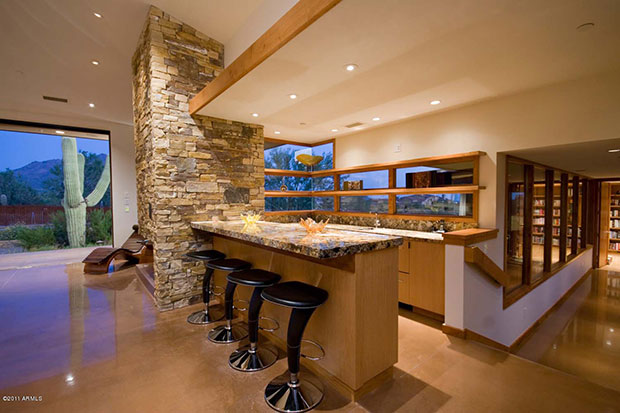 The way this home bar takes advantage of its corner placement by placing windows instead of a concrete wall behind the shelves.
Ancala Remodel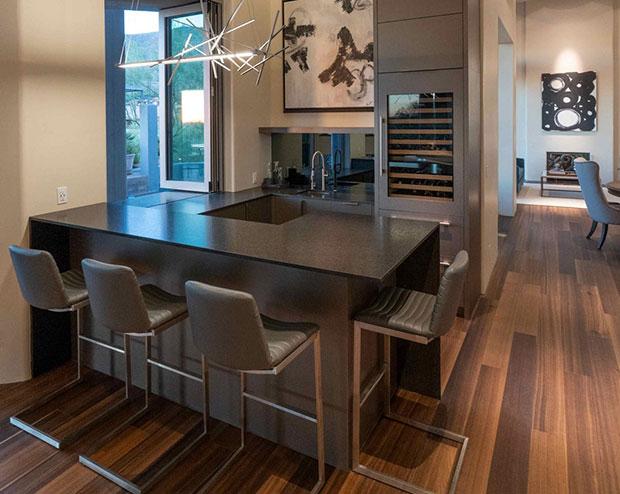 La Casa Builders Inc.
If your home bar is built in a corner, it really is a great choice to have a window fixture, allowing more natural light in and making it look more spacious.
Classic Lake House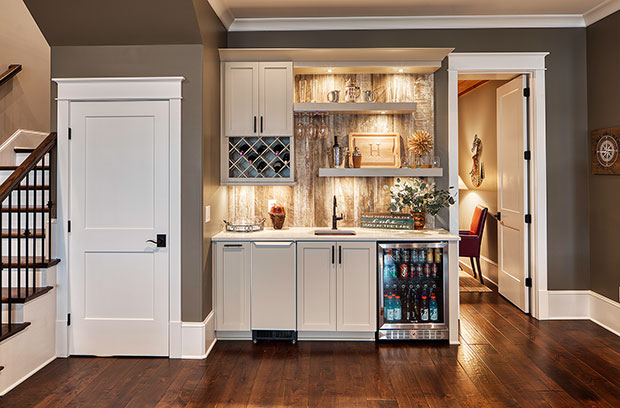 Alair Homes
The positioning of the shelves of this home bar adds some dynamic. It's a refreshing take in contrast to shelves that are always aligned with each other.
Modern Farmhouse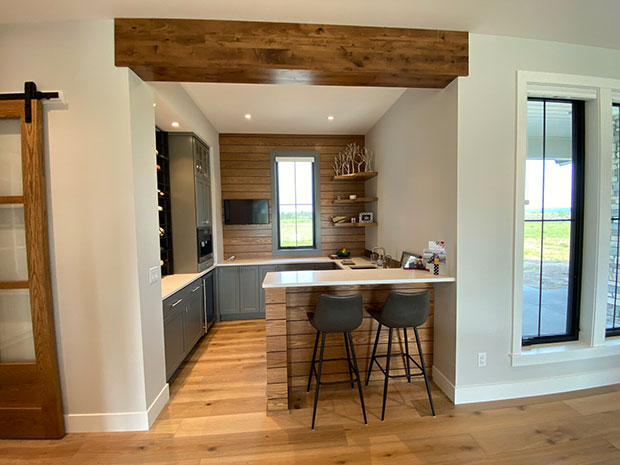 This home proves that your home bar ideas could just fit even in small spaces like this. They use up all the available space efficiently and cleverly. Not only that, they managed to keep the farmhouse motif of the rest of the home in this tiny space.
Burke Residence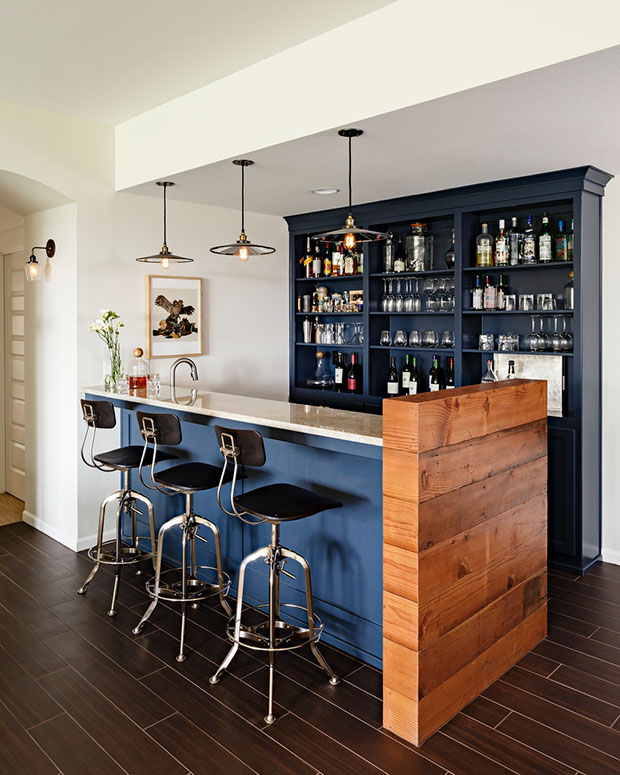 Patrick Schmitt Designer Inc.
As more home bar ideas sprout out, the challenge is to get even more creative, especially with the countertop designs for full bars since this is the first thing that people notice.
Stanley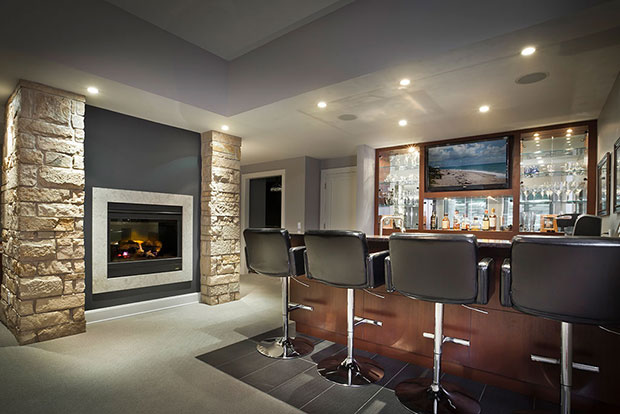 Since entertainment is a major purpose, some home bar ideas could incorporate television into the design.
Bloomfield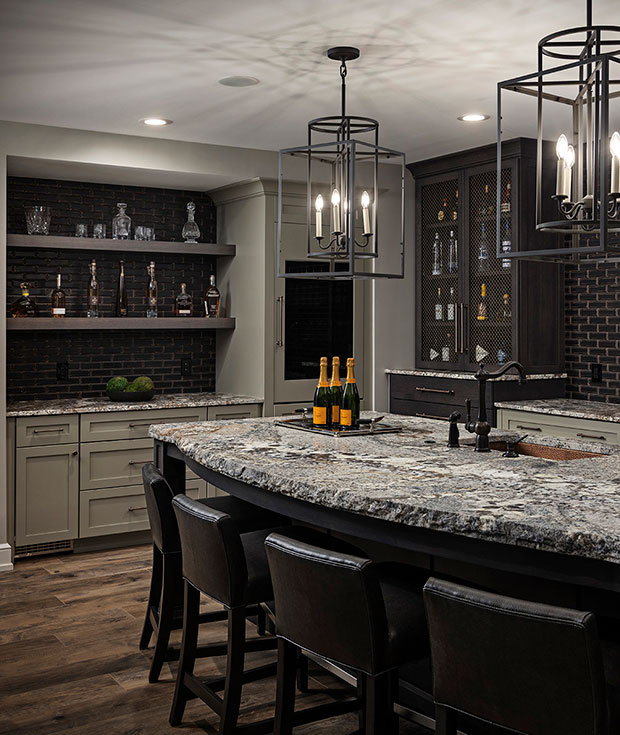 The countertop material for this home bar is very interesting, especially for its texture.
Wooddale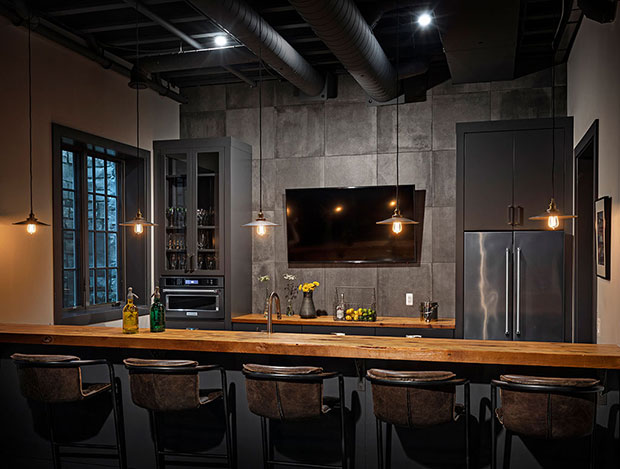 Petrucci Homes
A lot of home bar ideas tend to be more modern or contemporary, but here's one that embraces industrial style.
Basement Bar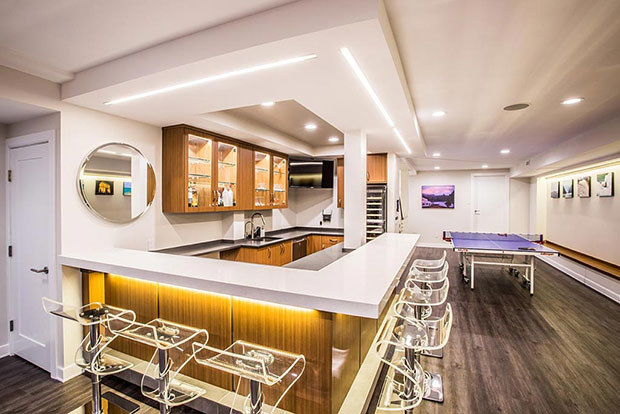 J. Silver Design Build LLC
This basement bar is a perfect example of how much the lighting can affect the overall look of your home bar. This one looks a lot trendier and more appealing to people above 20 but below 50.
Urban Classic Home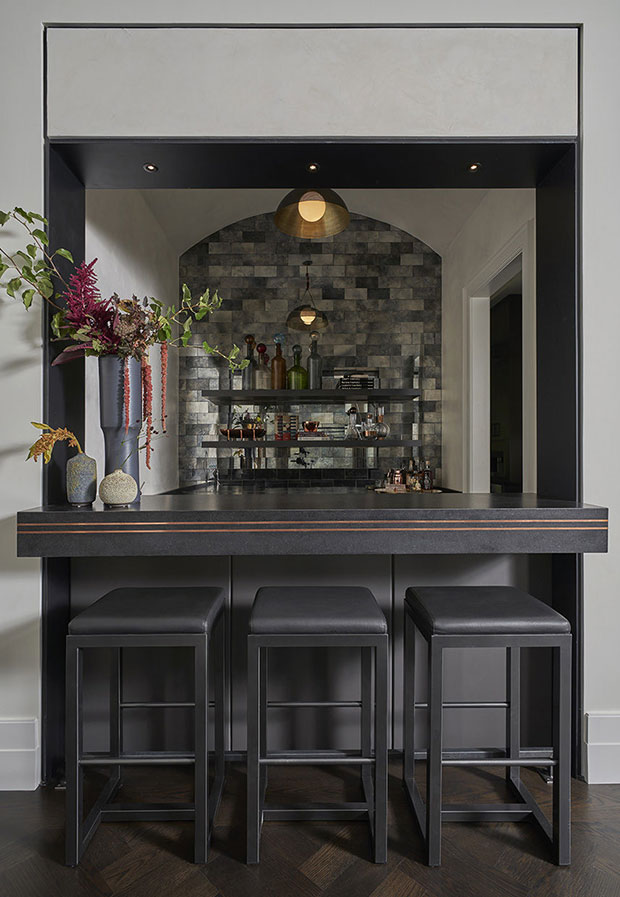 BGD&C Homes
This home bar is literally quite its own cubicle. If you have any small space or corner at home, you could consider building your home bar like this.
Ramble Renovation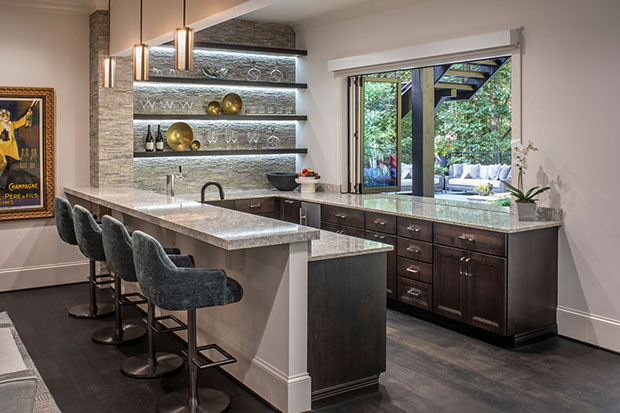 Allard + Roberts Interior Design
This is one of the cleverest home bar ideas on this list. Not only does the bar serve indoors, but it also extends outdoors into the outdoor lounging patio.
Prado de Felicidad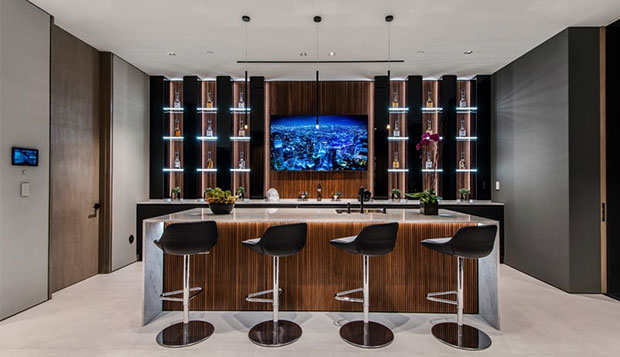 The shelving design makes this quite the stylish home bar.
St. Ives Drive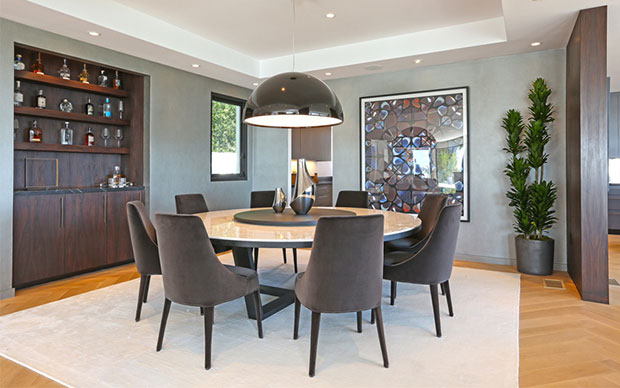 Palumbo Luxury Design
If providing a separate room for a home bar is a problem, you could do something like this where a dry bar is incorporated into a recessed wall. This will help save up some floor space.
Cumming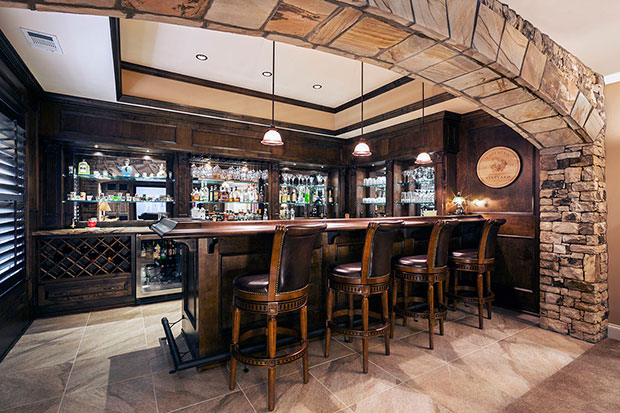 At just one glance, you can already tell this is one of those home bar ideas that were extensively cared for with time, budget, and resources.
Duluth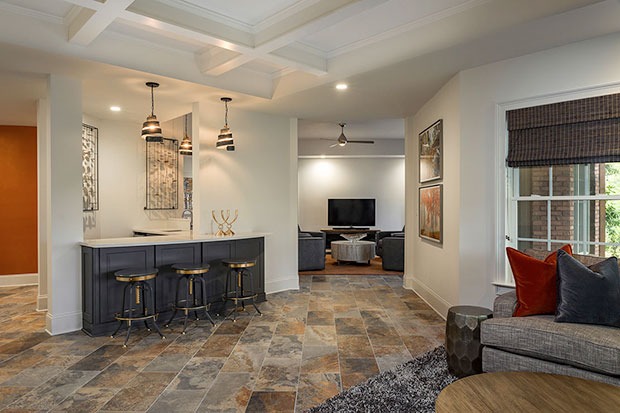 Similar to a few of the home bar ideas featured on this list, this home bar is built into its own cubicle by using up awkward cuts and corners of a home.
John's Creek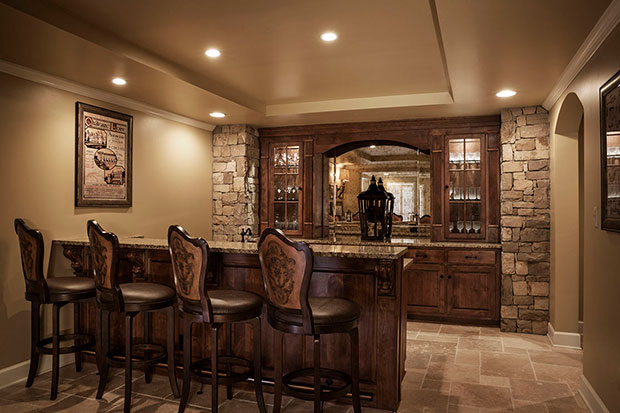 The ornate bar counter is perfectly matched with the equally ornate bar stools, creating some vintage elegance style.
Mableton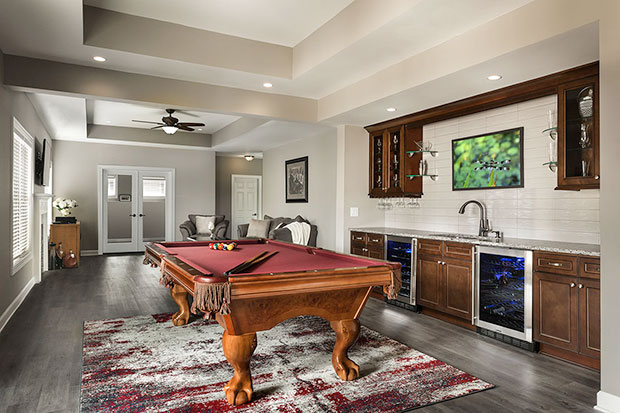 DB Atlanta
If instead of remaining seated throughout the time you want to enjoy your drink, you can have a competitive (or friendly) game of pool.
Bar Design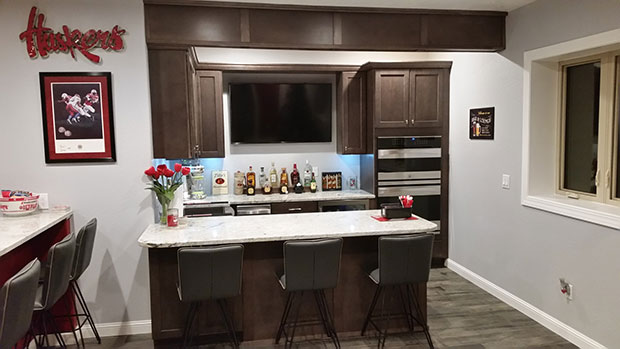 Kitchen Design Guy LLC
A very casual yet cool home bar design that will certainly have you enjoying a drink or two.
Jupiter Hills Contemporary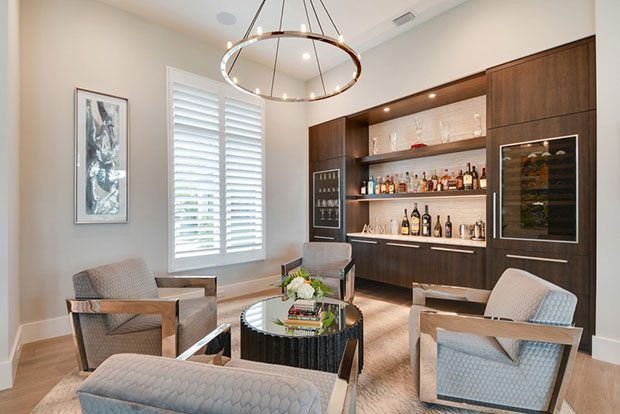 While most home bar ideas emulate or closely resemble commercial bar designs, this one gives a more casual, homey feel with its choice of lounging, different from the bar counters and bar stools.
Juno Beach Home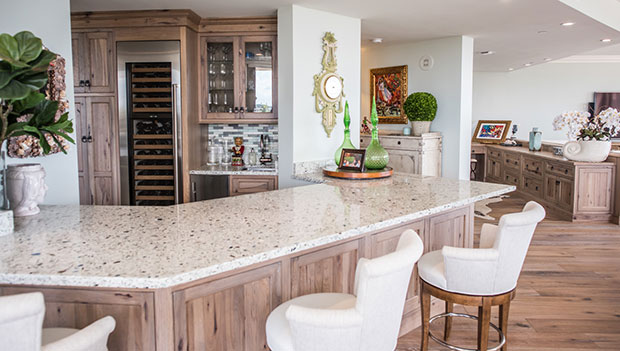 Waterview Kitchens
The light wood tone and neutral colors are perfect for a coastal-style beach home.
Sierra de Montserrat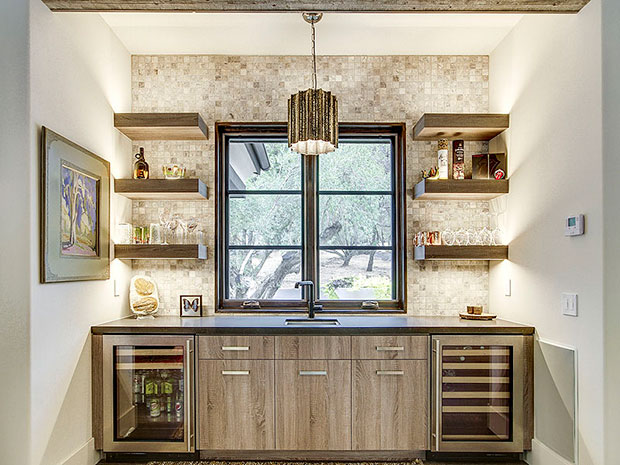 Donald Joseph Inc.
The square blocks of floating shelves are refreshing and open a decluttered look to this space.
Sands Point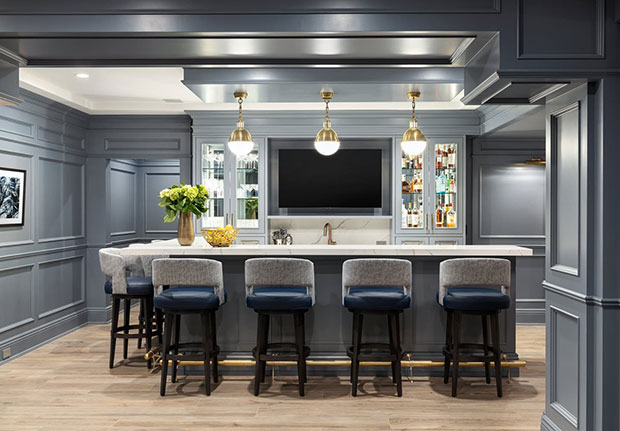 Annette Jaffe Interiors
This home bar blends in well with the overall aesthetic of this basement, not making it stand out too much.
Fashionistas Posh Pad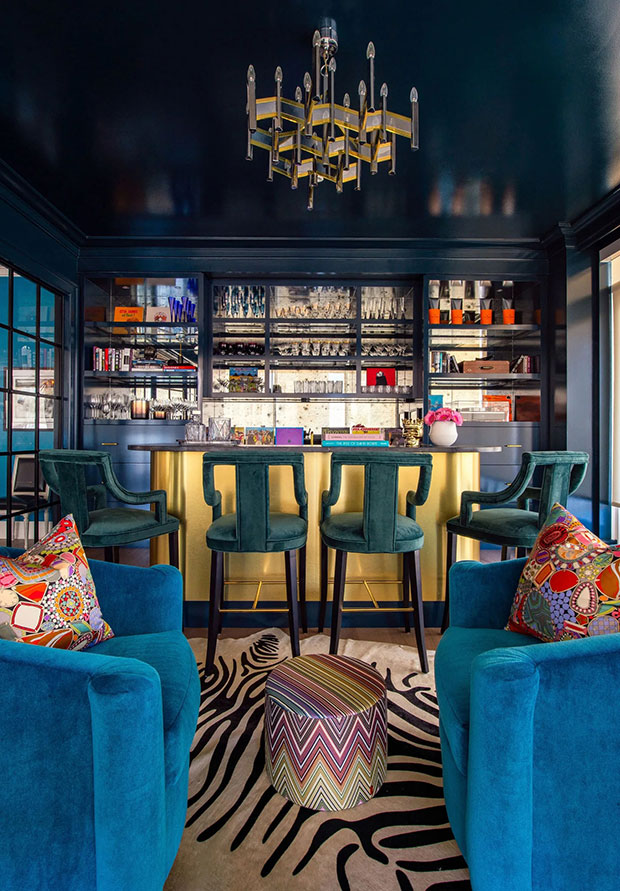 If you want something different from the modern and contemporary home bar ideas, here's an eclectic design you may be interested in! The vivid colors and bold patterns are definitely not for those unadventurous people.
Presidio Heights Revival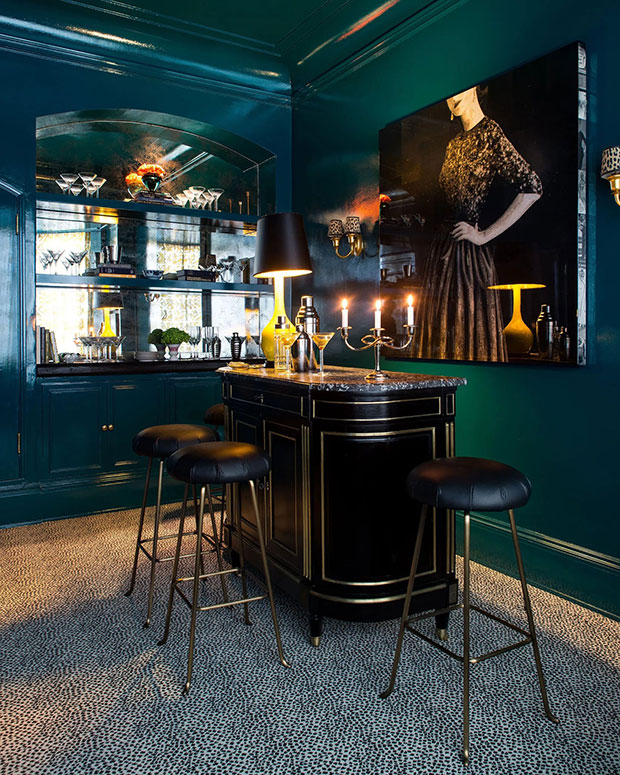 Here's some eccentric elegance brought by intricate and important details. This bar counter is pretty unique and that hanging art is definitely an interesting choice.
Modern Family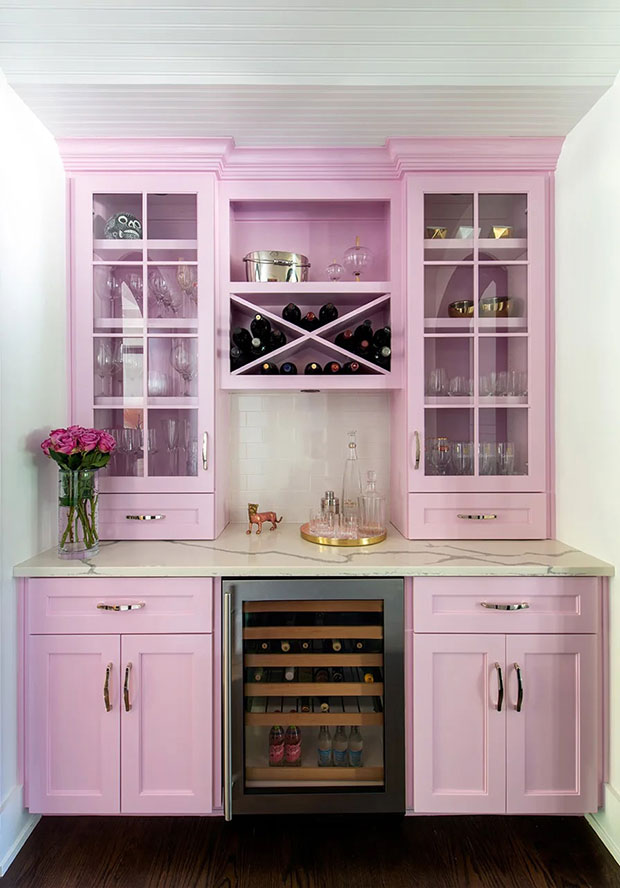 Skin Interior Design
Home bars have the reputation to be mostly used by the father or male figures of the home, so you can expect dark and neutral colors. But this one diverts expectations with a very feminine color for finish.
Vintage Bar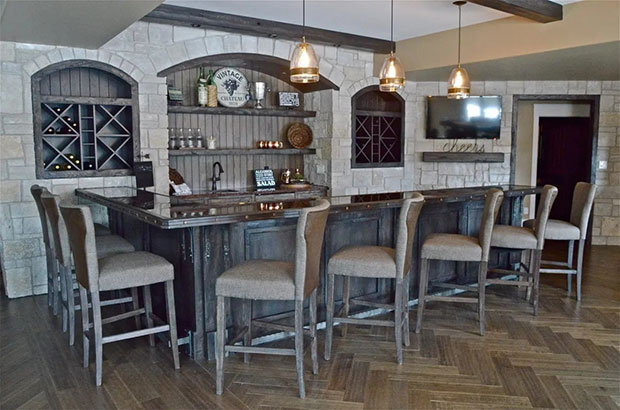 Kalma Custom Woodworks Inc.
Like its name, this home bar really embraces the vintage look with the material, textures, and colors used and furniture and fixtures.
Point Loma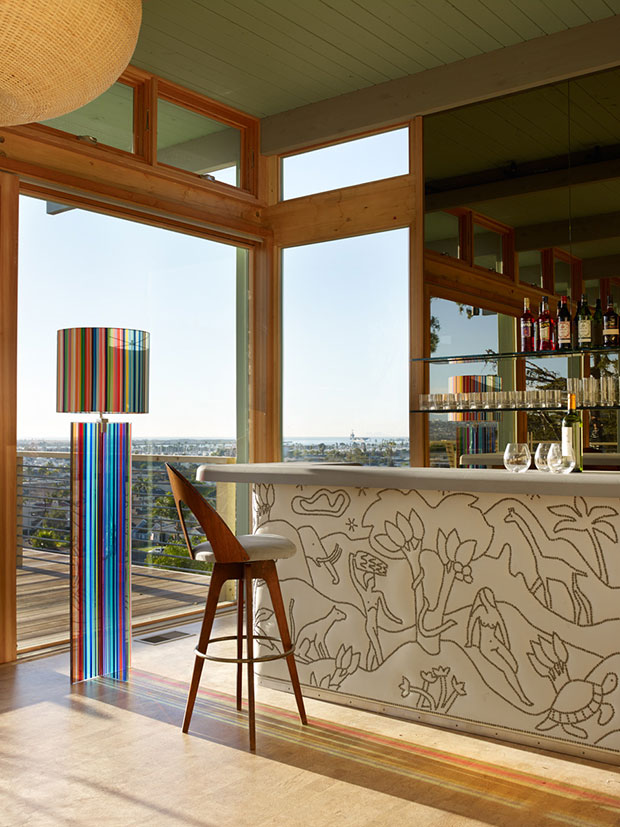 Ike Kligerman Barkley
While most bar counters are plain or with some traditional ornate details, this one has a pretty interesting design that seems to depict the Garden of Eden.
Ultra-Modern Home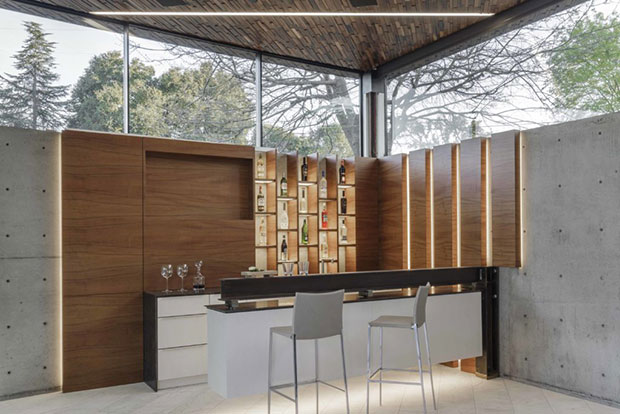 Studio Becker
As expected of an "ultra-modern home", even the home bar design is very fitting to the name and style.
Union Chapel Transitional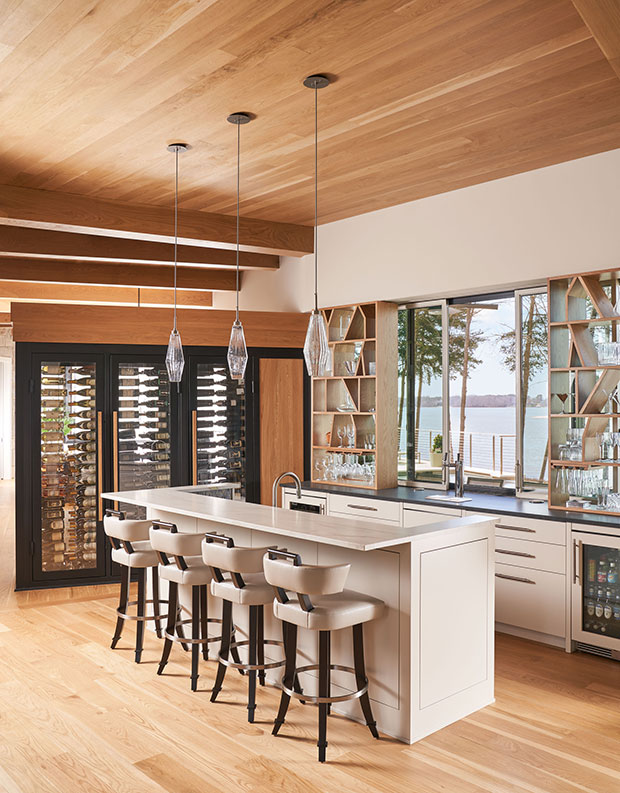 Robert Dame Design
Bring your attention to the shelves and their unique partition design. Similar to the Ramble Renovation home bar design, this bar also extends and serves the outdoor loungers.
Open Plan Modern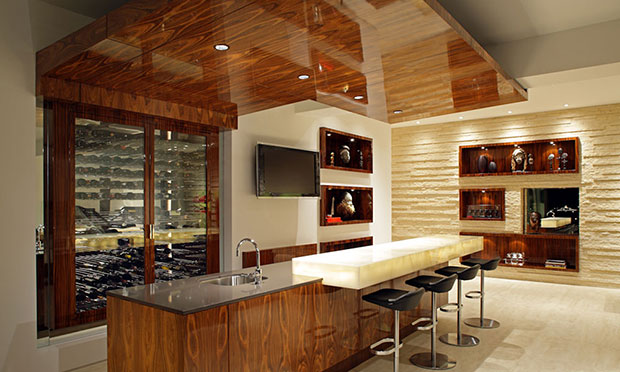 Avalon Architectural Inc.
The ceiling design is an immediate attention-grabber. But the unique bar counter design is also worthy of attention.
Light & Airy Basement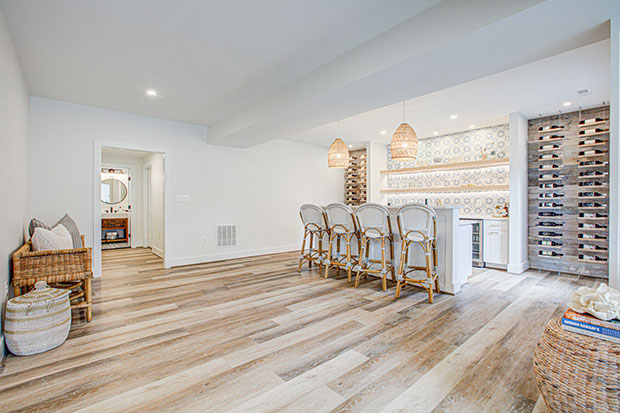 KBF by Audi Contractors
The color palette definitely lives up to this being a "light and airy basement". The rattan furniture also does a great job of bringing a homey feel.
That's it for home bar ideas! Which one of these suits your style the best?
Like This Post? Pin It!