50 Gorgeous Suspended Stairs for Your Homes
|
Often an afterthought, we never really give our staircases the attention the way we do with other elements in our homes. Staircases are often overlooked when it comes to design. For as long as it serves its purpose and fits in with the general style and theme of your home, suppose the design is not the top priority.
But just as stairs could be multipurpose, they could also bring an additional dazzle into your home. Whether it's a stunning spiral staircase or gorgeous suspended stairs, such staircase designs have brought forth novel and innovative styling into your homes.
Even the smallest design details in staircases like its treads, risers, and spindles are of the point of attention in creating a stylish home piece. Some staircases have innovative designs that seem to defy the laws of physics with their overall structural design. A handful of them almost seems like a sculpture in their own right.
In modern times, the preference for sleek staircases has grown. This opposes the popular ornate designs of stairs in the past. This is especially true for luxury home designs.
Suspended stairs with their sleek design and structure are already quite the show-stopping piece for its design alone. The key point of suspended stairs is the light and minimalist appearance, which also appear to be suspended in air, whereas in your ole regular staircases' risers are connected to the floor. Suspended stairs like floating stairs that seemingly float in air or ones that are seemingly hanging by sturdy cables qualify in this category.
One look at this list or your own imagination of what suspended stairs are like, you may think they seem dangerous. While they are certainly not recommended for homes with aged people or people with walking disabilities, rest assured these kinds of stairs are safe! Building staircases must always follow typical building code requirements and safety concerns, which means they are properly engineered!
How much does it cost to have stairs redone?
In the current year, removing and replacing old stairs costs between $300 and $2000, with the price varying based on material and construction type. The deconstruction of stairs has to be removed systematically to prevent damages to the house.
Remodeling custom staircases are at a higher price range. First of all, custom stairs can cost from $2000 to $30000, or even more, depending on the project. Pre-built custom stairs are at least $1000 to $2000, but sometimes they don't include railings or posts. Adding such features, plus installation costs, it could cost you from $3000 to $4000, and the more customized your stairs are, you may have to pay more.
Renovating stairs range from $1000 to $2000. But a full staircase remodel would cost at least $4000 to $8000.
How do you reinforce stairs?
Staircases need to be maintained when it needs them to remain durable in the long run. No matter what type they are, whether they've suspended stairs or old-fashioned stairs. Sometimes, you might hear your staircase creak or become shaky. Not only is this unpleasant, but it also makes it seem your house is in a poor condition. If left unattended, this could be a threat to your and your family's safety.
Here's an easy method of reinforcing your stairs that you could do on your own. Note that you have to reinforce your stairs by working from underneath as to not damage visible parts.
1. Look at the underside of the stairway. You may need to remove drywall or boards, if there are any, to reach the framework. You can use a utility knife to cut through drywall and a crowbar to pry away boards.
2. Examine the stair's framework. Check that staircase component, such as stringers, treads, and risers, are firmly connected.
3. Find the studs by moving a stud finder across the walls. When you find them, mark the locations with a pencil. If you can't find the studs, you can do so by tapping a nail through the drywall, and then making horizontal series of holes until you hit a stud.
4. Drive 3 ½ inch-long screws through the stringers found against a wall at each point where the studs are. Note that if the screw spins after going through all the way into the stringer, then you've missed the stud.
5. Spread glue along two adjoining sides of a piece of wood and place them into a corner where the underside of the tread meets the top of the riser. Repeat these steps.
6. Inspect the shims. Many staircases have shims to tighten and adjust components. Test the fit of any shims between risers, treads, and stringers by trying to wiggle them sideways. When you find loose shims, tap them in using a hammer until they are tight.
That's it! They're quite the easy steps, aren't they? Though note that most suspended stairs designs may not be applicable for these steps, since suspended stairs usually are open risers.
Now, let's take a look at some of the most gorgeous suspended stairs for your homes!
Medusa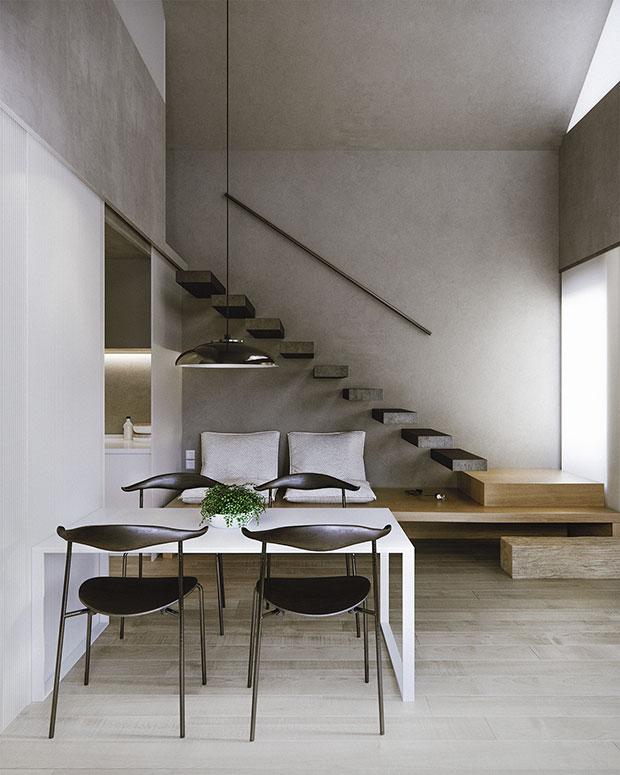 Photonic Studio
On this angle, these suspended stairs look like they really are defying gravity. Made out of concrete, the steps are securely connected to the wall. And for additional safety, they even added a handrail for support.
House in the Garden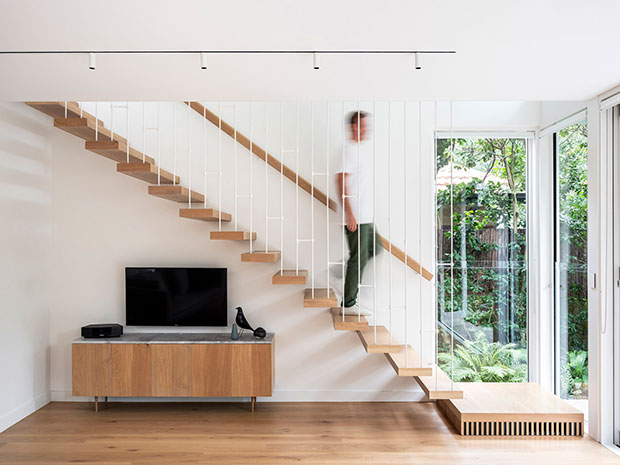 Sam Crawford Architects
The vertical cable railings ensure further safety, in addition to the handrail by the wall. Also note that they put an elevated platform landing at the bottom to ease the climb up.
Boathouse Residence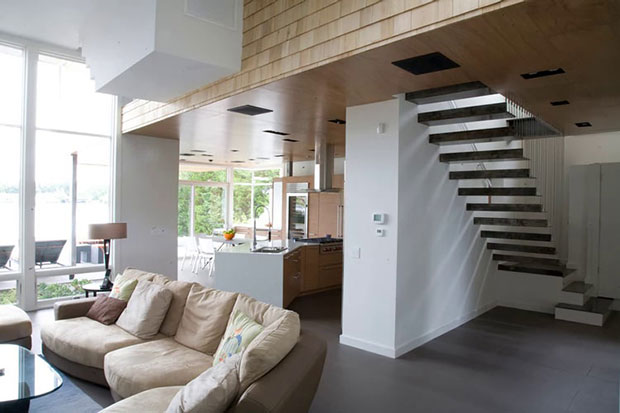 Narofsky Architecture
While the first two steps towards the bottom landing are rooted to the floor, the rest of this staircase is seemingly suspended in air by cables.
Elvaston Place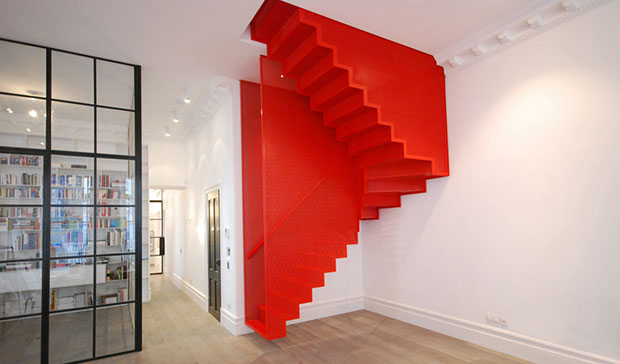 Diapo Limited
Now this is one of the most interesting suspended stairs on this list. Its bright red color quickly catches one's attention. But its overall structure is on its own quite the sight. Pre-made and customized, they securely fitted this staircase into the home.
Etre, LLC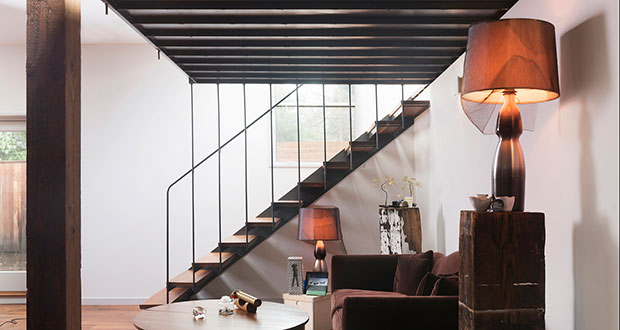 Brown Fenollosa Architects, Inc.
Each tread in this staircase is only connected through stringer. This one's a good combination of wooden treads and metallic stringer and railing.
Newton Terrace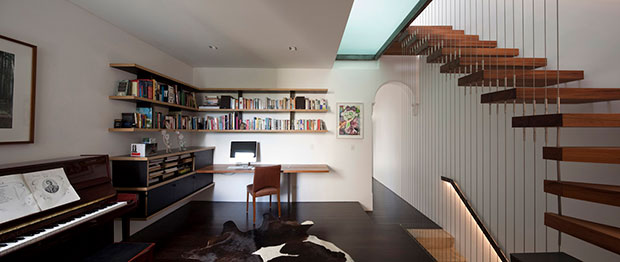 Sam Crawford Architects
These treads are not only tethered to the wall on one side and cables keeping them up together. This design style makes the kite winder configuration quite interesting.
Campbell House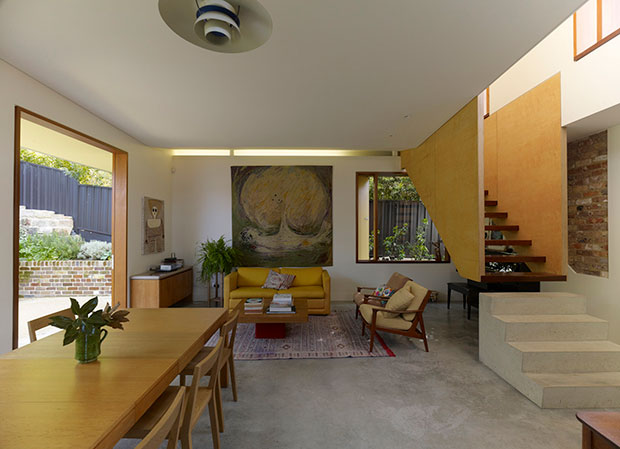 Sam Crawford Architects
This is one of the more interesting suspended stairs on this list. With a solid concrete first four steps, the rest of it being suspended in air. The design is more like the solid part was discontinued, then built the wooden stringer on both sides where they attach the treads.
Clark Road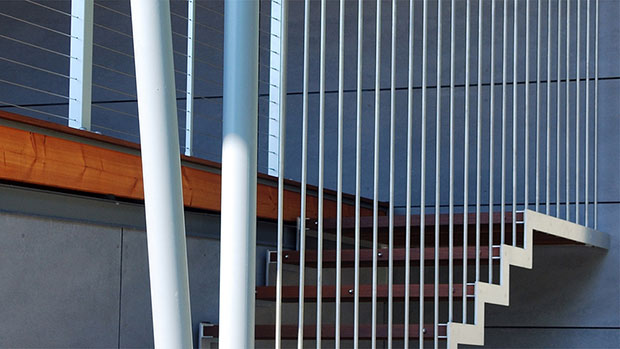 Brown + Davis Design
This staircase is solely made of steel, from the treads, the inner stringer, and the cables that are attached to the ceiling.
Go Up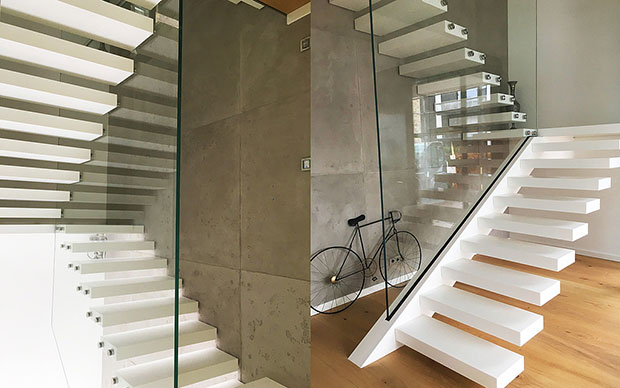 Siller Stairs
The first landing of these stairs are quite interesting. With no railing on the outside, it could be a frightening climb up and down the stairs. Meanwhile on the inside, it has a glass railing that also tethers the second flight of stairs.
Trennwand mit Glas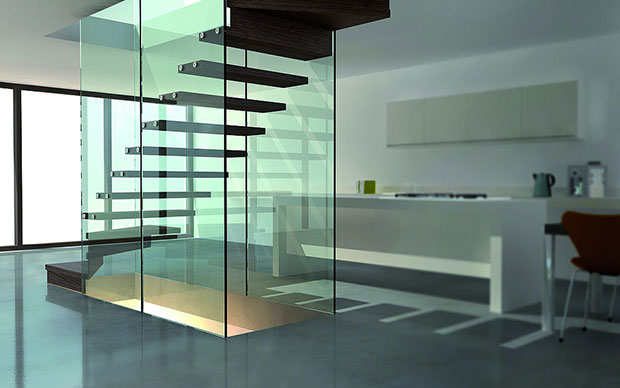 Siller Stairs
The floating treads are connected to glass, giving more emphasis to that floating illusion. Such design is also perfect for homes with contemporary or futuristic designs.
Greenwich Village Duplex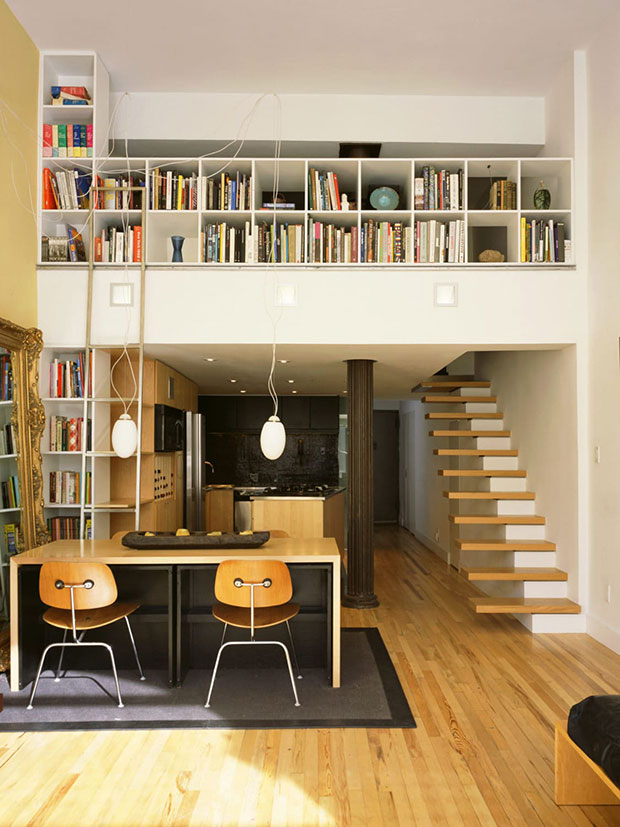 Kimberly Peck Character
The most interesting detail about this staircase is how half of the side has open risers while the other side has a solid, concrete riser and stringer. This way the treads are fully supported, not having to worry about the sturdiness of the treads.
Eleventh Street Apartment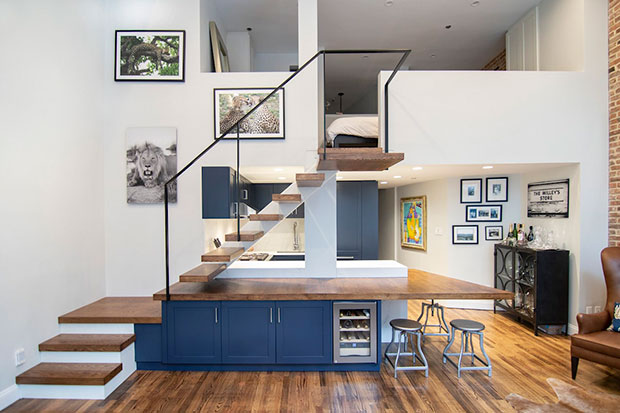 Kimberly Peck Character
In homes like this where space is not a luxury, suspended stairs like this are recommended. They cleverly doubled up the use of this bar countertop wiith, a portion of it used and connected as part of the staircase, matching the stair treads with the countertop.
Gillespie Unit B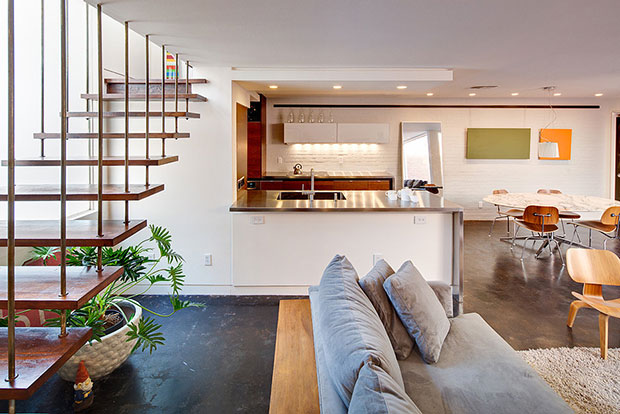 A. Gruppo Architecture
This staircase gives a little Bohemian and rustic vibes. With the thin wooden treads and the cables that are connecting them, this staircase feels and looks light, making it easy on the eye.
Gillespie Unit F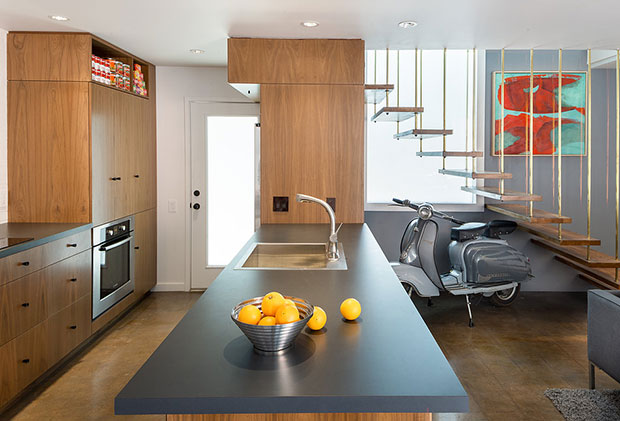 A. Gruppo Architecture
Suspended stairs like this one provide several advantages. Not only is this giving a clean and open look to the room, it gives way for a storage space underneath it. Look how they managed to put their scooter underneath the stairs!
Lakeshore Residence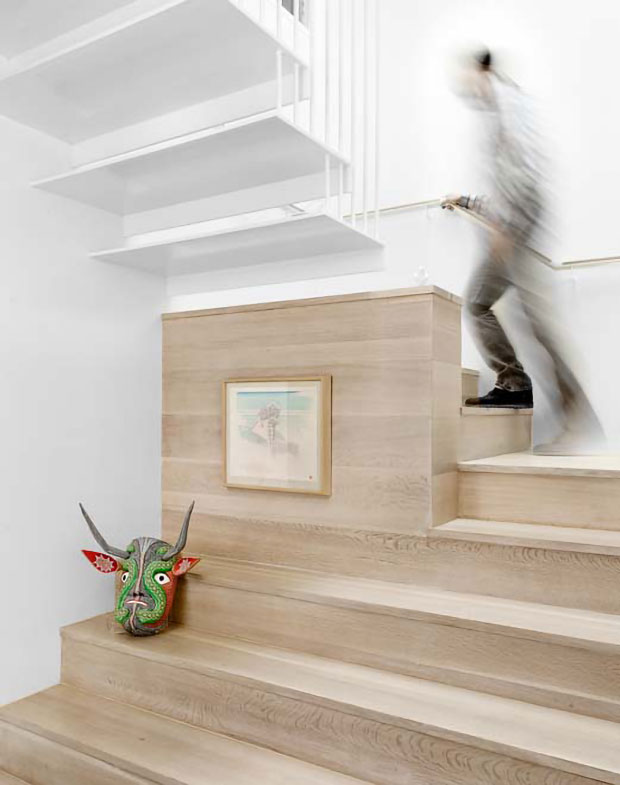 Texas Construction Company
This sort of style is really interesting and unique. With a wooden first flight of stairs, which could also double as shelves, the following flight are suspended stairs only connected through the cables.
Roseville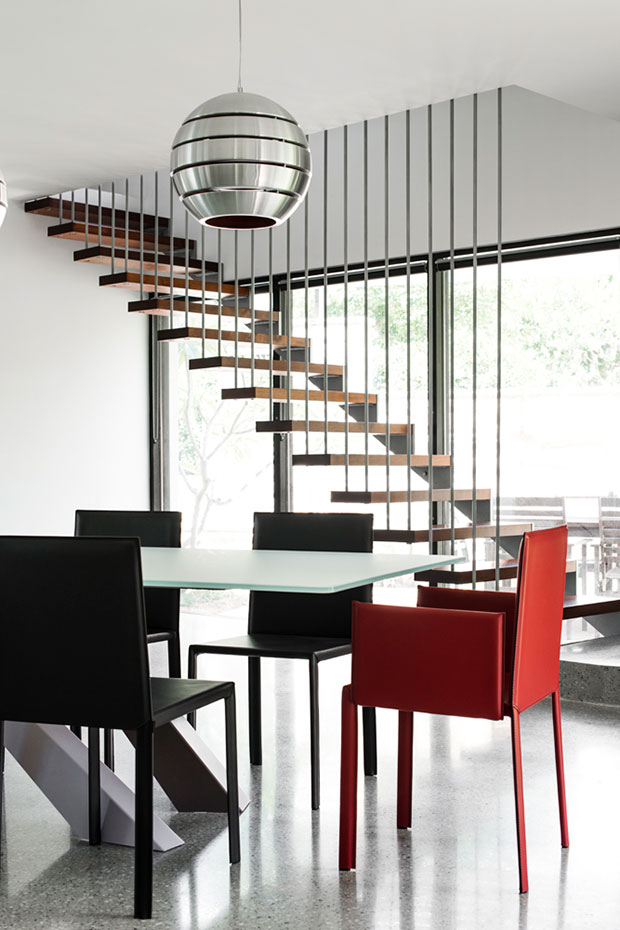 Leung Architects
Suspended stair designs like this are popular for homes with contemporary designs. The first landing platform being made of marble is worth-noting.
House 7 Concrete Village House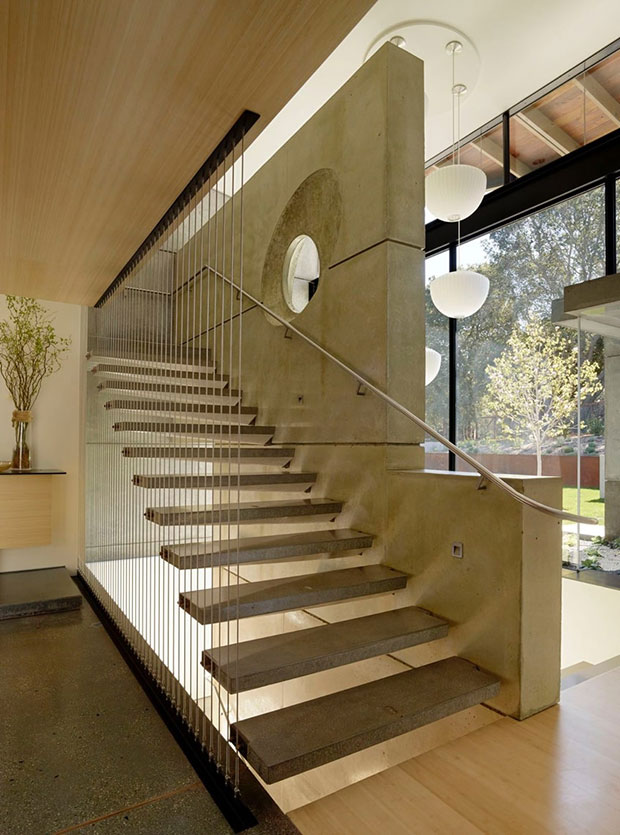 Cheng Design
The architects and engineers of this staircase who meticulously engineered this staircase also kept in mind wanting to emphasize its sculptural nature. Cantilevered and connected with taut cables, they made sure by doing tests to secure safety and bring forth style.
Weekend House Downtown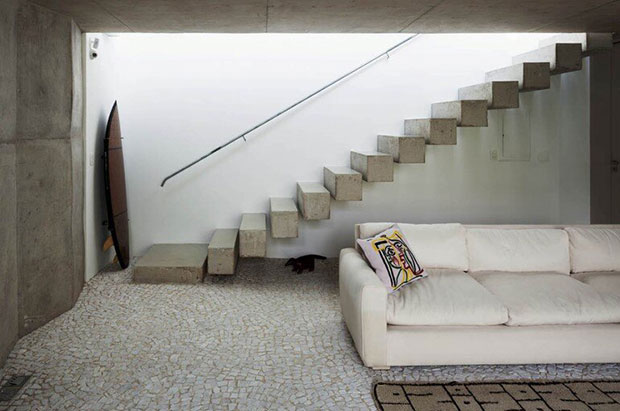 SPBR
Now, this suspended stairs are strangely interesting. With the way it's designed, it looks like a bunch of concrete blocks were cinched into the wall. While they are stationed quite closely with one another, a handrail was added for further safety.
Cole Valley House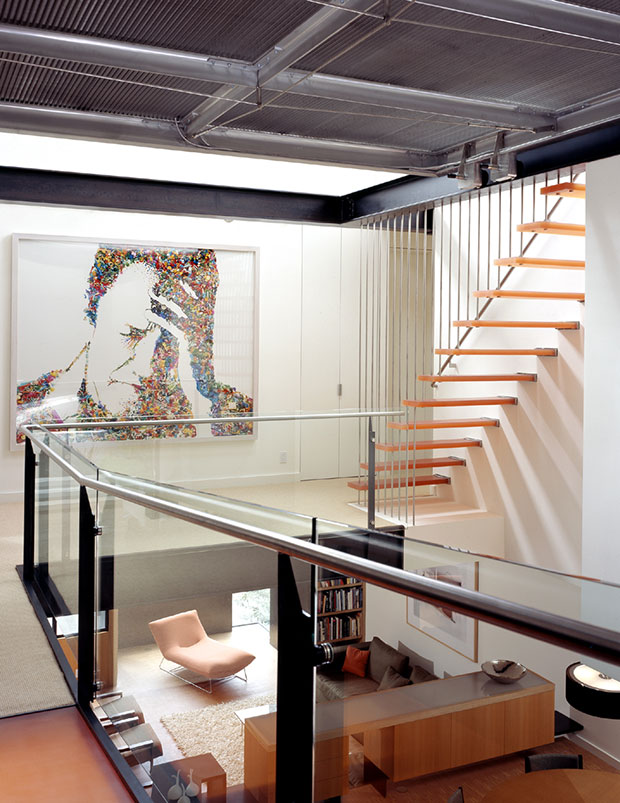 Winder Gibson Architects
Unlike all the previous ones on this list, this staircase's treads are made of resin. You can see clearly, even at this angle, where the treads are cantilevered and the taut cables supporting it.
Ledbury Road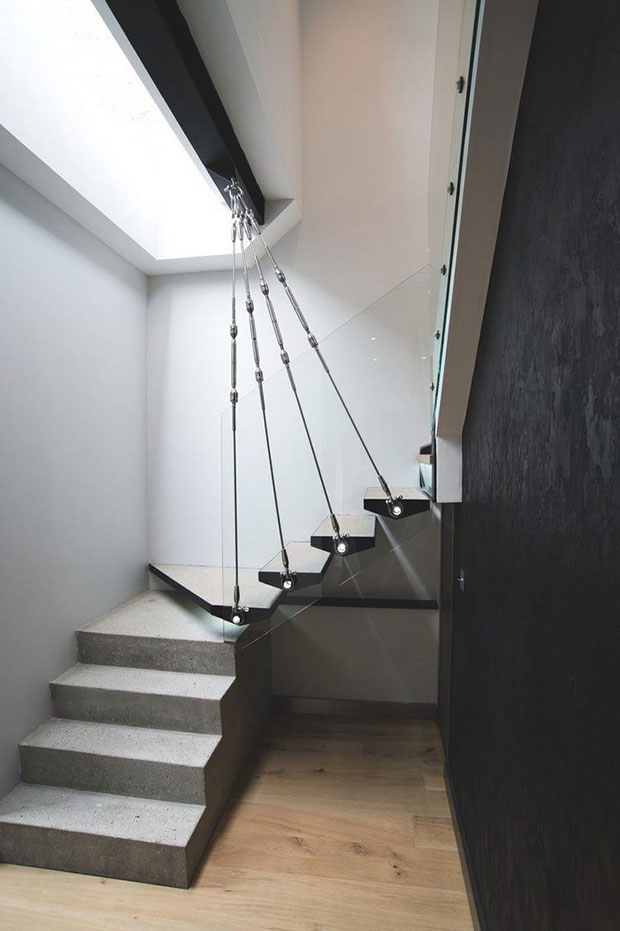 Cubic Studios
Halfway through this staircase, it features the treads and a kite winder suspended. Supported by a glass barrier, the architects extend the support with these industrial cables. It gives much a contemporary industrial look to the room.
Bauhaus Lüneburger Heide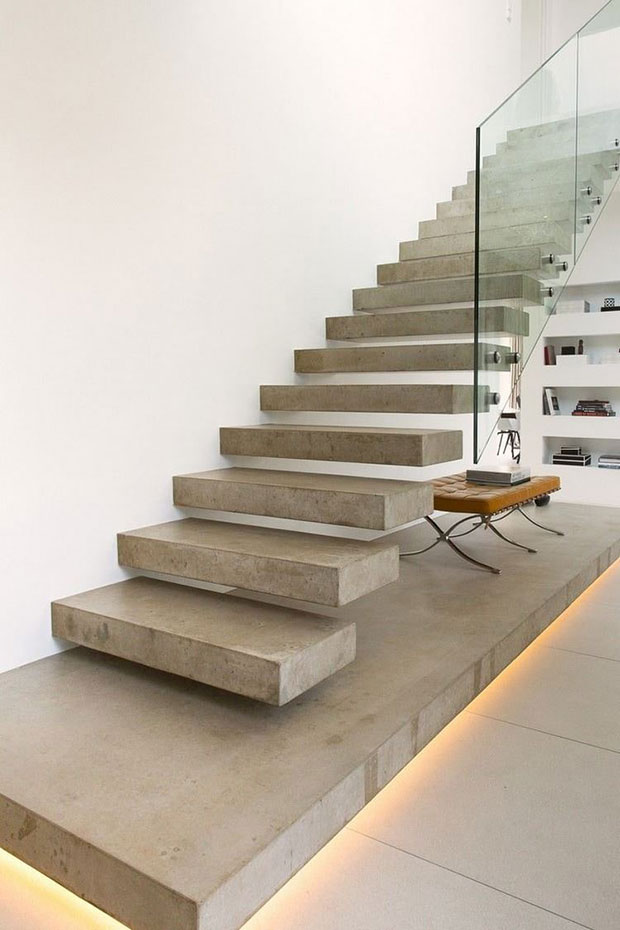 Vicky Hellmann
The clean blocks of concrete for treads matches with the elevated platform that runs along underneath the stairs, where they have a little reading room.
Ramat-Hen House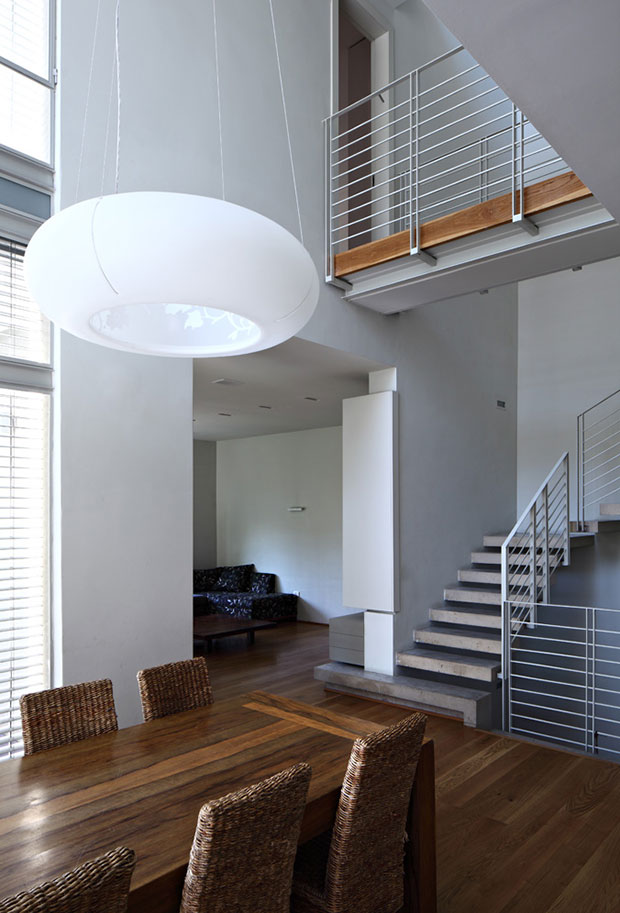 Amitzi Architects
At this house, their suspended stairs are quite interesting. While with the others we get vertical cable railings that reach to the top of the ceiling, this one has the usual staircase railings.
Sag Harbor Residence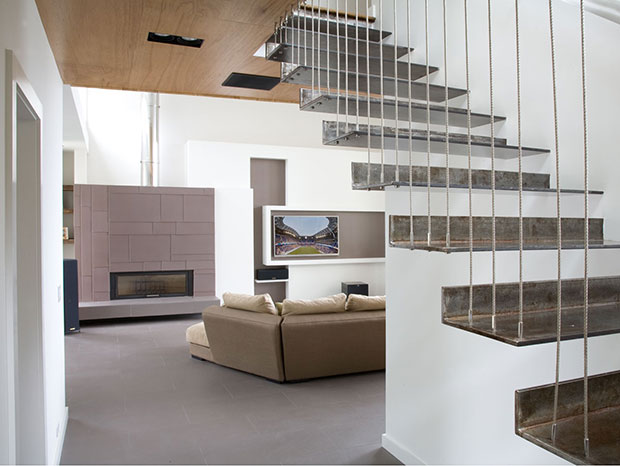 Ber Murphy Photography
These metallic plates for treads bring an industrial look which is a nice complementary look to the otherwise contemporary living space.
Jewel House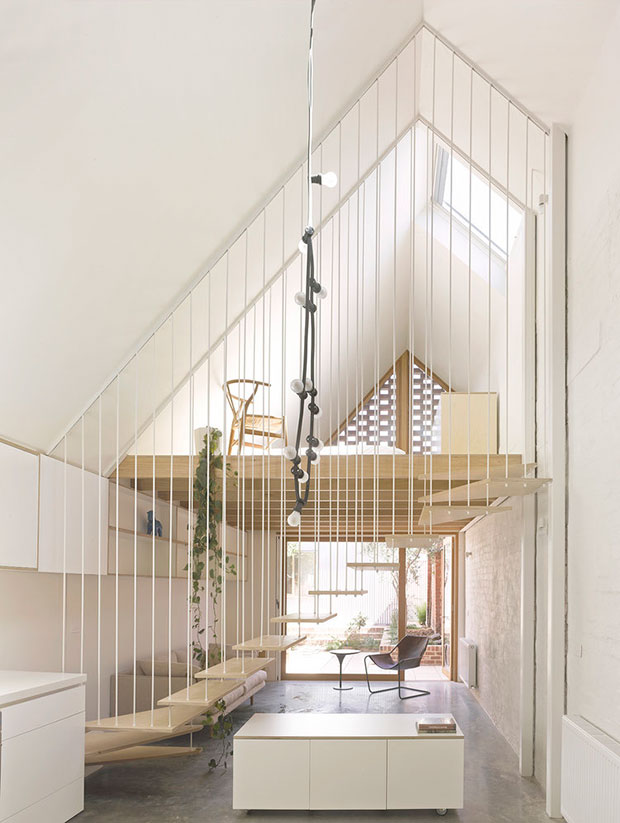 Karen Abernethy
While most homeowners may not think too much on their staircases, but for this home, the staircase is literally like a form of art. The cool, neutral colors of the treads and the cables, in addition to the structural configuration is something of worth-noting.
Coppin Street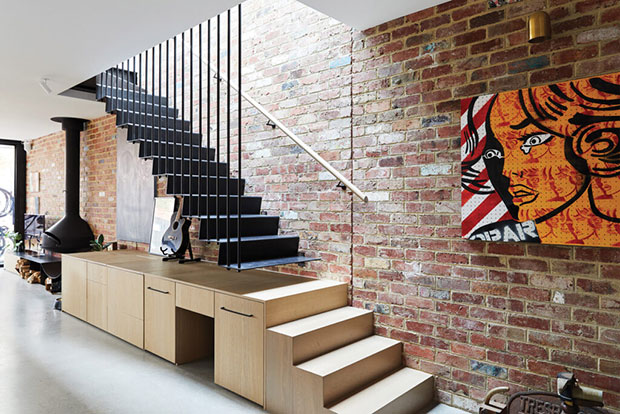 S&A Stairs
Instead of individual treads looking suspended in the air, the entirety of this metal staircase is suspended, secured by cables and attached to the second story flooring. They have solid steps that extends into a storage unit underneath to be able to reach this staircase.
Garden Vale Road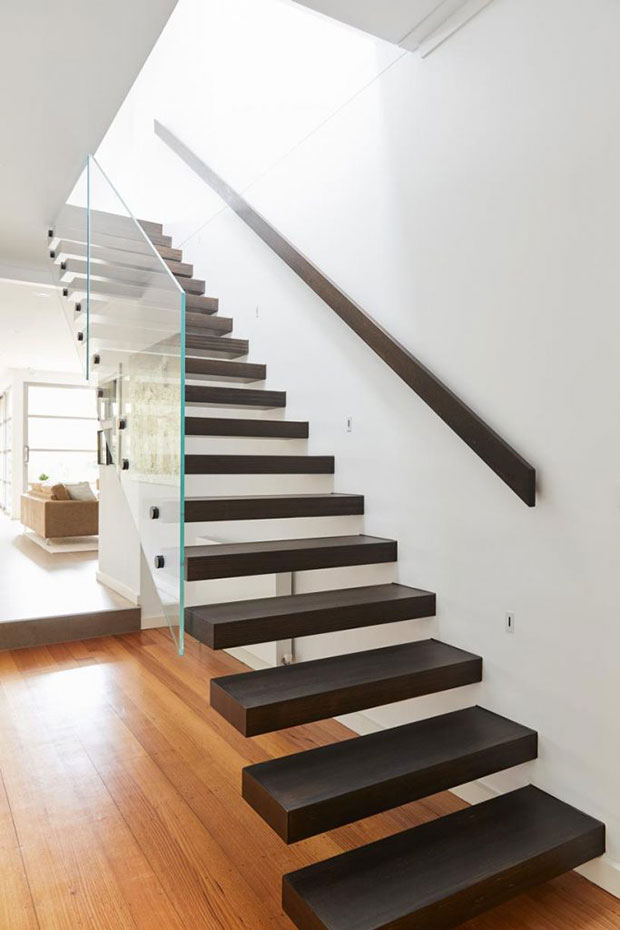 S&A Stairs
The dark wood blocks for treads are a good contrast to the white walls. And the choice of having a glass for a guardrail adds into the contemporary look.
North Avenue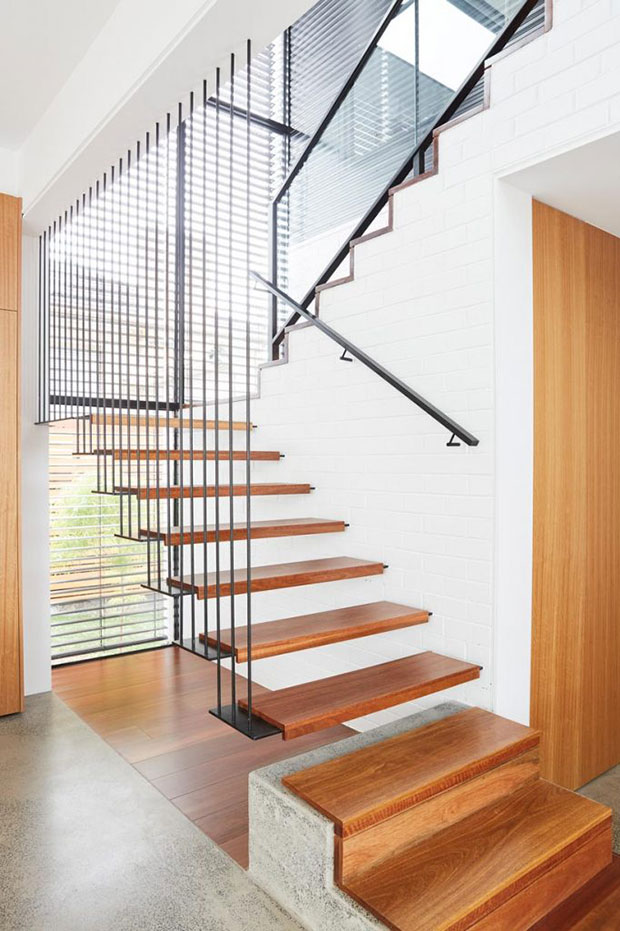 S&A Stairs
Following this trend, this home too has a solid and rooted first few steps before getting into the "suspended" parts of the staircase. The metal treads are cladded with wood probably for a better feel underneath your feet.
Belmont Avenue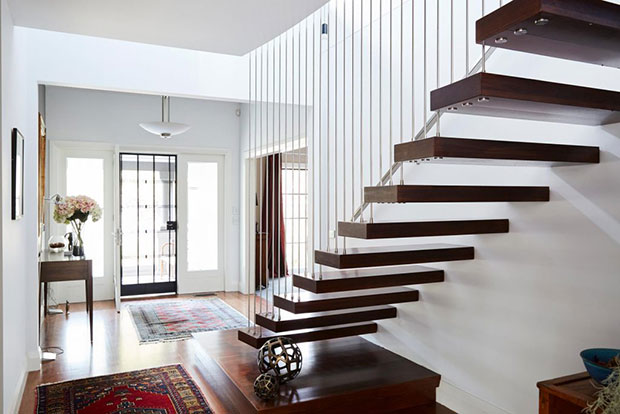 S&A Stairs
The treads perfectly match with the flooring so the overall aesthetic of this living hallway looks clean and neat.
Alma Road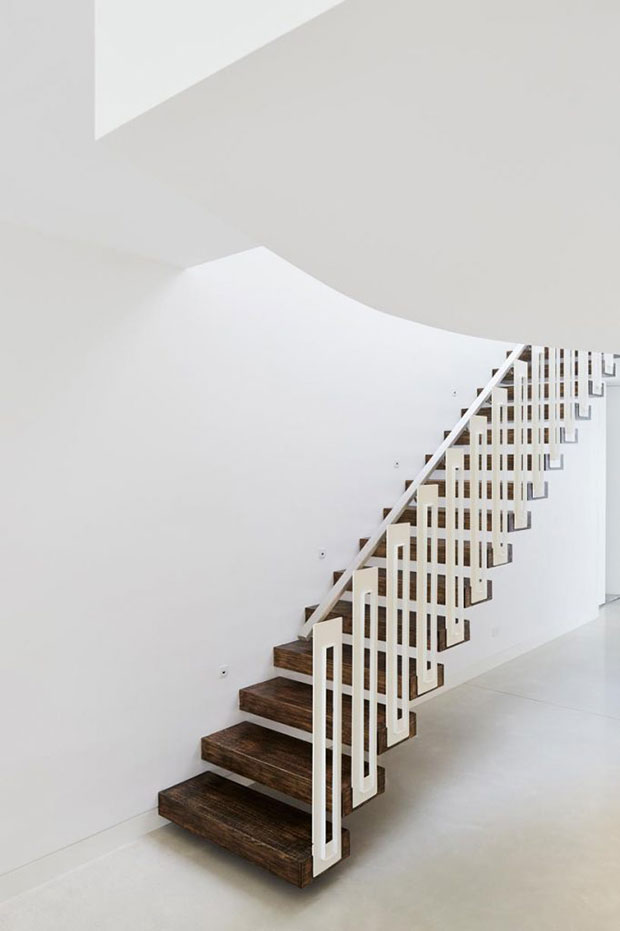 S&A Stairs
Most interesting point of this particular staircase is its balusters and handrail.
Hamburg Close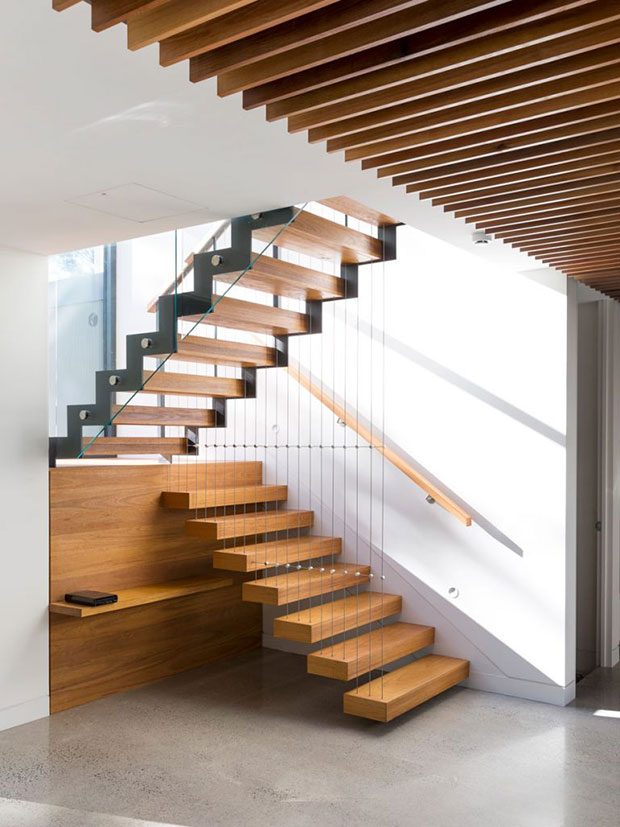 S&A Stairs
Compared to the other suspended stairs where they are installed at a higher position, this one is closer to the ground. The entire staircase also isn't entirely suspended unlike the first flight.
Kalkan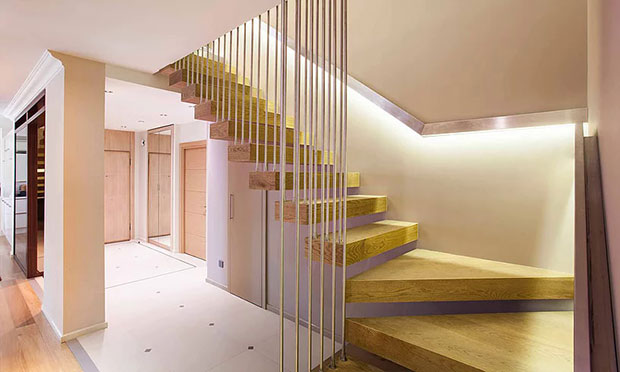 Pebbledesign
The kite winders of this staircase are quite interesting to look at with the way that they don't seem to be attached to the cables like the rest of the treads.
Oak Avenue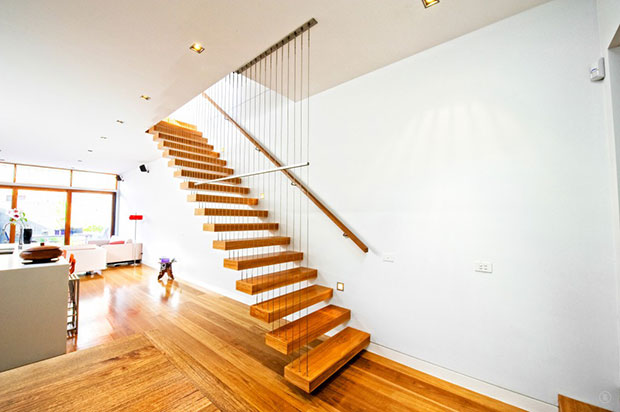 S&A Stairs
Supported by taut cables, these stairs made of oak give a chic and neat look to an open floor plan.
Lexington Street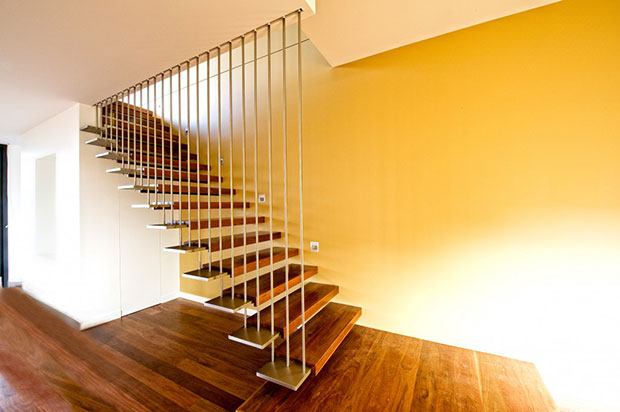 S&A Stairs
The metal cables to this one are attached to the metal parts of the treads rather than on the wooden treads themselves. The metal parts that protrude gives it a little more dimension.
New Mistral Magic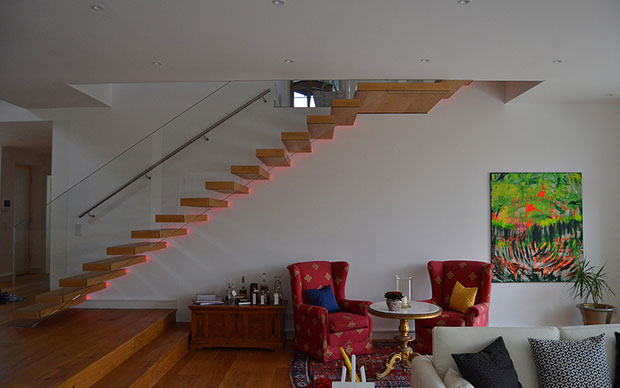 Siller Stairs
In the previous suspended stairs with glass railing for examples, they had standoffs visible and even protruding on the outside. But this one has a clean look to it. It even has LED lights!
Olmo Spiral Staircase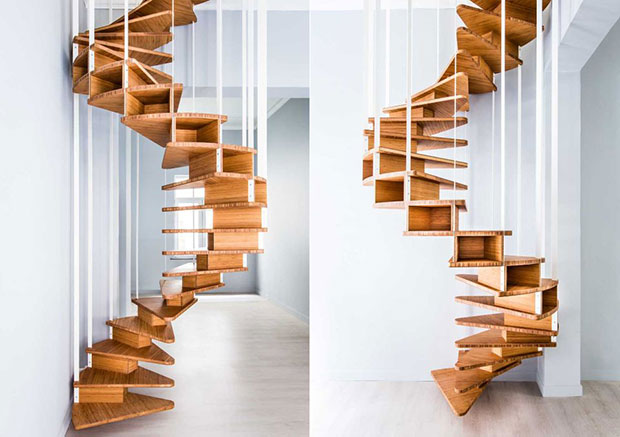 JOA Interior
Now this one's an interesting staircase. Hanging by cables, this suspended spiral staircase also provides small storage units!
Suspended Staircase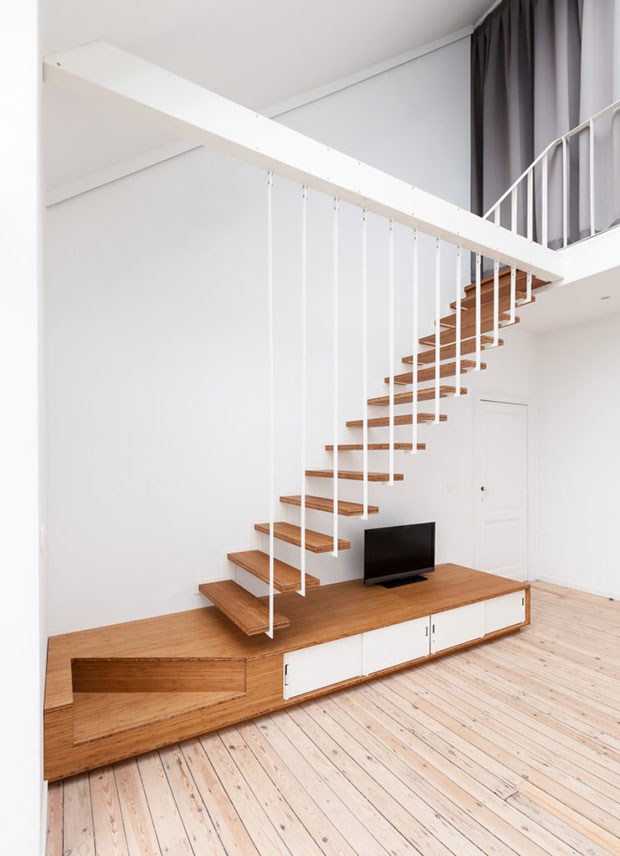 JOA Interior
Interestingly, the balusters are attached underneath the cantilevered treads. This way, the treads space are of completely use to those who come up and down the stairs.
Mistral Spiral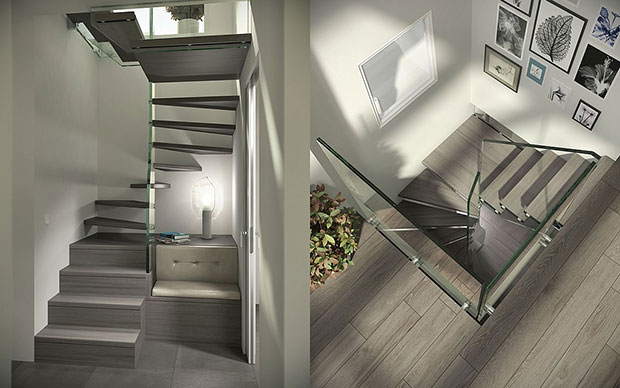 Siller Stairs
In this staircase, the portion that are essentially the kite winders, form a spiraling configuration. They look cleanly suspended in air but are really attached to the glass newel. They even have a small seat underneath the stairs!
Schwarzes Haus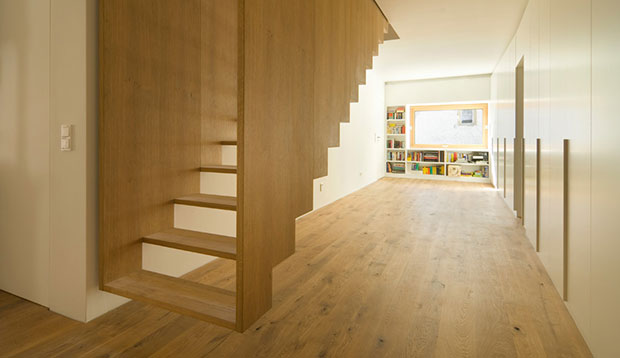 SoHoArchitektur
At this home, their suspended stairs are quite the unique piece. It's almost looking like a tunnel that leads to another place (or part of the house!) with the way it's built.
Floating Steel Staircase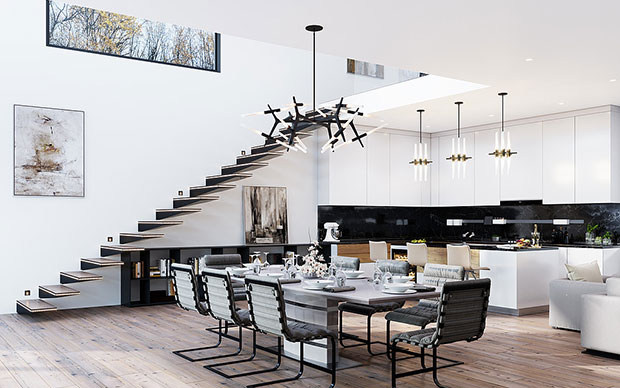 Siller Stairs
The most interesting thing about this suspended staircase is the shape of each tread. Instead of the usual flat shape, these ones are angular at the bottom on the cantilevered side.
Floating Staircase in Steel, Cubus 3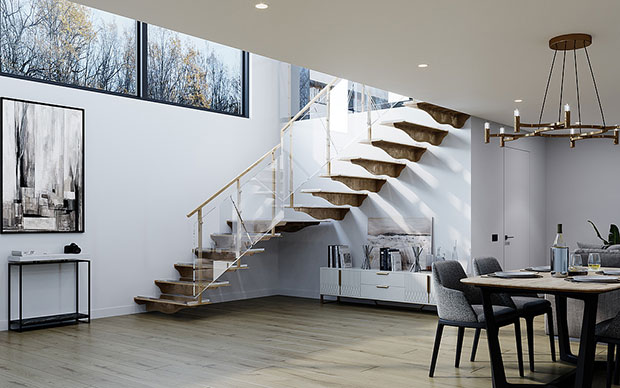 Siller Stairs
One of the common features of suspended stairs or floating staircases are the open risers. But this one has quite the ornate risers. However, since each tread are quite separated at a considerable distance, it still has that open look.
Galvani House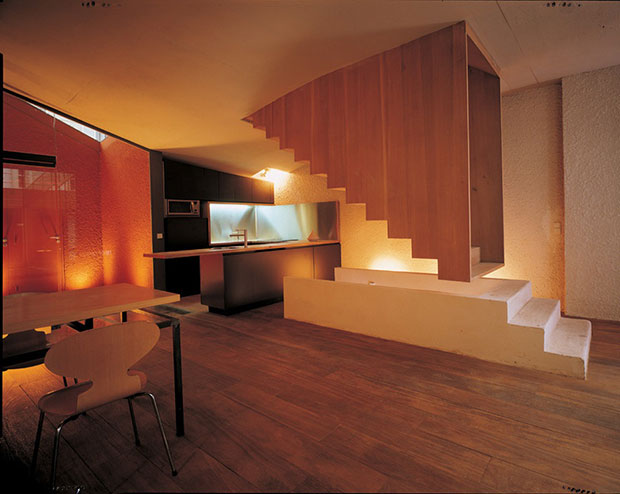 Christian Pottgiesser
While the Schwarzes Haus' suspended stairs had open risers, at the Galvani House, their staircase is literally closed off so it resembles a tunnel more than the former. This is quite the architectural feat that certainly took on the science of engineering just to build it.
Mistral LED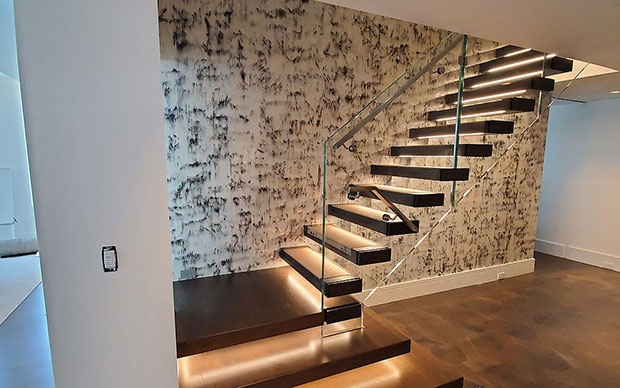 Siller Stairs
This staircase is a perfect fit for contemporary and luxurious look. Also take note of the wonderful LED installed on the bottom of the treads.
Idunsgate Apartment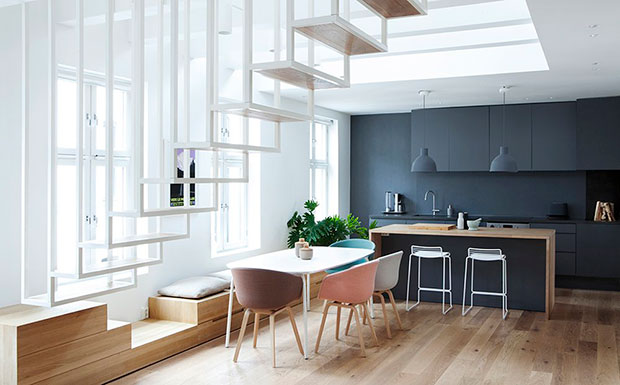 Haptic Architects
With the open and free look of this apartment, a suspended staircase like this one is certainly a perfect choice. As it is elevated at a considerable height, a window side bench is utilized as the first stepping stone.
Mistral Edge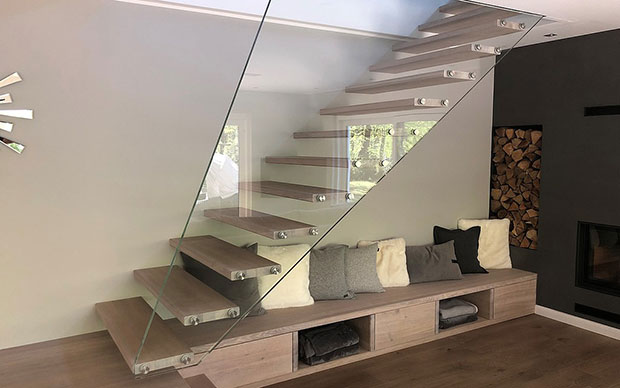 Siller Stairs
The wood that makes up the bench seat also makes up the treads of this staircase which is a delightfully neat look. Also worth-mentioning is the unique shape of the glass rail. Usually, it follows parallel alongside the treads, but this one slightly goes off-tangent.
ETIKA Spiral Staircase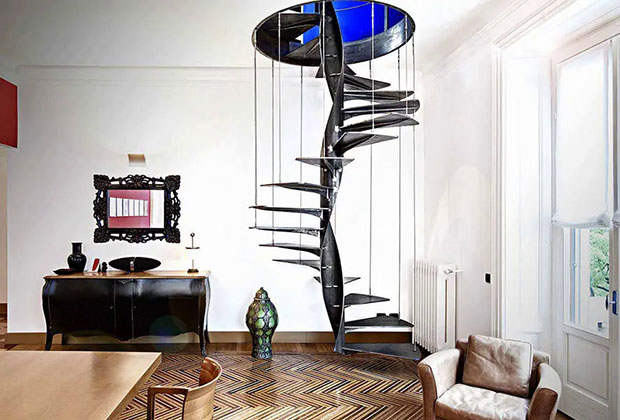 Office Sandrini
Here's a suspended spiral staircase that's looking a lot like a DNA helix. Its unique structure is definitely something that would catch anyone's attention!
Wave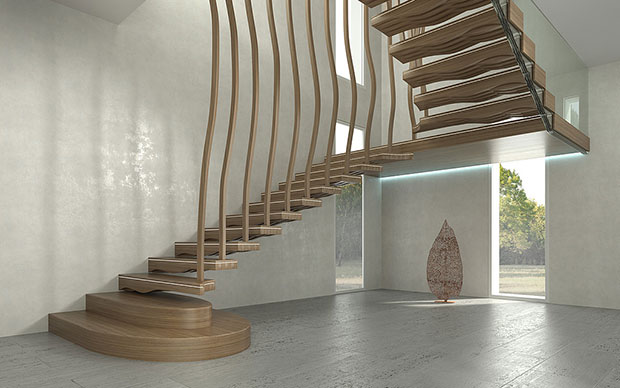 Siller Stairs
As the name suggests, the treads and balusters are uniquely designed so they look like waves. Take note especially that with the balusters, their waves are not even the exact replica of each other, so it creates a more interesting overall look.
Unique Staircase Design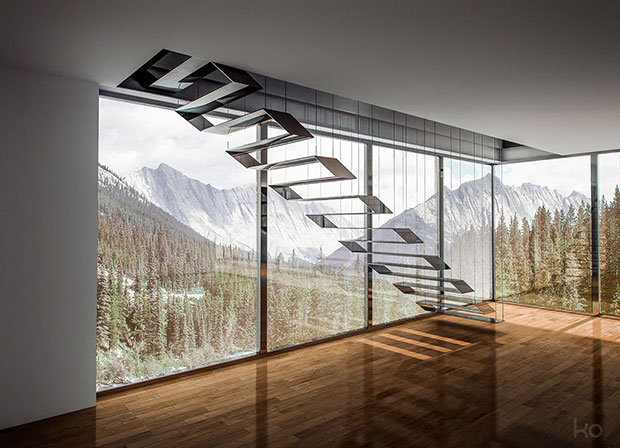 MLab
When talking about architectural feats for staircases, this one should be part of the conversation. While its unique structure alone is note-worthy, the glossy material used to build it adds into a luxurious look.
Brnk Schaarbeek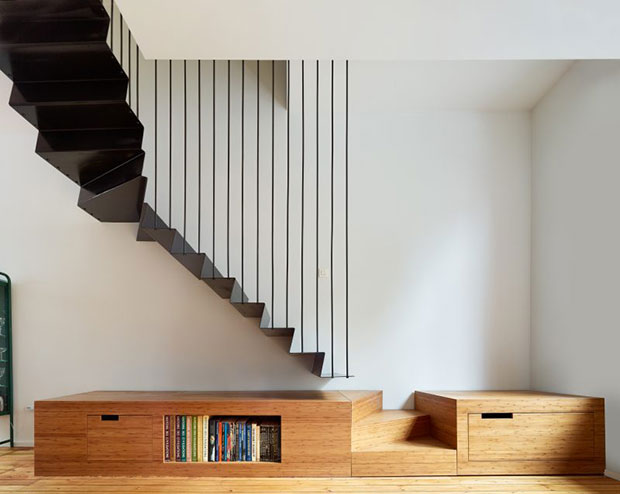 Edouard Brunet Architecte
A storage unit that is also utilized to lift person's up to reach this unique suspended stairs. This one's made of strong metal that looks quite light because of how it's been modelled into.
Privé M&I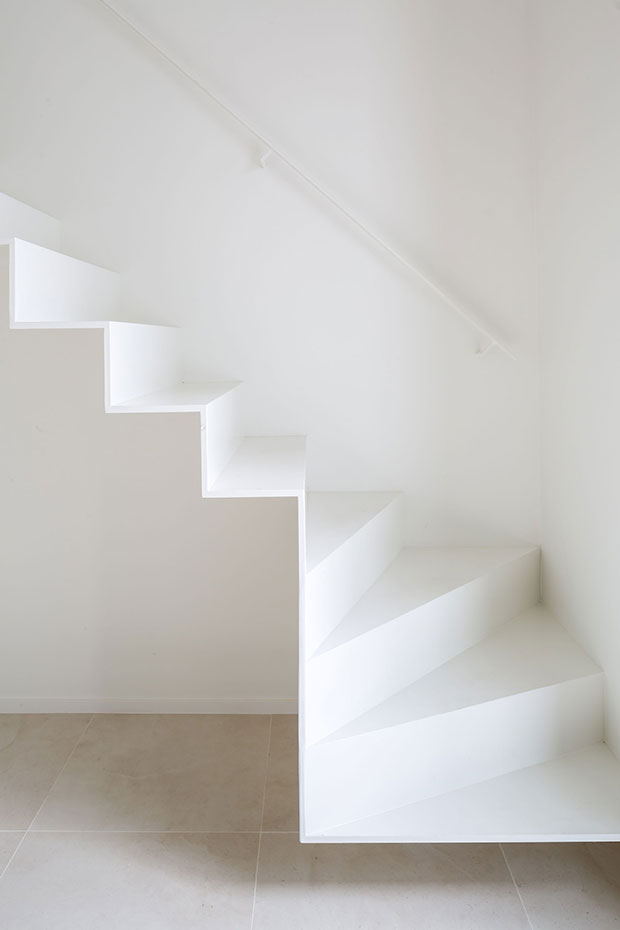 Five AM
Now this clean, white staircase easily blends in with the wall. You may find it tricky to find your stairs in this case.
Sturlasgade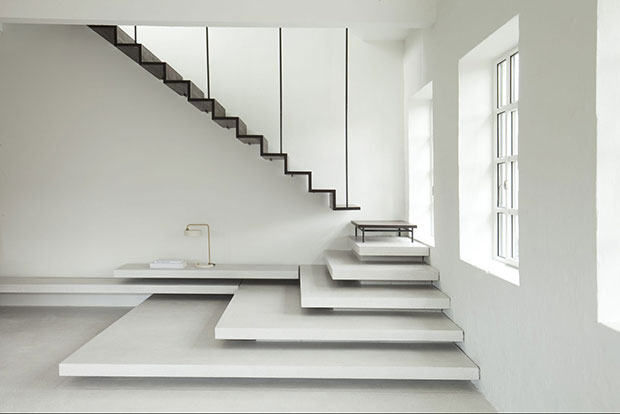 JAC Studios
What's pretty cool is how they set-up such beautiful stacked steps leading up to the suspended staircase. These stacked steps could also be used as additional seating and even extends for shelving.
There we have it! These uniquely designed suspended stairs should have helped you be inspired with your own staircase ideas for your home!
Like This Post? Pin It!