50 Modern TV Stand Designs to Organize Your Home
|
Whether your TV is mounted or sitting, having a TV stand in your room could enrich the room and your entertainment experience. Even when you choose to mount your TV on the wall, the addition of a TV stand offers storage for media essentials and declutter your room. Visually, eye-catching TV stand designs enrich the overall look of any room.
And there are many varieties of TV stand designs that could elevate the style of your room. From floating TV stand designs that could help clear floor area while also injecting style into the room, to TV console units with remote-controlled modern fireplaces.
There is certainly one of the many TV stand designs that will suit your style!
How to Check if your TV stand is sturdy?
With all the striking TV stand designs you could find; it is still most important that the stand you choose is beyond just visually-appealing furniture. Do make sure that your stand is sturdy enough to avoid your TV from tipping over!
How do you make sure that the TV stand is sturdy though? It's all about finding the right size for your television! So, how do you go about this?
1. Measure the actual width of the TV
First, you need to find the actual width of the television with a measuring tape. Take note that the measurement they use to advertise is the diagonal measurement (from the top left corner to bottom right corner) of the television and doesn't include the frame. So, measure the full width, including the frame from the left edge to right.
If your TV isn't a flatscreen or plasma, you would also need to measure the depth to ensure that there is no overhang.
2. Find the TV stand height
Remember that the center of your screen must be positioned at or just below eye level. To ensure that your TV stand is just at the right height, you need to do some measuring and simple math. Measure the distance from the floor to the average sightline of the people in the household and then subtract half of the TV's height. The perfect TV stand height would be within an inch or two of the difference.
3. Find the TV stand width
Once, you've taken note of the actual measurement of your TV, make sure your TV stand width should be at least a few inches wider than your television. And if your TV isn't flatscreen or plasma, make sure the depth is also at least a few inches more than the TV depth.
How to choose the perfect TV stand for your room
With a variety of stunning TV stand designs, you may have looked through a catalog and found that there are quite a several designs that entice you. But it can't be just any TV stand design of your immediate looking. Some consideration factors should help you.
Here are six factors in choosing the perfect TV stand for your room:
1. Size
As discussed right above, finding the perfect size of TV stand ensures that it's sturdy enough to keep your television in place and keep it from tipping over.
2. Material
TV stands are usually made from these five common materials: wood, glass, metal, particleboard, and medium-density fiberboard. Wood, veneered plywood, and metal are long-lasting but moderately heavy. These are good options if you have children or pets running by.
Glass TV stands are durable and have metal supports for reinforcement but are best for low foot traffic households since they could be vulnerable to cracks. The last two – particleboard and medium-density fiberboard – are low-cost alternatives to wood, which means less longevity but are durable enough for daily use.
3. Type
As you would expect there are many types of TV stands. Among the popular types include entertainment centers, corner TV stands, and TV hutches. Entertainment centers offer plenty of storage for media items such as video game consoles and video players. Meanwhile, corner stands are smaller which also means fewer storage units. And TV hutches normally have an enclosed space for the television.
An increasingly popular type is the type called media chest. These are ideal for bedrooms and dorm rooms as they are a lot smaller than the bulky entertainment centers and TV hutches. But these have drawers or open slots for game consoles and cable boxes.
4. Style
You can't just pick a TV stand design because you like the look of it. Pick the perfect one that fits with your home's style, bringing the room together. Naturally, TV stand designs that are made of wood could add a traditional, rustic style. Or, you could pick TV stands with sharp, sleek lines that are perfect for modern homes.
5. Color
Black and brown are the most popular and safest color choices in many homes. Brown, naturally, because a lot of TV stands are made of wood. And black is a perfect choice in a lot of contemporary-style homes. Still, other unique colors can work, depending on the color scheme of your room.
6. Extra features
Concerning the type of TV stand, extra features such as shelves, glass doors, and drawers could be in consideration when you choose your TV stand. You will have to make sure that your TV stand has enough space for media devices that needs to be close to the TV-like game consoles or cable box.
Some people would like adjustable shelves to fit items of different sizes. Some would prefer having items be hidden, so TV stands with drawers would be a good fit. Or if you want some items to be displayed but keep the stand decluttered, glass doors would be a perfect choice. Though, if you choose to have glass doors, make sure that the glass is tempered instead of the regular glass, as it is much stronger.
Now, let's take a look at some attractive modern TV stand designs!
Azimut Modern Italian TV Stand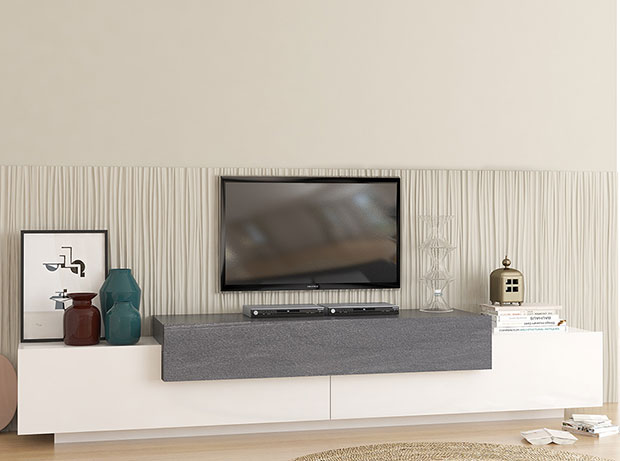 A stylish ultra-modern TV stand that is perfect for big televisions. The long top surface provides adequate space for media devices to be displayed, and there's still a storage room hidden behind door compartments.
Incastro Low Modern TV Stand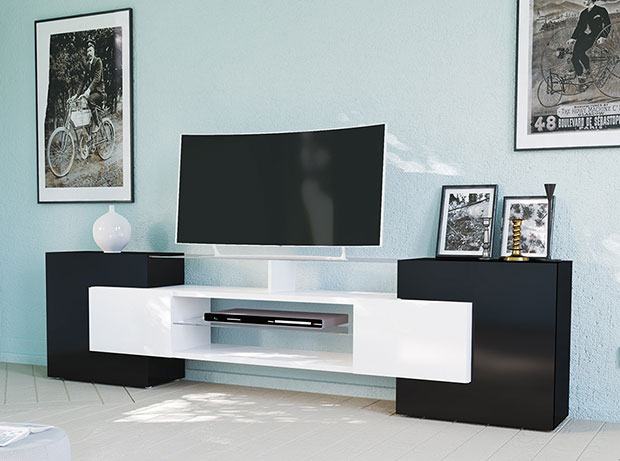 Modern TV stand designs are defined by sleek lines like this one. With floating glass shelves and seamless doors, these complete a modern design perfect for your home.
Anthracite Italian TV Stand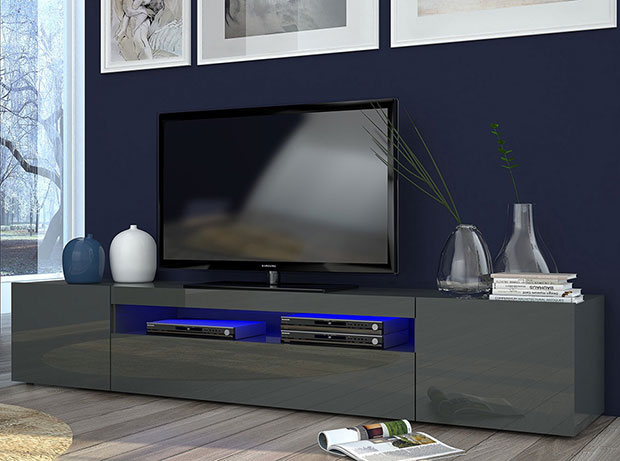 Tecnos
A perfect furniture piece for modern and contemporary homes! This TV stand's spacious surface area allows display for electronic devices or decorative pieces, whichever you will.
Athena TV Stand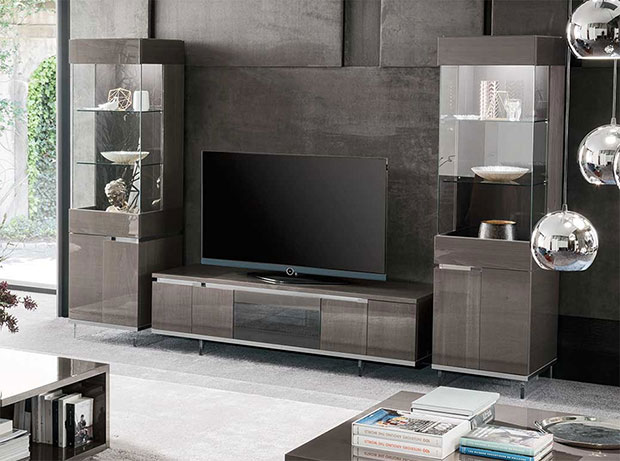 Some TV stand designs are fully functional entertainment centers. If you have a spacious living room, this could be a good choice instead of the minimalistic types like media chests.
Accademia TV Stand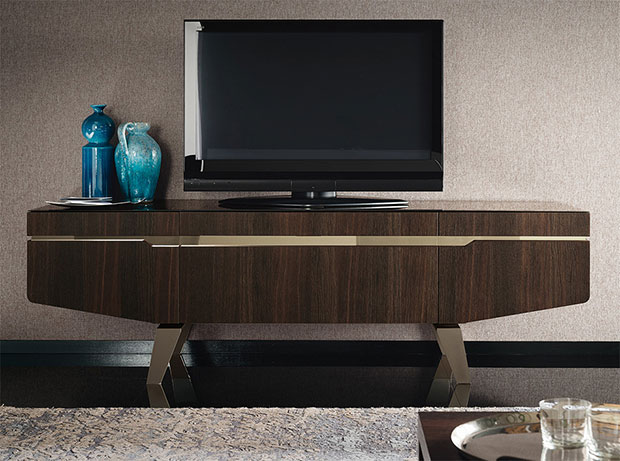 Straying from usual box-shaped TV stand designs, this one stands unique with its elegant curves and contours.
Matera TV Stand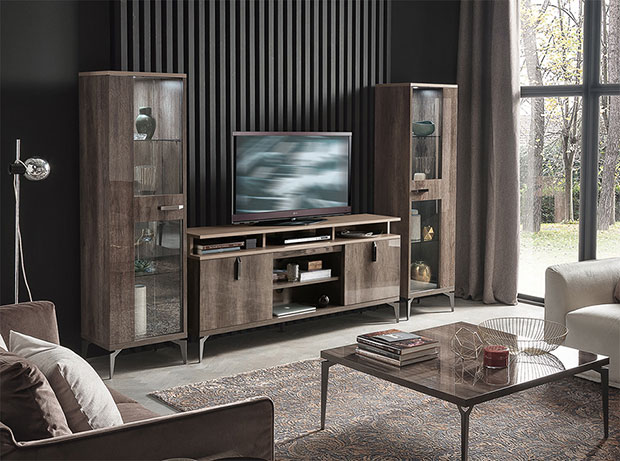 With the many open shelves, there is plenty of room to store electronic or media devices. You could even store magazines in these spaces.
Bellagio TV Stand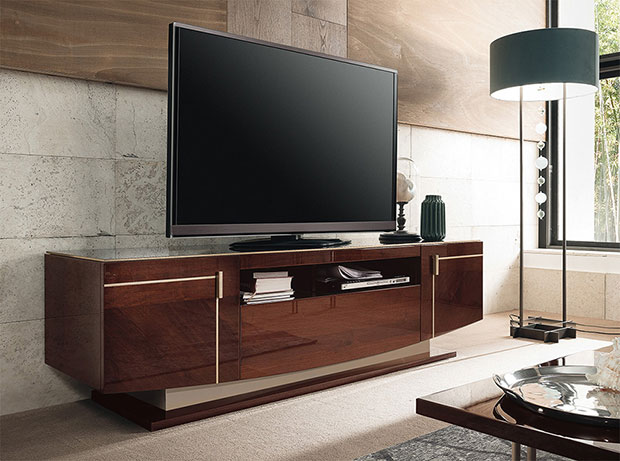 This design could be very well-fitting in a lot of square or rectangular coffee tables in modern and contemporary homes. It also has a very interesting base leg.
ASTI TV Stand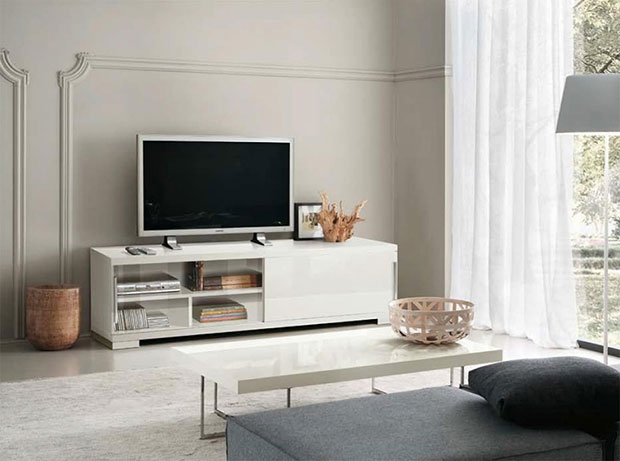 Compared to most TV stand designs with seamless doors; this TV stand has sliding doors that allow for both exposed and hidden storage spaces.
Frida TV Stand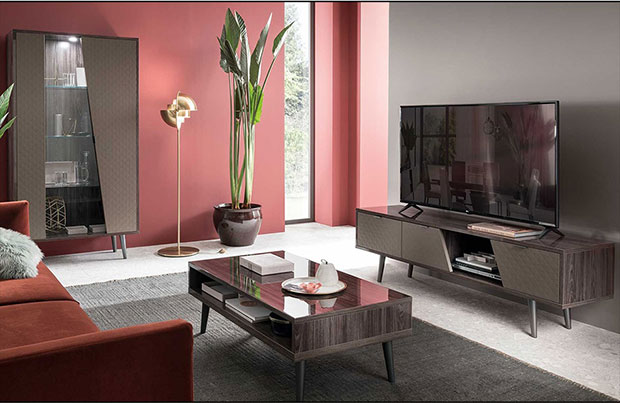 ALF Group
Don't be fooled by the shape of the compartment doors as they actually hide rectangular compartments.
Elite Modern TV Stand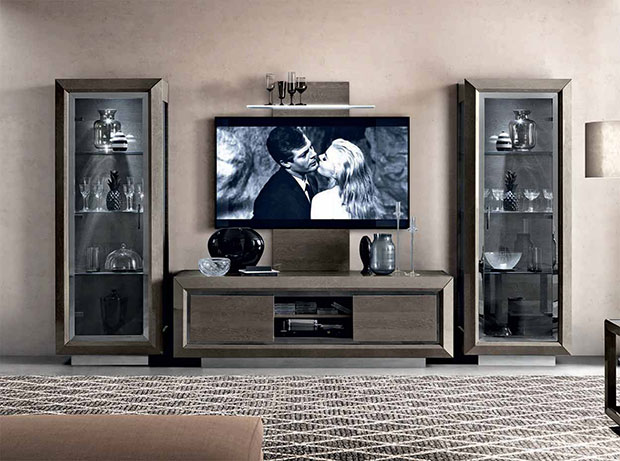 Camelgroup
In homes where the interior design is filled with natural wood furniture, such modern TV stand designs would fit right in.
Antenore TV Stand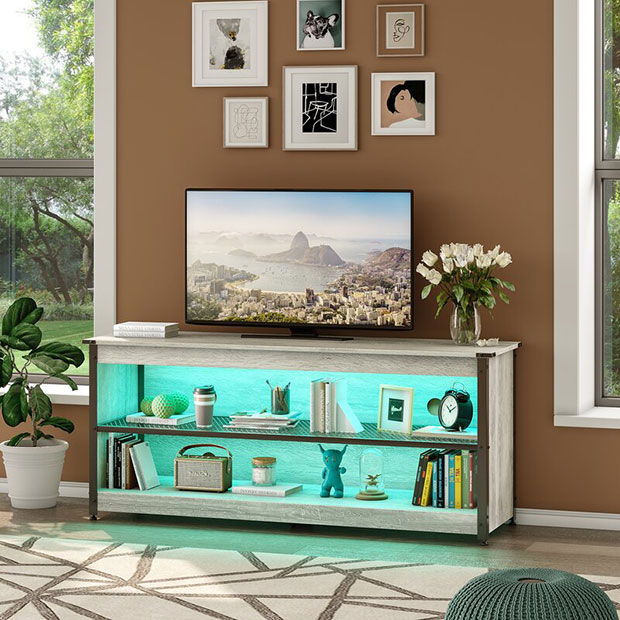 Onto more minimalistic TV stand designs! The wood grain texture is enough to add a rustic appeal to your home. Plus, it has built-in lighting.
Tracy TV Stand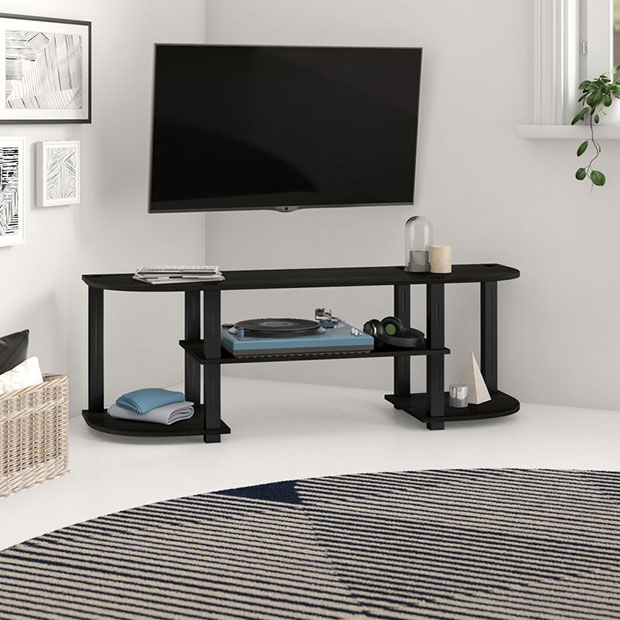 The open shelving allows for exposed displays of electronic devices and other decorative pieces. Because of its open shelving, this needs extra care in displaying to not make it look cluttered.
Finklea TV Stand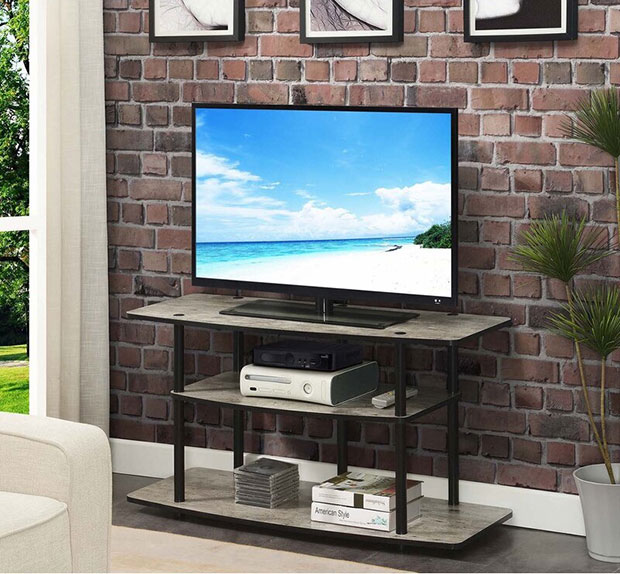 With wide open shelves, there is ample space for entertaining essentials. It's a simple yet stylish design that also requires the right and perfect organization.
Edwin TV Stand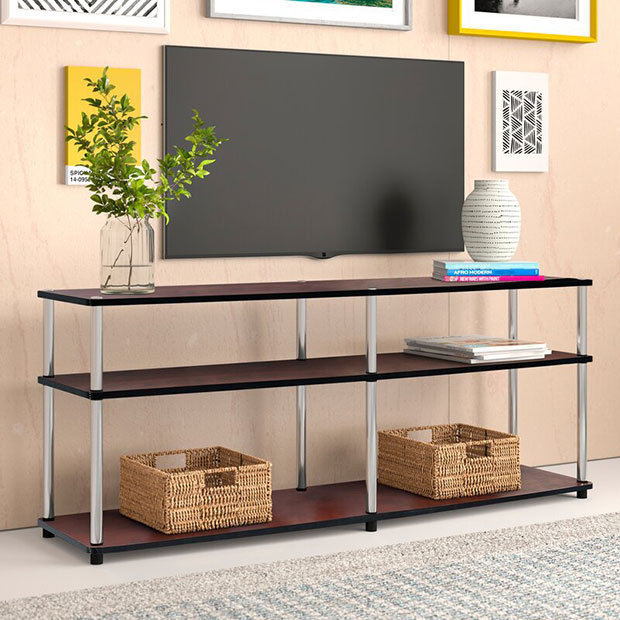 Zipcode Design
A sleek modern design with the open shelves looking lightweight. This is perfect if you don't want your living space to look bulky.
Michaelson TV Stand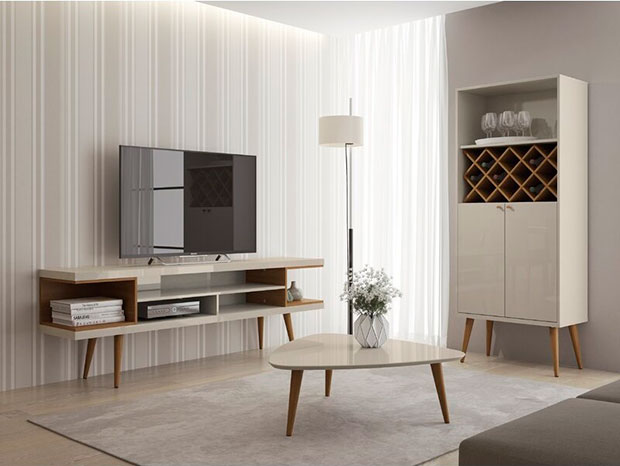 The brilliant craftsmanship of this TV stand is perfect for both modern and contemporary homes. The open corner storage space adds some charm to it.
Tinkham TV Stand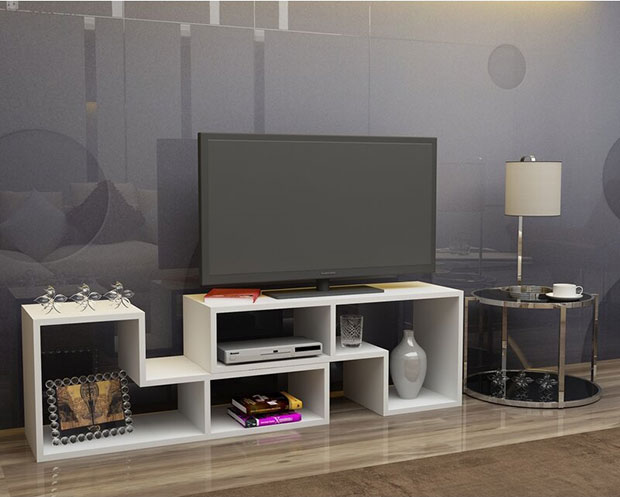 If you need a little flexibility with your storage unit, a modular shelving system would be perfect for you. This way, you can configure your TV stand however you want to depending on what you need.
Devane TV Stand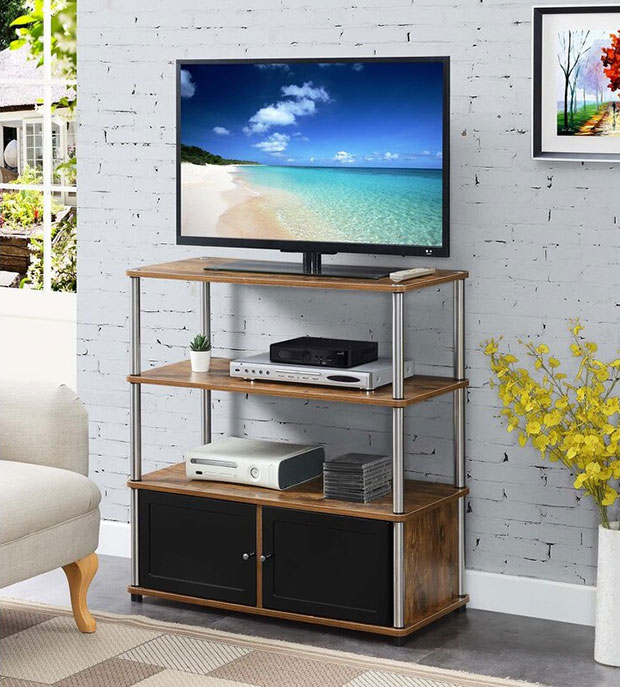 With some vintage and traditional flair, try getting a TV stand that provides both open shelving and storage compartments.
Harward TV Stand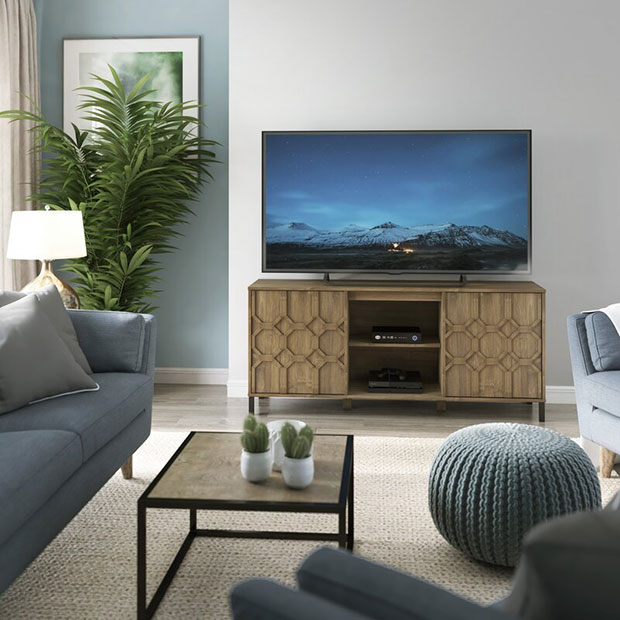 Shake things up with TV stand designs with patterned storage door compartments. It adds some charming flair to the overall design.
Genovese TV Stand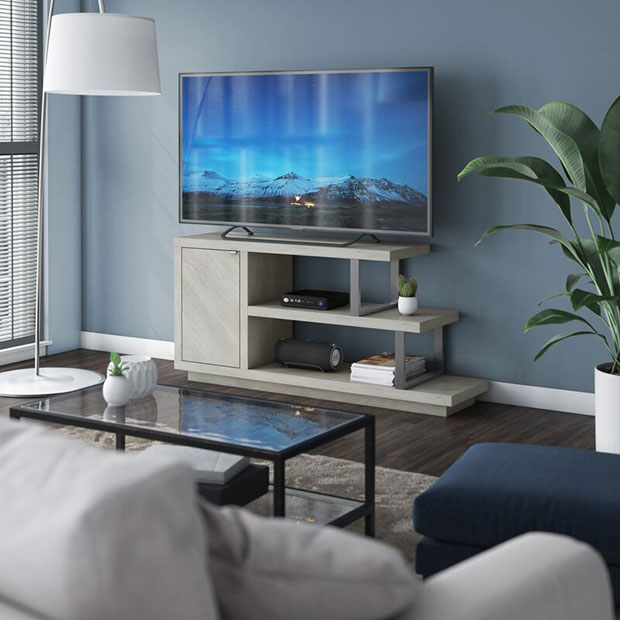 If you have a smaller television, this one is a perfect choice. The asymmetrical design is charming and dynamic, and would certainly catch anyone's attention.
Slyvia TV Stand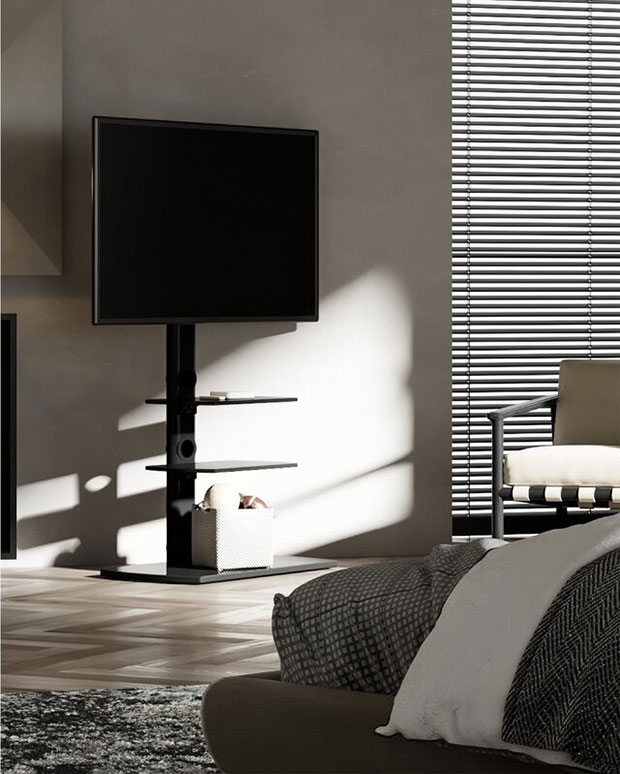 Wade Logan
This TV stand is quite unlike the other TV stand designs on this list. The minimal shelves would have no room for other decorative pieces other than media and electronic devices needed.
Constancia TV Stand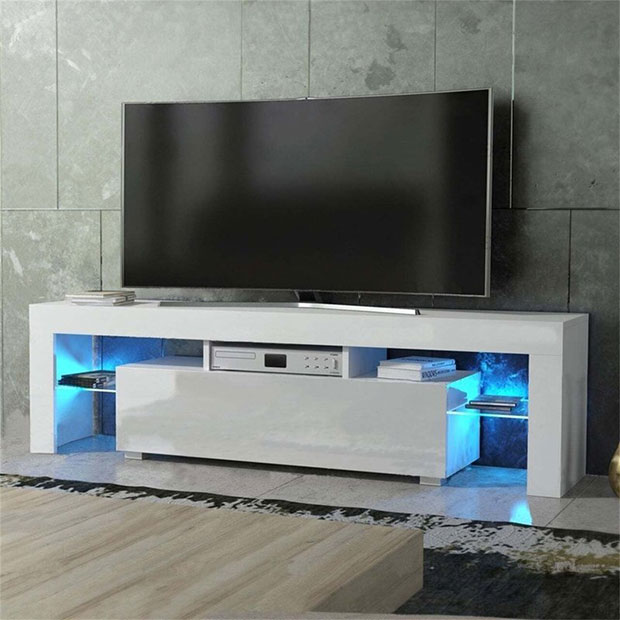 Another TV stand design with built-in lighting. There's also ample shelving storage and compartment storage.
Banaz TV Stand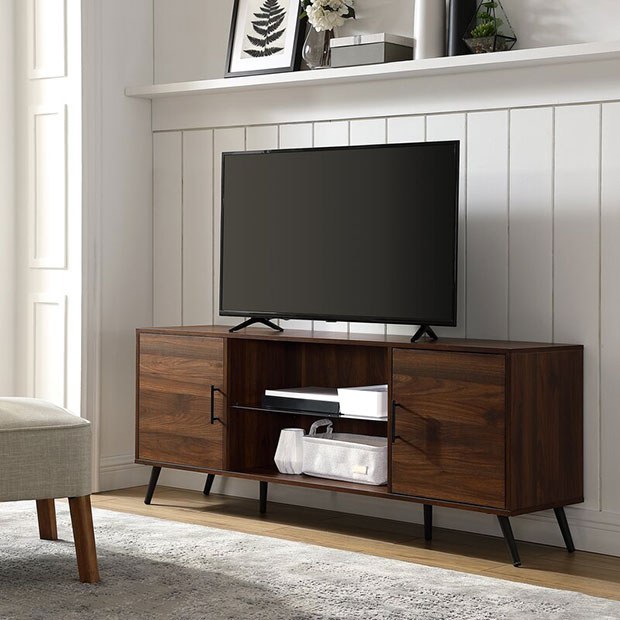 For some traditionally modern TV stand designs, you can check this one in particular. Its angled legs and boxy frame make up large a mid-century modern aesthetic.
Lilesville TV Stand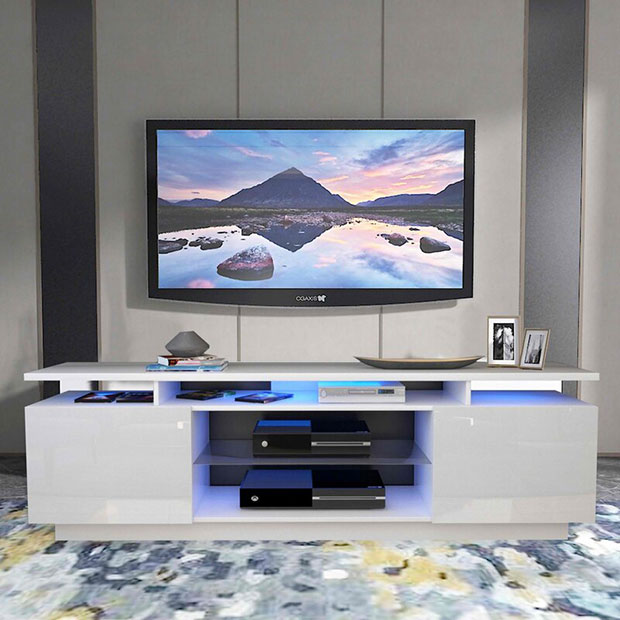 Ivy Bronx
A luxurious modern TV stand design with LED ambiance lighting wouldn't go wrong in any modern or contemporary home.
Juliette TV Stand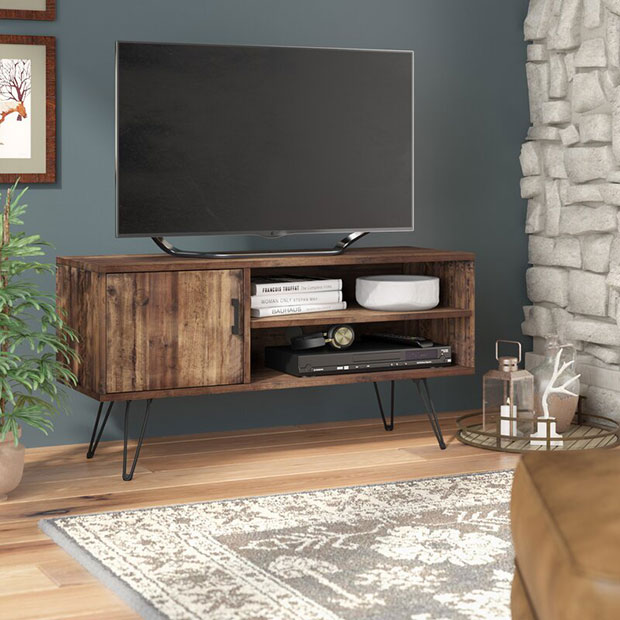 Steelside
Add some rustic charm to your modern interior with a TV stand made of reclaimed wood.
Hal TV Stand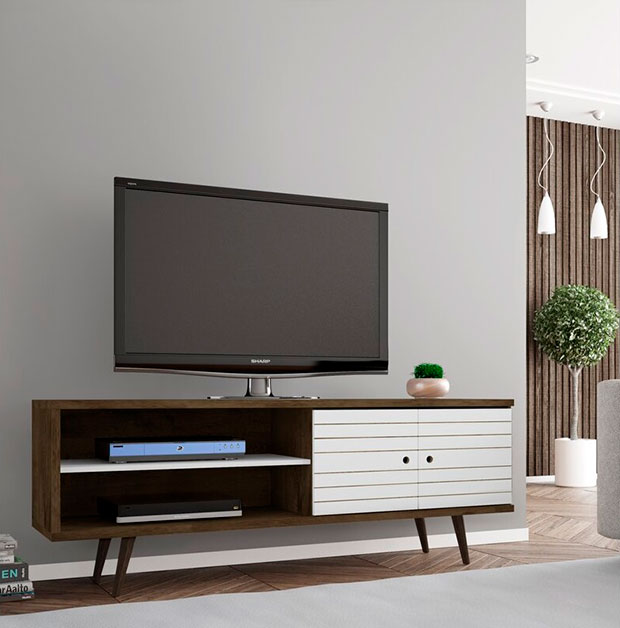 Mistana
For more mid-century modern TV stand designs, TV stands like this would fit in well in both modern and traditional homes.
Akiro TV Stand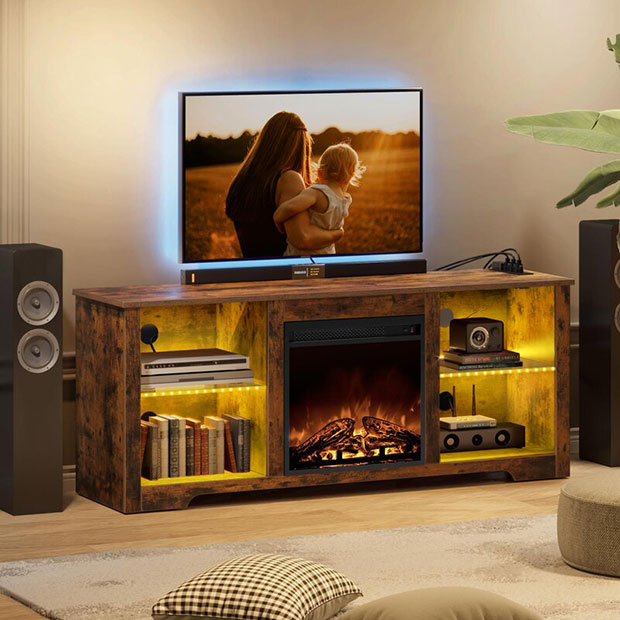 Arlmont & Co.
Some interesting innovations of TV stand designs now come with a built-in fireplace. It also has built-in lighting.
Lansing TV Stand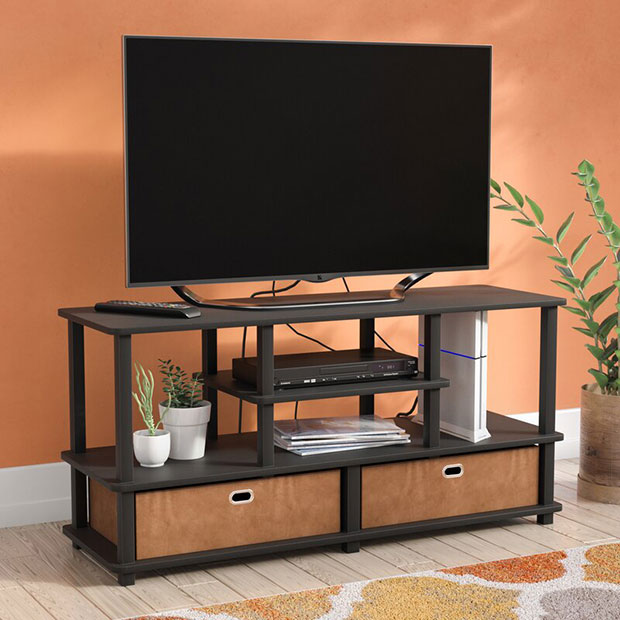 Stripped down and streamlined, this TV stand is one of the more sophisticated designs out there. The different shelf sizes are perfect for consoles, devices, and decorative pieces of differing sizes.
Lansing TV Stand French Oak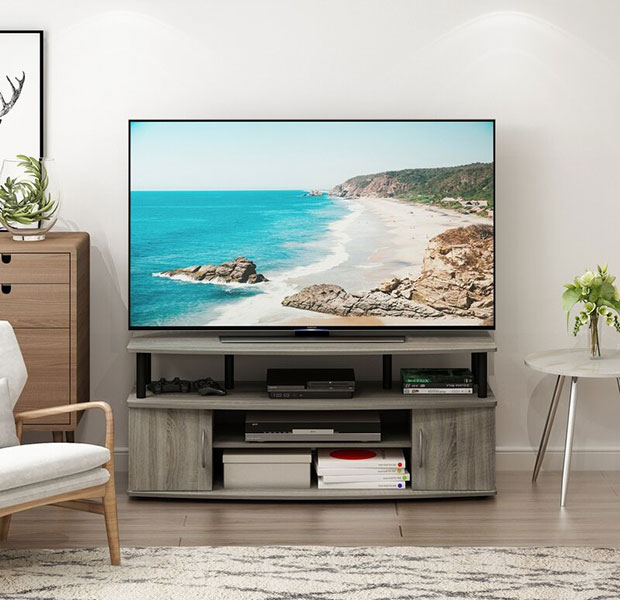 A sleek design with ample storage space for every electronic or media device you need. The clean lines are something to be admired.
French TV Stand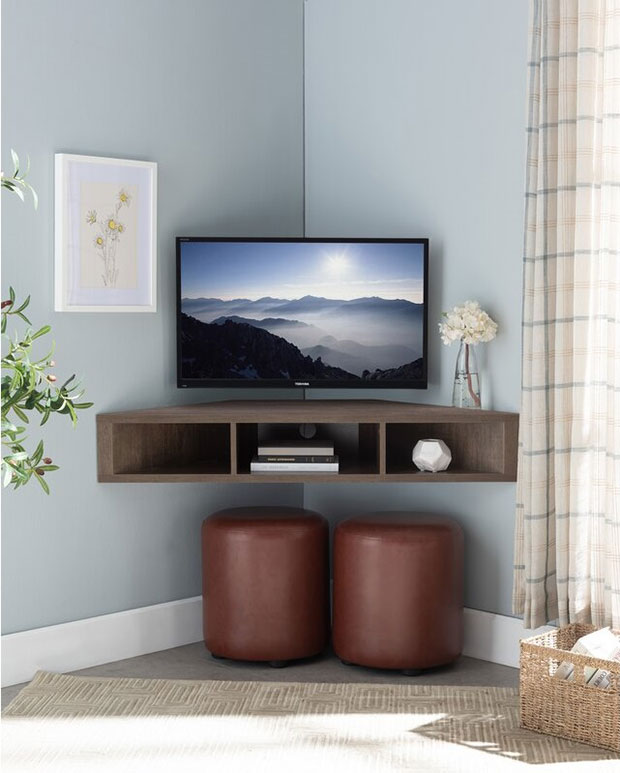 You can have a stylish TV stand even in small rooms. Floating TV stand designs are great options for such, despite the limited storage space.
Adayah TV Stand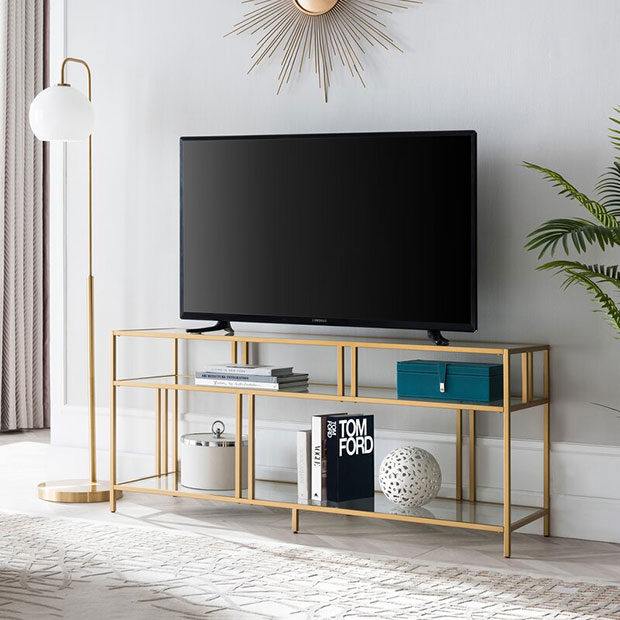 If you want some flair of industrial style, check out an industrial-inspired modern TV stand design that could be perfect for your home. The open shelving provides ample storage space.
Andron TV Stand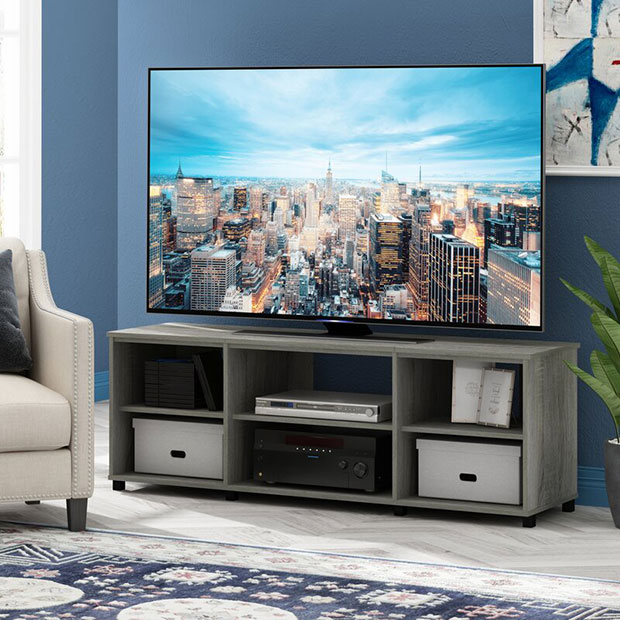 Ebern Designs
With more uniform shelf compartments, this TV stand has a more traditional look. There's enough space to store media devices. But you can opt to use shoeboxes like these to maximize space.
Mid-century Modern TV Stand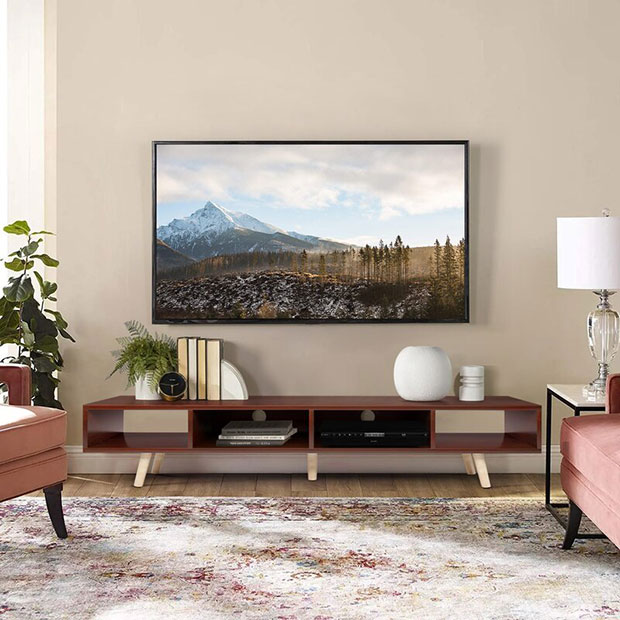 Corrigan Studio
If you fancy more elongated TV stand designs, this mid-century modern TV stand is a good option. Its design is sleek and is easy to clean.
Fitzsimmons TV Stand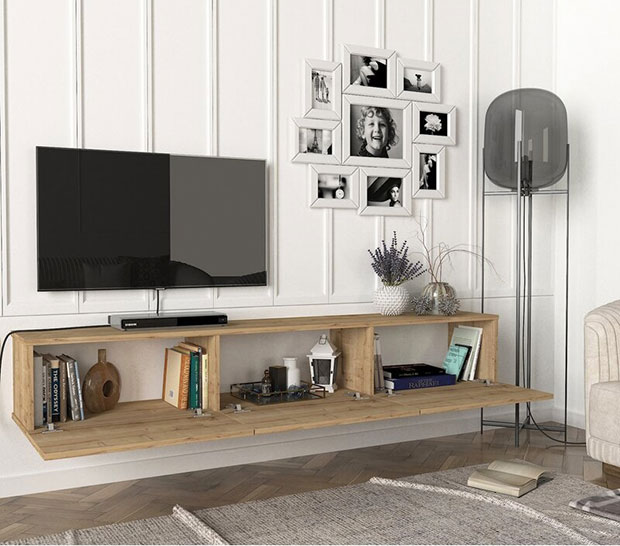 Union Rustic
A minimalist design for this floating TV stand is just perfectly stylish. Beneath it, you could probably place extra storage with boxes. Or, you could leave it as is, freeing some floor space.
Halvorsen TV Stand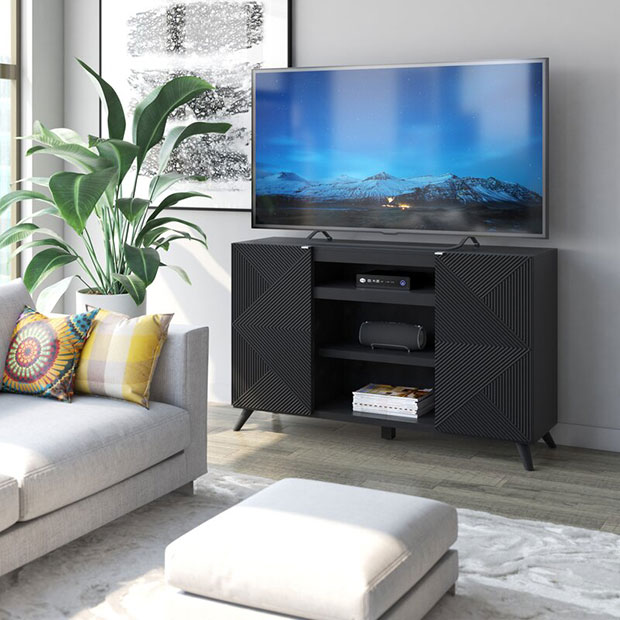 The attractive point of this TV stand is the geometric patterns on the cabinet doors, adding depth and texture.
Quayshon TV Stand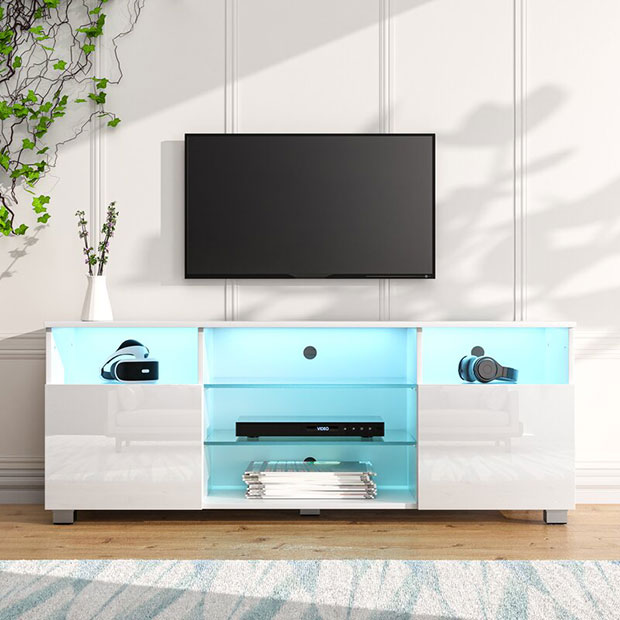 With its large size, this TV stand allows lots of storage space. Not only that, but the design is sleek, complete with built-in LED lighting, that is surely going to elevate the overall look of your home.
Pritts TV Stand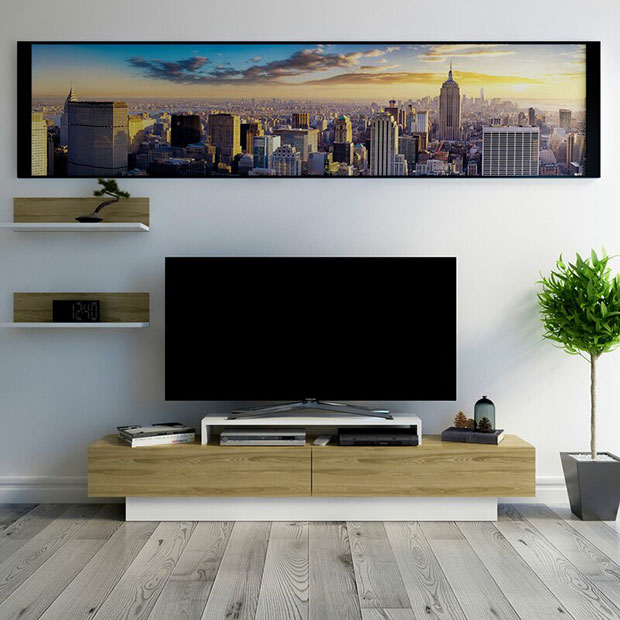 Orren Ellis
This one is for those looking for more artistic TV stand designs.
Tameem TV Stand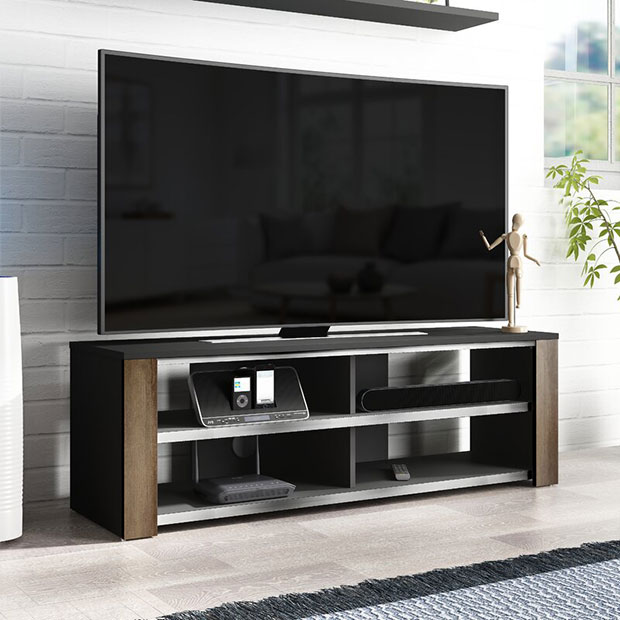 Even with its contemporary colors, this TV stand design would fit well with modern living interiors. Despite the seemingly minimalist design, it gives a sense of luxury.
Branchburg TV Stand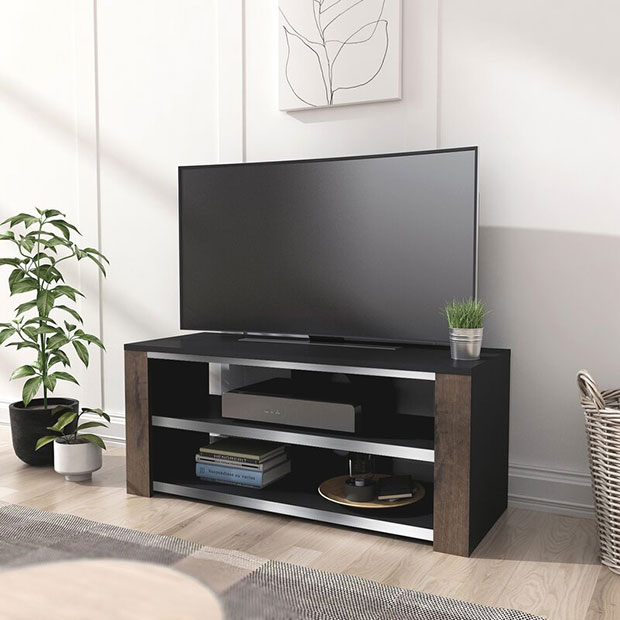 Brayden Studio
With the long shelves, entertainment consoles and media players alike would have no problem being displayed and stored in this TV stand.
Abdirahman Corner TV Stand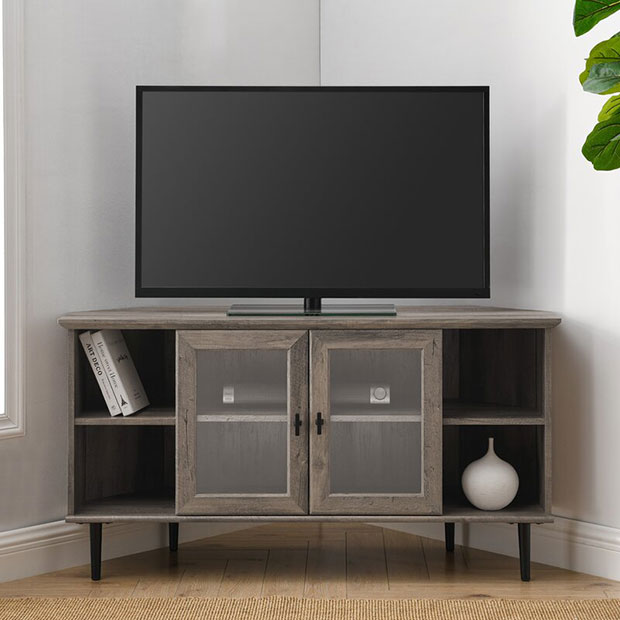 George Oliver
It may not look like it, but this TV stand is angled to fit in home corners. Another appeal is the tempered glass doors for closed but visible storage.
Palmas TV Stand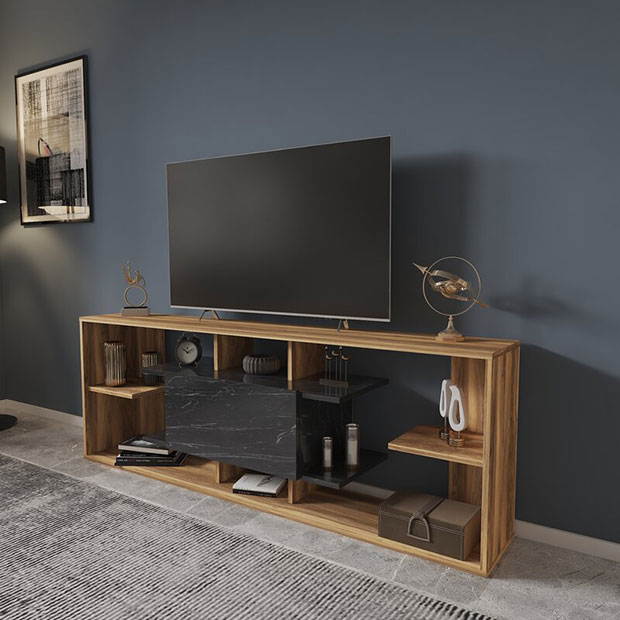 This one is for one of the more artistic TV stand designs on this list. The shelf design ensures that decorative pieces and necessary electronic devices can be stored.
Floating TV Stand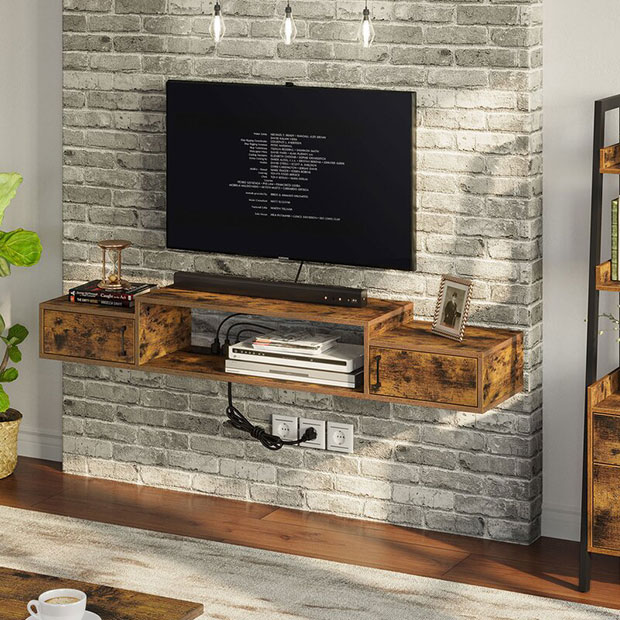 Latitude Run
Bring some rustic vibes into your home with a floating TV stand like this. Unlike a lot of floating TV stands, this combines both a center shelf and enclosed compartments.
Sadie TV Stand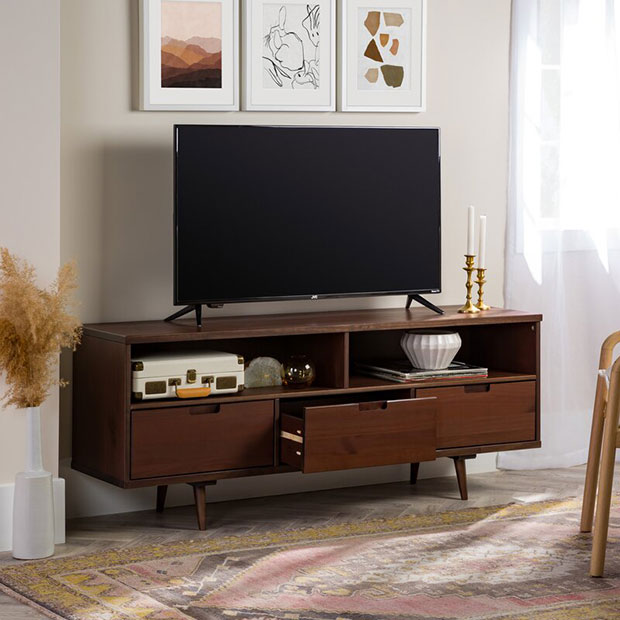 Instead of the usual shelves or doored compartments, this TV stand has drawers instead. Its sleek mid-century modern design is definitely one to look out for.
Posner TV Stand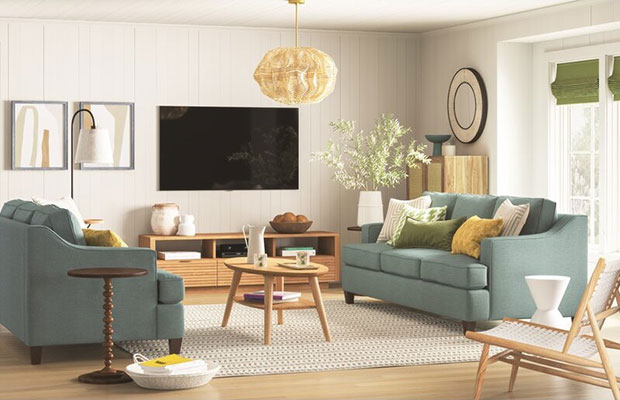 The slatted fronts on the storage drawers are a refreshing design detail.
Argus TV Stand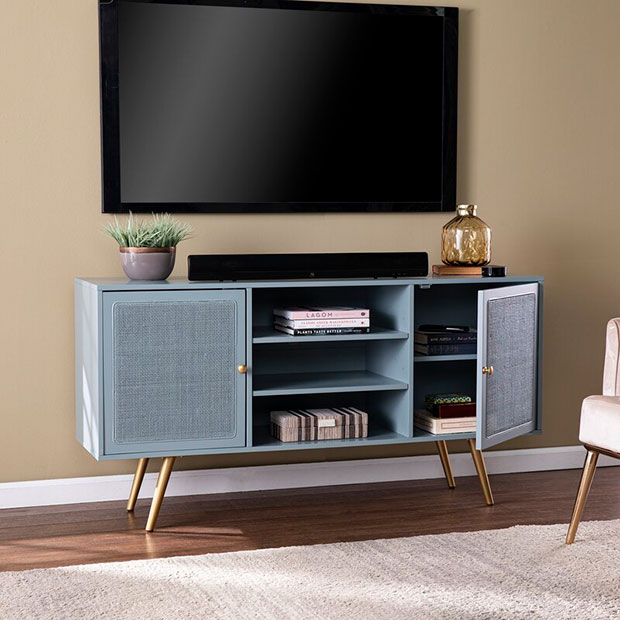 Mercury Row
Add a bit of retro style to your room with this versatile TV stand. The most eye-catching detail on this design is the rattan-patterned façade, adding depth and texture.
Dawson TV Cabinet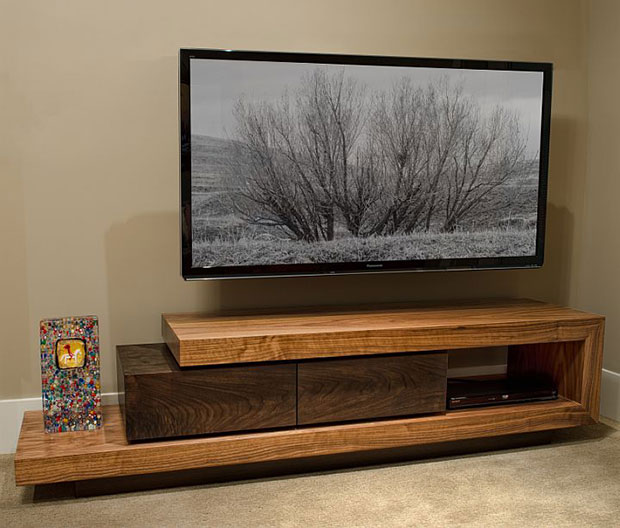 J. Alexander Fine Woodworking
Some well-crafted TV stands would definitely elevate the overall look of any room in your house.
Horizon TV Stand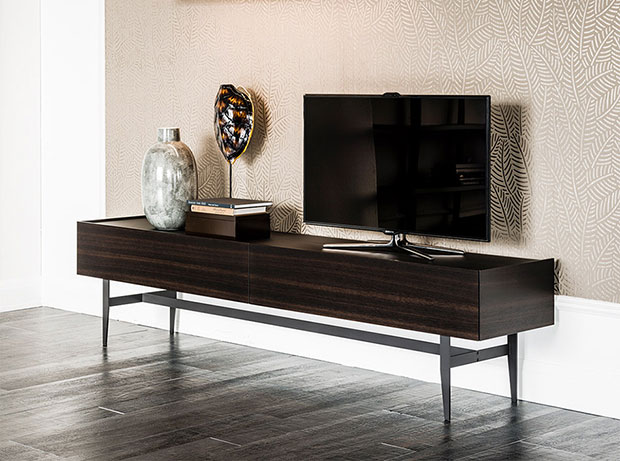 Cattelan Italia
This seamless and sleek design is bound to attract attention.
Mid-century Modern TV Stand Type A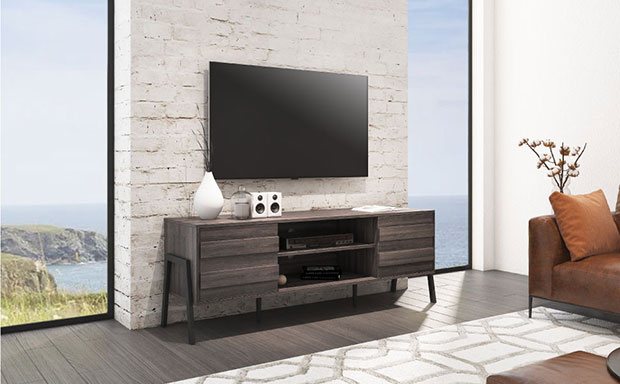 If you want to break away from the sleek and seamless TV stand designs, try TV stands that have added depth with their design details.
Mid-century Modern TV Stand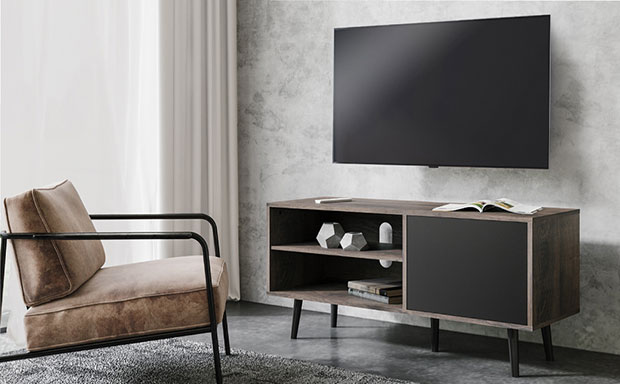 Wampat
A handle-less door to a storage compartment is a nice look to a TV stand design. Like this, with a little push, you'll be able to open the storage compartment.
KIU Modern TV Stand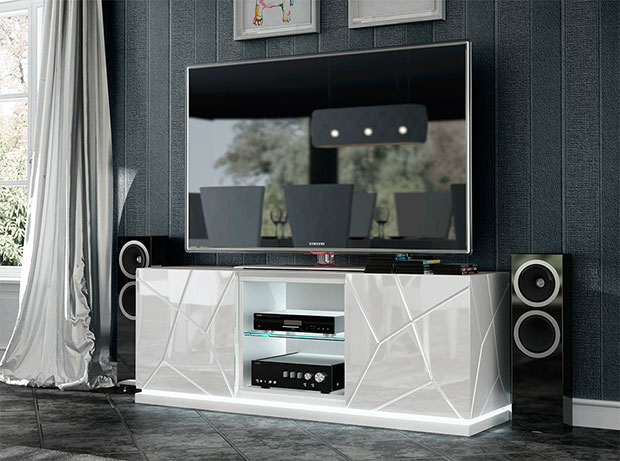 ESF Furniture
The asymmetrical line design brings an added layer of charm to this TV stand design.
Corridor Modern TV Stand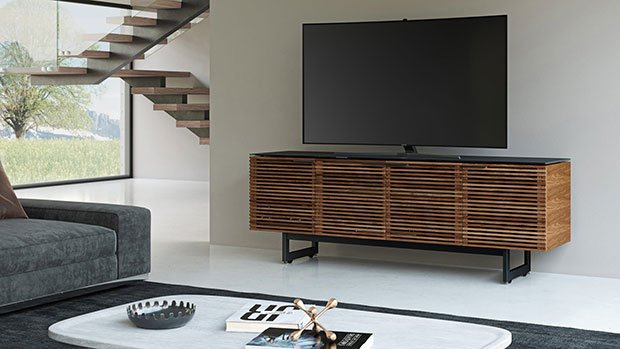 BDI Furniture
The grated door design is definitely refreshing. Another thing of note is the wheels on this stand, making it easier to be moved around the room.
That's it for modern TV stand designs that will not only elevate the look but also help you organize your home!
Like This Post? Pin It!