55 Unusual Doors That Will Catch Attention
|
You probably never thought much about the doors in your house. For as long as it serves its purpose, why the demand for more than it could give? Right?
There seems to be no need to pay much more attention to the doors at home as long as it goes along with the overall look of the room or house. But sometimes we could do a little more of paying attention just to add a little bit of aesthetics.
Far from the ordinary and usual doors, we see in our homes, you may want to try unusual doors to spice up your homes. Apart from providing its normal purpose, unusual doors should bring in some stylistic quirk. It should light up your home design even just a little bit.
Which door is best for the main door?
The main door, or the front door or entry door, is known in design as the focal point of the home exterior. It's the first thing that guests see when they come through your home, the last thing they will have a look at when they leave. Even for the occupants of the home, it is the first and last thing to see when they arrive and leave home. For potential home buyers, it might be like a "first impression" thing where you would have to impress them at first glance at the door.
It can be of a simple design style coated with a simple paint color in contrast to an ordinary-looking home. Or it could have a unique design style to match a home with a rather unique architectural design. Whatever or however your home's architectural design is, unusual door designs could make their way through your home design choices.
But first, what kind or type of door is the best used as the main door? There's no one simple answer to this question. After all, there are so many styles, shapes, patterns, materials, etc. to consider.
First of all, you have to consider that the front door must be tough enough to withstand wind, rain, the heat of the sun, and possible home intruders. But it also has to be beautiful and gracious. For this, the type of material the door is made of is important. Think of durability, appearance, and security in the long-term so that it could also be cost-efficient.
1. Wooden main doors have long been a preferred choice. It's elegant and versatile. You can coat it with any paint or get it designed with carvings. However, due to the nature of the material, it is also vulnerable to changes in temperature, even with the improved manufacturing process. You may need to do some sanding and repainting several times for a few years.
2. Steel doors are a lot more durable compared to wooden doors when it comes to withstanding weather changes. Some may say that steel doors don't look as good as wooden doors, but with recent developments in manufacturing. They could contend with wooden doors. On the con side, unless thermal break is incorporated into the manufacture of the door, steel could conduct heat or cold. Especially if heat is built upon the surface, it will be uncomfortable touch.
3. Fiberglass-composite doors are seeing a rise as the preferred entry door material. It's not prone to rust like steel, or rot as with wooden doors. Fiberglass doors are durable and low maintenance. Unless your door is exposed directly to harsh weather, fiberglass doors are, on paper, the best choice. And with the progress in design technology, there are more style options to choose from. As a plus, fiberglass-composite doors are affordable and carry long warranties.
What are the types of doors?
The types of doors are not only limited to the material used to make them. There are also styles that you could pick from.
Since we've already mentioned the types of doors based on the materials, let's have a breakdown of the other types of doors for your home to help you with your choices!
1. Paneled door
This type of door is fairly common, named so because of the shutter panels that are normally made of wooden materials but they can also be made of glass.
2. Dutch door
Divided horizontally, using different panels for top and bottom sides. These are often found or used as kitchen back doors. It's convenient for the kitchen and letting pets out.
3. Battened and ledged door
Consisting of vertical wooden boards called battens with three horizontal ledges (top, middle, and bottom), they can be braced or braced and framed to add rigidness and a better look.
4. Hinged door
This is a common type of door that you can probably find all over your house. Typically made of wood, the jambs are with two or more hinges.
5. Sliding door
Just as the name suggests, these doors open crosswise by sliding one-panel section. It is also known as the "patio door" as it is often used in these spaces. But it is also commonly used in showers at home.
6. French doors
These are double doors that open up on either side and offer lots of natural light and a good view outside.
7. Pocket door
Usually used in bathrooms, the special feature of this door is that it "disappears" into a cavity inside the wall. This has a clean look and is very much preferred if space is an issue for swinging doors.
8. Roller doors
These doors are mostly used in garages or storage facilities. But somehow, they have made their way into living rooms.
9. Bifold or folding doors
As the name suggests, these doors fold, stacking neatly, so it doesn't consume much space.
10. Pivot doors
These ones are designed to rotate on their vertical axis. They can effortlessly rotate 360 degrees in their axis for an elegant swing.
11. PVC door
PVC or polyvinyl chloride doors are popular choices for bathrooms.
12. Aluminum door
In contemporary design homes, aluminum doors are preferred choices for an elegant look.
13. Louvered door
These doors allow for natural air ventilation while keeping your privacy. These are sometimes used as room dividers.
14. Swinging door
Similar to hinge doors, except the hinges can be rotated in either direction.
Now, let's get on with a list of unique or unusual doors – not just main doors – that will catch attention!
Mid-Century Composition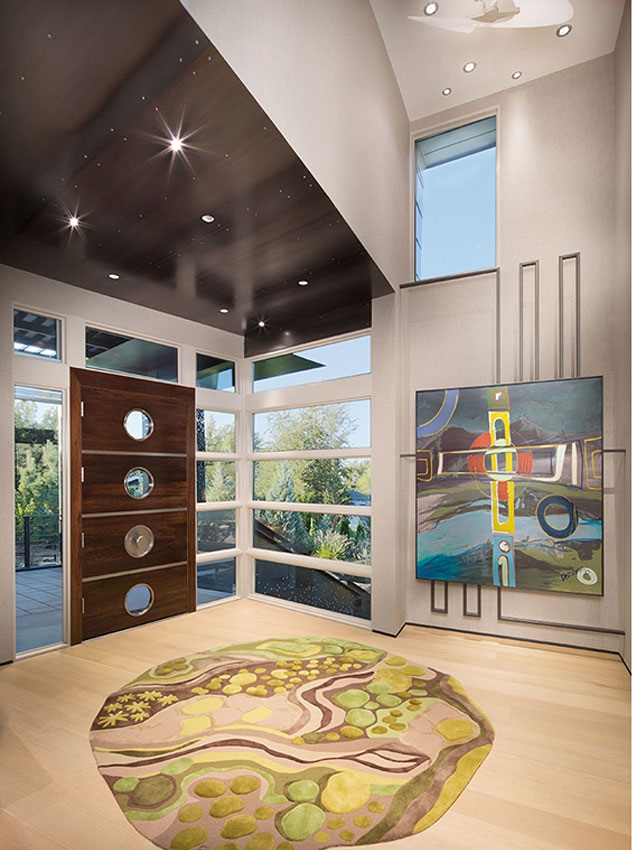 Aspen Leaf Interiors
Straying away from the regular rectangular panels, we got this kind of unusual doors. The circular glass panels are somehow reminiscent of portholes in ships.
At first glance of this entry hall, it totally makes sense to opt-out of your regular-looking doors.
Narooma House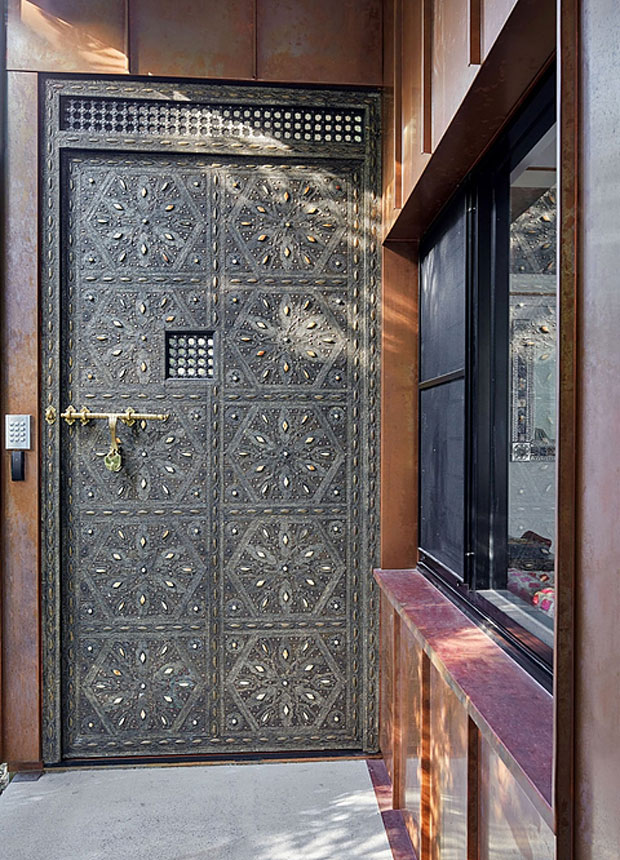 Nathan Gornall Design
The mere look of this door does not seem to fit the current century we're in. Just with the design and texture on its own, it's like we're back in the middle ages. Looking through that hole, would seem like peeking at the prisoners.
Regardless, you can't deny it's a pretty door.
Front Hall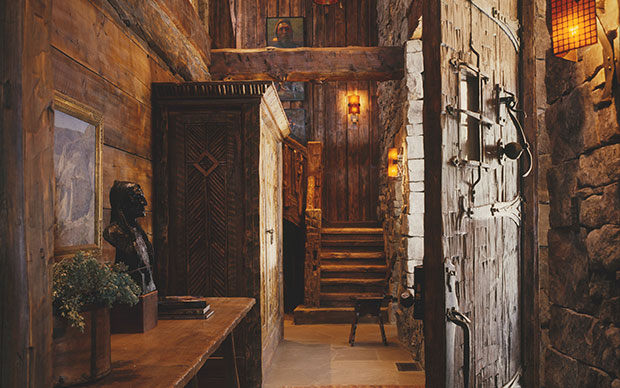 Peace Design
While it fits with the cabin aesthetics of the home, we get this rough-looking door with an old-fashioned door knocker and all.
For being a home in the 21st century, this surely cuts out as one of the unusual doors.
Fireplace Room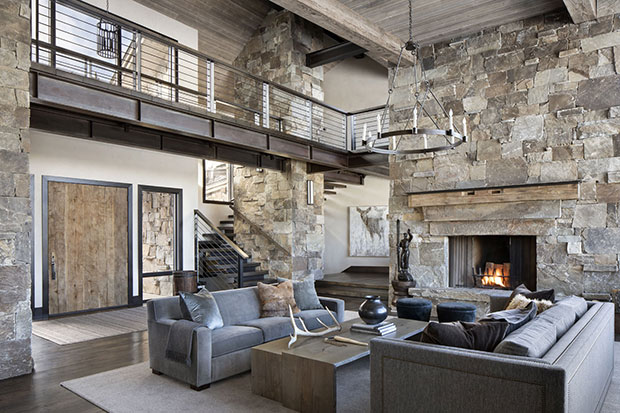 Peace Design
The quirk of this door is how it seems to be made of uneven and irregular sized planks to make up the entirety of the door. Yet it's so fitting with the modern cabin look.
Modern Farmhouse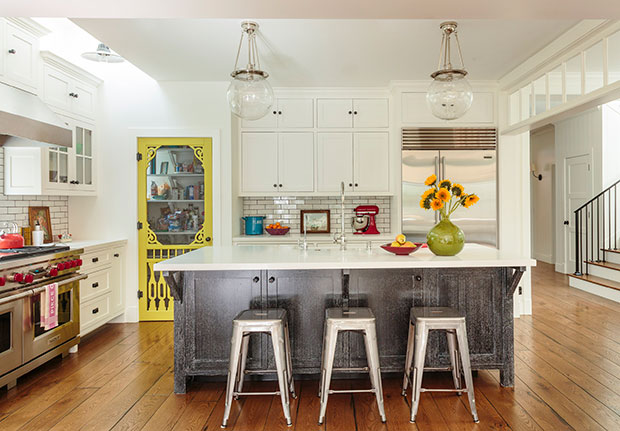 Alison Kandler Interior Design
The intricate detailing of this door frame instantly catches attention. The spaces in between are fitted with glass so you can still see through the other side of the door.
It's also pretty interesting that they painted the door yellow so it's instantly the first thing you notice.
Pelican Point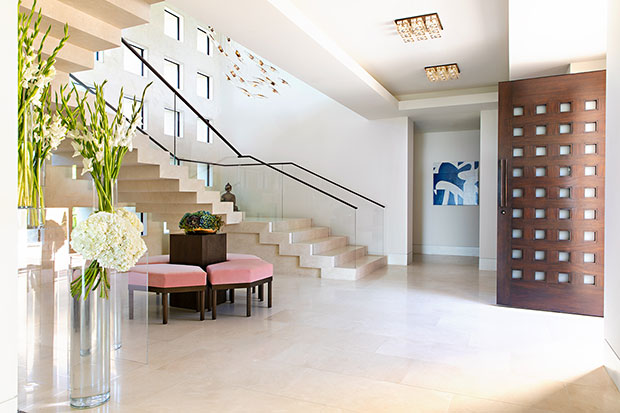 Michael Fullen Design Group
It's subtle but notice how the door's style with the small glass windows mimics the glass windows pattern on the wall.
Frank Lloyd Wright Inspired Home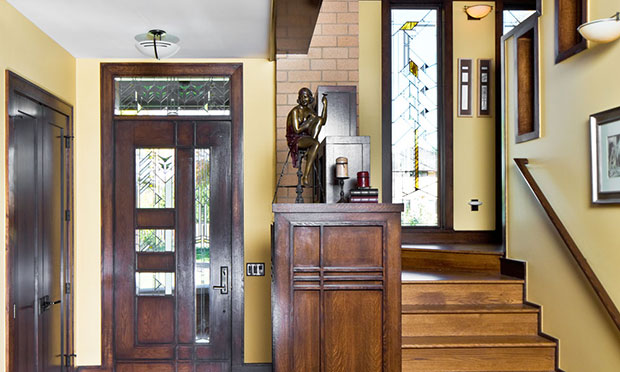 Porch Front Homes
The subtle observation of how the door frame seemed to have been pieces of wood and glass put together seemingly without any symmetry and not seamlessly is what makes this one of the unusual doors.
Craftsman Residence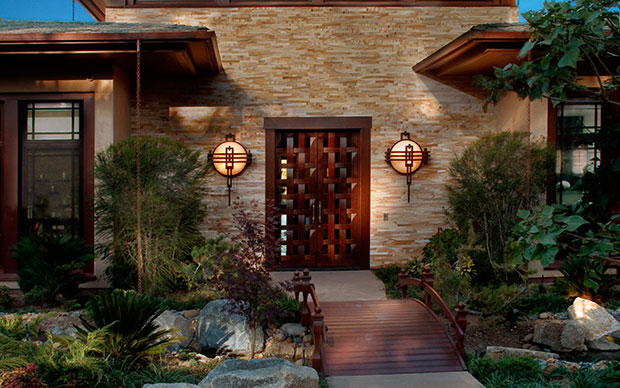 Dunn Carpentry
The intricate detailing of the door frame, resembling that of rattan. It's such a cool look to go with the craftsman design.
Minneapolis Modern Tudor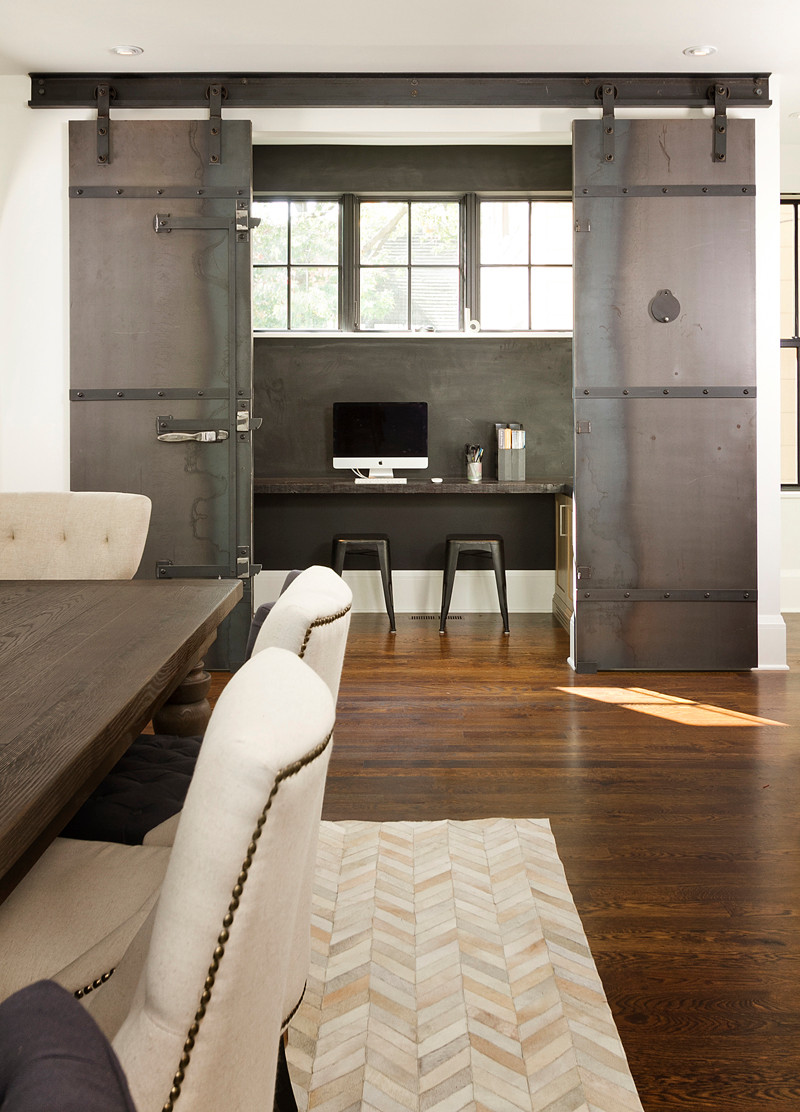 W. B. Builders
Here's an example of a battened and ledged door. The choice of metal materials gives it an interesting industrial look to a supposedly Modern Tudor home.
Treehouse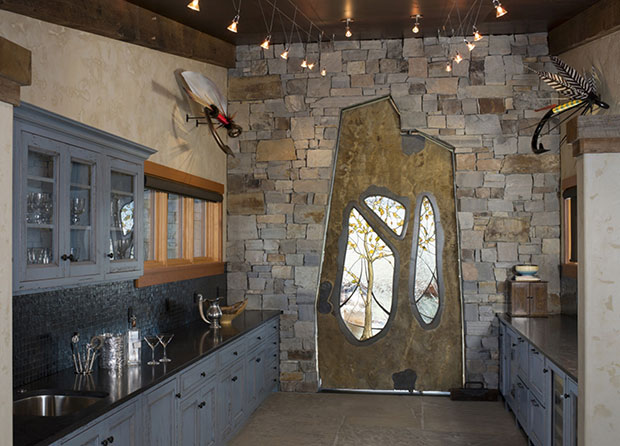 Yellowstone Custom Country Homes
When talking of unusual doors, surely this one takes the icing of the cake. The entire shape configuration of this door is just on a different level.
It also makes one wonder how the architects were able to fit this one into the wall.
Mediterranean Renovation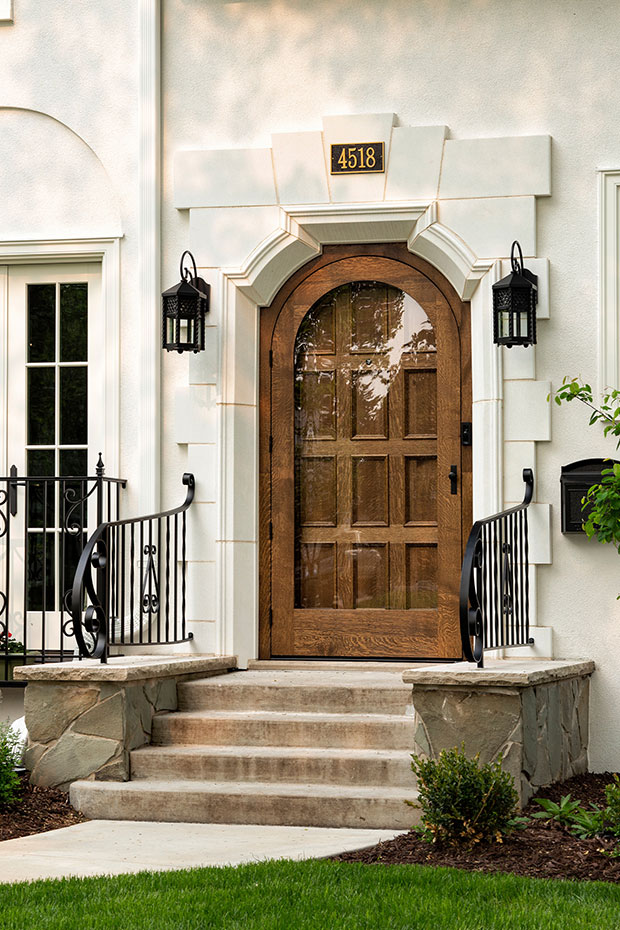 W. B. Builders
What's pretty interesting is how they managed to fit the door with the intricate and irregularly shaped wall moulding.
Hand Carved Wooden Doors


Summit Log & Timber Homes
The amount of effort into the intricate detailing is just amazing. Staring at it would have you in awe but also wondering how do you open this door.
Coastal Branch Stack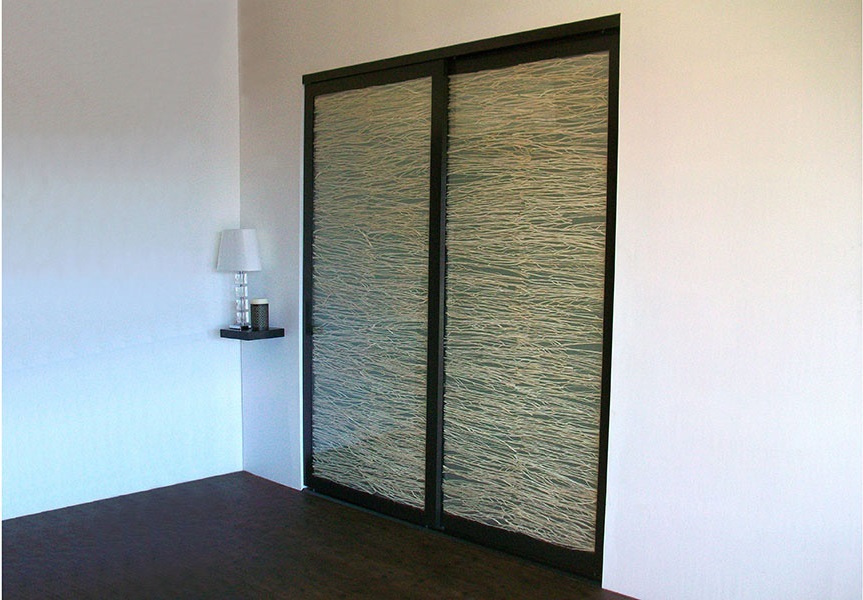 Open Close Doors
With this door, they hand collected coastal branches and stacked them cleanly between panels of tempered glasses. It's instantly a unique addition to any interior design.
Brookhaven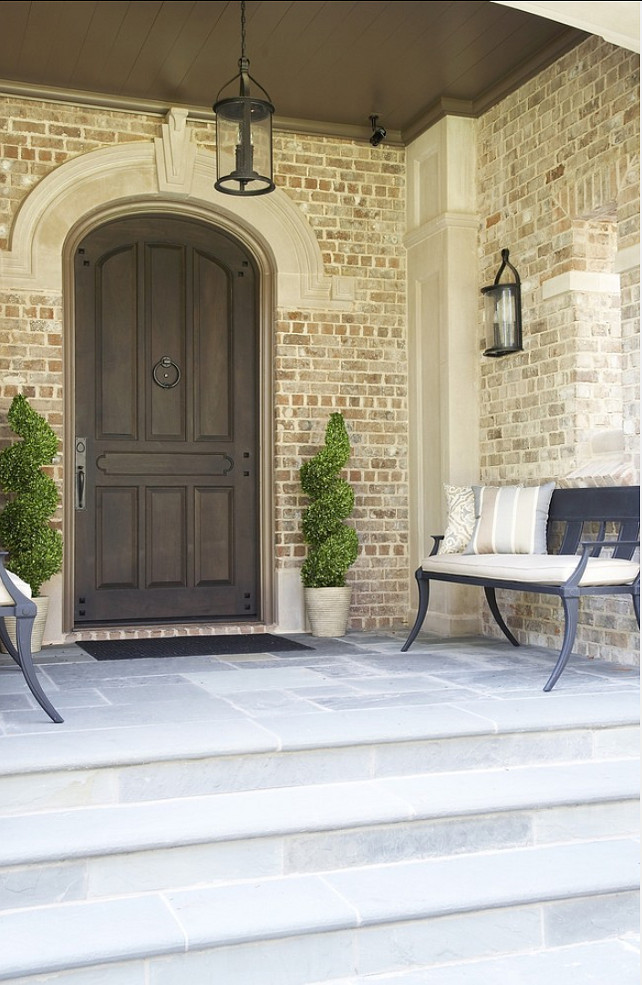 Brian Watford Interiors
Away from the usual, rigid shape of doors, we get this door also with an old-fashioned door knocker.
Beach Dune Grass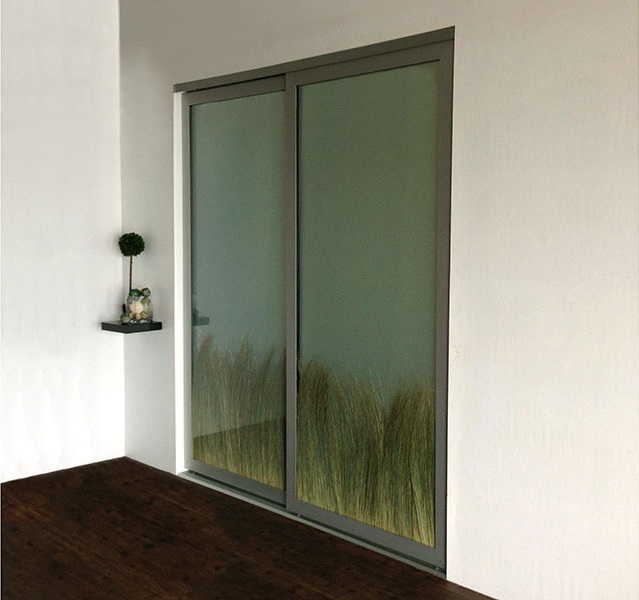 Open Close Doors
If you want to add a beachy element into your interior, consider this door design. They collected dried beach grass and arranged them spectacularly so that it reminds you of sandy dune beach.
Stamford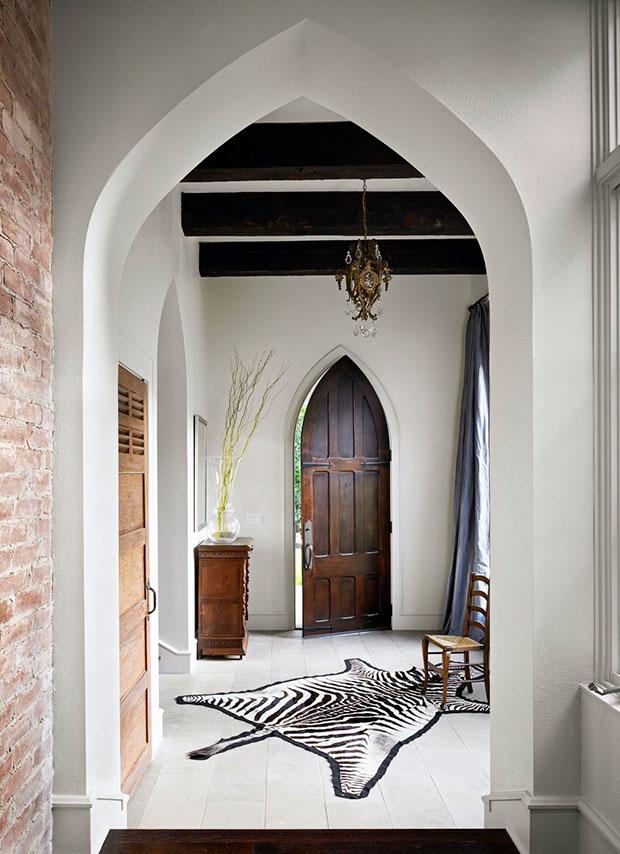 Hugh Jefferson Randolph Architects
With the home having both traditional and modern style design, it only makes sense to have such an unusual door design. The shape alone is very reminiscent of old castles.
Hill House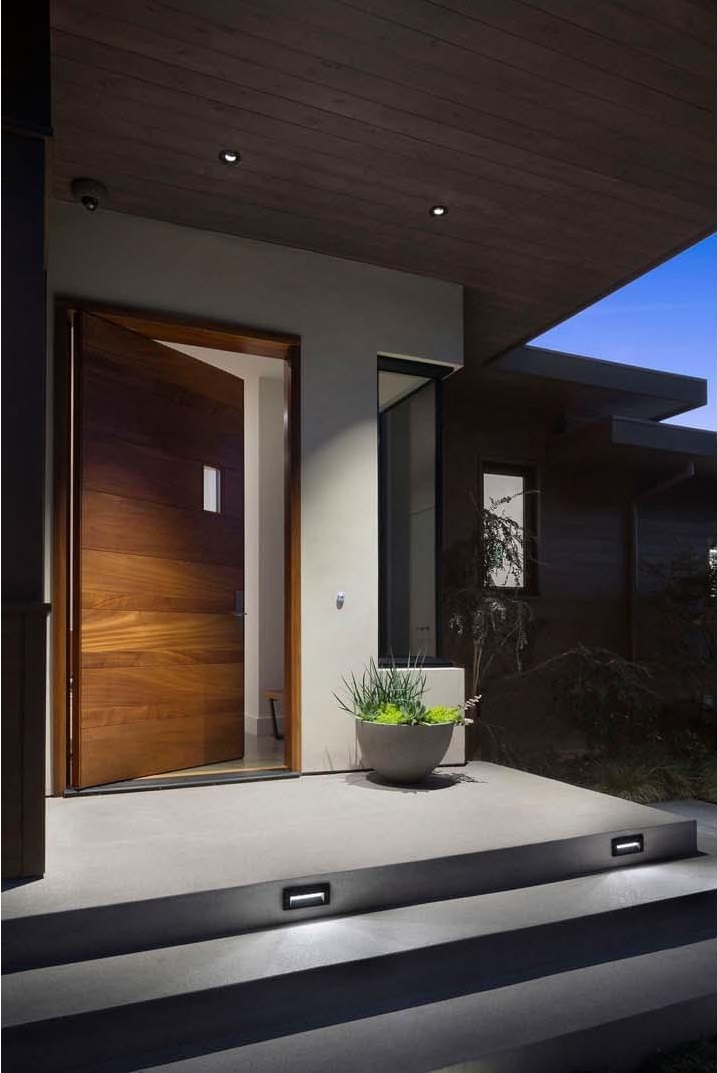 Ana Williamson Architect
It's pretty interesting to keep a glass panel so small and minimal.
Owl's Nest in Greenville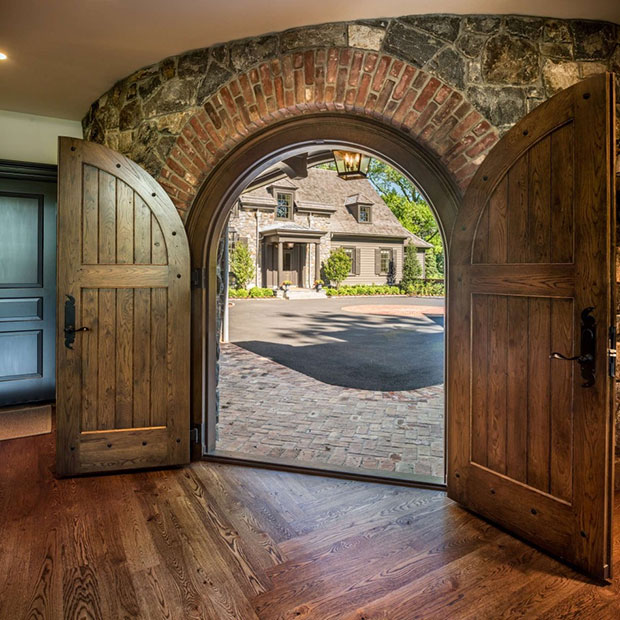 Period Architecture
These huge double doors feel like a good old throwback. But it's a lovely addition to this quaint home.
Stone Fortress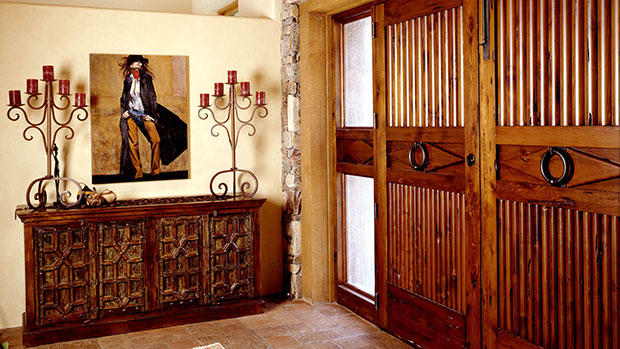 Fisher Custom Homes
This heavy set of unusual doors caps it off with a design style that nearly resembles a bamboo door. It has even interesting door handles that are uncommon.
Weatherby Lake Custom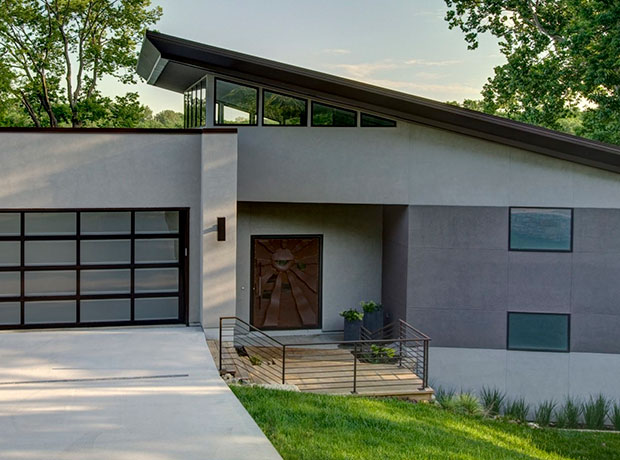 Homoly Construction
On the list of unusual doors with strange yet interesting designs is this one. This particular design resembles that of a sun, except it's almost strangely ominous with the irregular glass panels. In fact, it's like the door has an eye!
Classic French Country Home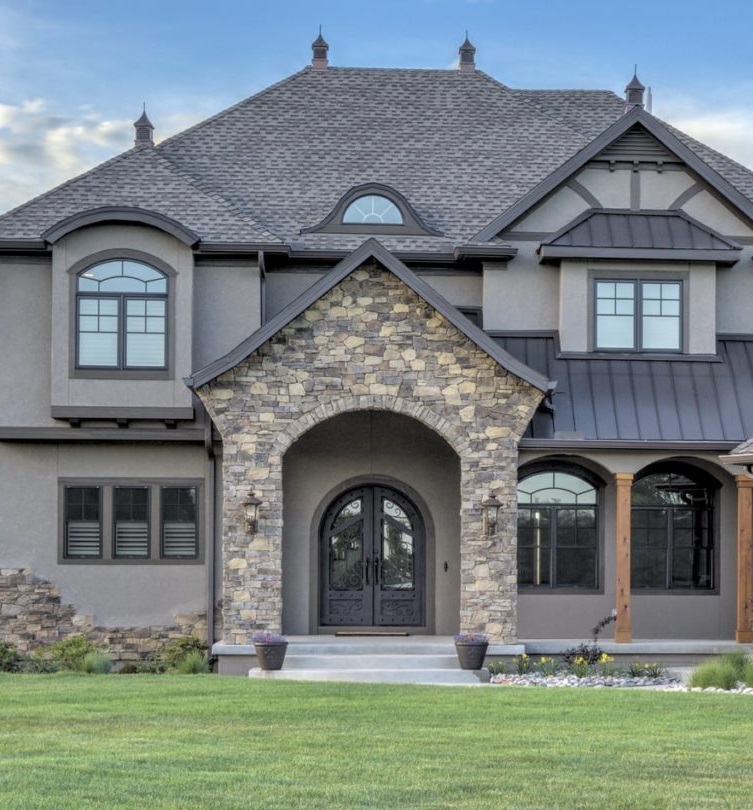 Homoly Construction
With the home described as "old world and European rustic", it is only fitting that they have French double doors for an entry door. It is completed with the intricate details.
Chimney Hill Residence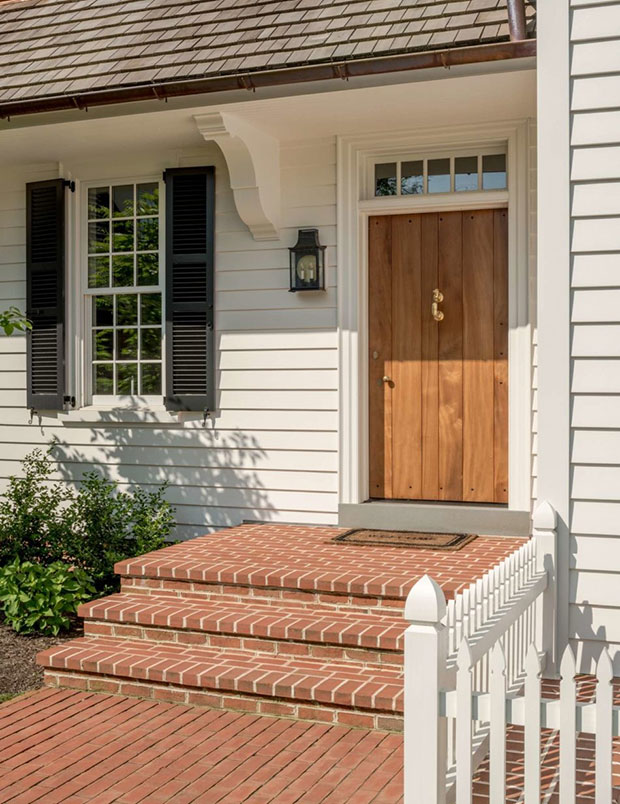 Period Architecture
One of the unusual doors that makes you do a double take. With the uneven and irregularly shaped planks, it looks they were just placed together to make up the door frame.
Concrete House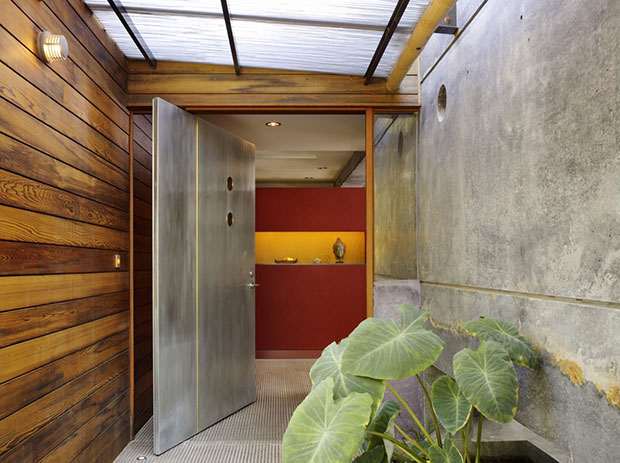 Cheng Design
An example of a pivot door, this door rotates on its vertical axis. It's beautifully crafted from metal that perfectly complements with the concrete house design.
Martis Camp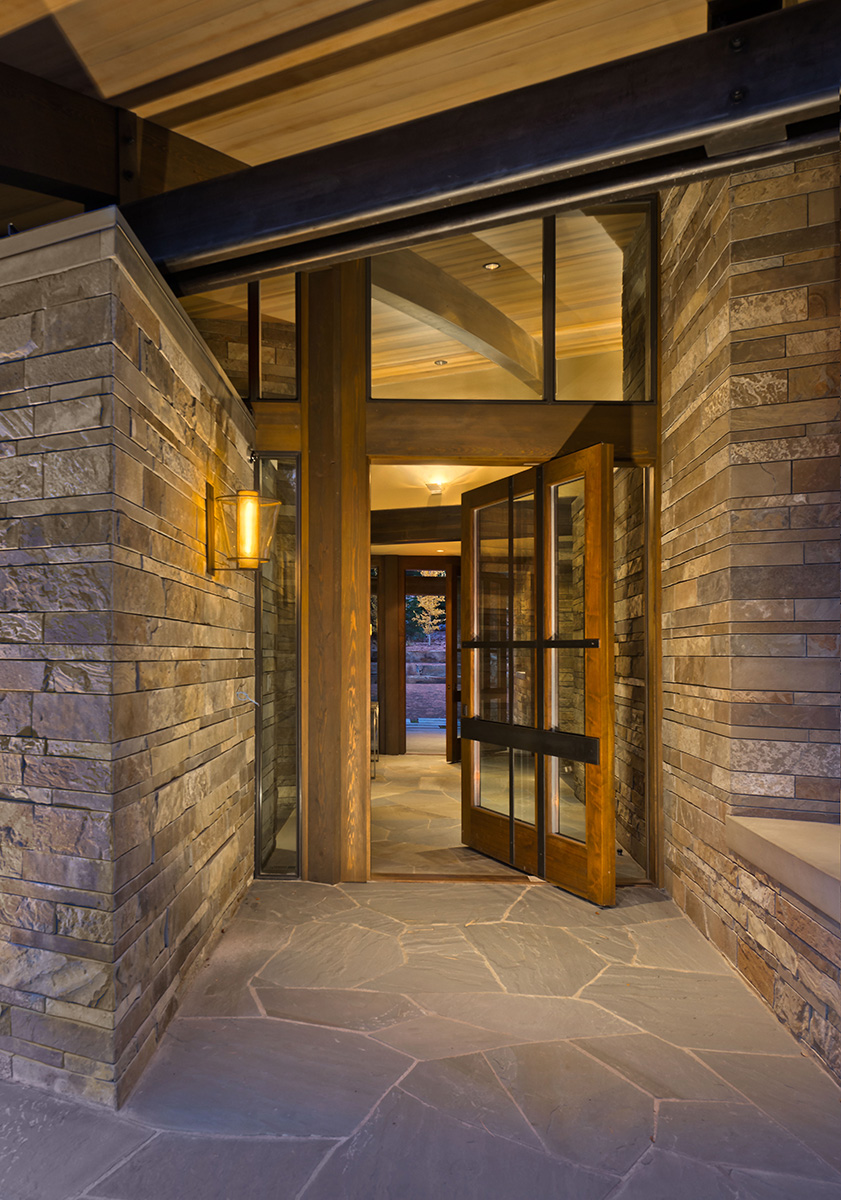 RAC Advanced Control, Inc.
Another pivot door example! With its combination of wood, glass, and metal, it has a sort of eccentric design style to it.
Lake Forest Park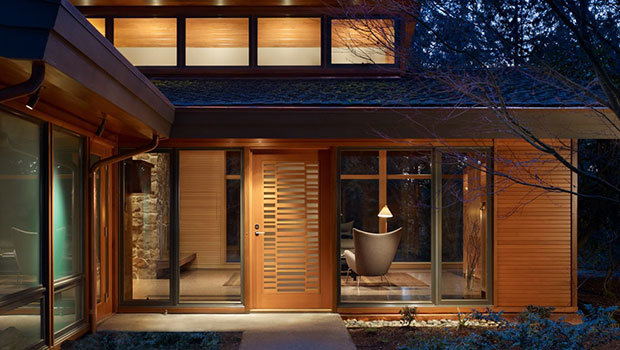 FINNE Architects
To complete that modern look, this pretty door is carefully crafted to have an interesting look.
Spanish Oaks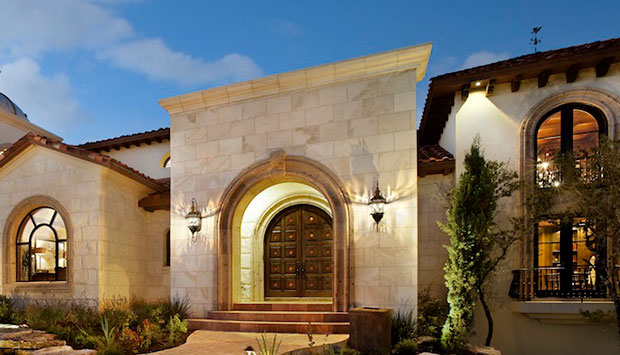 Jauregui Architects
This door has beautiful panel patterns that do not seem to be exact replicas of each other; hence, it gives an even more interesting look.
Mineral Springs Farm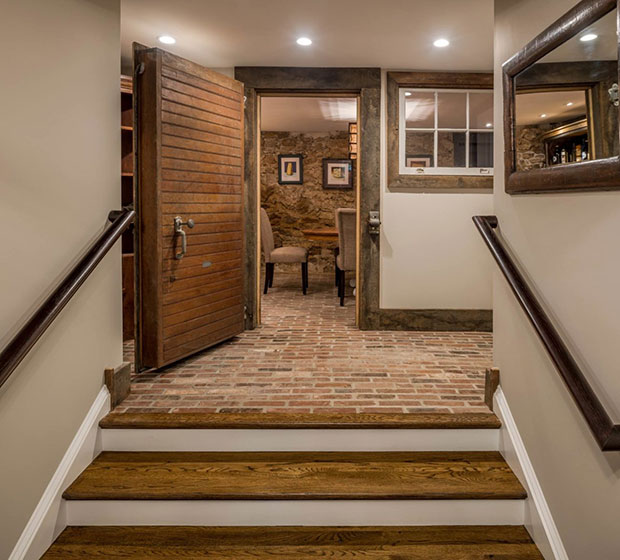 Period Architecture
Looking at this door already seems like there would be some tough work closing this door. But more than, this one has a pretty interesting look.
Arbor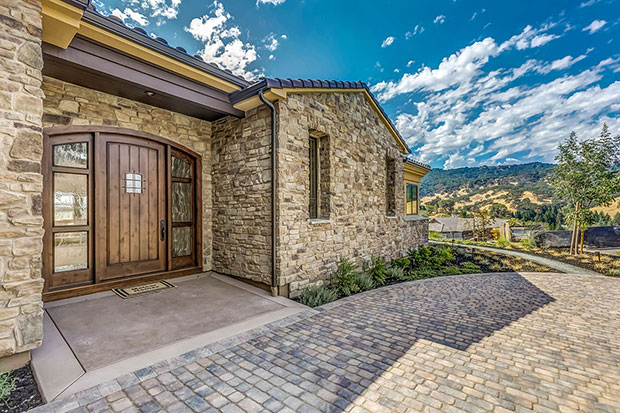 Antigua Doors
The stained look is subtle but a pretty design detail. In addition, the addition of bars on the exterior of the glass panel is such a nice touch.
Cool Plank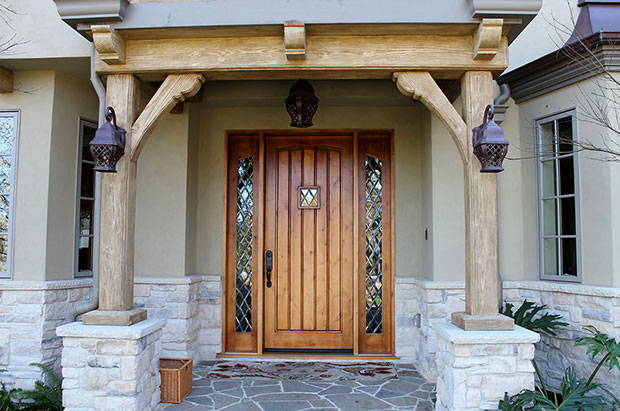 Antigua Doors
The pretty interesting detail about this one is the glass panel isn't simply just a tempered glass inserted into the door frame.
Custom Door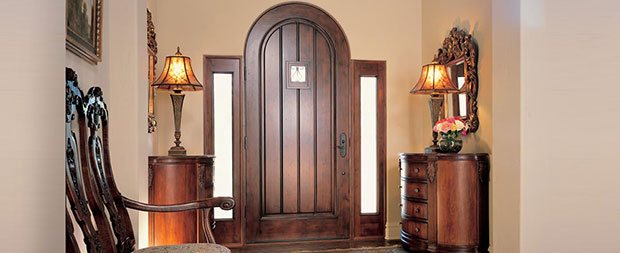 Antigua Doors
The thing about unusual doors is that strays from the normal designs. Like this one, usually the door sidelights and the door itself are about the same height. But we have this really tall door with its glass panel naturally raised higher than usual.
17th Street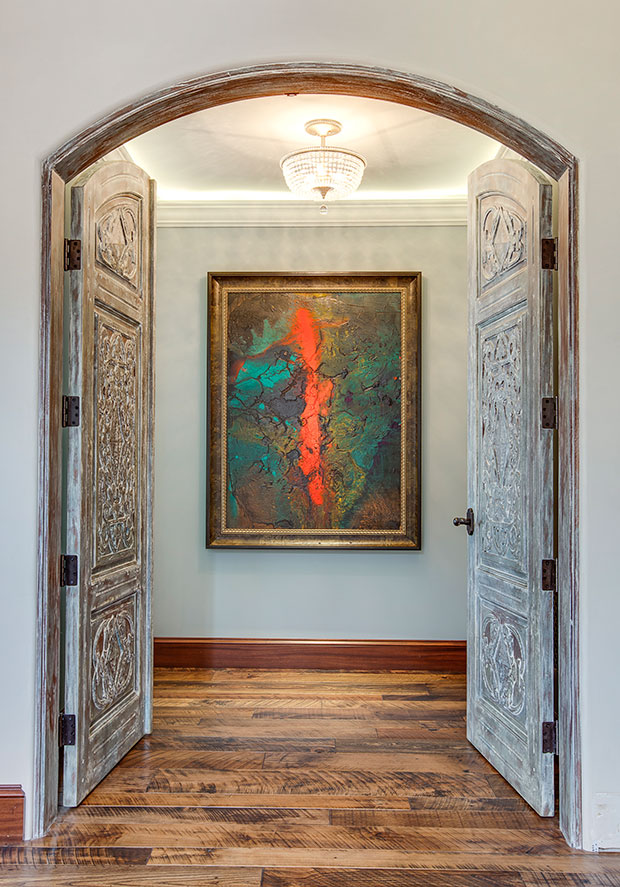 David Watson Architect
Apart from the intricate and detailed carved designs, the paint job is quite interesting and novel.
Custom Wood Door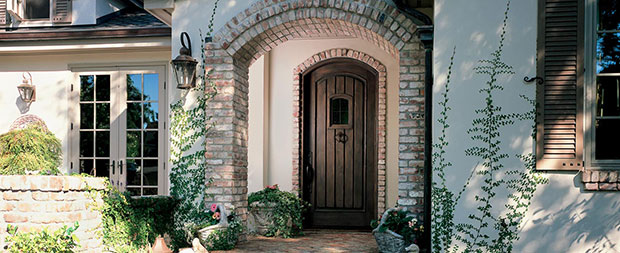 Antigua Doors
The glass panel and door knocker are great additions to this one.
Alicia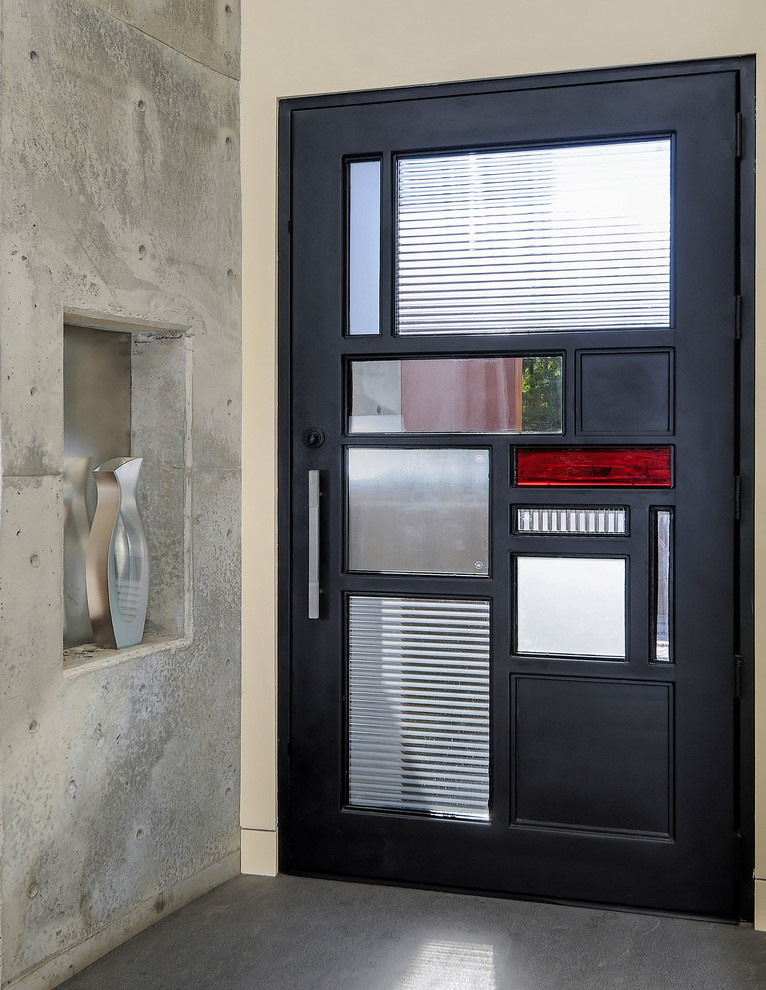 Elevation Architects
It seems a normal thing for unusual doors to be random and have variety. Case in point: the many different types of glass used in this door. It is also pretty interesting how these are not positioned in a strict pattern.
Casa Rock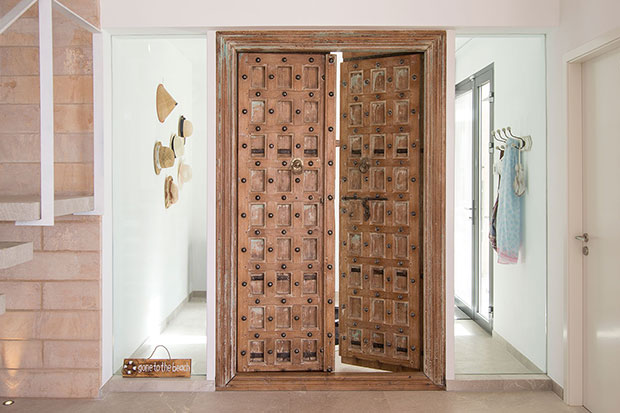 OIB Architecture
If you pay close attention, you will see the strange yet really interesting design details to this door.
Oceanic Residence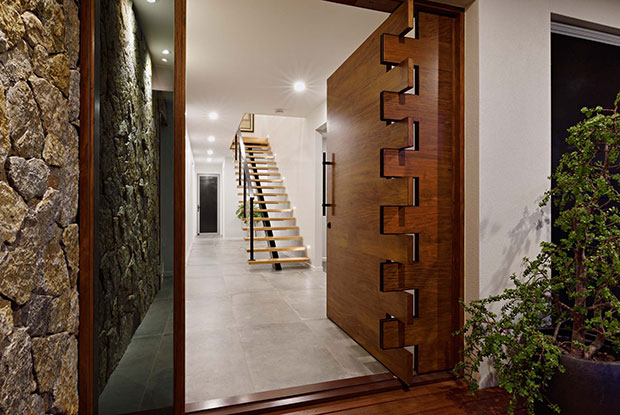 Squire Development Group
At first glance, this might seem like a hinge door but it's actually a pretty unique pivot door. When it comes to design details, it's pretty simple. But the way it's built and its structure is pretty interesting.
Ghansoli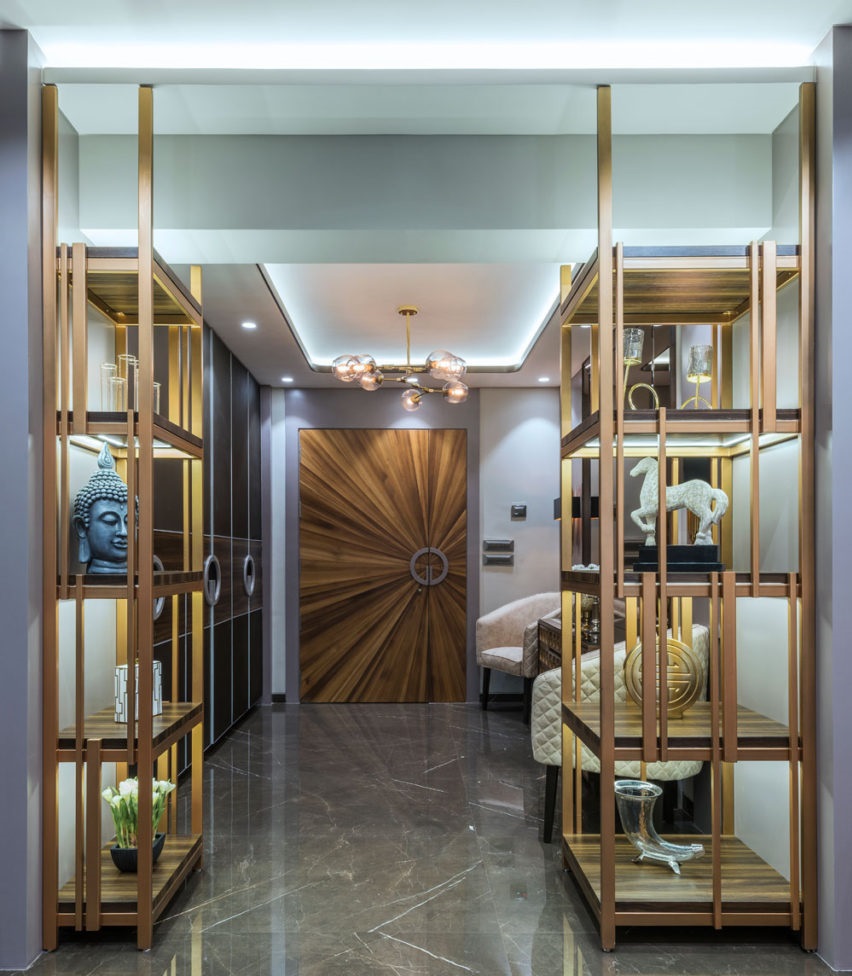 Bombay Design Studio
The highlight of this beautiful entry door is how it creates an image of sun rays beaming out of the focal point which is the door handle. Truly, this is a great choice as the main door.
Ghansoli Entry Door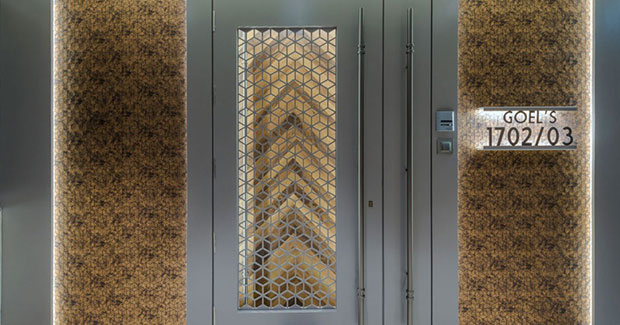 Bombay Design Studio
A perfect steel door that's complemented with the hive-like patterns on the glass panel.
Arabella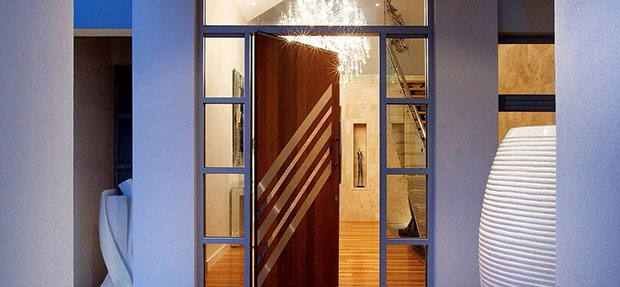 Daniel Lomma Design
What's pretty interesting about this door is that the glass panels are fixed diagonally, and then paired with diagonal line designs.
Winnipeg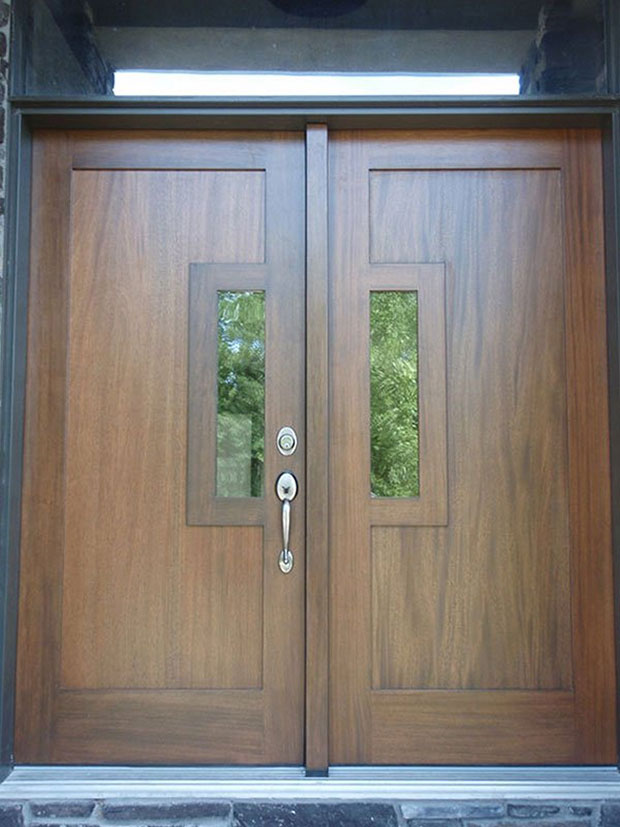 Yarrow Sash & Door
This beautifully crafted door has a nice touch of reflective glass panels on either side that's just right next to the door handle.
Vantage Cr, Welling Point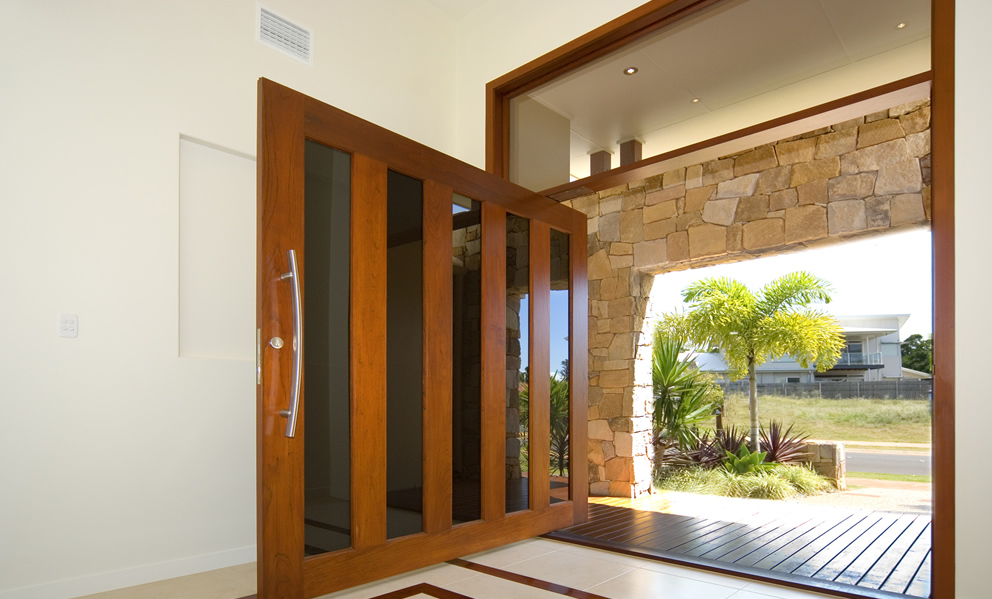 Imperial Homes QLD
This door belongs to the list of "unusual doors that baffles". It's a pretty pivot door, but with its wide rectangular shape, it's a wonder just how smooth the pivot has to be because this would seem like a heavy door to push and pull.
Windows and Doors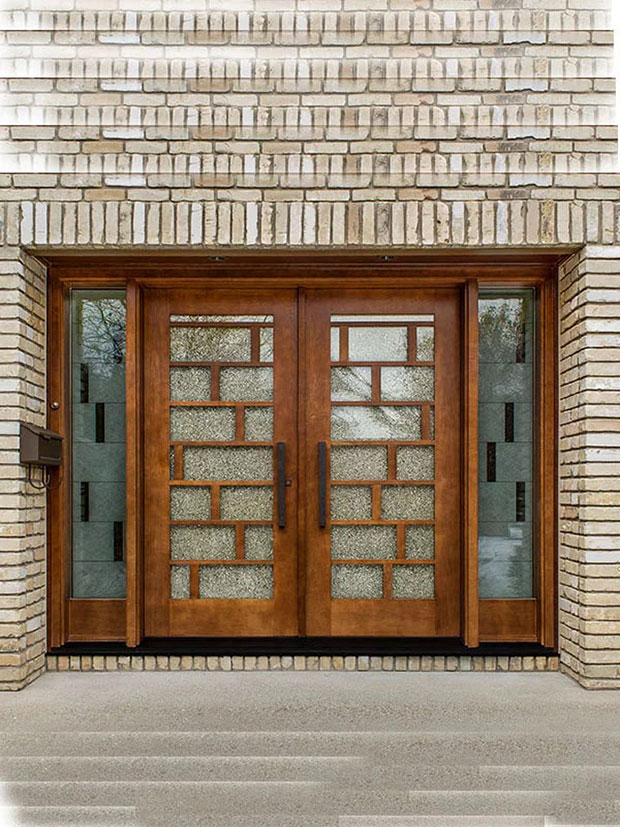 Yarrow Sash & Door
This door uses quite the interesting kind of tempered glass. Also notice the size of the handle that's very fitting with the door size.
Eclectic Resort-Style Residence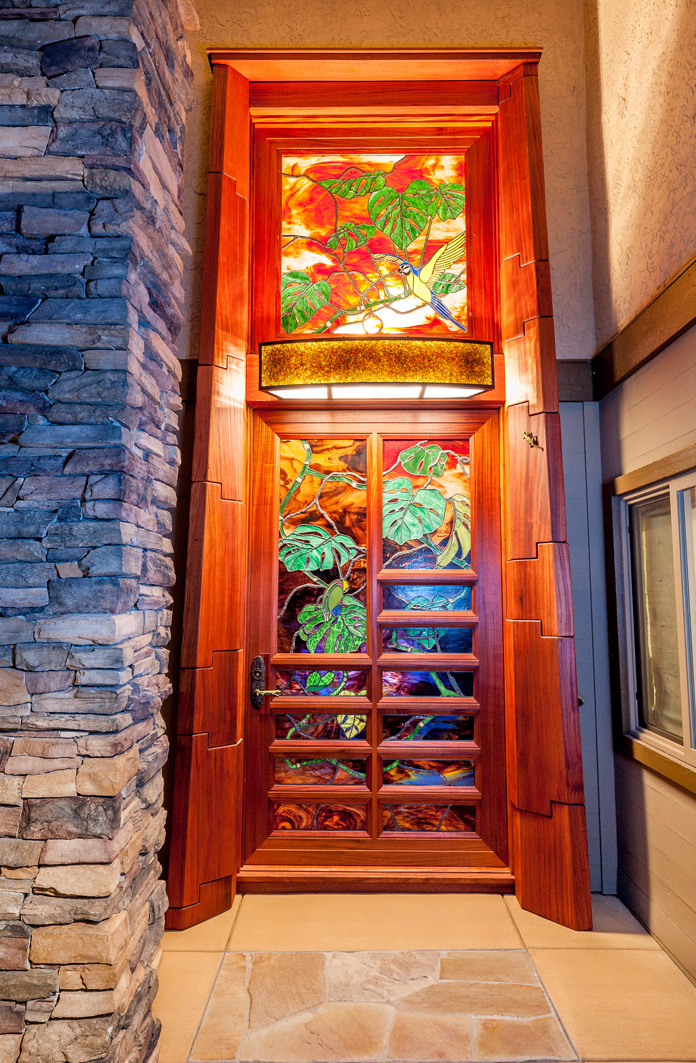 McCarter Design
Just like the name of this home, this eclectic door is very fitting with unusual doors. This completely custom made door was a huge project for the architects, not just with the door itself but also with the frame.
There's a lot of interesting and intricate details on this one!
Cellar Door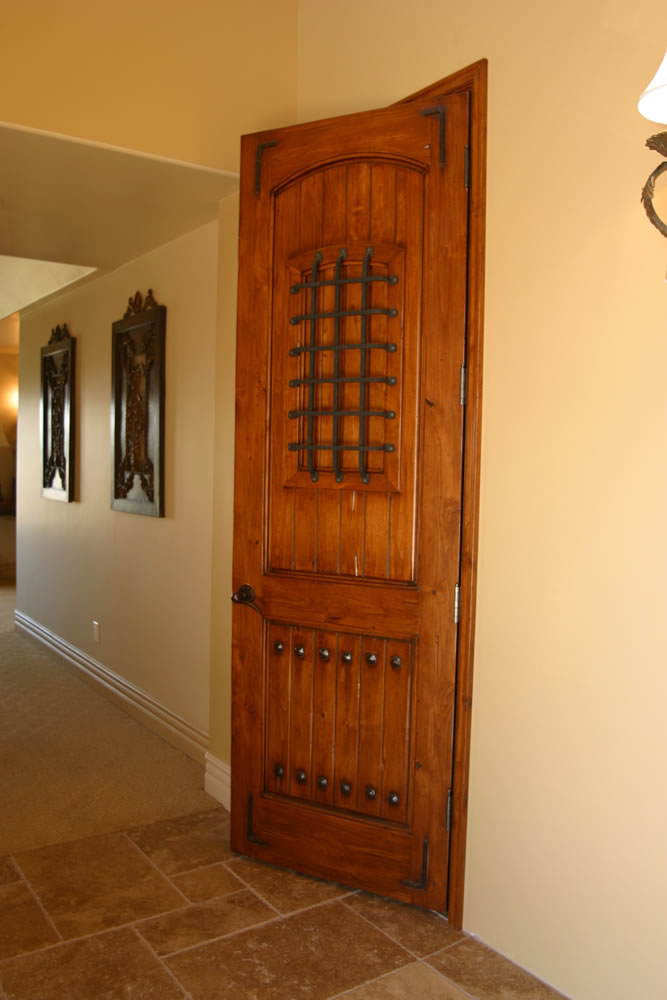 Grand Entrances
This cellar door instantly catches the attention especially with the seemingly random steel bars.
Kooyong Road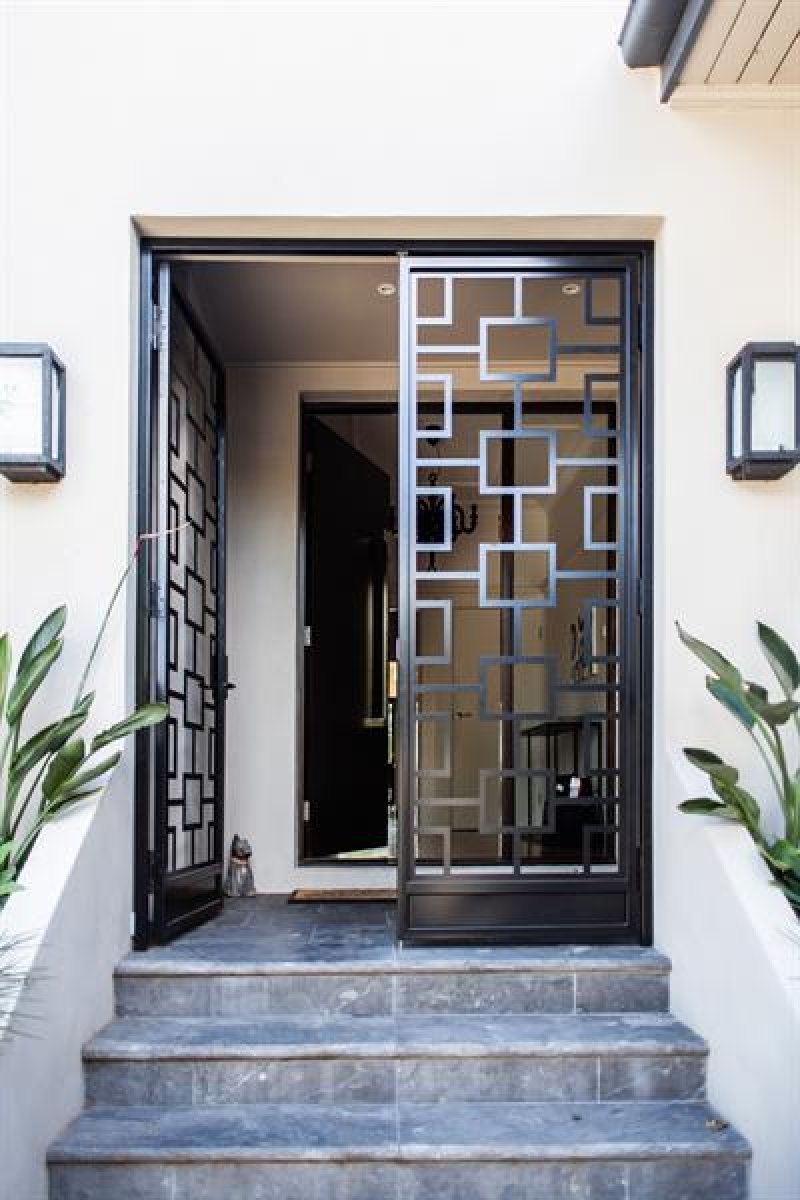 White Chalk Design
You would expect to have glass panels for this entry door, but this allows for a free open air flow.
Denver Acme Loft Remodel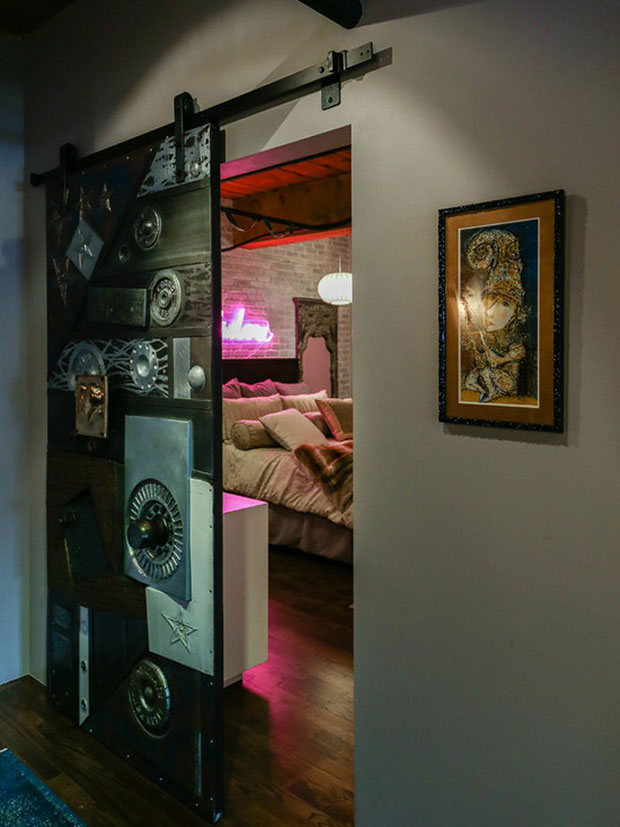 Jill Pfeiffer Design
One of the unusual doors that pay careful attention to details! Going by the loft's design style, this door is so magnificently crafted to almost give a futuristic industrial look.
Rocky Ledge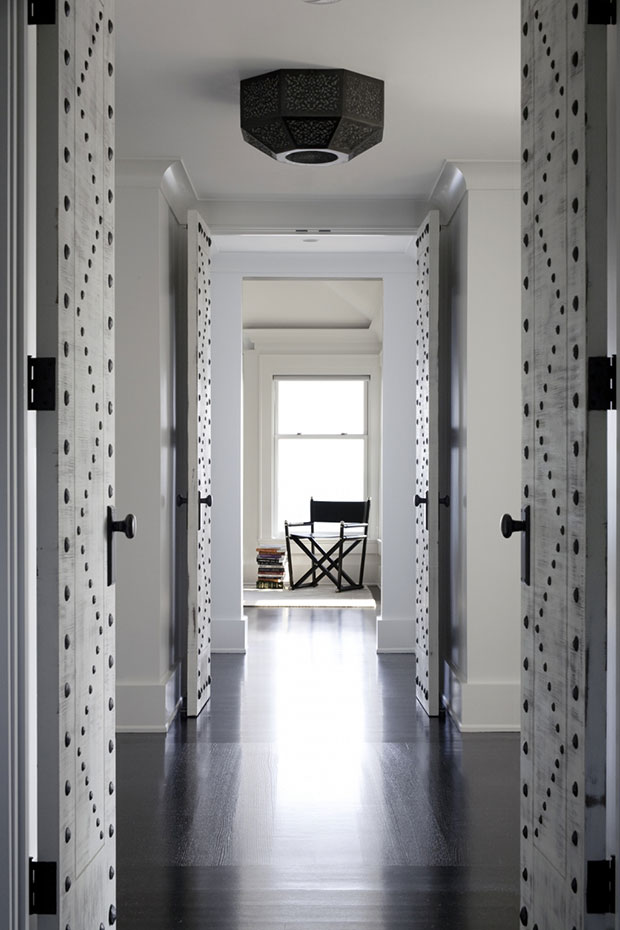 LDa Architecture & Interiors
These interesting interior double doors are laid with black studs that are so carefully placed.
Woodshed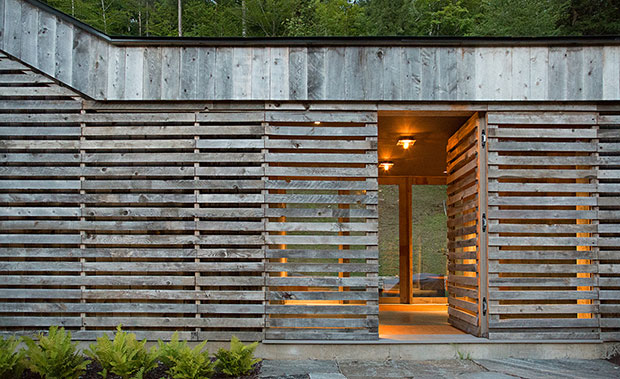 Birdseye
Very interestingly, this door blends perfectly with the walls. It's already interesting enough that the exterior walls and the door are built this way.
It's curious to see if such rustic unusual doors design would confuse people.
Pacific Retreat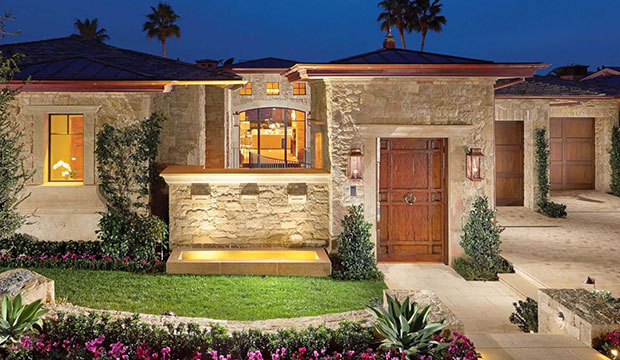 Dugally Oberfeld Construction Development
The rough textured look is a thing of beauty for this door. With the way the door handle isn't obvious, it heavily emphasizes that textured look that matches well with the exterior walls.
Trustile Project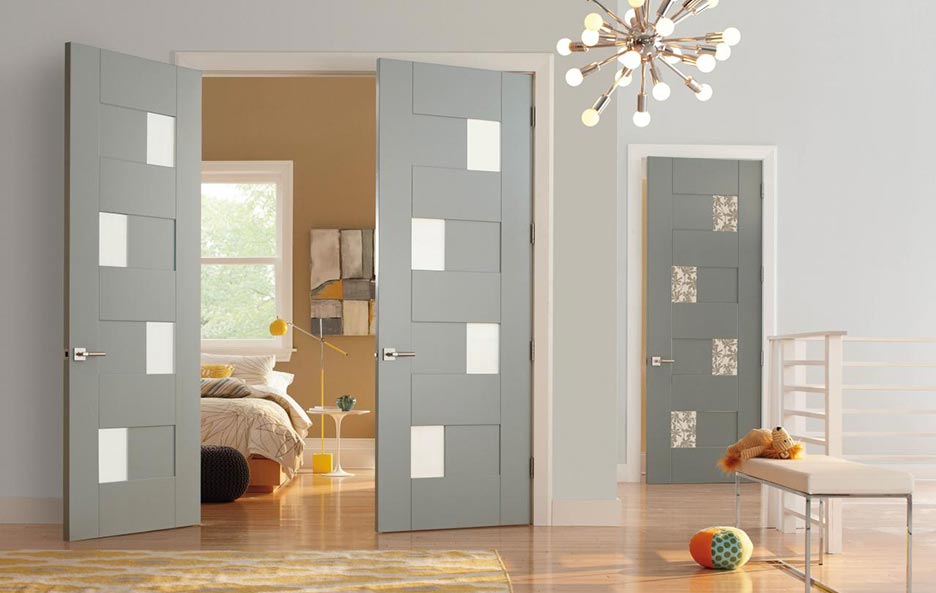 High Country Doors
The alternating pattern is such a nice look.
Midwest Custom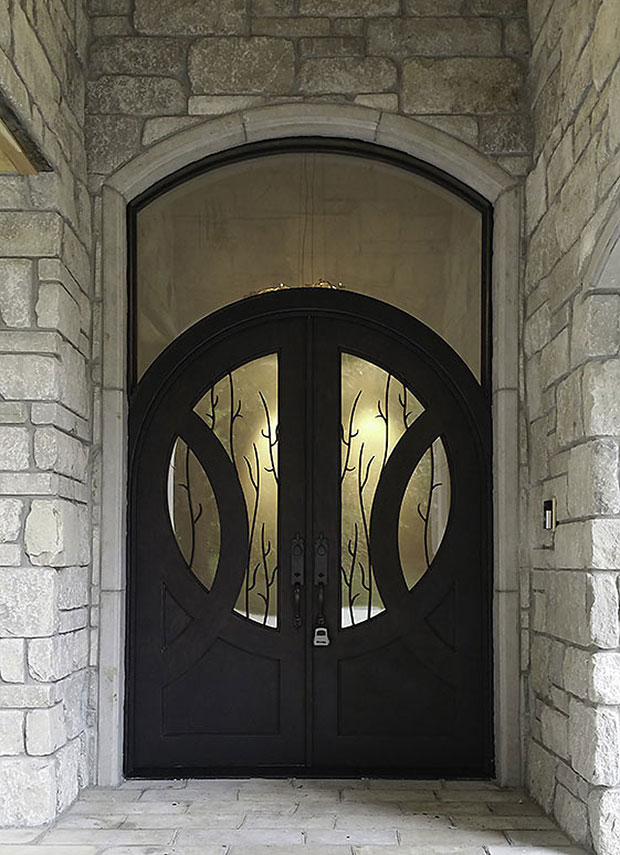 High Country Doors
The round shape is already interesting enough and it is topped off with the branch/root etching design on the glass.
Levin Residence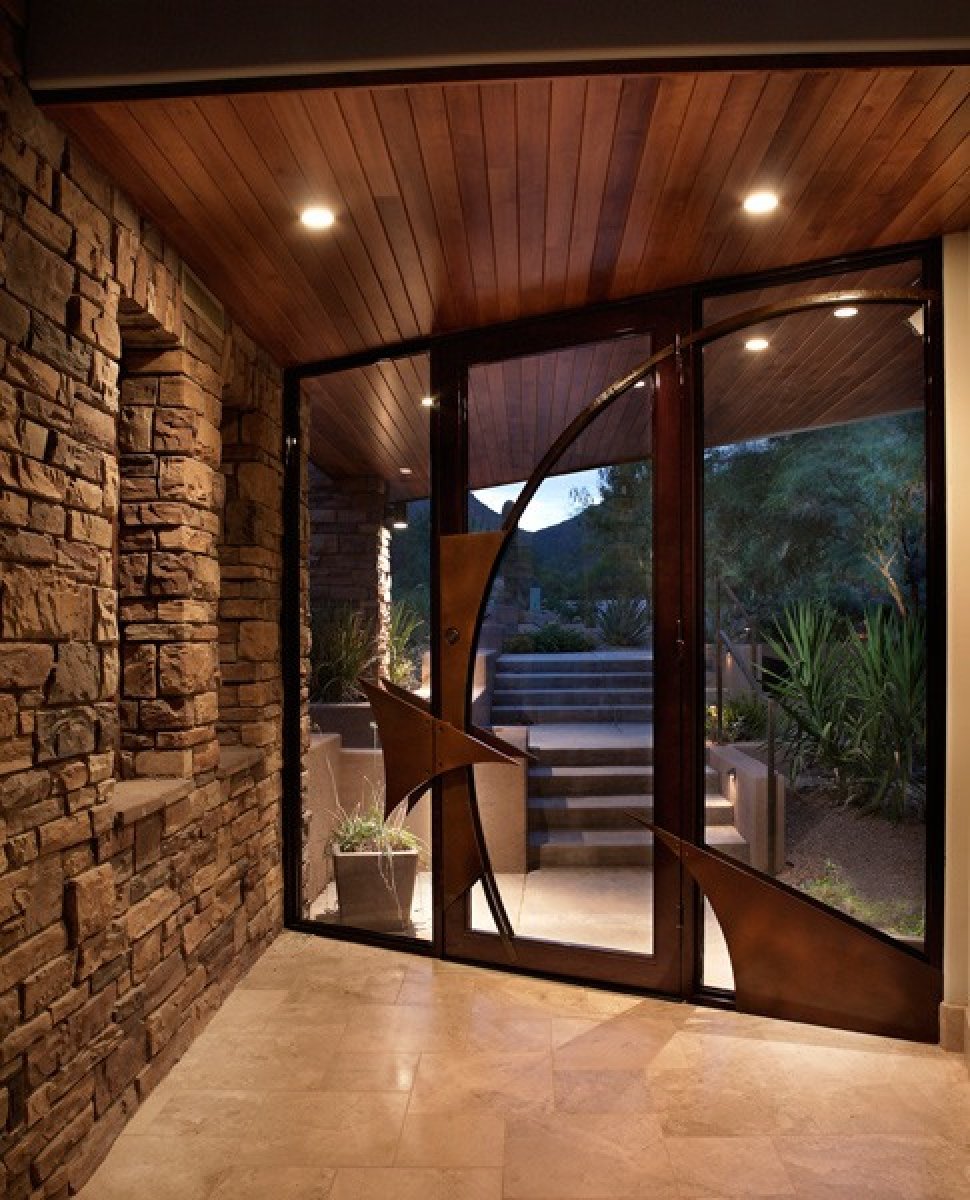 Soloway Design Architecture + InteriorsSoloway Design Architecture + Interiors
Another one of the unusual doors that personally baffles me! This intricate design is so unique and ingenious, yet, in one glance, it makes you wonder how this door opens.
Ocean Front Escape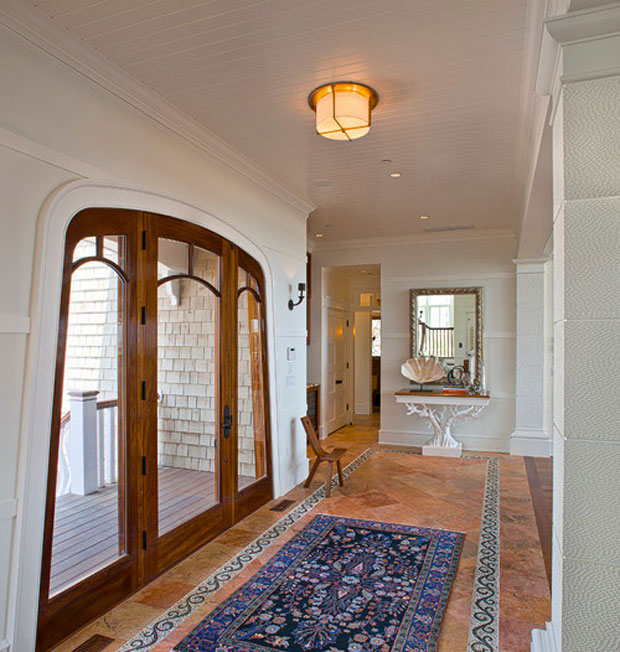 Bruce Palmer Design Studio
Put this on the list of "unusual doors with unusual frames". With the ocean front theme of the house, it seems fitting to have such a door frame design.
Trevino Residence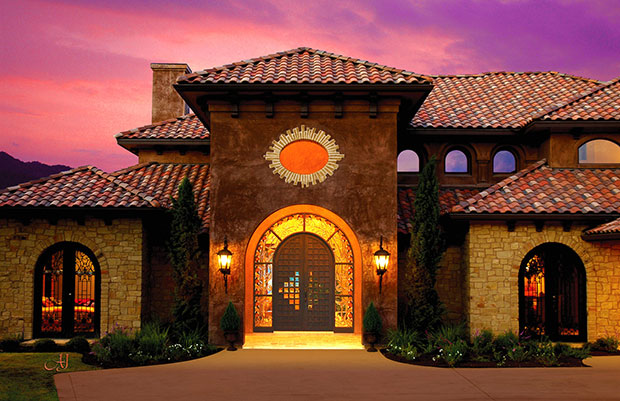 Alberto Jauregui Designs, Inc.
It's fairly interesting how this solid of an entry door manages to "poke holes" to form a diamond pattern of small glass panels.
Quaternary Celtic Knot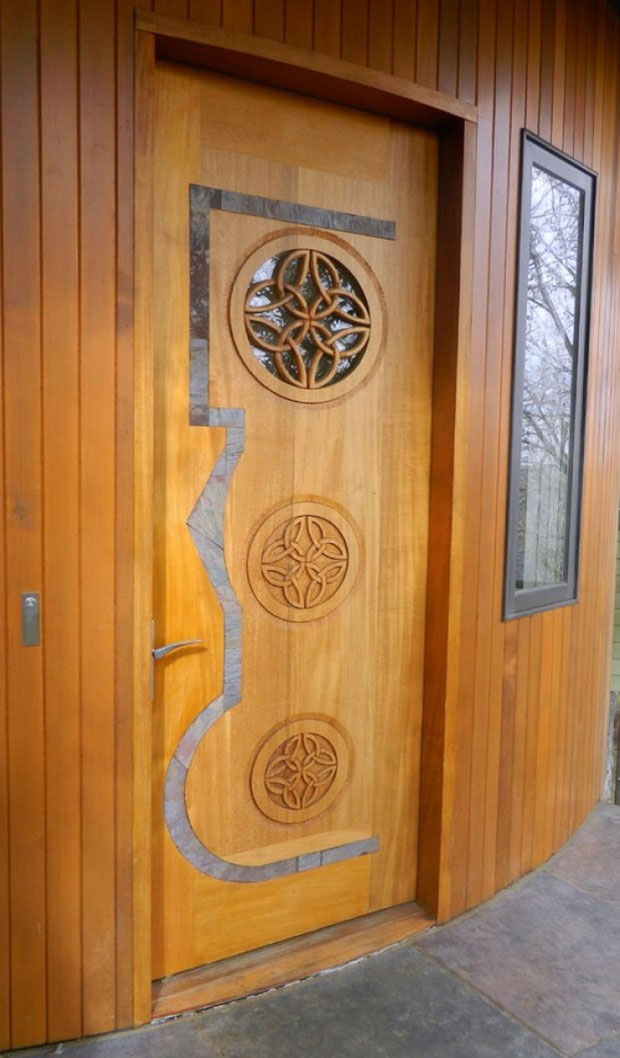 Renfree Carving Studio
Lots of unusual doors design seem to have a knack for seemingly random designs. Take that Celtic knot design of this door, but also notice the strange carving on the side.
Quaker Bluff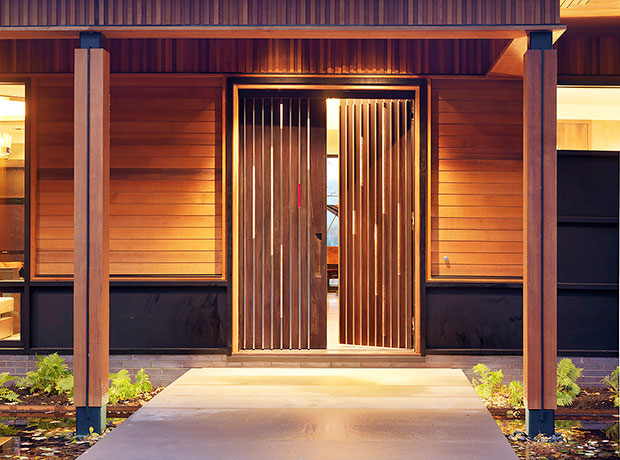 Birdseye
At first glance, this door may seem to have been put together vertically with pieces of wood. But upon closer look, they managed to insert glass pieces that allow for small gaps of peeking to the interior.
With this list of unusual doors, you can see that there are many ways, small intricacies, and such, which could give off that "unusual" look.
Hopefully, this list not only help you with considering paying more attention to your doors but also with picking outdoor design ideas.
Like This Post? Pin It!