The HemLoft: A Secret Tree House in the Woods
|
Who would expect to see a treehouse in the middle of the woods? Well, no one would! And that's what it makes such a great place to build a secret tree house!
So a guy thought of putting up a secret tree house that has a fascinating and whimsical design. It is made of wood with an egg shape installed on a tree.
Sounds amazing, right? The house is called the HemLoft.
HemLoft is a self-funded secret tree house built by Joel Allen in the woods of Whistler, Canada. It is built on crown land or a government-owned land which means that the fate of the structure is uncertain.
After three years of keeping it a secret, Joel decided to share the HemLoft to others. Aside from the impressive design of the HemLoft, it also has an interesting story. We actually look at this as something from a storybook but no, it isn't a fairytale. It is real.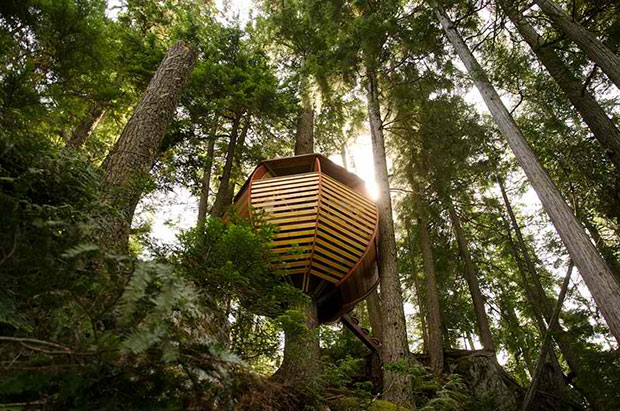 At 26, Joel attempted to retire. He was a former software developer from a company that shut down in 2006. When his retirement plan failed, he needed a job.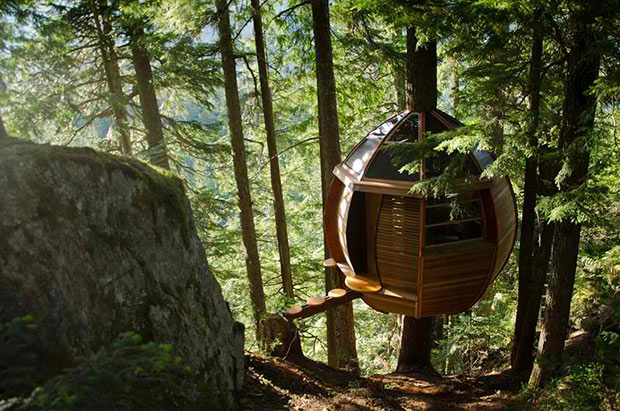 His life took a detour when he met Old Man John at the Hills Garlic Festival in the Kootenays in 2008. John is a magical looking fellow as he appears like a wizard. And yes, he has a wizard mind.
As a matter of fact, he awakened the carpenter in Joel.
He then started his carpentry career by making his parent's a shed house as his first project. He used it to get a good job as a carpenter where he met Ryan.
They had different adventures and started "sports sleeping" wherein they sleep in odd places. We can definitely see them staying at the truck hotel or the skateboard house!
From that hobby, he thought of an idea to get some long term sleeping solutions like a treehouse.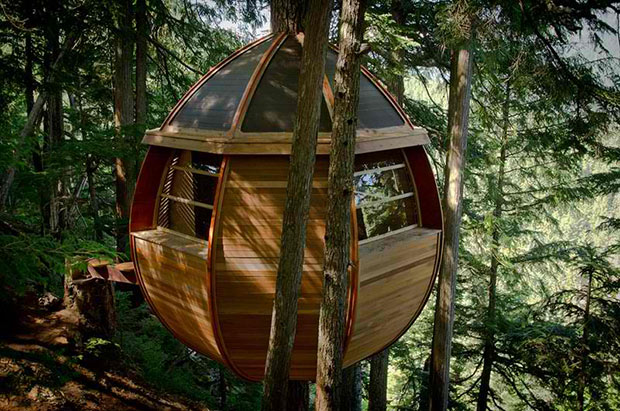 But he didn't want an ordinary treehouse. He wanted it to be elegant and unique and comfortable.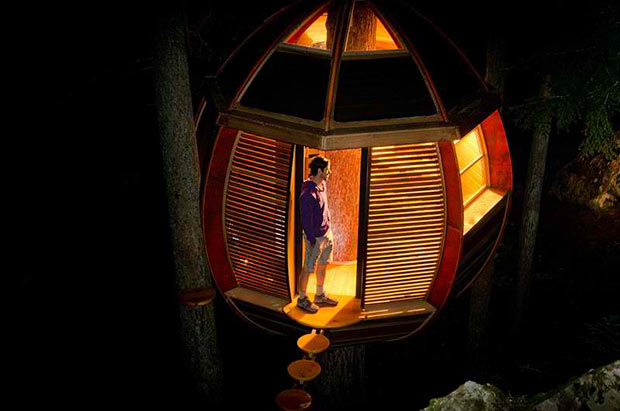 And so he got what he wanted. An egg-shaped treehouse was realized through the combined ideas of his friends Mark and Jayne. Jayne thought of the egg shape and did the miniature with Joel while Mark did the 3D rendering.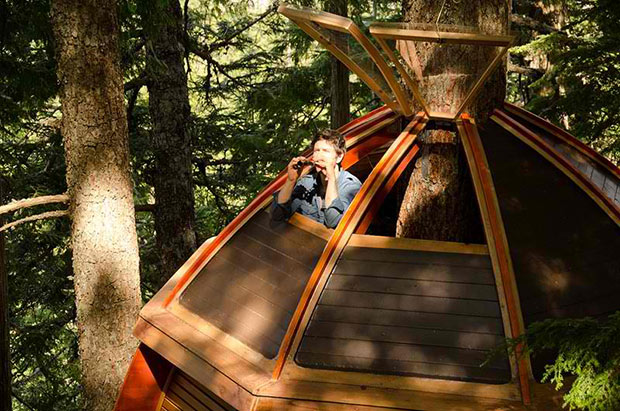 Joel then created a 1/4 scale model of the secret treehouse to test its strength. He then made some adjustments to the actual treehouse.
It turned out the way he wanted it to be. It looked even more interesting with a window on the top where one could look through.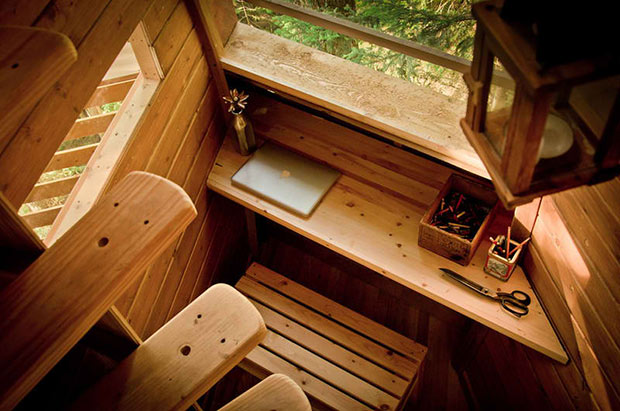 The house was completed with free materials Joel got from Craigslist. The interior of the secret tree house included built-in seats and tables as well as a spiral stairway.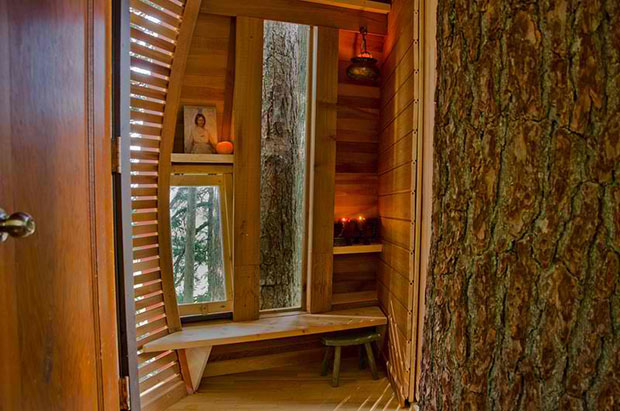 You can see how neat the job is done. And yes, there are glass windows too that allow light to come in aside from the wooden sidings.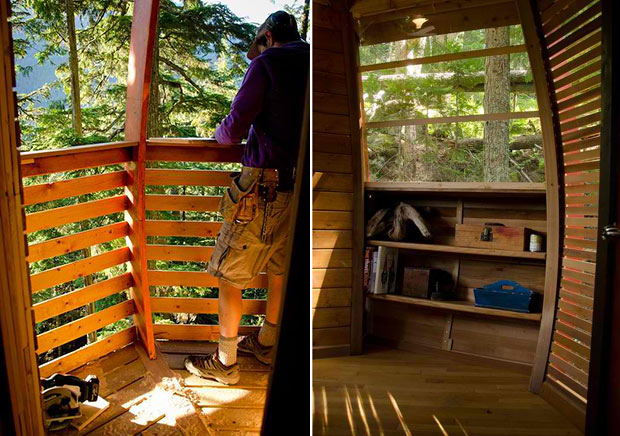 The treehouse is indeed a unique place to live in. Although it wasn't designed for long term dwelling, one could still camp in the area and stay there for some time which they did.
Living in here could allow them to bond with nature. But they were always careful with bears.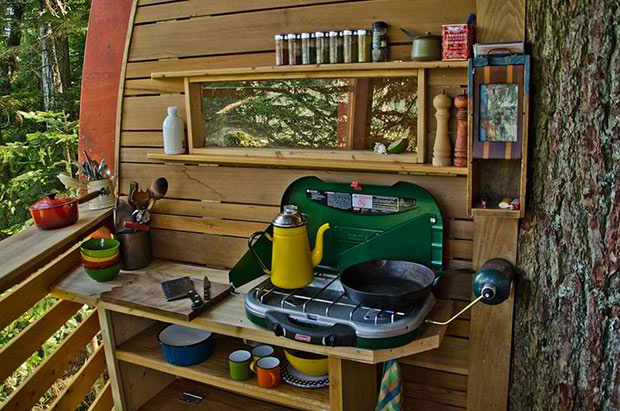 While in the HemLoft, one can cook and do the usual activities. It isn't far from the city so they can drive to get food and prepare them in the treehouse.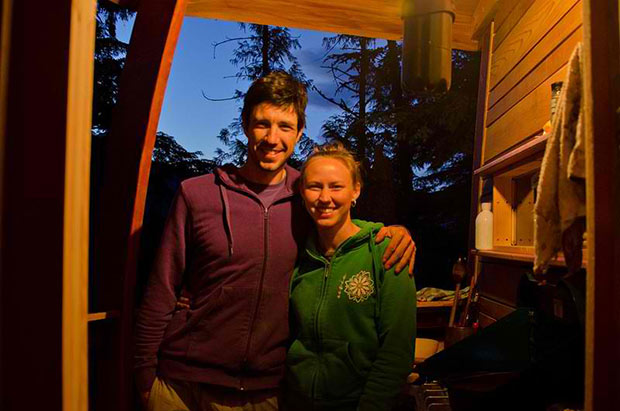 The HemLoft was finished with the help of Joel's partner, Heidi who also had that flair for carpentry.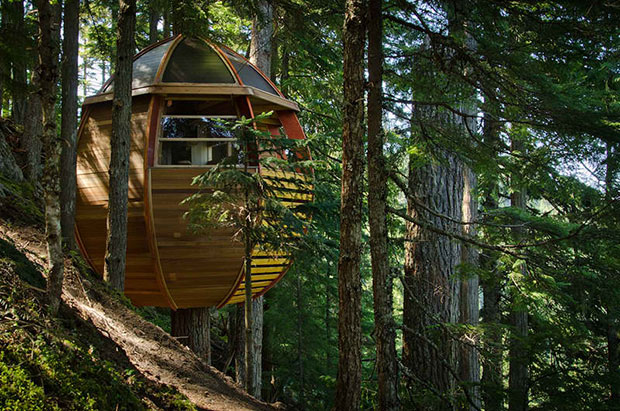 Even if it wasn't easy to find the perfect tree and it wasn't easy to build the treehouse with a distinct shape, it was all made possible. And they did it without destroying nature and its surrounding environment.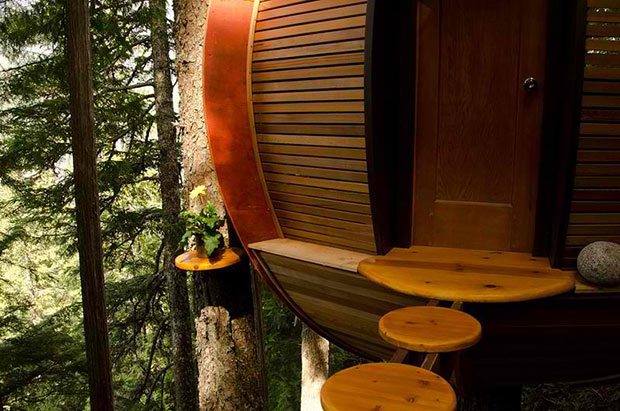 But since the treehouse is built in a crown land, we are still not sure of what it is fate. Yet, we hope that like this steps, the HemLoft's future will also lead to an open door of not just exposures and opportunities for Joel but for this amazing structure to remain in the woods of Whistler.
We sure hope that the Lorax (who speak for the trees) will not get mad of the egg-shaped treehouse that is built around the tree. But the way we look at it, Joel and his friends didn't destroy anything while building this amazing home in the woods.
Like what we mentioned earlier, aside from the beautiful design of the secret treehouse, it also has a wonderful story.
You can read more of the HemLoft story so you will know the challenges that Joel encountered in making it. The secret tree house is no longer a secret spot for Joel and his friends.
The world has known about it but one look at it will make us feel that once you are inside it, you are secluded from the world and you are in your own secret place, a world of your own, a place you can call home.
Share this post to your friends! They will get a brilliant idea for a treehouse from this design for sure. Although the HemLoft's design is quite complicated and required much analysis, you can always make something simpler but still fascinating!