Skateboarders Will Love Living at the House Skateboard
|
We have previously featured a family home for kids, now, we are featuring what a grown-up who enjoys skateboarding will love: the house skateboards! Come and take a look!
If your house is designed to fit your favorite sport and hobby, you will no longer need to go far to do your thing. You can live and have fun right in the very walls of your own home.
That would be totally awesome! Well, it would be easy to have a basketball court or a billiard table or even a lap pool in the house but what about if you are into skateboarding?
We didn't realize that it is possible to have a house where you can skateboard anywhere and everywhere all the time!
The House Skateboard is no doubt the ultimate dream of every skateboarder for you can skate in any areas both indoors and outdoors.
Located in Malibu, California, it is comprised of three separate spaces wherein the first has a living room, dining area, and kitchen.
The second space has a bedroom and bathroom while the third one is solely dedicated to skateboard practice. This is the first house that is entirely used for skateboarding and dwelling at the same time.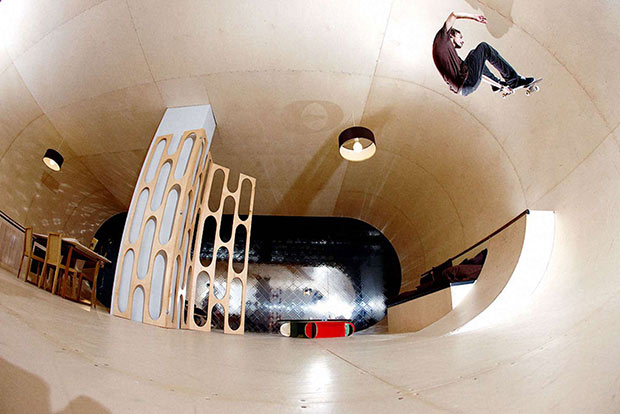 Before dinner time, one can still skate around the house. As seen here in the living room and the dining area with a decorative wall partition.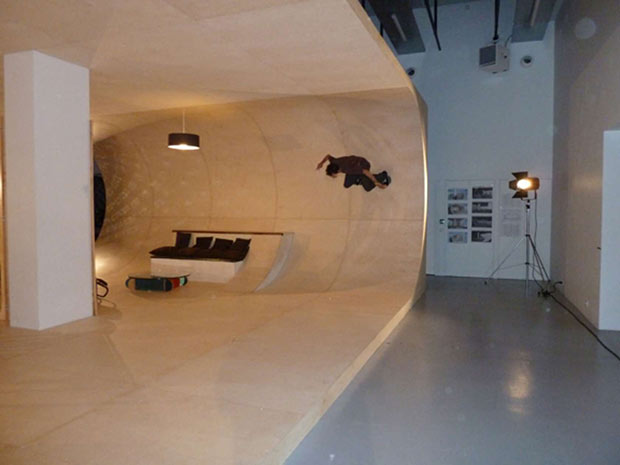 This house you see here is a prototype presented at La Gaite Lyrique museum in Paris.
One can skate forever in this continuous surface forming a tube of 10ft radius.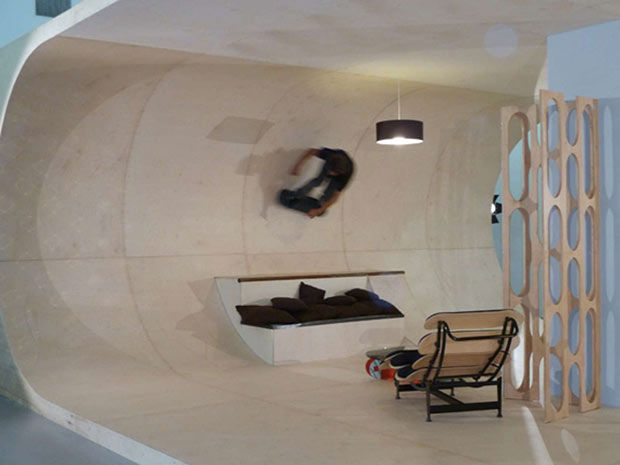 Each space is skateable allowing you to bring your skateboarding practice right into your home.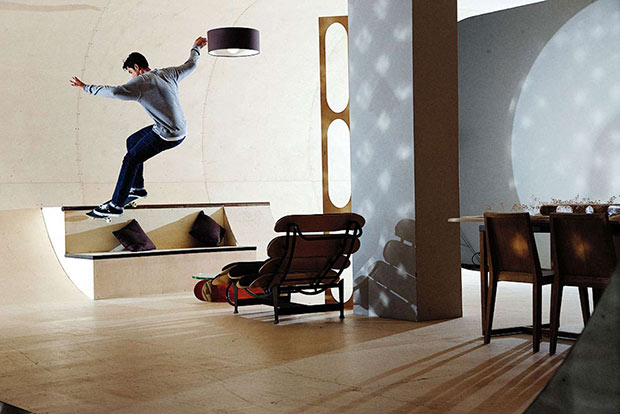 Even the furniture is skateable since others are integrated into the curve like the sitting area.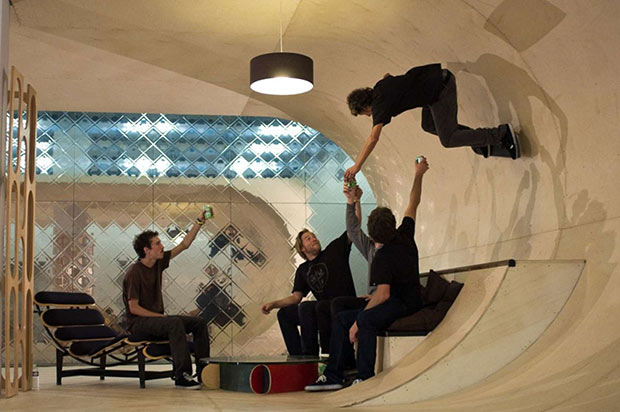 Aside from the curvy walls, one wall has a beautiful glass design that allows light to bounce into the interior of the house.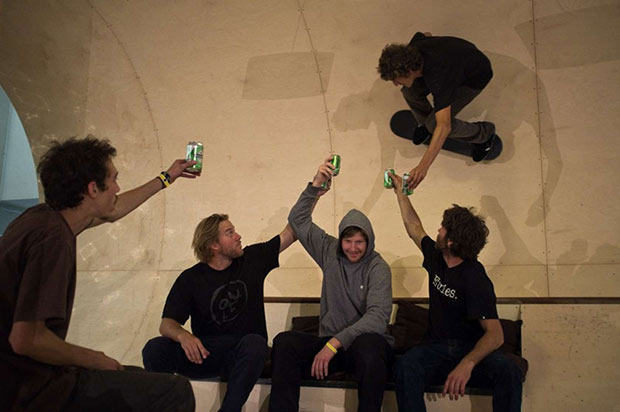 And yes, you can enjoy skating and drink at the same time as your friends around. Though, we wonder if you can keep your food down properly if you are eating or drinking while skating.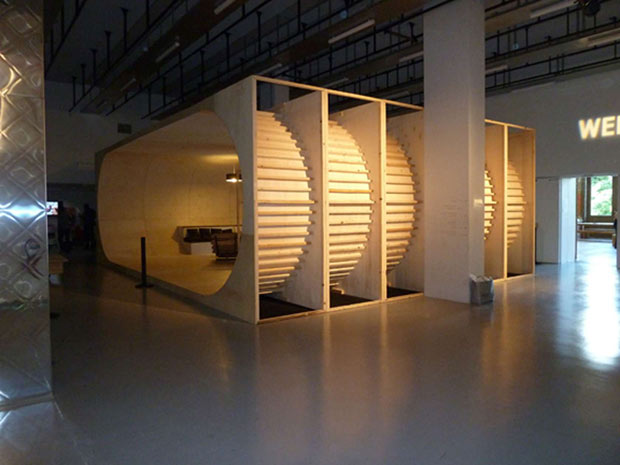 Here is an angle of the prototype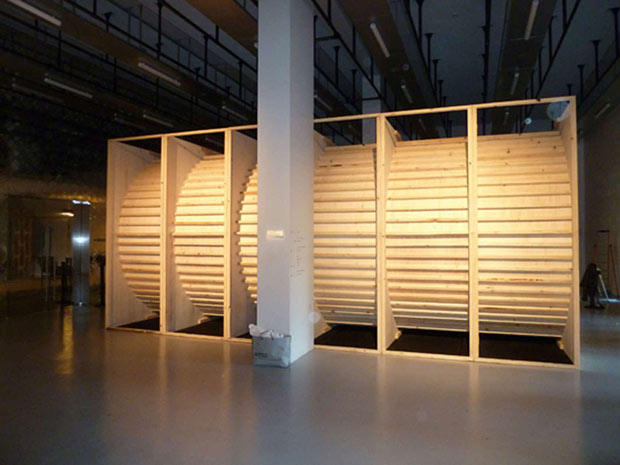 This is how the Skateboard House looks like as a whole when a full-scale prototype of the Living area was presented in Paris. This was for the exhibition Public Domaine/Skateboard Culture at la Gaite Lyrique, which is a new museum directed by the City of Paris.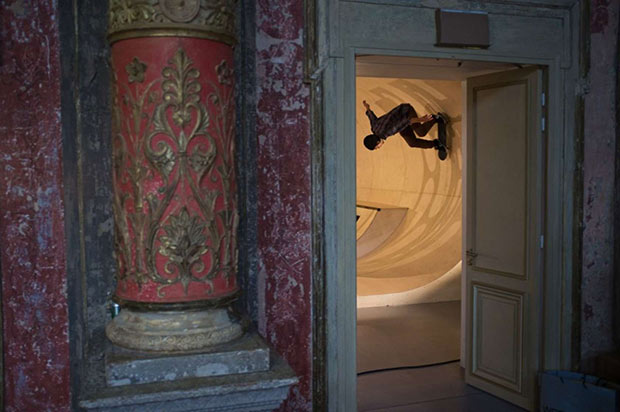 For the 25th birthday of Etnies, their team of pro skaters did a demo session in the prototype.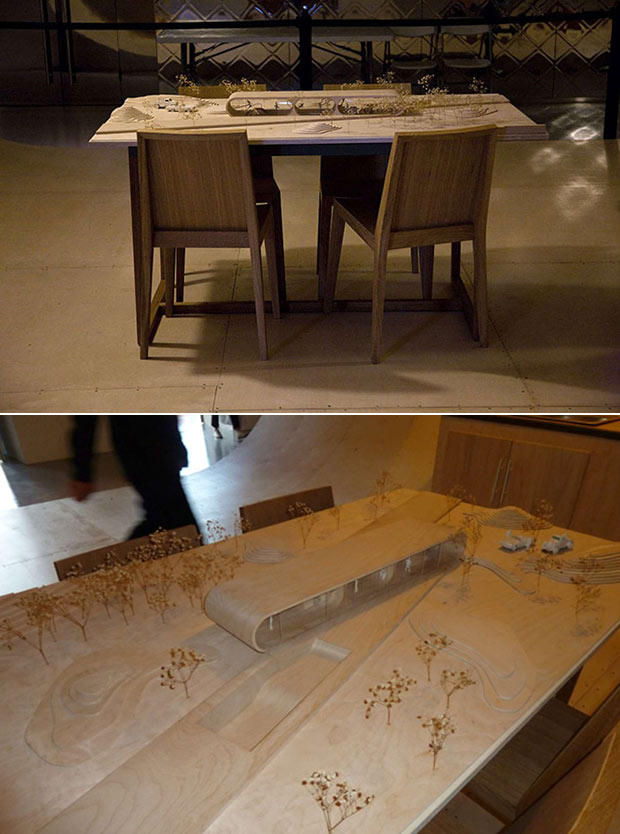 In the table seen in this house, the miniature of the house was presented. It shows the three spaces of the house as well as its outdoor skating area.
This house looks really fun and cleverly designed too! The client and visionary of the project is Pierre Andre Senizergues (PAS), a former World champion and Pro Skater and the founder of Etnies.
The House Skateboard is not just a unique home but it is also a manifestation that a house can be built free of the traditional square angle for the floor, wall, and ceiling.
Yes, a curved house is indeed possible!