If You Think Geometry Is Boring, This Futuristic Apartment Will Make You Love It.
I won't be dealing with geometry equations here but I will show you an apartment that has a futuristic design using geometric shapes in the interior. Catch a glimpse of different combinations of materials, colors and textures from everywhere in the apartment. But there is one thing inside this home that will make you marvel at its design.
Inside it, one would feel like living in the future today. This apartment it situated in the Russian capital of Moscow done by Geometrix Design. Well, from the name of their firm, it really looks like they have a thing for shapes. Take a look at the interior of this apartment and you will be impressed how the day to day shapes that we see were creatively integrated into the design of the interior.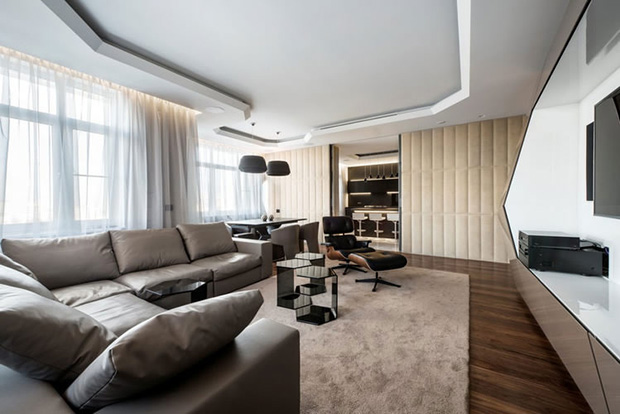 Earth tones were used for the interior of this apartment. In this view, you might notice nothing unusual but prepare for a surprise.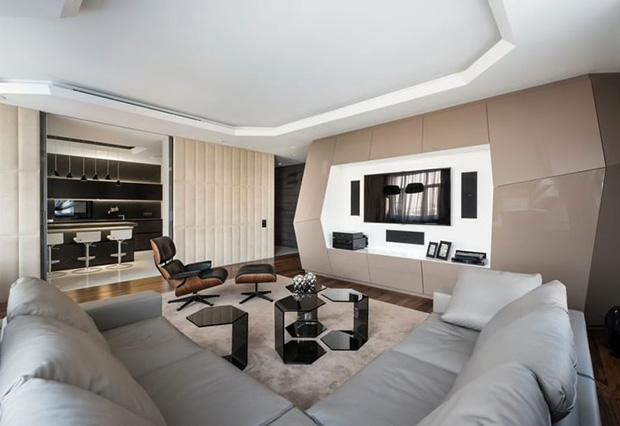 That home bar can be hidden behind a sliding door.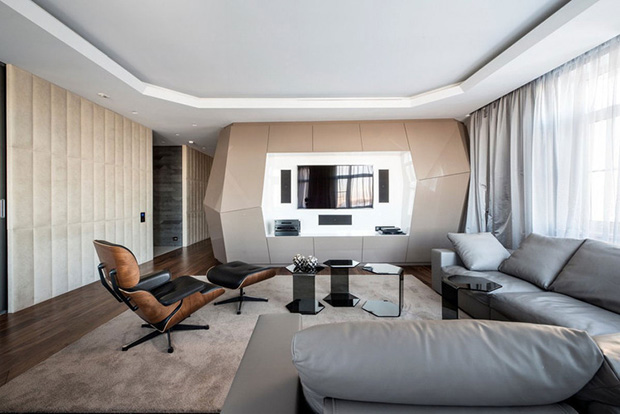 Look at the bar. It is closed now when not in use. Now, move your eyes to the living room. Aside from the lounge chair and hexagonal glass center table, we are sure you don't find anything else unusual.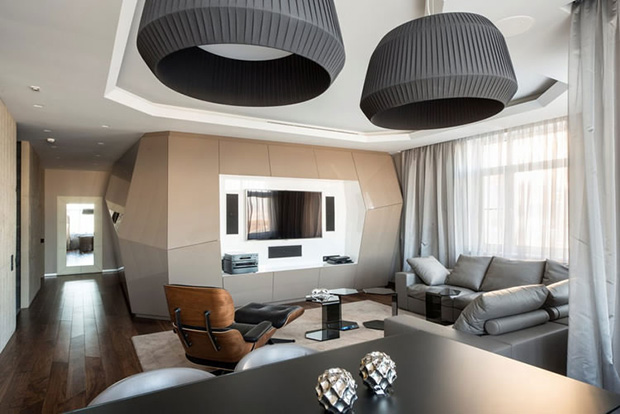 No, not this pendant light or that textured round centerpiece on the dining table.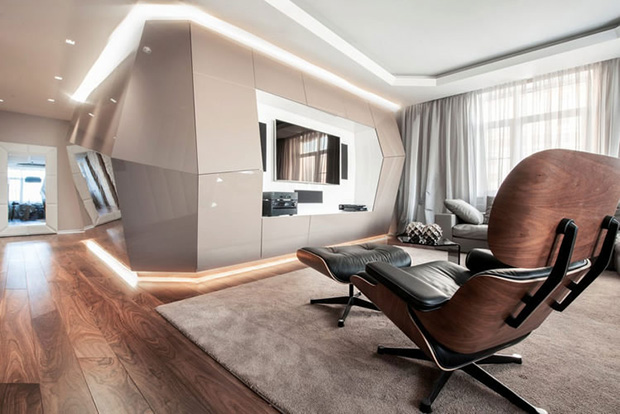 But it is this home theater. It isn't just a design or an art object with geometric style.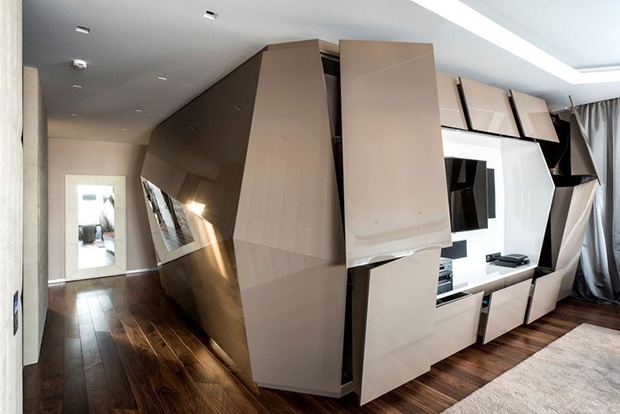 But it is a functional item. Its volume isn't merely for architectural design but it contains storage system behind it with shelves and drawers. Very smart isn't it?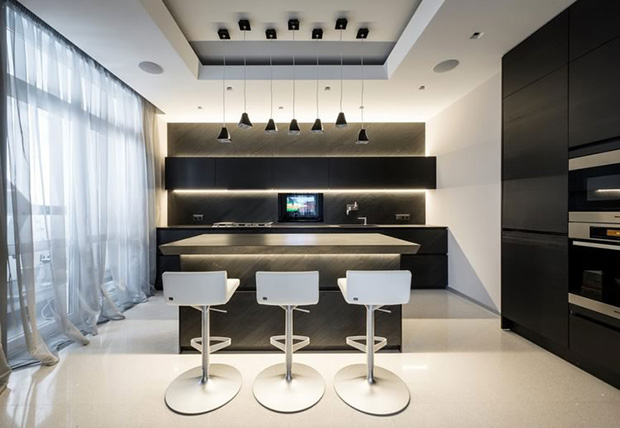 And this is the kitchen area with an island and high counter white chairs.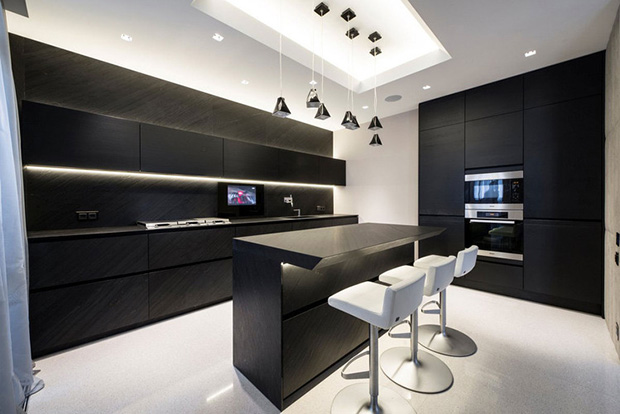 The appeal and contrast of colors in this kitchen is just lovely and very much modern.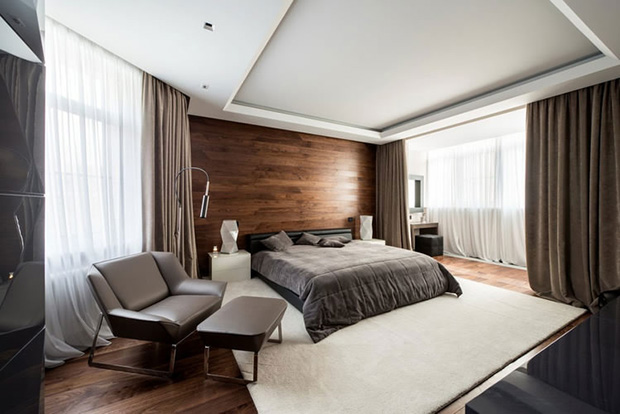 Now let us get into the bedroom where the geometry continues.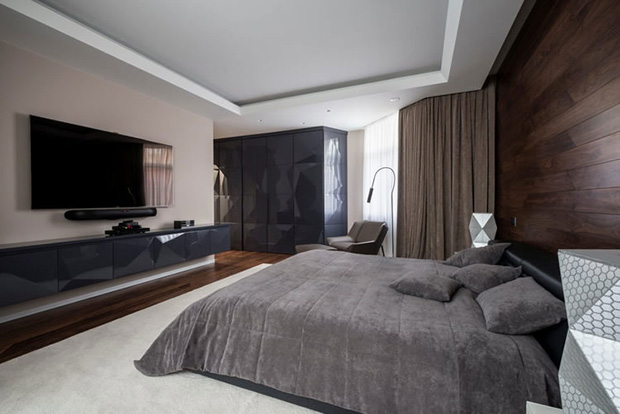 As it is reflected in the glossy cabinets in this bedroom with wooden wall panels on the headboard side. Note other geometric elements in the space too.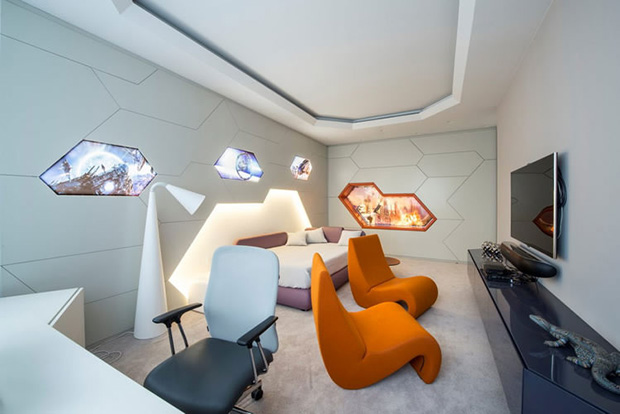 I know we promised you that it looks futuristic. It does. It even looks like an interior of a spaceship.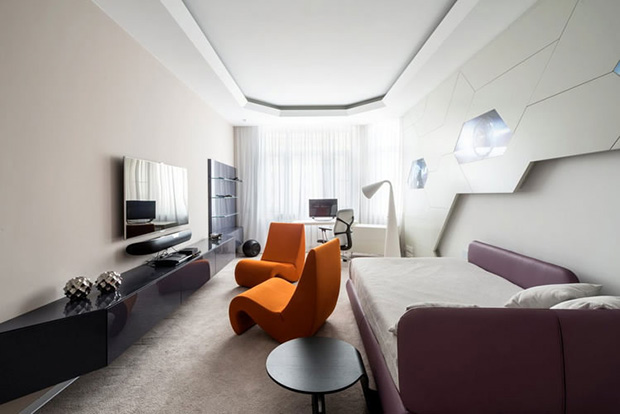 With textured walls in geometric style and attractive pops of colors that will really make you feel that you are going to fly to the future.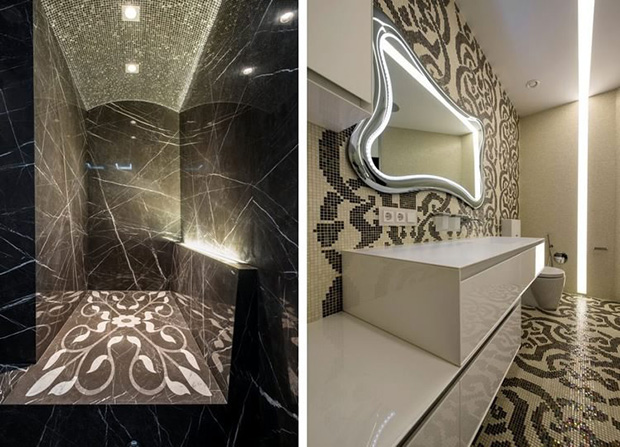 But chill for a while in a bathroom with intricately designed walls and flooring.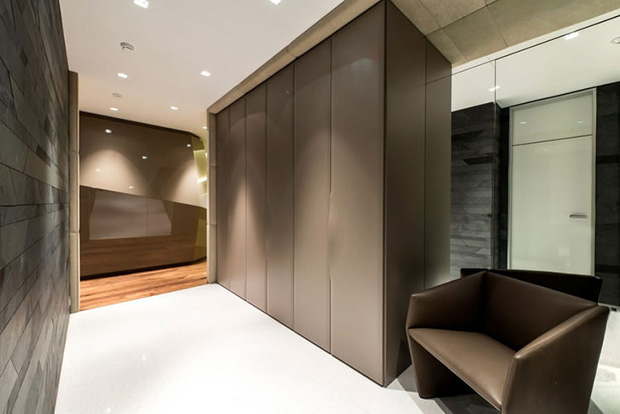 Or in this area where you can get a glimpse of more geometric lines.
It may not be so obvious but no walls in the house are bare. But everything is treated with anything that will leave it beautiful and not plain from textured rock wall to alcantara panels. Despite adapting that futuristic design, the house interior remains cozy and homey. Geometrix Design showed us that we could indeed live in the future today by having a home interior of geometric artistry same as this apartment. So, who says geometry is boring?
FREE TRENDING HOMES IN YOUR INBOX!
Never miss any updates! Subscribe to our feed and we'll send you the latest trending homes right to your inbox daily! Join us Now!