50 Awesome Modern Staircase Ideas for Homemakers
|
In an architecturally important structure, especially for homes with more than one story, staircases are essential in its purpose. Still, staircases can be a beacon of style for your entryway or living room, or wherever your staircase is.
Often, staircases, regardless of whether it is traditional or modern staircase ideas, are overlooked. There is probably not much thought put into the term of its style. But you will find many modern staircase ideas worth looking into that combine functionality with aesthetics.
How do I make my stairs more modern?
Your modern staircase ideas can come to fruition through simple things you can do yourself. For traditional or old staircases, there are simple things you can do to upgrade your staircase and make it more modern.
1. Paint
The easiest way to upgrade your staircase is by painting. When the paint is peeling, you need to sand the wood and start all over again, before you repaint. Painting your staircase will allow you to personalize it. In addition, paint finish is also good to protect it from wear and tear.
2. Stair runner
Adding a carpet or stair runner brings warmth to your staircase. It also brings strong visual appeal. Choose a carpet that will make a striking statement. Avoid shiny or loop pile carpets though, as they could be slippery.
3. Bannister
You can replace old-fashioned balusters or ranch-style timber railings for a more modern look. You can opt to use glass panels instead of wooden balusters for a stylish look.
4. Open plan
While there are a lot of staircases that also have under-stairs storage, you can choose to have an open plan for a more modern feel. Rather than an under-the-stairs cupboard, you could turn it into a seating area or a mini-library. Use some creativity!
5. Show-off timber
Wood is one of the staples of the modern look. So, while there are more modern and contemporary staircases using glass and metal, wood will remain a classic.
Which type of staircase is best for your home?
With many modern staircase ideas, you are bound to see different types of staircases. Including commercial and industrial architecture, there are so many different types. But some certain types do not fit in residential homes.
And depending on a couple of factors, you are going to have to deeply consider which staircase is most appropriate for your home. First, you need to consider the space you have, function, and budget. You also need to consider the age of people using the stairs. Curved and spiral staircases may not be practical if you live with people (or you) with reduced mobility.
Let's check out the different types of staircases fit for residential constructions!
1. The most common staircase is the straight stairs, going from one floor to another with equally spaced steps. This is the best choice for homes with heavy traffic, transporting stuff from the first to the second floor. It can also have more than one person on the stairs at the same time. On another note, straight stairs take a bit of linear space.
2. If you want to limit the linear space occupied, L-shape or U-shape stairs should be better choices, both of which are wide enough for two people to use at the same time. However, transporting things can be trickier due to their shape. Though, they are pretty useful in multi-level homes.
3. Curved stairs beautiful and extravagant-looking that works for mansions, but not so much in regular residentials. They are not practical for people with spatial awareness difficulties since each step has a different width. The space under it can also be a waste of space due to its irregular shape, unlike straight stairs.
4. Spiral staircases are also another staircase that you can find in residential homes. It's something you can see in lofts especially. Unlike the staircase types above, these take minimal space as they are generally narrow, and structured, well, in a spiral. This makes navigating with objects in hand difficult, and could potentially be dangerous if you have spatial awareness difficulties. In many homes, spiral stairs are not the only access to the second floor.
Modern staircase ideas for inspiration
Check out some awesome modern staircase ideas curated below!
Urban Modern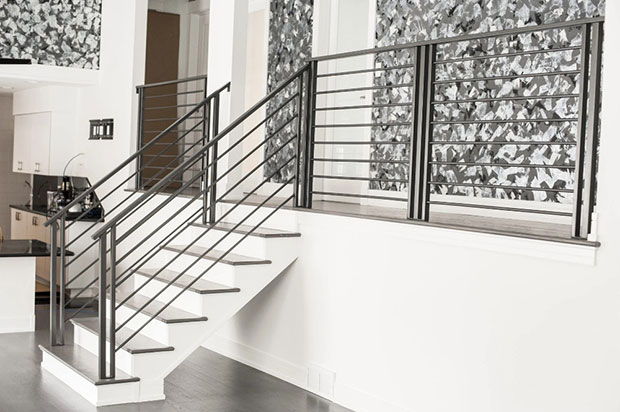 Hencemetal
A straight staircase is a best and most practical choice here with the height between floors. The iron balusters definitely give it a more modern look.
Sophisticated Row Home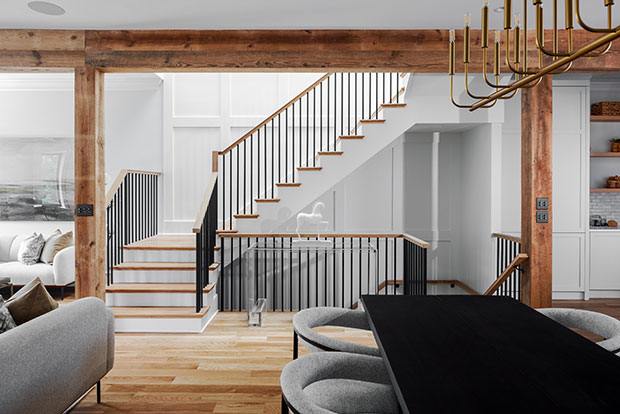 The wooden handrails combined with iron balusters definitely do their work to encapsulate modern staircase ideas.
Modern Home Renovation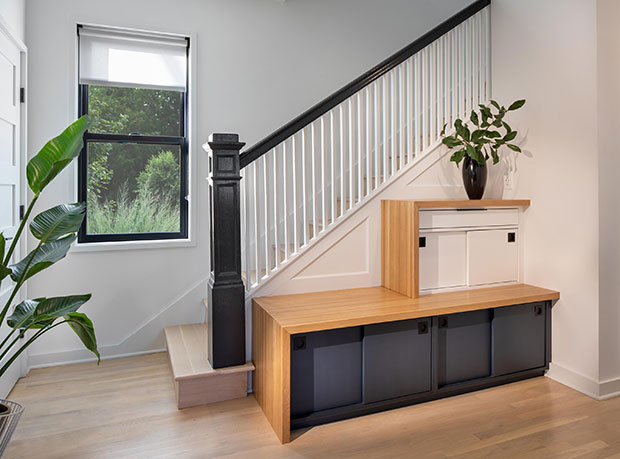 Four Brothers Design + Build
Most modern staircase ideas don't have a very artsy balustrade just like this one. In fact, only the newel post has some intricate design details.
Brooklyn Townhouse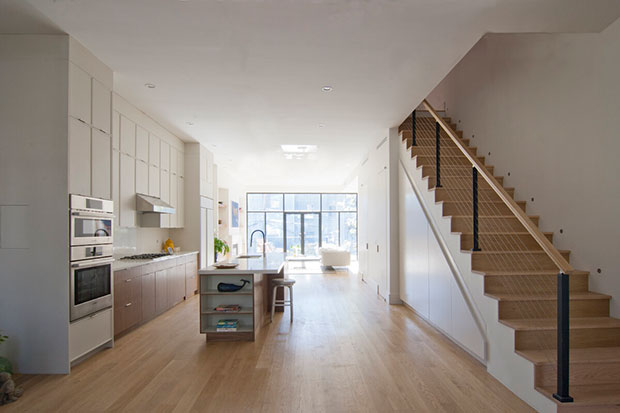 An increasingly popular trend for modern staircase ideas is having cable railings instead of vertical wooden balusters.
Los Angeles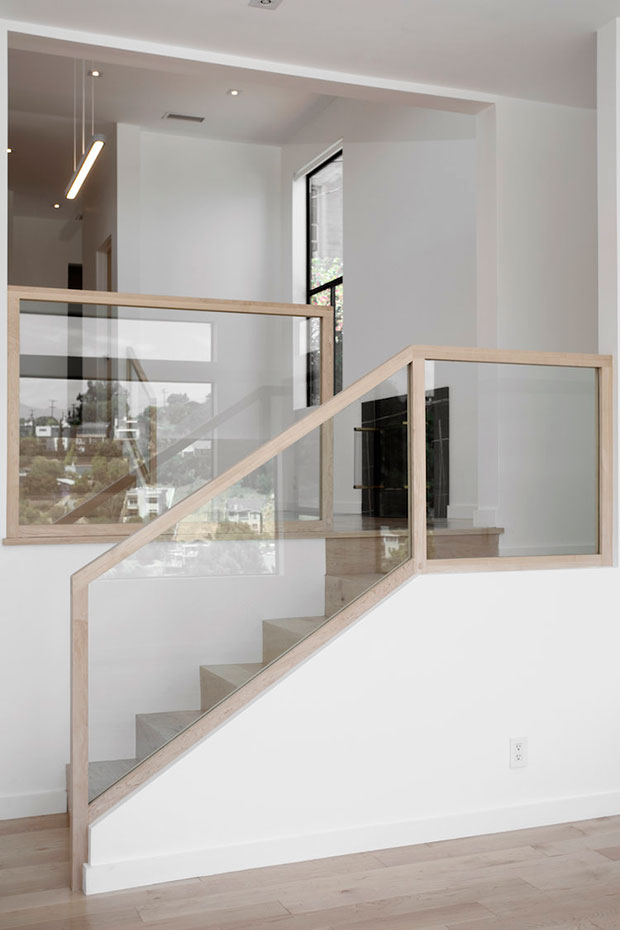 Wooden framed glass balustrade is something you'll find in many contemporary and modern staircase ideas.
UWS Duplex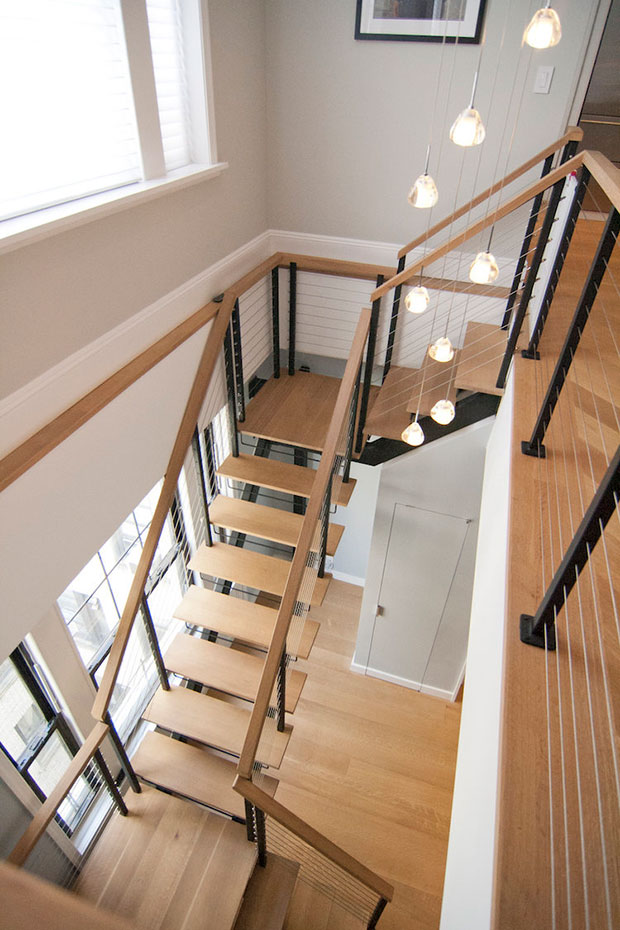 Anjie Cho Architect PLLC
The disjointed handrails at each flight level are quite the unique design detail.
Stanford Net Zero Energy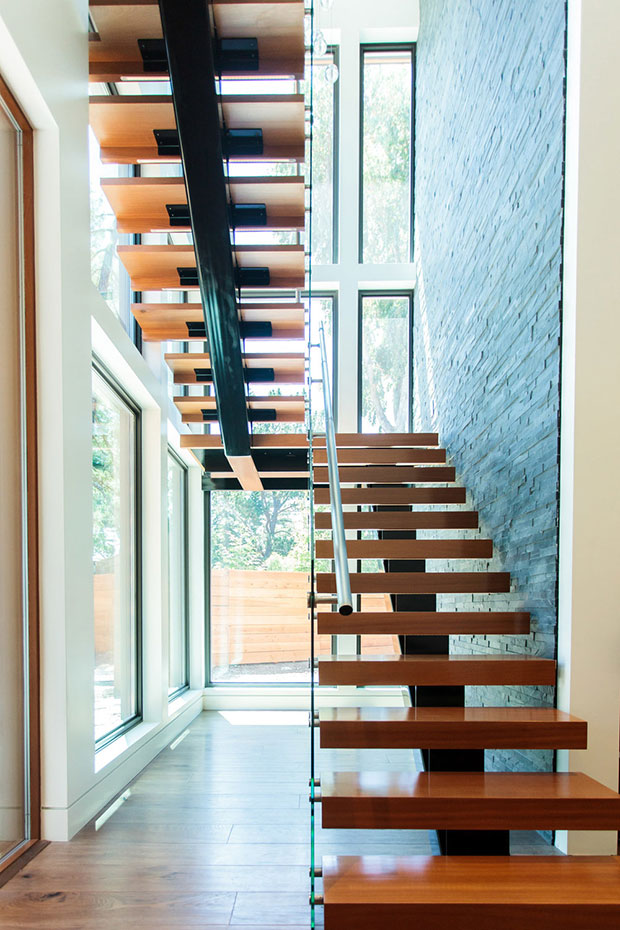 Style Wise Interior Design
The glass stair rail with metal handrail combination brings out an air of "free" and an "open" feel, especially considering the open riser design.
Military Road Renovation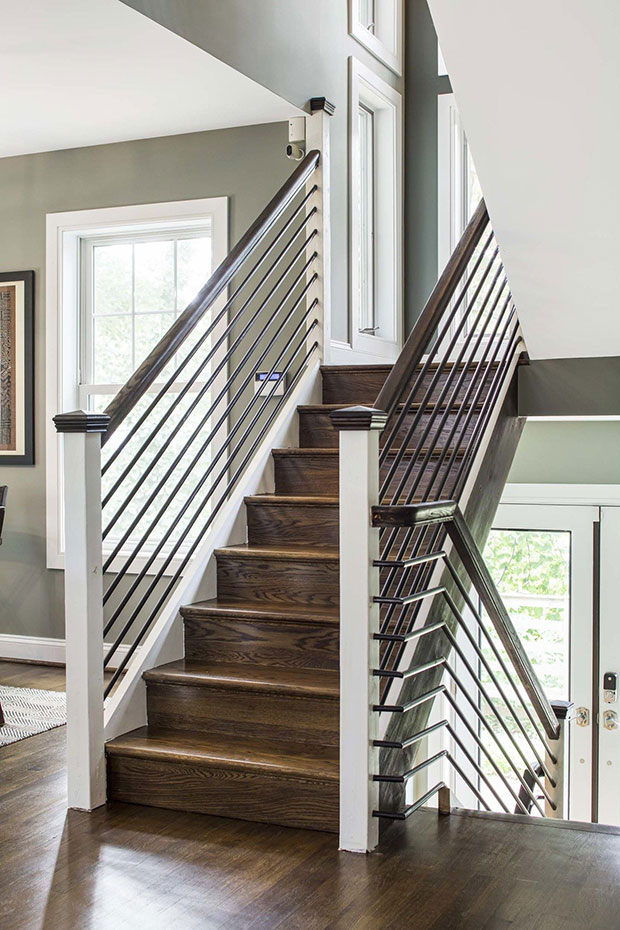 This staircase has a mix of both modern and traditional charms in its design. It is particularly interesting to note the wooden handrail and the parallel steel railings.
Shepherd Park Artistic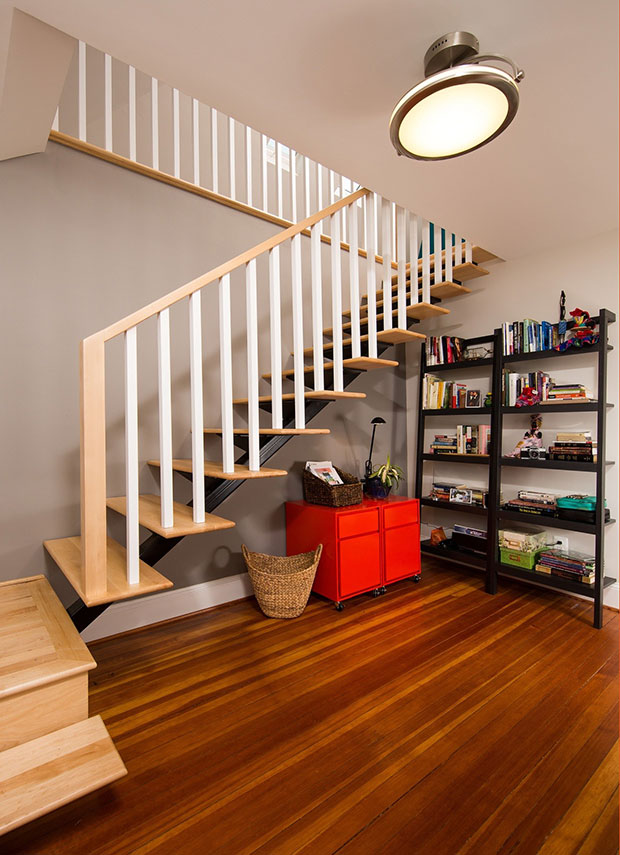 The open riser design emphasizes the slim and sleek tread design. It has a very modern and youthful charm to it.
Rowhouse Addition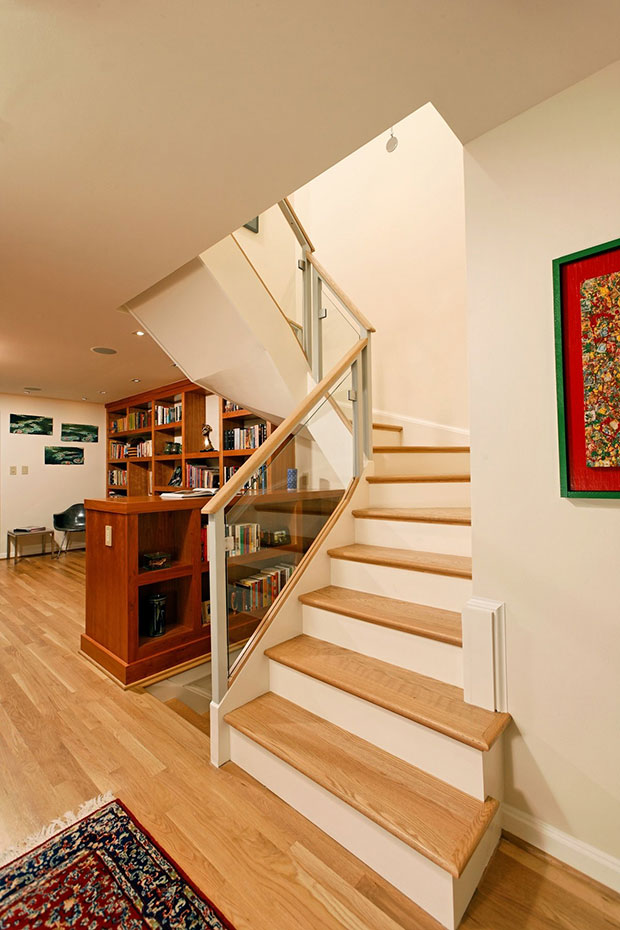 Landis Construction
Compared to the staircase above with a glass railing, this staircase makes use of PVC for the posts.
A Step Up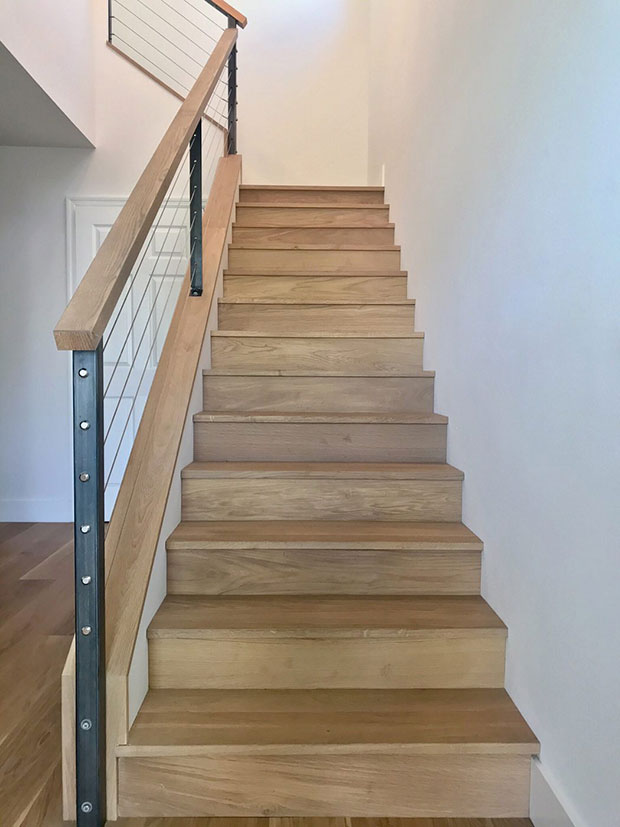 Tweak Your Space
Even with the metal posts and cable railings, the rustic charm of these timbers truly shows off that traditional modern look.
Cranbury Basement Finishing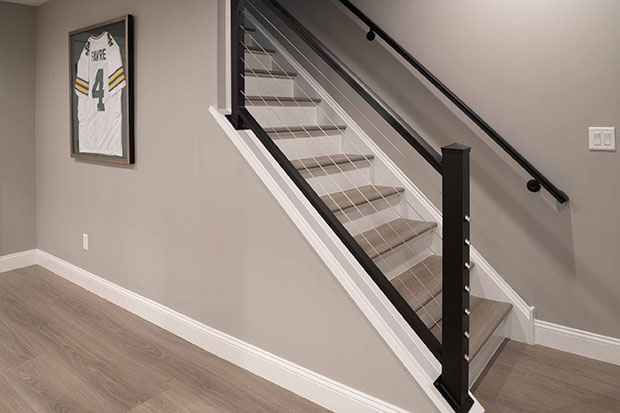 Legacy Contracting LLC
It is a pretty interesting contrast in colors between the treads and the railing. Typically, in a lot of modern staircase ideas, the treads and railings are painted the same color.
Kingman Place
This is one of the unique modern staircase ideas as it is unconventional. This is pretty interesting to install the ovens under the staircase and then further used it as a cupboard. They do it creatively to really give it a modern look.
43rd Residence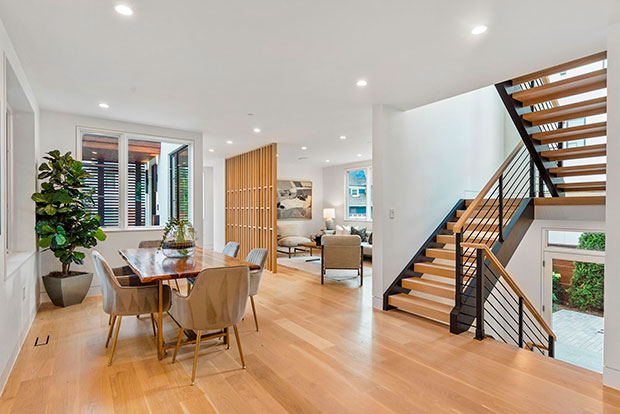 Jon Hensley Architects
The color combination in this staircase design gives it a chic look that you will want to have in your home.
Custom Staircase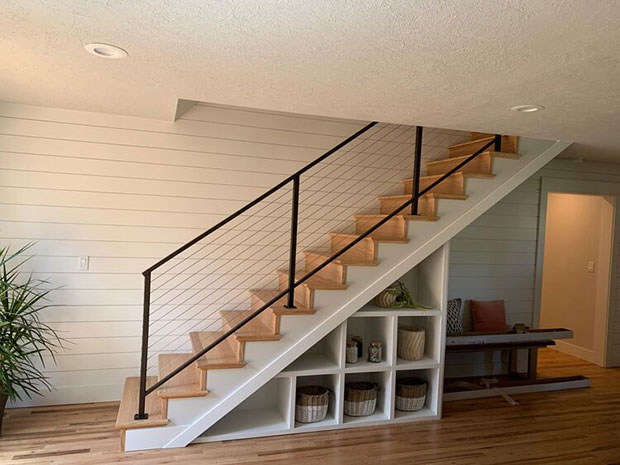 The shelves and bench underneath the stairs are a good use of the space, without making it look tacky.
Custom Stairs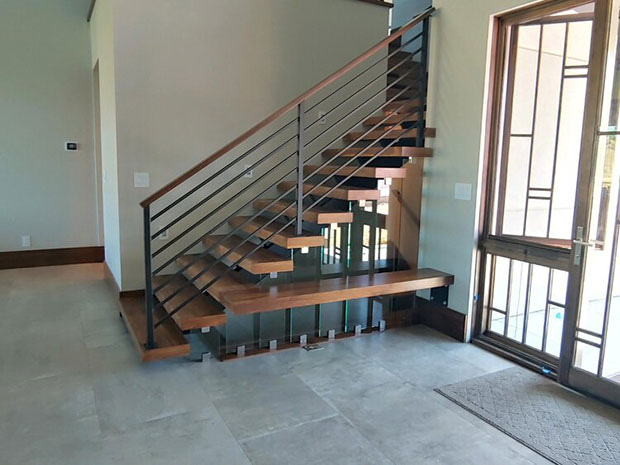 Patrick Millwork, Inc.
The glass stringer is a pretty interesting addition to this staircase design.
Modern Glamour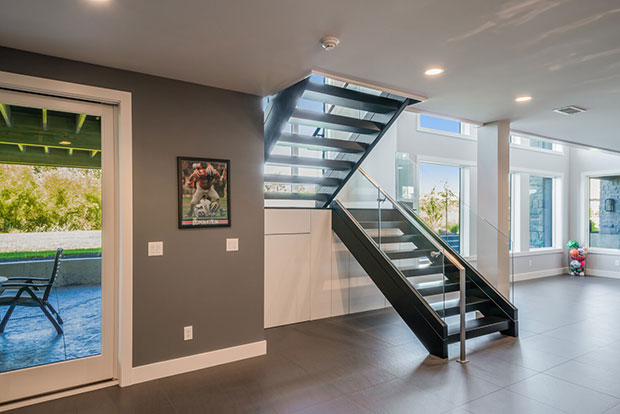 The staircase design itself embodies the "modern glamour" style of this house.
Sparkhouse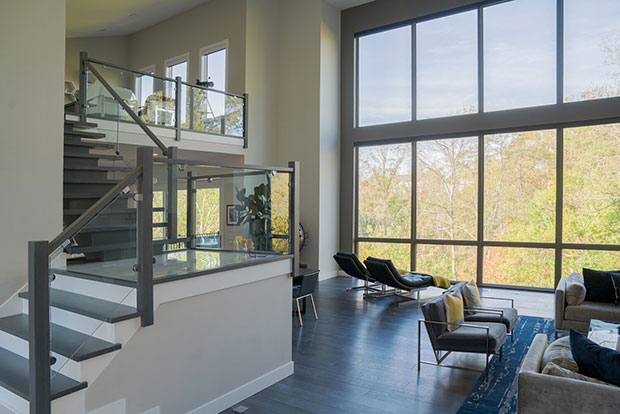 The type of staircase railing and the color scheme are a match made in heaven, creating a chic staircase design.
Modern Family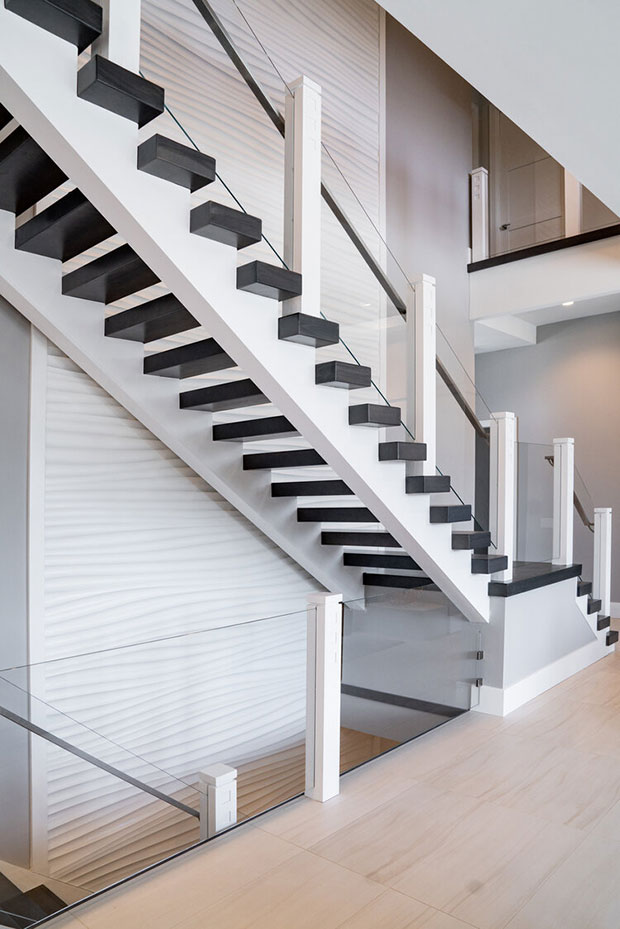 The black treads are a great match with the white stringer and newel posts.
Springfield Modern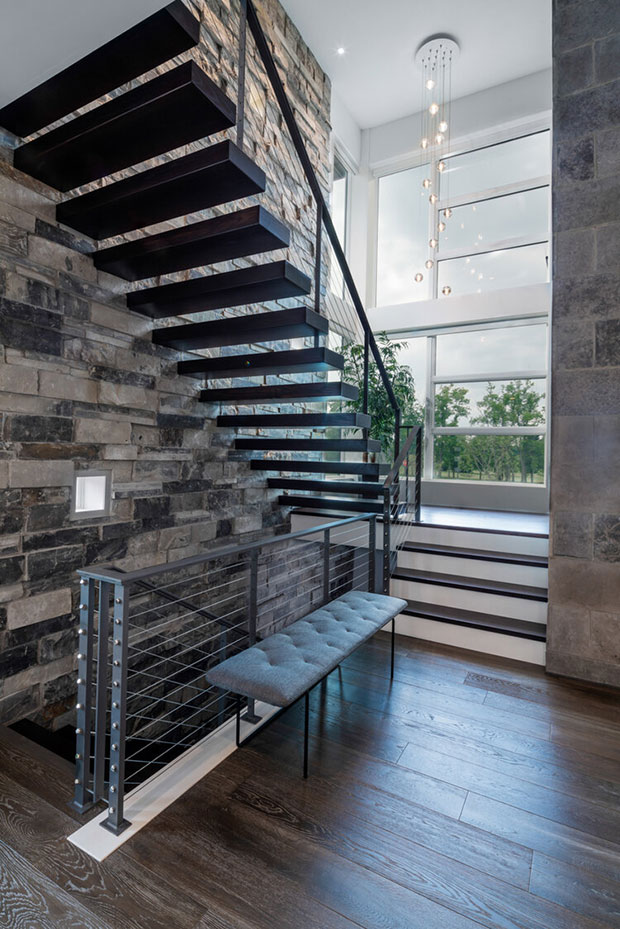 This design gives one of the most interesting modern staircase ideas. The floating staircase is continued with a closed riser stair that connects with the landing.
Bellbrook Model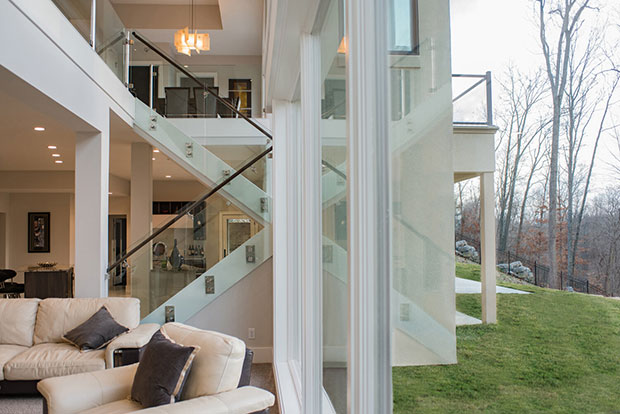 Modern staircase ideas with glass rails give any home a sophisticated and classy look.
Stewart Street Modern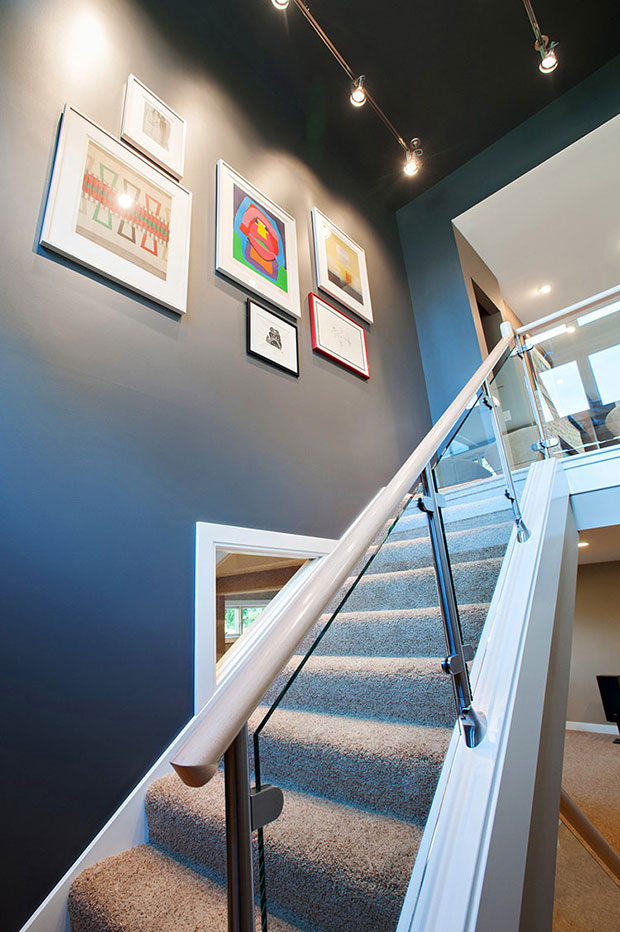 The runner on these stairs is definitely good to prevent slipping while you move up or down the stairs. The type is also a perfect complement to the staircase design.
Springboro Modern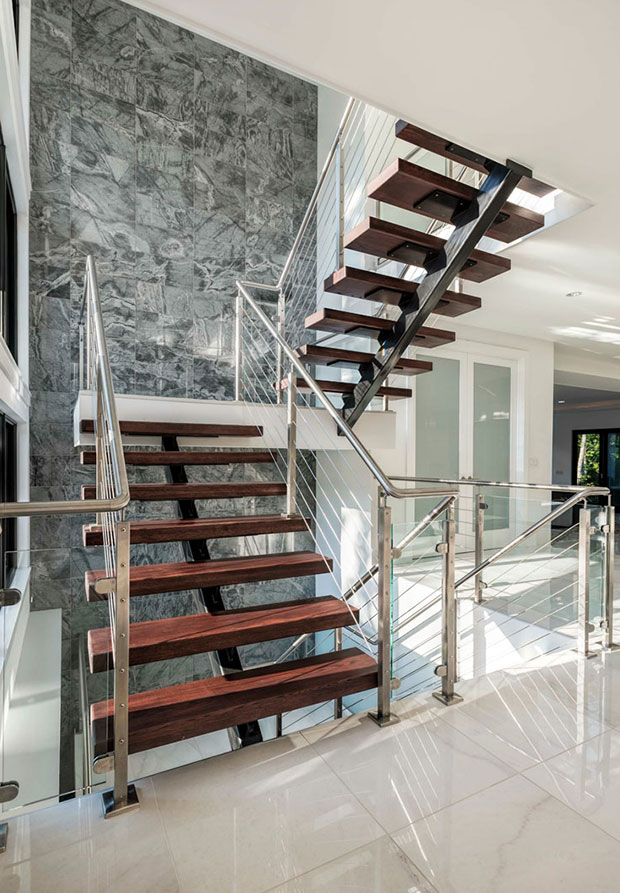 The fully metal railings are a great contrast to the wooden treads. On the other hand, the colors complement each other.
Beavercreek Model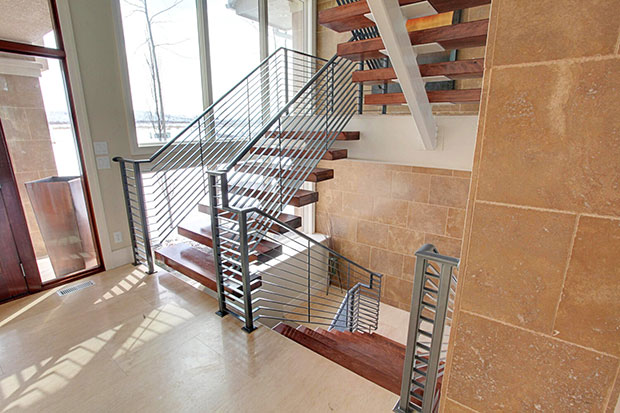 Springhouse Architects
For staircases built next to a large, high-ceiling window, this kind of design is a great choice. It doesn't seem bulky or blocks all that natural light from coming into the home.
Whitehaus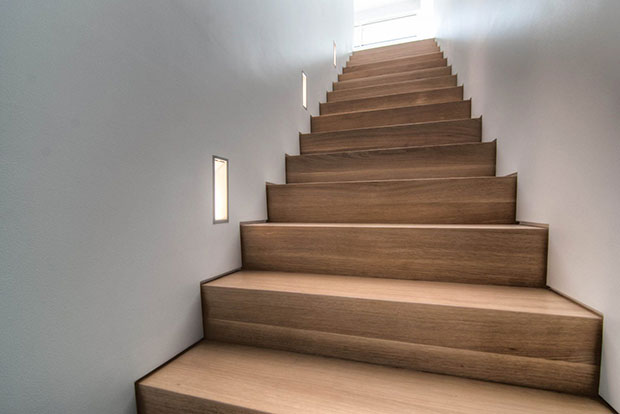 Whitlock Builders
This home presents novel modern staircase ideas. With a straight staircase built between walls, it brings some sense of privacy. But it could also be a little dark, hence, at this home, they have installed inlet lights near the treads.
Manhattan MicroLoft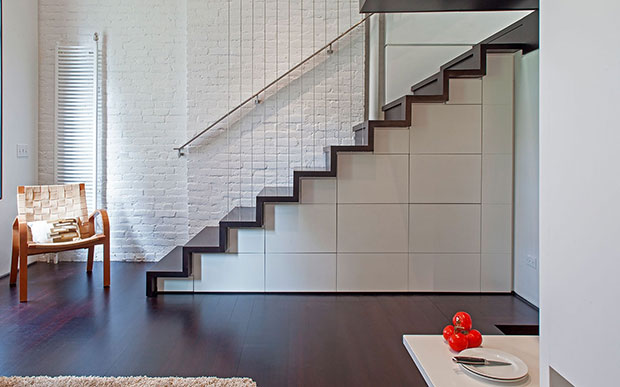 In this micro-loft, every space is valuable. So, efficiently using the space underneath the stairs is essential. And they can do it while maintaining a chic modern look.
Beach Haven Residence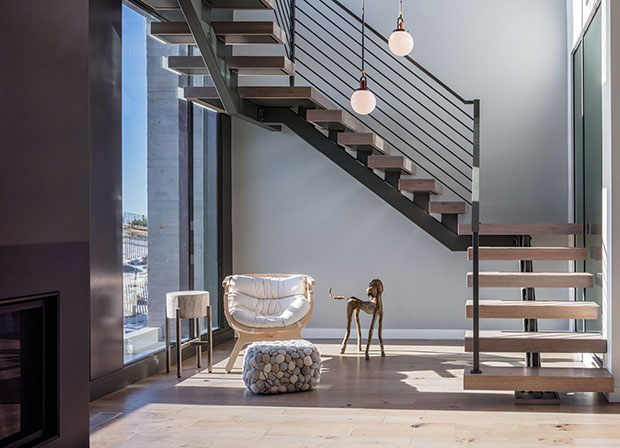 Here's a good example of how the space underneath the stairs is used instead as a lounging space, instead of the usual cupboard under-the-stairs arrangement.
Weston Residence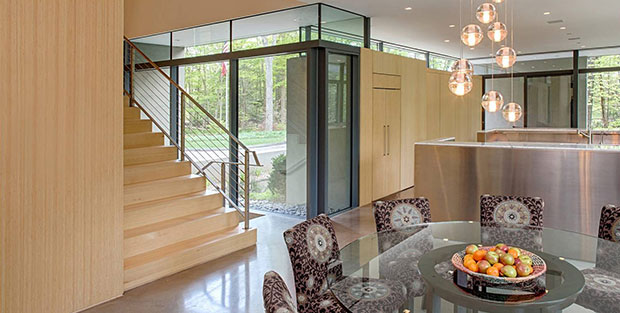 Specht Architects
It's pretty interesting that the entire staircase, except for the railing, is made of the same material as the wall next to it.
Lakewood Modern Residence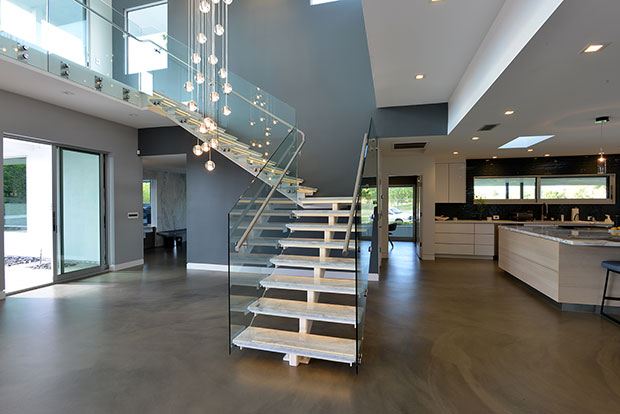 Novum Architecture, Inc.
If you want some cool and innovative modern staircase ideas, look no further than this one. They have a light built underneath the treads, so you're sure to never miss a step!
Vetrina Lofts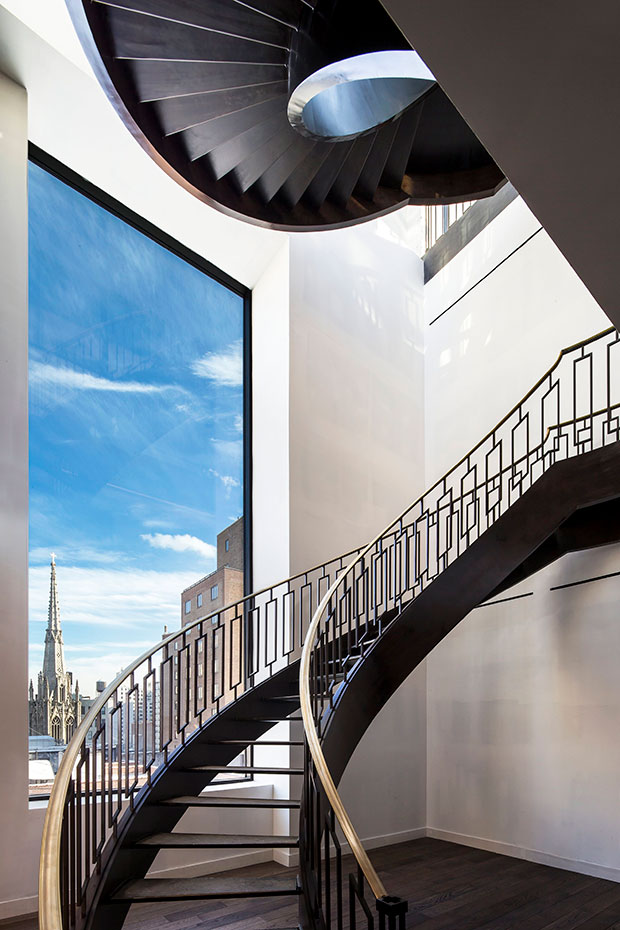 SFA Design
Spacious homes like this will do well with curved staircase designs like this. The iron railing designs and thin treads are pretty interesting details.
Huntington Harbor Waterfront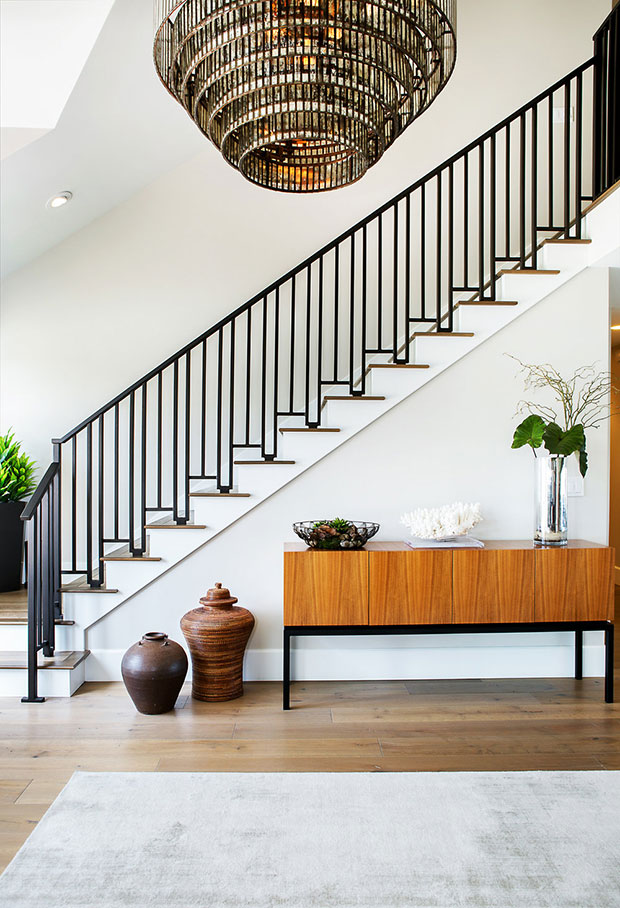 McRae Lambert Dunn
The iron railing brings some industrial charm to this staircase design.
Hilltop Retreat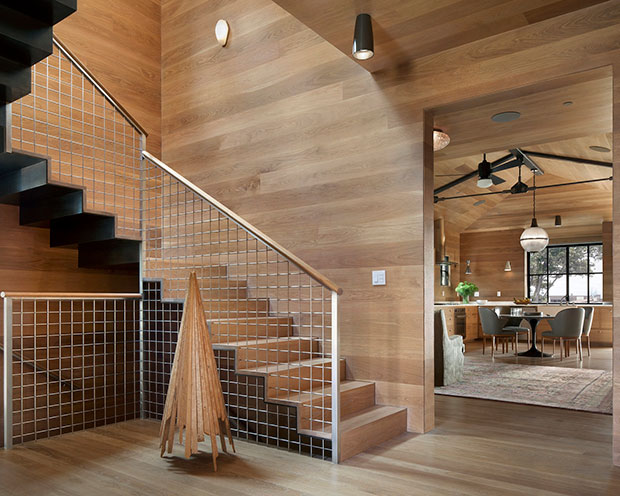 Sherry Williamson Design
One of the most structurally interesting modern staircase ideas. This floating staircase design and this lattice metal railing are unique on this list.
Custom Modern Rambler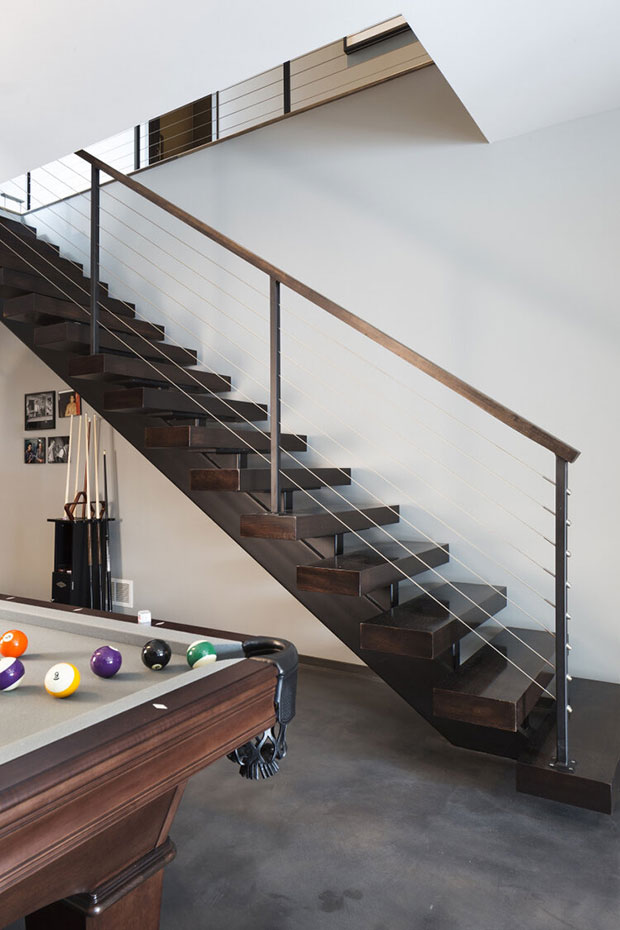 Schrader & Co.
These modern staircase ideas with cable railings always bring some industrial charm. If that's something that you're looking for in your own staircase, then you should consider this style.
House on the Ledge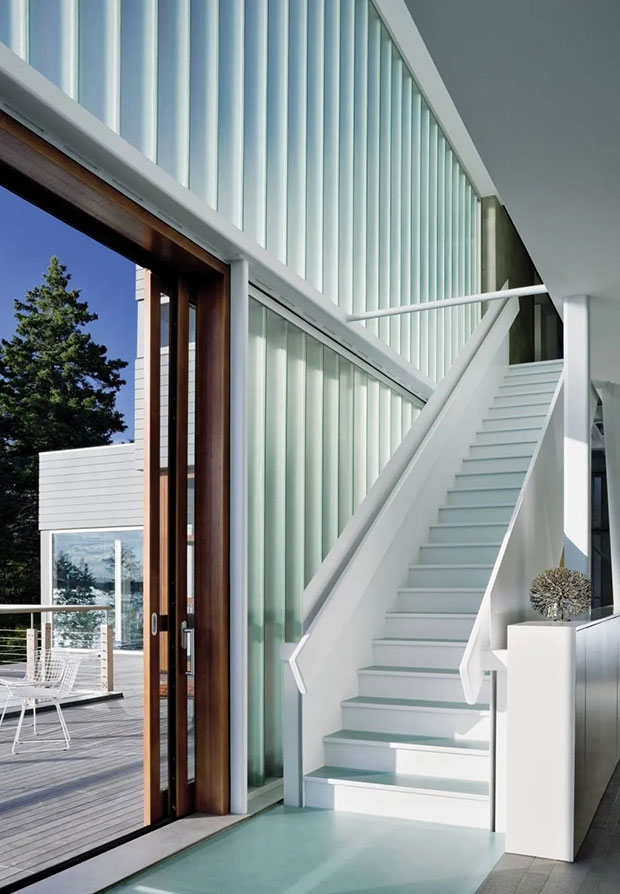 Elliott Architects
At first glance, this staircase design looks like an escalator with its railing design. It's an unconventional design for typical modern staircase ideas.
Ravoli Residence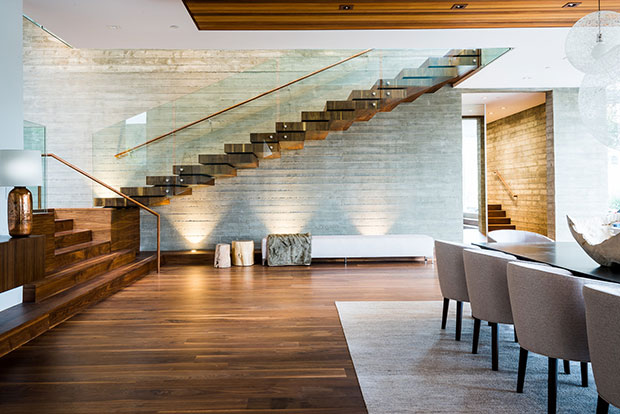 If you look at this staircase from above, you probably won't think it's a floating design due to the overlapping treads. This ensures the safety and sturdiness of those who will use it.
Modjeska Residence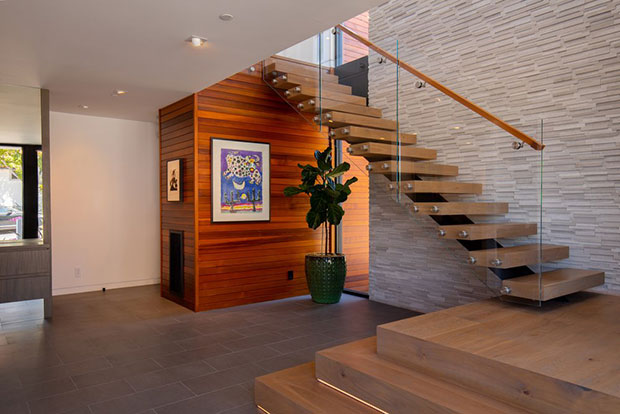 O+L Building Projects LLC
When it comes to staircase designs with glass railings, they are usually accompanied by a metal handrail installed on the inside of the stairs. But this particular staircase shakes things up with a wooden handrail.
Acton Cove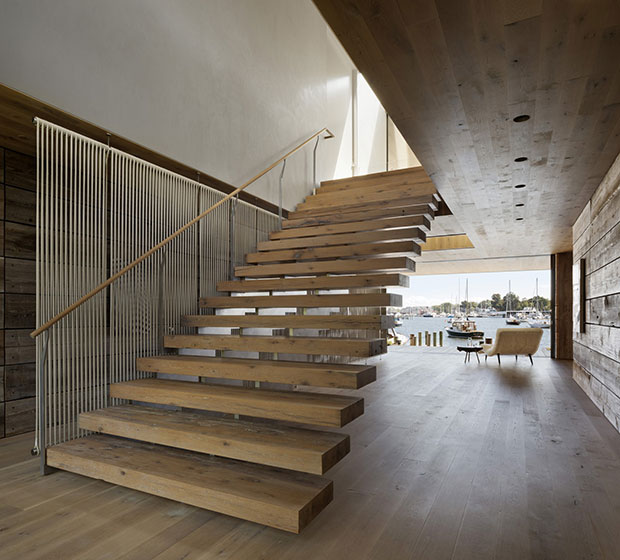 It's pretty interesting to see one side free of railing, giving it a more open feel. Though, this may not be ideal with issues with their spatial awareness.
Wainscott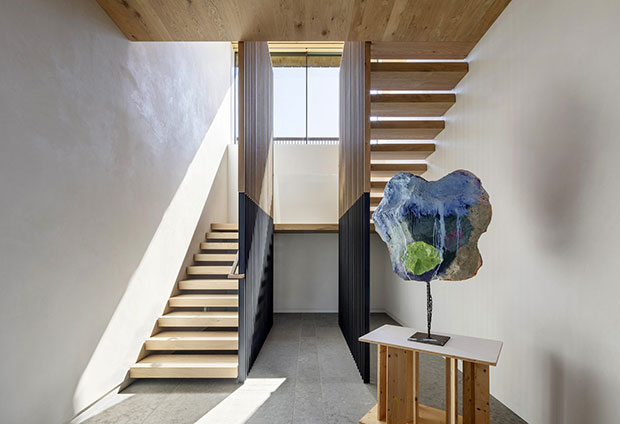 A staircase railing design that goes from the floor to the ceiling is not something you'll see in most modern staircase ideas. In a way, it becomes a substitute for a wall.
Elizabeth II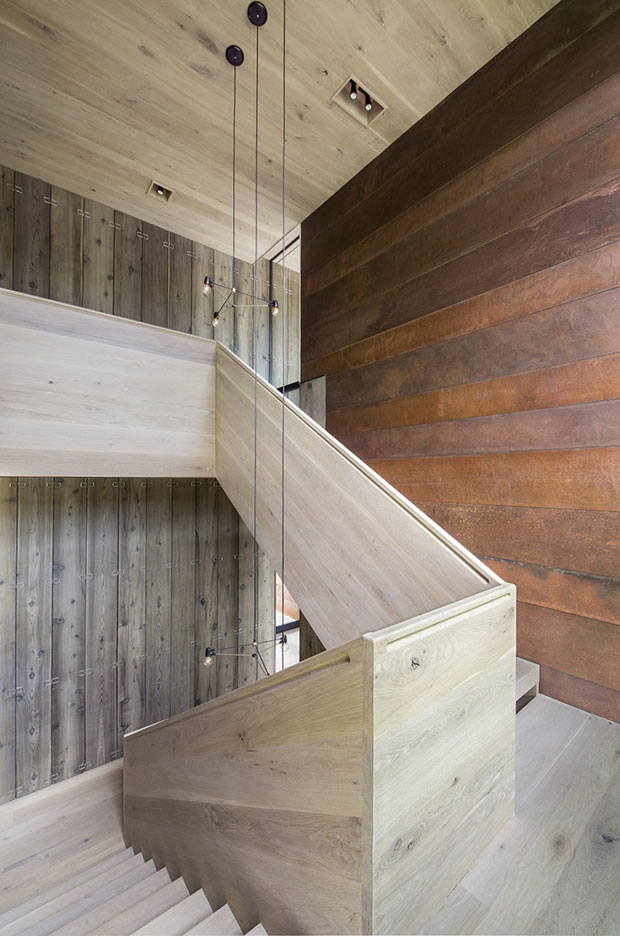 This is an incredible solid wood staircase design with its own unique charm. The authentic timber graining even brings some rustic charm.
Piersons Way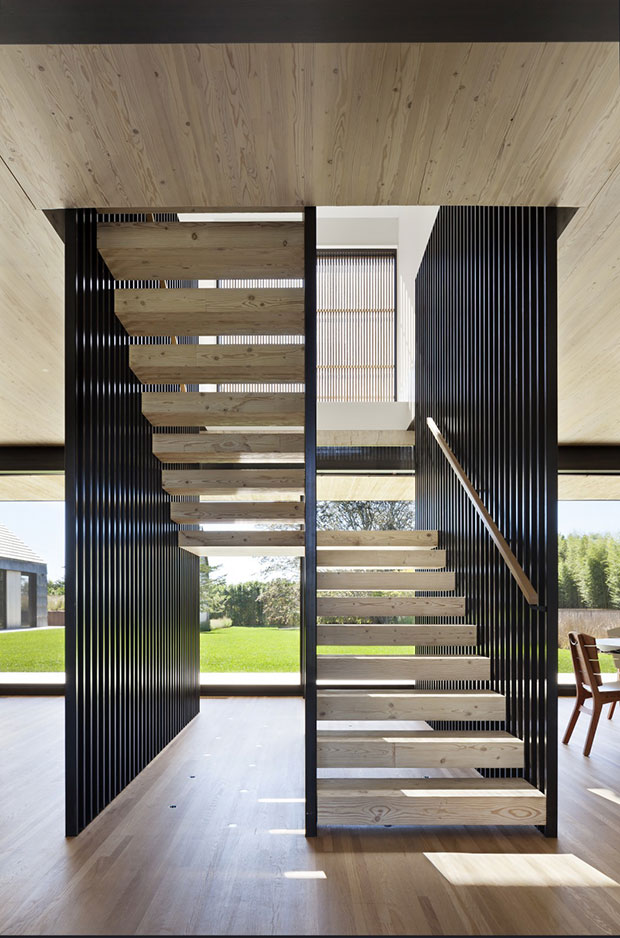 Another unique railing design that aids in the seamless floating stair design.
Atlantic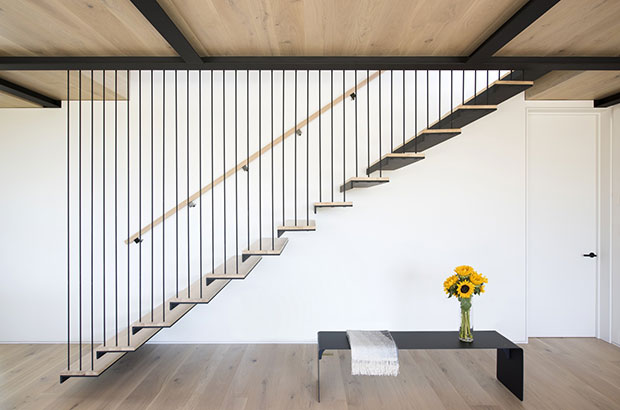 Bates Masi Architects
Not only do the treads look like they are floating, but the entire staircase structure also looks like it's hanging due to its unique vertical railing design.
Spruce Court Condo 1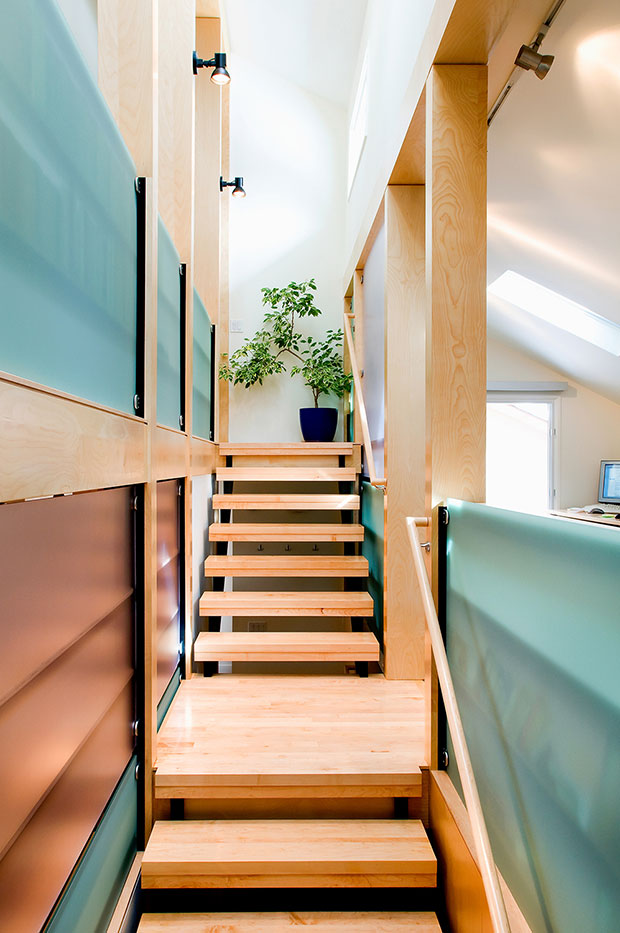 M. Gerwing Architects
This kind of staircase design is the most practical yet does not compromise its style. There's some eclectic charm into it too!
Zeidler Residence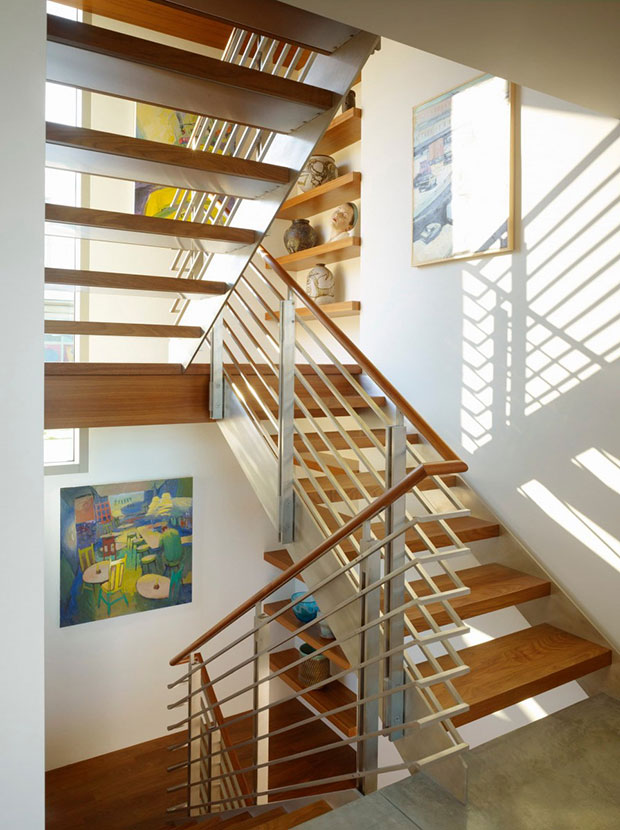 The multi-line railing design will definitely make sure you have somewhere to grab as you navigate these stairs.
Stradella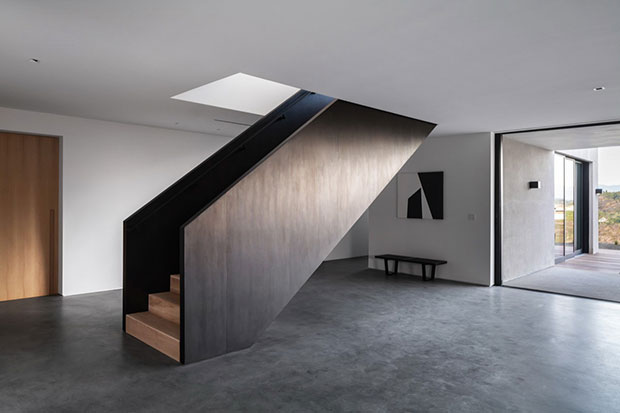 The closed railing design ensures safety for those who will use the stairs but also resembles an escalator at this angle.
700 Palms Residence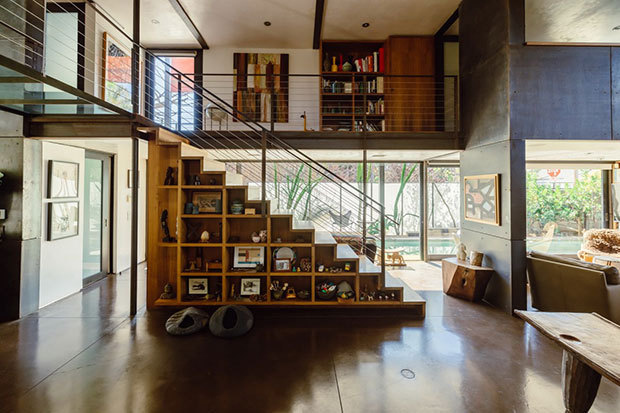 This custom staircase has built-in shelves for your kids' toys and other stuff. It's a fun staircase design, filled with personality.
Ridge Mountain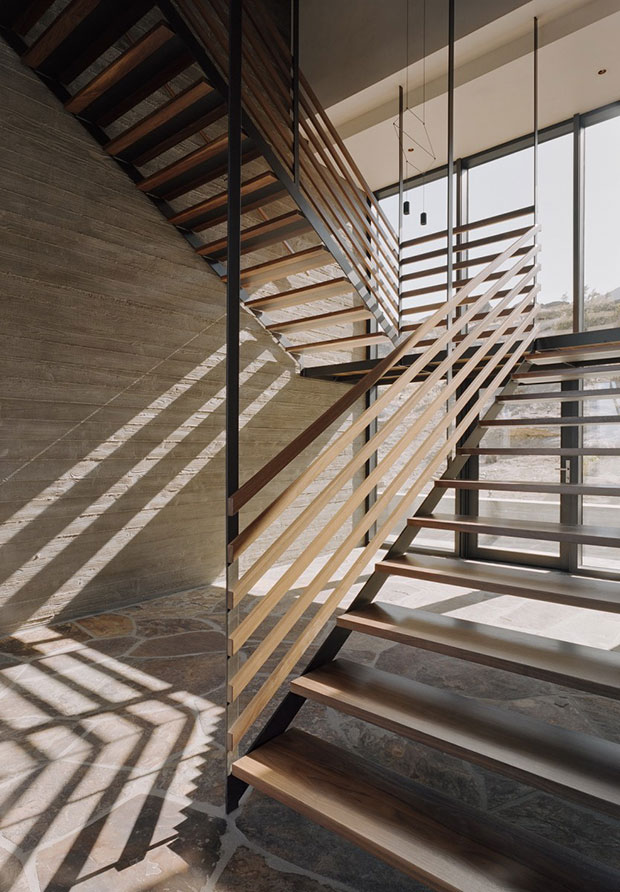 Ehrlich Yanai Rhee Chaney Architects
This multi-line railing being supported by a structure that goes up to the ceiling is pretty interesting. It's a not-so-obvious detail that makes this staircase design really impeccable.
Bucktown Home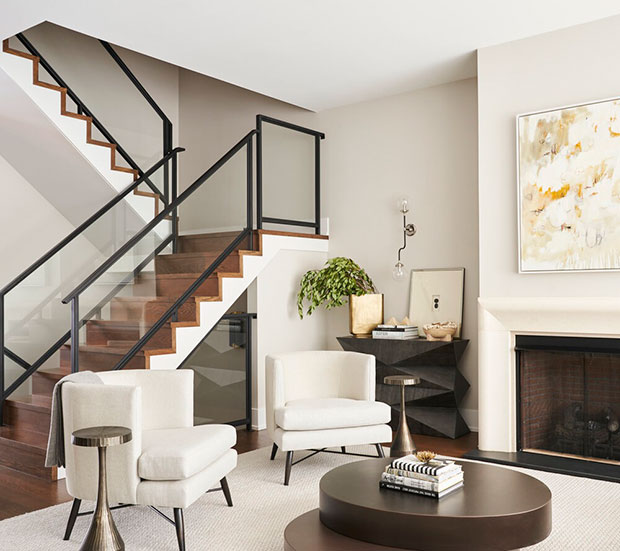 Elizabeth Krueger Design
A black frame around the glass panel is a nice contrast to the natural wood tone of the treads. In addition, this staircase showcases several materials creating this wonderful design.
Heathfield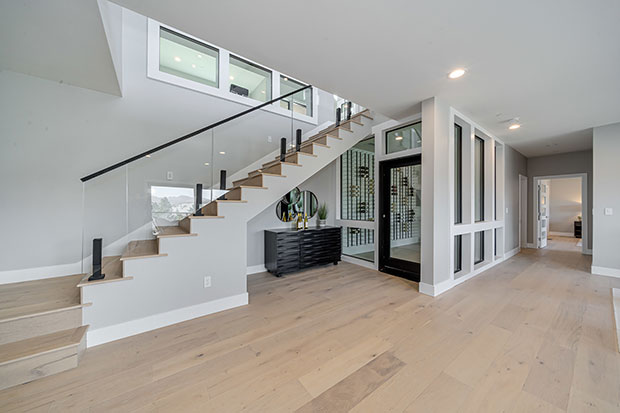 Four Seasons Design Team
The glass panels are uniquely installed into this staircase.
Laurelwood Trail Residence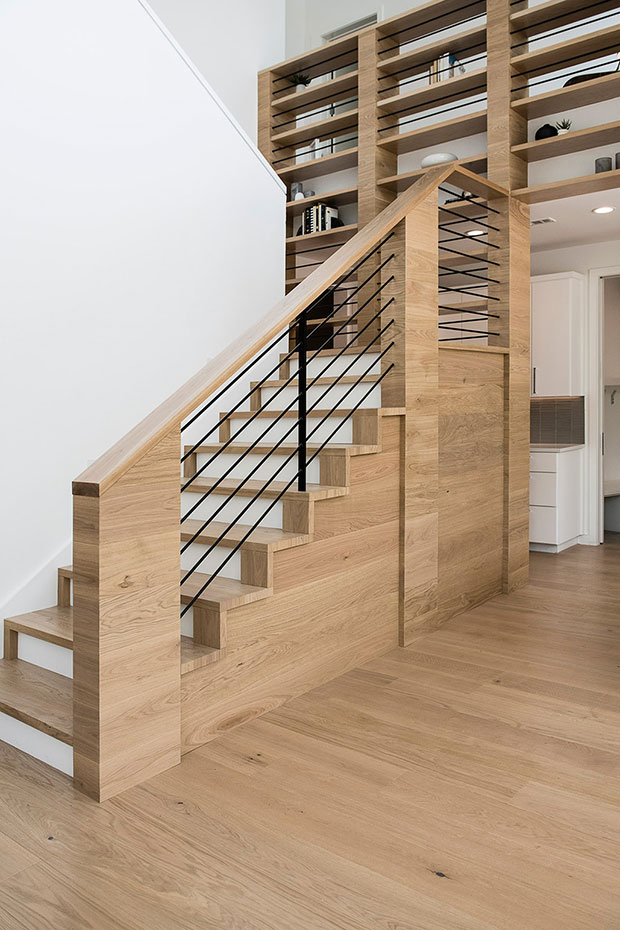 This solid staircase design is quite the charmer. Not only with the natural materials used, but the way it is constructed is almost like a box. It is only emphasized by how the riser is seemed to be recessed.
West 10th Addition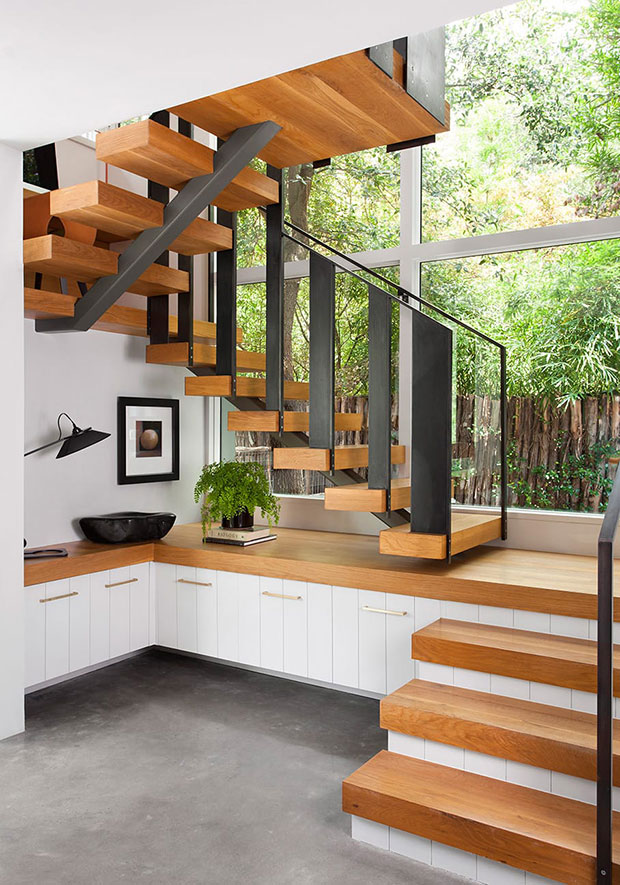 Webber + Studio
This staircase has some pretty interesting railing designs. While one side is made of iron, their size is mirrored on the opposite side with glass panels.
That's it for awesome modern staircase ideas! Hopefully, one of these gave you inspiration for your own staircase design!
Like This Post? Pin It!