Cool Stair Storage Ideas To Organize Your Home
|
Do you have a lot of stuff at home that you don't know how to organize them? Did you consider using stair storage? If not, this will change your mind!
Staircase: (noun) A flight or series of flights of steps and a supporting structure connecting separate levels.
That is how we all define stairs and that is how we all use stairs. We can go up and down some steps from one level to another. Period.
But is that all?
Actually, no. There is more to a staircase than merely a flight of steps. It can also be perfect as storage. The good news is, there is more than one way to do it.
This next collection will give you some cool stair storage ideas for your home. You might just find the perfect solution for your storage shortage! Let us take a look at how!
1. Camperdown House
This staircase in the Camperdown House designed by Henarise Pty Ltd is indeed a good way to store pieces of stuff.
The designer has used two steps as stair storage for shoes. This can remind everyone at the house to leave their shoes before going up the stairs!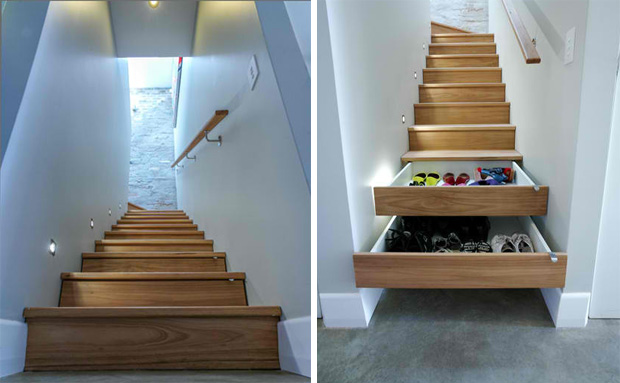 henarise.com.au
2. Manhattan Micro Loft
Solid wood with a dark stain was used for this staircase storage in the Manhattan Micro Loft.
The side of the staircase was used as stair storage. We love how even the narrowest spaces were turned into storage spaces.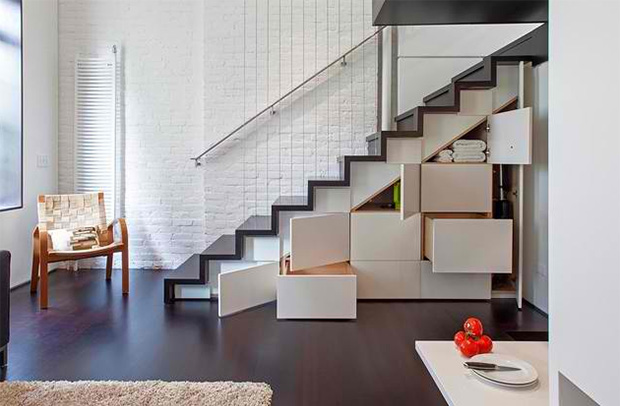 spechtharpman.com
3. Esker Haus
The Esker Haus in Italy has a unique design but it also boasts this elegant version of stair storage they have in the house.
We love how cool the stair storage space turned out to be.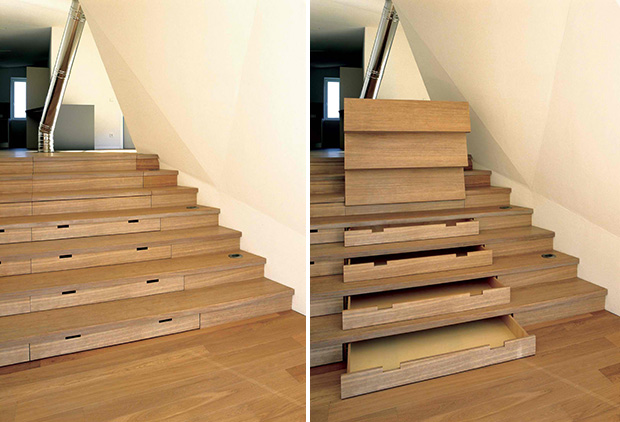 plasmastudio.com
4. Mulit-functional Bookshelf Stairs
Since the staircase is not part of the budget of this house and the rooftop view is just too good to pass up, the bookcase was designed as a staircase too!
At a glance, you wouldn't think the bookcase is anything but a bookshelf at all!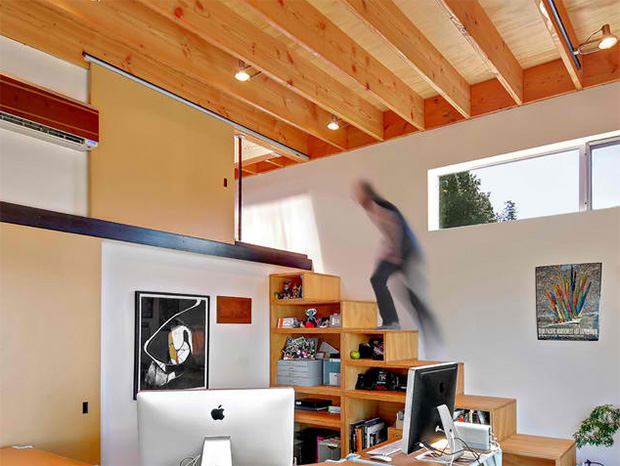 be.net/wesleypiercedesign
5. East Village Studio
A creative mezzanine bedroom in the East Village Studio is also equipped with drawers on the staircase.
The designer has incorporated it as the stair leading to the bed, which is pretty unique. It is also very clever to use it as a clothes drawer.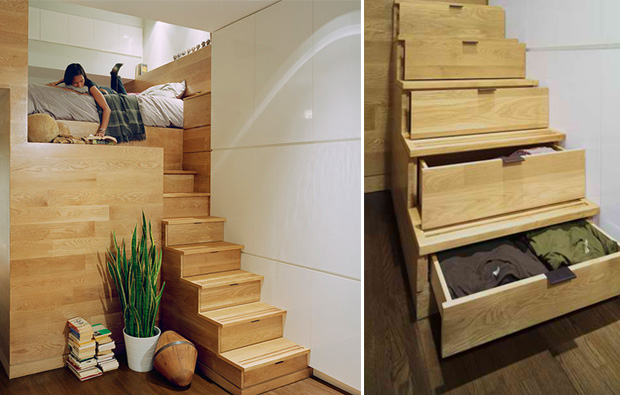 jpda.net
6. Kitchen Stair Storage
Not just drawers can be placed under the stairs but most of the tall cabinets and even the refrigerator!
From this angle, it's hard to believe there is a stair at the back!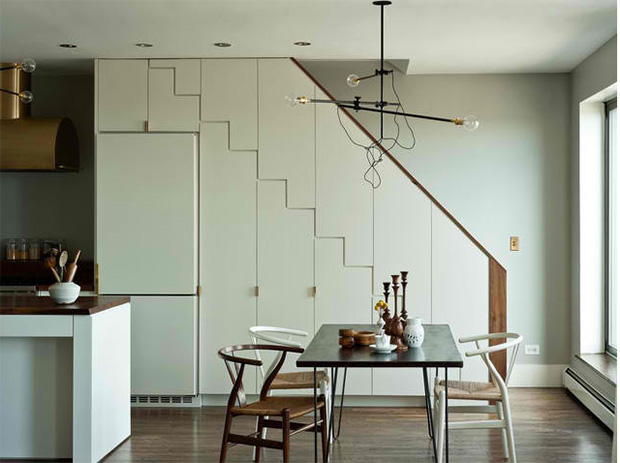 workstead.com
7. M Lofts
These stairs in M Lofts has an alternate tread design with triangular geometry of the tread, riser, and stringer. Open spaces are good for providing storage.
Such a unique design for a staircase, don't you think?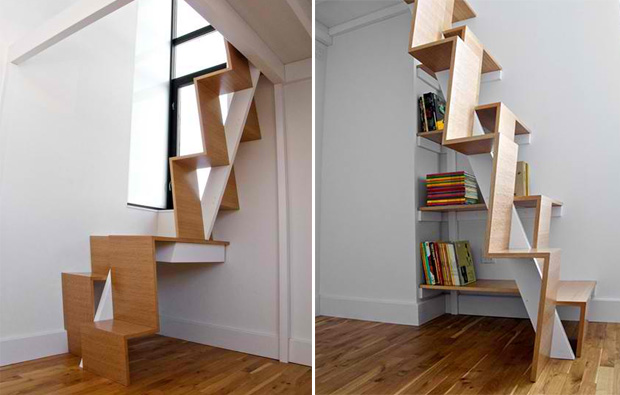 nc2architecture.com
8. Fabiana and Rocco Home
The home of Fabiana and Rocco features a piano-like staircase with several pullout drawers of varying sizes.
Its grungy home design looks amazing too. We love how wide that draws is and how the stairs storage were incorporated into the design.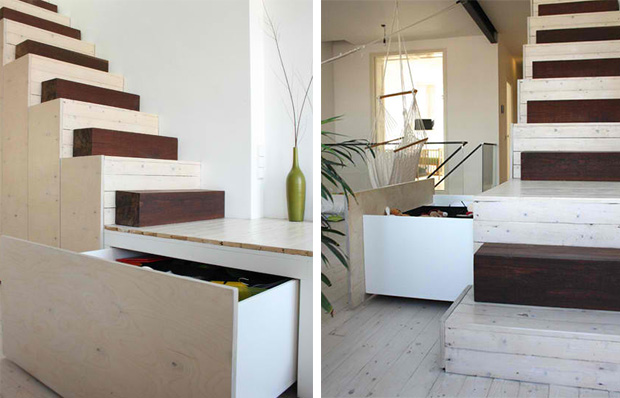 lovethomas.blogspot.com
9. Clean and Classy Storage Space
Adding drawers of different sizes will be a good way to utilize the space under the stairs.
This stair storage looks classy and modern. The designer has made use of geometric storage spaces.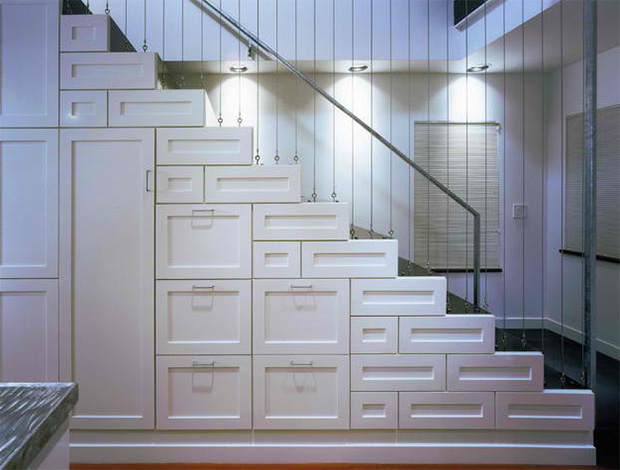 lawrencearchitecture.com
10. Grove Avenue
Grove Avenue uses pullout storage for their kitchen pantry!
Such a clever way to maximize space. When closed, the stairs don't look like its storing such important home necessities.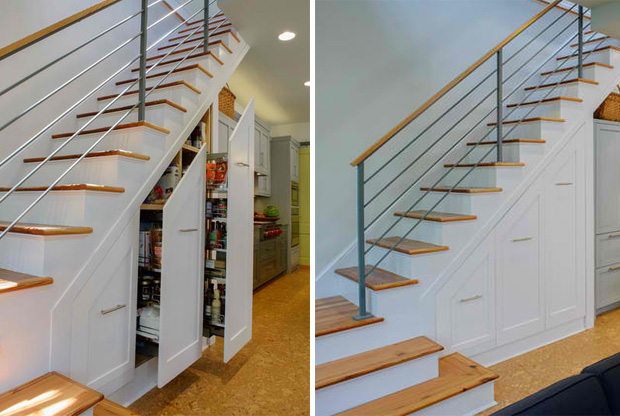 hingeworks.com
11. Cat Litter Storage
This stair storage is unique. The designer has not just built-in drawers for storage under the stairs are seen here but even a cat litter box enclosure.
We are sure that cat lovers will appreciate this!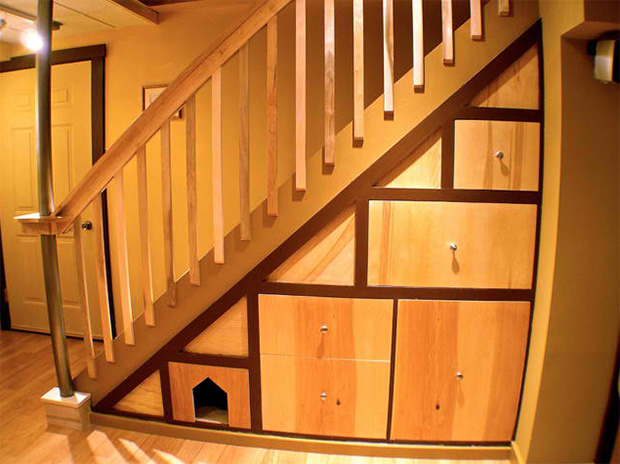 springcreekdesign.net
12. Tread Staircase
Note that the staircase is designed with different levels which can be accessed by stepping on the tread one foot at a time. Under it is stair storage perfect for whatever you think you could add to it.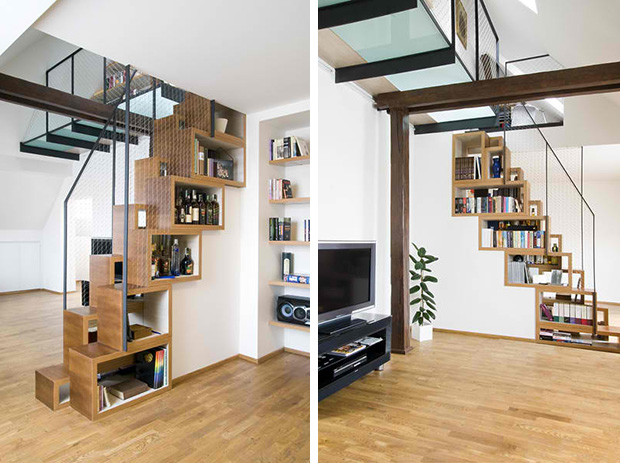 homedit.com
13. Staircase Bookcase
An amazing book-lined staircase is used to access a new loft bedroom lit by roof lights in a small apartment.
Do we wonder how well the owner can resist grabbing a book on their up and down the stairs?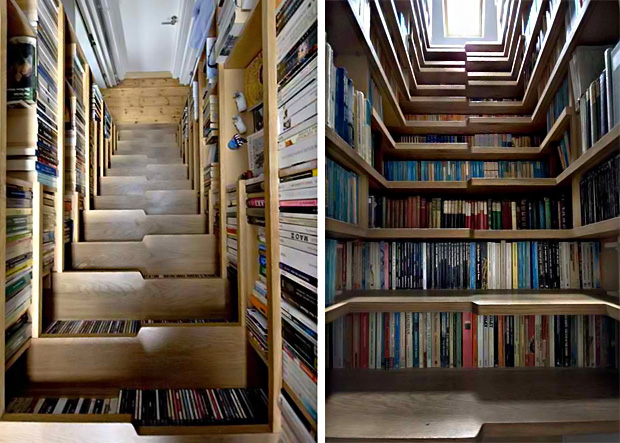 apartmenttherapy.com
14. Simple Pantry Storage
You can also make the storage simple like this one for a pantry. Finish it with stunning color and poof! You get a lovely under staircase area!
This design, in particular, looks lovely and very modern!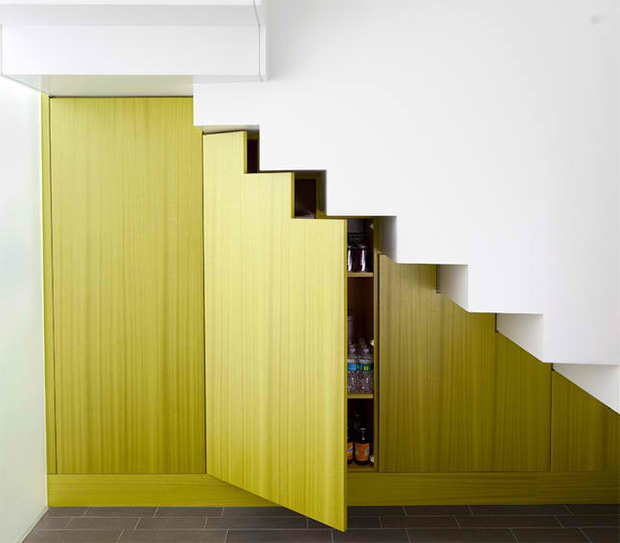 billinkoff.com
15. Slated Alternating Tread
A slated alternating tread staircase designed by Adam Jirkal, Jerry Kozaa, and Tomáš Kalhous doubles up as a clever and aesthetically pleasing bookshelf.
The design looks minimal and very simple.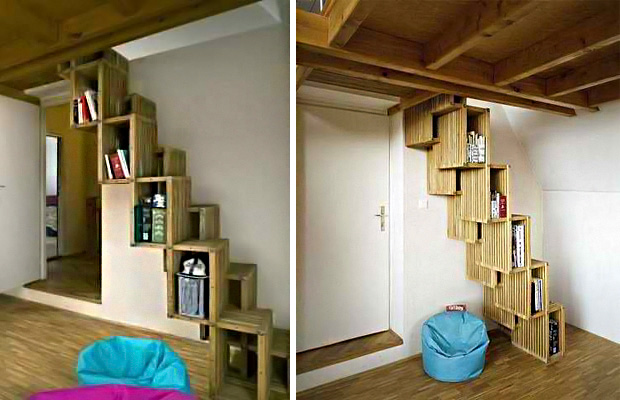 apartmenttherapy.com
So, if you have wasted space under your staircase, use it. If you lack storage space, add drawers to your staircase.
Today, your definition of the staircase will surely be changed. It isn't merely a series of a flight of steps but it can also be a flight of steps with storage or maybe a functional, practical, space-saving flight of steps.
Amazing how simple basic areas of the house can be maximized to our needs, huh?
Like This Post? Pin It!