50 Unique Mantel Designs to Turn Heads
|
The fireplace mantel is a decorative frame that surrounds a fireplace and its protective frame on the sides. Sometimes, the mantel is simply just a shelf above the fireplace. Other times, it is a surround that completely frames the fireplace. The latter is a lot more commanding and more likely to be appreciated for its look.
Because of this, the fireplace mantel is often the focal point of the room. As you would expect, there are many unique mantel designs offered. It starts with the type (shelf or surround) to style and materials. Whatever style you may want your fireplace mantel to be, it is certain that you will want that is definitely going to stand out in your living space.
How to design a mantel
Unique mantel designs do not simply mean the structural feature of the fireplace itself. You can create a unique mantel design by designing or decorating with your own personal style. Here are 3 easy steps to fully elevate the look of your mantel!
1. Create Layers
Create layers with your mantel that always includes layers 1 and 2, with the third layer being optional, depending on your decorating style.
a. Layer 1: The Anchor
Choose a large object that will be the "anchor" or the focal point of the mantel such as a mirror, artwork, or even a TV. Ensure that the scale is appropriate for the space. The visual weight of your anchor should adequately balance out the visual weight of the firebox below and should fill a large portion of the wall above the mantel.
b. Layer 2: The Weight
Choose objects for either side to complement with layer 1. This should add width and visual weight to the overall design. These items don't necessarily have to be identical but they should have similar visual weight. In addition, make sure that their height is smaller than that of your Layer 1 object but still proportionate.
c. Layer 3: The Filler
Underneath Layer 1, add objects of varying heights to the center. These objects must be smaller than items chosen for Layer 2 but still proportionate. You can skip this part though if you want a clean and minimal design.
2. Maintain Triangle of Movement
By following the steps above on layering your mantel, you will be able to create a triangle above the mantel with the tallest point at the center to the shortest points from left to right.
3. Keep Mind of Scale
The scale that was mentioned above in creating layers should be always kept in mind. This is to make sure that objects relate to the fireplace and each other, creating an aesthetically pleasing synergy.
Unique Mantel Designs for Inspiration
Here are some great ideas for you!
Waveview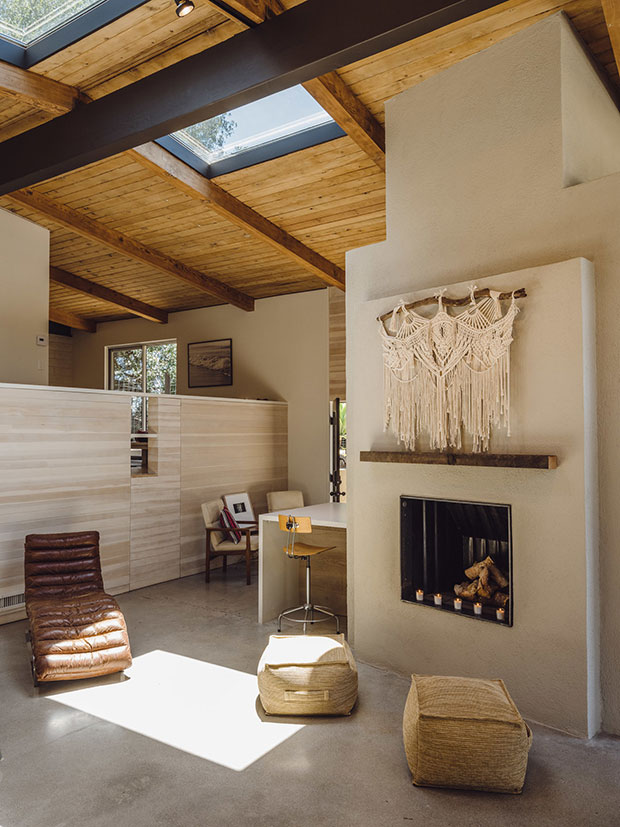 GLYNNdesignbuild
Some fireplace mantels are floating shelves such as this one. This mantel, in particular, has such a rustic charm to it.
Artisan Bronze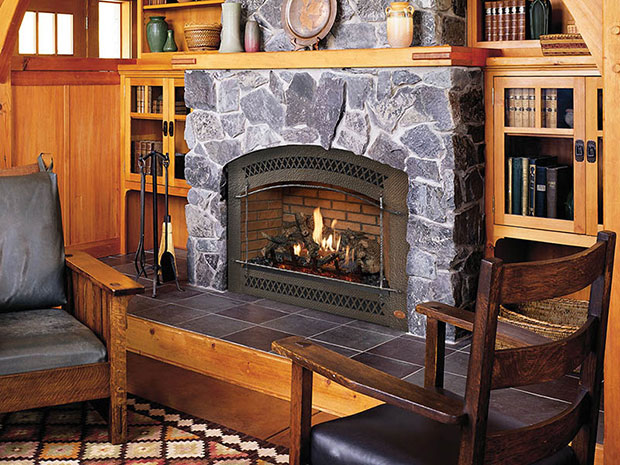 Fireplace Xtrordinair
Some mantel shelfs are quite the unique mantel designs. In this home, the mantel shelf extends, connecting itself with the bookshelves on either side of the fireplace. This design makes it look seamless and neat.
Oak Ironwork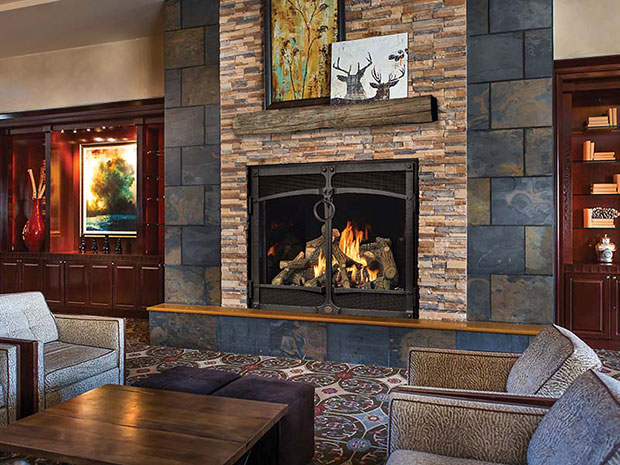 Fireplace Xtrordinair
Here's another one of those rustic unique mantel designs. With a rather modern design style for the living space, the rustic mantel is quite an interesting choice. Though, it works its charm and elevates the look of this room.
Eclectic Sanctuary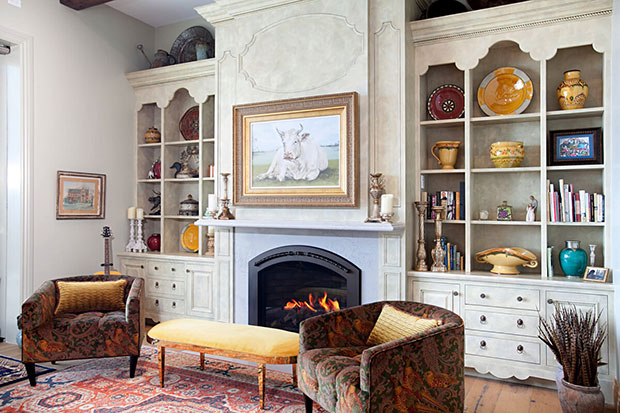 Hamilton-Gray Design
Fireplaces situated between bookshelves offer many unique ways to fix up unique mantel designs. With the material and style in which this mantel was made is elegant and sophisticated.
Contemporary Twist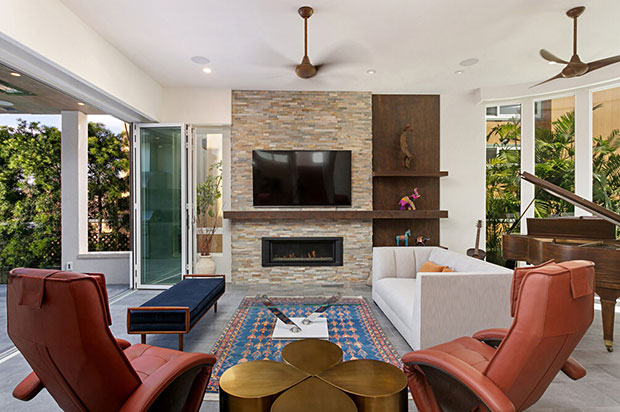 Hamilton-Gray Design
Unique mantel designs mean straying from the ordinary and usual design styles. A contemporary twist on mantel design may have your fireplace looking like this.
Ansonia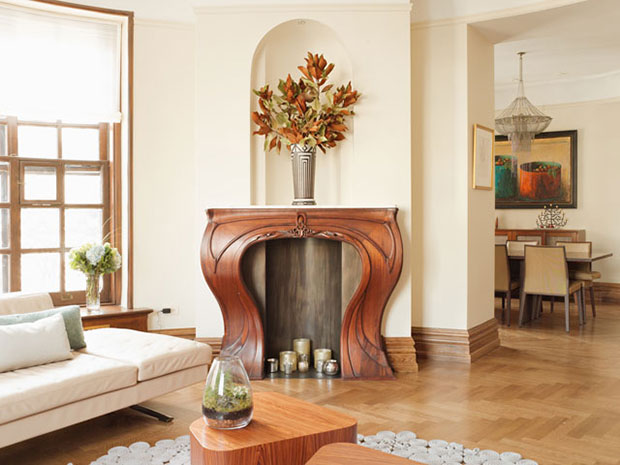 Caroline Beaupere Architecture + Design
Some unique mantel designs can get as pretty as this. The curvatures and intricate carvings and details make this one of the prettier unique mantel designs.
Sound Harbor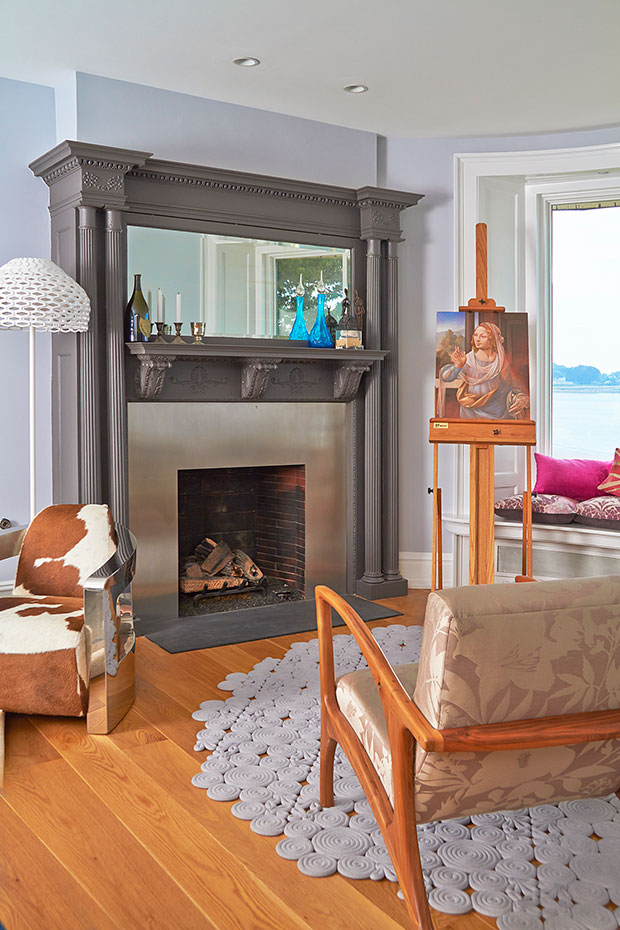 Caroline Beaupere Architecture + Design
The mantel surround design here is almost reminiscent of an architectural feat what with the columns and European-inspired style.
Spring Meadows

Rill Architects
In this home, they really have their fireplace design, including the mantel, integrated into the wall and shelves. This makes for a very seamless and clean look.
East Grand Rapids Tudor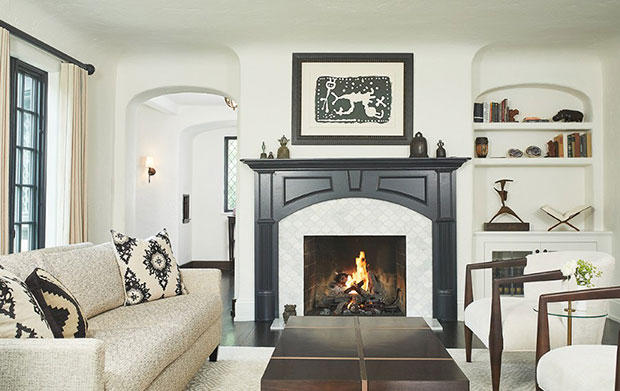 Cannarsa Structure & Design
To contrast the majorly white room, having a blank mantel surround is the perfect choice. It elevates some level of sophistication in this room.
Serlio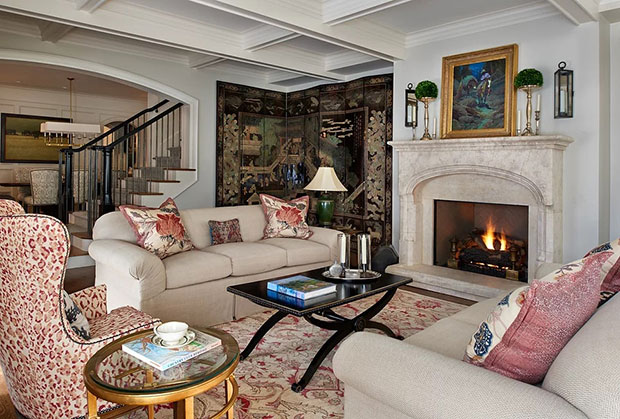 Chalet
For some timeless sophistication, consider unique mantel designs like this. The marble material alone brings some form of luxury, but it is also in its form that adds further elegance.
Custom Fireplace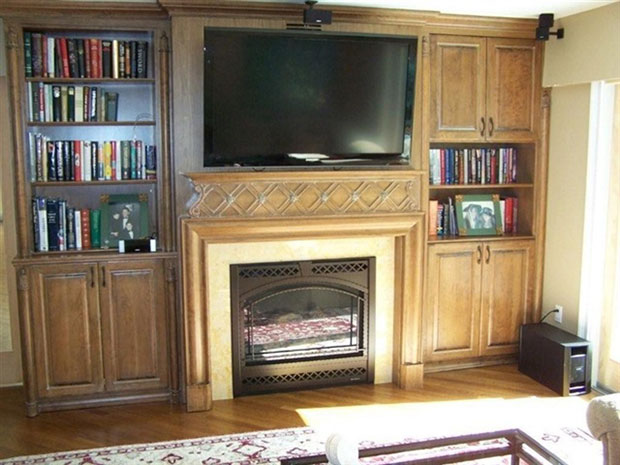 Funda-Mantels
The mantel shelf has quite the pretty unique configuration. It is commendable that it doesn't just simply and plainly connect and extend with the rest of the surround. But details were paid more attention here.
Custom Fireplace 2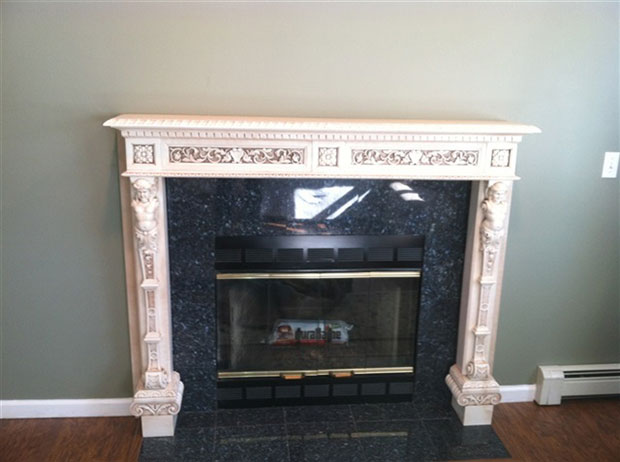 Funda-Mantels
The numerous intricate details and carvings on this definitely earns it a spot amongst unique mantel designs.
The Voltaire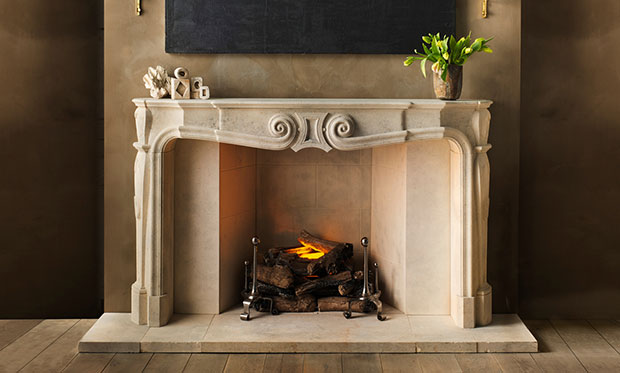 Chesneys
One of the unique mantel designs on this list with its one-of-a-kind design details that was inspired by transitional moment in the early 18th century.
The Chichester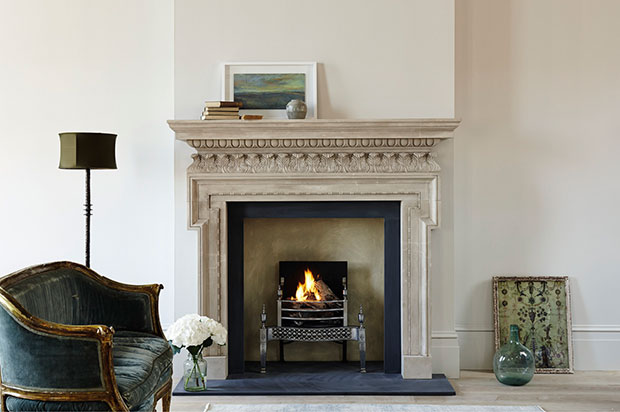 Chesneys
The corniced shelf is one to be admired for. The molding on this fireplace mantel alone will definitely be the center of attention in any room.
The Blenheim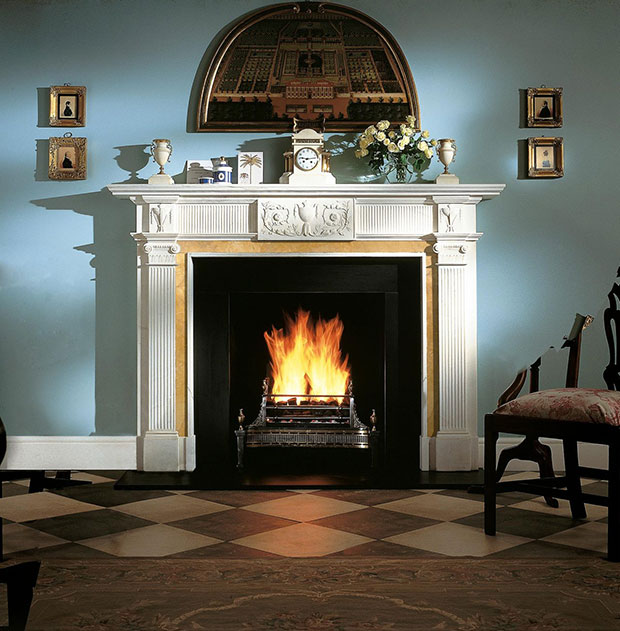 Chesneys
The thing about fireplace mantels is that they can really make the fireplace look even more grand, and by extension it elevates the visual value of the entire living space. And this particular fireplace mantel is a testament to that.
The Chillington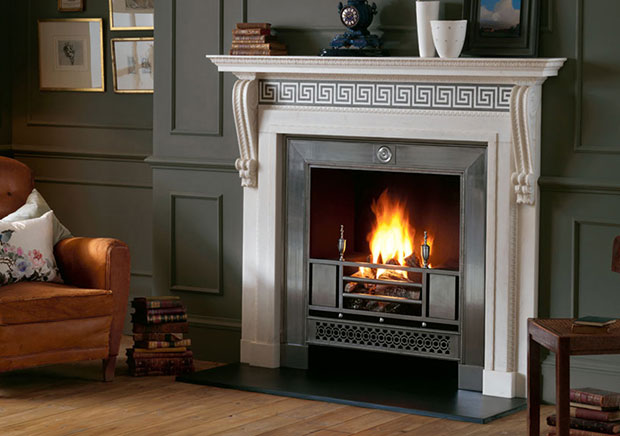 Chesneys
With the grey wall, a white fireplace mantel with grey accents creates a beautiful color harmony within the living space.
The Palladian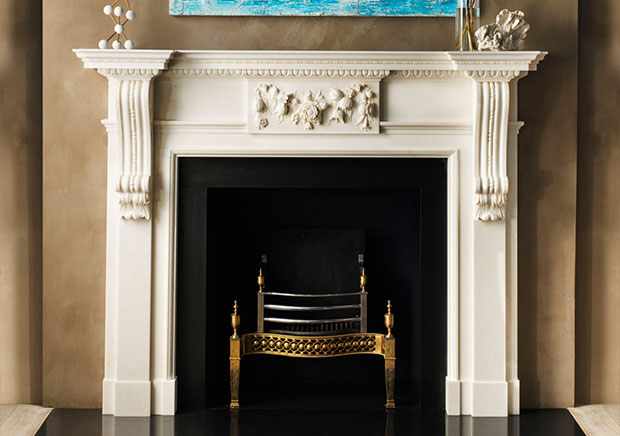 Chesneys
The most interesting about this and what makes it one of the more unique mantel designs is the floral carvings on the center tablet.
The Avebury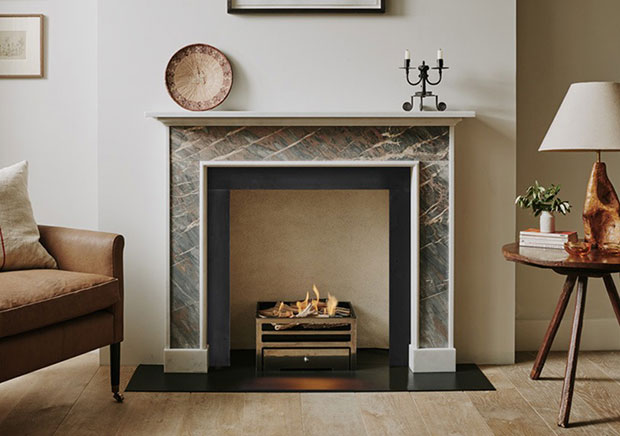 Chesneys
For many of these unique mantel designs, they have more traditional and timeless looks. But this one has a more contemporary charm to it.
The Sammezzano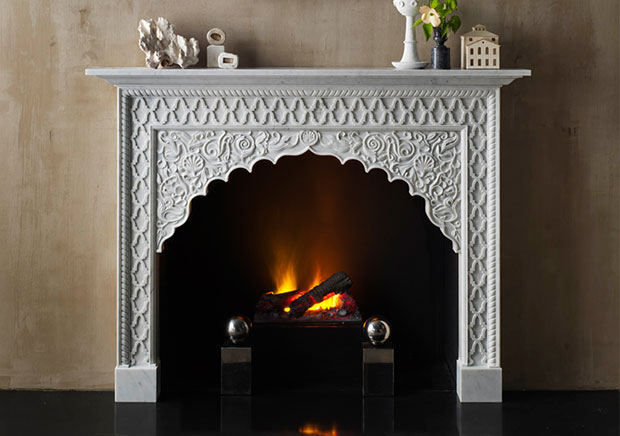 Chesneys
This one of the most striking unique mantel designs for its interlacing lattice work, floral embellishment, and multifoil arch. You won't be able to find such a stunning fireplace mantel elsewhere.
The Castello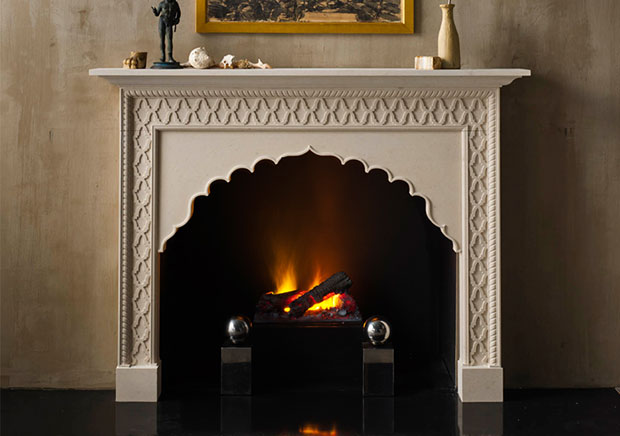 Chesneys
Like the mantel right above, this one was also inspired by Moorish architecture of the Castle of Sammezano. You can see the similarities, too, with the multifoil arch and interlacing lattice work.
The Hulanicki Art Deco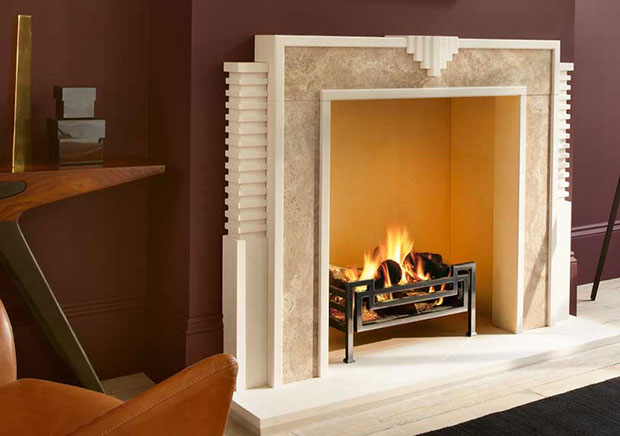 Chesneys
Here's a fireplace mantel that puts a contemporary twist to a classic Art Deco style. This kind of mantel is cool to have if you want some classic but contemporary focal point in your home.
The Hulanicki Art Nouveau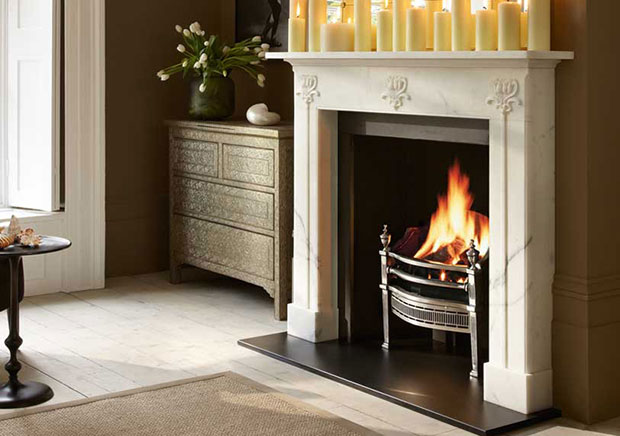 Chesneys
The delicate floral carvings have its unique captivating charm perfect for a cozy living room.
The Veneto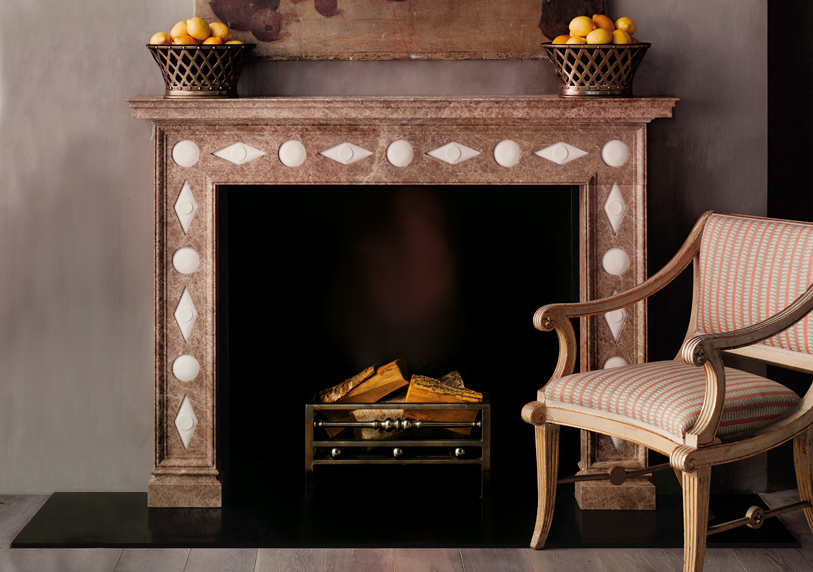 Chesneys
The marble frame and convex orbs and diamond shapes of Portuguese stones have a dramatic and arresting effect that will certainly draw anyone's attention to this fireplace.
The Glasgow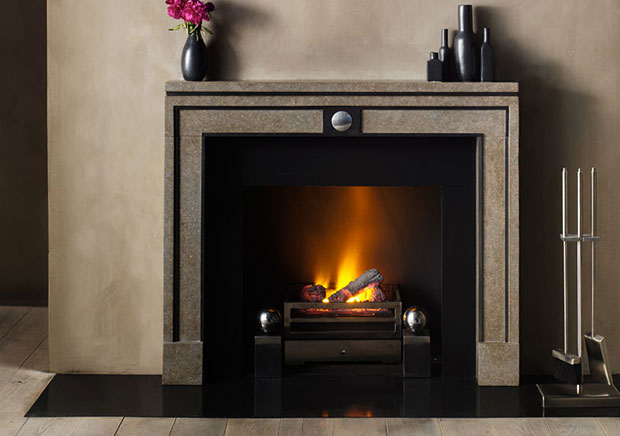 Chesneys
With a more sleek and contemporary style design, this fireplace is sure to be a hit for young people.
The Coral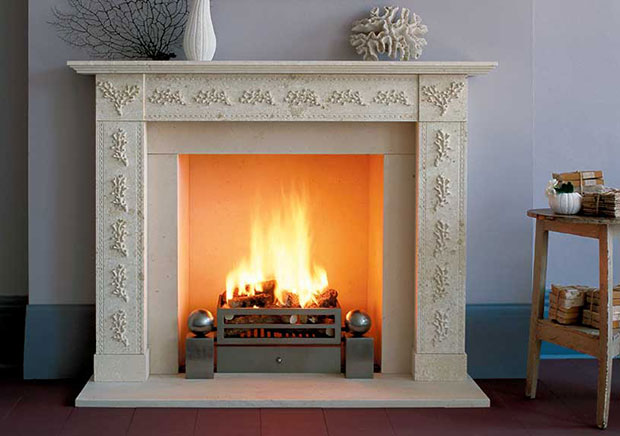 Chesneys
While most fireplace mantels are sleek and smooth, this one takes a different route. For its rough texture that is inspired by coral pattern, this one certainly belongs amongst unique mantel designs.
The Francois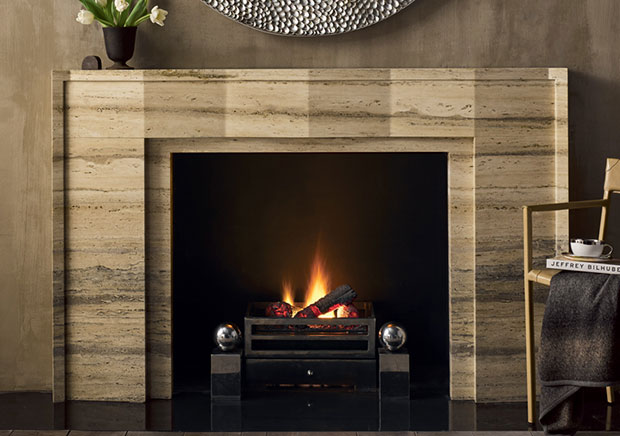 Chesneys
The folded planes in this fireplace mantel adds a little more dynamic to the piece.
The Bellagio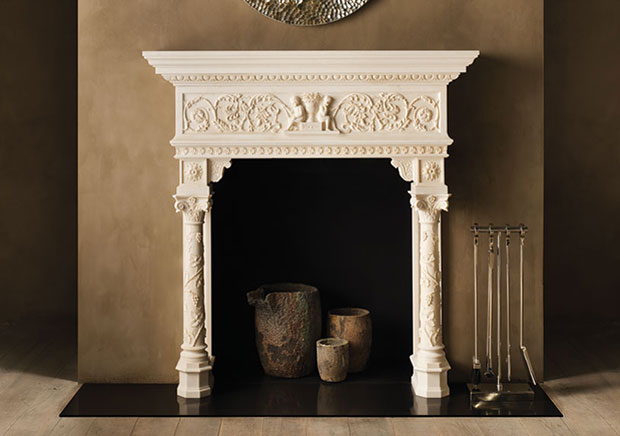 Chesneys
Fireplace mantels can really get this much fancier. The intricate carved detailing and the free-standing columns are said to represent the sweet life or La Dolce Vita!
The Pompeii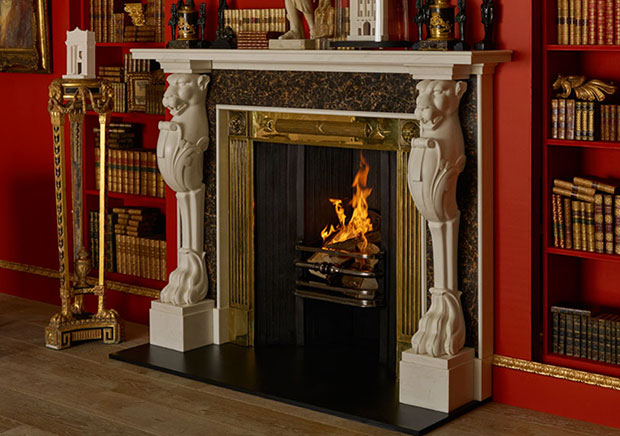 Chesneys
The lion pilasters and the decorative elements of this mantel certainly make up for a wildly unique decorative piece.
The Tony Duquette Seashell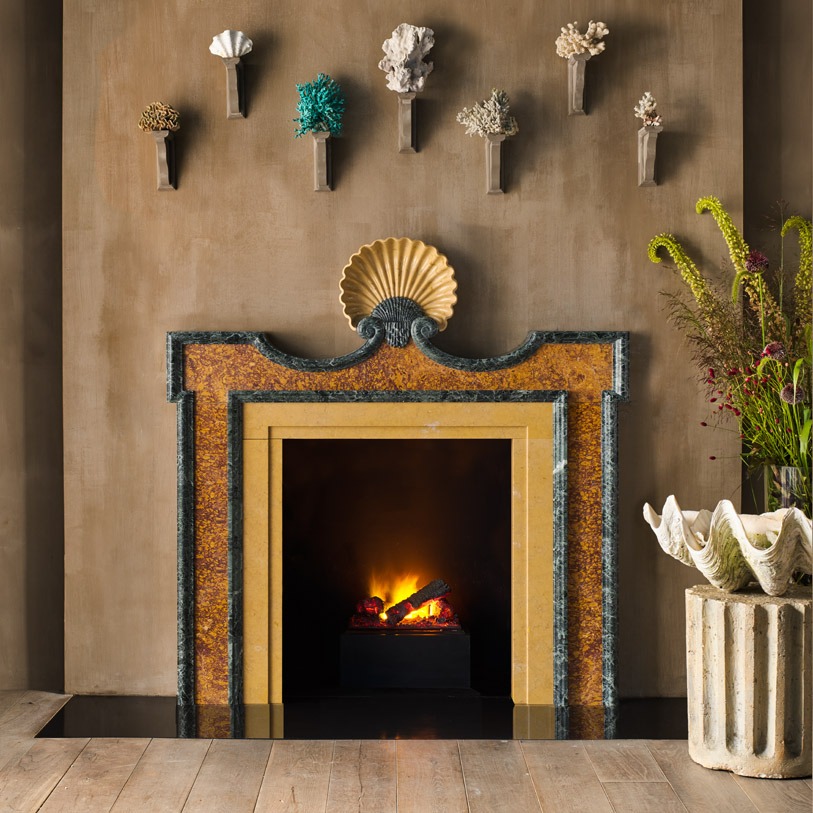 Chesneys
Structurally, this is one of the most stunning unique mantel designs. And the rich materials used to create this masterpiece further elevates this mantel to an even greater status. The rest of the room will definitely have to do some levelling up not to look too bland next to this fireplace mantel.
La Rochelle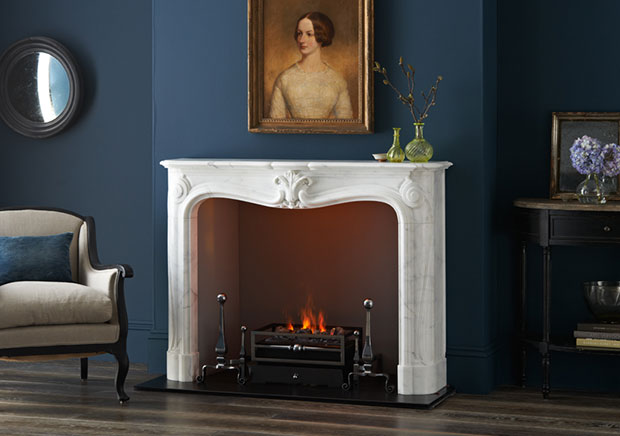 Chesneys
The subtle yet beautifully charming carvings make for a mantel very suitable for cozy modern homes. It's subtle enough for not having too eye-popping details.
The Jumeirah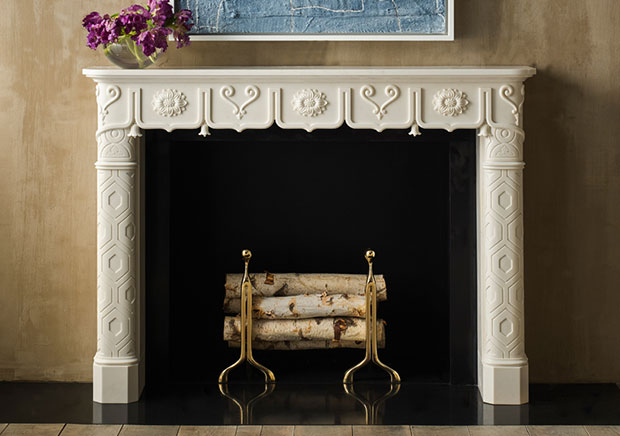 Chesneys
The whimsical arch is definitely something that is going to catch anybody's attention once they enter the room. And some carving details will surely have anybody looking again, especially that intricate floral carving.
The Fiorenza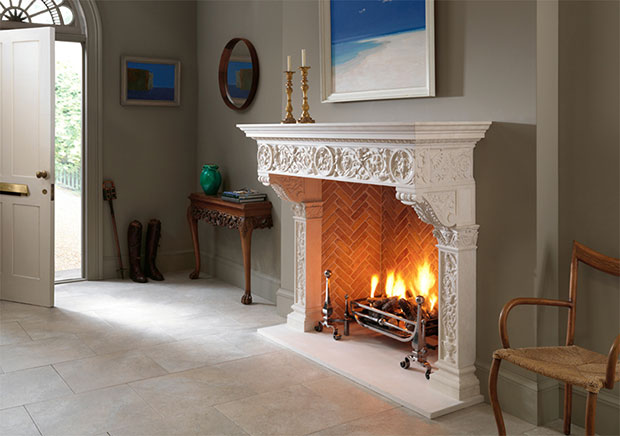 Chesneys
This list is not short on unique mantel designs with intricate carved details. And such is the case for this one. The delicate carved details on the pilasters and frieze are going to leave you stunned.
The Limoges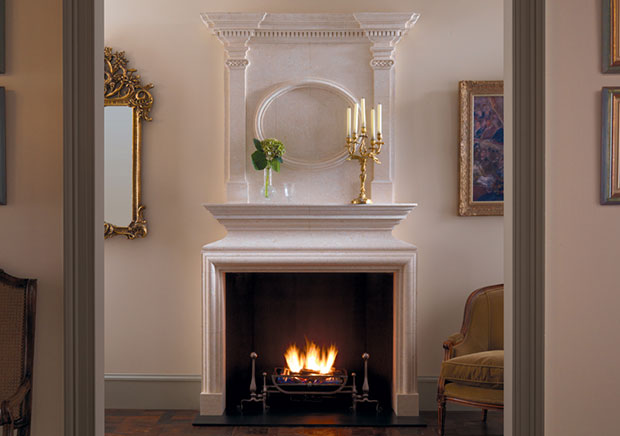 Chesneys
One thing that sets this mantel from others on this list is the overmantel with pilasters and the oval medallion carved right in the center of it.
The Navarre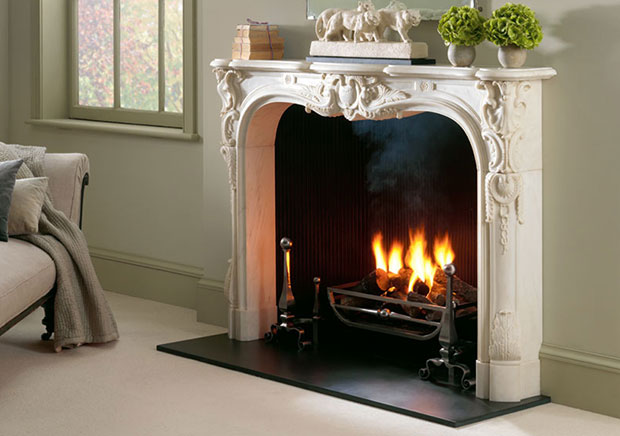 Chesneys
This fireplace mantel isn't short of its own intricate carved details that are just as uniquely different from a lot of these other unique mantel designs we've seen.
Garden Room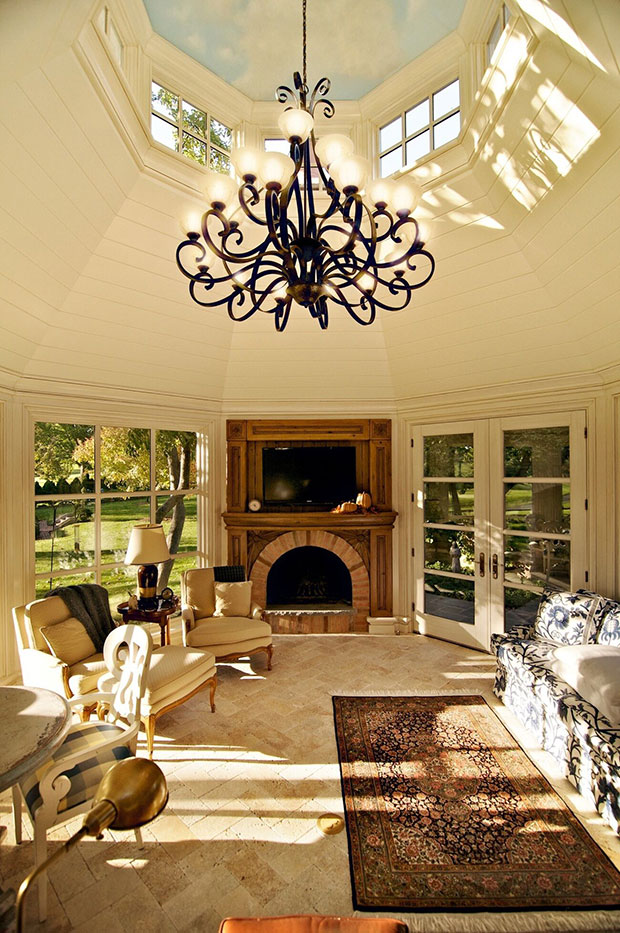 Dan Waibel Designer Builder
Away from the long list of marbles and limestones-made unique mantel designs, here's some traditional wooden mantel perfect for a cozy living space like this.
Storybook Home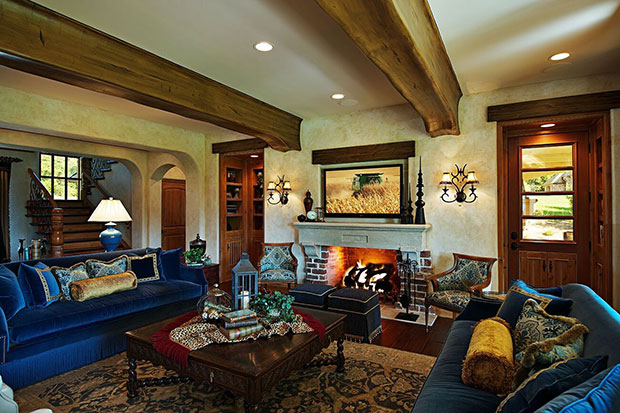 Dan Waibel Designer Builder
The bare and unfinished look of this fireplace mantel has its own charm is perfectly in place at this home.
European Romantic Home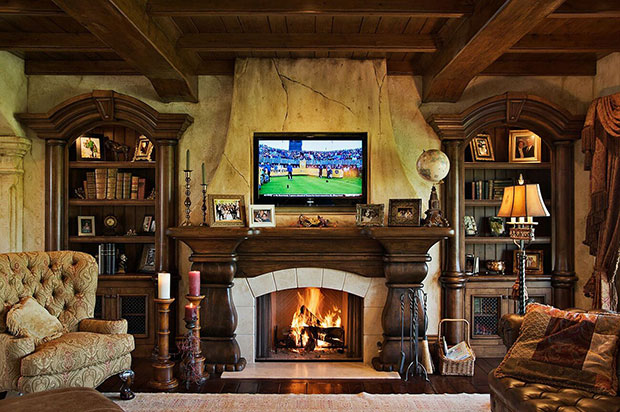 Dan Waibel Designer Builder
This fireplace mantel is structurally interesting in that it has very broad pilasters in comparison to most unique mantel designs on this list. But for a home design style like this, it is only very fitting.
Bramberry Residence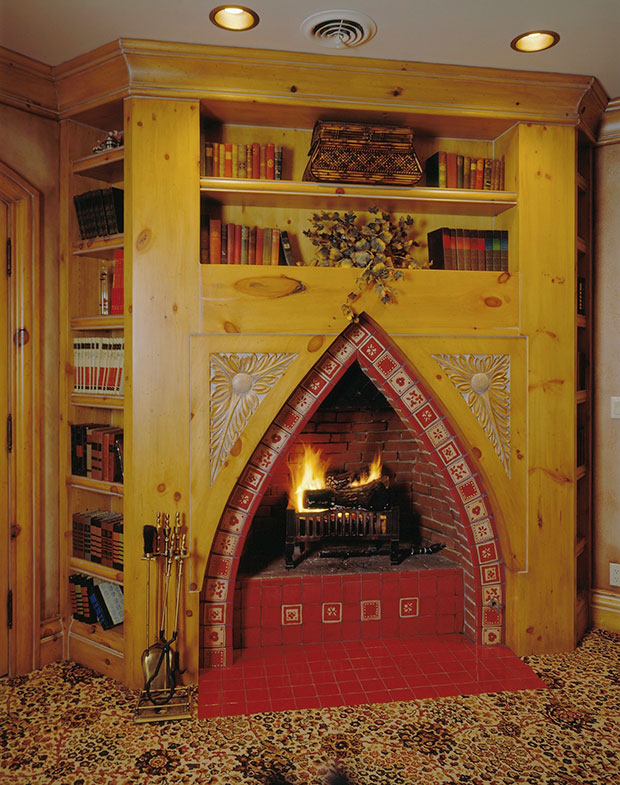 Dan Waibel Designer Builder
Beyond your usual firebox shape, here's one that's very interestingly shaped. And when it comes to the mantel surround itself, this one amazingly doubles as a bookshelf too.
Warm Cozy Living Fireplace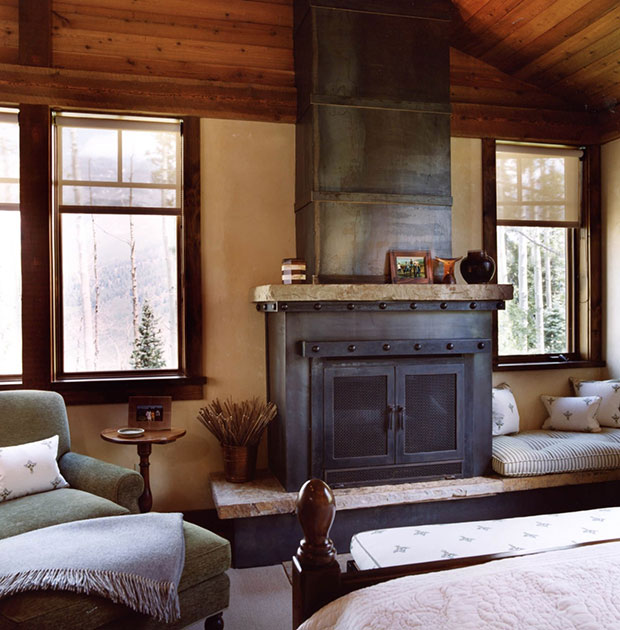 Elizabeth Dinkel Design Associates
If you're looking for some industrial-inspired fireplace, take a look at this. In contrast to the metalwork that is the fireplace structure, the mantel shelf is interestingly made of wood.
Pepper Lane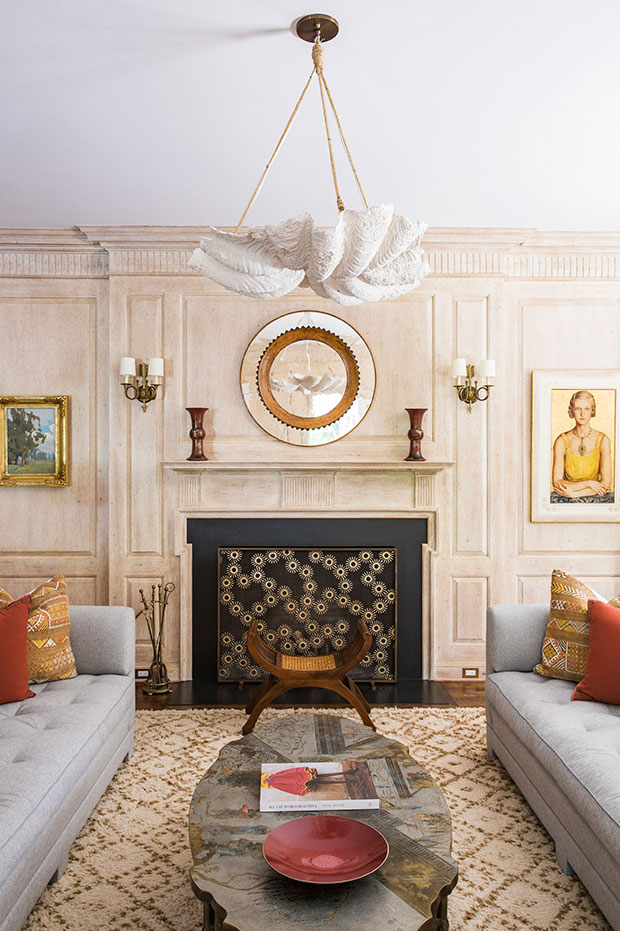 Elizabeth Dinkel Design Associates
Instead of having a shelf that looks separate from the rest of the wall, this one blends with the rest of it materially and visually.
Mercado District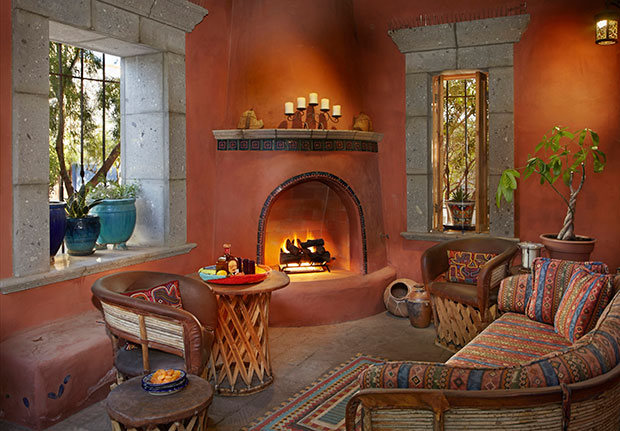 PureBuild
The fireplace in itself is fairly interesting. It's the shelf design that adds some dynamic to this entire thing.
Chateau on Central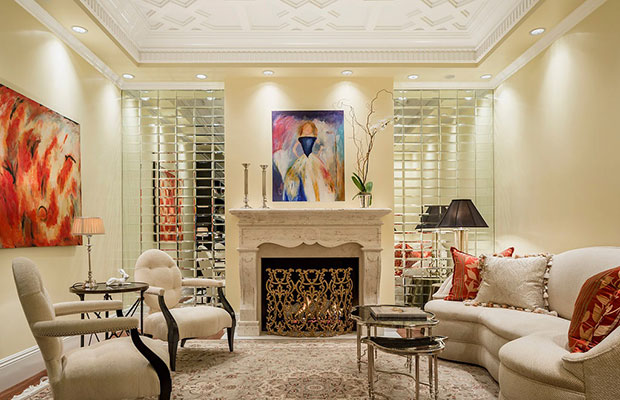 Robert Burg Design
The curves on this fireplace mantel surround are very fitting and perfect in the context of this living room that seems to love it. By extension, this adds some dynamic layer to the overall visual aesthetic of the room.
Whittier Drive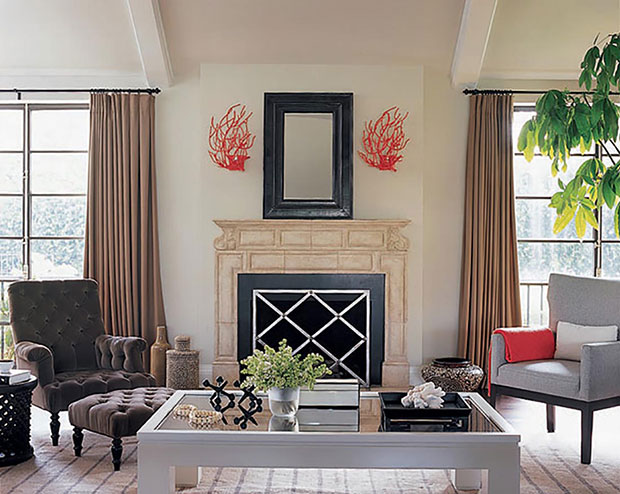 Burnham Design
The overall visual appearance of this fireplace mantel seems to give an illusion of it being a 2-dimensional thing that was just plastered on the wall. It is certainly a unique decorative piece.
Janssen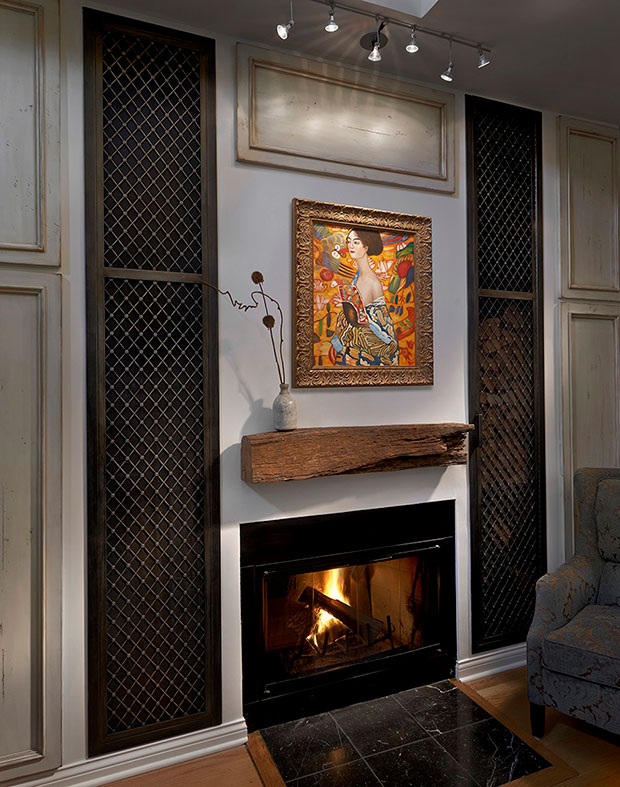 New Concept 180
This rustic mantel shelf quite strongly contrasts a rather modern room design that brings out a really interesting overall look to the room. And the shelf being aged and chipped is a cherry on top.
Memorial Riad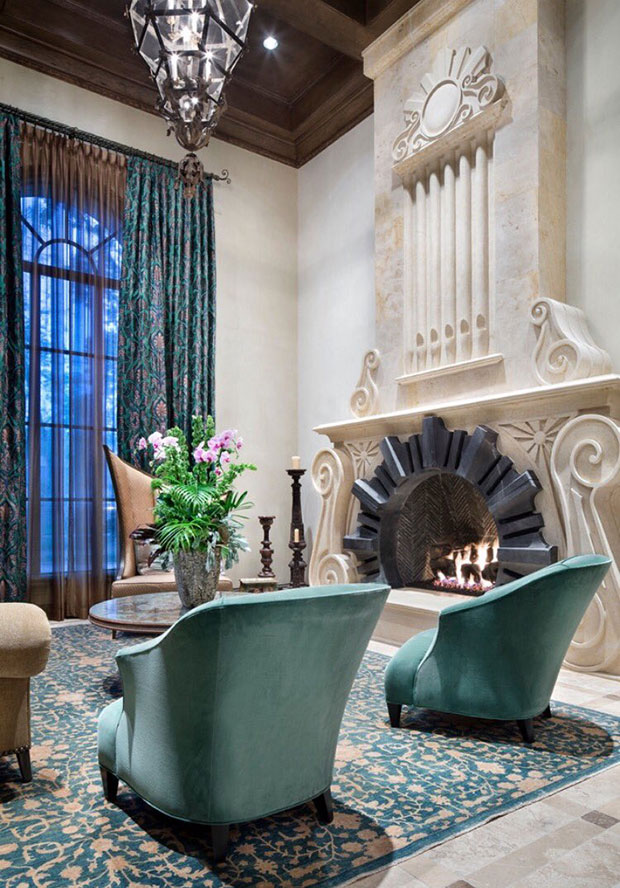 Marion Interior Design
This fireplace is probably the grandest of all the unique mantel designs on this list. Not only by its sheer height does it dominate the others, but the intricacies in its details are worthy of the awe it brings. Homes with high ceilings like this could (and should) consider a mantelpiece like this.
Modern Farmhouse Custom Home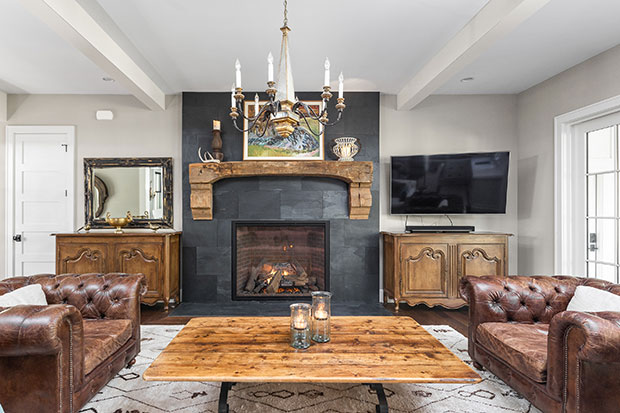 Steven Sears Building Company
The wooden material choice for this mantel shelf is perfect in the modern farmhouse home. And it is consistent with the furniture choices of this room. The material choice is also a perfect contrast to the marble firebox. And another thing of note is how the mantel shelf seems to be placed a little higher than they are usually installed.
Log House in Normandy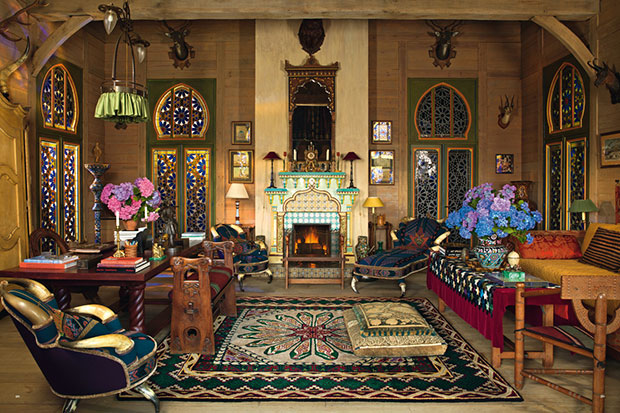 Pascal Chevallier
For an eclectic home like this, an equally as eclectic and striking fireplace and mantel surround is just fitting. Interestingly enough, with the darker shade of colors found in the rest of the room, this mantel surround is painted a lighter shade of colors.
San Francisco Home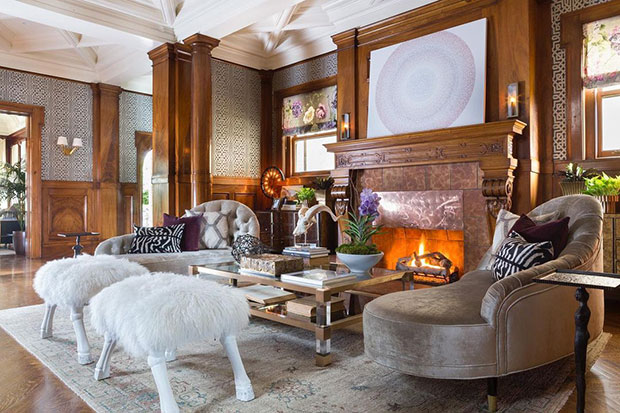 Lisa Bakamis Interior Design
Here's a little breather into some more traditional-looking mantel designs. Marble mantelpieces aren't the only ones with intricate carving details as evidenced by this particular mantelpiece.
Belgravia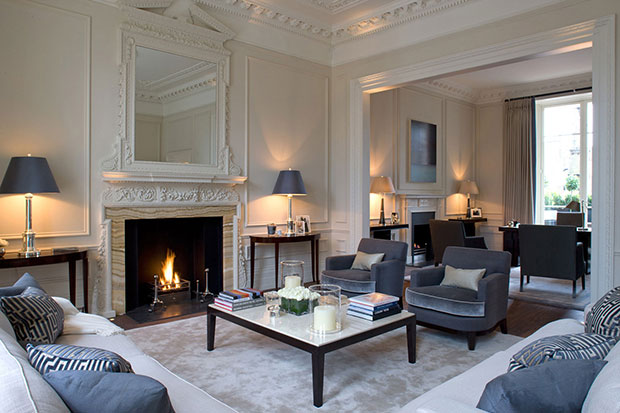 Boldfort
The little intricate details on the surround are charming and subtle. But they fit in seamlessly with the moldings on the walls.
Andy Berman Residence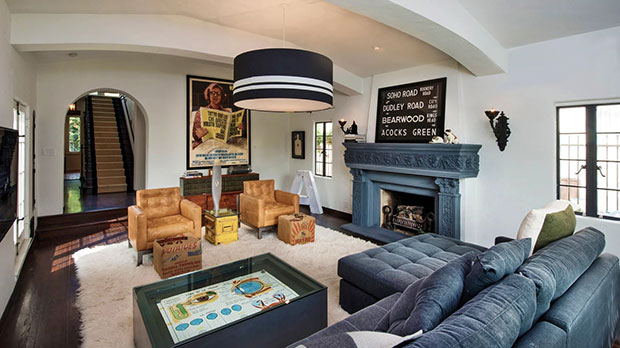 Style De Vie
The way this fireplace mantel surround is painted in matching with the living room sofa is interesting yet charming.
That's it for unique mantel designs that will definitely turn people's heads! Which of these caught your attention the most?
Like This Post? Pin It!