50 Gorgeous Living Room Ideas with Fireplace To Keep Warm
|
Looking for living room ideas with fireplace? You have come to the right place!
Many factors can make a room cozy. And one of those is a fireplace.
A fireplace is usually a structure made of brick, stone, or metal. It is designed to contain the fire and make the room more warm and pleasant, especially in cold weather.
With the developments in interior designing, we are seeing a lot of innovative fireplaces emerging in the market. Each as lovely as the last.
What Are The Use of Fireplace in The Living Room?
In general, fireplaces can be placed anywhere in the house. One of the most popular places to put it is in the living room, however.
Below are some of the reasons why living room ideas with fireplace is a hit among homeowners:
1. Keeps everyone comfortable. This is because a living room is a common area where most, or all, family members stay. With a fireplace here, more people can enjoy the heat that it gives off.
2. Help keep energy efficiency. Another benefit is that living room ideas with fireplace can help keep heating costs low. This will definitely provide substantial heat that won't tax your heating system.
3. Adds a pleasing aesthetics. Living room ideas with fireplace can add a decorative element to your living room. It can help make your living room (which is one of the most favorite places for people to hang out in), more pleasing, cozy and a comfortable place to stay and gather the family in.
How to Style a Living Room With a Fireplace?
There are many ways to style a living room with a fireplace. But sometimes, executing can be hard. Below are some things you need to keep in mind.
1. Arrange the furniture in a way that there is easy access for foot traffic.
2. Intentionally position your coffee tables and ottomans in a way that creates pathways. This way they can help family members and guests maneuver around the room.
3. Place an accent chair beside the fireplace. This accent chair can either complement the decor, draw out a particular color of the room, or provide a focal point in your home decor.
4. Ensure that the fireplace is well in view and can be seen from every angle of the room.
Living Room Ideas with Fireplace
Fireplaces can also be aesthetically pleasing aside from being functional. And it is evident by how interior designers have incorporated a gorgeous fireplace into the living room.
For inspiration, we have complied living room ideas with fireplace:
Contemporary Living Room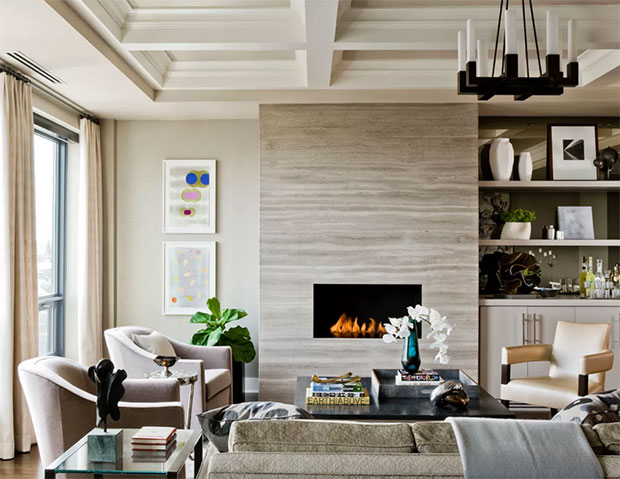 Elms Interior Design
This gorgeous living room idea with fireplace embraces a modern fireplace on the wall. The fireplace is a snug fit in the stone feature wall.
Glass Fireplace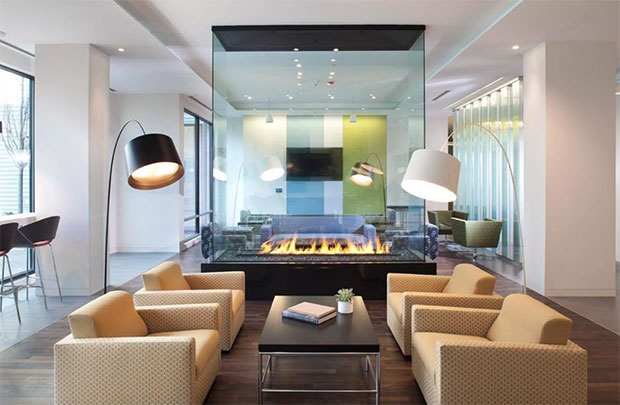 Acucraft Fireplaces
This fireplace is located at the center of the living room and has a glass enclosure that reaches the ceiling.
Northwest Residence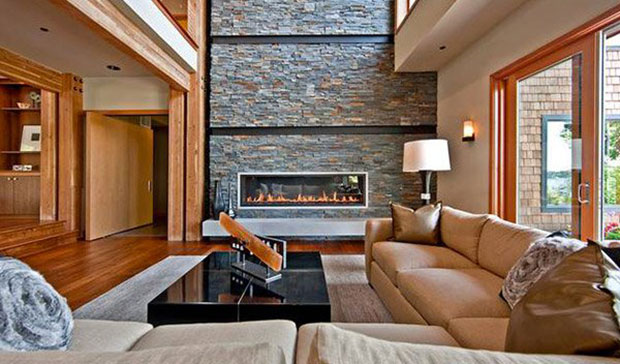 K6walls
This fireplace is placed on a wall of stones. The beautiful gray color is in contrast to the lovely wood color of the room.
San Rafael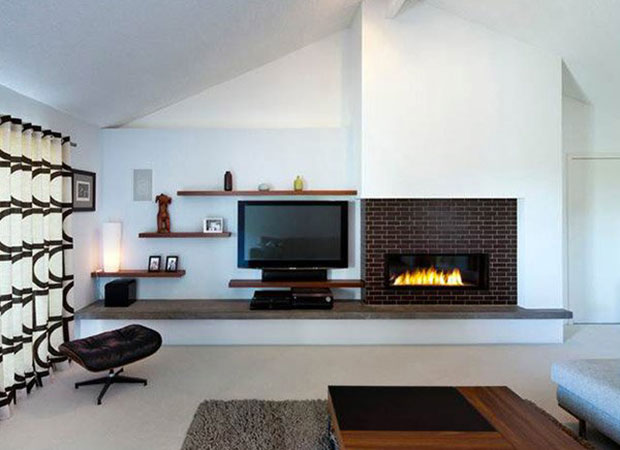 Elena Calabrese Design & Decor
Instead of a fireplace taking the entire wall space, this living room ideas with fireplace shows a portion only of the wall.
Fusion Modern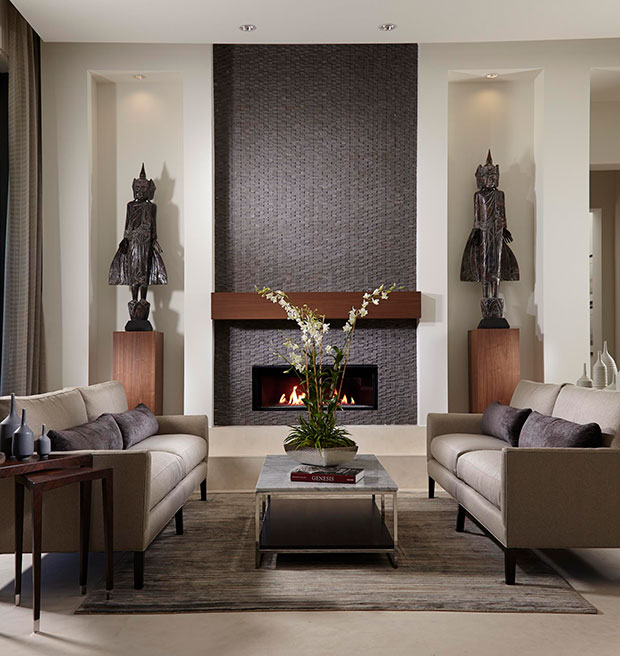 Freestyle Interiors
This beautiful living room ideas with fireplace feature a dark brick fireplace between ornately carved sculptures.
Chicago Living Room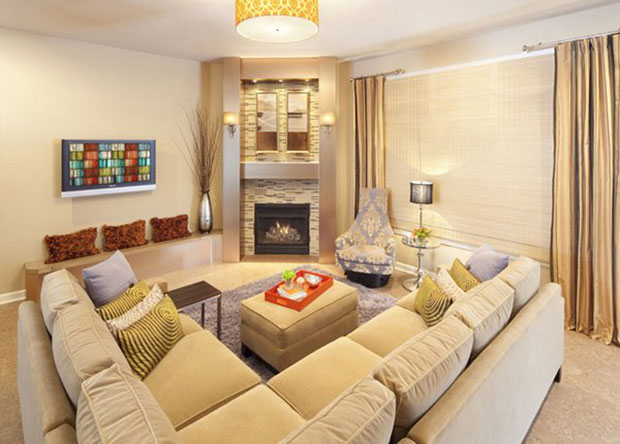 KannCept Design, Inc.
The lovely gold colors in this room add an elegant ambiance to the room. It is even more emphasized by the gold-dotted colors of the fireplace in the corner.
Tucson Residence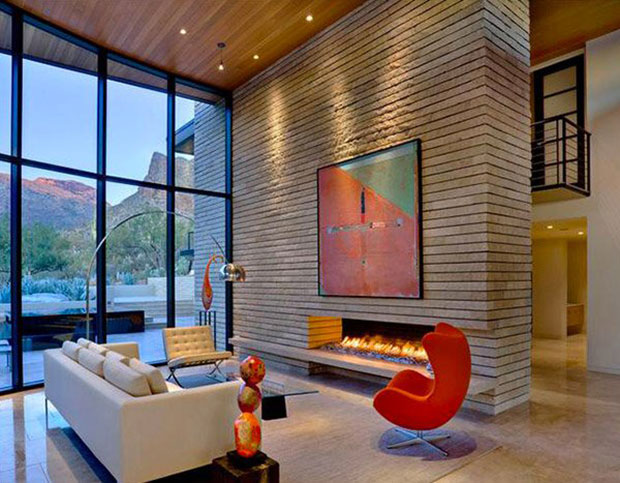 John Senhauser Architects
This living room fireplace is placed in a wall with stones piled that look like wooden planks.
Eclectic Living Room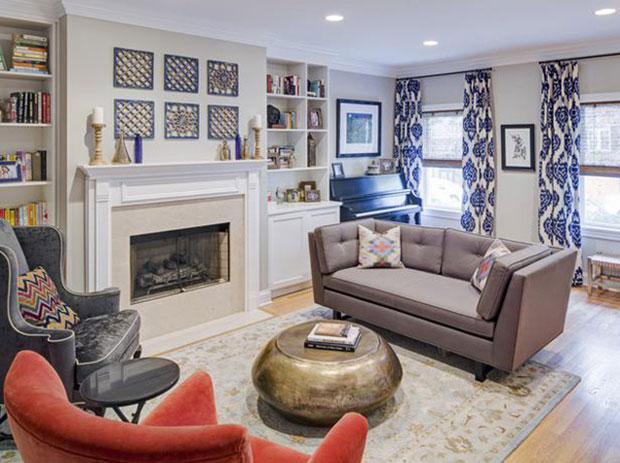 Erica Lugbill
This fireplace has a beautiful frame with hand-painted wooden plaques above it.
Marble Fireplace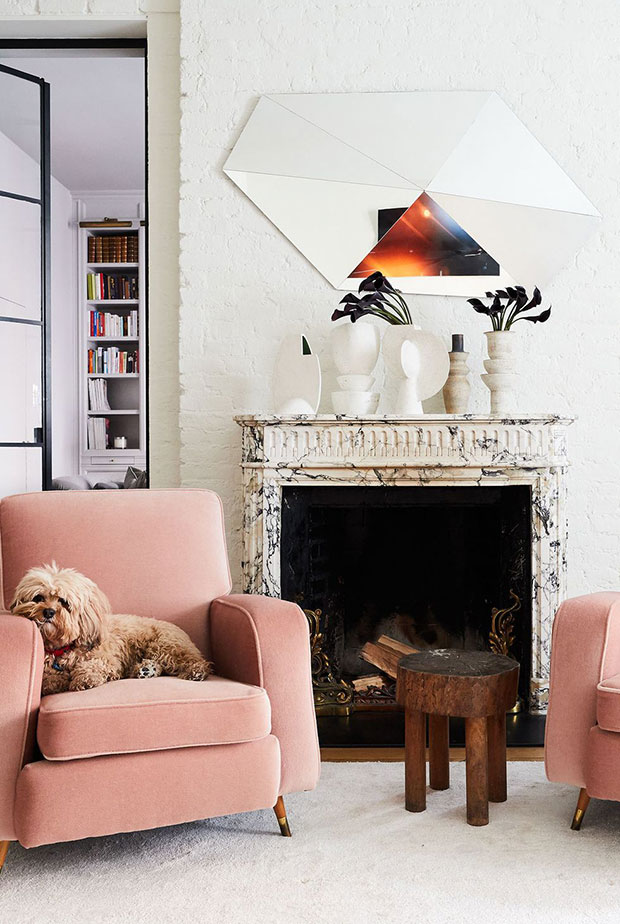 Nicole Franzen
This marble fireplace has an angular mirror and geometry pottery at the top.
Black and Gray Room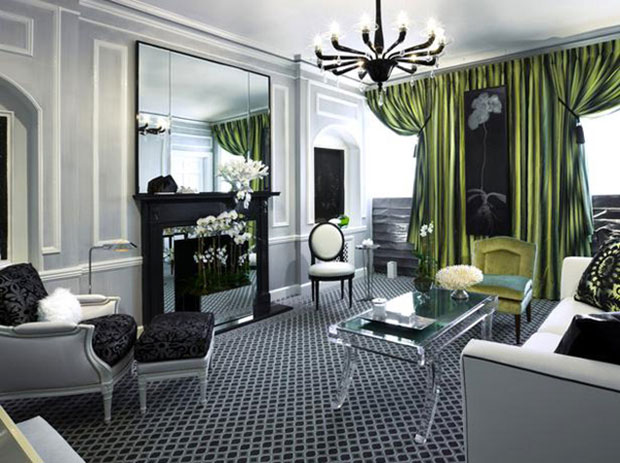 James Rixner
The living room ideas with the fireplace featured here have a wide mirror at the top and are accentuated with beautiful flowers at the bottom.
Gal Silvertop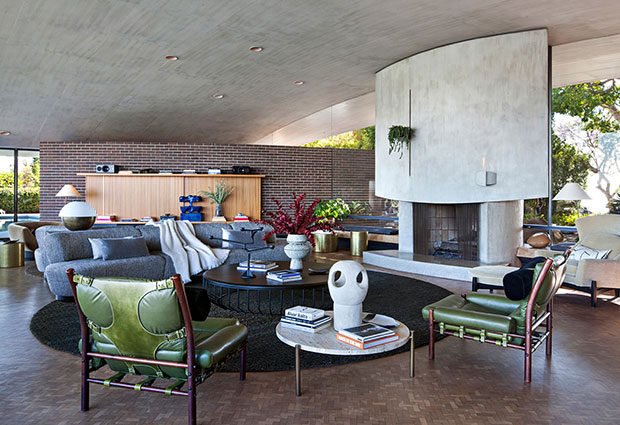 Jamie Bush + Co.
The fireplace in this home is designed to become a part of the architecture.
Cliffside Drive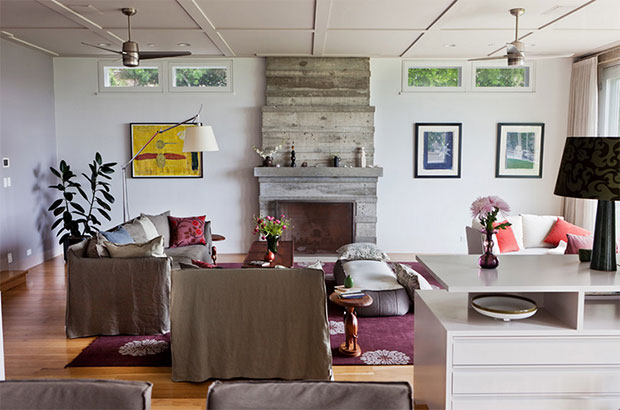 Natasha Barrault Design
This living room features a concrete fireplace that stands out from the room.
Brettkelly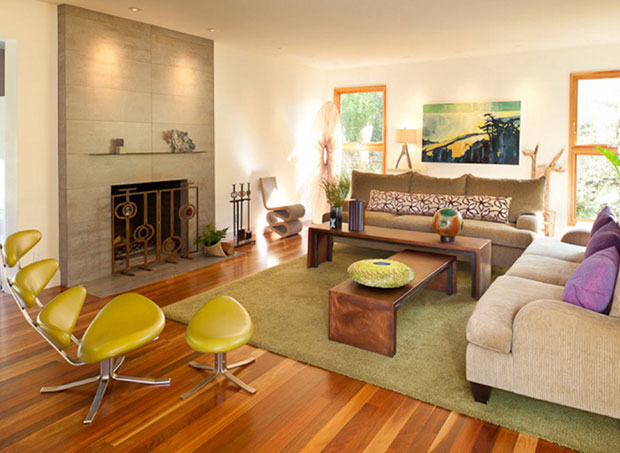 Jody Brettkelly
This living room is composed of unique pieces of furniture. The fireplace and its screen highlight the uniqueness of the room.
Nordic Living Room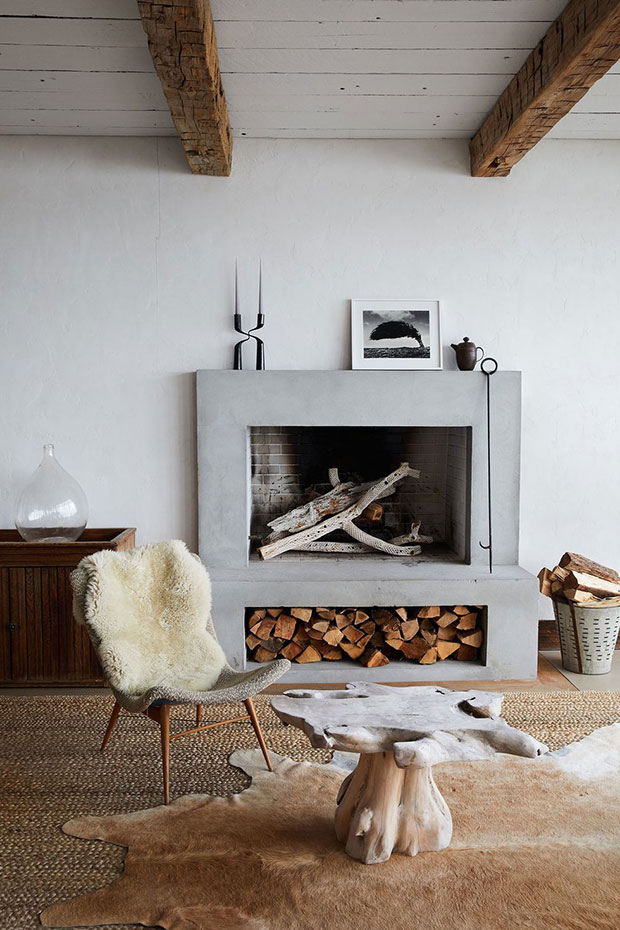 Nicole Franzen
This minimalist room has sheepskin and organic furniture. The fireplace is charming and looks great with the theme.
Stone Fireplace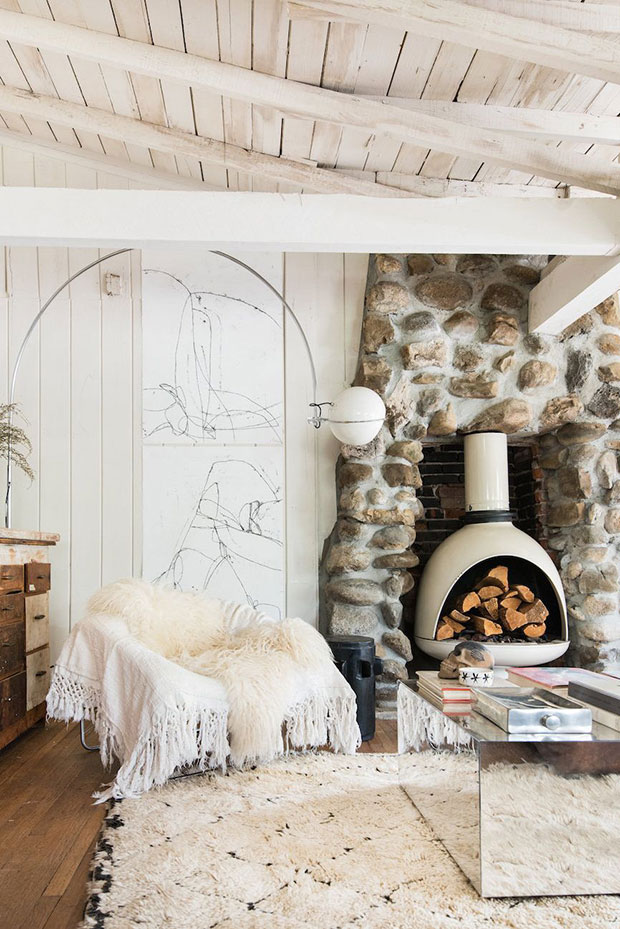 Leanne Ford Interiors
The stone fireplace in this room looks great with its stone facade. It has a mid-century design with its thick wool carpet and glass table.
Bush Prairie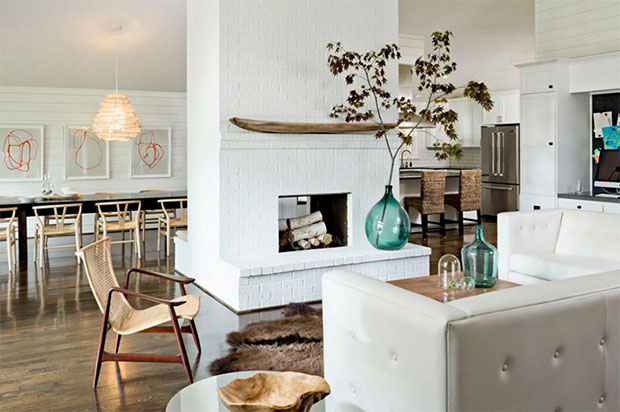 Jessica Helgerson Interior Design
This lovely room has a stunning white fireplace at the center. Aside from the aesthetics, it also acts as a separator of 2 rooms inside the house.
Grand Open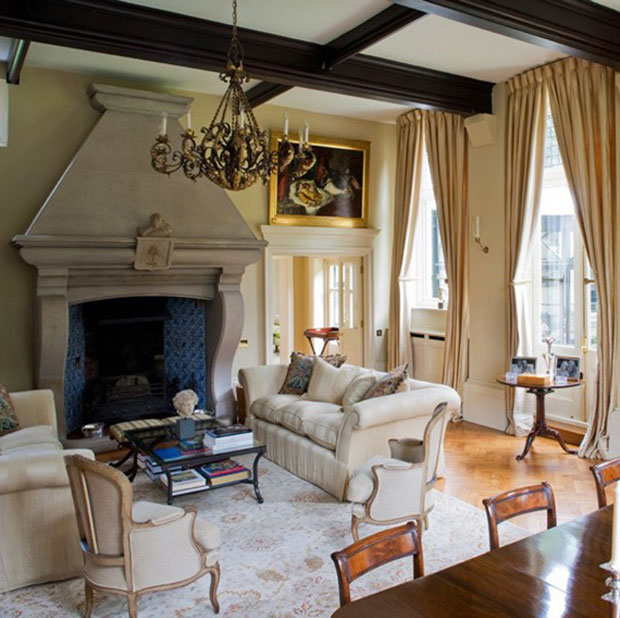 House to Home
This intricate fireplace looks classical with its elaborate frame. It also works well with the intricate chandelier and tall windows.
Farquar Lake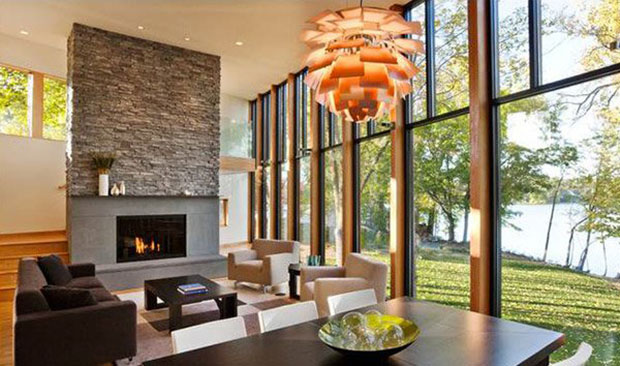 ALTUS Architecture + Design
This living room features a stone fireplace with the lower half made of smooth stones while the upper half is made with rough stones.
Traditional Fireplace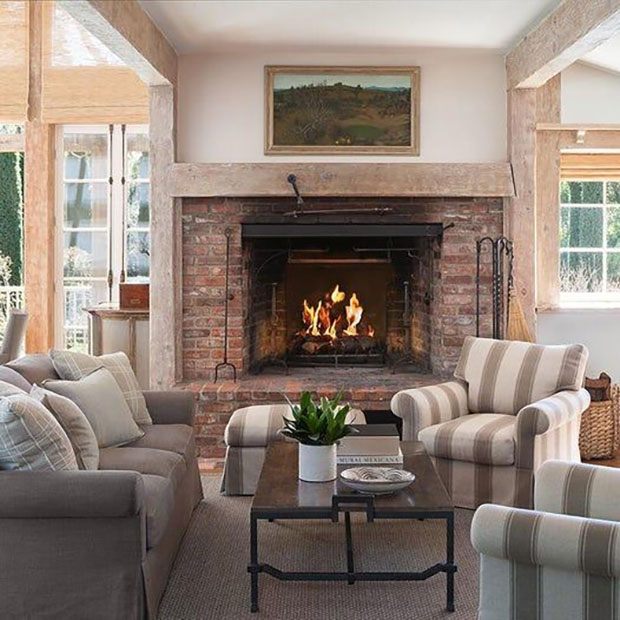 Woody Argall Design
This living room features a traditional fireplace with walls that have exposed beams and bricks.
Danish Revival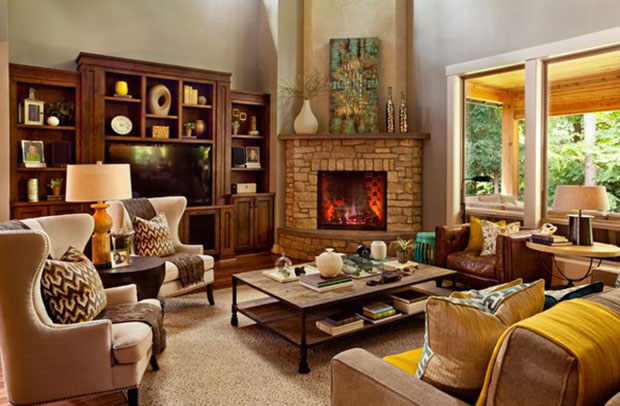 Garrison Hullinger Interior Design
This homey and traditionally designed room has a corner fireplace made up of stones. The art pieces at the top add a beautiful touch to the room.
House 16

Peter A. Sellar
This lovely fireplace has a distinct furnishing that makes it stand out in this living room.
Stone Fireplace Ideas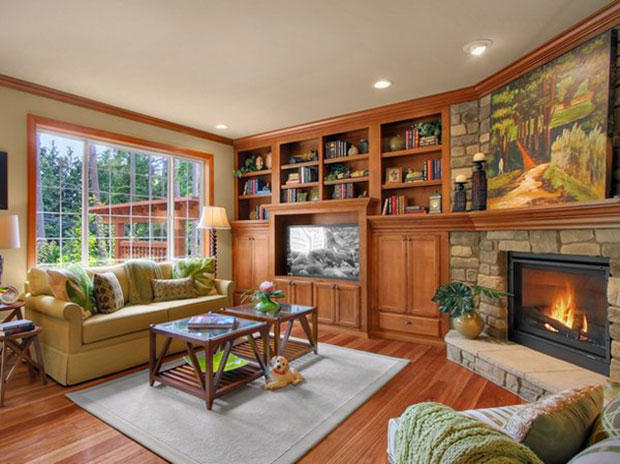 John Buchan Homes
This fireplace is surrounded with rough stones and surrounded by wood cabinets, making it homey and comfortable.
Modern Farmhouse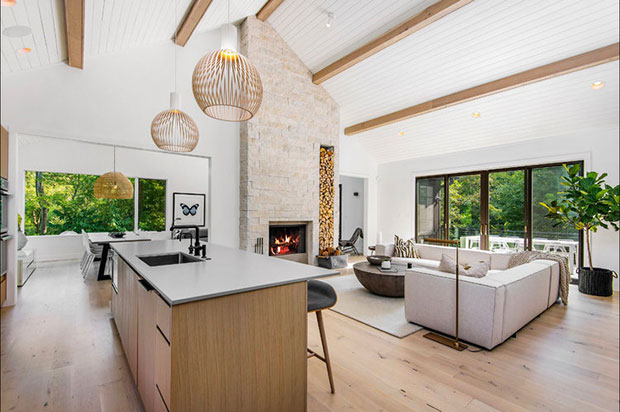 Lincthelen Design
This living room features a cultured cut stone fireplace and wood niche. The area looks very spacious too with its high ceiling and white walls.
Seacliff Remodel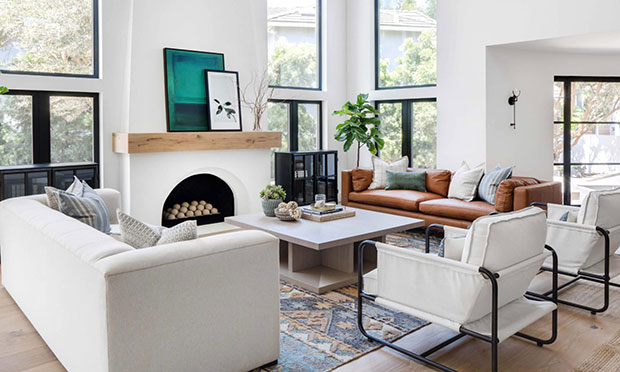 Lindye Galloway
This gorgeous living room embraces the modern design with bright and open windows and white walls.
Cambridge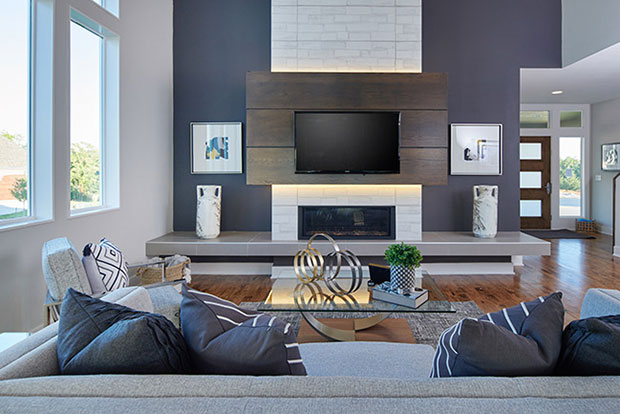 Suma Design
This modern home embraces a fireplace with tv at the top. The blue-gray color is lightened by the white walls and perfectly blended with brown color.
Gas Fireplace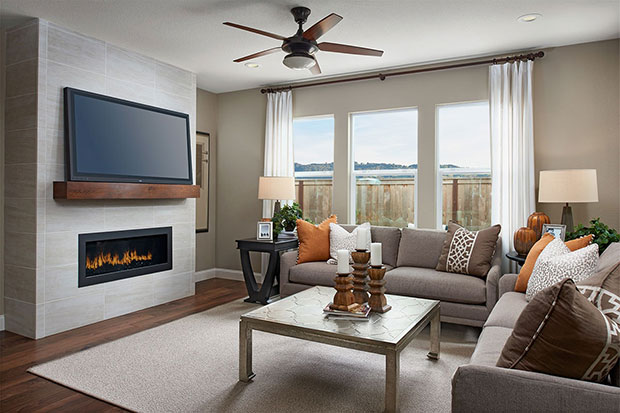 Heatilator
This fireplace gives off a friendly and warm feeling to this modern room.
Wainscott Residence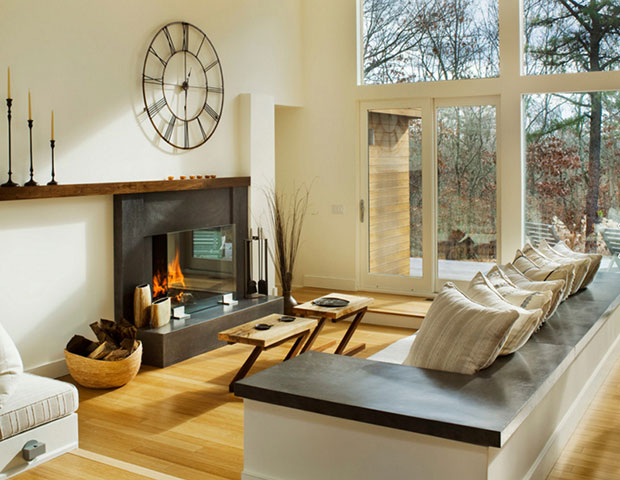 ConcreteWorks East
This artfully designed living room has edgy furniture, even more, emphasized by the black fireplace.
West Vancouver Home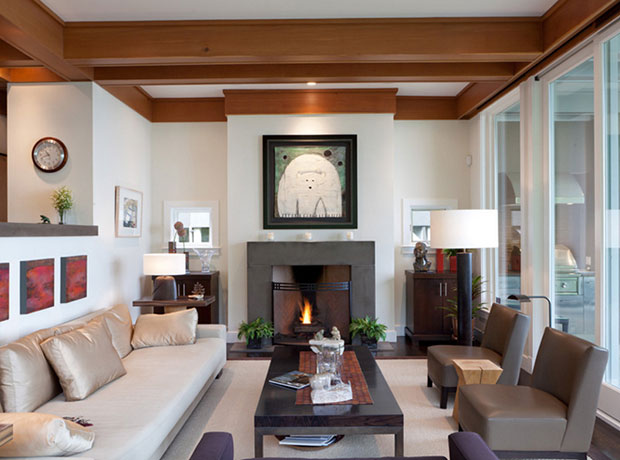 John McSkimming Construction Ltd.
This contemporary living room decorates its fireplace with a gorgeous screen and placed a large and charming photo framed at the top.
Double-Sided Fireplace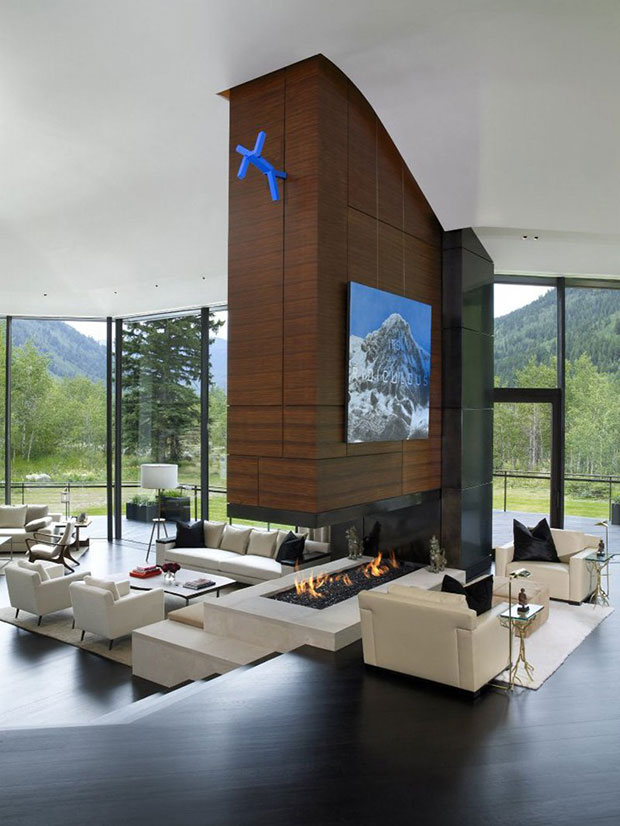 Stonefox
This fireplace is double-sided and separates two rooms. The design adds a spectacular effect especially with the floor to ceiling glass windows.
Beachaus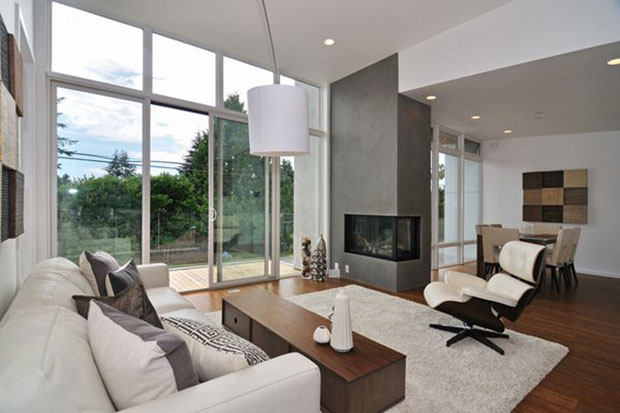 Chris Pardo Design | Elemental Architecture
This living room ideas with fireplace styles a lovely corner fireplace set on a room with neutral colors and wide-open windows.
Dual Flame Fireplace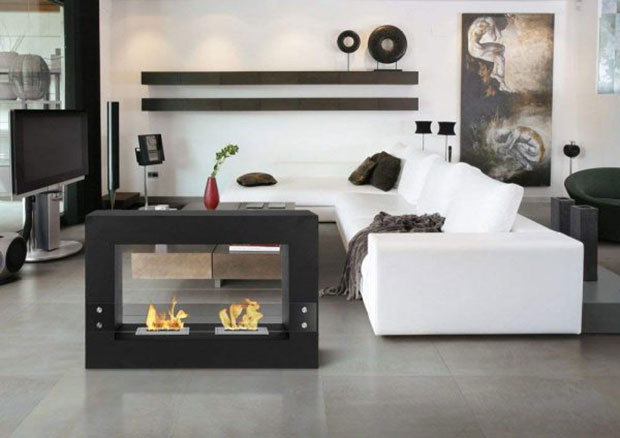 IGNIS
This dual-flame fireplace is one unique living room fireplace design. The fireplace has a modern minimalist design that will surely turn heads.
White Scandinavian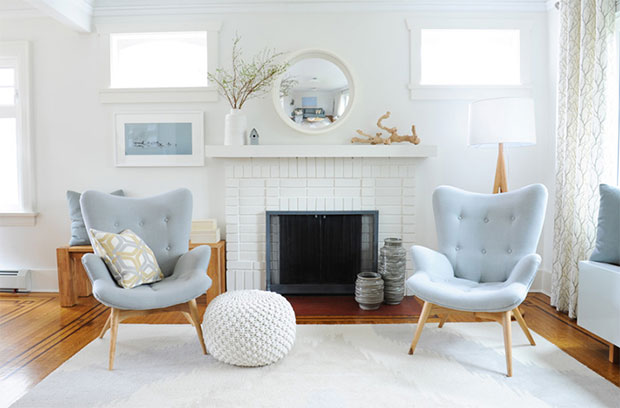 Simply Home Decorating
This living room space looks relaxing with its white walls, furniture, and dashes of powder blue.
Meijifocus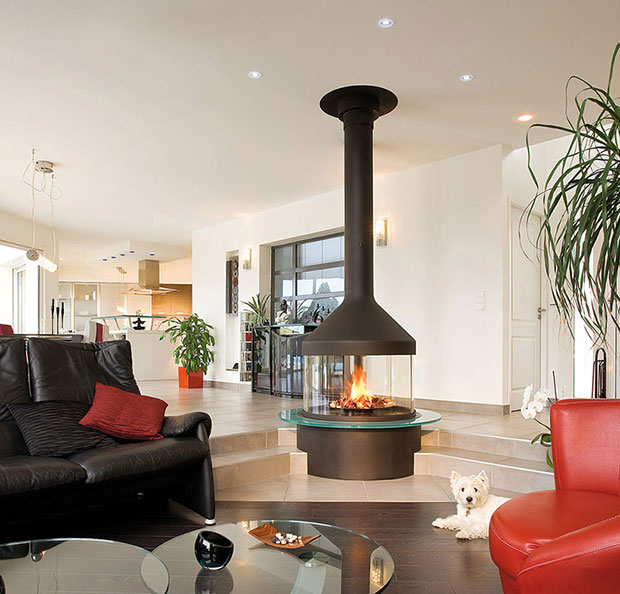 Diligence International
These living room ideas with a fireplace features a suspended one and are encased in black steel. The fire looks cozy enough and adds a stunning centerpiece in the room.
Santa Rosa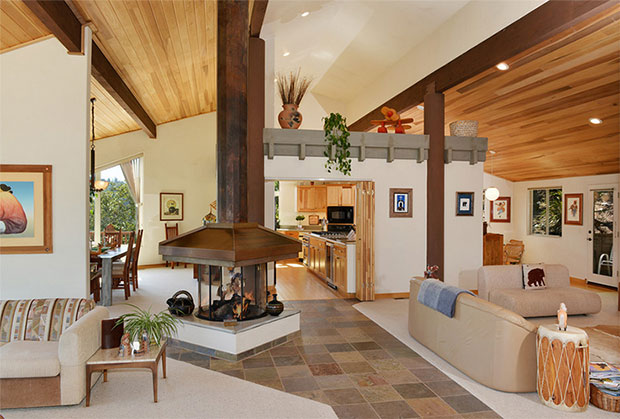 Gary L Holmes Architect, GLH Construction
The living room ideas with fireplace in this room feature a free-standing one. Its copper color looks great with the lovely brown colors of the interior.
Pacific Heights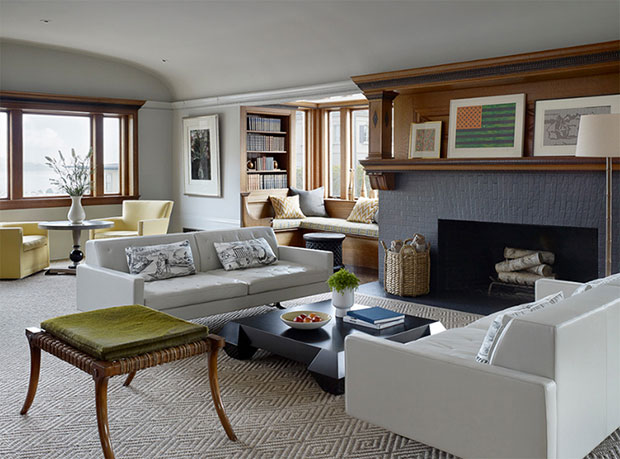 John K. Anderson Design
Standing out from the brown and white colors of the interior, this dark gray fireplace looks prominent and cozy at the same time.
Villa Bonafe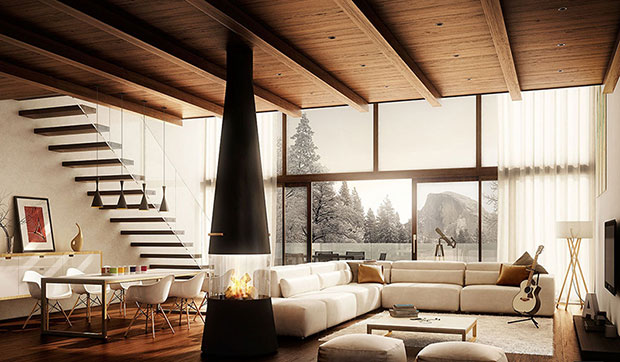 ADC Visualizations
Another suspended living room ideas with fireplace make it to this list with its sleek geometric design.
Cranston Gate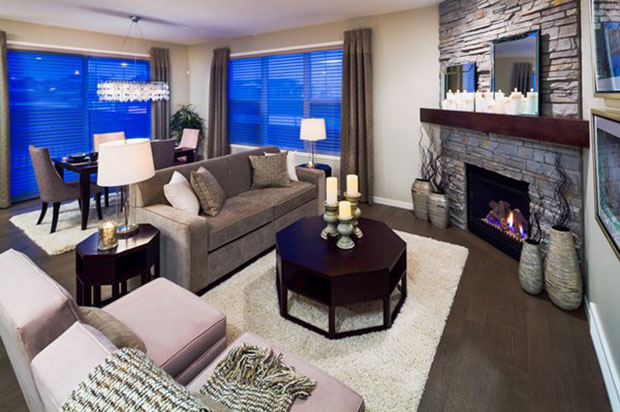 Cedarglen Homes
The stone fireplace set on the corner looks great with its lavender color and unique decorations around it.
Sefcovic Residence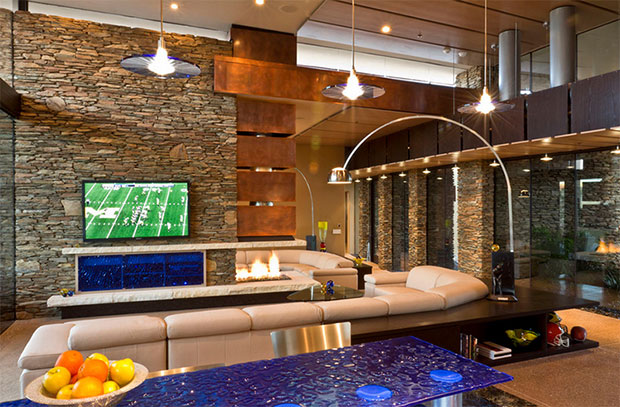 Tate Studio Architects
This copper fireplace looks elegant and luxurious inside this spacious living room.
Carmel Mid-Century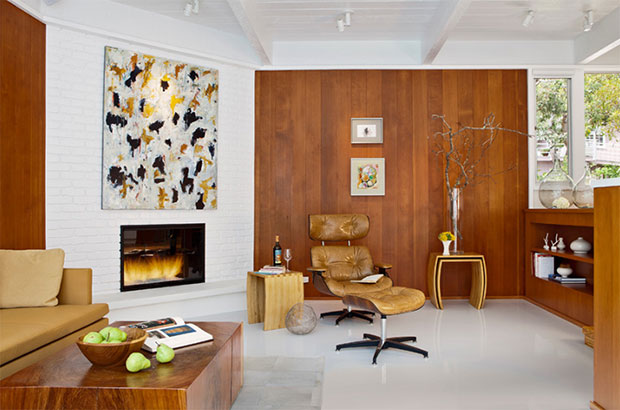 Studio Schicketanz
Aside from the clean and homey look of this living room, the painting on top of the fireplace adds a nice focal point that complements the fireplace.
Art Decor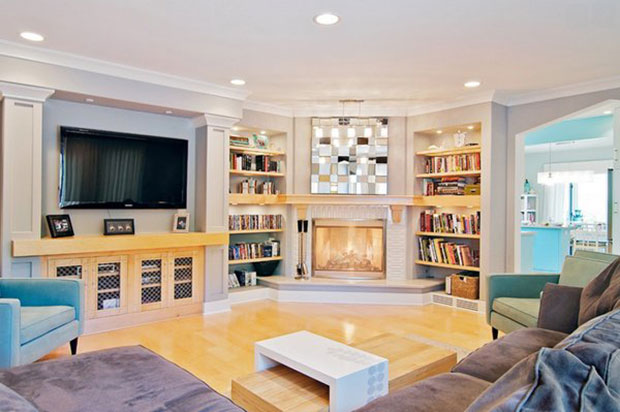 Dan Waibel | Designer & Builder
The bookcases on each side of this fireplace give a nice touch to the interesting interior design of this room.
Summit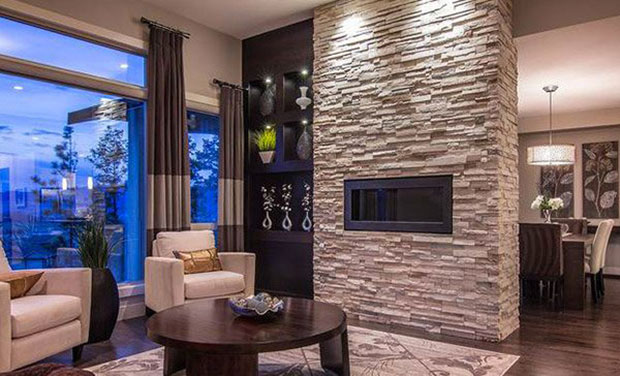 Dilworth Homes
This fireplace design is snug fitly into the stone feature wall. The design is quite minimal and modern.
Pass Residence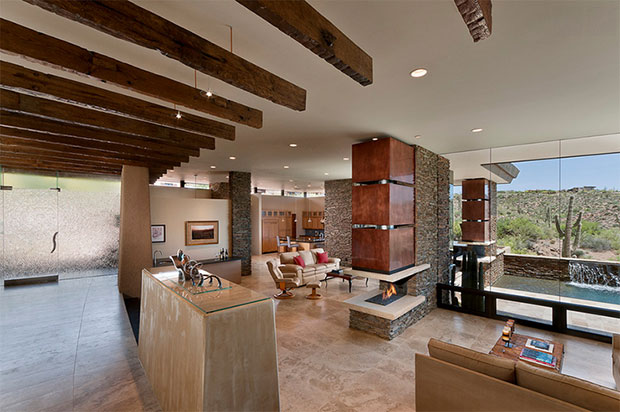 Tate Studio Architects
The fireplace in this room acts as a division between two parts of the living room. Its beautiful copper casing looks lovely with the large glass windows of the house.
Room Highlights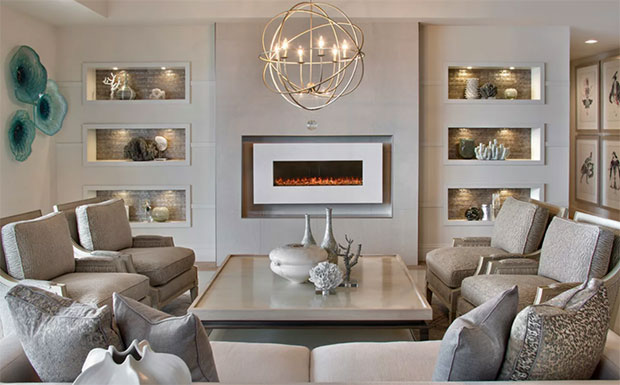 Wilson Lighting
This fireplace not only warms the room but also helps highlight the decorations on the wall. It adds an elegant vibe to a luxurious room.
Bocage Model House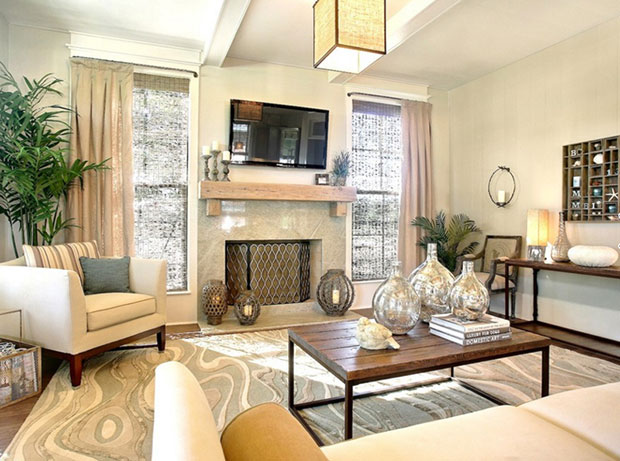 Maison de Reve Builders LLC
The cute design of this home's fireplace greatly complements the silver color of the room's features.
Beautiful Fireplace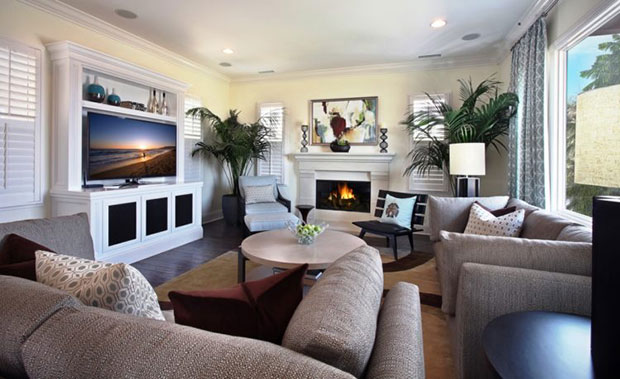 Queertango
The elaborate and classical wall design of this fireplace is fitting with the wide-open window and the neutral colors of the room.
Classy Stone Fireplace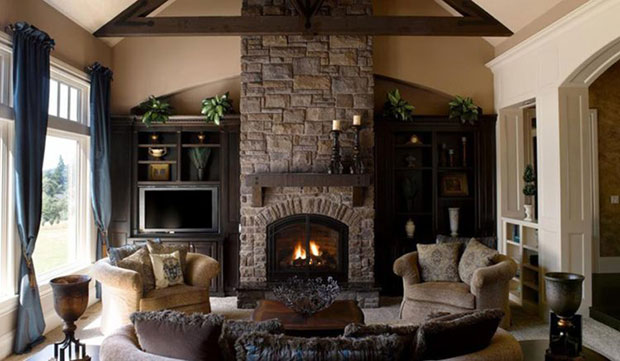 Green Virals
This stone fireplace takes you back in time with its elaborate design and classic living room furniture.
Knollwood-River Oaks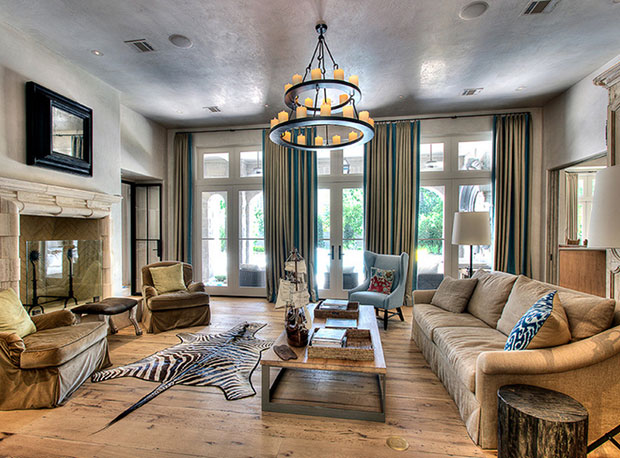 Parker House Inc.
The glass screen of the fireplace is quite subtle and compliments the classy and warm vibe of this room.
Valley View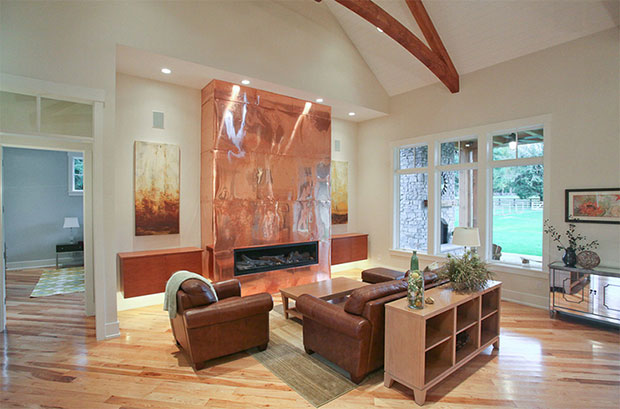 Legacy Adirondack Chairs
The shiny copper design of this fireplace is certainly eye-catching and looks striking with the white walls of the room.
Fiesta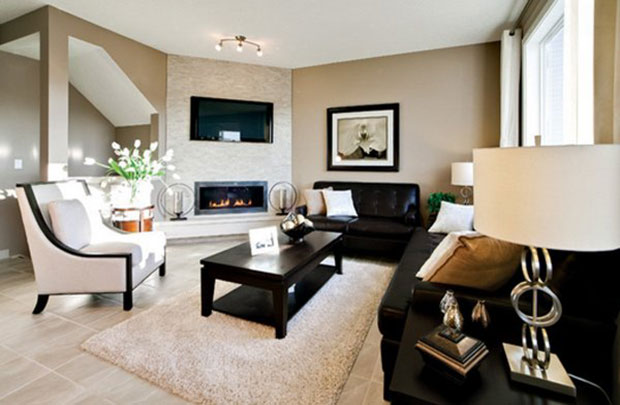 Shane Homes
The classy design of this interior is further emphasized by the in-wall fireplace without a mantle at the corner.
Betsy Burnham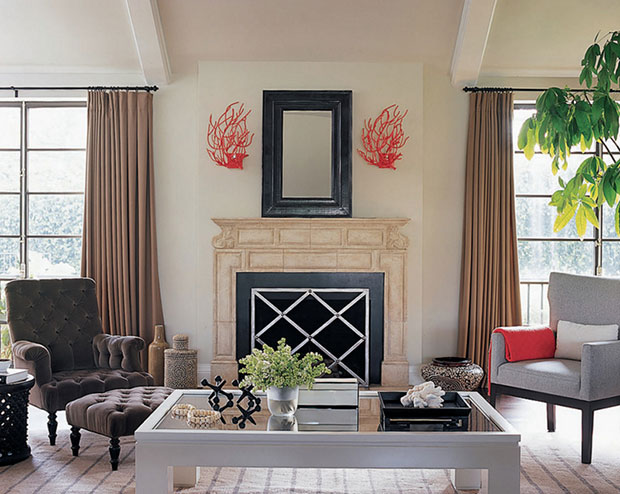 Burnham Design
This fireplace features a simple fireplace screen that complements the room's furniture. The decor on each side of the mirror at the top adds a nice pop of color.
What's lovely with having a fireplace is that you can design around it.
Have you found the perfect living room ideas with a fireplace for your home?
Like This Post? Pin It!