45 Functional Walk-In Closet Designs to Store Your Stuff
|
Having a walk-in closet is definitely a dream, especially for people with a massive collection of clothes and accessories alike. This allows homeowners to create their own walk-in closet design around their personalities and convenience.
Walk-in closets can be seen as a luxurious addition to any home. After all, it would require transforming a room or part of a room into your own organized closet which could cost considerably. It is definitely an upgrade from simply buying a dresser or two for your bedroom.
Though seen as a luxury, it is not necessary to have a huge room to be turned into a walk-in closet. There are many ways to conceptualize your walk-in closet design without having to spend a lot.
How do you lay out a walk-in closet?
As your walk-in closet is primarily to provide you with the best storage solution for your clothes, you must ensure that the walk-in closet is carefully designed for functionality. This means that your walk-in closet design must have the perfect layout planned.
With a perfect layout, your walk-in closet would not only give your space to store your clothes but could also provide you with a room for respite. So, how do you lay out a walk-in closet?
First off, three key factors could dictate your walk-in closet design. These are budget, available space, and storage requirements. Keep these in mind when planning your walk-in closet's layout.
While there are various walk-in closet designs, there are common layouts that tend to be followed.
1. Single-sided
Single-sided walk-in closets are the smallest of all. All storage is placed on the wall opposite the entrance, so you get space to walk. You can use the shortest wall section for a full-length mirror.
2. Double-sided
Double-sided walk-in closets have a clear pathway down the middle as the walls opposite each other are where you place your storage unit.
3. Island
An island walk-in closet is basically a double-sided closet, except you can have an island in the middle.
4. Wrap-around
This is the layout that requires the largest space as it uses all three walls for storage units.
It is encouraged to mix and match these to come up with the most efficient layout for you.
What is the standard size of a walk-in closet?
The standard full-size walk-in closet for two people is a minimum of 7 by 10 feet, preferably with an area of 100 square feet. This size allows storage units on all 3 walls with a sitting area in the middle.
A smaller walk-in can be built as low as 25 square feet.
How much does it cost to have a walk-in closet built?
As one would expect, having a walk-in closet will cost you some. A professionally installed walk-in closet, on average, will cost you about $1200 to $3000. The total cost though depends on the size of your closet and the type of system you choose. A basic walk-in closet design of just shelves and hangers will generally cost less than more elaborate ones with cabinets and drawers.
There is an option for DIY walk-in closets, but you would have to be very careful not to put your home's structural integrity at risk. It can cost you under $150 for a basic setup to $600 for a system with customizable features. You can also buy a DIY fully-loaded walk-in closet system for $1500.
On the other hand, some of the more luxurious walk-in closet designs can cost more than $50,000. So, if you got the budget and resources, you may want to consider that.
Scroll down to see our picks of functional walk-in closet designs!
Linen Specialty Finish
This walk-in closet design offers plenty of spots to sit down while you try on your massive collection of shoes.
Misty Orchard Wood Grain Finish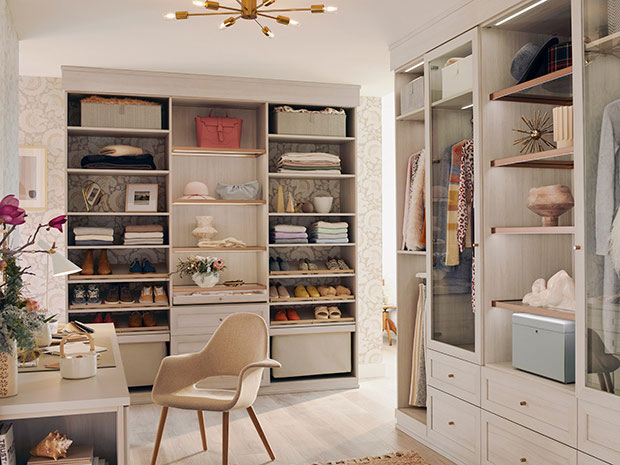 Including a dresser and a chair in your walk-in closet for when you need to put on or remove your makeup would be a great addition.
Paxton Room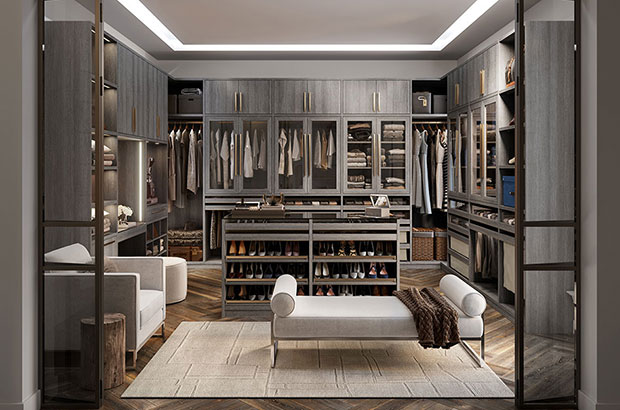 This walk-in closet allows anyone to just unwind with lounging chairs present in the room. They even have an island in the middle that keeps shoe and jewelry collections.
Washed White Specialty Finish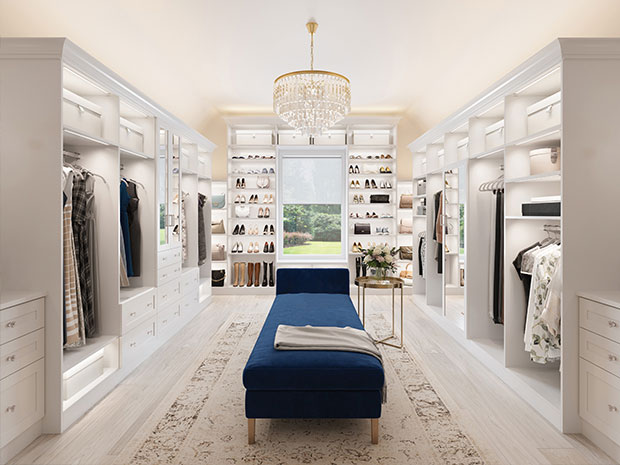 Among the storage system, they make room for a full-length mirror. Also, take notice of the little flower accessory they have here. It goes to show that you can even add tiny planters to your walk-in closet.
Quiet Grove Wood Grain Finish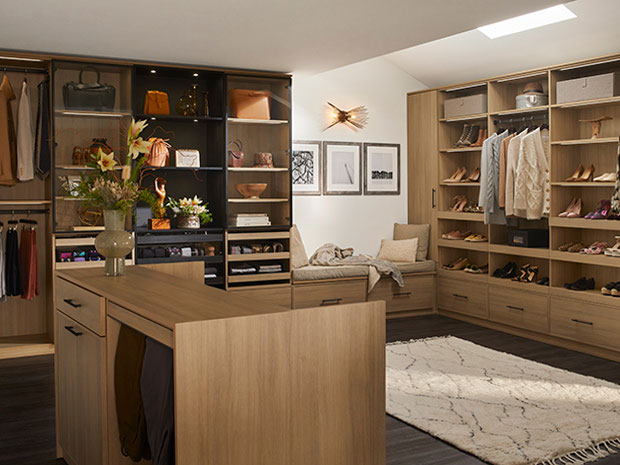 California Closet Company
A nice cozy rug that contrasts with the dark hardwood floor is a great design detail. It also serves as a nice complementary piece to the storage units.
Light Your Space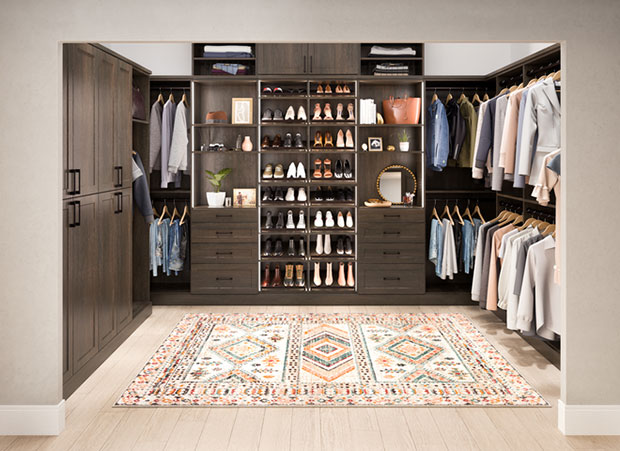 Closet Classics
If you can't have a full mirror or dresser with a mirror included in your walk-in closet design, having a small mirror like in this room will suffice. It's a nice accessory touch while also providing function.
In addition, the eclectic rug design definitely lights up the room.
Chocolate Pear Tree Finish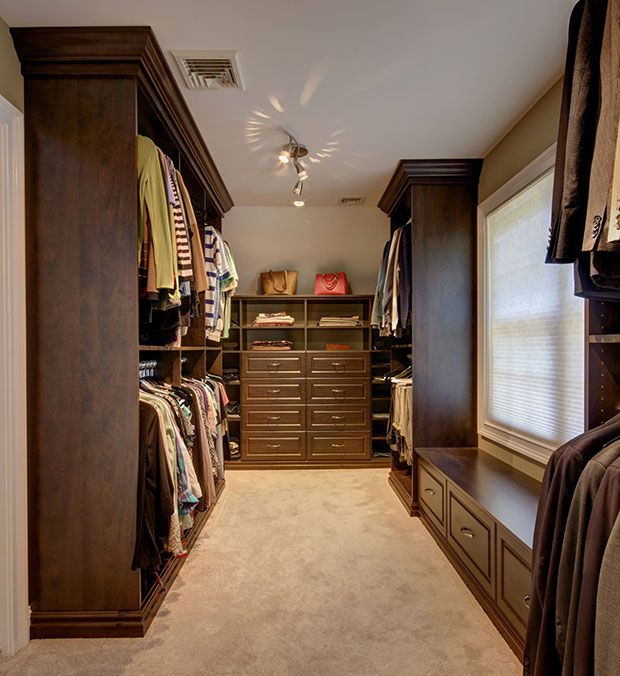 Some walk-in closet designs are long and narrow such as this one. The size should qualify it to be a single-sided walk-in closet, but it is planned efficiently to make good use of every space. They even have a window seat!
Cappuccino Cherry Finish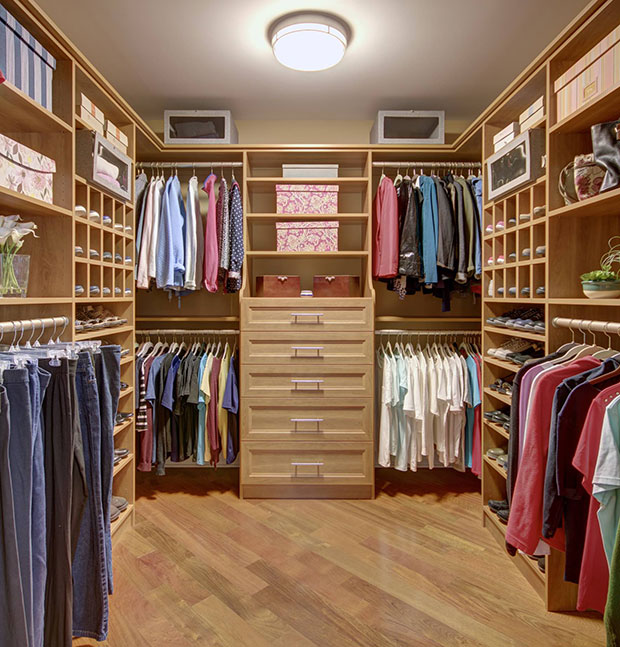 Even the hardwood floor matches the cappuccino cherry finish of the storage unit. It's a soft and lovely finish fitting for a kid's or a teenager's own walk-in closet.
White Chocolate Finish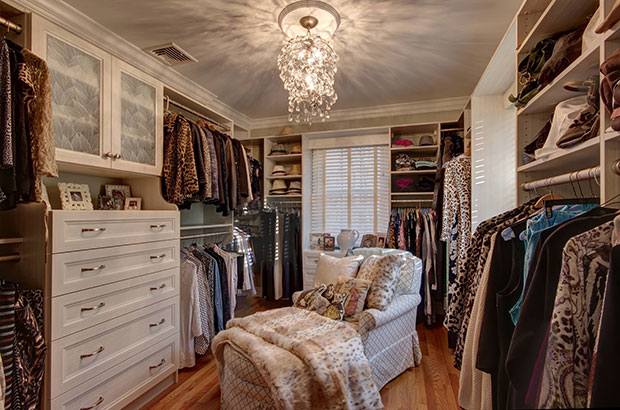 Though positioning a chaise lounge diagonally may not be the smartest choice given the space for foot traffic, it is a nice addition that goes so well with the storage unit's finish.
Chocolate Pear Tree Finish 2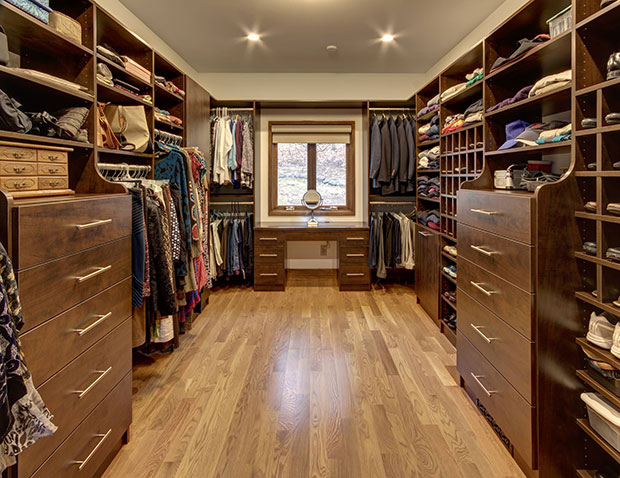 Built-Rite Closets
Most walk-in closet designs like this would have an island or a seat in the middle, but this home opts for none of that which is all fine as well. It gives much room to move around, especially if a closet is shared and used by two people at the same time.
Casa O – Polo Club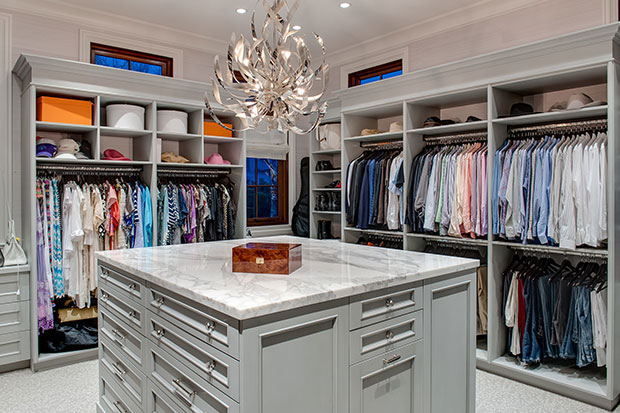 Planning & Building
If not the marble-topped island, then this extravagant chandelier easily brings an air of luxury and elegance into this walk-in closet design.
Tumidei Walk-In Closet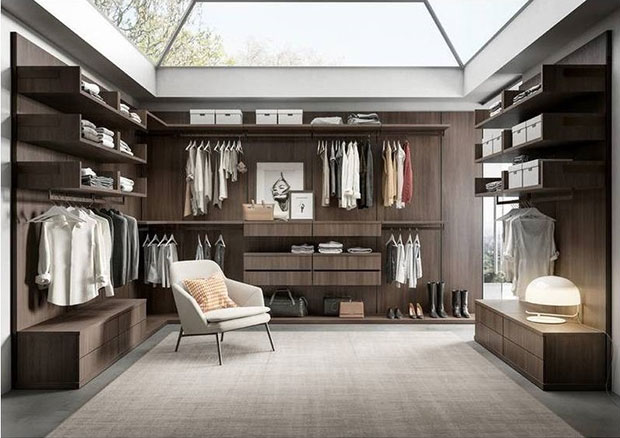 Some walk-in closets are squeezed in between rooms so there may no room for windows. But this one has an entire skylight ceiling to bring some natural light into the place.
Naked Walk-In Closet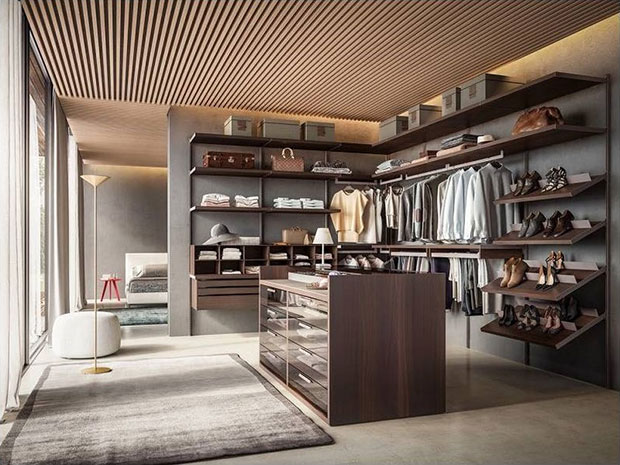 If you plan on having a center island in your walk-in closet, it should be a good spot to stash away your tie or jewelry collection and the like. If you have a jewelry collection, consider an island that has glass drawers like this one.
Aristotele Walk-In Closet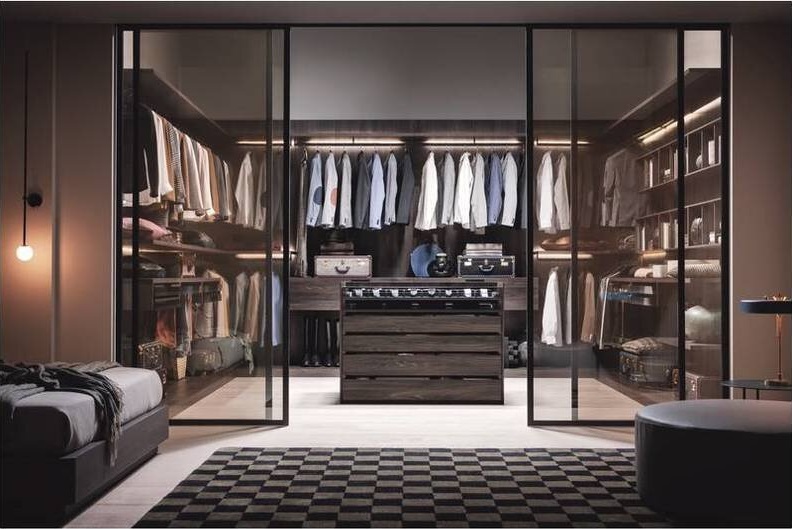 Bello Spazio
If you have the luxury of space, why not add sliding doors to your walk-in closet? This will add some sense of privacy.
Bayshore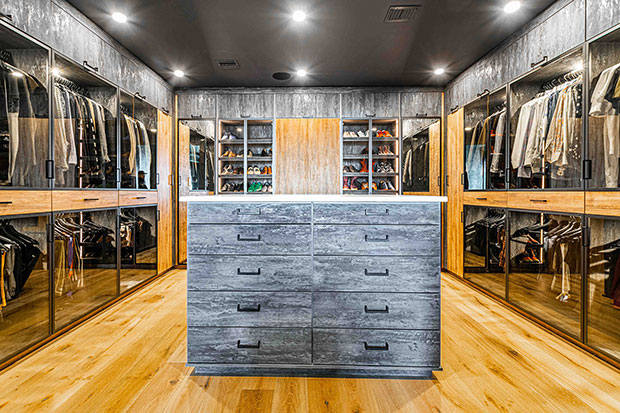 The wood finish is an interesting choice that goes along well with the grey ceiling. Plus, the glass door-covered hanger units give this walk-in closet design are cleaner look.
Modern Minimal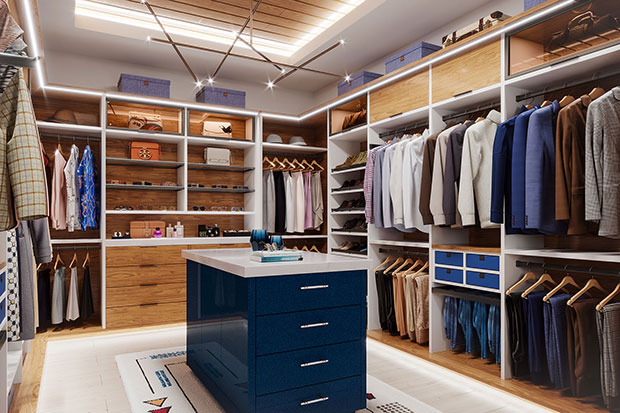 The island cabinet's color is an interesting choice, easily making it stand out in this room.
New Boutique Style Closet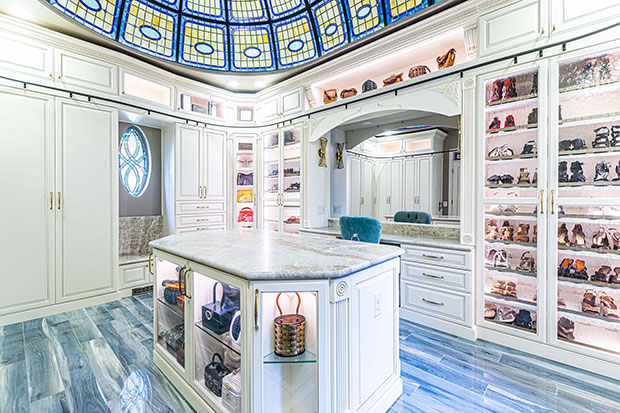 From the beautiful artsy ceiling to the ornate furnish, down to the glossy marble floor, this walk-in closet design must have cost a fortune.
Small Antique Walk-In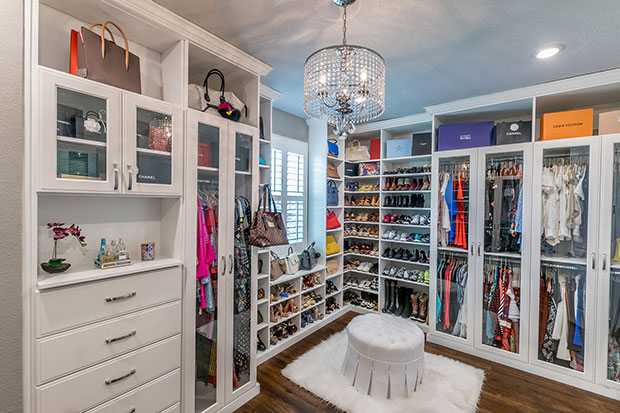 This walk-in closet seems to have more shelves for shoes than anything. It's a great reminder that you can build your storage unit based on the collection of clothes and clothing accessories you have.
Louisville Wardrobe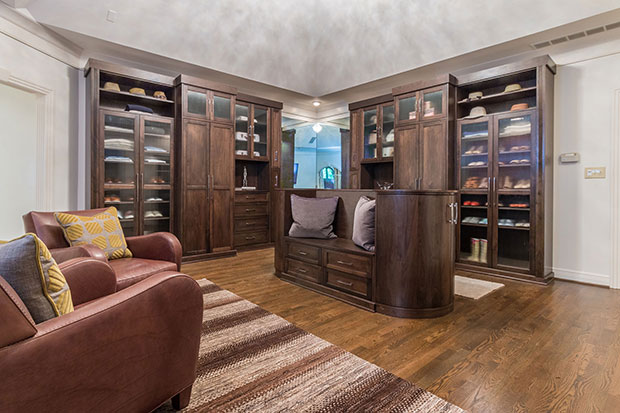 The seating choices are great complementary pieces to the storage unit, giving this walk-in closet an overall vintage look.
Corner Wardrobe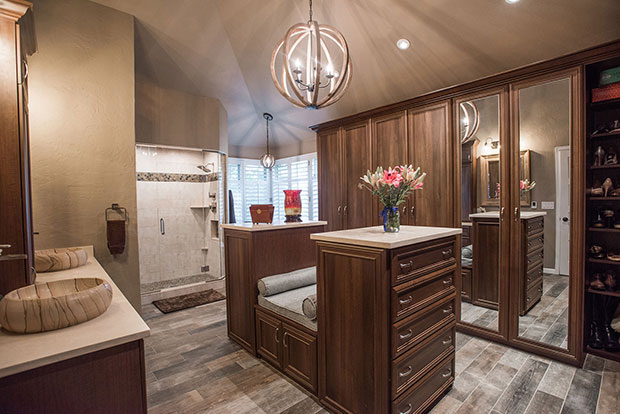 This home has its walk-in closet right going into the bathroom. So, you can easily get dressed after taking a relaxing bath.
Modern Closet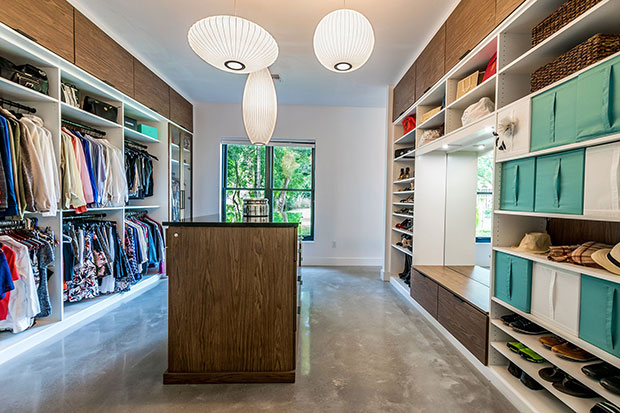 The homeowners of this modern closet utilize unique rattan baskets and the likes to get the most out of their open shelves and have an efficient storage system.
Hollywood Regency Style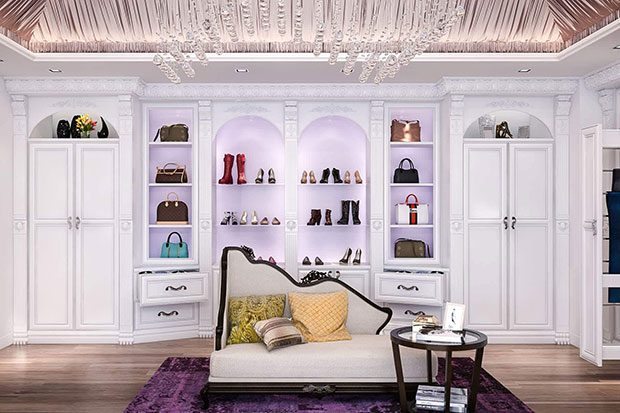 Some people take full advantage of their walk-in closet to create something that looks like a commercial boutique rather than a residential dressing room. Just take a look at this Hollywood Regency-style walk-in closet, for example.
Symphony Home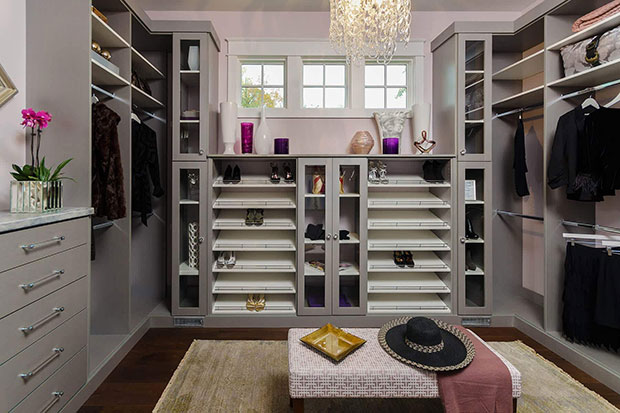 Slanted shelves like these are a great system for your footwear collection. It better displays your collection, making it easier for you to choose which pair to use.
Orlando Office Walk-In Closet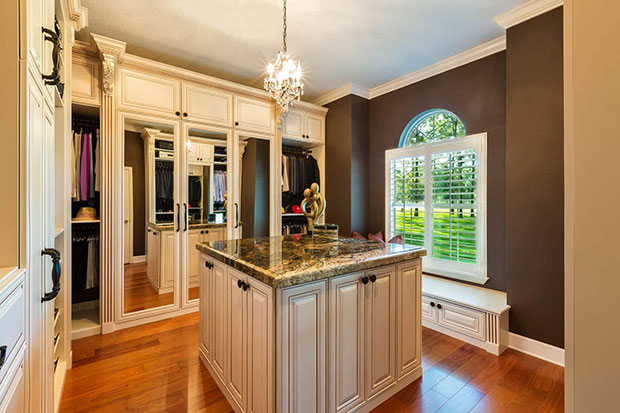 If you're going to have a classic wardrobe classic in your walk-in closet, the doors can be used to add full-length mirrors. This way you can save up some space.
Asian-influence Master Closet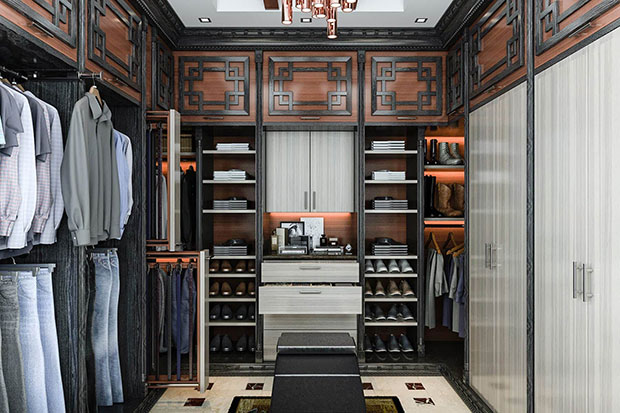 The Asian influence in the details is clear and gives this walk-in closet design a more sophisticated look.
His and Her Walk-In Closet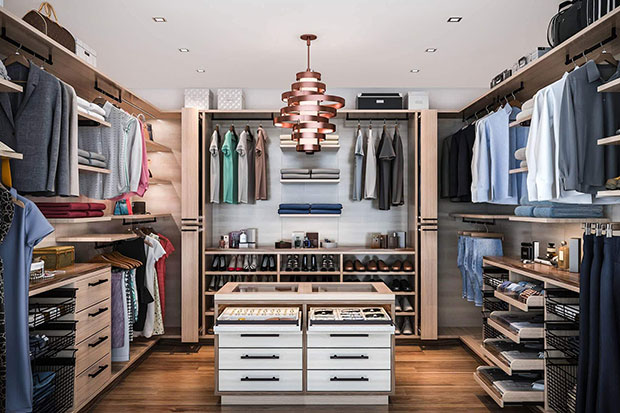 The symmetry in the layout and design is impeccable. It also sets a clear divide between "his" and "her" side.
Narrow Walk-in Closet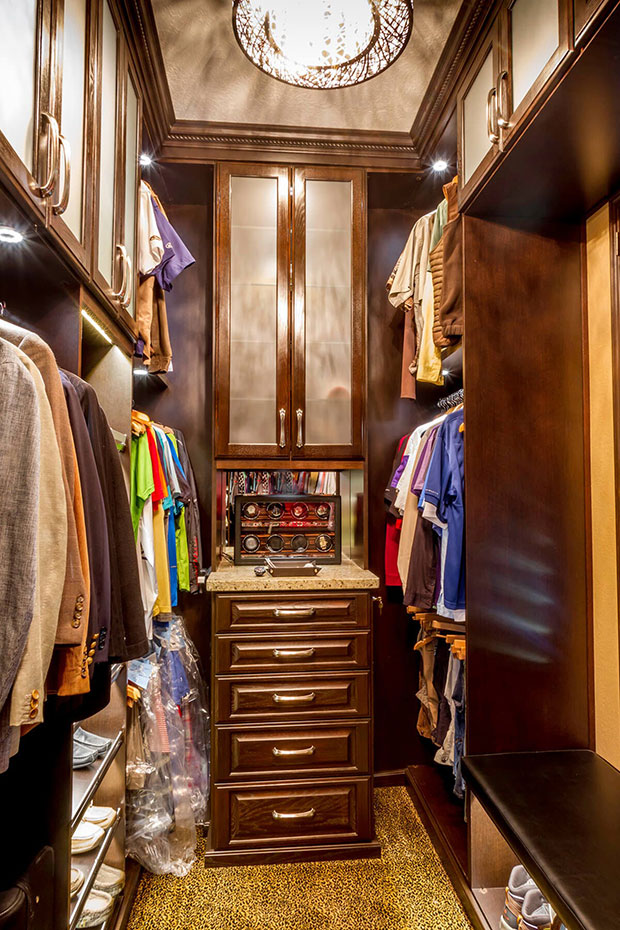 You don't really need a lot of space to create an elegant and sophisticated walk-in closet. Just take a look at this one!
Woman's Closet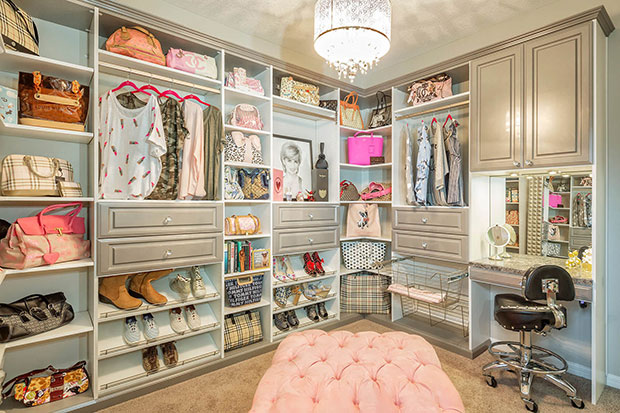 The most interesting part about this walk-in closet is the little space for sewing. It's a great addition to consider for anyone who has such a hobby or interest.
Modern His and Her Walk-in Closet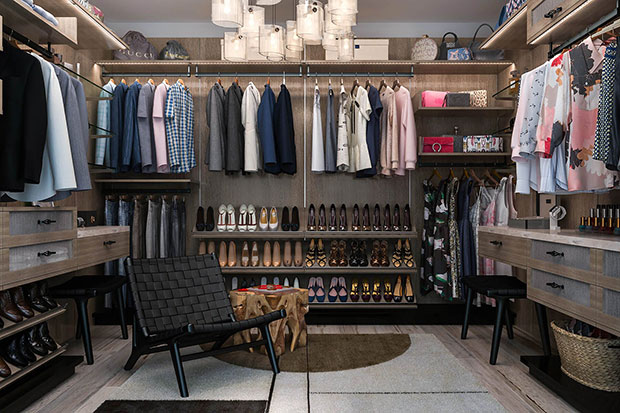 It's pretty interesting to see that they added a couple of shelves on "her" side of the walk-in closet for a collection of handbags.
Her Side Walk-in Closet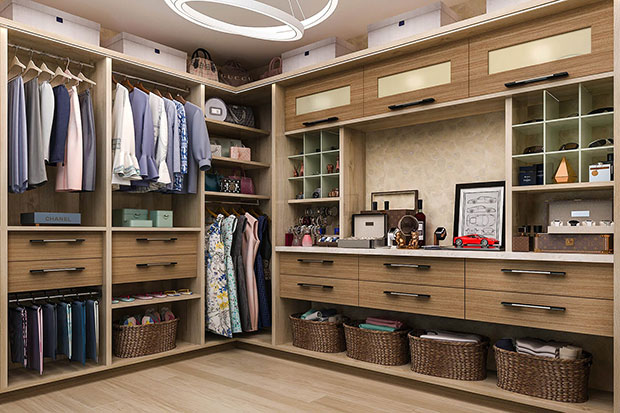 Closet Factory
With that open bottom shelf, using wicker baskets would be the most efficient way to get organized.
Ladue MO Private Residence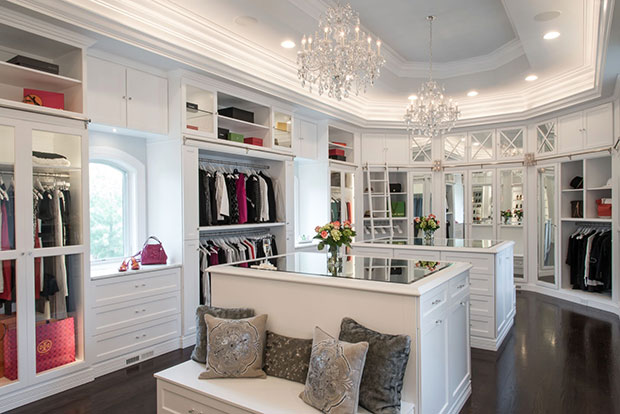 G. Terbrock Luxury Homes
This private residence's walk-in closet goes way too high in the ceiling that they even have a rolling ladder to reach these places.
River Road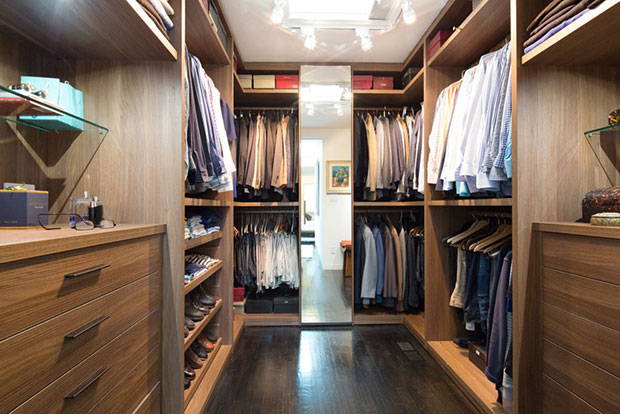 Poliform | Sagart Studio Inc.
Need a full-length mirror in your walk-in closet? No problem. In this walk-in closet design, they managed to find a place for a full-length mirror with the storage unit.
Meadowlark Way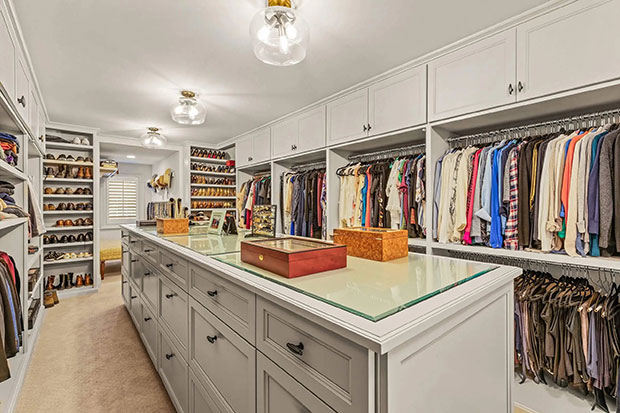 For a long walk-in closet design like this, they fitted a long island right in the middle. They do so too without sacrificing some space for foot traffic.
Cardinal Drive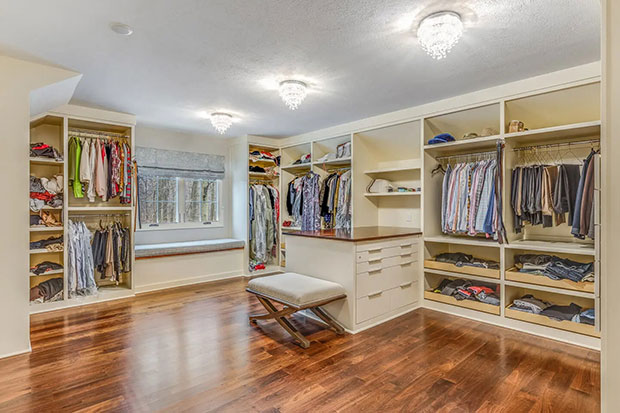 Rather than an island right in the middle of the walk-in closet, they have it on the side. It's a pretty interesting design choice that definitely has its own purpose.
Ridgecrest Road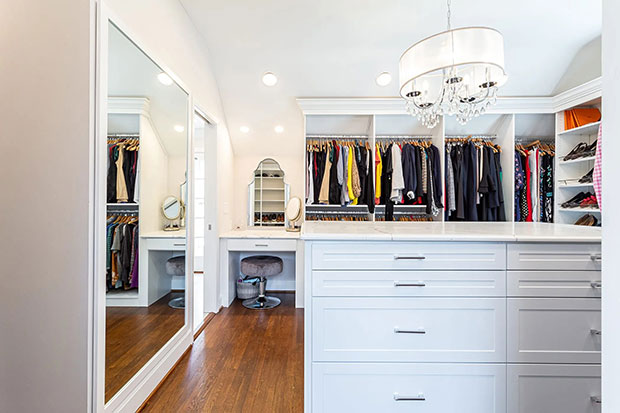 Payne & Tompkins Design-Renovation
If the small dresser with a mirror is not enough, you can add a full-length mirror to your walk-in closet design too. Using the wall by the entrance to the walk-in closet, the mirror is perfectly situated.
Gold Coast New Construction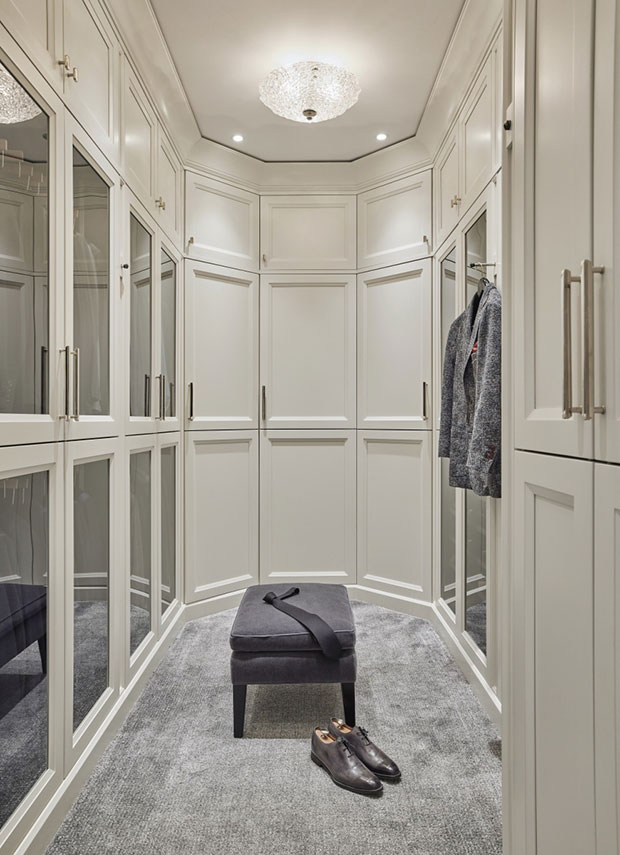 Abruzzo Kitchen & Bath
Unlike most walk-in closet designs, every single shelf is hidden behind cabinet doors. It brings an air of mysteriousness to the room.
Upscale Transitional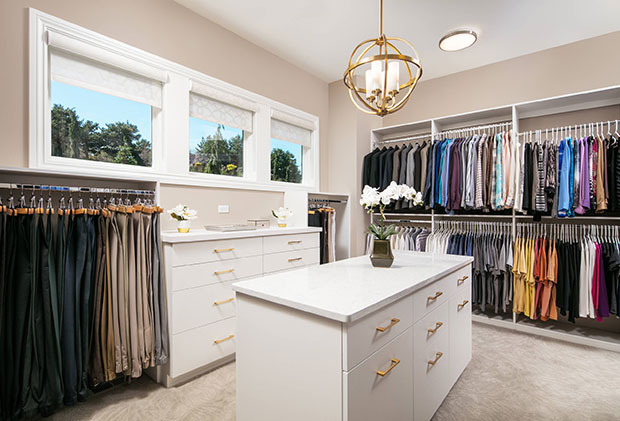 Arjay Builders Inc.
This walk-in closet design is one of the simplest and most minimalistic ones on this list. Other than the shaker cabinets, the walls are just laid up with hanger units.
Modern White House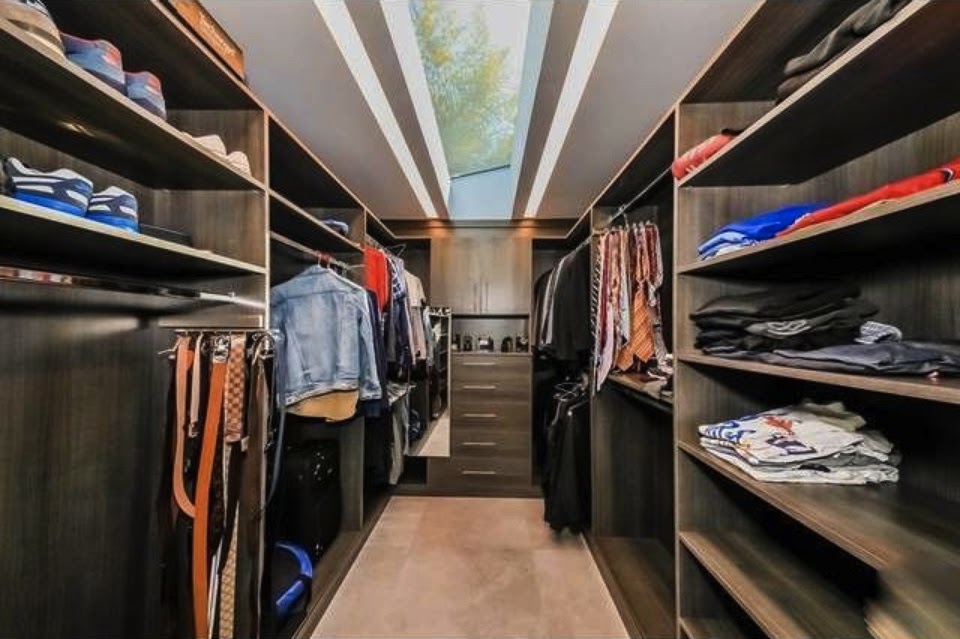 Architecture JHK
With the absence of windows, they built a skylight ceiling into this walk-in closet. Interestingly, it goes along the length of this long walk-in closet.
Hailey's Hideaway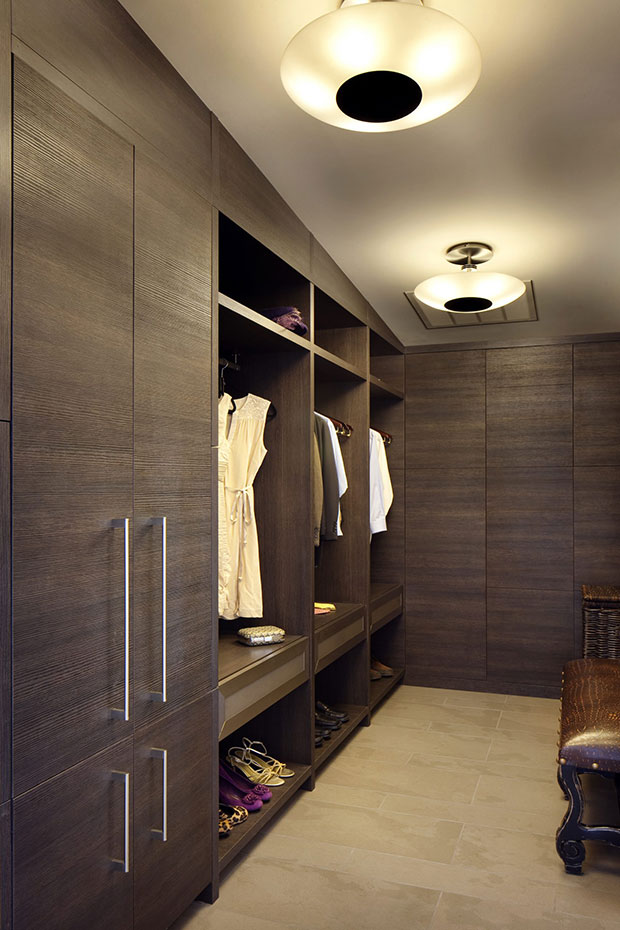 Distinctive Countertops & Cabinetry
A small and minimalistic walk-in closet design yet brims with sophistication thanks to the impeccable finish on the storage units.
Modern Luxury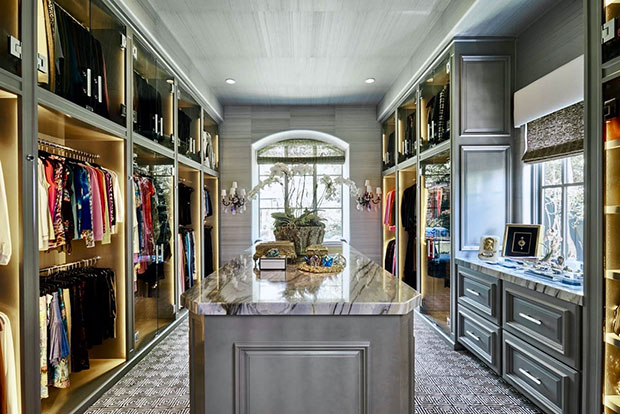 What could be more luxurious than having nearly every shelving unit with its own lighting? Not only that, but the glossy and silvery finish emphasizes that luxurious look.
Boutique-Inspired Closet Westlake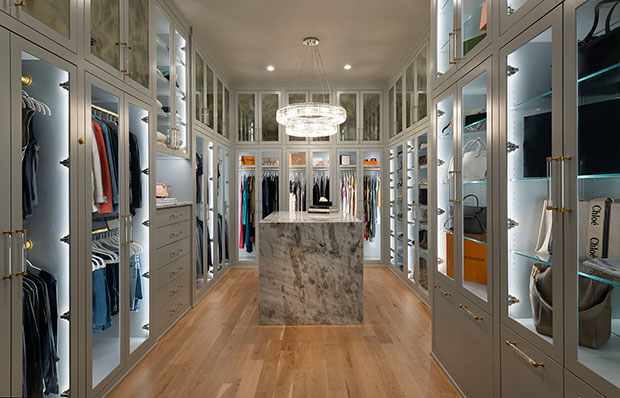 Similarly, this walk-in closet also has light fixtures inside the shelving units so it looks like you're walking into a commercial boutique.
Preston Hollow Glam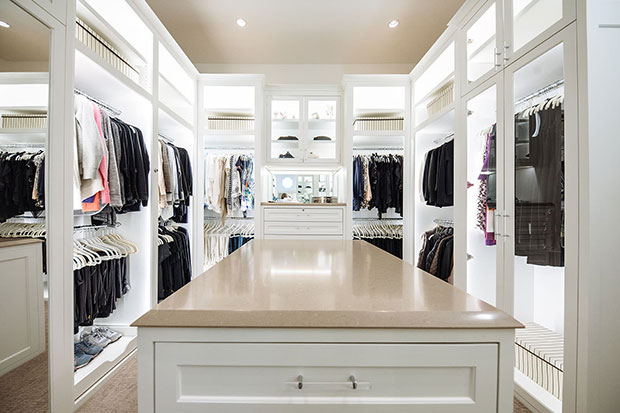 With the white finish and the white light, this walk-in closet is looking extra blindingly bright.
Long Narrow Closet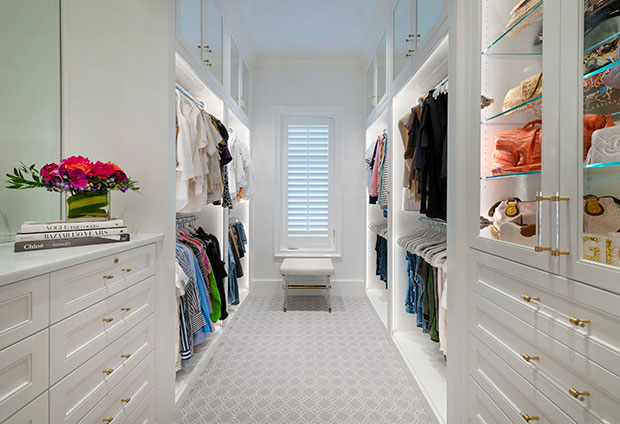 Despite the limited space, they managed to have a dresser with a mirror built right at the entrance of this walk-in closet. They also have a little ottoman chair if you need to sit down for a bit.
Westlake His & Hers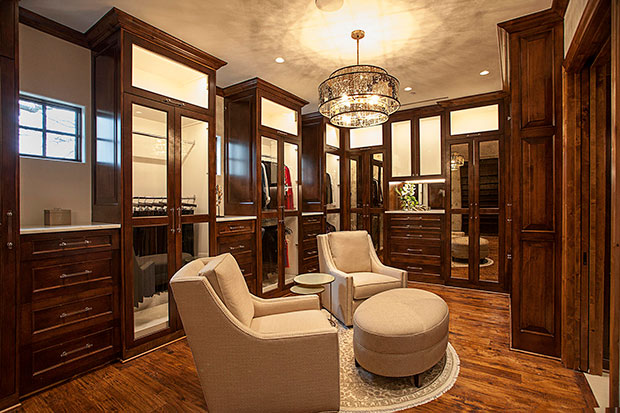 Amazingly, they were able to fit a small lounging area in the middle of this expensive-looking and sophisticated walk-in closet.
Kips Bay Show House His Closet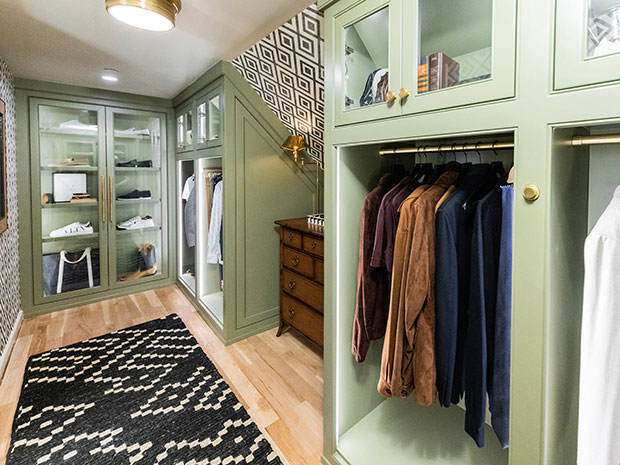 The Couture Closet LLC
This is one of the best walk-in closet designs for the sole reason that they took full advantage of the available space and created the most efficient walk-in closet.
That's all for stunning and equally functional walk-in closet designs! Which one of these captured your attention the most?
Like This Post? Pin It!