45 Gorgeous White Dresser With Mirror To Complement Your Interior
|
Dresser with mirrors, also called bureaus, are a favorite addition to a room, particularly in the bedroom. It's where we often put our stuff for safekeeping. Homeowners nowadays have also placed dressers with mirrors in the living room and other parts of the house. This is because a mirrored dresser can help brighten a room because of the reflection of natural or artificial light. With the wide selection of available dressers today, white dresser with mirror are some of the most sought-after.
White is often the go-to color for homeowners because of how natural it looks and how it blends well with various colors in our interior. A perfect example is white kitchen cabinets that look clean and crisp. This is no wonder why a white dresser with a mirror is such a good option to have.
What is the difference between dresser and chest drawers?
The difference between a dresser and a chest dresser is the size. Chest dressers are tall and narrower while dressers are usually shorter and wider. In terms of usage, it is usually up to the homeowner how they will use it.
When you have a narrow space, chest drawers are often the perfect choice. They are also often used in walk-in closets and smaller bedrooms. Dressers, on the other hand, are great for large bedrooms with plenty of space.
White Dresser With Mirror Ideas for Inspiration
If you are looking for a white dresser with mirrors, we have a great collection for you.
Kennell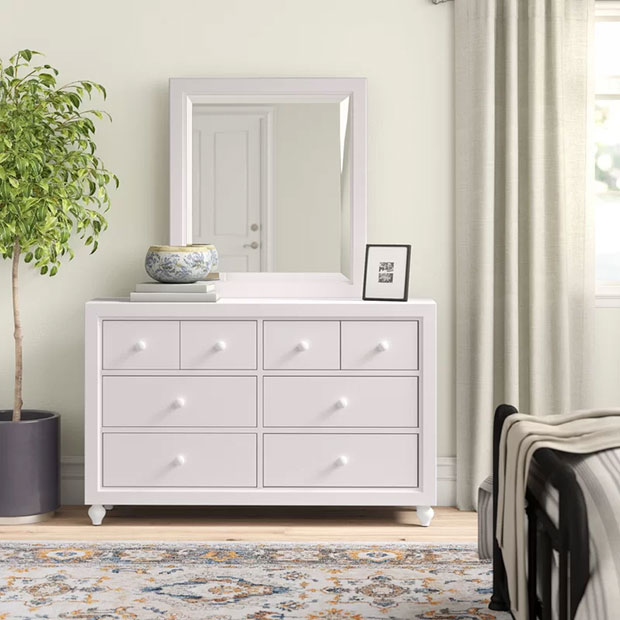 The dresser has a nice symmetrical look with a curved stand. It also has a rounded handle for easier grip which makes opening the drawers a lot easier.
Aeroome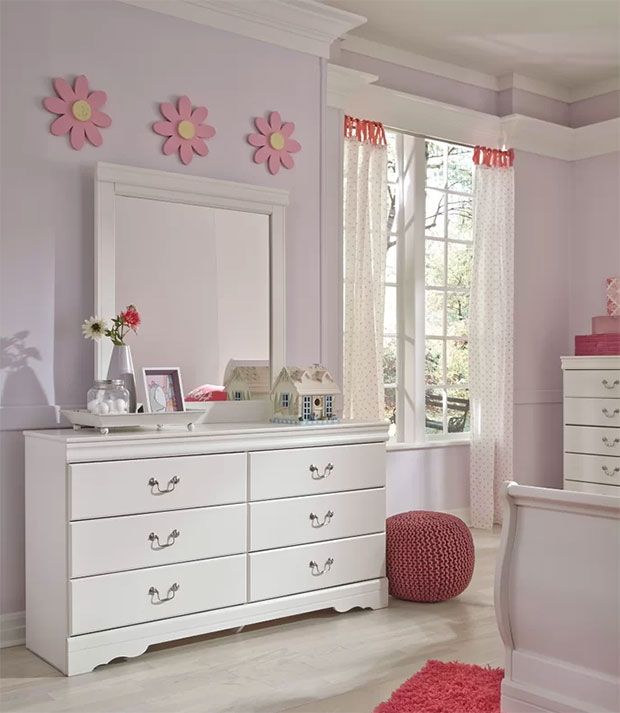 Three Posts™ Teen
This white dresser with a mirror is perfect for teenage bedrooms. It has six smooth-gliding drawers and a mirror with a thick frame. Your teenagers can put up a picture here.
Malaika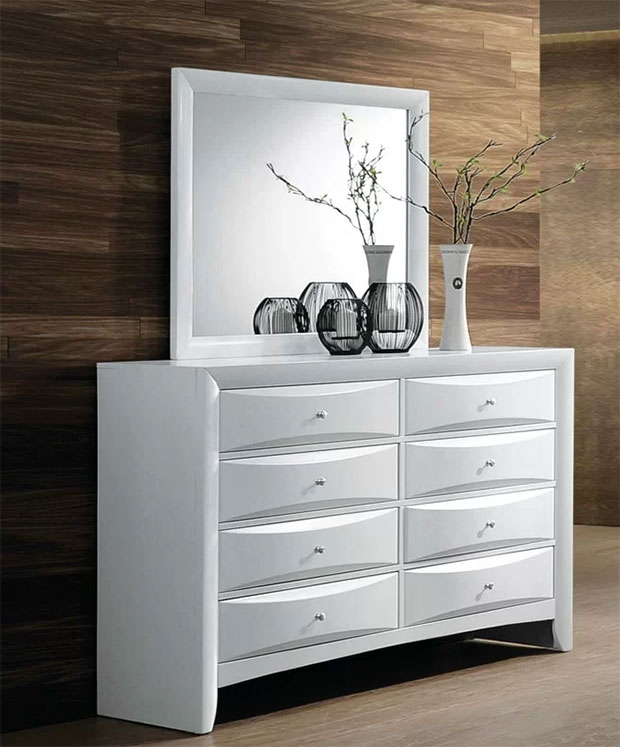 For a more eye-catching white dresser, this here have a beveled drawer font and pull knobs in a brushed nickel finish. The design is contemporary and will look well with most bedroom designs.
Seirra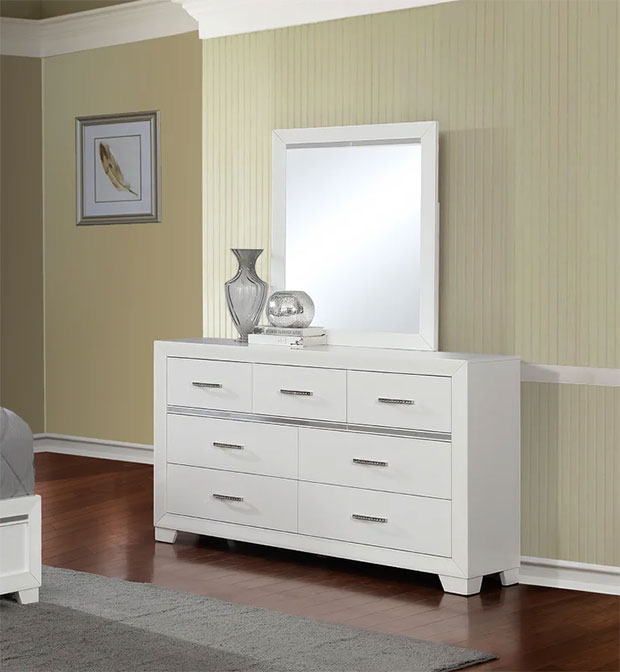 Red Barrel Studio®
The white dresser with mirror has 3 smaller drawers and 4 bigger ones. the design is quite modern and will look perfect in modern homes.
Amanda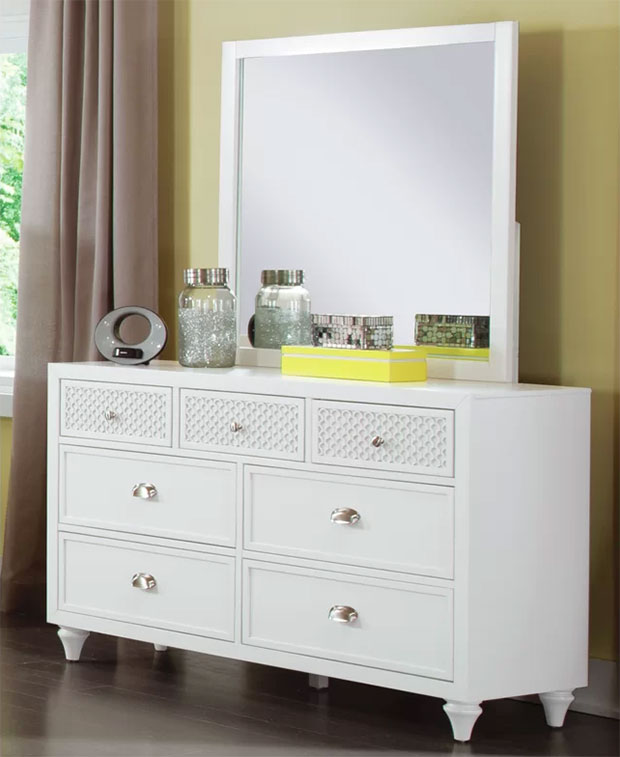 My Home Furnishings
Instead of the usual drawer design, this white dresser with mirror has a rough top drawers with patterns. The style adds a bit of texture to the overall design.
Leonido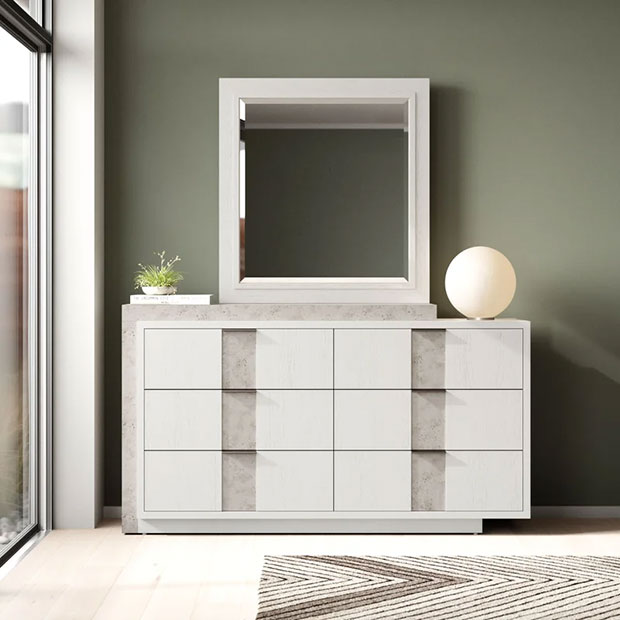 Instead of the symmetrical design, we are used to seeing, this dresser has an uneven top with a distressed finish. The handles are made from brushed satin nickel bar pull hardware for a clean look.
Mcinerney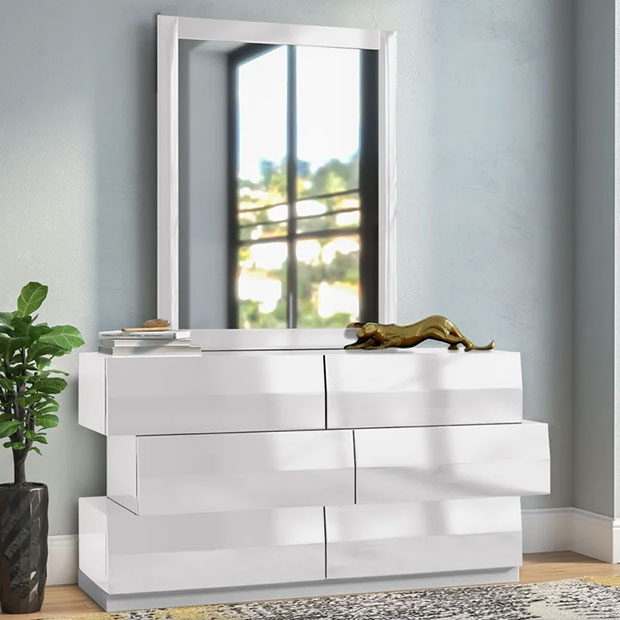 This dresser has a creative design that can add a fun and stylish look to a room. It embraces a stacked look and high-gloss finish.
Mchenry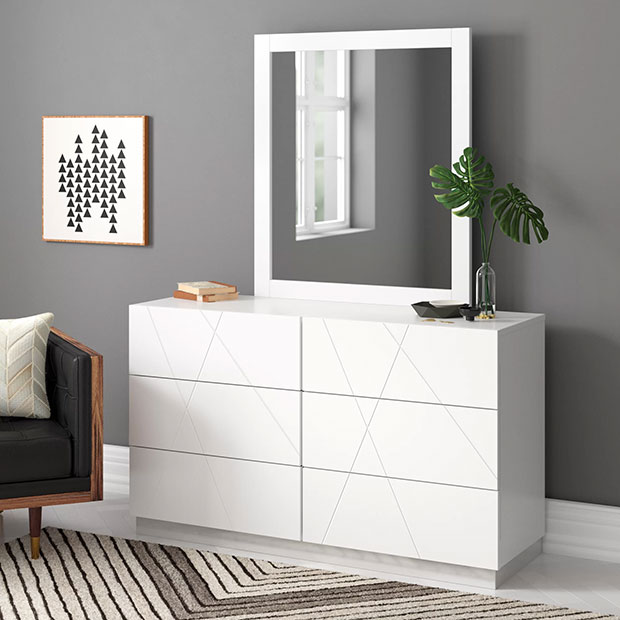 The ultra-modern look of this dresser is enhanced by the geometric detailing accents. This dresser has a crisp white or gray lacquer finish that further enhances its design.
Shanelle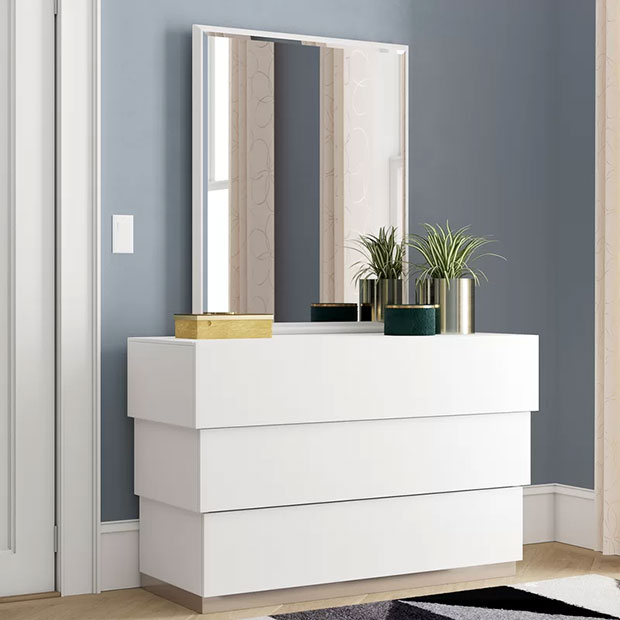 Another artistic and creative look is showcased by this lovely white dresser. It has a white lacquer high gloss finish and minimal design.
Osaze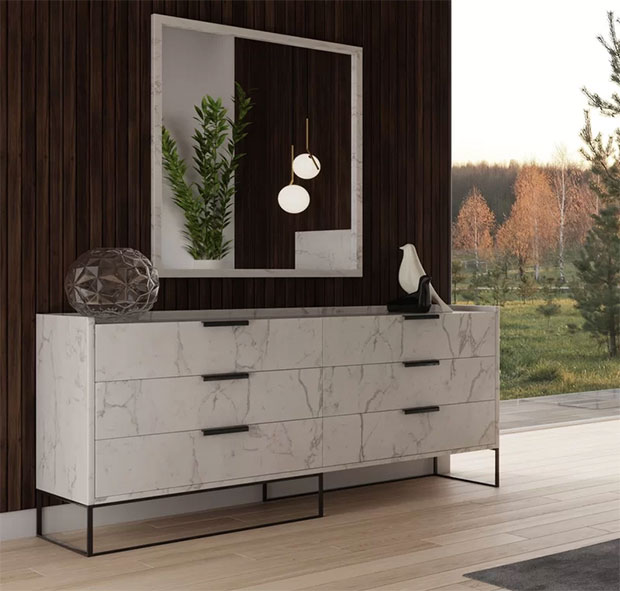 Wade Logan®
For a more luxurious look, this white dresser with a mirror uses faux white marble instead of engineered wood. It has a steel base that makes the item more modern.
Henton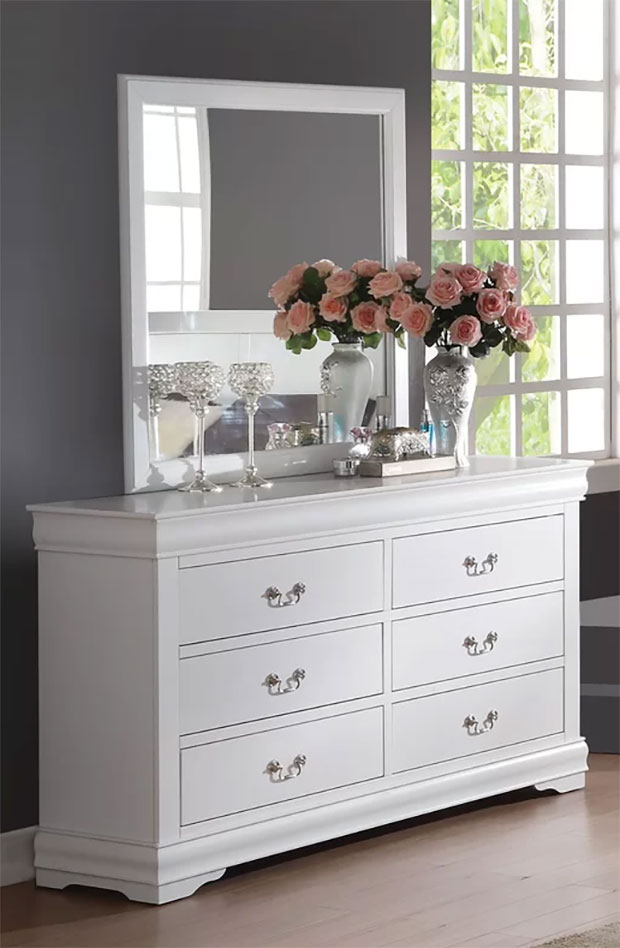 Canora Grey
The classy curves of this dresser make you think of traditional homes. It has a classic drawer handle too.
Holliman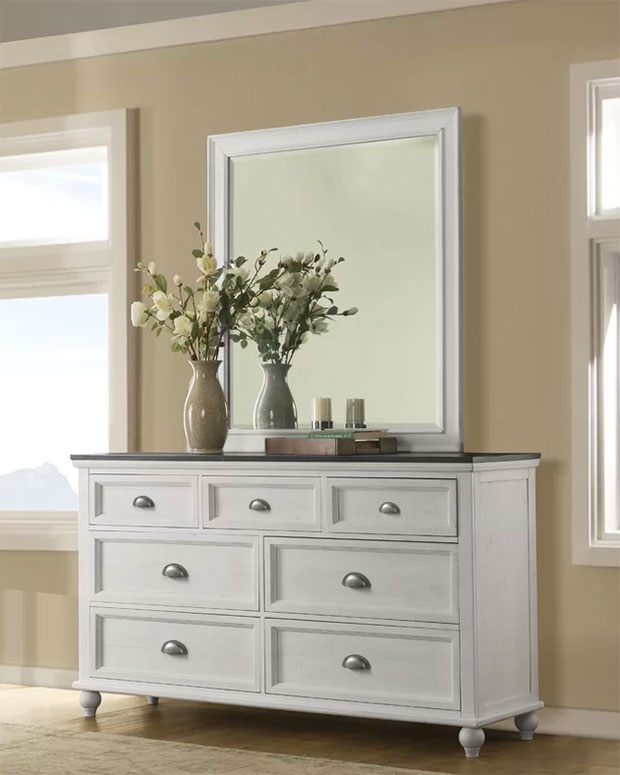 Lark Manor™
If you are looking for a more vintage look, this dresser is perfect for you. It has rounded legs and silver drawer handles.
Milly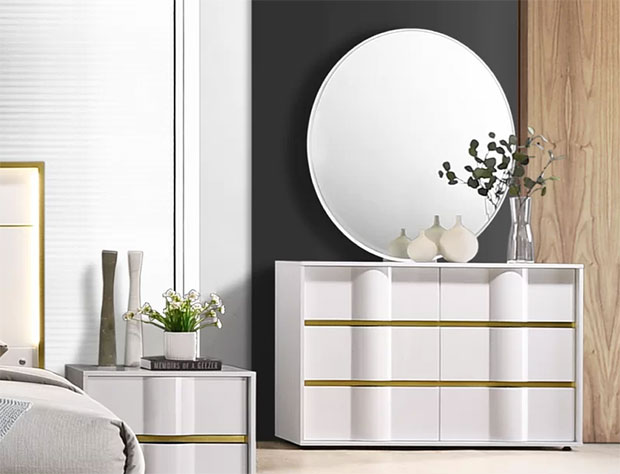 Instead of the usual square or rectangle mirrors, this dresser features around one. The design is ultra-modern and is paired with gold trimmings and a high-gloss finish.
Lexany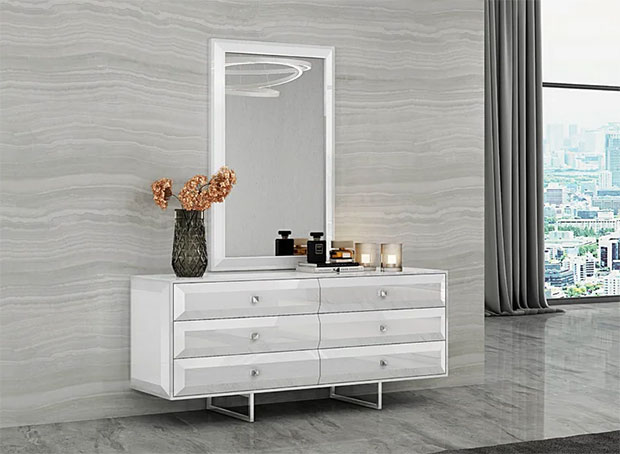 If you want a rather longer mirror, this here is a good option. It had a unique modern look with its geometric design and high gloss.
Kayna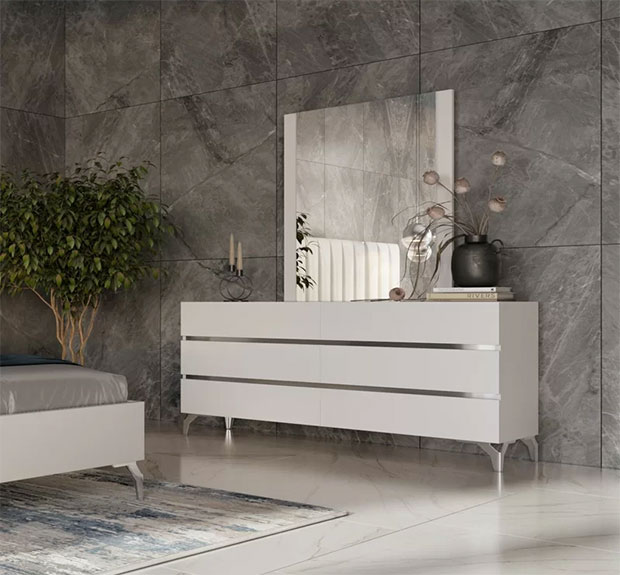 For those looking at the luxurious design, this dresser is a good choice. It has stainless steel accents with a white high gloss finish.
Arruda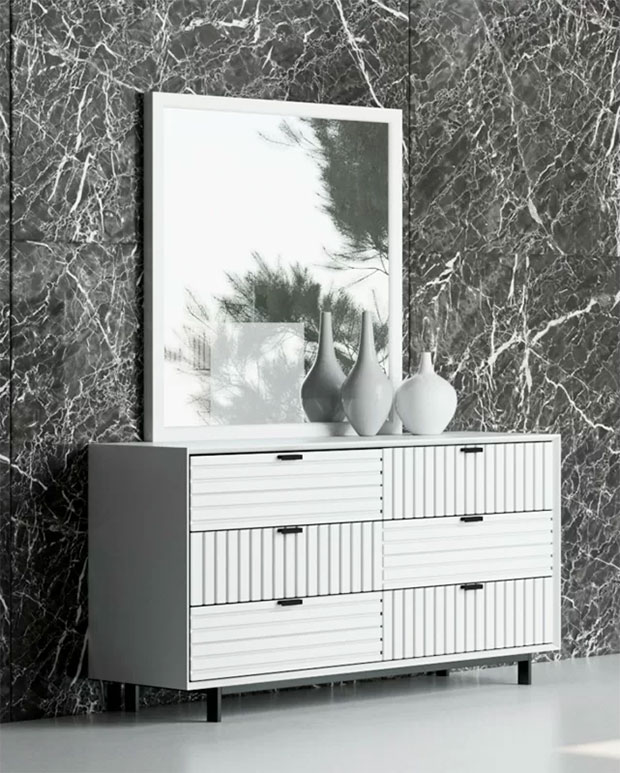 This white dresser with mirror has a modern retro look that we love. The drawer patterns are head-turner.
Alayah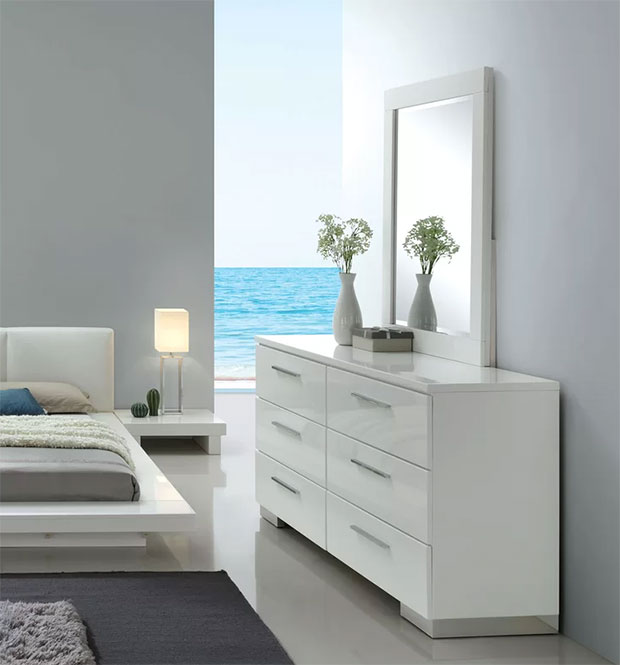 Orren Ellis
We love the smooth and glossy finish of this white dresser. It also has a sleek drawer handle for a clean and minimal look.
Lanier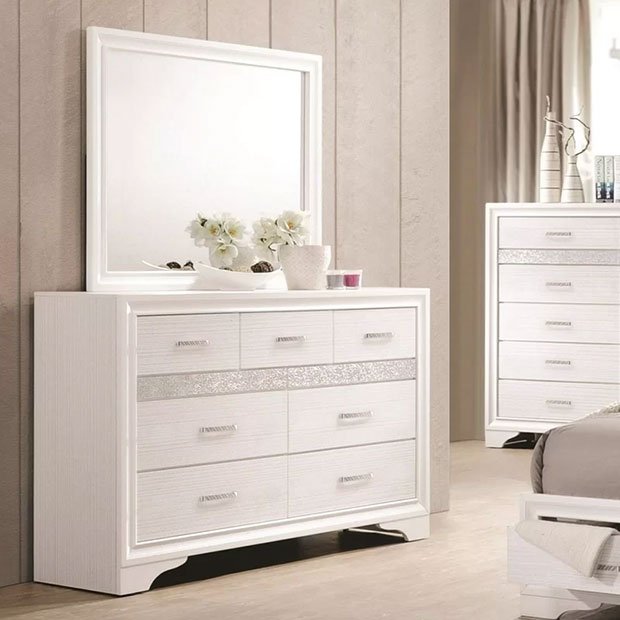 House of Hampton®
This white dresser with a mirror has a solid wood and wood veneer frame structure. A secret drawer is also available for pieces of jewelry and their valuables.
Nott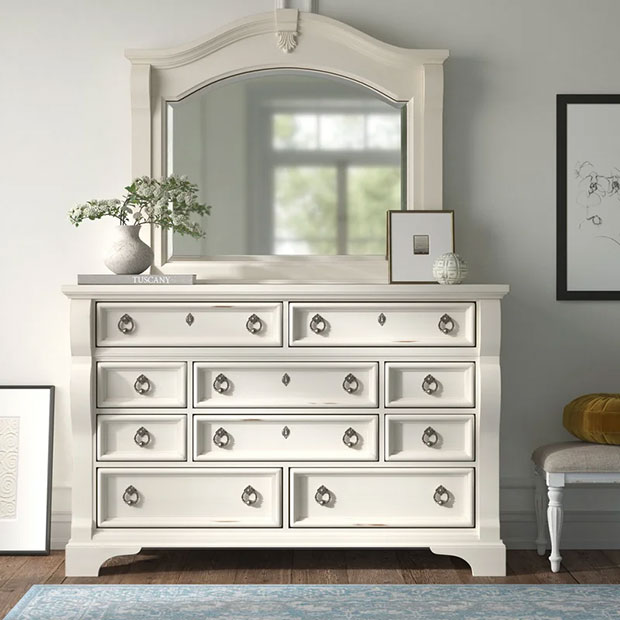 The charming and vintage look of this dresser will take you back in time. It has scalloped front pilasters and a total of 10 drawers for all your stuff.
Alarik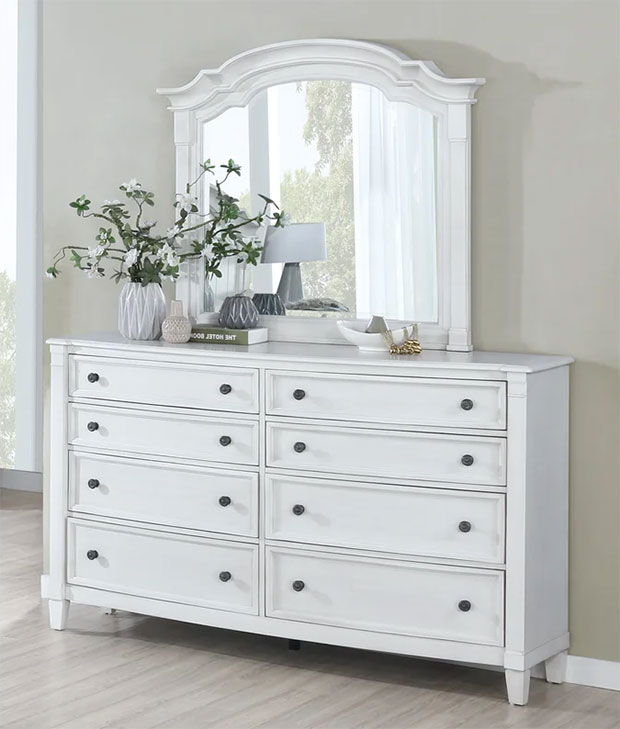 Ophelia & Co.
The curved mirror on top adds a vintage and classic look to the dresser. It also has the classic 2 handles on the drawer that we seldom see in designs now.
Godfrey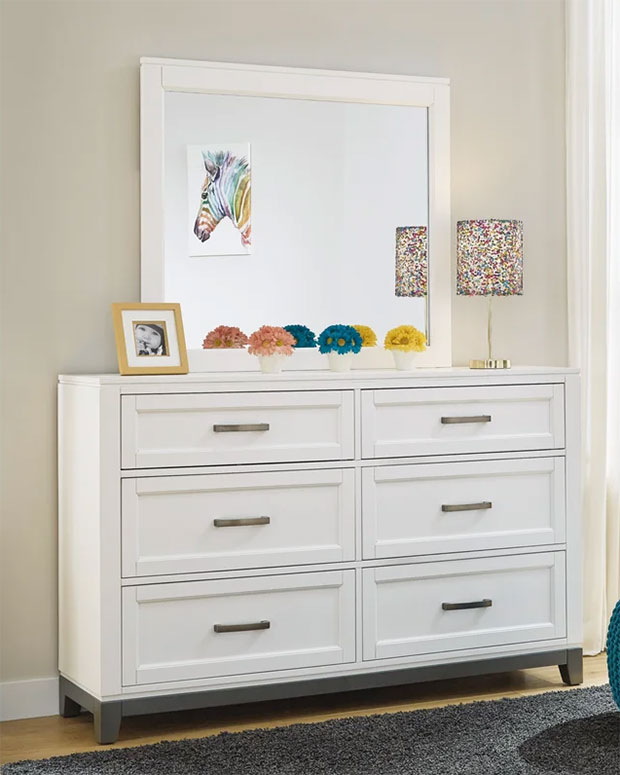 Etta Avenue™
Another classic design is featured by this dresser. It has a clean-lined silhouette with a satin nickel-finished handle. Aside from the white finish, it also has a gray base to add a touch of color to the furniture.
6 Drawer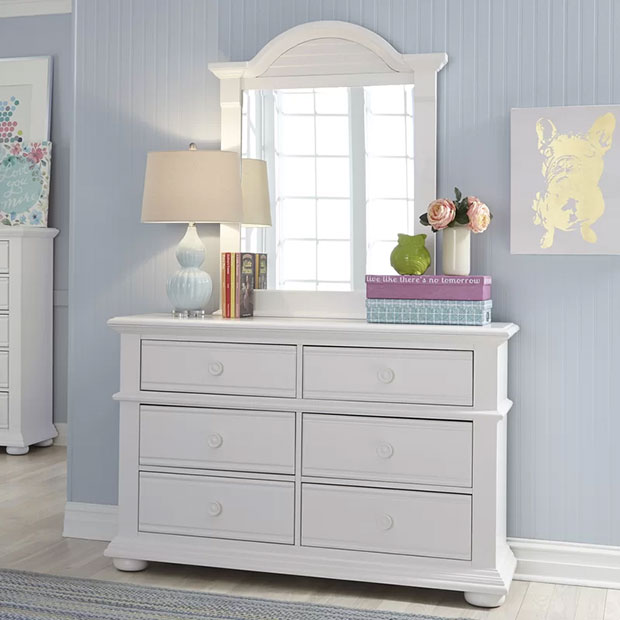 Liberty Furniture
If you have a beach-themed bedroom, this lovely dresser is perfect for you. It has an arched louvered panel mirror and bun feet for a refreshing look.
Hassan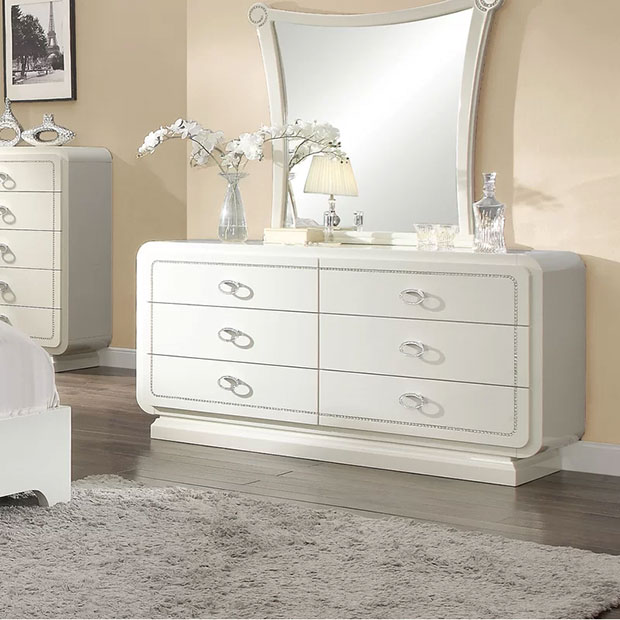 The dresser's contemporary design will surely turn heads. It has an elegantly curved mirror and crystal-like inlay around the drawers.
Deltana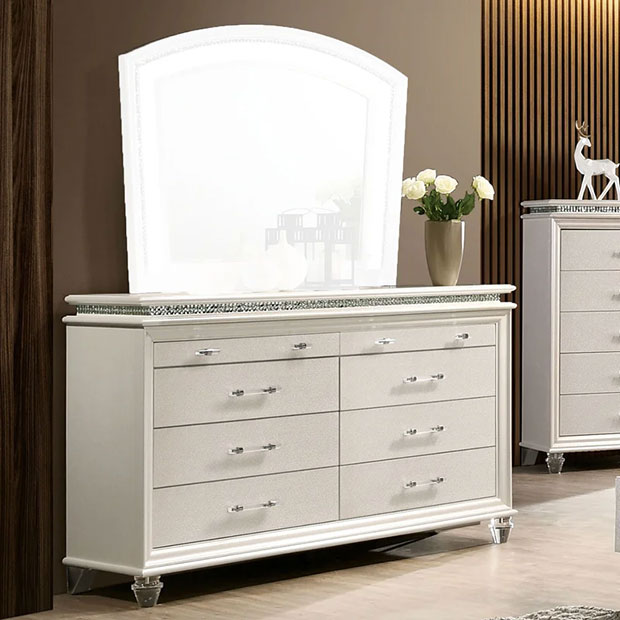 Rosdorf Park
If you want a glamorous dresser, this here is a great option. It has acrylic legs and crystal accents that make the dresser shine and sparkle!
Sia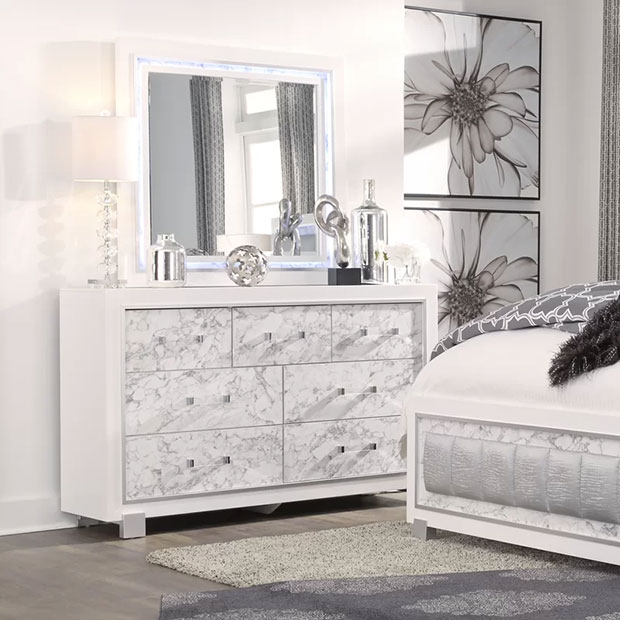 Willa Arlo™ Interiors
This dresser has a luxurious design that will work well with classy homes. It has a faux marble drawer and silver trimmings on the mirror.
Miona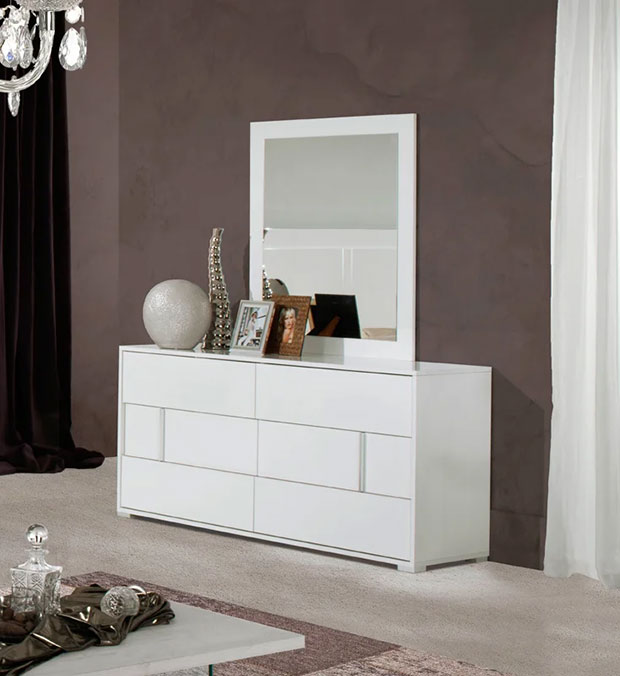 The dresser has a modern minimalist design that perfectly fits the modern home. It has a stylish clean look with soft close drawers.
Promontory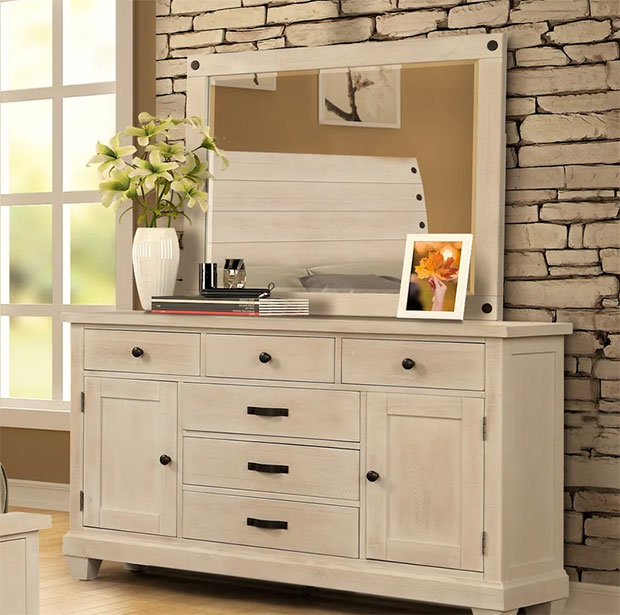 The dresser's distressed look makes it an ideal addition to farmhouse-designed homes or those that love the vintage look. It also has several drawers and cabinets for the storage of more stuff.
Gaines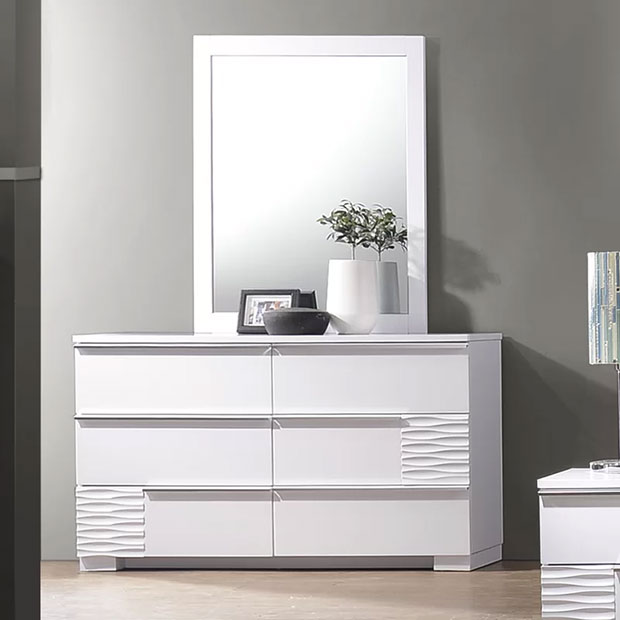 This dresser has a modern contemporary design with a unique drawer design. It has a metal handle and is made with MDF.
Rawlin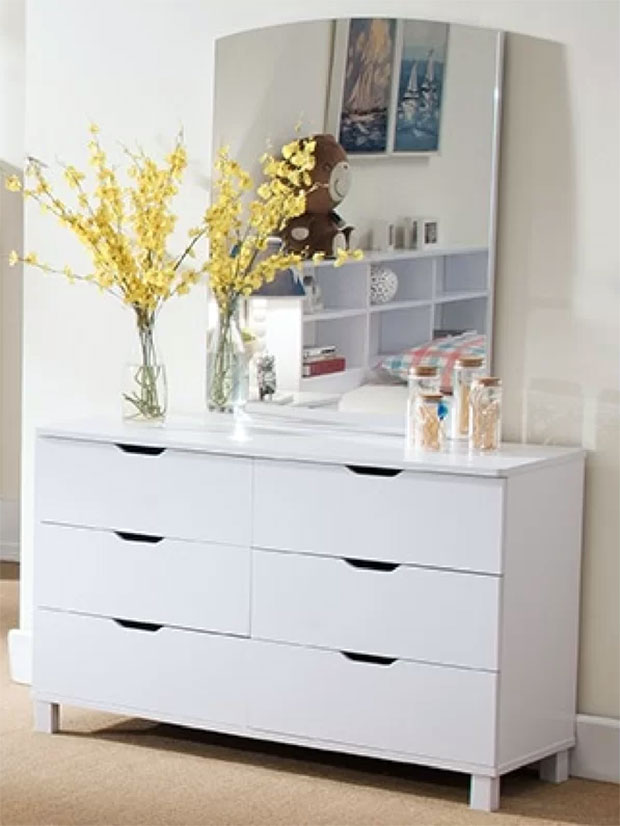 Latitude Run®
With its sleek and modern design, this dresser looks perfect in modern homes. It has a thin framed mirror and no drawer knob for a minimal look.
Elio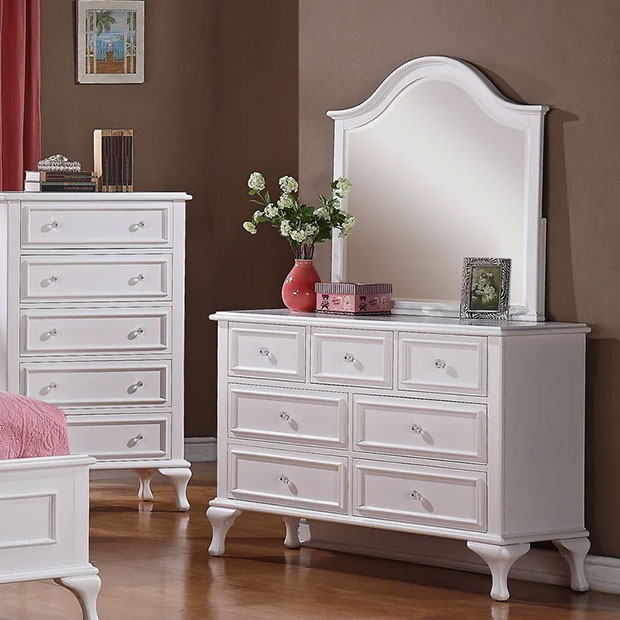 Sand & Stable™ Baby & Kids
A perfect add-on to your nursery rooms, this dresser has a classic look that you will love. It has a total of 7 drawers, an arched mirror, and a clear crystal metal drawer handle.
Highland Park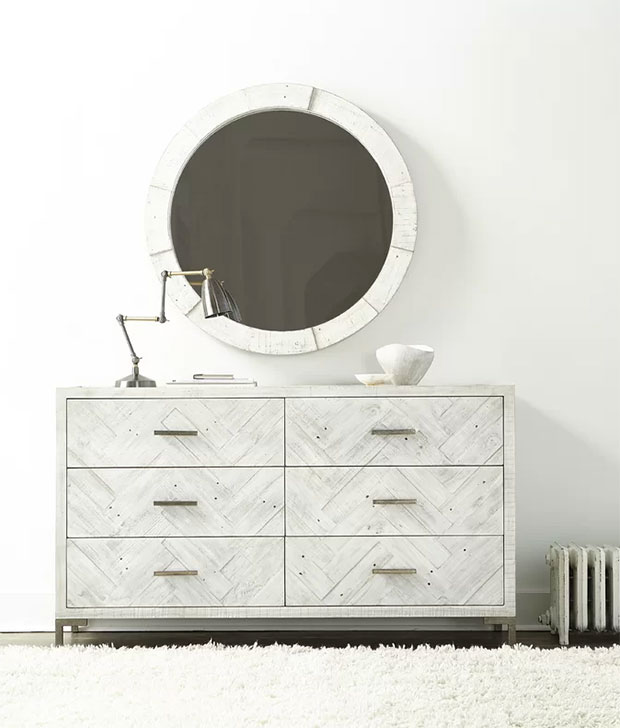 Bernhardt
With its brushed white finish, this dresser is the perfect add-on for farmhouse and mid-century home designs. It has a planked herringbone pattern on its drawer to add texture and appeal to the piece.
Double Dresser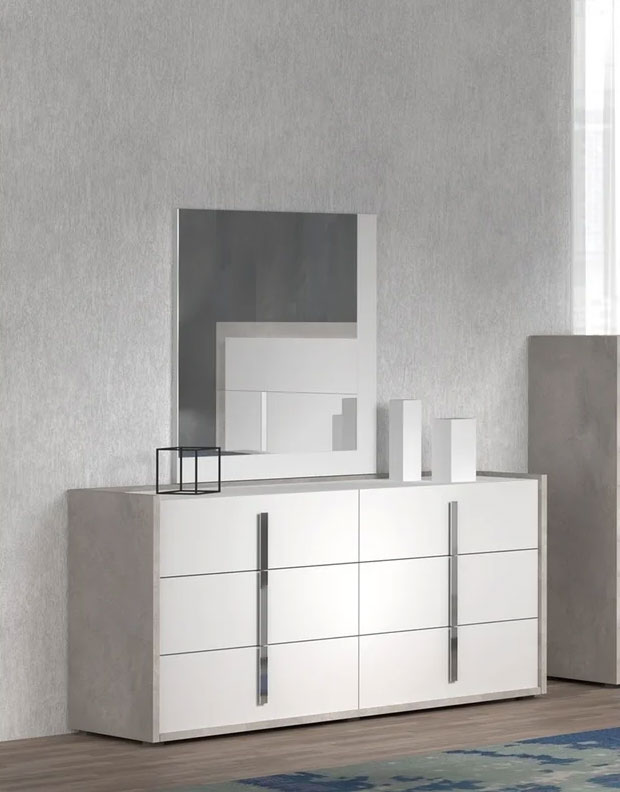 ByAngel
This dresser embraces a modern look with its matte white colors and gray details. Instead of the usual horizontal drawer handle, this has a vertical one that adds a unique look to the furniture.
Feldt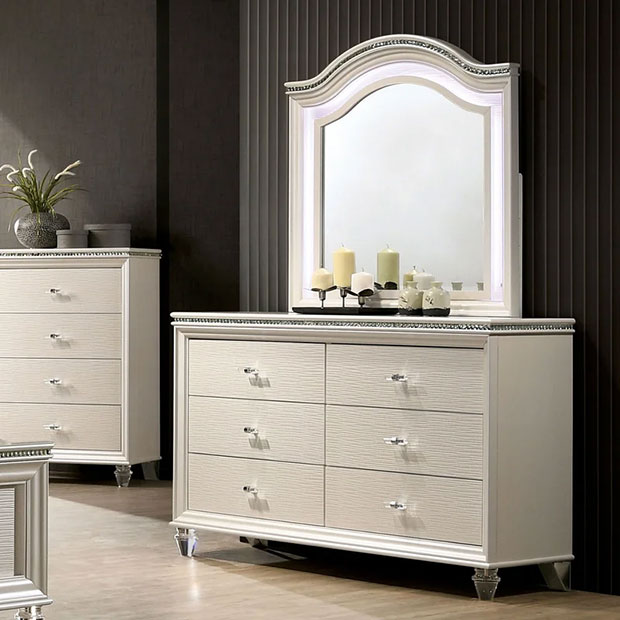 Viv + Rae™
Instead of the usual bright white that we see, this dresser sports a pearl white finish. It also has that classic look that we love, plus the mirror has LED lights for a better user experience.
Ailish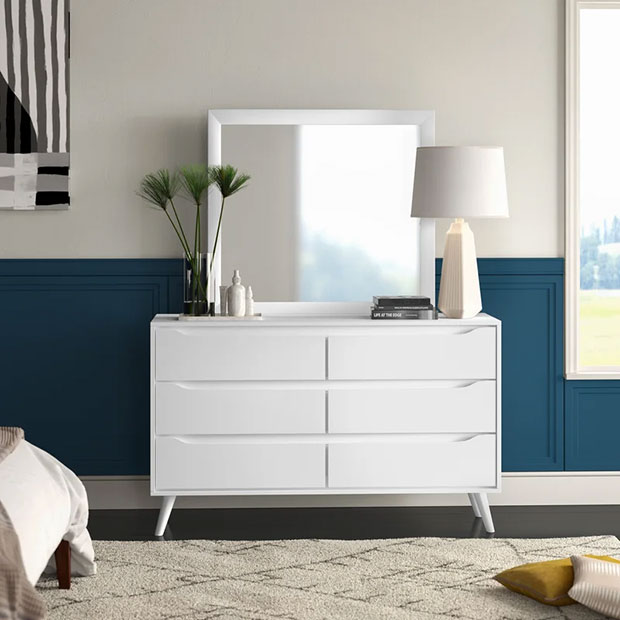 Mercury Row®
Inspired by the midcentury modern look, this dresser has no handles (they are already cut into the drawer themselves and have flared feet.
Tillis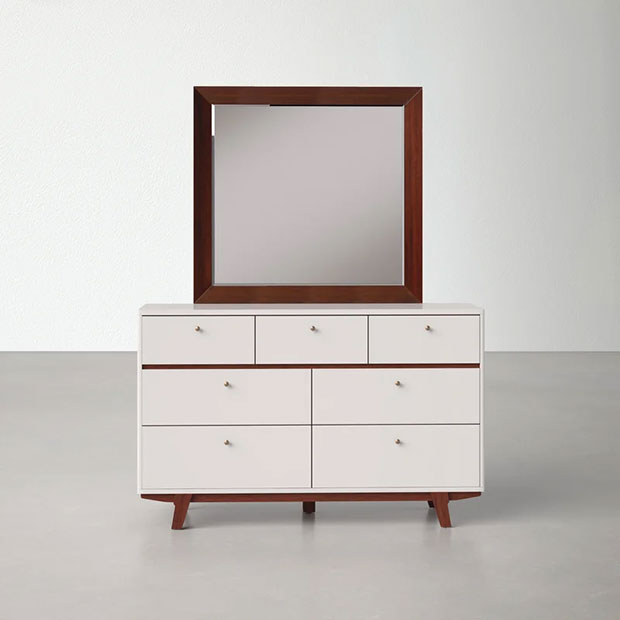 AllModern
Instead of the usual all-white, this dresser has acorn trimmings around the edges for a sharper look.
Fabela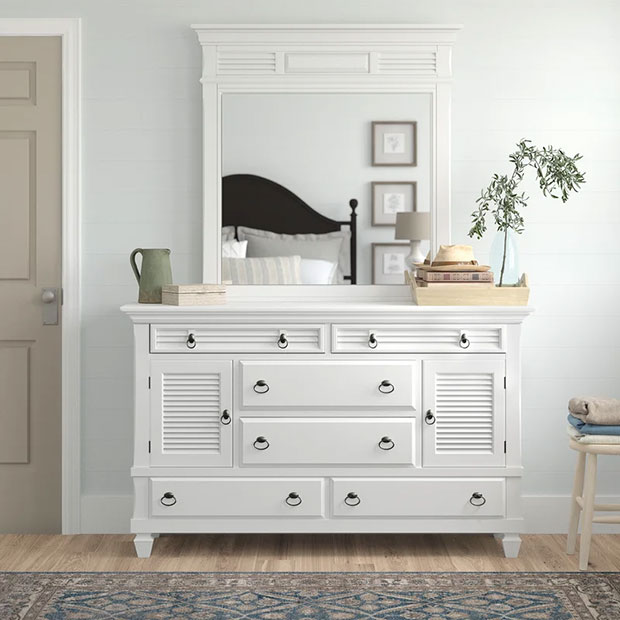 Birch Lane™
For a more rustic and farmhouse vibe, this charming dresser will fit your home. It has a bronze-colored drawer handle for a more comfortable style.
Tarquin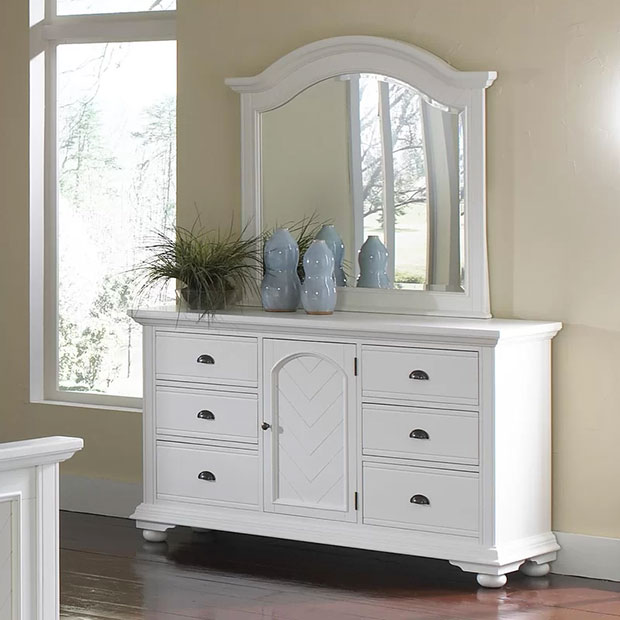 Beachcrest Home™
This white dresser with mirror embraces a classic design. It has a chrome handle and an arched mirror.
Fawley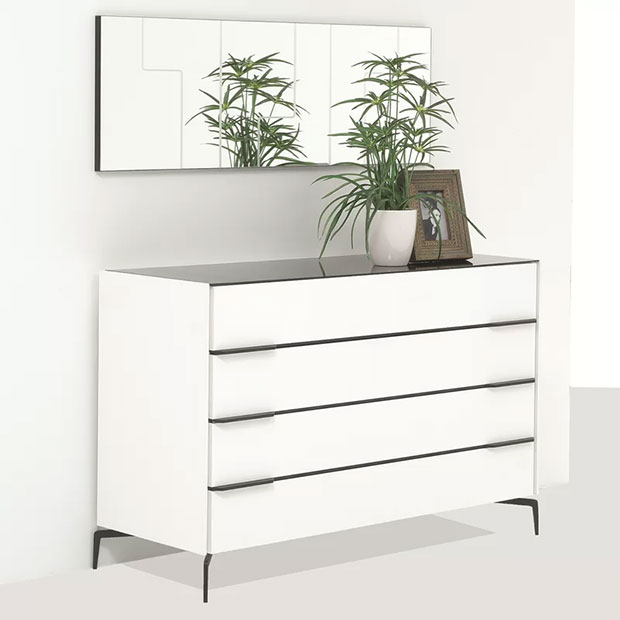 Ivy Bronx
Embracing a sleek and minimalist look, this white dresser with mirror is perfect for modern homes. The top surface is designed with a black tempered glass that compliments the bright white color.
Emelia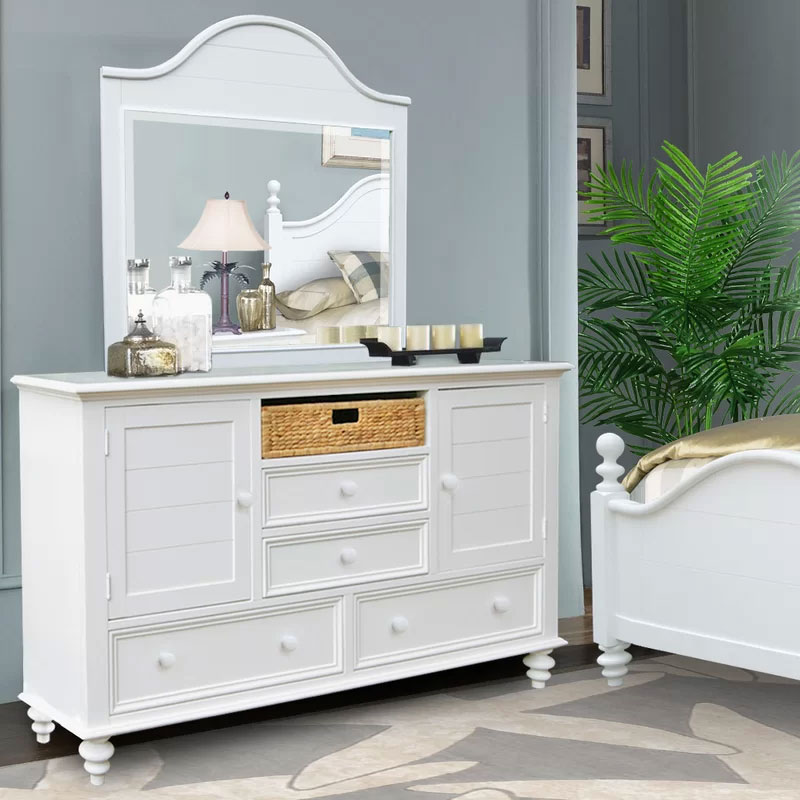 Longshore Tides
The dresser has a classic look that works well with its arched mirror and white handle. Instead of just drawers, the dresser comes with 2 cabinets and an open compartment for more storage options.
Cleburne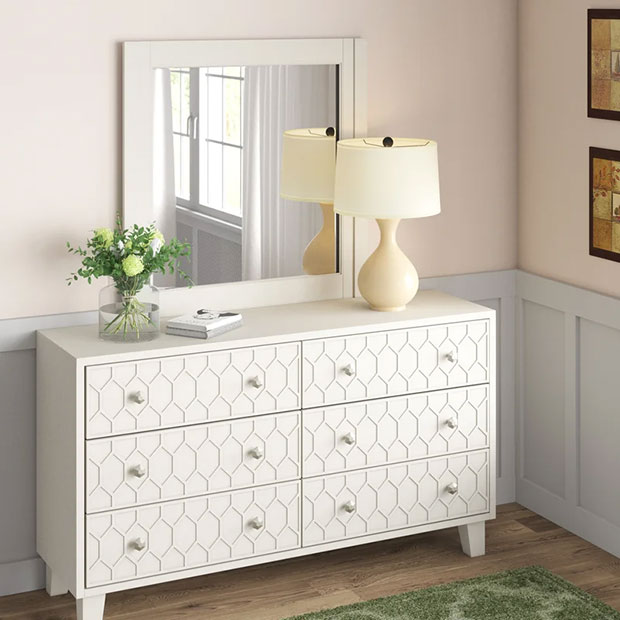 Winston Porter
This dresser looks elegant with its textured drawers. The design will fit perfectly in most room designs.
Mathews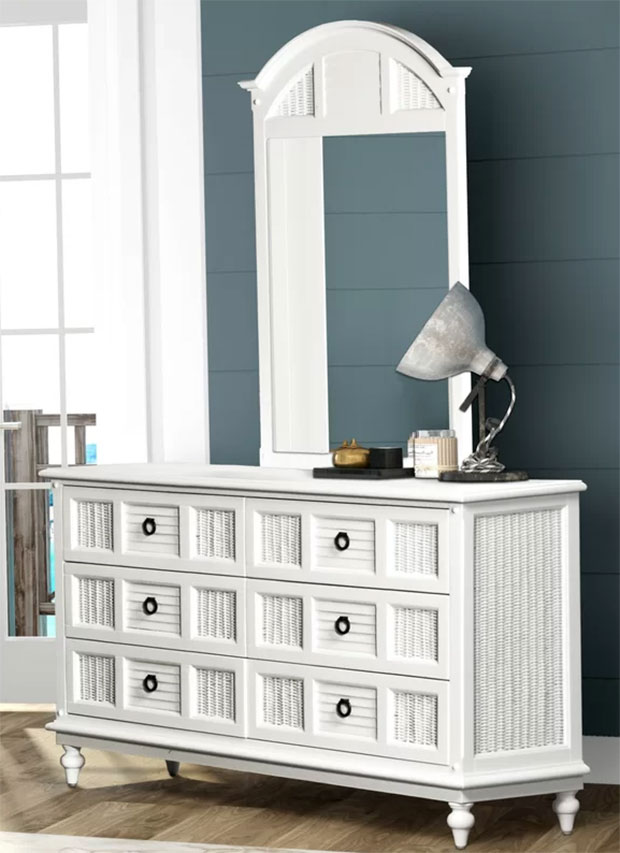 Bayou Breeze
The dresser is a unique combination of wicker, shutters, and wood. It has a distinct feature that is perfect for beach-themed bedrooms.
Jesse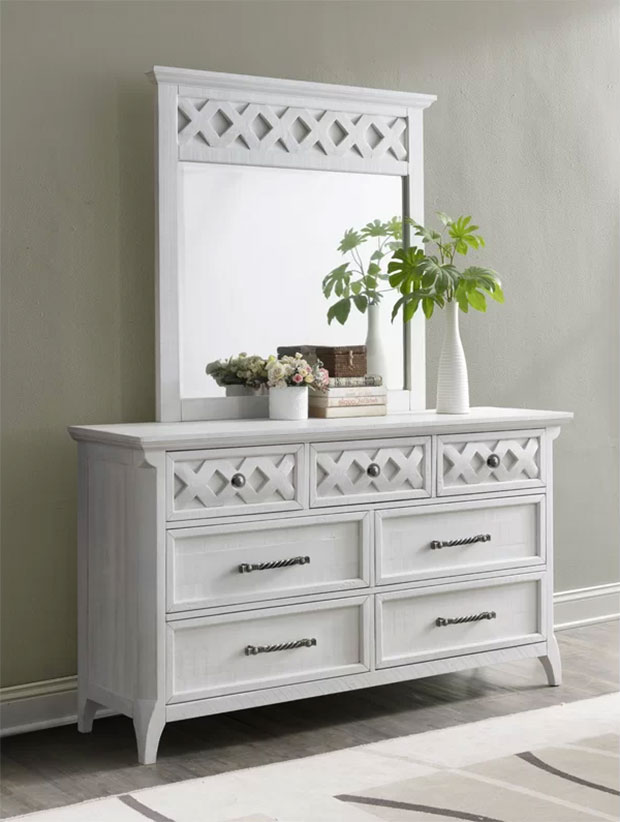 Breakwater Bay
For a charming coastal and rustic style, this white dresser with a mirror fits the bill. It has a decorative element on its drawer and at the top of the mirror for a fresh look.
Combo Dresser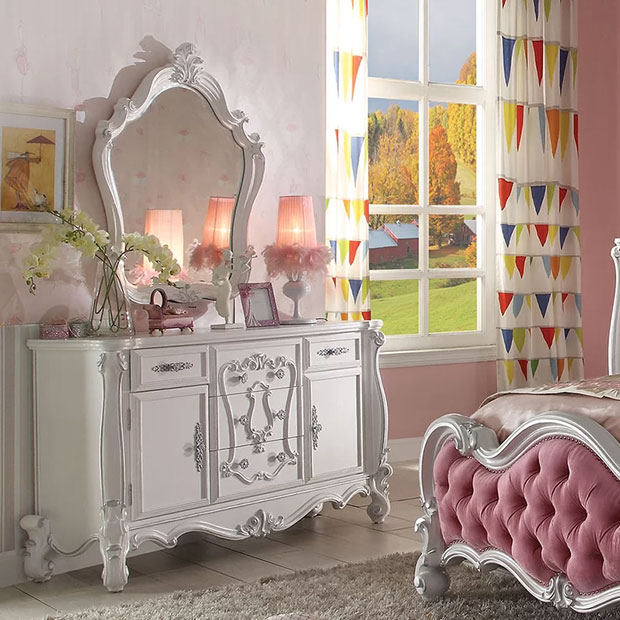 A&J Homes Studio
Looking like a dresser from the movies where princesses are the main character, this lovely white dresser has intricate details on the drawers and the mirror. This will look lovely in your teenager's bedroom.
Goetz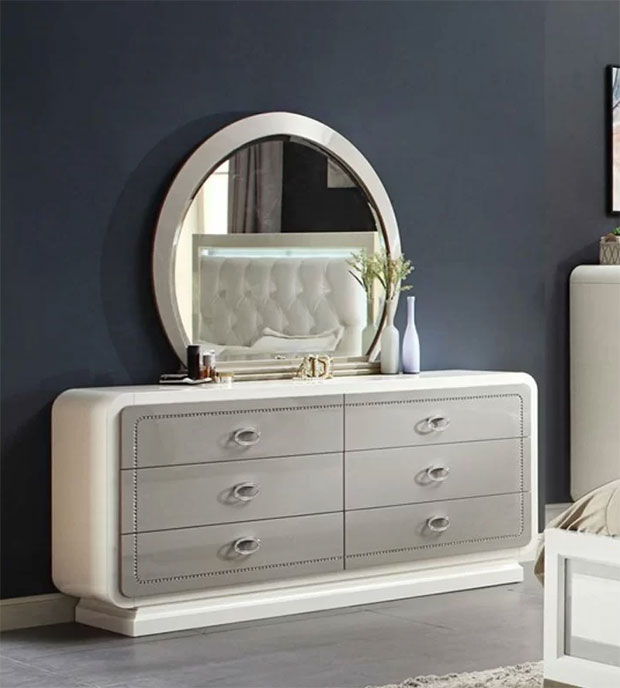 Everly Quinn
This lovely dresser features a curvy design that is both feminine and luxurious. It has a lovely high gloss finish in ivory perfect for stylish homes.
Janae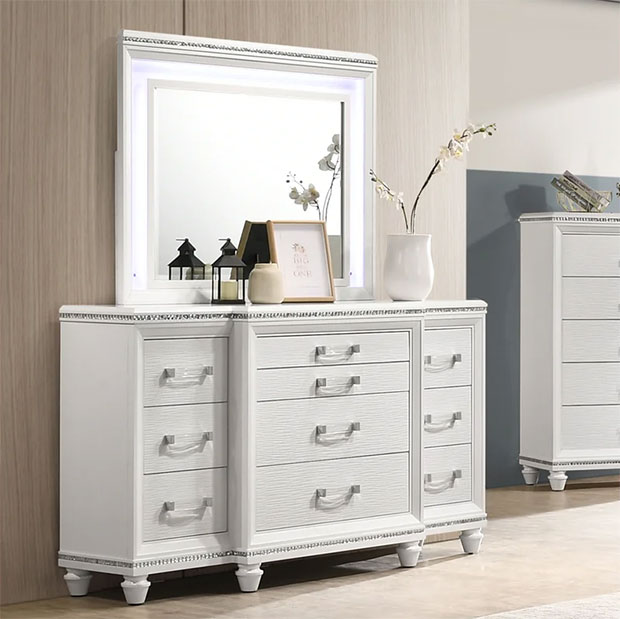 Cozzy Design
If you are looking to add modern elegance to your space, this dresser is a good option to consider. It has a silver shimmery trim with a chrome handle.
We hope you have enjoyed scrolling through the different white dressers with mirror designs that we have showcased here. Which one is your favorite so far?
Like This Post? Pin It!